Newspapers today covered a conference in Tehran attended by Iranian President Hassan Rouhani, Parliament Speaker Ali Larijani, and Judiciary Chief Ayatollah Sadeq Amoli Larijani. The remarks made by the three top officials were widely covered today as signs of a reconciliation between the heads of the trio branches of Iranian Establishment.
The MKO terrorist group's annual gathering in Paris and the Iranian foreign ministry's reaction was also a top story today.
Today's papers also highlighted US President Donald Trump's recent infantile tweet and the ongoing efforts by a number of US Congressmen to impeach him.
The above issues, as well as many more, are highlighted in the following headlines and top stories:
Abrar:
1- Rouhani: Being Revolutionary Means to Isolate US
2- Envoys of Trump, Riyadh, Syrian Opposition Guests of MKO Gathering France
3- Qatar FM: We Want Positive, Constructive Ties with Iran
---
Aftab-e Yazd:
1- Blow to Trump's Face
US Congressmen Looking for Trump's Impeachment over Mental Problem
2- Analyst: Trump Impeachment Not Simple; He's Damaging US Position
3- Rouhani: Iran Can Gradually Address [Foreigners'] Human Rights Concerns
4- France Makes Serious Mistake on MKO: Iran
5- We Have 700 Types of Synthetic Narcotics: Official
---
Ebtekar:
1- Iran Suggests OPCW Names One of Its Halls after Sardasht
2- Smell of Unity, Cooperation in Remarks by Top Iranian Officials
---
Etemad:
1- Total's $4.8-Billion Deal with Iran
2- No One to Take Seriously Saudi Words against Iran: Al Jazeera Bureau Chief in Tehran
---
Ettela'at:
1- Judges Shouldn't Be Influenced by Political Orientations: Rouhani
2- 25 Senior Congressmen Call for Trump's Impeachment
3- Pakistani Top General: Ayatollah Khamenei after Unity in Muslim World
4- Zarif Urges OPCW Inspectors to Identify Users of Chemical Weapons on Syria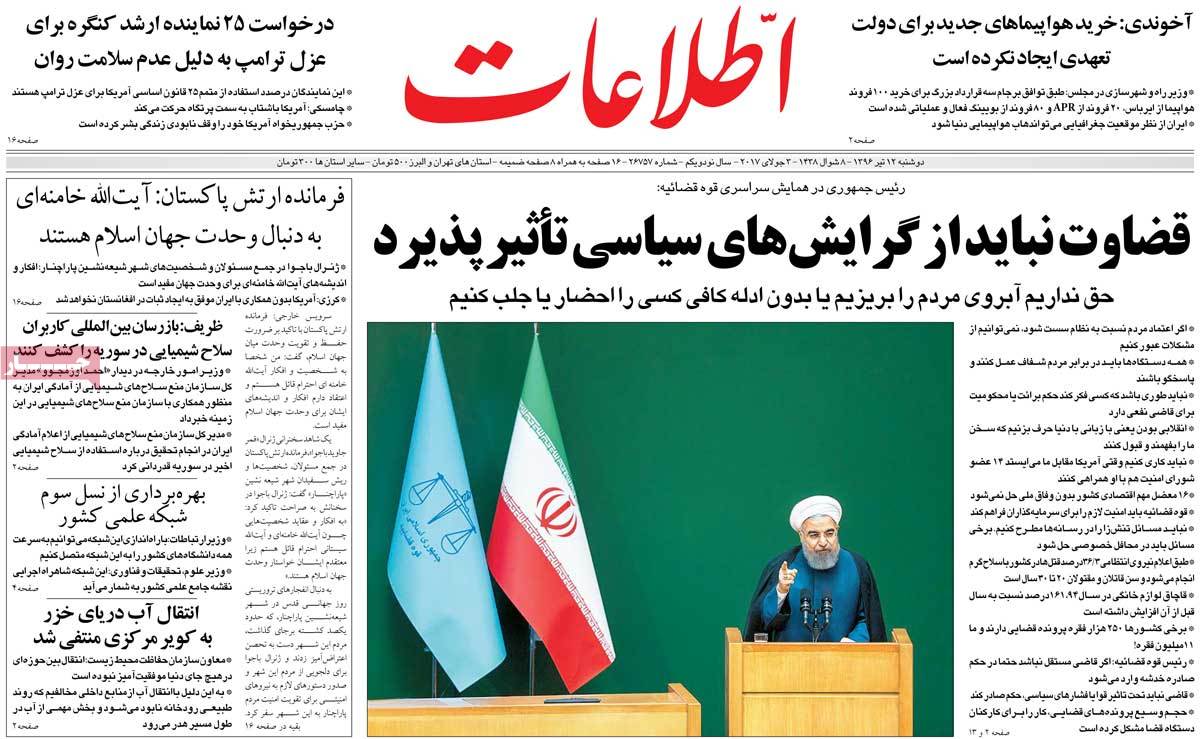 ---
Haft-e Sobh:
1- Ties between Heads of Iran Establishment Seems to Be Improving
Peaceful Speeches by Rouhani, Larijani, Amoli Larijani
2- End of the Myth of Engineers
Highest Unemployment Rate among Engineers in Iran, US
3- Seven Steps of England
Moves Made after Grenfell Tower Fire, Not Yet Made about Plasco Building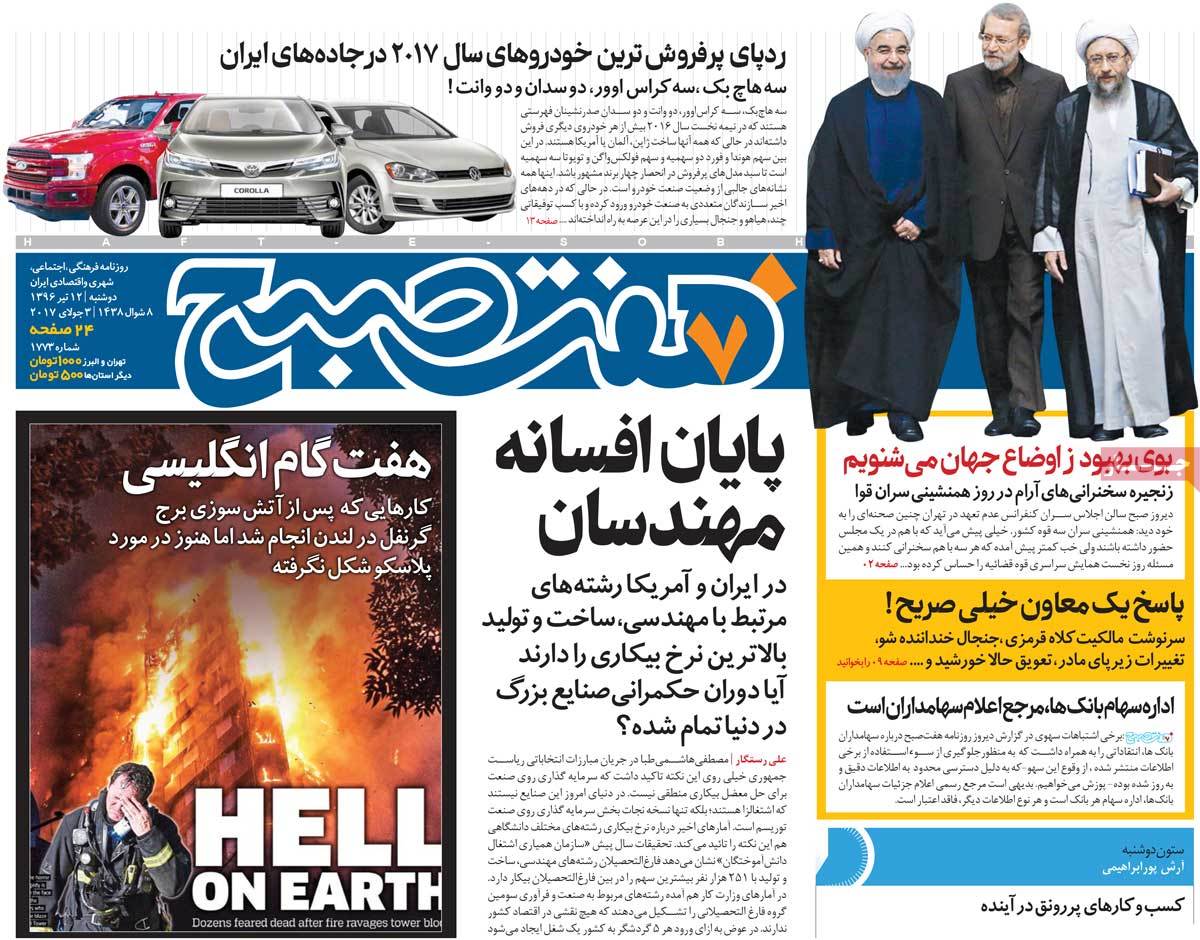 ---
Jame Jam:
1- Trio Branches of Iran Gov't United to Resolve Economic Woes
2- Protest against 818 Days of Al Saud's Madness in Yemen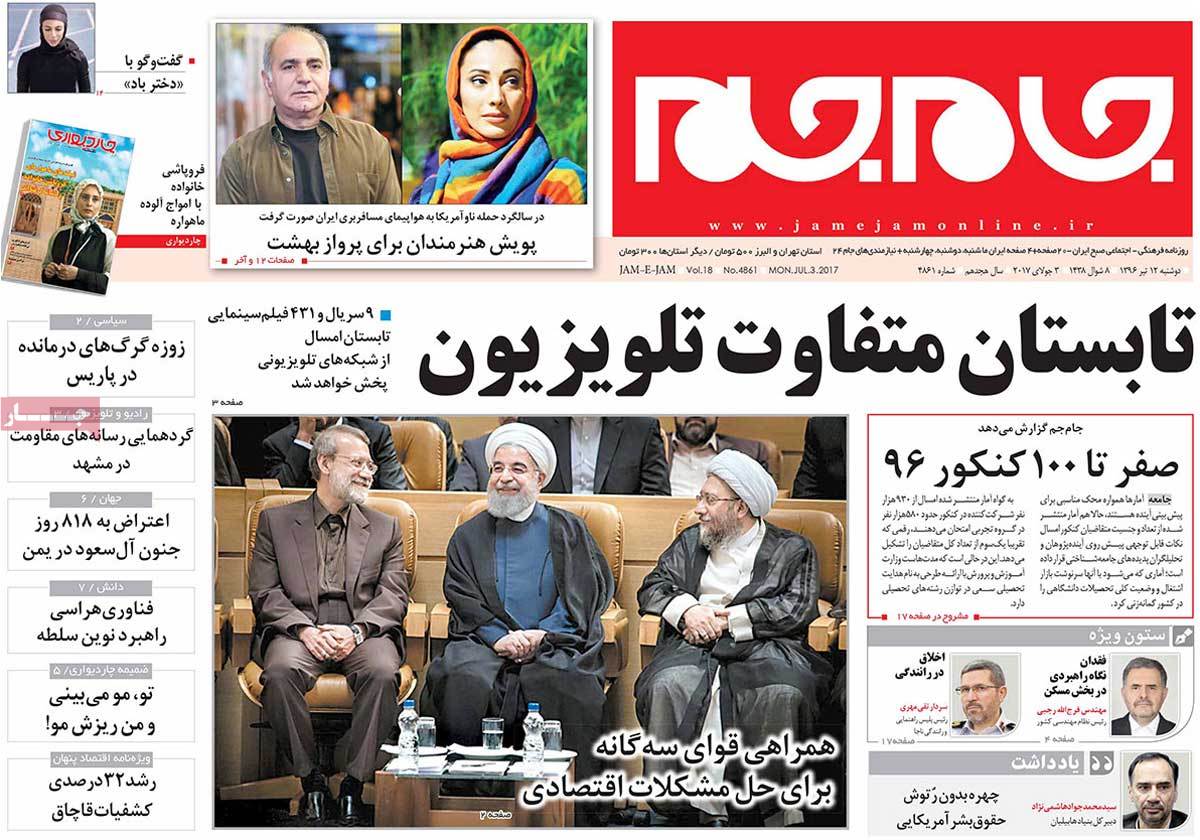 ---
Javan:
1- Parliament Speaker: Next Gov't Should Work Harder
2- President: People Played Their Role, It's Now Our Turn
3- Judiciary Chief: We Are Tasked with Creating Economic Security
4- US: From Terror in Sky to Silent Terror
5- US Crime on July 3, 1988 Never Forgotten
6- Democrats Looking for Trump Impeachment over Mental Problem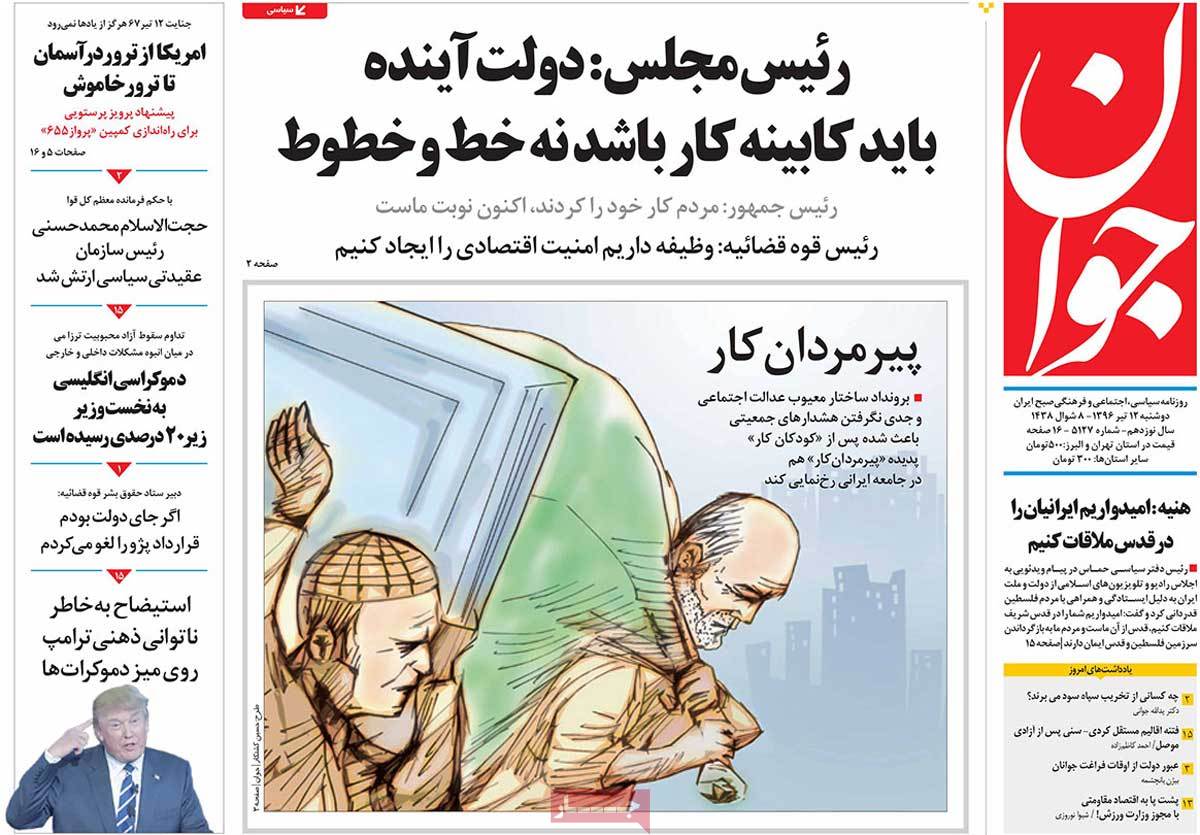 Kayhan:
1- Nation's Economic Problems Waiting for End of Government's Holidays
2- Bin Salman Trying to Overthrow His Father: Saudi Whistle-blower
3- 820 Days of Saudi Attacks on Yemen: 15,000 People Slaughtered with US Green Light
4- France's Impudence in Supporting Terrorists
5- Enemy Flagrantly Talks of Regime Change, but Some Ask for Its Help: Judiciary Chief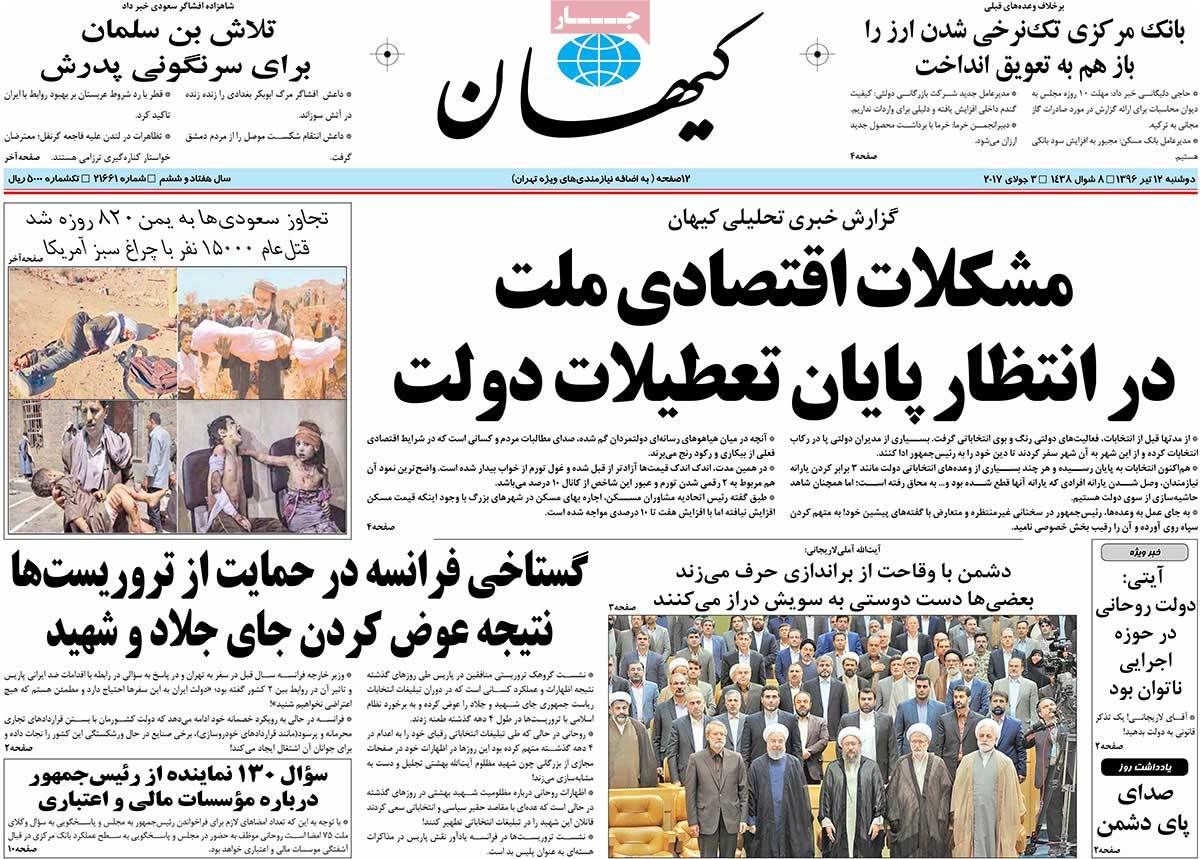 Resalat:
1- Judiciary to Counter Infiltration: Chief
2- Chomsky: Neoliberalism Is Tyranny
3- Paris Should Be Held Accountable; France's Red Carpet for Terrorists
4- Politician Criticizes Rouhani Administration's Reconciliatory Stance towards US
Siasat-e Rooz:
1- Gov't Wouldn't Have Any Excuse If Unilateral Ceasefire Declared
2- Fear that Led to Disaster: New Aspect of US Attack on Iranian Airliner