The efforts to rescue or recover the bodies of firefighters entrapped after the Thursday collapse pf Plasco Building in central Tehran remained the top story in today's newspapers.
Newspapers also released interviews with a number of firefighters and shop owners of Plasco Building regarding the tragic incident and the damages they have suffered.
A lawsuit filed by former president Mohammad Khatami against former Basij Commander Brigadier General Naqdi also received great coverage. Naqdi recently accused the reformist ex-president of receiving money from Saudis.
The above issues, as well as many more, are highlighted in the following headlines:
19 Dey:
1- Cancer Needs Some $2.6 Billion Each Year: Health Minister
2- Transport Minister: Renovation of Iran's Old Ground, Sea, and Air Fleet to Begin Soon
---
Abrar:
1- Plasco, City Council, and the People Who Vote for Singers and Athletes
2- Almost 1.5 Million Hectares of Forests in Northern Iran Destroyed over Past 50 Years
3- Erdogan: Turkish Nation Will Have the Final Say in Referendum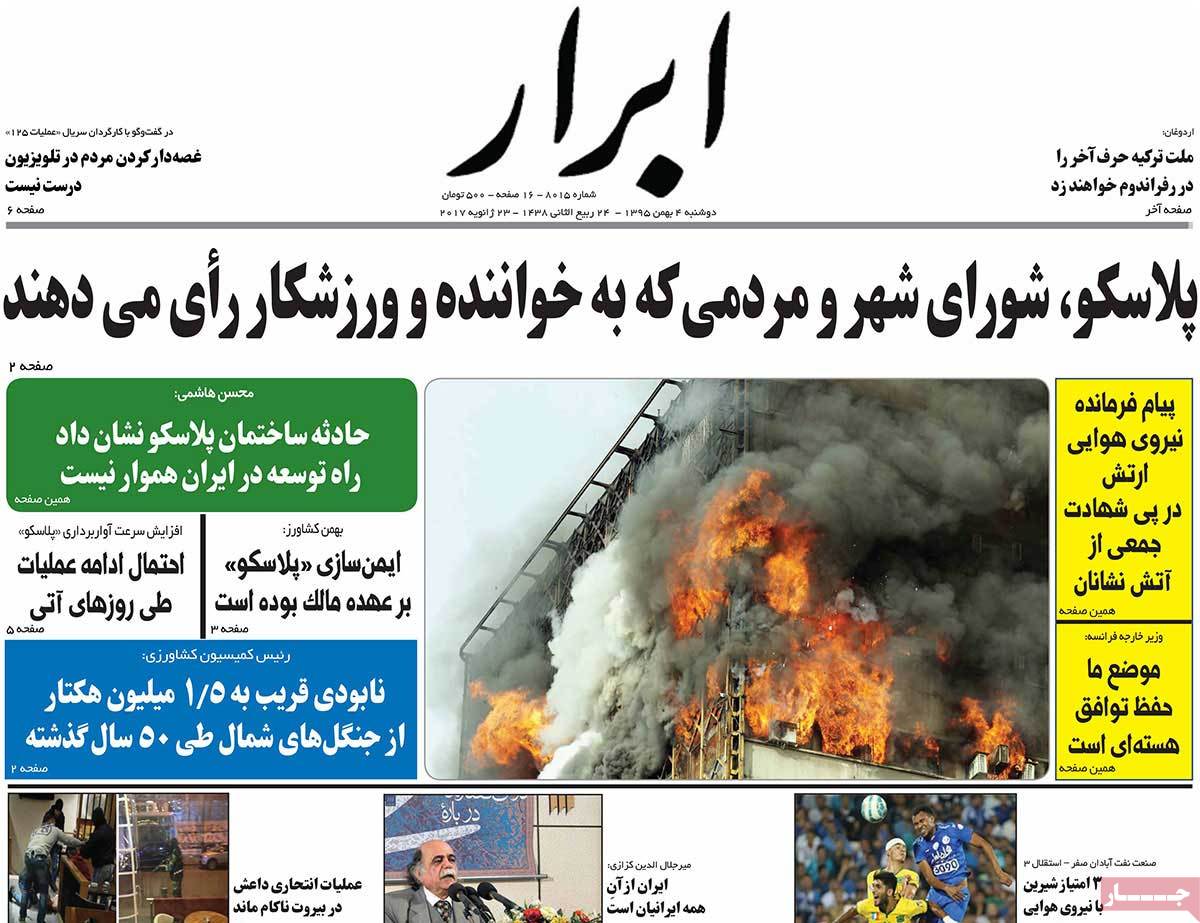 ---
Aftab-e Yazd:
1- Melania; A Light on Scary Face of Trump! A Report on the Ways Melania Trump Is Different from Previous US First Ladies
2- They Shouldn't Have Confined Themselves to Warnings in Plasco Case
3- How Much Firefighters Receive in Other Countries?
4- Babak Zanjani Informed of His Sentence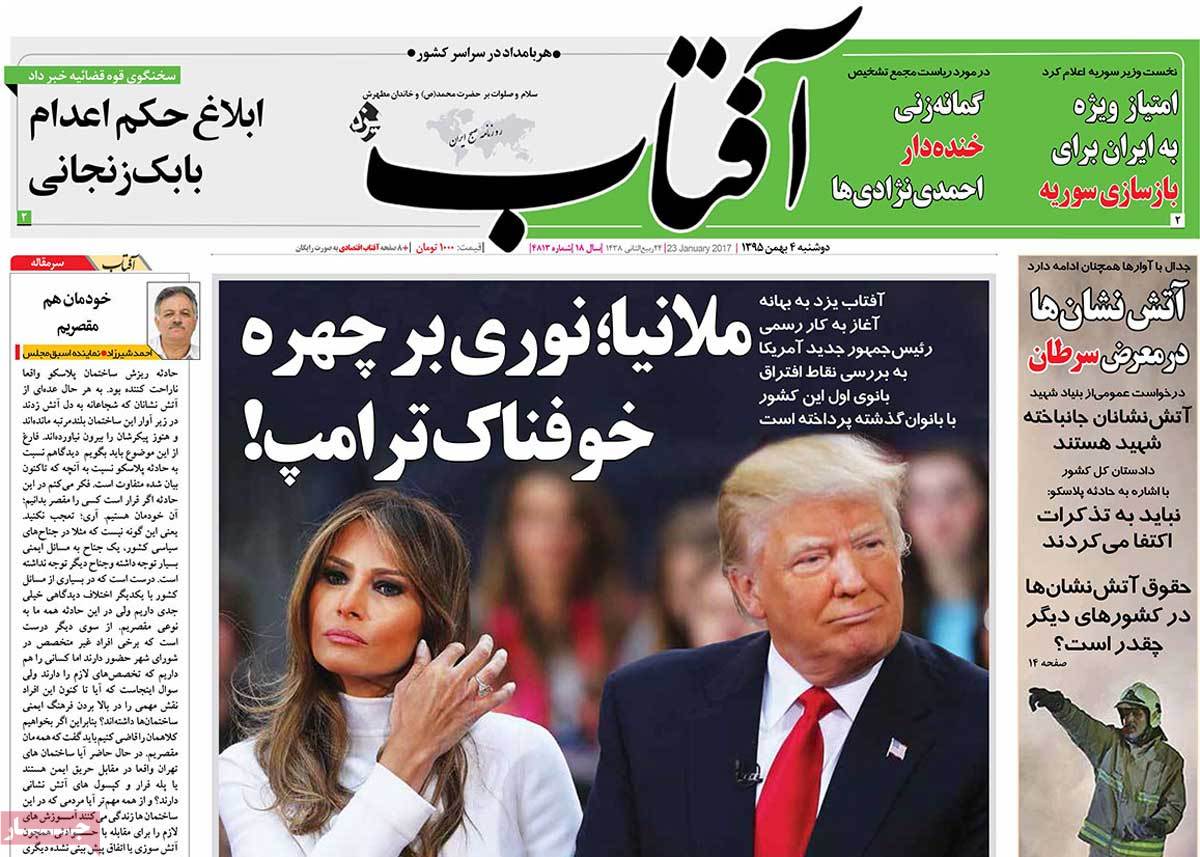 ---
Arman-e Emrooz:
1- We're All Firefighters: Thursday, the Day of Bidding Farwell to Firefighters
2- Increase in Number of Wounded People: Specialized Committee Formed in Iran's Parliament to Probe into the Incident
3- Will Qalibaf [current mayor and a possible rival for Rouhani in Presidential votes] Leave Municipality?
4- Iranian Counterattack on Trump: Iran's Nuclear Chief Says Any Threat Will Restore Iranian Nuclear Energy Program to Previous Status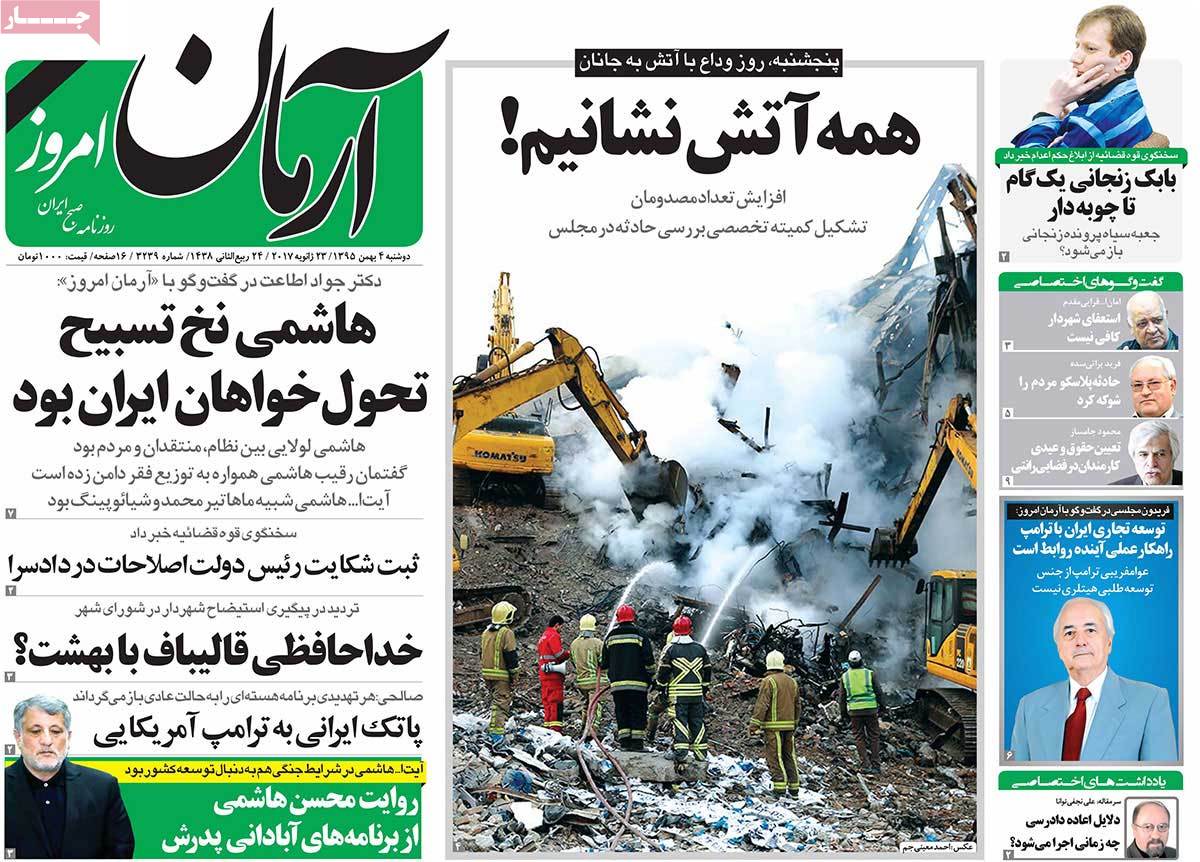 ---
Ebtekar:
1- Four Days, Three Bodies
2- Will Astana Talks Lead to Syria's Peace?
3- Our Position Is to Maintain JCPOA: French FM
---
Etemad:
1- People Waiting to Hear of Firefighters: 100 Hours after Beginning of Debris Removal, No One Knows What Has Happened to Missing Ones in Plasco Building
2- Spokesman Says Judiciary Is Investigating Former Reformist President Khatami's Lawsuit against Former Basij Commander Naqdi
3- Women's Riot against Trump: Women's March in Washington Marks First Crisis for US President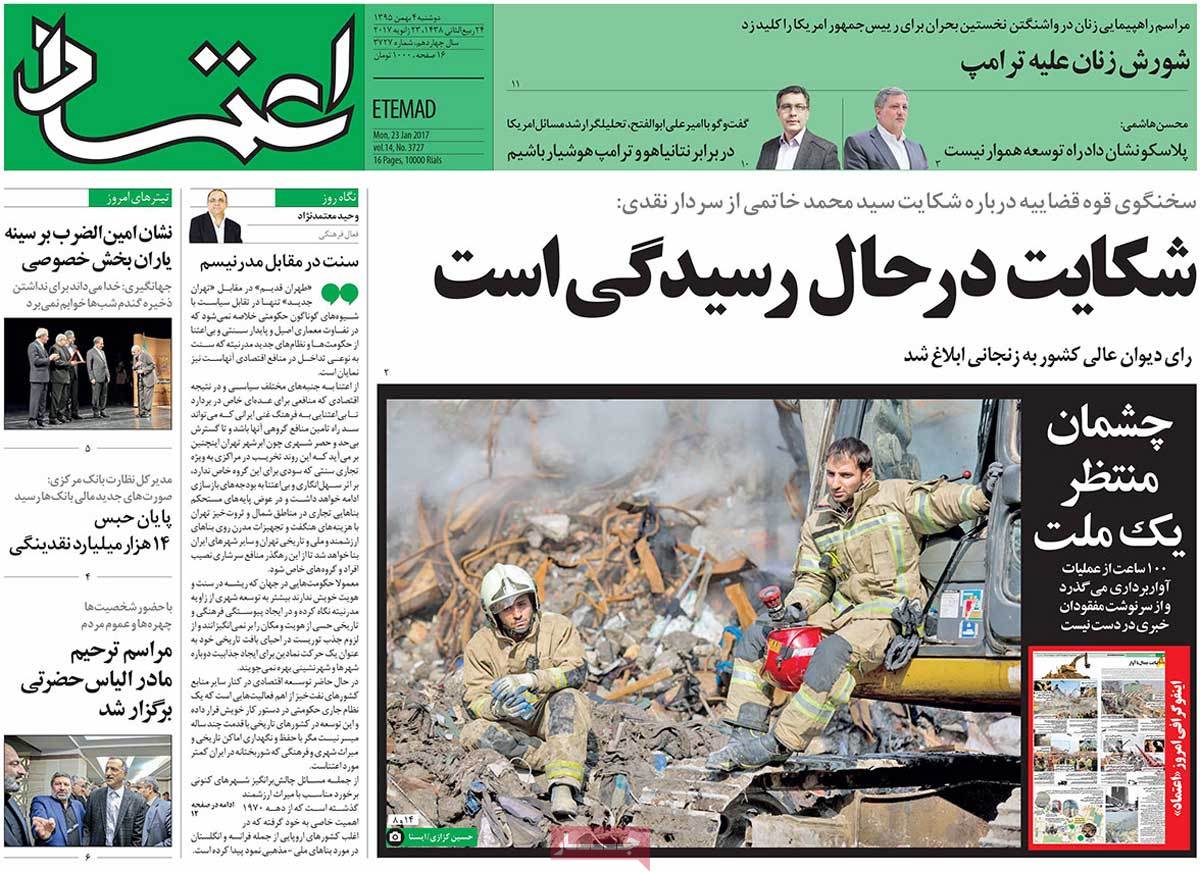 ---
Ettela'at:
1- Private Sector's Presence Saves Iran's Economy: First VP in a Ceremony to Appreciate Private Entrepreneurs
2- Existence of Dangerous Centres in Tehran Threatens People's Lives: Civil Defence Organization Chief
3- 500 Ceremonies to Be Held in 60 Countries to Commemorate Iran's Revolution
4- Tens of Thousands of Palestinians Hold Demonstration in Protest at Israeli Regime's Crimes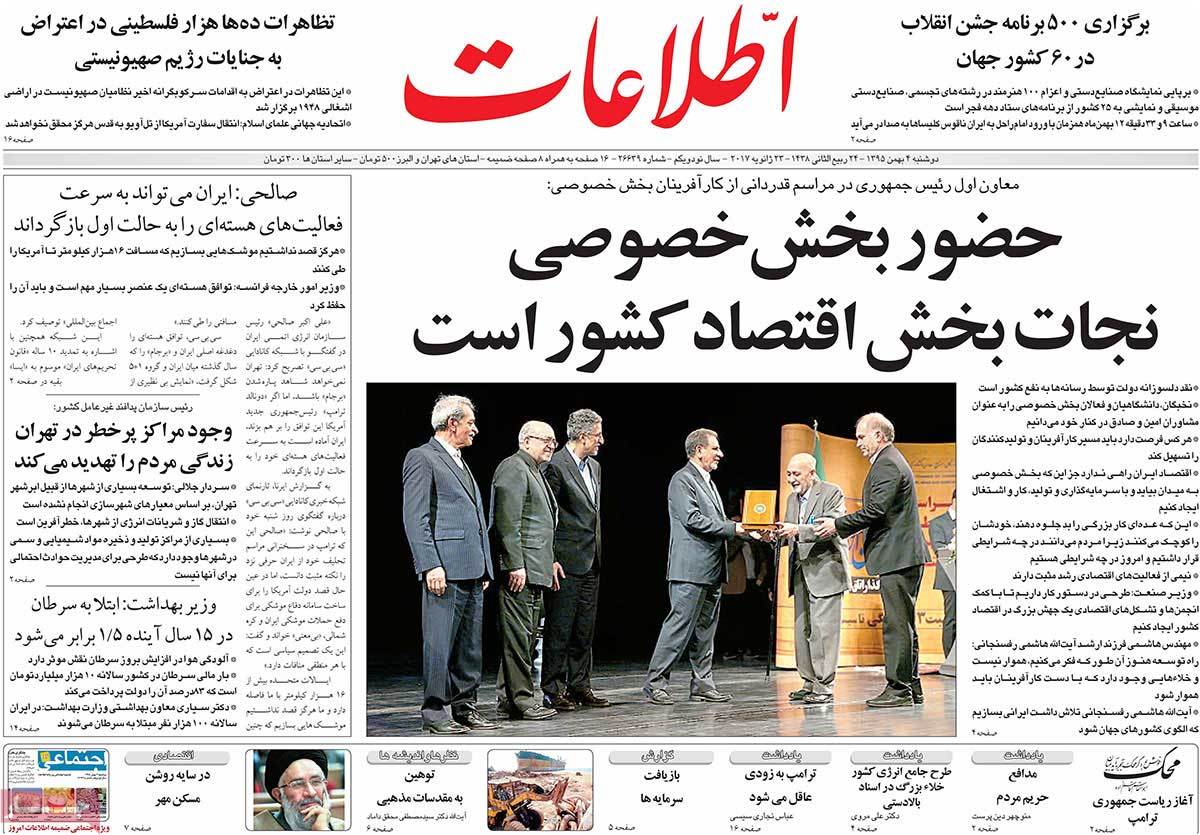 ---
Farhikhtegan:
1- We Don't Know What to Tell Our Mother: The Firefighter Who, Together with His Two Brothers, Is Looking for His Fourth Brother
---
Haft-e Sobh:
1- Plasco Had Three Fathers: Municipality, Labour Ministry, and Mostazafan Foundation: Which One Is to Blame in Plasco Incident?
2- Symphony of Those Who Lost Their Money: Two Malls Considered as Temporary Alternatives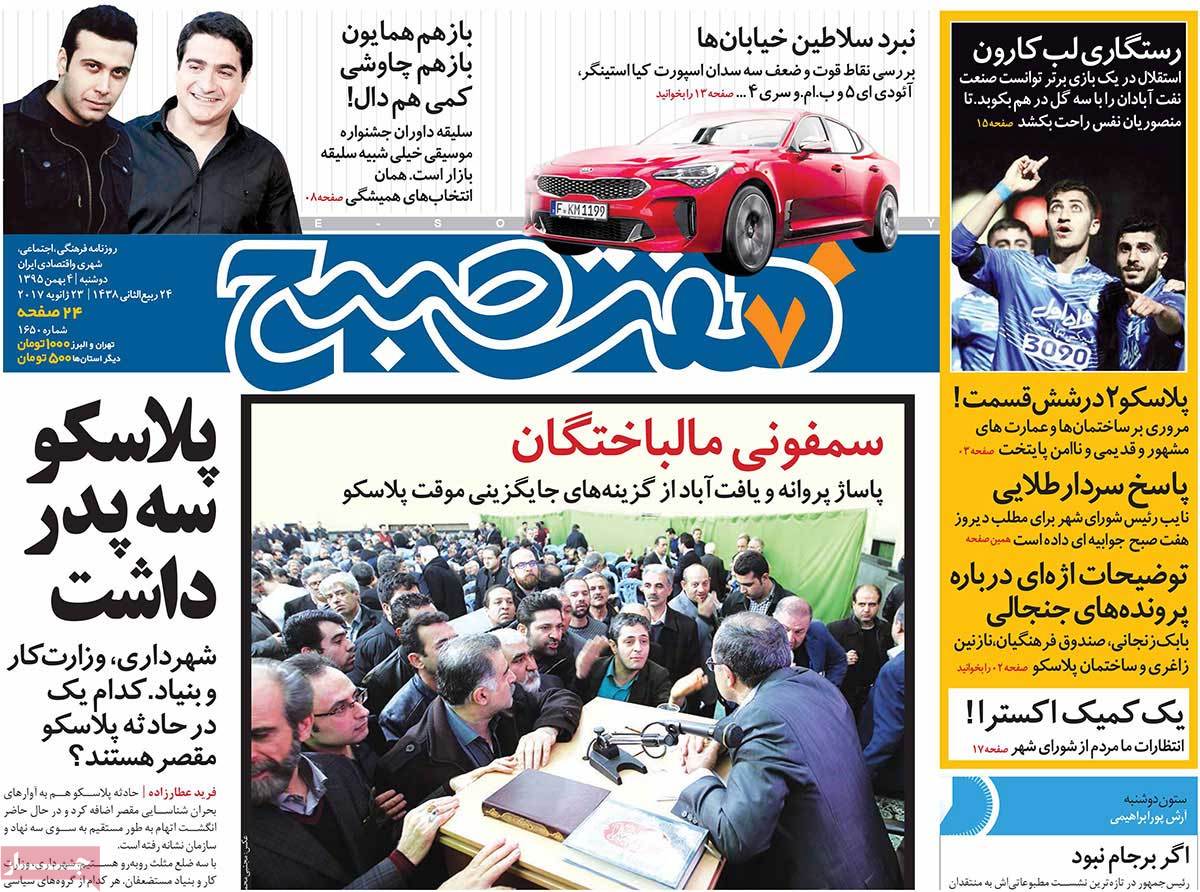 ---
Iran:
1- Reconstruction of Plasco; President Rouhani Orders Ministers to Immediately Bring Shop Owners Back to Work
2- US Ambassador's Symbolic Presence in Astana Talks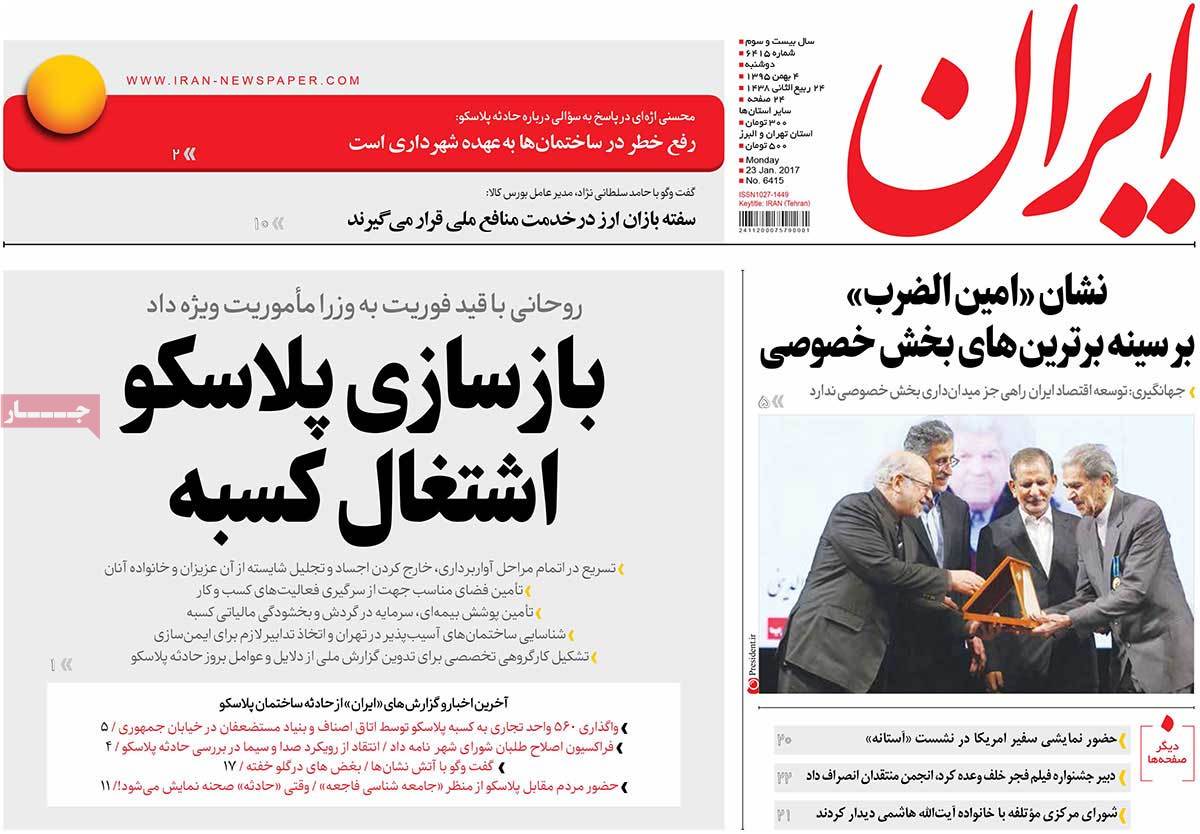 ---
Javan:
1- First VP: We Were Not Successful in Post-JCPOA Finance
2- We're All Firefighters
3- Iran's Nuclear Chief Warns Trump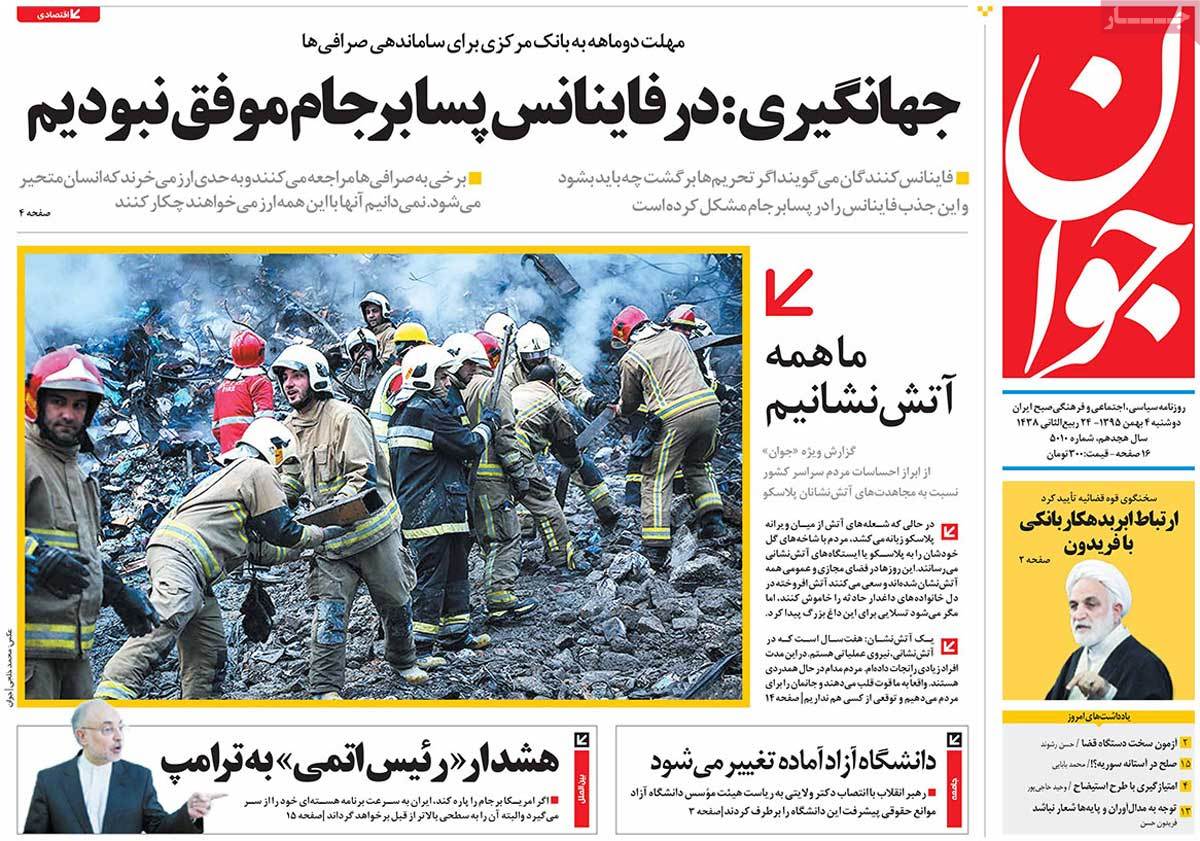 ---
Jomhouri Eslami:
1- Unprecedented Global Opposition to New US President Continues
2- Pope Warns against Beginning of New Era of Populism in US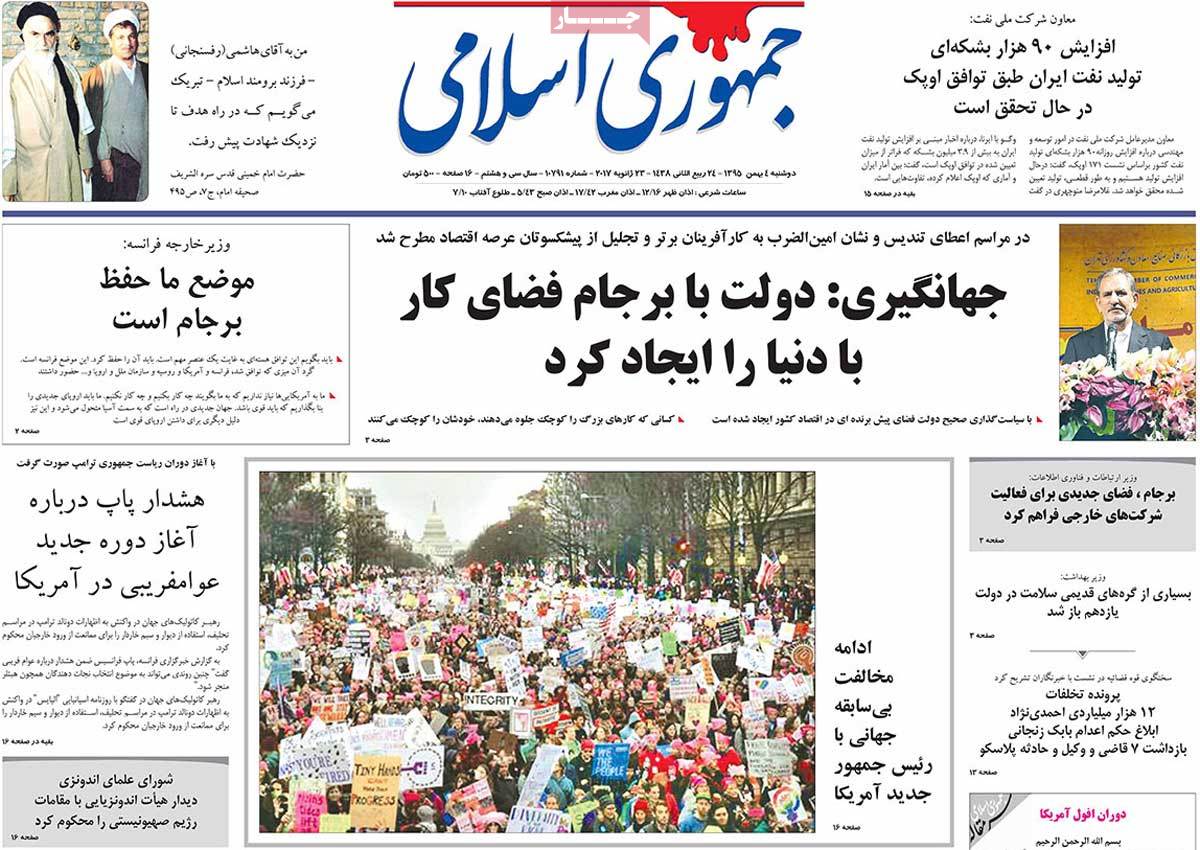 ---
Kayhan:
1- Plasco's Message Is to Focus on Action instead of Political Fight: Lessons to Be Taken from a Disaster
2- West Terrified that Trump May Become another Gorbachev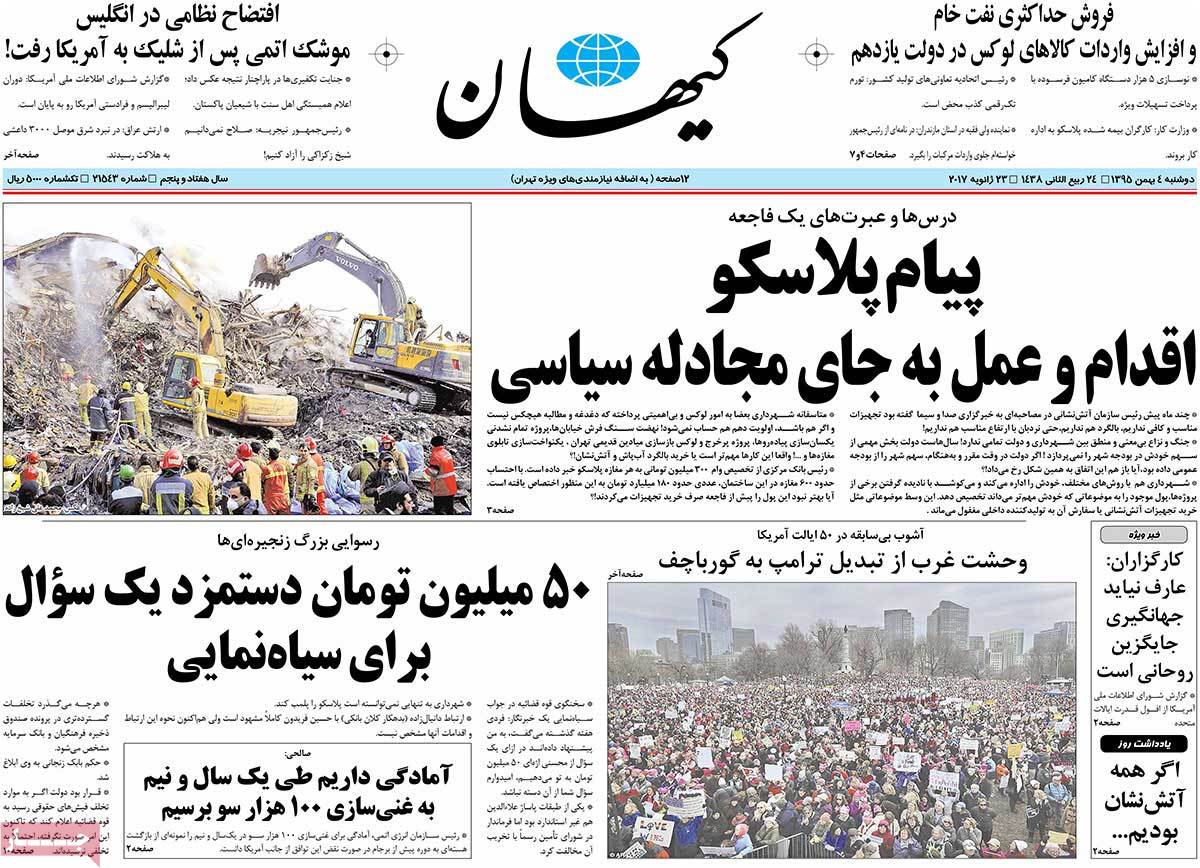 ---
Khorasan:
1- Will Plasco Turn into Iran's Triangle?
2- 100,000 SWU Warning: Nuclear Chief Says Iran Ready to Reach 100,000 SWU in 1.5 Years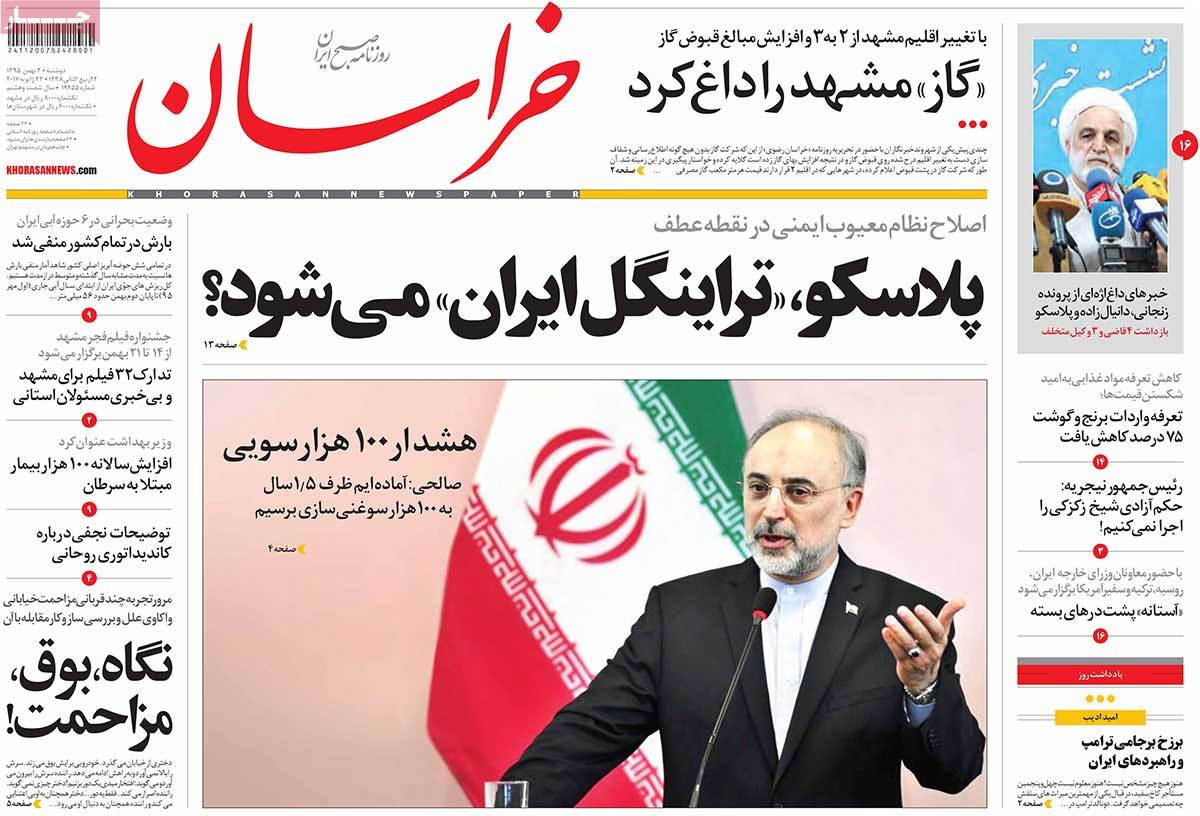 ---
Nasl-e Farda:
1- Hush! Murderers Don't Talk! [Reaction to Netanyahu's Comments about Friendship with Iranian People]
---
Payam-e Zaman:
1- JCPOA Prepared the Grounds for Working with the World: First VP
2- Women Hold Rallies against Trump in Washington
3- Four Judges and Three Lawyers Arrested: Judiciary Spokesman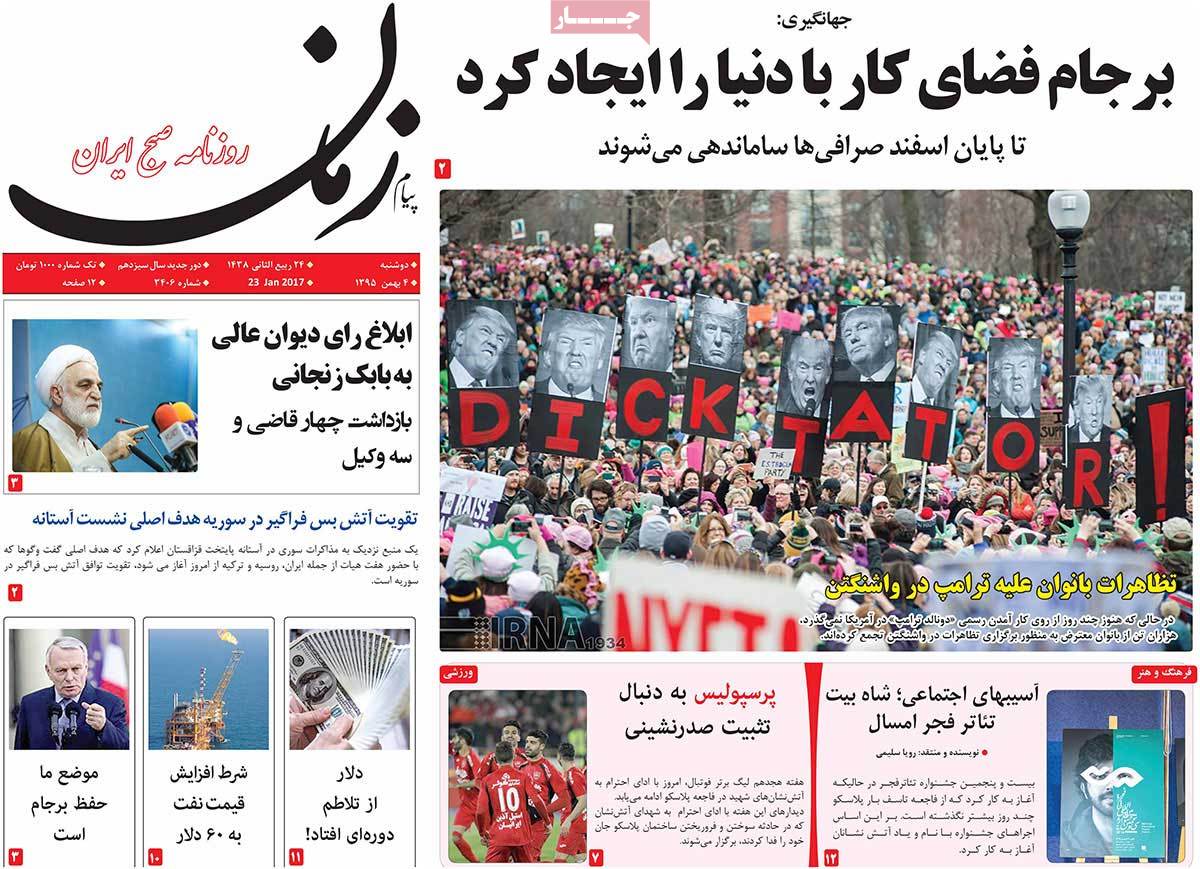 ---
Resalat:
1- Five Judges and Three Lawyers Prosecuted: Judiciary Spokesman
2- Political Quake in West: What Do Massive Protest Rallies against Trump Mean?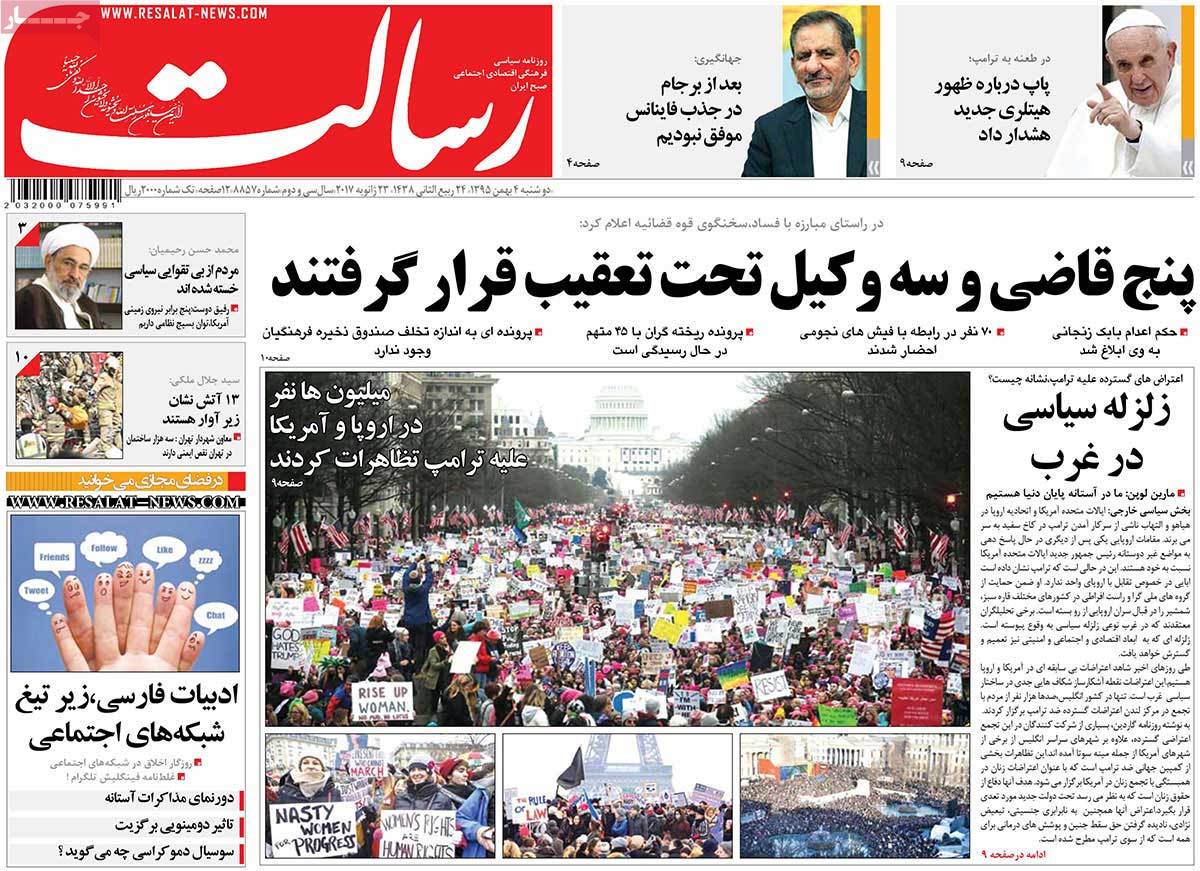 ---
Sayeh:
1- Guns that Do Not Fire Water: Child Soldiers in Bloody Phenomenon of War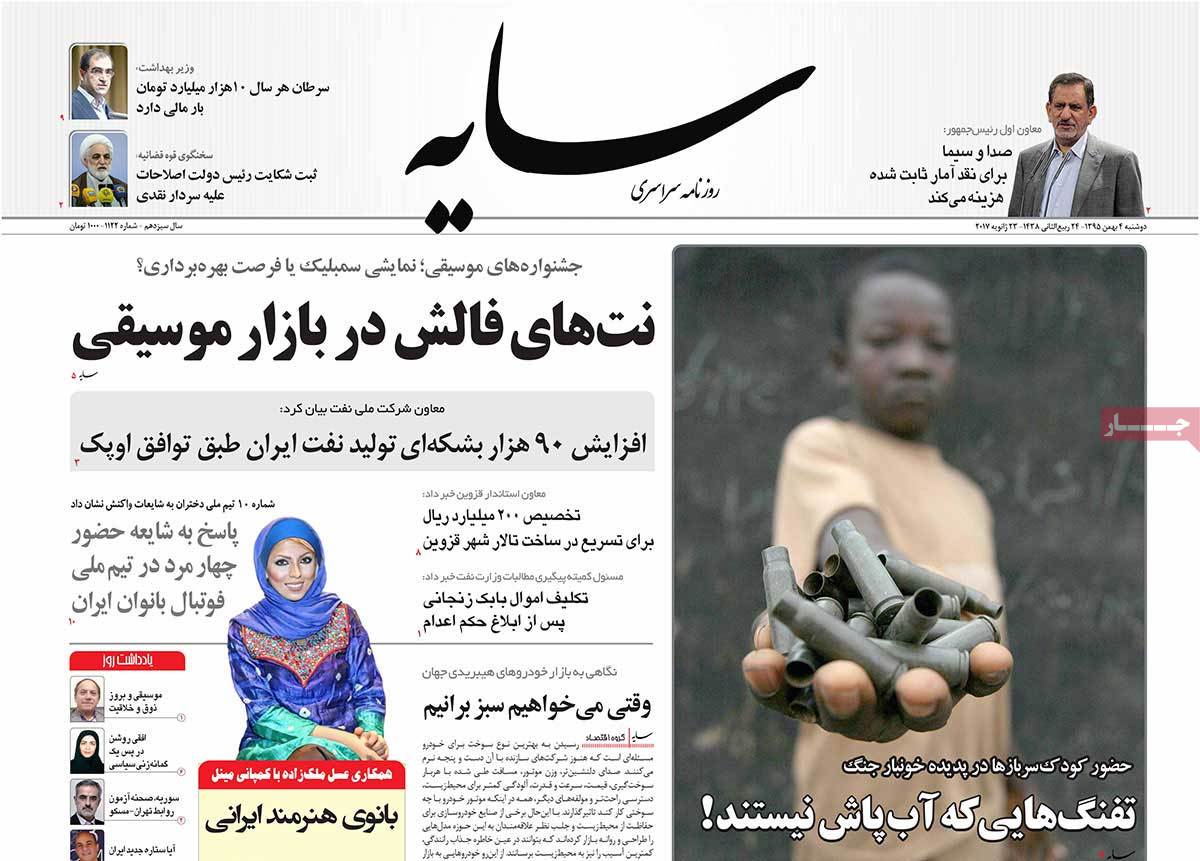 ---
Shahrvand:
1- Removing an Incident's Debris
We Die Soon: Firefighters Talk about How Difficult Their Job Is
Our Homes Are Totally Ruined: Workers and Employers of Plasco
Unknown Lost Ones: 10 Citizens Entrapped under Plasco Rubble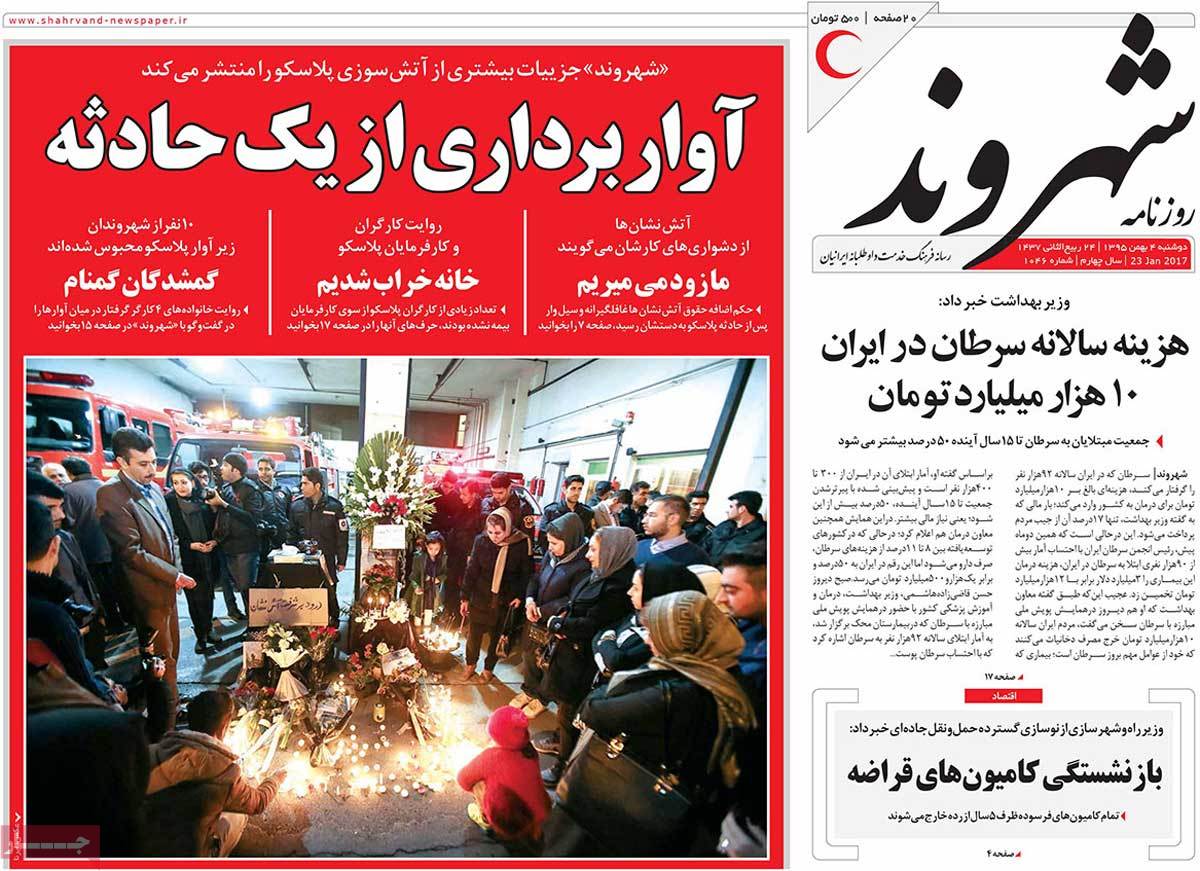 ---
Shargh:
1- Lawsuit Filed against Brigadier General Naqdi
2- Most European Visitors of Iran Are from France, Germany, and Italy: Official
---
Siasat-e Rooz:
1- A Pretext Called Trump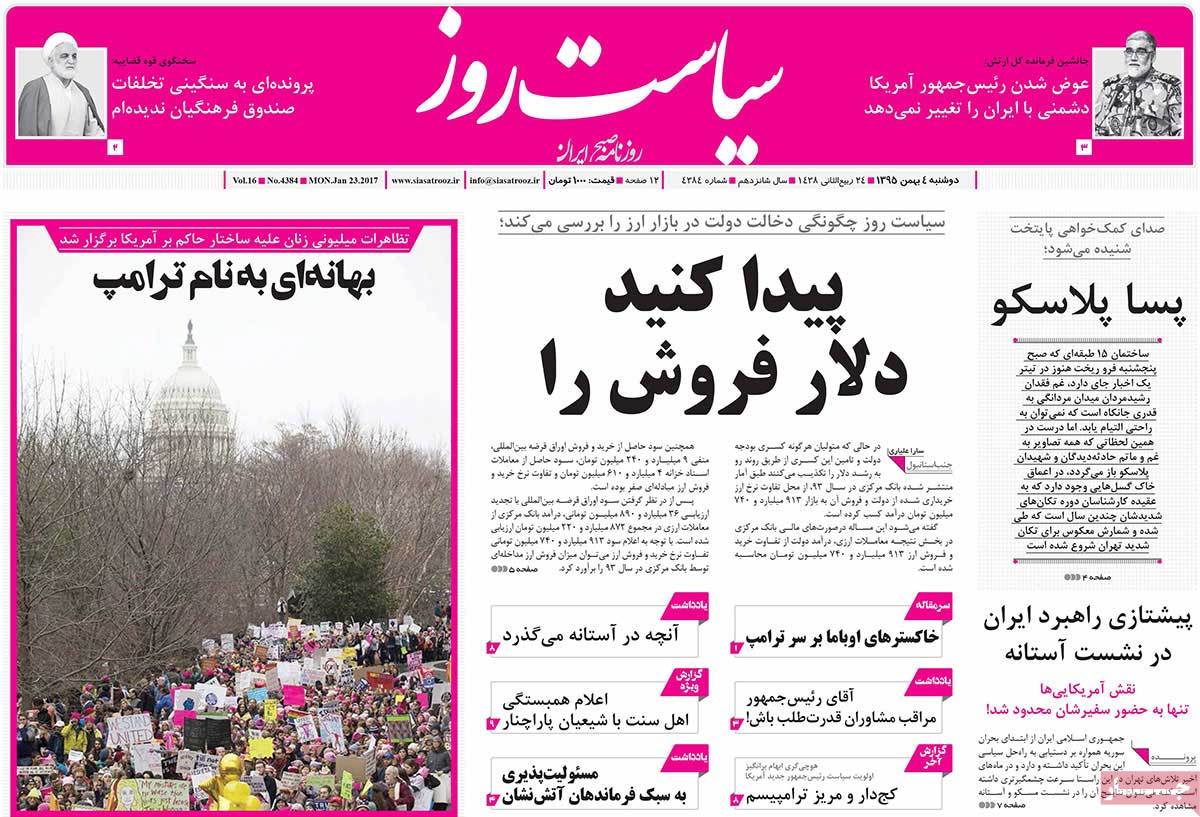 ---
Tamashagaran:
1- White House Knight: Trump Rises! New Controversy: Trump's Remarks Were Similar to Those of Batman's Bad Man