The main story in all Iranian newspapers today was the remarks made by Ayatollah Seyyed Ali Khamenei, the Leader of Iran's Islamic Revolution, in a meeting with a group of Iranian people in Tehran. The Leader talked about various issues, including the idea of 'national reconciliation' proposed by certain reformists, the massive turnout of Iranian people in February 10 revolution rallies, and people's complaints about Iranian official's weak performance in resolving their issues.
Newspapers also widely covered the one-day trips of President Hassan Rouhani to Oman and Kuwait and his talks with Omani Sultan and Kuwaiti Emir about the resolution of regional misunderstandings.
The ongoing dust pollution crisis in Iran's southwestern province Khuzestan and the government's measures to deal with the dangerous situation also remained a top story today.
The above issues, as well as many more, are highlighted in the following headlines:
Abrar:
1- Leader: It's a Sheer Lie that a Military Confrontation with Iran Was Imminent Had JCPOA Not Been Signed
2- Navy Commander: Whoever Thinks about Anti-Iran Aggression Will Receive a Response that Makes Him Regret
3- White House: Trump and Netanyahu Will Discuss Iran
4- Representatives of Iran, Russia, and Turkey to Hold Bilateral Talks ahead of Astana Meeting
5- Without JCPOA, Trump Would Have Lots of Instruments to Counter Iran
6- South Korea Using Border Speakers to Announce Murder of North Korean Leader's Brother
---
Abrar-e Eqtesadi:
1- Italian Planes en Route to Iran
2- Talks with Denmark and France for Production of Euro-5 Petrol
3- Europeans Endeavouring to Strengthen Trade Ties with Iran: Bloomberg
4- President Rouhani Calls for Development of Tehran-Muscat Economic Relations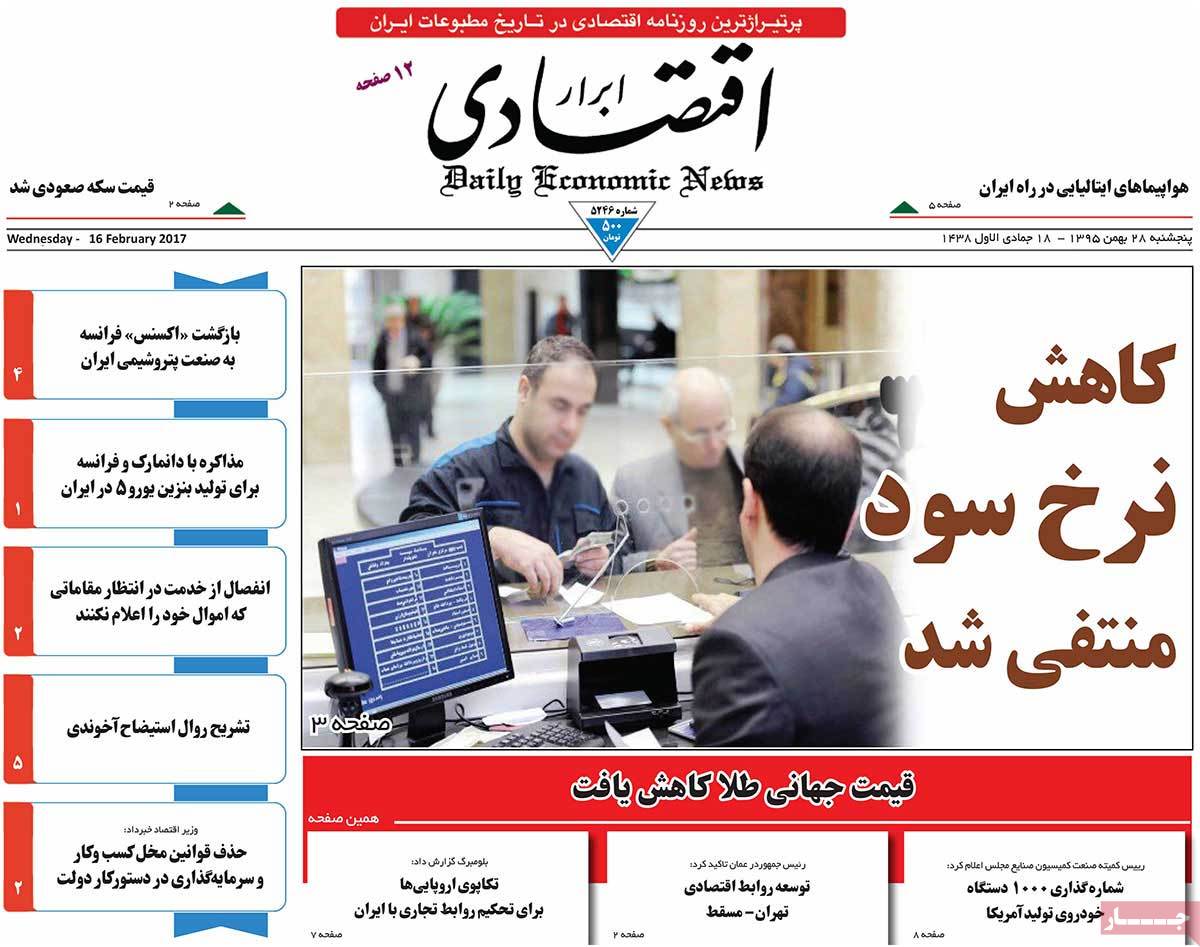 ---
Aftab-e Yazd:
1- Iran's Leader: National Reconciliation Doesn't Make Any Sense. People Are Already United. So Why Do You Talk about Reconciliation? Yes, People Are against Those Who Took to Streets on the Day of Ashura in 2009, Beating and Stripping the Young Basiji Shamelessly and Brutally. They Are against Them, and They Won't Reconcile with Them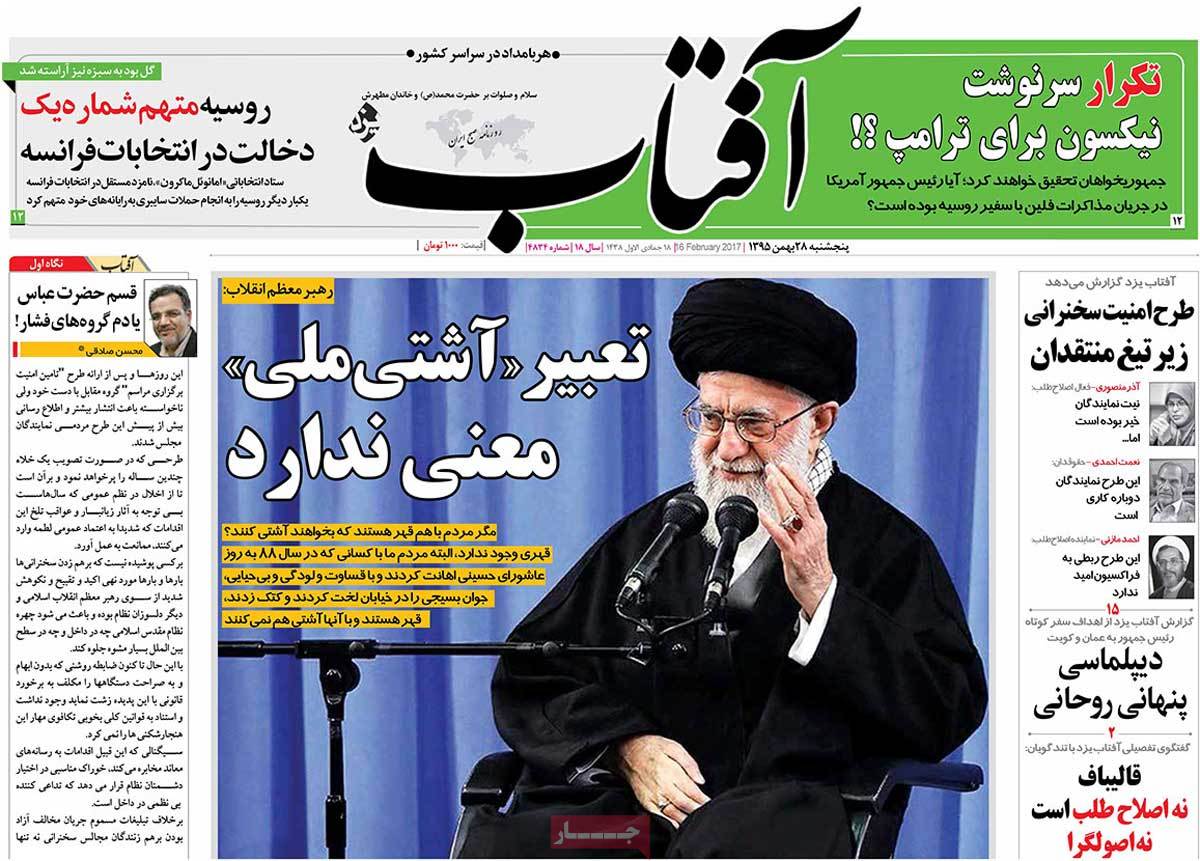 ---
Arman-e Emrooz:
1- Today, 40th Day after Death of Ayatollah Rafsanjani to Be Commemorated in Imam Khomeini's Mausoleum
2- President Rouhani's One-Day Trips to Oman and Kuwait: Middle East Thirsty for Win-Win Game
3- Rouhani to Emir of Kuwait: Negotiation Is Only Way to Resolve Regional Misunderstandings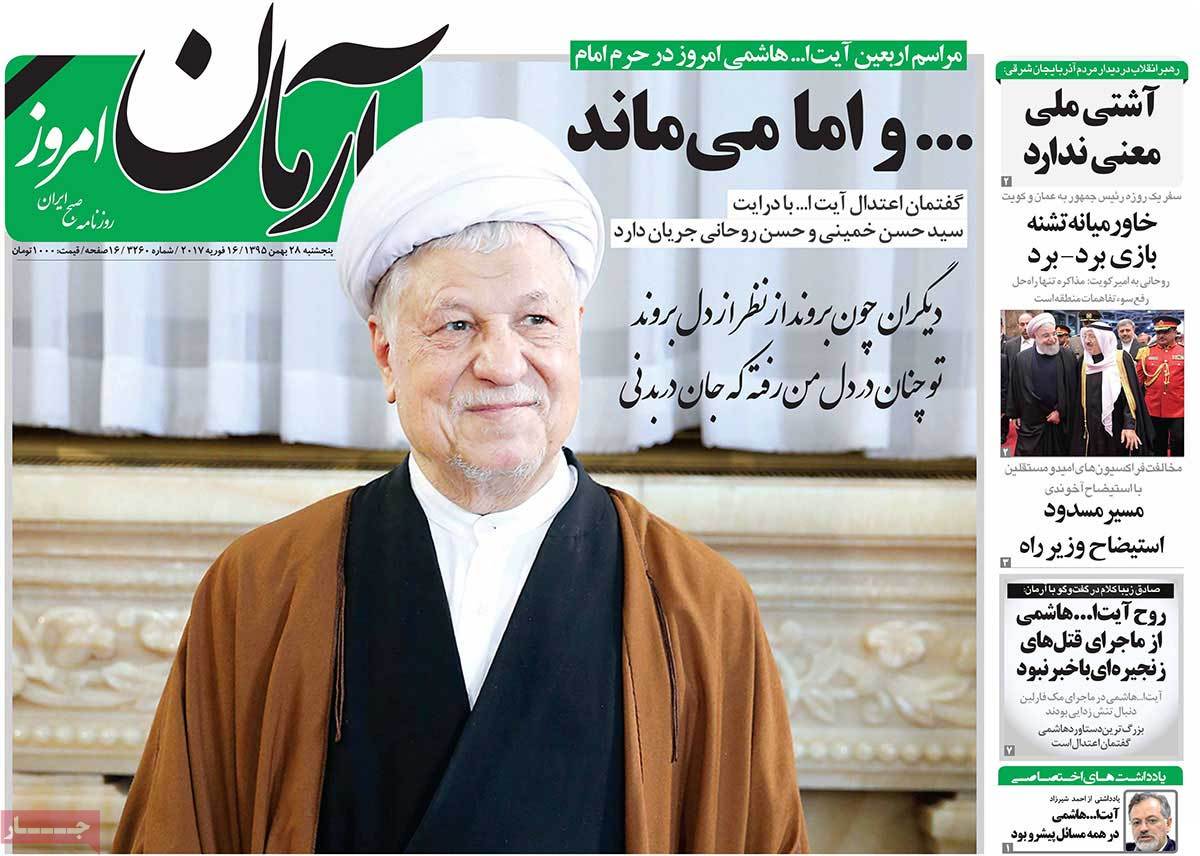 ---
Ebtekar:
1- Parliament Speaker: Khuzestan Crisis among Iran's Priorities
2- Province of Those Who Don't Have Any ID Cards: Thousands of Iranians Living in Sistan and Baluchestan Province in Southeast Still Looking for Their Identities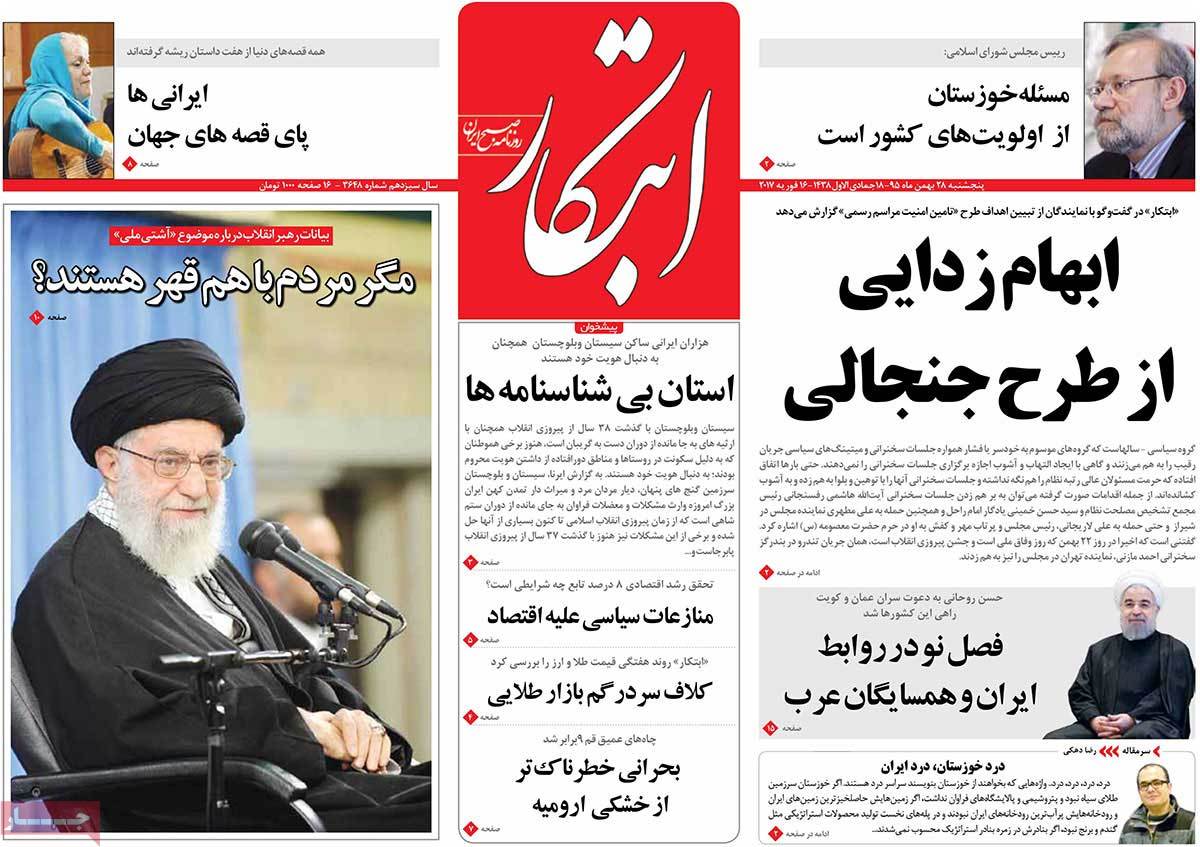 ---
Etemad:
1- Beginning of Regional Talks: Rouhani Talks of Iran's Resolve to Settle Differences in Visits to Oman and Kuwait
2- Parliament Speaker Urges Formation of Special Working Group for Crisis in Khuzestan Province
3- Oil Minister: Total Deal to Be Finalised in Two Months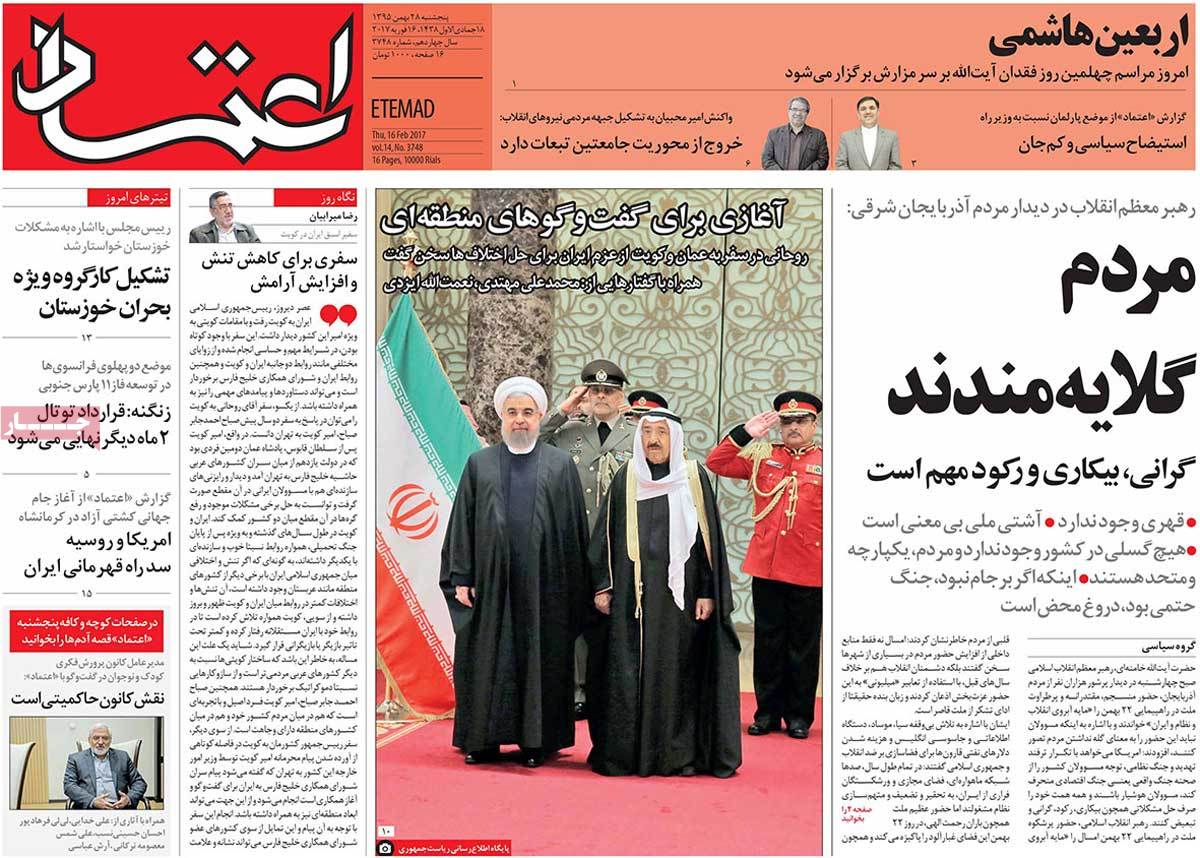 ---
Ettela'at:
1- Leader: People Do Not Approve of Discrimination and Negligence of Certain Problems
2- Pentagon Admits US Army Has Used Weapons with Uranium in Syria
3- Iran's President in Oman: Tehran's Military Power Is a Strong Back for Regional Security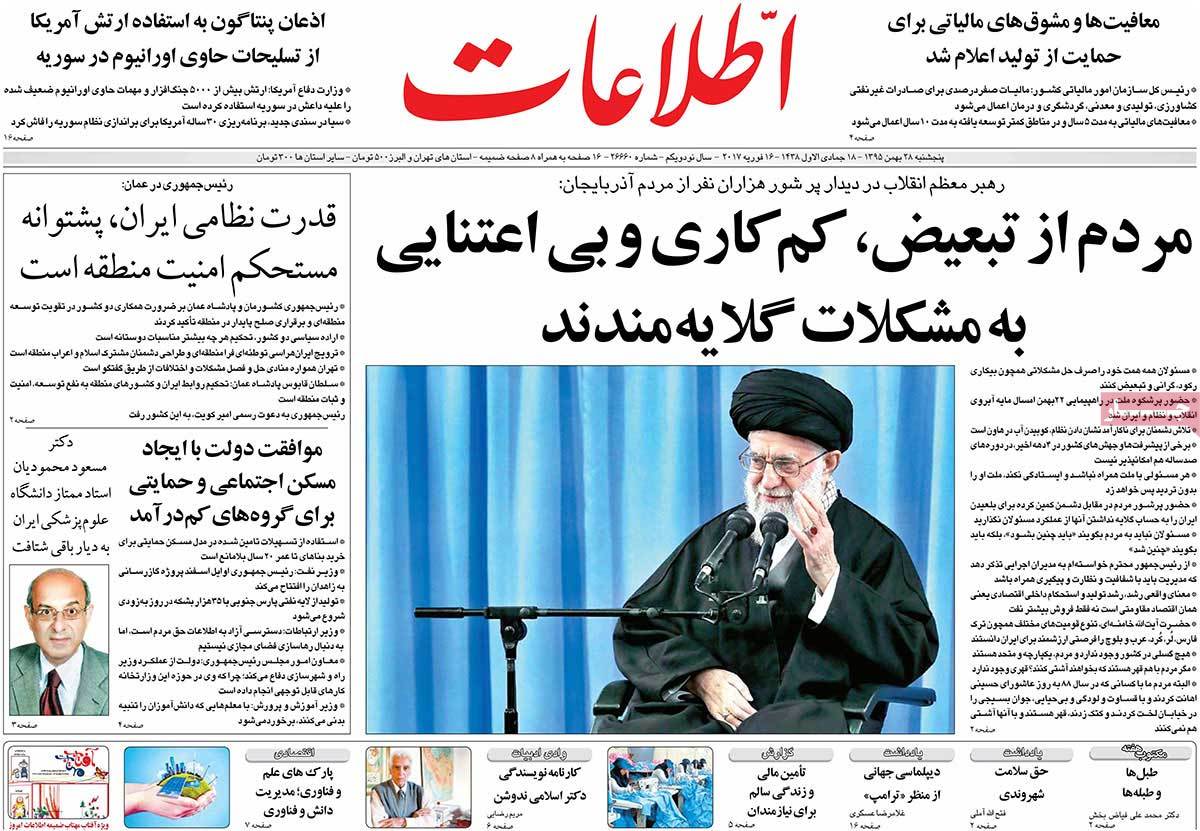 ---
Ghanoon:
1- Interview with Iranian Manager of US Wrestling Team Visiting Iran for World Cup: We Feel We're Home
2- Women's Names on Ballots: Lawmakers and Jurists Waiting for Guardian Council's Interpretation of 'Man of Politics' [which will allow women to run for presidential votes]
3- Female Swedish Diplomats' Visit to Tehran Sparks Controversy: Sweden Gripped by Issue of Hijab
---
Hemayat:
1- Deputy FM: Snapback of Sanctions Means Scrapping Nuclear Deal
2- Al Khalifa and Erdogan Make a Secret and Dangerous Deal: Leader of Bahrain's Shiites to Be Exiled to Turkey
---
Iran:
1- Iran's Leader: This Year's 22 Bahman Rallies [February 10] Brought about Respect and Dignity for Iran and Revolution
2- Oman's Sultan and Kuwait's Emir Receive Iranian President: Southern Neighbours' Positive Response to Rouhani's Regional Initiative
3- Rouhani: All Countries Must Unite against Such Inclusive Issues as Terrorism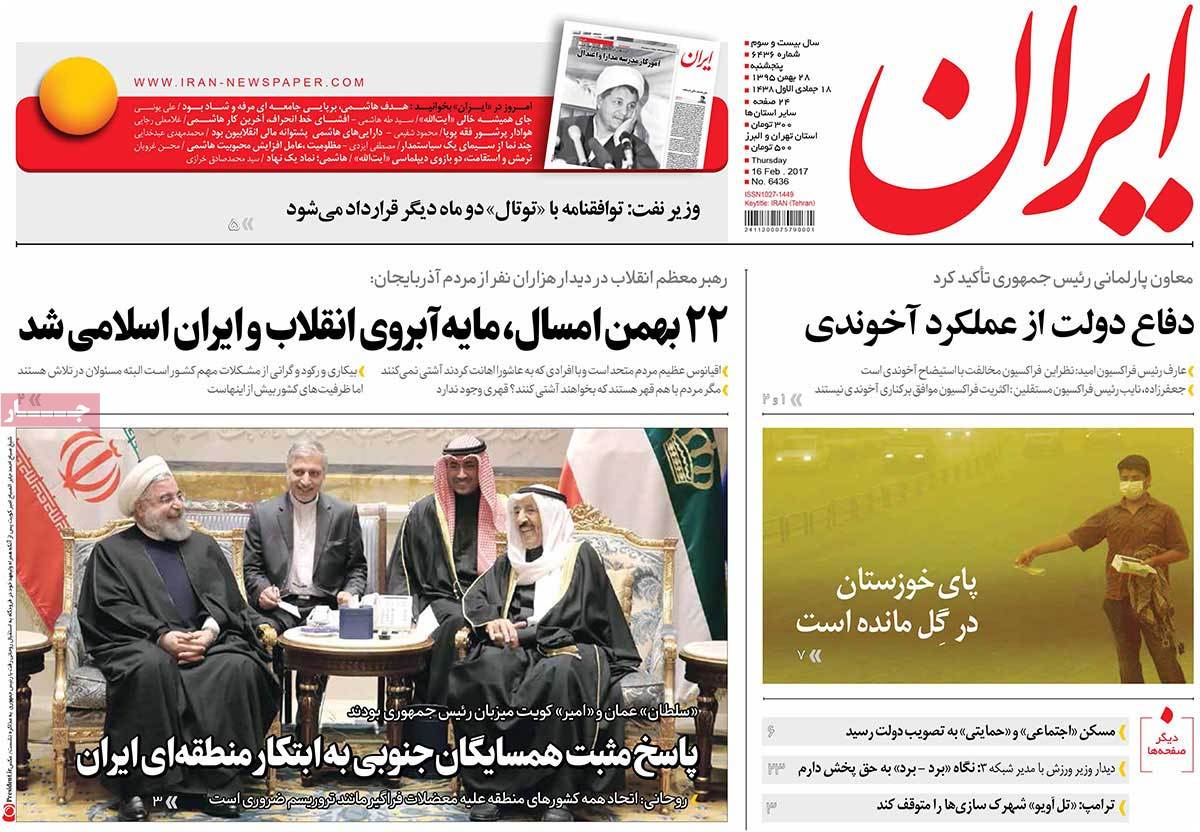 ---
Jame Jam:
1- Leader: People Have Complaints about Unemployment, Economic Downturn, and Inflation
2- President Rouhani: Iranophobia Is an Ultra-Regional Plot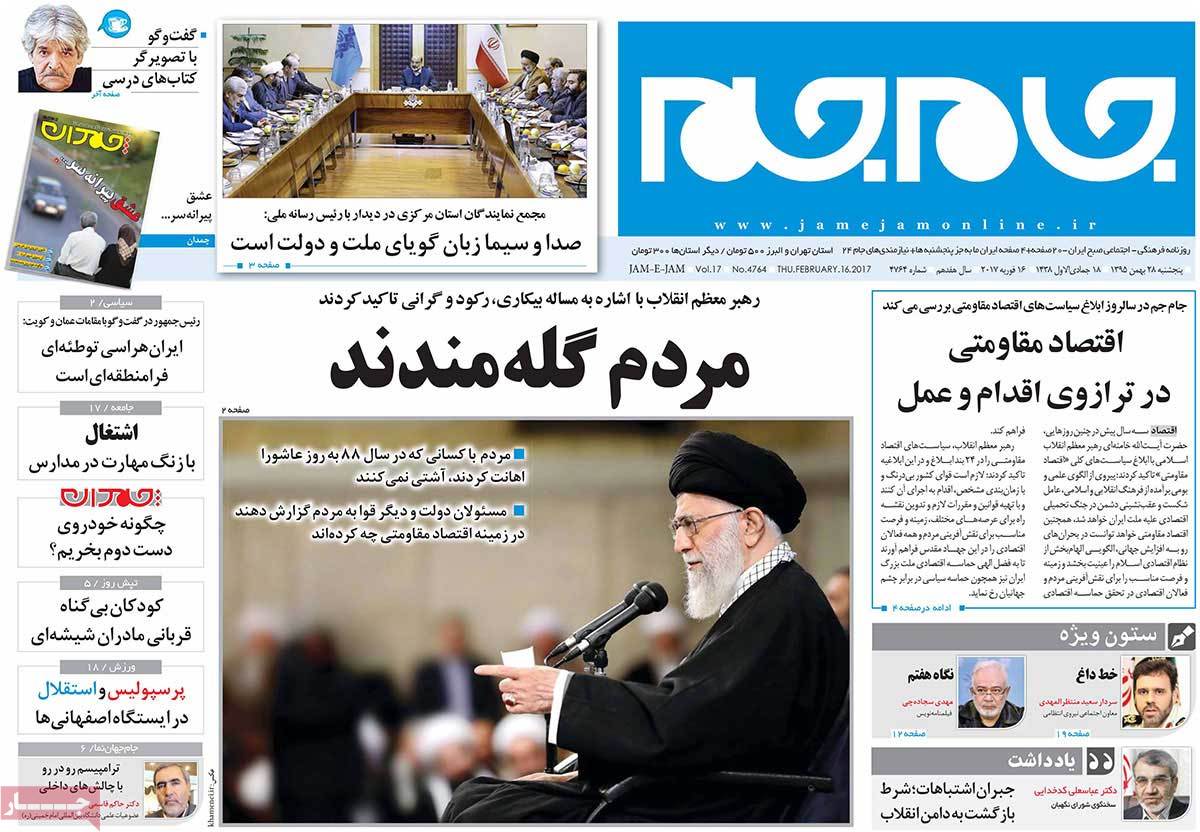 ---
Javan:
1- Iran's Leader: People Suffering from [government's] Indifference to Problems
2- Deputy FM Araqchi, Just like Zarif, Separated JCPOA's Efficiency from Government's Performance
3- US on Verge of 'Kremlingate': Increased Pressure on White House to Explain about Trump's Ties with Russia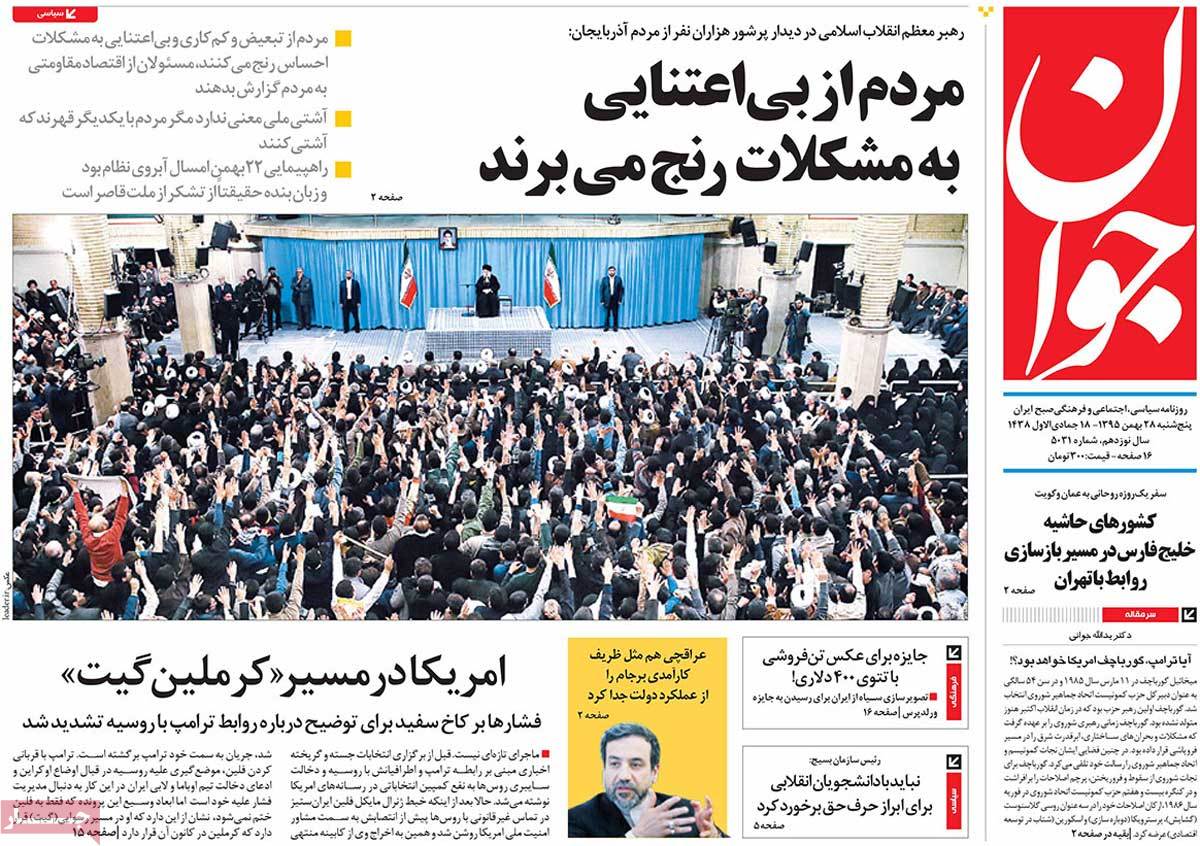 ---
Jomhouri Eslami:
1- Ayatollah Khamenei: Today, Everyone Admits Dignity and Power of Iranian Nation and Iran's Decisive Role
2- President Rouhani: Tehran Always Welcomes Expansion of Bilateral and Regional Ties with Neighbours
3- White House: Trump Wants Russia to Return Crimea; Kremlin: Crimea Is Part of Russia and Not Negotiable
---
Kayhan:
1- Trump's Harsh Remarks against Iran Nothing More than a Bluff
2- Head of Munich Security Conference: Era of West [dominance] Is Over and New Order Is Coming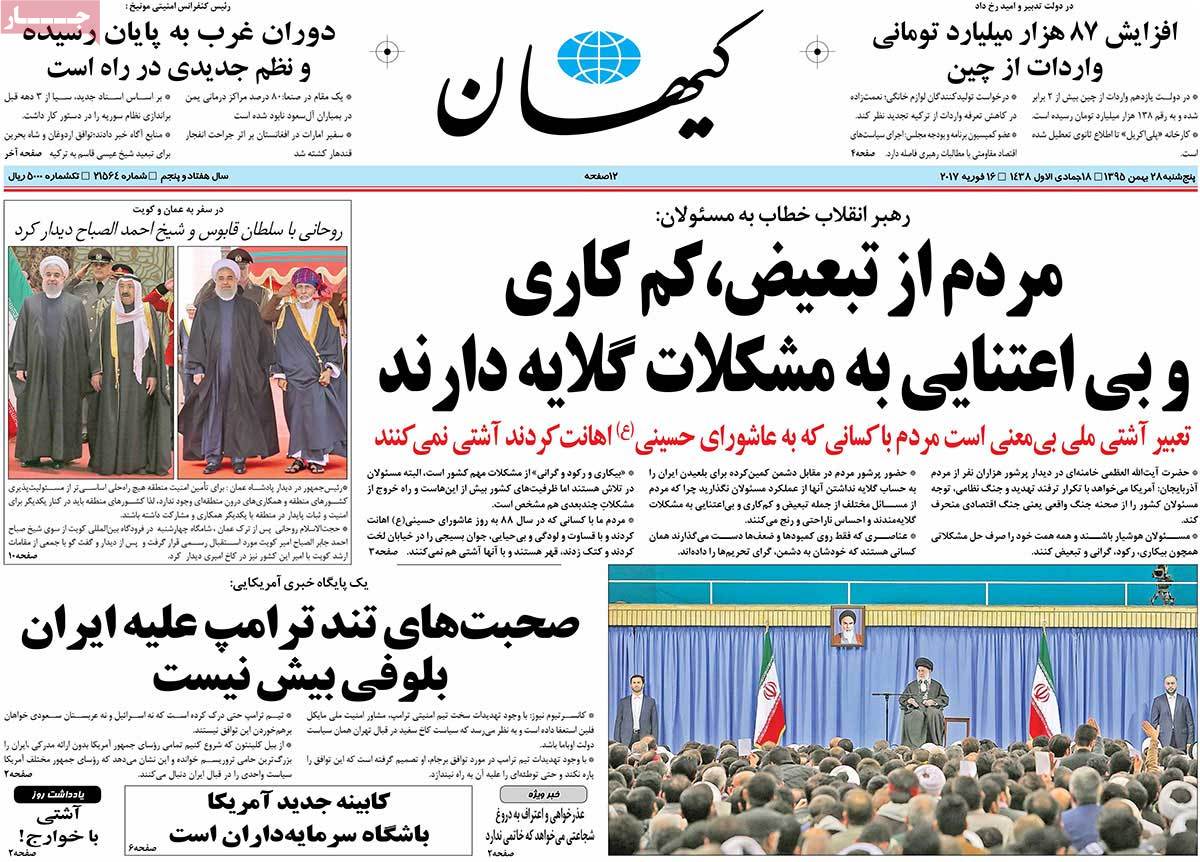 ---
Resalat:
1- Leader: People Won't Reconcile with Those Who Caused Sedition in 2009
2- Interior Minister: Iran's Financial and Monetary Systems Not Compatible with Resistance Economy
3- Economy Minister: All Economic Sectors, Expect for Construction, Have Grown
4- Deputy FM: US Sanctions in Monetary and Banking Fields Still in Place
---
Shahrvand:
1- Leader: Efforts to Show Iran's Establishment as an Inefficient Ruling System Are Futile
2- Message of Unity: Oman's Sultan Receives Rouhani by Firing 21 Cannonballs as Message of Friendship; Emir of Kuwait, Crown Prince, Prime Minister, and All Ministers Welcome Rouhani
3- Deputy Head of Iran's Environment Dept. Declares Sources of Dust Pollution in Khuzestan Province: 100,000ha Critical and 30,000ha Hypercritical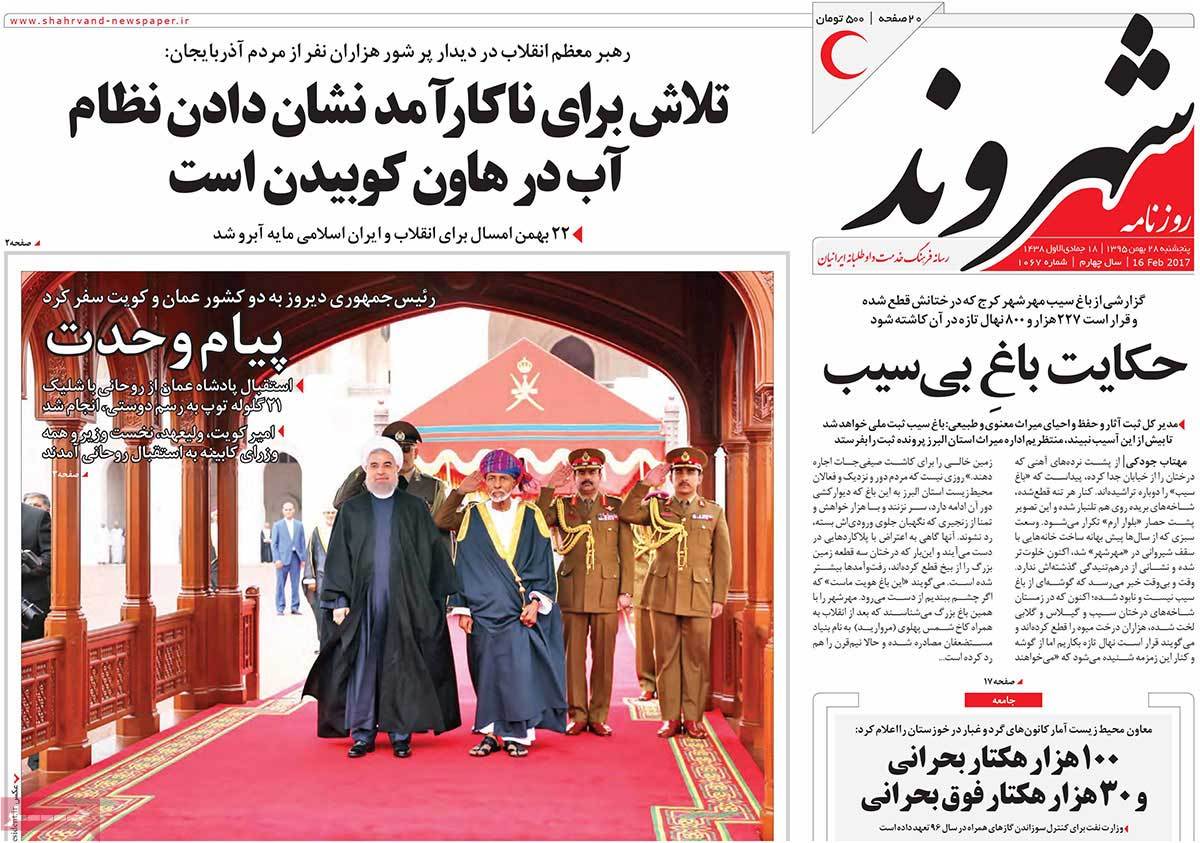 ---
Vaghaye Ettefaghieh:
1- A Report of Rouhani's One-Day Visits to Oman and Kuwait: Iran's Message of Peace for Arabs
2- Advisor to Iranian Parliament Speaker Amir Abdollahian: Muslim World Should Take Common Stance on Issue of Palestine