Newspapers today widely covered the resignation of Trump's National Security Advisor Flynn after his secret contacts with Russia were revealed.
Another top story was President Hassan Rouhani's meeting with Luxembourgian Foreign Minister in Tehran, during which he expressed the Islamic Republic's preparedness to expand ties with the European Union.
The ongoing pollution crisis in Iran's southwestern province Khuzestan also received great coverage. Many papers urges government to immediately resolve the dangerous situation there.
The above issues, as well as many more, are highlighted in the following headlines:
19 Dey:
1- Nateq Noori: Arbitrary Decisions One of Iran's Major Problems
2- Rouhani: Iran to Remain Committed to Nuclear Deal as Long as Other Side Respects Its Commitments
3- Grand Ayatollah Makarem Shirazi's Unprecedented Warning to Guardian Council: Council Should Not Interfere in Areas Related to Senior Clerics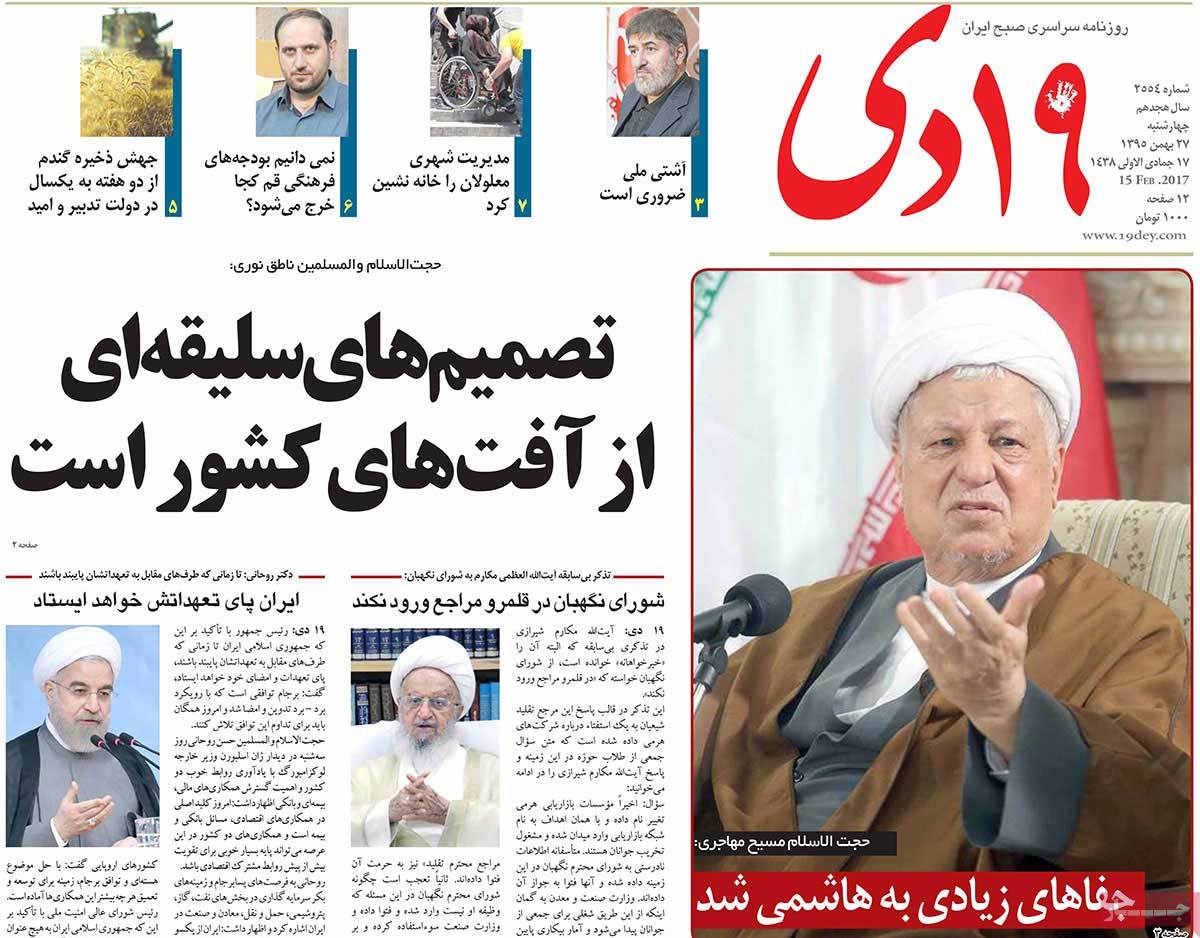 ---
Abrar:
1- Brand New Airplane Has to Be Fixed Shortly after Being Purchased!
2- Rouhani: Iran Welcomes Deepening of Ties with EU Member States in All Spheres
3- 8 Girls Arrested after Trying to Watch Tehran Derby in Azadi Stadium
4- Amano: US Has Yet to Call IAEA about Iran Nuclear Deal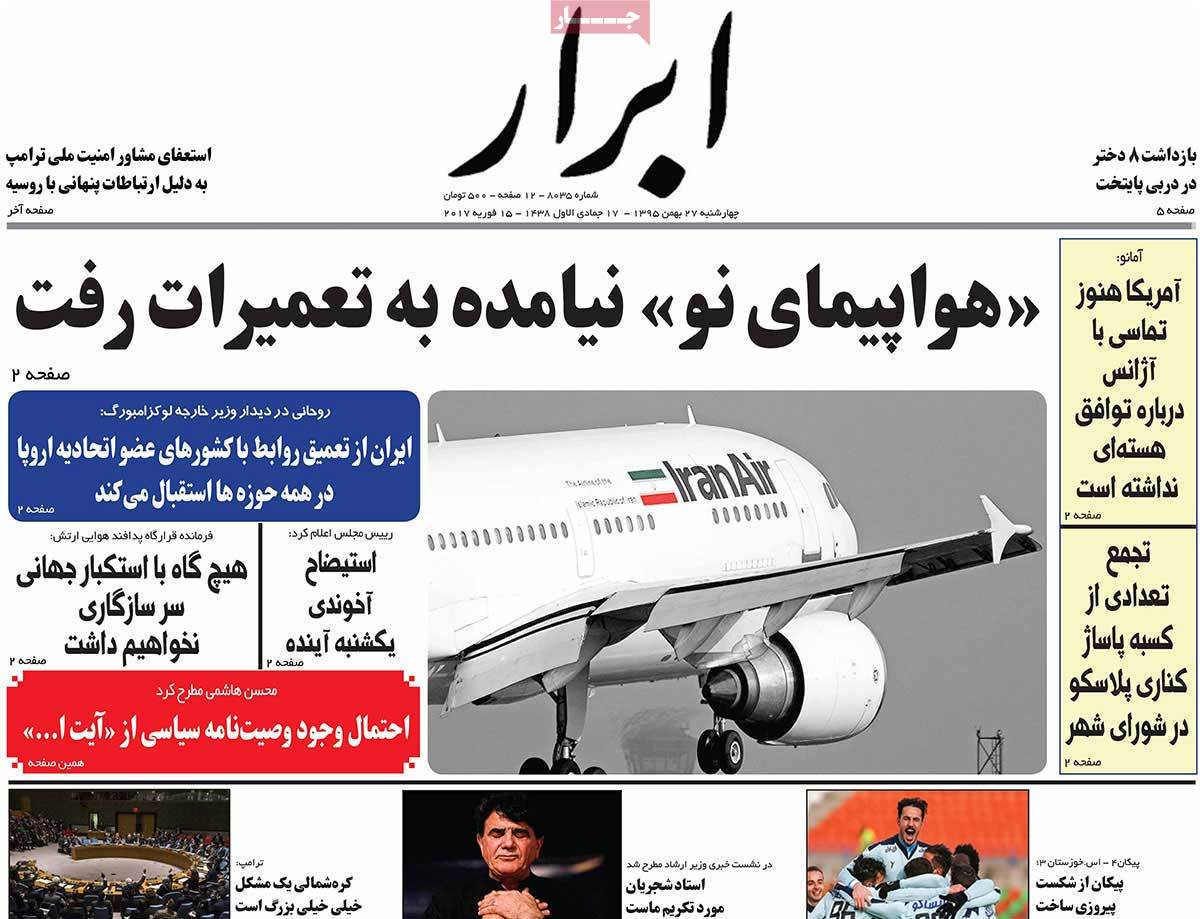 ---
Afkar:
1- Amano: Iran Missile Test Not Related to Nuclear Deal
2- Leaked Documents Show US Secret Attack on Iranian Vessel
---
Aftab-e Yazd:
1- Culture Minister Evades Question about Giving Permission to Master Shajarian for Holding Concert: We Wish Him Speedy Recovery!
2- Veteran Conservative Nateq Noori: We've Made Our Neighbouring Countries Rich!
3- White House Suffering from Russian Flu: Trump's Advisor Resigns after His Secret Ties with Kremlin Revealed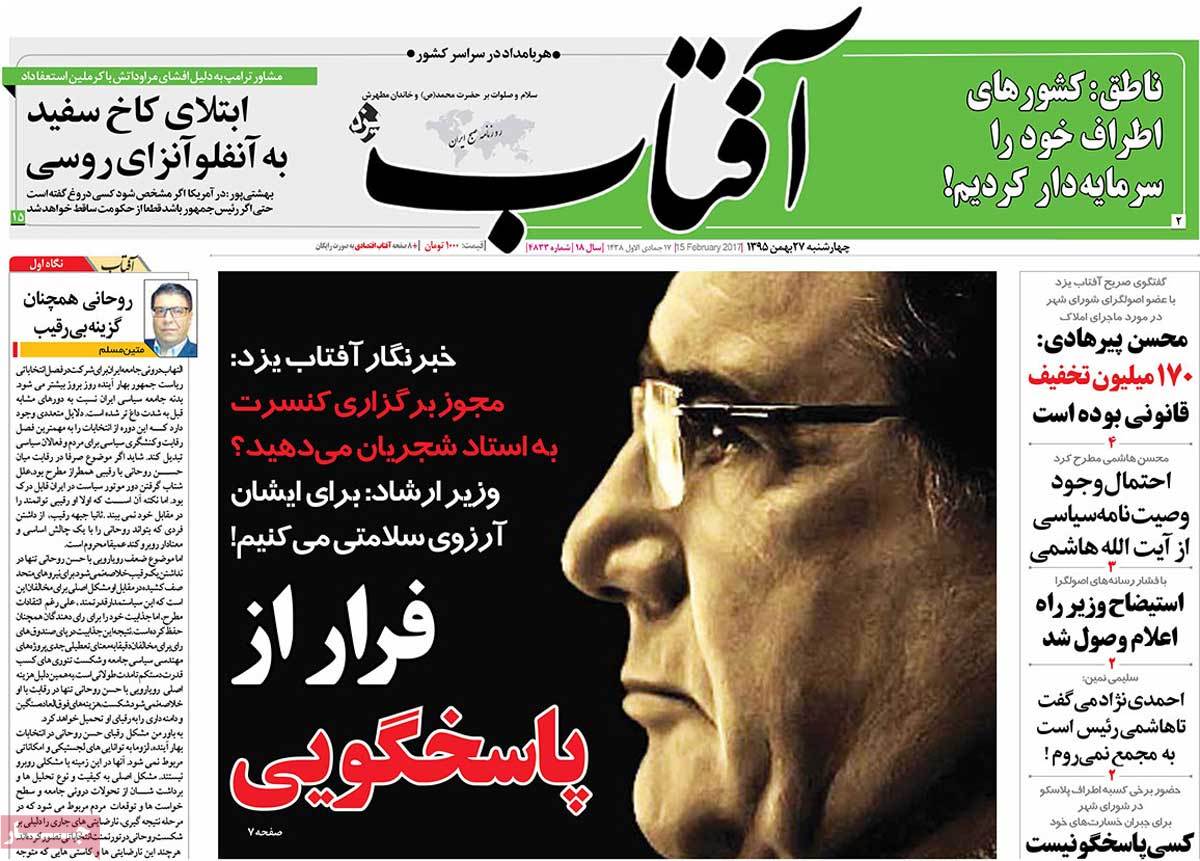 ---
Arman-e Emrooz:
1- Ayatollah Hashemi Rafsanjani's Son: The Late Ayatollah Might Have Written a Political Will
2- Americans Welcomed in Kermanshah: US Wrestlers Faced with Iranians' Hospitality
3- Hope and Moderation Key Points of Culture Minister's Speech: Permission Issued for Master Shajarian's Album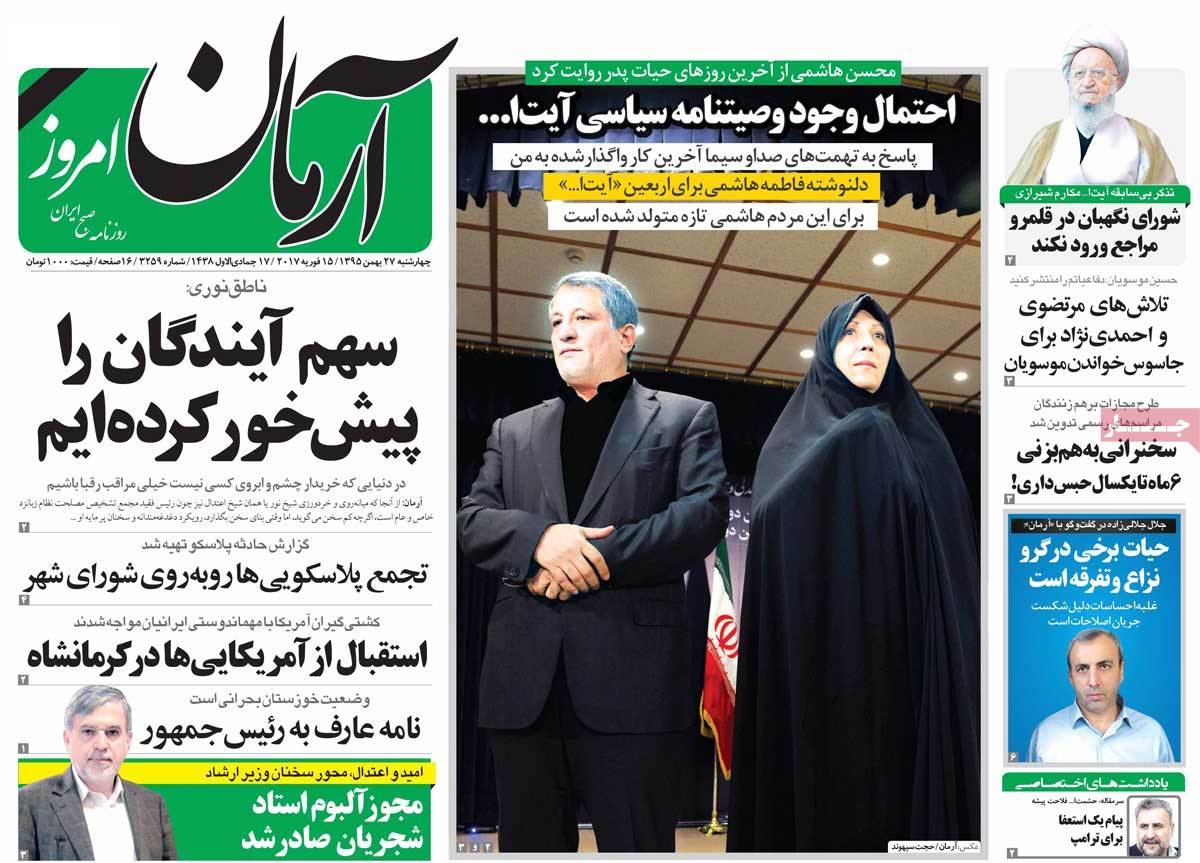 ---
Asr-e Rasaneh:
1- Oil Minister: We Won't Import Petroleum in New Iranian Year [due to begin in March]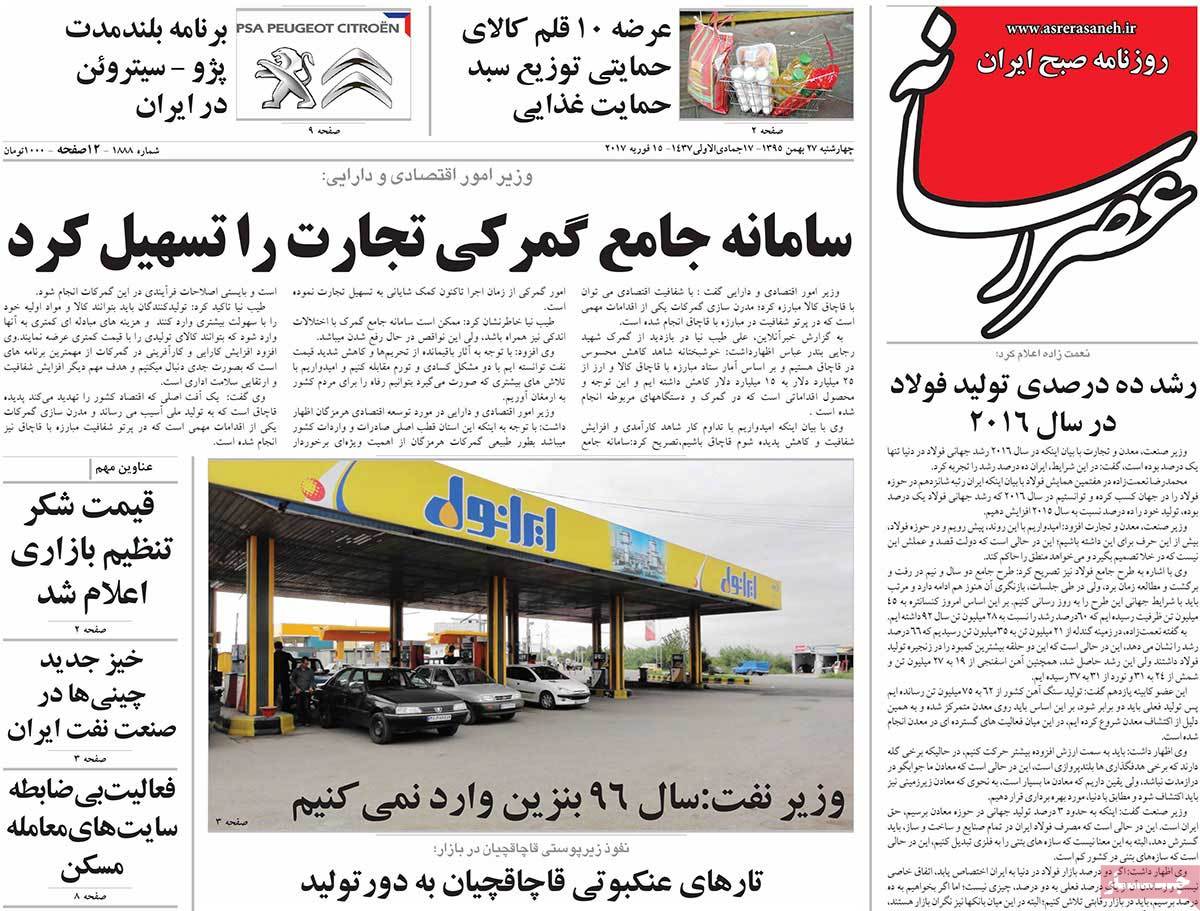 ---
Etemad:
1- Anti-Iran Figure out of Trump's Cabinet
2- Do Something for Khuzestan Province: Reformist MP Aref Writes to Rouhani about Continued Crisis in Ahvaz
3- House Arrest of Opposition Leaders a National Decision: Tehran Prosecutor
---
Ettela'at:
1- Rouhani: Iran to Remain Loyal to Its Commitments; Resolving Such Issues as Terrorism and Extremism Needs Stronger Resolve and Further Cooperation
2- Culture Minister: We're Responsible for Ensuring Security of Journalists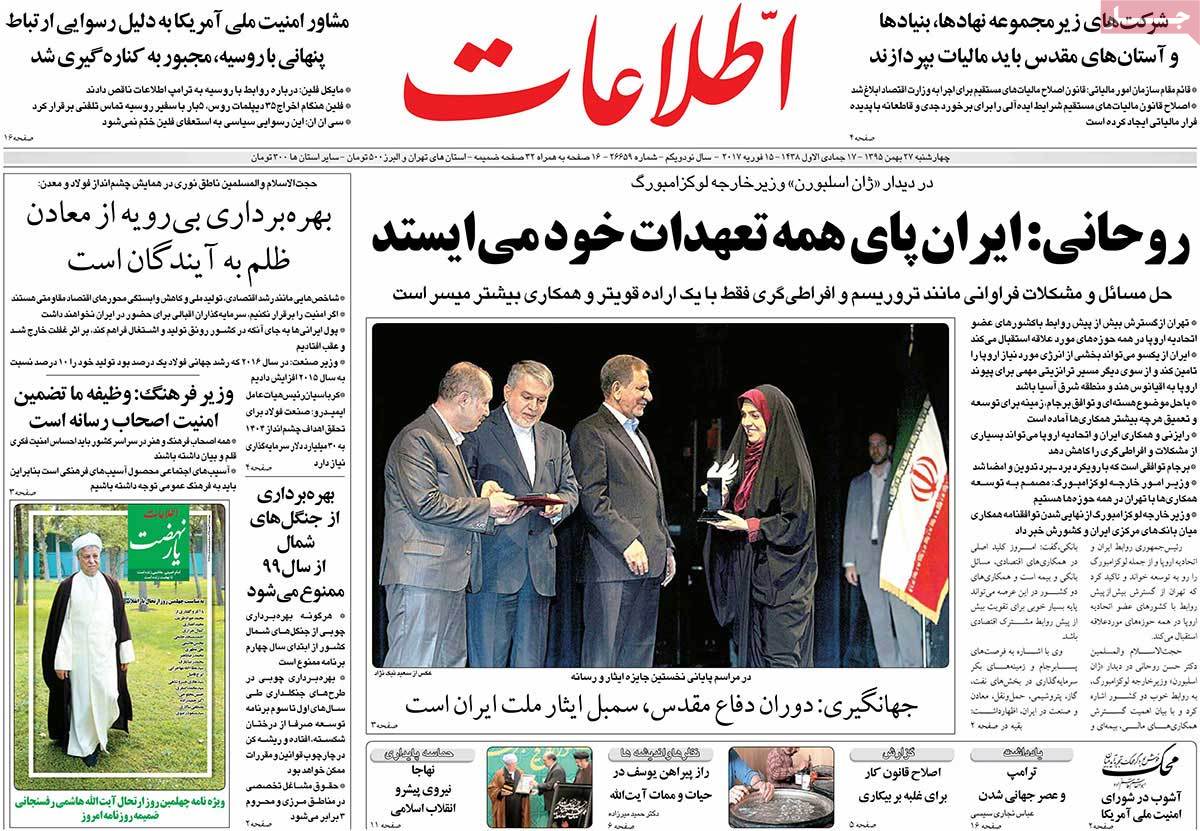 ---
Iran:
1- Culture Minister: We're Opposed to Taking a Hard Line in Fields of Culture and Art
2- President Departs for Oman and Kuwait: Rouhani's Initiative to End Regional Differences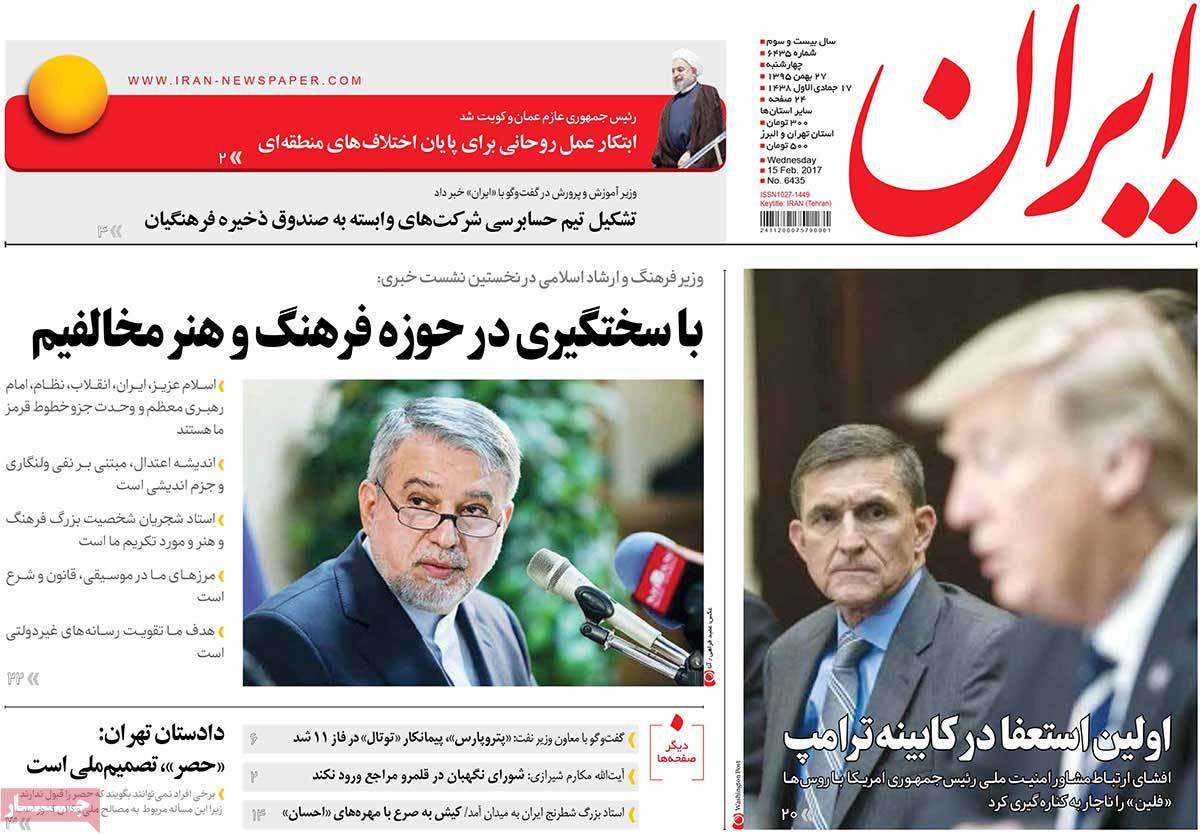 ---
Jame Jam:
1- Parliament Plans to Establish Ministry of Environment
2- Senior Conservative Haddad Adel: I Won't Run for Presidential Election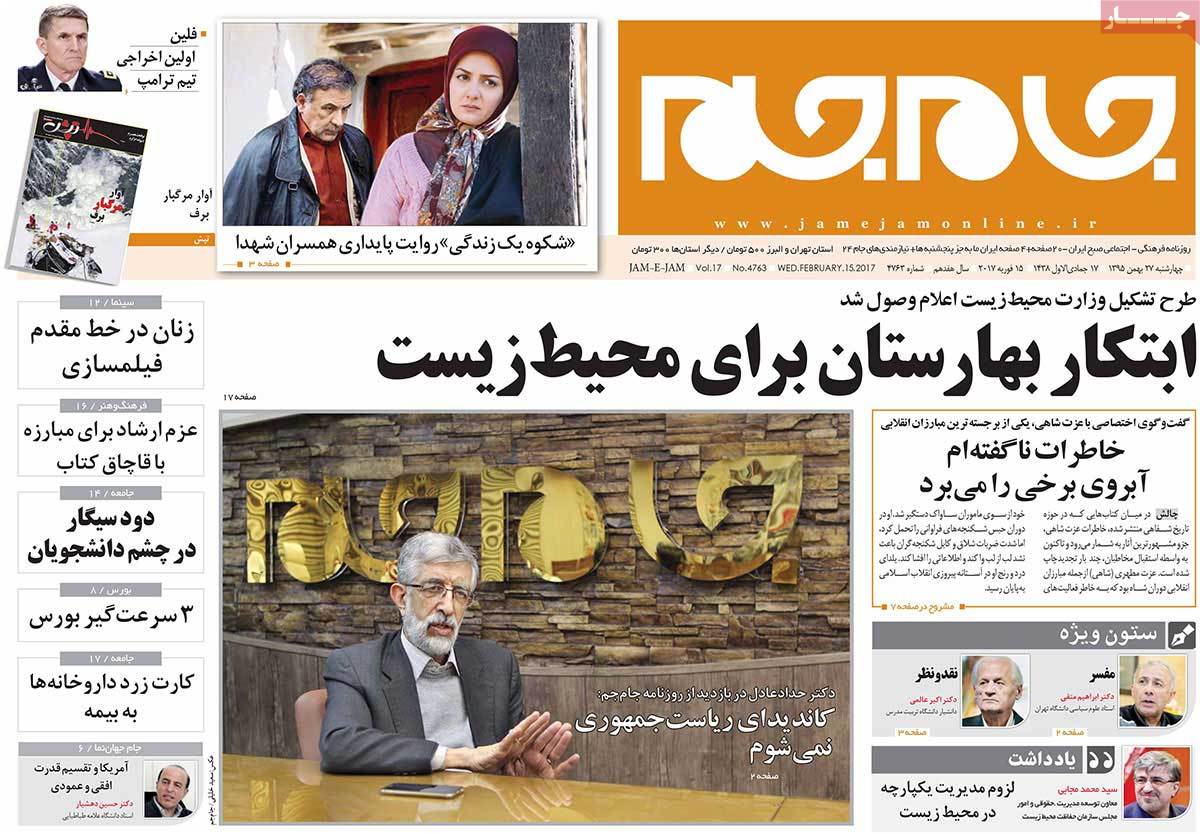 ---
Javan:
1- US Media's Prediction after Flynn's Resignation: Domino of Resignation Starts in White House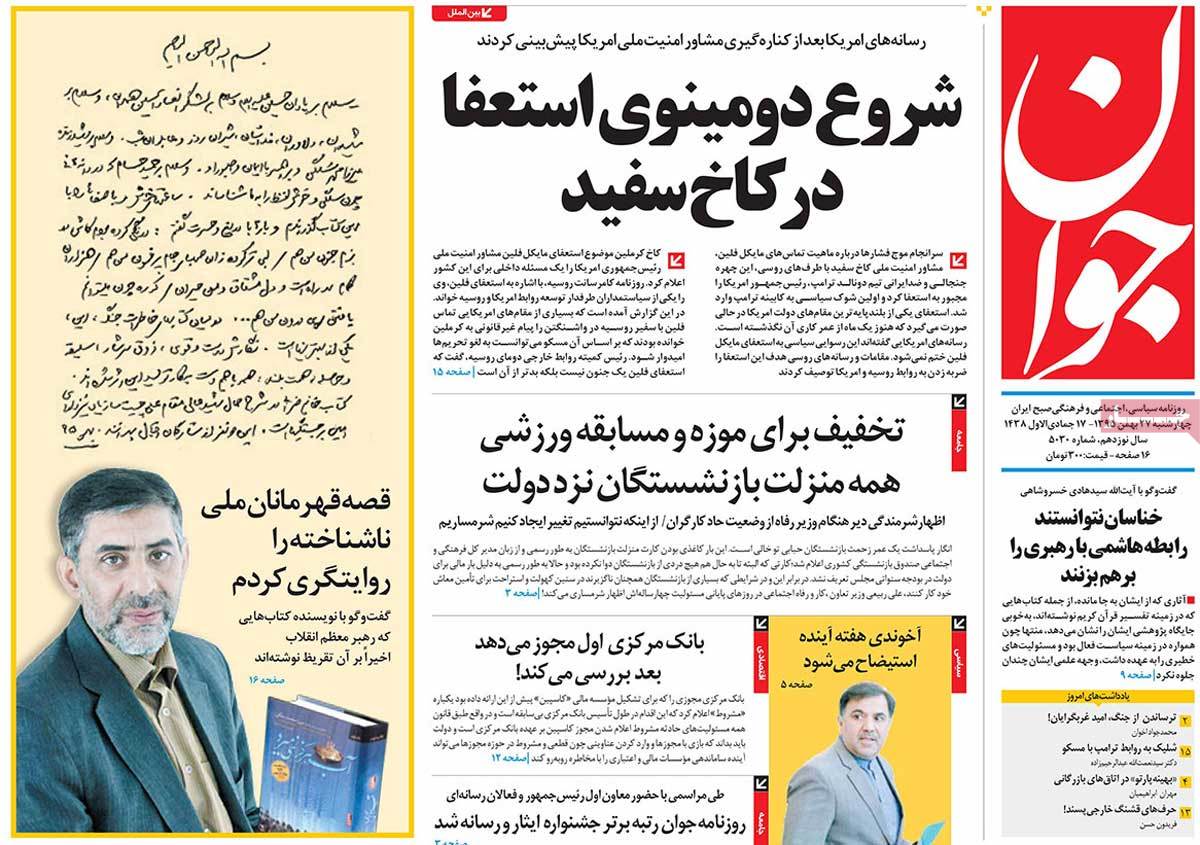 ---
Jomhouri Eslami:
1- Those Who Disrupt Official Ceremonies and Speeches Will Be Punished If Parliament Approves the Bill
2- Nateq Noori: Security Is Prerequisite for Presence of Foreign Investors in Iran
3- Economy Minister: Iran's Economy Revolutionised after JCPOA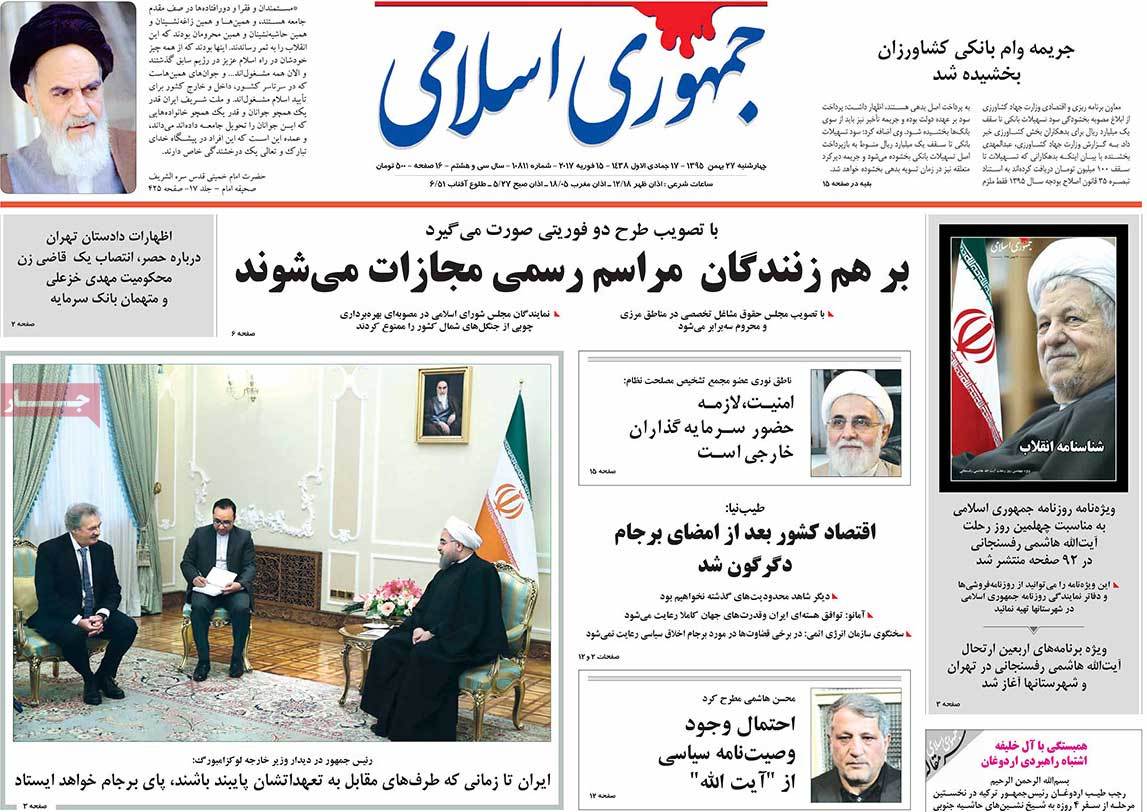 ---
Kayhan:
1- Defence Minister Unveils First Homegrown Outboard Motor
2- Government's Economic Team Has Been Unfair to Iranian People: Reformist Figure
3- Israeli Forces Arrive in Bahrain to Help Suppression of Revolutionaries
4- Mr President! Pay a Visit to Khuzestan Province and See Their Problems
---
Payam-e Zaman:
1- Continued Control of Inflation Rate Next Year: 3 to 4 Zeroes to Be Removed from National Currency
2- First VP in Reaction to Threats against Iran's Missile Industry: No Wise Person Deprives Oneself from Defensive Weapons
3- Michel Aoun: World Is Witnessing a Third World War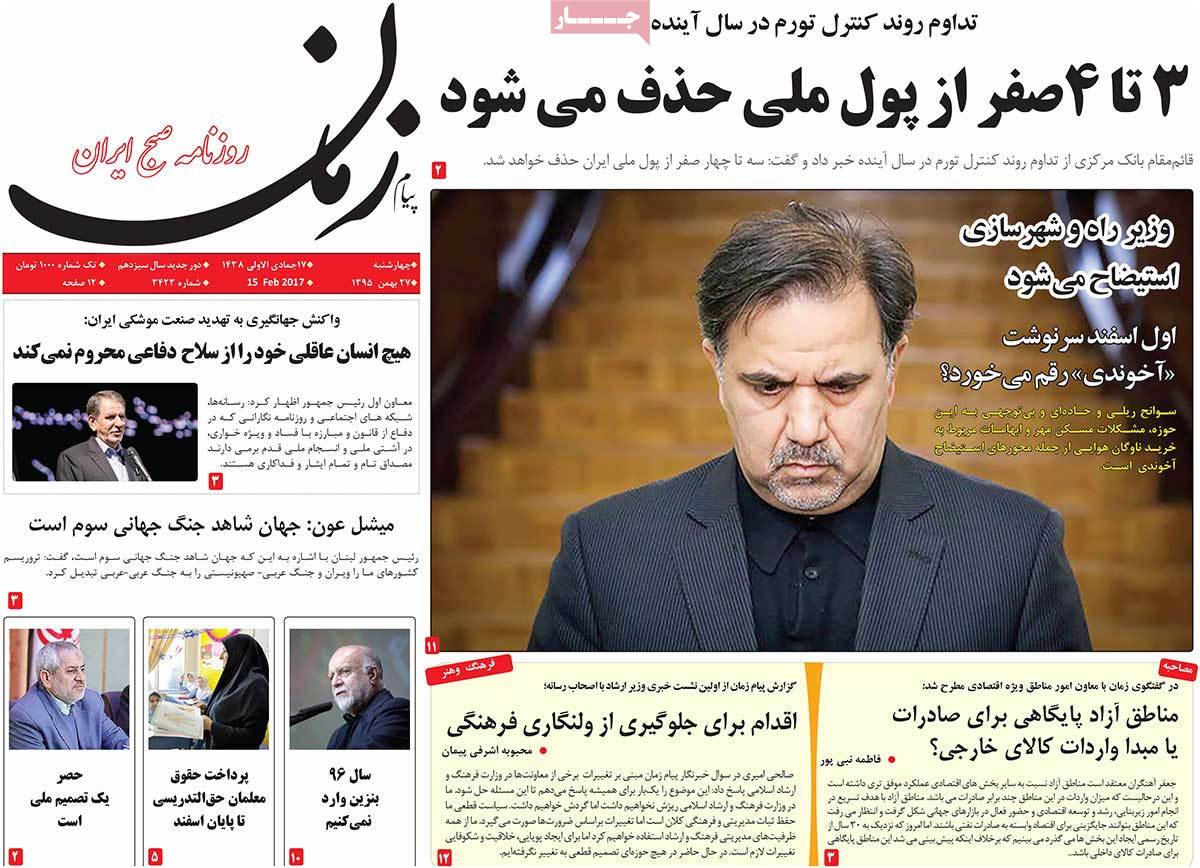 ---
Rah-e Mardom:
1- Defence Minister: We Should Take Advantage of Nuclear Energy in Marine Industries
---
Resalat:
1- Ayatollah Javadi Amoli: People Want Islamic Economy
2- Iran's Cement Exports to Iraq Stopped: Official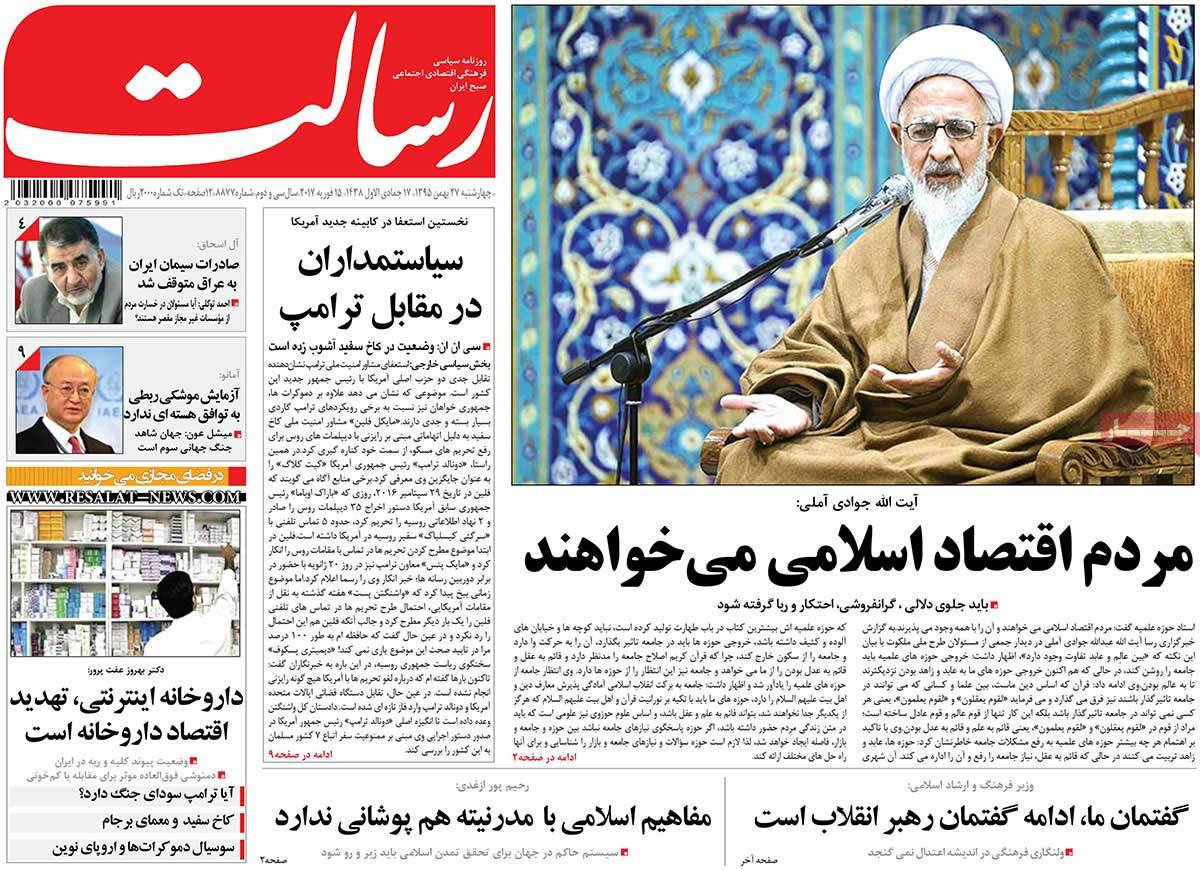 ---
Rooyesh-e Mellat:
1- Nuclear Official: 20-Fold Increase in Enrichment Thanks to IR8 Centrifuges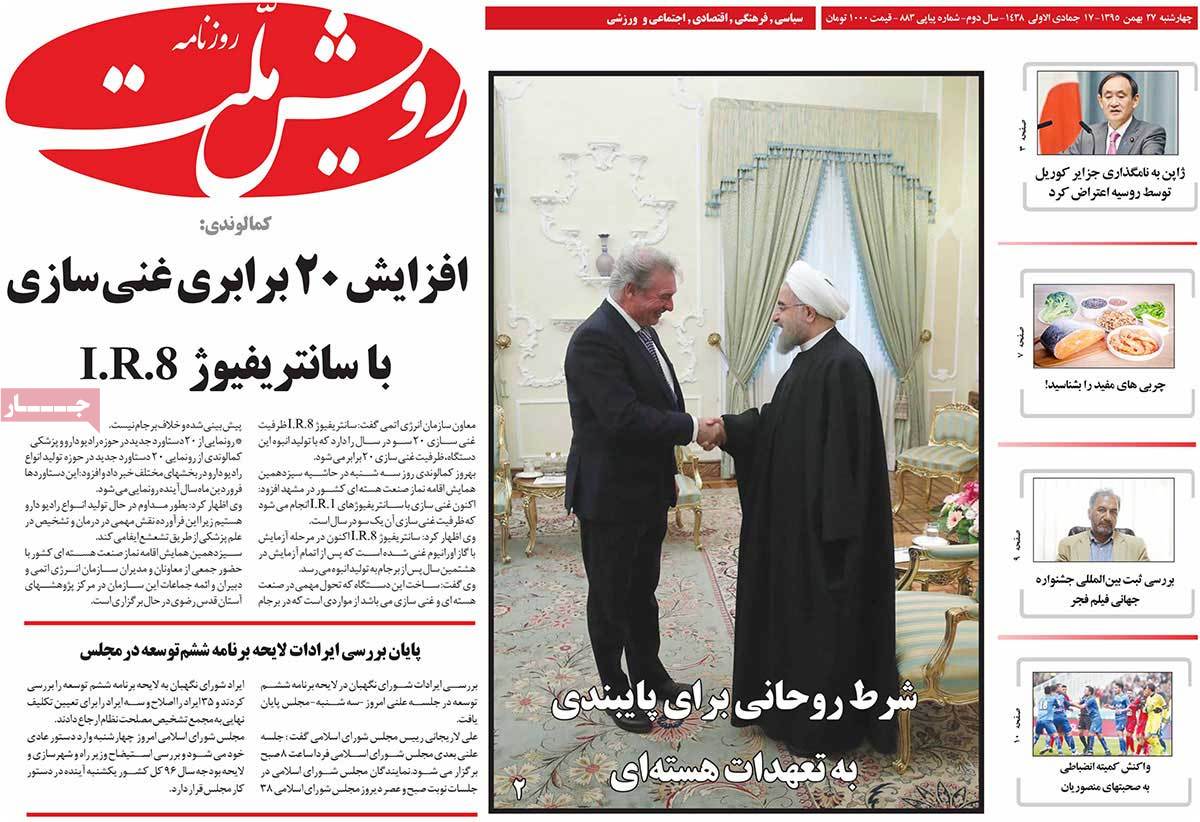 ---
Shargh:
1- Efforts to Accuse Former Iranian Negotiator Mousavian of Espionage: Ahmadinejad and [former prosecutor] Mortazavi Tried to Set Him Up
2- Politician: Ahmadinejad Was Trying to Push Hashemi Rafsanjani Out of Iran's Islamic Establishment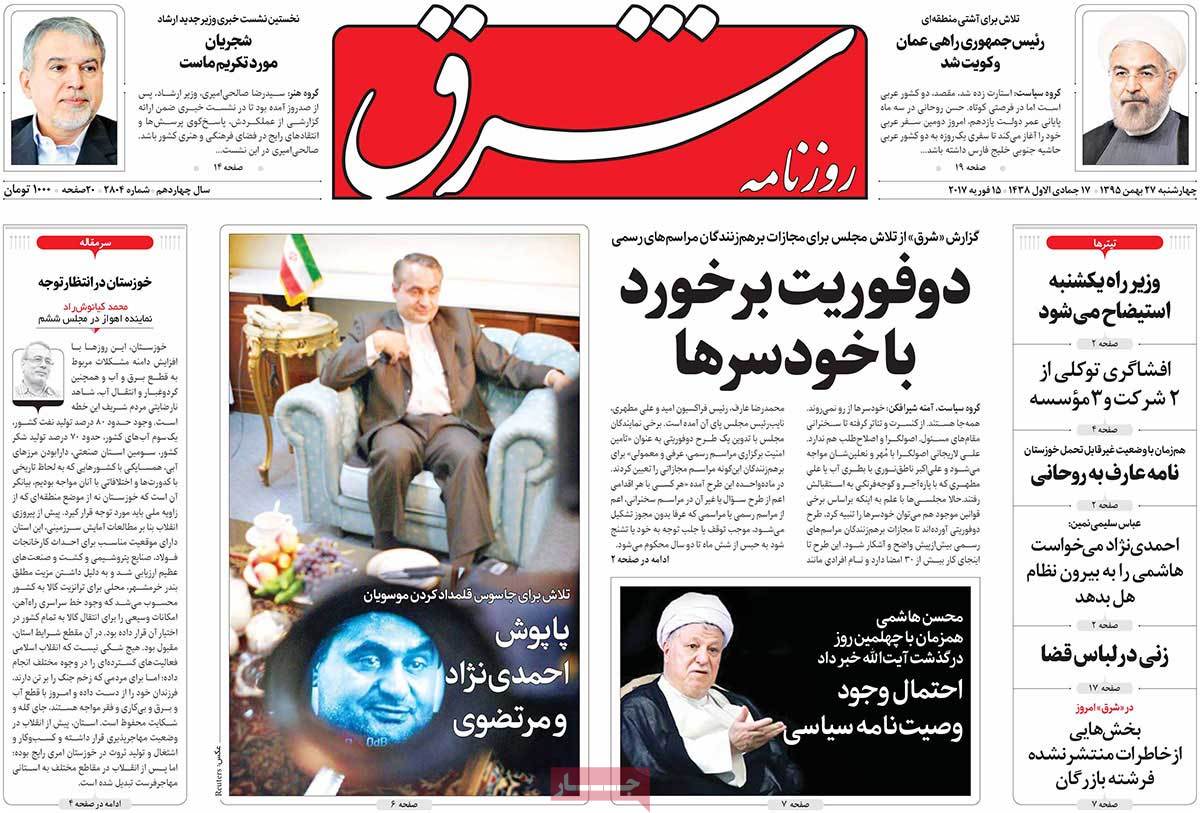 ---
Sobh-e Now:
1- Reformists' Motion to Counter Freedom of Expression: Two Years in Prison for Any Question that Attracts Attentions
2- 100 Days of Hard Work for Starting Business: Business in Iran More Difficult than 120 Countries
3- Ending Deprivation in Sistan and Baluchestan: IRGC Teaching Modern Agriculture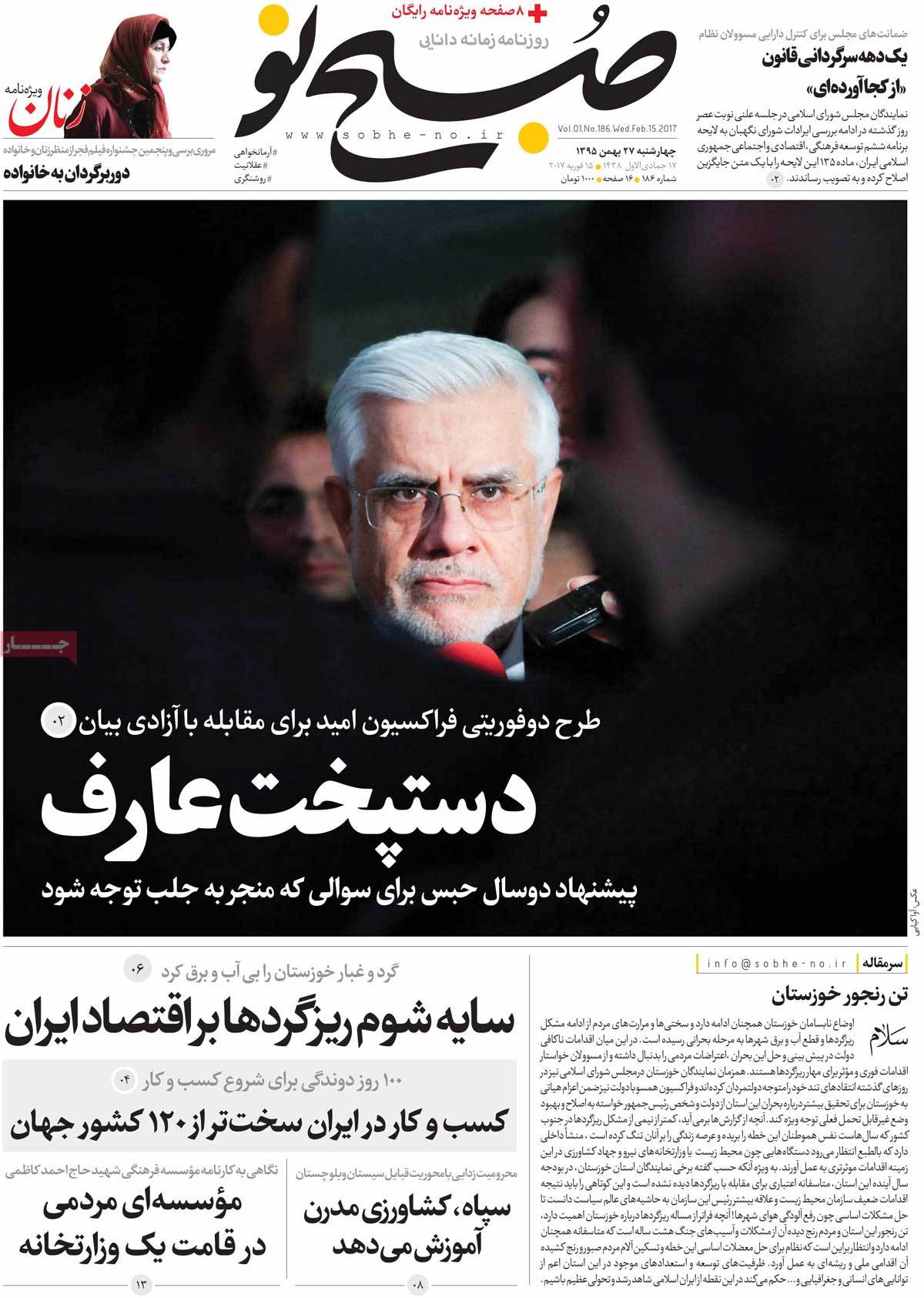 ---
Vatan-e Emrooz:
1- Cold War in Washinbgton: CIA Information Leak Forces Flynn to Resign; Trump: Why So Much Information Is Leaked from Washington?
2- It's Now a Crime If Officials Refuse to Declare Their Assets to Judiciary