Several newspapers covered the controversy sparked by the presence of a number of Iranian ministers and officials in a ceremony in Swedish ambassador's house in Tehran and the deals signed during the ceremony.
They also covered the ongoing crisis in Iran's southwestern province Khuzestan, particularly the dust pollution and its harmful effects on citizens.
The new oil reserves discovered in Iran and the snow and rain that have hit several Iranian provinces were among other top stories today.
The above issues, as well as many more, are highlighted in the following headlines:
Abrar:
1- Washington, Tokyo, and Seoul Call for Extraordinary UNSC Meeting in Reaction to North Korea's New Missile Test
2- MP Urges Government and Parliament to Resolve Khuzestan Crisis [Dust pollution]
3- President Masum Calls on Iraqis to Show Self-Restraint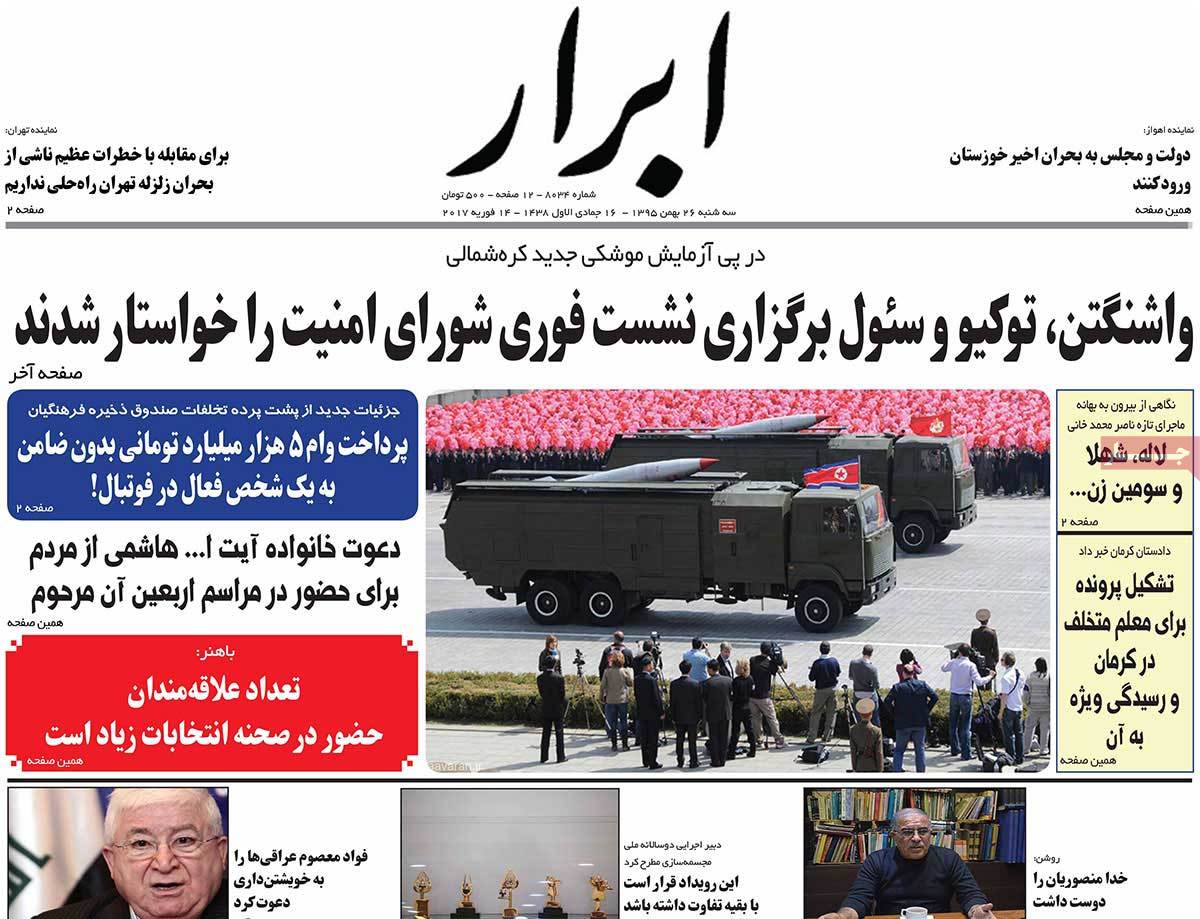 ---
Abrar-e Eqtesadi:
1- Foreigners Can Now Open Bank Accounts in Iran with Iranian Currency
2- Funds for Purchase of Second Airbus A330 Approved by Iran's National Authority
3- Trump, an Opportunity for Enhancement of Iran-Europe Trade
4- Sukhoi Sending Letters to Sell Airplane to Iran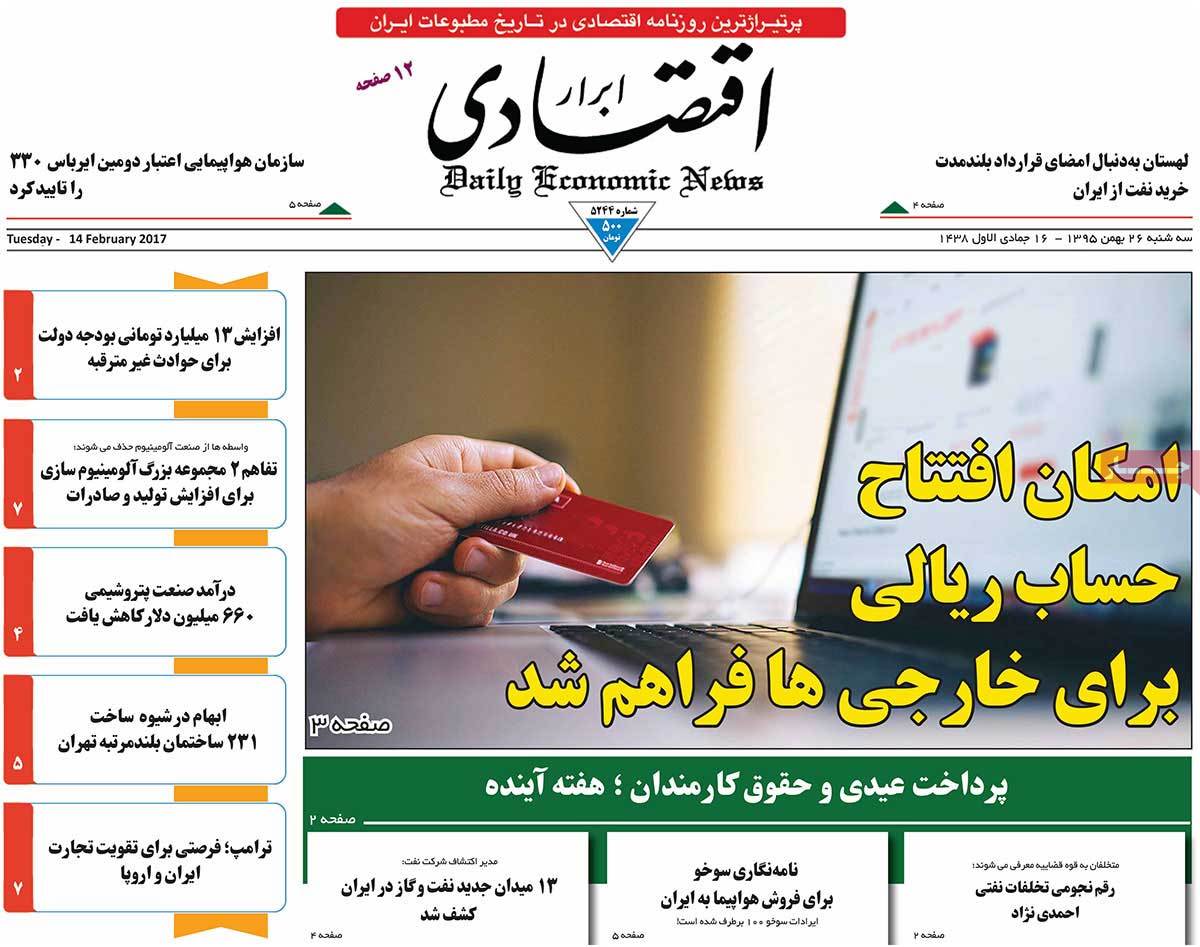 ---
Aftab-e Yazd:
1- They Viewed the Ceremony as a Party: Hardliners Making a Fuss about Presence of Some Officials in Swedish Ambassador's House and Signing of Certain Deals
2- Parliament Speaker: Trump Wants to Outrage Iran
3- Valentine's Day and Some Reasonable Words [Editorial]
---
Arman-e Emrooz:
1- Cyber-Police Chief: Money Laundry Ring Disbanded in Tehran
2- Analyst: US Needs War to Continue Its Capitalist Nature
3- Reformist MP: I'm Worried that They Stop Supporting Rouhani; He Has Not Communicated with Lower Classes of Iranian Society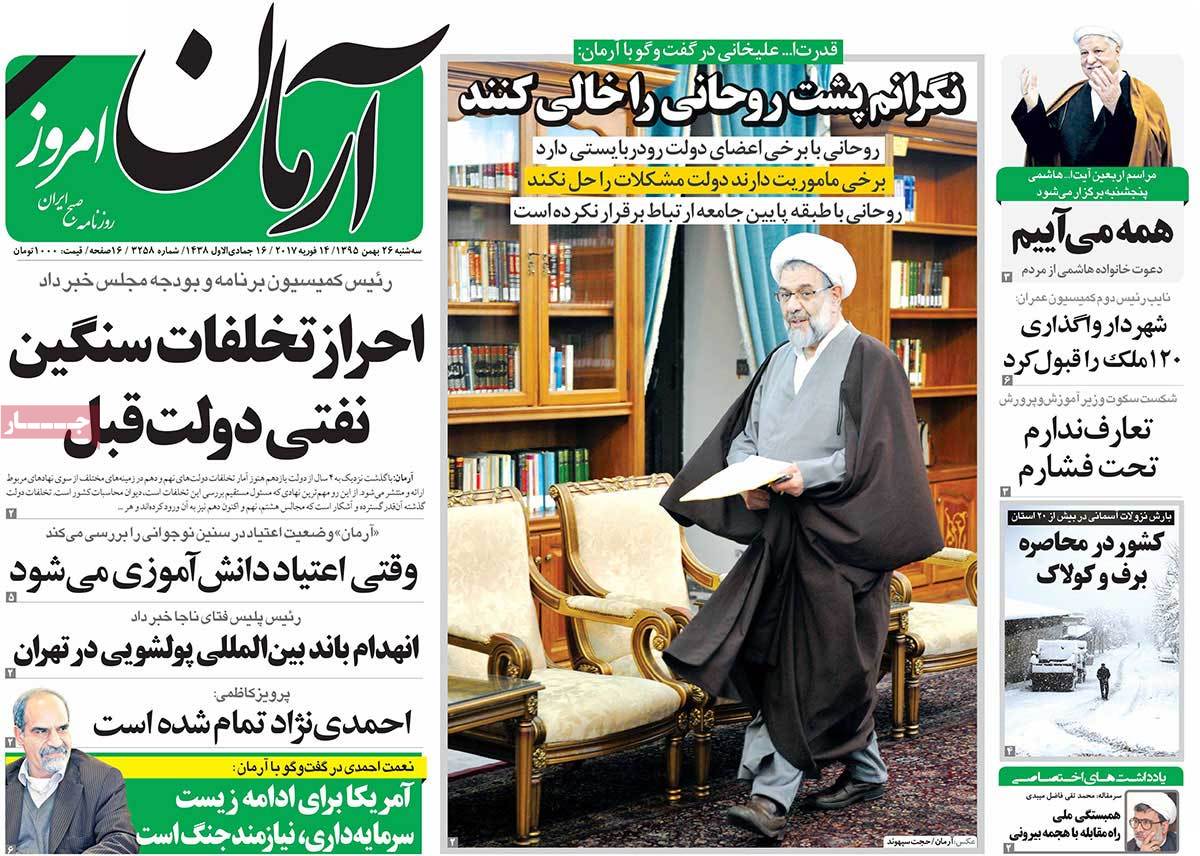 ---
Asr-e Iranian:
1- National Humiliation! Widespread Criticism of Presence of 4 Ministers in Swedish Ambassador's House
2- Deputy Health Minister: People's Health Conditions in Khuzestan in Danger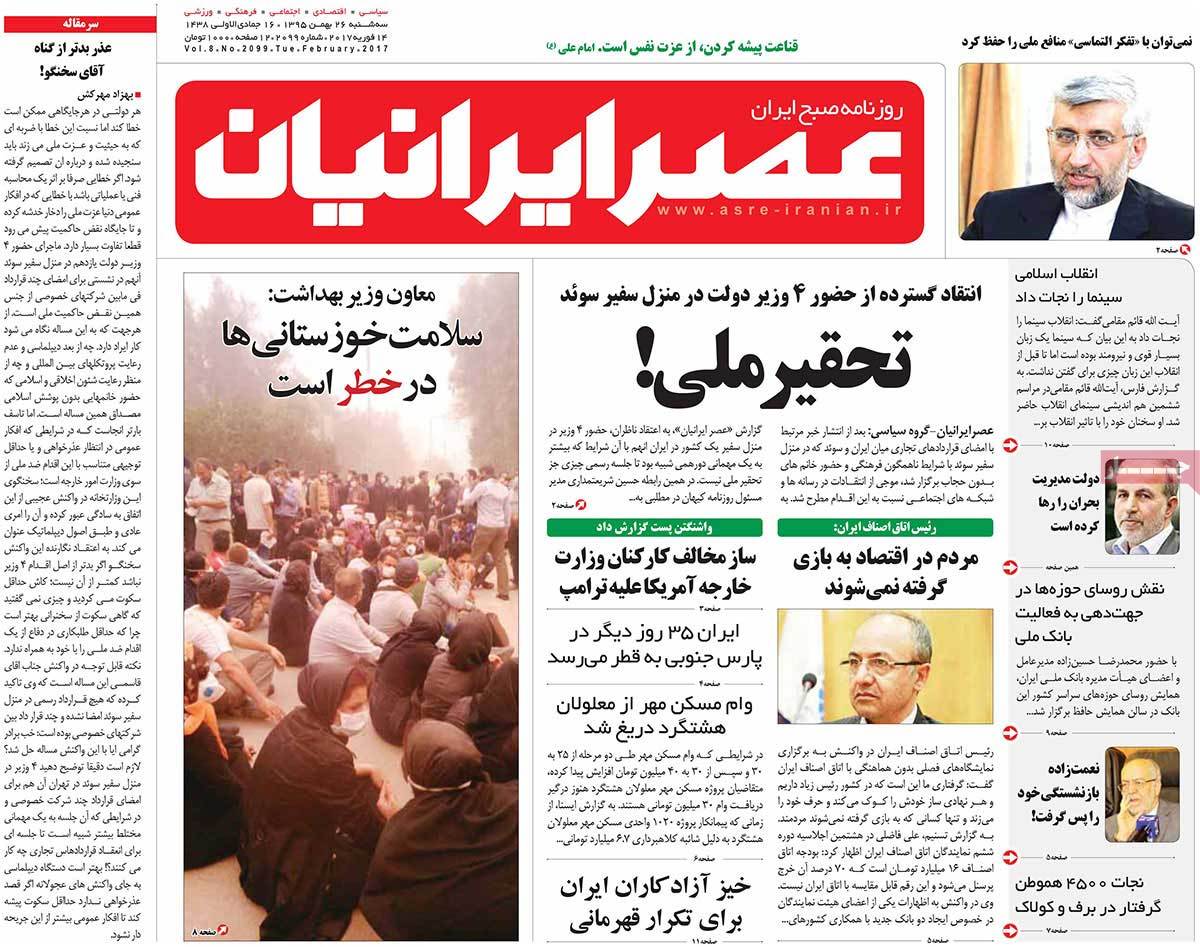 ---
Etemad:
1- 8 Iranian Sailors Released
2- Secretary of HQ Tasked with Reviving Lake Urmia: Future Generation Will Have to Immigrate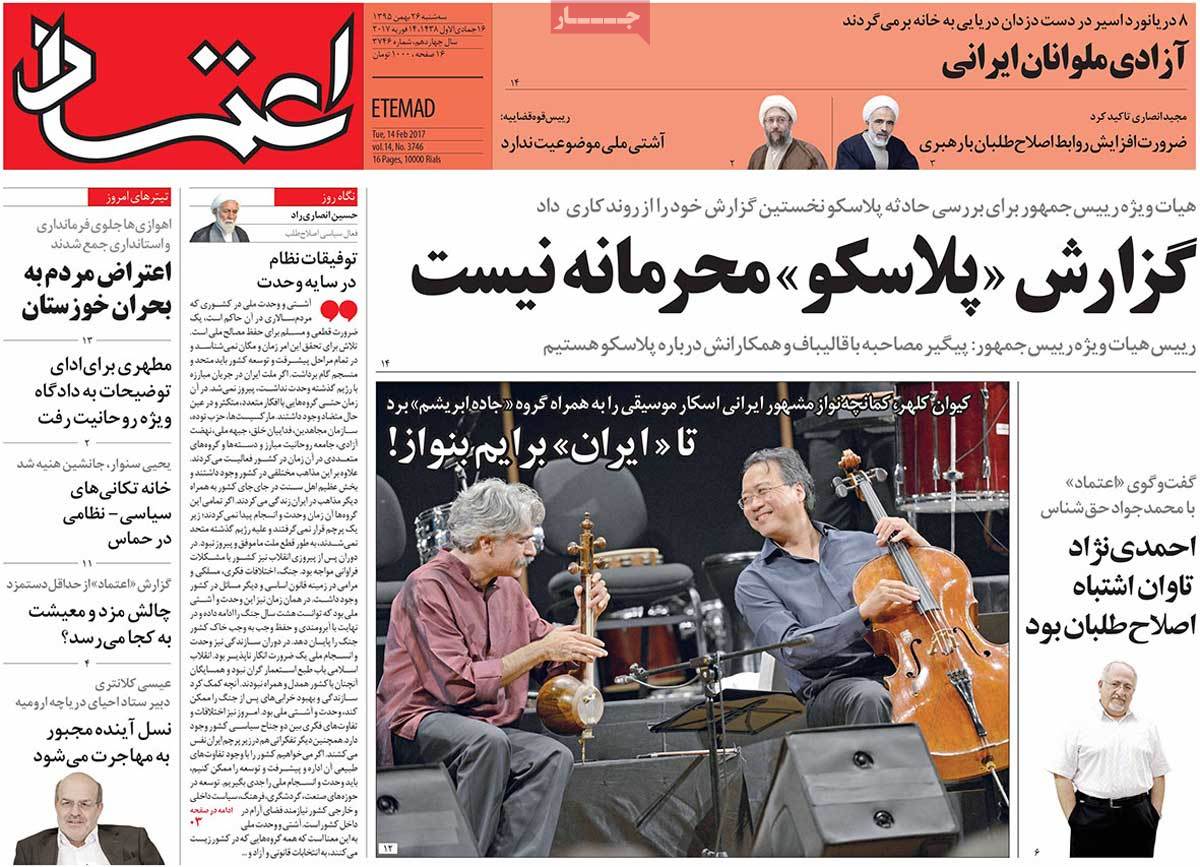 ---
Ettela'at:
1- Major Oil and Gas Reserves Discovered in Western and Southern Iran
2- Iranian Water Official: Tehran Suffering from Water Crisis
3- Saudi Arabia Makes Threats against Egypt and Jordan for Trying to Resolve Syria Crisis in a Political Way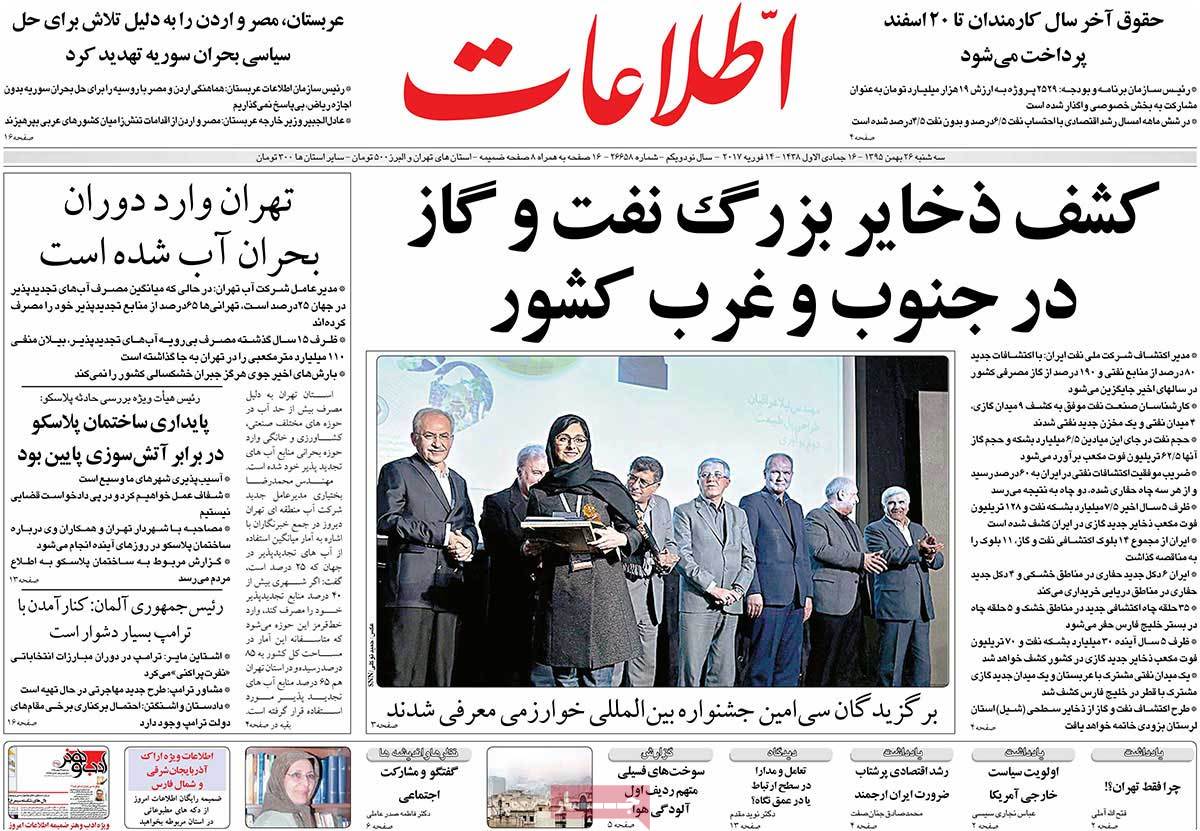 ---
Iran:
1- Iran's Snowy Month: Citizens Have Problems, Farmers Are Hopeful
2- Iranian Musician Kalhor and His Ensemble Win Grammy Award through 'Silk Road'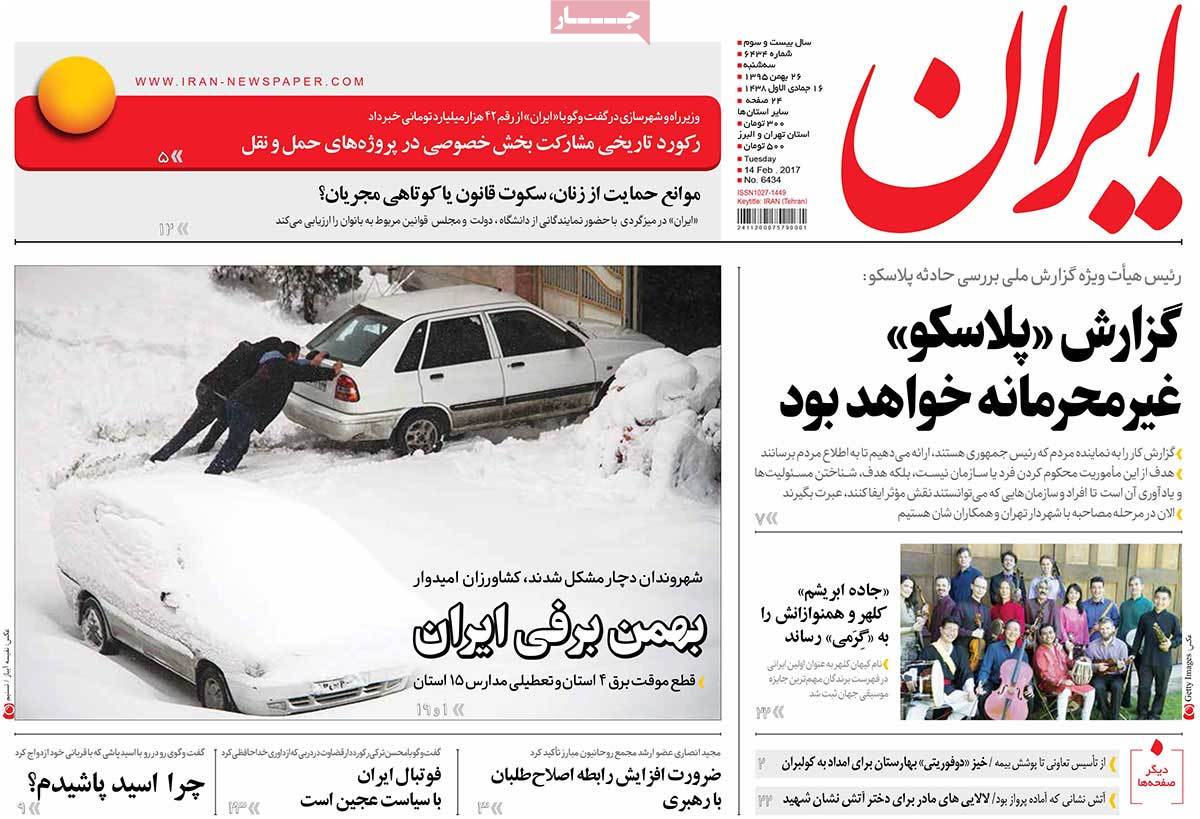 ---
Jame Jam:
1- Contraband vs Beauty: A Report on 55% Share of Cheating and Contraband Goods in Cosmetics Market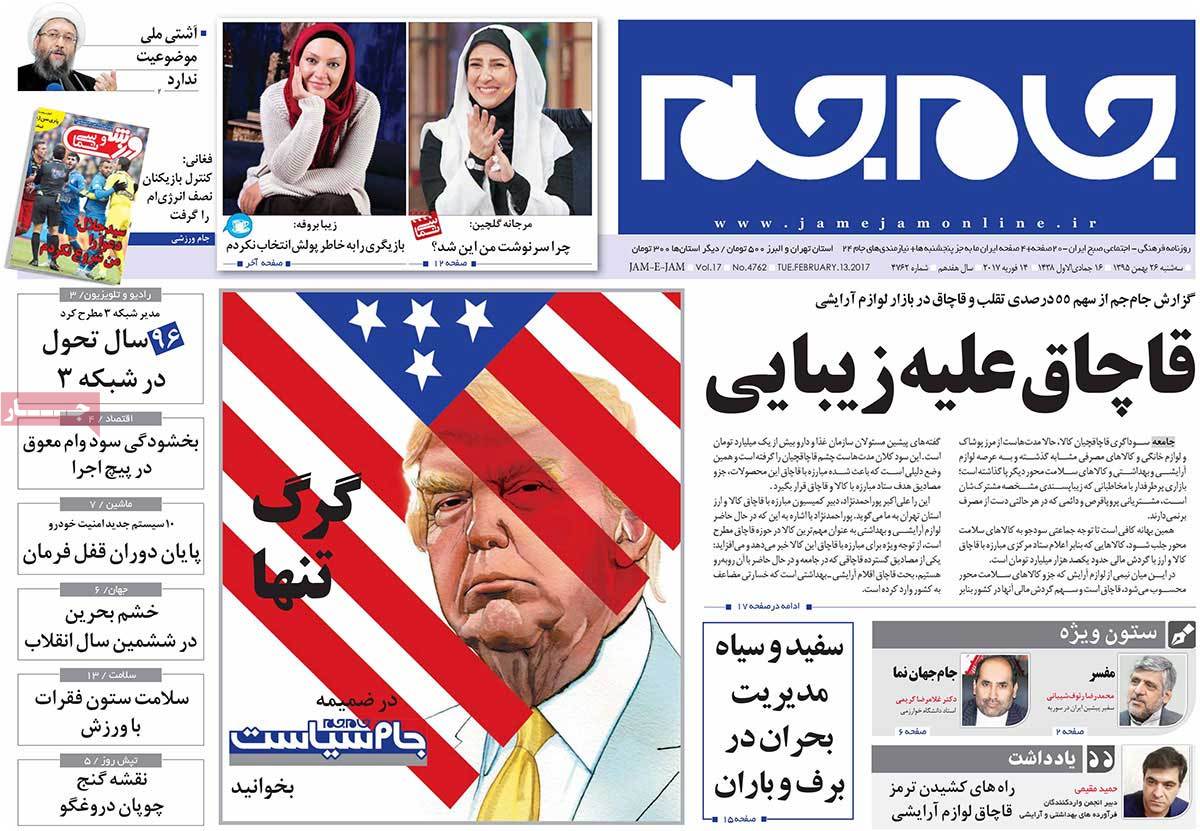 ---
Javan:
1- Judiciary Chief: No Need for 'National Reconciliation' as Iranian People Are Good to Each Other
2- Sorrow of Khuzestan amid Rainfall across Iran
3- US Judiciary Trying to Dismiss Trump's Secretaries
4- Rouhani Administration's Oil Income Exceeds that of Ahmadinejad's 8-Year Presidency
5- Controversy over Presence of Iranian Ministers and Deputies in a Ceremony Attended by Women without Hijab in Swedish Ambassador's House in Tehran and Signing of Certain Contracts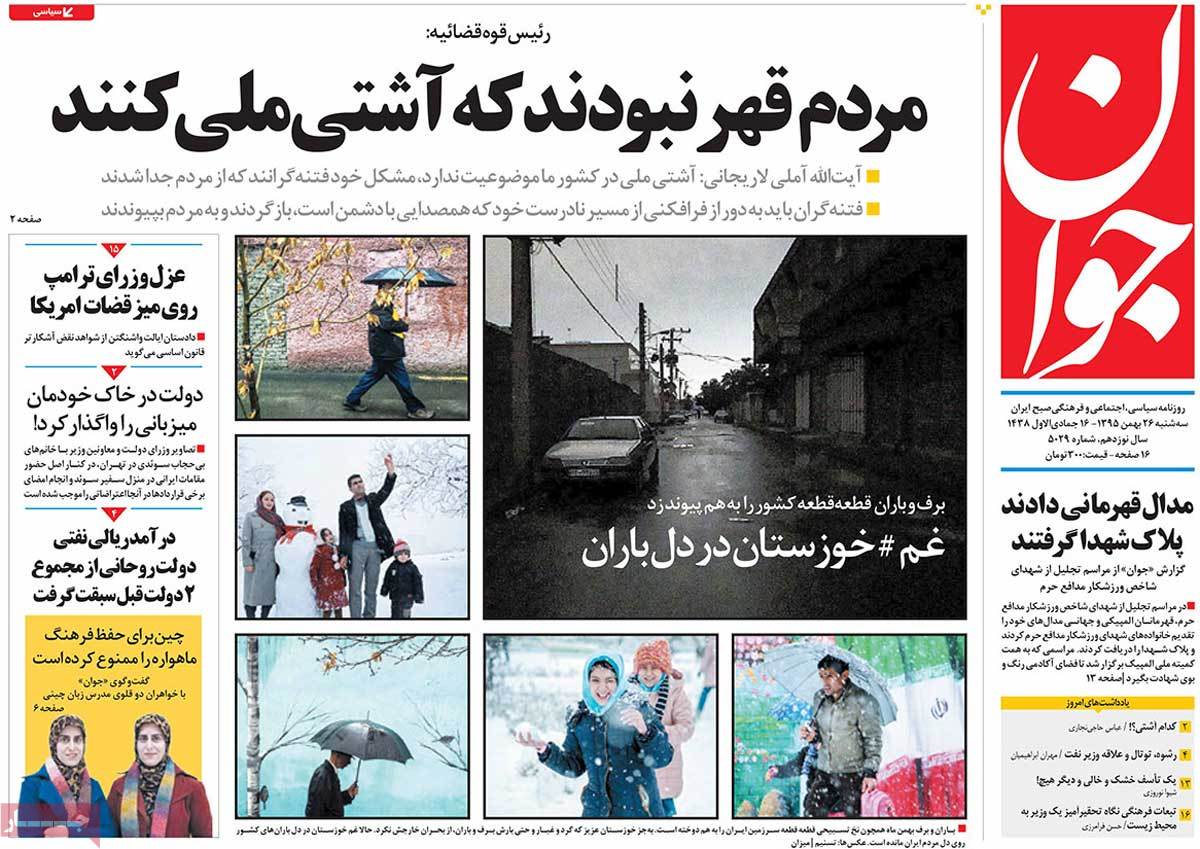 ---
Jomhouri Eslami:
1- Oil Official: 30-Billion-Barrel Increase in Iran's Oil Reserves
2- Trump's Mental Health Problem Has Worried Republicans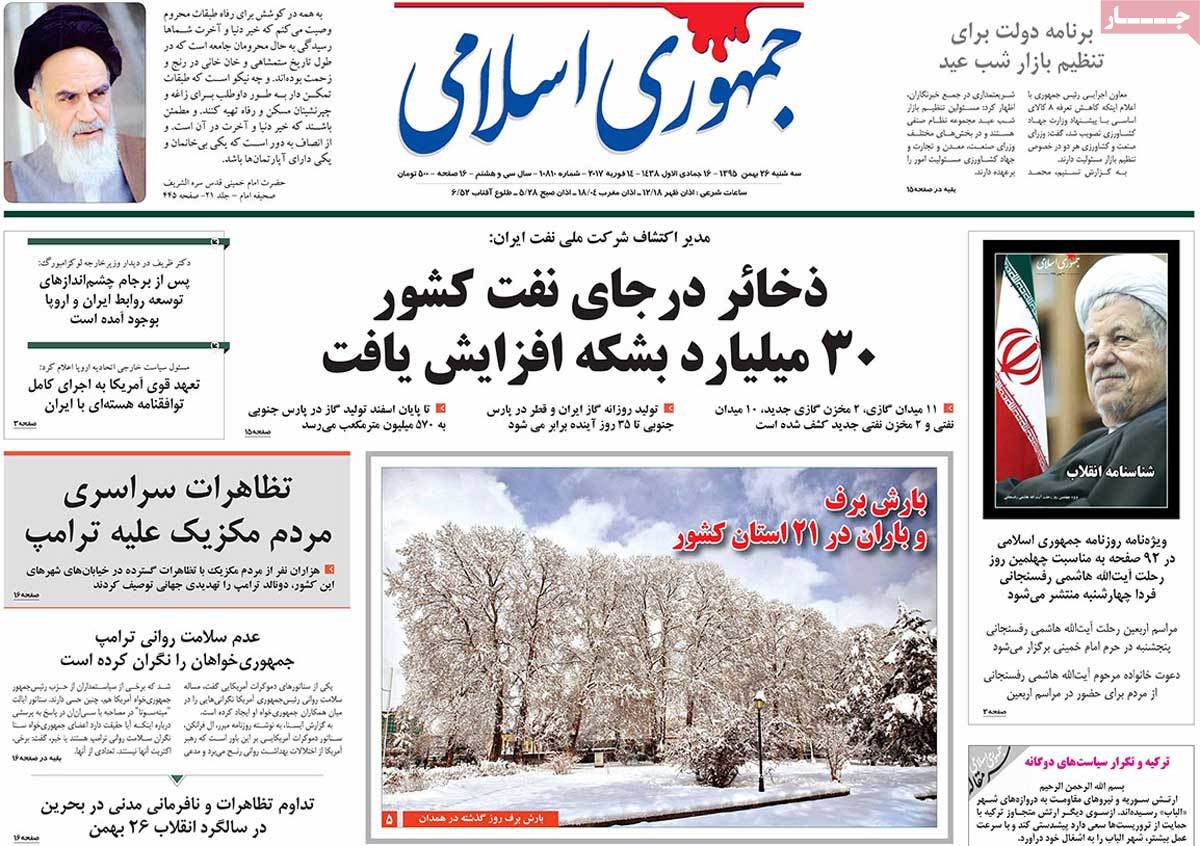 ---
Kayhan:
1- New York Times: Trump Going through Same Path Previous US Presidents Followed
2– Warning about Flood in 8 Provinces: Iran Hit by Ran and Snow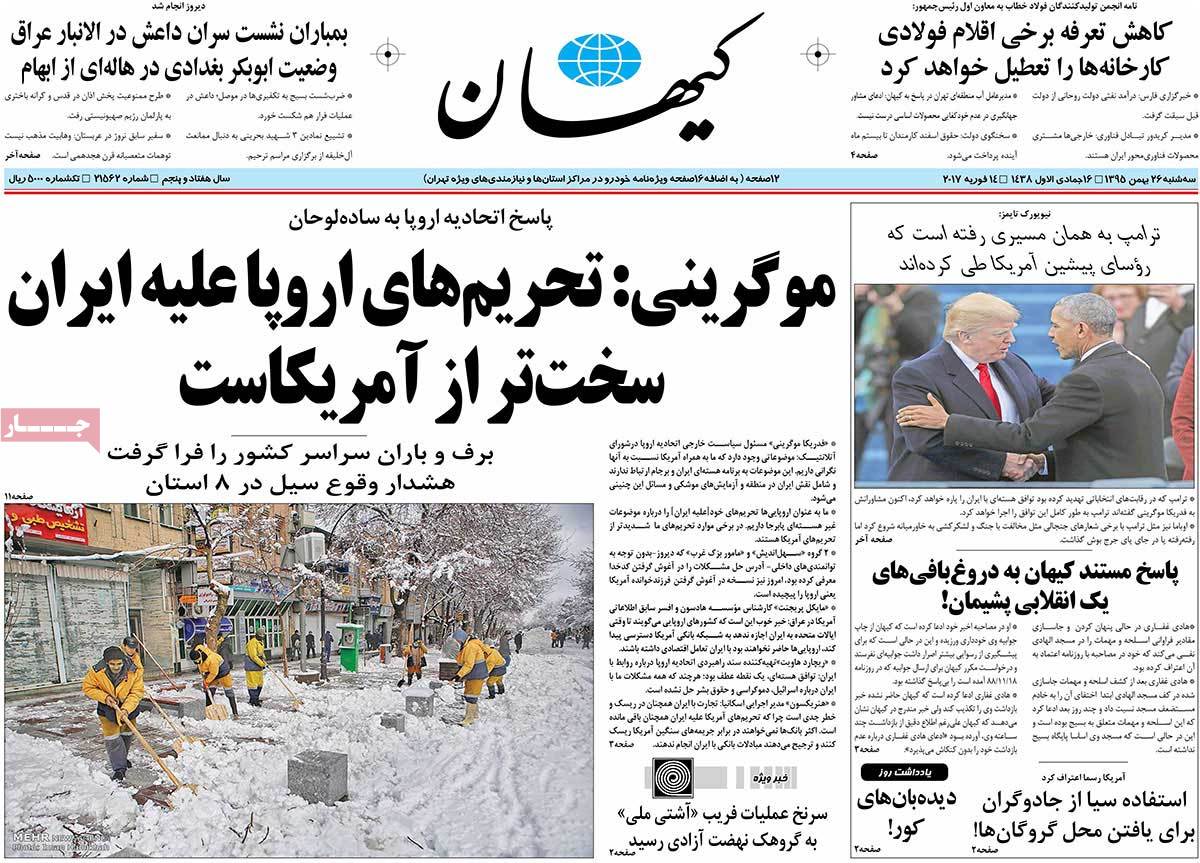 ---
Mardom Salari:
1- Hard-liners' Latest Unethical Behaviour towards Iran's Foreign Ministry: Reaction to Presence of Certain Iranian Ministers in Swedish Ambassador's House
2- Foreign Ministry Spokesman: Honourable Cooperation with Europe Will Continue despite Zionists' Fuss
3- US Wrestling Team Arrives in Iran's Kermanshah
4- Europe's Defensive Approach against Trump: Germany Bans Europe's Individual Interaction with Trump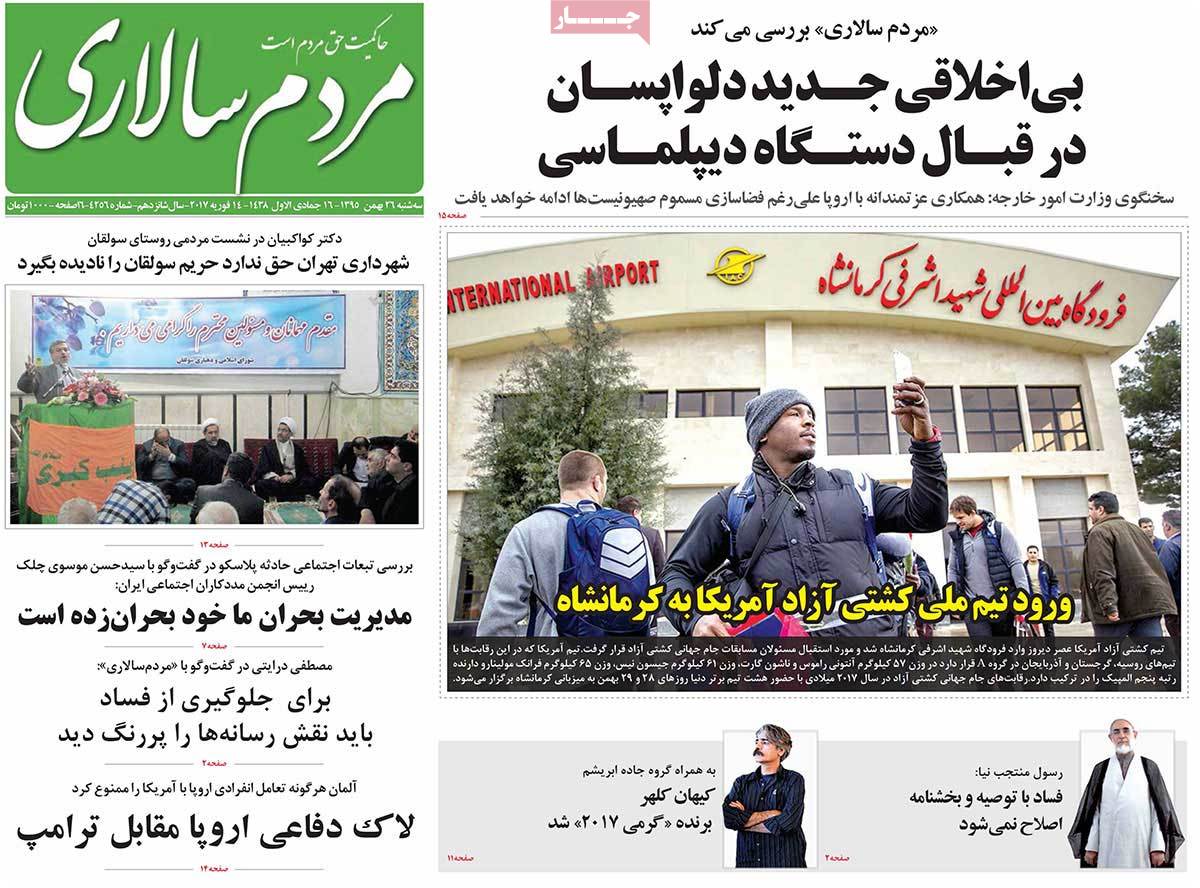 ---
Resalat:
1- Senior Conservative Bahonar: Conservatives Will Nominate a Candidate to Compete with Rouhani
2- Mogherini: Some of Europe's Anti-Iran Sanctions Harsher than Those of US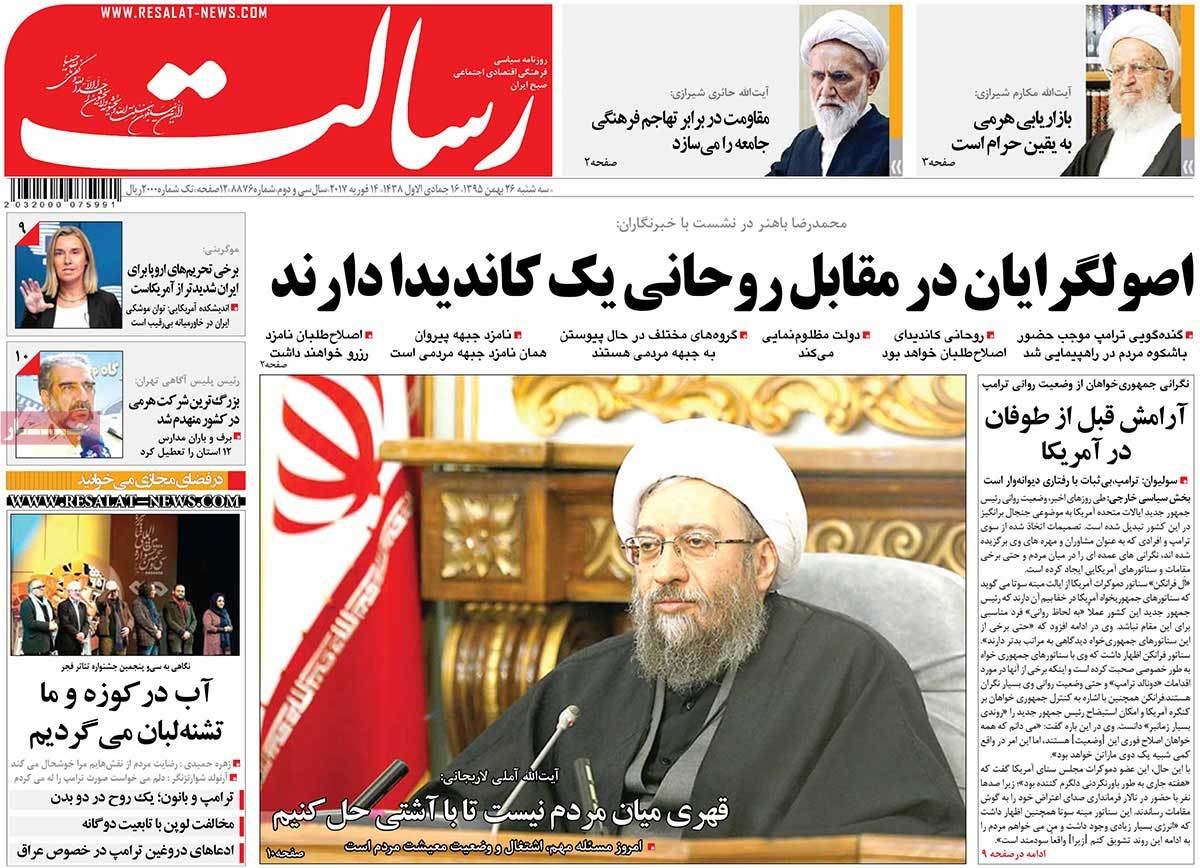 ---
Seda-ye Eslahat:
1- Reteurs: The Diplomat Sheikh Is Only Man Who Can Overcome Trump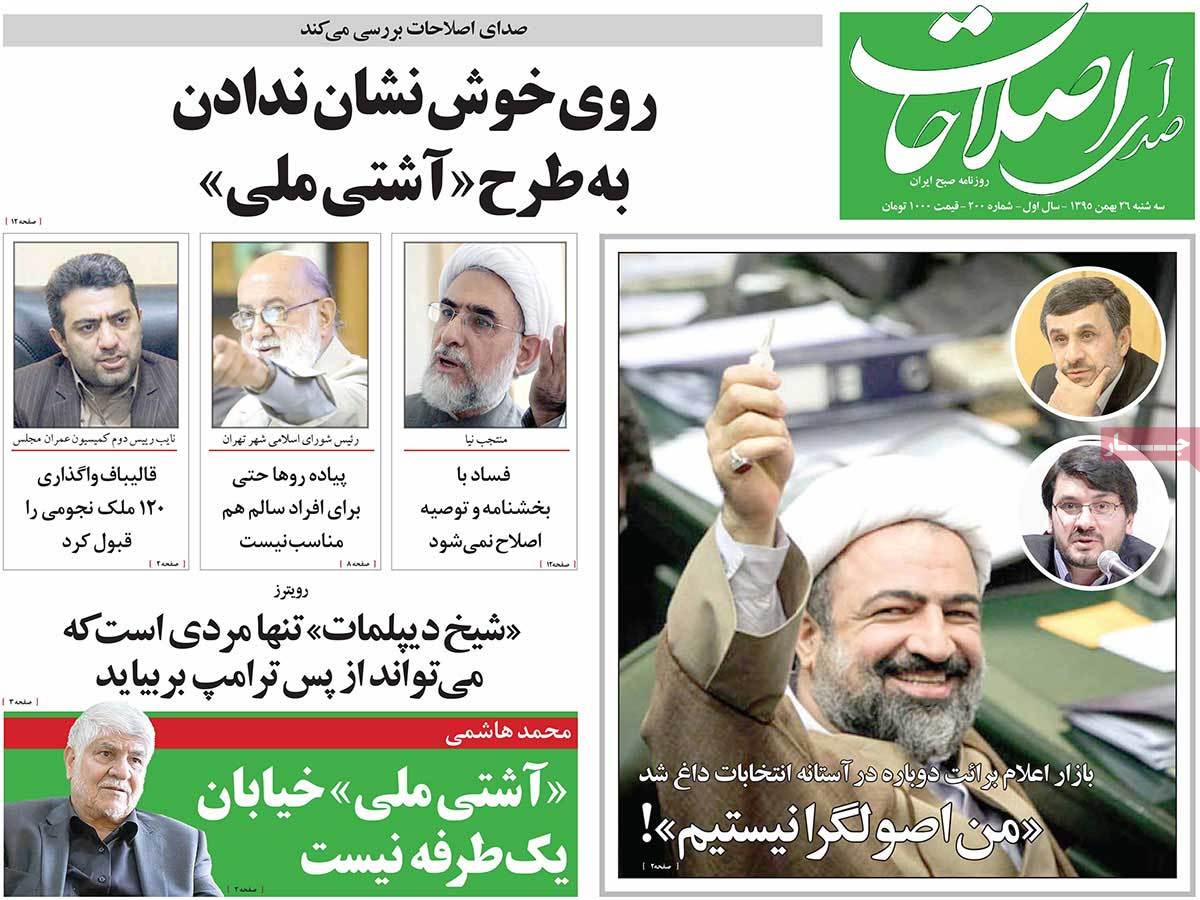 ---
Sepid:
1- Trump's Order Threatens Iranian Embryos: Iranian Doctor Living in US in a Dilemma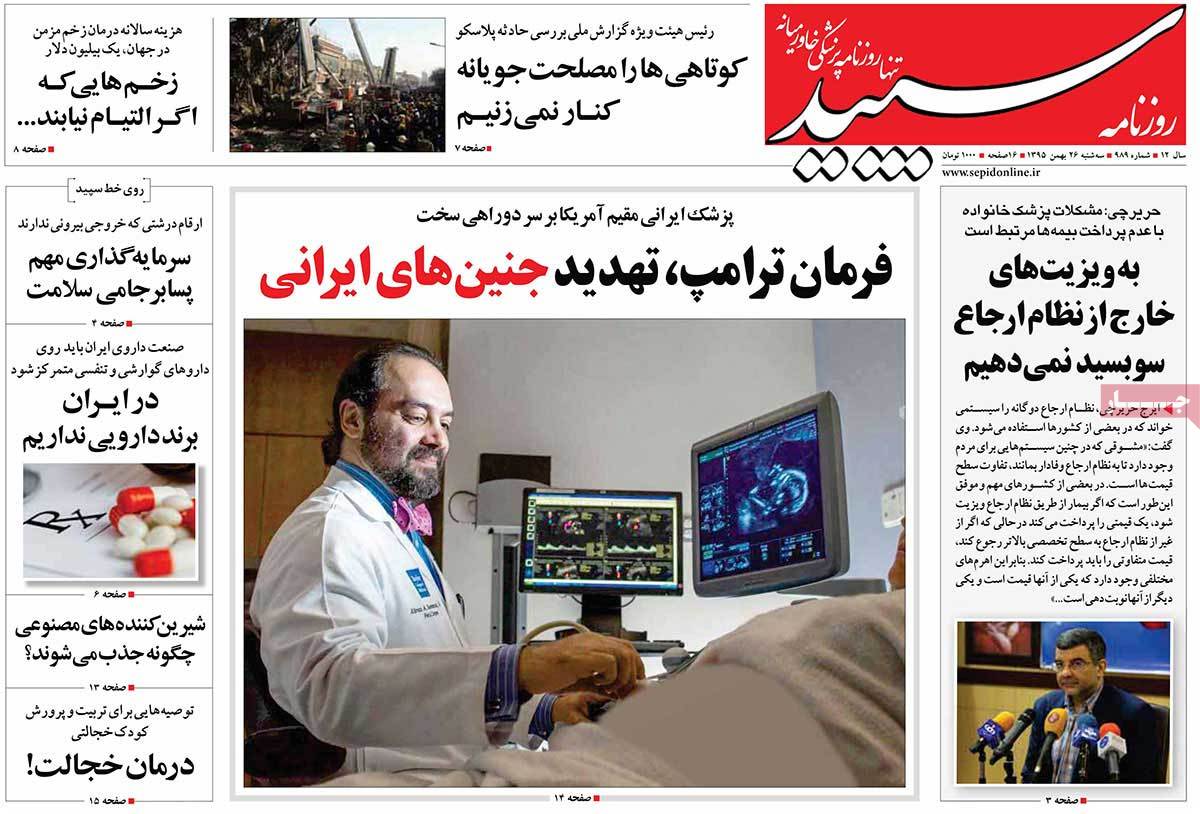 ---
Setareh Sobh:
1- Outrage against Injustice: French People Hold Demonstrations against Police Officers' Assault on a Black Citizen
---
Shakhe-ye Sabz:
1- Judiciary Chief: I'm Not against National Reconciliation, but It's Not Needed in Iran
2- SNSC Secretary: JCPOA's Success Hinges on All Sides' Commitment
3- Iranian Lobbyists Infiltrate in All Important Parts of US Society: Trump Aide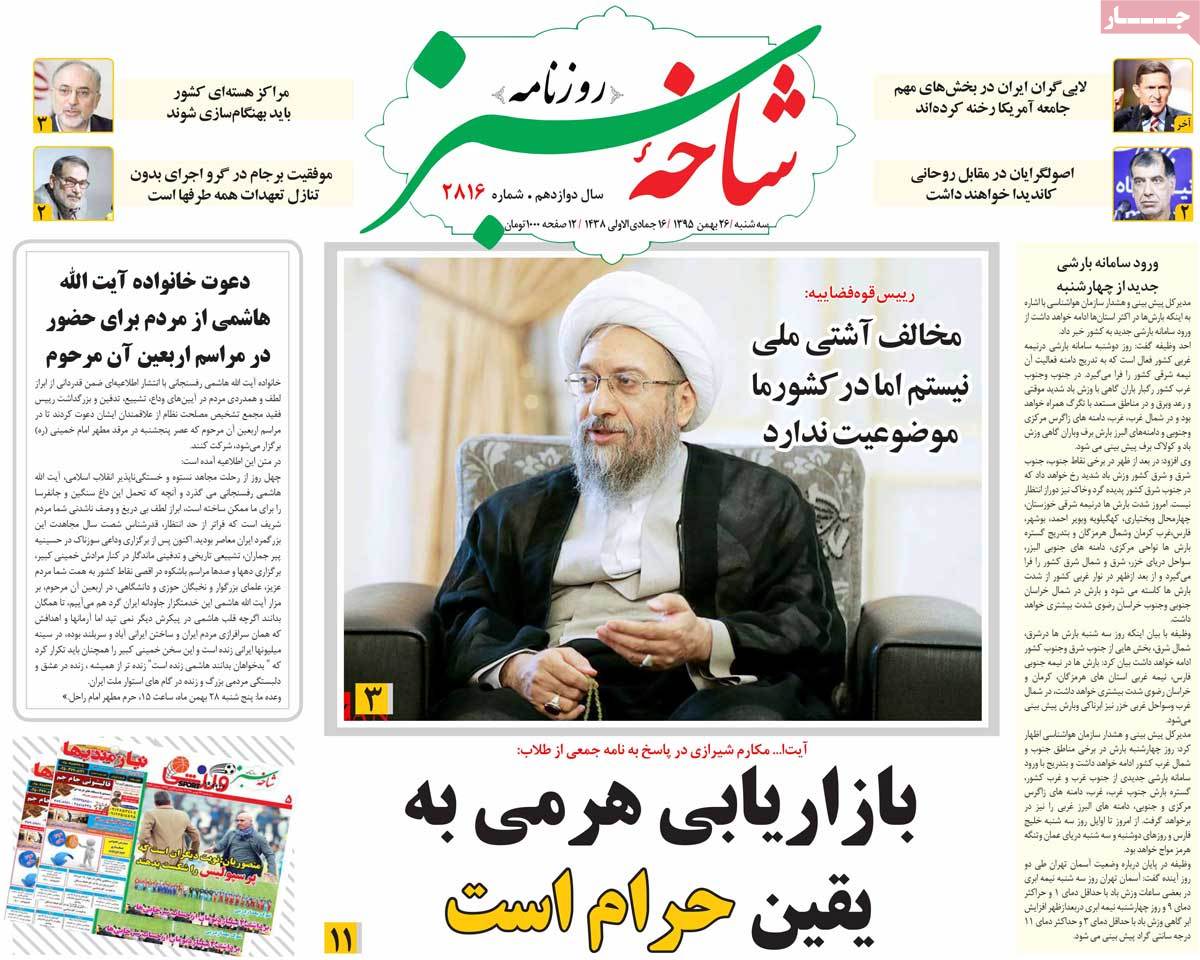 ---
Shahrvand:
1- Buying Corpses from Mafia: Universities Buying Corpses for Autopsy by Paying Full Blood Money. However, 100 Unknown Bodies Are Found Every Week; Rules against and Punishment of Body Organ Smugglers
---
Shargh:
1- What Happened in Ambassador's House: Critics of Rouhani's Government Kicking Up a Fuss about a Dinner
2- JCPOA Backer Becomes German President: A Look at Steinmeier's Stances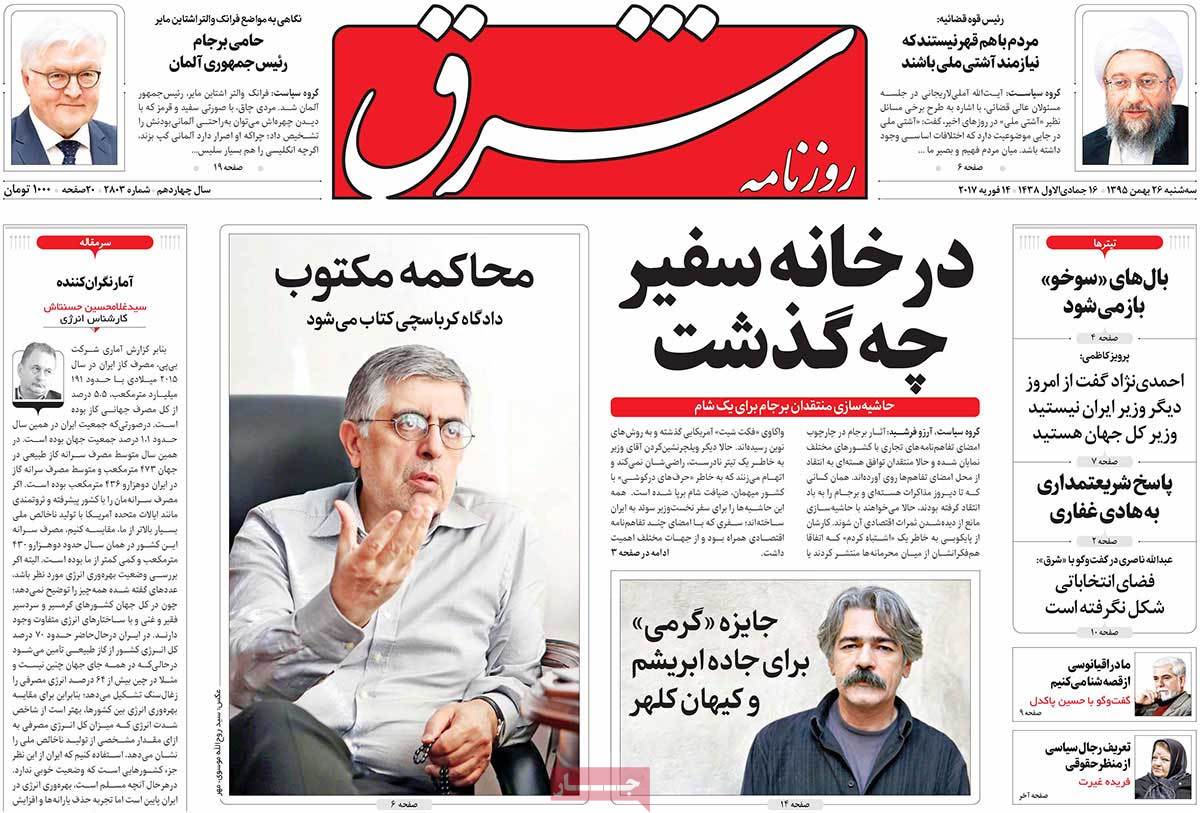 ---
Siasat-e Rooz:
1- Hiding Oppression of Bahraini People behind Syria Safe Zone
2- 85% of Saudi Airstrikes Targeted Civilians
---
Ta'adol:
1- European Funds to Be Injected to Iran after Luxembourgian FM's Visit
2- A Look at Flynn's Scandal: Will He Become a Shield for Trump?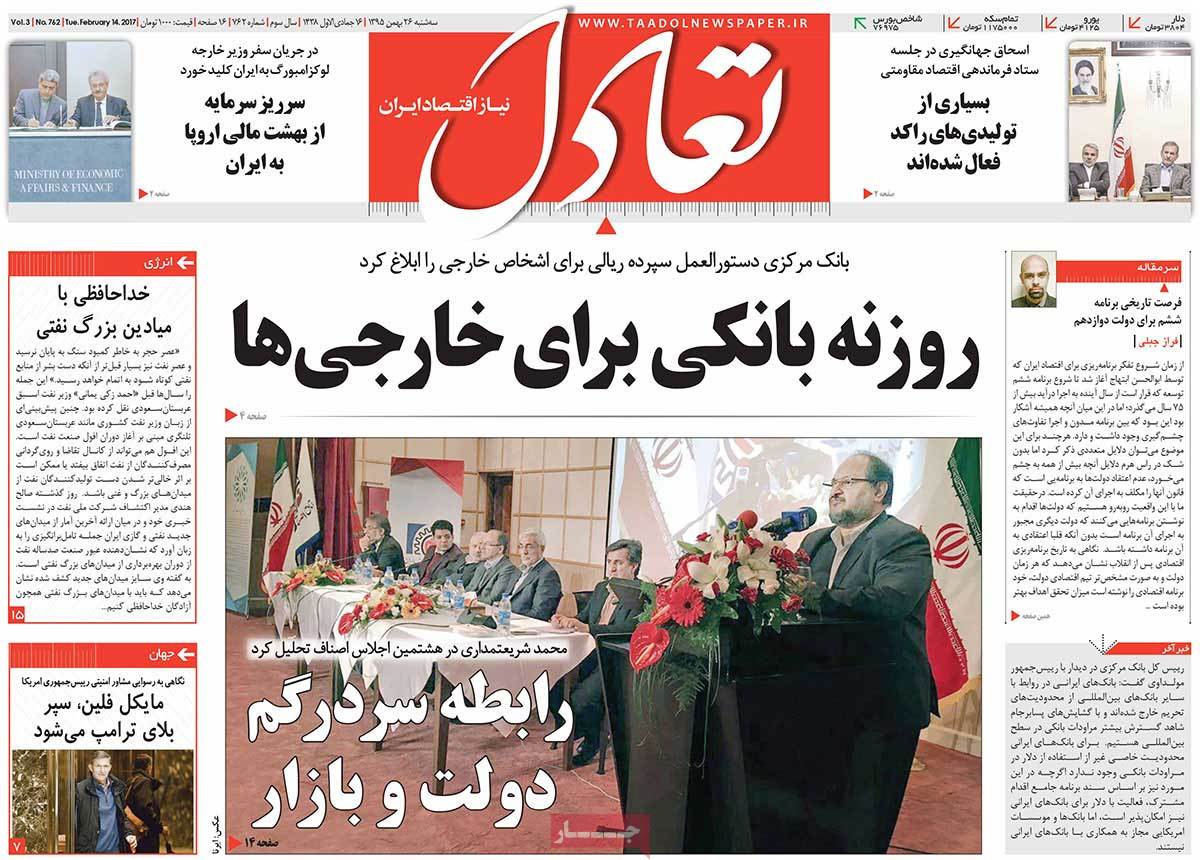 ---
Vaghaye Ettefaghieh:
1- World Fascinated by Kalhor's Music: 'Sing Me Home' Wins Grammy Award for Iran
2- Tehran-Moscow Coalition: A Report on Main Players of Astana II Summit and Its Goals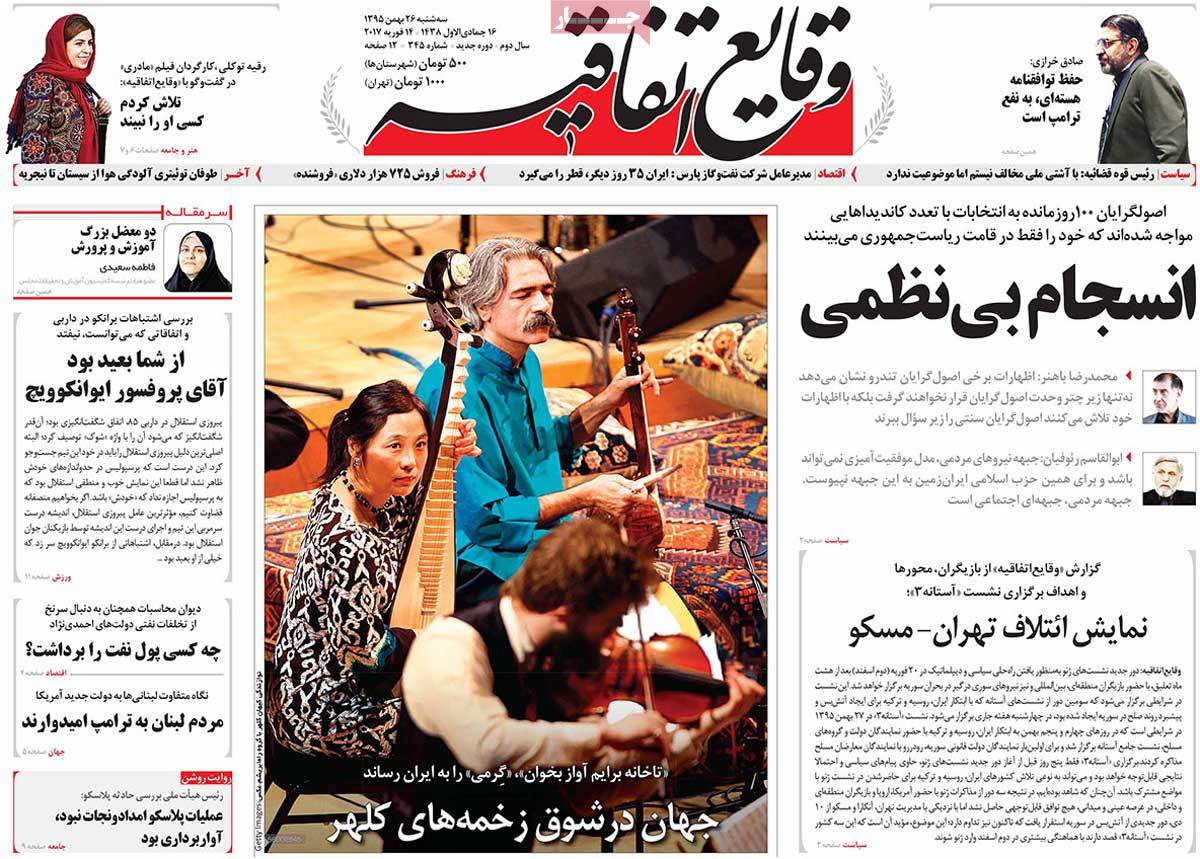 ---
Vatan-e Emrooz:
1- Vice-President: We're Still Suffering from Economic Downturn
2- In Reaction to National Reconciliation Plan, Judiciary Chief Asks Those Who Caused Sedition after 2009 Presidential Votes to Admit Their Mistake and Join People
3- Slogan in Bahrain: Al Khalifa Should Be Executed