Newspapers today covered the visit of Jean-Marc Ayrault, the Foreign Minister of France, to Tehran and his meetings with high-ranking Iranian officials. His remarks about Iran's missile test were widely criticized by conservative papers today.
US President Donald Trump's travel ban that prevents citizens of seven Muslim-majority countries including Iran also remained a top story on Wednesday.
The 38th anniversary of Iran's 1979 Revolution and the beginning of the ten-day celebrations also received great coverage.
The above issues, as well as many more, are highlighted in the following headlines:
Afkar:
1- Iranian Embassies Receive Directives after Trump's Travel Ban: Iranian Spokesman
2- Wargames in High Seas Should Be Based on Int'l Laws
3- Assad: War on Syria Not Limited to Military Aspect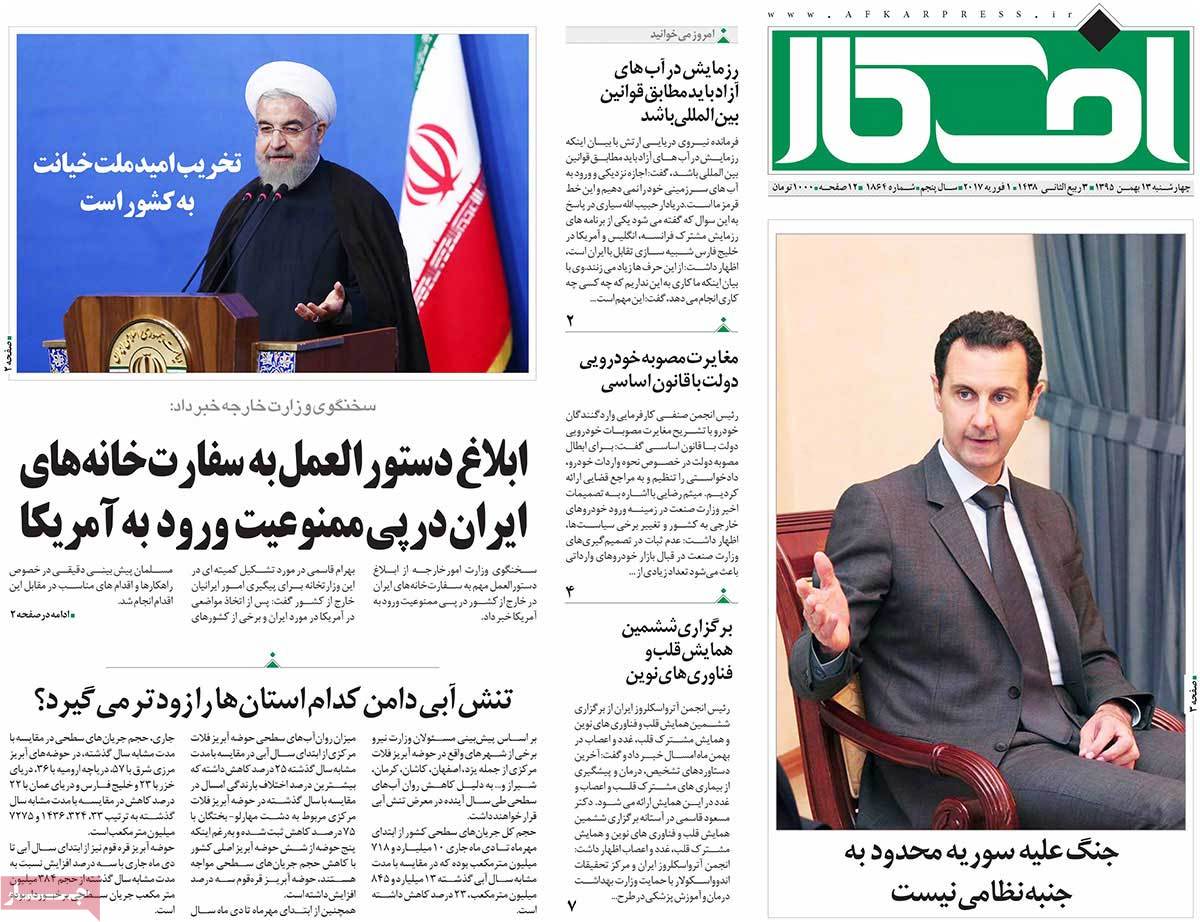 ---
Aftab-e Yazd:
1- A Report about Lives of Porters Who Import Contraband Goods on Their Shoulders through Mountains: They Do It for $1.3 per Kilogram
2- Parts of Dead Bodies Found in Place Where Plasco Building's Debris Was Unloaded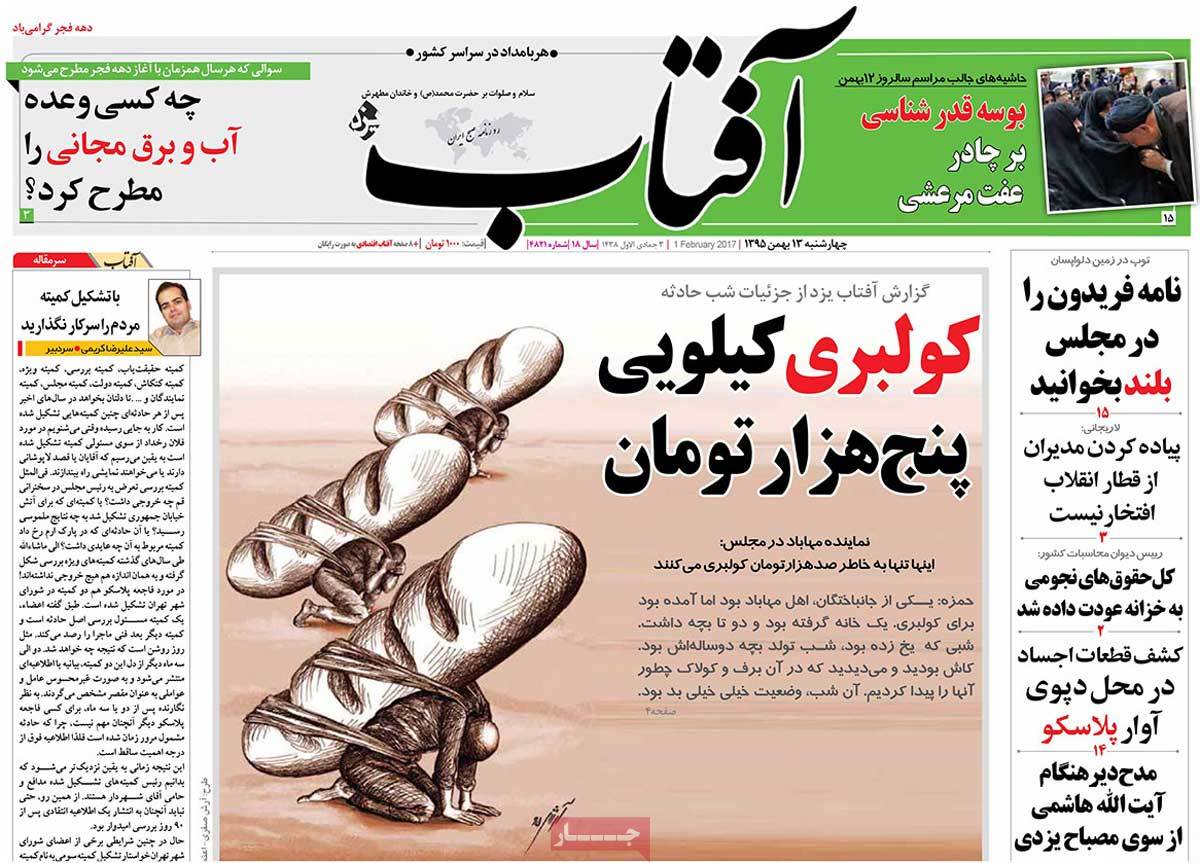 ---
Amin:
1- Zarif in Joint Press Conference with French Counterpart: We Won't Wait for Others' Permission in Defending Ourselves
2- Wheels of Iran's Economy Are Turning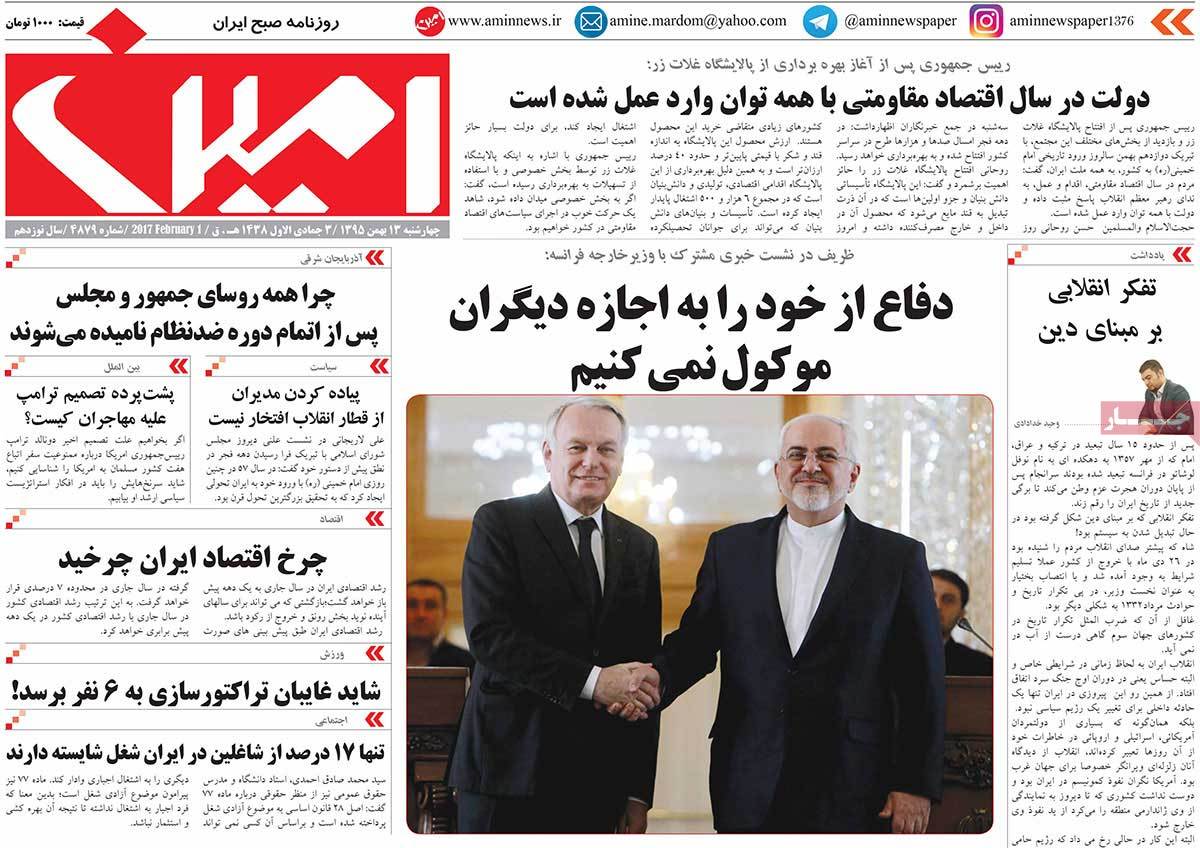 ---
Arman-e Emrooz:
1- Destroying People's Hope Is a Treason
2- IRGC General: Ayatollah Hashemi Rafsanjani Was the One Who Provided Iran with Missiles
---
Ebtekar:
1- Iran Trying to Decrease Corruption: The Country's Corruption Perception Rank Unprecedented in Past 10 Years
2- Trump Threatens His Opponents
3- Two Officials Who Protested US President's Order Were Dismissed
4- Rouhani: Government Kisses Hands of Those Who Raise Constructive Criticisms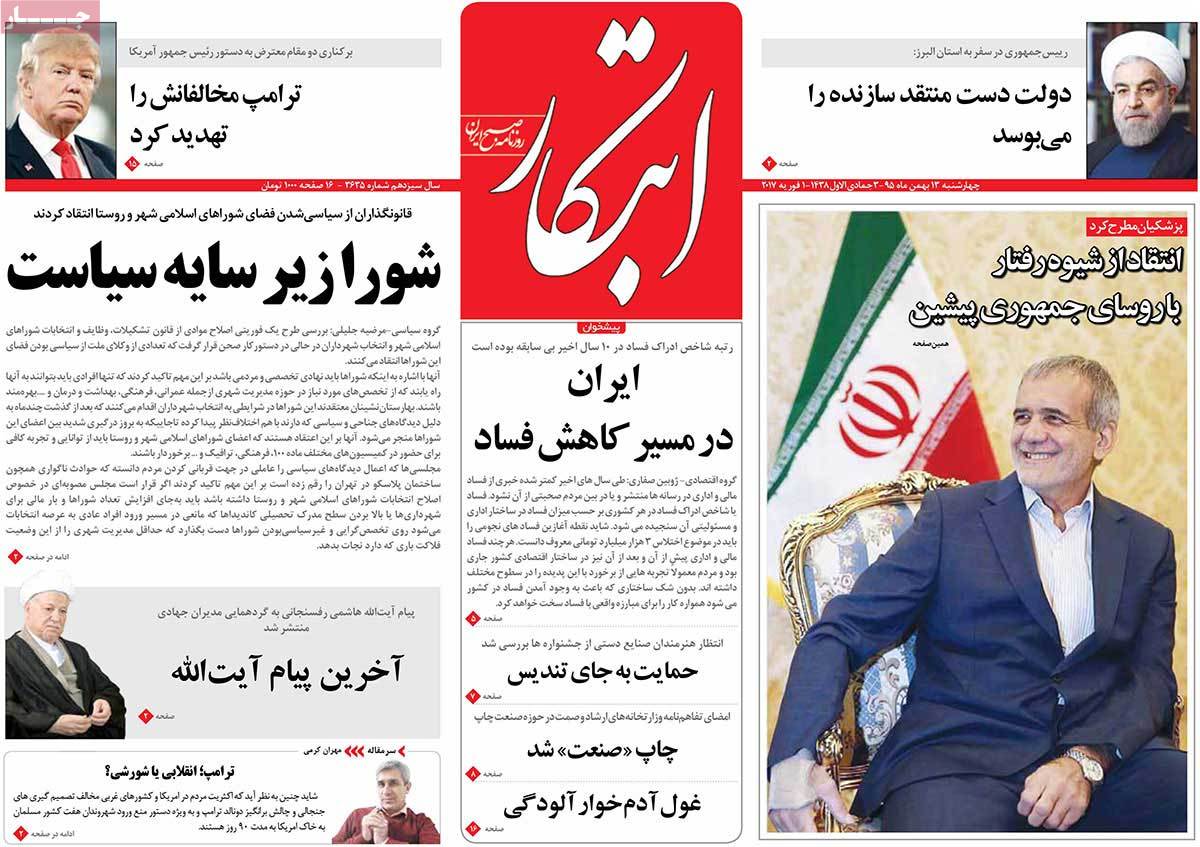 ---
Etemad:
1- Shaky Skyscrapers of Tehran: A Report on Poor Safety of Tehran's Towers; There Are 979 High-Rise Buildings in Tehran; 267 Towers Built in Past 5 Years
2- Political-Economic Defence of Nuclear Deal: French FM Adds to Knots in Tehran-Paris Ties
---
Ettela'at:
1- Iranian and French FMs Stress Full Implementation of Nuclear Deal
2- Anniversary of Imam Khomeini's 1979 Arrival in Iran Commemorated in Mehrabad Airport and Imam Khomeini's Mausoleum
3- 6.2% Economic Growth Anticipated for Iran in Next Year: Deputy Economy Minister
---
Ghanoon:
1- Sympathy against Racism Continues 4 Days after Trump's Travel Ban in US
2- Security Meeting against Iran's Missile Power: Zionists Coordinate UNSC against Tehran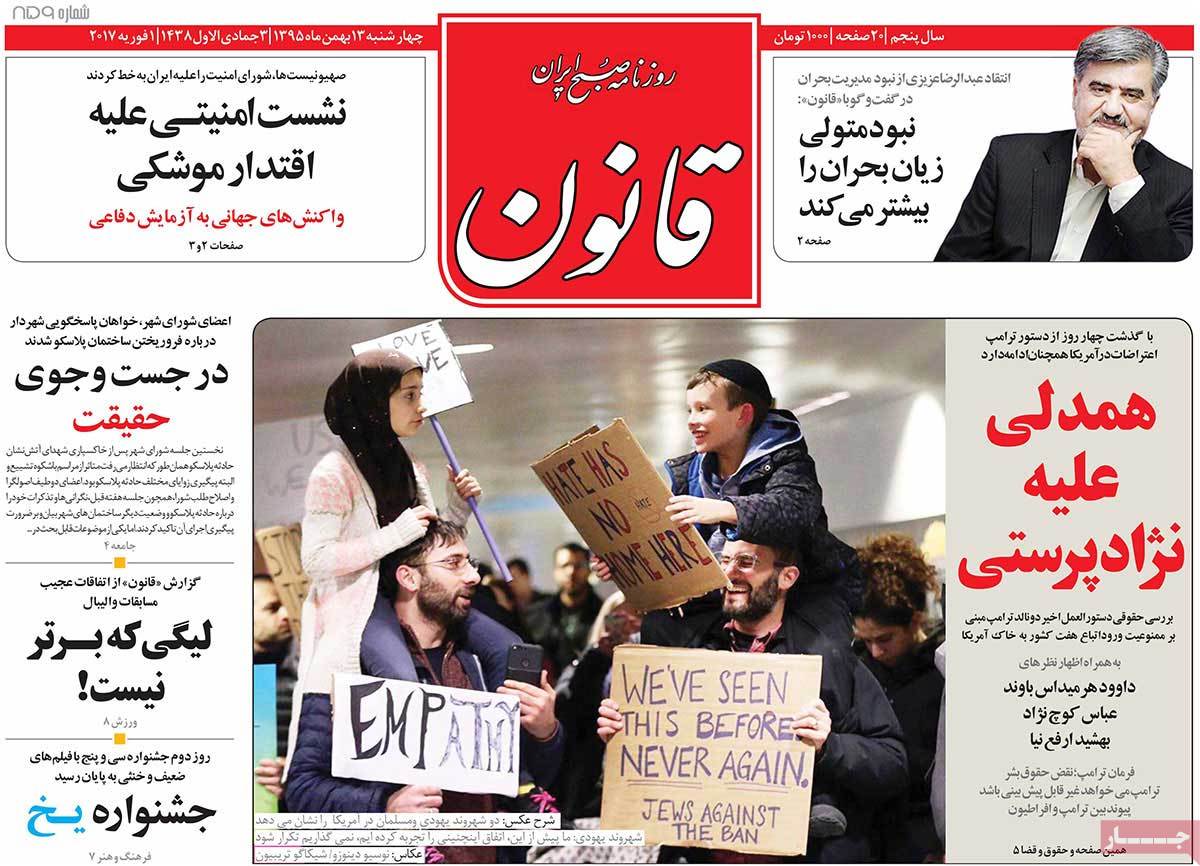 ---
Haft-e Sobh:
1- Iranian Immigrants Wealthier than Americans: A Comparison between Income and Education of 500,000 Iranians Living in US and Other Minorities
2- Bring Back Niki: Students of US Top University of Technology Call for Return of Their Classmate
3- Trump Starts Making Excuses Using Iran's Missile Tests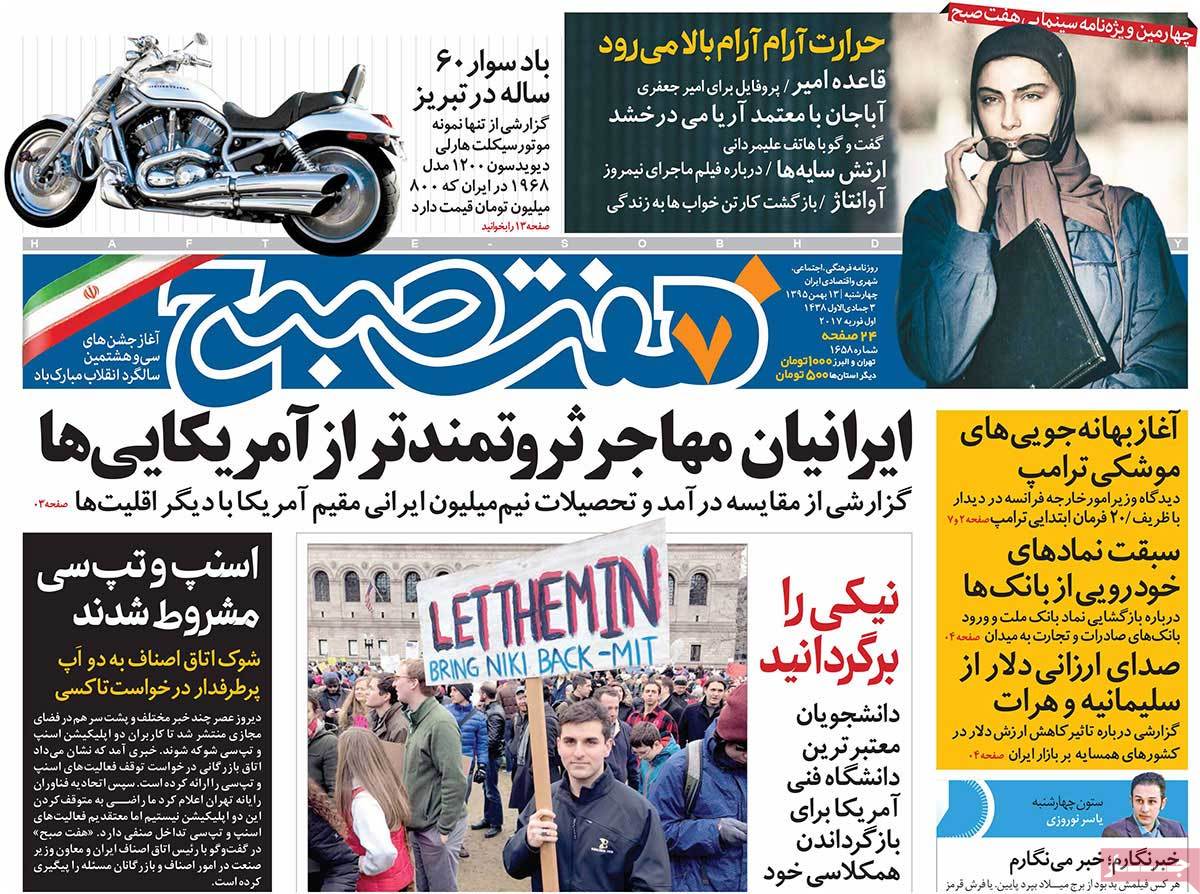 ---
Hemayat:
1- Russia in Reaction to US and Israel's Claims: Iran's Missile Test Is Not a Violation of Nuclear Deal
2- Fire of Division in US Flares Up Once Again
3- Middle East's Biggest Grain Refinery Inaugurated in Karaj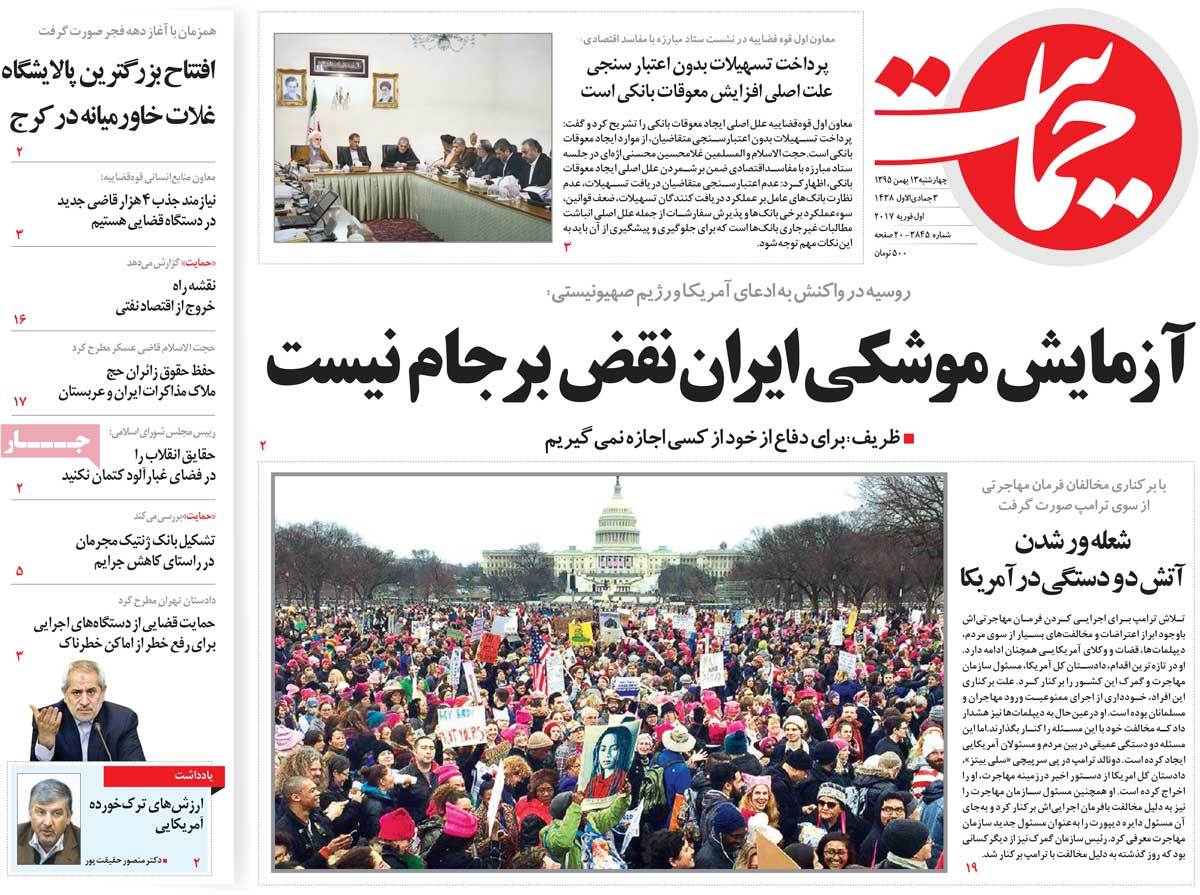 ---
Iran:
1- Everyone Should Remain Loyal to JCPOA Commitments: President Rouhani
2- White House: Whoever Is Not Pleased with Trump's Decisions Can Go
3- Death Is What Contraband Porters Earn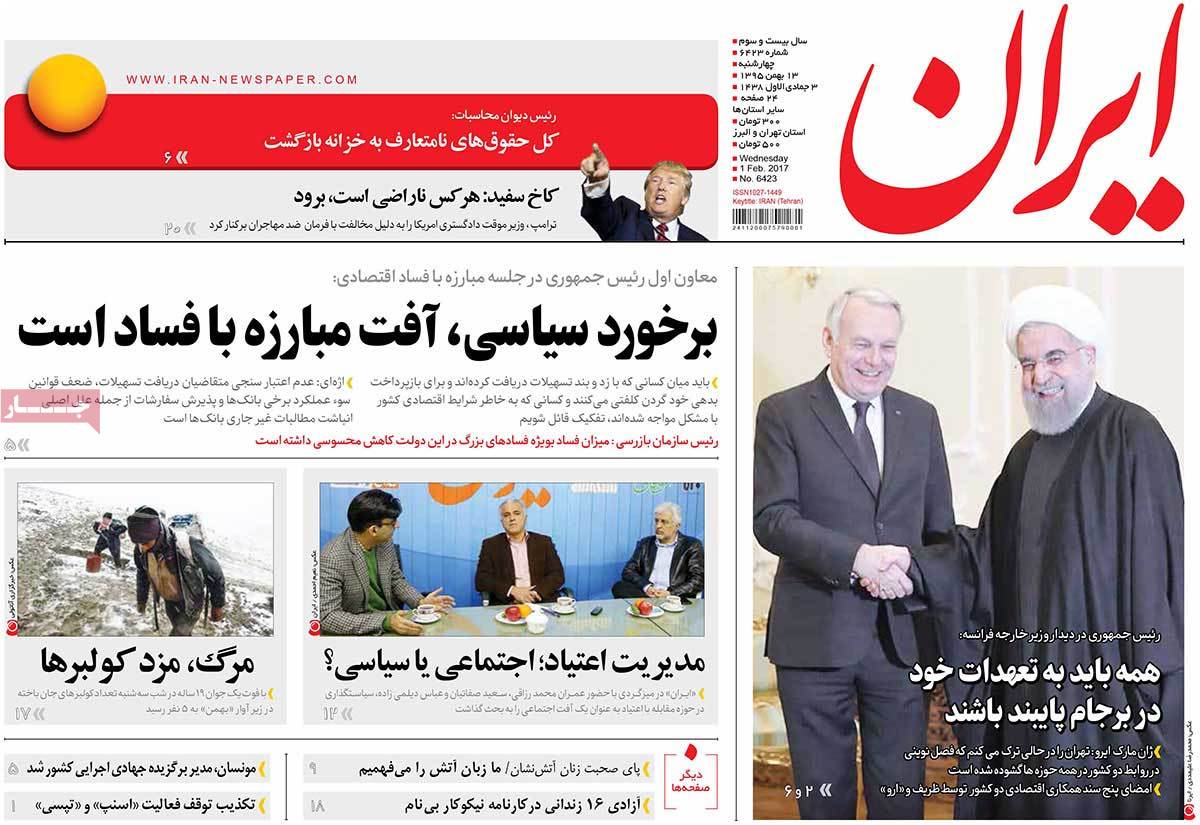 ---
Jame Jam:
1- US Iranophobia Project Now at Missile Stage
2- Trump's Decisions Won't Last Long: Iran's Foreign Ministry Spokesman
3- Cinema Official Urges Politicians to Get Out of Art Industry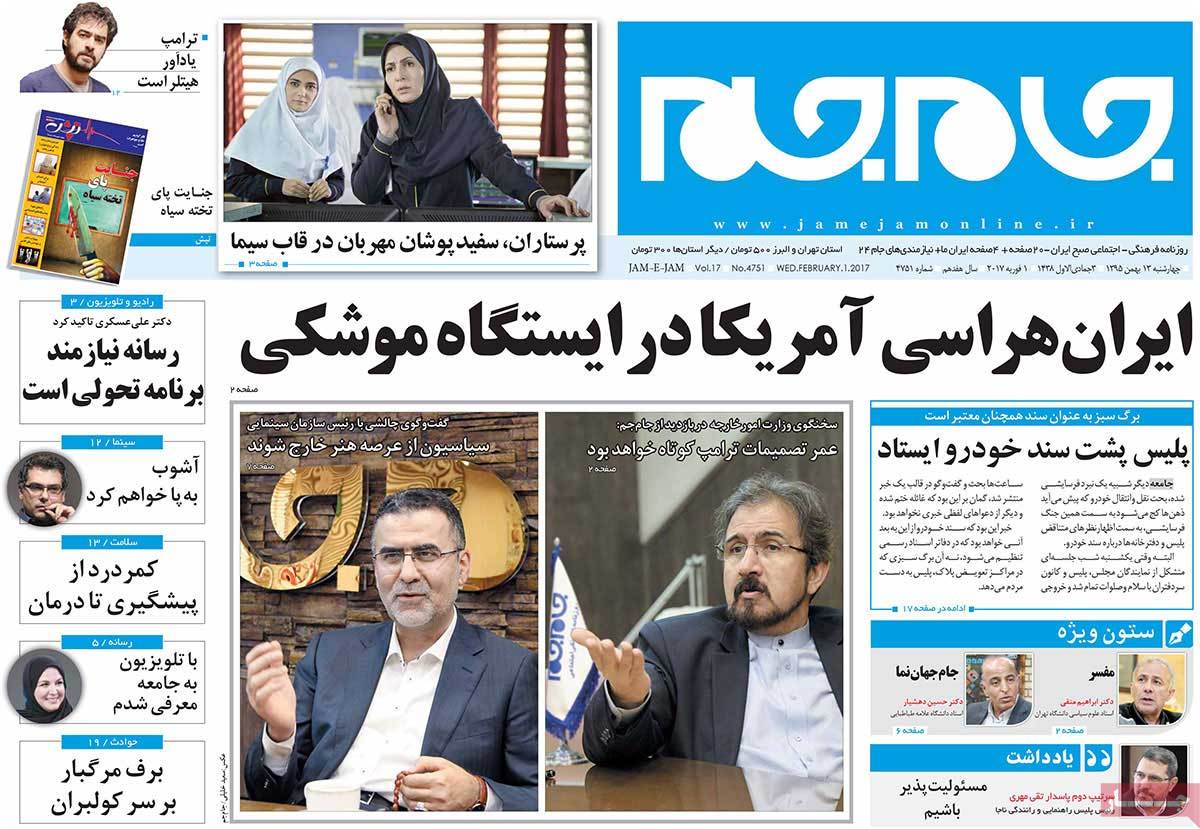 ---
Javan:
1- Zarif: We Won't Postpone Our Missile Program until Others Give Us Permission
2- JCPOA Bad Cop's FM: Missile Test Is against UNSC Resolution's Goal!
3- Celebration of Iran's Revolution
4- Visa Is a Secondary Issue: We're Once Again Named Axis of Evil! Two Mistakes in Trump's Visa Ban for Iranian People
---
Jomhouri Eslami:
1- 6 Industrial and Infrastructure Projects Inaugurated by President Rouhani in Alborz Province in First Day of Ten-Day Celebrations of 1979 Islamic Revolution's Anniversary
2- Imam Khomeini's Photo in Alawi School of Tehran While Responding to People's Emotions
3- Ceremony Held in Imam Khomeini's Mausoleum to Commemorate 1979 Revolution's Anniversary
4- All Astronomical Salaries Returned to Treasury: Official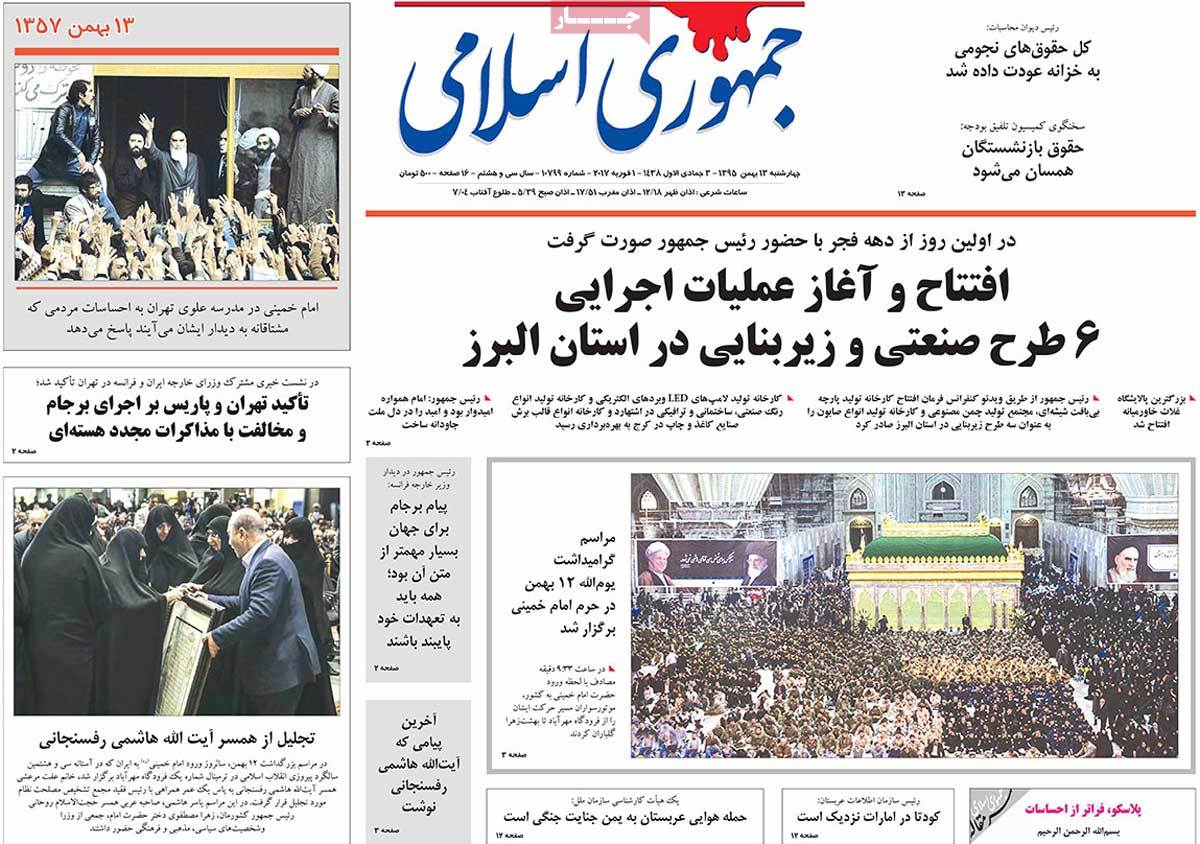 ---
Ka'enat:
1- French FM: Count on France
---
Kayhan:
1- Several Contracts Signed in Ayrault's Visit to Tehran: Result of Diplomatic Inaction; French FM Rewarded for His Imprudence!
2- Yemen's Ansarullah Drowns Seventh Vessel Belonging to Saudi Coalition
3- Trump's Executive Order Leads to Infighting among American Diplomats
---
Khorasan:
1- France Says No to Renegotiation of Nuclear Deal: French FM's Reaction to US Approach to JCPOA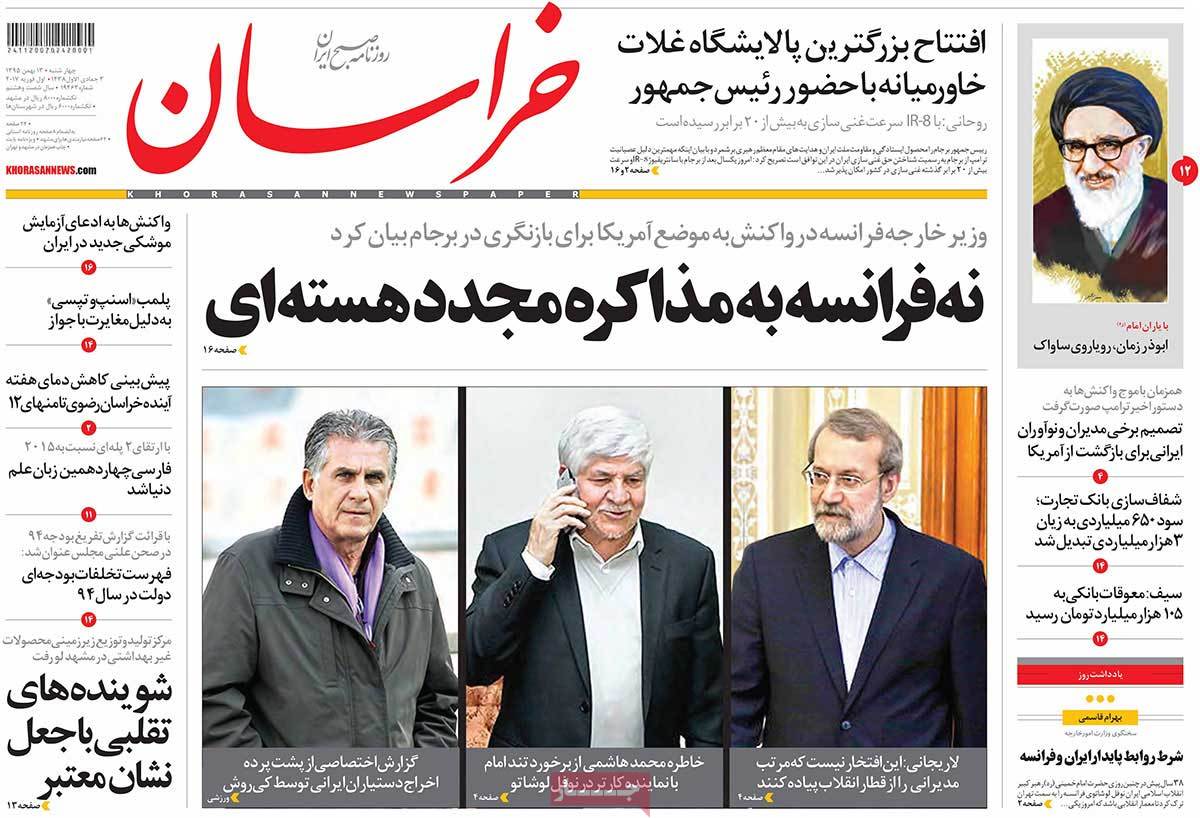 ---
Quds:
1- Accomplice of the Thief and Friend of the House Owner: Amid US, France, and Britain's War Drills in Persian Gulf, French FM Visited Iran, Questioned Iran's Missile Tests, and Welcomed Economic Cooperation with Tehran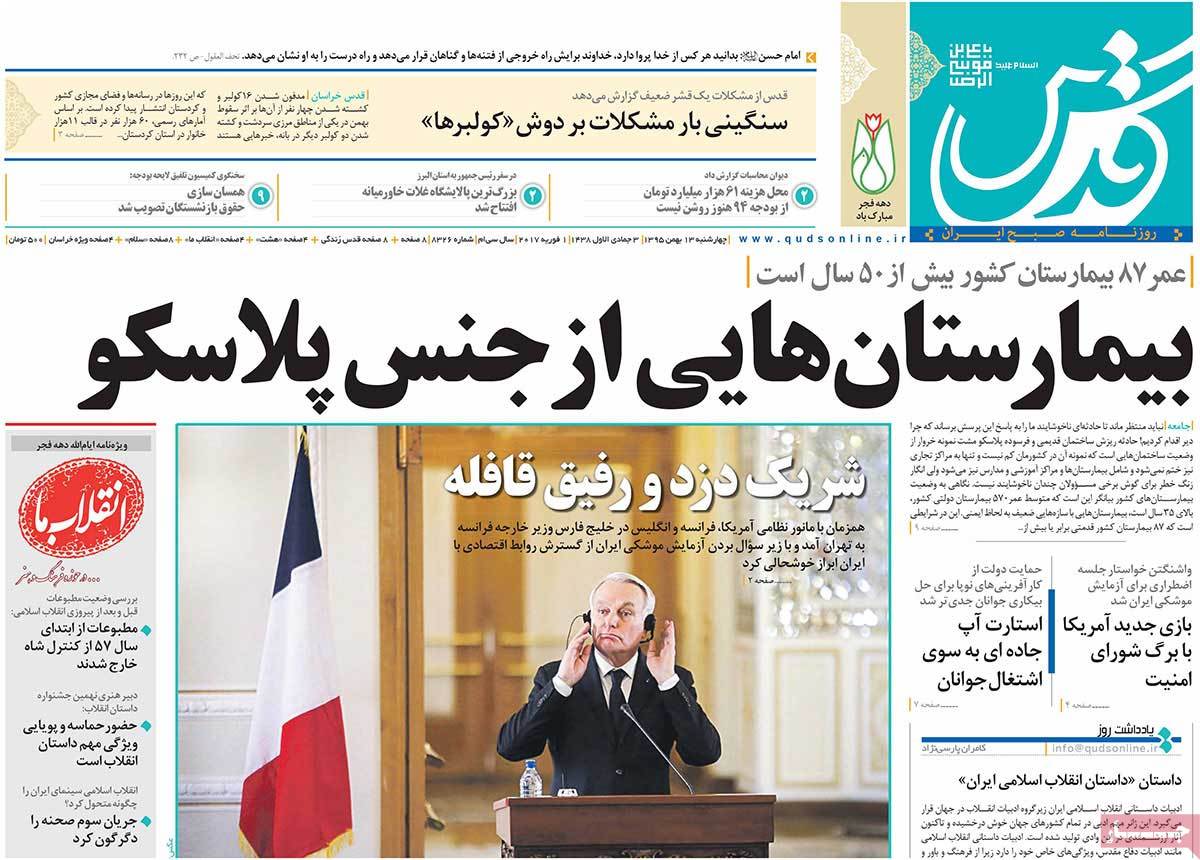 ---
Roozegar-e Ma:
1- World Amazed by Populist President: A Review of Trump's Radical Approach in Preventing Citizens of Certain Countries from Entering US
2- $3.7 Billion of Facilities Paid to Production Units: Government Spokesman
---
Seda-ye Eslahat:
1- Trump an Opportunity for Conservatives!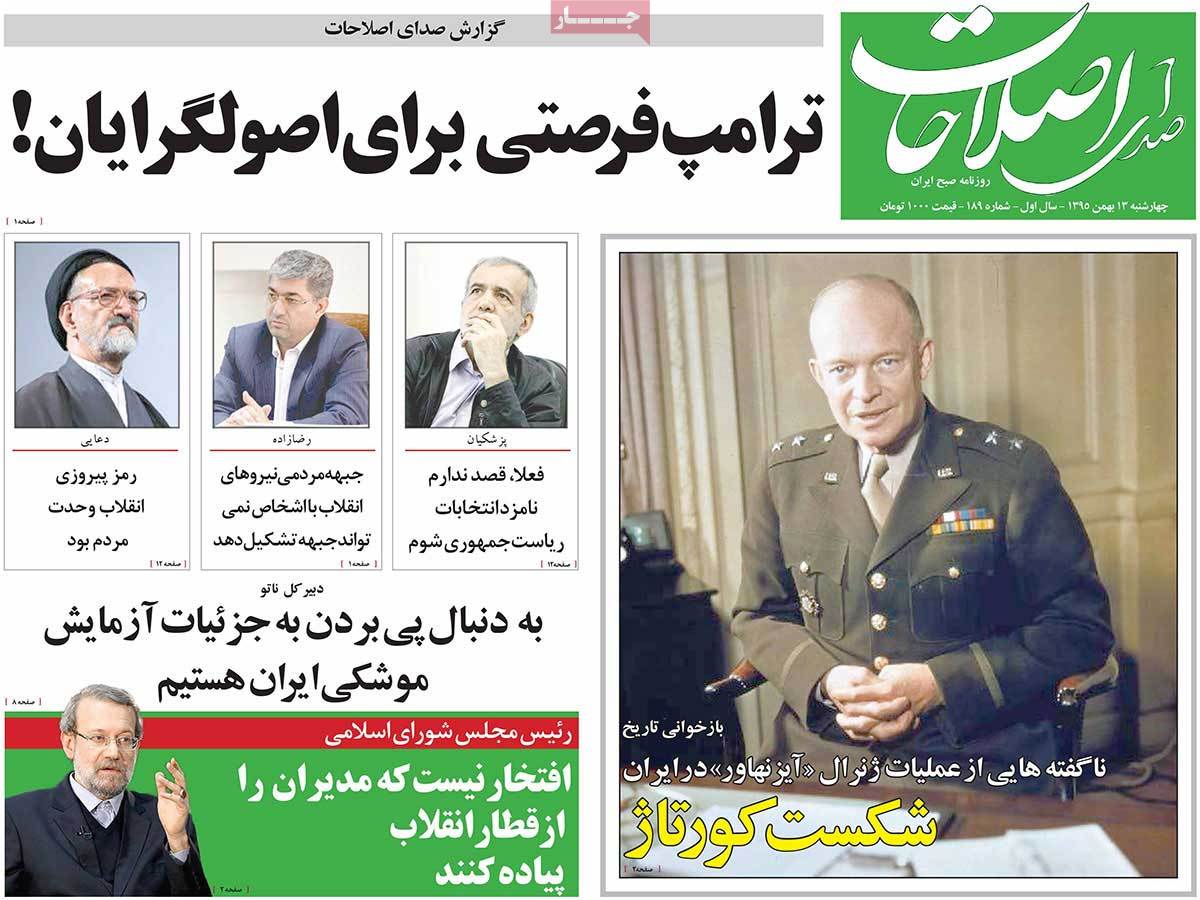 ---
Siasat-e Rooz:
1- Theresa May Is Trump's Partner in Racism: Thousands of Britons Protested against London's Accompaniment with US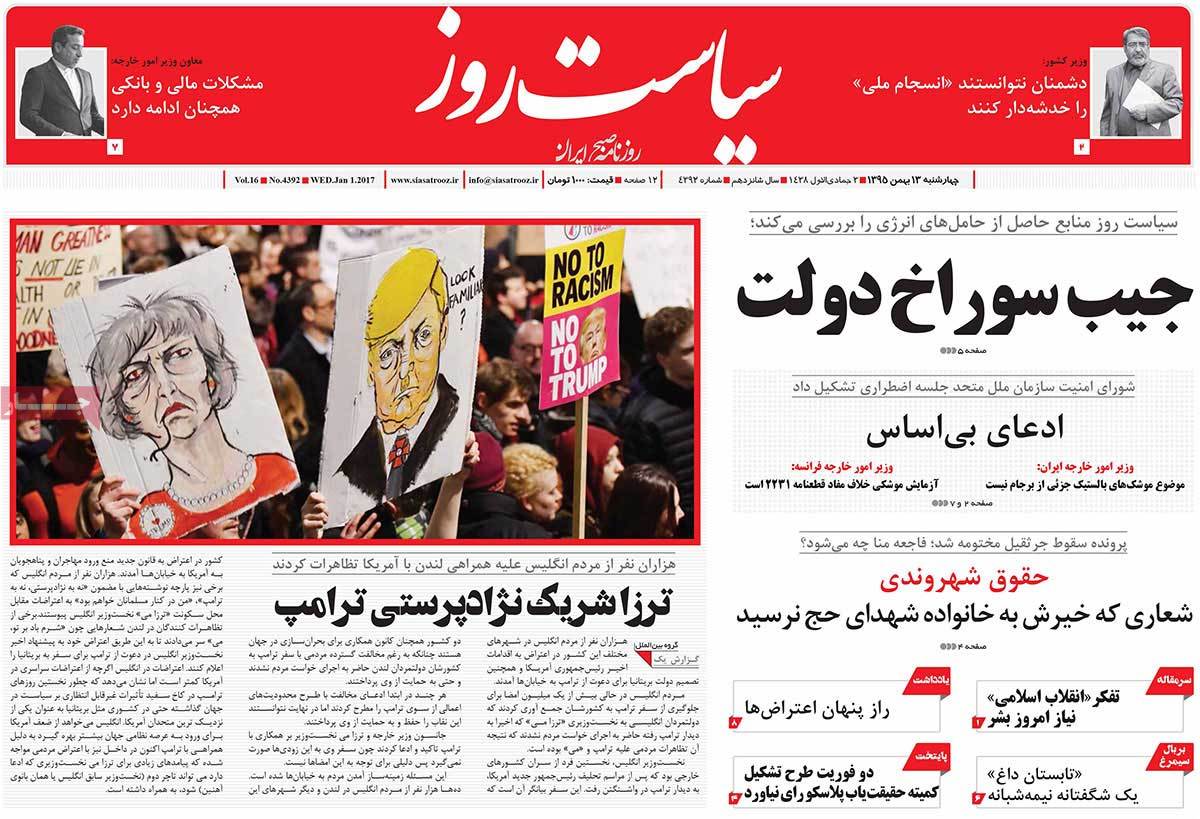 ---
Sobh-e Now:
1- Trump Opponents Become Defenders of Iran