Several papers today covered the G20 Summit in Argentina, where Saudi Crown Prince Mohammed bin Salman was isolated more than ever over his role in the murder of journalist Jamal Khashoggi.
Also a top story was the Syrian air defence's success in intercepting Israeli missiles during a recent aggression on southern Damascus. Iranian media hailed the Syrian army for doing it even without the Russian missile defence system S-300.
Remarks by Iranian Deputy Foreign Minister Abbas Araqchi about the Europeans' failure to implement the Special Purpose Vehicle (SPV), a payment mechanism aimed at facilitating trade with Tehran in the face of US sanctions, also received great coverage.
The above issues, as well as many more, are highlighted in the following headlines and top stories:
Abrar:
1- Putin Wants My Entire Country: Ukraine President
2- Military Option against Iran on the Table: US
3- Israeli Airstrike on Southern Syria; Reports of Shooting Down Warplane Dismissed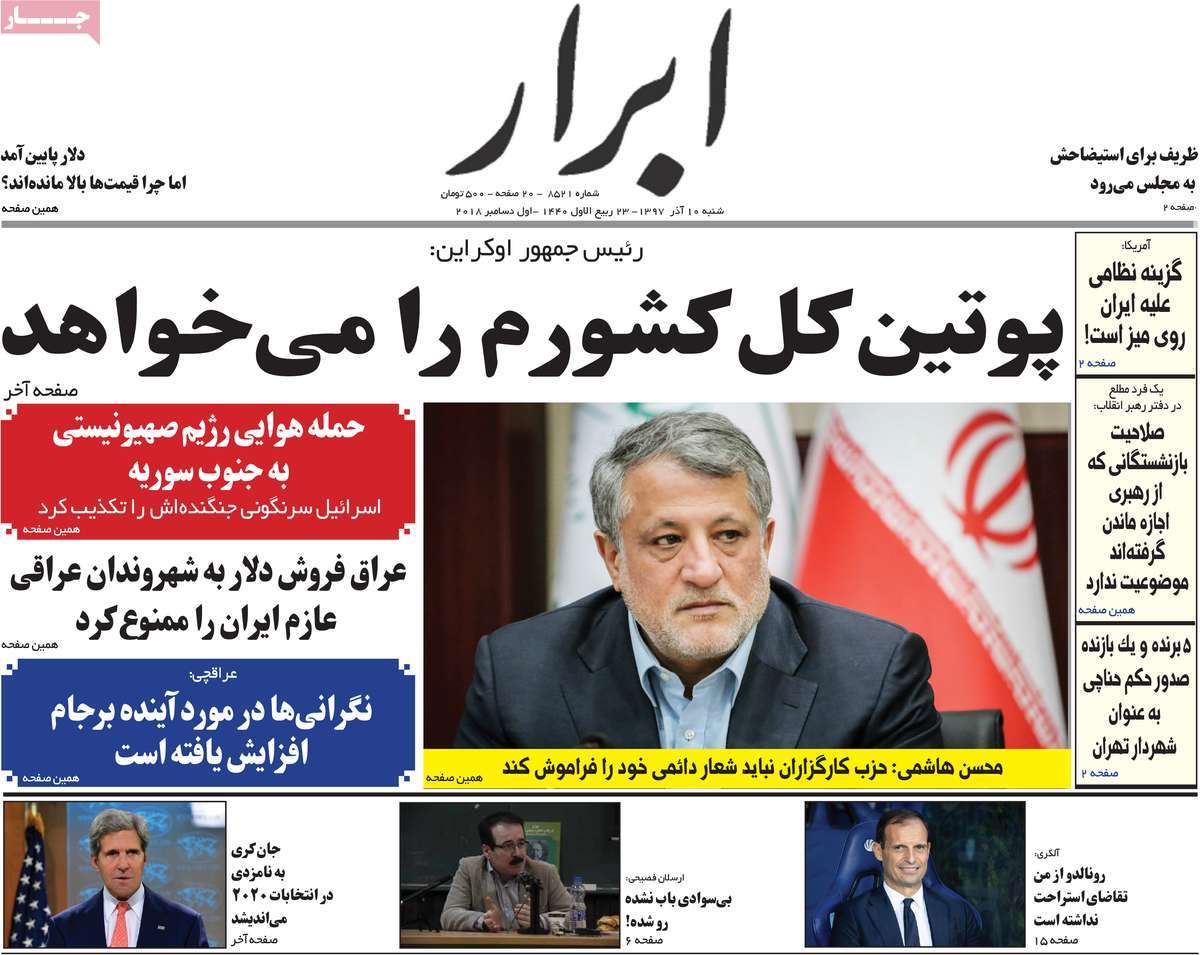 ---
Aftab-e Yazd:
1- Former Iranian Diplomat Advises Saudis to Invite Gen. Soleimani to Riyadh to Solve Yemen Crisis
* Mousavian: It's Not Unlikely
2- Iranian Minister Slams State TV for Portraying Negative Image of Gov't
3- Price of Consumer Goods Not Decreasing despite Dollar Rate Decrease
---
Ebtekar:
1- G20's Prescription for Trade War
2- I'll Take the HIV Test as Well
---
Etemad:
1- Conservative Lawmakers Renounce Hardliners' Attempt to Impeach Zarif
2- Tehran Mayor's Support for Environment Not Populism
3- HIV and National Strategic Plan [Editorial by Welfare Minister]
---
Ettela'at:
1- ICT Minister: Smart Phone Prices to Decrease Soon
2- Ayatollah Sistani Urges Respect for Iraq's National Sovereignty
3- Larijani: Convergence of Asian Countries to Resolve Regional Crises
---
Farhikhtegan:
1- France 45 – 0 Iran
* While Total, Peugeot Left Iran, We Continue Importing Unnecessary Items from France
* Items Include Cat & Dog Foods, Sanitary Napkin, Lighter
* Iran's Imports from France 45 Times Higher Than Exports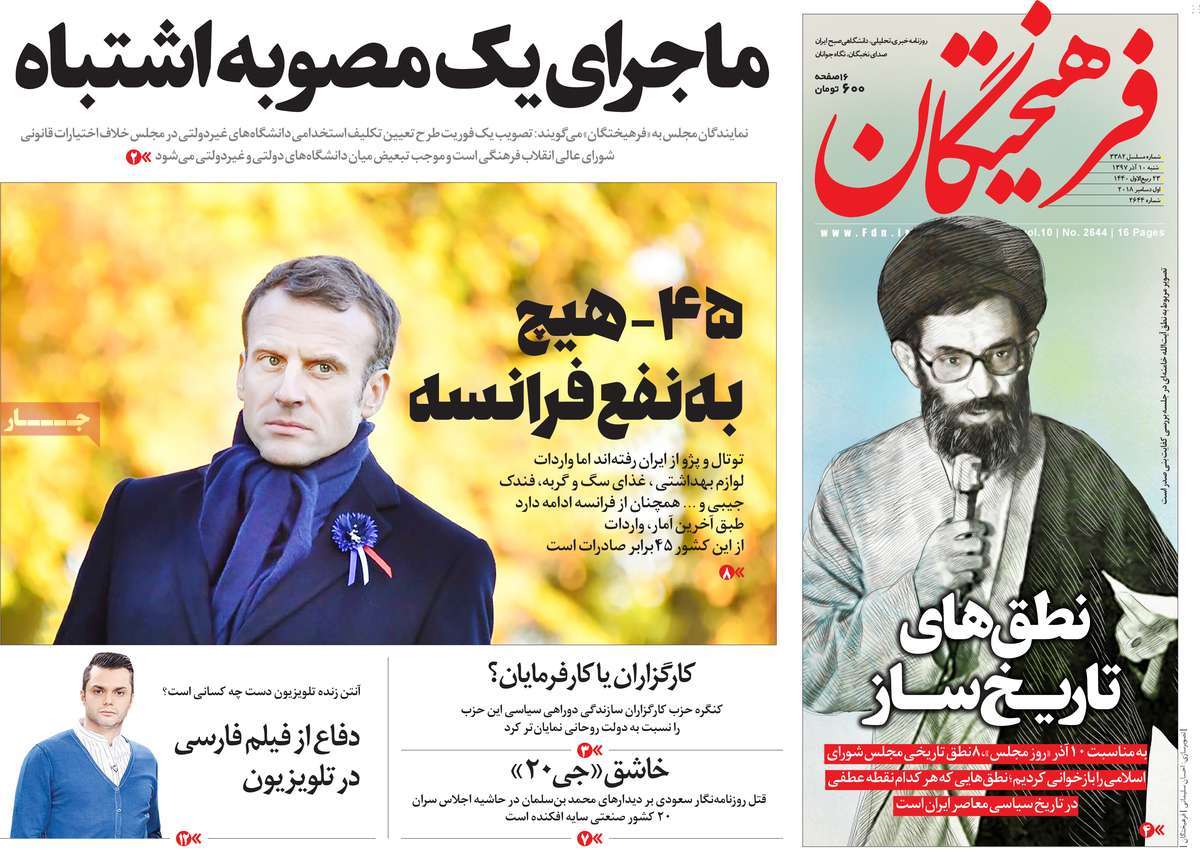 ---
Ghanoon:
1- Iran Leader's Military Advisor Goes to Qom, Briefs Top Clerics
2- Macron Harshly Warns Saudi Murderer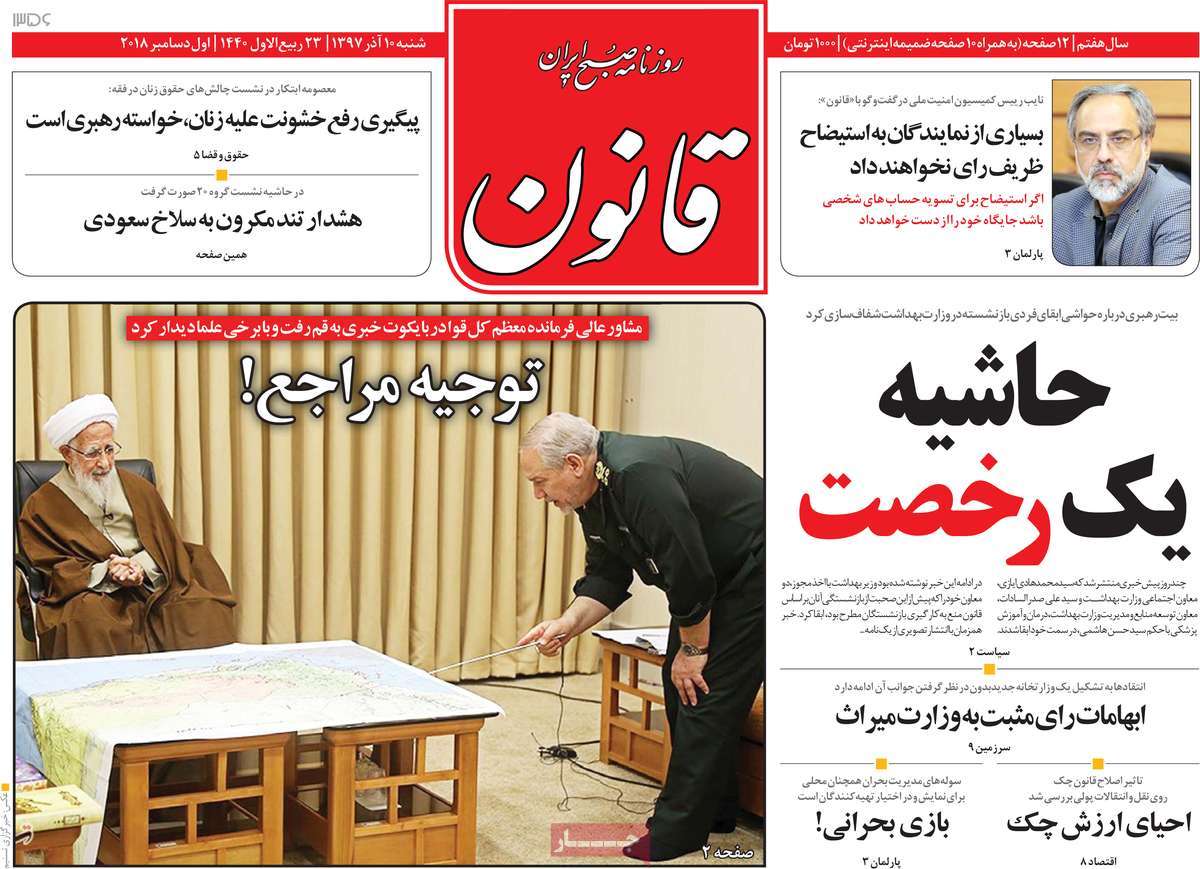 ---
Haft-e Sobh:
1- Iran Finds New Hero Better than "Little Hero of Haarlem"
2- Nature Journal's Front Page Dedicated to Joint Achievement of Two Iranians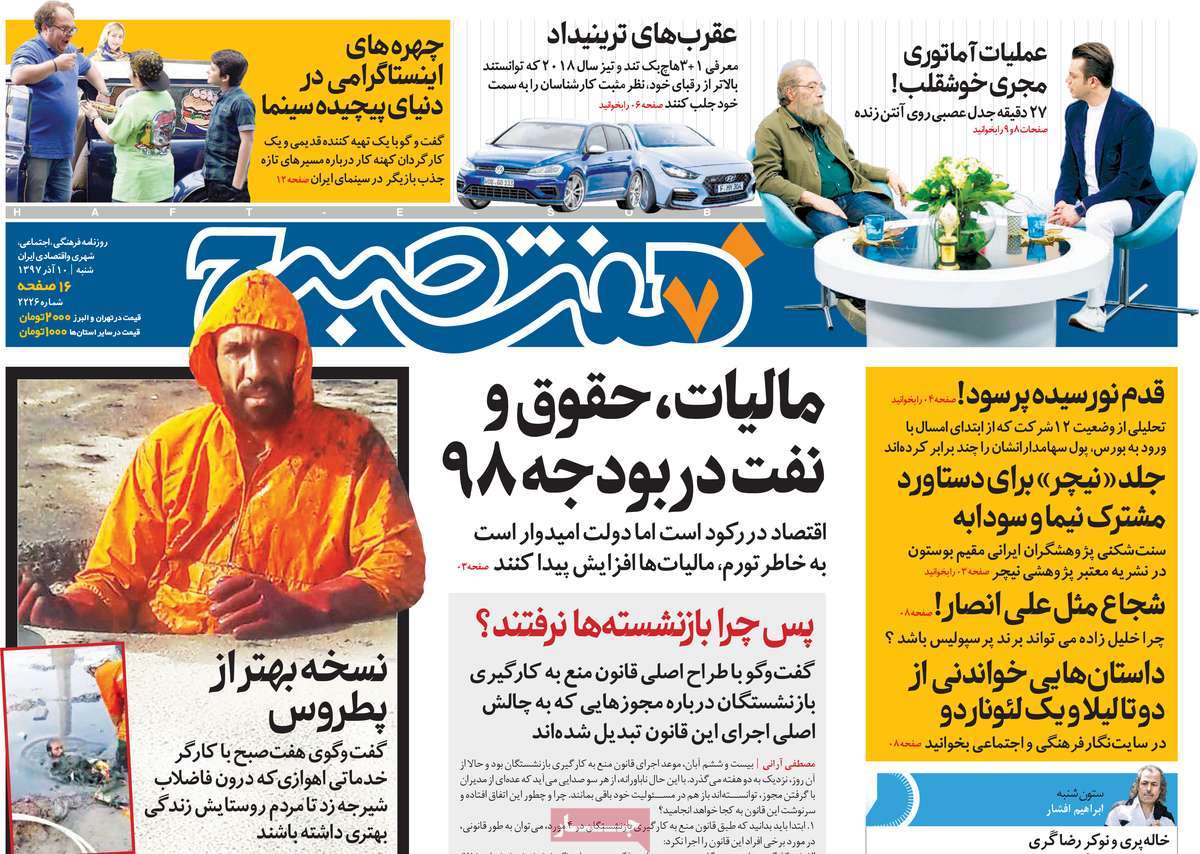 ---
Hemayat:
1- US Once Again Displays Wreckage to Level Accusations against Iran
* Hook Replaces Haley
2- US Dollar Rate Expected to Decrease to Less than IRR 100,000
3- Syrian Air Defence's Swift Reaction to Israeli Attacks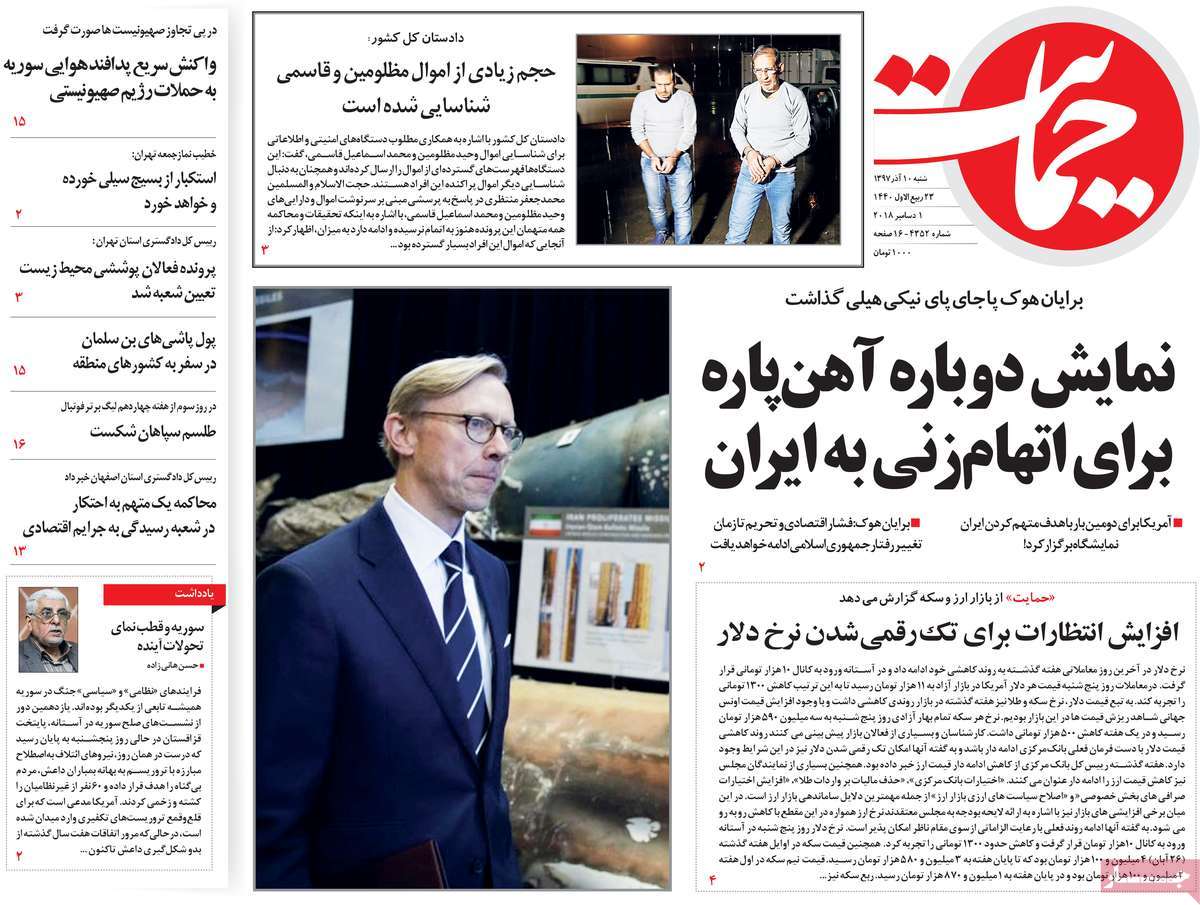 ---
Iran:
1- G20 Minus One: Trump Cancels Meetings with Putin, Erdogan
* G20 Summit Full of Tension Caused by Tariffs War
2- Iran among Safest Destinations for Tourists in 2019
* Foreign Tourists Still Visiting Iran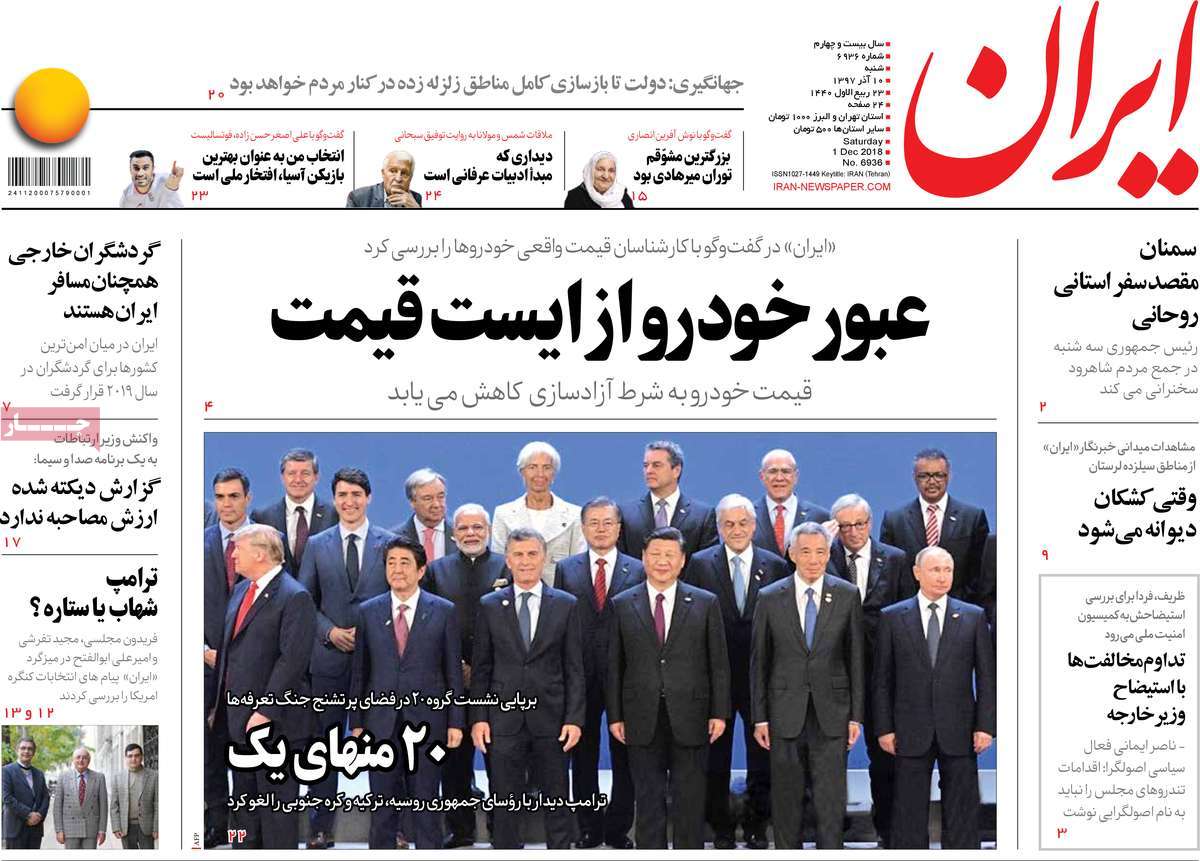 ---
Javan:
1- Looking for the Lost JCPOA
2- Int'l Resistance Film Festival Wraps Up in Tehran
3- Syria Intercepts All Israeli Missiles without S-300
4- US' $15bn Shield to Protect Bin Salman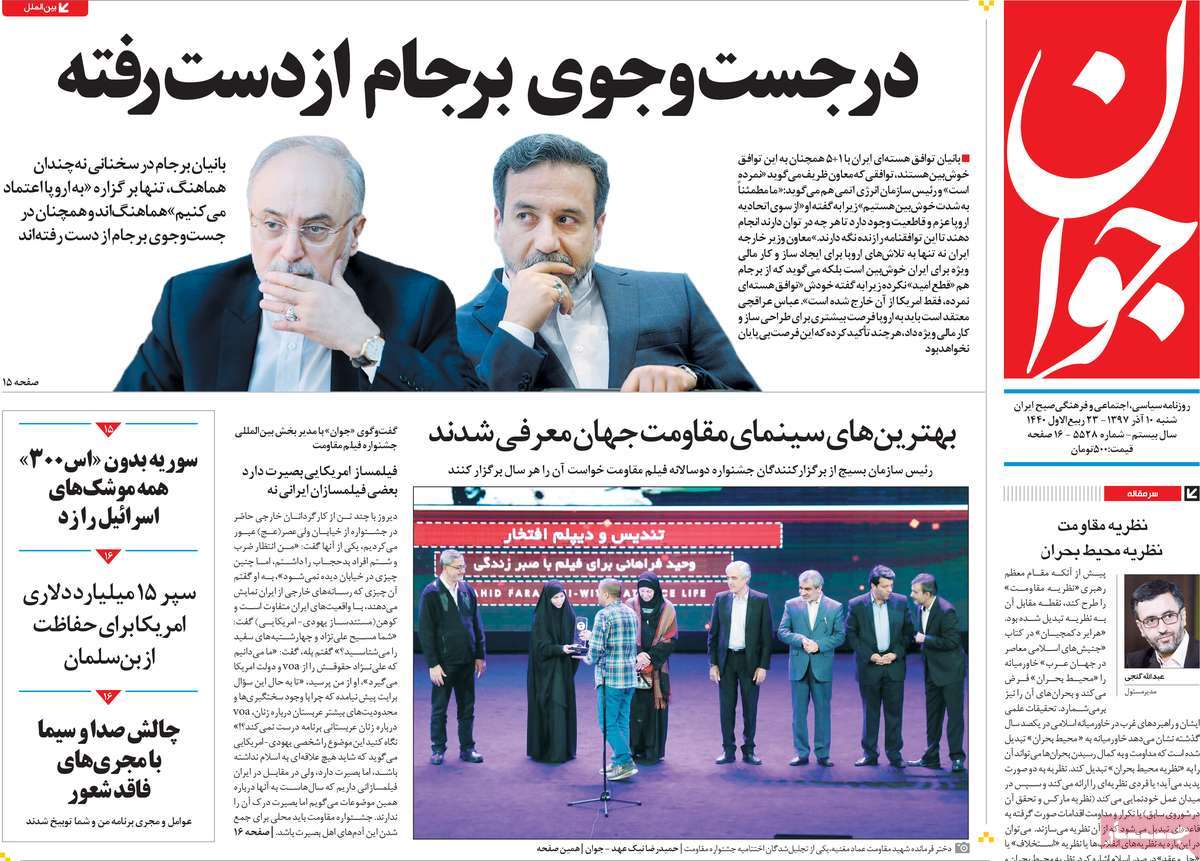 ---
Kayhan:
1- Europe Comes Up with New Trick to Deceive Iran
* SPV without Oil!
2- House Price at Highest Level in 10 Years
3- Bin Salman Arrives in Argentina with Armoured Vehicle, 400 Guards
---
Khorasan:
1- Zionists Shocked as Syria Shows Off Its Power without S-300
2- Most Hated One in Buenos Aires
---
Shargh:
1- Former Diplomat Says Bin Salman, Gen. Soleimani Must Resolve Yemen Crisis Together
2- Europe Coming Up with New Ideas to Maintain Business with Iran: Araqchi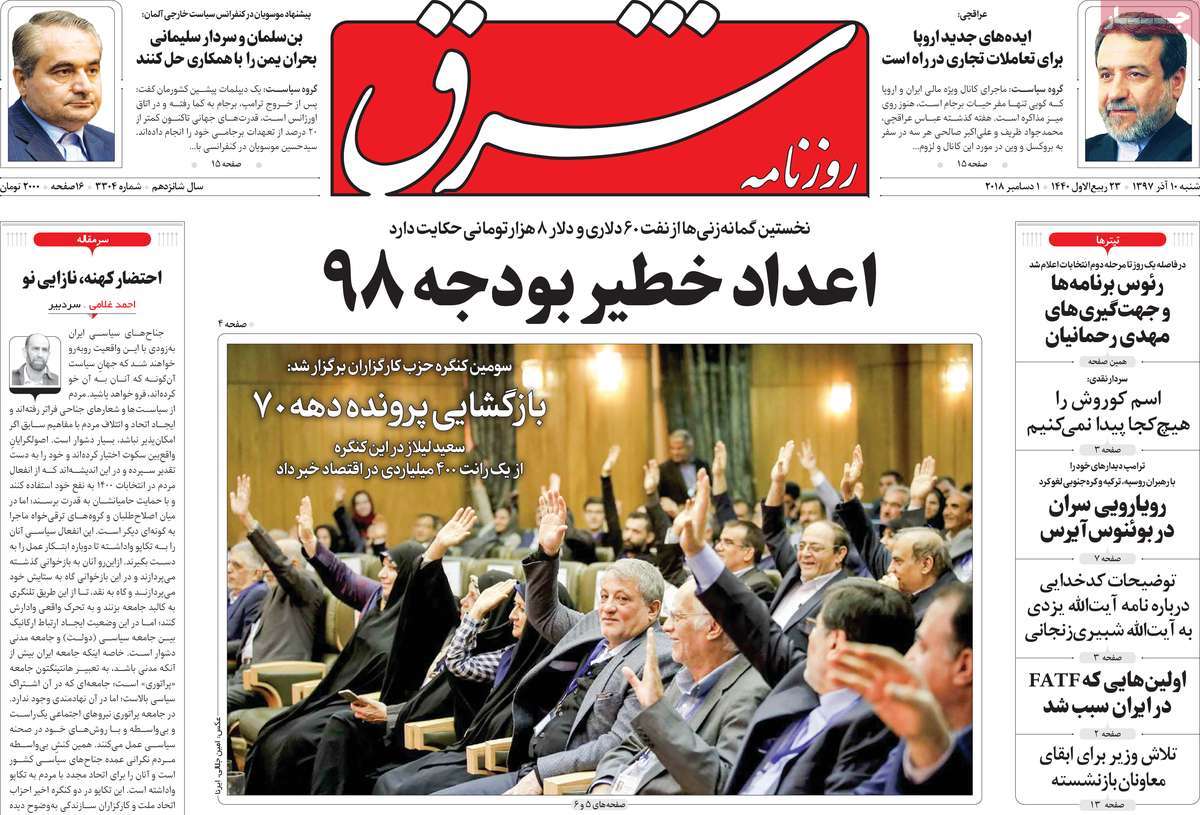 ---
Vatan-e Emrooz:
1- We Should Give Time to Europeans: Araqchi
2- Against Tehran: On Anniversary of Iran's Occupation
3- Lord of the Saws Isolated in Argentina