On the first working day after the New Year (Nowruz) holidays in Iran, almost all newspapers dedicated their top headlines to the name of the New Year, "Year of Support for Iranian Products", and the call made by the Leader of Iran's Islamic Revolution Ayatollah Seyyed Ali Khamenei for a strong support of domestic production.
The sharp rise in the dollar rate during the Nowruz holidays also received great coverage and was used by several papers to attack the government of President Hassan Rouhani.
The Israeli regime's slaughter of Palestinian people during their recent peaceful protests was among other top stories covered in today's papers.
The above issues, as well as many more, are highlighted in the following headlines and top stories:
19 Dey:
Iran Leader: People, Officials Must Support Iranian Products
Larijani: Terrorists Ruling Tel Aviv Know No Language but Aggression
Rouhani's Nowruz Very Busy, Full of Trips
First VP: Supporting Iranian Products Doesn't Mean Offering Any Product with Any Quality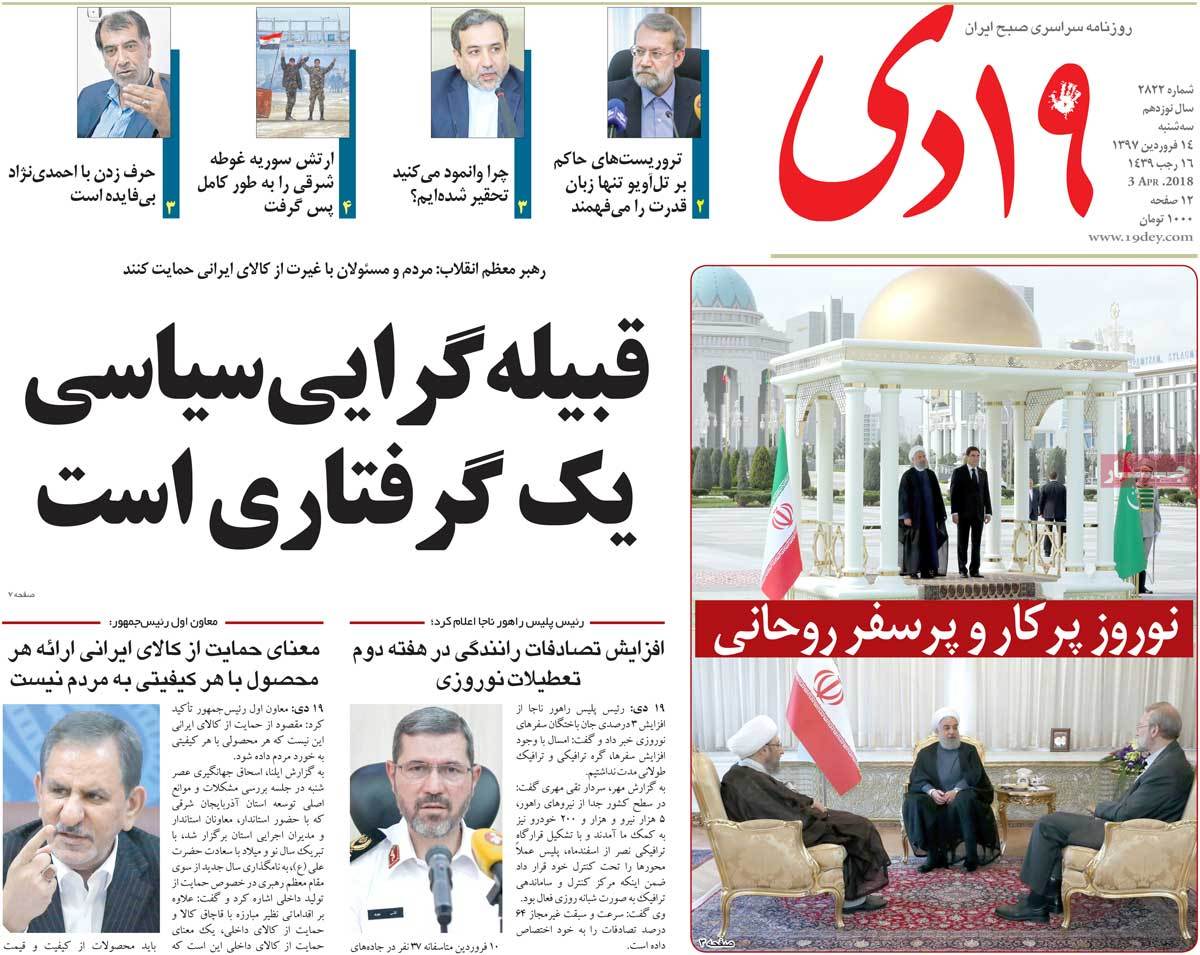 ---
Afarinesh:
Iran's Larijani: Resistance Most Important Element to Counter Zionist Regime
Iran First VP: Water to Be Transferred from Abroad to Save Urmia Lake
China Imposes Tariffs on Import of 128 US-Made Goods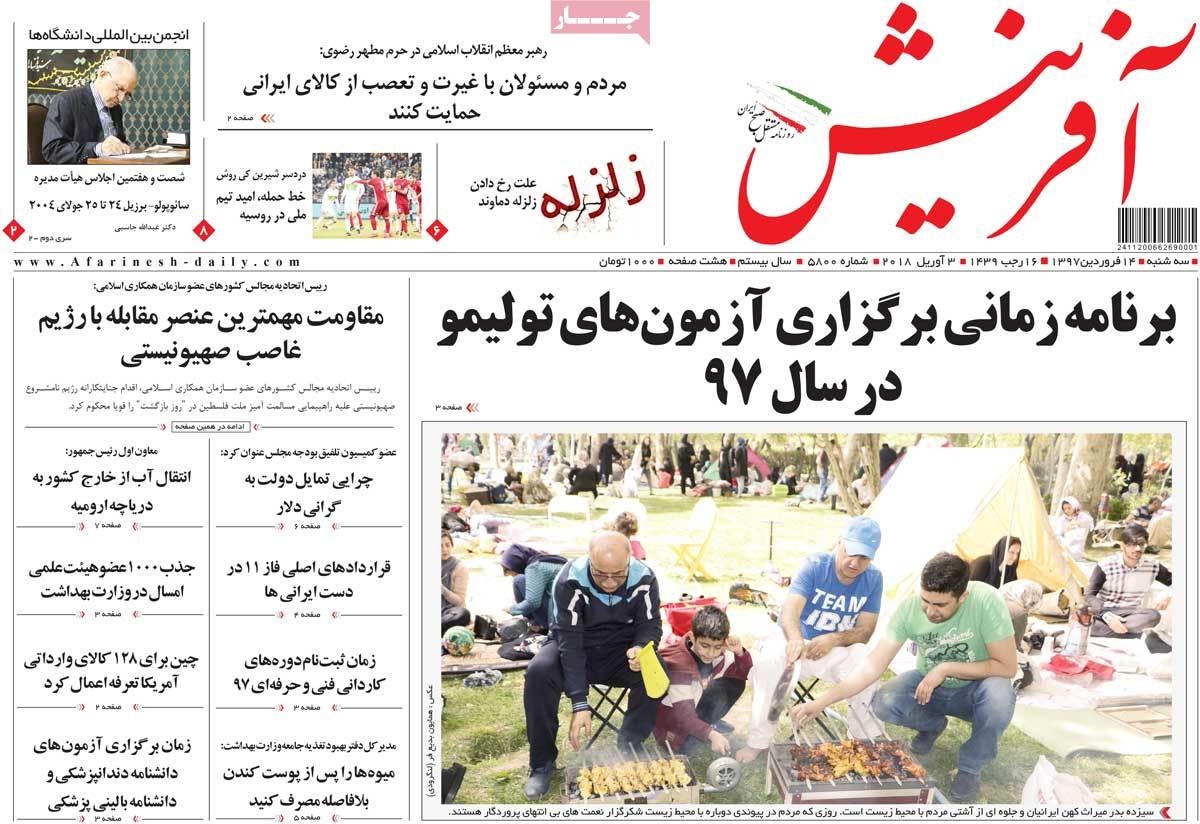 ---
Afkar:
Iranian General: Talks on Missile Power Totally Meaningless
Conservative MP: Iran Parliament, Gov't to Prioritize Supporting Iranian Products
Vital Necessity
Gov't Spokesman: Growth of Iranian Products Needs People's Investment in Society
US Claim about Embassy Relocation Main Cause of Zionists' Impudence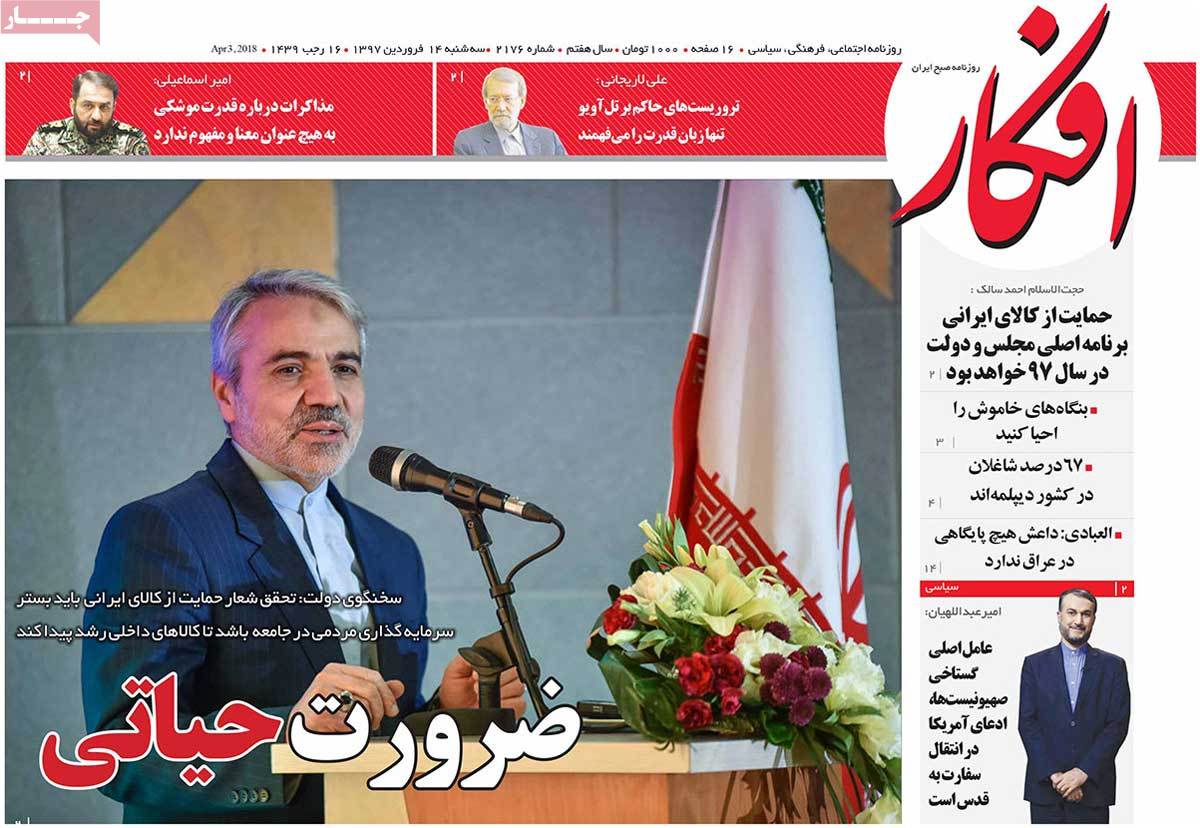 ---
Arman-e Emrooz:
Iran Leader: No One Prosecuted for His Belief
Imam Khomeini's Grandson: Humble Human Beings Not Needless of Criticism
Trump-JCPOA, May 12
EU-US Talks Have Turned into Those of Deaf People
---
Amin:
Iran: Bin Salman Either Doesn't Know What War Is or Has Not Studied History
Getting on People's Nerves: Conflicting Reports on Blocking Telegram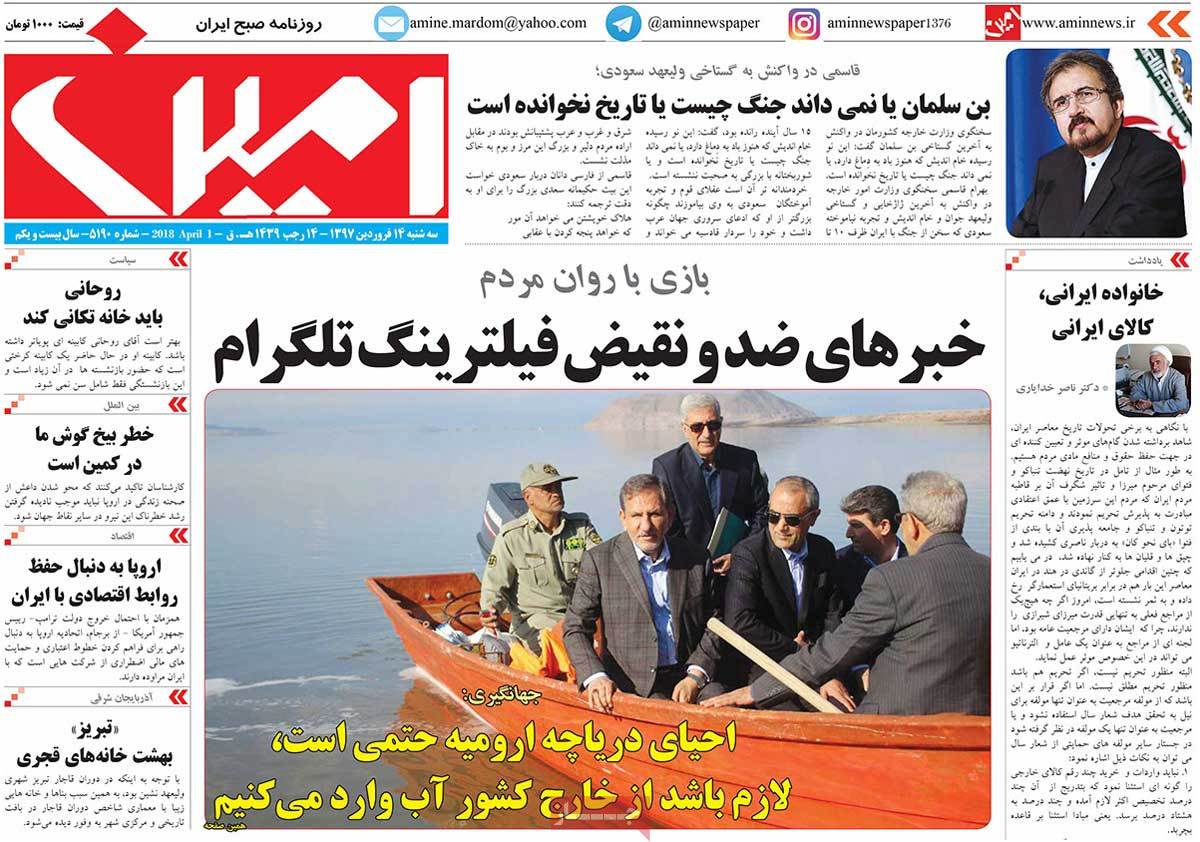 ---
Ebtekar
Sisi Treading on Morsi's Path
Egyptian General Re-Elected as President
Dollar Rate in Iran Breaks Records during Nowruz Holidays!
A Report on Reasons for Strange Dollar Fluctuations
Iran Leader Names New Iranian Year as "Year of Support for National Production"
All People Including Officials Invited to Campaign
---
Etemad:
Withdrawal of US Troops from Syria: New Deceit or Promise?
Trump's New Strategy Sparks Controversy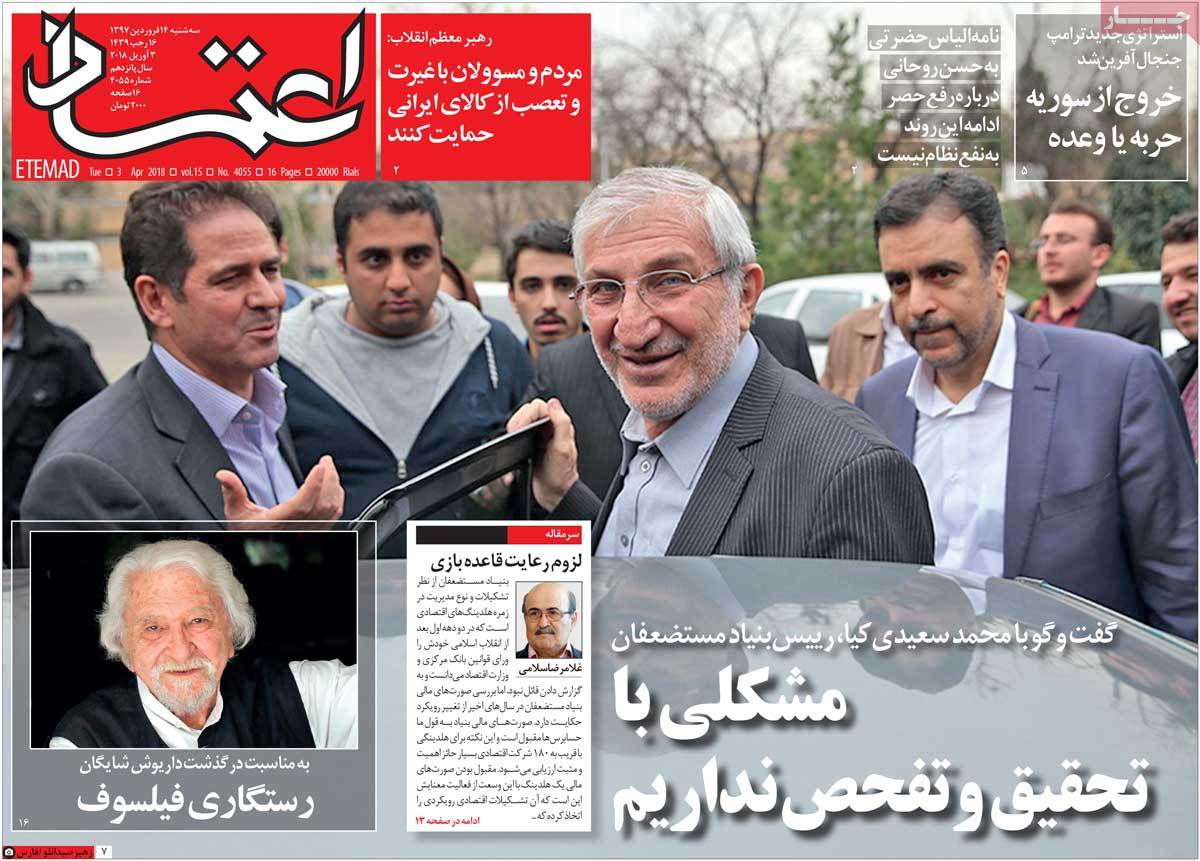 ---
Ettela'at:
Use of Iranian Products Must Turn into Prestigious Move: First VP
Erdogan: Netanyahu, A Terrorist and Occupier Whose Crimes Will Be Remembered
Iran Leader: Everyone Must Feel Duty-Bound to Use Iranian Products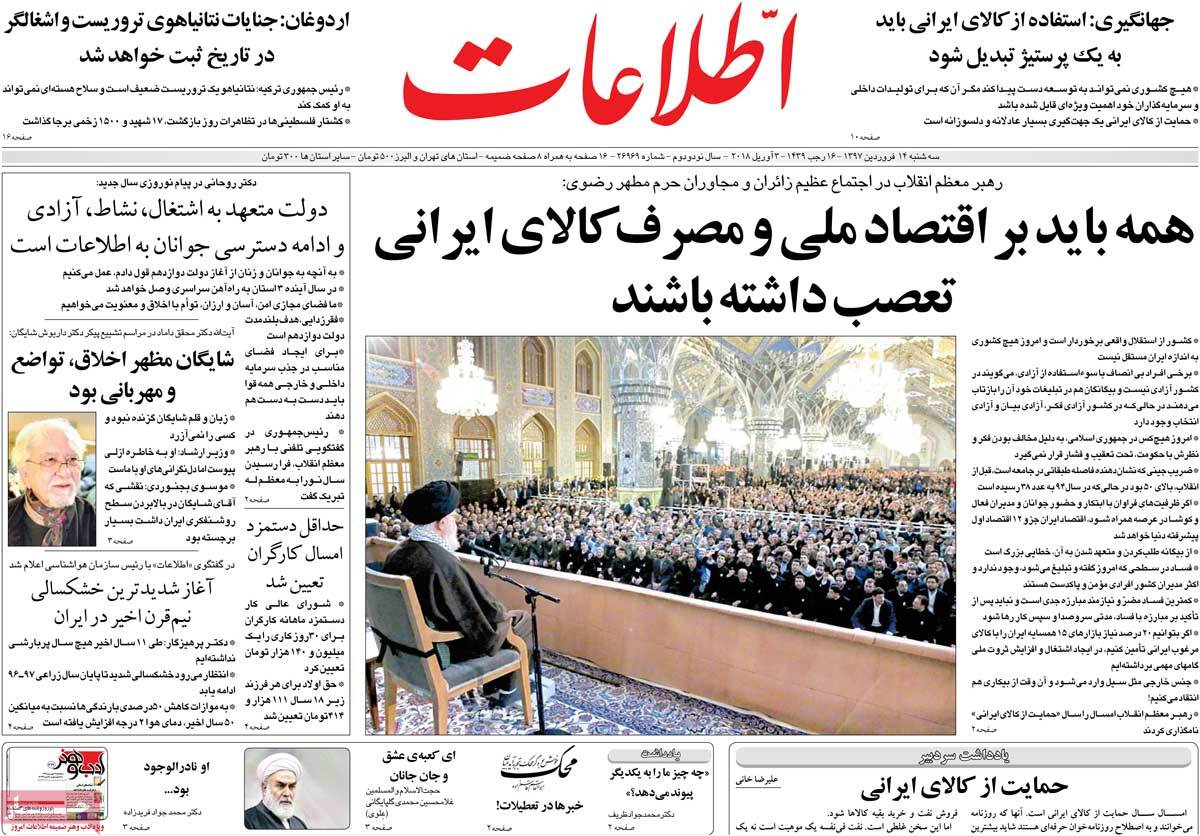 ---
Iran:
Industry Minister Outlines New Roadmap to Support Iranian Products
Gov't Resolved to Increase Production of High-Quality, Competitive Goods for Export
Time to Tie Nature to Life: Iranians Welcome "No to Littering" Campaign in Nowruz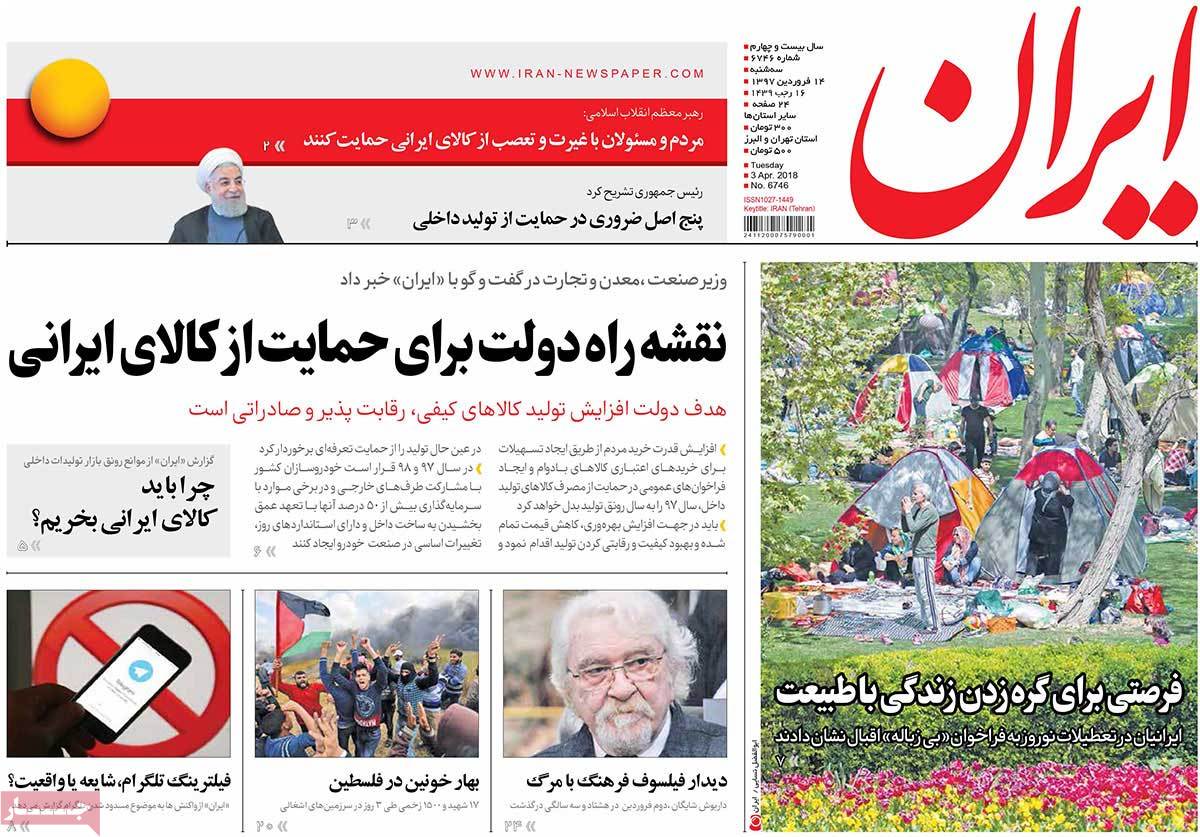 ---
Javan:
Iran Leader: Prejudice Needed in Supporting Iranian Products
Damascus 100% Safe
Last Stronghold of Terrorists Falls after Trump's Withdrawal Order
Return of Palestinians' Rage
Haniyeh: Not Clear Where Next Peaceful Rallies Would Go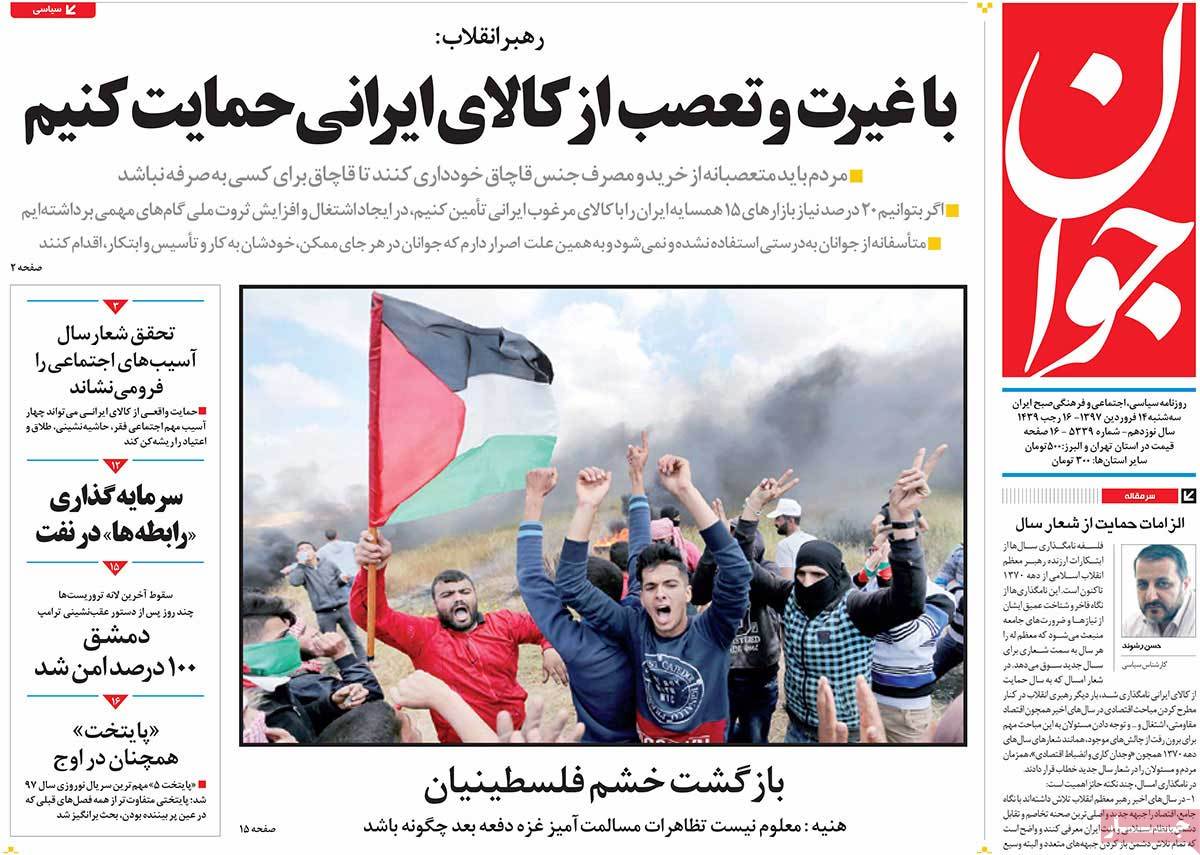 ---
Jomhouri Eslami:
Reuters: Europeans Divided over Imposing Sanctions against Iran
Parliament Working on Plan to Organize Forex Market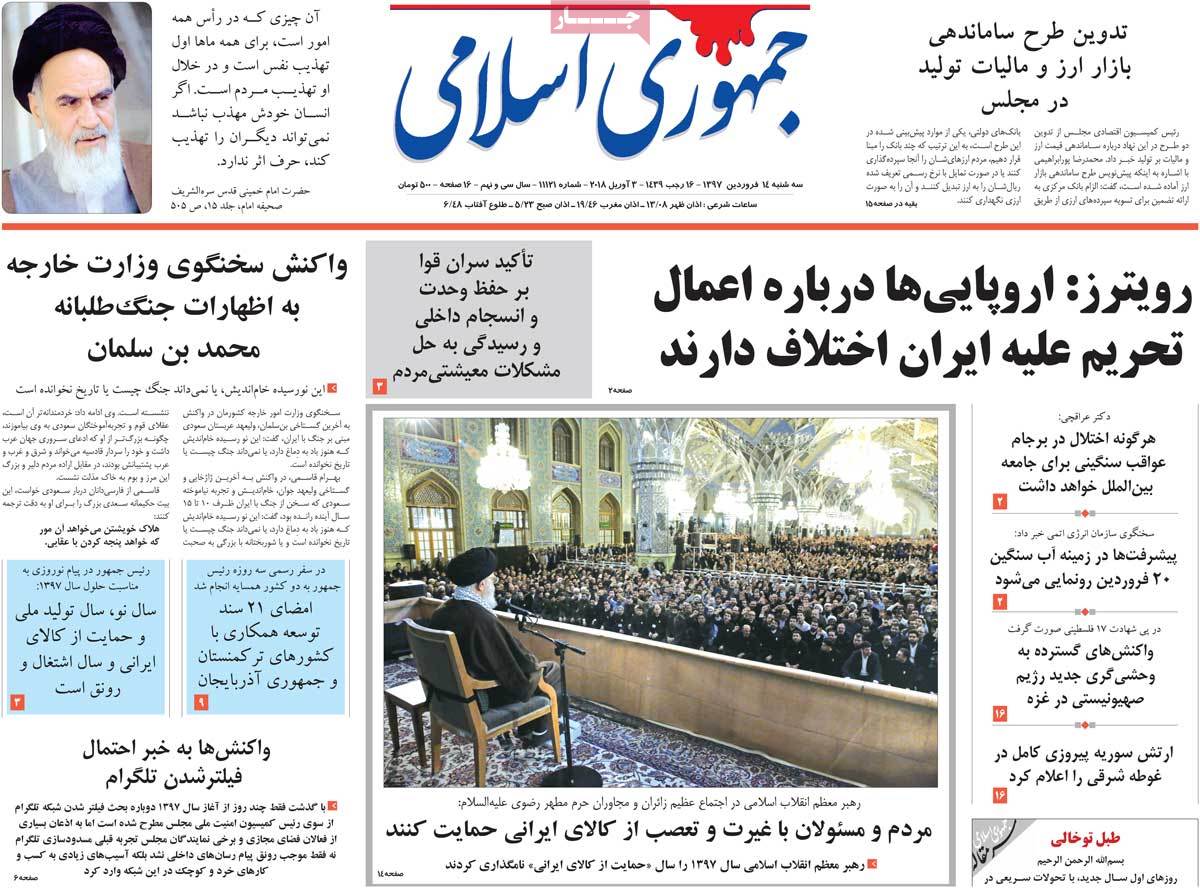 ---
Kayhan:
Iran Leader: We'll Become One of Top 12 Economies If Domestic Potential Used
Government's Worn-Out Decision to Support Iranian Products
Good News from Syria: Eastern Ghouta Fully Liberated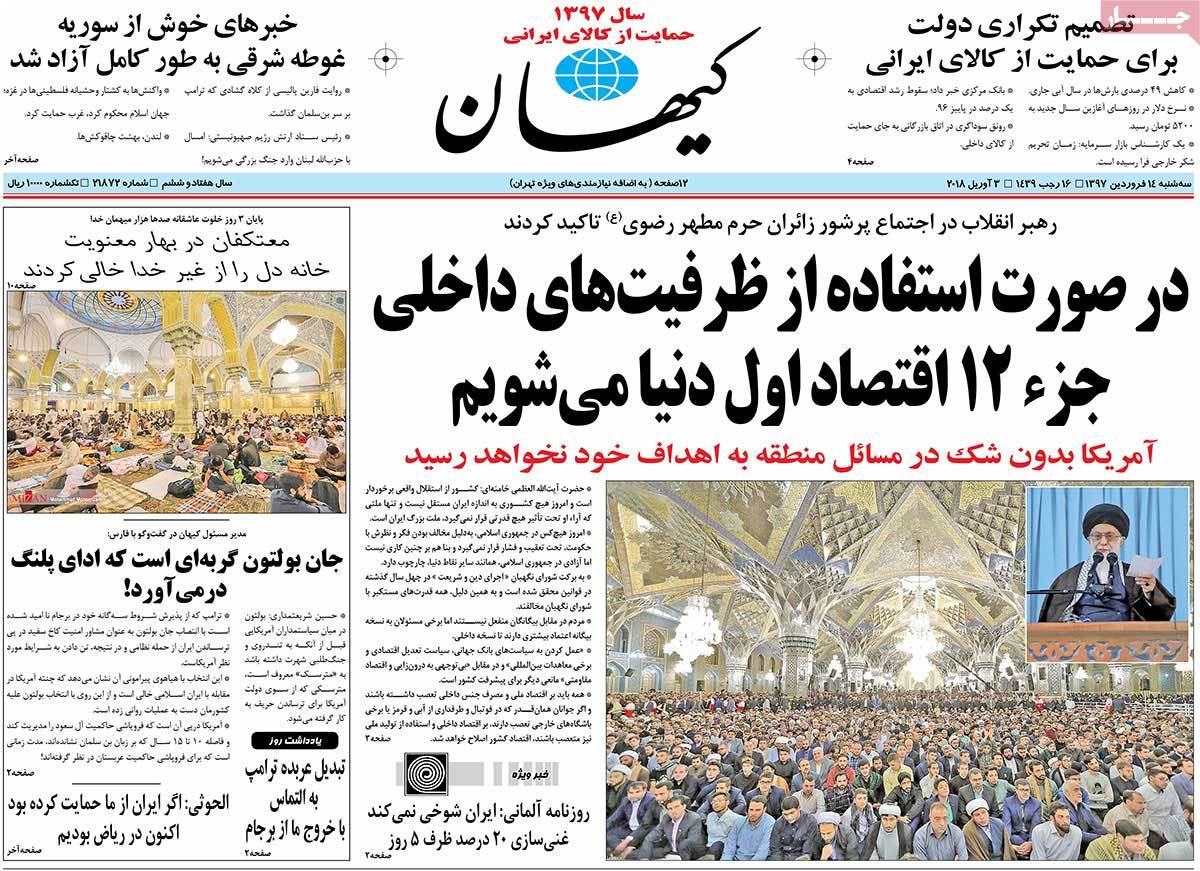 ---
Resalat:
Zionists Committing Crimes with US Support
Hamas: Palestinian Nation Just Started New Phase of Its Struggles
---
Rooyesh-e Mellat:
Zarif: Security in Mideast Has Turned into Scarce Item
Iran Ready to Ease Tensions in Kashmir
---
Setareh Sobh:
Tehran Mayor's Fate Unclear
Najafi Says He Won't Take Back His Resignation
---
Shargh:
Rouhani, Jahangiri Spend Very Busy Nowruz
---
Vatan-e Emrooz:
Government's Gift for Iranian People on Nowruz: IRR 52,000 for $1
Forex Rate at Highest-Ever Level, Officials on Vacation!
Slaughter of Palestinians during Return Rallies
Israel Turns Palestinians' Peaceful Protests into Bloodbath