Abrar:
1. No visa needed for Iranian visitors to Georgia
2. Leader hosts mourning ceremony for Hazrat Zahra
3. Rouhani frowns on myopic commentators who overlook administration's achievements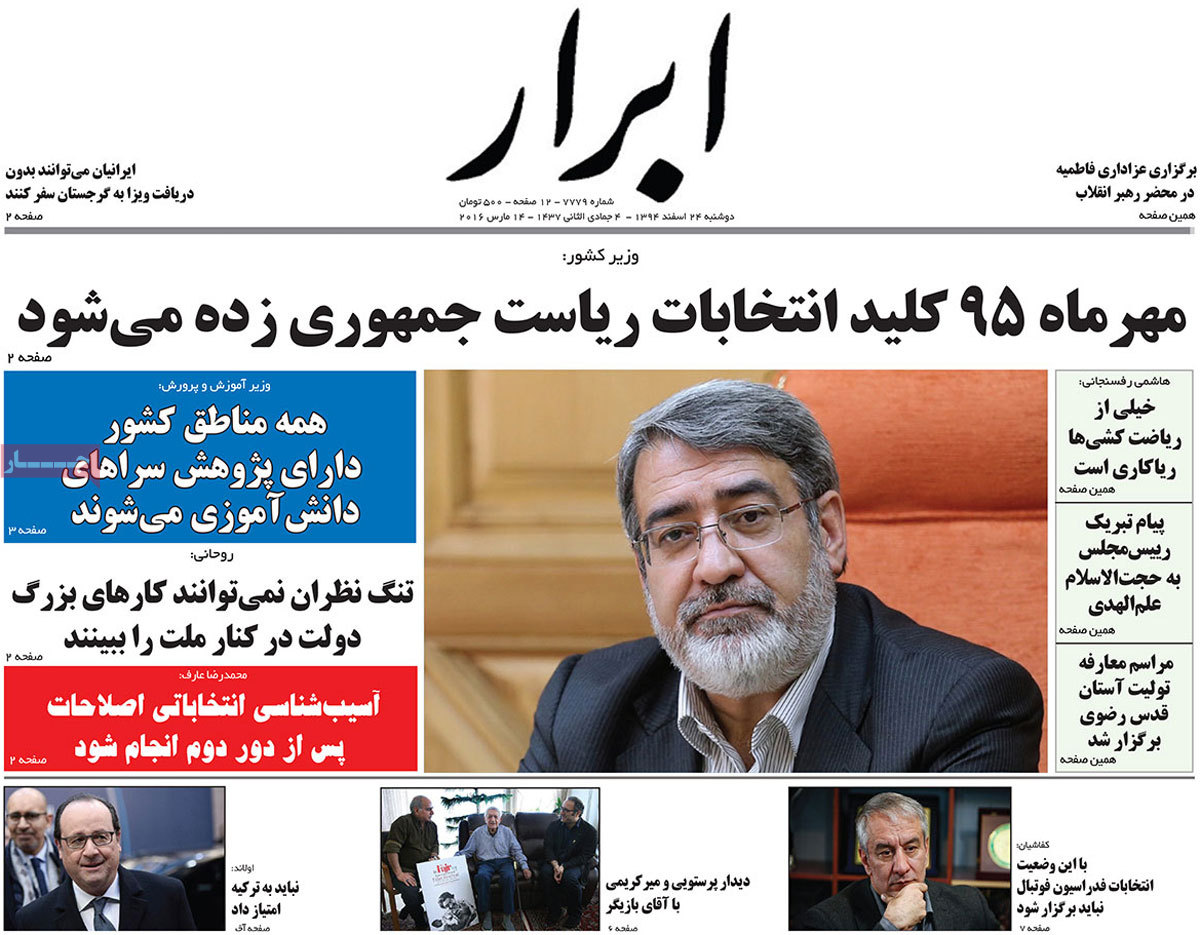 ---
Abrar Eqtesadi:
1. Ahmadinejad's heavy economic toll on the administration
2. UK in talks with EU partners to lift Iran banking sanctions
3. NIOC issues $1.5bn bonds
---
Asrar:
1. West contradicts itself in deeds and words in fighting terrorism: Rafsanjani
2. Aref: We seek a majority of seats in Parliament
3. Israeli identity for Arab League: Analyst
4. Iran election results signal co-operation, negotiation with world: Zarif
5. VP: Government poised to bring economy back on track
6. The huge amount of smuggled goods is shameful: Cleric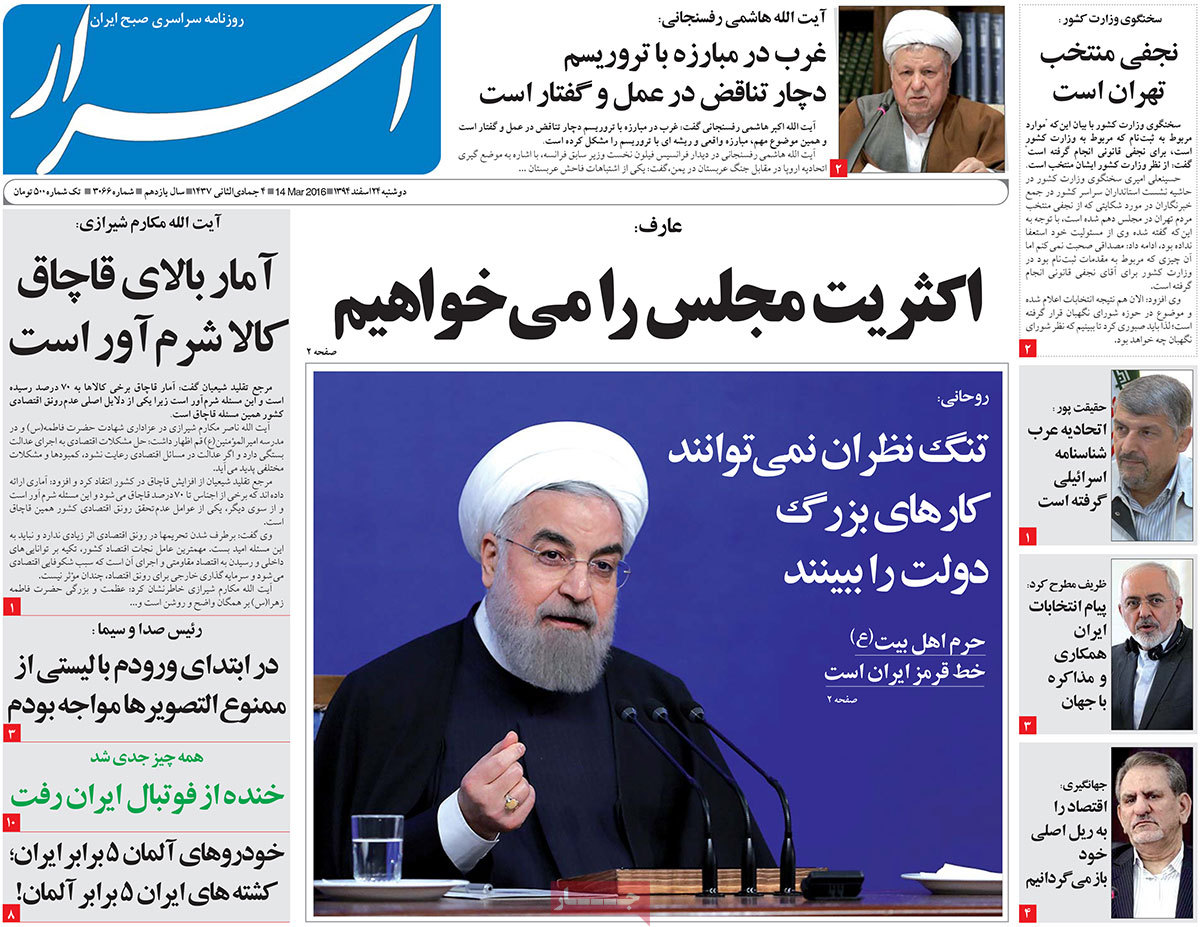 ---
Afkar:
1. Putin's efforts bear fruit
2. $70/b suitable price for oil: Iran's Zangeneh
3. Saudis' back broken: Zarif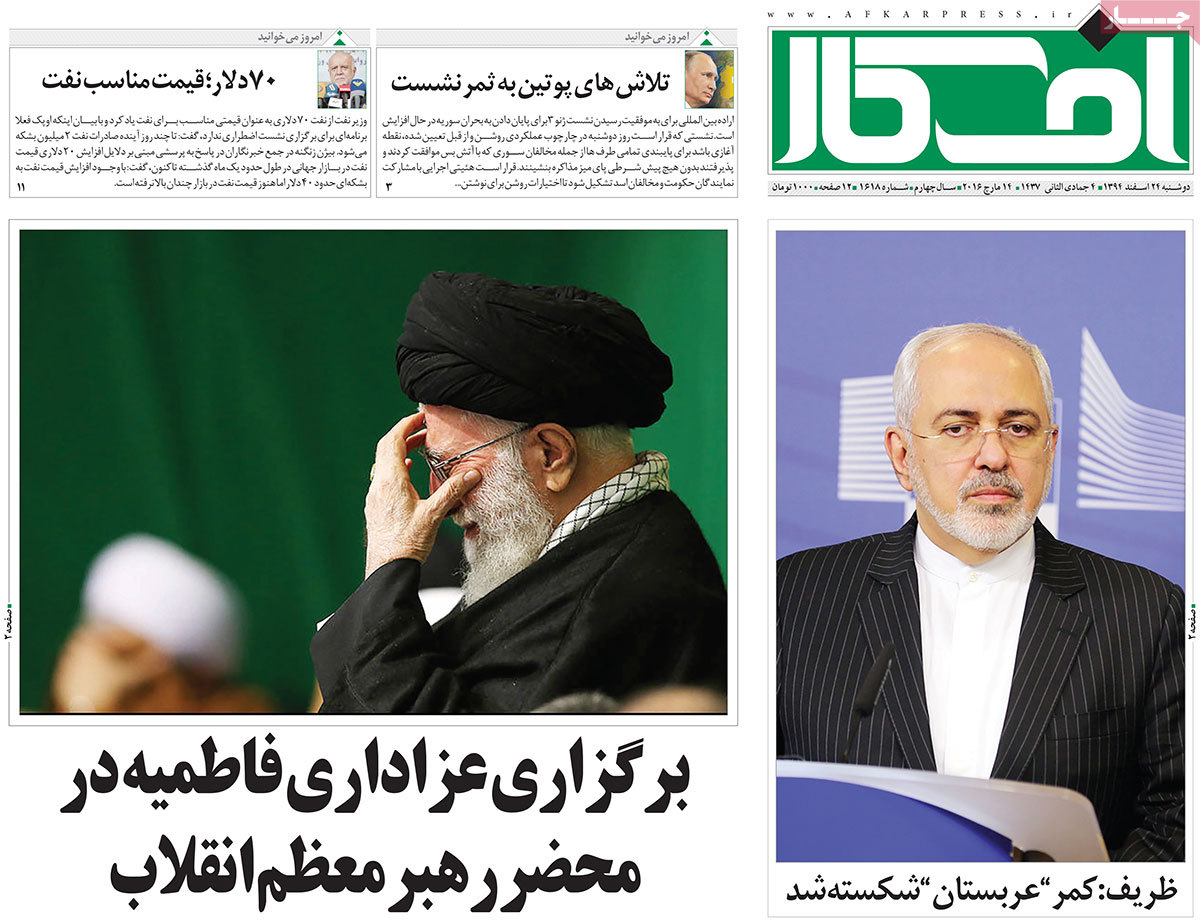 ---
Amin:
1. Araqchi: The other side has fulfilled the JCPOA commitments
---
Arman-e Emrouz:
1. Rafsanjani downplays calls on people to choose ascetic lifestyles
"Those who call on the people to live an ascetic life themselves lead various lifestyles," said the cleric.
2. 5-year sentence for cracker dealers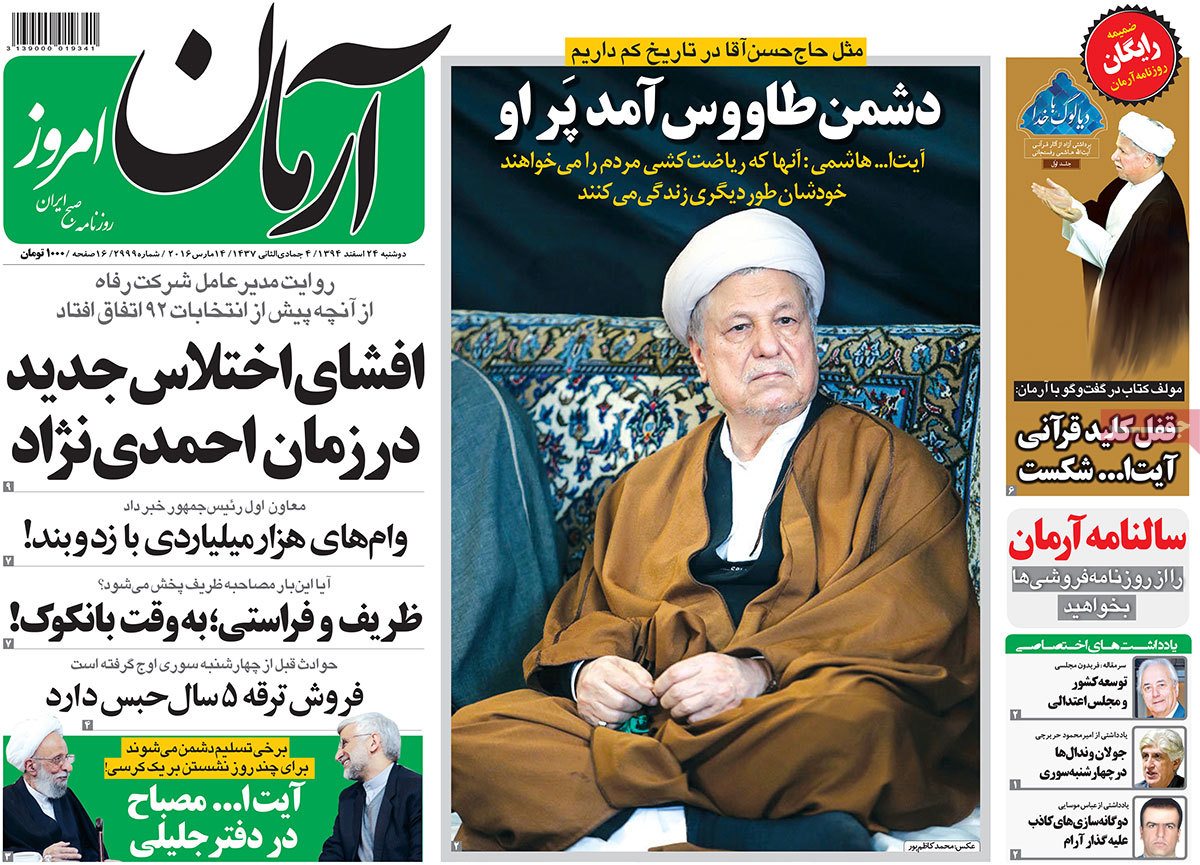 ---
Ebtekar:
1. Sports awaiting sensible policies: Report
A report about the administration's policies for promoting sport in the country
2. Zarif: Saudis sought to break Iran's back, but had their own broken instead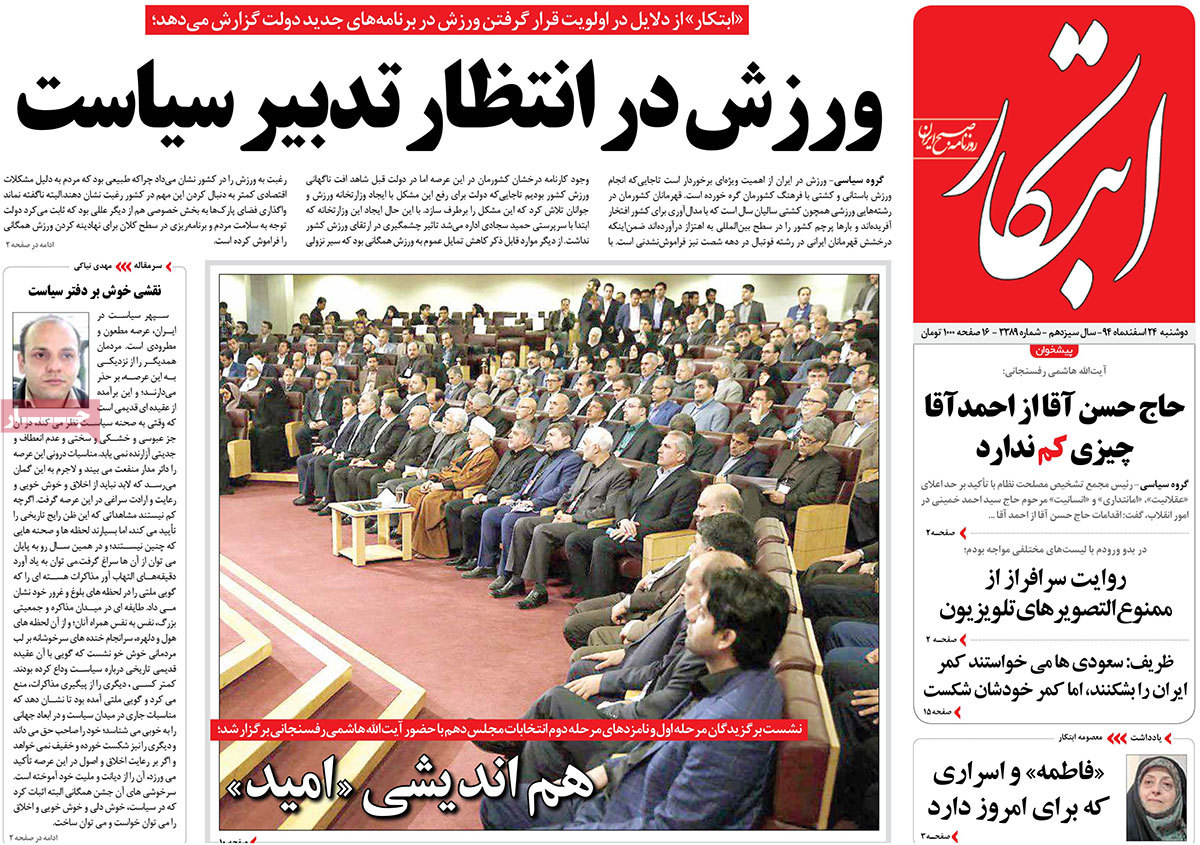 ---
Ettela'at:
1. Billions of dollars of foreign investments flowing into Iran
2. Rouhani: Holy shrines are redlines for Islamic Republic
3. Funerals for 111 Sacred Defense martyrs held in 17 provinces
4. Terrorists shell Shia cities in Syria
5. Iran seeking no adventures: Gen. Soleimani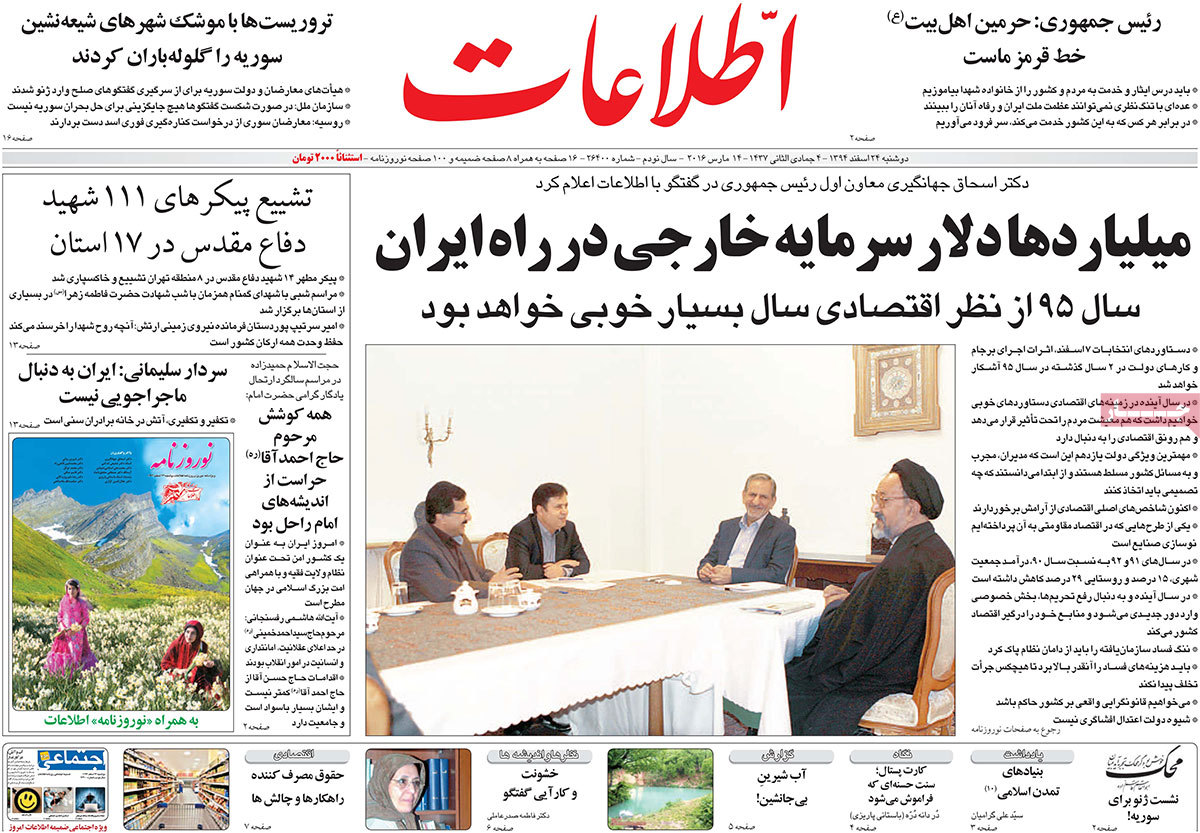 ---
Etemad:
1. Rouhani shifts tactics: Report
How Iranian President Hassan Rouhani has changed his tone since the February 26 elections.
2. Faction of Hope officially formed in Parliament
---
Emtiaz:
1. Oil price slump was year's saddest event: Oil Minister Zangeneh
2. After 18 months: Reason for Iran 140 plane crash announced
3. Iran and Benz to sign deal next year
4. 1,700 Health teams to assist New Year travellers
---
Hemayat:
1. Ahmad Shahid's "watery, inadmissible" report about human rights in Iran
The Secretary of Human Rights Headquarters in Iran reacted to a recent report by Ahmad Shahid on human rights in Iran.
---
Javan:
1. Hezbollah's Terrorist  Label due to Saudi bribe
The Arab League Secretary-General is alleged to have received a $9m bribe from Saudi Arabia to blacklist Hezbollah as a terrorist organization.
2. American democracy
A rally for Trump turned into a boxing ring
3. Zarif: Oil broke Saudi's back instead of Iran's
4. Judiciary issues new blood money tariff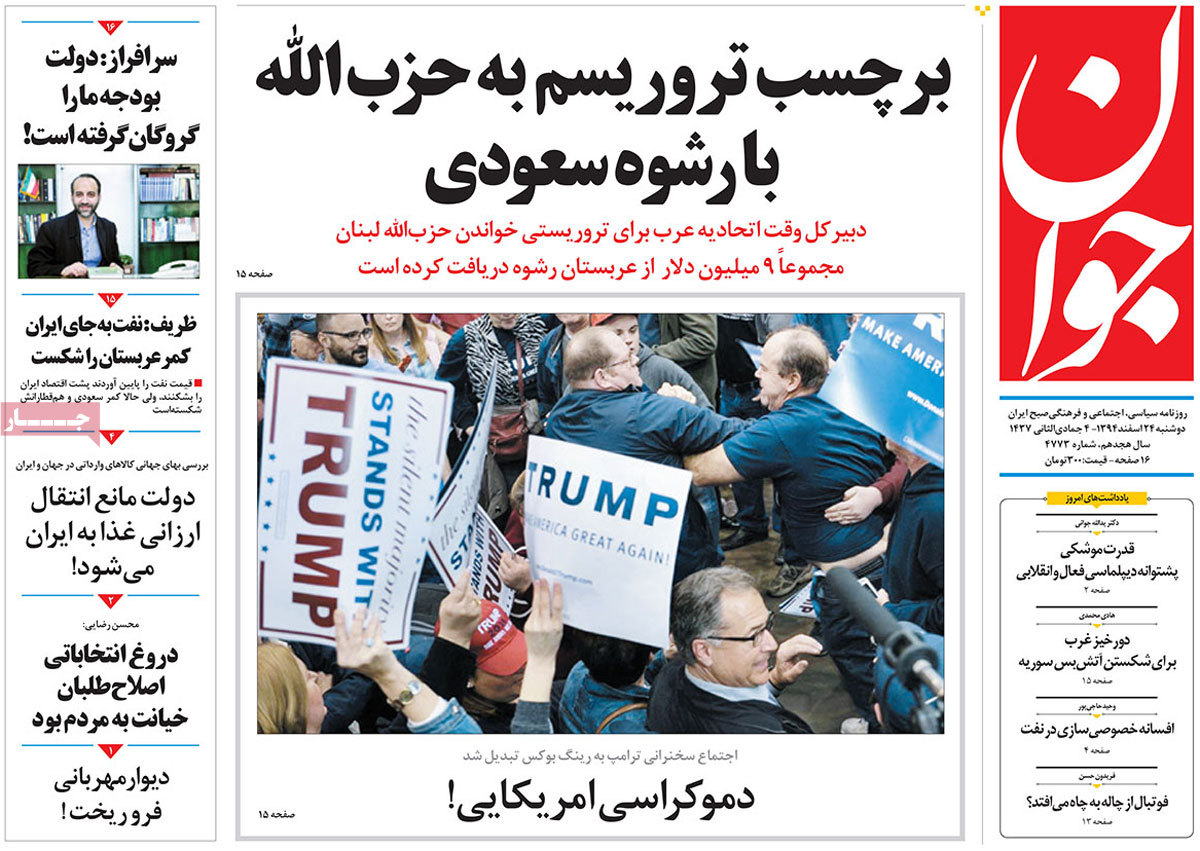 ---
Jamejam:
1. JCPOA outcome not yet measurable for economists
2. US uses UNSC as a stick [against Iran]
---
Kayhan:
1. Railing imports harms domestic production by $2bn
2. Obama advisor: US aimed at controlling Iran, not improving relations, in deal
3. US directly involved in Yemen War: Human rights whistleblower
---
Iran:
1. Rouhani: Think of nation and country instead of factions or parties
2. Proposal for raising pensioners' salaries
3. Iran to become self-sufficient in gasoline production next year: Zangeneh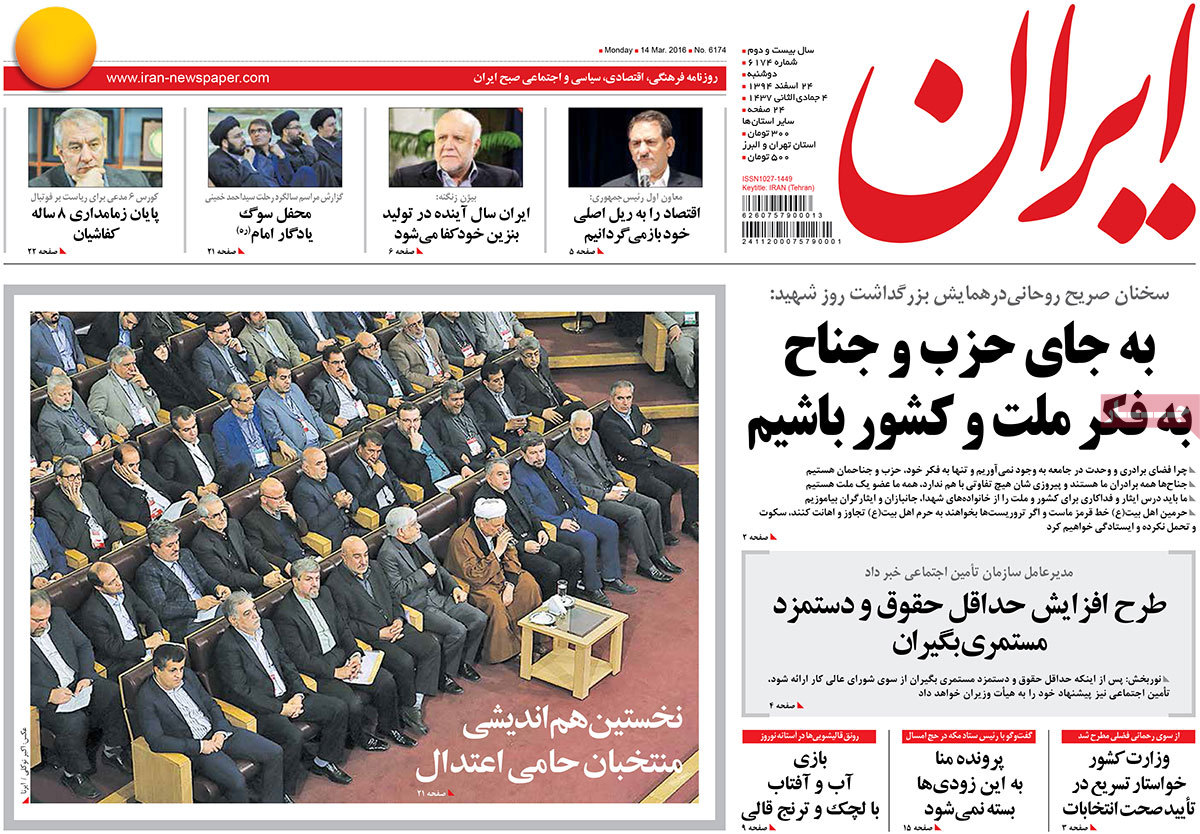 ---
Payam Zaman:
1. VP calls on private sector to act as pivot in economy
2. Mogherini to visit Tehran in April
3. Jordan's king threatens Syria with military attack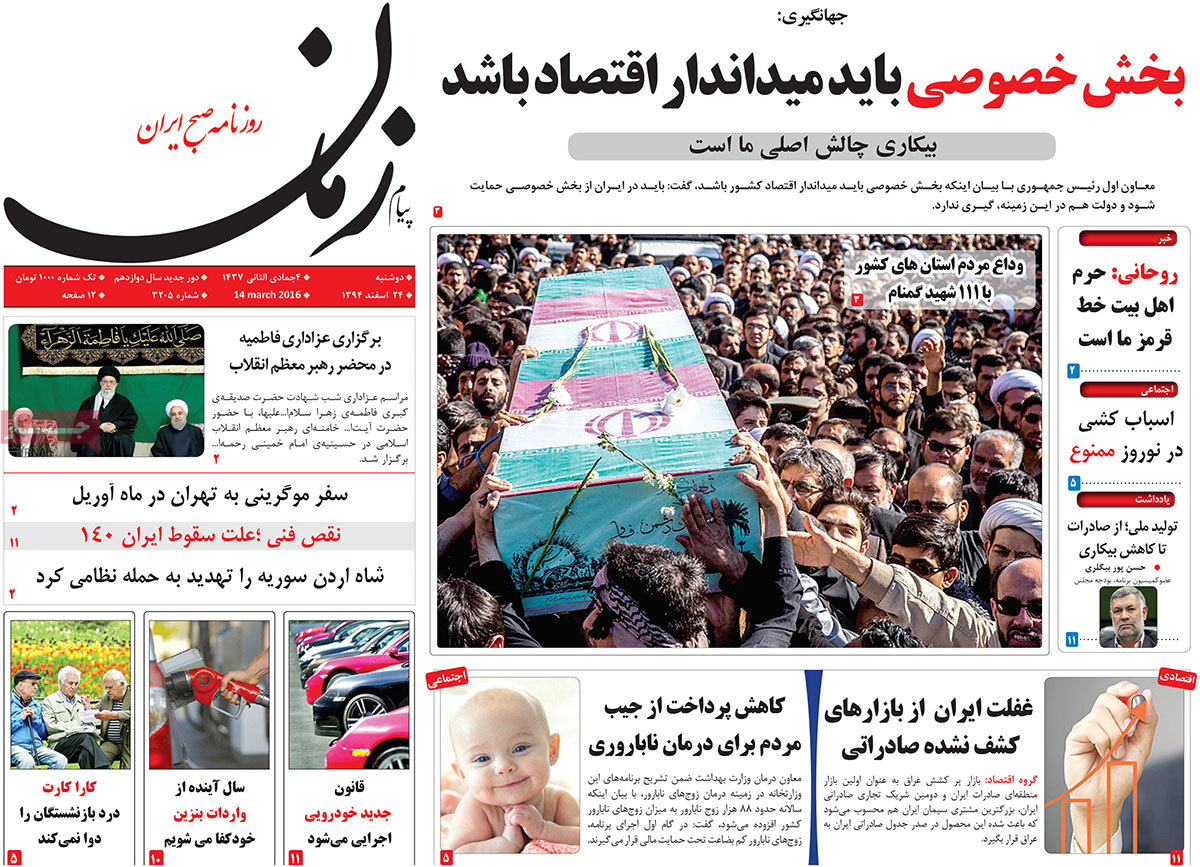 ---
Resalat:
1. Preparations for next presidential election by August 2016: Interior minister
2. Cleric calls for observing the law of "enjoining good and forbidding wrong"
3. Iran's missiles can bring big powers to the negotiating table: Araqchi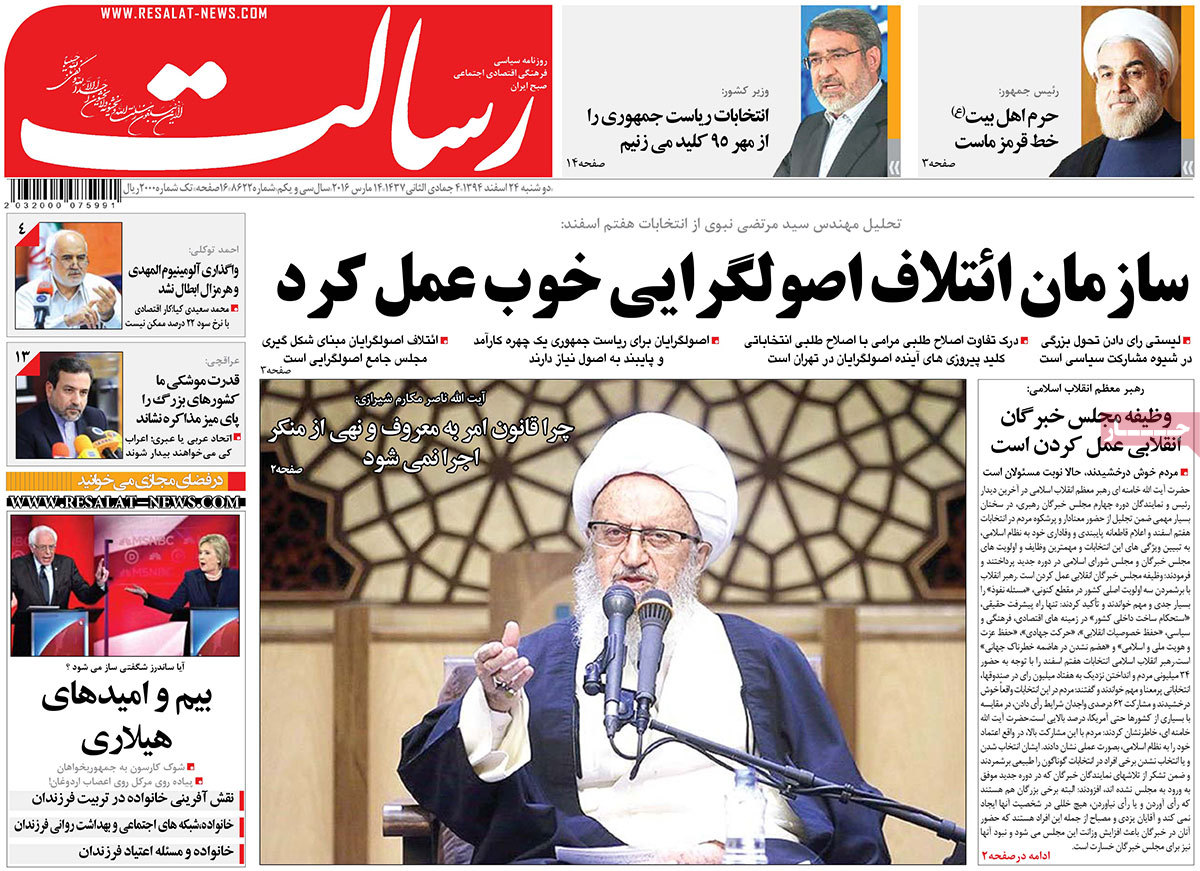 ---
Rooyesh Mellat:
1. No alternative plan for Syria: De Mistura
2. Forex rate cannot be unified by order: VP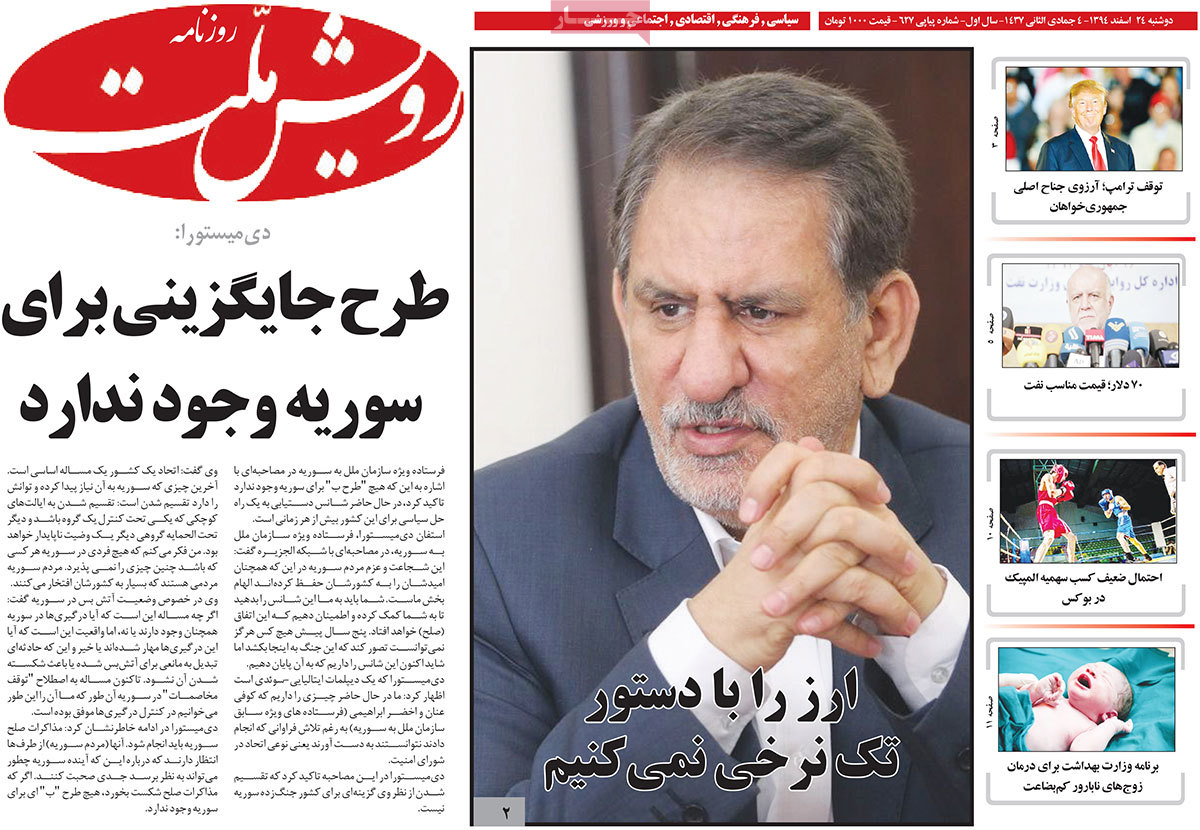 ---
Shargh:
1. Iranian missiles tabled at UNSC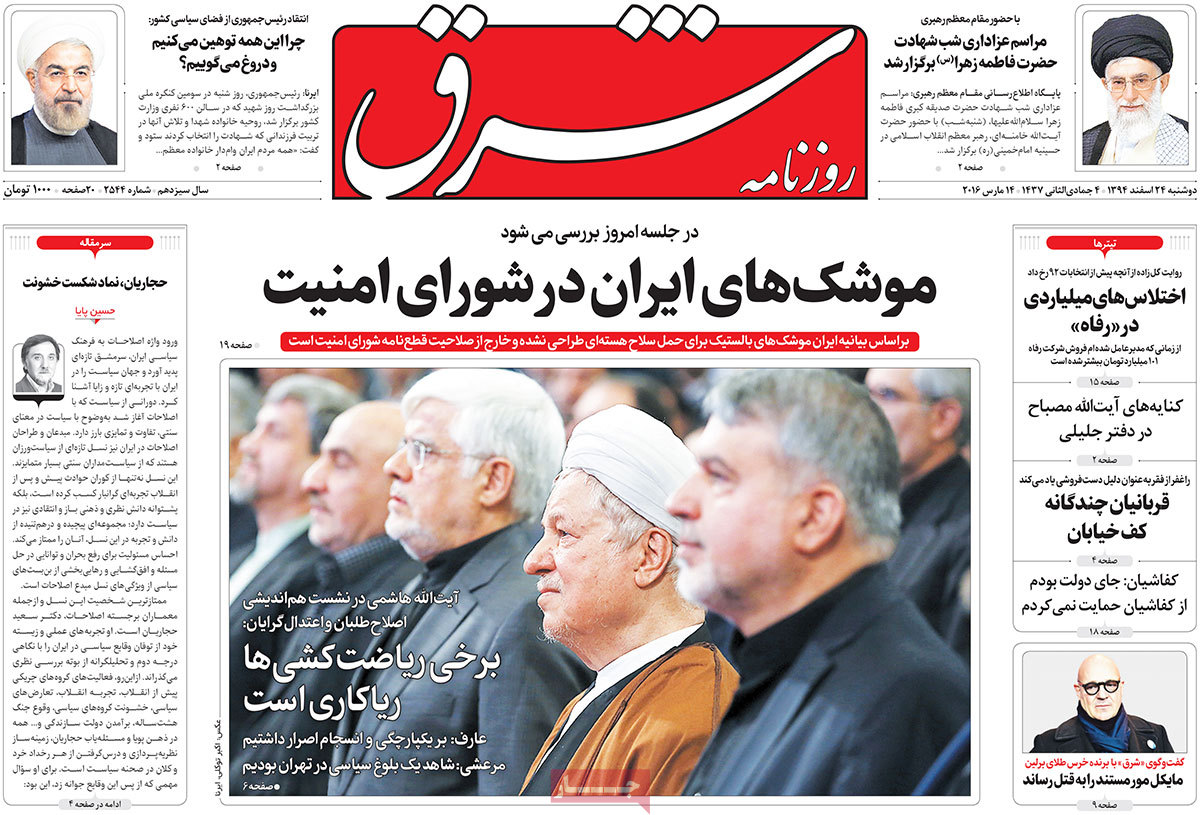 ---
Saheb Ghalam:
1. Ban on wheat imports to be lifted next year
2. Enemy plots will not be carried out in the region: Velayati
3. New housing loans to pay for half of house price
---
Asia:
1. Series of meetings between Iran, EU; London, Geneva, Zurich
2. Economic priorities for the New Year: Report