All newspapers today covered the third and last presidential debate held on Friday afternoon between the six presidential candidates.
Reformist and pro-government papers referred to Hassan Rouhani and Es'haq Jahangiri as the winners of the hot debate, and conservative papers highlighted the alleged corruption of the two, as claimed by their rival Mohammad Baqer Qalibaf.
The above issues, as well as many more, are highlighted in the following headlines and top stories:
19 Dey:
1- Ayatollah Alawi Advises Other Clerics against Supporting Candidates
2- 170 MPs Voice Their Support for Rouhani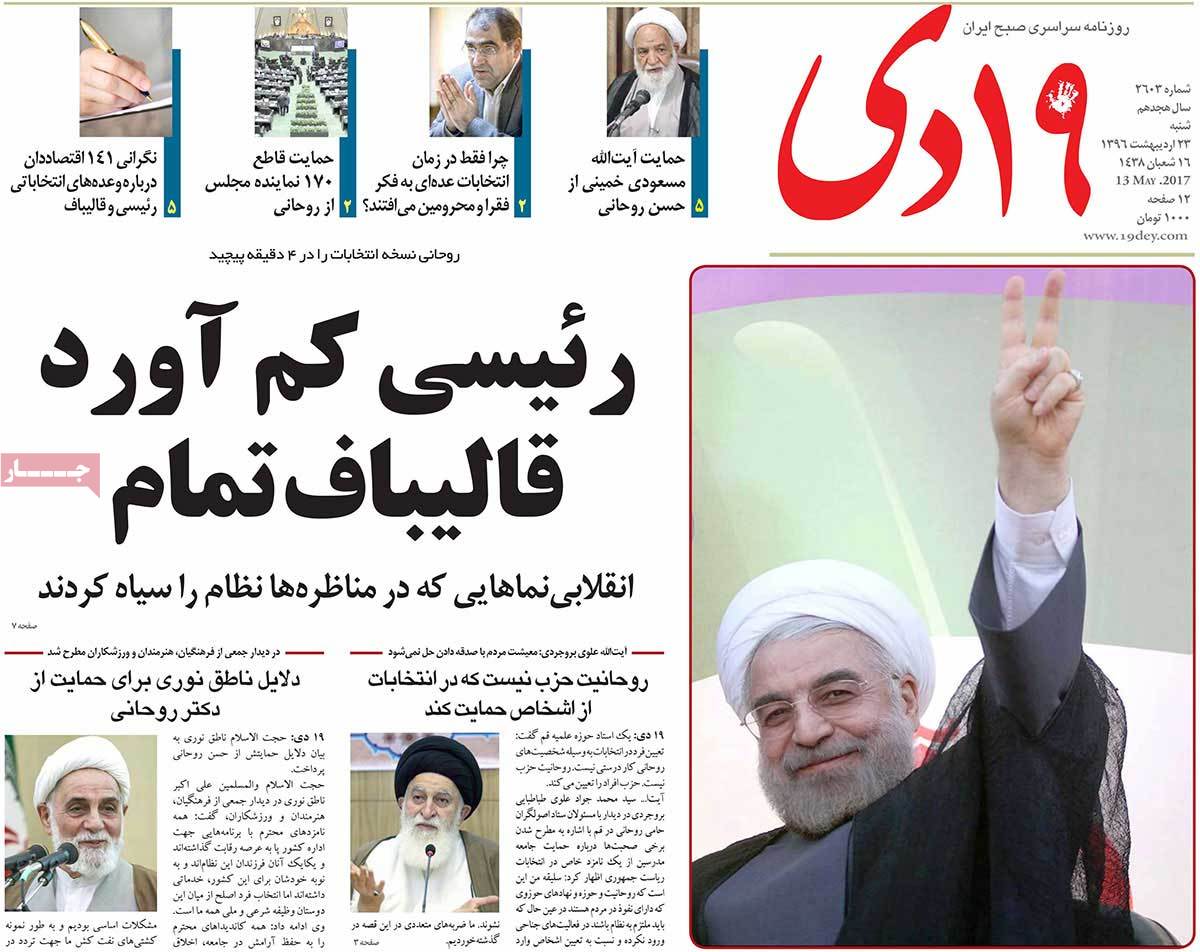 ---
Abrar:
1- Trump Confesses to Russia's Influence on Firing FBI Chief
2- Saudi Envoy to UN: Riyadh, Washington Cooperating against Iran
3- Russia Ready to Mediate between Iran, US in Syria
---
Abrar-e Eqtesadi:
1- 141 Economy Professors Warn about Candidates' Infeasible Vows
2- Iran's Steel Exports up by 4 Times in Rouhani's Term
3- Iran-Russia Deal on North-South Transit
4- India Buys Iran's LPG for First Time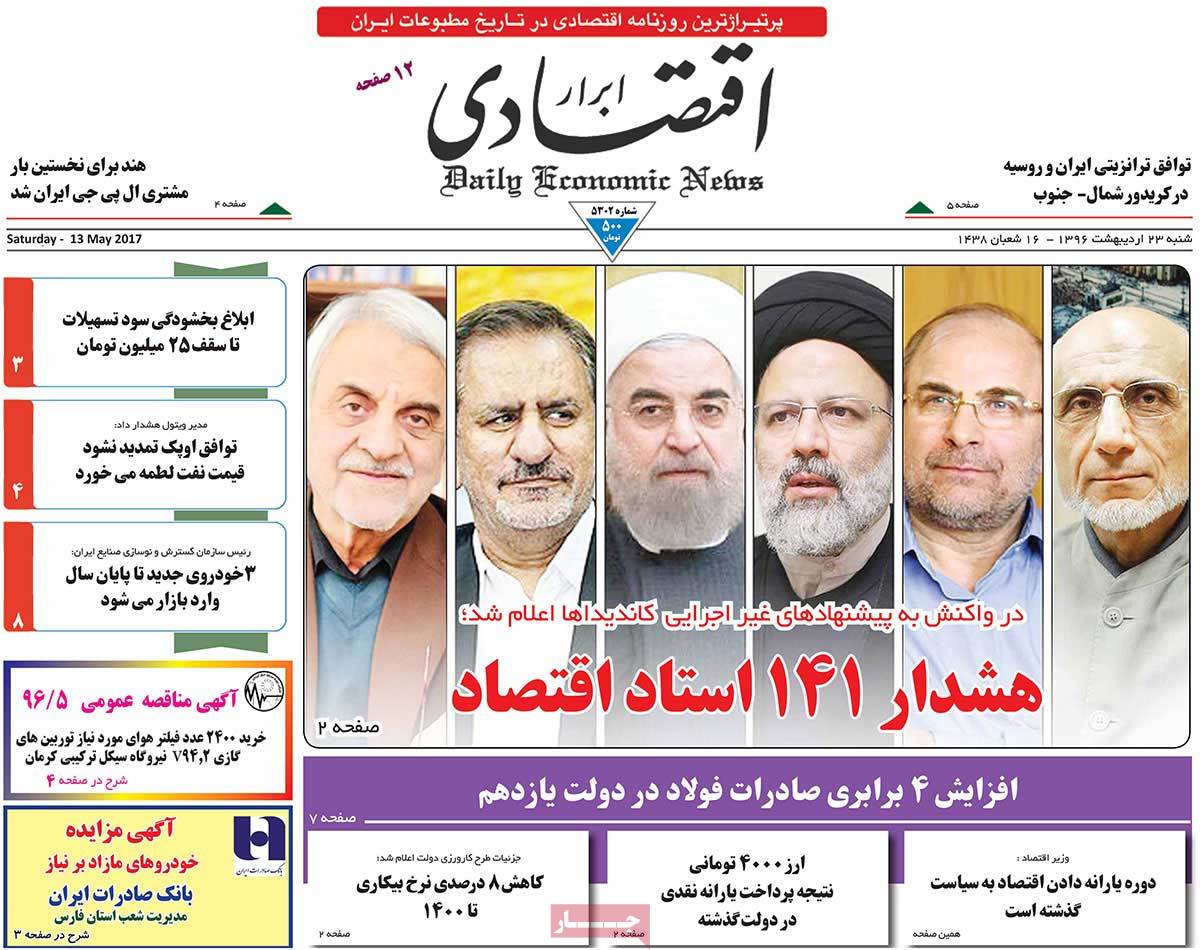 ---
Afkar:
1- Scandal for Government of Feudalists
Qalibaf Discloses Documents Showing Rouhani, Jahangiri Are Corrupt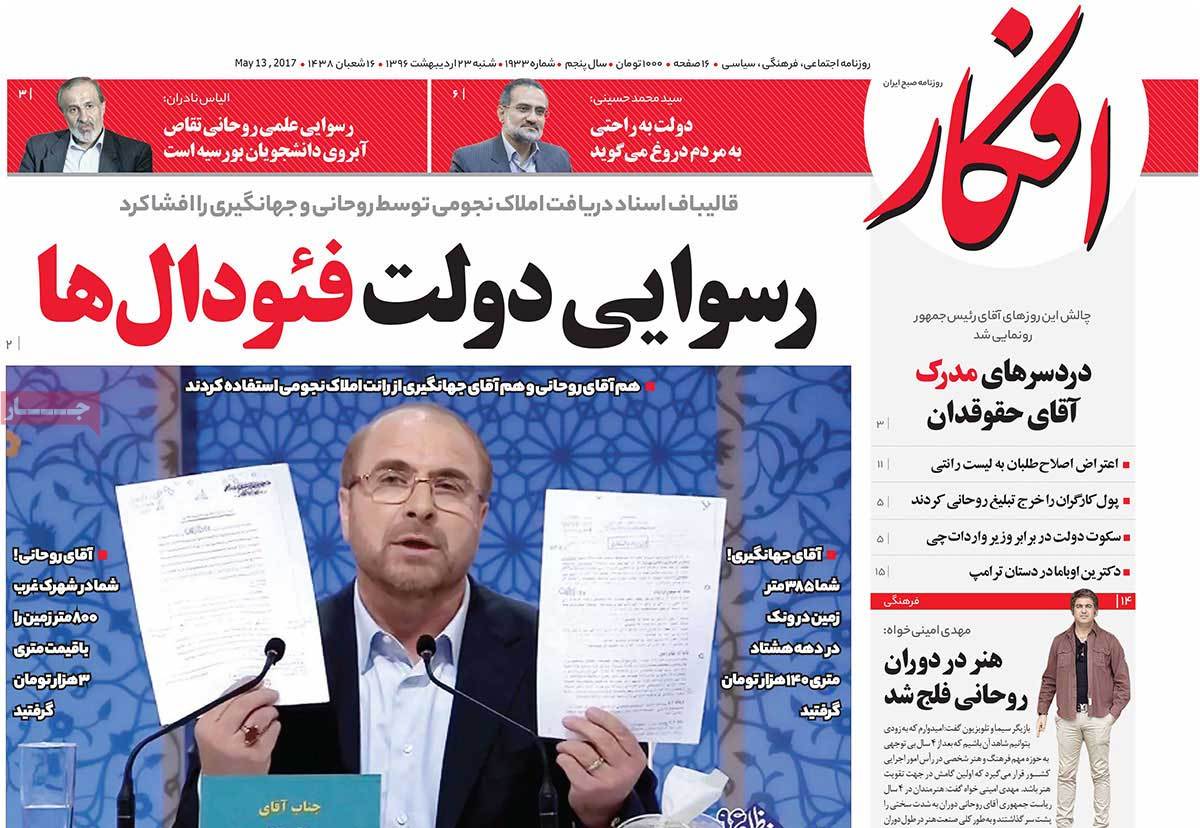 ---
Aftab-e Yazd:
1- President Rouhani Wins Last Live Debate
---
Ebtekar:
1- Winning the Debate Using Prudence, Hope
Rouhani, Jahangiri Did a Great Job in Last Presidential Debate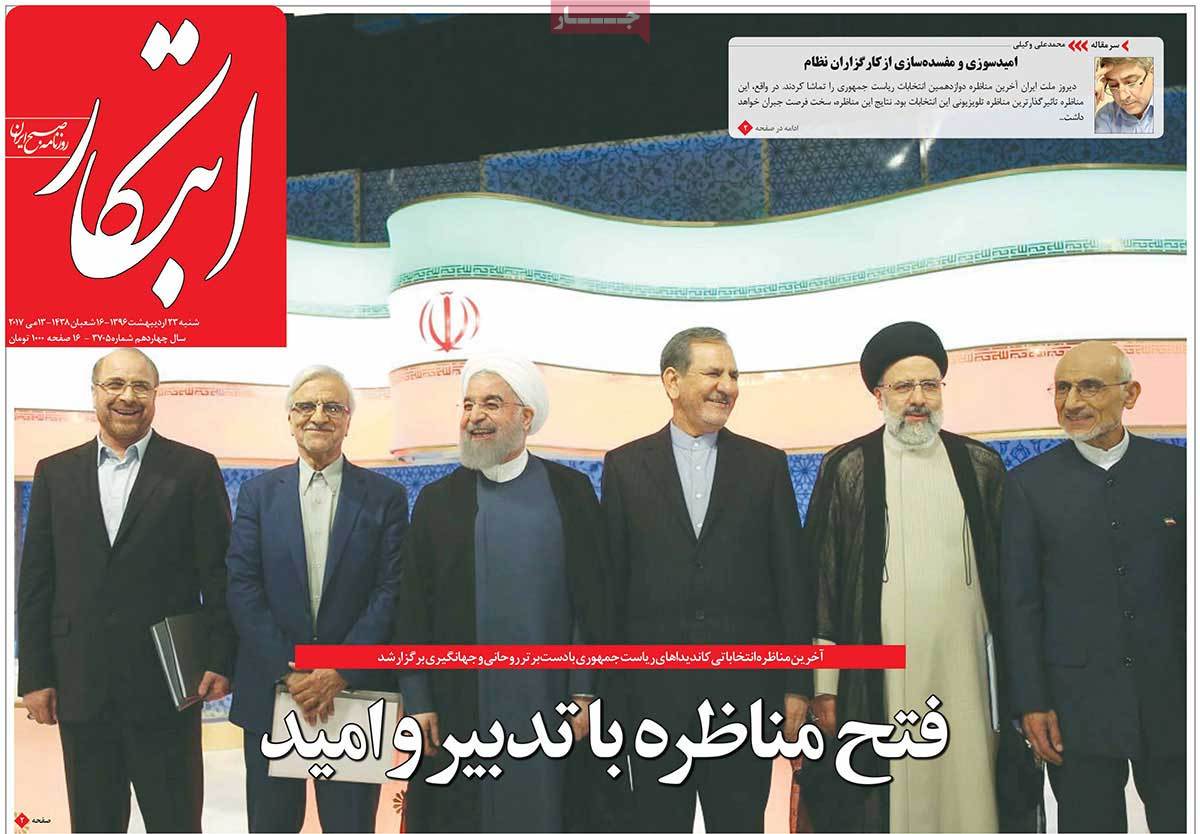 ---
Emtiaz:
1- Saudi Arabia Accepts Iran's Conditions for Minor Hajj Pilgrimage: Official
2- No More Petroleum Smuggled Out of Iran
---
Etemad:
1- Last Blow: President Won Final Debate
2- Rouhani Vows to Have Non-Nuclear Sanctions Removed
3- Economy Minister: Poverty Cannot Be Fought Using Cash Handouts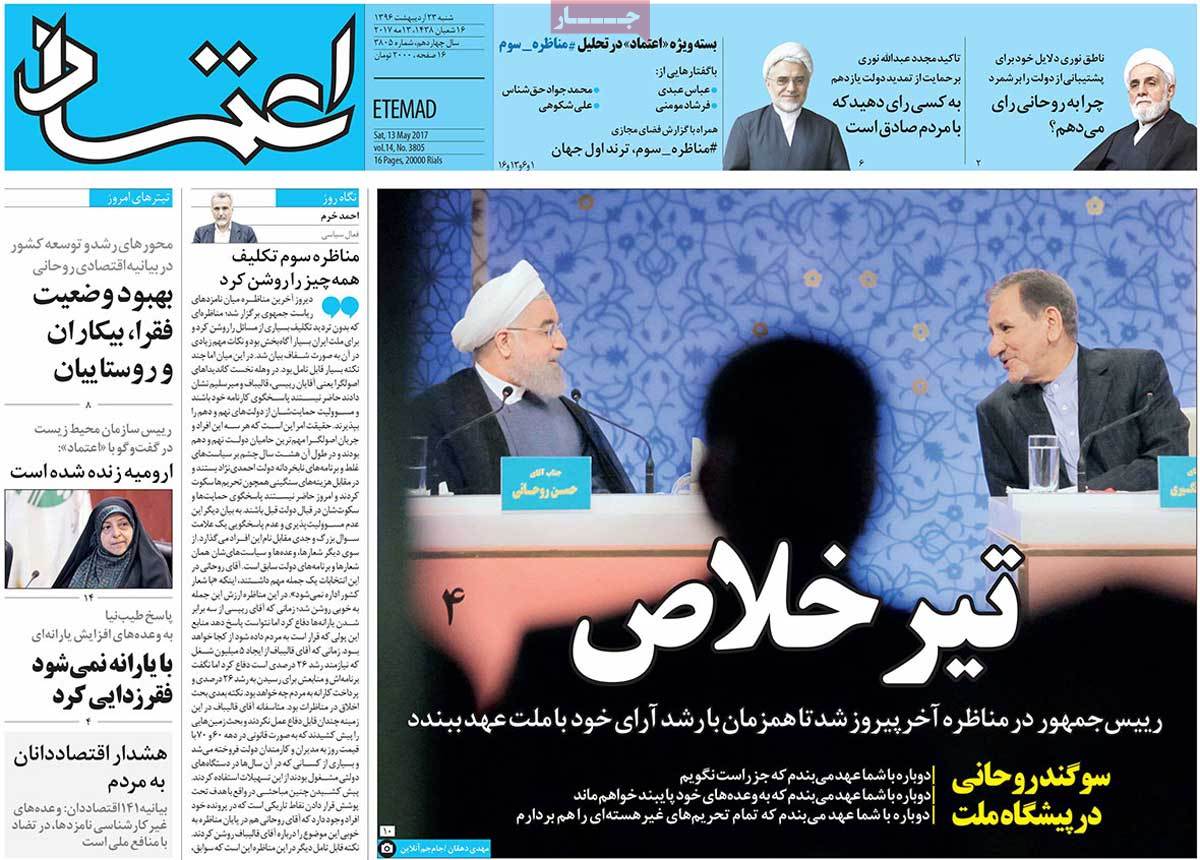 ---
Ettela'at:
1- Challenge and Energy in Final Debate
Candidates Criticize Economic Plans of Each Other
2- Obama: Trump Victory Was Result of People's Weak Turnout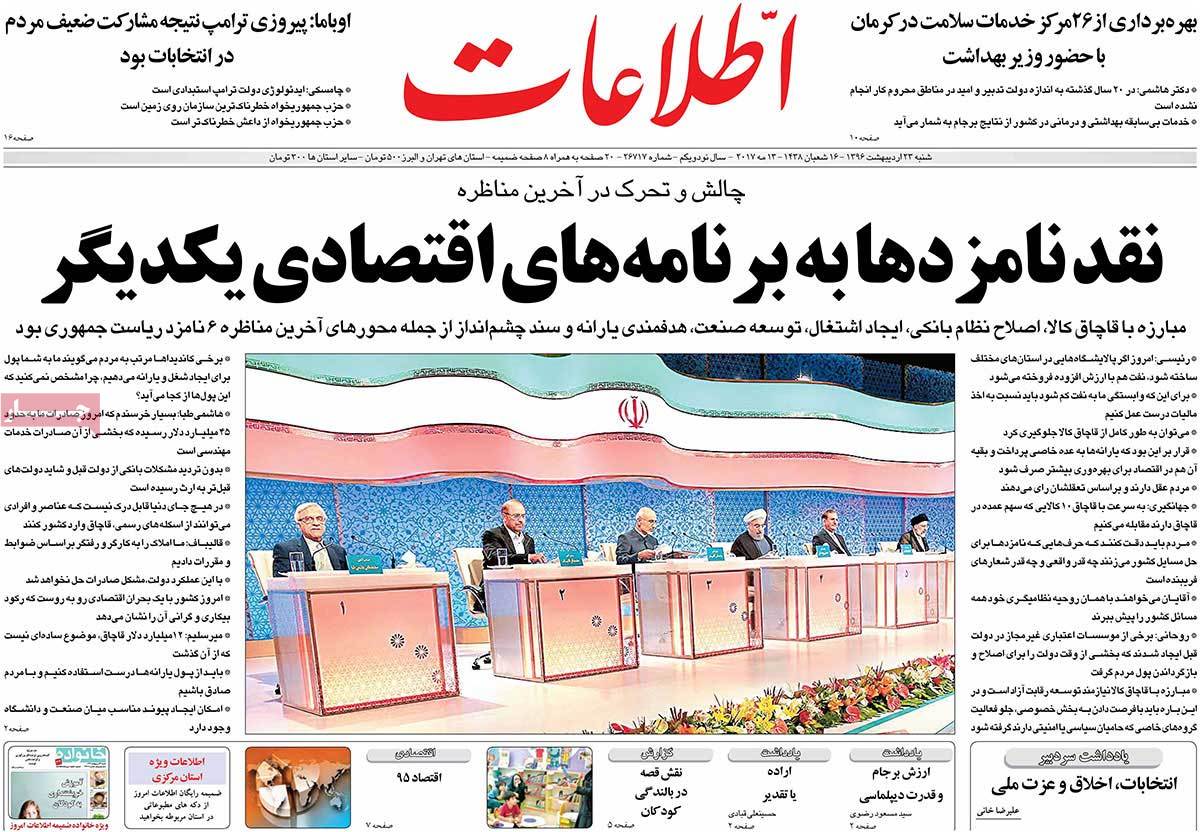 ---
Haft-e Sobh:
1- People Won Presidential Debate
Everyone's Qualifications Became Clear to People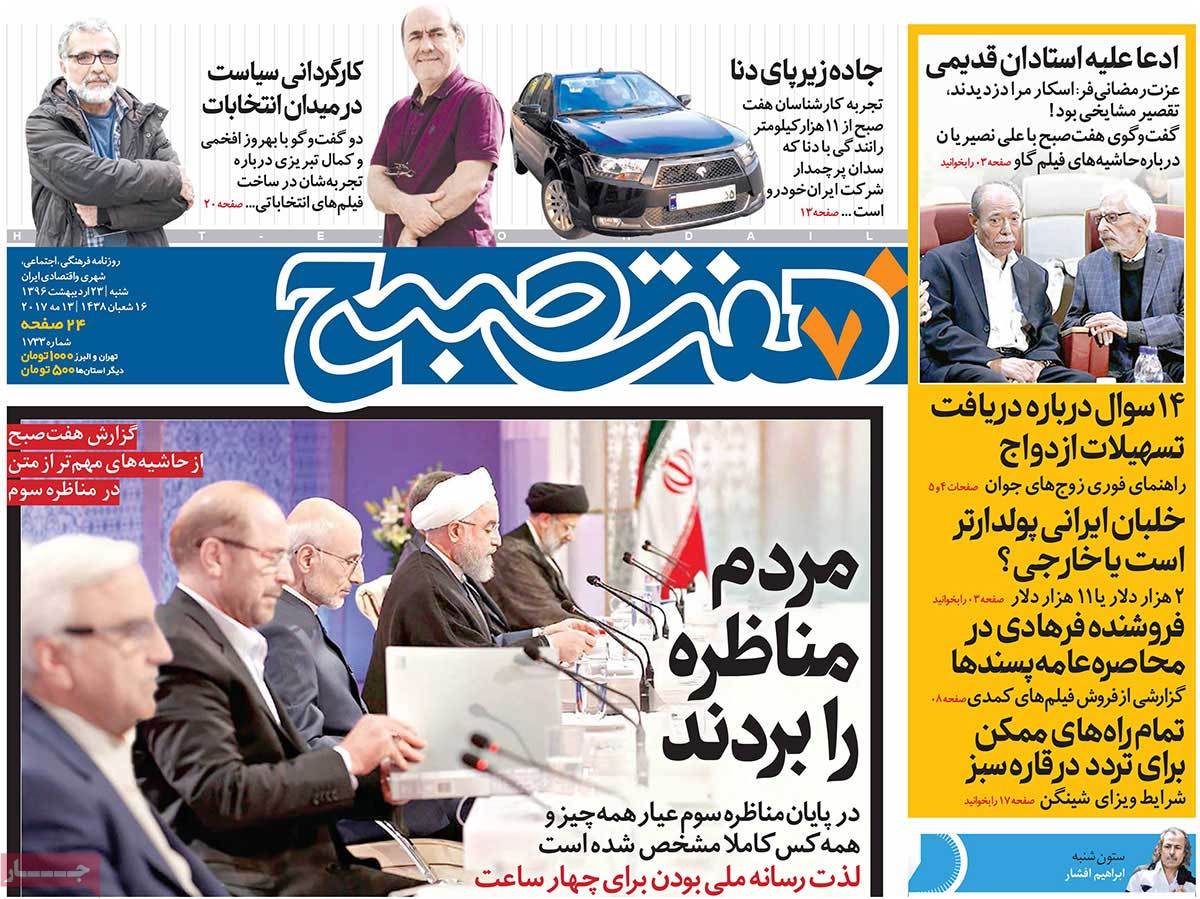 ---
Hamshahri:
1- One Out of Six: Only Qalibaf Declared His Assets in 3rd Debate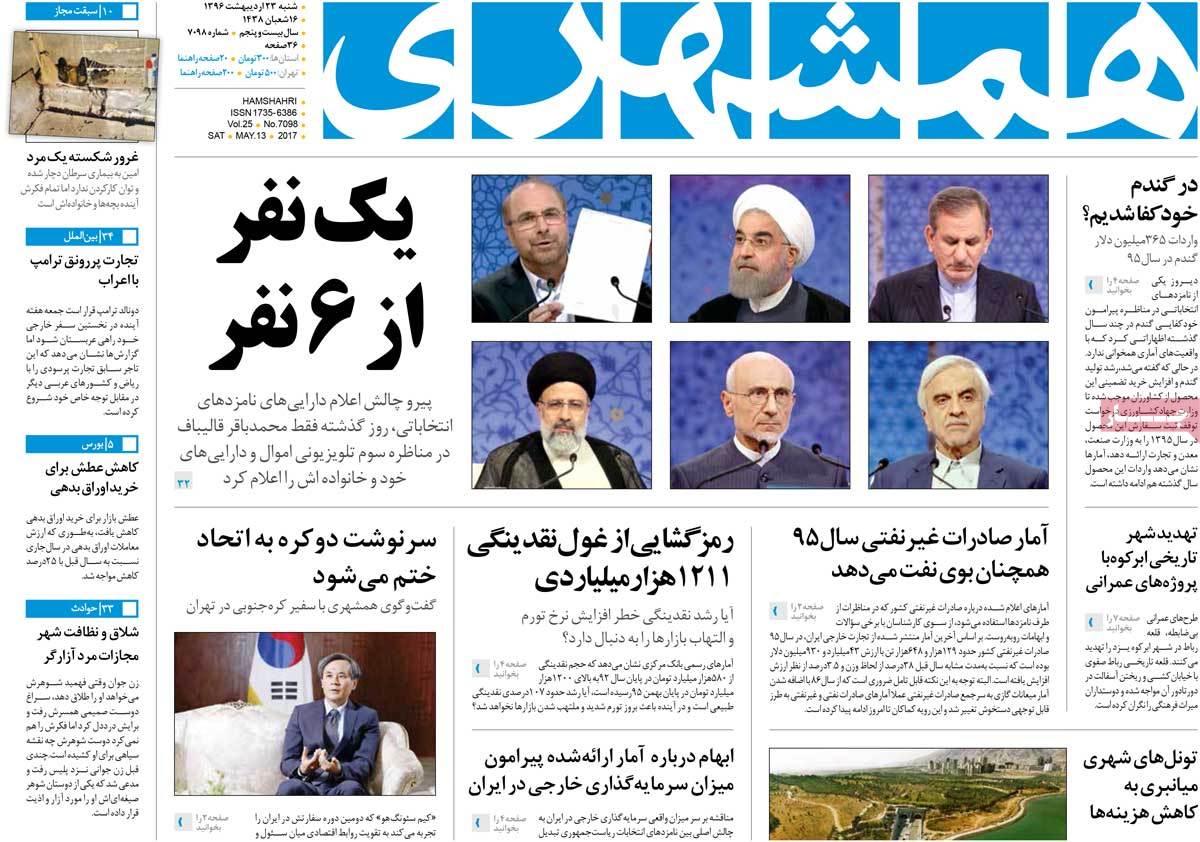 ---
Iran:
1- Stormy End of Presidential Debates
2- Lake Urmia Was Close to Death, But Was Revived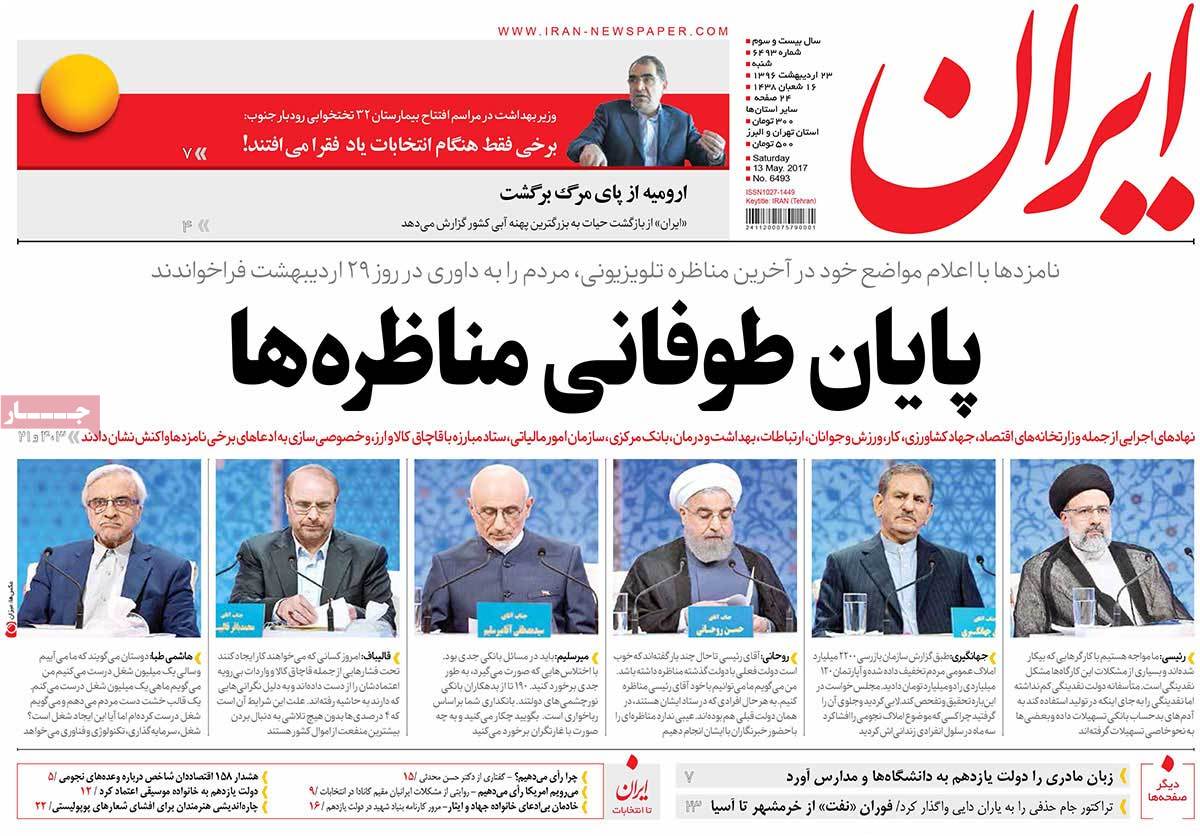 ---
Javan:
1- Government Insists the Status Quo is Good
---
Jomhouri Eslami:
1- Candidates' Non-Expert Economic Promises Tested in 3rd Debate
2- Why Senior Conservative Nateq Noori Supported Rouhani
3- Executive Bodies React to False Claims Made by Candidates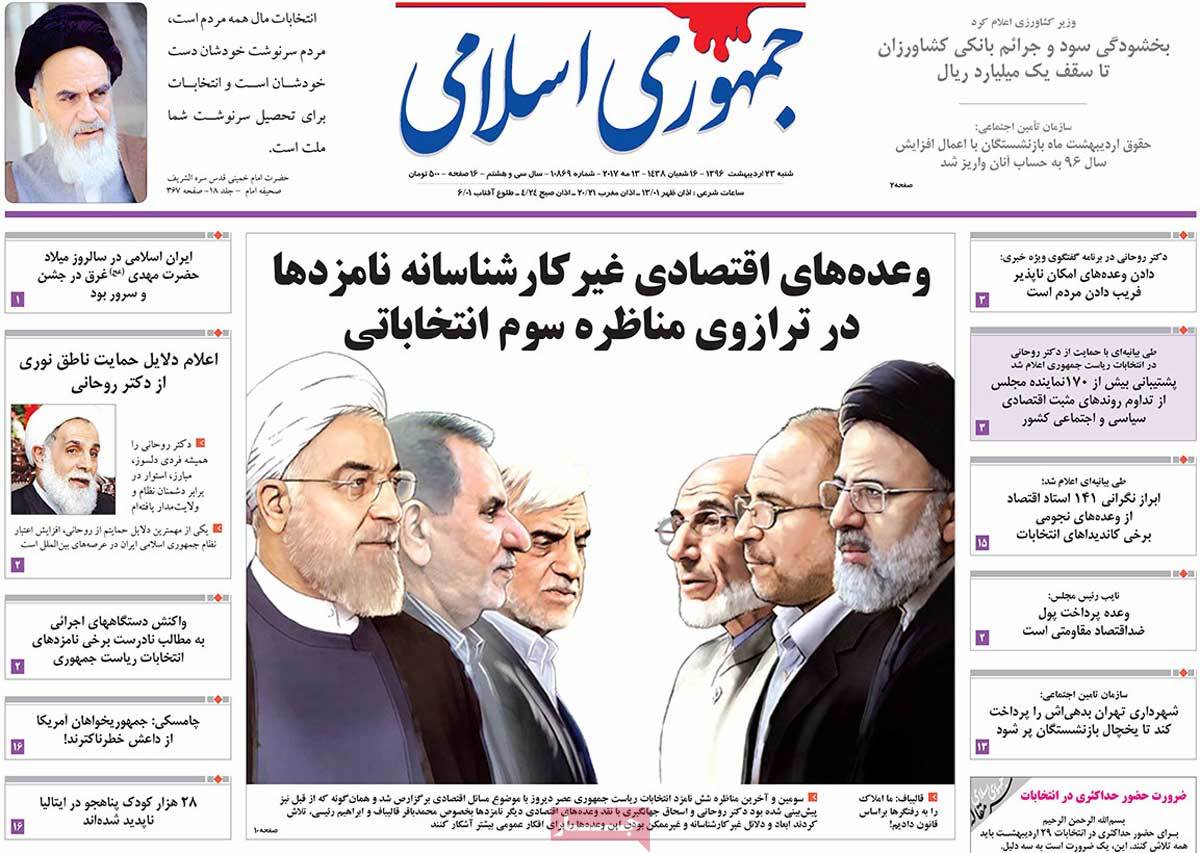 ---
Kayhan:
1- Rouhani's Gov't in Debate: People's Living is Very Good, Will Be Great 4 Years Later!
2- The 'Great Israel' is Over, Next War to Be in Occupied Palestine: Nasrallah
---
Khorasan:
1- End of Debates, Beginning of Making Decisions
Controversial Issues More Focused in Economic Debate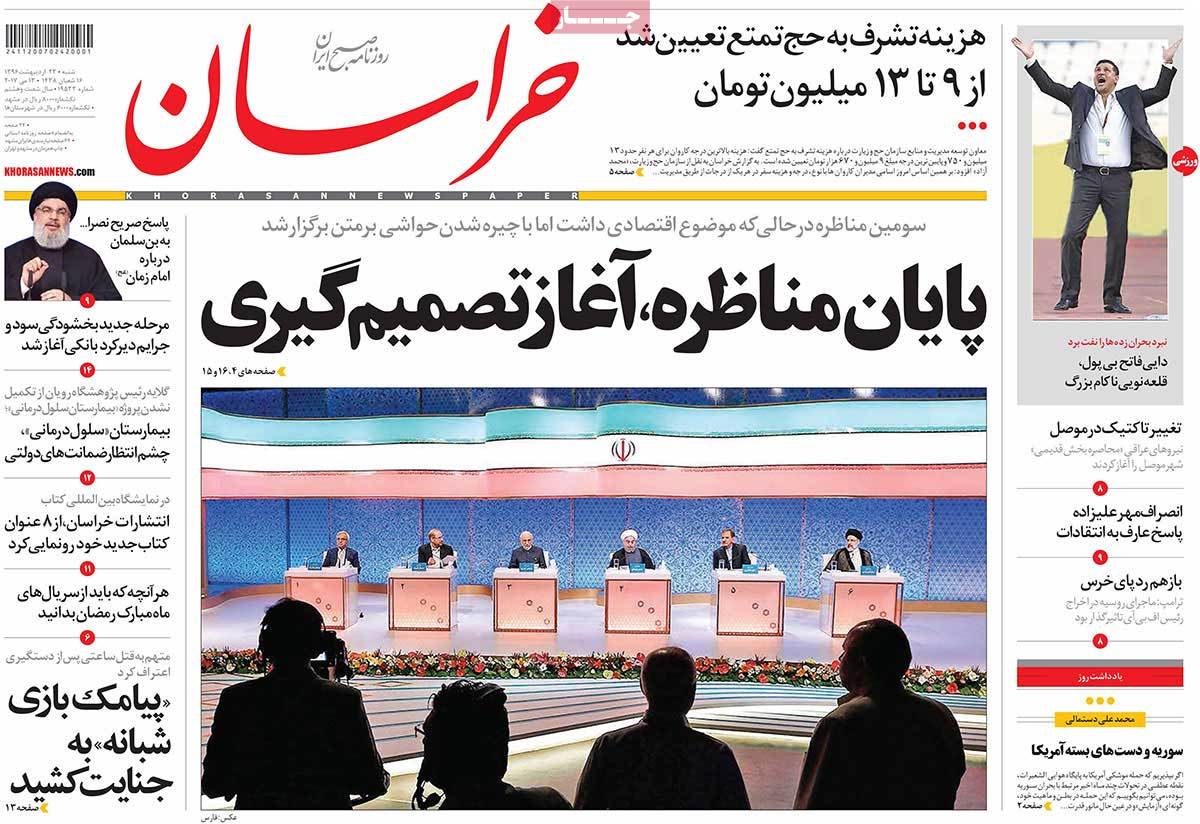 ---
Payam-e Zaman:
1- Parthian Soldiers Conquer Asia
Iran Greco-Roman Wrestling Team Crowned as Asian Champion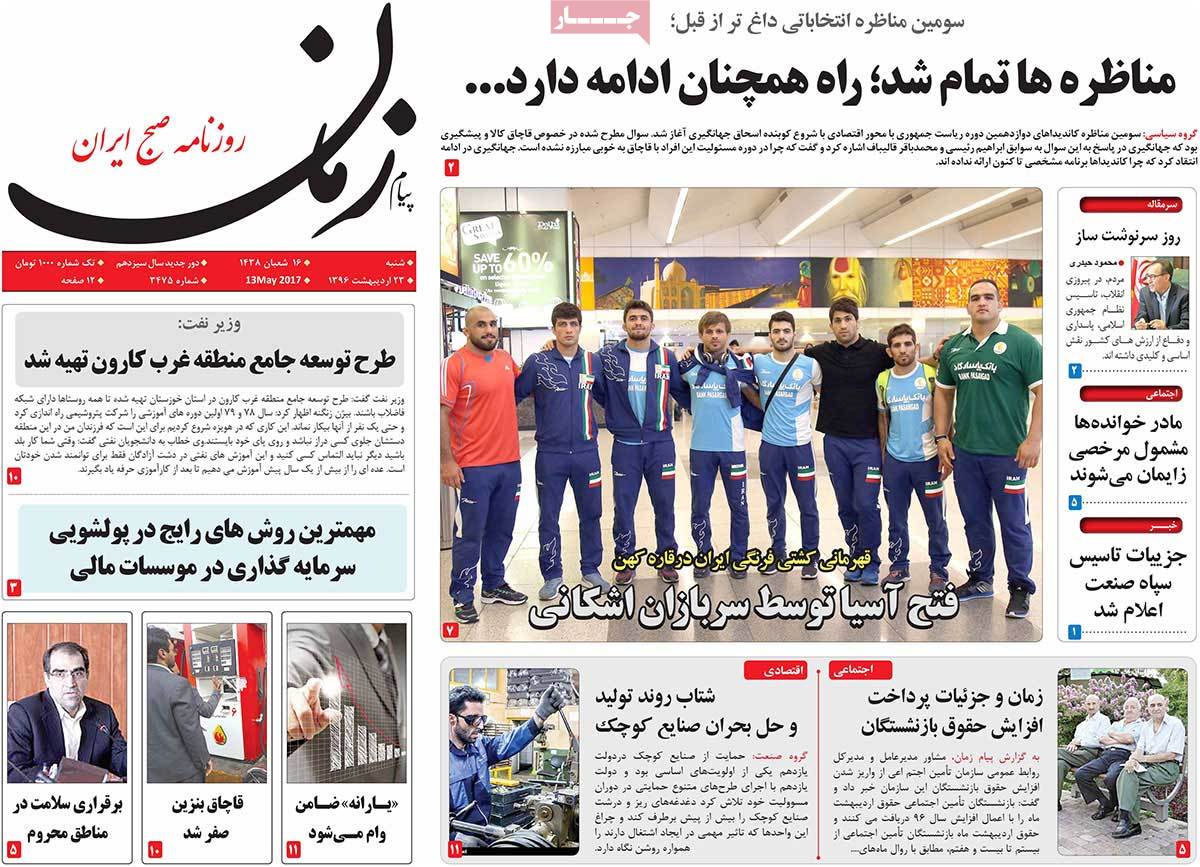 ---
Quds:
1- Discourse of Deprived People vs. Aristocrats in 3rd Debate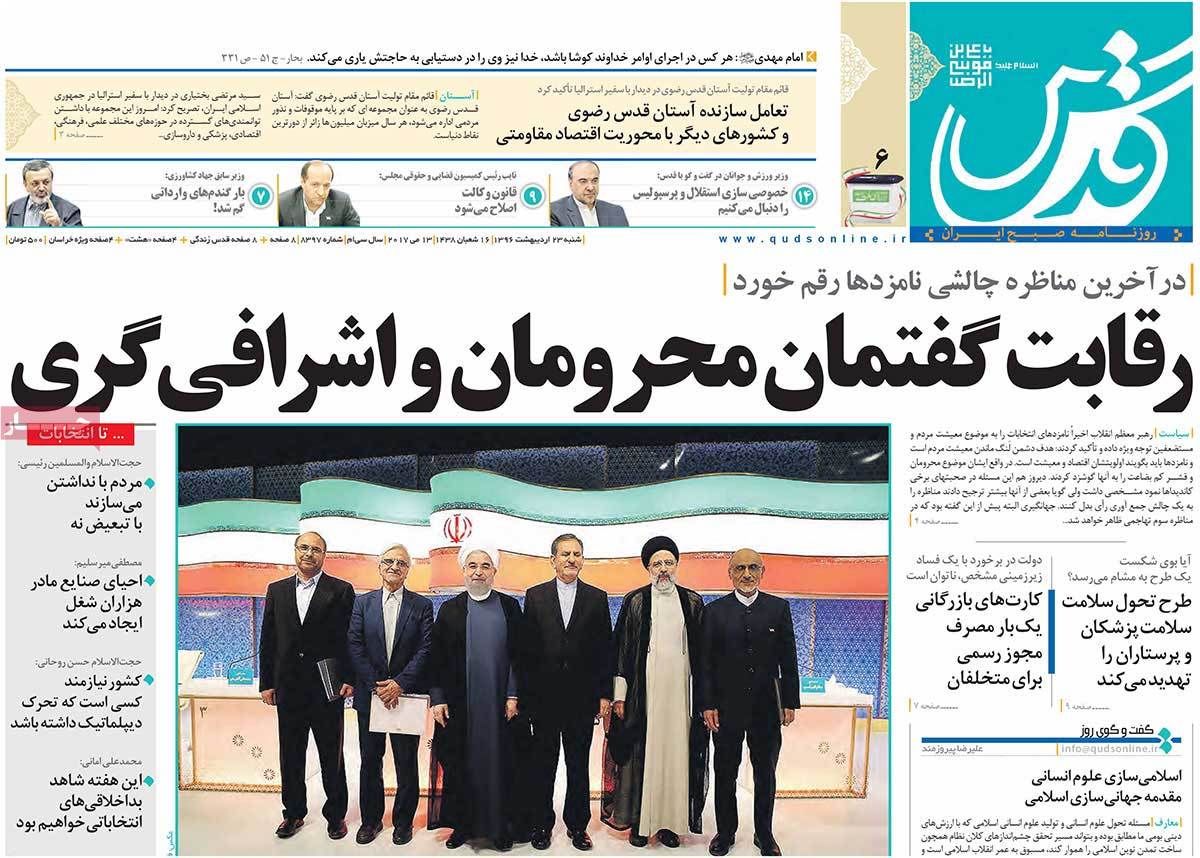 ---
Resalat:
1- Candidates Discuss Contraband, Growth, Corruption, Subsidies, Banking in 3rd Debate
2- Chomsky: US Republicans More Dangerous than ISIS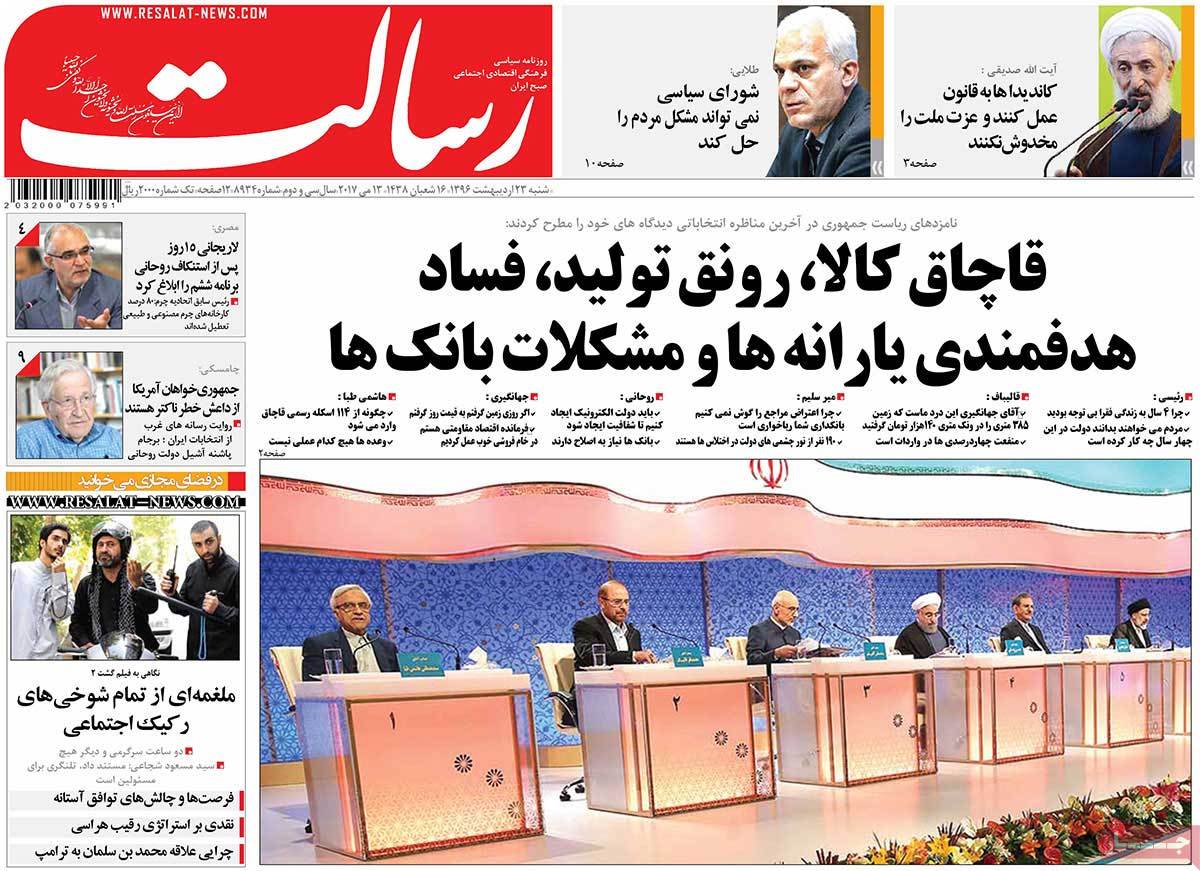 ---
Sepid:
1- 3rd Debate: Rouhani Says His Gov't Will Focus on Removing All Sanctions
---
Setareh Sobh:
1- A Debate Full of Accusations
---
Shahrvand:
1- Serious Confrontation between Two Views in 3rd Debate: Victory of Prudence
2- Analyst: Criticisms against Rouhani's Gov't Not Fair
3- Fighting Corruption is beyond Government's Power: Economist
4- Lies and False Statistics Dominate Speeches: Leylaz
---
Shargh:
1- Last Blow to Pretenders: Rouhani, Jahangiri Win Final Debate
---
Vaghaye Ettefaghieh:
1- Rouhani, Jahangiri Win Battle of Science and Slogan