Newspapers on Monday covered the remarks made by the Leader of the Islamic Revolution Ayatollah Seyyed Ali Khamenei in a meeting with IRGC commanders.
They also touched upon the US airstrike on Syrian troops and slaughter of 80 soldiers amid a ceasefire in the war-torn Syria.
President Rouhani's stay in Venezuela and his meetings with Non-Alignment Movement (NAM) leaders on the sidelines of the NAM Summit also received great coverage.
The above issues as well as many more are highlighted in the following headlines:
Abrar:
1- Two Famous TV Stars Kill a [Afghan] City Worker While Driving under Influence
2- Thousands of Britons Gather to Welcome Displaced People
---
Abrar-e Eqtesadi:
1- Iran Looking for Win-Win Economic Ties with Britain
2- Export of Iran's Oil Equipment to 42 Countries
3- Iran Follows Up Its Talks with Japan for Plane Purchase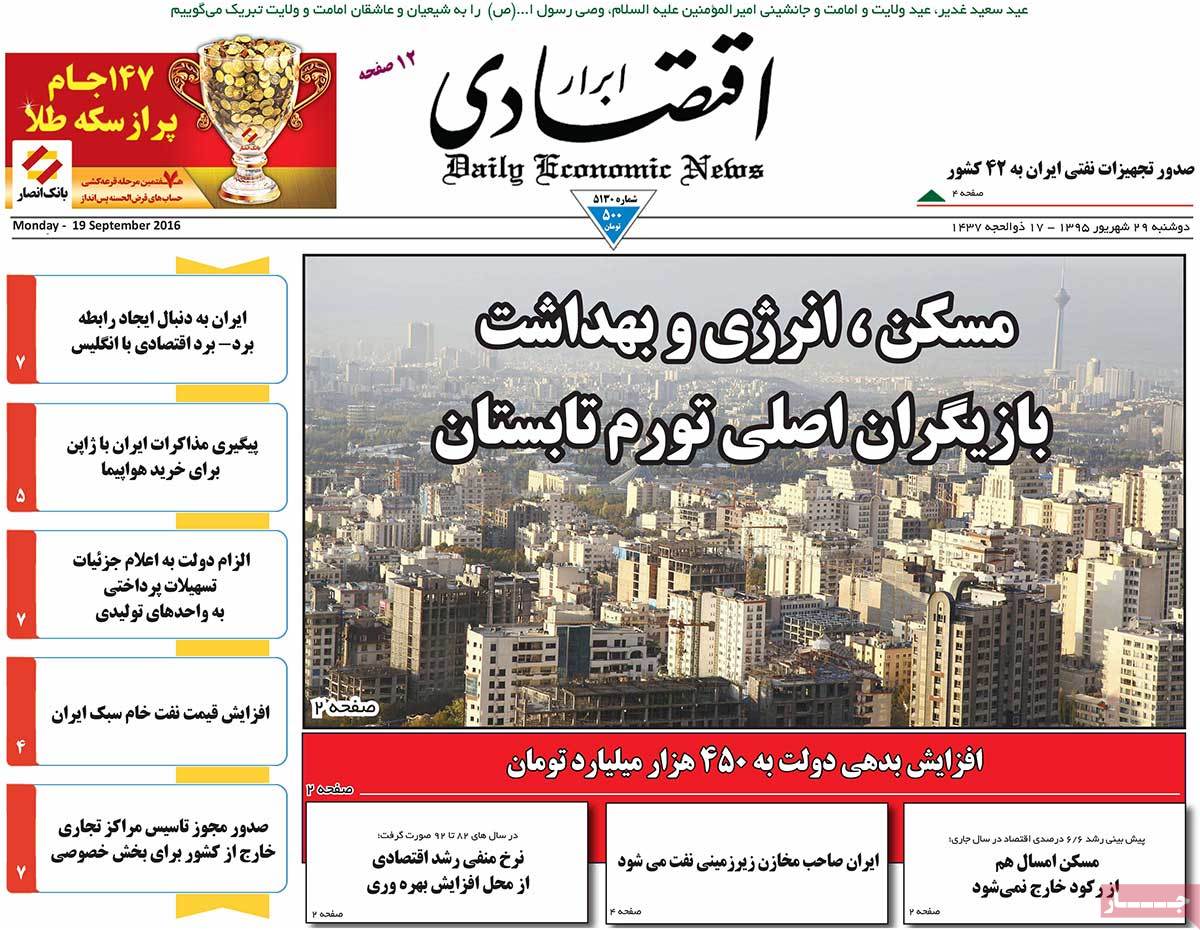 ---
Aftab-e Yazd:
1- Absolute Distrust of US Is a Result of Rationality, Thought, and Experience: Leader
2- Heavenly Cyclist: Tragic Death of Iranian Athlete in Rio Paralympics
3- A Few Steps Left to World Registration of Yazd
4- Buying Airplanes with Empty Pockets! Lack of Budget, a Major Problem in Finalization of Plane Purchase Deals
5- In Kiarostami's Death Case, Medical and Disciplinary Errors Are Proved: Court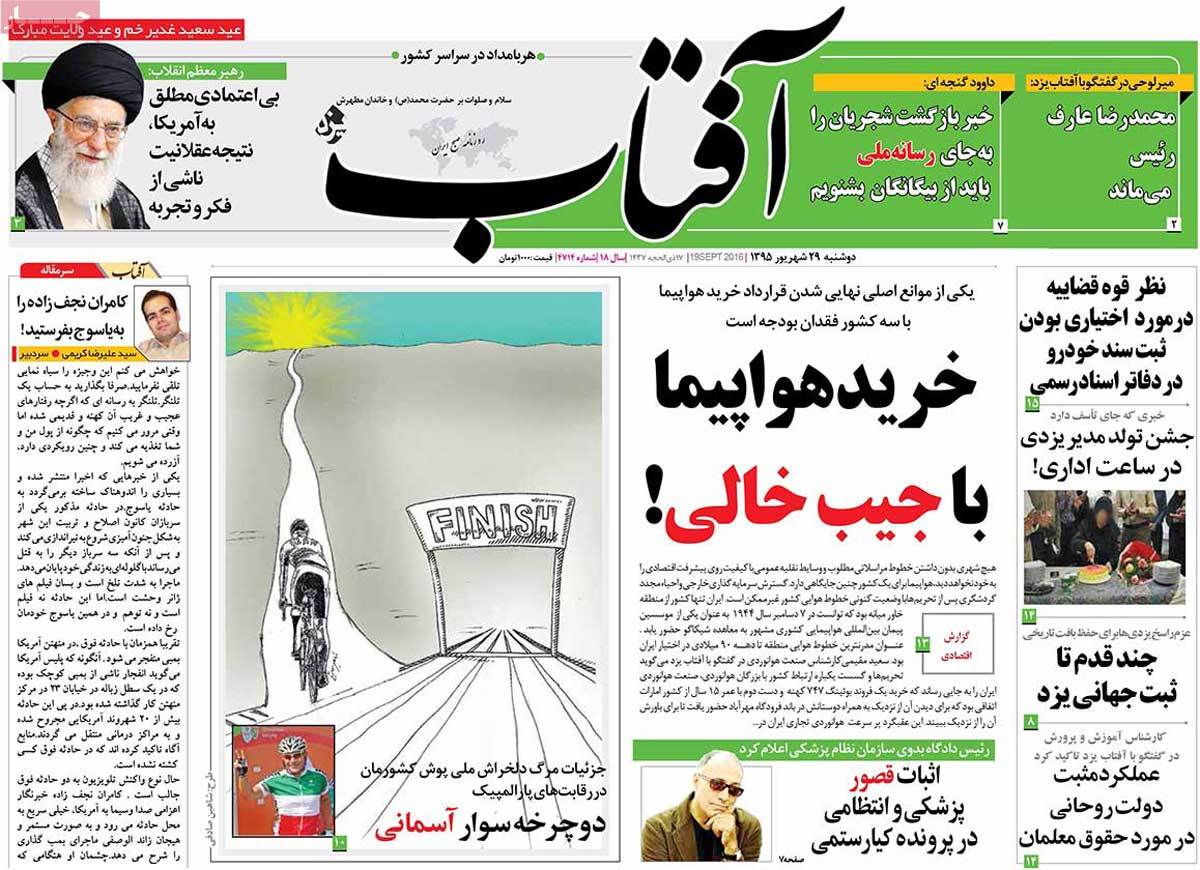 ---
Arman-e Emrooz:
1- I'm Not Worried about Future: Ayatollah Khamenei in Meeting with IRGC Commanders
2- End of Ahmadinejad's Tour of Iran: Disappointed of Becoming President or Afraid of Being Disqualified?
3- Explosion in Heart of New York City: NYC in Standby
---
Asrar:
1- Reports about Meeting between US Senator and Iranian MPs Dismissed
2- Increase in Foreign Flights over Iran's Sky Brings More Money for the Country
3- Return of 300 Iranian Elites to the Country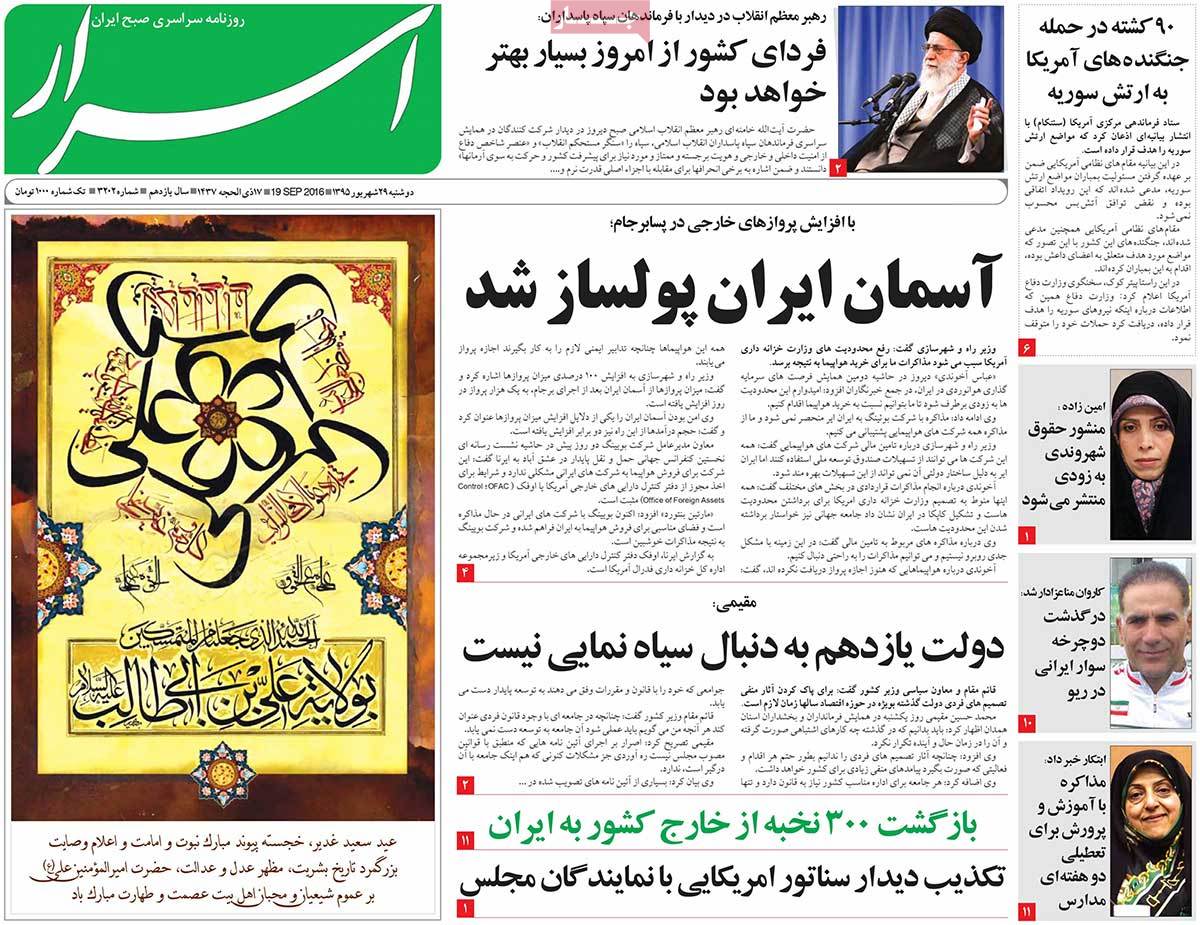 ---
Ebtekar:
1- Military Might Is Only Way to Repel Threats: Leader
2- Russian Parliamentary Elections under Shadow of Putin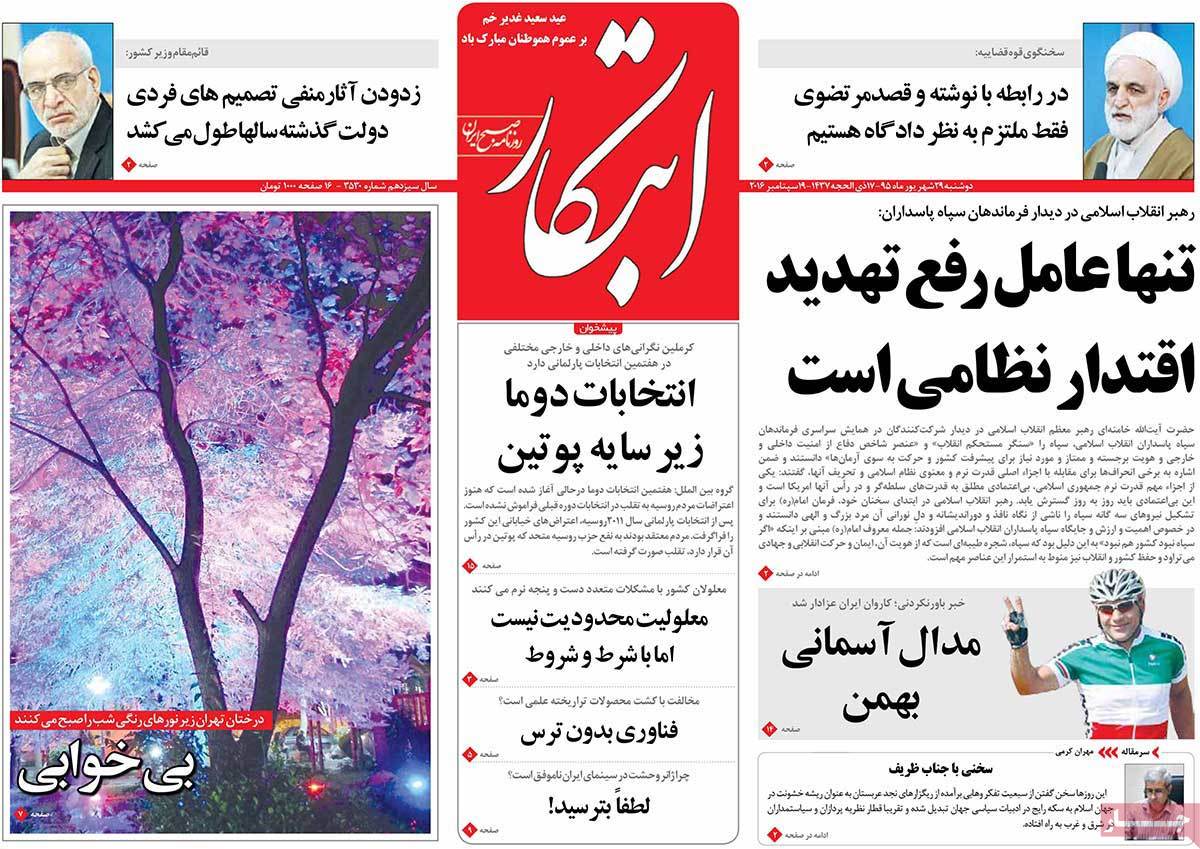 ---
Etemad:
1- Unemployment Rate to Be Decreased to Less than 10%: Deputy Labour Minister
2- Distribution of Holidays for Schools Beneficial to Environment, Education, and Tourism
---
Ettela'at:
1- NAM Leaders Declare 2017 as Int'l Year to End Israeli Occupation of Palestine
2- US Massacres Tens of Syrian Troopers
3- Average Inflation Rate of Summer Stands at 8.9%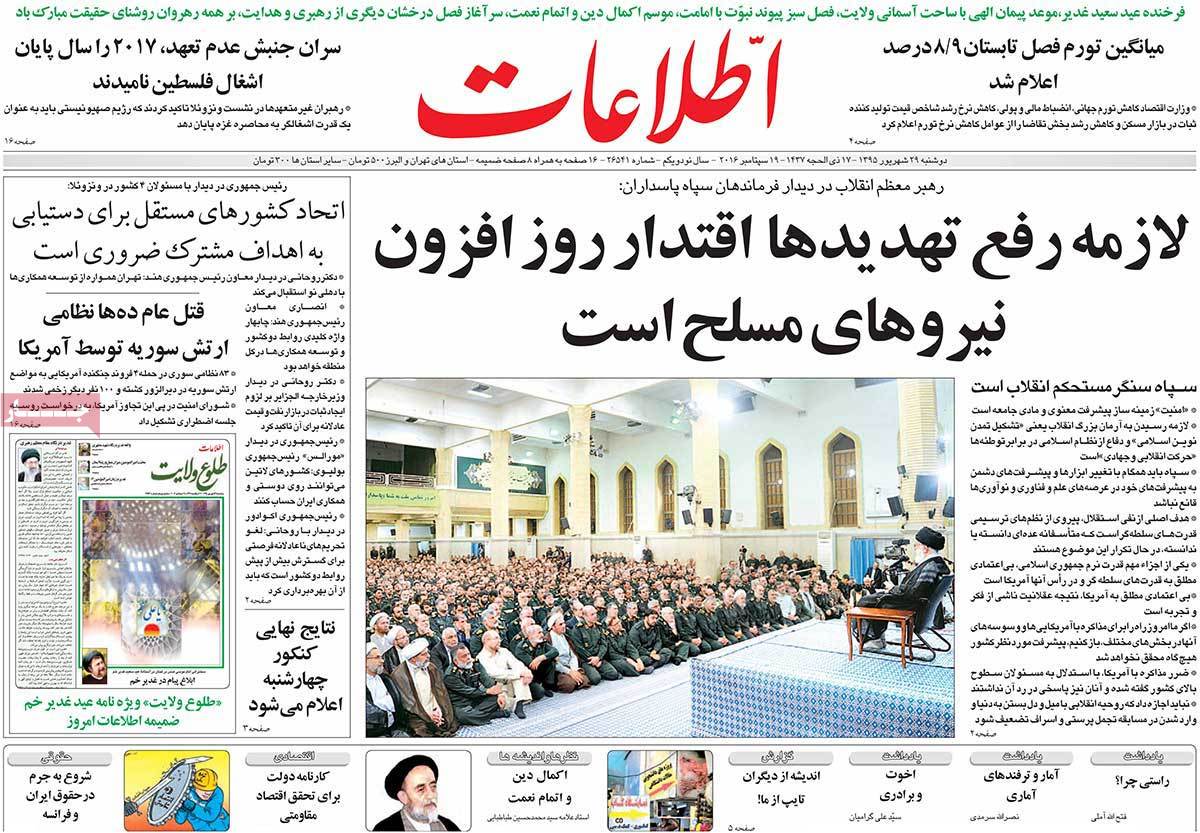 ---
Haft-e Sobh:
1- Secrets behind Import of Hybrid Cars
2- Goodbye the Unlucky Bahman [who lost his life in Rio Paralympic cycling competition]: 10 Chapters of Golbarnezhad's Strange and Dramatic Life
---
Hamshahri:
1- 46% of Iranian Families Have Not Had Any Trip Ever
2- US Attack on Syria Ceasefire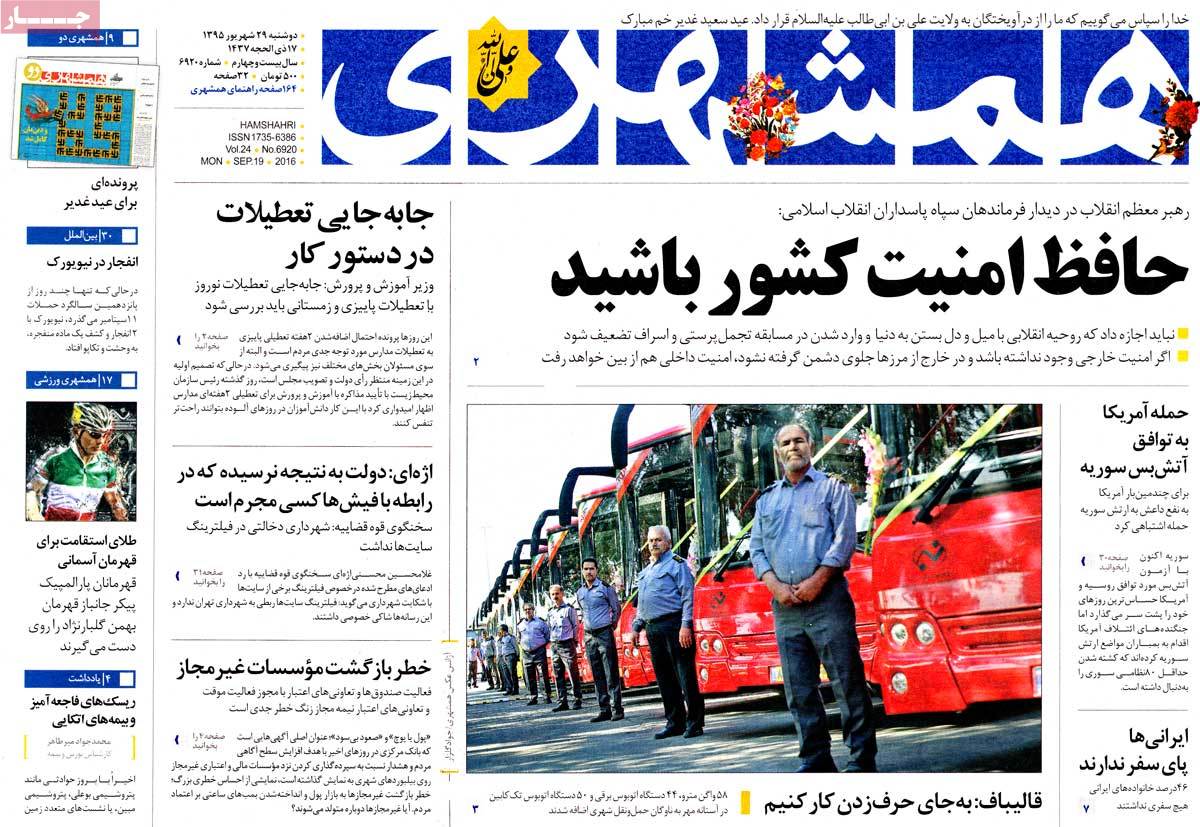 ---
Iran:
1- Aviation Giants to Convene in Tehran: CAPA Summit Kicks Off in Presence of 150 Investors from 20 Countries
2- President Rouhani's Consultations on Sidelines of NAM Summit
---
Jame Jam:
1- Leader: IRGC Is Tasked with Ensuring Internal and External Security
2- Autumn Exhibitions' Red Carpet for Imported Goods
3- Woman Kills Her Husband Because of a Mobile Phone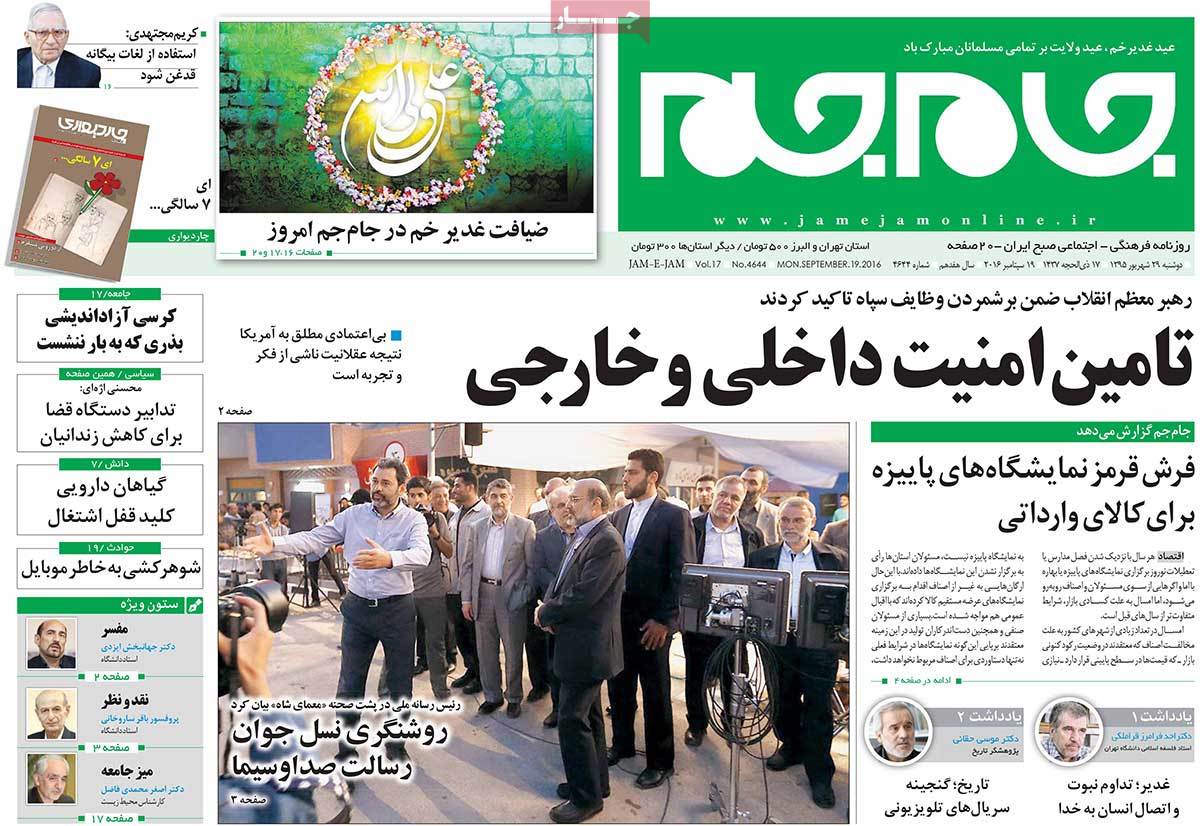 ---
Javan:
1- Moscow: US Has Become ISIS' Air Force; Washington Kills 80 Syrian Troopers in an "Unintentional" Attack
2- President Rouhani in NAM Summit: Israel Is Main Culprit behind Developing ISIS Crimes
---
Jomhouri Eslami:
1- Iran's Talks with Major Aviation Companies: Transport Minister
2- In Separate Meetings with NAM Leaders, President Rouhani Underlines Expansion of Economic Cooperation with Other Countries
3- US and Israel's Simultaneous Attacks in Iraq and Syria in Favour of Terrorists
4- Tunisian Clerics and Thinkers Warn Saudi Arabia against Politicization of Hajj Pilgrimage
---
Kayhan:
1- Ceasefire Was a Deceit: Joint Operation by US and ISIS in Deir ez-Zor
2- 15-Year-Old Iraqi Saves Lives of 165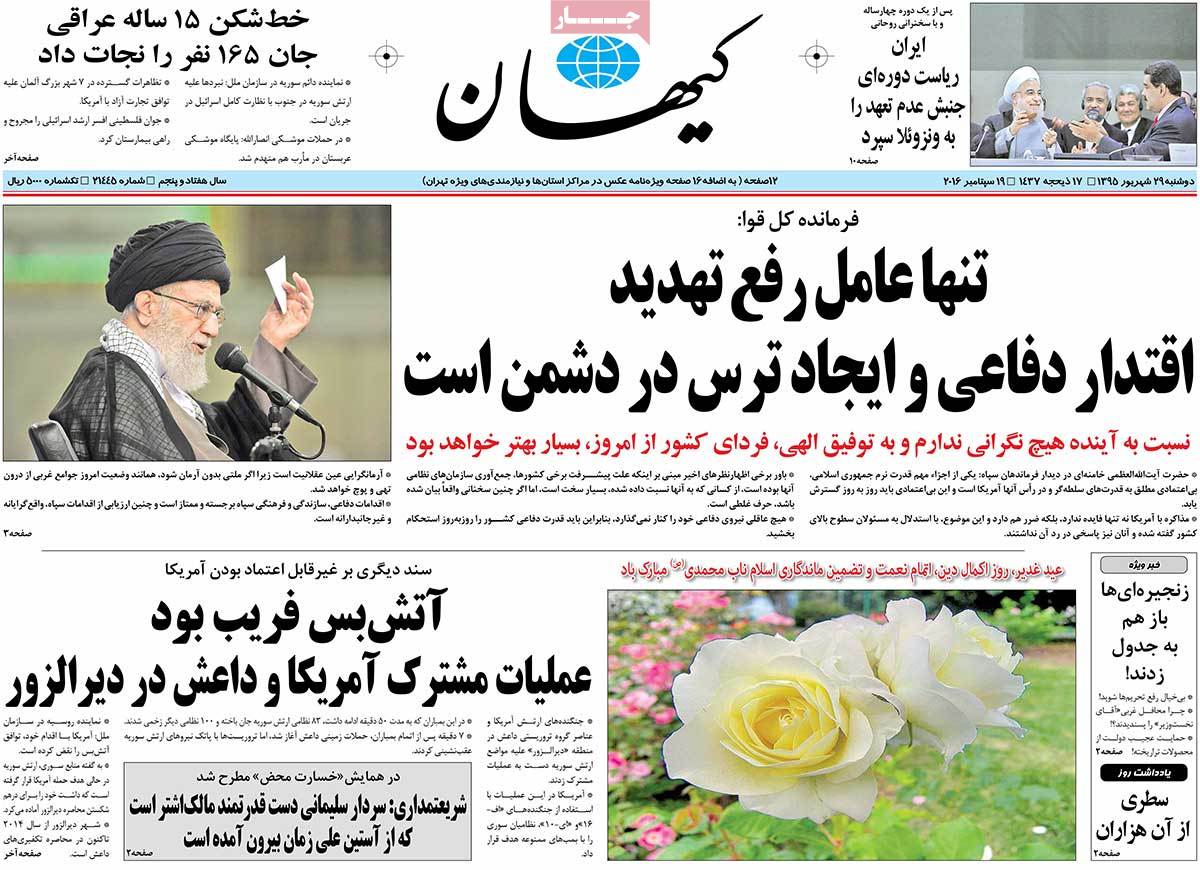 ---
Roozan:
1- Americans Insist that We Discuss Regional Issues with Them, but Negotiation with US Is Harmful: Leader
2- Trump and Neo-Conservatives Need a Situation Influenced by Security Conditions
---
Shargh:
1- Rumours of Ahmadinejad's Meeting with Leader Where He Was Discouraged from Running for Presidency
2- US under Pressure of Global Demand [for selling planes to Iran]: Transport Minister
3- Hamas Wandering between Iran and Qatar
---
Vaghaye Ettefaghieh:
1- All Muslims in the World Like General Soleimani: First VP
2- School Dropout Crisis in Southern Parts of Iran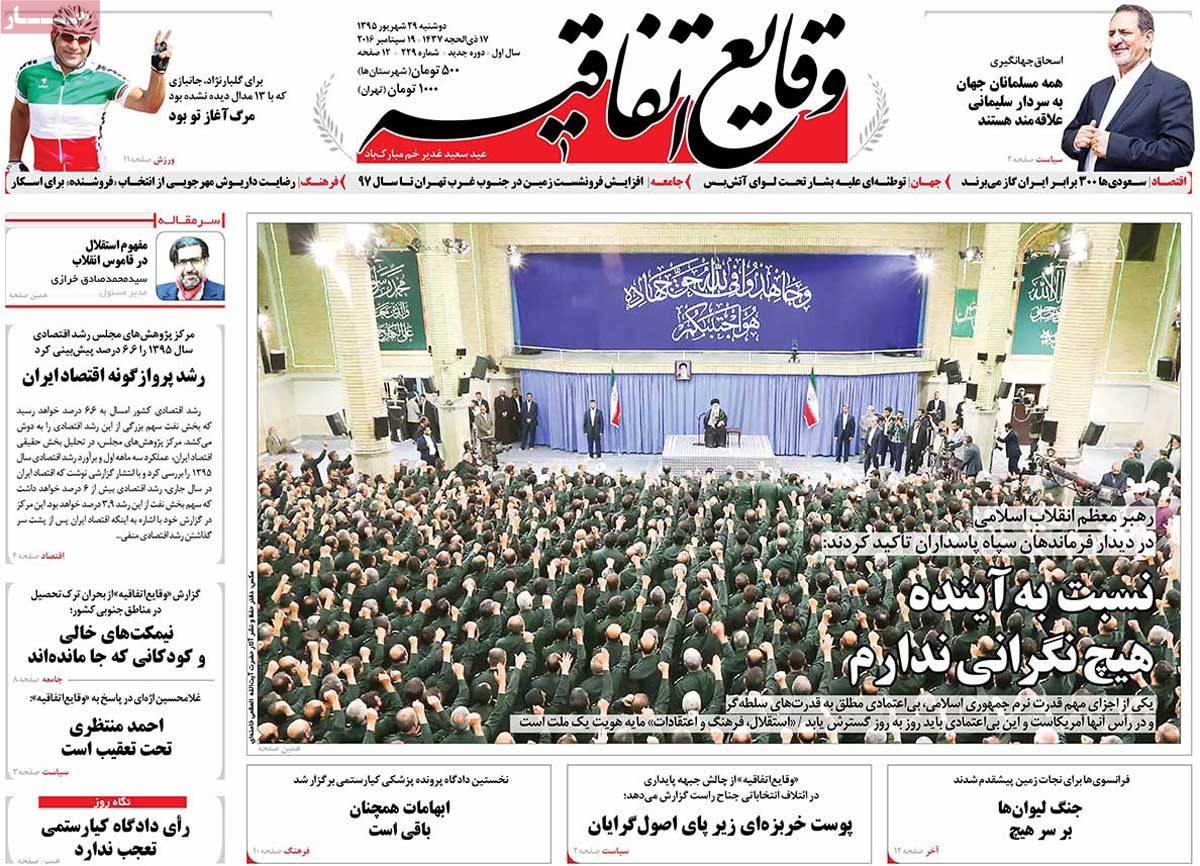 ---
Vatan-e Emrooz:
1- It's Not Wise to Give Up One's Defensive Force: Leader
2- Rumours of 2-Week Shutdown of Schools in Autumn Due to Air Pollution
3- General Soleimani, the Great Capital of Iran and Middle East: Amir Abdollahian
4- United States of ISIS