A couple of weeks before Iran's presidential election, almost all Iranian newspapers are covering the remarks made by the six candidates in their presidential campaigns.
Reformist and pro-government media criticize the promises made by conservative candidates, and the right-wing papers highlight the incumbent administration's weak performance in different fields.
A top story today was the remarks made by Foreign Minister Mohammaad Javad Zarif in support of Rouhani's government and what the cabinet has done in the past four years.
The above issues, as well as many more, are highlighted in the following headlines and top stories:
19 Dey:
1- DM: Production of Weapons in Rouhani's Gov't Increased by 100 Times
2- Larijani: Parliament Opposed to Campaign Promises on Cash Handouts
3- Rouhani: Being Revolutionary Doesn't Mean Speaking in a Bold Way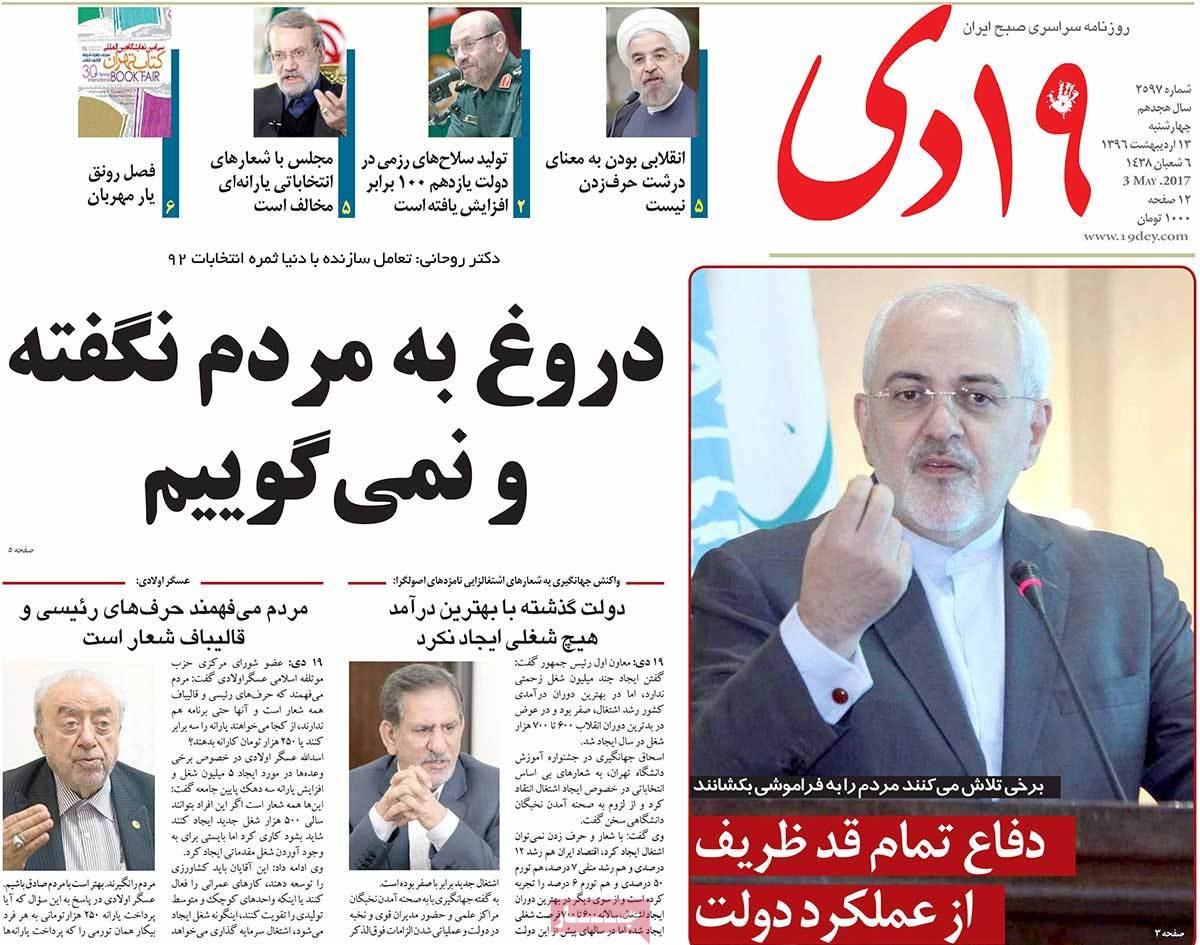 ---
Abrar:
1- Gov't: 5-Fold Rise in Cash Subsidies Will Lead to 6-Fold Increase in Energy Prices
2- Arab League Secretary General: Iran Benefiting the Most from Current Situation
3- Trump: I'm Not Obama, So I Don't Set Redlines; I'll Take Action If Needed!
4- Trump Has No Support for Scrapping Nuclear Deal: British Parliament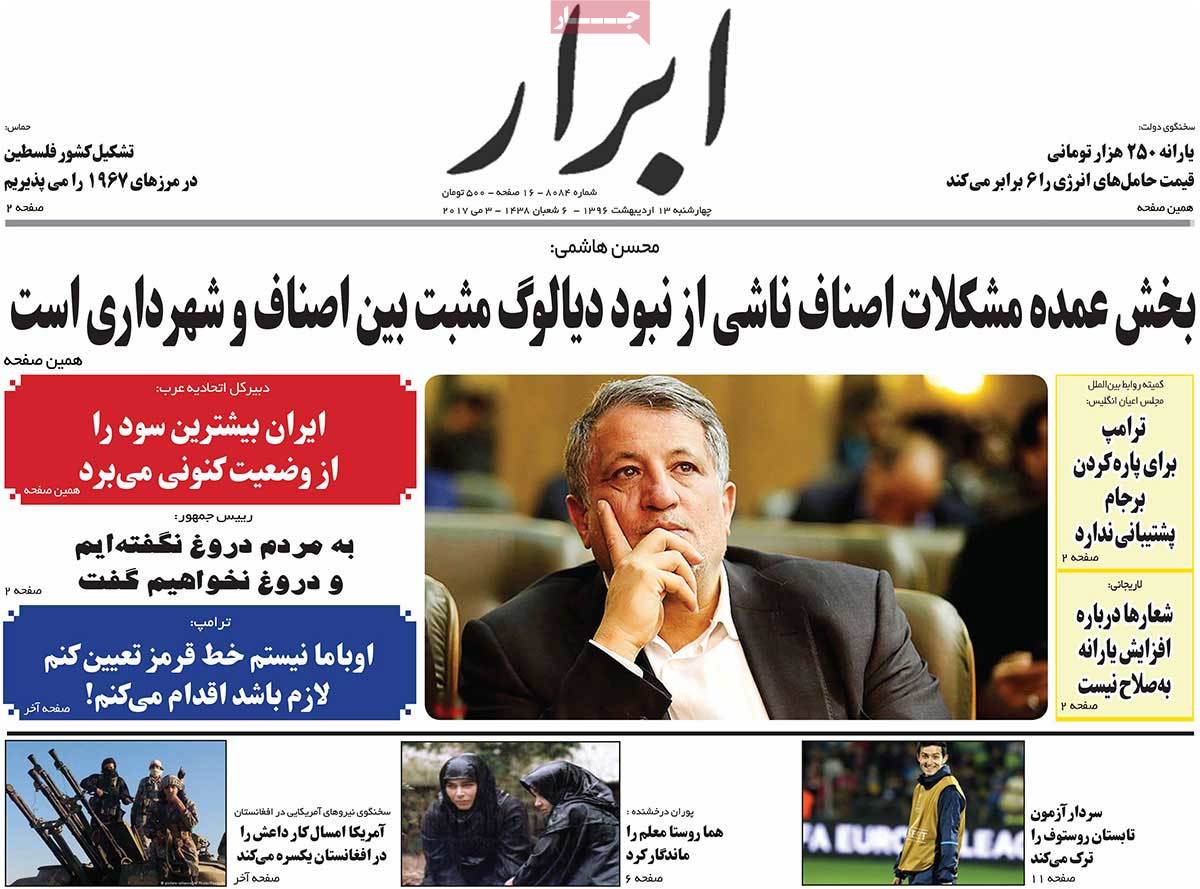 ---
Aftab-e Yazd:
1- Conservatives' Promises in Venezuelan Style
Analysts: If Some of These Promises Are Fulfilled, Tehran Will Become Caracas
2- President: We've Not Lied and Won't Lie to People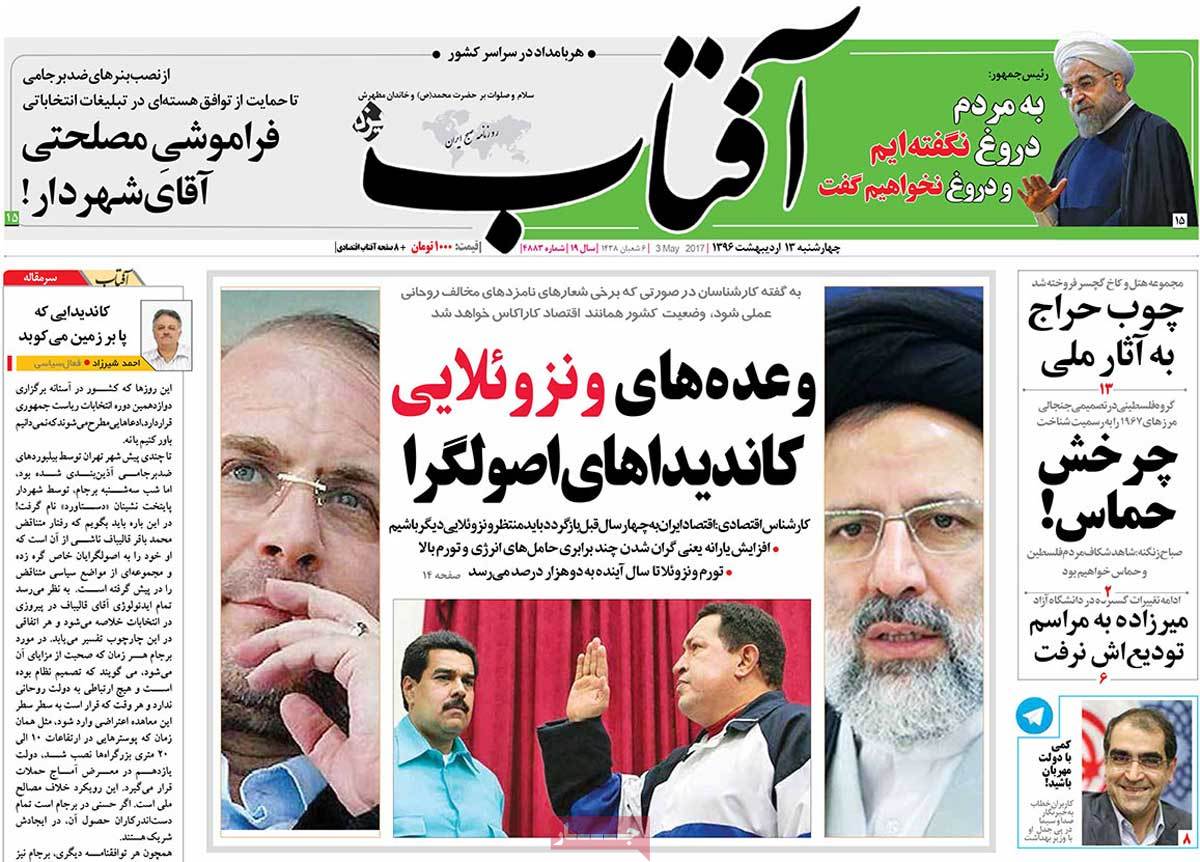 ---
Amin:
1- Parliament Speaker: Iran's Logic is to Interact, Cooperate with World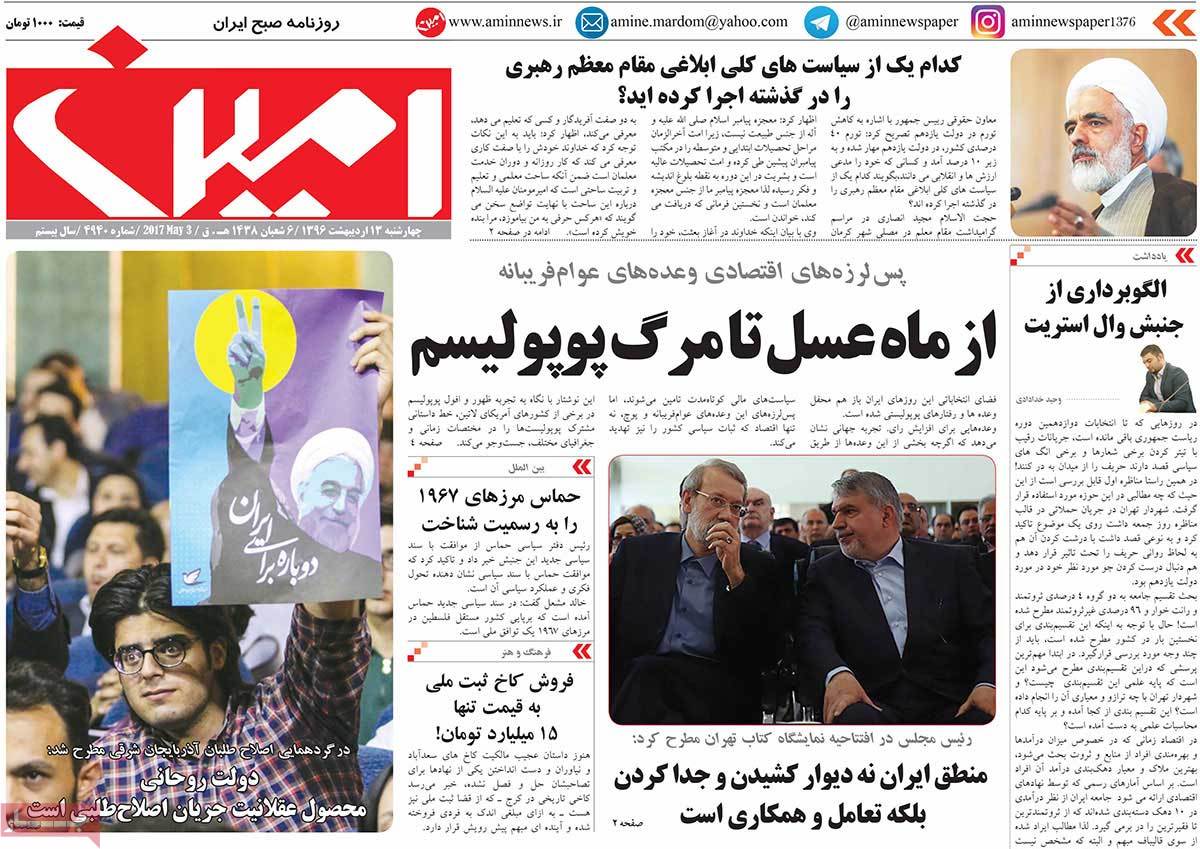 ---
Arman-e Emrooz:
1- Parliament Speaker Asks Certain Candidates to Keep Silent
Increasing Cash Handouts None of Government's Business
2- Gov't Spokesman Rules Out Possibility of Rouhani's Withdrawal from Candidacy
3- Aref: Rouhani Will Be Final Candidate of Reformists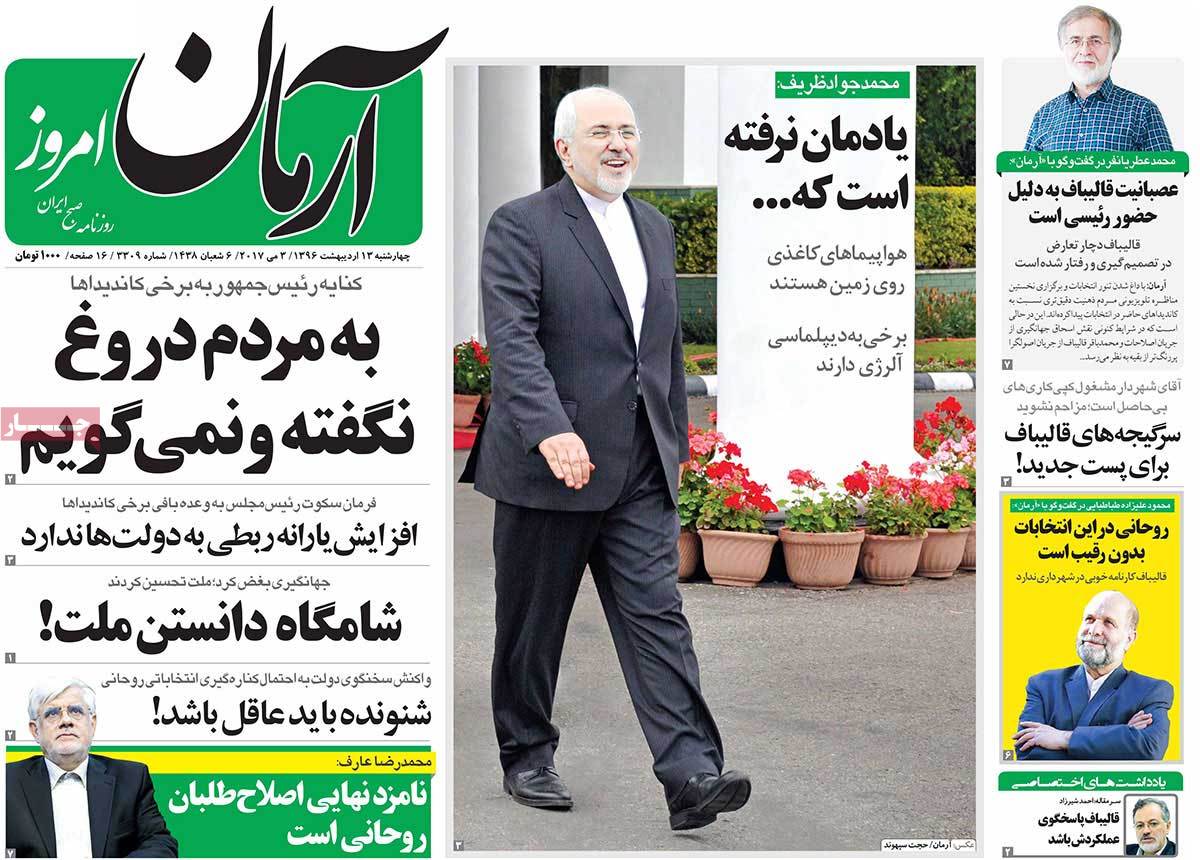 ---
Ettela'at:
1- Zarif: Policies of Past 4 Years Should Be Continued to Maintain Iran's Power
2- 30th Edition of Tehran Int'l Book Fair Kicked Off in Shahr-e Aftab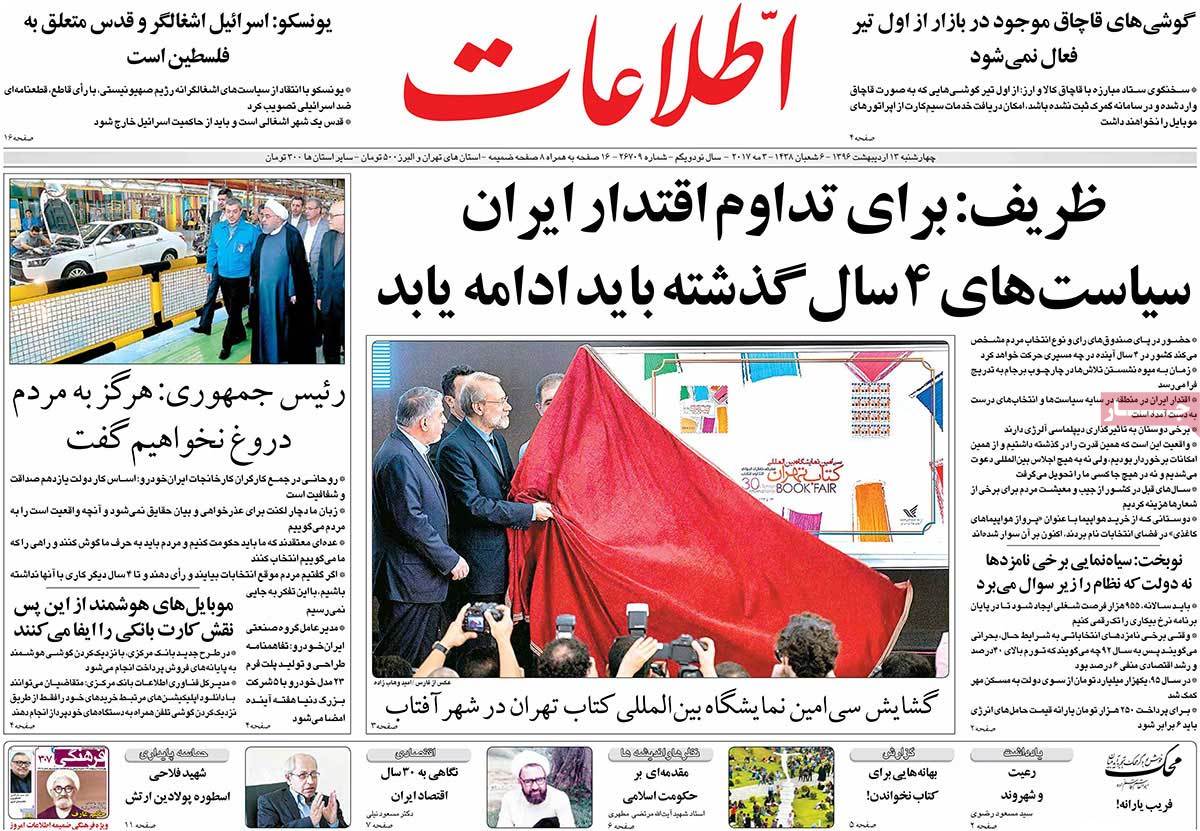 ---
Hosban:
1- Iran Armed Forces: Presidential Candidates Urged Not to Interfere in Military Fields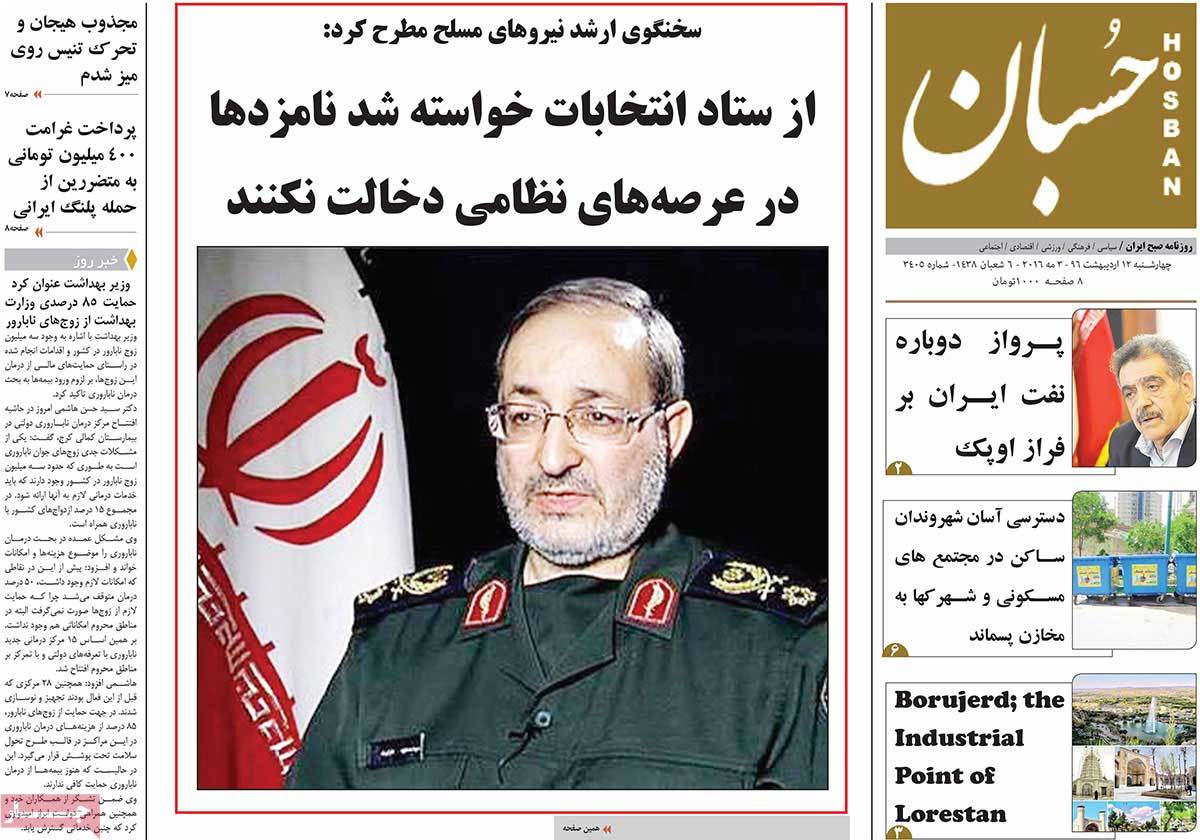 ---
Iran:
1- Zarif's Account of Dollars Wasted by Those Who Made Money through Sanctions
2- Rouhani: The Wheels of Centrifuges and Factories Are Both Spinning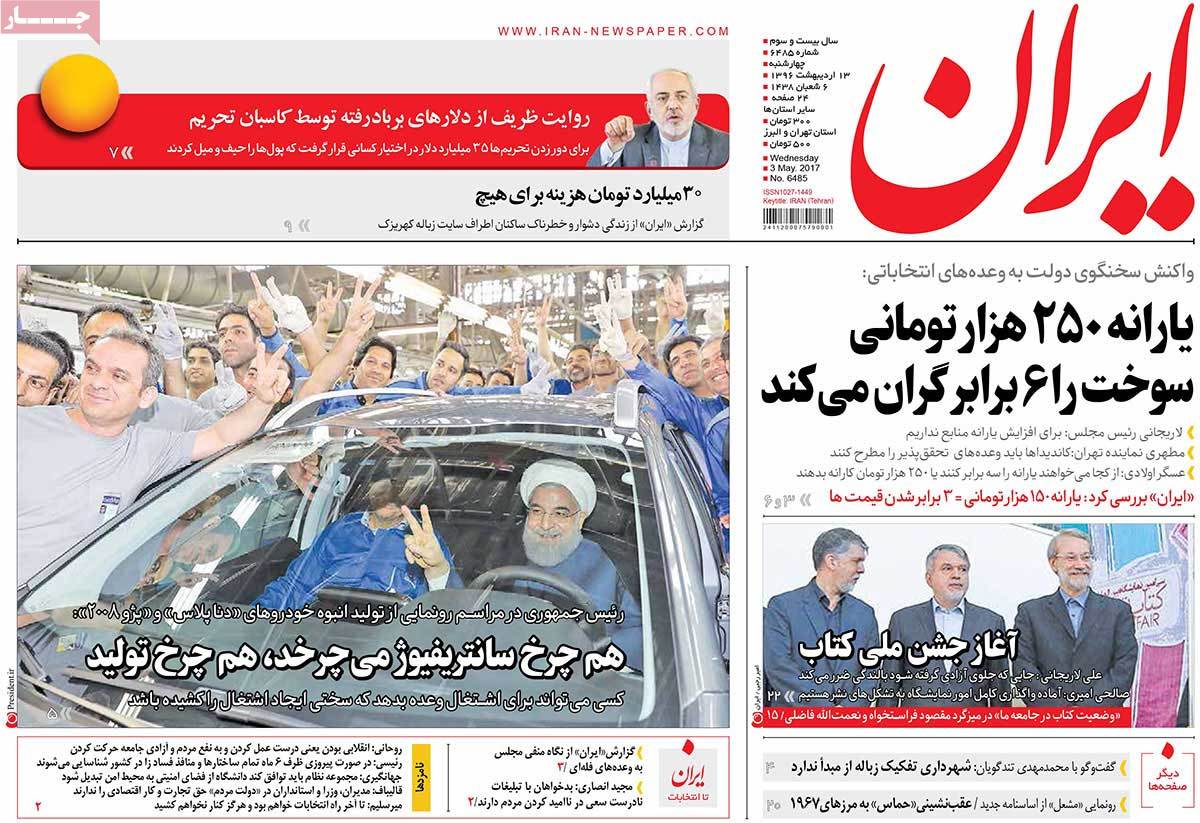 ---
Javan:
1- Funds Supposed to Be Spent for Students Paid for Executives' Luxury Cars
---
Jomhouri Eslami:
1- Rouhani: Cooperation between Diplomats, Workers Improve Production, Employment
2- Parliament Speaker Hails Government's Efforts to Revive Shut-Down Factories
3- Raisi: We Won't Rely on Particular Party in Governing the Countr
4- Hashemi-Taba: Infeasible Promises to Have Social Consequences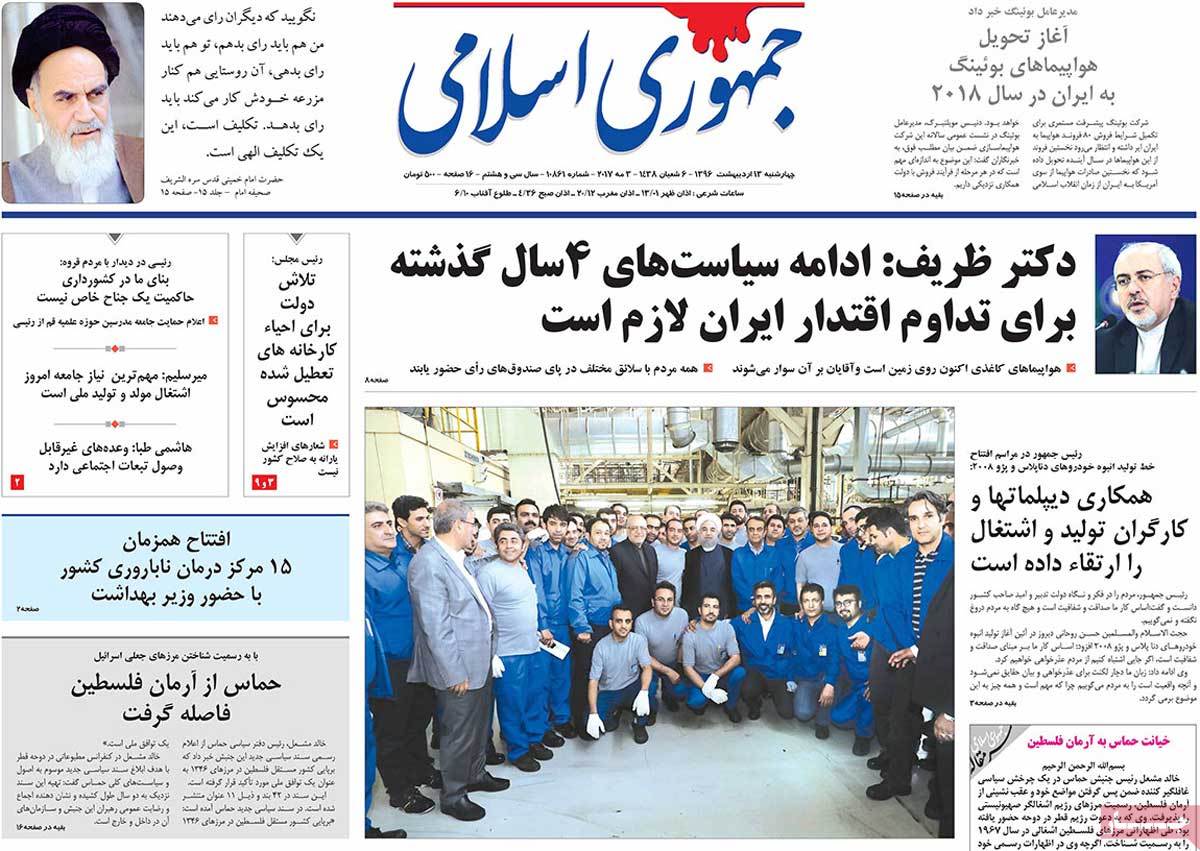 ---
Kayhan:
1- Expenses in Rouhani's Gov't 5 Times More than Those of Ahmadinejad's
2- Gov't Once Again Makes 100-Day Promise; Rivals Vow to Fight Corruption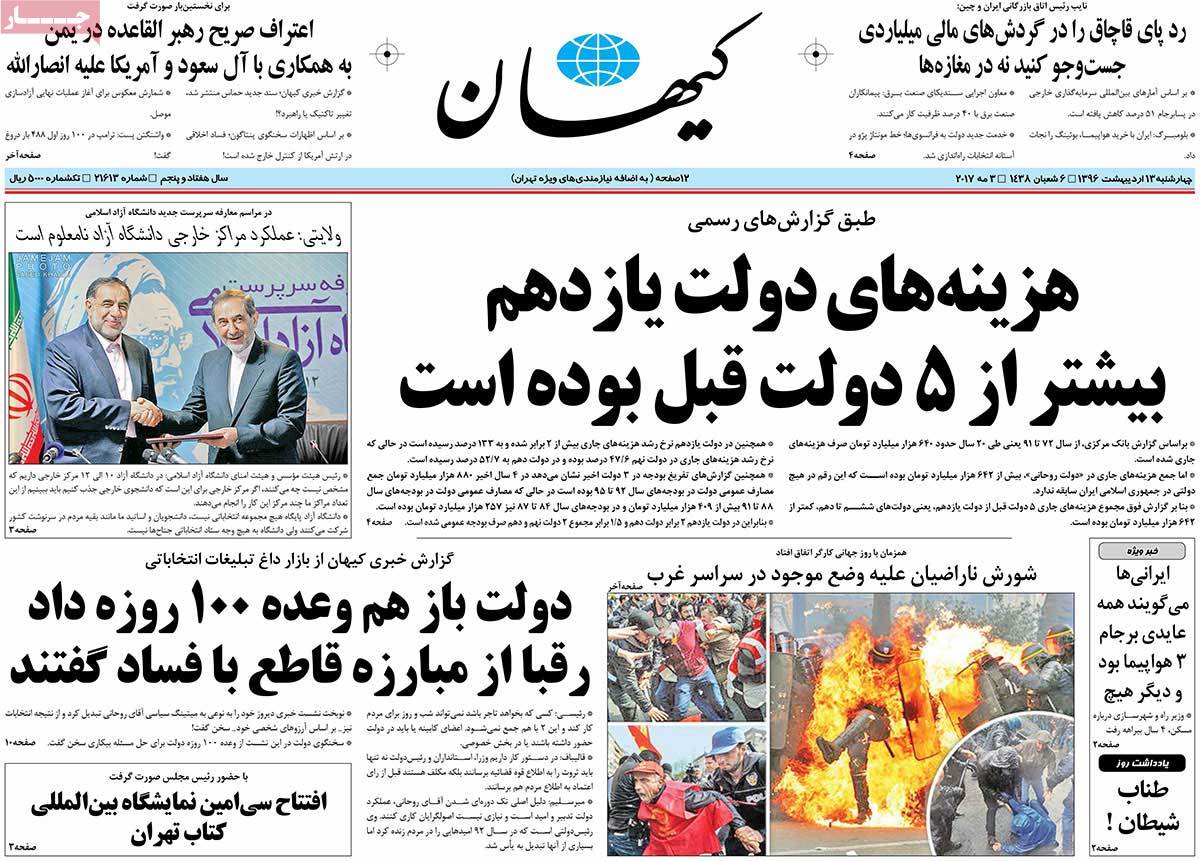 ---
Payam-e Zaman:
1- Zarif: Some Are Allergic to Diplomacy
2- Mirsalim: Production, Employment Most Important Needs of Iran Society
3- Qalibaf: We're Faced with Economic Crisis
4- Raisi: Corruption in Iran Not Limited to Particular Party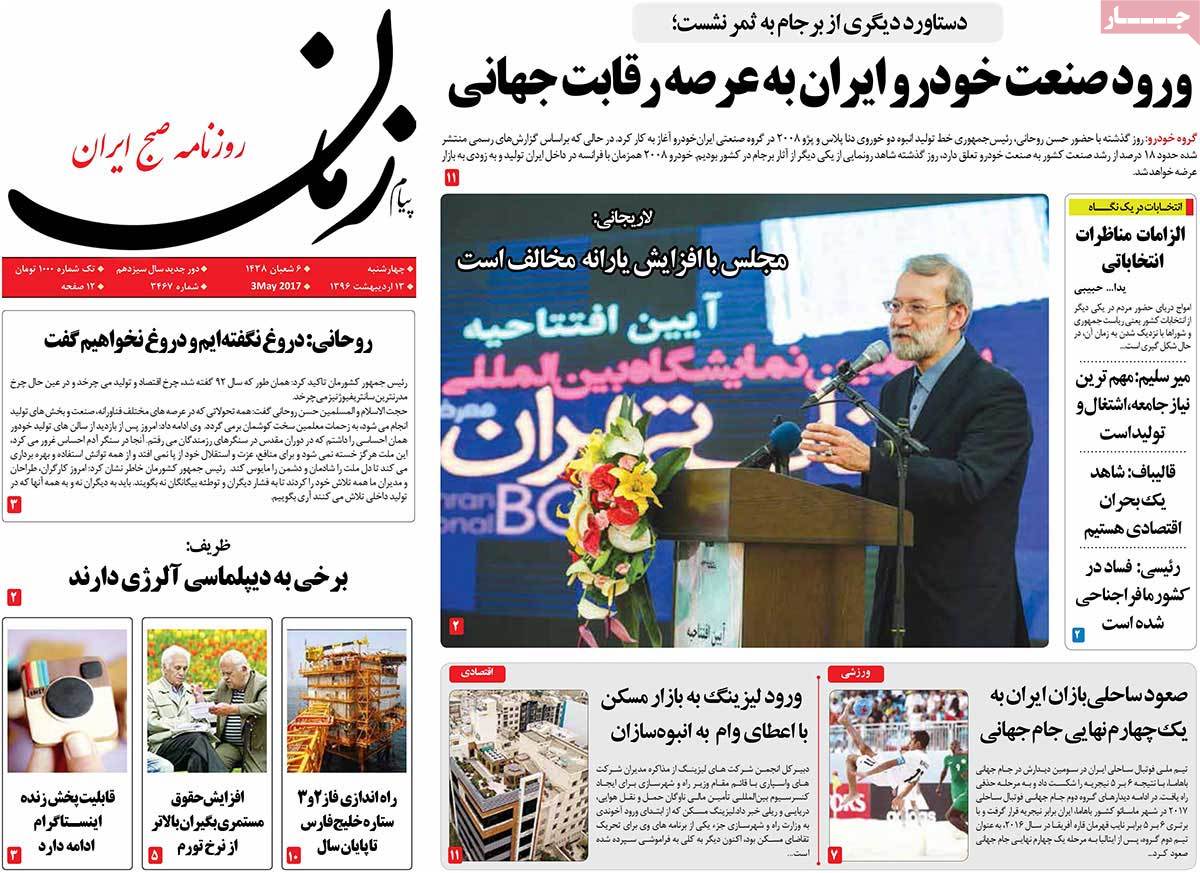 ---
Resalat:
1- Mirsalim: What Have Those Who Receive Astronomical Salaries Done for Iran?
2- Qalibaf: Showing Mercy to Corrupt People is Cruelty towards Nation
3- IRGC General Rezaei: Whoever Manages the Time Can Manage the Country
4- Raisi: We Have No Redline in Fighting Corruption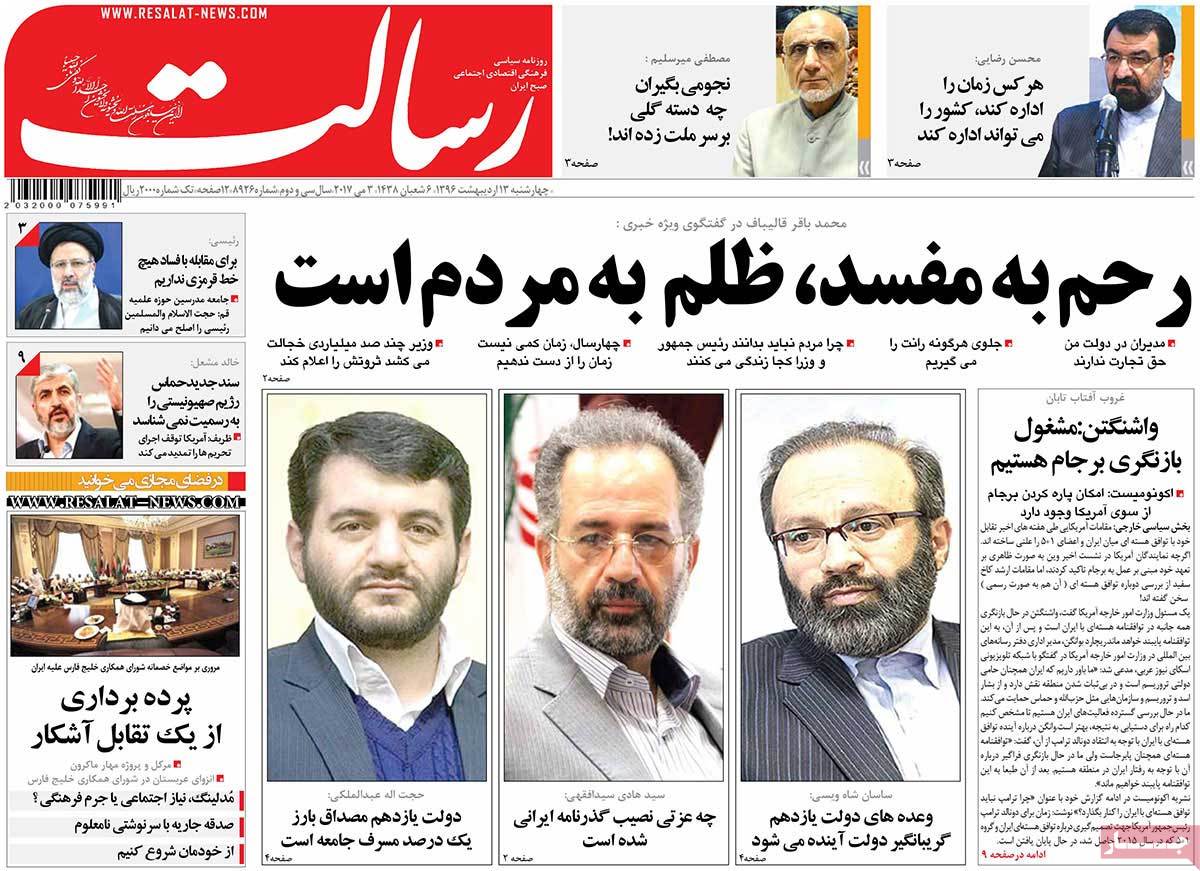 ---
Shargh:
1- Zarif: We're Proud of What We Did
2- ICT Minister: Opponents Have Bought Huge Number of Telegram Channels for Elections