Almost all newspapers today continued covering the remarks made by Iranian presidential candidates, particularly the three main rivals Hassan Rouhani, Ebrahim Raisi, and Mohammad Baqer Qalibaf.
Conservative papers criticized the filtering of a website launched by Qalibaf for unemployed people, and said Rouhani has blocked the website to launch his own version.
Iranian Foreign Minister Mohammad Javad Zarif's comments about Iran's foreign policy and the false promises made by certain candidates also received great coverage.
The above issues, as well as many more, are highlighted in the following headlines and top stories:
19 Dey:
1- Zarif: We Should Sacrifice Ourselves for Iranian People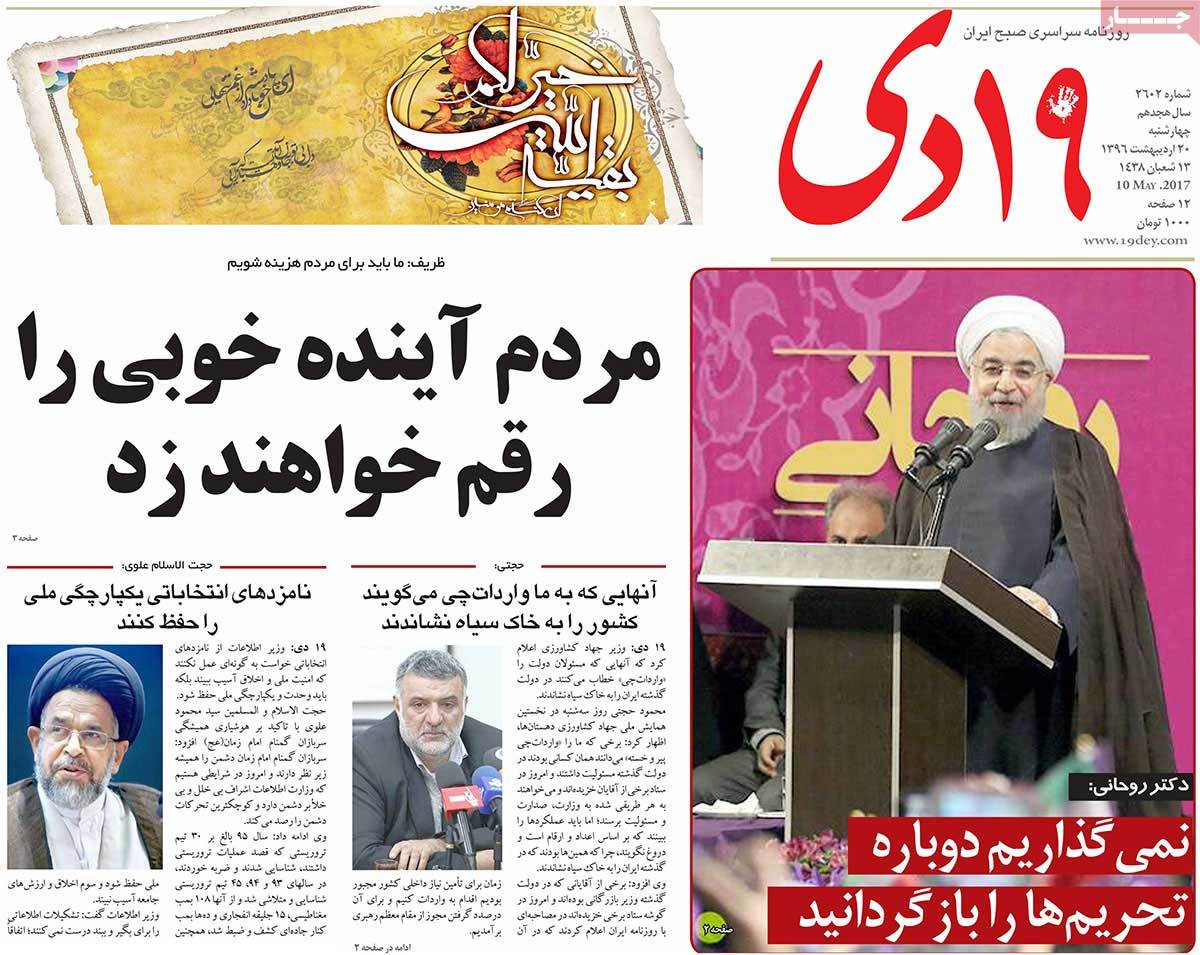 ---
Abrar:
1- Iraqi PM: French Forces May Join Operation in Old Part of Mosul
2- CBS News: Canadian Official Visits Iran after 5 Years
3- Trump: I'll Talk about Iran in Visit to Israel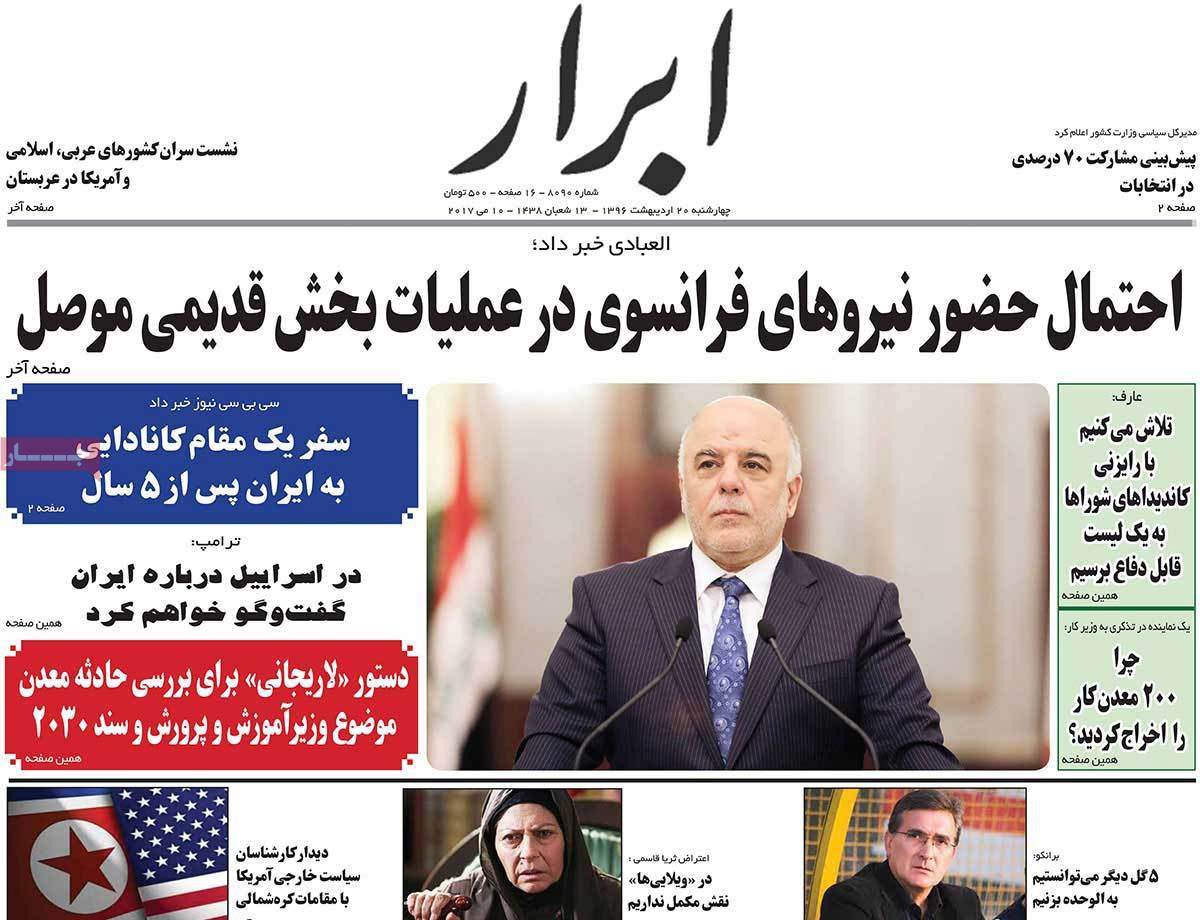 ---
Afkar:
1- Qalibaf: It's Possible to Create 3,424 Jobs per Day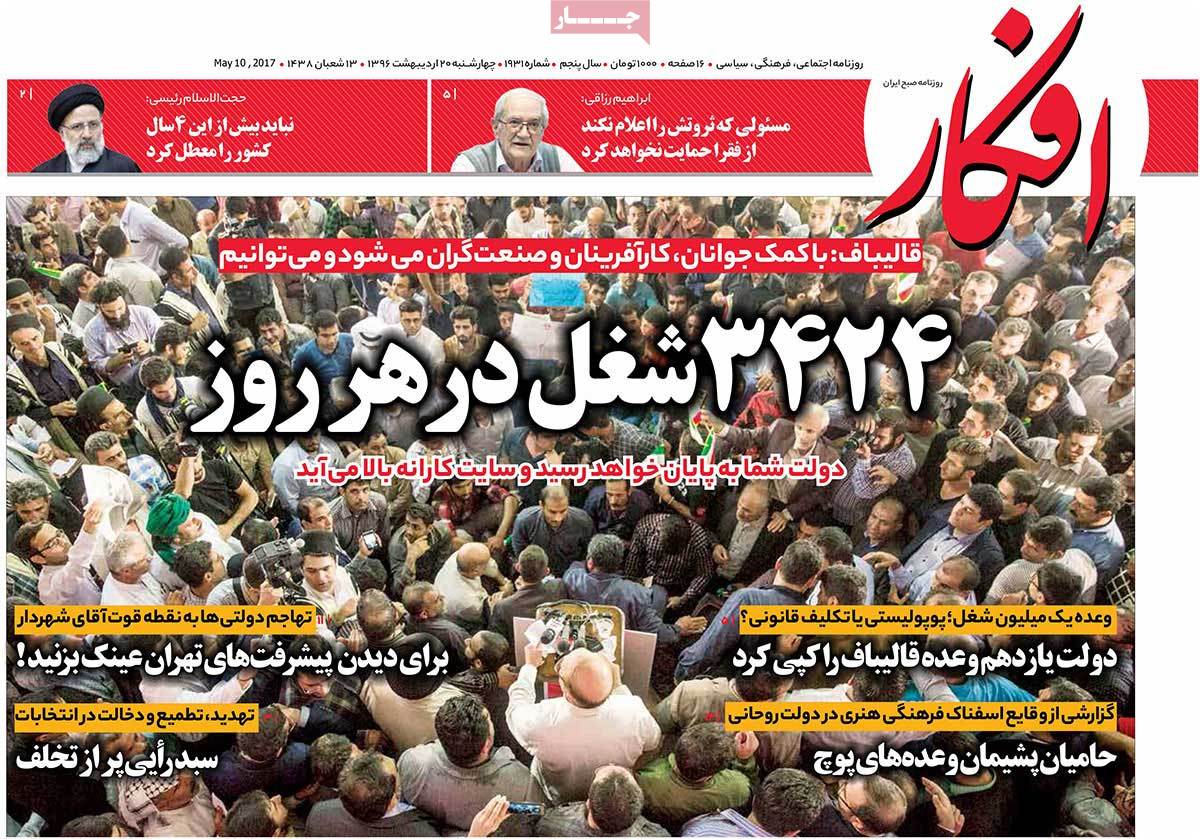 ---
Aftab-e Yazd:
1- A Fact Check of Claims Raised by Conservative Mayor of Tehran
2- Shajarian's Popular Religious Song Rabbana Registered as National Heritage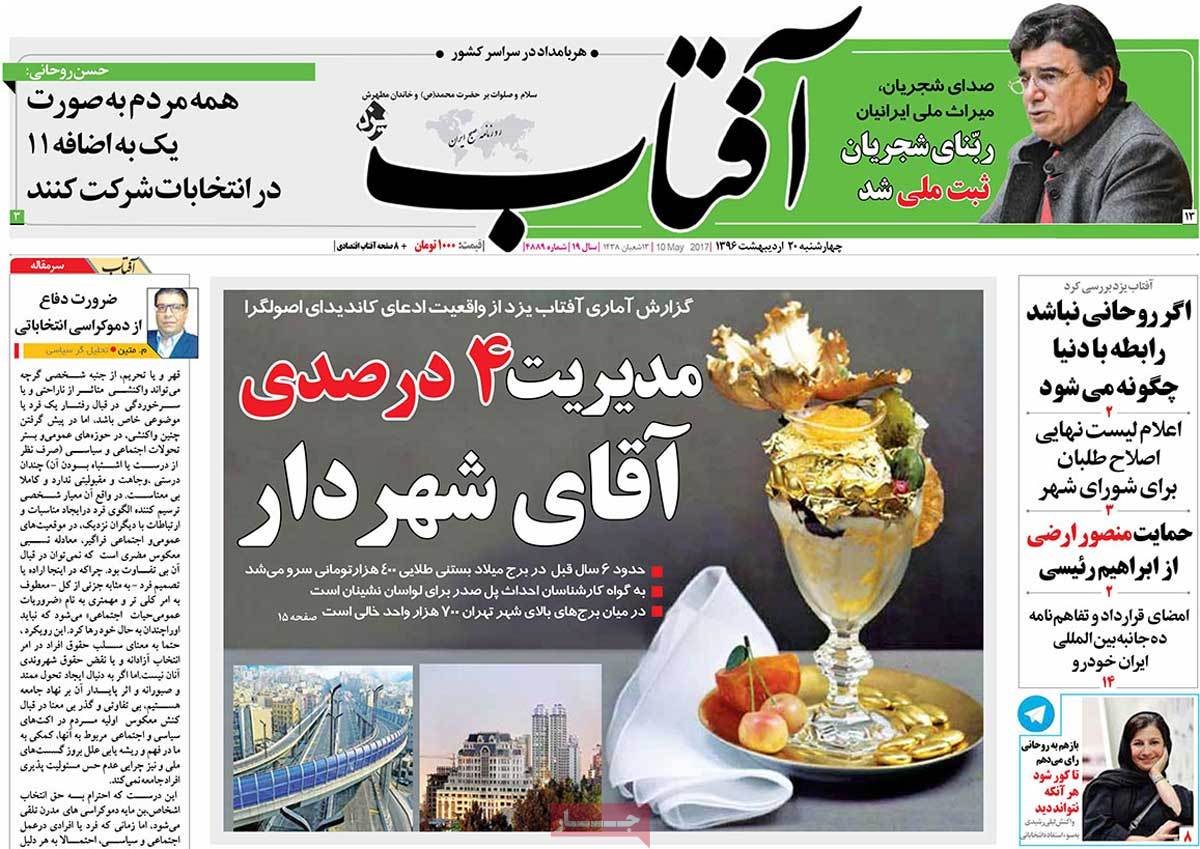 ---
Arman-e Emrooz:
1- Rouhani: We'll Win If Women Participate
2- Football Star Ali Karimi Once Again Supports Rouhani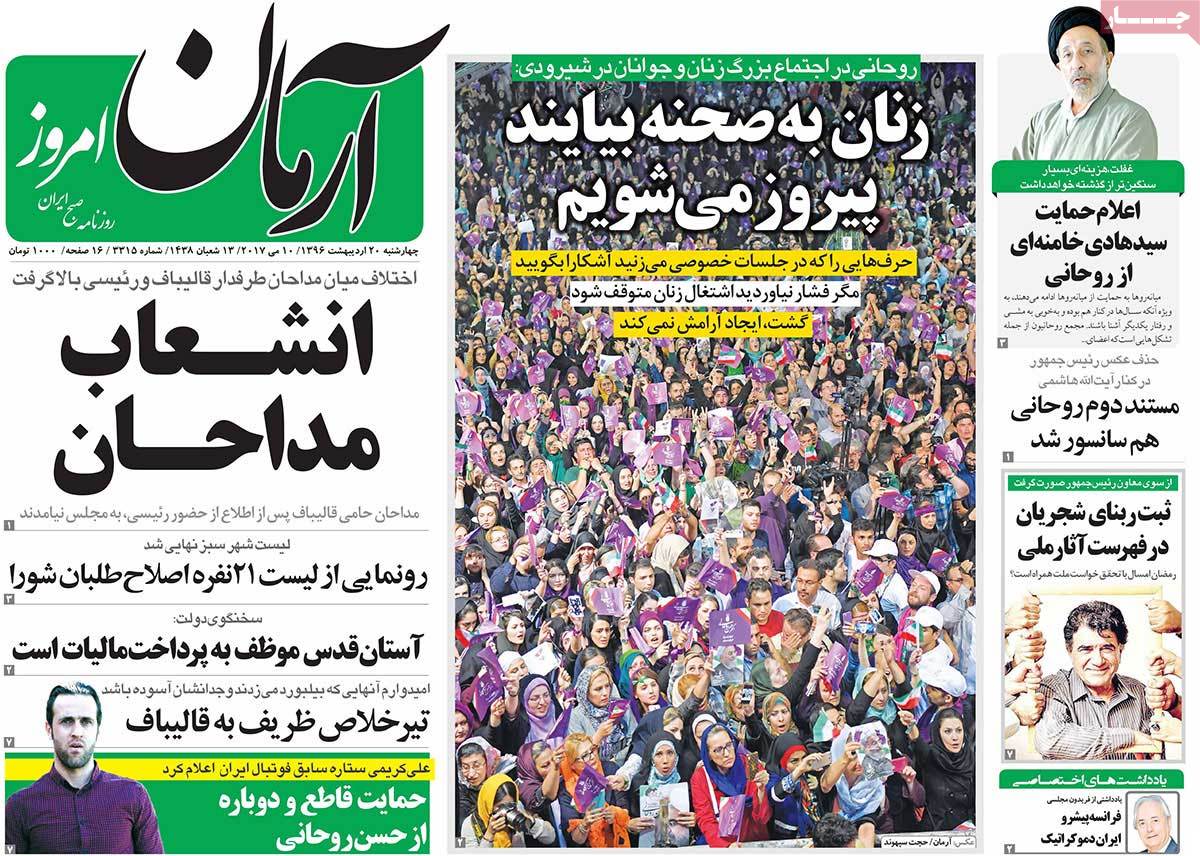 ---
Asrar:
1- Raisi: Universities in Iran Should Have Islamic Style to Avoid Problems
2- First VP: Political Friendships Should Be Deepened
3- Intelligence Minister Calls on Presidential Candidates to Maintain National Integrity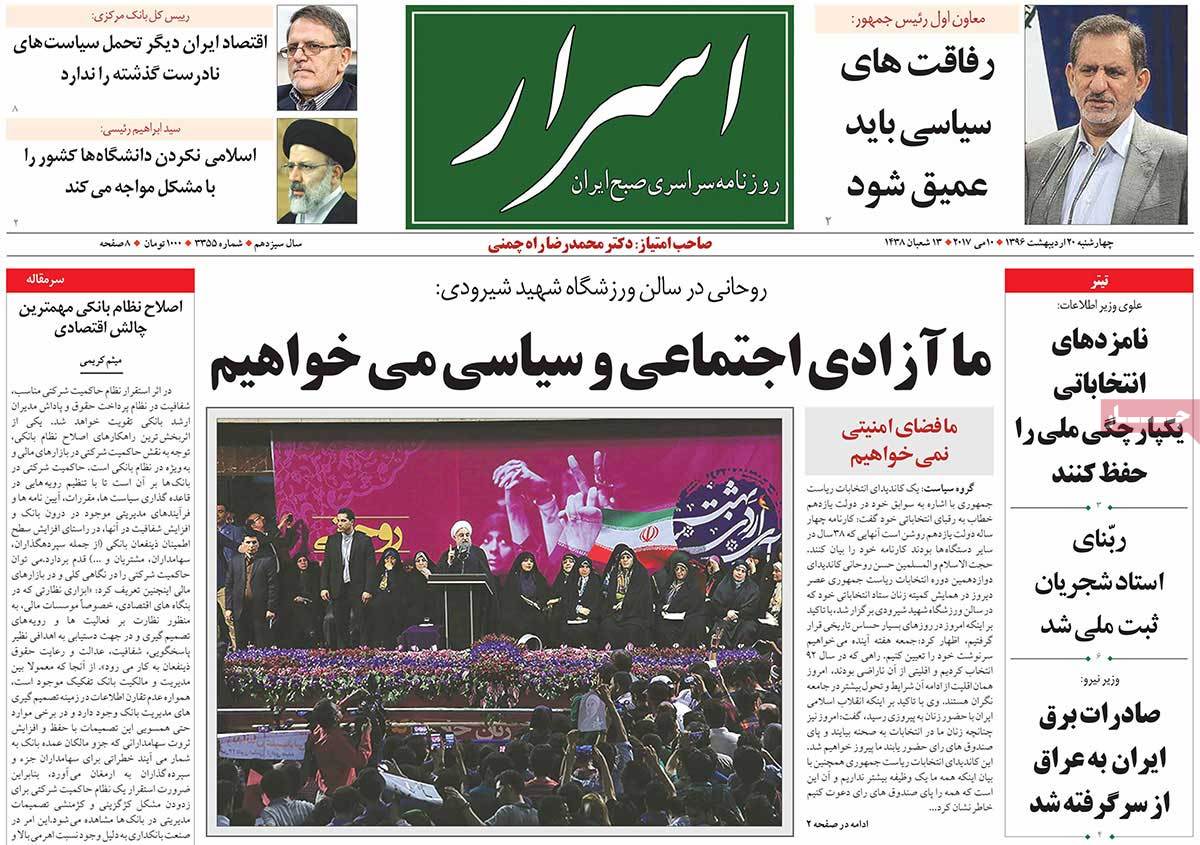 ---
Besharat-e Now:
1- Central Bank Governor: Tehran Municipality among Biggest Bank Debtors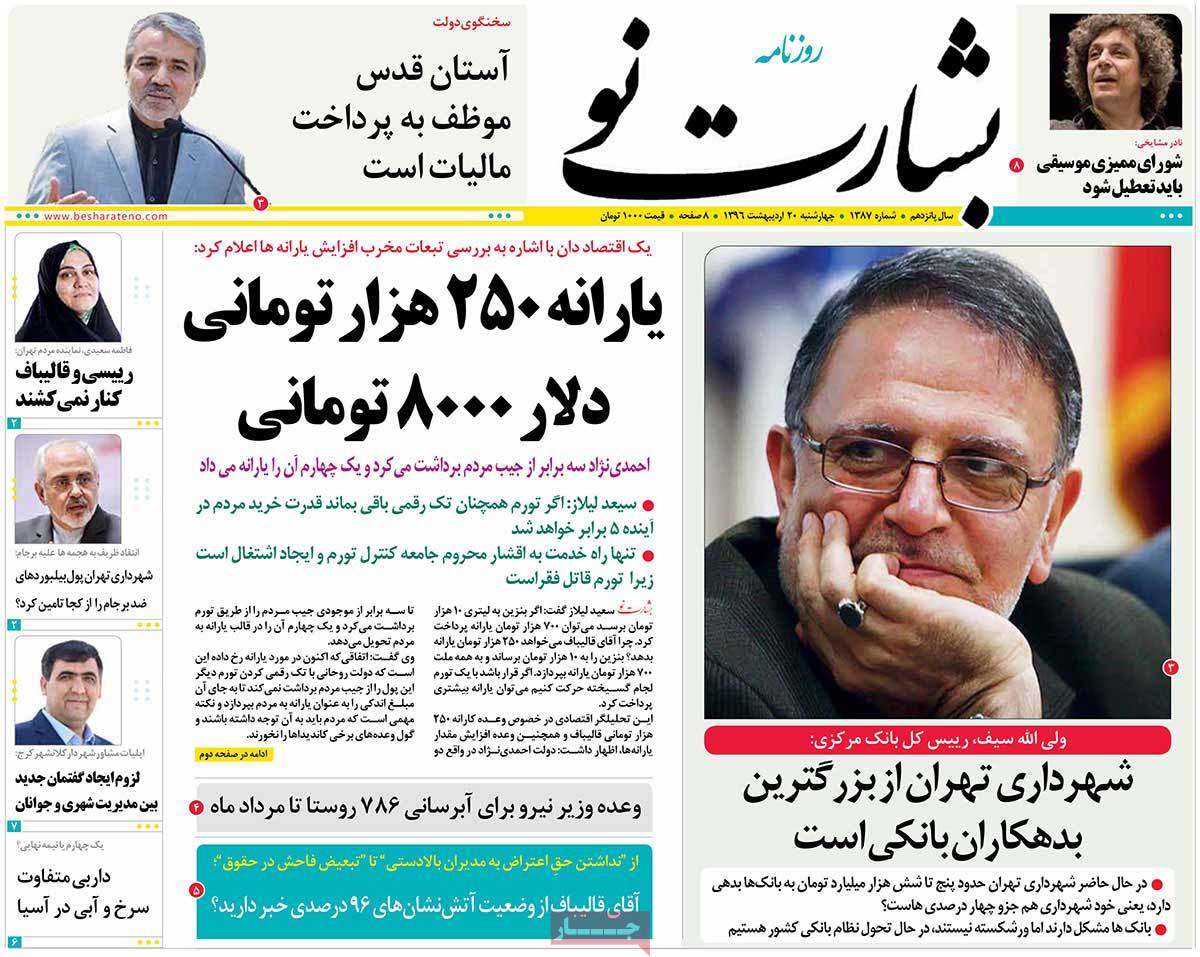 ---
Etemad:
1- Rouhani: We Don't Want Foundations Exempted from Paying Taxes
2- Qalibaf: I've Not Run for President to Withdraw at the End
3- Jahangiri Meets Top Sunni Cleric to Hear Their Demands
---
Ettela'at:
1- Iran Leader Urges Youths to Identify Right Path
2- Zarif: We Shouldn't Question Iran's Dignity in Short-Sighted Political Campaigns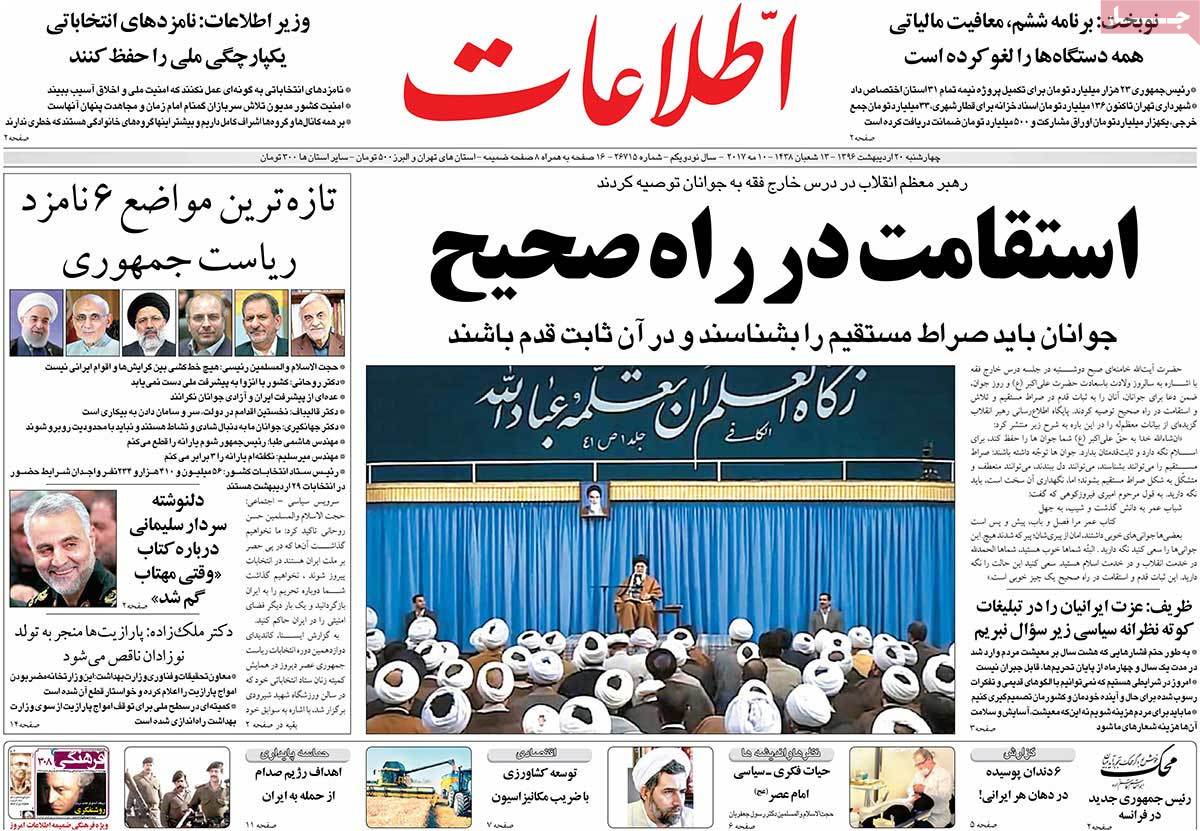 ---
Hemayat:
1- Implementation of UNESCO 2030 Document Stopped after Leader's Remarks: Official
2- Iran Mine Explosion's Death Toll Increased to 43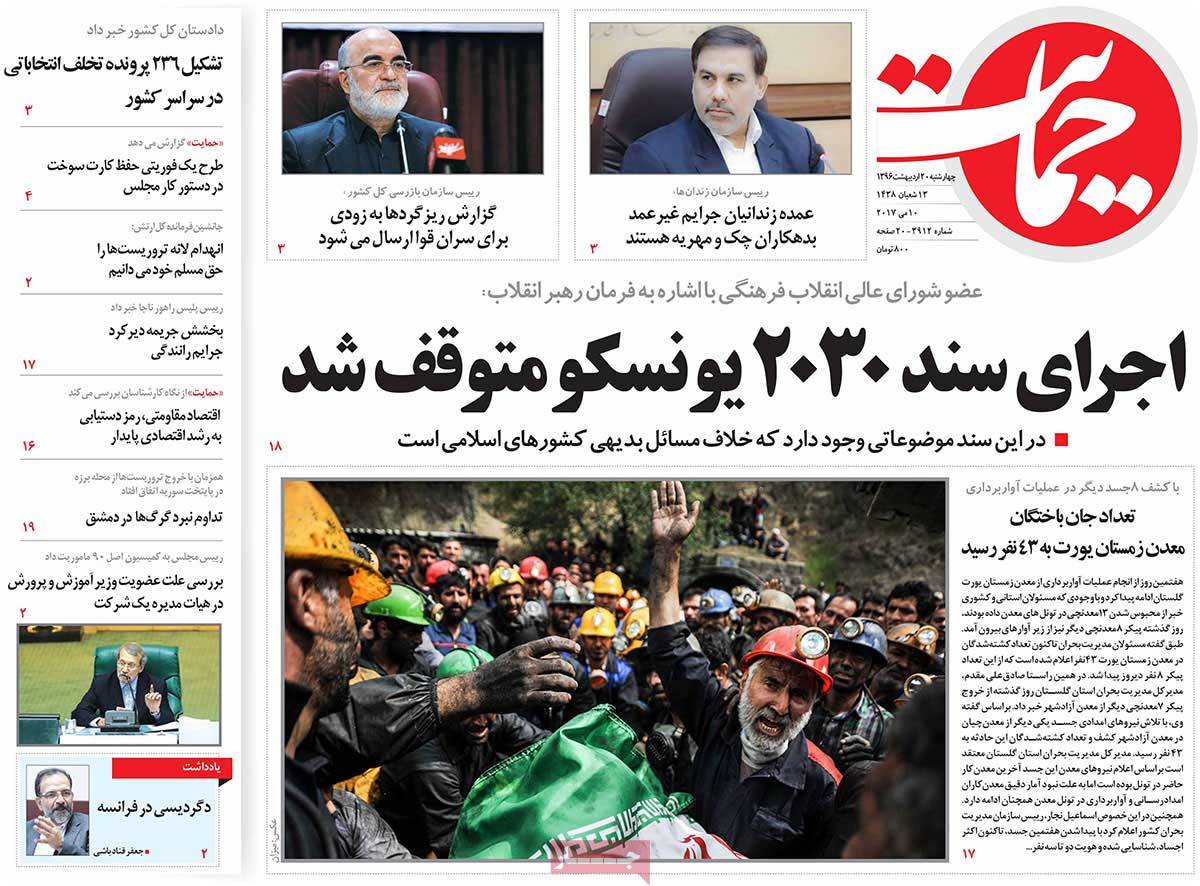 ---
Iran:
1- Astan Quds Has to Pay Tax: Government Spokesman
2- Official Warns against Robbery of People's Money for Fulfilling Campaign Promises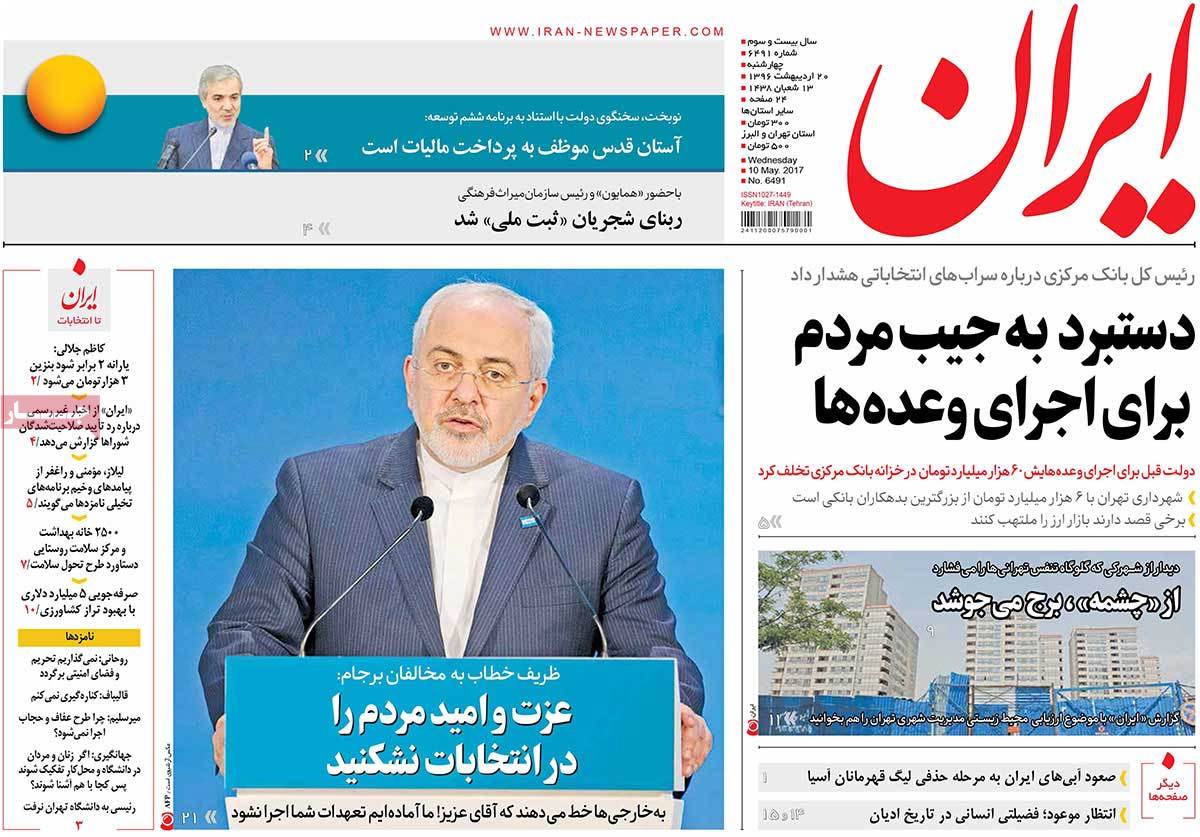 ---
Javan:
1- Gov't Approves Qalibaf's Promises on Employment!
While Rouhani kept criticizing Qalibaf's promises and called them impossible, he's now making the same vows by filtering the conservative candidate's website and running its own!
2- Iranian Juniors Crowned as Asia Volleyball Champions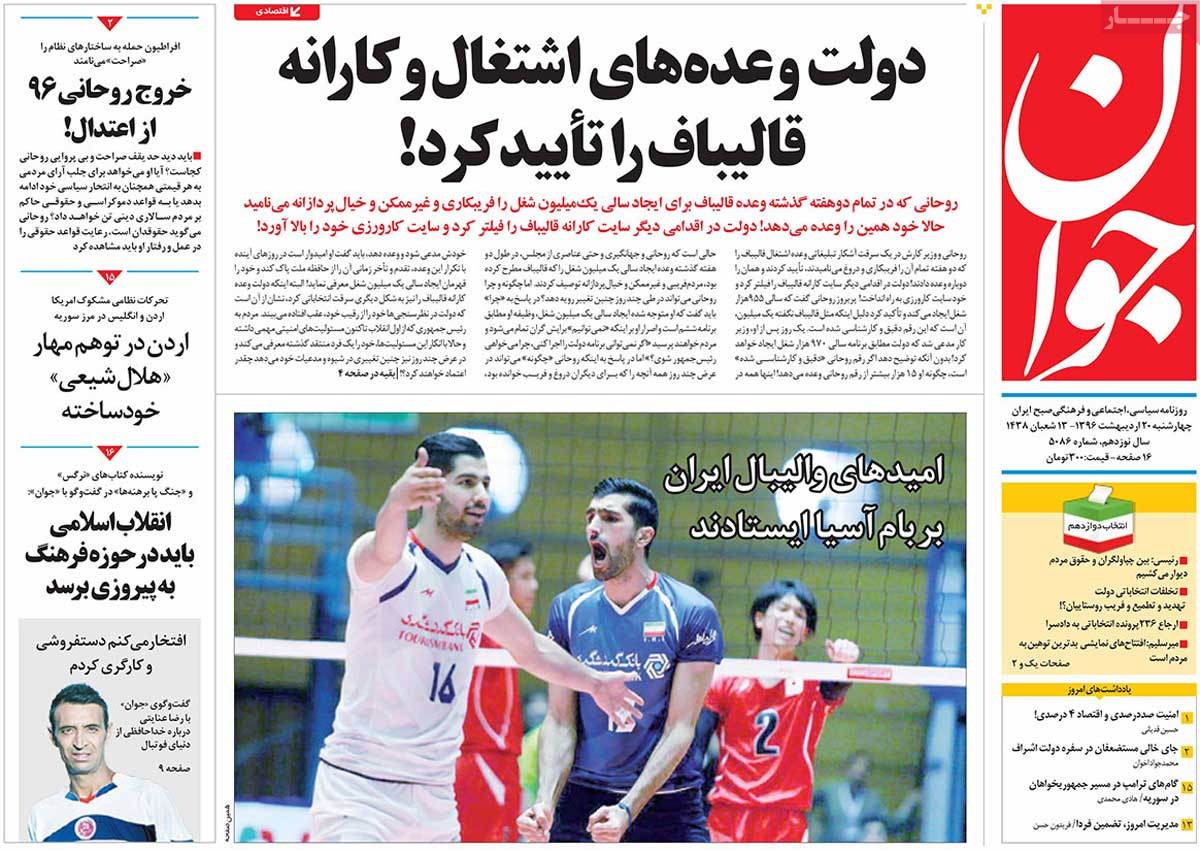 ---
Jomhouri Eslami:
1- Gov't Spokesman Urges Candidates to Declare Assets to Judiciary before 3rd Debate
---
Kayhan:
1- What's the Plot Hatched by Radicals' Operation Room for Rouhani?
2- They Don't Declare Their Wealth as They Can't Say from Where They've Earned It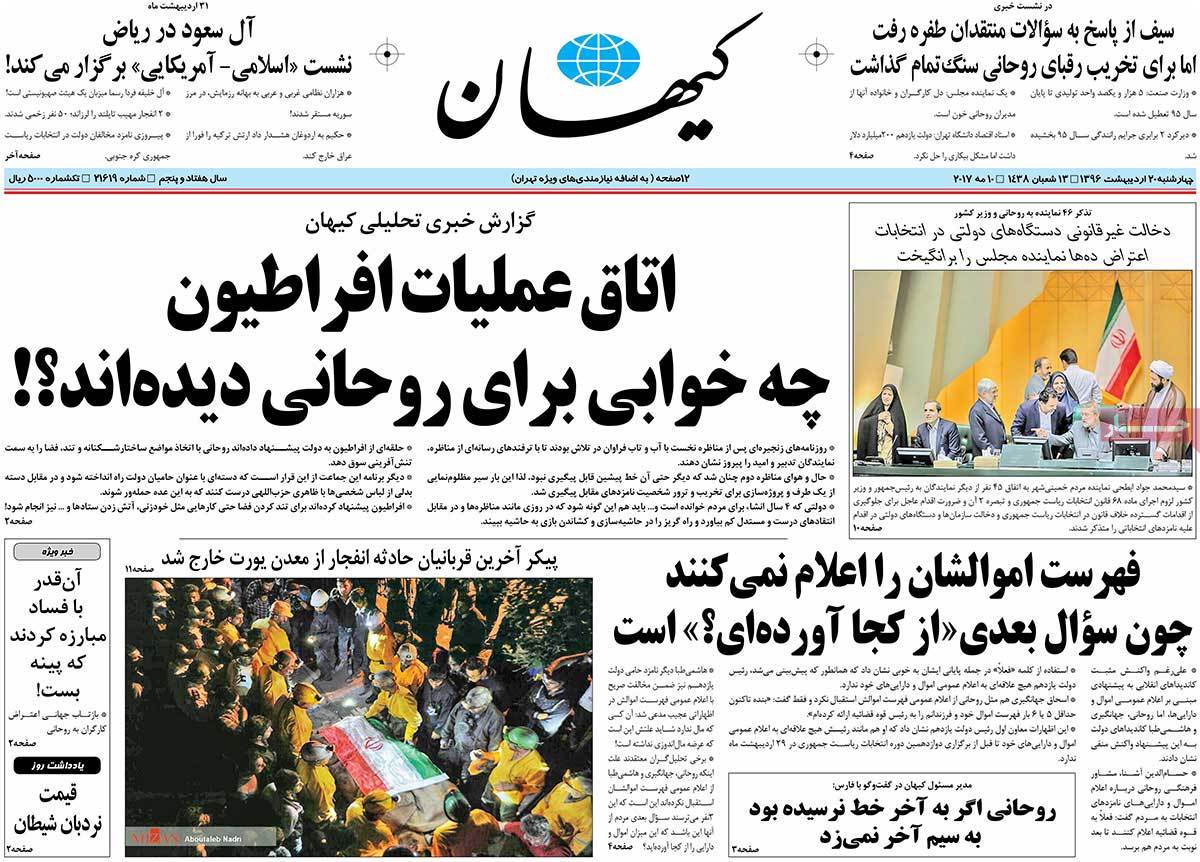 ---
Mardom Salari:
1- 56 Million Decisive Votes; 1.35 Million Youngsters Can Vote for First Time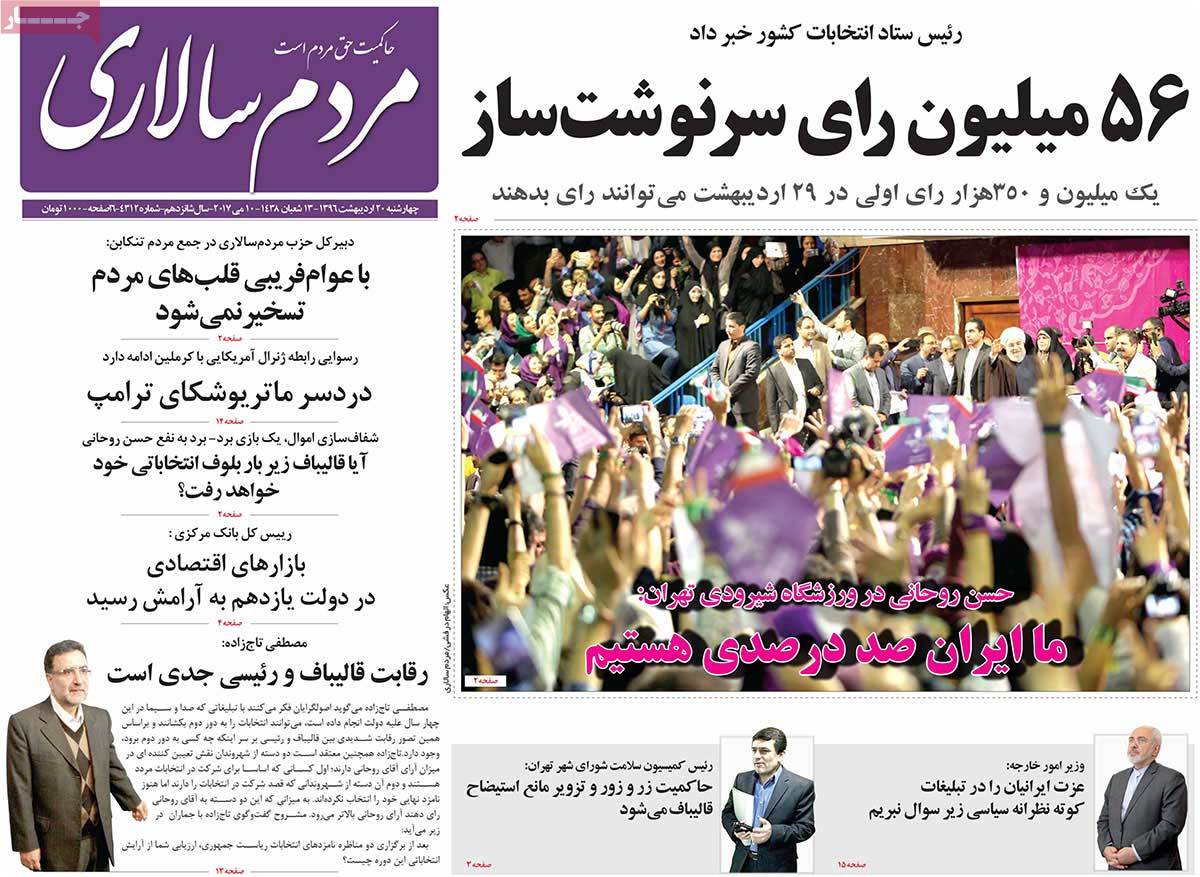 ---
Resalat:
1- Mirsalim: Gov't Wasted Opportunities by Currying Favour with US
2- Qalibaf: I'll Deal with Unemployment as First Priority
3- Raisi: Why Do You Evade Accountability?
4- Parliament Speaker: Education Minister's Membership in Commercial Firm Illegal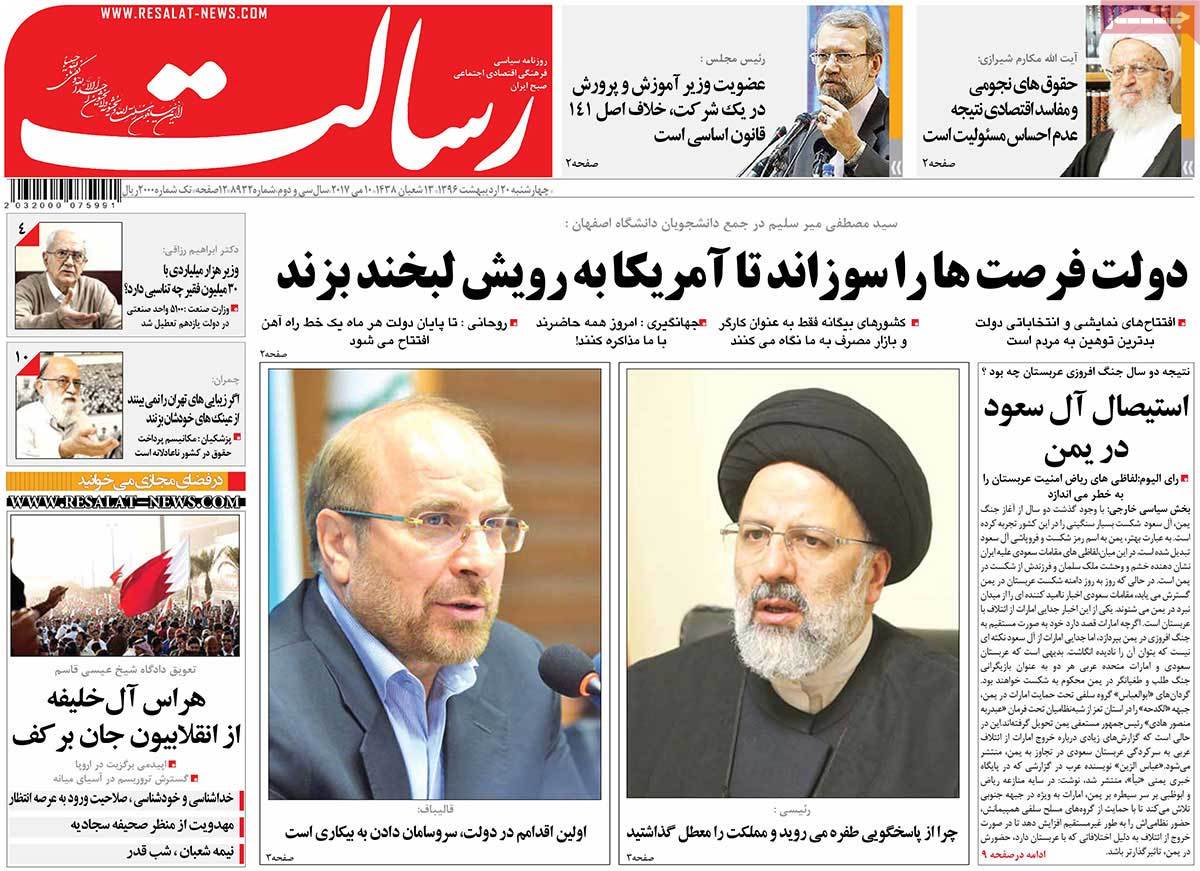 ---
Shargh:
1- Jahangiri: They've Thoroughly Searched My Background for Flaws
2- Zarif Reveals Secrets of Psychological War against Nuclear Negotiating Team
3- Rouhani Meets Women Supporters: I Won't Accept Gender Discrimination
---
Vaghaye Ettefaghieh:
1- Zarif: Diplomacy Isn't Where Candidates Can Invest for a Few Days
2- Jahangiri: We Resolved One of Most Complicated Cases in World through Dialogue