All newspapers today covered the remarks made by the Leader of Iran's Islamic Revolution Ayatollah Seyyed Ali Khamenei in a meeting with a group of workers ahead of Int'l Workers Day.
The Leader rejected the idea that an Iranian administration has averted a war on Iran, and stressed that it was the Iranian people's turnout that removed the spectre of war, not a particular government.
They also covered the inauguration of Persian Gulf Star refinery in southern Iran, which will make the country self-sufficient in petrol production once completely developed.
President Rouhani, who launched the refinery in the port city of Bandar Abbas, said it is a result of the nuclear deal between Tehran and world powers.
The above issues, as well as many more, are highlighted in the following headlines and top stories:
19 Dey:
1- Iran Leader: Whoever Likes His Country Should Cast Ballot
2- Newly-Formed Moderate Conservatives Front to Support Rouhani
---
Abrar:
1- ISIS Chemical Attack on Mosul Foiled
2- Trump: Nuclear Deal with Iran Not in US Interests
---
Aftab-e Yazd:
1- Iran Leader Urges Candidates to Promise They'll Support Poorer Classes
2- Conservative Candidate's Imitation of Wall Street Movement Puts Him in Trouble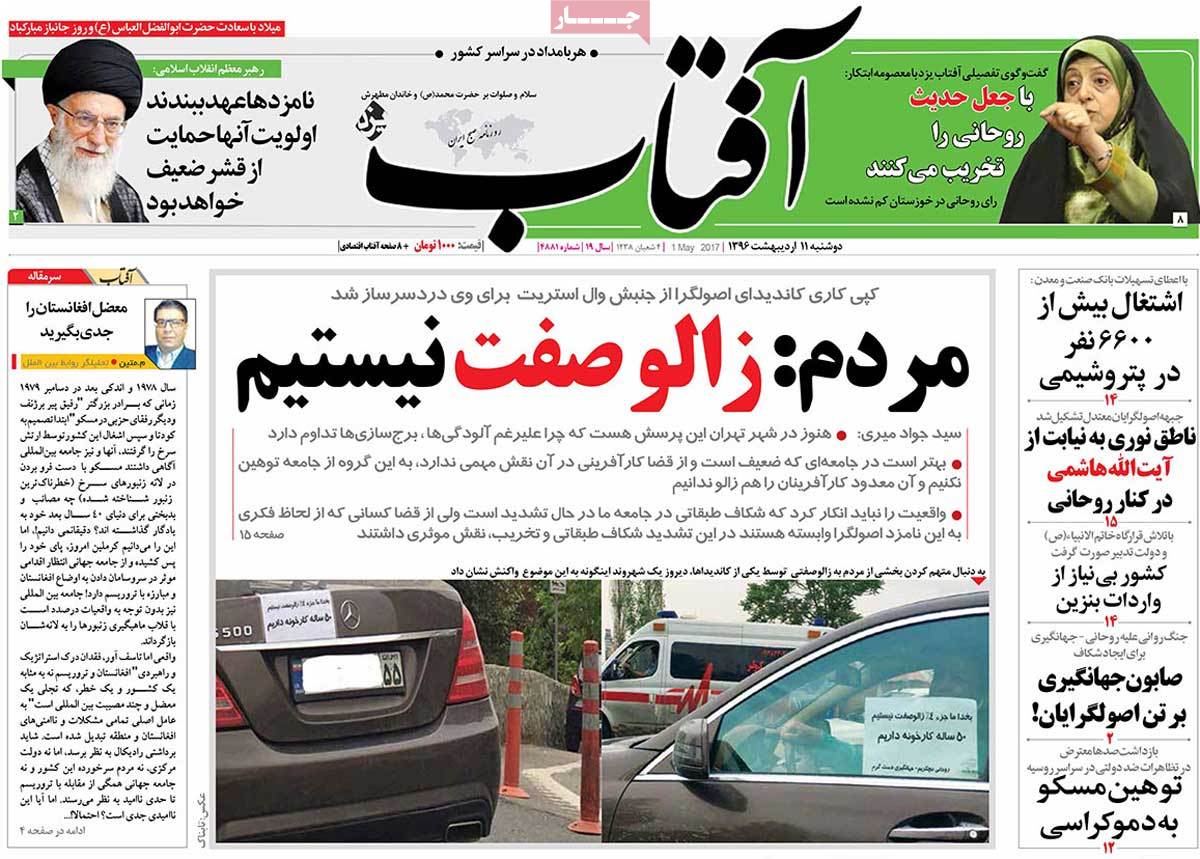 ---
Arman-e Emrooz:
1- Ayatollah Khamenei: Elections to Ensure National Security
2- Rouhani Files Complaint against Accusations Raised in First Debate
---
Asrar:
1- President: Some Don't Know Rules of Electoral Competition
2- Oil Minister: Iran Ready to Accompany OPEC in Extension of Oil Cut Deal
3- Judiciary Spokesman: Some Individuals in Presidential Campaigns Cross Red Lines
4- Book of Ayatollah Rafsanjani's Memoirs Unveiled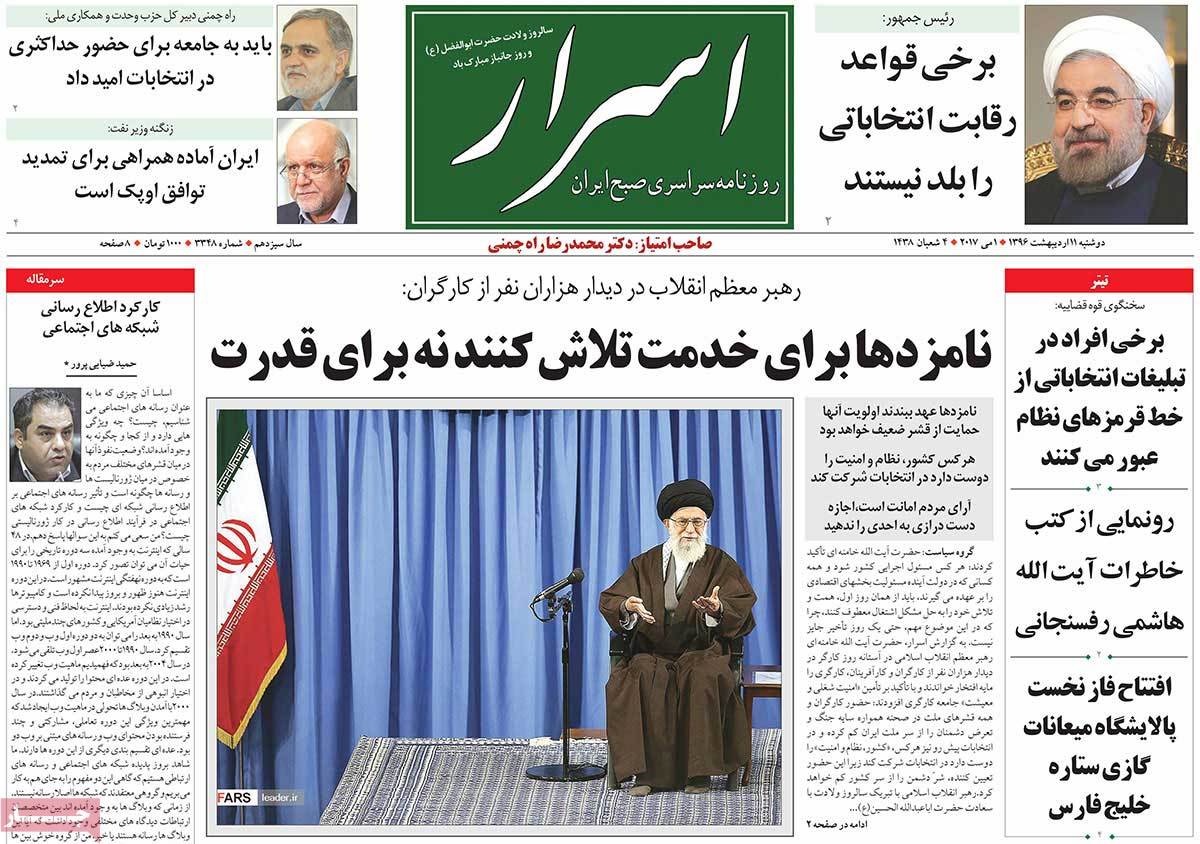 ---
Ettela'at:
1- Iran Leader: People's Turnout in Election to Ensure National Security
2- Persian Gulf Star Refinery Launched by President Rouhani
---
Iran:
1- 36-Year Dream of Self-Sufficiency in Petroleum Production Comes True
2- Rouhani: Come to Persian Gulf Star Refinery to See Results of JCPOA
3- A Report on Revival of Iran's Int'l Relations after Nuclear Deal
JCPOA Returned Foreign Banks to Iran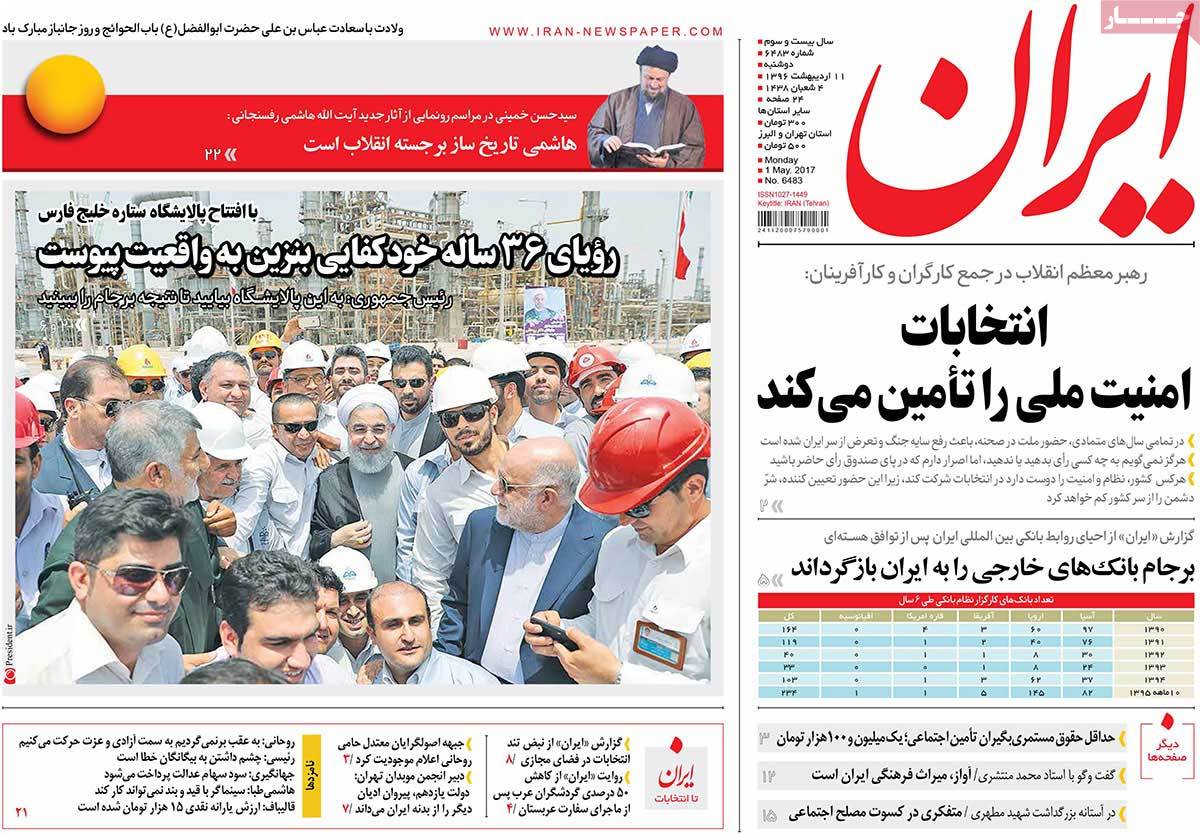 ---
Javan:
1- Iran Leader: People's Presence Removed Spectre of War, Not Officials
2- Judiciary Spokesman: Astronomical Salaries Don't Belong to Previous Gov't
---
Jomhouri Eslami:
1- Iran Leader: I Never Say Who People Should or Shouldn't Pick; Just Cast Your Ballots
2- Over 140% Increase in Iran's Oil, Gas Condensate Exports
3- Hashemi-Taba: Nuclear Deal is a Victory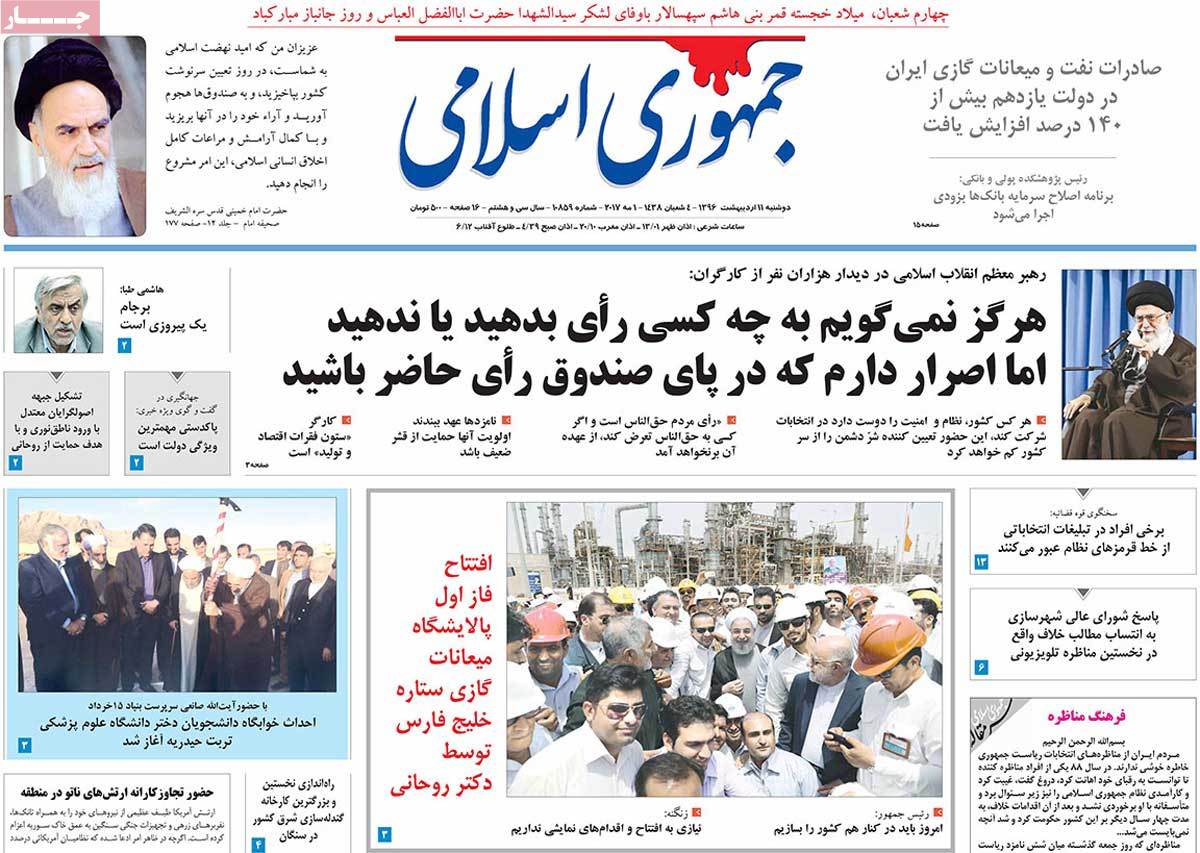 ---
Kayhan:
1- Trump after 100 Days: I've Fulfilled All My Promises!
2- Despite What Rouhani's Gov't Claims, Exemplary Factory is Shut Down after 40 Years
---
Resalat:
1- Trump: American Media Should Be Laid to Rest
2- Mirsalim: Corruption Should Be Eradicated by Gov't
3- Qalibaf: I'll Increase Amount of Monthly Cash Handouts [from $12] to $40
4- Iran Faced with Great Challenges: Jahangiri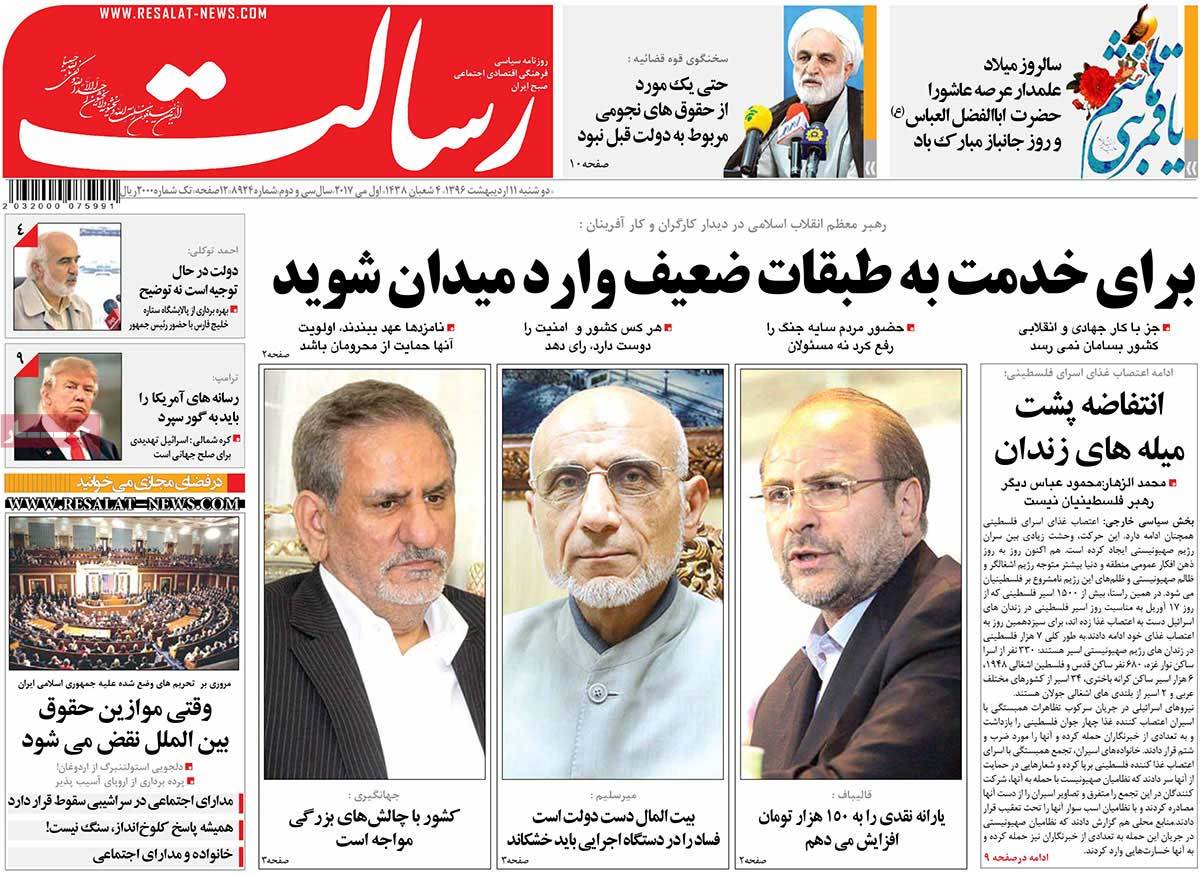 ---
Vaghaye Ettefaghieh:
1- Judiciary Spokesman: You Can't Rely on Claims Made by Babak Zanjani
[The imprisoned billionaire had claimed that he has helped Rouhani's campaign in 2013, and this was used as a pretext by Qalibaf to attack Rouhani's administration in Friday's presidential debate]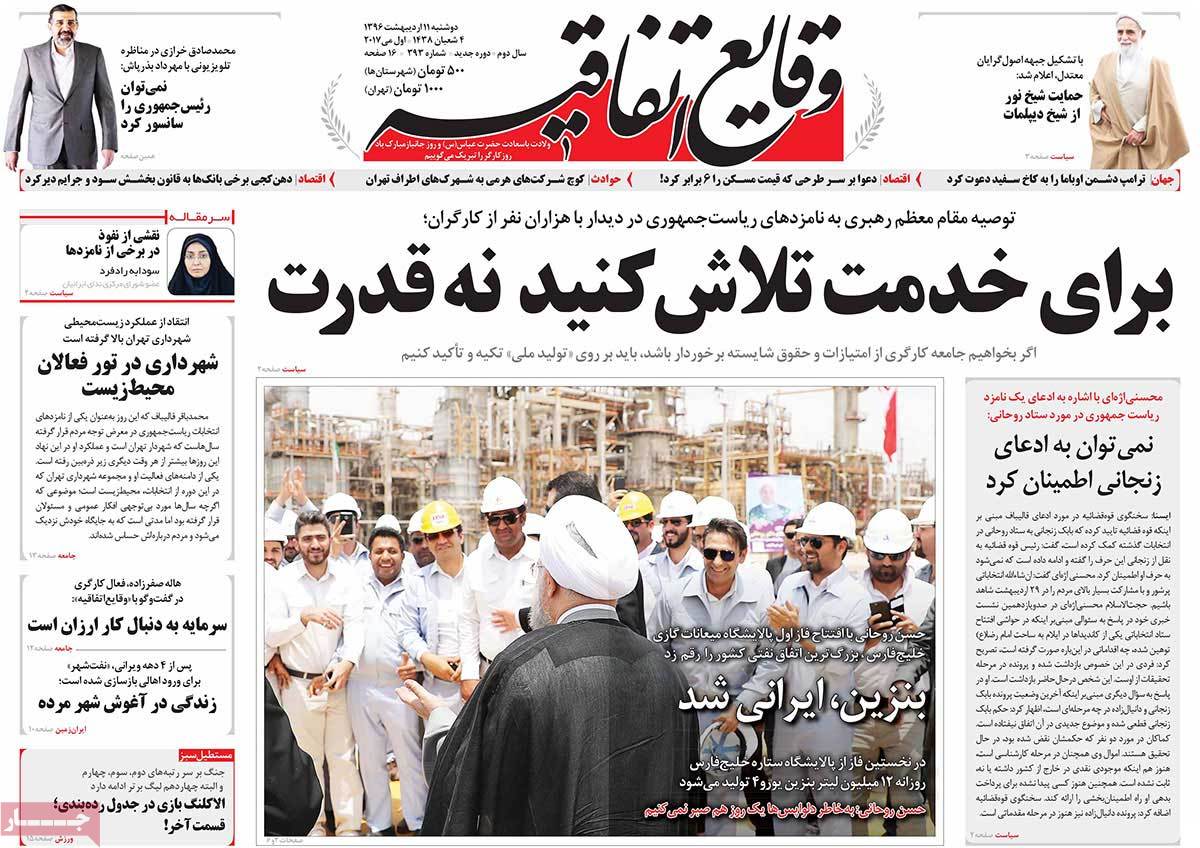 ---
Vatan-e Emrooz:
1- Iran Leader: Only Way out of Current Situation is Hard, Revolutionary Works