The top story today was the remarks made by the Leader of Iran's Islamic Revolution Ayatollah Seyyed Ali Khamenei after planting a couple of seedlings on Week of Natural Resources. The Leader underlined the significance of protecting the country's forests, and also praised Iranian fruits, calling on the government to stop importing fruits unless in necessary cases.
President Hassan Rouhani's remarks in northeastern Iranian city of Mashhad also received great coverage. Rouhani talked about the importance of resolve and faith in dealing with foreign threats.
A Luxembourg court ruling to seize Iran's assets was also a top story today. Some sources say the court has rejected the US court ruling to seize Iranian assets in the European country.
The above issues, as well as many more, are highlighted in the following headlines and top stories:
Abrar:
1- Guardian Council Once Again Rejects Parliament's Bill on Salaries
2- Central Bank: Luxembourg Court Rejects US Seizure of Iran Assets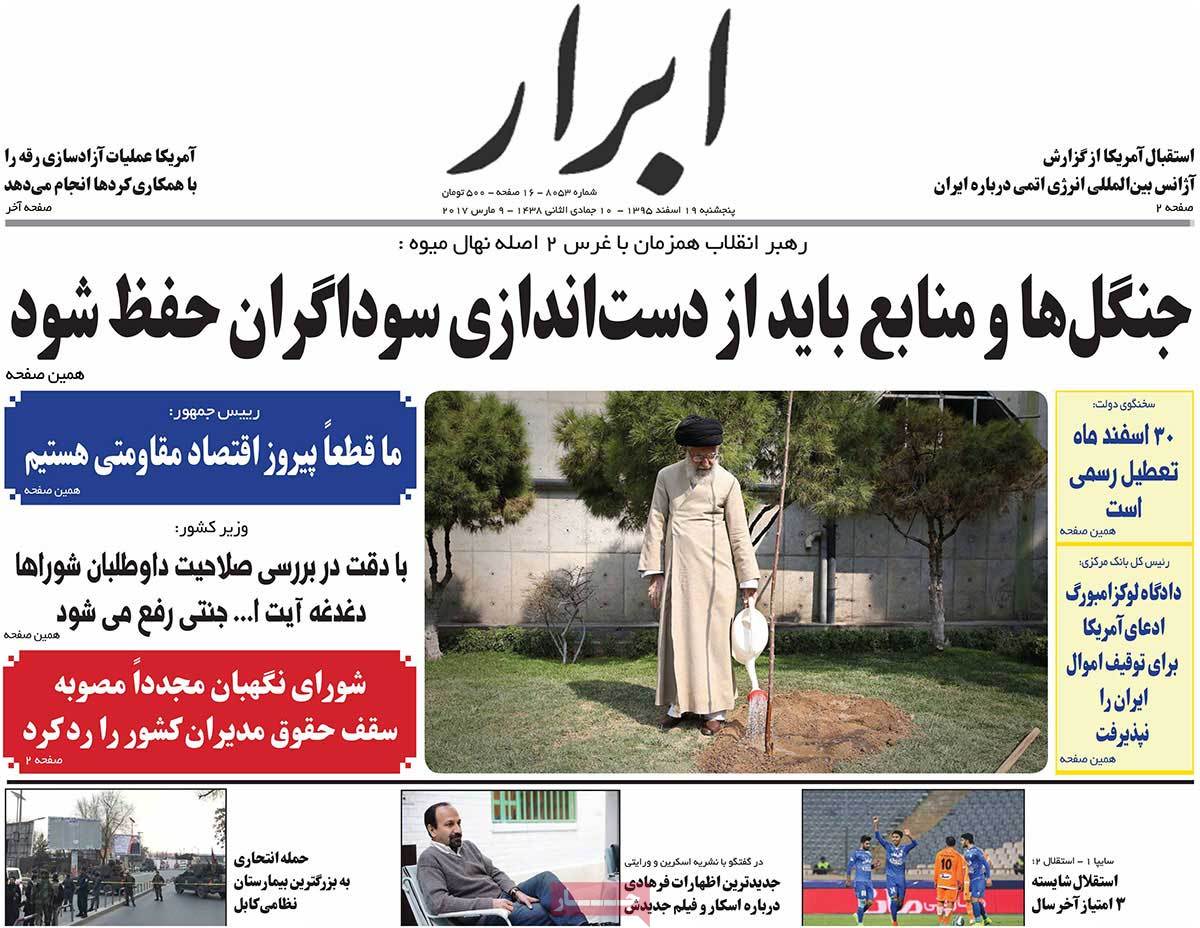 ---
Afkar:
1- New Condition for Registering Marriage: Passing Courses on Choosing Spouse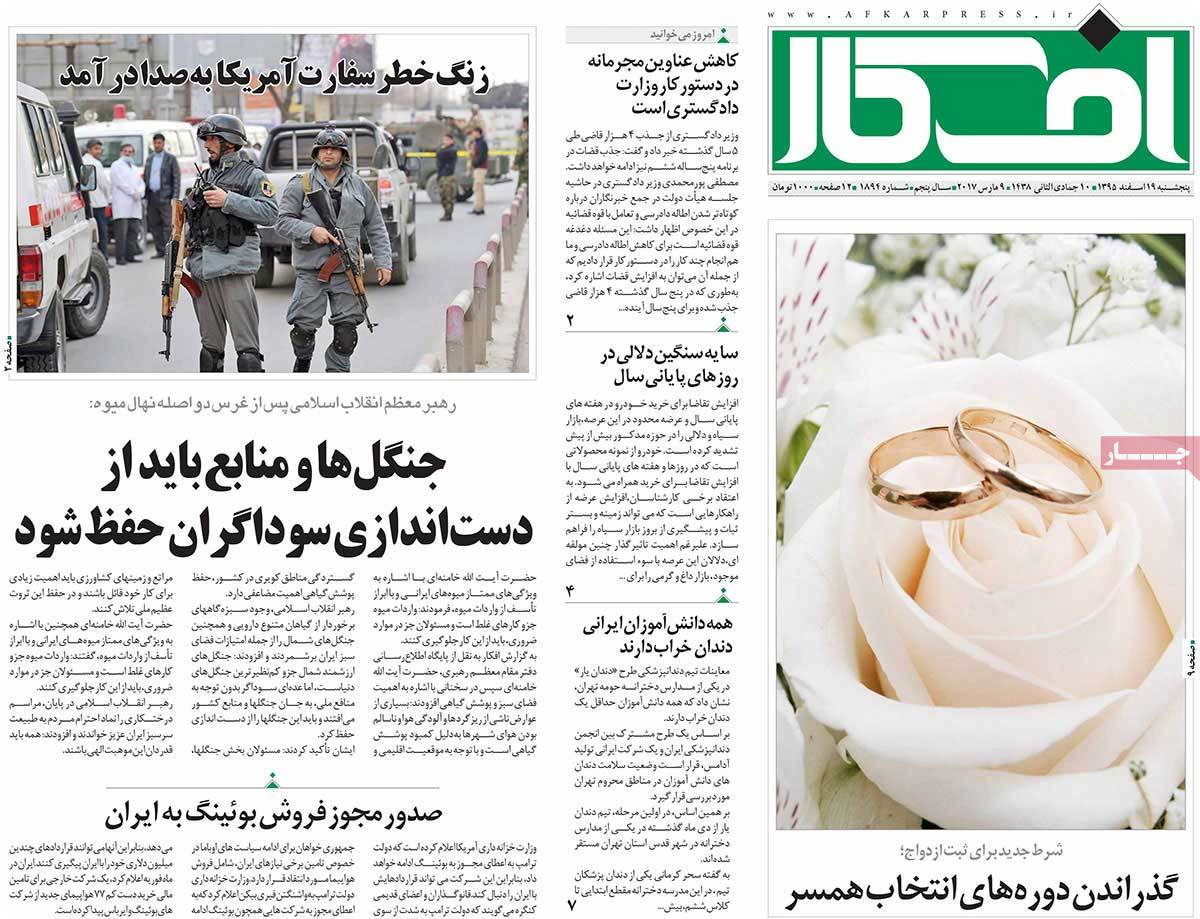 ---
Aftab-e Yazd:
1- Iran's Leader: Forests, Resources Should Be Protected against Smugglers
2- Seven Goofs by Ahmadinejad
In the past ten days, former Iranian president Mahmoud Ahmadinejad has sparked controversy as he started a new phase of campaigning for his friend Hamid Baqaei, who will run for presidency. Ahmadinejad sent a letter to Trump's closed Twitter account, copied Obama's bio in his Twitter account, spoke English in the special way his friends do, posted odd tweet for Chavez, planted a tree sapling along with its metal box, and his letter to Trump was delivered to the security guard of Swiss embassy!
3- Hamid Baqaei: I'm Proud I Don't Even Drink a Glass of Water without Ahmadinejad's Permission!
---
Arman-e Emrooz:
1- President: We're under Sanctions in Many Cases Except for Nuclear Energy
2- We're Not Mailmen: Swiss Embassy after receiving Ahmadinejad's letter to Trump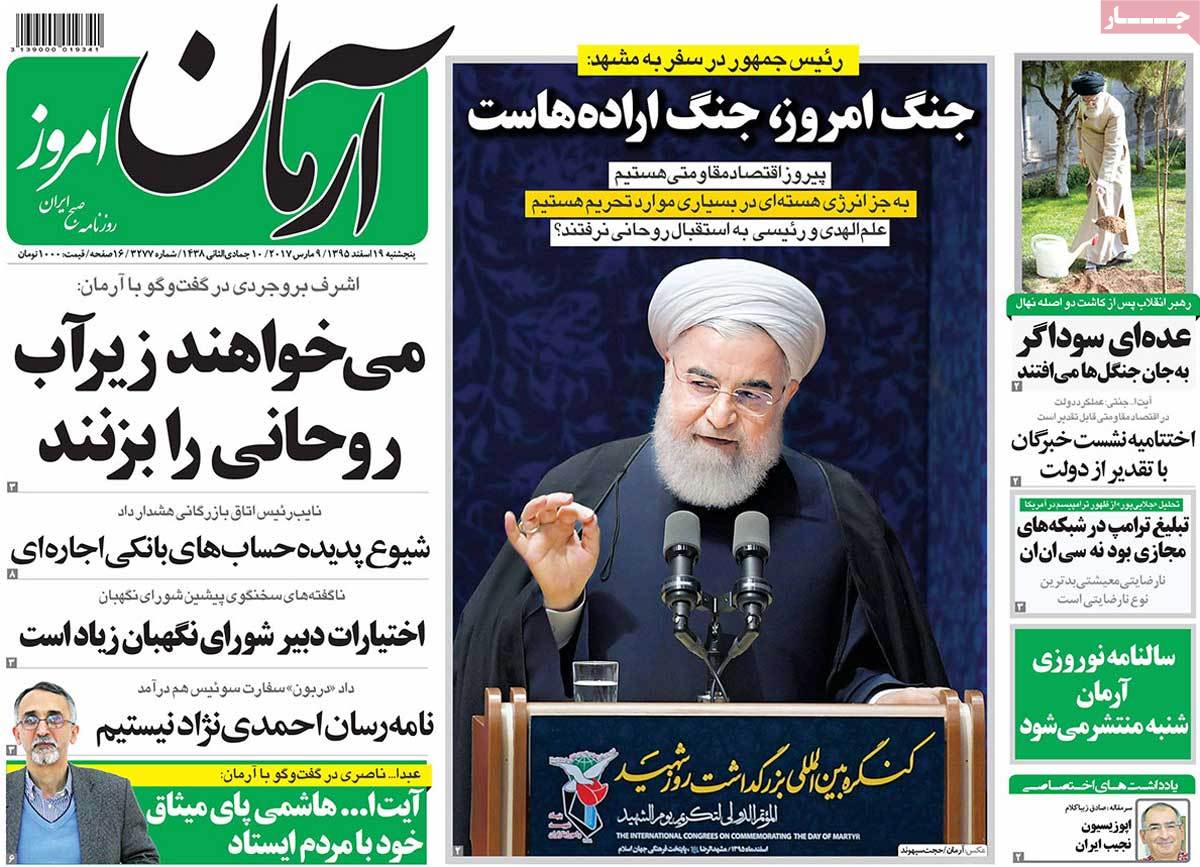 ---
Etemad:
1- Farhadi: Javier Bardem, Penelope Cruz to Appear in My New Film
2- Ahmadinejad's Gov't is to Blame for Luxembourg's Seizure of Iran Assets: Minister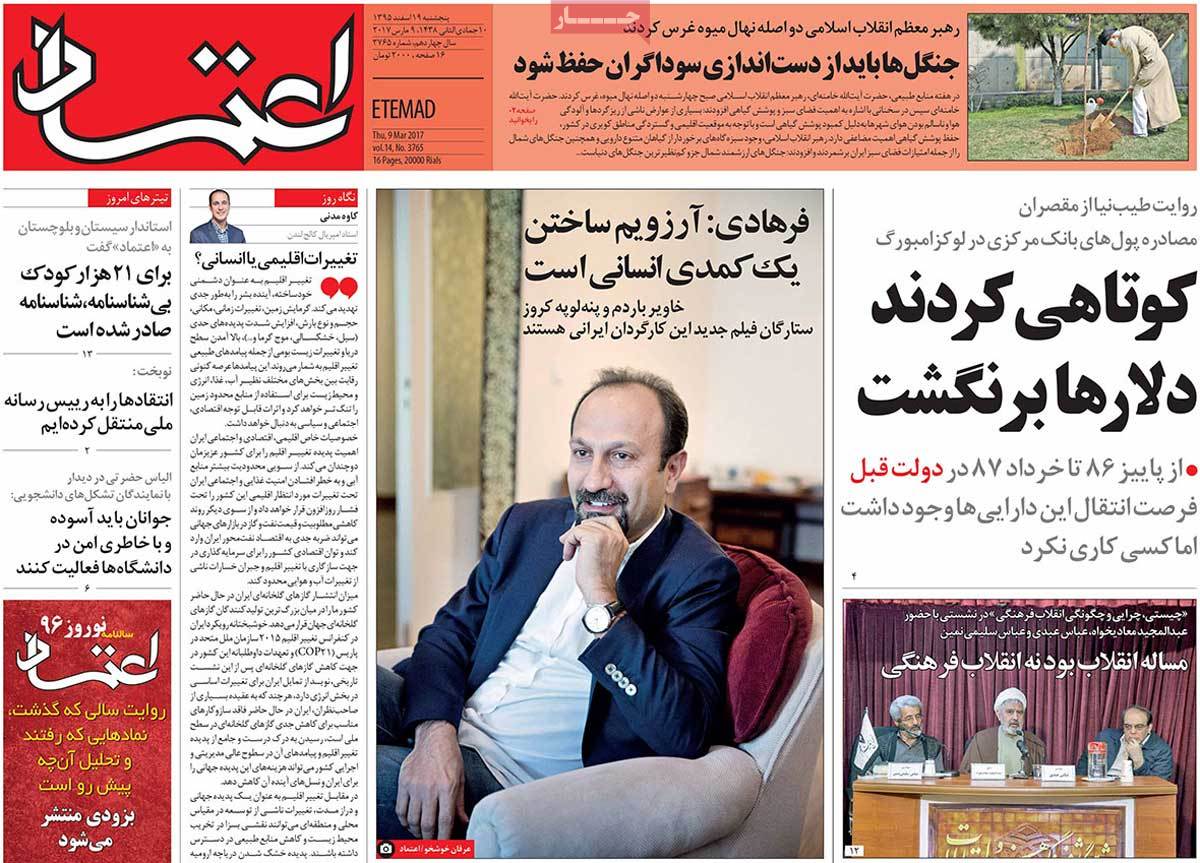 ---
Ettela'at:
1- Leader: A Bunch of Smugglers Are Exploiting Iranian Forests
2- Culture Minister: Cyberspace Is No Place for Orders and Force
3- President Rouhani: Enemies' Fear of Our Resolve More than That of Our Missiles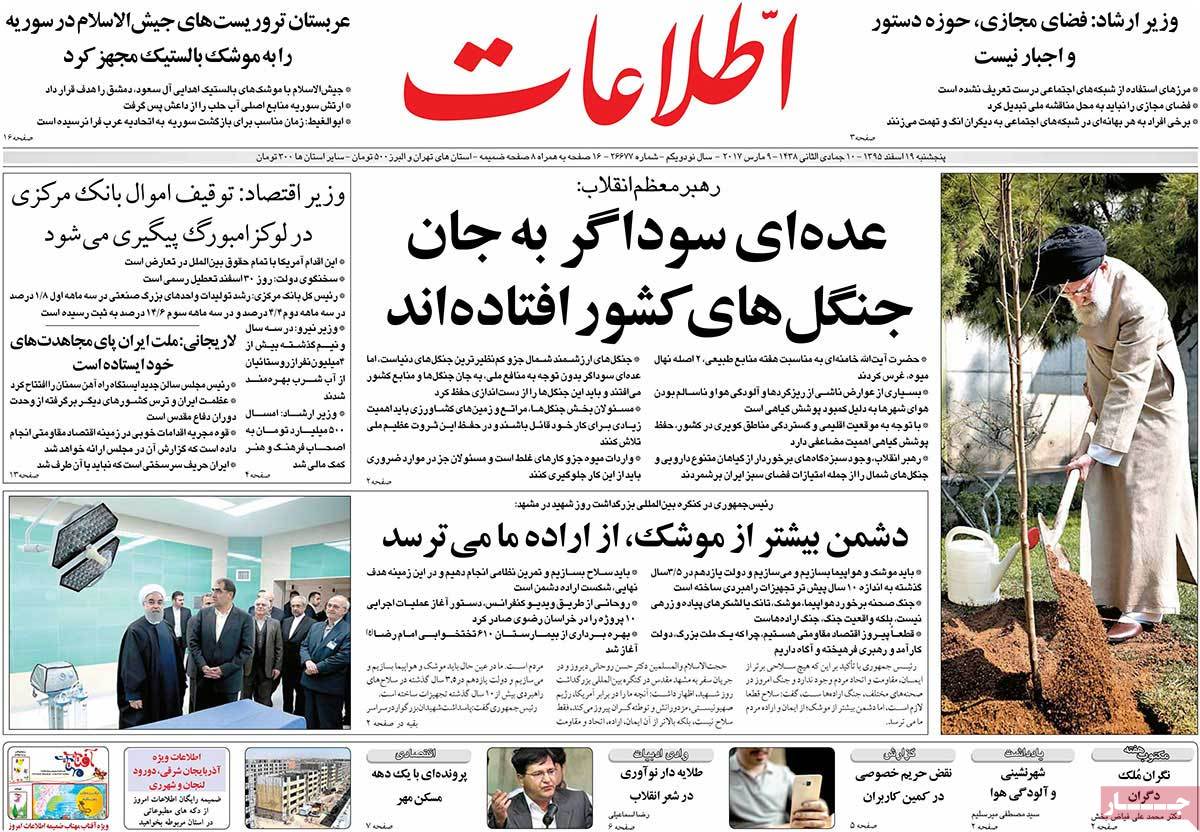 ---
Iran:
1- Culture Minister: We Won't Give in to Local Tastes
2- Senior Politician Advises Conservatives Not to Use Opposition to JCPOA as Main Slogan
---
Javan:
1- Iran's Leader: It's Wrong to Import Fruits
2- Government's Economic Aide: We're Practically Not Receiving Taxes from the Rich
3- Voluntary Forces Can Resolve Issue of Dust Pollution If Gov't Lets Them to: IRGC General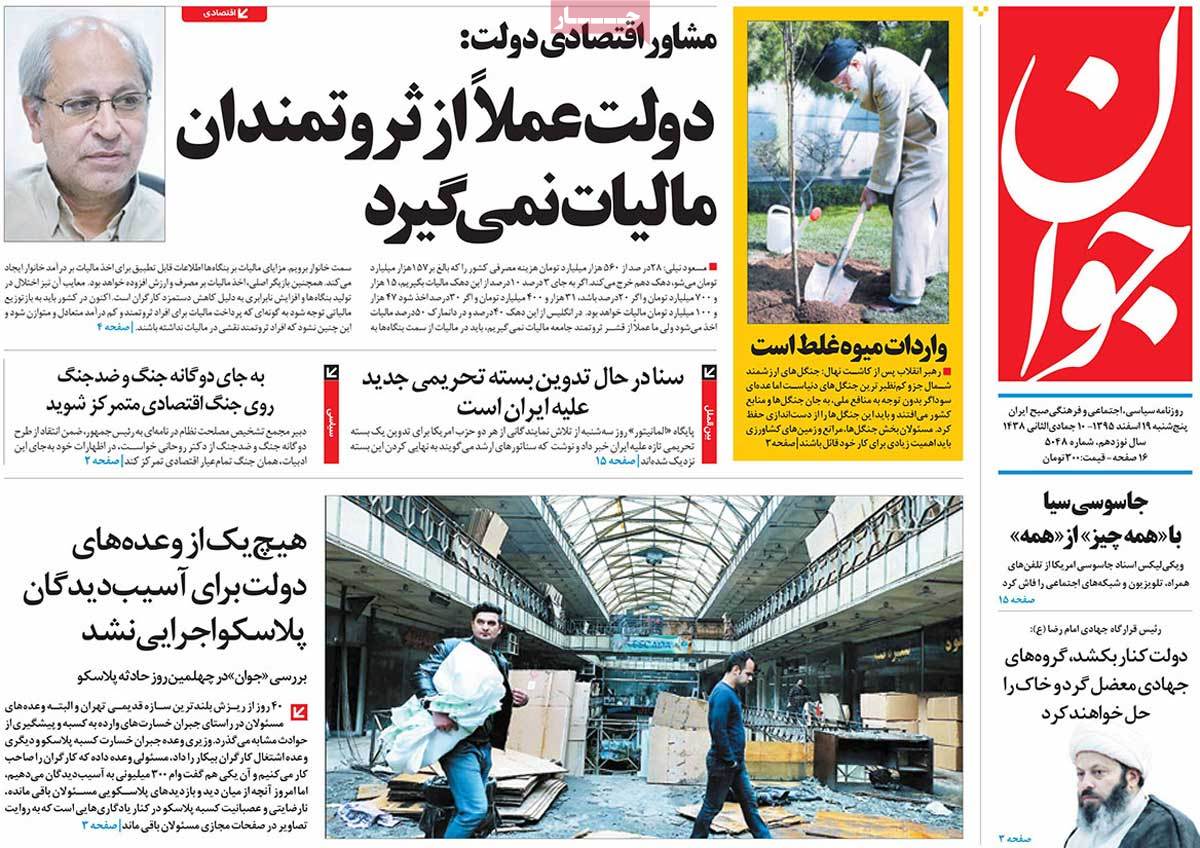 ---
Jomhouri Eslami:
1- President: Resolve, Faith, Unity Are Most Efficient Weapons against Threats
2- Most Complicated Phase of Operation to Liberate Mosul Kicked Off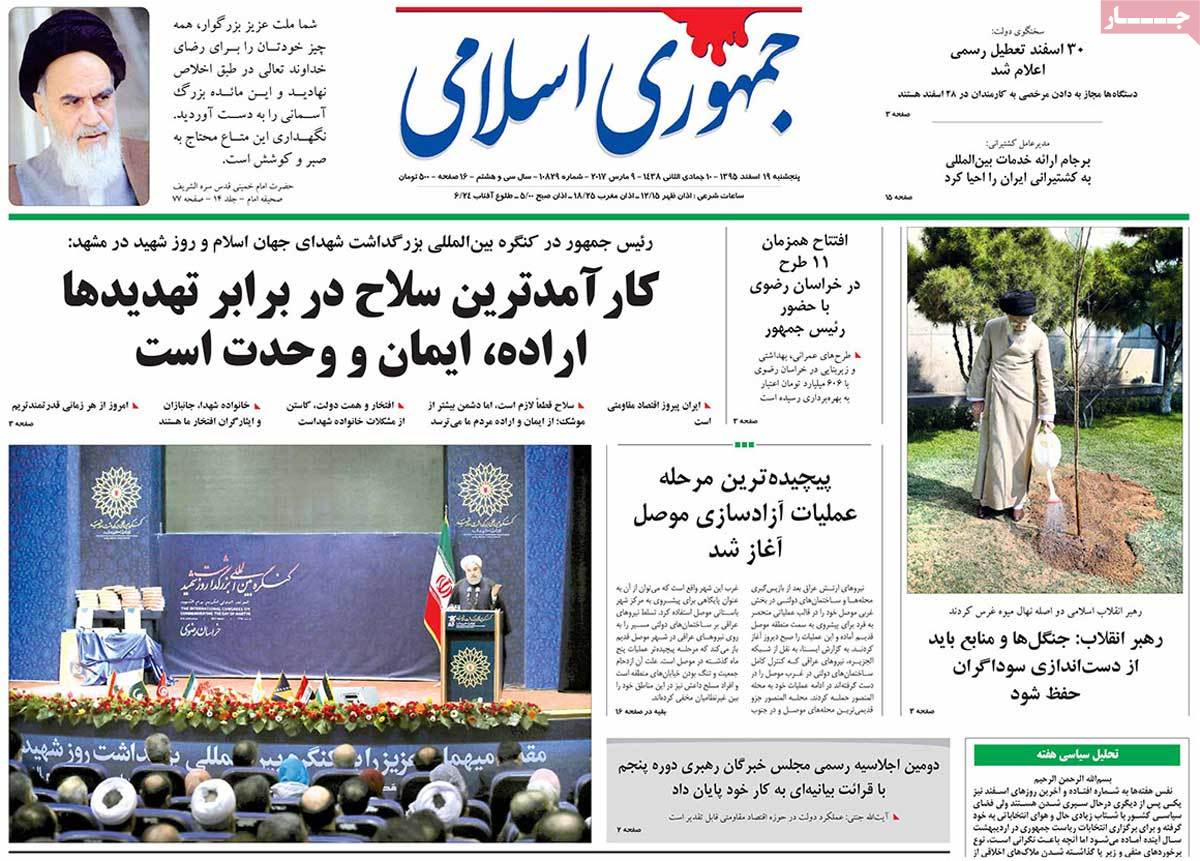 ---
Kayhan:
1- Iran's Leader Urges Gov't to Prevent Import of Fruits Unless in Necessary Cases
2- Iran's Loyal Friends All over the World Ready to Sacrifice Lives to Counter US: Bloomberg
3- From Fact Sheet to Luxembourg Case: Government's Secrecy, Westerners' Disclosure!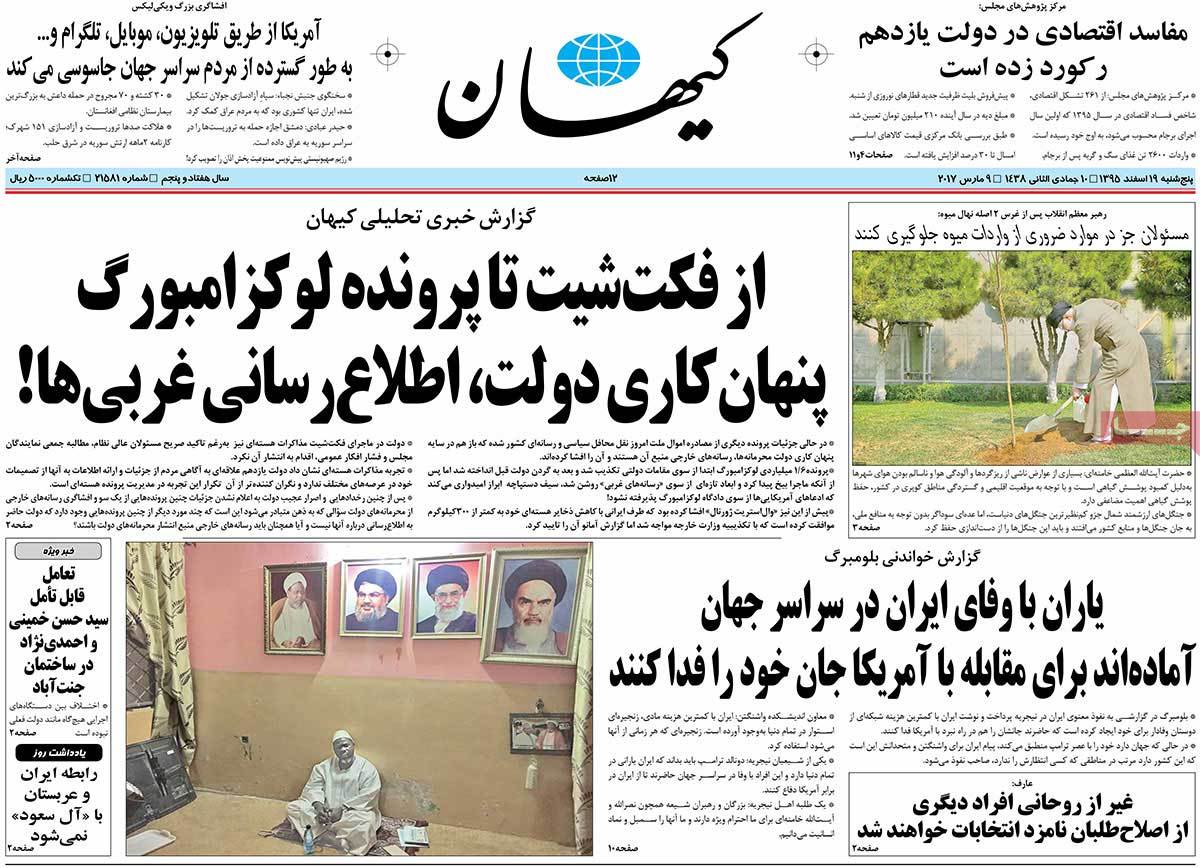 ---
Resalat:
1- Ayatollah Khamenei: Dust Pollution Caused by Lack of Vegetation
2- Ayatollah Jannati Slams Gov't for Spending a Fortune on a Ceremony
3- Whoever Wants to Turn Iran into a Supermarket Shouldn't Become President: Javad Larijani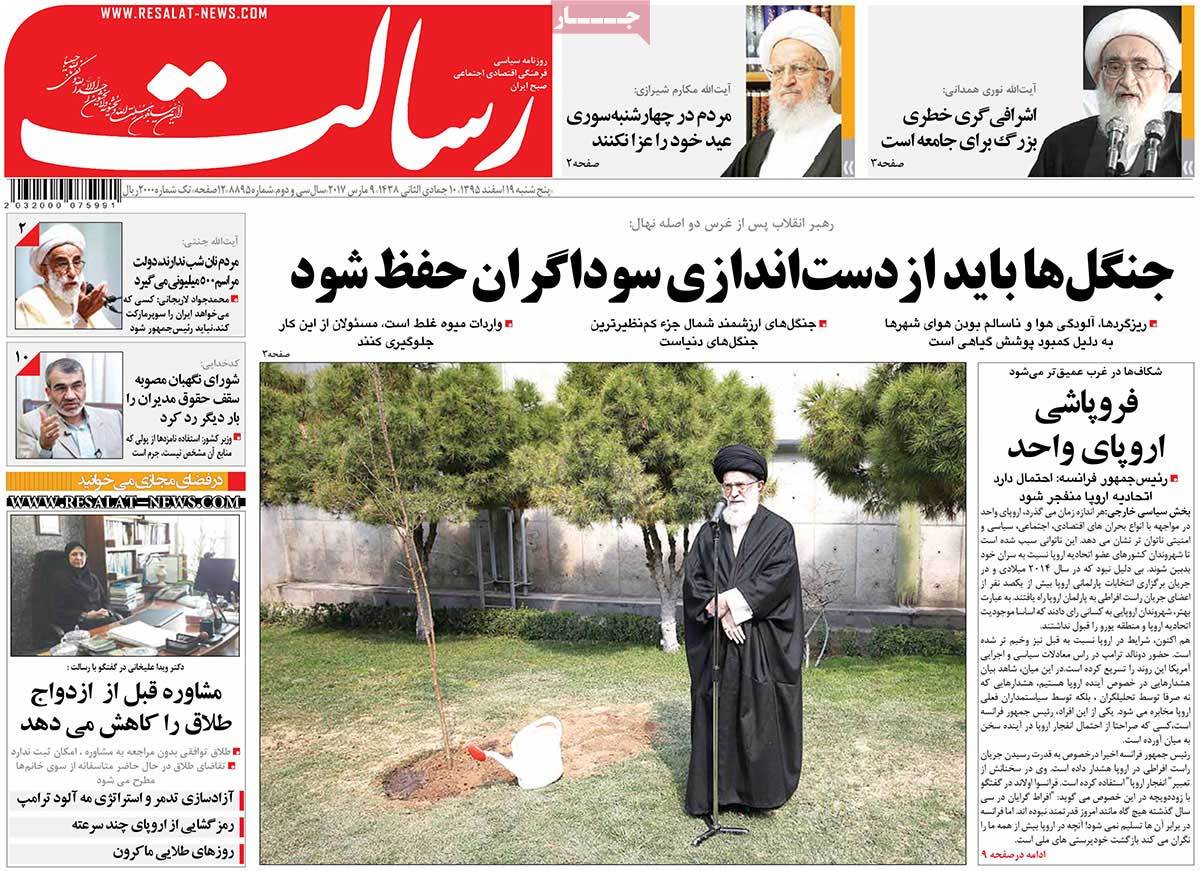 ---
Seda-ye Eslahat:
1- Intelligence Minister: It's Religiously Valuable for Us that Religious Minorities Are Happy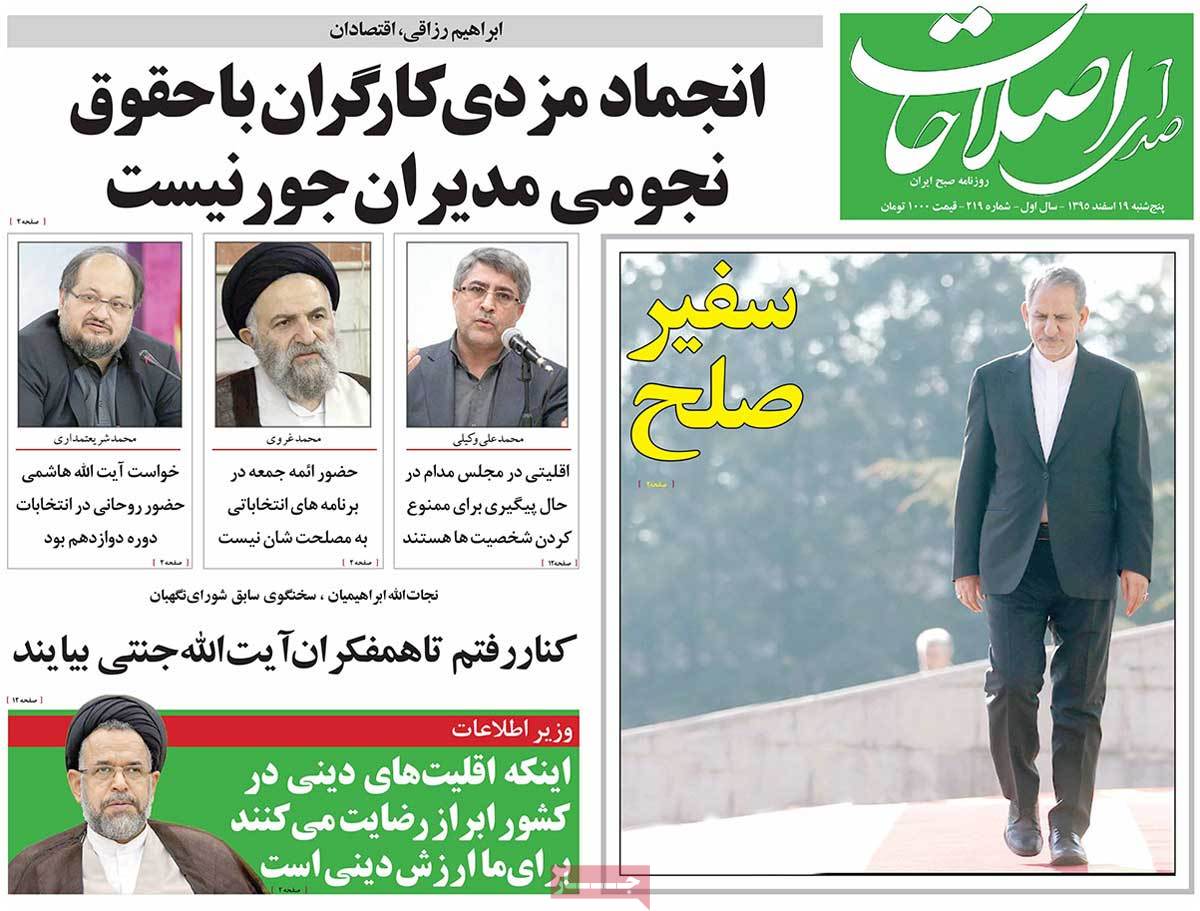 ---
Vatan-e Emrooz:
1- CIA Theatre! WikiLeaks starts disclosing biggest case of history about horrible US spying on people all around the world