The top story today was the remarks made by Ayatollah Seyyed Ali Khamenei, the Leader of Iran's Islamic Revolution, about showing weakness to enemies and its impacts on pressures against the country.
The new version of the executive order signed by US President Donald Trump also received great coverage. The new travel ban has excluded Iraq, but Iran is still on the blacklist.
The above issues, as well as many more, are highlighted in the following headlines and top stories:
19 Dey:
1- Iran's Leader: Cultural Plots More Dangerous than Military Threats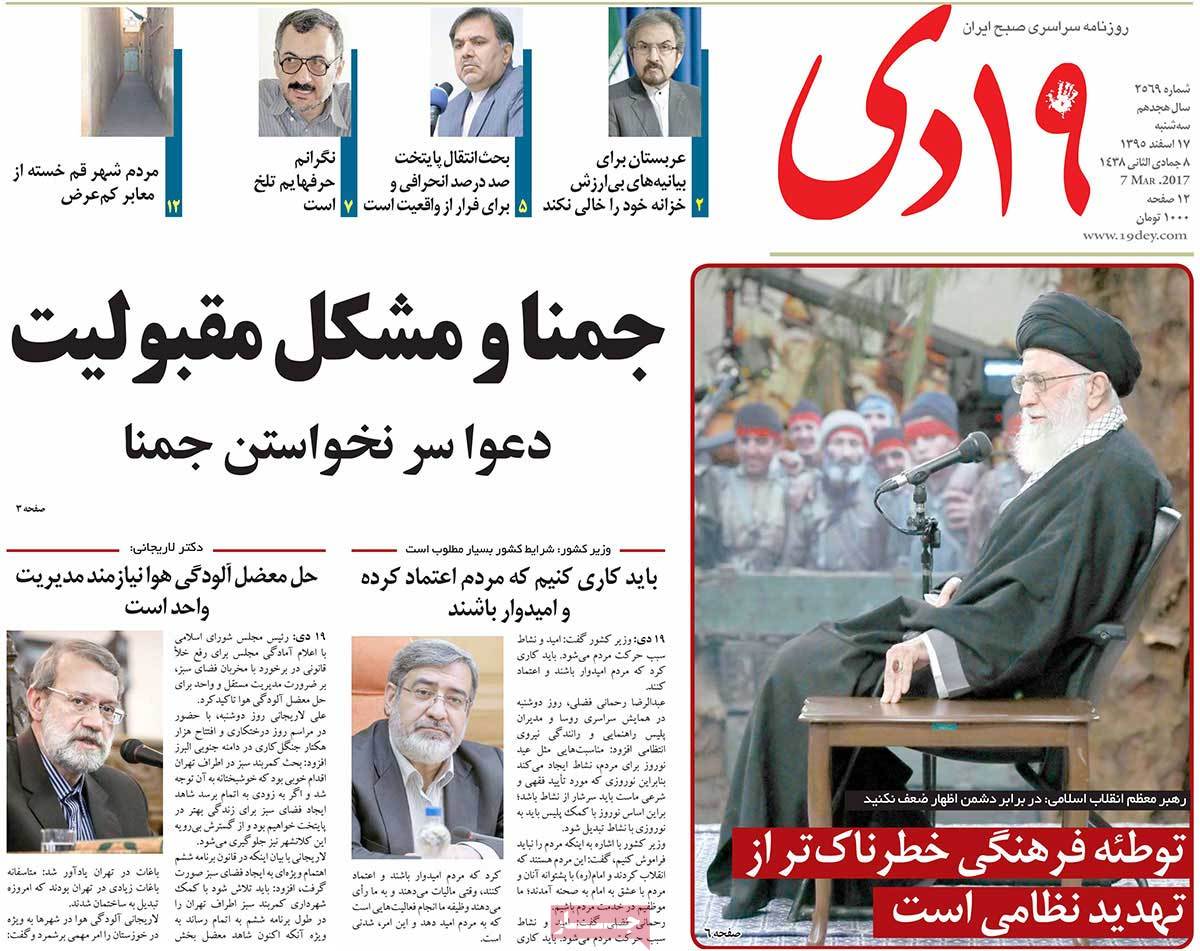 ---
Abrar:
1- Iran's Leader: Display Your Power to Dissuade Enemies from Military Action
2- Spokesman: Foreign Ministry Has No Responsibility in Hajj Talks
3- US Democrats: Trump Is in Trouble
4- Iraqi Border Guards Clash with ISIS near Jordan Borders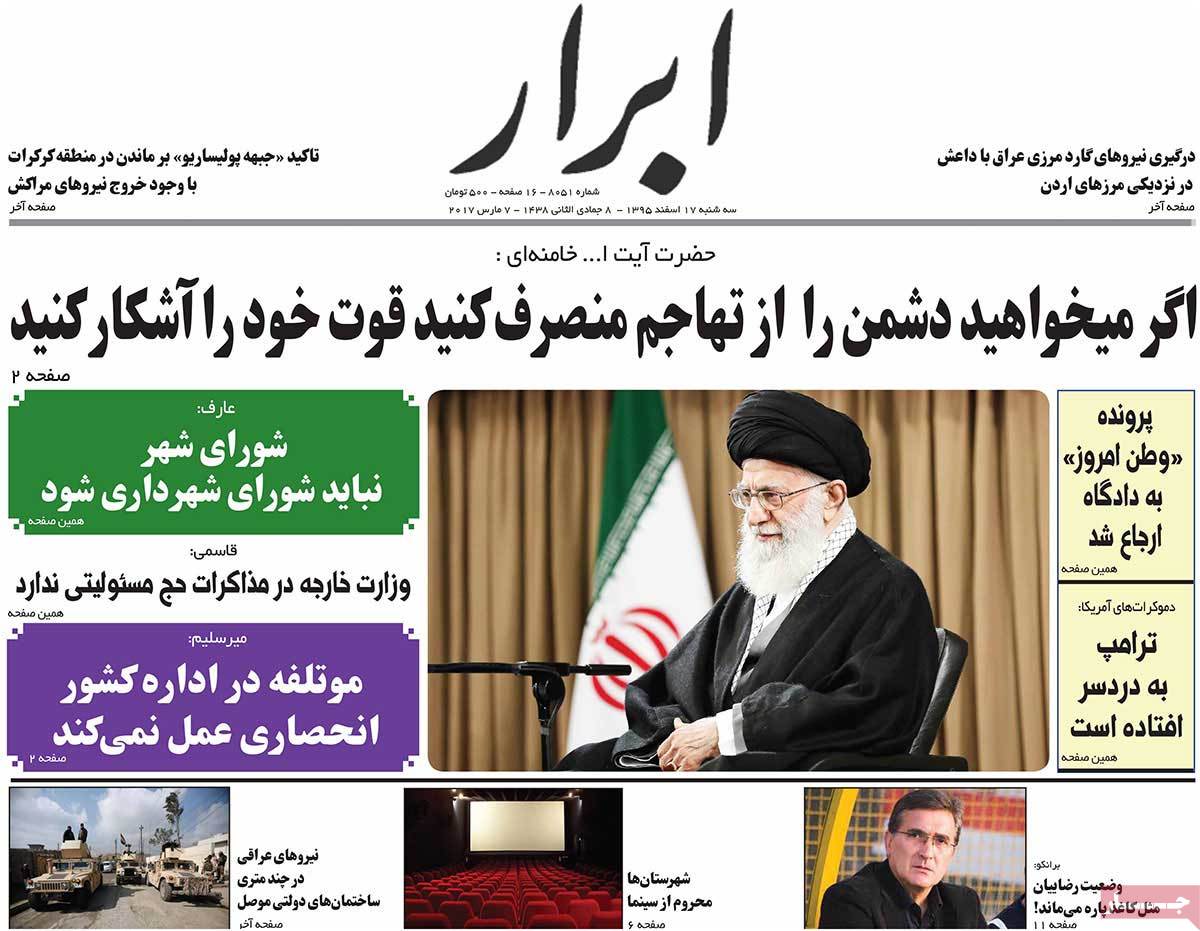 ---
Abrar-e Eqtesadi:
1- Americans Can Now Open Bank Accounts in Iran
2- Iran, Russia, Europe to Discuss Establishment of Second OPEC
3- Iran Breaks Its Petchem Production Record by Producing 50m Tonnes
4- Iran, Iraq Agree to Settle Disputes over Joint Oilfields
5- Iran, France to Enhance Industrial Cooperation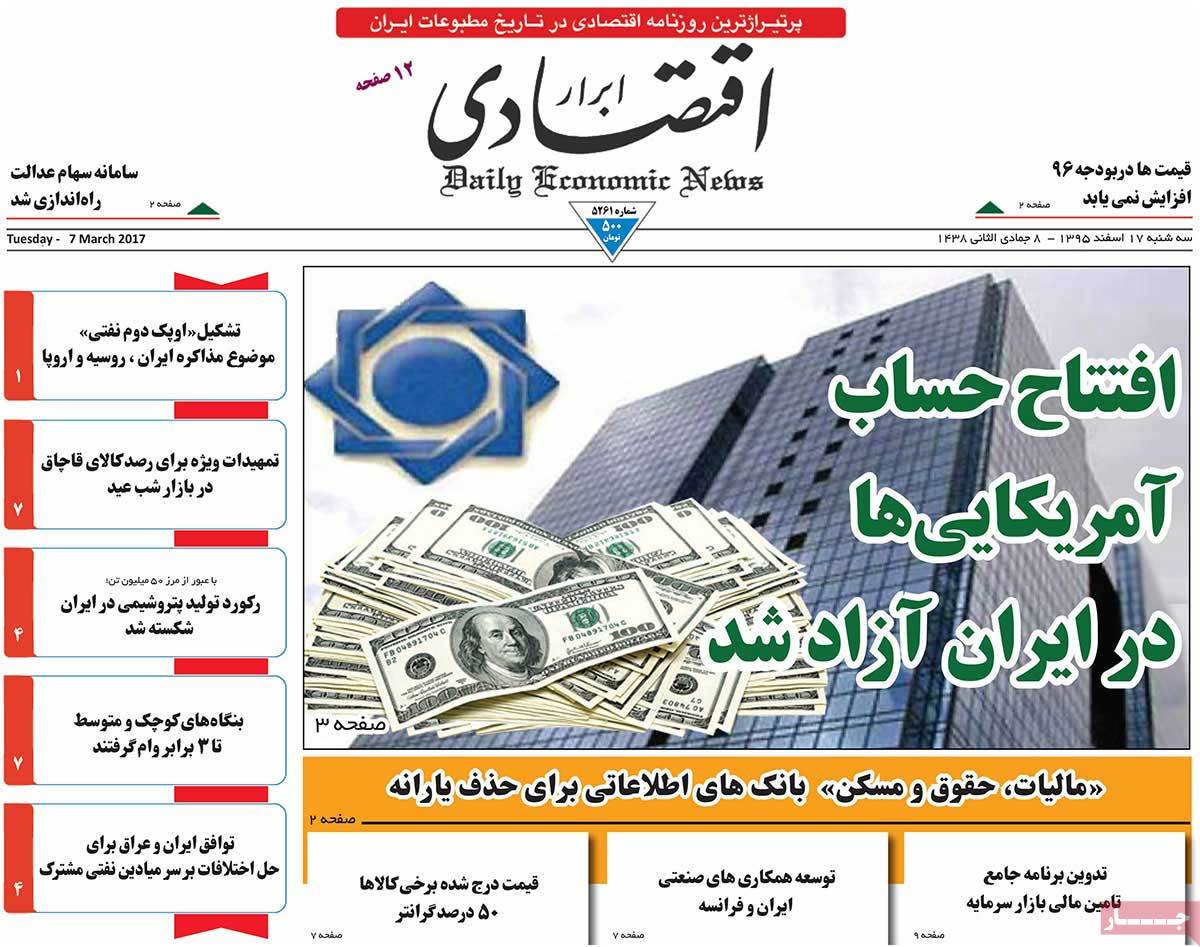 ---
Afkar:
1- IAEA Secretary General Confirms Iran's Commitment to JCPOA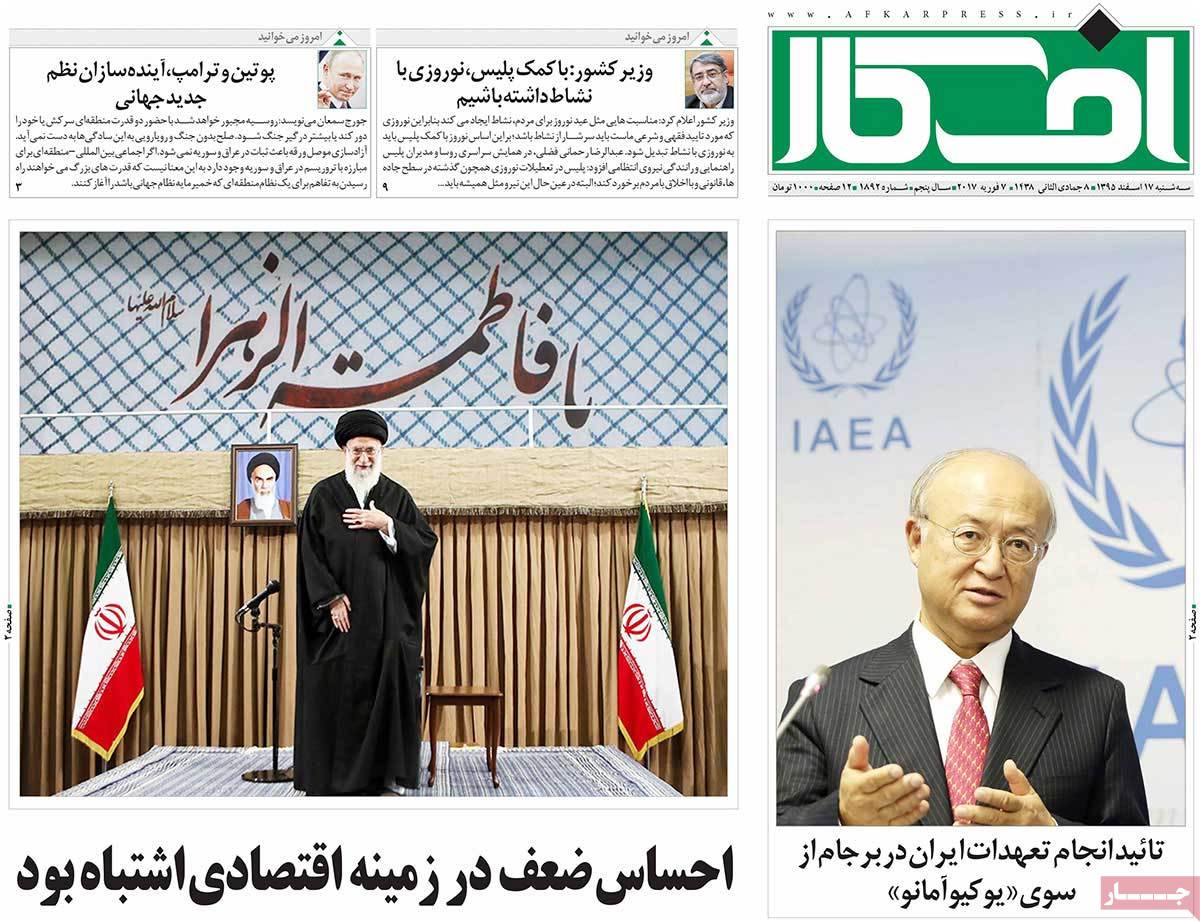 ---
Aftab-e Yazd:
1- Iran's Leader: Don't Show Weakness to Enemies
2- Details of Trump's New Executive Order: Iraq Removed, Iran Remains
3- Erdogan, Shifting Focus from Middle East to Europe [Editorial]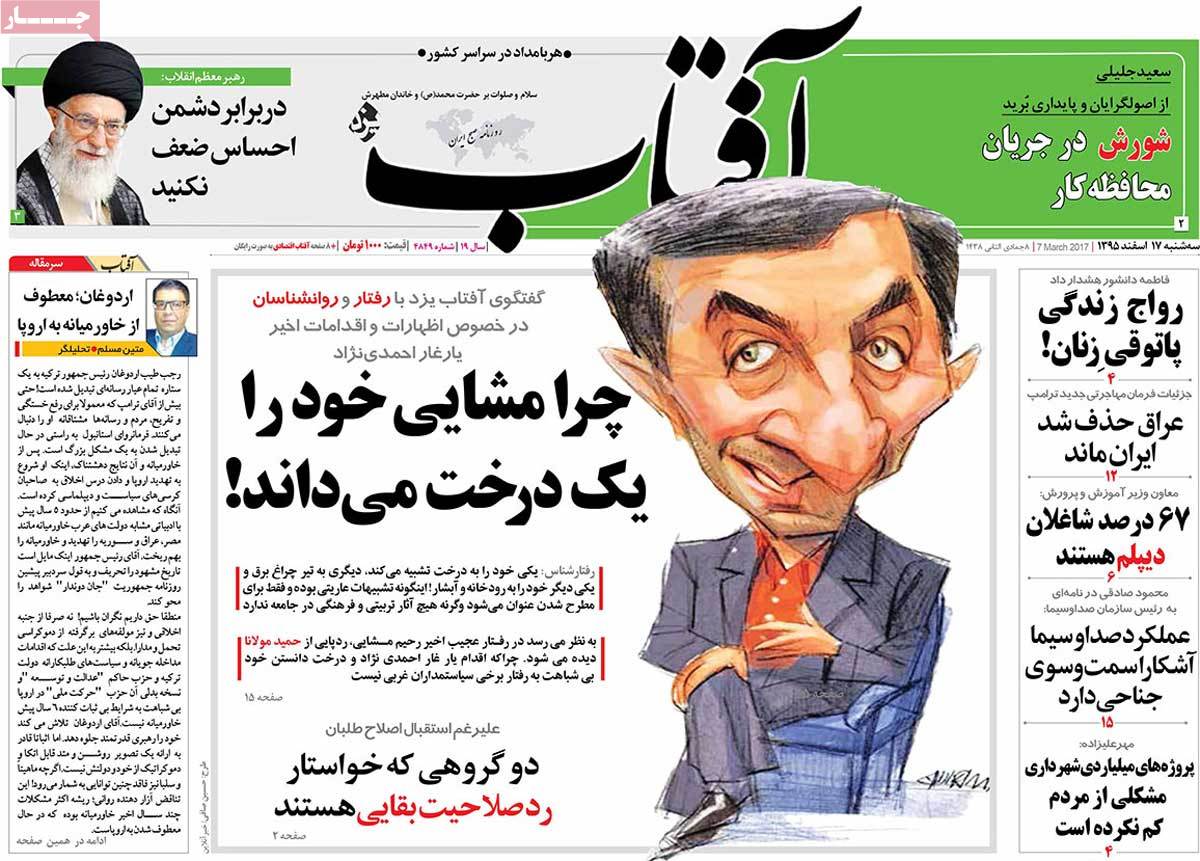 ---
Arman-e Emrooz:
1- Hezbollah's Silence towards Iran's May Election
2- Two Babies Addicted to Drug Born in Tehran Every Day: Official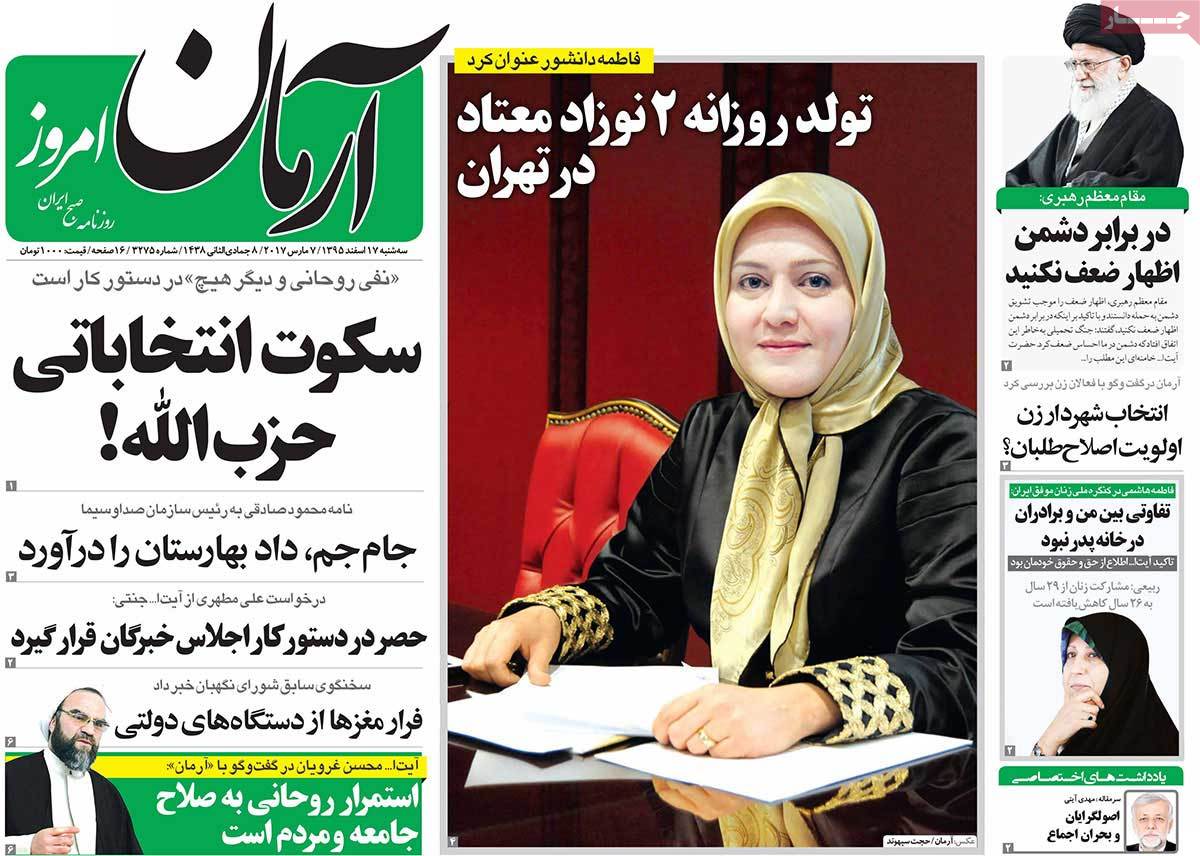 ---
Etemad:
1- Iran's Leader: We'll Overcome Enemy If We Resist
2- Civil Management in Iran Is a Failure: Urban Development Minister
3- Iran Remains on Trump's List, Iraq Removed from Executive Order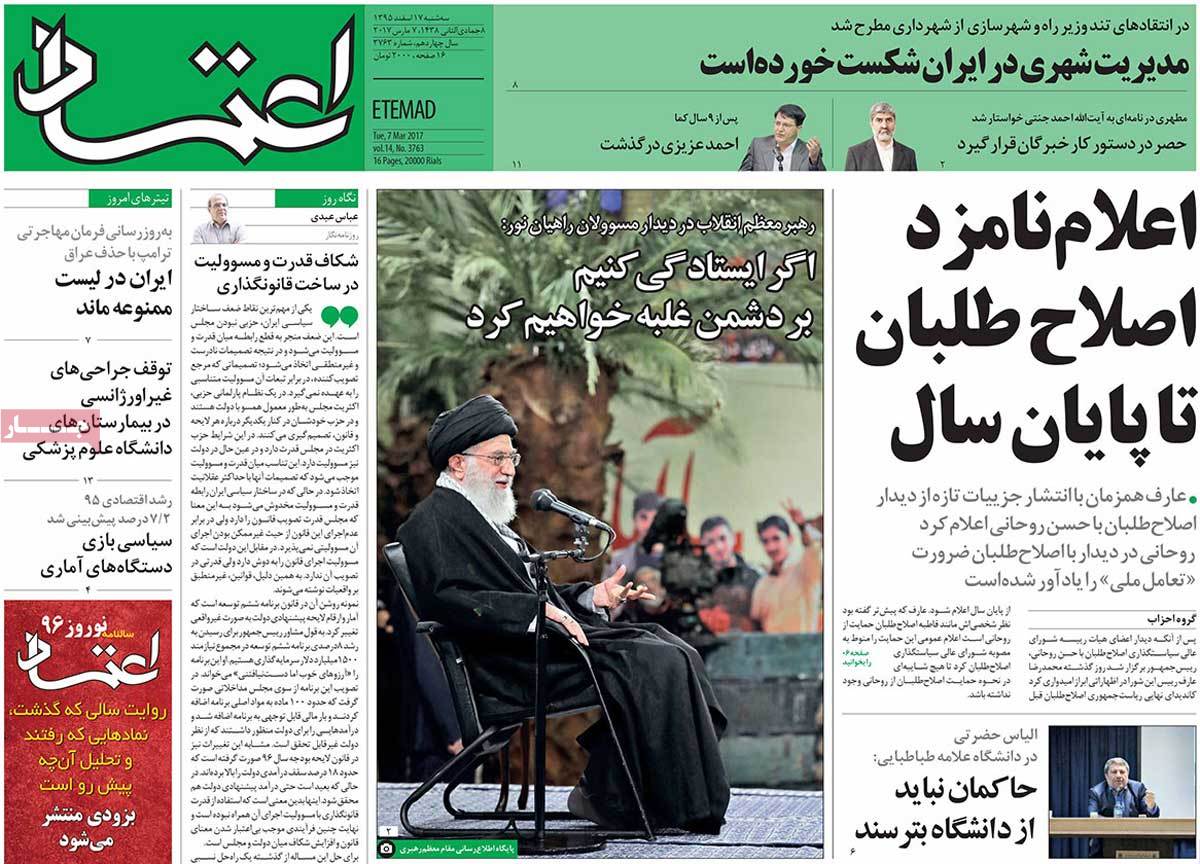 ---
Ettela'at:
1- Ayatollah Khamenei Calls for Use of Iraq War Experiences
2- Saudi King's Visit to Lebanon Cancelled over Aoun's Support for Hezbollah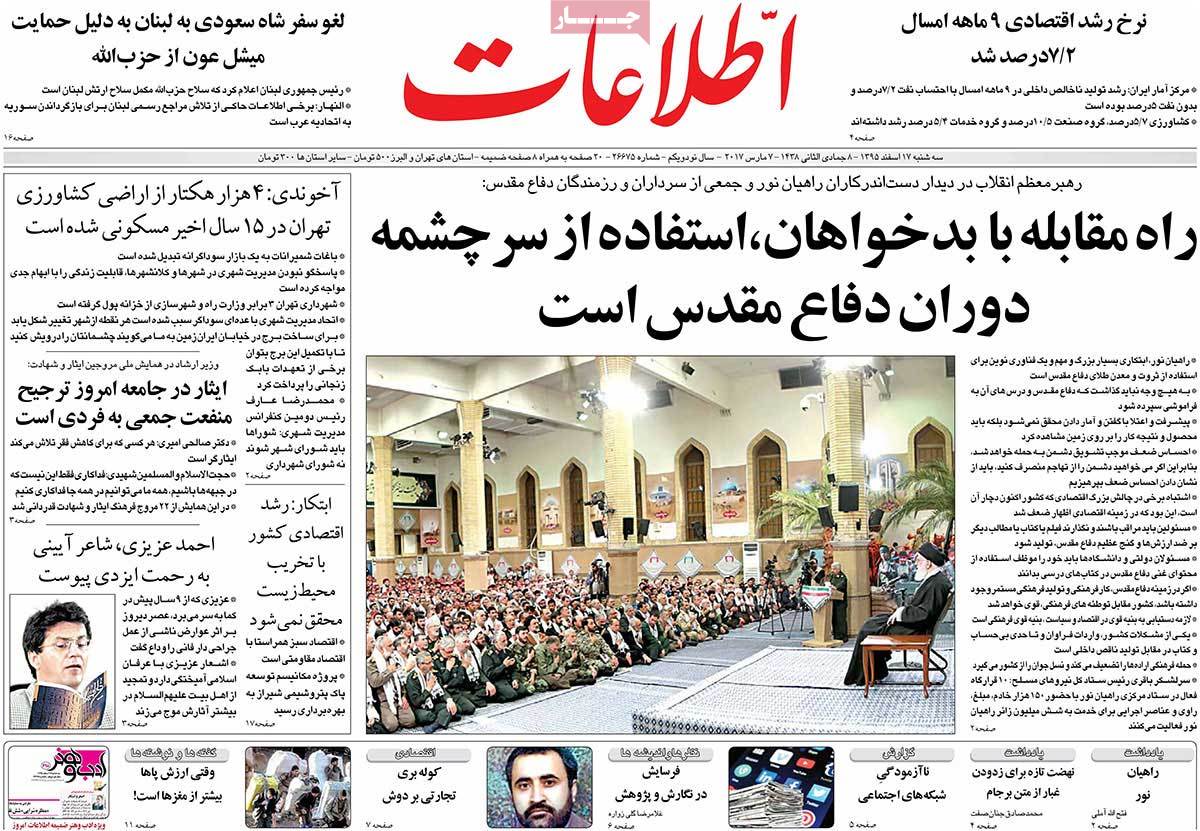 ---
Iran:
1- Larijani: I Don't Know about Conservatives' Plans for Election
2- Tehran Mayor: Let's Avoid Politicizing Issue of Dust and Air Pollution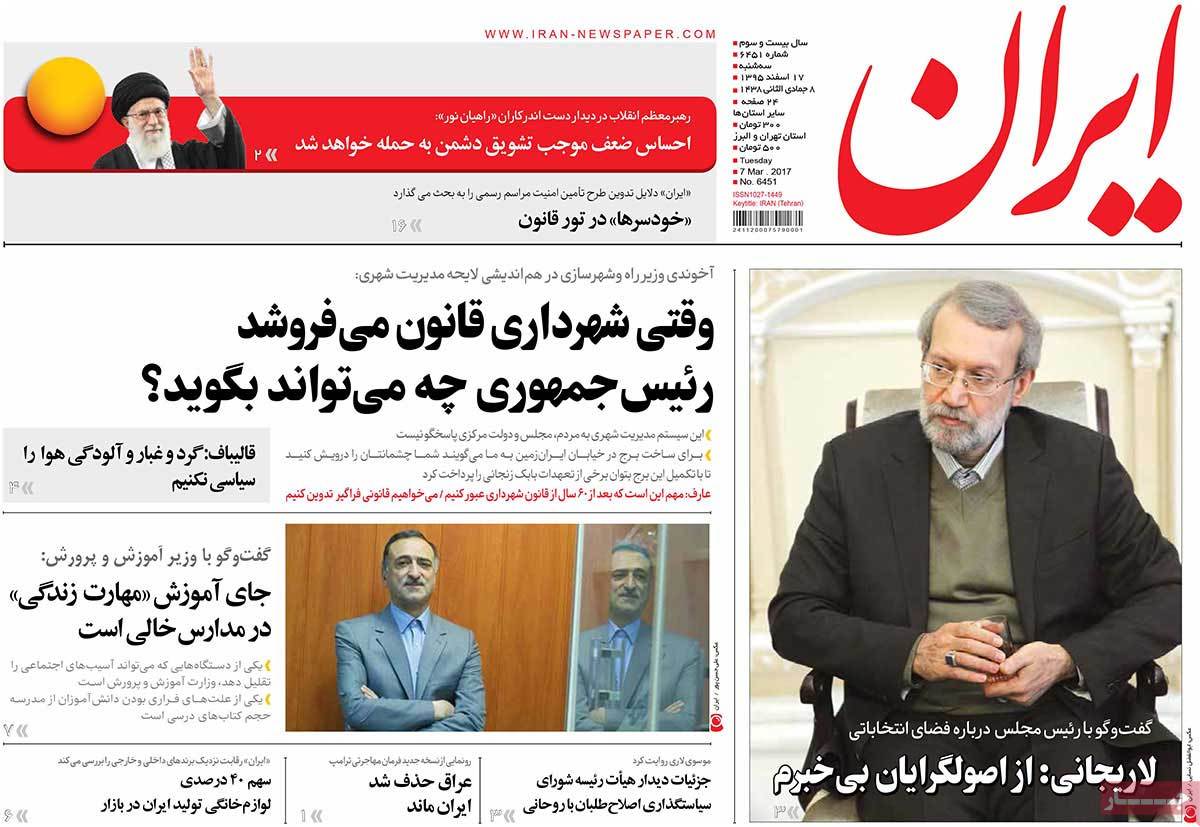 ---
Javan:
1- Iran's Leader: Showing Weakness Emboldens Enemies to Attack
2- White House's Moderated Racism: Trump Signs New Travel Ban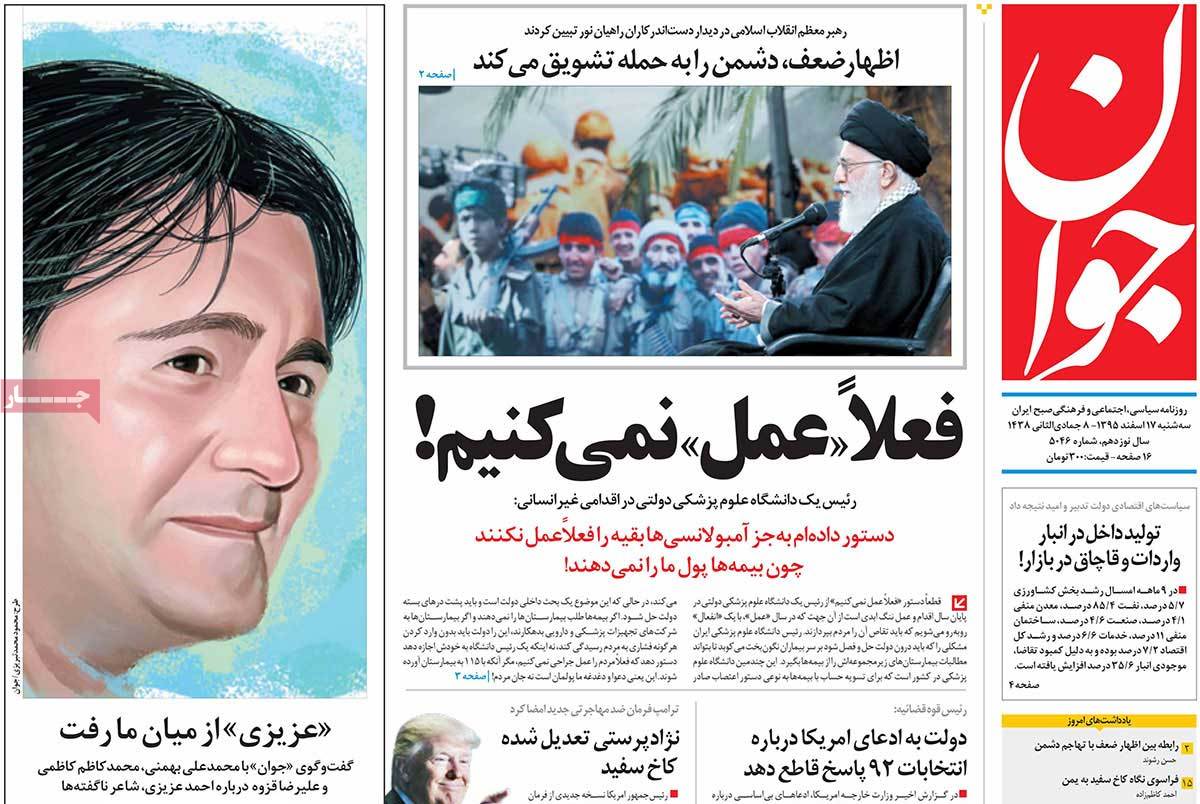 ---
Jomhouri Eslami:
1- Leader: Lessons of Sacred Defence [Iraqi imposed war] Shouldn't Be Forgotten
2- Bahraini People Invited to Voice Anger at Al Khalifa Regime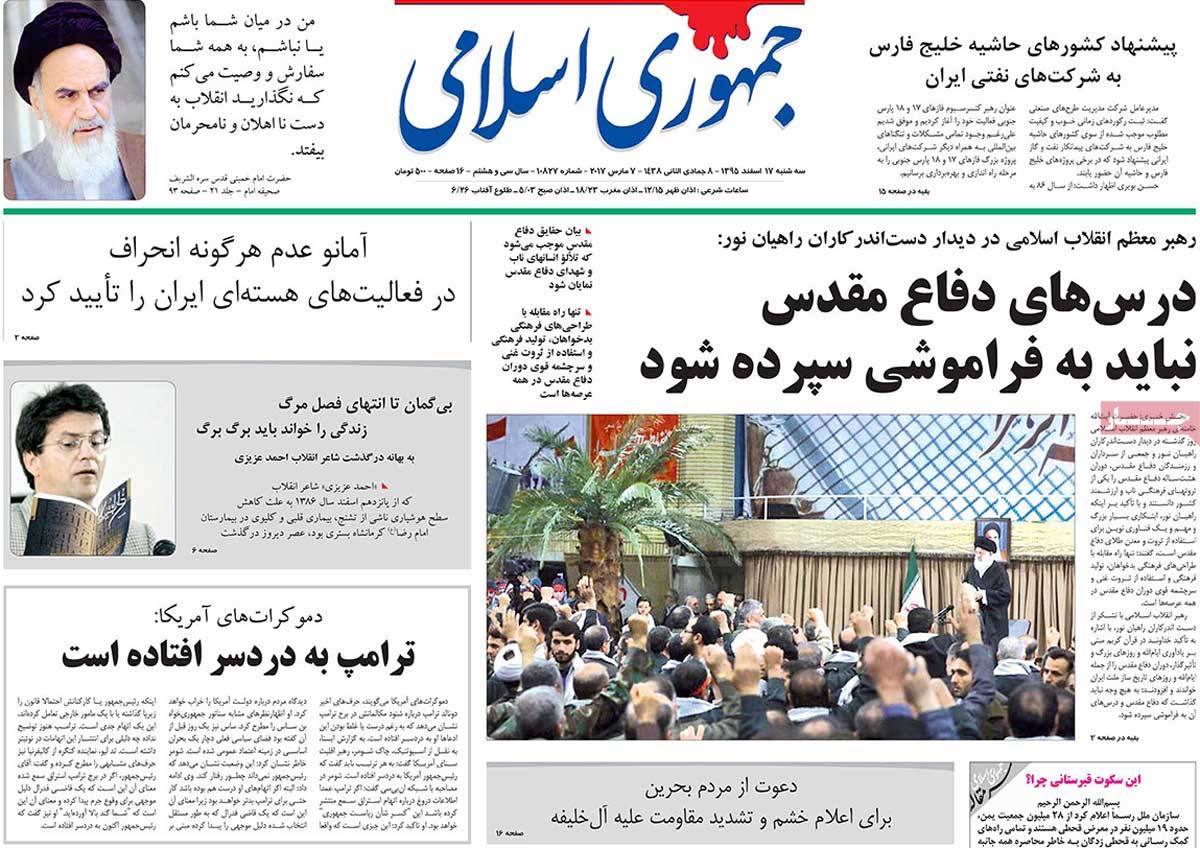 ---
Ka'enat:
1- Judiciary Chief: US Human Rights Claims against Iran Worthless
2- Take a Tour of Amazon during Nowruz Holidays for Just 800m Rials [nearly $21,000]!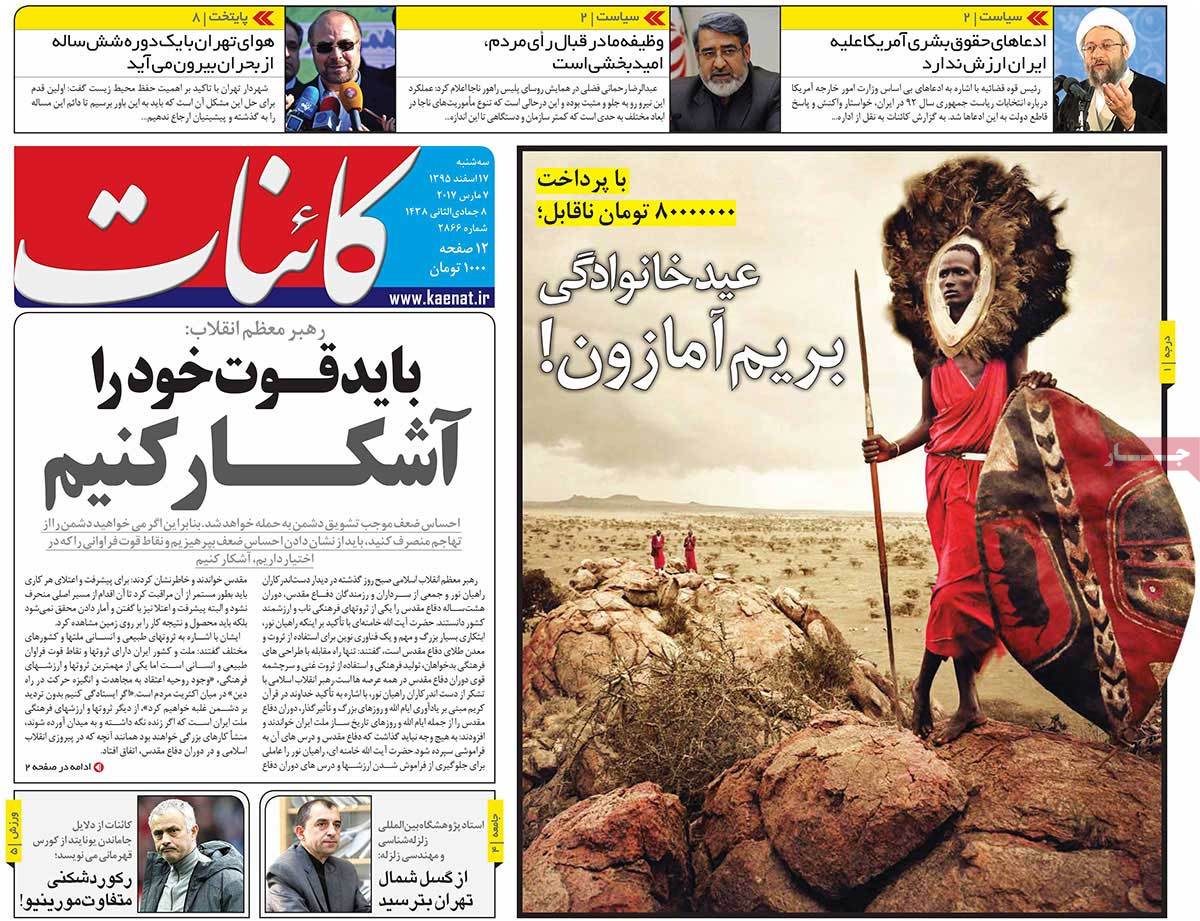 ---
Kayhan:
1- Trump's Strategy in Yemen Revealed: Helping Al-Qaeda under Cover of Terror Fight!
2- US Starts Plan to Move Embassy to al-Quds [Jerusalem]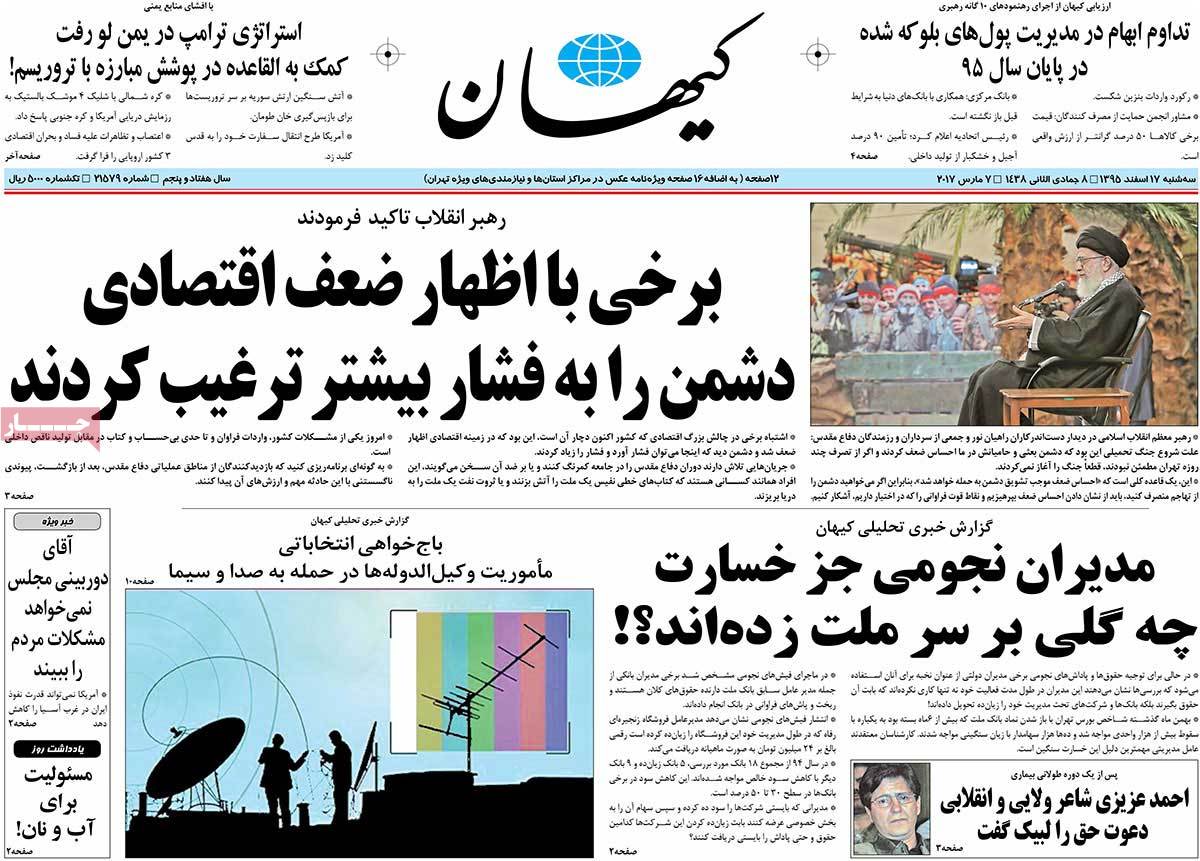 ---
Resalat:
1- IRGC General Rezaei: Giving Time to US Is Statesmen's Biggest Mistake
2- Judiciary Chief: Fighting Economic Corruption Key to Resistance Economy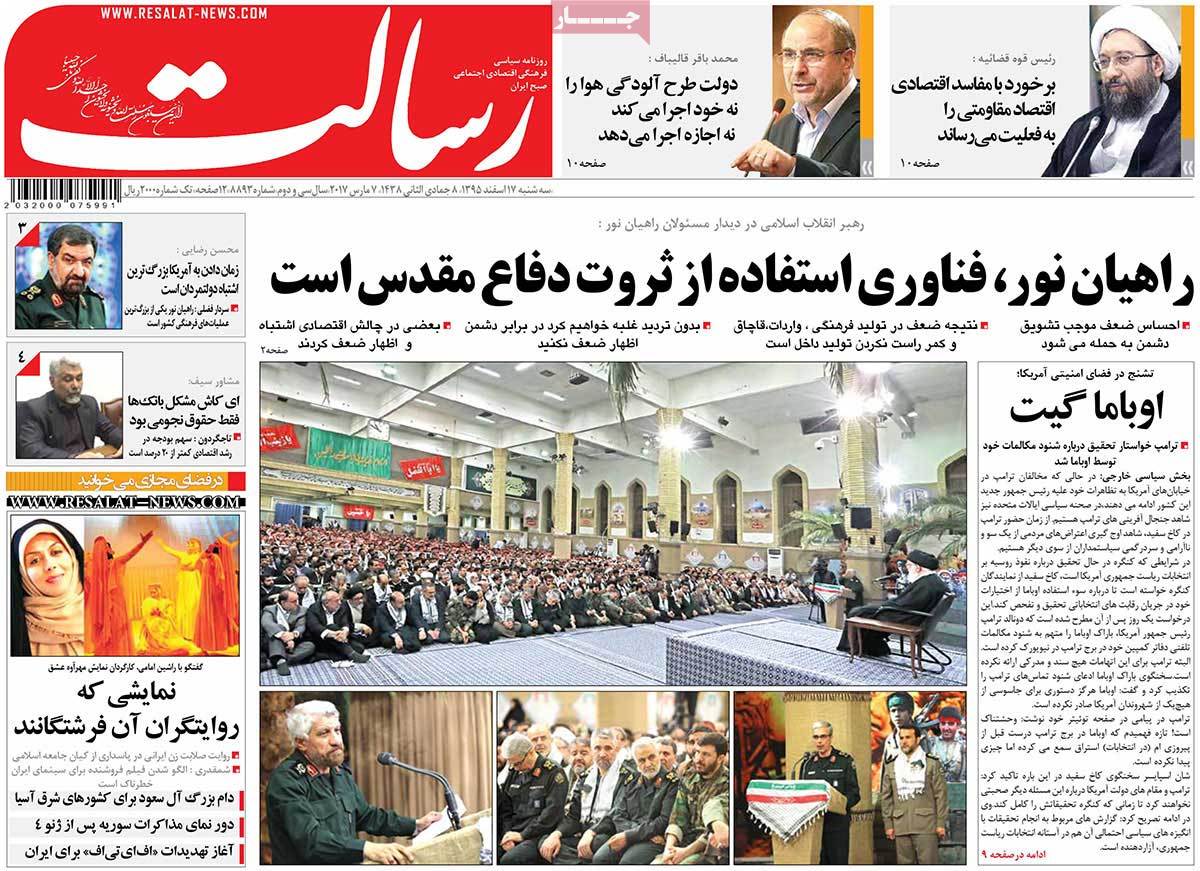 ---
Setareh Sobh:
1- Danger of Trumpism Close to France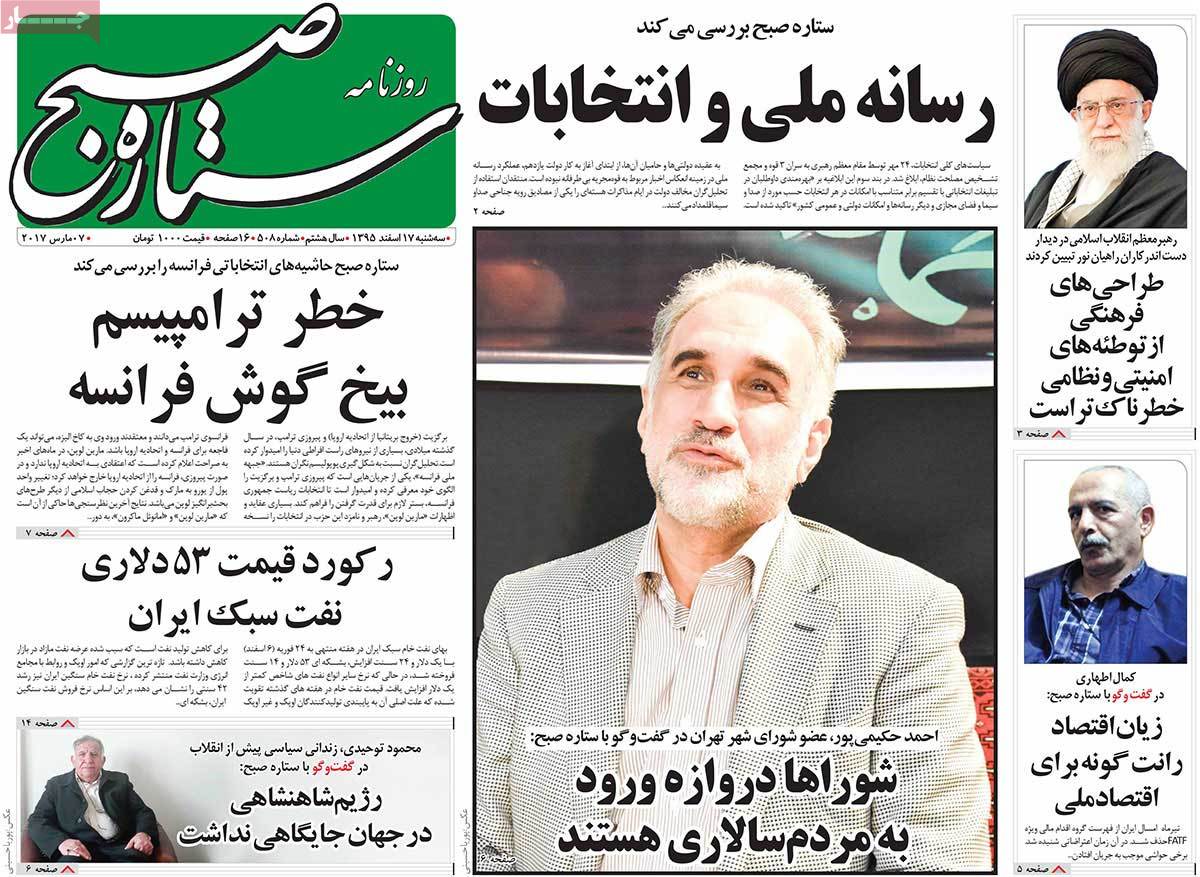 ---
Shahrvand:
1- Failed Experience of Managing the City: Civil managers and experts criticize the ways in which Iranian cities are being managed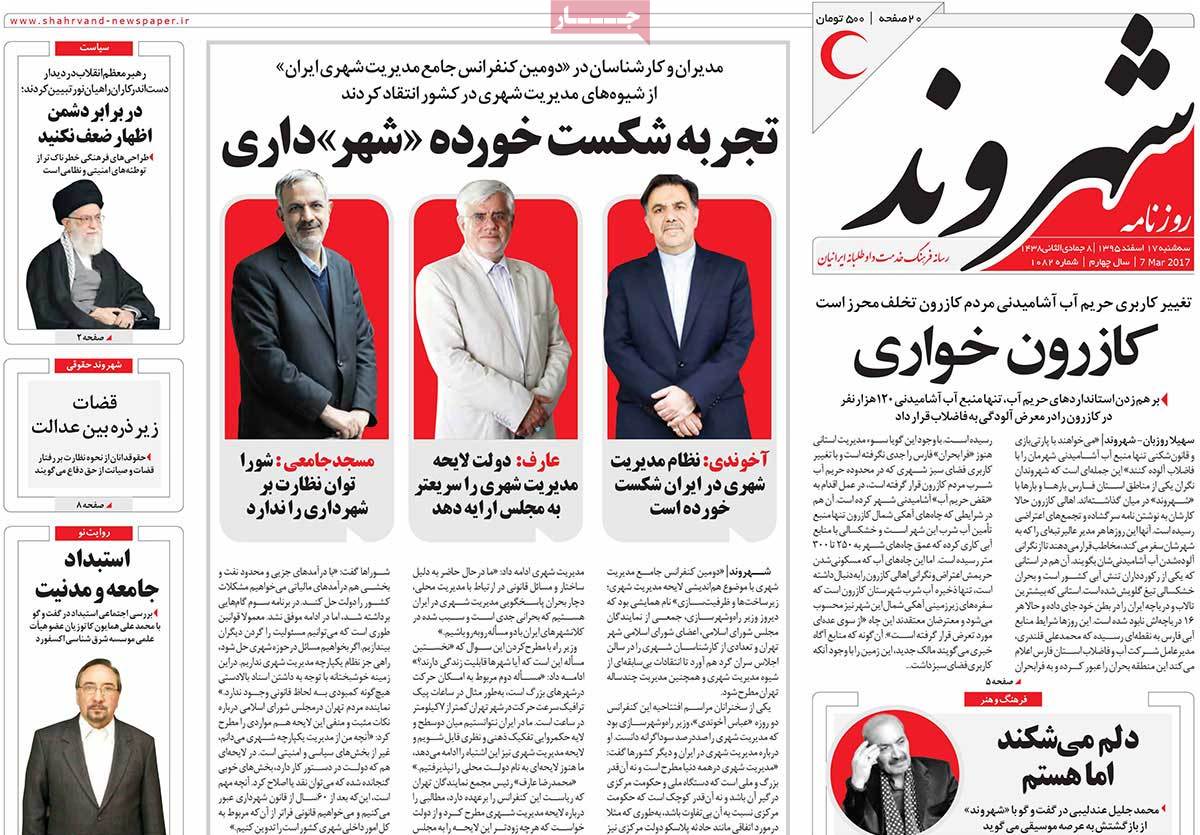 ---
Shargh:
1- Leader's Suggestion to Dissuade Enemy from Aggression: Don't Show Weakness
2- What Can President Say When Municipality Sells the Rules: Minister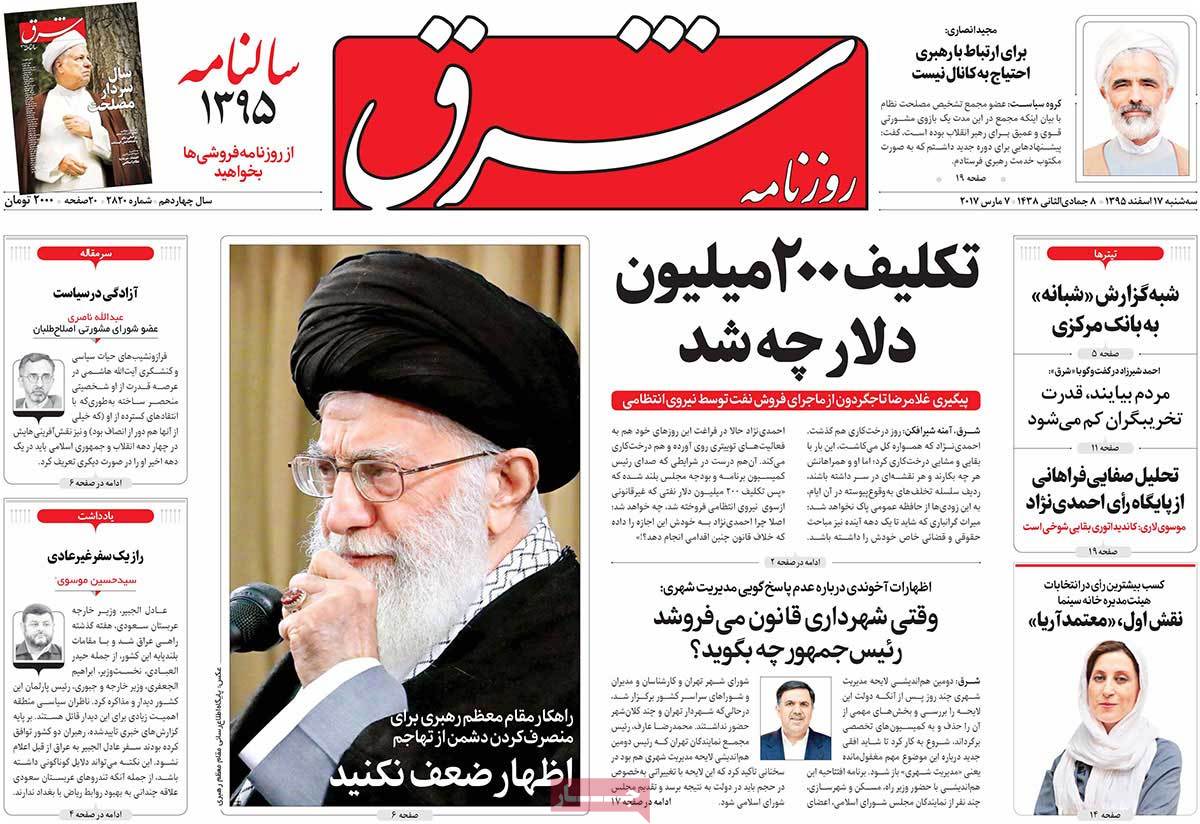 ---
Sobh-e Now:
1- Leader: Iranian Nation Would Have Died If It Wasn't for Sacred Defence [Iraqi imposed war]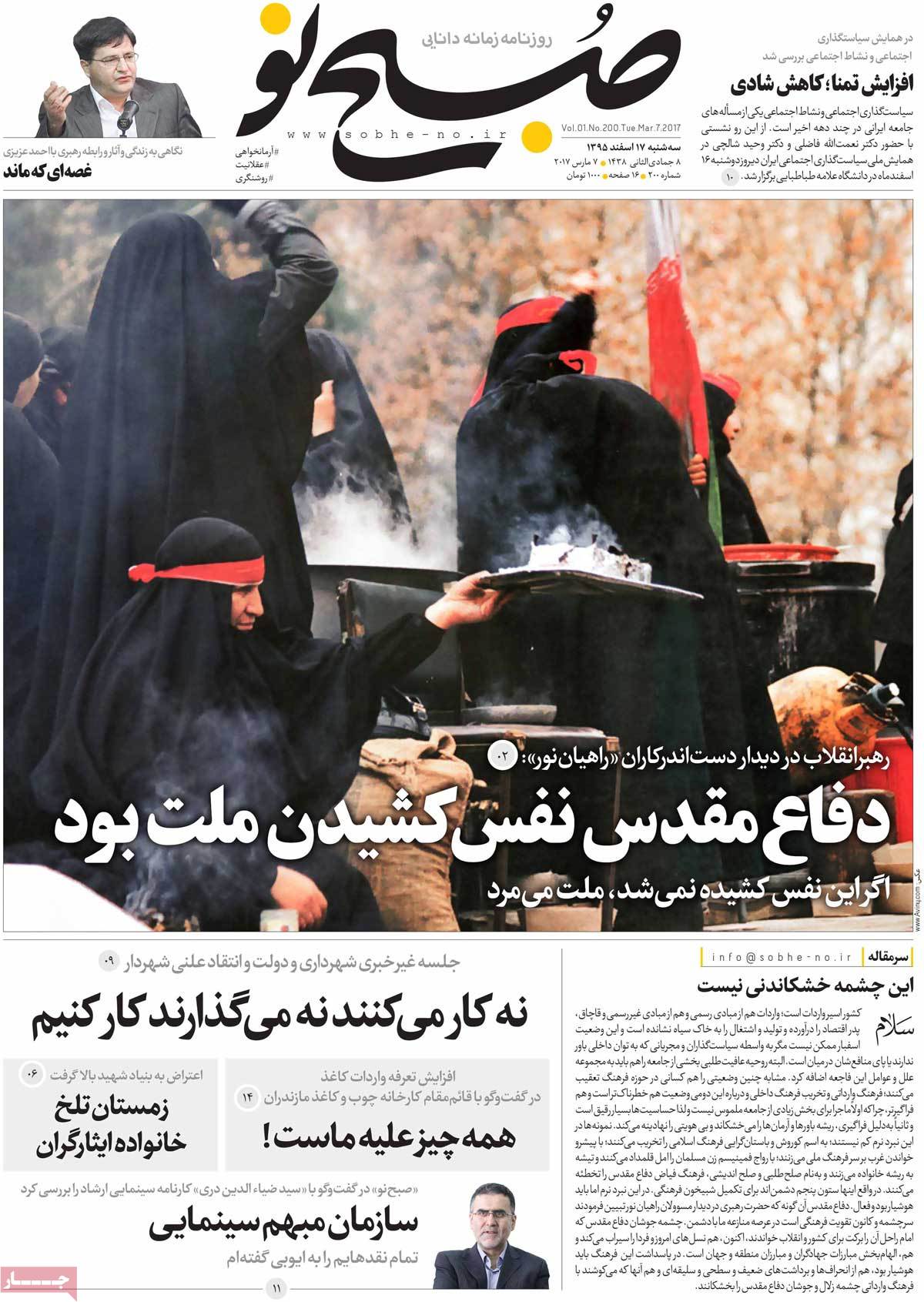 ---
Vaghaye Ettefaghieh:
1- Tel Aviv Trying to Damage Tehran-Moscow Ties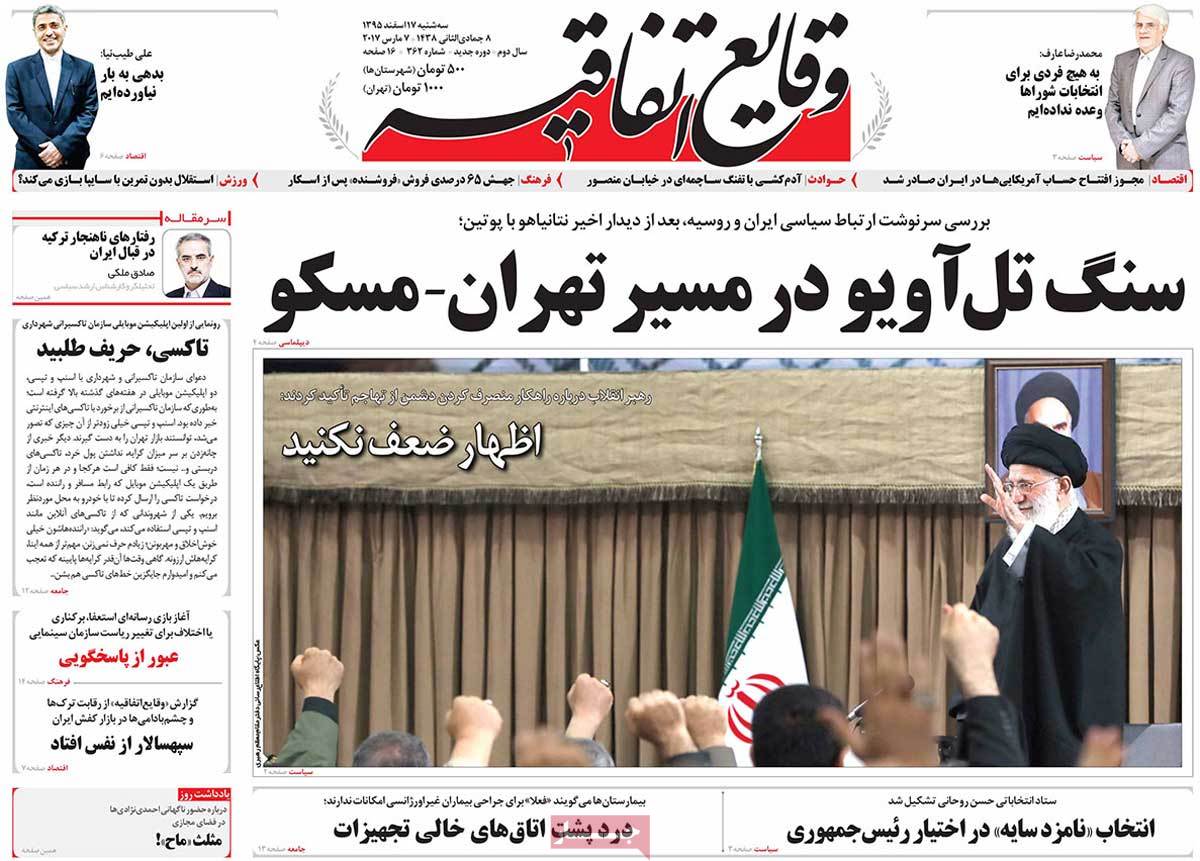 ---
Vatan-e Emrooz:
1- Leader: Showing Weakness to Enemy Caused Exacerbation of Economic Pressures