IFP has taken a look at the front pages of Iranian newspapers on Wednesday, March 7, and picked headlines from 21 of them. IFP has simply translated the headlines and does not vouch for their accuracy.
All newspapers today covered the remarks made by the Leader of Iran's Islamic Revolution Ayatollah Seyyed Ali Khamenei and President Hassan Rouhani after planting saplings on Arbour Day.
Also a top story was the comments made by Iranian Government Spokesman Mohammad-Baqer Nobakht about those who attack the government's achievements.
The repercussions of French Foreign Minister Jean-Yves Le Drian's visit to Tehran and the future of the Iran nuclear deal also received great coverage today.
The anti-Iran speeches made in the gathering of the Israeli lobby group AIPAC in the US, and the latest developments in Syria particularly the Syrian army's ongoing operation in Eastern Ghouta were among other top stories today.
The above issues, as well as many more, are highlighted in the following headlines and top stories:
19 Dey:
Gov't Spokesman Criticises Those Who Hinder the Government's Performance
Rouhani: Desertification A Danger for Iran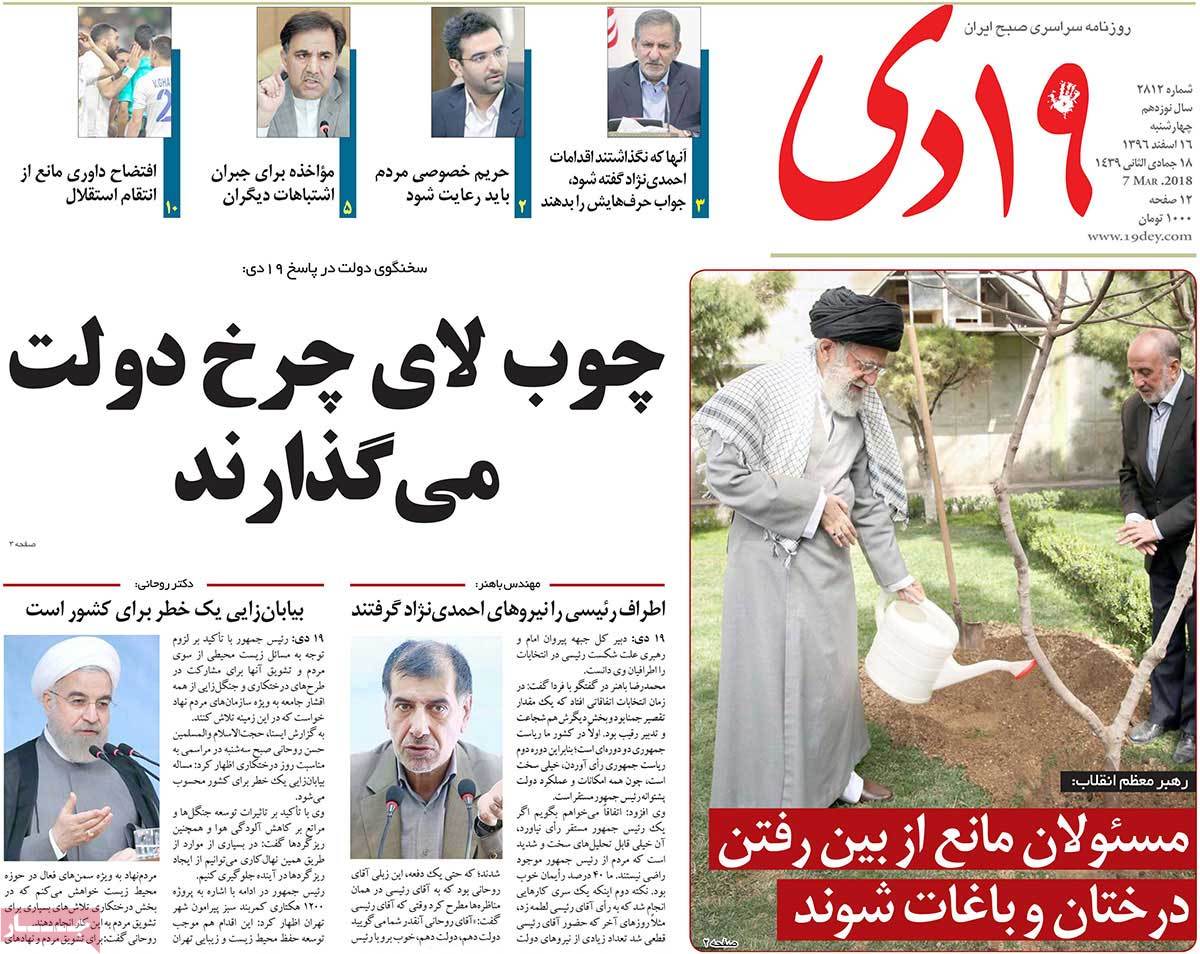 ---
Abrar:
Parliament to Vote on Impeachment of Two Ministers Tuesday
Pence: US to Withdraw from Iran Nuclear Deal If It's Not Revised
Bin Salman: London Supports Our Concerns about Iran
AMIA Case to Take Former Argentinian President to Court
Iranian, Russian, Turkish FMs to Meet in Astana on March 16
Appeal of Iran's Bank Melli Rejected by US Supreme Court
MP: Over 200 People with Dual Nationality Working as Top Executives
---
Afkar:
Larijani: US Moves in Region Not to Benefit Its Interests
Iran Leader after Planting Two Saplings: Protect Trees
We've Repeatedly Urged France, Britain Not to Meddle in Mideast: Gov't Spokesman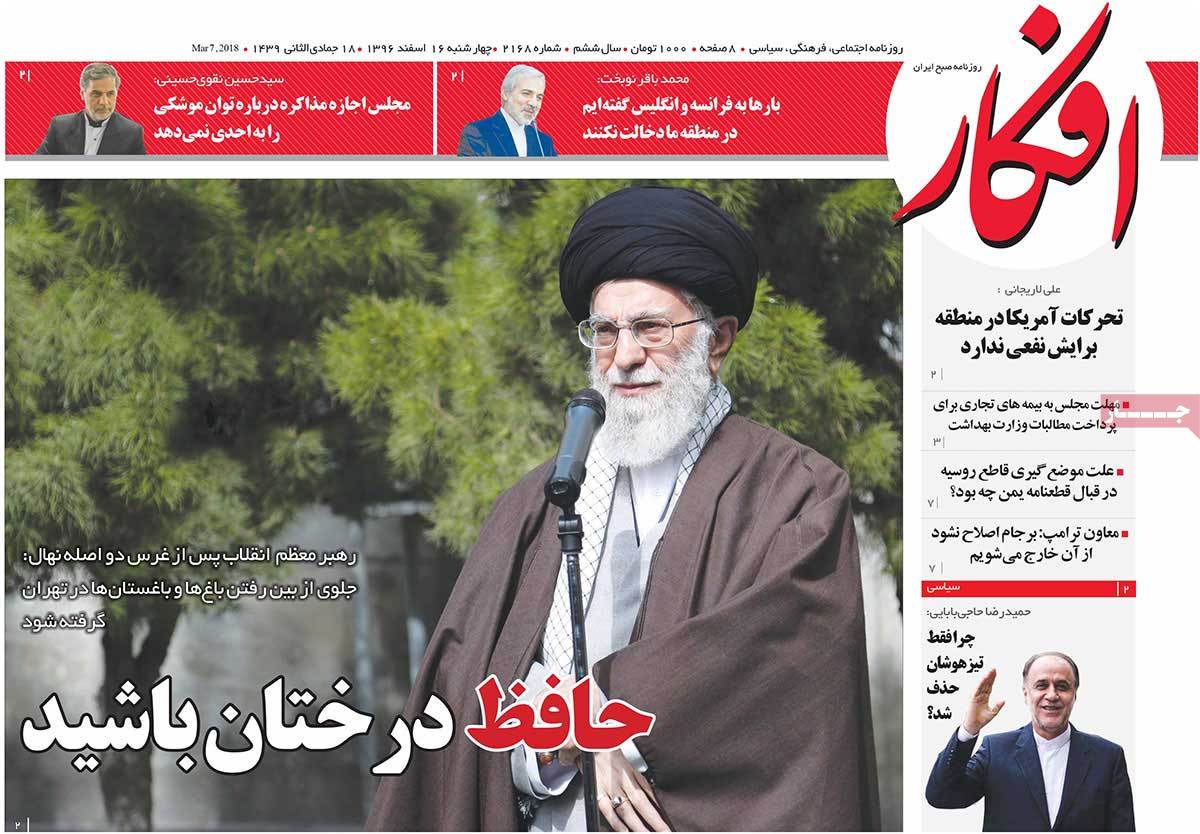 ---
Aftab-e Yazd:
Global Doubts about Settlement of Iran-West Conflict Two Days after French FM's Visit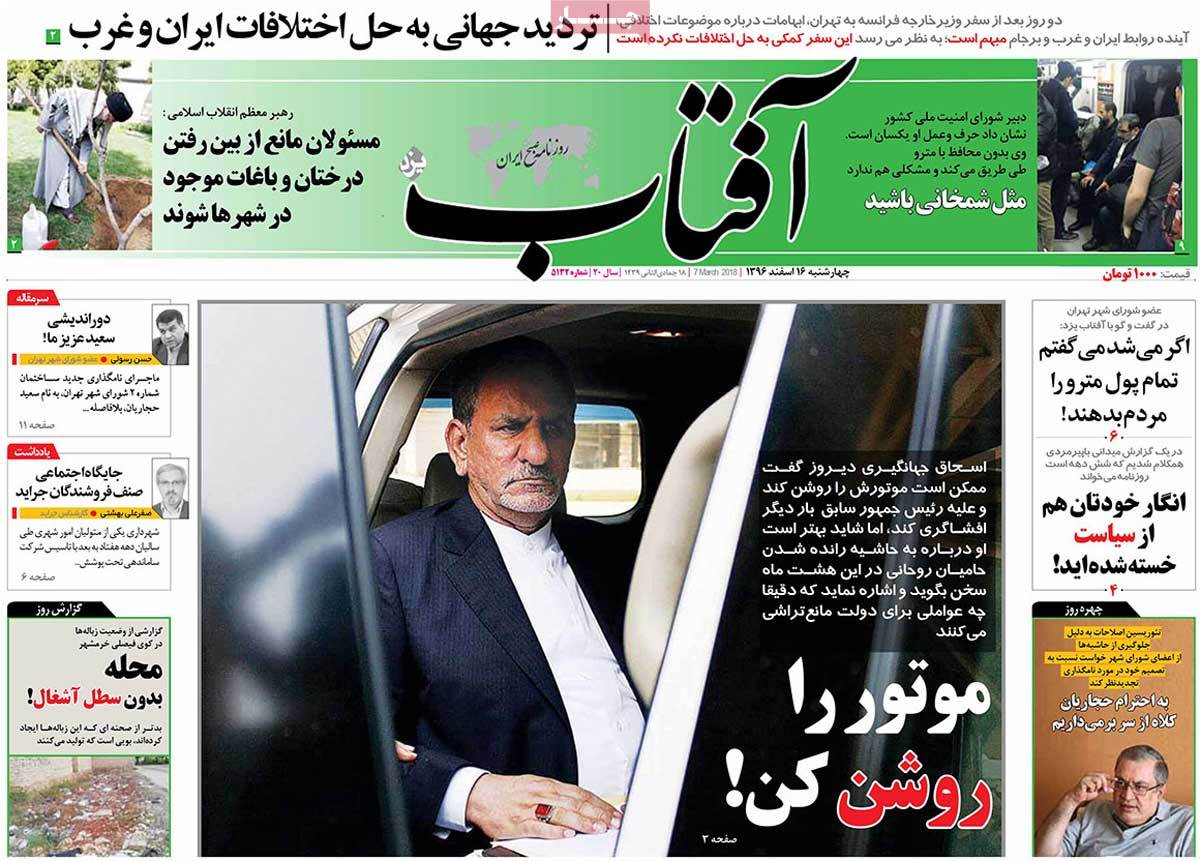 ---
Arman-e Melli:
Gov't Spokesman Slams Those Who Question Official Statistics
Iran First VP: I've Been Advised to Keep Silent, but I'll Start My Engine If Necessary
---
Asrar:
Iran Leader: Officials Must Prevent Trees, Gardens in Cities from Being Destroyed
Culture Minister: Mosques Sources of Building Civilisation, Culture, Socialisation
Gov't Spokesman: Those Who Blackwash Gov't Defaming Islamic Establishment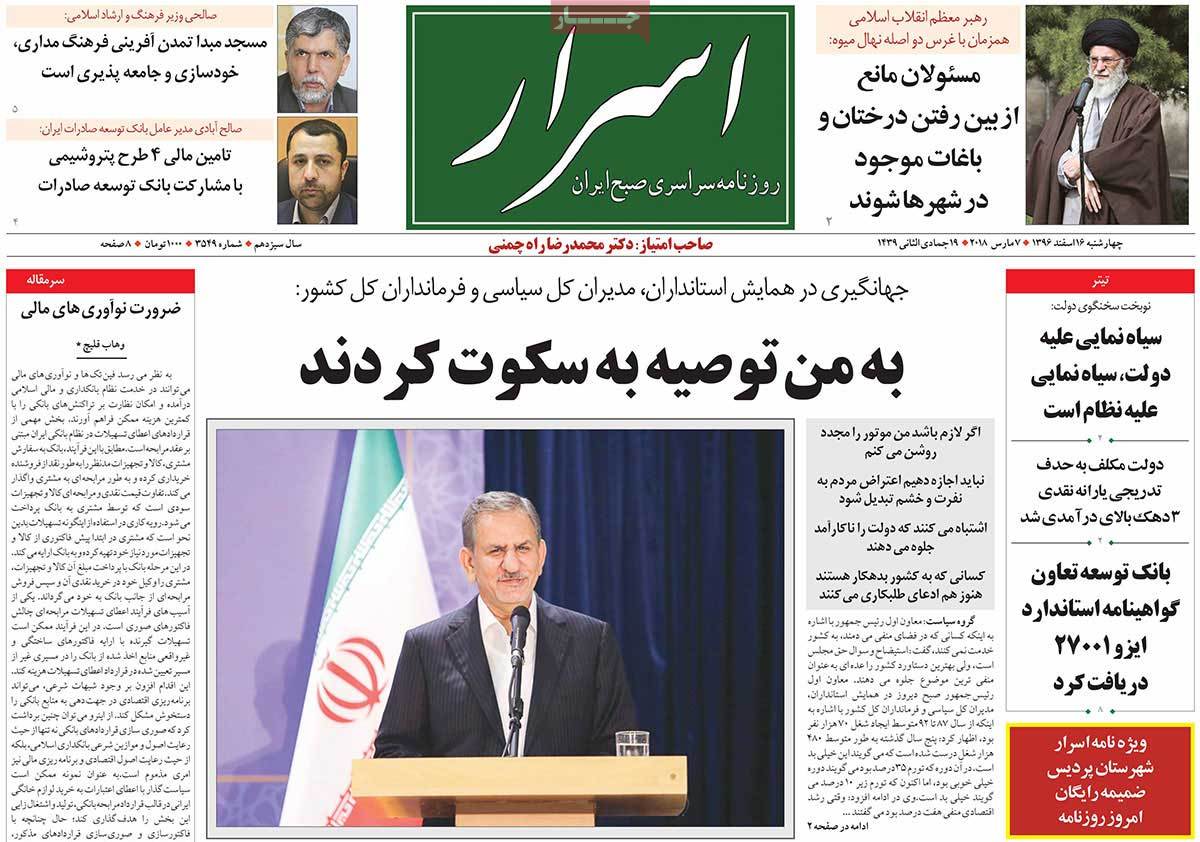 ---
Ebtekar:
Side-Effects of Indian Prescription for Chronic Pain of Subcontinent
A Report on Violent Prospect of Ethnic-Sectarian Conflicts in Eastern Asia
---
Etemad:
Has Pyongyang Backed Off?
Seoul Says North Korea Willing to Negotiate over Its Nukes
Ministers of Labour, Roads Say They're Ready for Impeachment
---
Ettela'at:
Iran First VP: We Shouldn't Let People's Protests Turn into Hatred, Anger
Rouhani: "Green Belt" Effective in Preventing Excessive Expansion of Tehran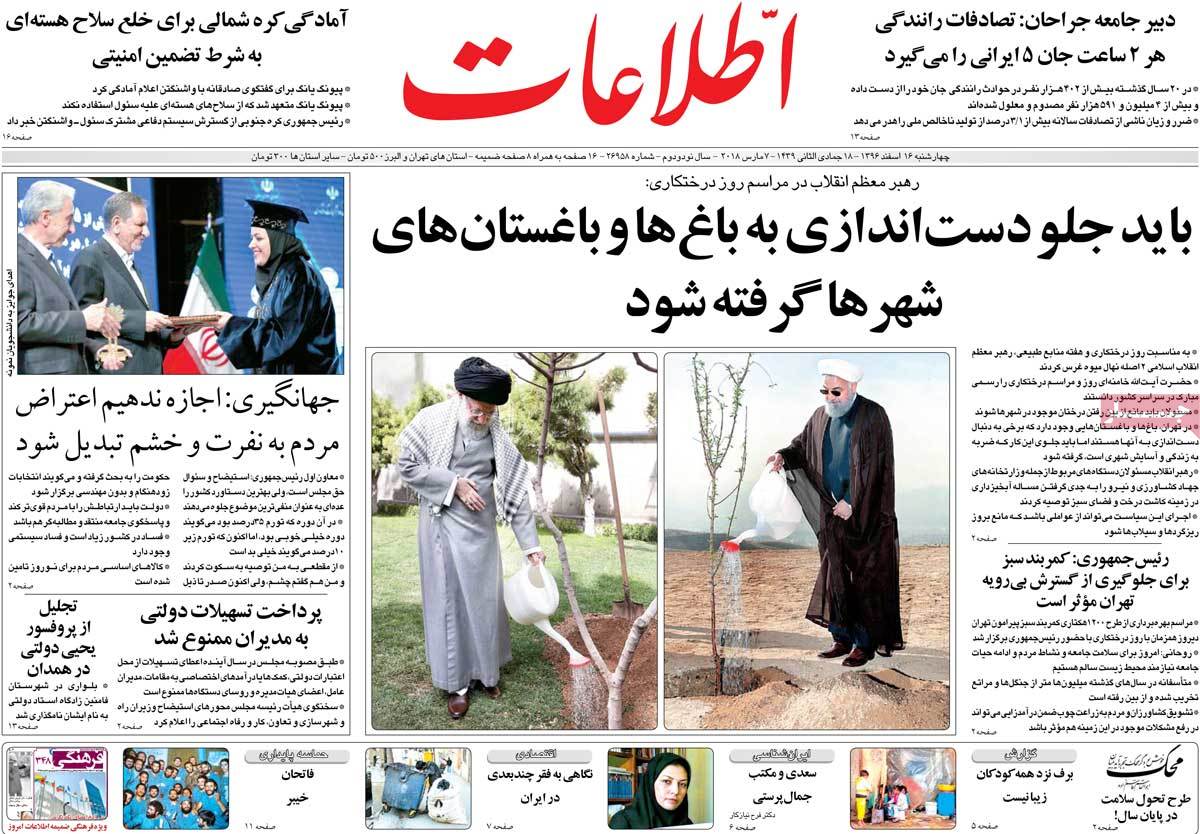 ---
Iran:
AIPAC, Fruitless Market of Iranophobia
Extremists of Tel Aviv, Washington Address Zionists' Most Important Lobby
Handicrafts Imports from China Not Justifiable: Official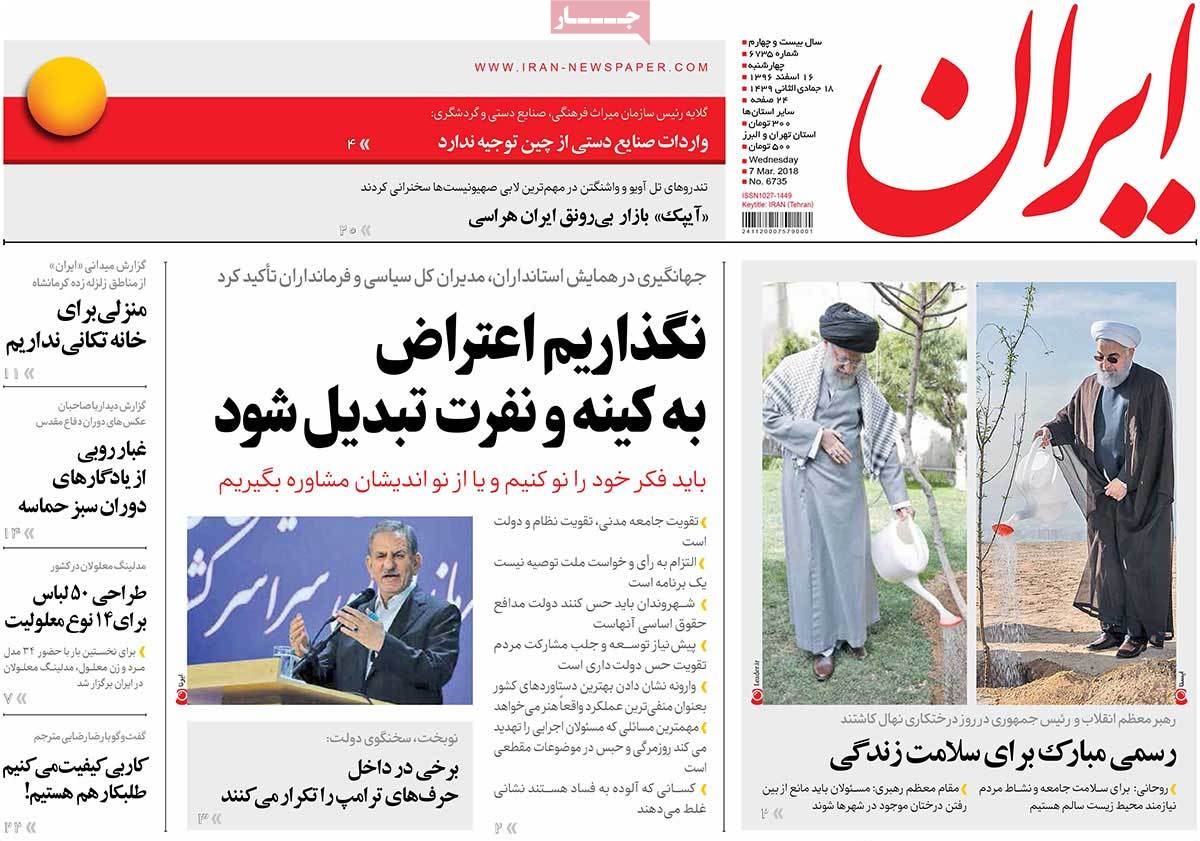 ---
Javan:
Western Sources: Le Drian Reaches Deadlock in Tehran
Crime Rate Decreased in Tehran
IRGC Chief-Commander Kisses Hand of Basij Force Wounded in Recent Riots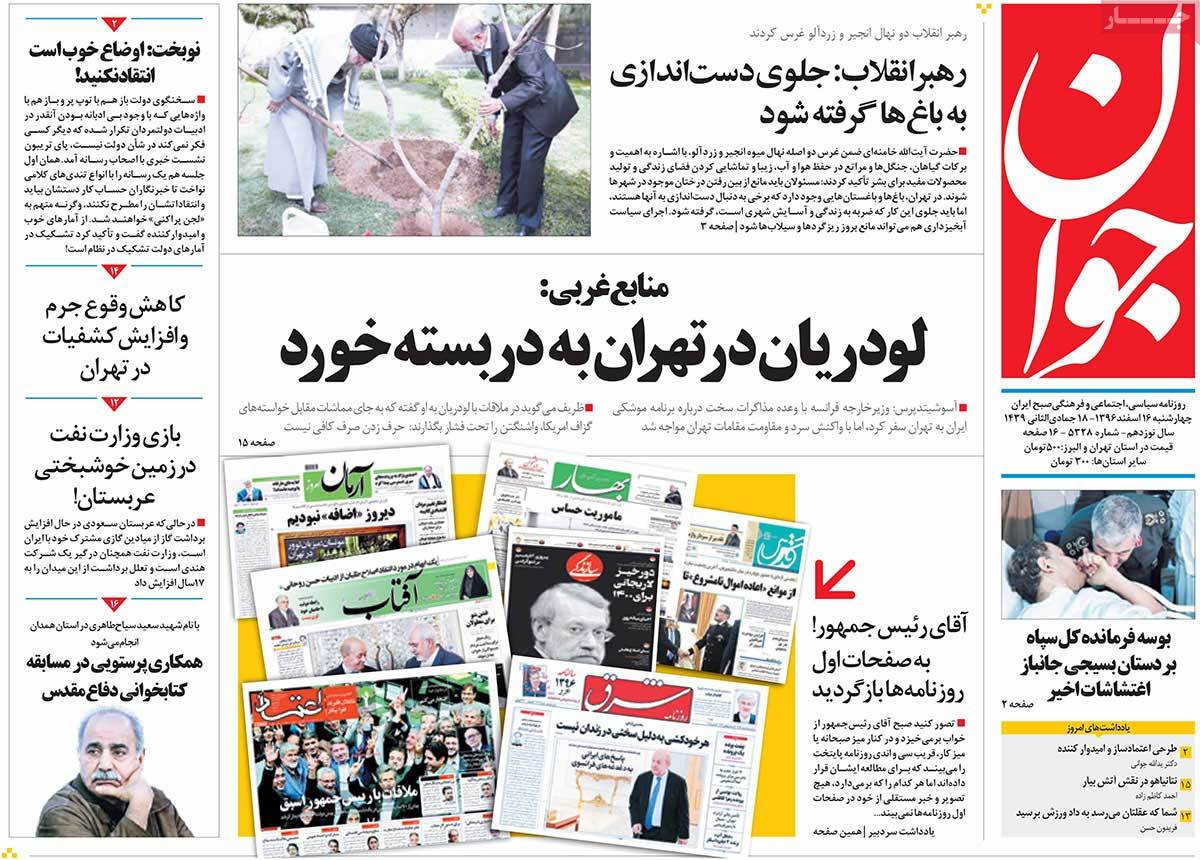 ---
Jomhouri Eslami:
Iran First VP Strongly Slams Supporters of Ahmadinejad
You Didn't Let Anyone Respond to His Actions, Now You Must Be Accountable
Iran's Non-Oil Exports Up by 5% This Year
Protests in London over Bin Salman's Visit
---
Kayhan:
Mr Jahangiri! Spirit of JCPOA Even Failed to Refuel Zarif's Plane!
40% of Eastern Ghouta Cleansed of Terrorists: Syrian Army Arrives in Duma
Thanks to Leader's Decision, Agricultural Fields in Sistan Plain to Be Revived
Genocide of Muslims in Myanmar Going on Nonstop: UN Officials
Instead of Insulting Others, Gov't Spokesman Must Announce Details of Jobs Created
---
Kelid:
Parliament OK's Cut in Cash Subsidies of Three Richest Income Deciles
No Report of Economic Growth Rate in Autumn Yet!
Iran's Statistics Organisation, Central Bank Keeping Silent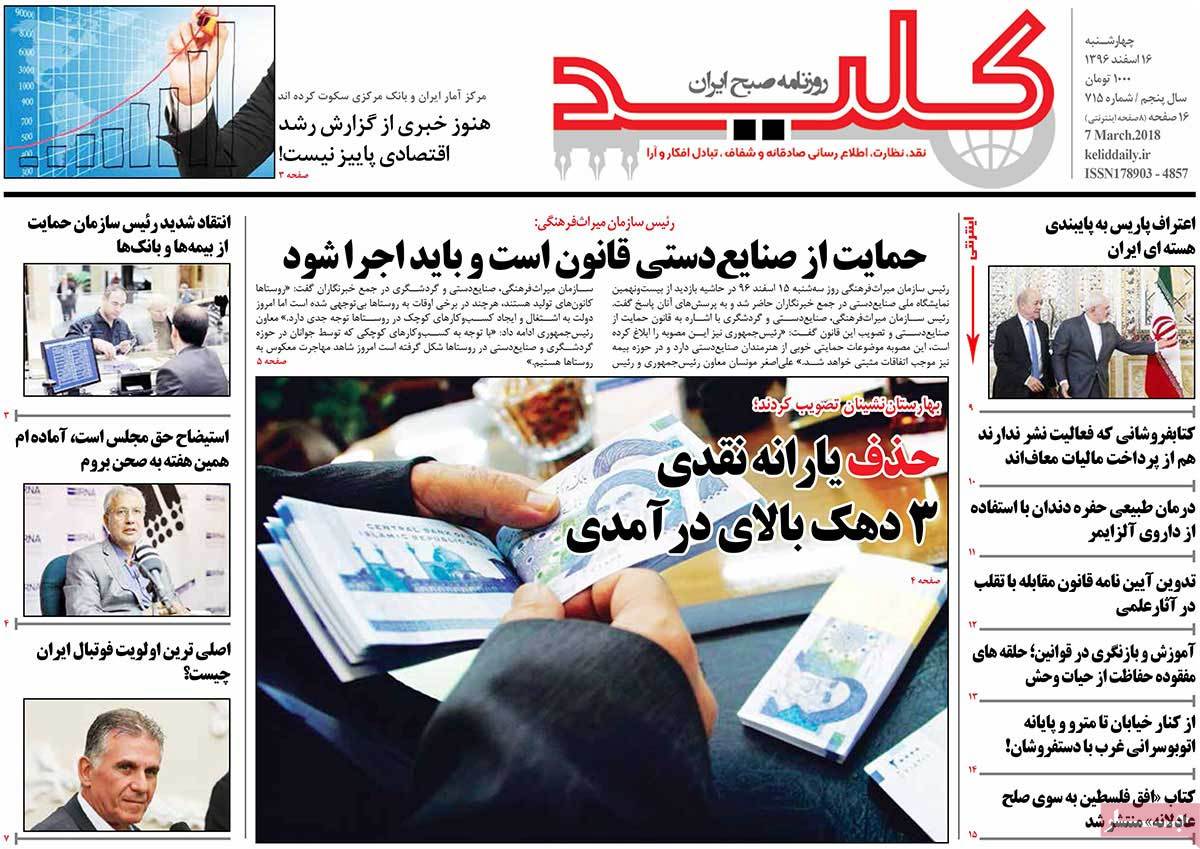 ---
Khorasan:
Russia Ready to Launch National Web, Block Internet in Reaction to Western Threats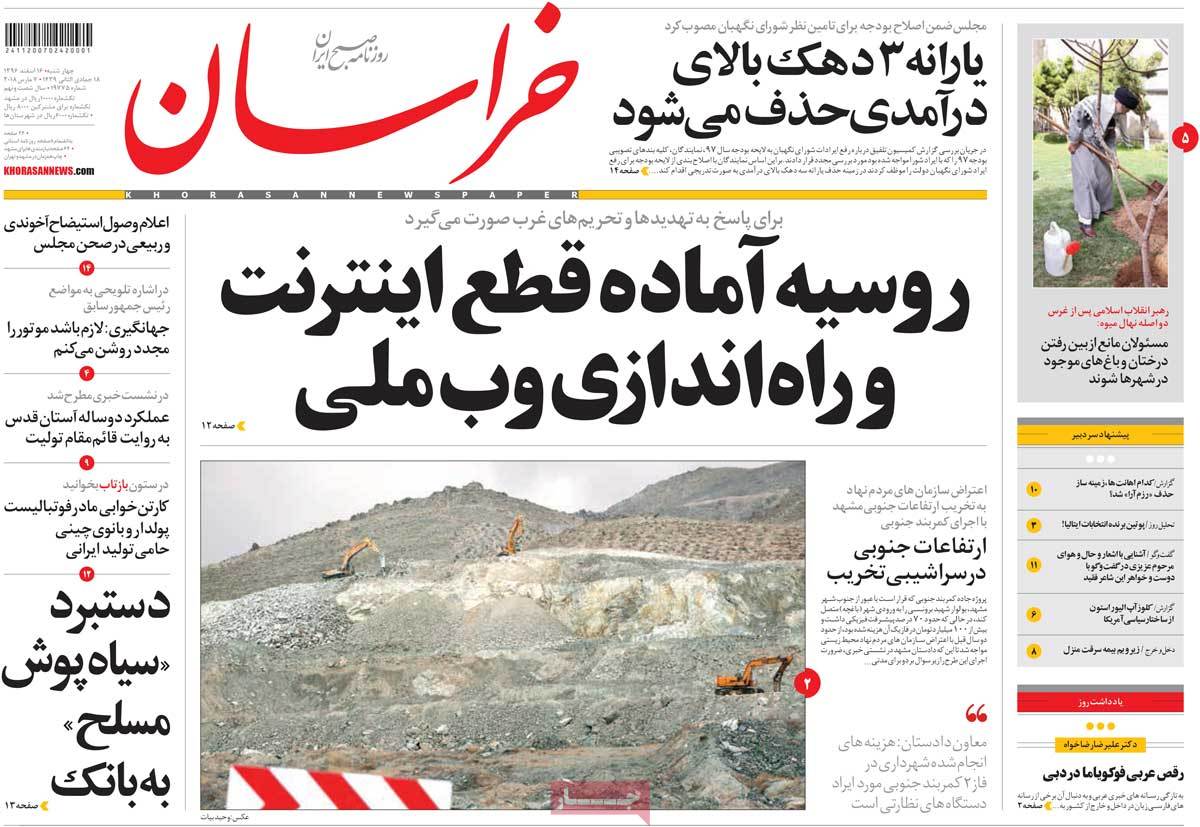 ---
Rah-e Mardom:
MP: No Necessity for Transferring Iranian Plane's Black Box to France
---
Resalat:
Judiciary: They Refuse to Give Information about Executives with Dual Nationality
Ayatollah Javadi Amoli: World Not Governed by Modern Bestiality
Analyst: Iran Shelter for Revolutionaries from All Parts of World
Riyadh Trying to Get Out of Quagmire of Humanitarian Disaster in Yemen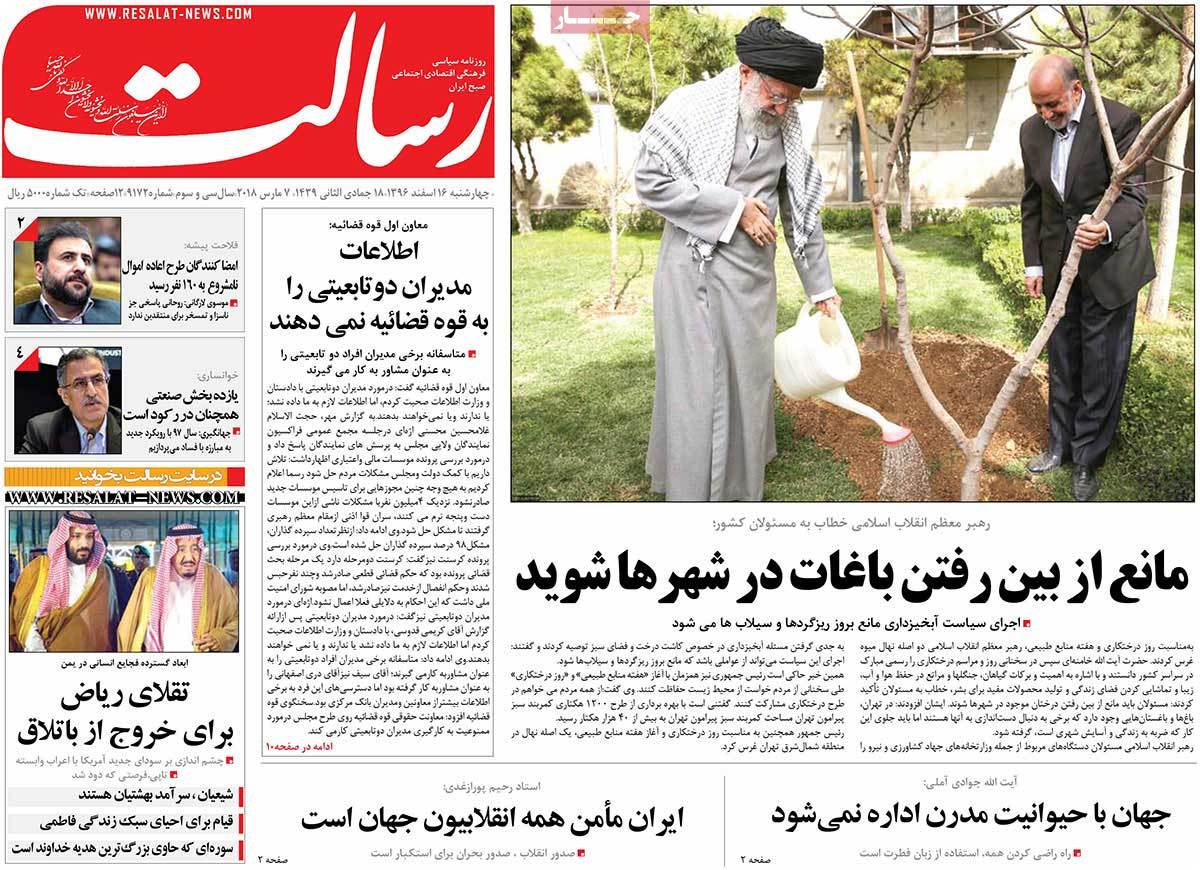 ---
Rooyesh-e Mellat:
Iran Gov't Spokesman: JCPOA Not to Be Changed
Velayati: French FM Won't Get Anything against Iranians' Interests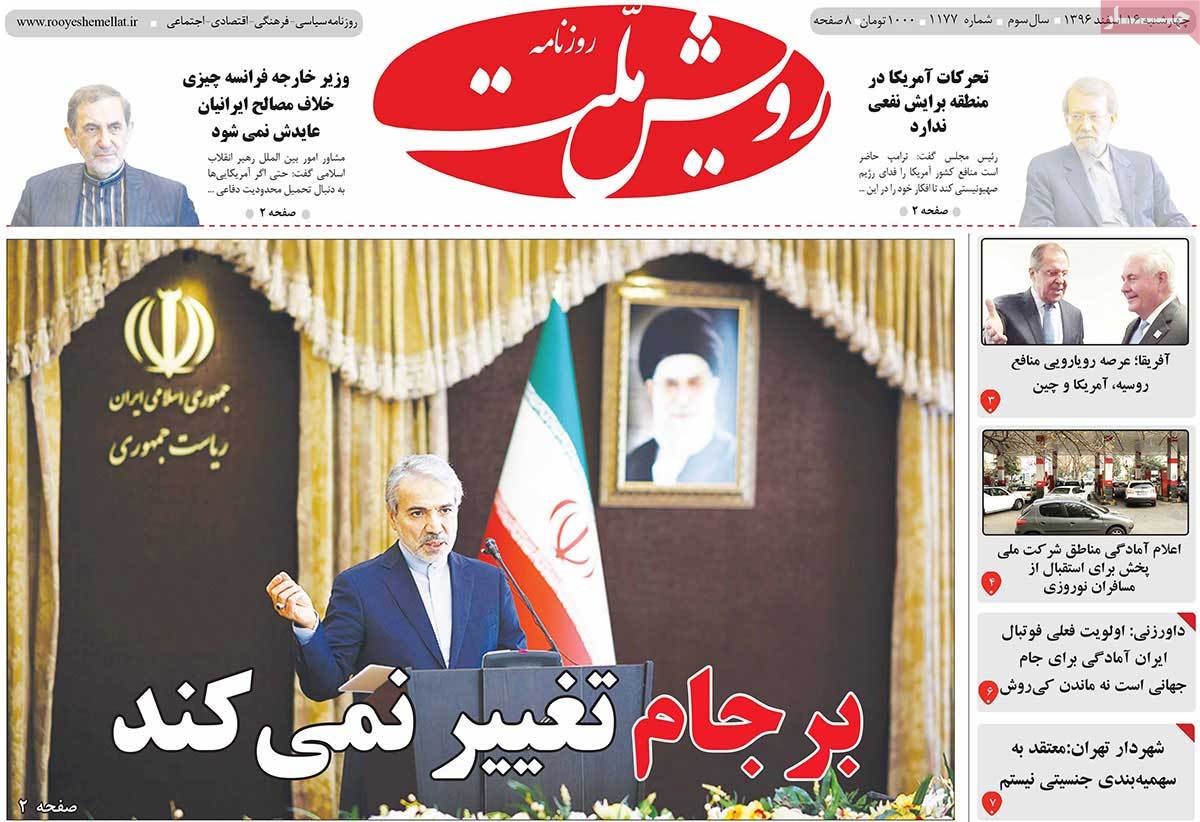 ---
Sayeh:
Bin Salman En Route to Britain, US with Loads of Reforms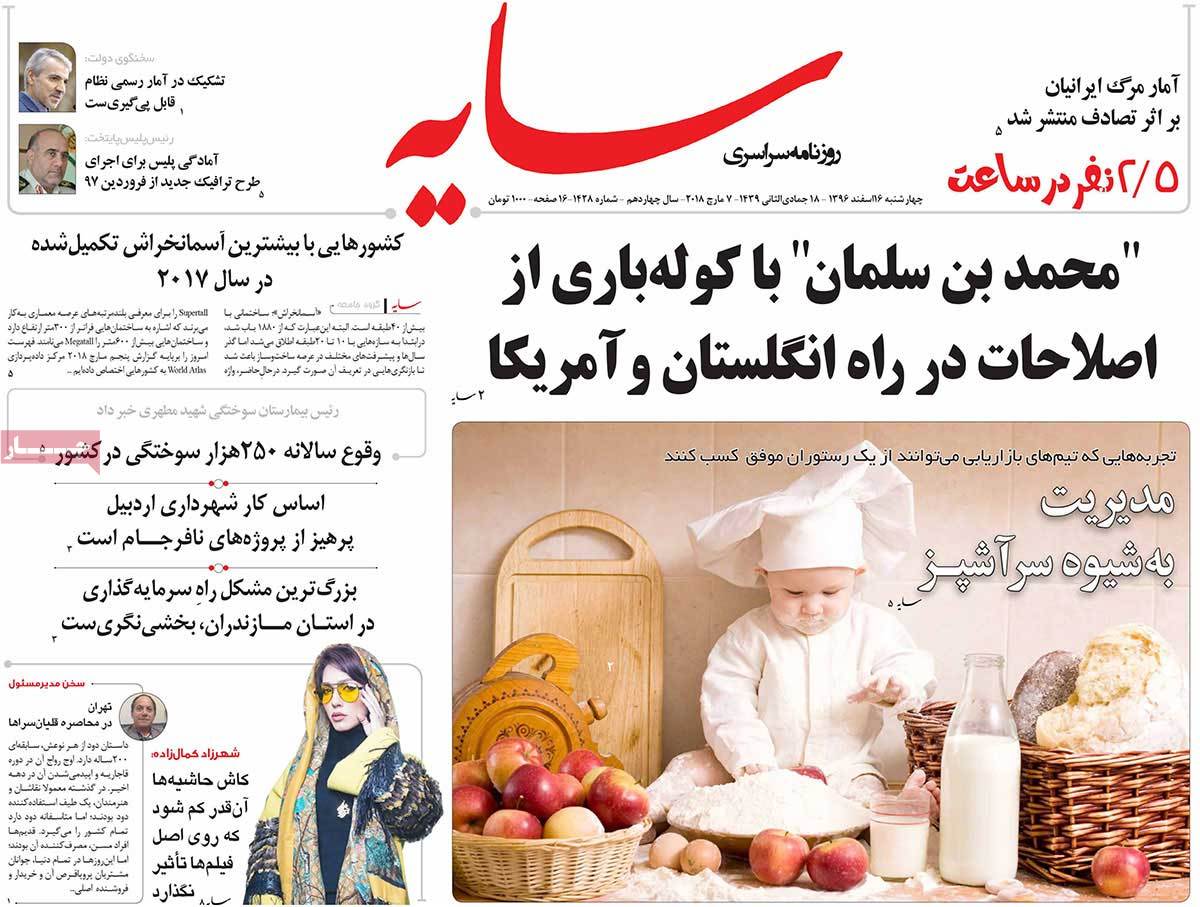 ---
Shahrvand:
President Rouhani Urges All People to Plant Saplings on Arbour Day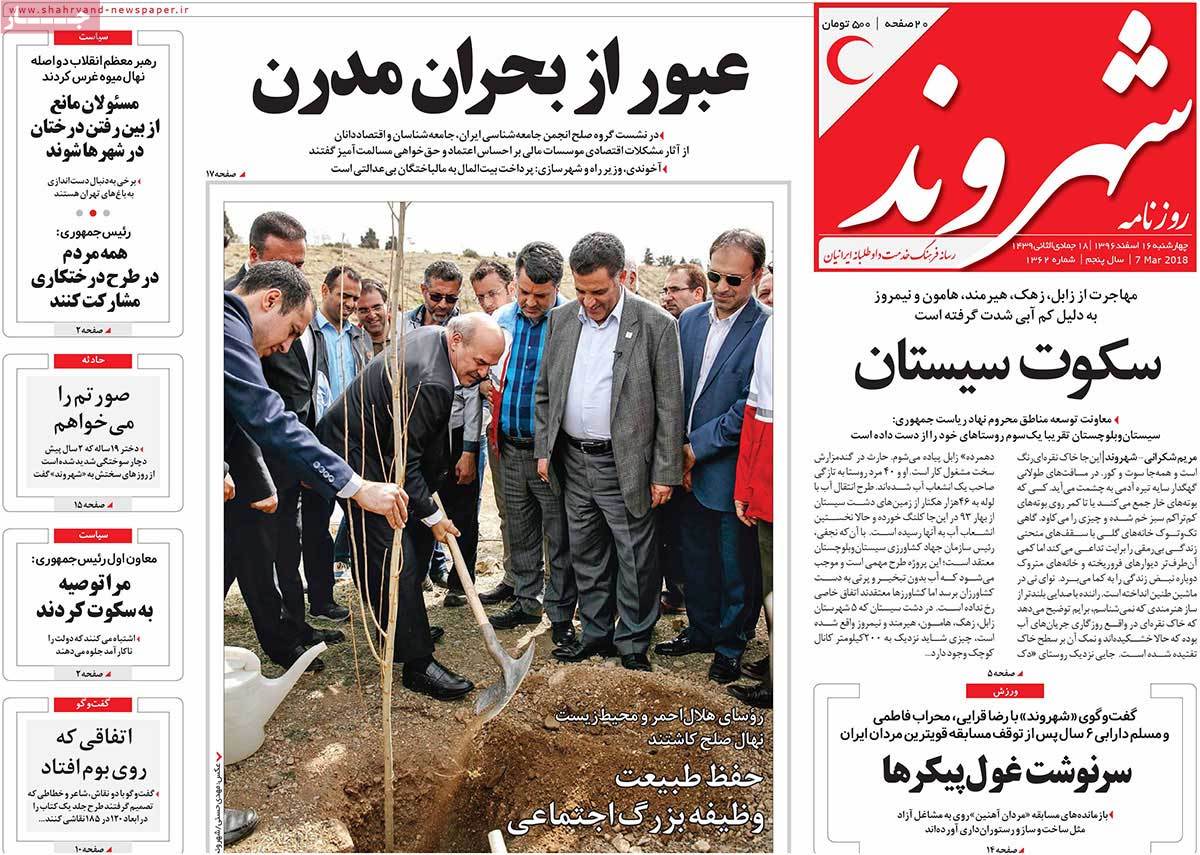 ---
Vatan-e Emrooz:
Judiciary: National Security Council Suspended Conviction of Those behind Crescent Deal
Syrian Army on Verge of Retaking Duma: Continued Operation to Cleanse Eastern Ghouta