Newspapers on Tuesday covered the death of famous and acclaimed Iranian filmmaker Abbas Kiarostami in the French capital Paris.
They also highlighted a statement by President Hassan Rouhani, which addressed the Iranian nation on the issue of huge salaries paid to certain executives. Rouhani vowed to pursue the issue until the eradication of corruption, and stressed that he will not take anyone as an exception.
Abrar:
1- 3 Days of National Mourning in Iraq
2- Iran Is Second-Biggest Threat to US: Democrat Party
3- Moscow Ready to Deliver 2nd Batch of S-300 Missile Defence System to Iran
4- Personal Information of 25% of Iranians Were Leaked, But No One Was Dismissed or Gave an Apology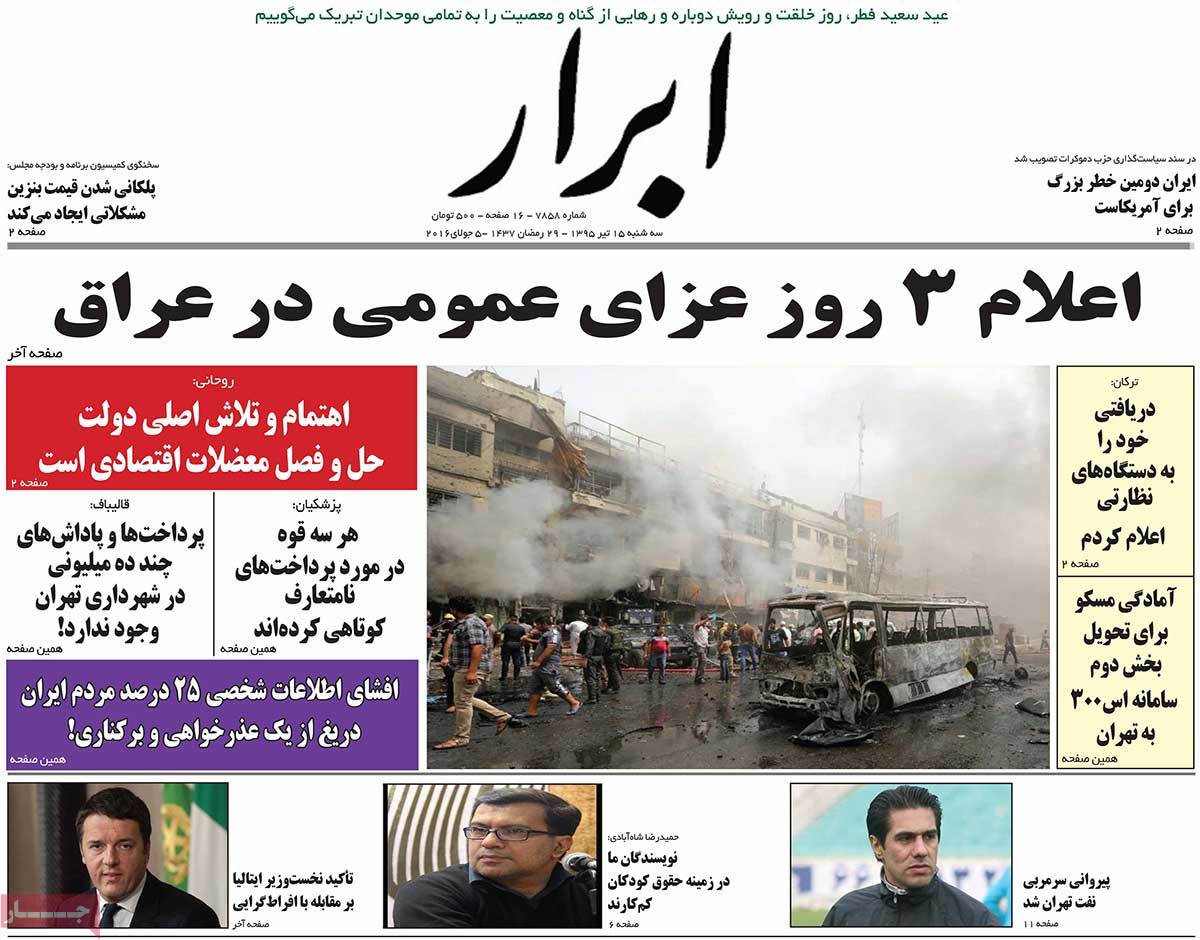 ---
Abrar-e Eqtesadi:
1- 20% of Iranian Industries Are Shut Down
2- Saipa to Implement New Form of Contracts with Foreign Companies
3- Government to Discuss Ban on Imports of 870 Types of Goods [which have homegrown counterparts]
---
Aftab-e Yazd:
1- Two Messages of an Absence: Why Aref Didn't Take Part in President's Iftar Ceremony?
2- Saudi Arabia Begins Cutting Subsidies: Riyadh's Economic Problems
3- Almost $300 Received for German Embassy Interview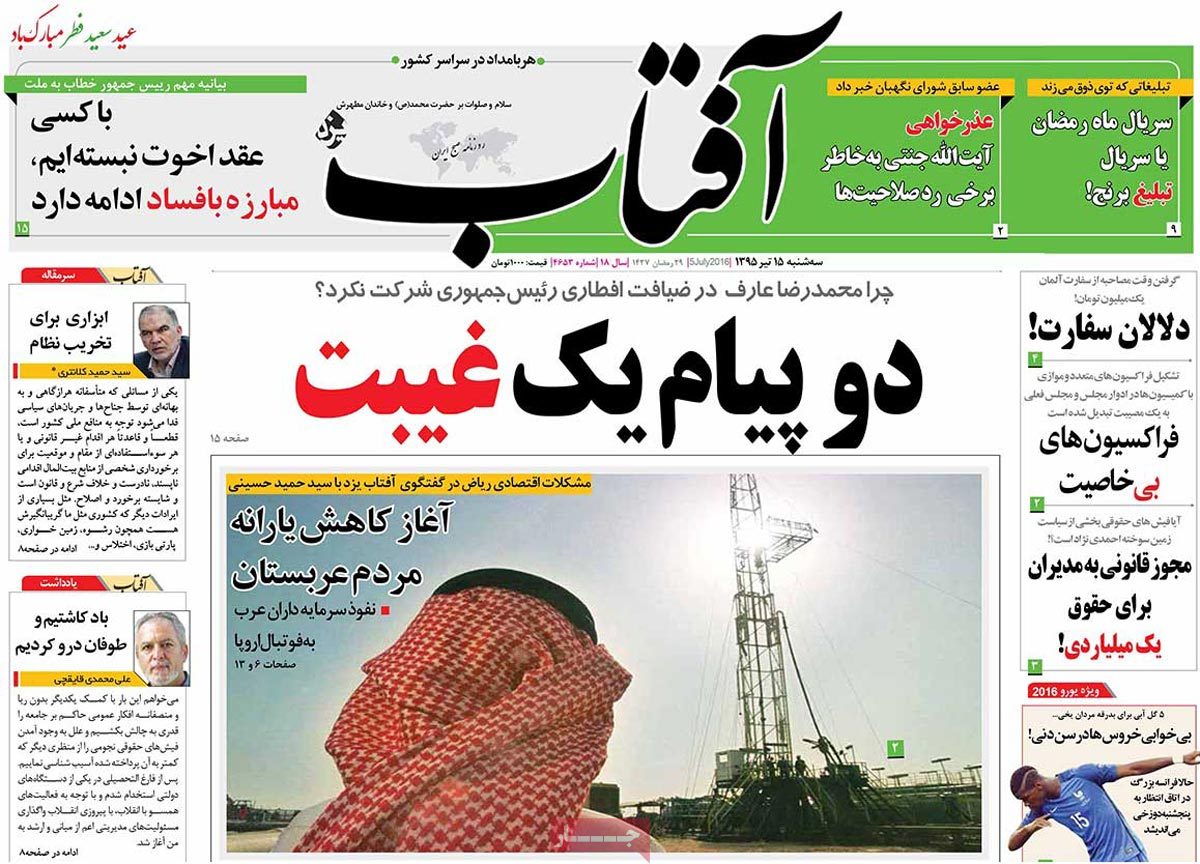 ---
Arman-e Emrooz:
1- Zarif's Secret Meetings in Qom! FM Met Ayatollah Makarem Shirazi and Ayatollah Vahid Khorasani
2- Rouhani's Important Statement to Iranian Nation: People Should Know, Anti-Corruption Campaign Will Confront Any Offender
3- Displaying Anti-American Hoardings to Become President: City Council Members Protest at Tehran Mayor's Anti-American Billboards
---
Asia:
1- Cutting People's Access to the Internet Is Now Regarded as Violation of Human Rights
2- Italy's 150-Strong Business Delegation En Route to Iran
---
Asrar:
1- Salaries of All Bodies and Powers to Be Monitored: Intelligence Minister
2- Trilateral Committee to Be Held to Discuss Bioterrorism: Health Ministry
3- Official Licence for Screening of Foreign Films in Iranian Cinemas
4- New Oil Contracts Should Be Revised: VP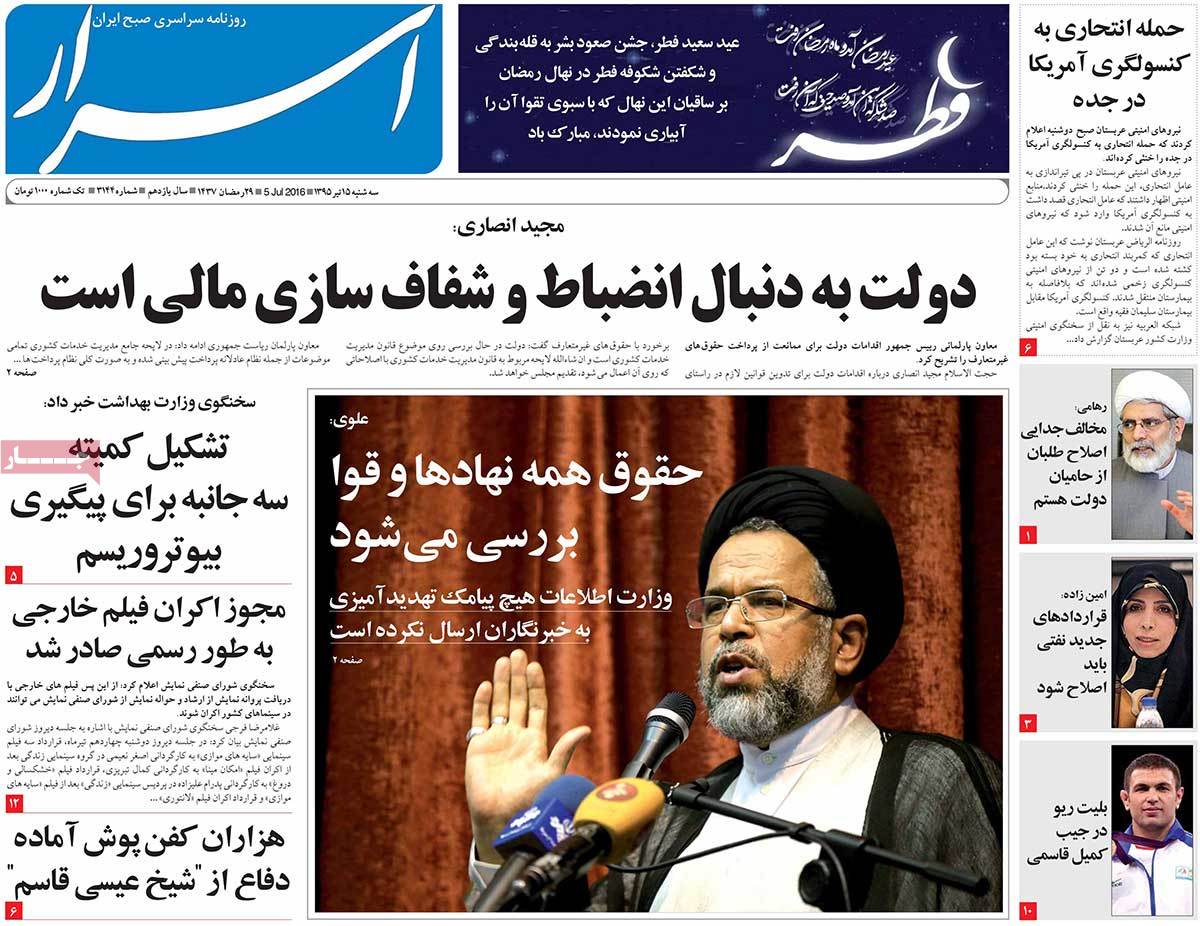 ---
Ebtekar:
1- Rouhani Underlines Government's Resolve to Eradicate Corruption
2- Inappropriate Water Resources Management and Missing Culture of Water Use
3- Dear User! There Is No Security in Your Network! [on leakage of Irancell users' personal information]
---
Emtiaz:
1- Iran on Verge of Population Aging Crisis
2- Ceremony Held in Australia in Honour of Master Shajarian
3- Iran's New Oil Contracts to Be Unveiled
---
Etemad:
1- President's Report to People: All Bodies Urged to Declare the Salaries They Pay to Their Executives on Their Official Websites
2- $70bn Increase in Iran's National Assets [a report on performance of National Development Fund's resigned executives]
3- Suicide Operation in Medina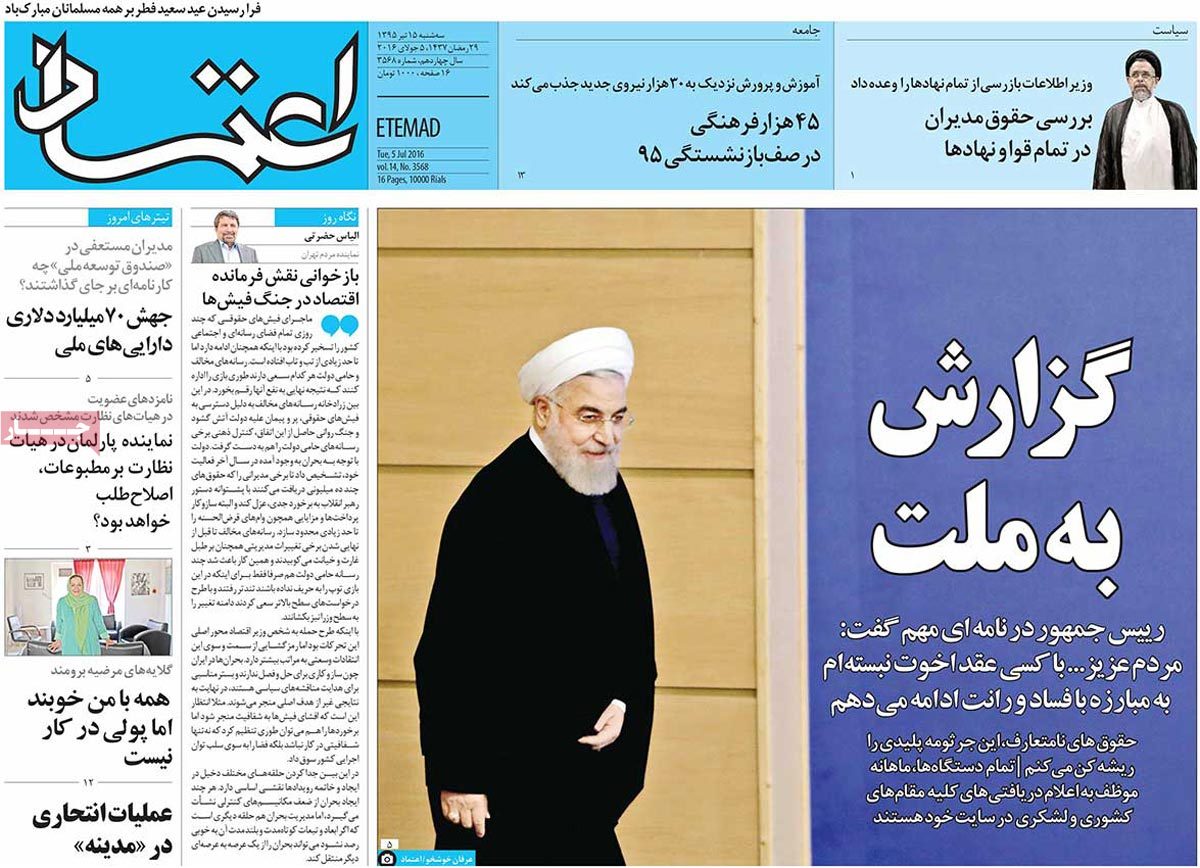 ---
Ettela'at:
1- It's Necessary to Pay Attention to Transfer of New Technologies in Foreign Contracts: First VP
2- World Condemns Baghdad Terrorist Attacks
3- We'll Not Rest in Confronting Terrorism: Zarif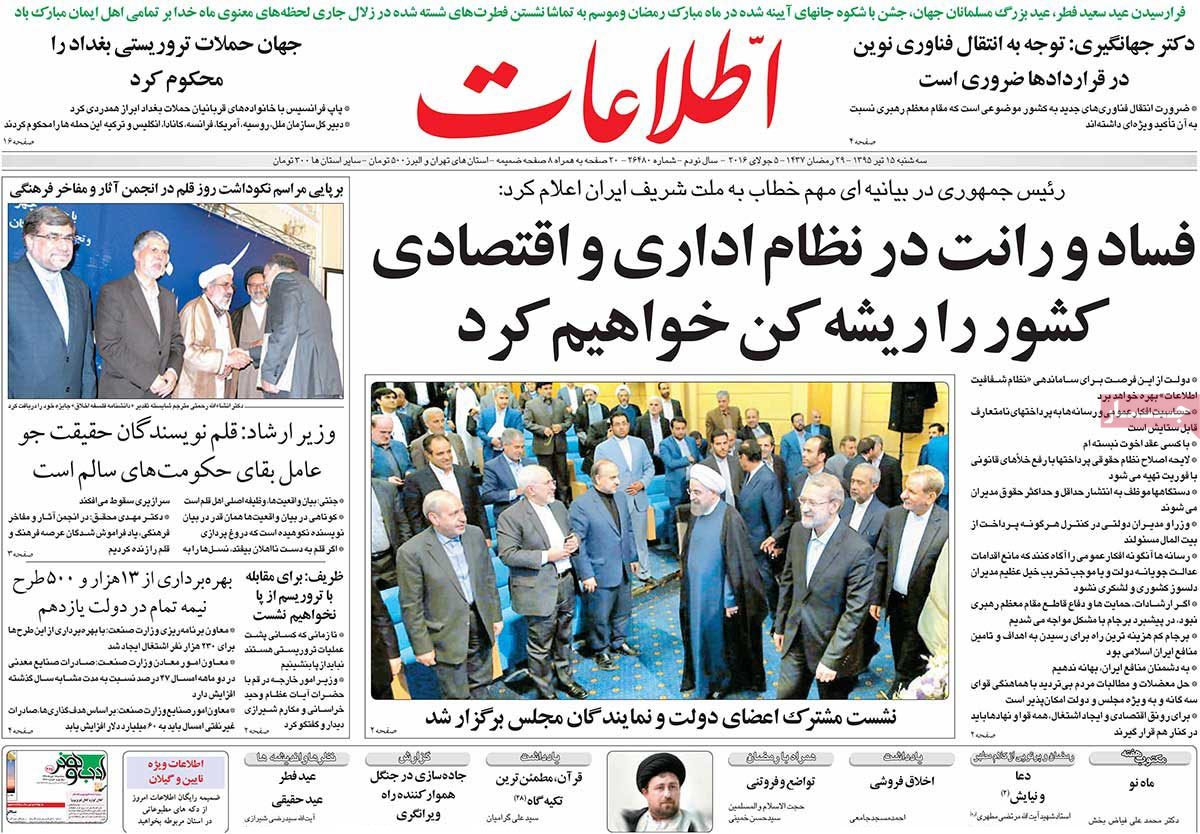 ---
Haft-e Sobh:
1- Goodbye Decent Genius: Abbas Kiarostami Dies at 76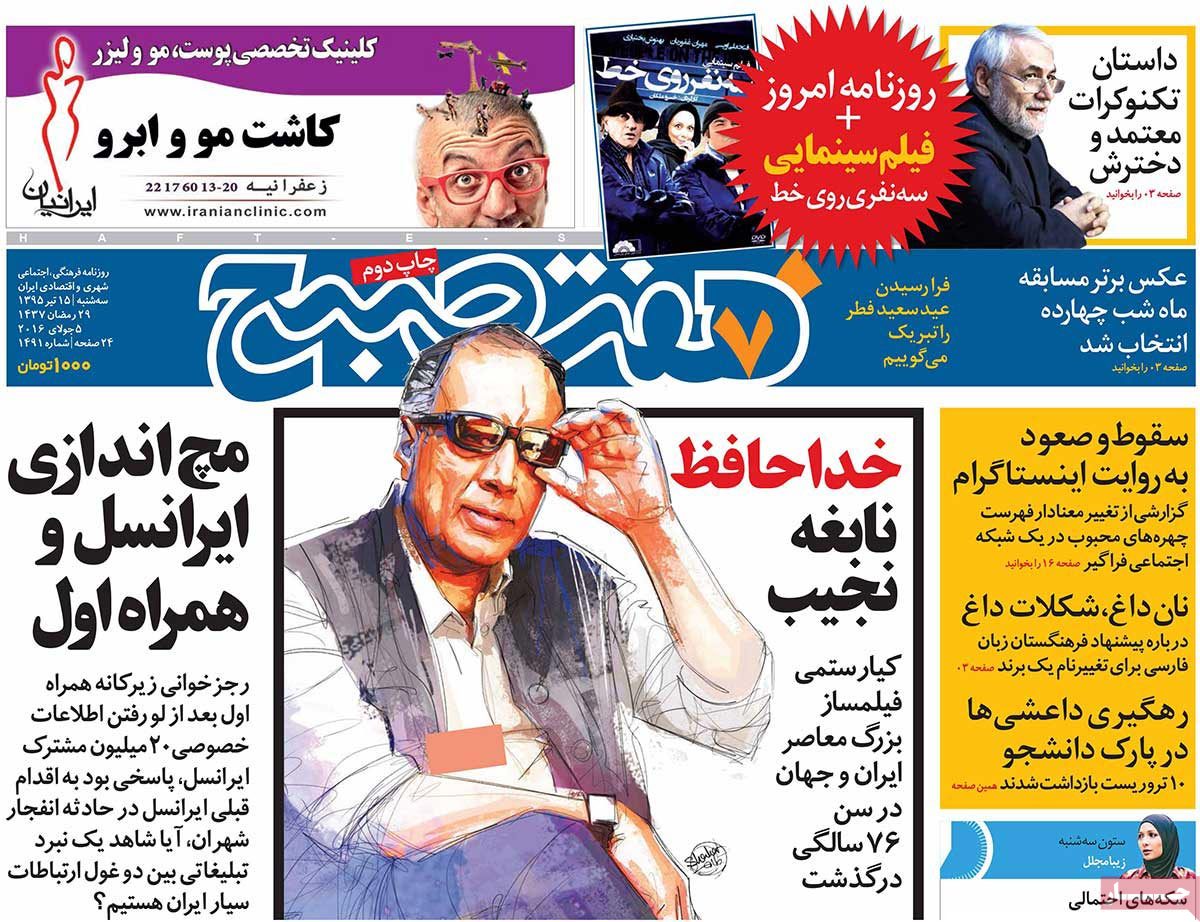 ---
Hamshahri:
1- President Promises to Make a Major Change in Banking System
2- Do Mobile Phone Operators Sell Their Users' Information?
3- Takfiris [Extremists] Narrate the Story of Their Operation against Tehran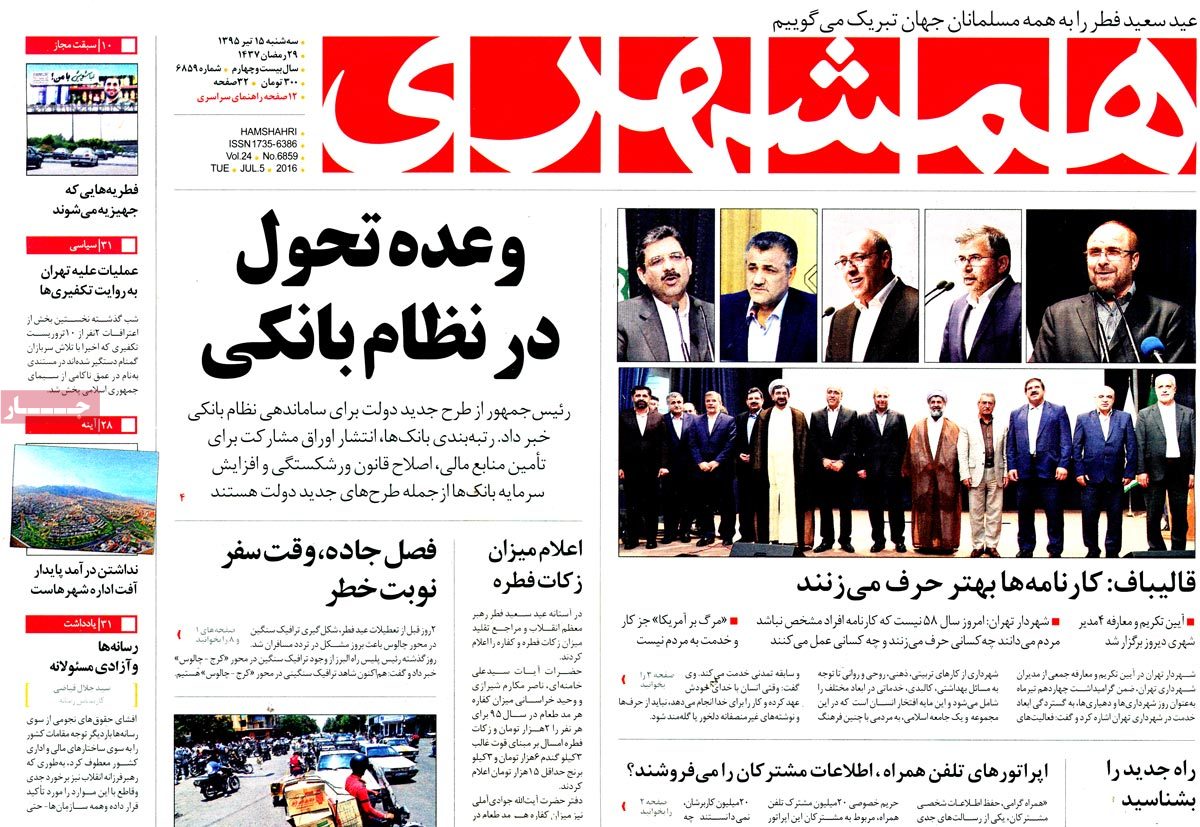 ---
Iran:
1- Kiarostami Arrived at "Friend's House": World Renowned Iranian Director Dies in Paris
2- A Report on Emerging Phenomenon of "Hair Donation"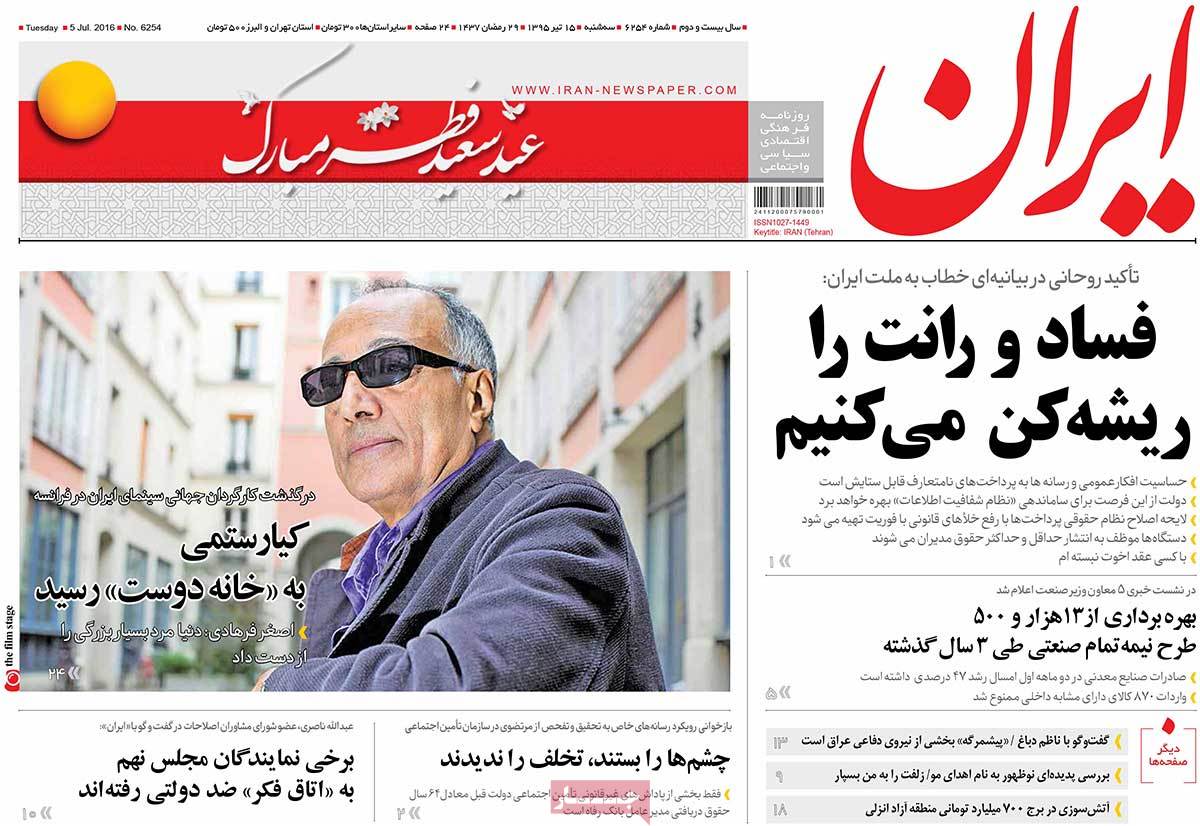 ---
Javan:
1- Saudi Arabia's Hands in Baghdad Slaughter: Iraqi Officials Consider Riyadh the Prime Suspect
2- If There's a Need for Apology in Some Cases, We Should Apologize: Rouhani, Referring to Huge Salaries
3- We Received €600,000 for 50 Operations in Tehran: Captured ISIS Element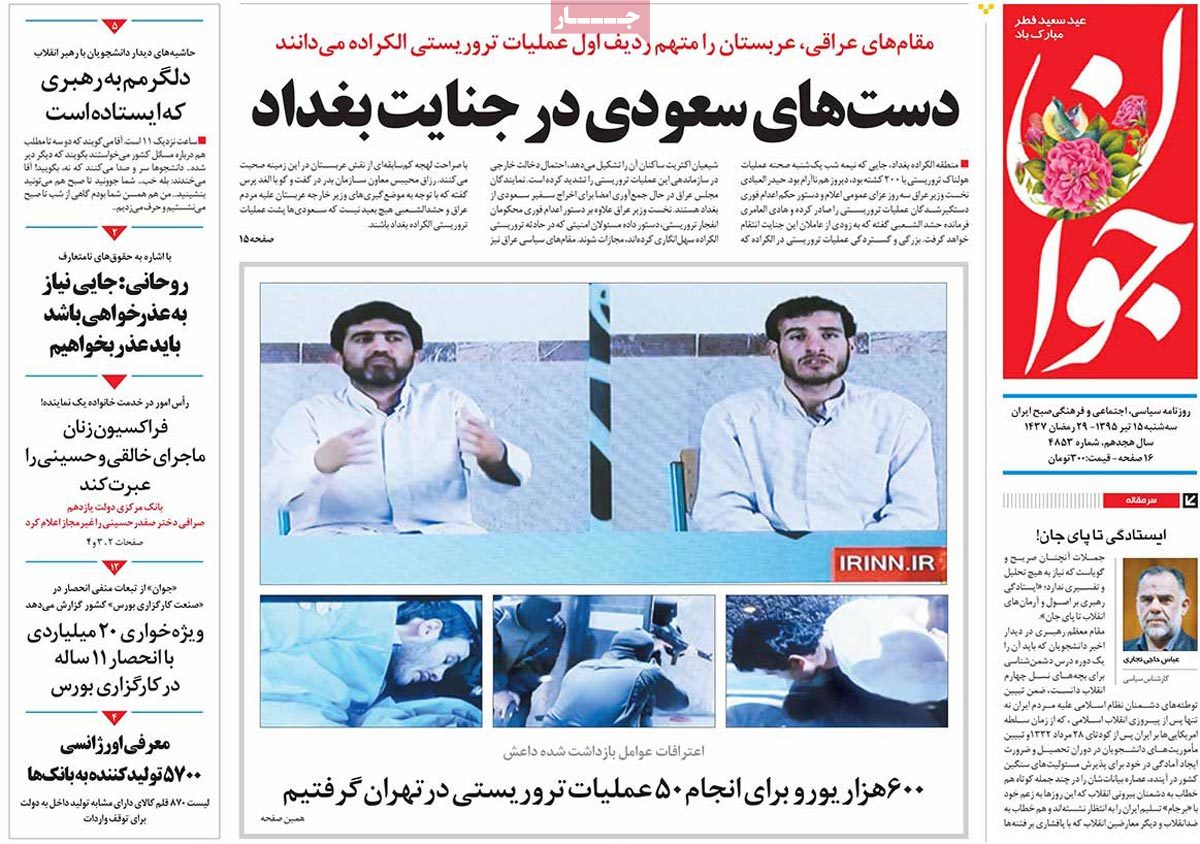 ---
Jomhouri Eslami:
1- Iran Strongly Slams Ahmed Aboul Gheit's Remarks: Arab League Has Endorsed Aggression and Killing Brothers
2- US to Return from Syria with Empty Hands: Newsweek
3- Iraqi Army Preparing for Major Operation near Syrian Border
---
Khorasan:
1- Fake British Bomb Detectors: How ISIS Suicide Attackers Entered Baghdad?
2- Top Shiite Cleric Ayatollah Makarem Shirazi Strongly Condemns the Film that Insults Sunnis' Sanctities
3- Suicide Attack near Prophet's Mosque in Medina
---
Rah-e Mardom:
1- 8% of Iran's Population Is Aged: We're Getting Close to Population Aging Crisis
2- Record-Breaking Power Use during Summer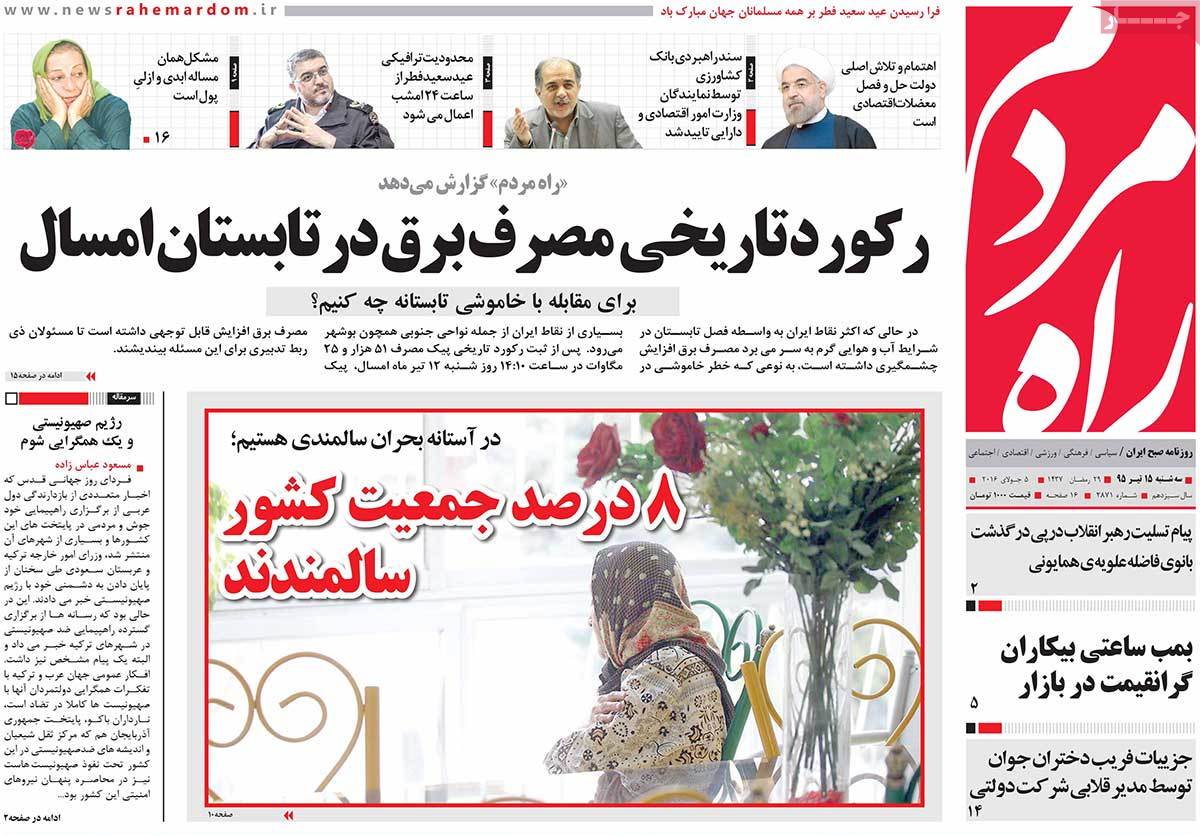 ---
Resalat:
1- Washington Isn't Reliable under Any Circumstances: US Hostilities Continue
2- Iran Doesn't Recognize Unfair Global Order: IRGC Lieutenant Commander
3- Issue of Unconventional Salaries Not Related to Any Particular Branch of Iranian Establishment: Rouhani
4- Larijani: Parliament Supports Government's Efforts to Revive 6,500 Production Units
---
Roozan:
1- Westerners' Lives Seem to Be More Valuable than Those of Middle-Easters: Why Global Media Don't Express Sympathy with Victims of Terrorism in Mideast
2- New Signs of Evolution in Regional Crises: From Putin's Letter to Obama to Changes in Turkey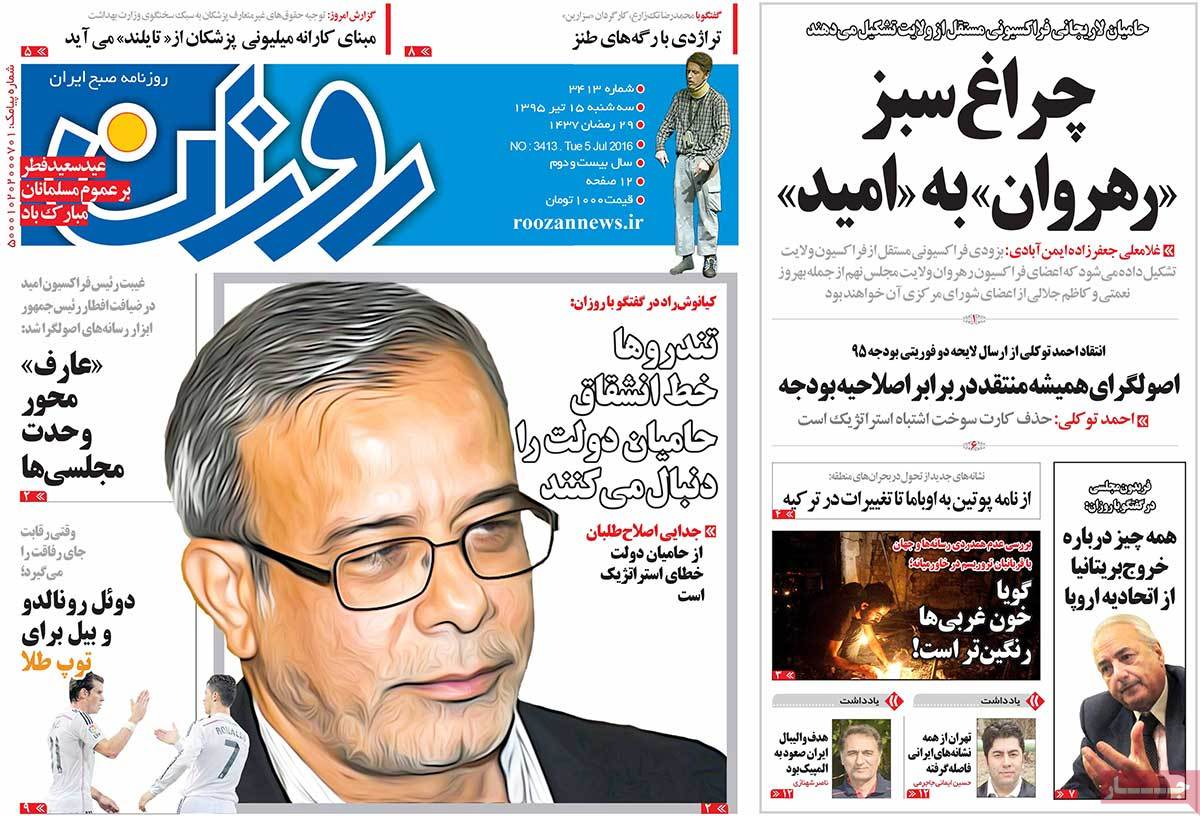 ---
Setareh Sobh:
1- A Look at Triangle of Russia, Turkey and Israel: Is There a Plot Coming?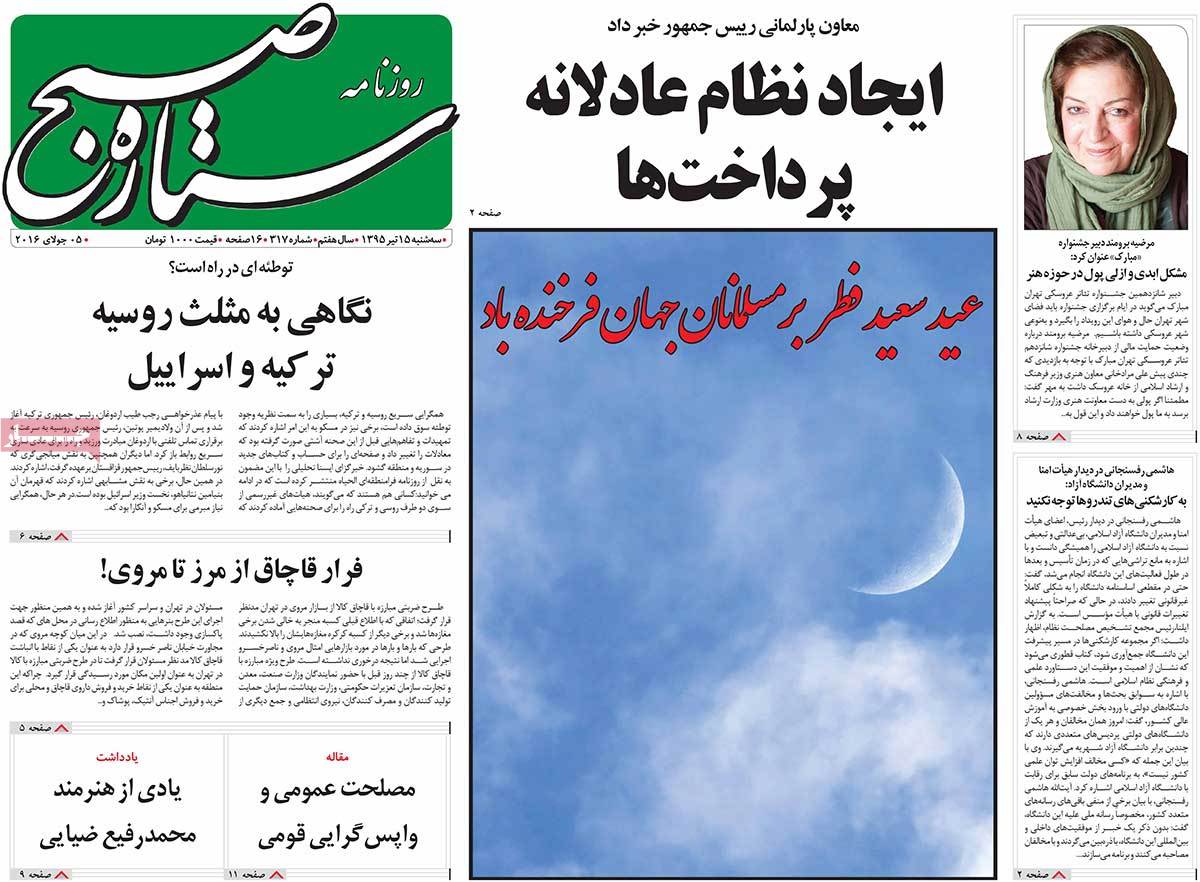 ---
Shahrvand:
1- Towards Transparency: Rouhani Vows in His Statement
2- 17 Students Committed Suicide in Past Year
3- I Wanted to Boast My Talent by Leaking Personal Information of Irancell Users: Arrested Element
---
Vatan-e Emrooz:
1- Failed Policies: What Iranian Oil Minister's Adoption of Saudi Policy of "Market Share" Did to Iran's Oil Incomes
2- Number of Baghdad Blast's Victims Rises to More than 200