Almost all newspapers today covered the important remarks made by Iranian Deputy Foreign Minister Seyyed Abbas Araqchi in his address to the London-based Chatham House think tank. The Iranian diplomat stressed that Tehran may withdraw from the Iran nuclear deal if its economic expectations are not met.
Also a top story was the search operation which is still underway in Iran's Dena Mountain to find the remnants of those killed in the recent plane crash.
Several papers also covered the latest developments in Syria's Eastern Ghouta and the Syrian government's attacks on the terrorists and rebels there, who are using civilians as a human shield.
The above issues, as well as many more, are highlighted in the following headlines and top stories:
19 Dey:
1- Search Operation in Dena Mountain Halted Due to Bad Weather
---
Abrar:
1- 102 MPs Call on Parliament's Presiding Board to Summon Rouhani
2- Pence: Trump Won't Certify Iran Nuclear Deal Again
3- Iraqi Source: Al-Baghdadi's Deputy Killed in Airstrike
4- Araqchi: Iran Nuclear Deal Not Renegotiable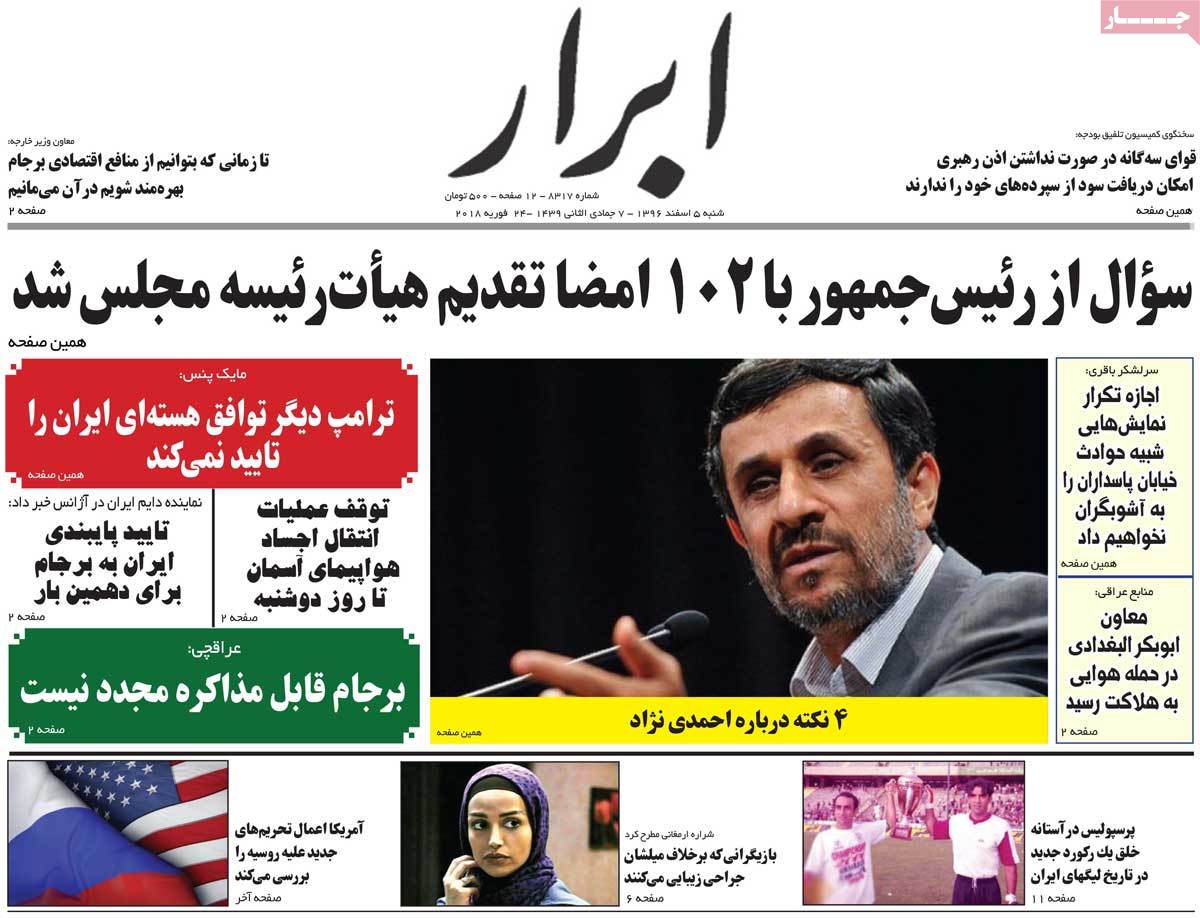 ---
Abrar-e Eqtesadi:
1- Aseman Airlines' Speculations about Recent Plane Crash
Iran's Old Aviation Industry Caused the Crash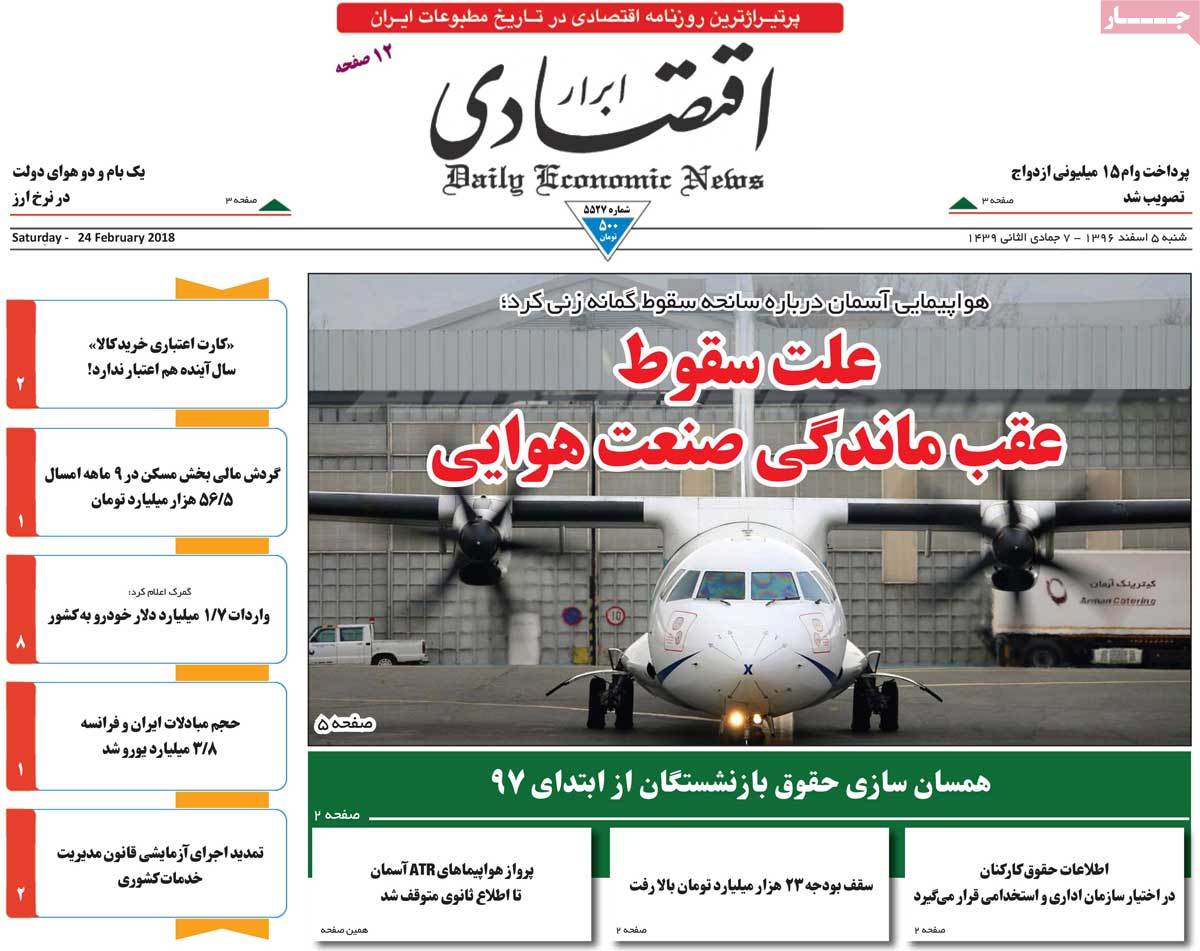 ---
Afkar:
1- IRGC General Rezaei: Iran's Revolutionary Police Won't Allow Rioters to Cause Insecurity
---
Aftab-e Yazd:
1- Will Iraq Outpace Iran in Foreign Trade?
2- Why Araqchi Said in London JCPOA Has Not Been Successful
---
Arman-e Emrooz:
1- Case of Former Mayor of Tehran Sent to Court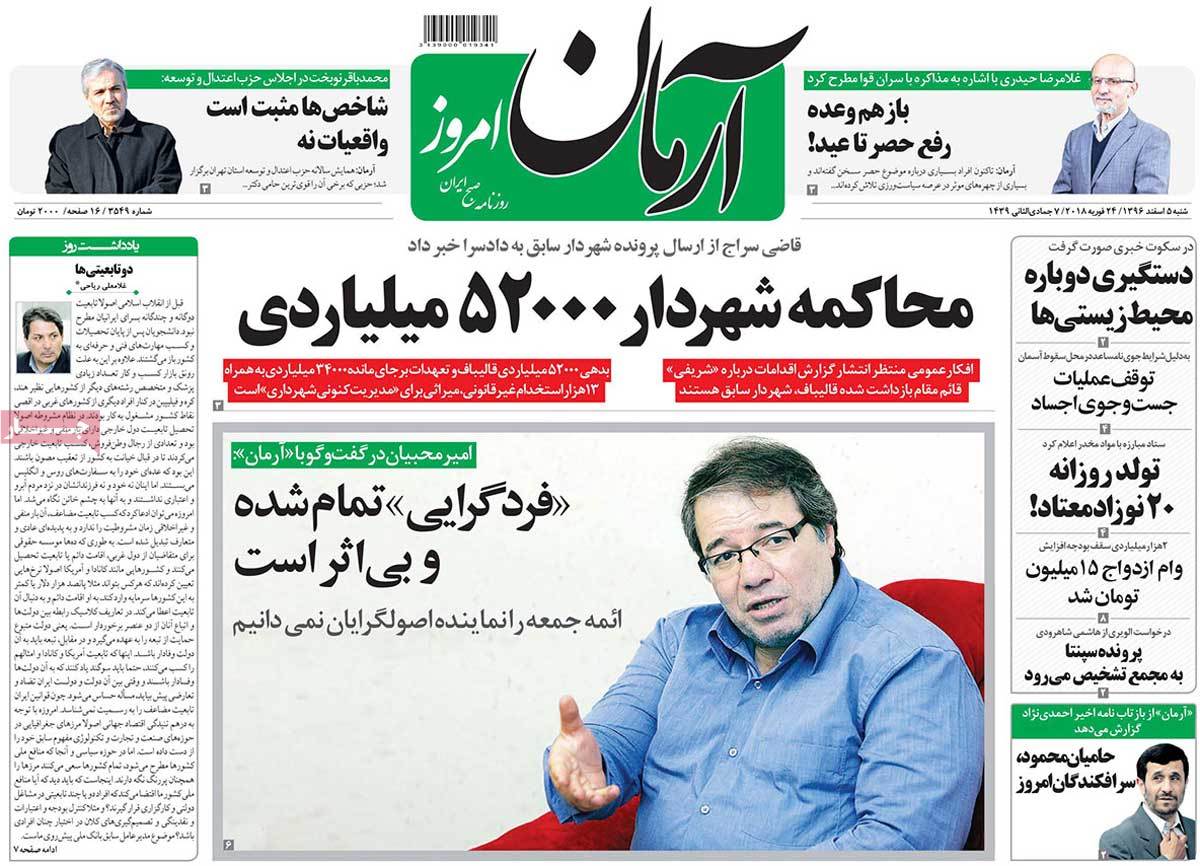 ---
Asrar:
1- Araqchi: Trump's Opposition to JCPOA Means Confrontation with Int'l Community
---
Ebtekar:
1- Washington's New Plan for Damascus
US Threatens to Attack Syria amid UN Security Council Meeting on Ghouta
2- Are Saudis Betraying OPEC Member States?
A Report on Riyadh's Performance Regarding OPEEC Deal, Its Role in Oil Price
---
Etemad:
1- Syria's Resolve to Liberate Damascus Suburbs
Will Eastern Ghouta Return to Calm?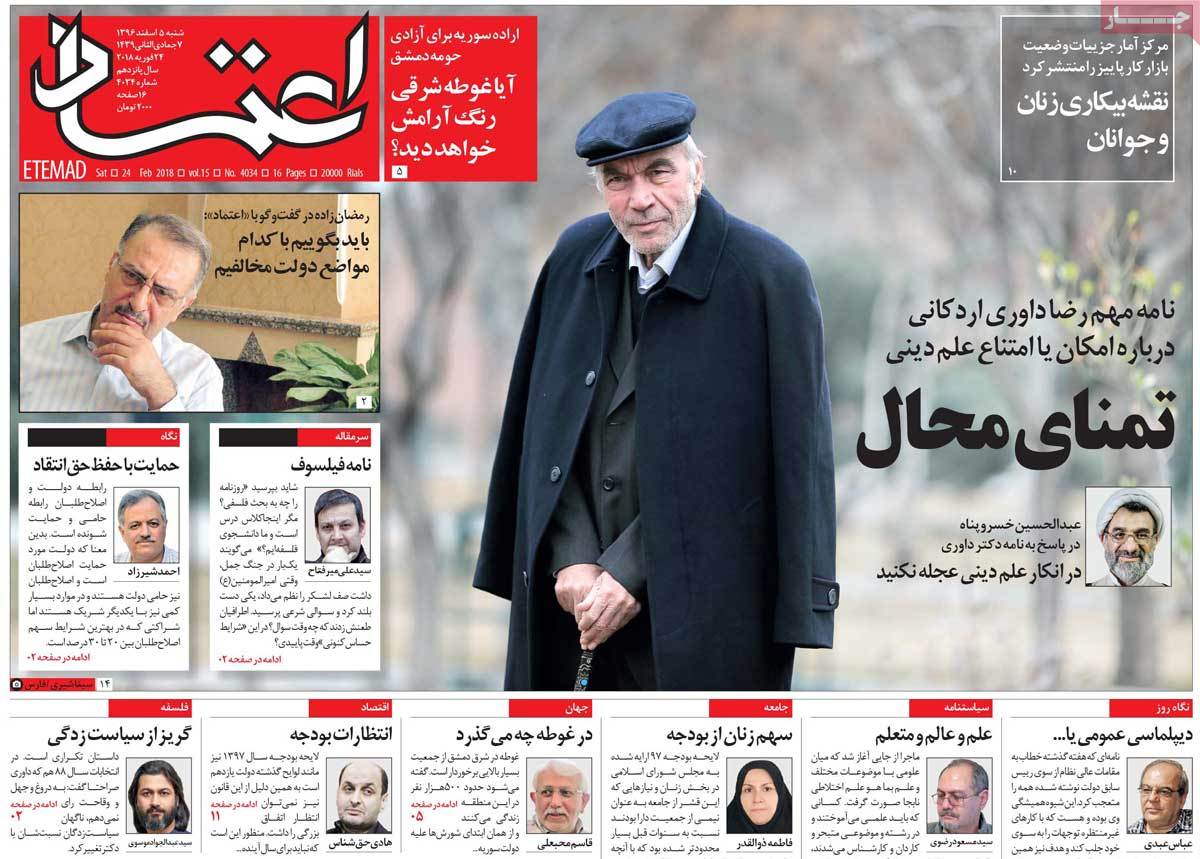 ---
Ettela'at:
1- Araqchi to BBC: US Preventing Iranian People from Reaping Benefits of JCPOA
2- Saudi Arabia Attacks UN's Food Program Caravan in Yemen's Sa'dah
3- General Soleimani: IRGC Defending Islamic Republic's Personality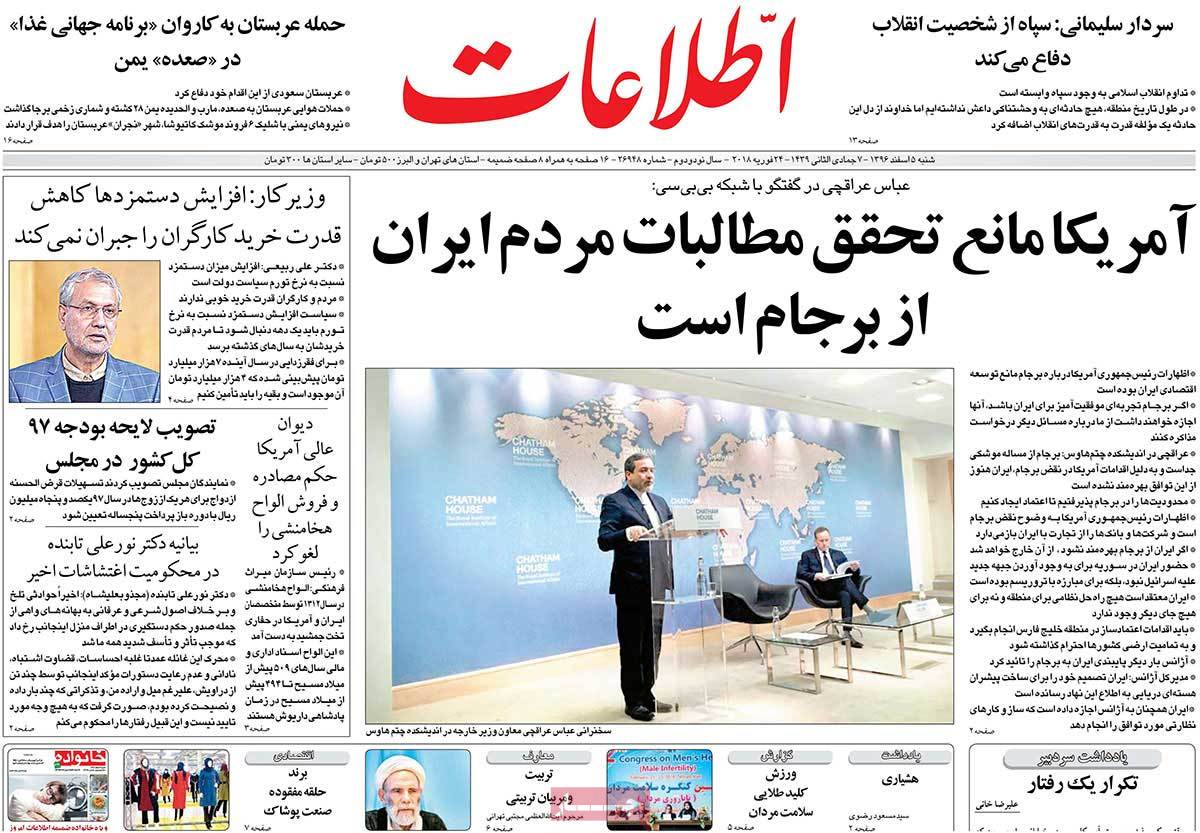 ---
Ghanoon:
1- Islamic Mercy, Spirit of Law
A Review of Laws on Women Removing Their Hijab in Public
---
Iran:
1- Araqchi: Negotiation over Non-Nuclear Issues Hinges on JCPOA's Success
2- New Ambiguities in Case of Plane Crash
---
Javan:
1- Araqchi: We Won't Remain Deprived of JCPOA Benefits
2- US President: We Won't Remain in Iran Nuclear Deal without These 6 Conditions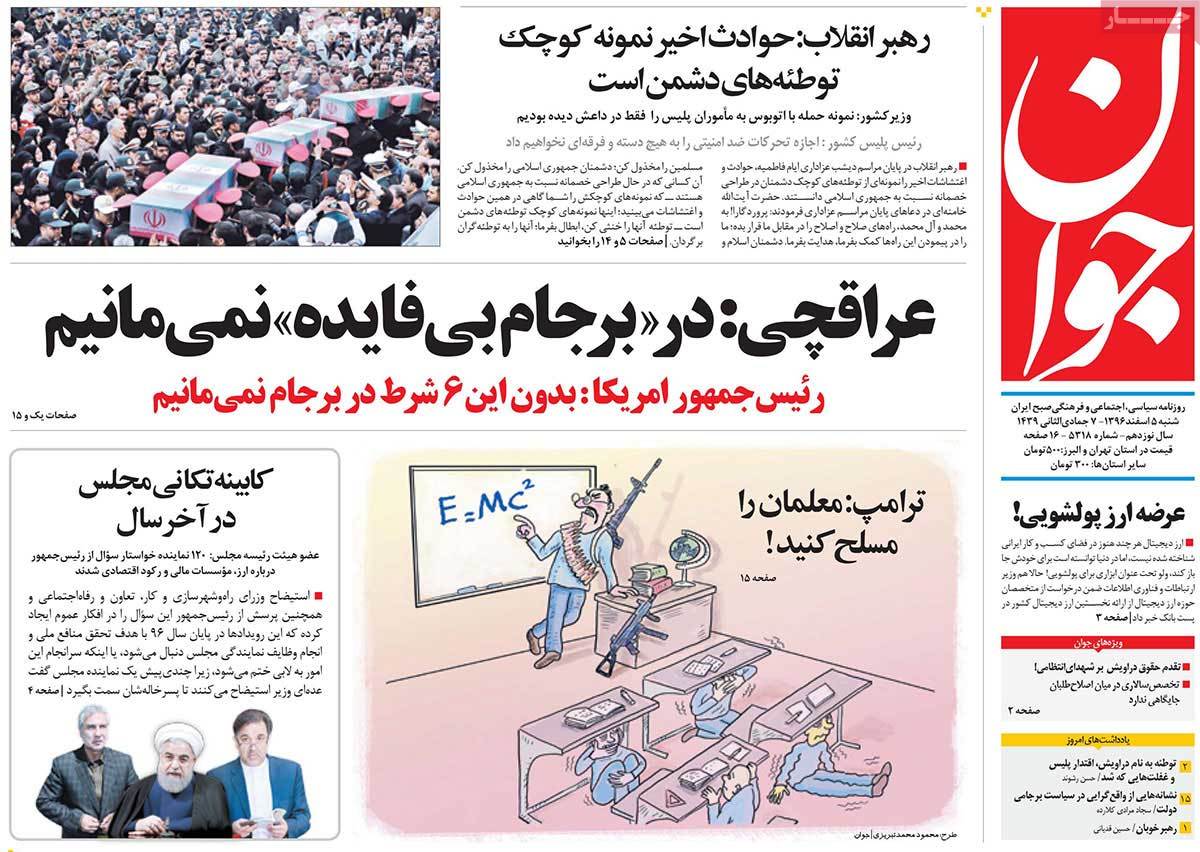 ---
Jomhouri Eslami:
1- Several New Drugs Produced by Iranian Scientists
2- Iran Says Accelerated Work on Nuclear Propulsion Not Unrelated to US Behaviour in JCPOA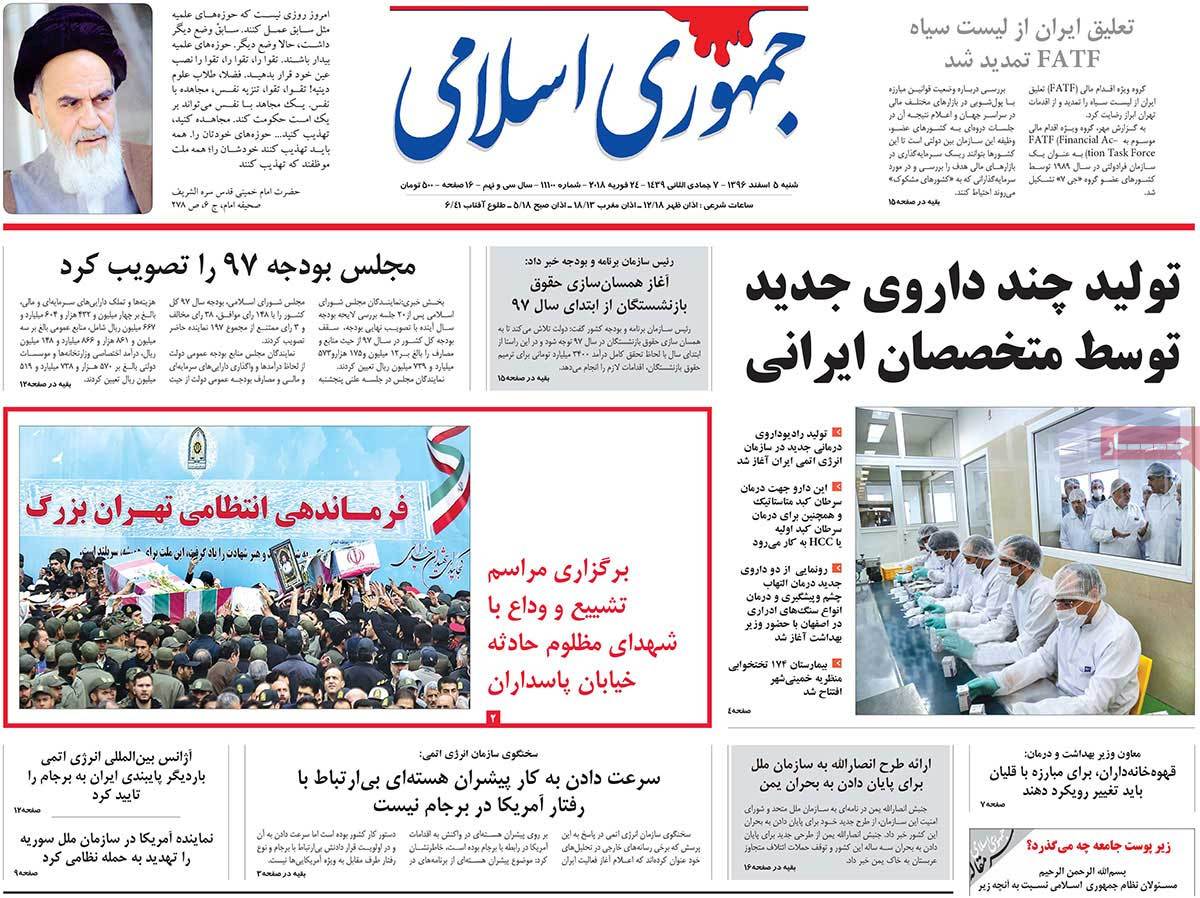 ---
Kayhan:
1- Araqchi: Nuclear Deal Has Had No Gain for Iran
2- Using All Its Capacities, West Starts Saving Last Stronghold of Terrorists in Syria
3- Police Chief: We Won't Allow Any Cult, Group, Sect to Disrupt Security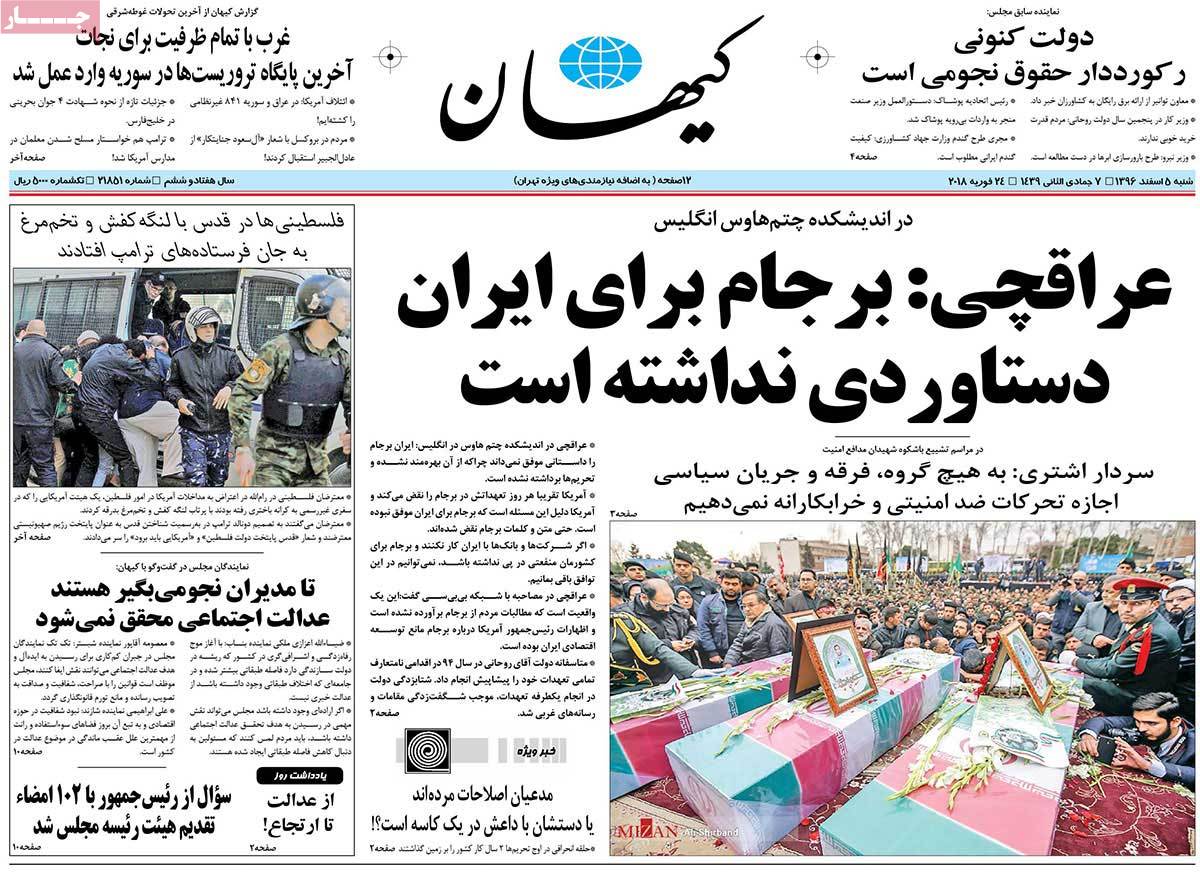 ---
Khorasan:
1- When American Schools Turn into Barracks
Trump's Offer to Teachers: Secretly Carry Guns to Counter Shootings!
---
Rah-e Mardom:
1- Doubts over Iran Nuclear Deal
---
Resalat:
1- Ayatollah Javadi Amoli: People Are Critical of Officials, but Support Establishment
2- West's Direct Role in Slaughter of Yemeni Kids
European Arms in Hands of Saudi Hirelings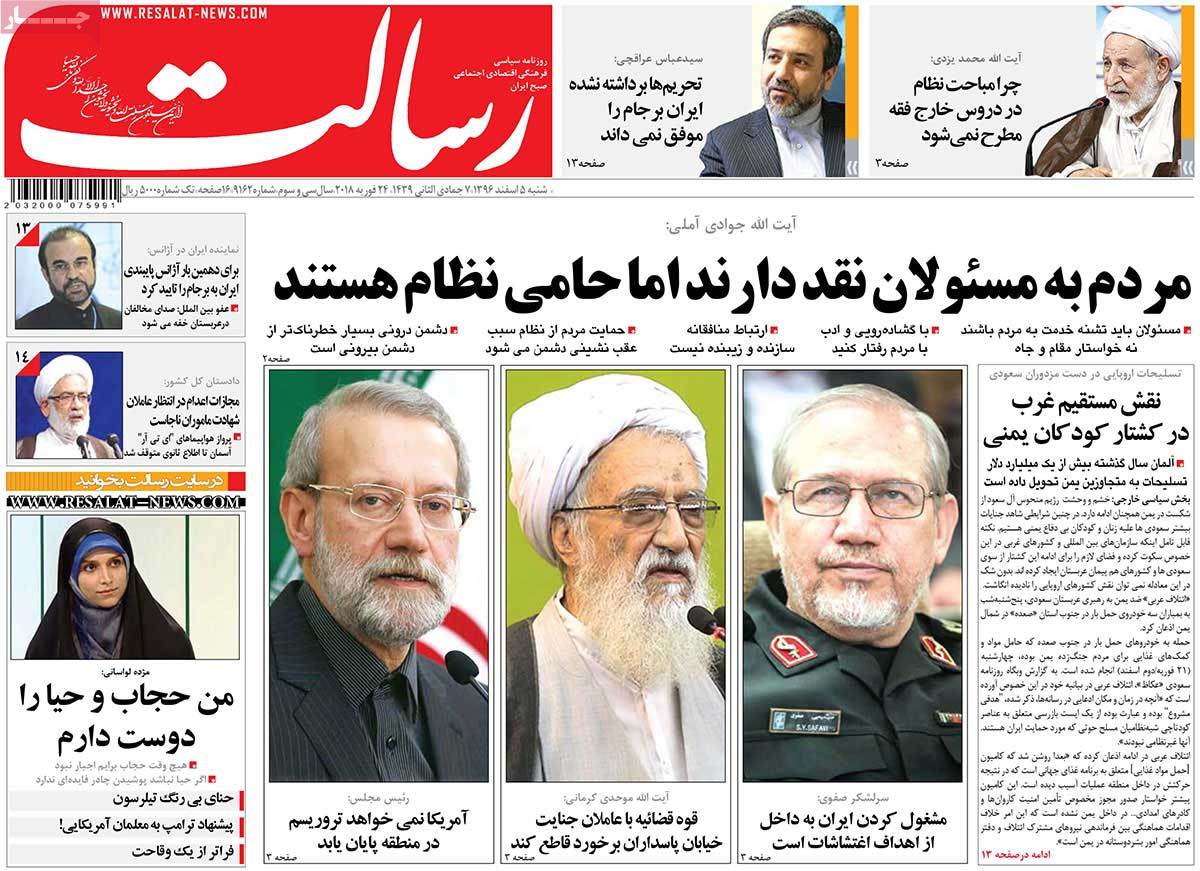 ---
Rooyesh-e Mellat:
1- Iran Not after Restoring Persian Empire: Larijani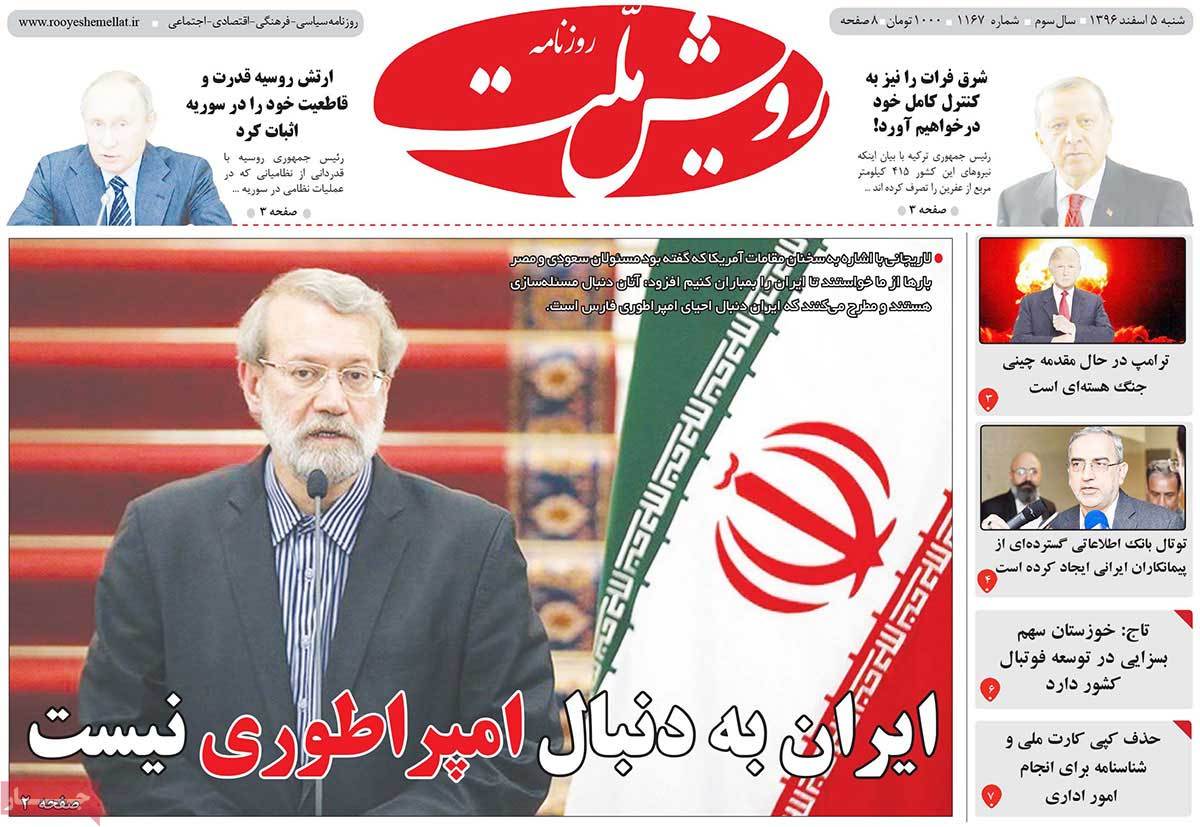 ---
Sayeh:
1- Iran Ranks Third Worldwide in Terms of Number of Engineering Graduates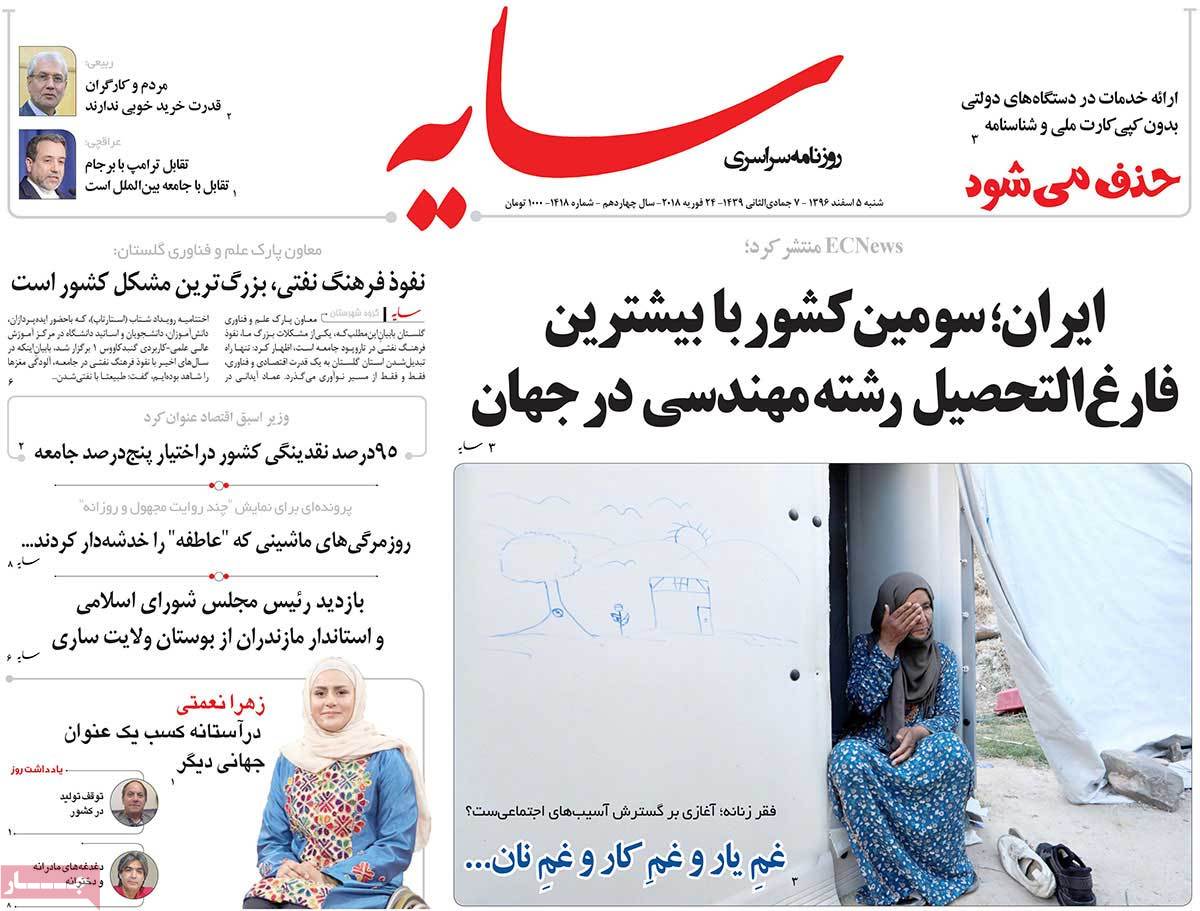 ---
Shahrvand:
1- 7,500 Children Annually Born in Iran with Drug Addiction
---
Shargh:
1- Consultation over Iran Nuclear Deal in London, Paris
Araqchi: Iran Does Not Recognize Second Nationality for Its Citizens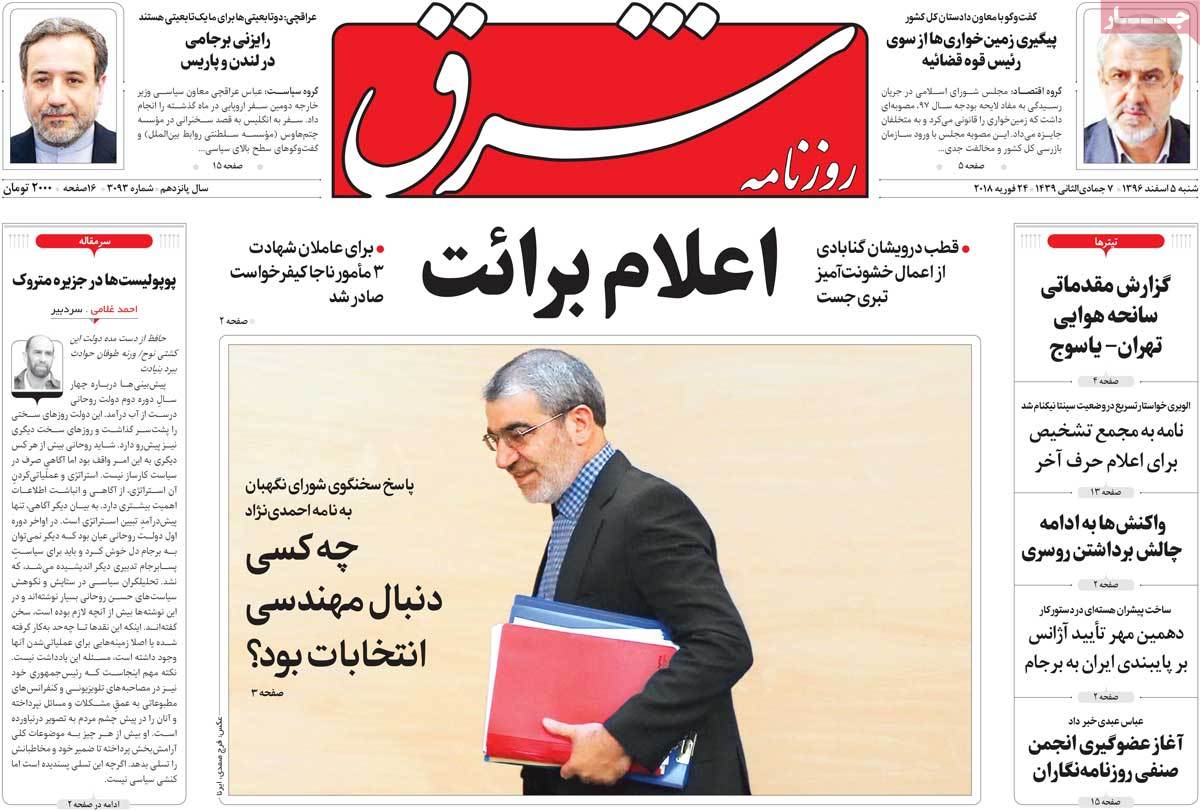 ---
Ta'adol:
1- FATF Removes Iran from Blacklist for Four Months