IFP has taken a look at the front pages of Iranian newspapers on Tuesday and picked headlines from 18 of them. IFP has simply translated the headlines and does not vouch for their accuracy.
Newspapers on Tuesday covered the letter written by ex-president Mahmoud Ahmadinejad to the US President Barack Obama. The reactions mainly came from reformist outlets, who described the move as a show-off aimed at gaining more popularity ahead of next year's presidential elections.
The ongoing visit of President Hassan Rouhani to the capital of Azerbaijan Republic and his trilateral meeting with Russian and Azeri counterparts also received great coverage.
Various other issues including the $400m paid by the US to Iran, the cancellation of concerts in the country, and the attacks against President Rouhani, among others, are also covered in the following headlines:
Abrar:
1- Less than 50 Executives Have Received Unusual Salaries: VP
2- Azerbaijan Republic Have Not Lifted Visa Regime for Iranians
3- Swiss Court Orders Israel to Pay Iran $1.2bn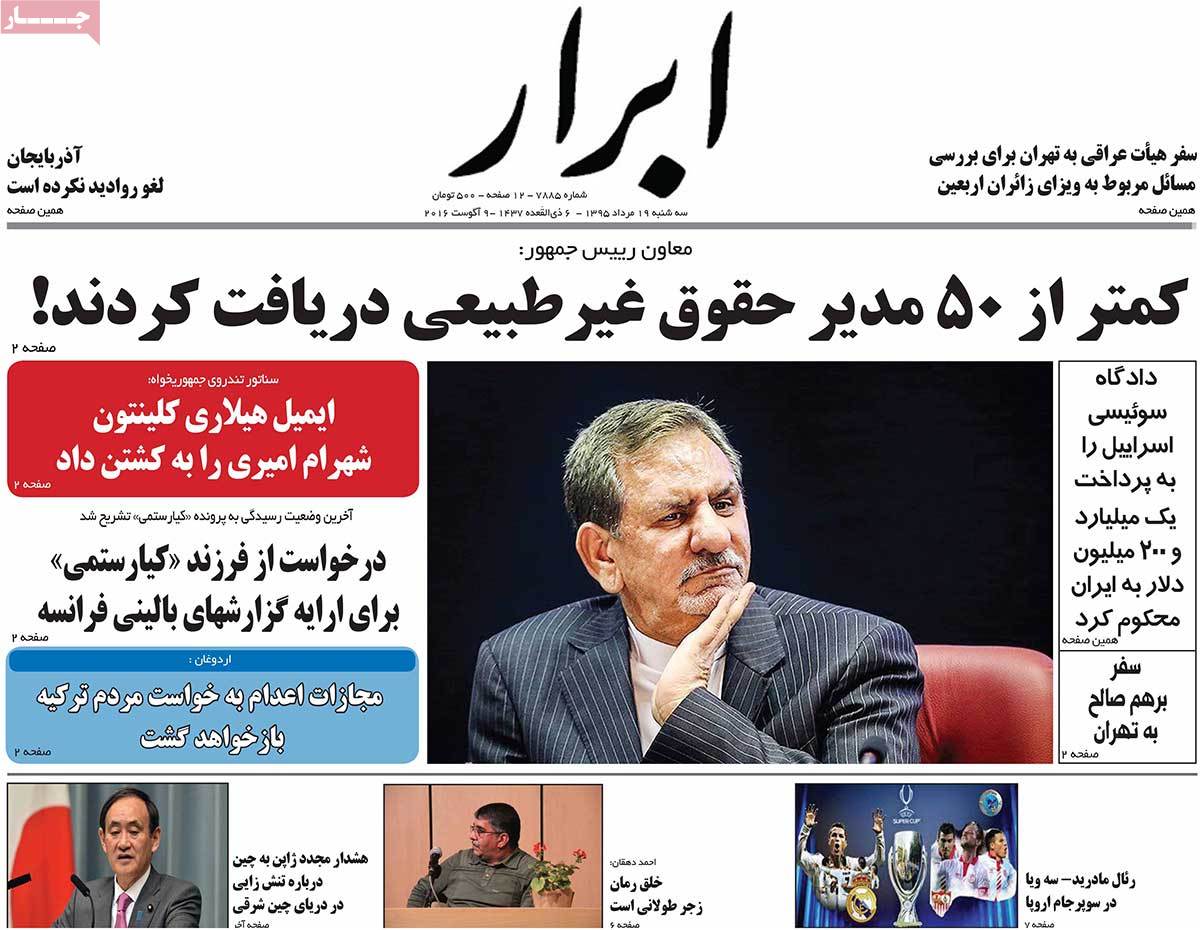 ---
Abrar-e Eqtesadi:
1- Iran's Oil Becomes World's Most Expensive Oil
2- Iran Frees Export of Its Raw Gold
3- Agreement for Establishment of Iran-Azerbaijan Joint Regional Bank
4- Talks Started for Tehran-New Delhi Gas Cooperation: Iran's Gas to Be Exported to India Using World's Longest Pipeline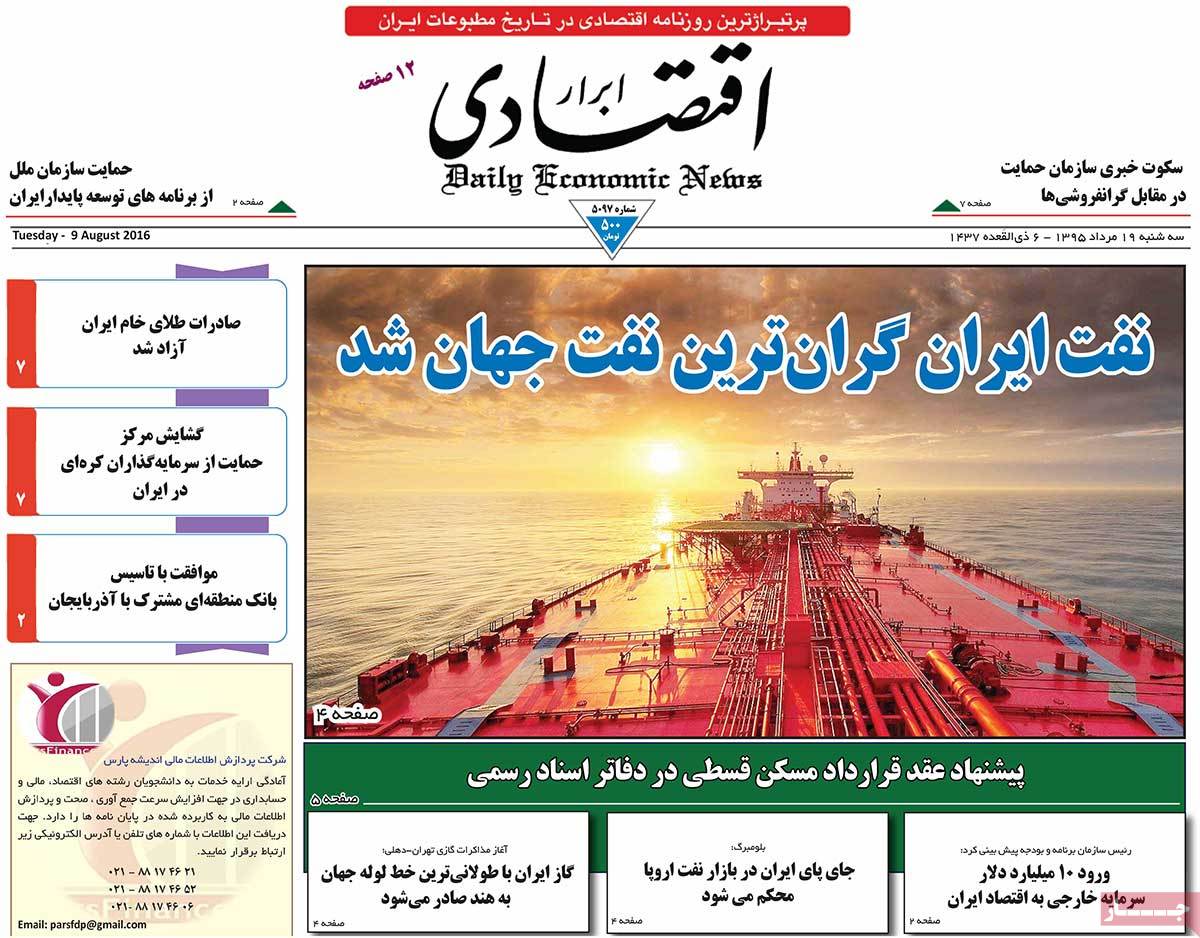 ---
Aftab-e Yazd:
1- Ahmadinejad's Letter to Obama Is for Show-Off
2- CBI Deputy Governor: Banking Restrictions Are Being Lifted Every Week
3- The Blessed Coup? Turkey Coup Leads to Closer Tehran-Ankara Ties
4- Those Who Insulted Rouhani Are Sued in Special Court of Clerics: VP
---
Arman-e Emrooz:
1- Rafsanjani: Some Are Trying to Restore Anti-Iran Sanctions
2- Interior Ministry Warns Ahmadinejad against Early Beginning of His Campaign for Presidential Elections
3- Female MPs in Previous Parliament Said Iranian Women Should Stay in Their Homes
---
Asrar:
1- Rouhani: We Help the Countries Gripped by Terrorism in Any Way Possible
2- Putin: Tehran, Moscow and Baku Can Implement Extensive Regional Projects
3- Government Spokesman: $5bn Foreign Investment in Iran
---
Ebtekar:
1- New Season of Cooperation between Iran, Azerbaijan, and Russia
2- Rouhani: Interaction between Tehran, Baku, and Moscow Reinforces Regional Potentials
3- Zarif: Americans Are the Ones Who Incur Losses by Violating Their Commitments
---
Etemad:
1- Iran's Top Security Official Shamkhani in Reaction to Trump's Remarks: The $400m Was the Money Iran Claimed from a Pre-Revolution Purchase
2- Ahmadinejad Was Summoned to Court for Three Times, But Didn't Appear: MP
---
Ettela'at:
1- Insults to President Rouhani Is Equal to Insulting People's Vote and Choice: VP
2- First VP: Pace of Iran's Development Will Be Slow as Long as Corruption Is Not Eradicated
---
Javan:
1- Less than 1% of Concerts in Iran Are Cancelled: Interior Minister
2- Judiciary Chief Urges Iranian Officials to Give Up Hope on US Given Their Breaches
3- Apology to Iran for Mahmoud Abbas' Meeting with MKO Leader
---
Jomhouri Eslami:
1- After JCPOA, More than $5bn Has Been Directly Invested by Foreigners in Iran: Official
2- Nigerian Shiites Hold Massive Rallies, Call for Release of Sheikh Zakzaky
3- Zionist Sources: Hassan Nasrallah Is Master of Psychological War against Israel
4- Thousands of Americans Call for Psychological Test on Trump
5- Zionist Regime [Israel] Defeated in Appeals Court
---
Kayhan:
1- Economy Minister Confirms "Almost Nothing" [Has Been Achieved by JCPOA]: Major Banks Don't Work with Us Seriously
2- Professor William Engdahl to Kayhan: Turkey Coup Was 100% American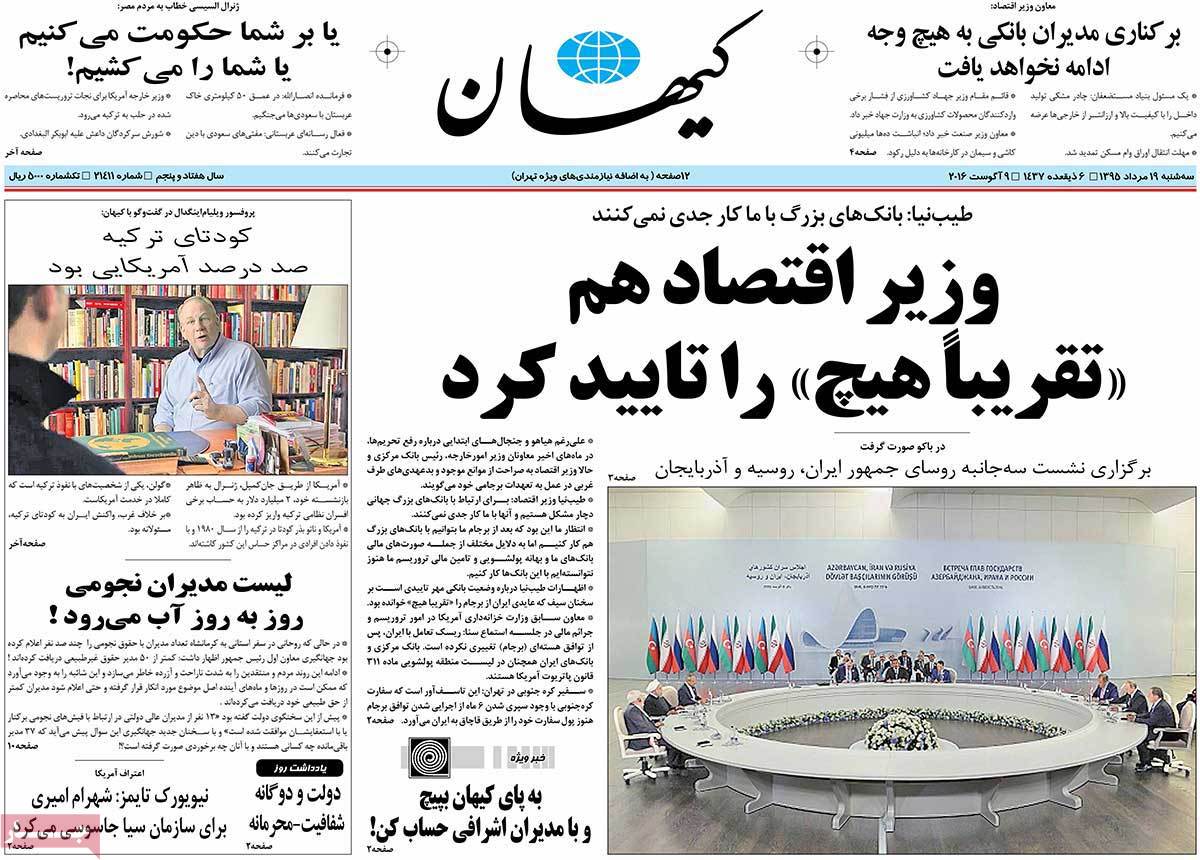 ---
Payam-e Zaman:
1- Government Stopped Decrease in Oil Exports
2- Army Ground Force Commander: We're Faced with New Types of Threats
3- Interior Minister: Terrorists Failed to Explode IRGC and Law Enforcement Bases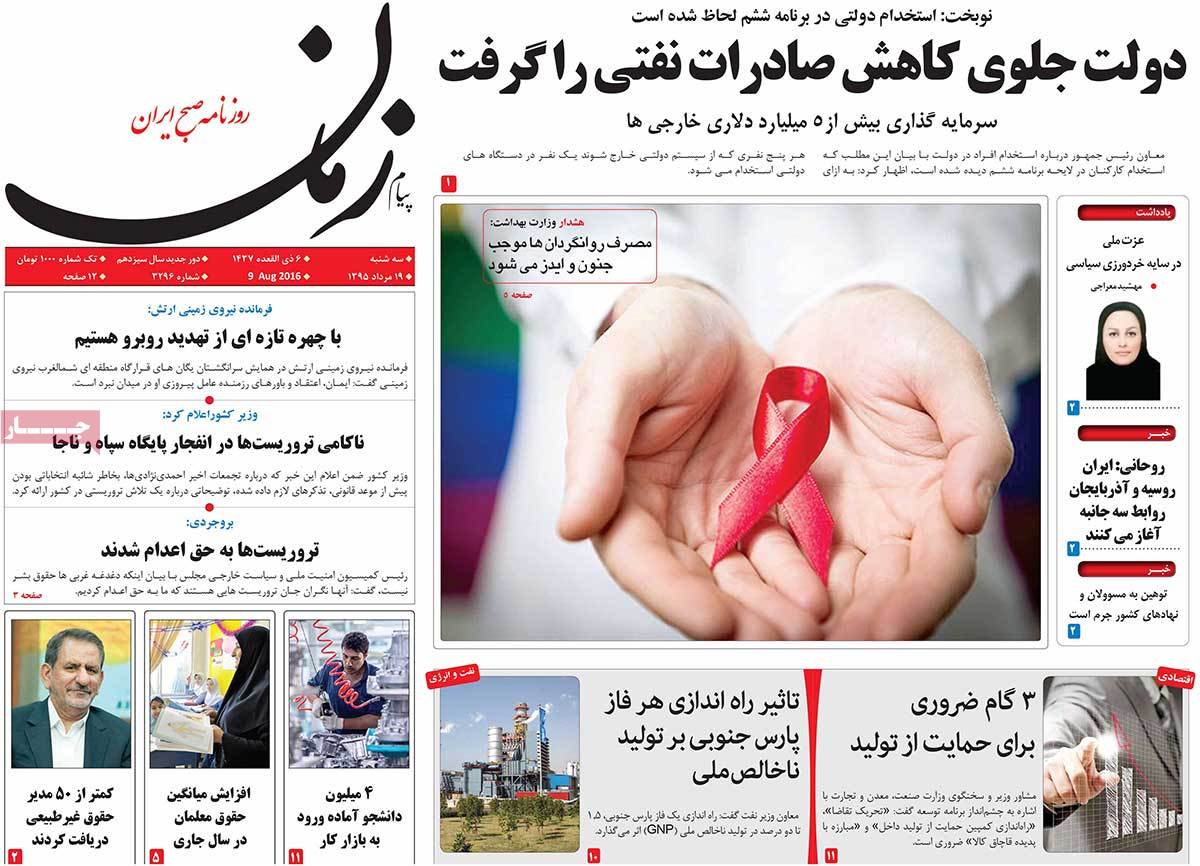 ---
Resalat:
1- We Have Options to Counter US Violation of Its Commitments: Zarif
2- We're Not Waiting for Release of Iran's Frozen Assets: Gov't Spokesman
3- Judiciary Chief: Those Who Believe in JCPOA Should Learn Lessons from US Behaviour
4- Al Saud's Heavy Defeat in Battlefield: Ansarullah Is Now Part of Resistance Axis in Region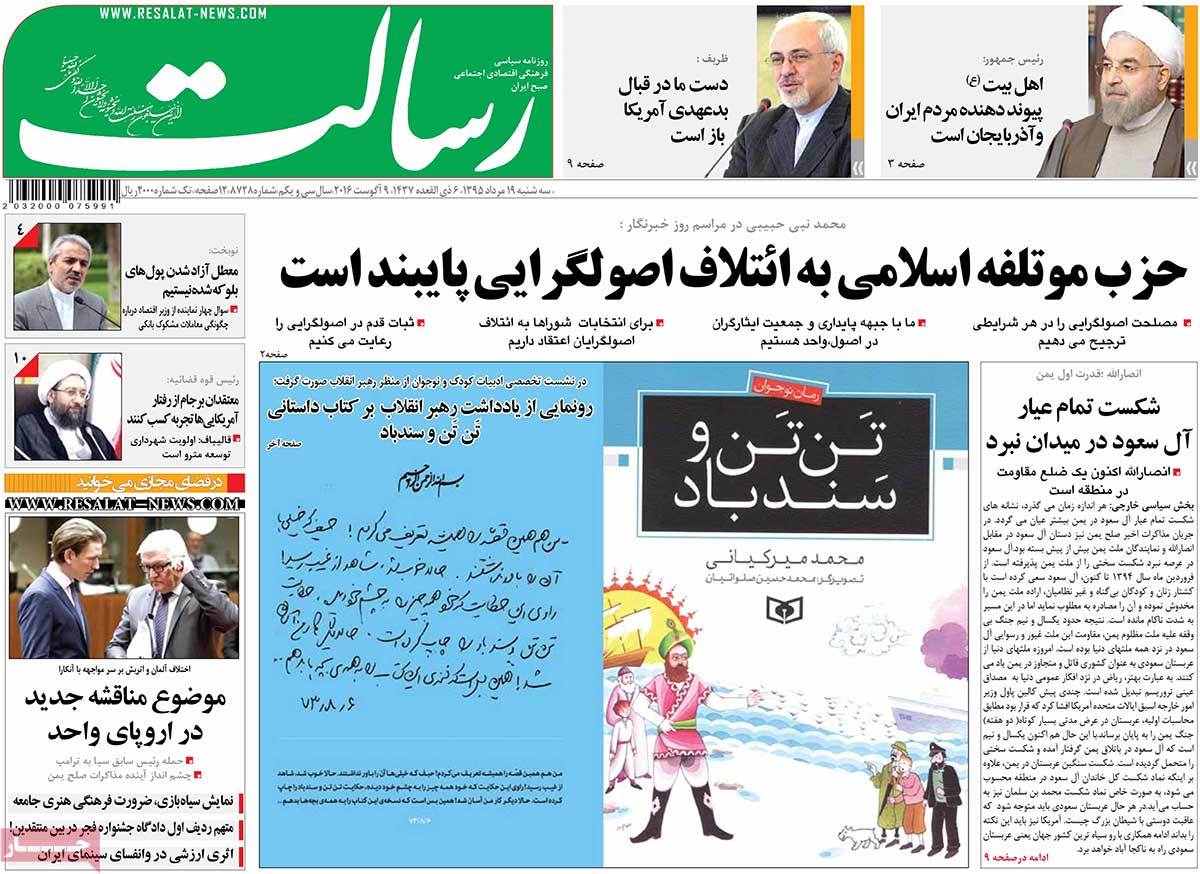 ---
Shahrvand:
1- Less than $6 for Each Follower: Thriving Business of Selling and Buying Followers in Social Media
2- 20,000 Food Packages Distributed among Storm-Hit Residents of Sistan and Baluchestan Province: Red Crescent Society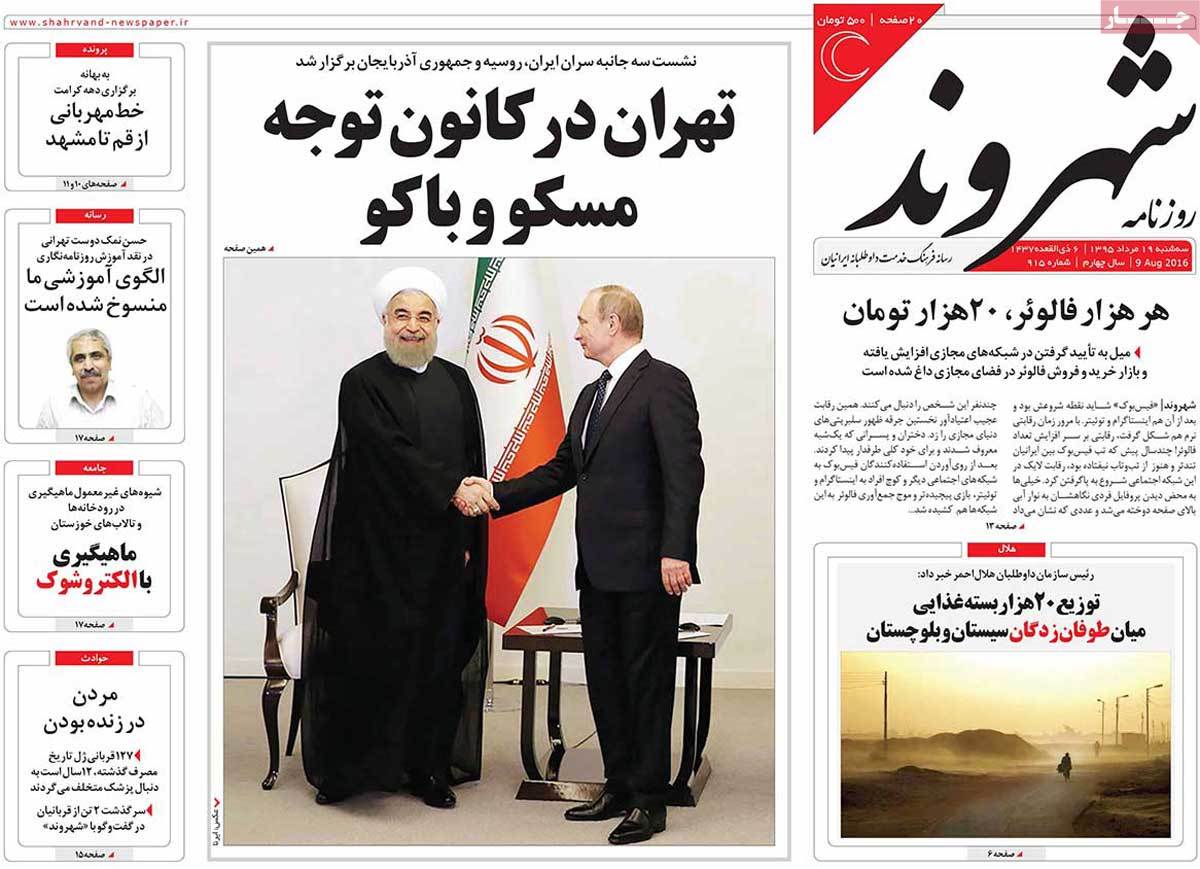 ---
Siasat-e Rooz:
1- Take the Responsibility for the "Defeat! Reformists Trying to Pin the Blames on the Establishment for JCPOA
2- Revenge Taken for Regional Convergence: Blast in Pakistan Leaves 200 Dead and Wounded
3- Underdeveloped Regions of Iran Not Deprived of Doctors
4- Coup of ISIS Commanders against Their Leader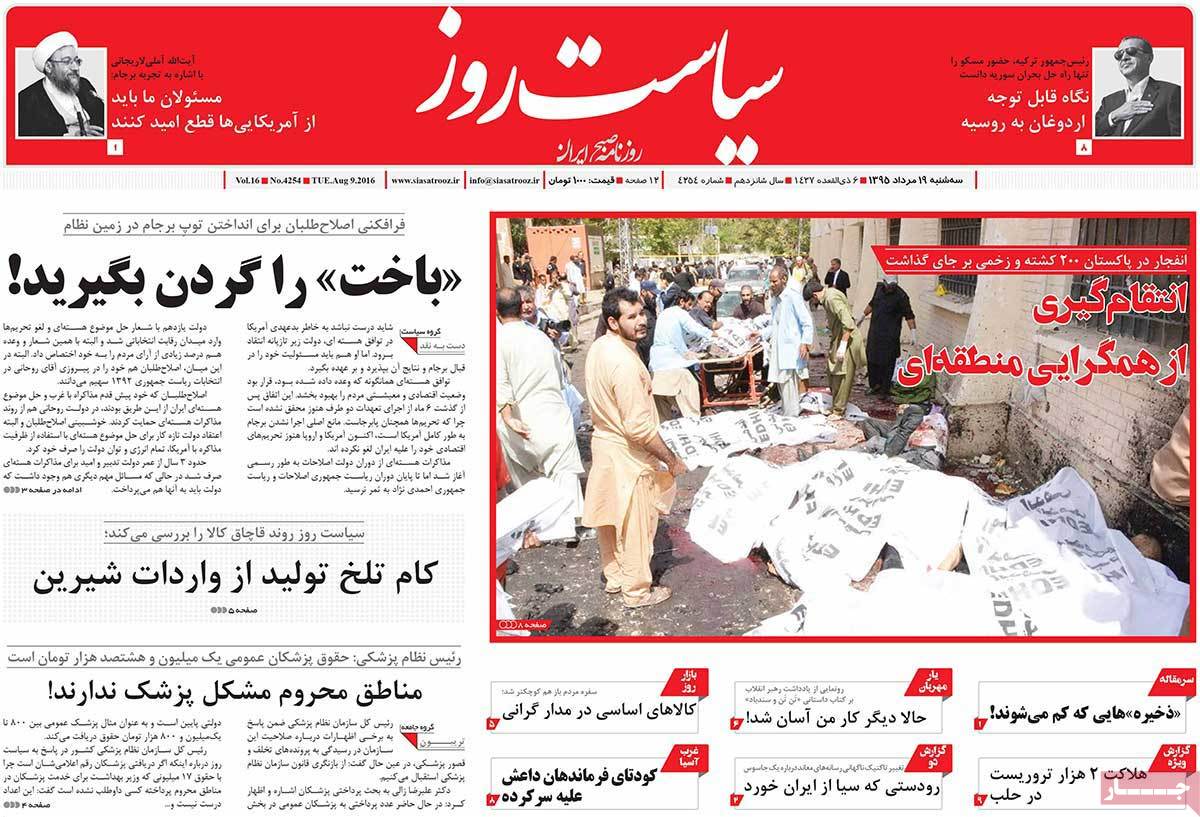 ---
Sobh-e Now:
1- Stories about Execution of a Nuclear Spy; US Should Have Tried to Save Shahram Amiri: John Bolton
2- Coup in ISIS: Al-Baghdadi to Become Lonelier
3- Strokes and Road Accidents Are Main Killers of Iranians
---
Vaghaye Ettefaghieh:
1- Ahmadinejad Is Looking for Popularity [Editorial]
2- Rouhani: All Countries Admit Iran's Role in Regional Security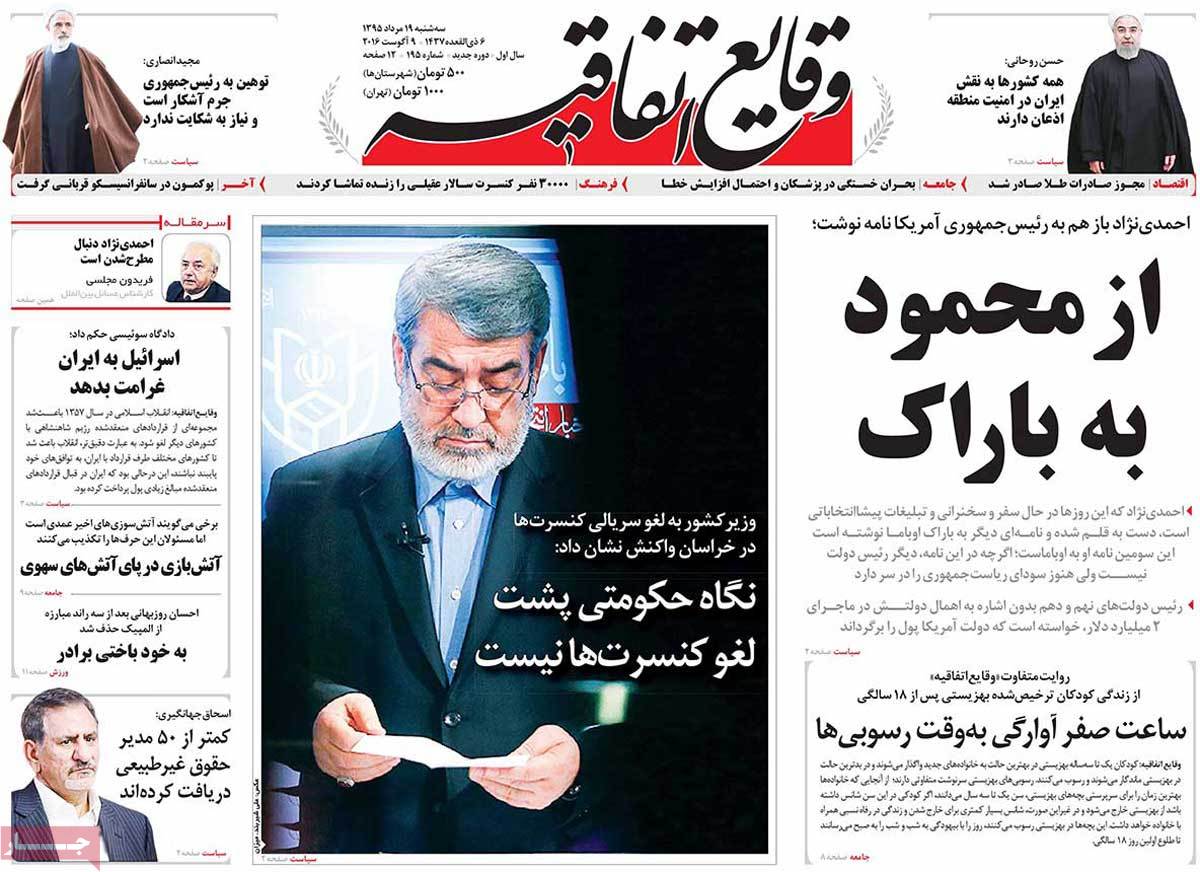 ---
Vatan-e Emrooz:
1- Judiciary Chief: We Won't Give Any Chance to Terrorists
2- Former CIA Agent: We Still Have Spies in Iran