IFP has taken a look at the front pages of Iranian newspapers on Saturday and picked headlines from 22 of them. IFP has simply translated the headlines and does not vouch for their accuracy.
Newspapers on Saturday highlighted the death of a disabled war veteran, Rajab Mohammadzadeh, whose face had been deformed in the Iraqi imposed war, and suffered lots of pains in all these decades.
They also covered the ongoing attacks against the government and President Hassan Rouhani, who are being criticized more than ever after the recent remarks by the Leader of the Islamic Revolution Ayatollah Seyyed Ali Khamenei on the fruitlessness of the nuclear deal between Tehran and world powers.
The above issues, as well as many more, are highlighted in the following headlines:
Abrar:
1- UNSC Condemns North Korea's Missile Test
2- Iran Has a Valuable Peace in Chaotic Conditions of Middle East: Larijani
3- We Didn't Pay Any Money to Iran for Release of American Prisoners: Kerry
4- EU's Interventionist Statement in Protest at Executions in Iran
---
Aftab-e Yazd:
1- Forgive Us 'Baba Rajab': 70% Disabled War Veteran Rajab Mohammadzadeh Dies in Mashhad
2- 3 Iranian Companies Removed from List of Sanctions
3- Putin: We'll Build 8 Nuclear Power Plants for Iran; Tehran Once Again Trusts Kremlin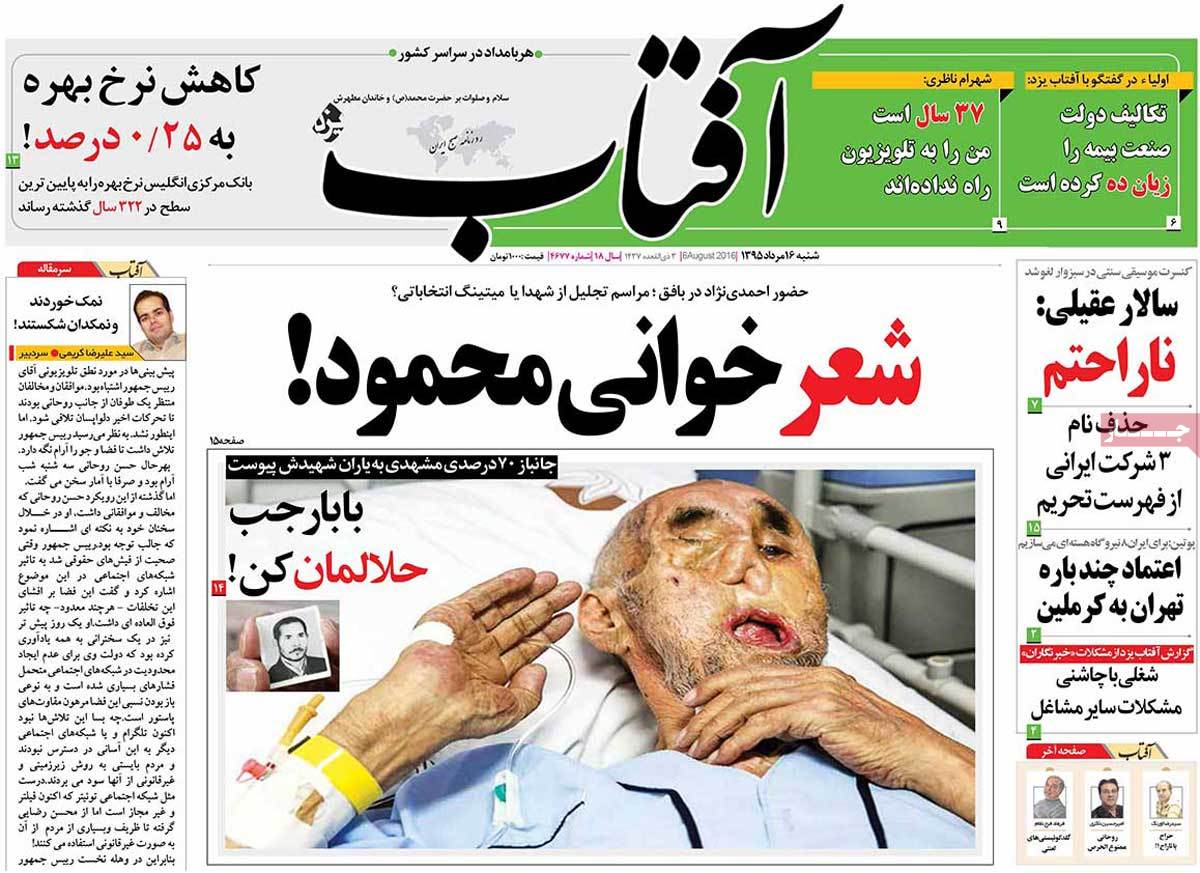 ---
Arman-e Emrooz:
1- Iran Should Not Use North Korea as Its Role Model: Businessman
2- $400m Was Not Paid to Iran as Ransom Money: Obama
3- Genetic Manipulation of Agricultural Products: Coloured Bananas in Iranian Market
---
Asrar:
1- Tehran Is Moscow's Strategic Partner: Putin; We'll Support Iran's Full SCO Accession
2- All Concerts Temporarily Cancelled in Iran's Khorasan Razavi Province [home to holy shrine of Imam Reza, the eighth Shiite Imam]
3- In Every 5 Iranian Families, Unemployment Exists in One: Official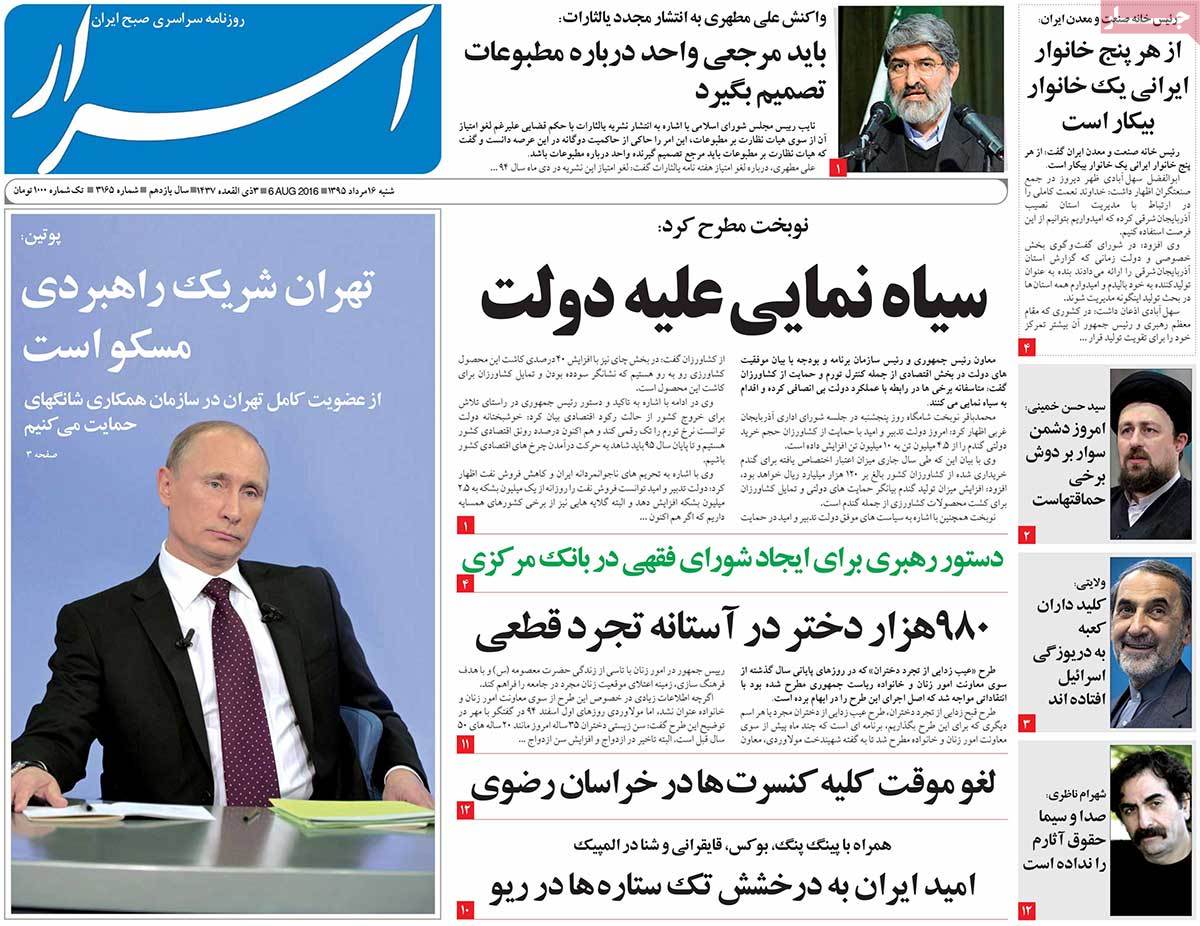 ---
Ebtekar:
1- Do's and Don'ts in the Last Year of Rouhani's Term [Editorial]
2- Obstacles to Iran's Accession to WTO: Doing Business in Isolation
3- Golden Triangle of Energy Diplomacy in Caucasia: Rouhani, Putin, and Aliyev to Hold Trilateral Meeting in Baku
4- 31st Edition of Olympic Games Kicked Off in Rio
---
Emtiaz:
1- Decrease in Rates of Road Accidents
---
Etemad:
1- Crisis in Iran-Saudi Arabia Ties Is Very Deep: President's Aide
2- Airplane Trump Had Seen in His Dreams: Donald's Lies about $400m Paid to Iran
3- [Clerics'] Attacks against President Rouhani:
Rouhani Should Be Tried on Charge of Treason
A Naïve Person Says JCPOA Has Given Honour to Iran
After Leader's Remarks, Whoever Talks about Ties with US Is Opposed to Supreme Leader
4- Iran-Pakistan Priorities in Security Cooperation Are Different: Analyst
5- 74% Increase in Divorce Rates in Iran within Past 10 Years
---
Ettela'at:
1- Saudi Arabia's Tender to Buy Weapons for Terrorists in Syria Revealed
2- Extensive Projects in Oil and Gas, Aerospace, and Power Will Be Planned between Tehran and Moscow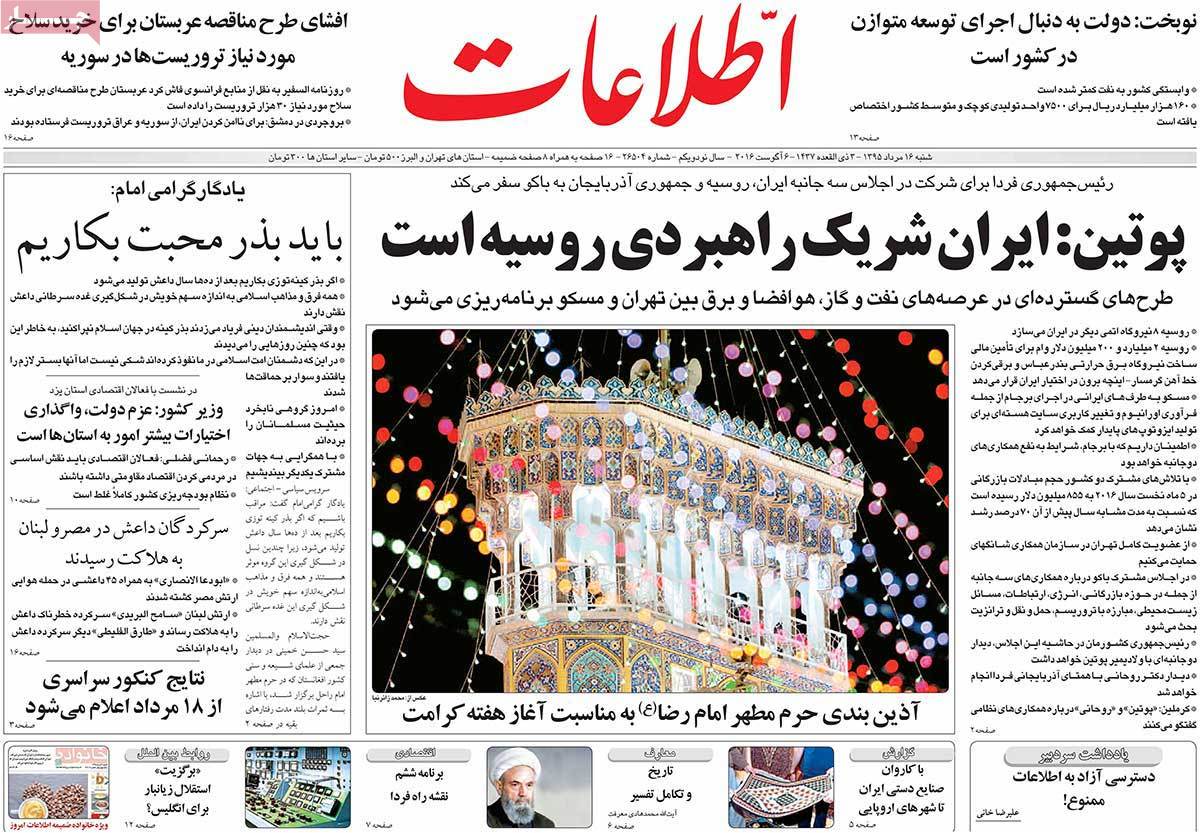 ---
Haft-e Sobh:
1- French Diplomat in Simple Words Talks about Iran's Commitment to JCPOA and USA's Violation of Its Obligations
2- Simple Manteaux Sold in Iran from $290 to $5,800: Interview with a Designer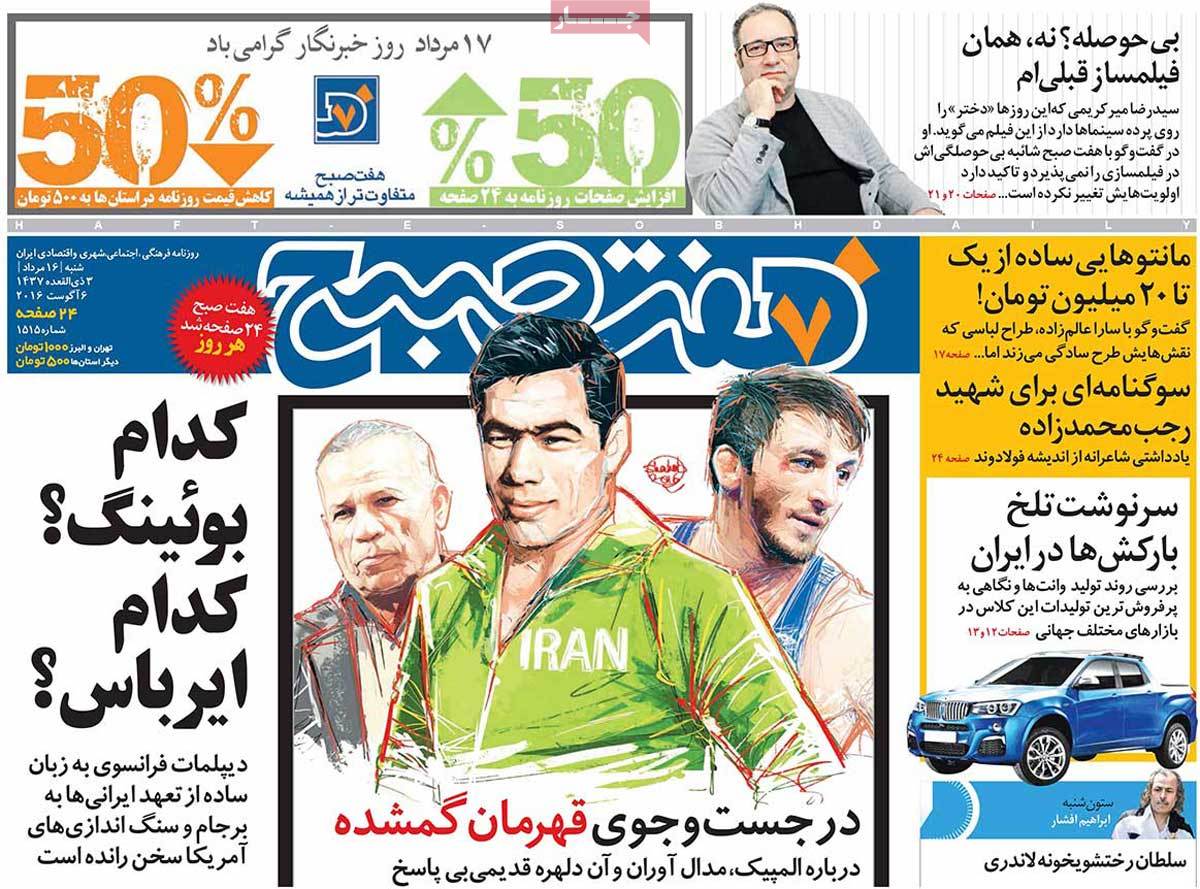 ---
Hamshahri:
1- Ban on Selling Seized Smuggled Goods in Market
2- Don't Give Money to Beggars: Municipality to Remove Beggars from Streets as of Today
3- Tension in US over Payment of Iran's 40-Year-Old Debt
4- Amendments to Oil Contracts Couldn't Satisfy Critics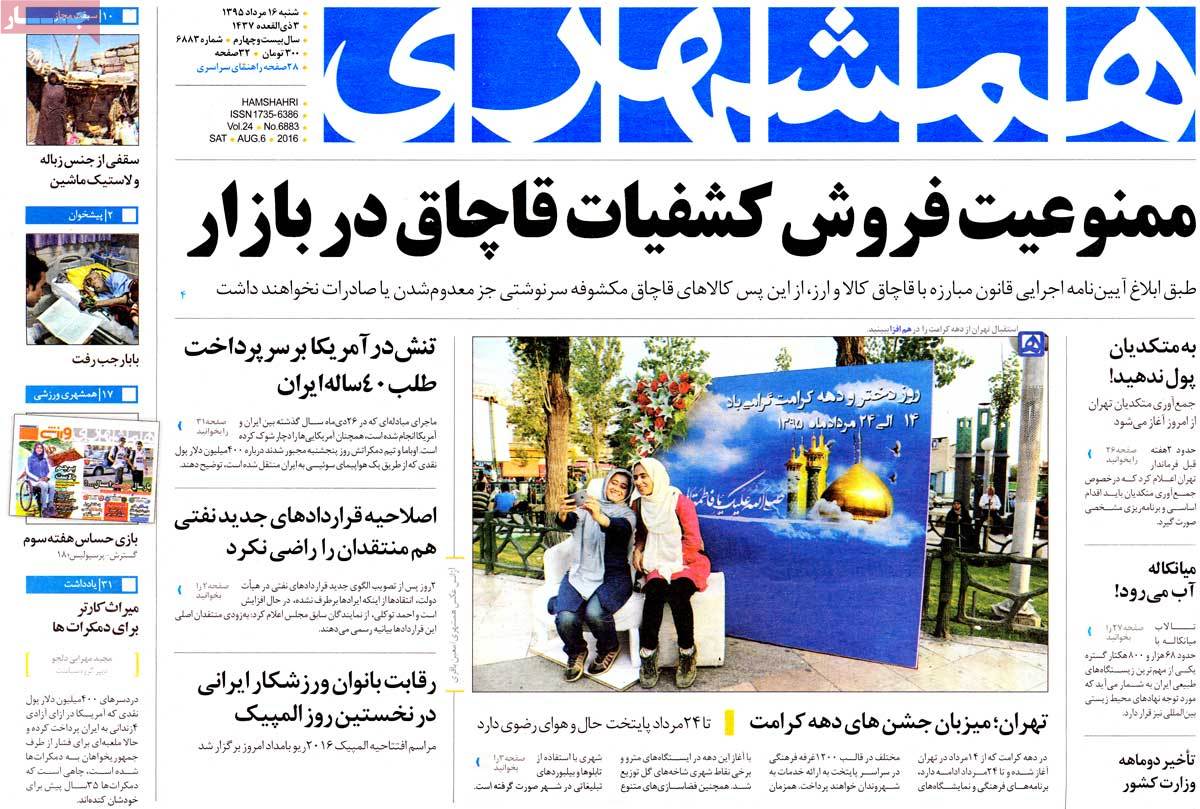 ---
Iran:
1- Resolution of Nuclear Issue Created Peace in Iran: Larijani
2- People Losing Their Interest in 'Wall of Kindness'
3- Iranian Female Athlete: Lodging Conditions in Rio Not at Level of Olympic Games
---
Jame Jam:
1- Dark Side of the Inauspicious Alliance [Saudi Arabia and Israel]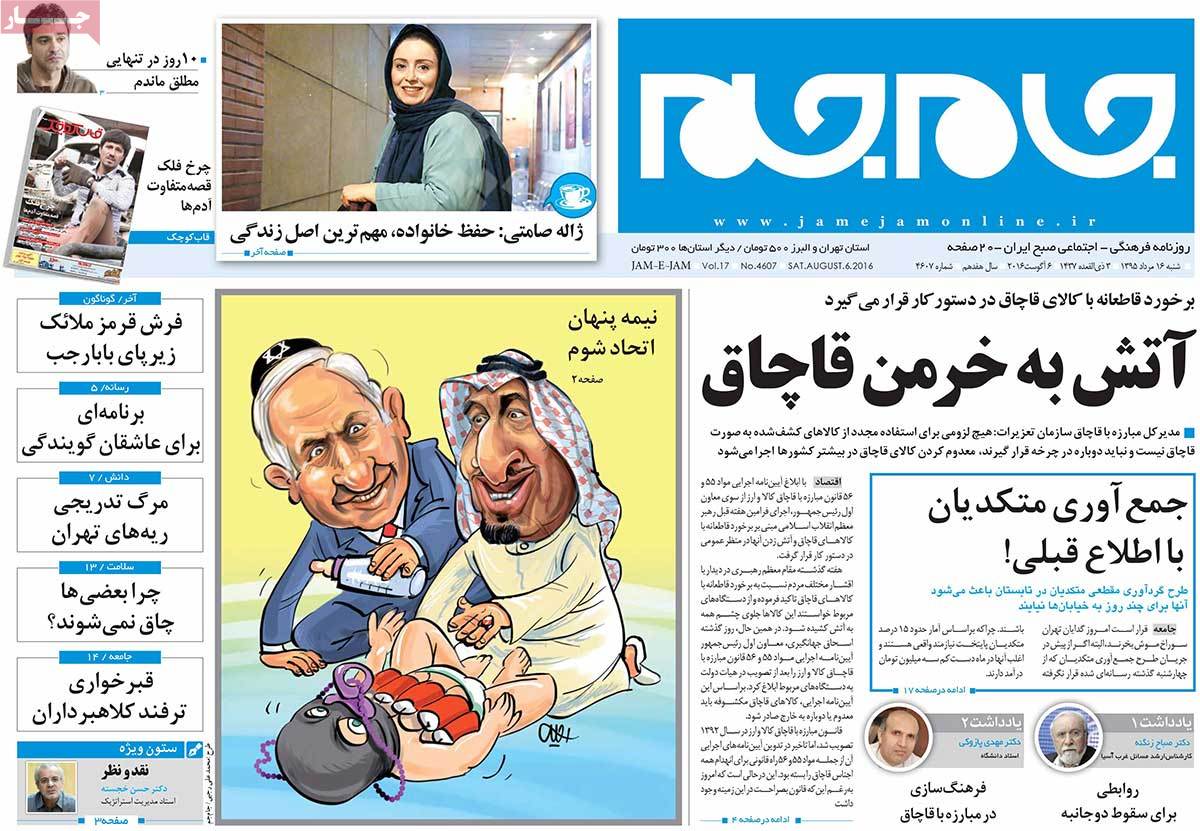 ---
Javan:
1- 5.5m University Graduates Are Searching for Jobs in Iran
2- The Law Based on Which Astronomical Salaries Are Paid Is Non-Islamic and Null: Cleric
3- Mousavian: US Treasury Scares Companies away from Doing Business with Iran; USA's Semi-Private Campaign against JCPOA
---
Jomhouri Eslami:
1- Heavy Losses of Terrorists in Iraq, Syria, and Lebanon
2- Three-Fold Increase in Number of Flight over Iran's Sky
3- 3 Iranian Companies Removed from Britain's List of Sanctions
4- Terrorist Attacks in Germany Have Their Roots in Saudi Arabia: Spiegel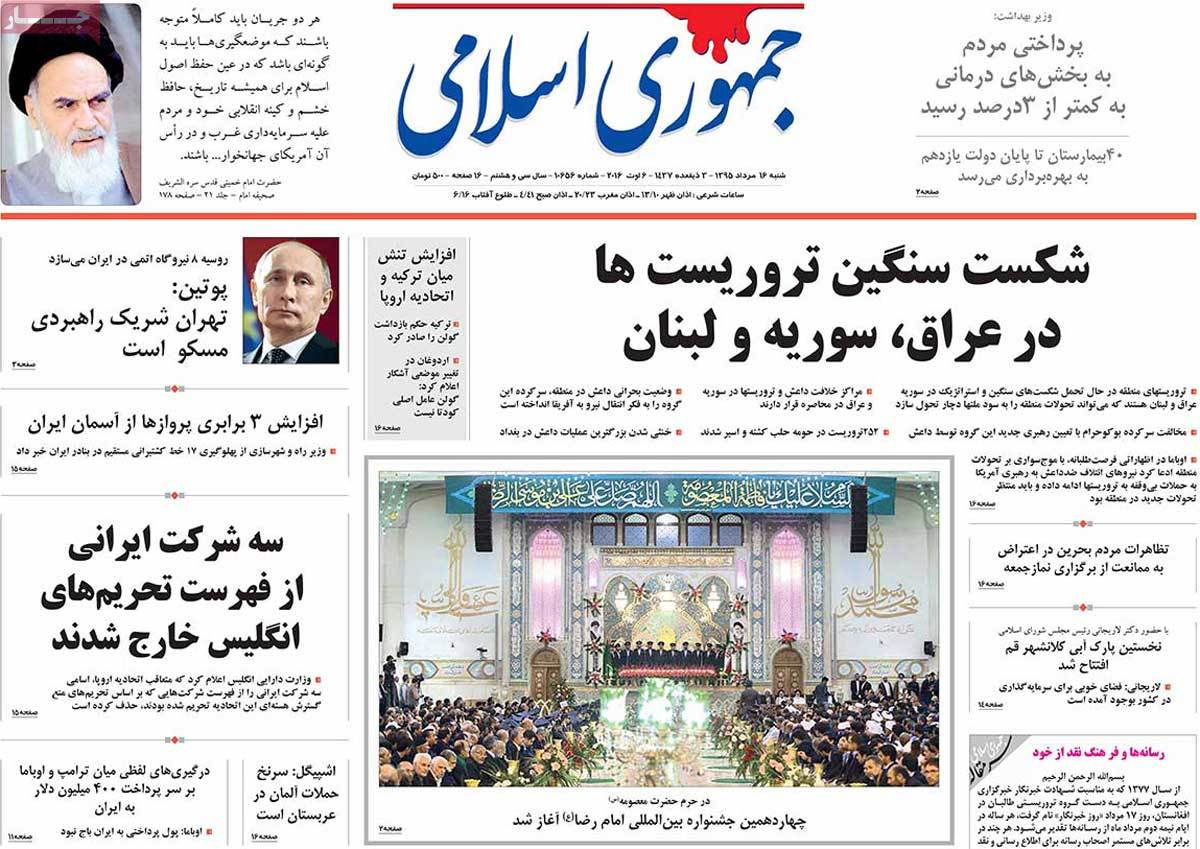 ---
Kayhan:
1- Repeating the Bitter Experience of JCPOA by Making Oil Contracts Secret
2- 400 Takfiri [Extremist] Terrorists Killed in Syrian Army's Attack on Idlib and Aleppo
3- 14th Edition of Int'l Imam Reza Festival Kicked Off in 77 Countries
4- Why Sanctions Were Not Lifted after Nuclear Deal
---
Khorasan:
1- 6 Killed in Attack on Bus Carrying Chinese Reporters in Brazil
2- 2 Norwegian Girls Fall Victim to Family Conflict in Mashhad
3- The New Iraq and the Fight against Corruption [Editorial]
---
Roozan:
1- Why Ahmadinejad Isn't Afraid of Being Disqualified for Next Year's Presidential Elections: Zibakalam
2- Necessity for Making the Issue of Human Rights Watch a Top Priority in Negotiations [with Europe]: Analyst
3- Erdogan, a Media and Propaganda Tool for Putin
---
Sayeh:
1- Predictions Come True: Russia Breaks US Dollar's Hegemony
2- Olympics under Shadow of Fear and Concern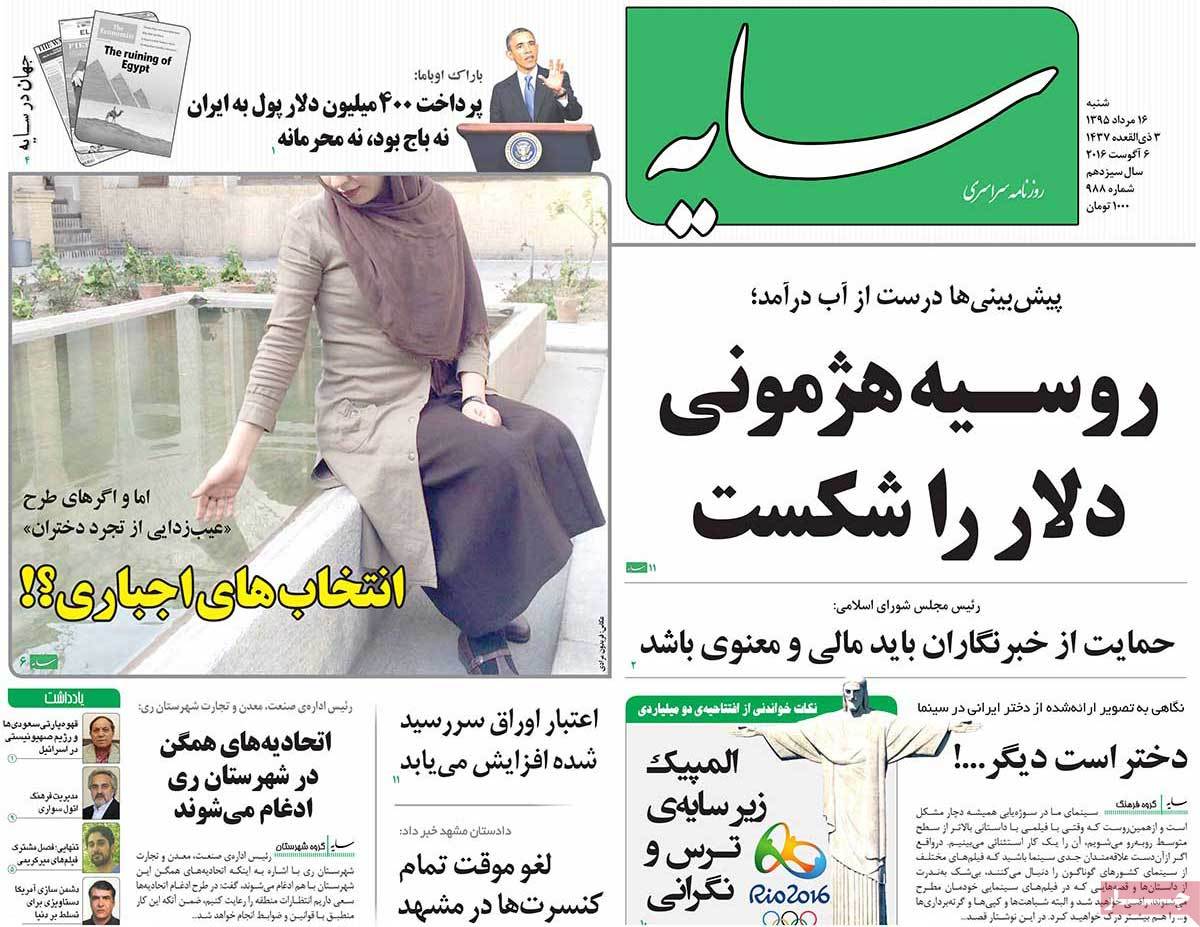 ---
Shahrvand:
1- Prosperity in Iran's Sky: Number of Flights Increased from 500 to 1085
2- Monster of Pokemon Go Filtered in Iran without Any Opposition
3- Venezuelan Oil in Exchange for Food
4- If We Plant the Seeds of Grudge, We Will Harvest ISIS: Imam Khomeini's Grandson
---
Shargh:
1- Unprecedented Attacks against President; Cleric Says It's Not an Honour to Receive Italian Fashion Designing Company in Iran
2- Rouhani and Putin to Meet in Baku
3- We Are Going to Prevent Future Shut-Down of Newspapers; Managers rather than the Press Are the Ones to Be Punished: MP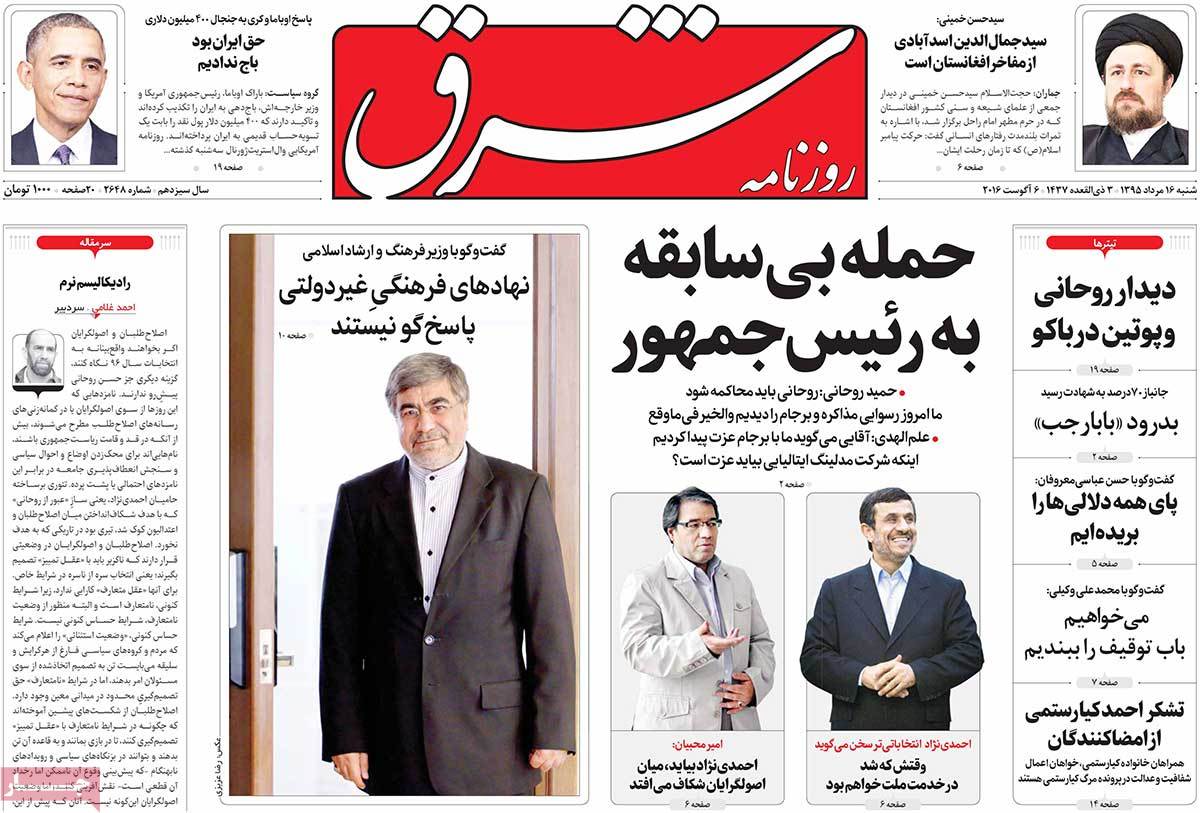 ---
Vaghaye Ettefaghieh:
1- Rio 2016 Olympics to Begin with These 3 Women
2- 50% of University Graduated Are Unemployed: Movement of the Educated Unemployed
3- Insults to President Rouhani on Pretext of JCPOA
4- Controversies in US over Ransom Money Paid to Iran
5- Mousavian: JCPOA Opponents Looking for Iran-US Confrontation
---
Vatan-e Emrooz:
1- Axis of Evil: Latest Information about American-Saudi Plot to "Drag the War near Iran's Borders"
2- MP Reveals Untold Stories about Transgenic Products
3- Latest Efforts by Saudi Arabia and the US to Get Terrorists Out of Siege in Aleppo