Newspapers today continued covering the pressures on President Hassan Rouhani on the line-up of his future cabinet.
The issue of choosing women ministers and cabinet members was particularly highlighted by many news outlets.
The Islamic Republic's response to the US provocative actions, including the fresh sanctions ratified by the US Congress, also received great coverage.
The above issues, as well as many more, are highlighted in the following headlines and top stories:
19 Dey:
1- Pressures on Rouhani for Cabinet Line-up Futile: Minister
2- Judiciary Chief: Officials Should Respond to US in United, Unanimous Way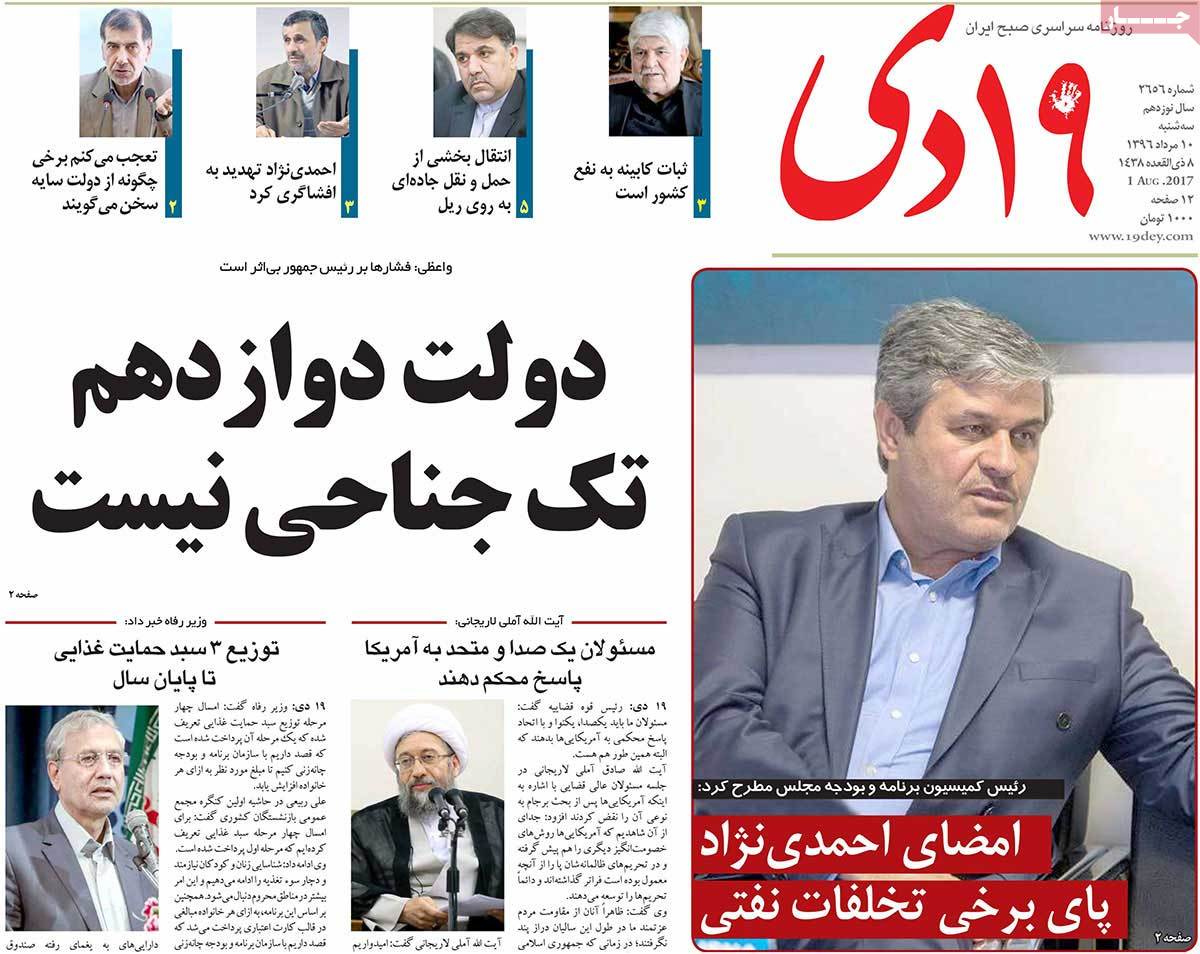 ---
Abrar:
1- 755 US Diplomats Deported from Russia on Putin's Order
2- Bloody Election Day in Venezuela
3- Trump's Deputy Hopes Russia Would Change Behaviour towards Iran, North Korea
---
Aftab-e Yazd:
1- VP for Women Affairs Molaverdi to Be Replaced with Non-Reformist Figure
2- Two Accounts of MP's Physical Clash with Police Officer
---
Arman-e Emrooz:
1- Ahmadinejad to Fly Off the Handle after Prosecutor's Remarks about His Violations
2- Destiny of Three Female Members of Rouhani's Cabinet
Molaverdi to Say Goodbye
Ebtekar to Keep Her Post
Aminzadeh's Fate Still Unclear
3- Iran to Be Connected to Europe's Heart through Railway after German Minister's Visit
4- Rouhani's Inauguration Day Declared as Holiday in Tehran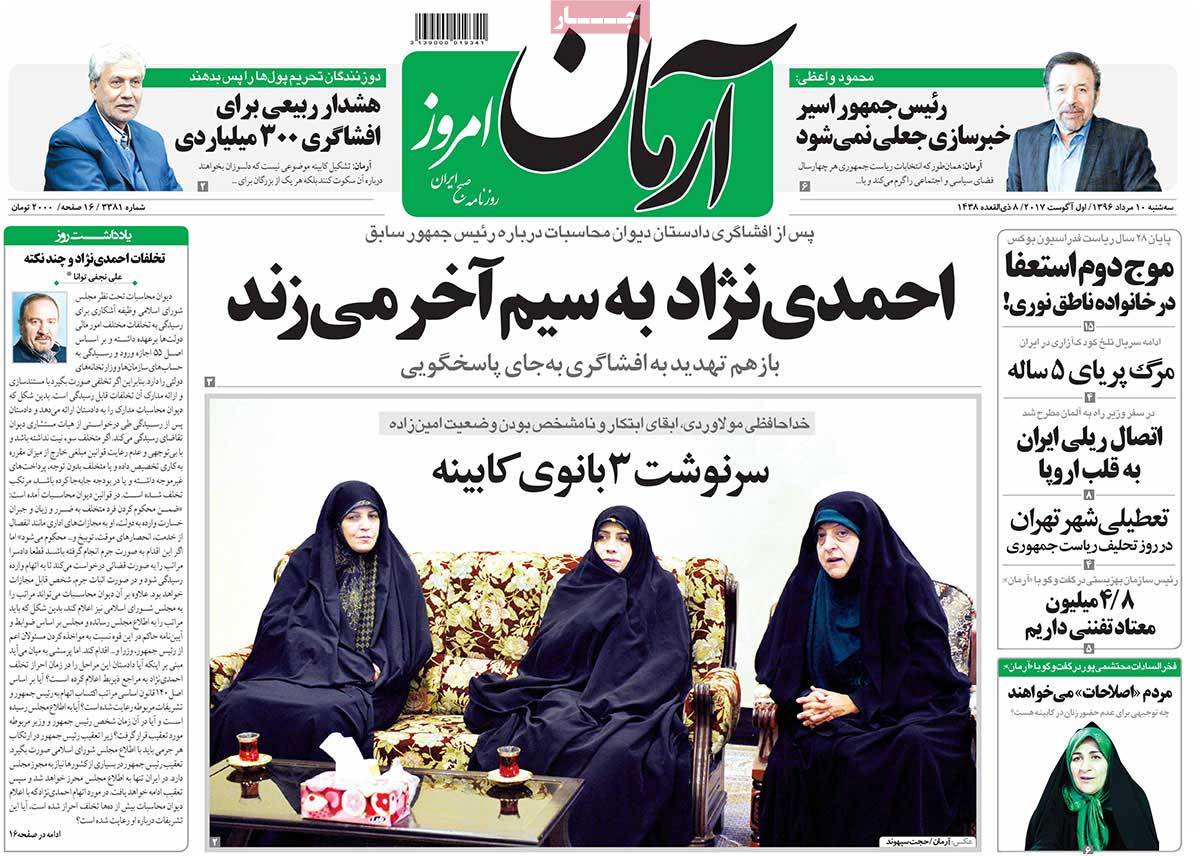 ---
Ebtekar:
1- Rouhani's Challenges in Cabinet Formation
2- Deputy Interior Minister: Security to Be Tightened on Inauguration Day
3- Venezuela: From Economic Miracle to Rival's Adversity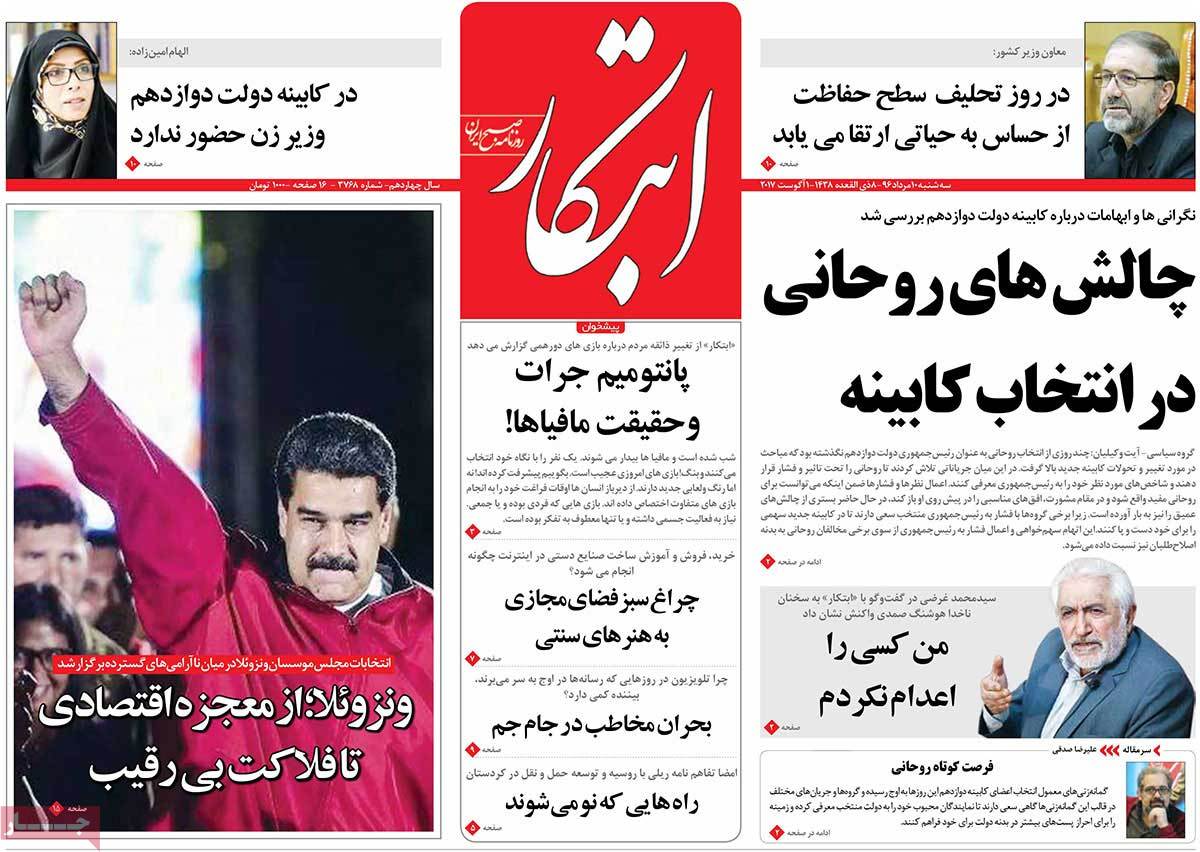 ---
Etemad:
1- Rouhani's Swearing-in Ceremony to Be Held Saturday
100 Foreign Delegations, 18 Parliament Speakers, 7 Presidents in Tehran
2- Closed Doors of Moscow-Washington Ties
3- Decisions in 16 Articles Made in Iranian JCPOA Committee to Counter US Provocations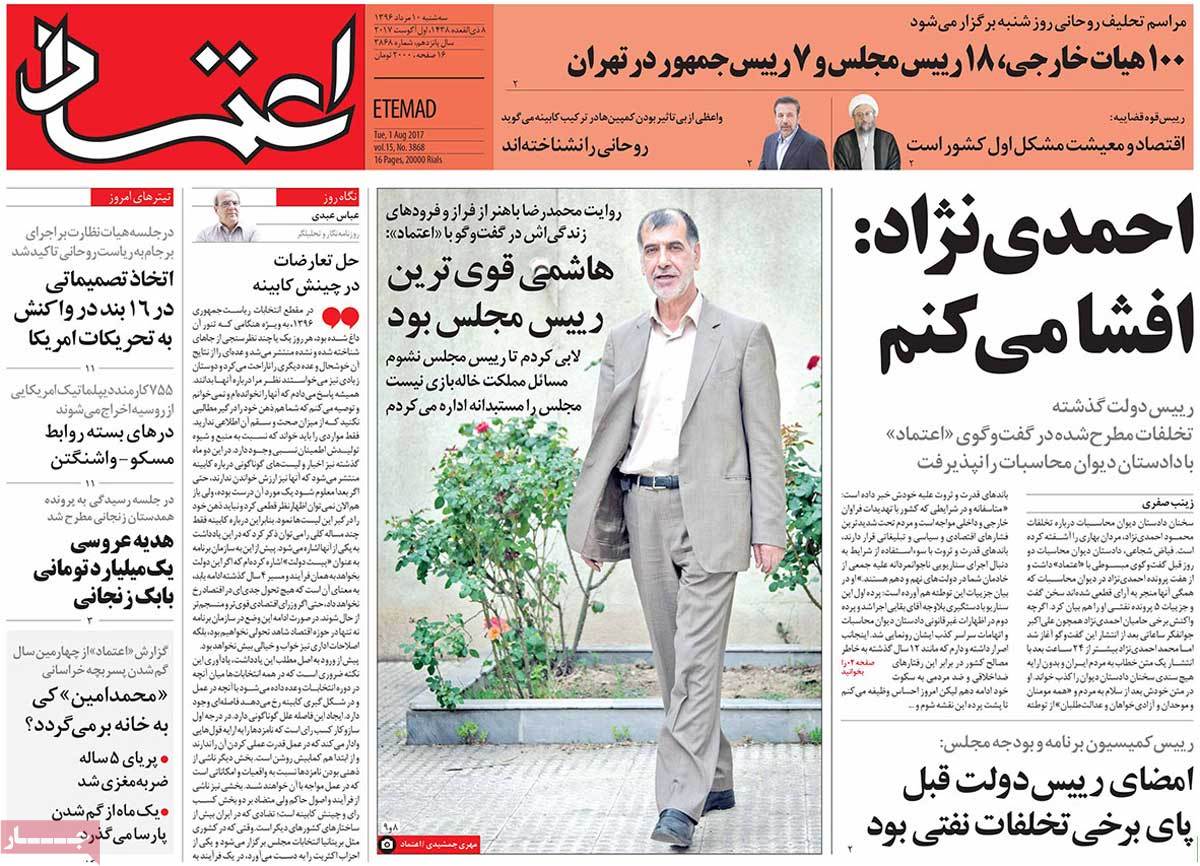 ---
Ettela'at:
1- Germany, Russia to Cooperate in Development, Renovation of Iran's Railway
2- Nuclear Chief: Iran's Nuclear Industry Progressing Better than before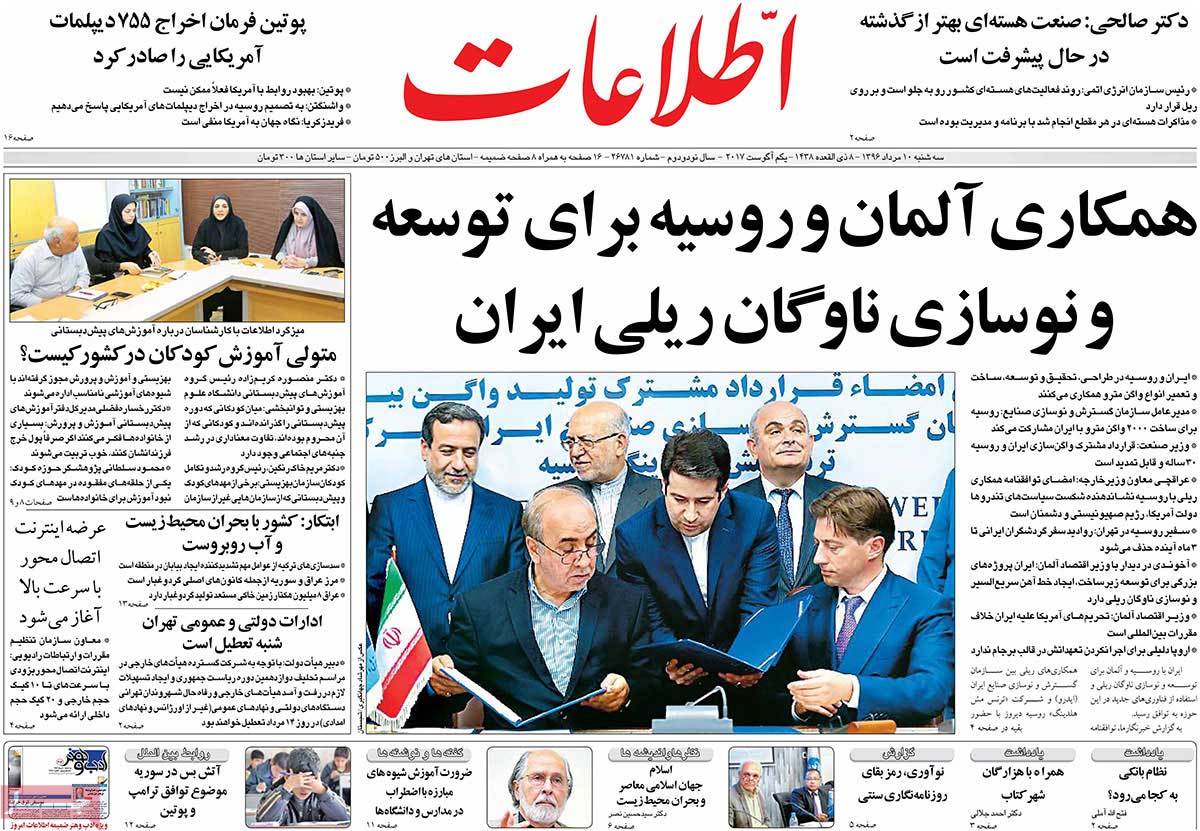 ---
Haft-e Sobh:
1- Hell in Istanbul: Iranians Continue to Be Taken as Hostage in Turkey
A Report on 8 Cases of Kidnapping, Extortion of Iranians in Turkey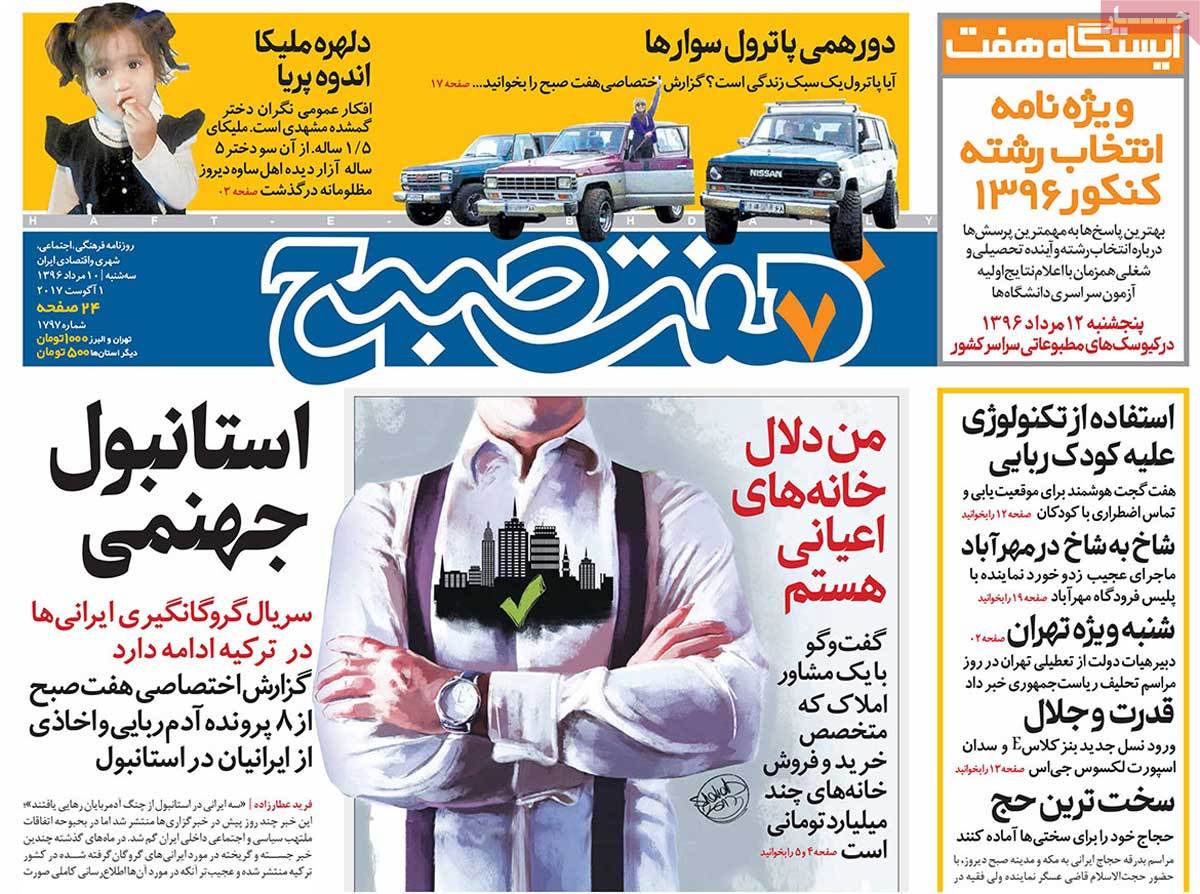 ---
Iran:
1- 80 Mobile Clinics to Provide Free Dentistry Services in Iran's Deprived Areas
2- Celebration in Ruins of Mosul: Exclusive Report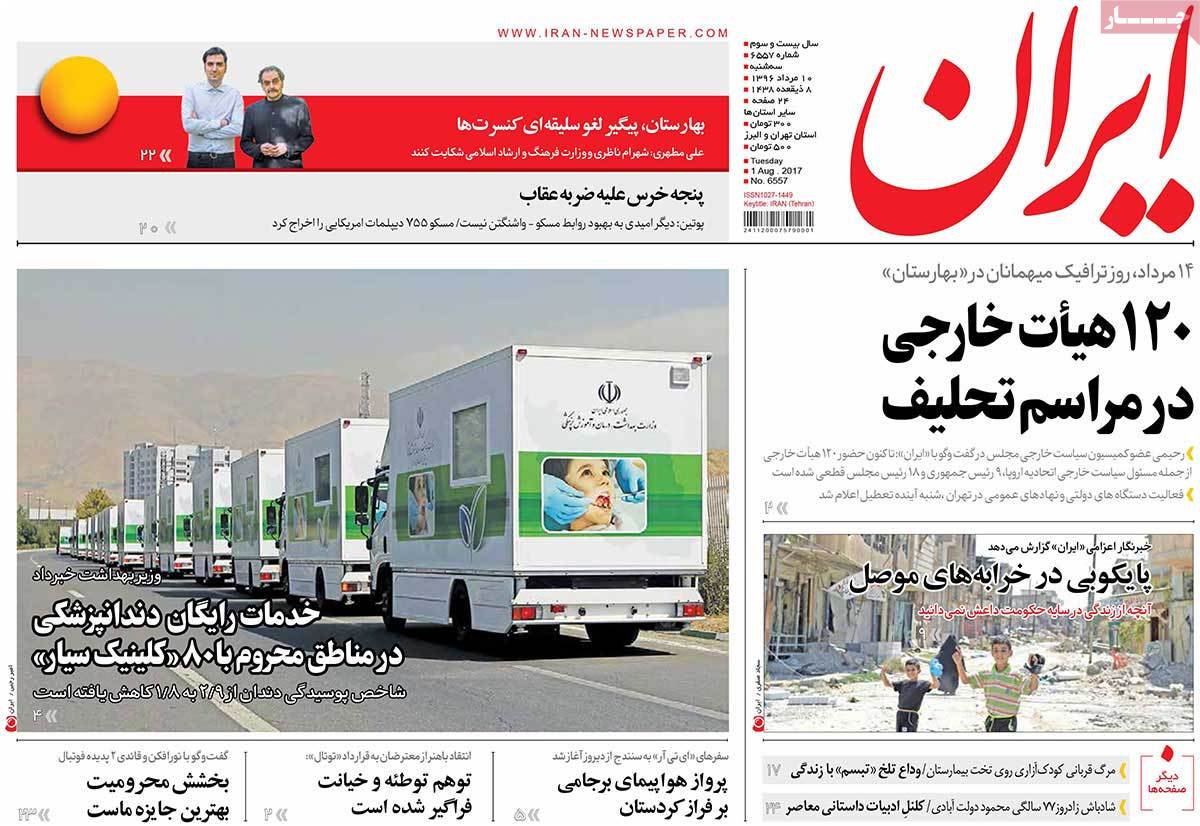 ---
Javan:
1- Government's Poor Performance in Resistance Economy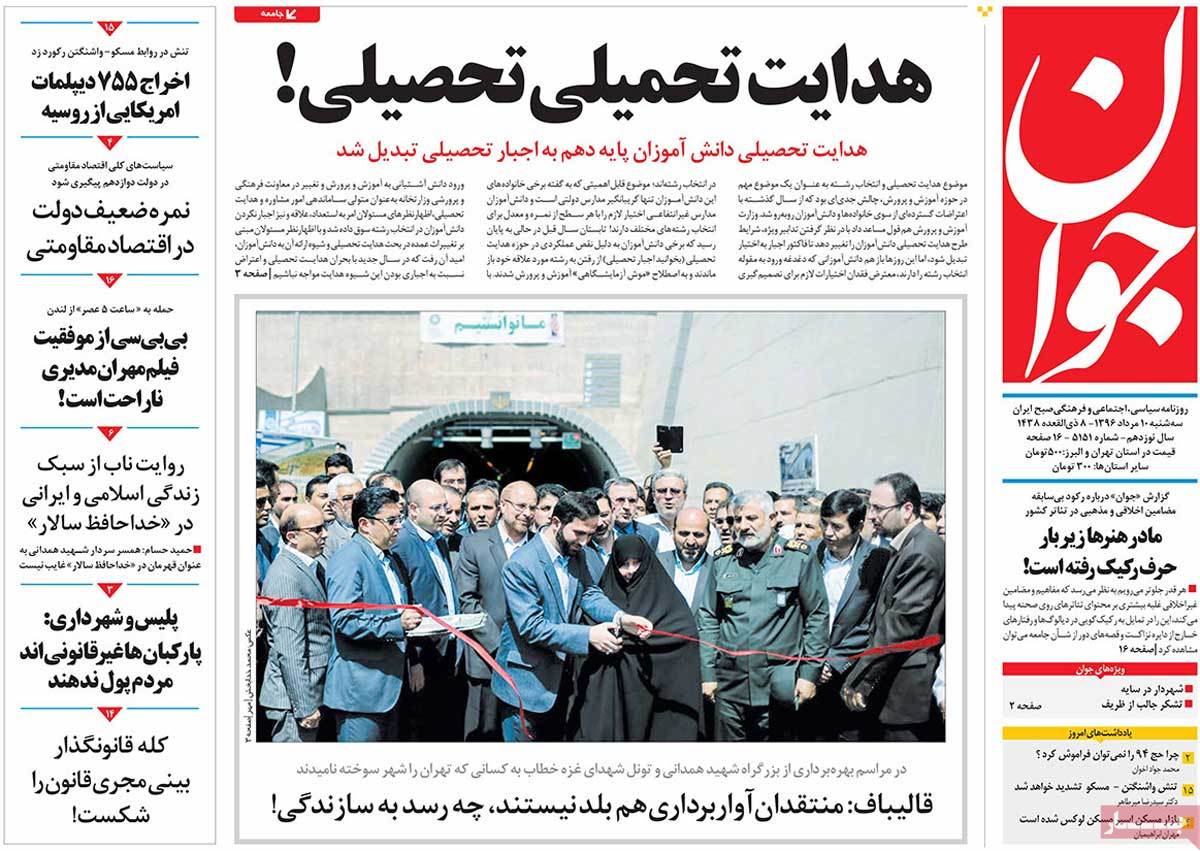 ---
Jomhouri Eslami:
1- Blackwater Founder: US Strategy in Afghanistan Costly, Failed
2- Araqchi: Russia among Iran's Priorities in Signing Post-JCPOA Deals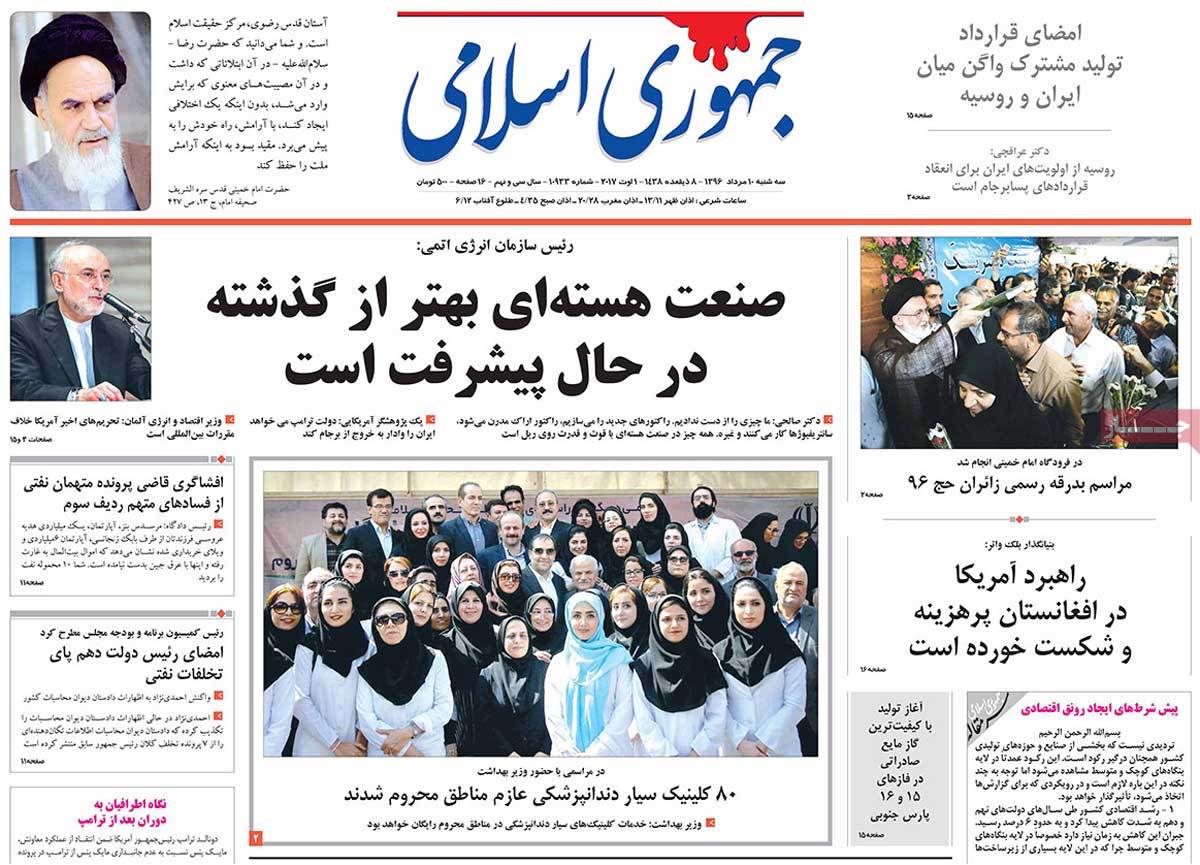 ---
Ka'enat:
1- Grounds Prepared for Global Consensus against US: Rouhani's Deputy
---
Kayhan:
1- Advocates of Reformism Demanding Shares from Rouhani's Next Cabinet
2- Big Scandal for American Institute: Pay $250,000, Receive Your Favourite Report
3- Government Not Cooperating in Fruit Exports to Qatar
4- First Group of Iranian Pilgrims Depart for Hajj