Nearly one month to Iran's presidential and local elections, the registration of candidates from different political camps to run for the country's presidency is the top story in all newspapers.
Almost all newspapers covered the candidacy of the two main rivals at this year's presidential election, namely the incumbent president Hassan Rouhani and the conservative cleric Seyyed Ebrahim Raisi.
The rumours of an imminent war in the Korean Peninsula between the United States and North Korea also received great coverage today.
The above issues, as well as many more, are highlighted in the following headlines and top stories:
19 Dey:
1- Ahmadinejad's Movement Trying to Introduce Him as Leader's Opponent
2- Analyst: Ahmadinejad Will Become Iran's Boris Yeltsin
---
Abrar:
1- Rouhani: We Don't Return When We're on Halfway Point
2- People's Votes in Iran Are Not Just a Formality: Raisi
3- Senior Iranian Commander: Army Has Plans to Counter All Enemy Plots
4- Reformist Figure: Ahmadinejad, Baghaei Will Be Disqualified from Running for President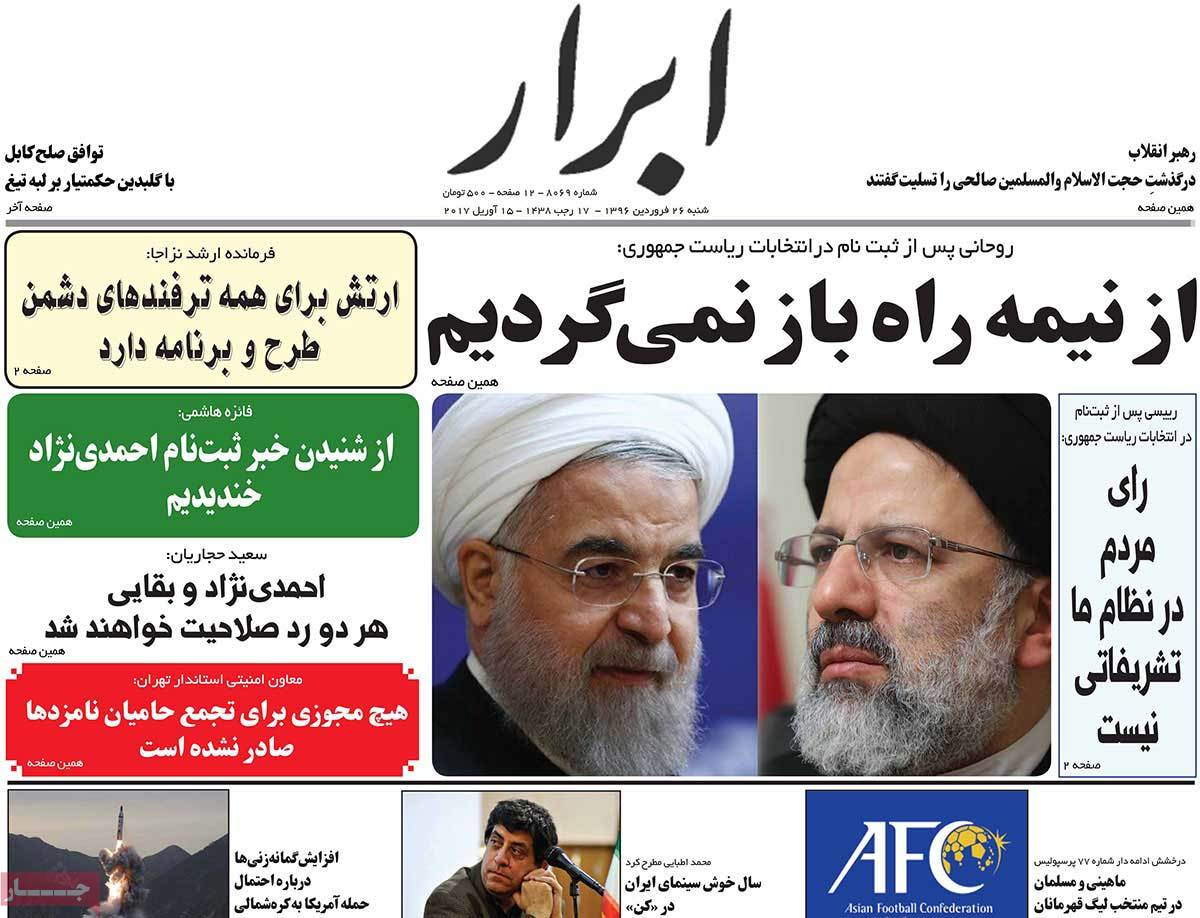 ---
Abrar-e Eqtesadi:
1- Britons' Presence in Iran's Oil Drilling Industry
2- US Biggest Importer of Iranian Carpets
Carpets Sales Increase from 4.7 to 84 Million Dollars
---
Aftab-e Yazd:
1- Rouhani Runs for Second Term: I'm Running Once Again for Iran's Sake
2- Why We Don't See 'Carnival of Registration' in Western Elections
3- Rafsanjani's Daughter: Ahmadinejad's Candidacy Makes Me Laugh
4- In Upcoming Election, People Should Choose between Death or Life: Politician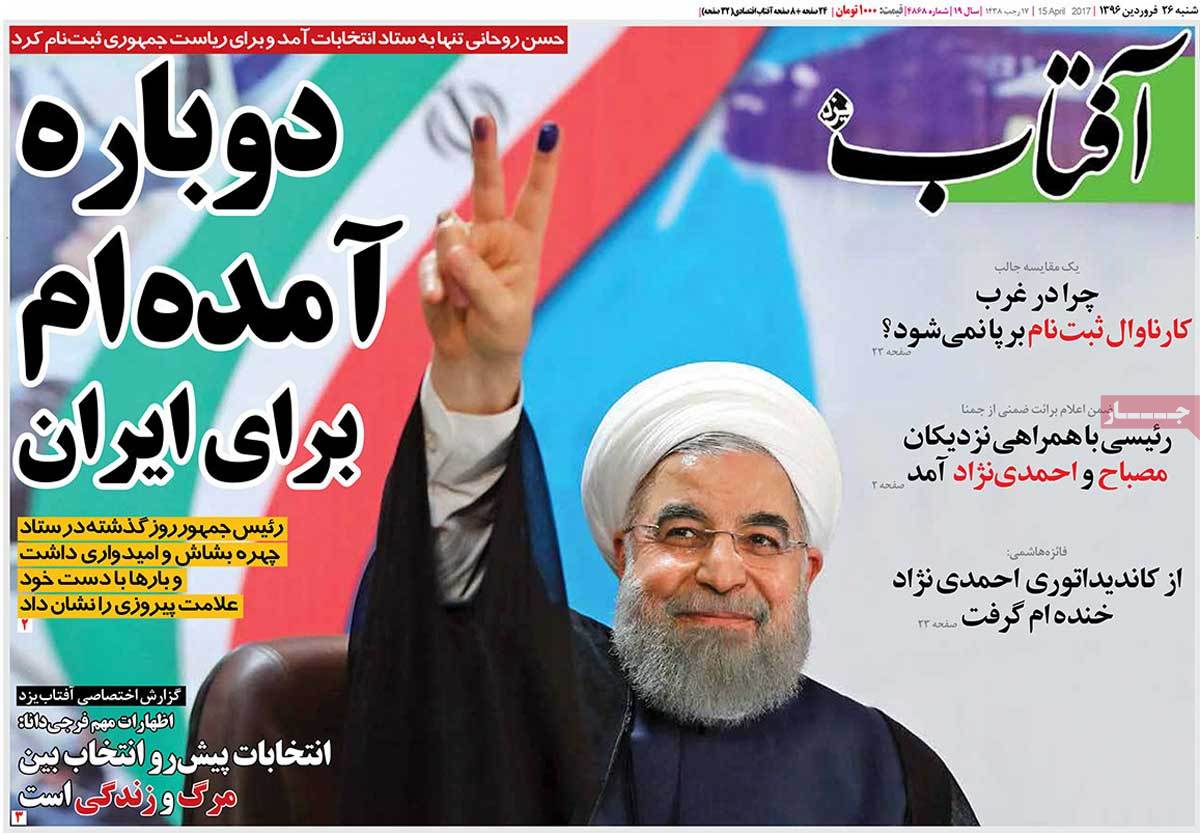 ---
Arman-e Emrooz:
1- Rouhani: I've Come for People's Freedom, Peace
2- Populism Is Rouhani's Main Challenge in Elections: Analyst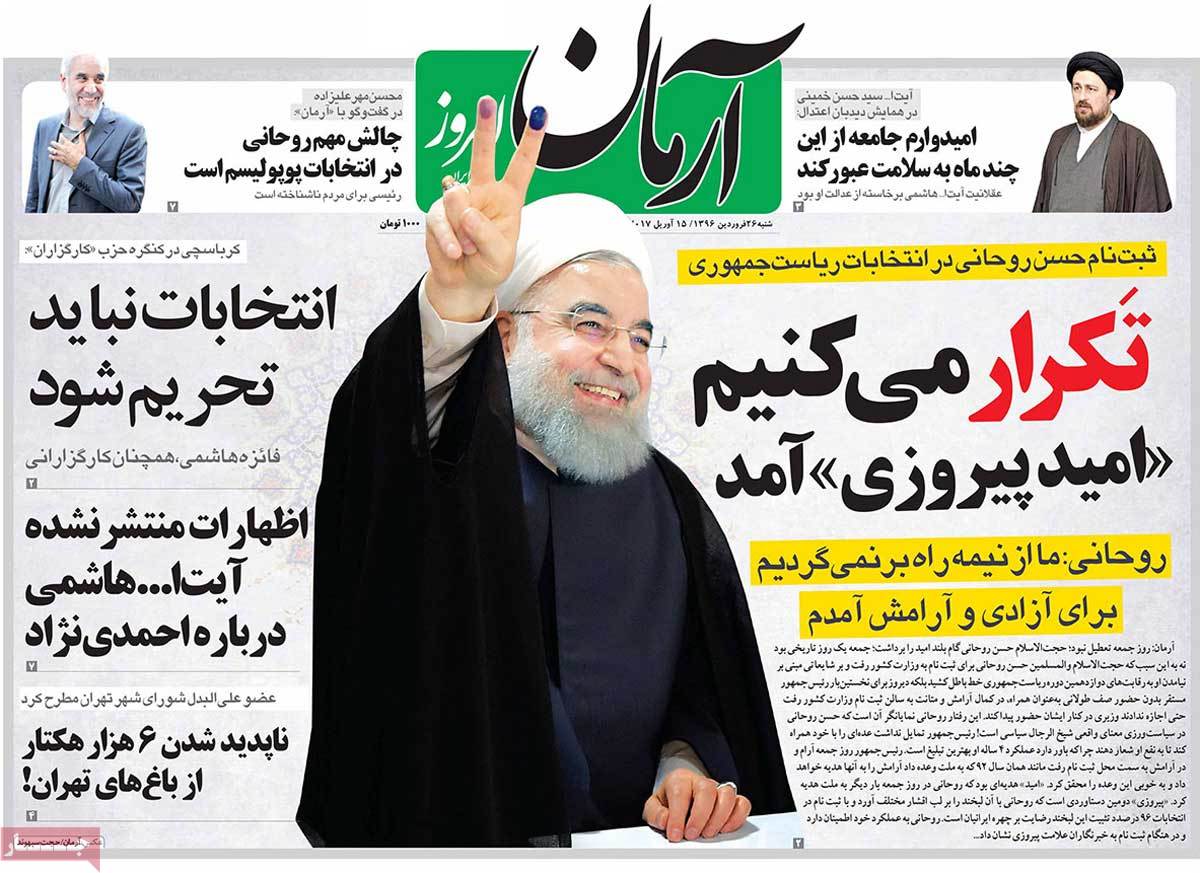 ---
Asrar:
1- Aref: Reformists Will Strongly Support Rouhani
2- Raisi: I Can Be the Candidate of All Parties
3- Rouhani: Those Who Tried to Kill JCPOA Can't Be Good Parents for It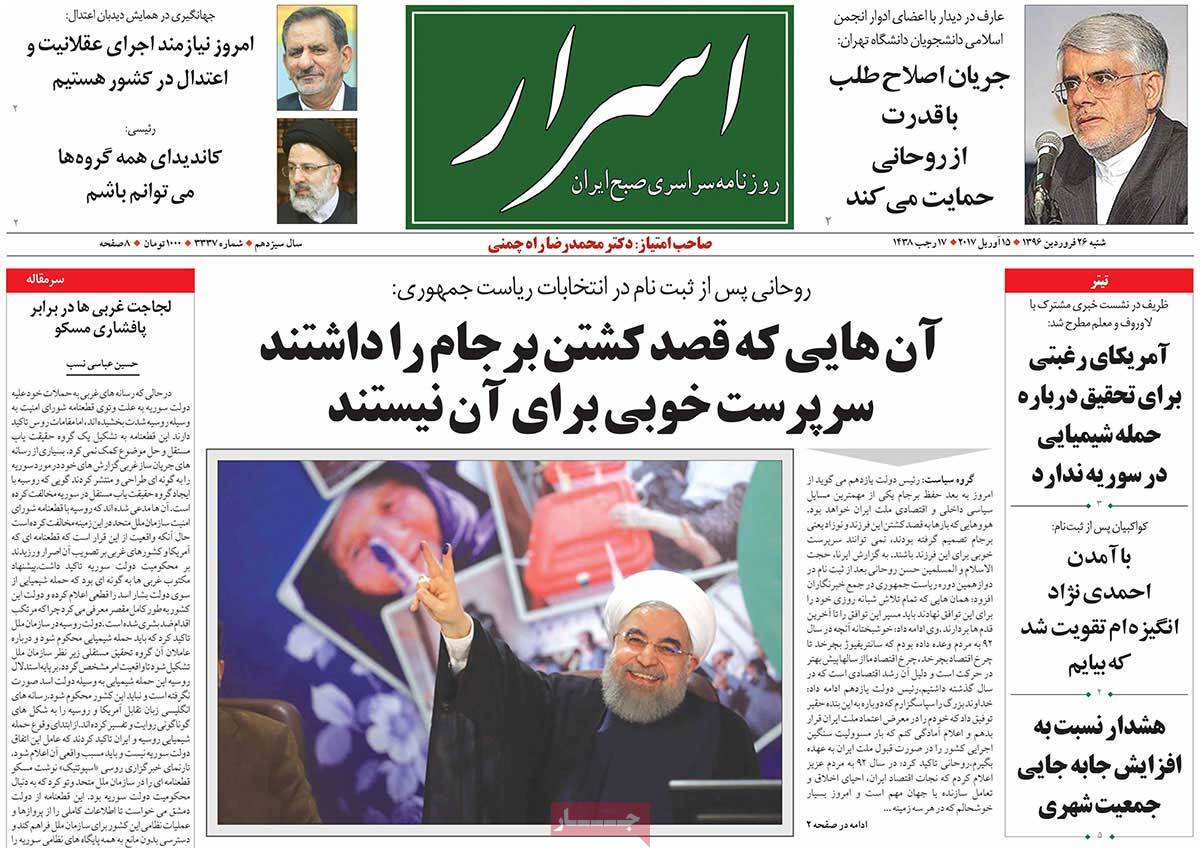 ---
Ebtekar:
1- Ahmadinejad Sues Prosecutor General
2- Look at Me! [A report on why various people are registering to run for Iran president]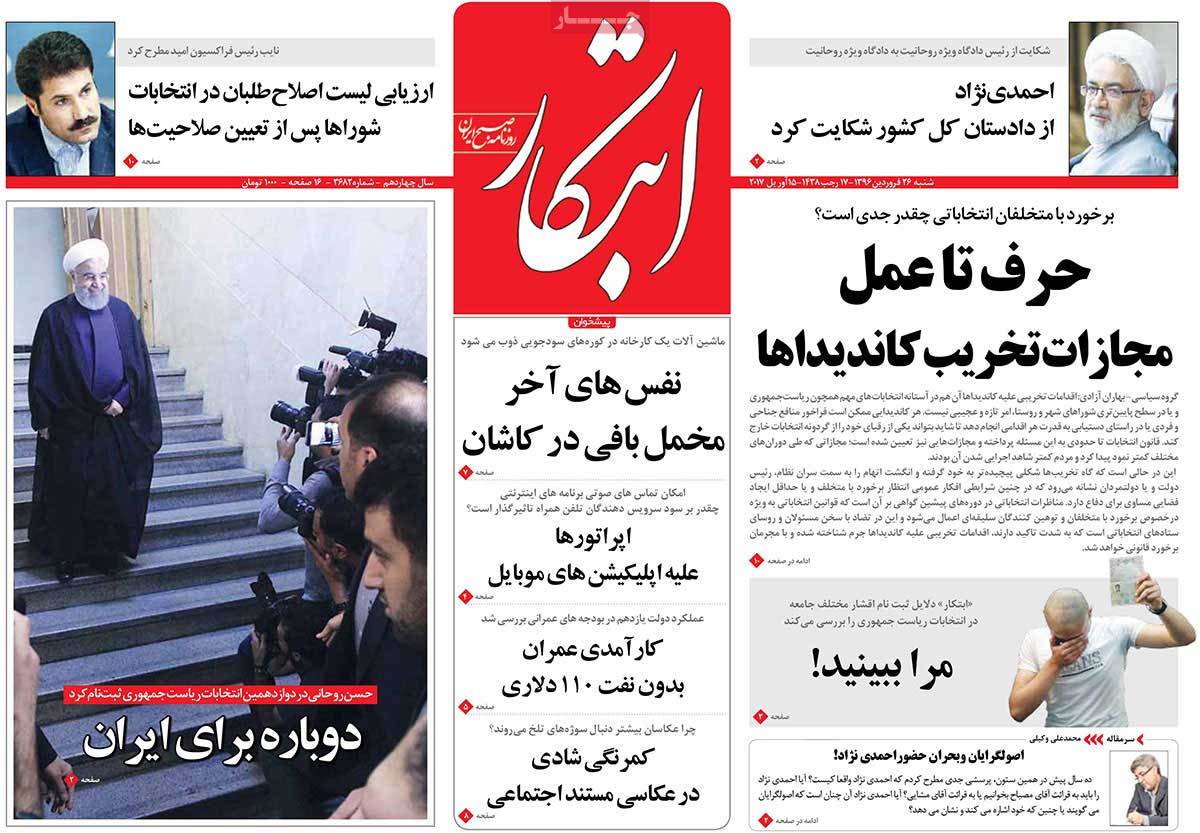 ---
Etemad:
1- 8 Projects to Be Inaugurated by President Rouhani in South Pars Gas Field
Unprecedented $20-Billion Investment in Giant Gas Field
2- War Cry in Korean Peninsula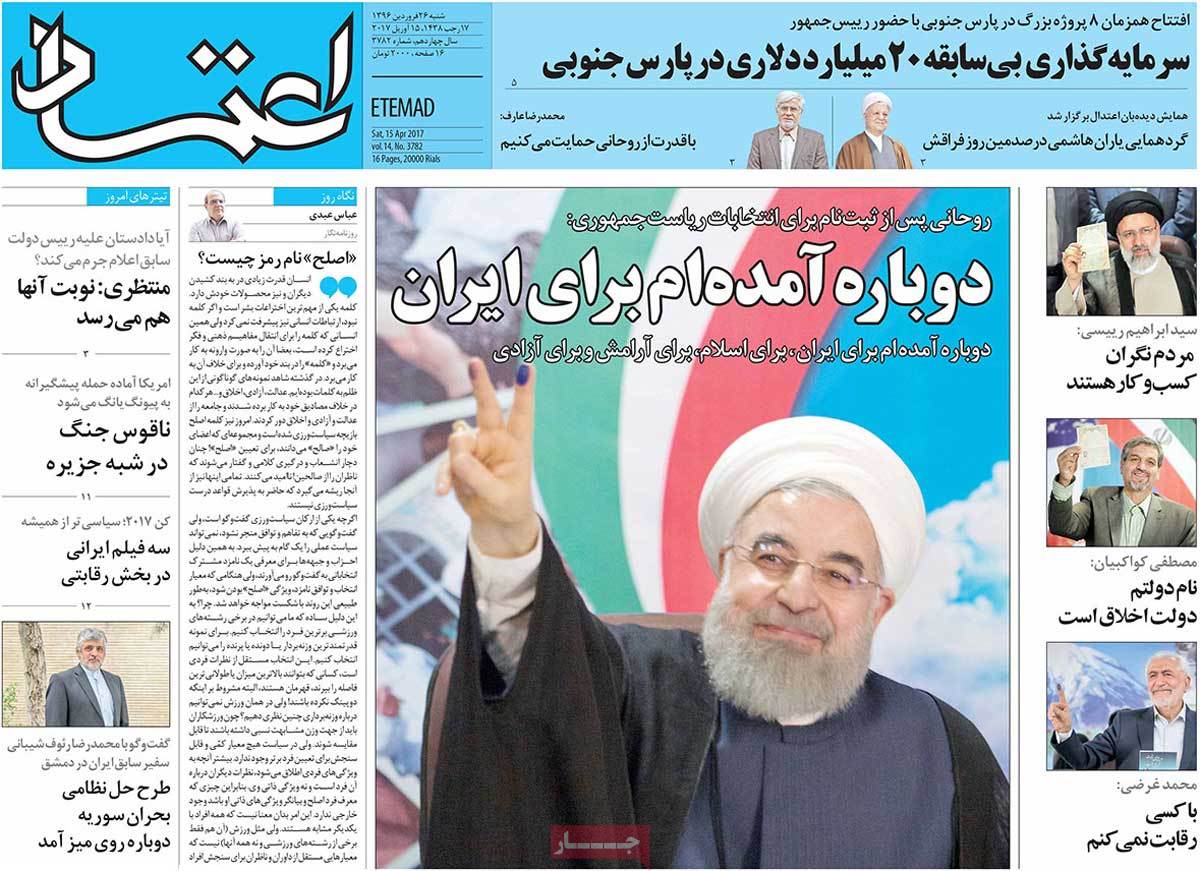 ---
Ettela'at:
1- Countdown Begins for US Military Attack on North Korea
2- First VP: Iranian Society Seriously Needs Rationality, Moderation
3- Zarif in Moscow: US Not Interested in Probe into Syria Chemical Attack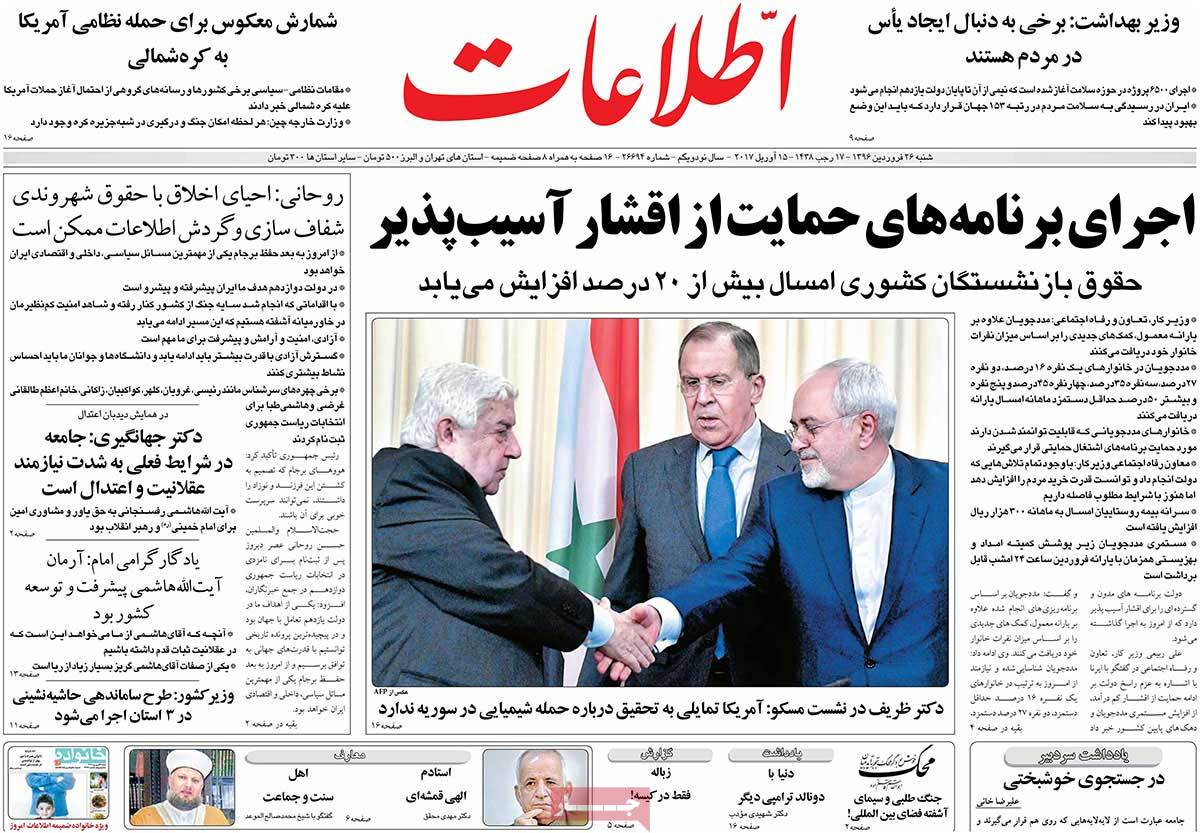 ---
Hemayat:
1- Fresh US Sanctions on Iran: JCPOA Once Again Violated on Human Rights Pretexts
---
Iran:
1- Once Again Iran, Once Again Rouhani
2- Rouhani: The Path Behind, the Path Ahead [Editorial by Culture Minister Salehi Amiri]
---
Javan:
1- Rouhani: Iran's Economy Better than the Past
2- Reformist MP Kavakebian Runs for President
3- Conservative Zakani: Iran's Economy on Verge of Crisis
4- Raisi: I'm Aware of Iran's Conditions, We Can Reform the Structure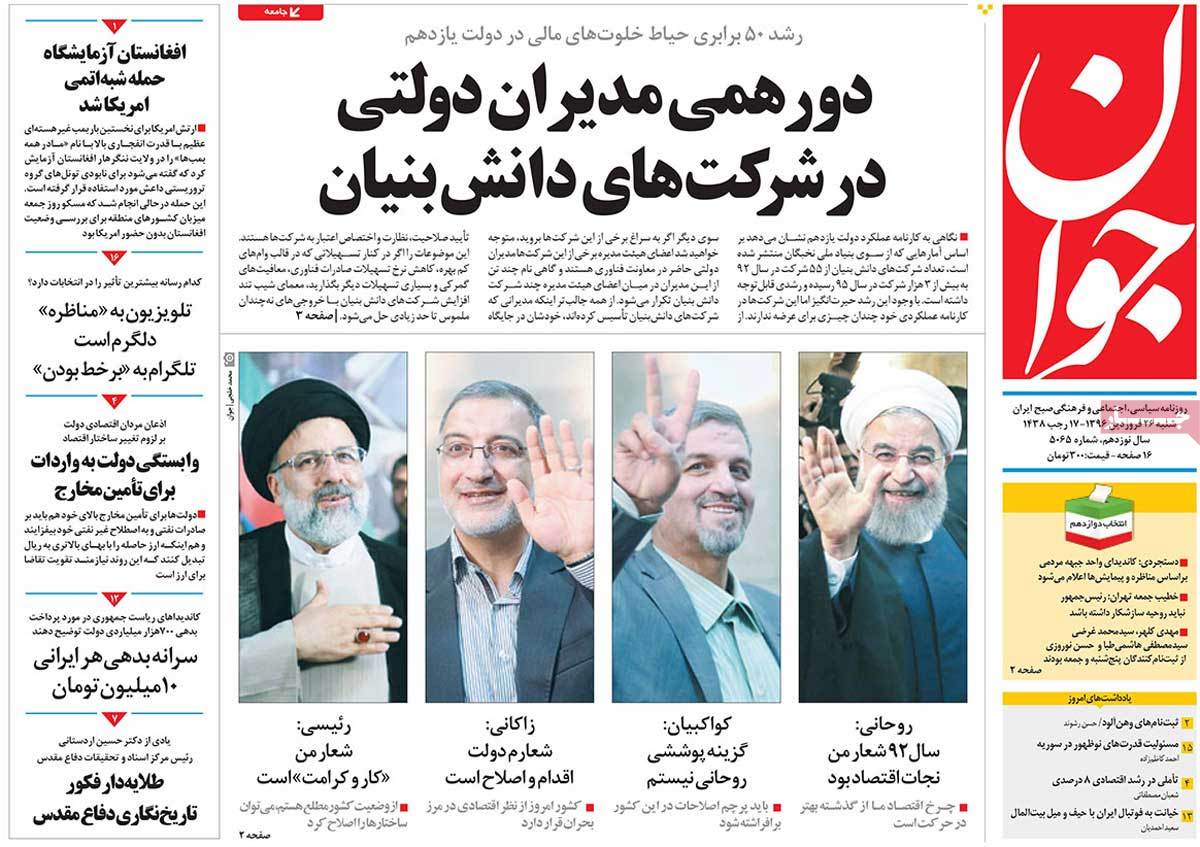 ---
Jomhouri Eslami:
1- Rouhani: We Should All Go to Ballot Boxes to Stabilise Moderation, Ethics
2- Contract to Purchase 20 Other Planes Finalised
3- US Test-Fires Biggest Non-Nuclear Bomb in Afghanistan on Pretext of Fight against ISIS
---
Ka'enat:
1- Rouhani and Raisi's Registration Completes Sides of Election Triangle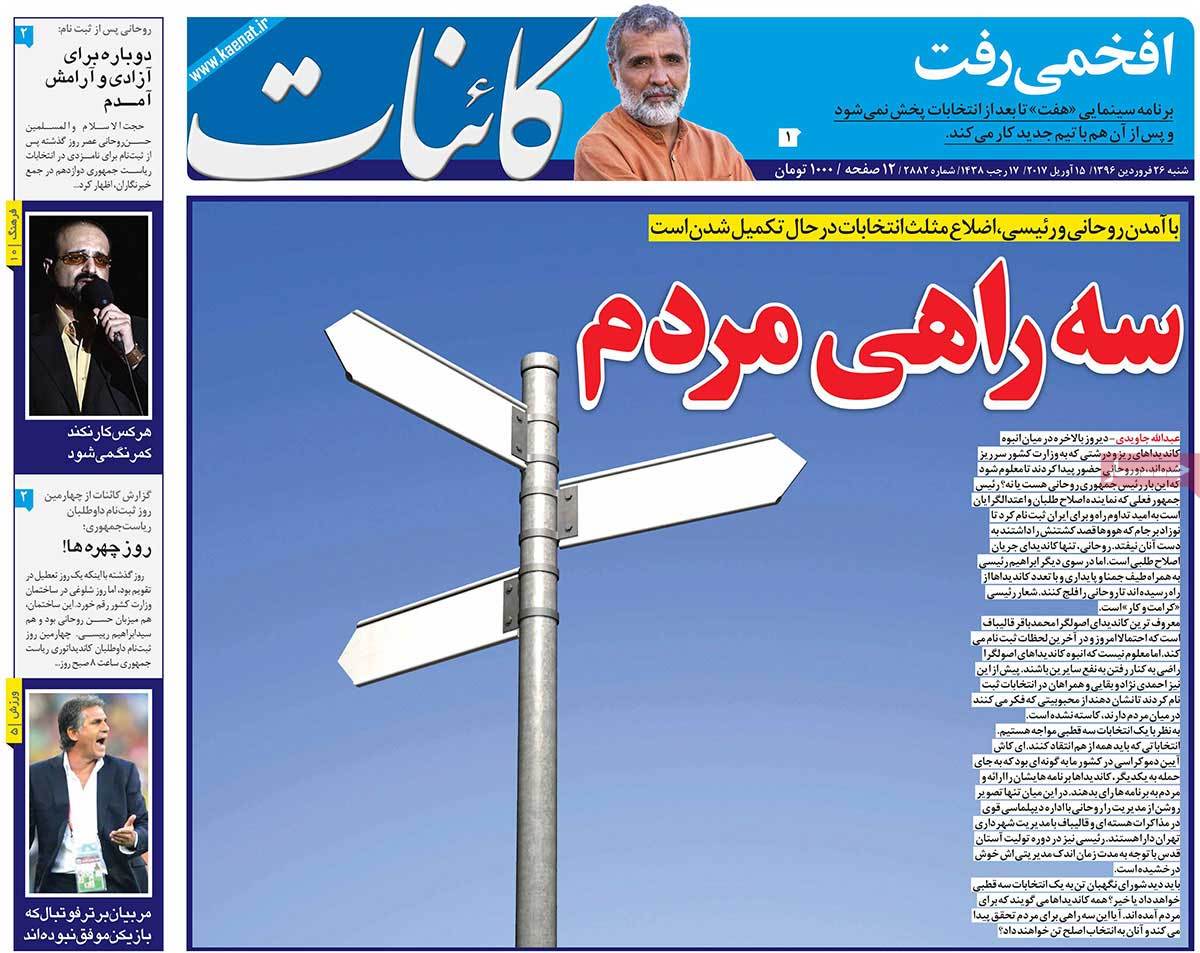 ---
Kayhan:
1- Rouhani's Performance Has Disappointed Even His Supporters: Western Media
2- Marginal Candidates Break Records as Serious Rivals Register
3- Khan Shaykhun Disaster Repeated: US Attacks Terrorists' Chemical Depot in Syria, Hundreds of Civilians Massacred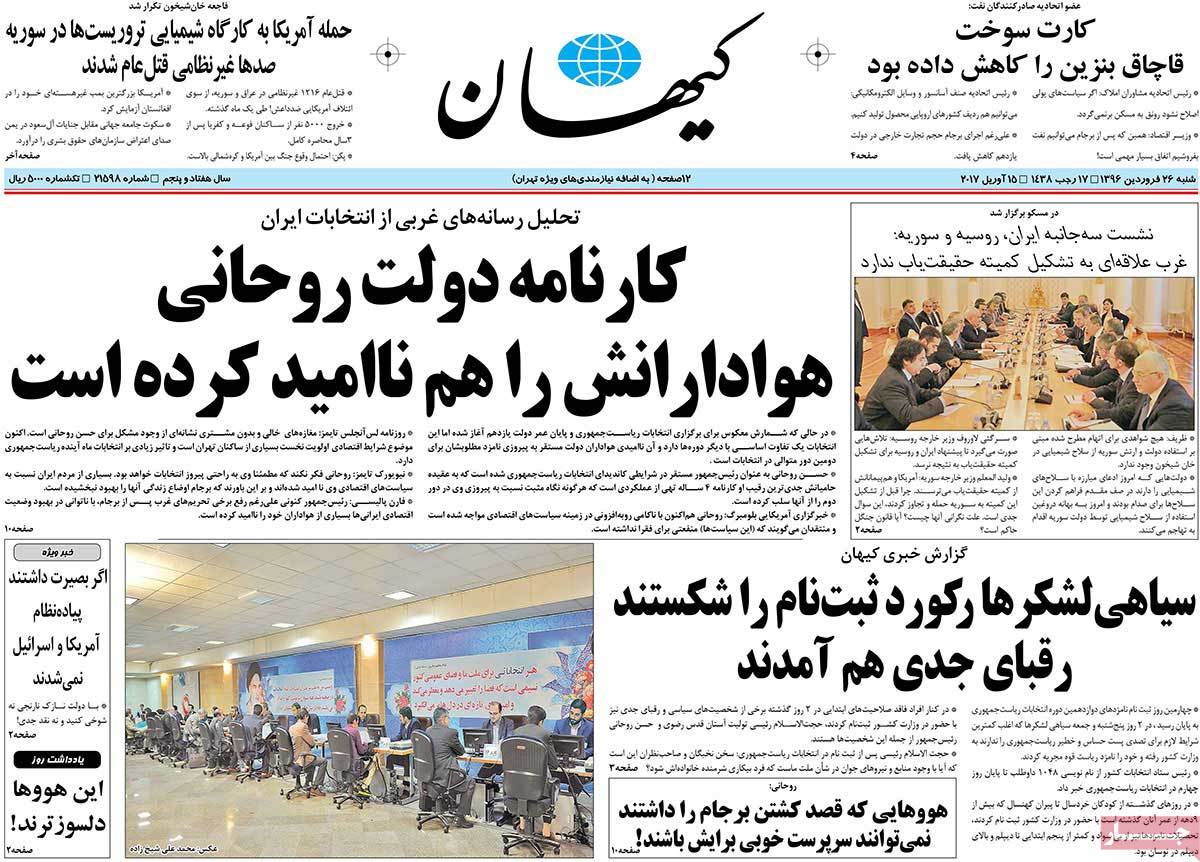 ---
Khorasan:
1- Trump's Political Gymnasium: US President's Weird Turnabouts on NATO, China, Russia, Syria
---
Sayeh:
1- Impact of Artists on Society: On Int'l Day of Art
2- Bloody-Coloured Dreams: A Report on What Happens to Children in War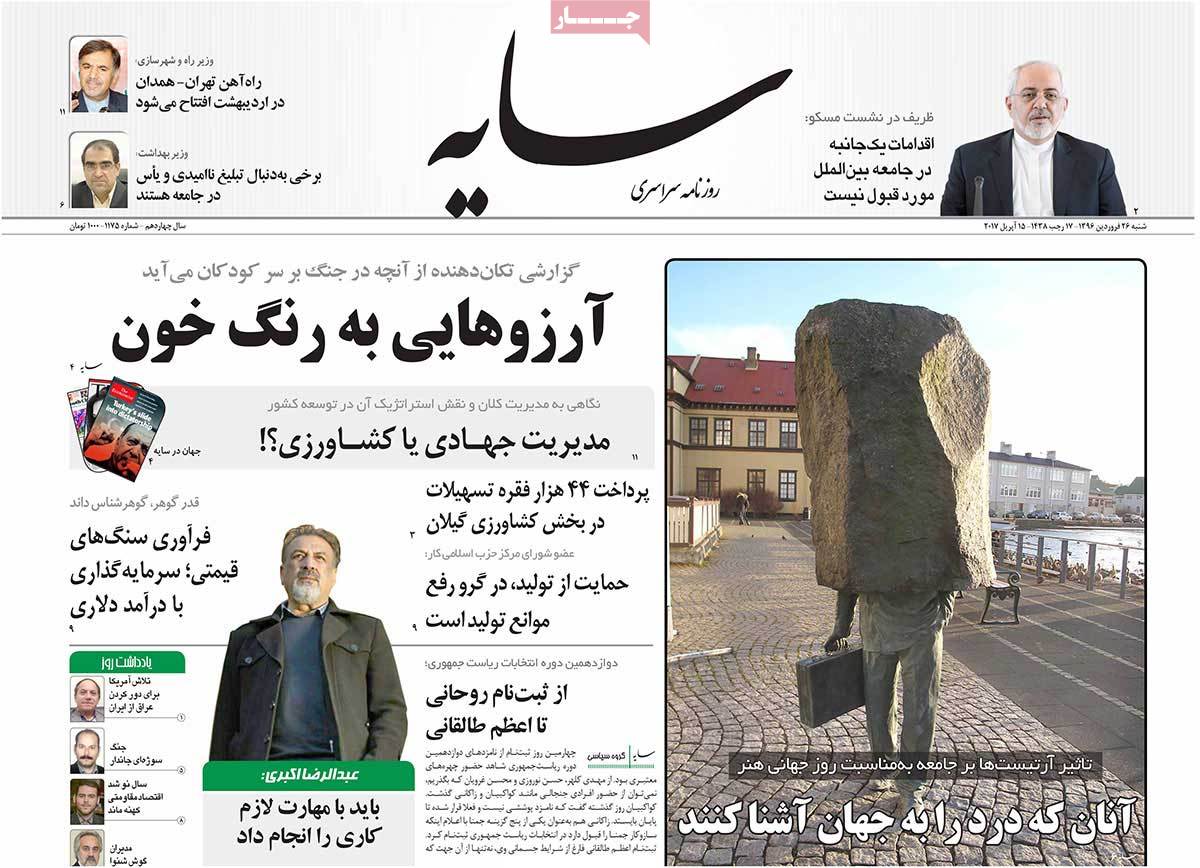 ---
Shargh:
1- The President Shows Up
Rouhani: We Won't Remain on Halfway Point, Will Resume Path with Freedom, Security
2- Ahmadinejad Nightmare [Editorial]
3- Russian Ambassador: We Expected Iran to Buy Sukhoi instead of Boeing, Airbus!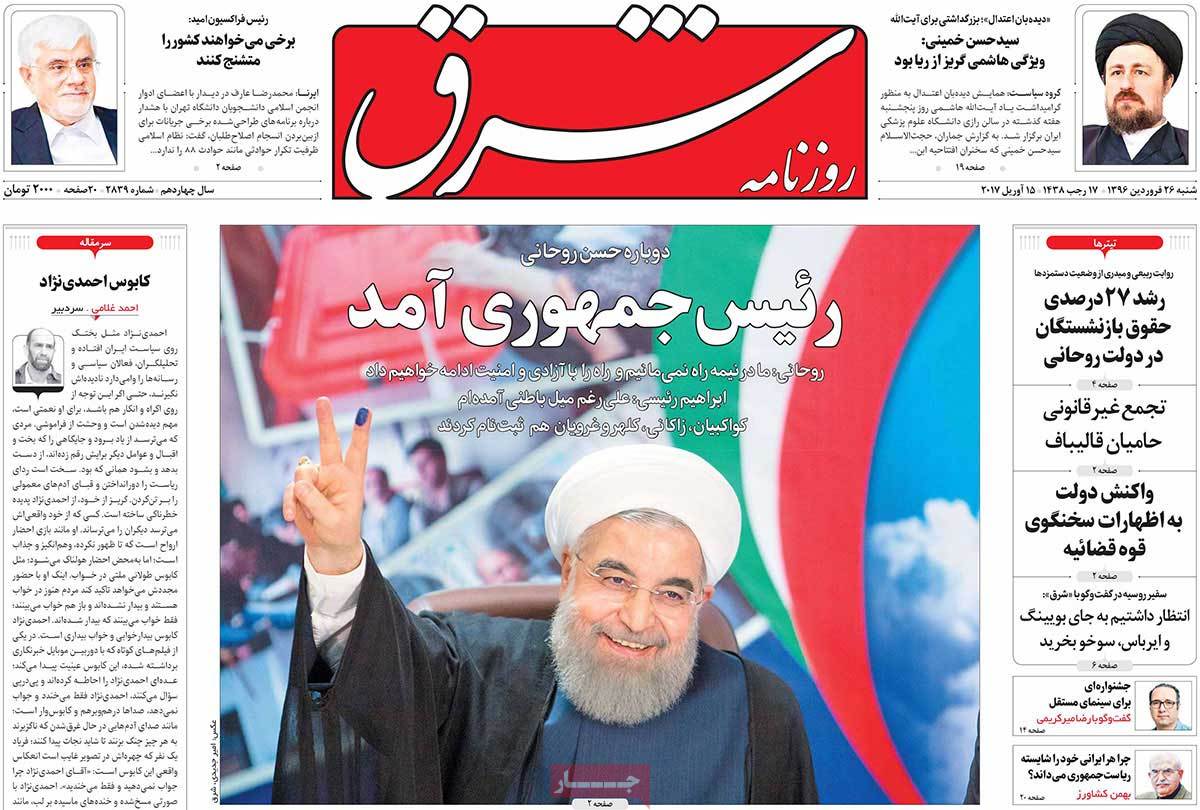 ---
Vaghaye Ettefaghieh:
1- Rouhani Has Come
2- Diplomatic Unity between Iran, Russia, Syria against US Unilateralism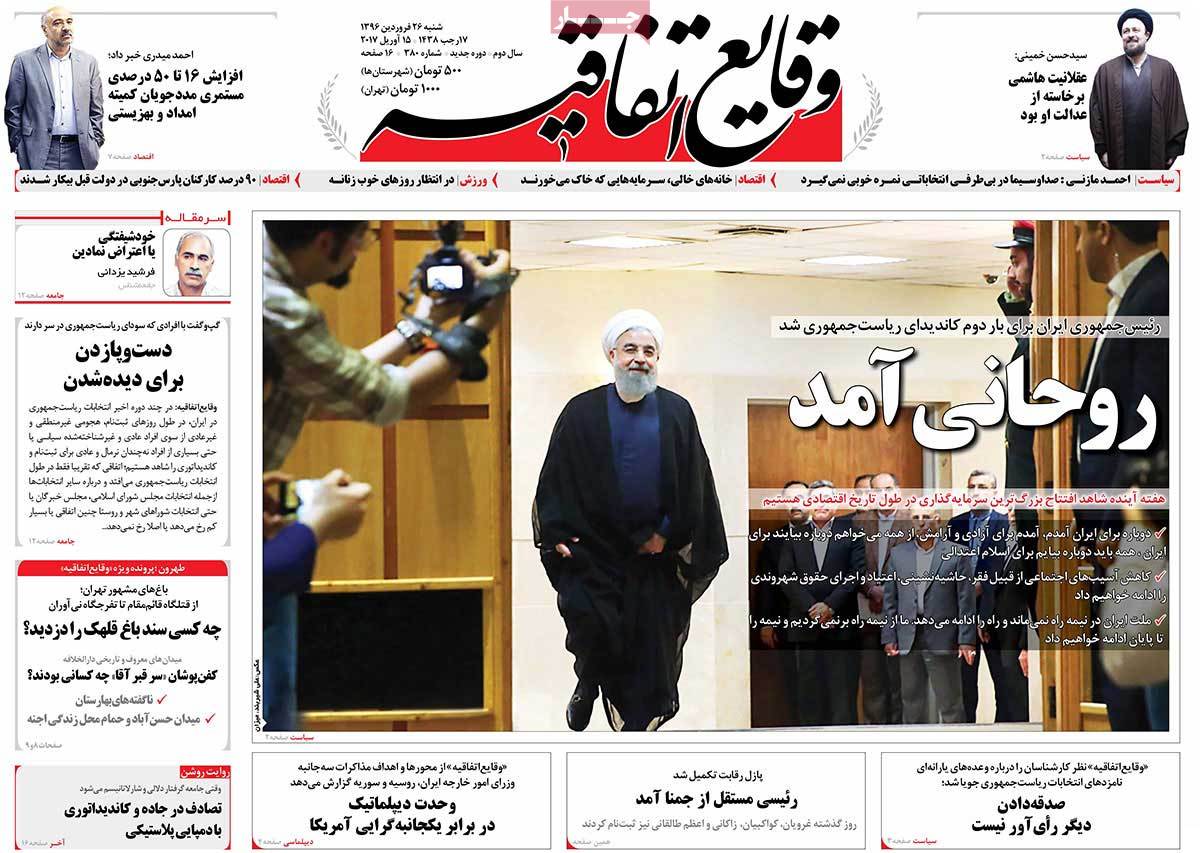 ---
Vatan-e Emrooz:
1- Rouhani: We Have Broken the Records!
2- Assad: Chemical Attack Was Totally Fabricated
3- Cry of War near the Far East