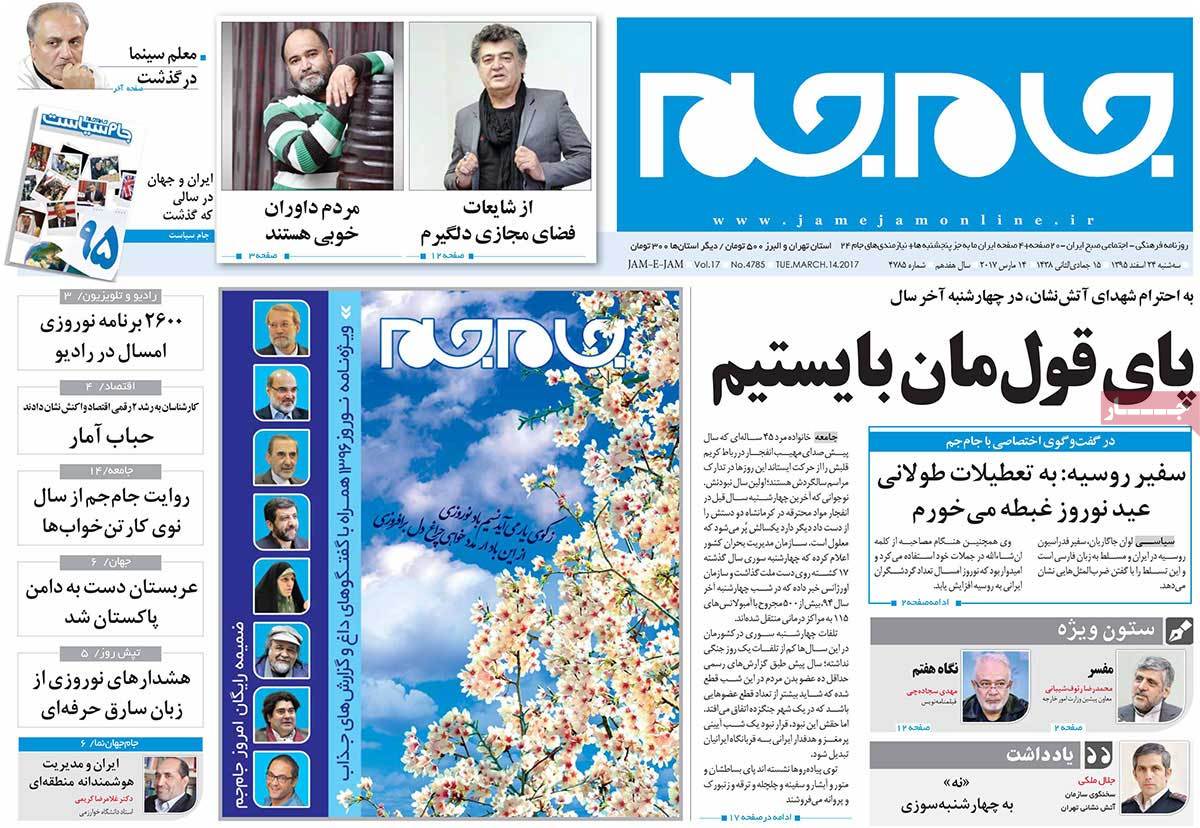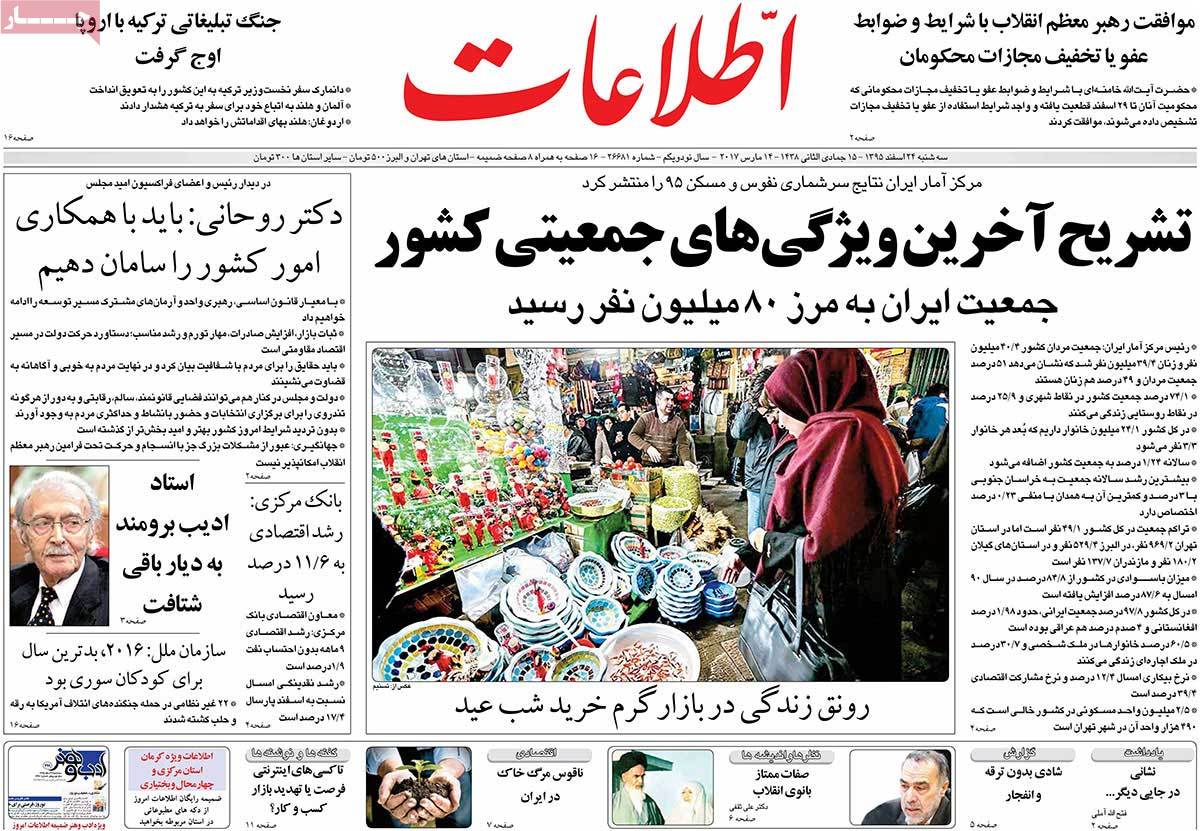 The top story today was the remarks made by Parliament Speaker Ali Larijani, a veteran conservative, in support for incumbent President Hassan Rouhani and his administration's performance.
The statistics released by Iran's Central Bank which showed a nearly 12% economic growth rate in the past 9 months also received great coverage. Conservatives criticized such statistics, saying they are just on the paper, and reformists and pro-government papers described it as a great victory for Rouhani's administration.
Another top story today was the uproar in Bahrain, where people hold protest rallies in support of their top Shiite cleric Sheikh Qassim, whose verdict is due to be declared by the Al Khalifa regime.
Newspapers also covered the release of preliminary results of Iran's national census, which showed a growth in Iran's population compared with the previous census five years ago.
The above issues, as well as many more, are highlighted in the following headlines and top stories:
19 Dey:
1- Parliament Speaker: I'm Rouhani's Friend
2- First VP: Leader and Gov't Have 'Best Relationship'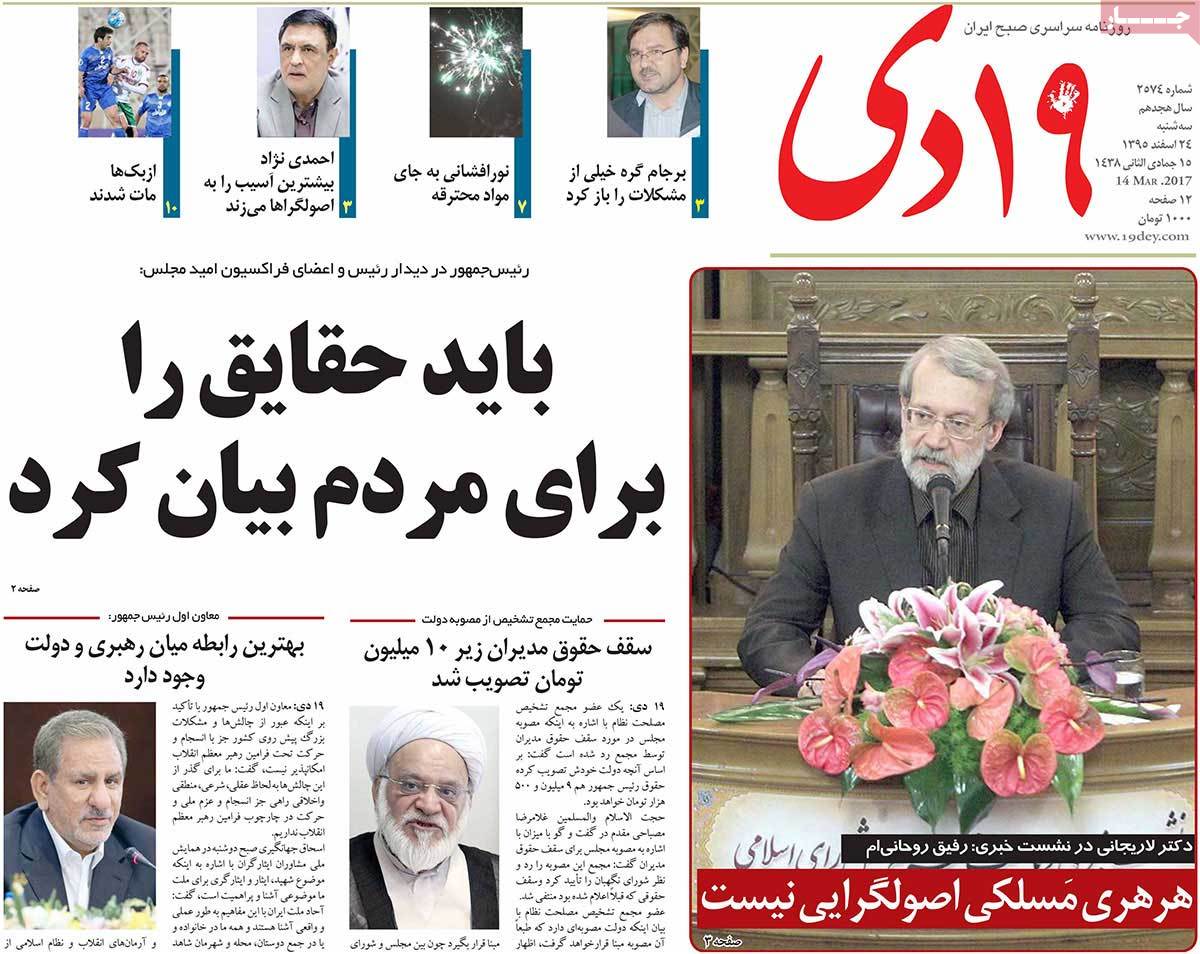 ---
Abrar:
1- Controversial Bill on Maximum Wage for Executives Removed from Agenda
2- Iran's Navy Escort over 2,100 Merchant Ships, Oil Tankers
3- Turkish People Will Vote against Erdogan's Reforms: Politician
4- Rouhani: Government, Parliament Close to Each Other in Terms of Goals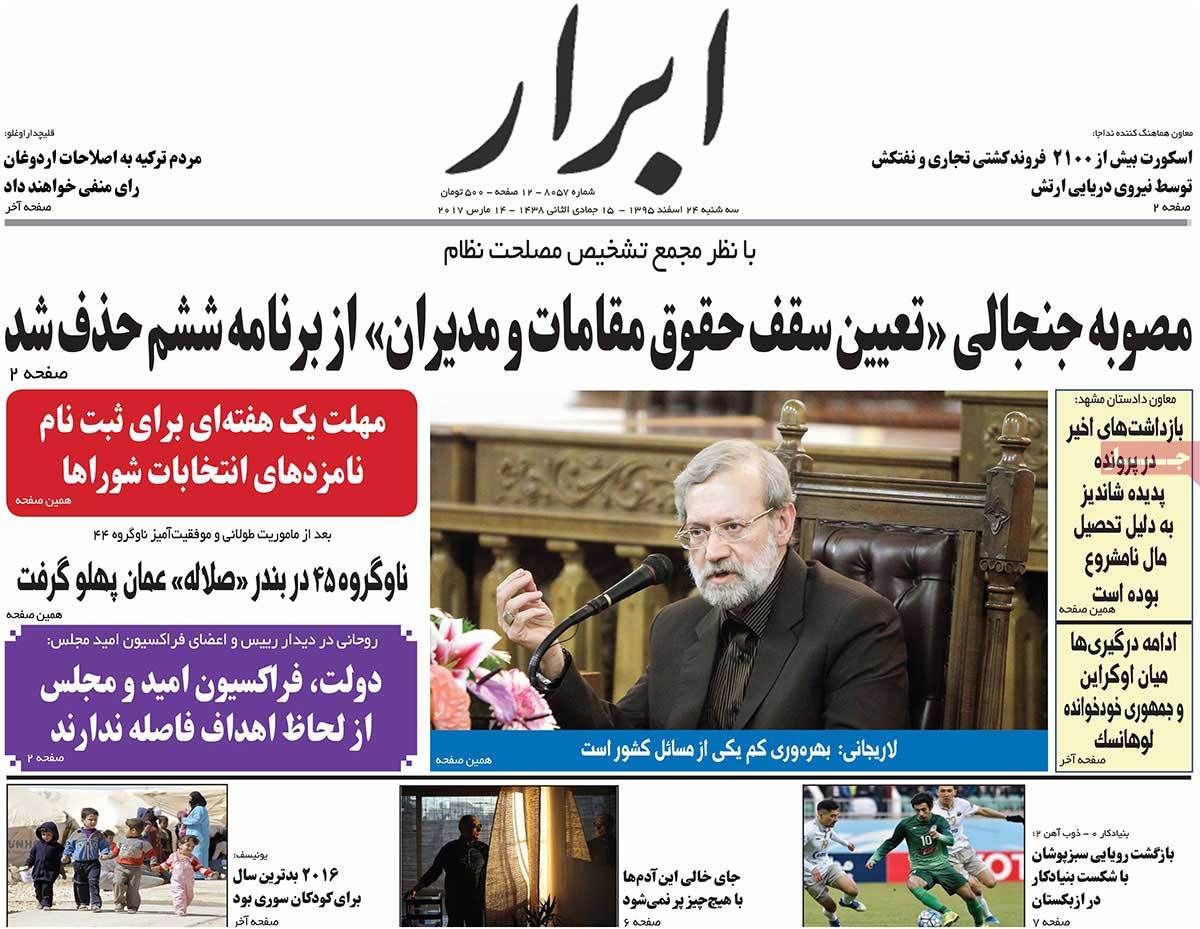 ---
---
Abrar-e Eqtesadi:
1- Africa, New Market for Iran's Oil Products
2- Women's Economic Participation Rate Stands at 14.9%
3- Iran Becomes Second-Biggest Oil Exporter to India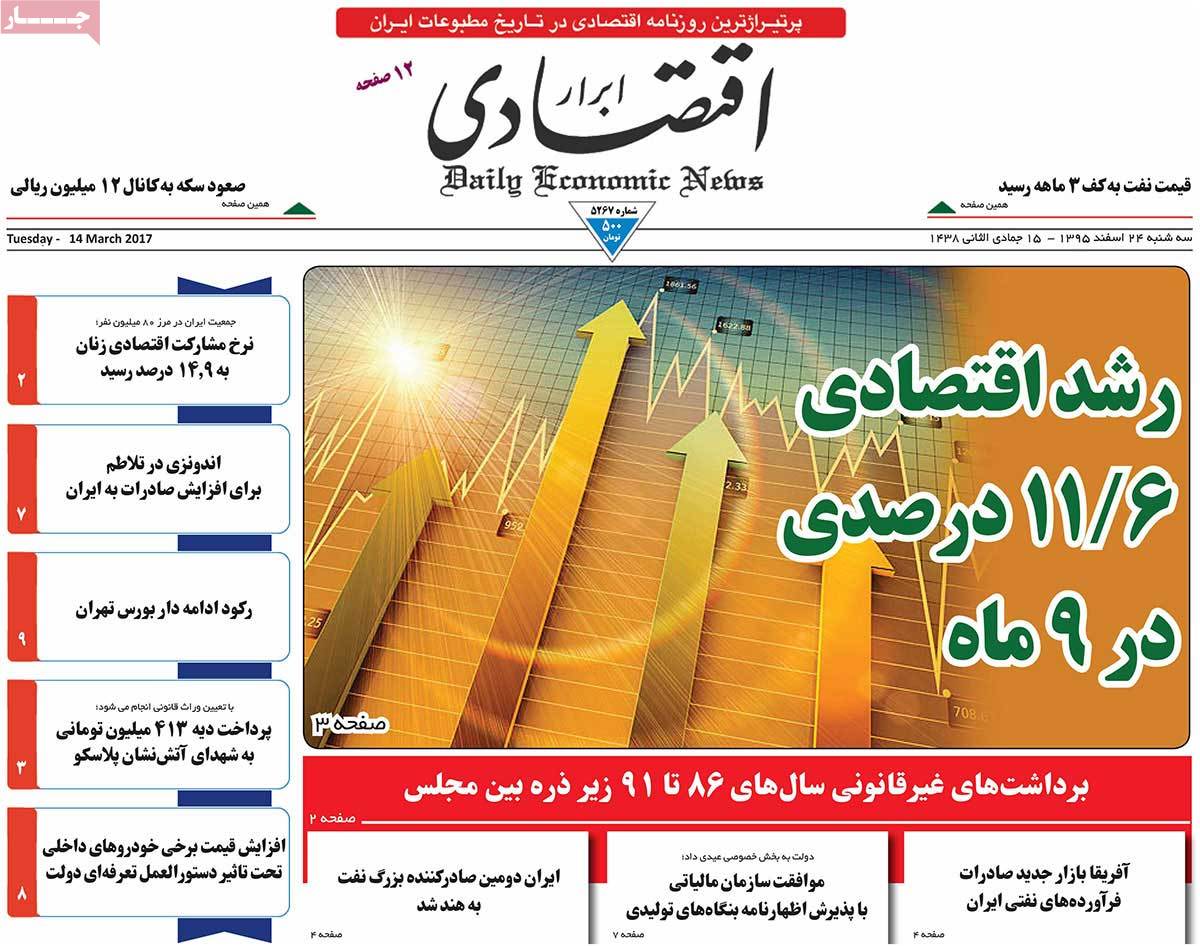 ---
Aftab-e Yazd:
1- Parliament Speaker: Government's Score is Above Average
2- Reformists United in Support of Rouhani, Conservatives Divided Unprecedentedly
3- On Tradition of Fireworks Wednesday [Editorial]
---
Arman-e Emrooz:
1- Return of Experienced Forces to Intelligence Ministry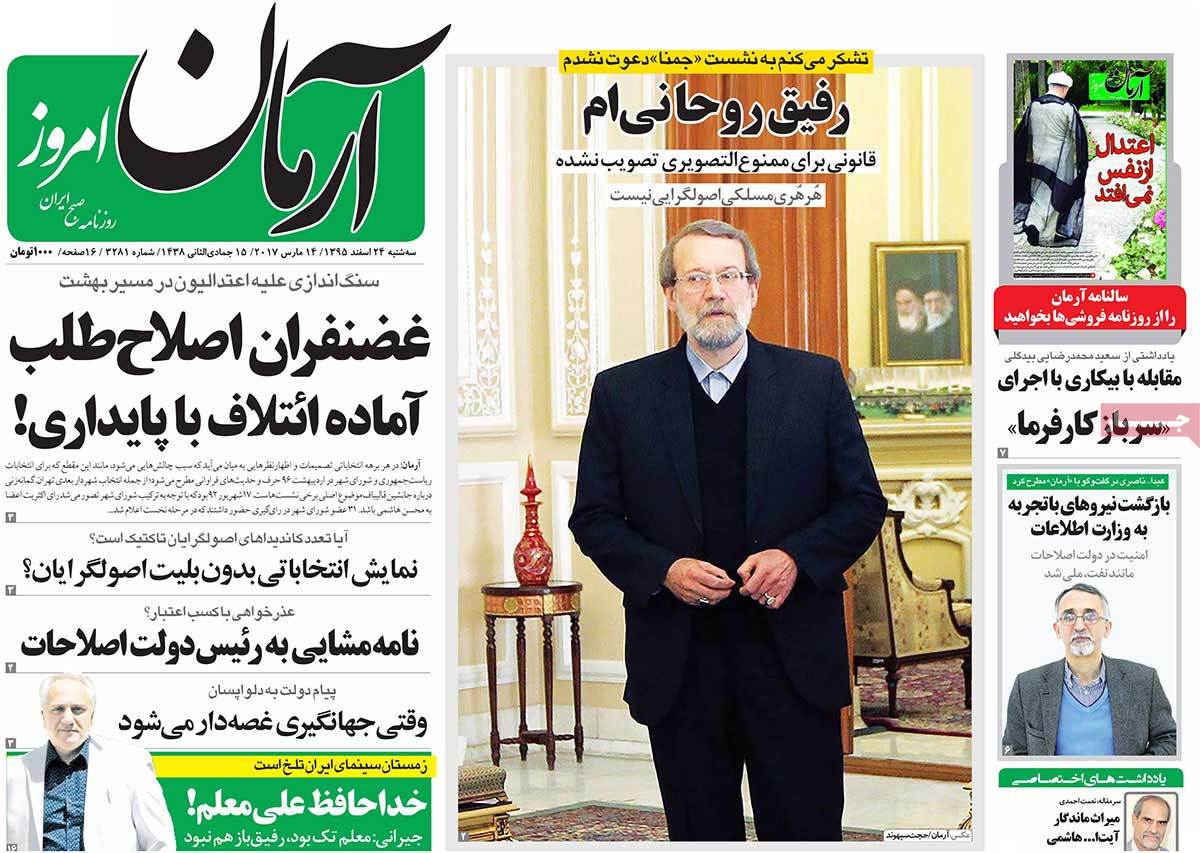 ---
Ebtekar:
1- Larijani Supports Rouhani Administration's Economic Performance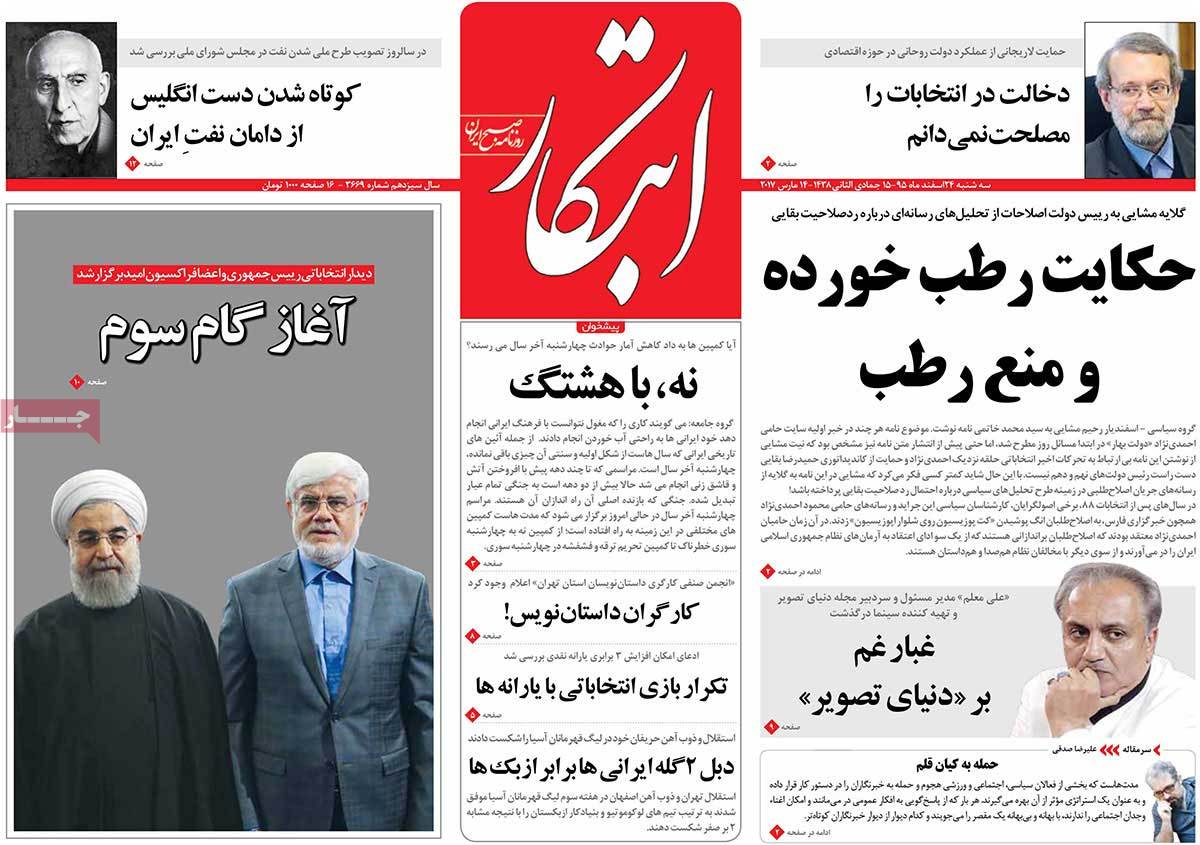 ---
Etemad:
1- Leader Endorses Conditions for Pardoning, Commuting Sentences of Convicts
2- Larijani Not in Speaking Terms with Conservatives
---
Ettela'at:
1- Iran's Population Increased to Nearly 80 Million: Official Statistics
2- UN: 2016 Was Worst Year Ever for Syrian Kids
3- People Shopping ahead of Nowruz Holidays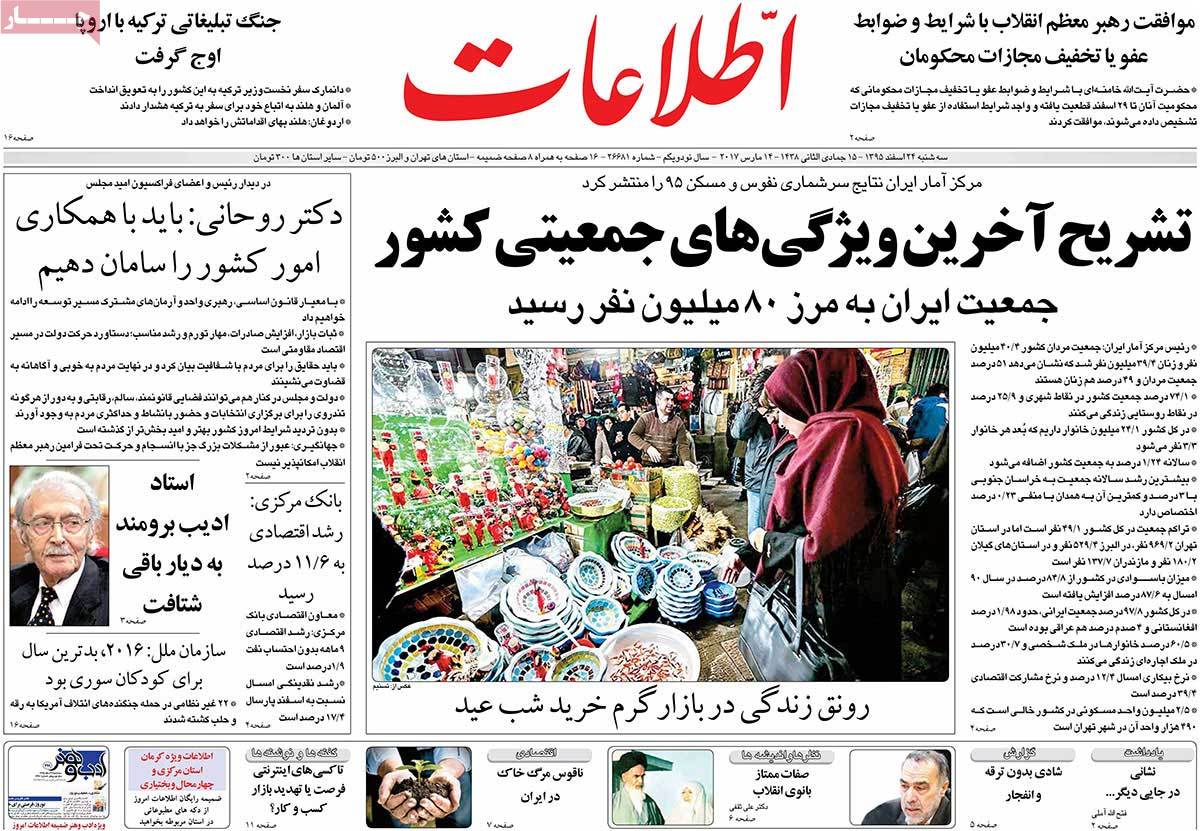 ---
Iran:
1- Iranians to Celebrate Their Ancient Ritual While Commemorating Plasco Martyrs
Saying No to Dangerous Firecrackers in Last Wednesday of Year
---
Jame Jam:
1- Russian Ambassador: I Envy Long Nowruz Vacations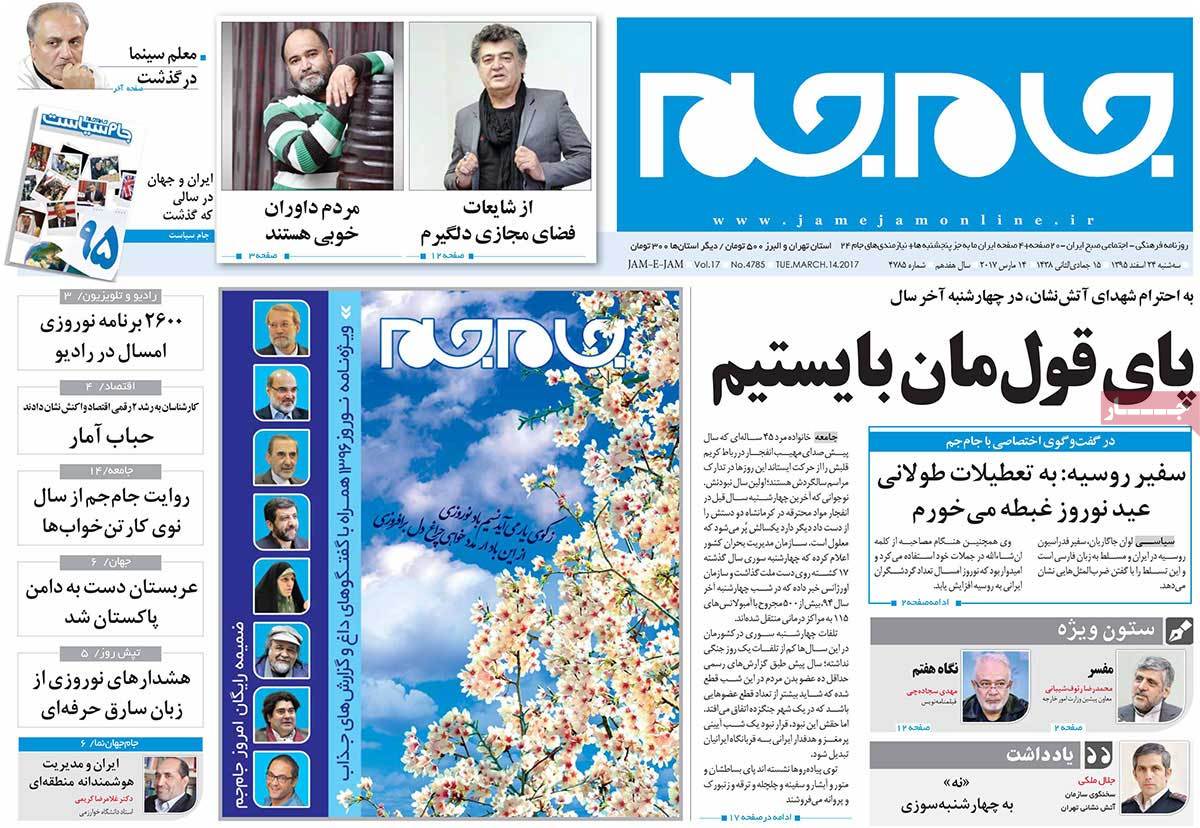 ---

Javan:
1- Official Statistics Show for First Time Iran's Populating Is Ageing
2- Parliament Speaker: Post-JCPOA Investments Not as Much as Expected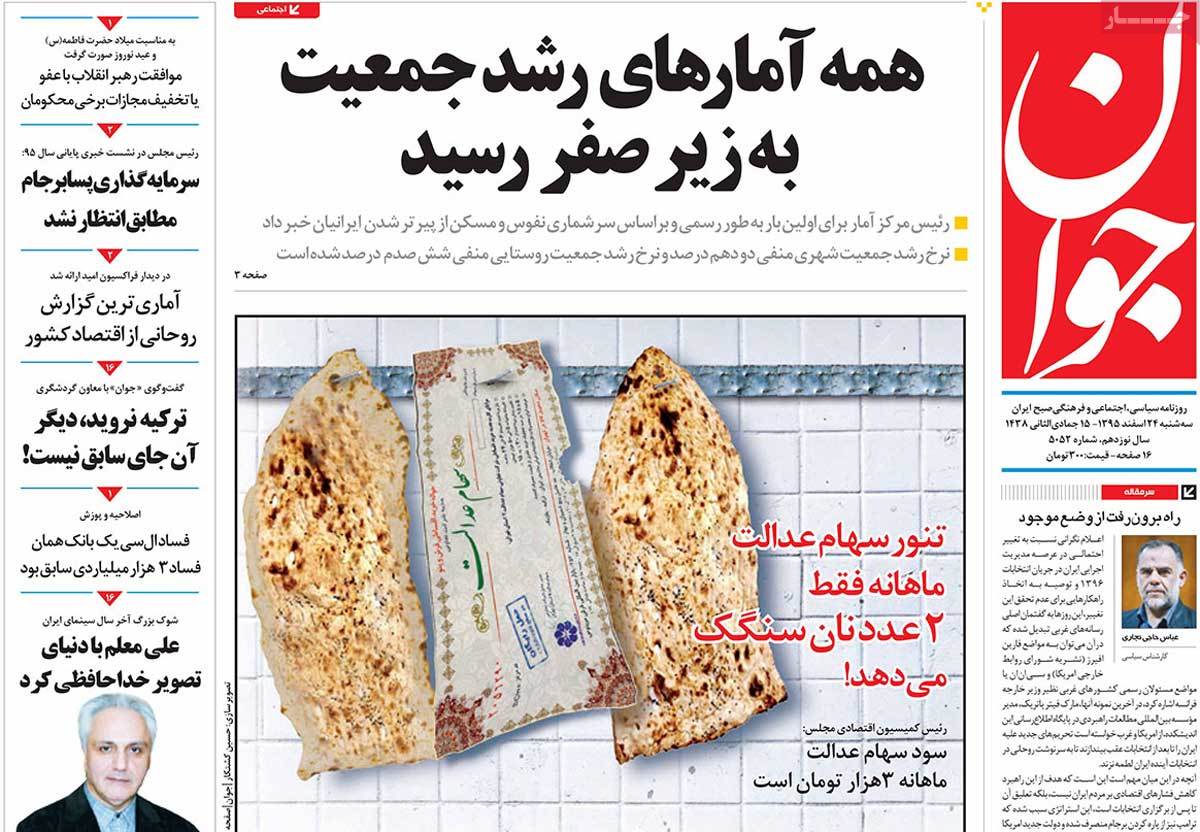 ---
Jomhouri Eslami:
1- Parliament Speaker's All-Out Support for Rouhani's Performance
2- Bahraini People Move towards Sheikh Qassim's House ahead of Verdict Announcement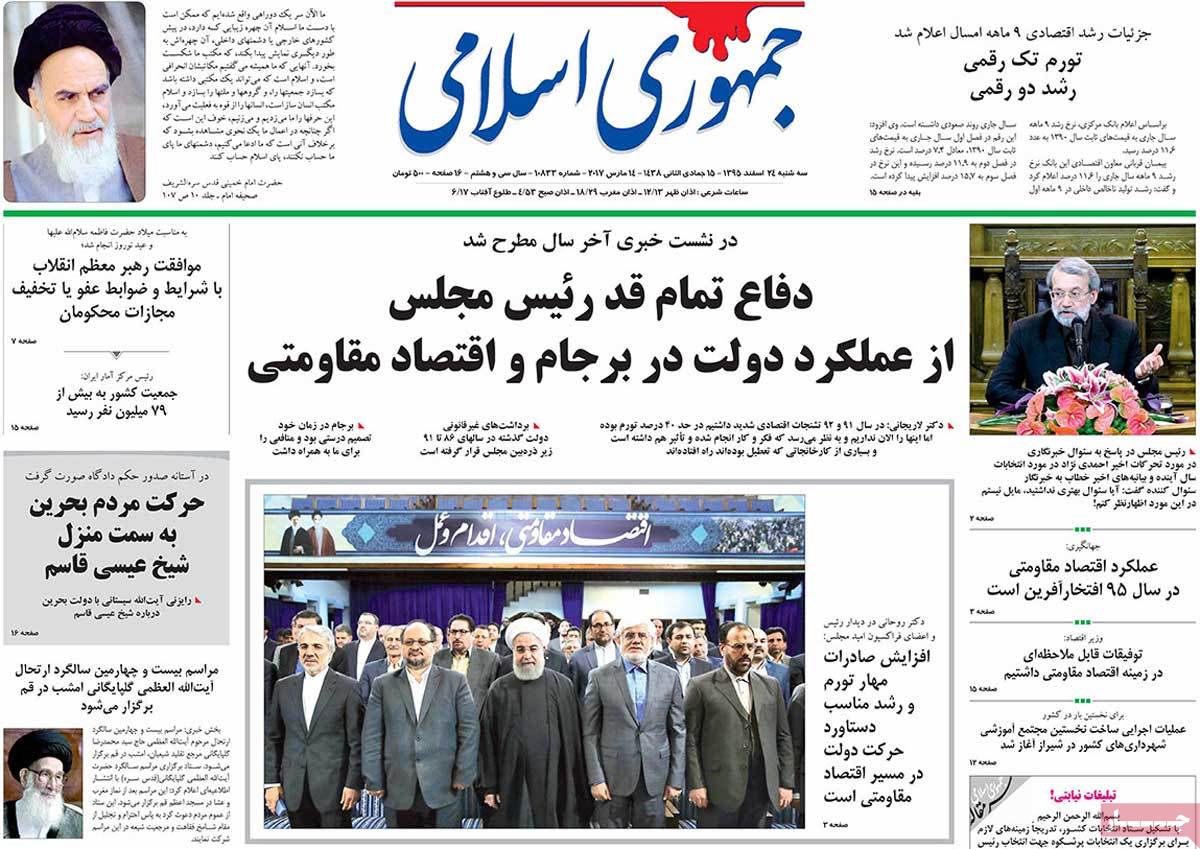 ---
Kayhan:
1- Number of Companies that Lose Money 4.5 Times Higher in Rouhani's Gov't
2- Fukuyama: US Defeated in Iraq, Afghanistan
3- Sheikh Qassim's Expulsion, Last Final to Al Khalifa Regime
4- Economic Growth Rate 11.6% on Paper! Government Once Again Breaks Its Own Record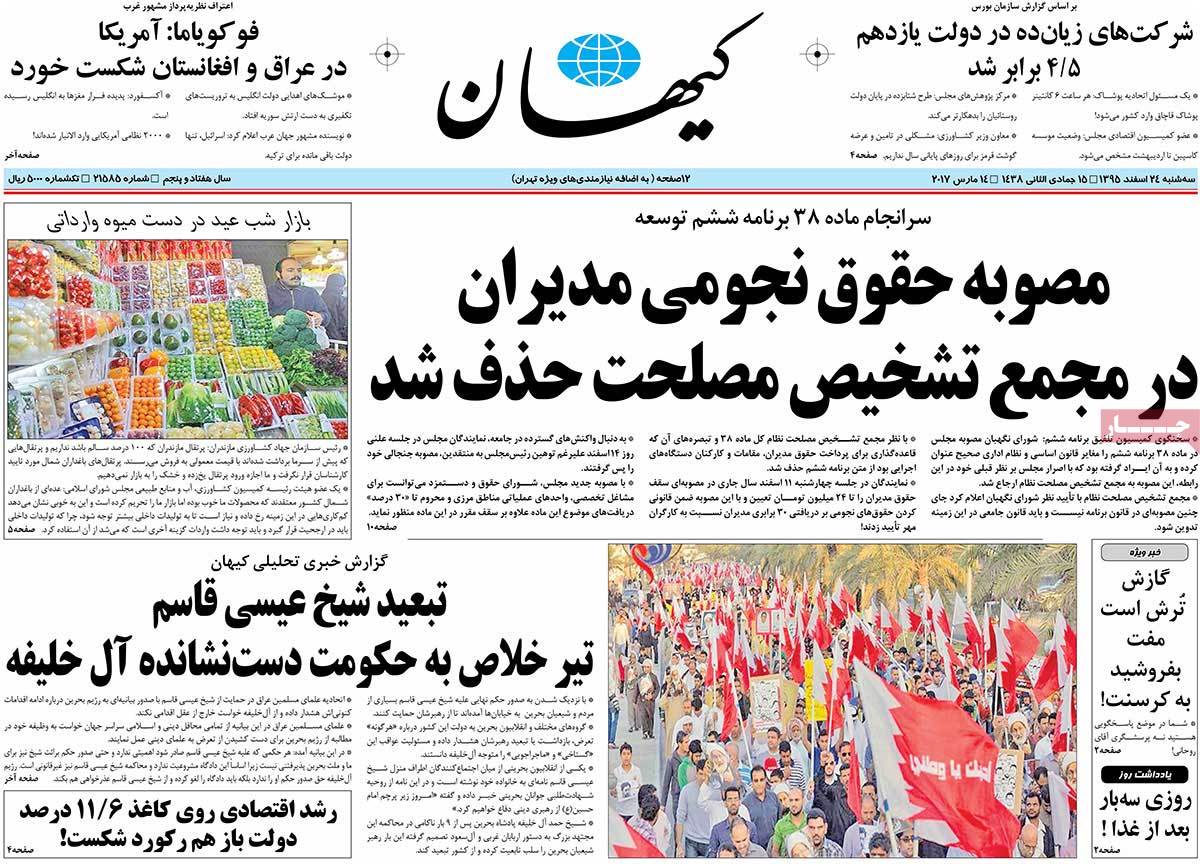 ---
Setareh Sobh:
1- Central Bank: Iran's 9-Month Economic Growth Rate Stands at 11.6%
2- 60,000 Families to Receive House Rent Aid
3- Government Alone Cannot Fix What Ruined by Previous Administration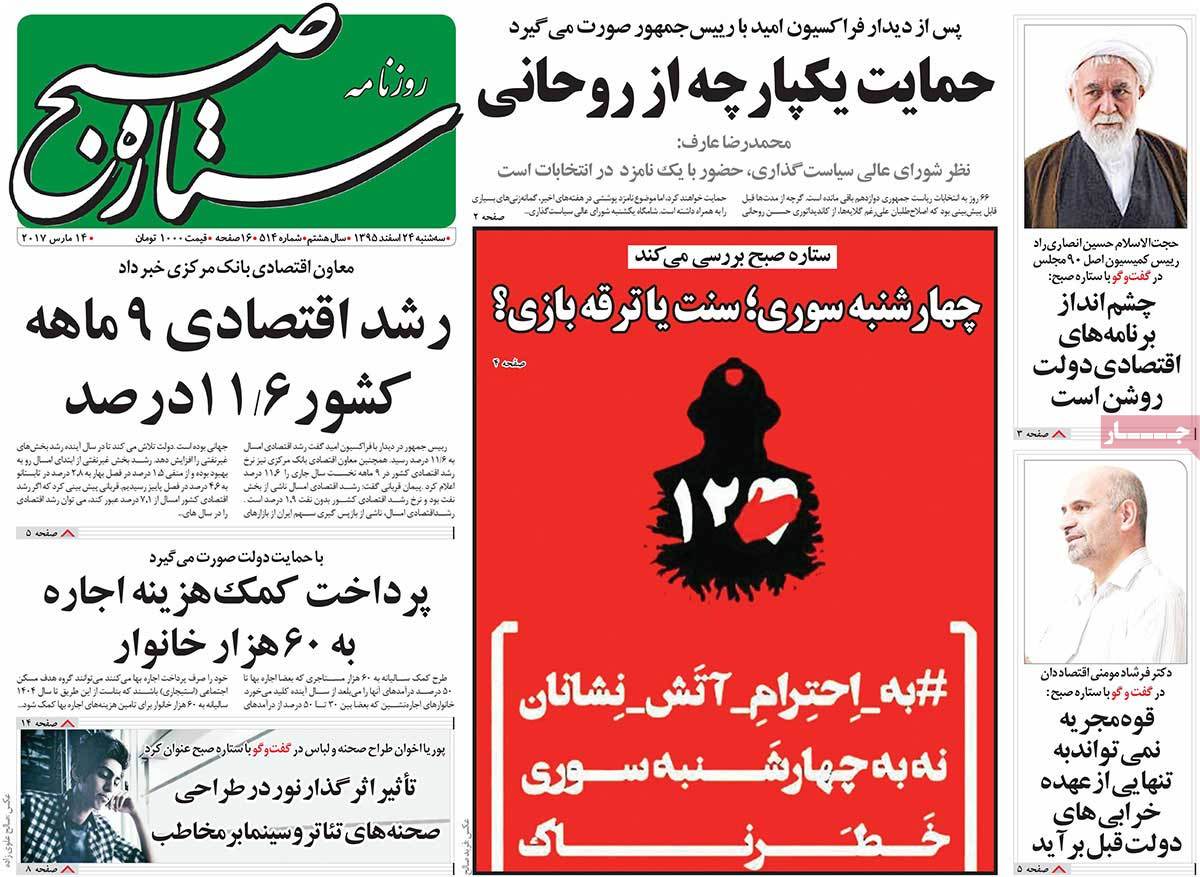 ---
Shahrvand:
1- Parliament Speaker: Government Revives Production
---
Shargh:
1- Senior Reformist Aref: We Won't Reject Coalition with Moderate Conservatives
2- Past Year Was Beyond Expectations [Editorial by economic scientist Leylaz]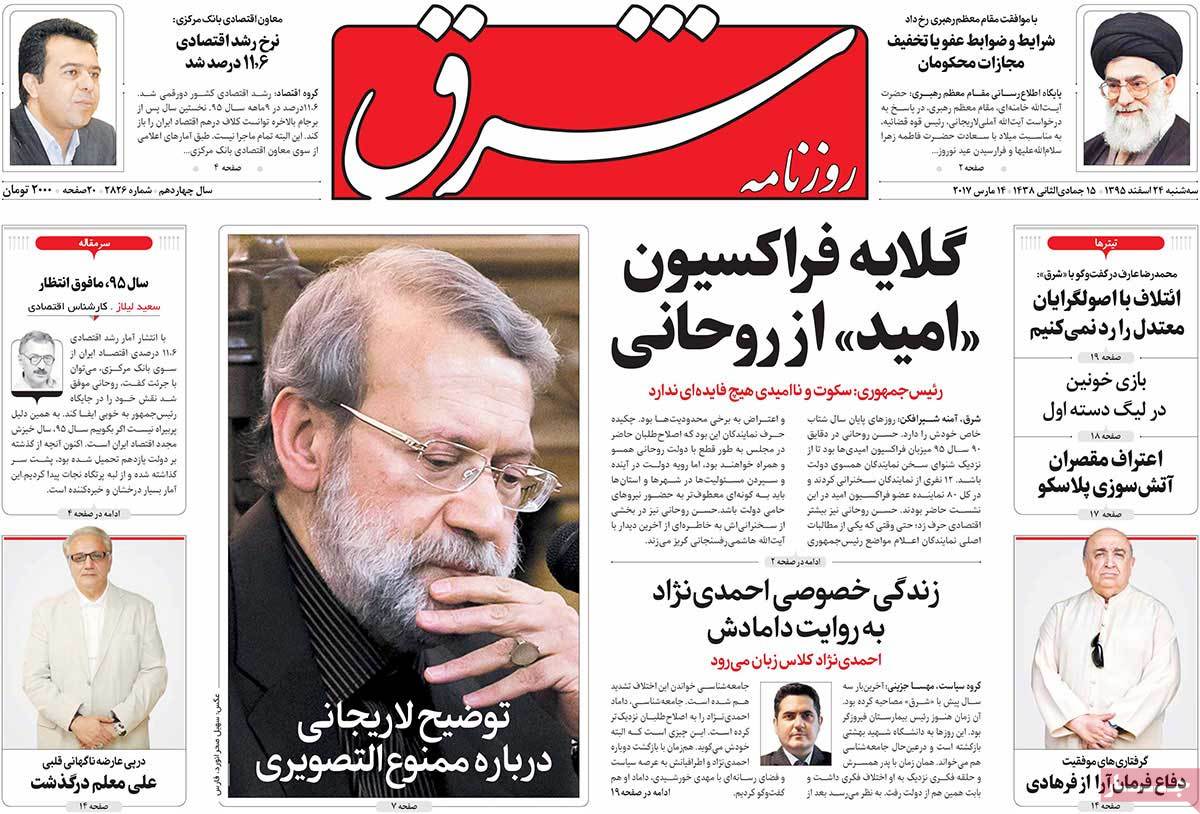 ---
Sobh-e Now:
1- Bahrain Won't Be Calm Today in Defence of Top Cleric
2- Shaky Decision [Editorial on Reformists' decision to support Rouhani]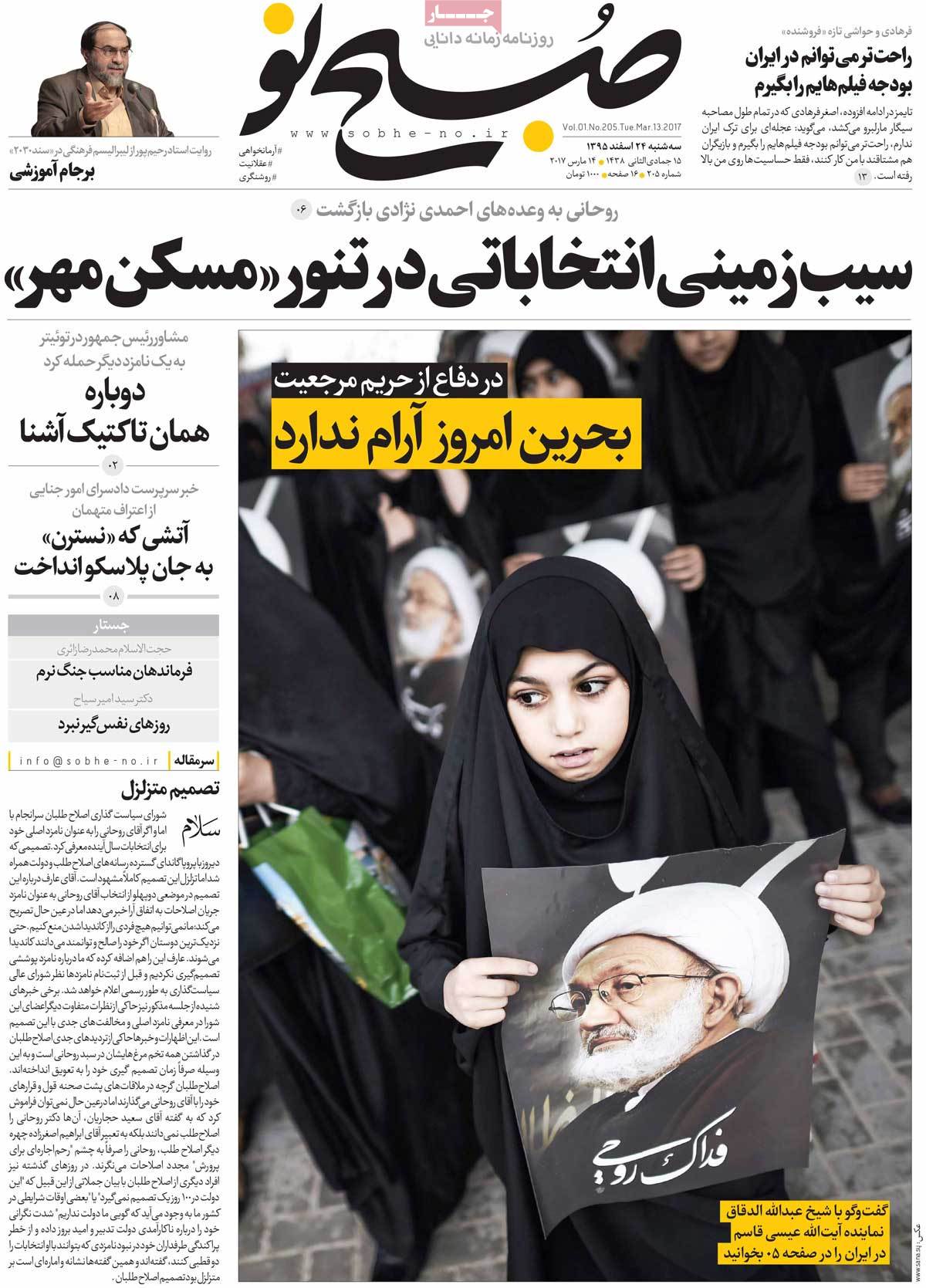 ---
Vaghaye Ettefaghieh:
1- Trump's Measures Pave Ground for Rouhani's Re-Election: Analyst
---
Vatan-e Emrooz:
1- Island Spring: Bahraini People's Move towards Sheikh Qassim's House