Iranian newspapers today covered the remarks made by President Hassan Rouhani against the presence of military forces in Iran's politics, particularly the upcoming elections.
Rouhani made the remarks in a ceremony to display the country's military achievements. His remarks about these achievement also received great coverage.
Comments by Rouhani's deputies and ministers about the poor performance of ex-president Mahmoud Ahmadinejad's administrations were among other top stories.
The above issues, as well as many more, are highlighted in the following headlines and top stories:
19 Dey:
1- Larijani Discloses Ahmadinejad Government's Negligence in Healthcare
2- President Rouhani Warns against Armed Forces' Presence in Election
---
Abrar:
1- Ahmadinejad's Refusal to Obey Leader's Advice is Beginning of New Sedition: MP
2- White House Considering Fresh Sanctions against Firms Working with IRGC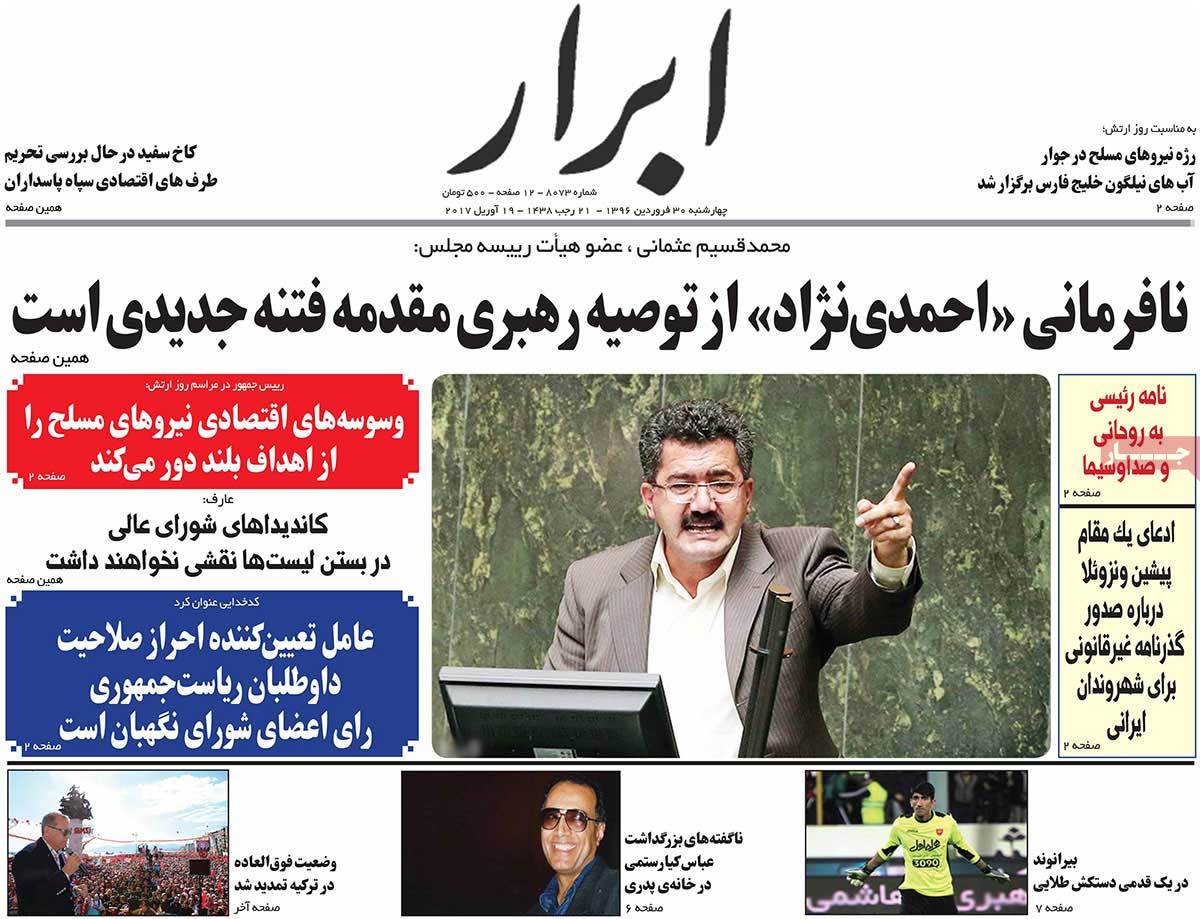 ---
Aftab-e Yazd:
1- Rouhani Urges Armed Forces to Avoid Getting Engaged in Politics
2- VP: I Testify Rouhani Has Been Treated Very Unfairly
---
Arman-e Emrooz:
1- Politico: Iranians Living in US to File Lawsuit against Trump
2- End of Jahangiri's Silence
They [Ahmadinejad's gov't] Kept Talking about Corruption, but Had Worst Corruptions in History
---
Ettela'at:
1- Zarif: Falling Trend of Oil Prices Stopped after JCPOA
2- Putin: Russia to Continue Supporting Assad, Syria's Territorial Integrity
3- Economy Minister: We're Heir to 700,000 Billion Tomans [$186bn] of Previous Government's Debts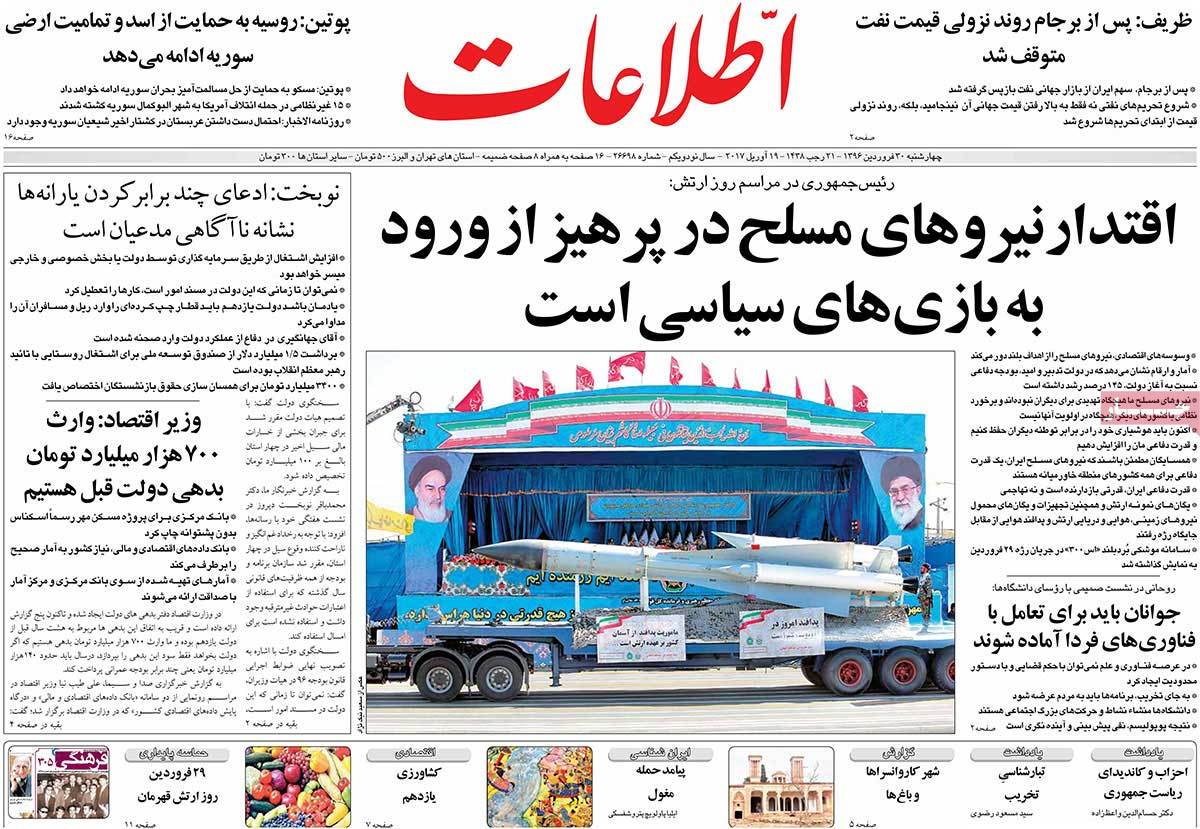 ---
Iran:
1- Rouhani: Iran's Defence Budget up by 145% Compared to Beginning of My Term
2- 3,000 Factories Shut Down in Ahmadinejad's 8-Year Presidency
3- Conservative Supporters of Rouhani to Form HQ for Election: MP Close to Larijani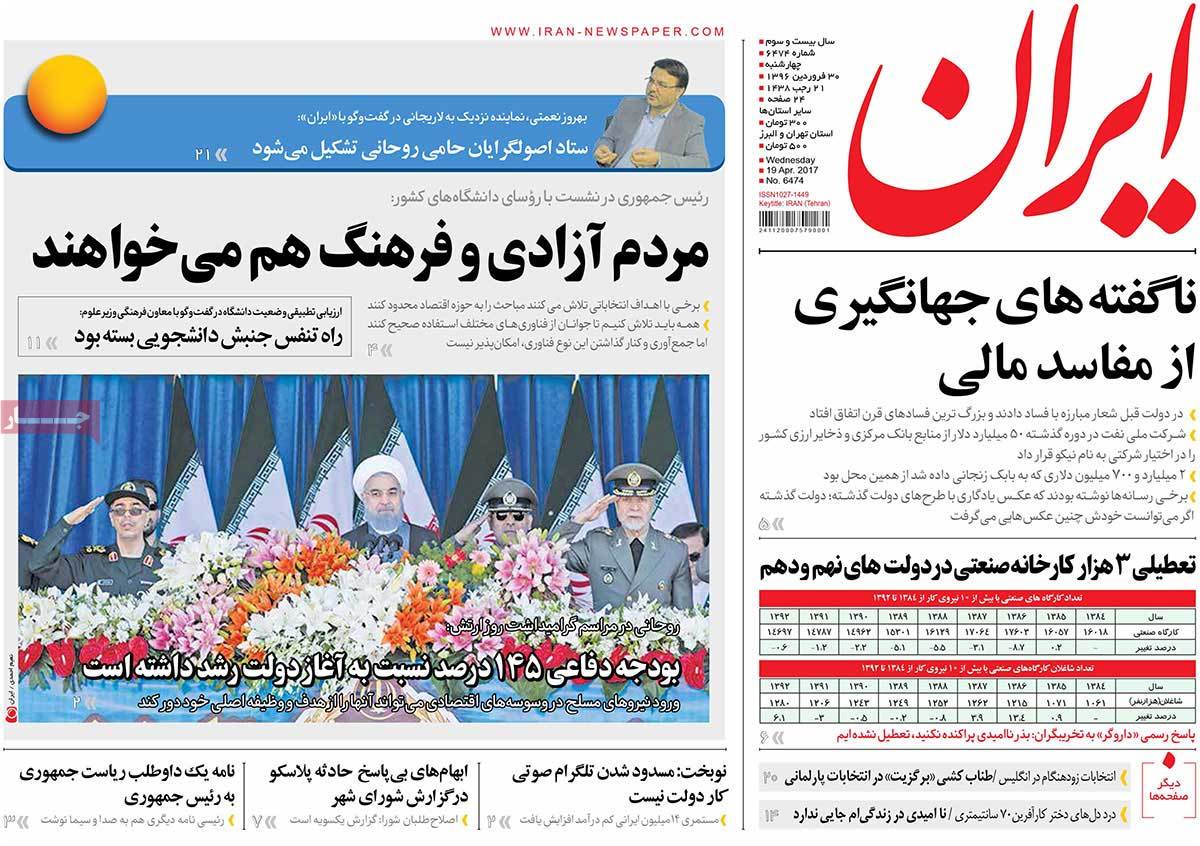 ---
Javan:
1- Rouhani: We Created 700,000 Jobs Each Year
2- Statistics Organisation: 350,000 Jobs Created Each Year!
3- President: Armed Forces Protect Peace, Security in Mideast
---
Jomhouri Eslami:
1- President: Government's Supply of Military Equipment in 3 Years Equal to that of Past 10 Years
2- Health Minister: Government Started Construction of 6,500 Medical Centres
---
Kayhan:
1- Gov't Admits It'd Be Worried If People's Economic Demands Raised in Election
2- Pyongyang in Reaction to US Military Threats: We'll Test Missiles Every Week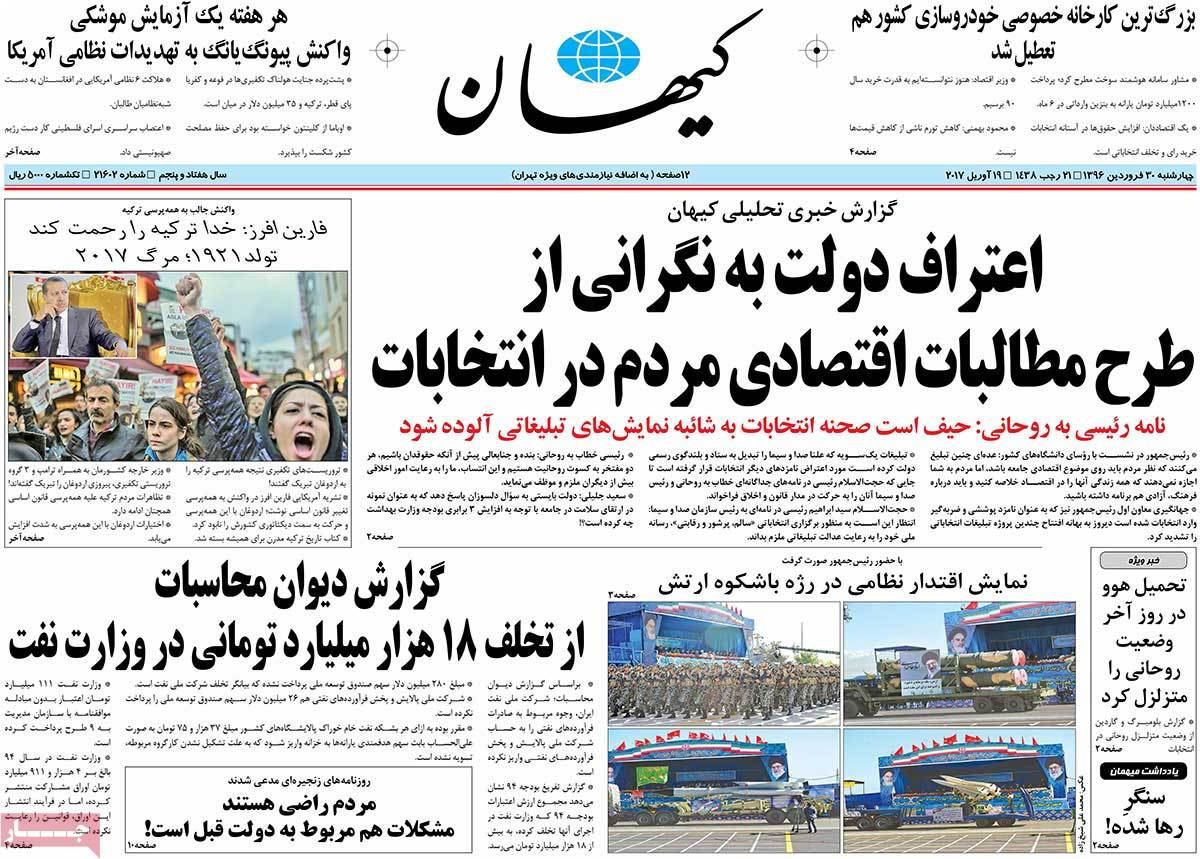 ---
Resalat:
1- Display of Defensive Equipment: From S-300 Missile Defence System to Roar of Jet Fighters
2- President: We'll Strongly Respond to Aggression
3- Analyst Urges Government to Protest against US Interference in Iran Election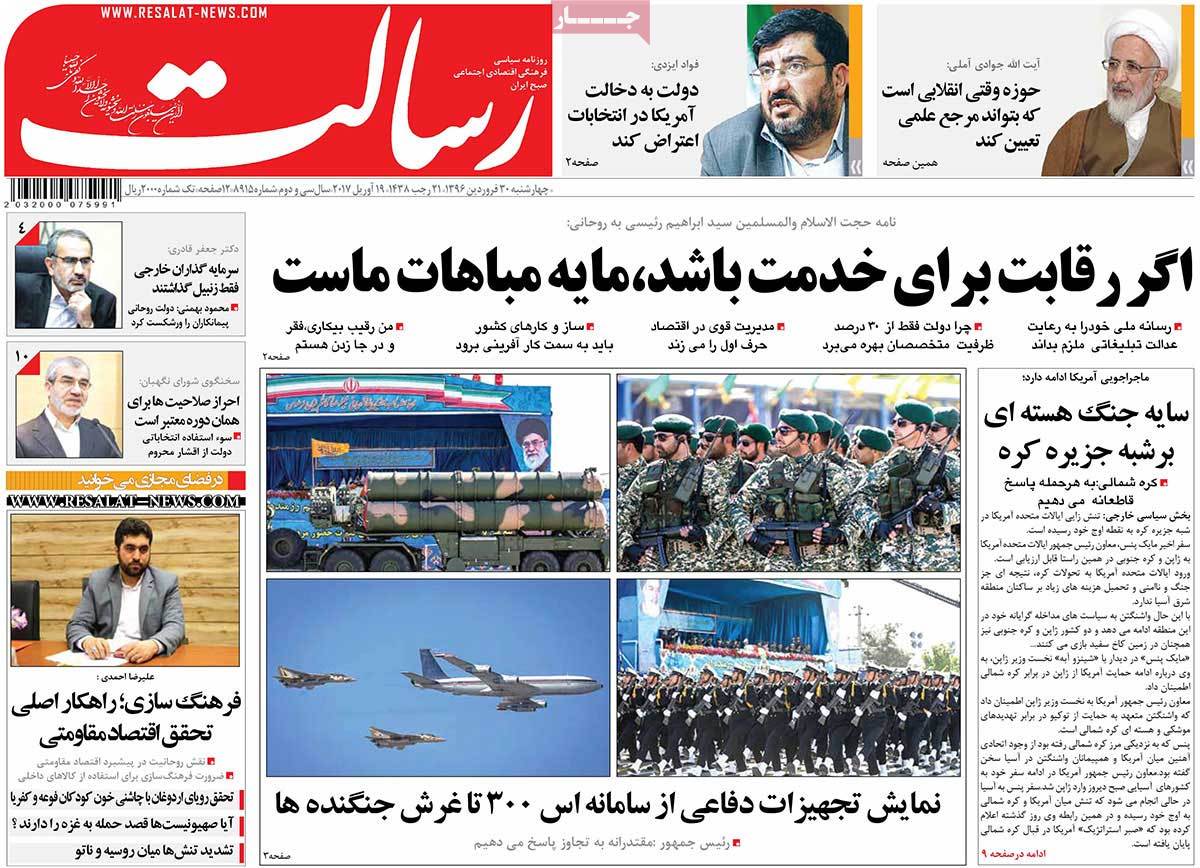 ---
Rooyesh-e Mellat:
1- Rouhani, Trump Don't Know Each Other's Languages: IRGC General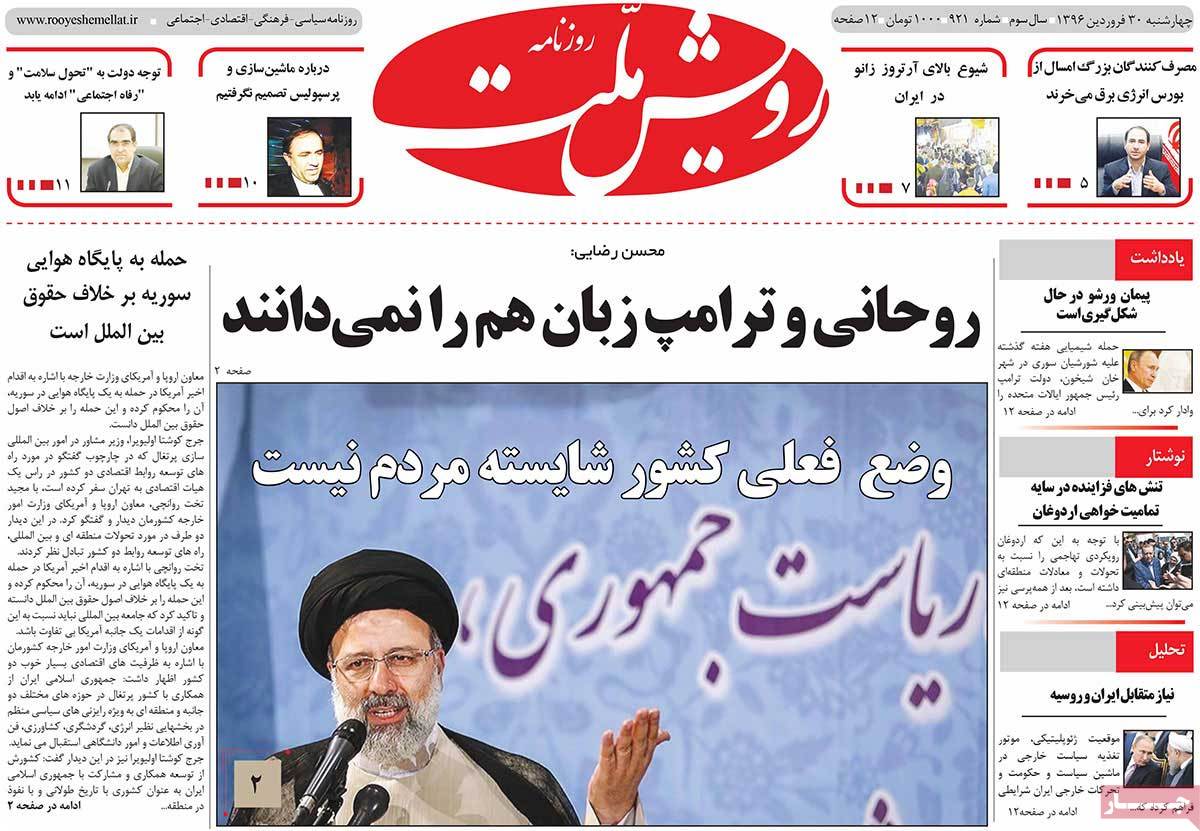 ---
Shargh:
1- Telegram's Voice Calling Service Blocked by Iran's Judiciary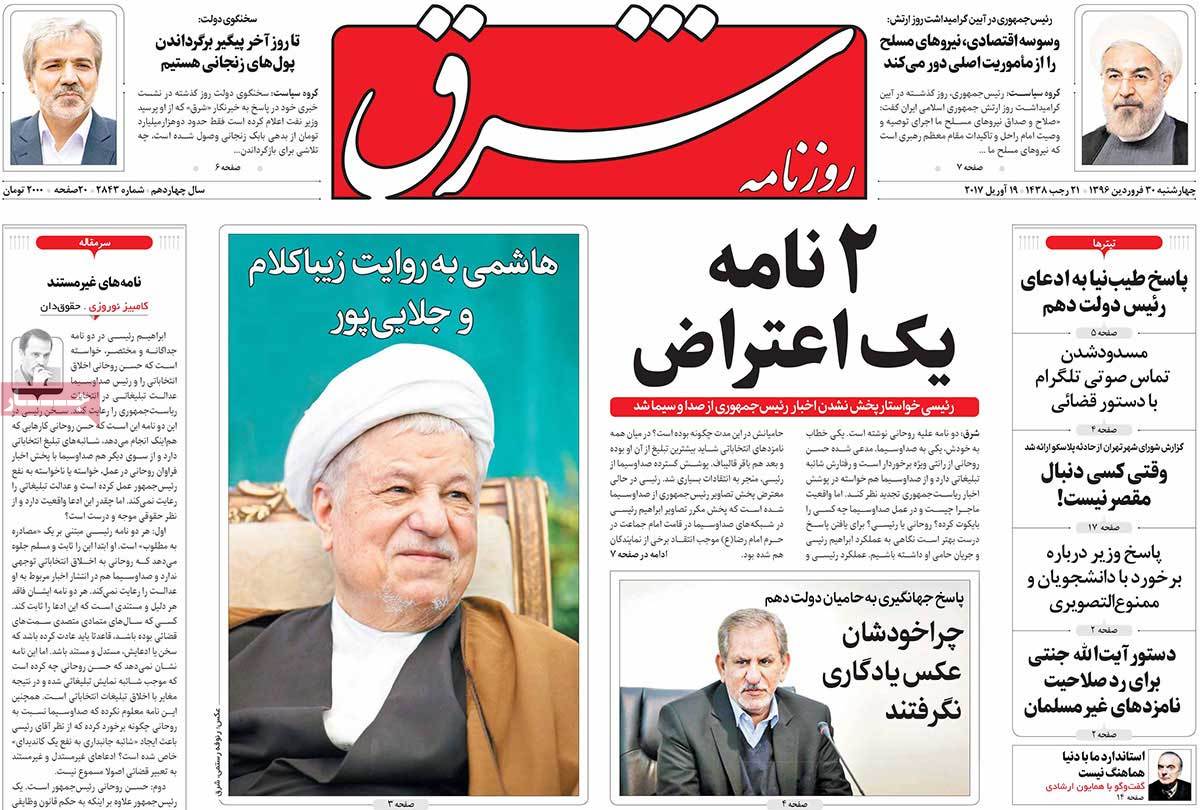 ---
Sobh-e Now:
1- Émile Lahoud: Saudi Arabia, from Buying Politicians to Hiring Terrorism