The top story today was the remarks made by the Leader of Islamic Revolution Ayatollah Seyyed Ali Khamenei in a meeting with top Iranian commanders and military officials.
Almost all newspapers today covered Ebrahim Raeisi's move to declare his presidential bid, and highlighted his imminent competition with incumbent President Hassan Rouhani.
Oil Minister Bijan Namdar Zanganeh's remarks in the Iranian Parliament to defend the country's oil contracts also received great coverage. His words totally convinced Iranian lawmakers on Sunday.
The above issues, as well as many more, are highlighted in the following headlines and top stories:
Abrar:
1- Rouhani: We Should Confront Each Other in Election
2- New Oil Contracts to Help Iran Attract over $80 Billion in Foreign Investment: Minister
3- Why Trump Didn't Bomb Assad's Palace?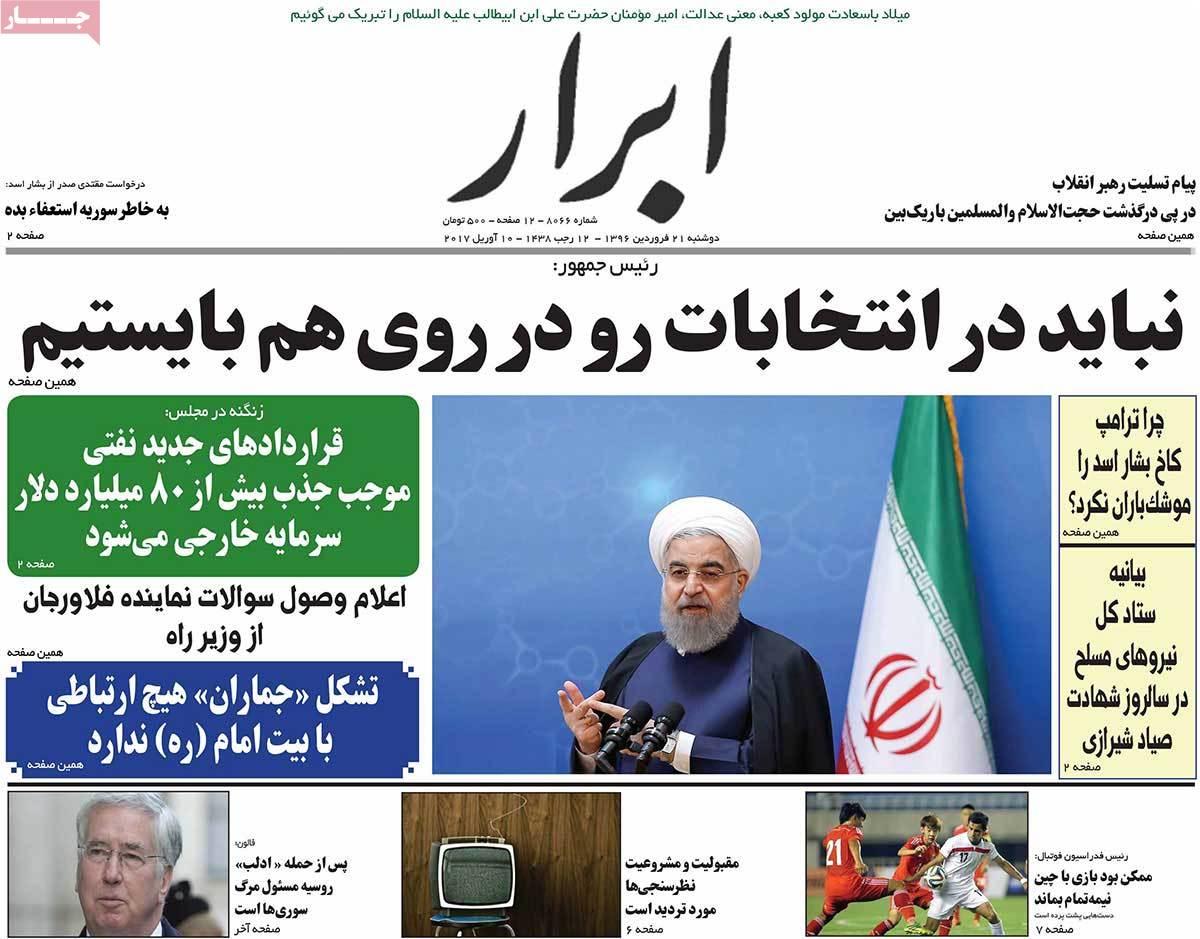 ---
Afkar:
1- Ayatollah Raeisi: We Should Put End to Economic Downturn, Unemployment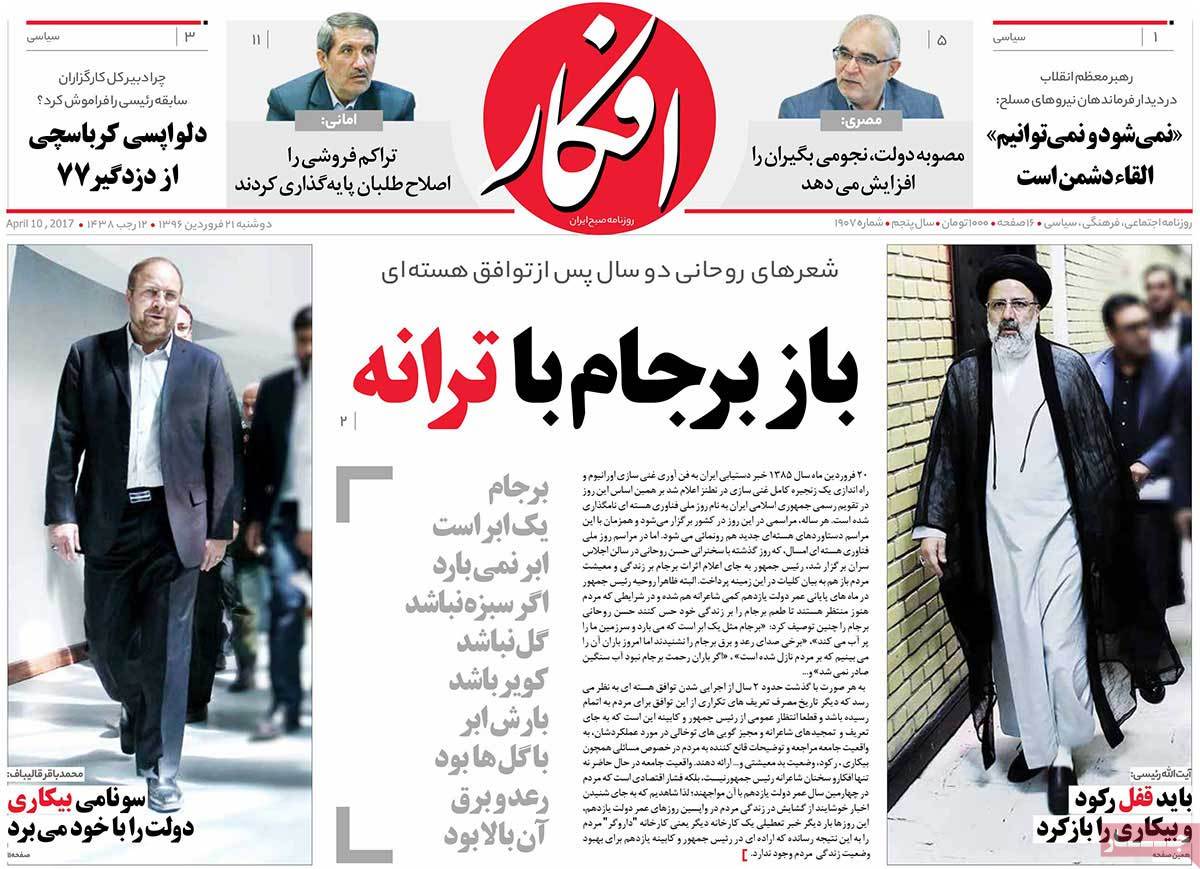 ---
Aftab-e Yazd:
1- Leader: Enemies Trying to Suggest Iranian Officials Are Weak
2- Why Raeisi Declared He'll Run for President Independently
3- Informed Sources: Tehran Mayor Qalibaf Will Replace Raeisi
4- Rouhani's Fans, Opponents Clash in Twitter: #Rouhani_Leave_Office vs #With_Rouhani_Until_2021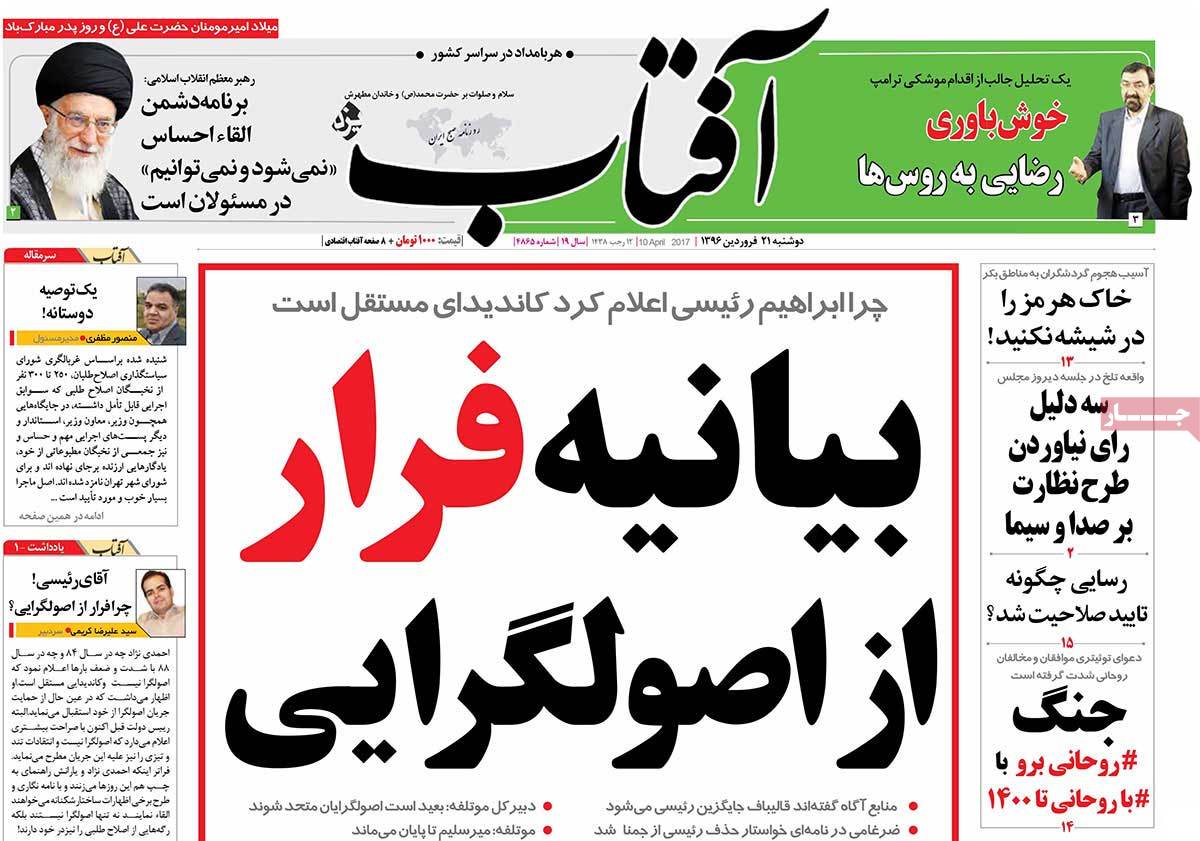 ---
Amin:
1- Bipolar Competition between Rouhani, Raeisi
---
Arman-e Emrooz:
1- President: We Started Enrichment with Ayatollah Rafsanjani's Will
2- Conservatives' Coalition Suitable for Presidential Debates, Not Election
---
Ebtekar:
1- Imminent Collapse of Conservatives' Coalition: Raeisi Runs Independently
2- Rouhani: You Didn't Hear Sound of JCPOA Thunder, See the Rain
---
Emtiaz:
1- Iran's Nuclear Industry on Track
---
Etemad:
1- Rouhani's Rival Declares Presidential Bid: Raeisi Refuses to Unite with Conservatives' Coalition
2- Oil Minister Defends Oil Contracts in Parliament; MPs Support Him
3- Dozens Killed, Wounded in Twin Attacks on Egypt Churches
---
Ettela'at:
1- US Made Strategic Mistake in Syria: Iran Leader
2- Americans Will Be Gripped by Danger of ISIS, Takfiri Groups in Future: Leader
3- Three Major Nuclear Centres Start Operation in Iran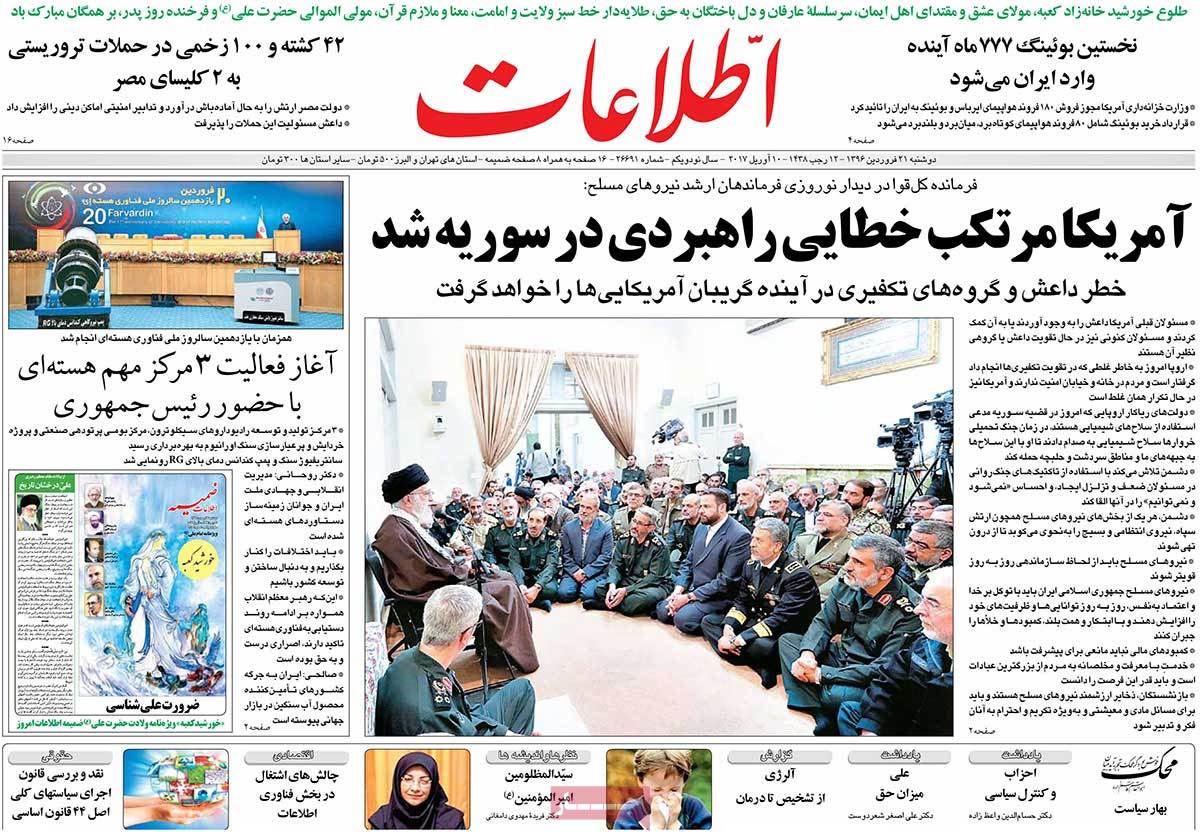 ---
Iran:
1- Countdown for Jump in Gas Production
2- President Rouhani Unveils 2 Nuclear Achievements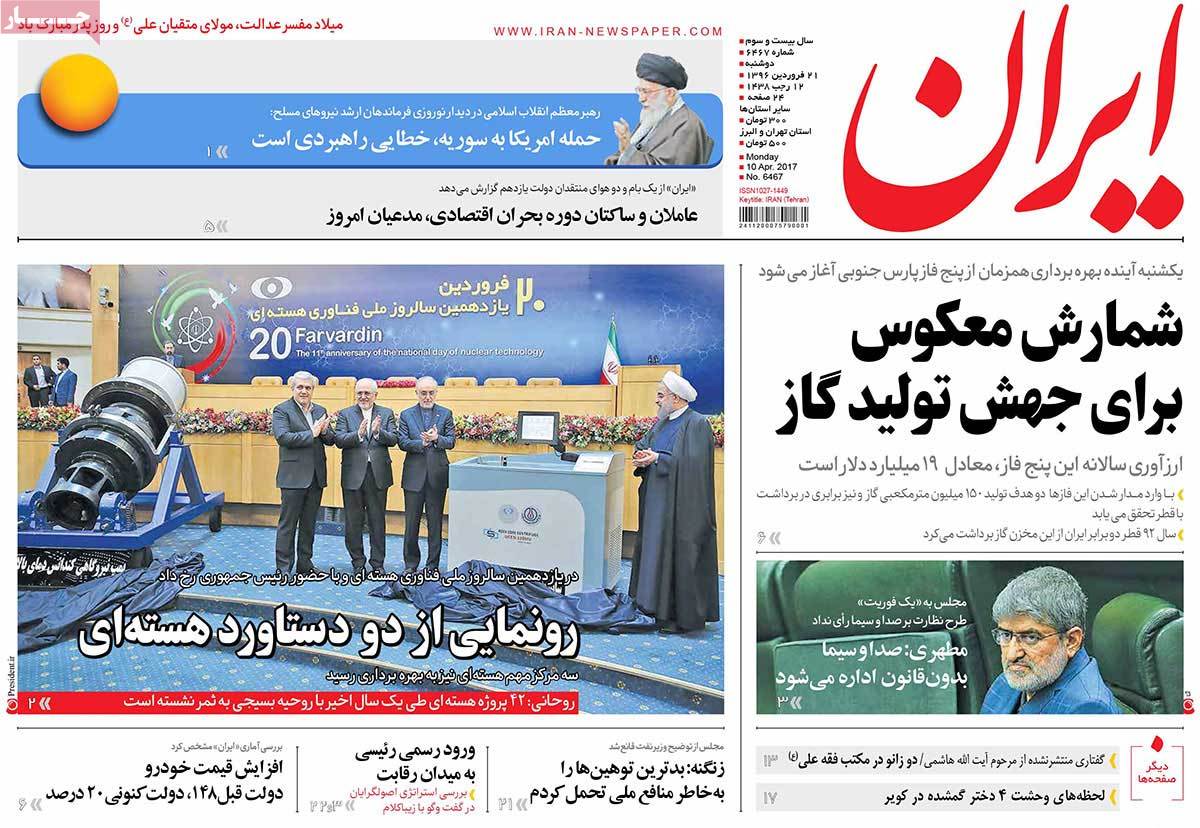 ---
Jame Jam:
1- US Strategic Mistake: Iran's Leader
2- Chain Blasts in Land of Pharaohs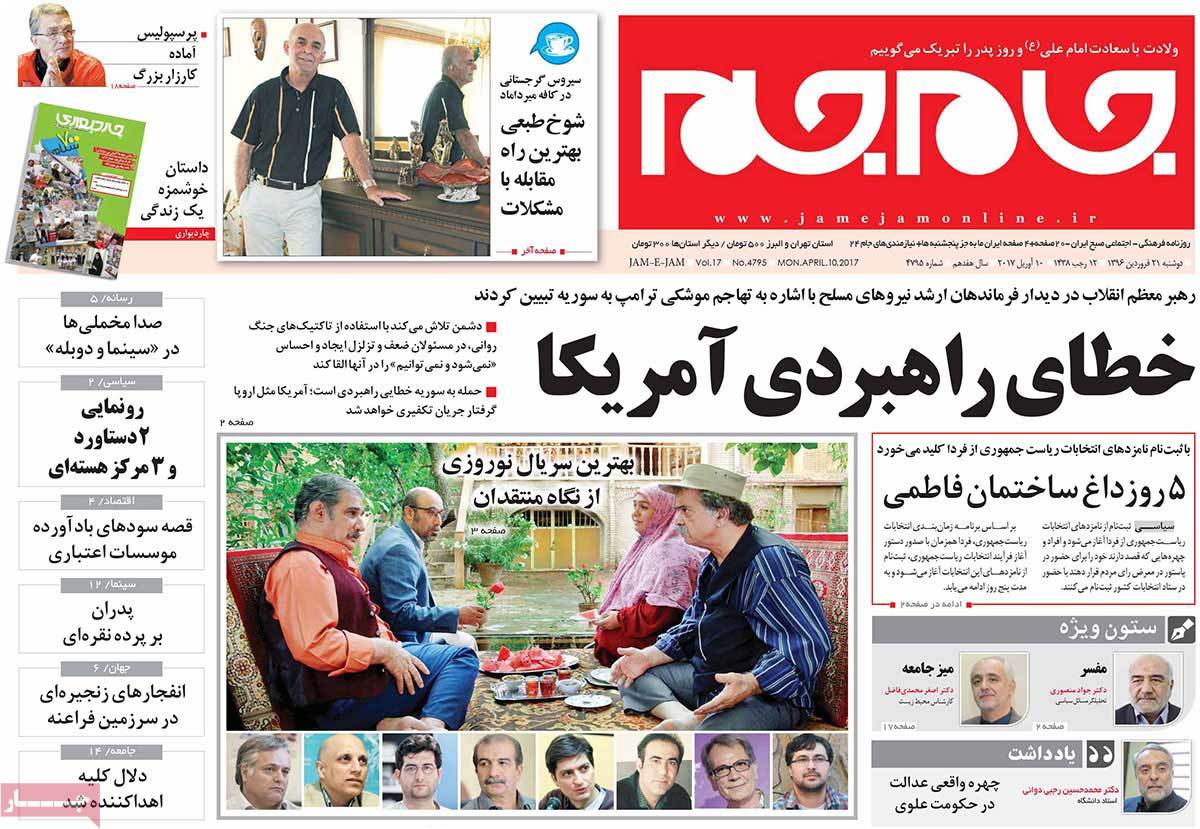 ---
Javan:
1- The American ISIS Will Finally Grip the US: Iran Leader
2- Rouhani: JCPOA Was Rainfall for Iranian People
3- Raeisi: I Deeply Believe Iran's Situation Can Be Changed
---
Jomhouri Eslami:
1- Leader: Iran Won't Give in to Threats
2- Increased Global Opposition to Trump's Crazy Attack on Syria
3- Saudi Warplanes Bomb Sana'a Airport
---
Kayhan:
1- Iran Has Shown It Won't Give in to Threats: Leader
2- No Evidence Found on Syria's Use of Chemical Weapons in Khan Shaykhun
---
Sayeh:
1- First Champion for All of Us: On Father's Day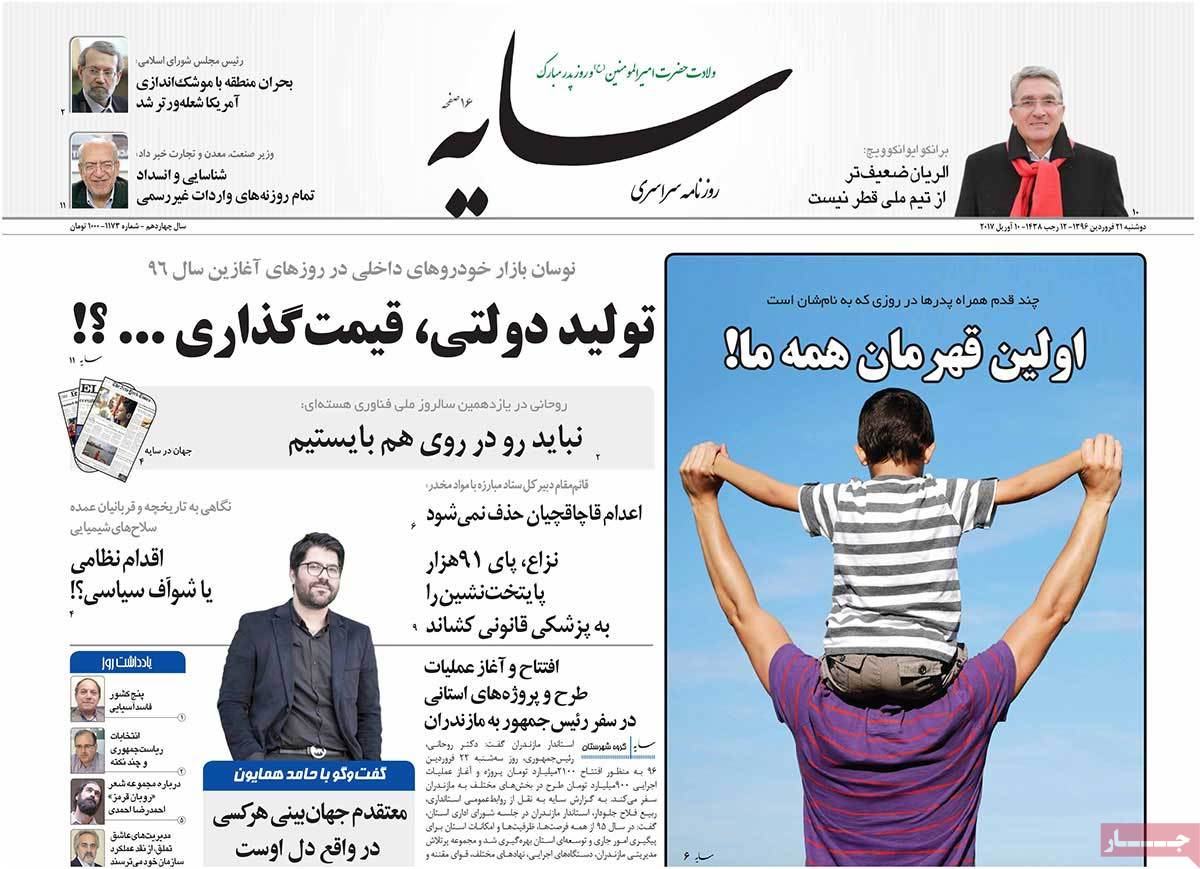 ---
Shargh:
1- Raeisi Officially Runs for President
2- Rouhani Hold Phone Talks with Putin, Assad