Most Iranian newspapers today covered the final liberation of Mosul declared by Iraqi Prime Minister Haider al-Abadi on Sunday.
The inscription of the historical city of Yazd in central Iran as a UNESCO World Heritage Site was also a top story today.
The arrest of ex-president Mahmoud Ahmadinejad's vice-president Hamid Baqaei also received great coverage, particularly in reformist and pro-government papers.
The above issues, as well as many more, are highlighted in the following headlines and top stories:
Abrar:
1- Iraqi PM: Mosul Cleansed of ISIS Animals
2- Unprecedented Protest Rallies against Erdogan in Turkey
3- Israelis Protest Foot-Dragging on Netanyahu Probe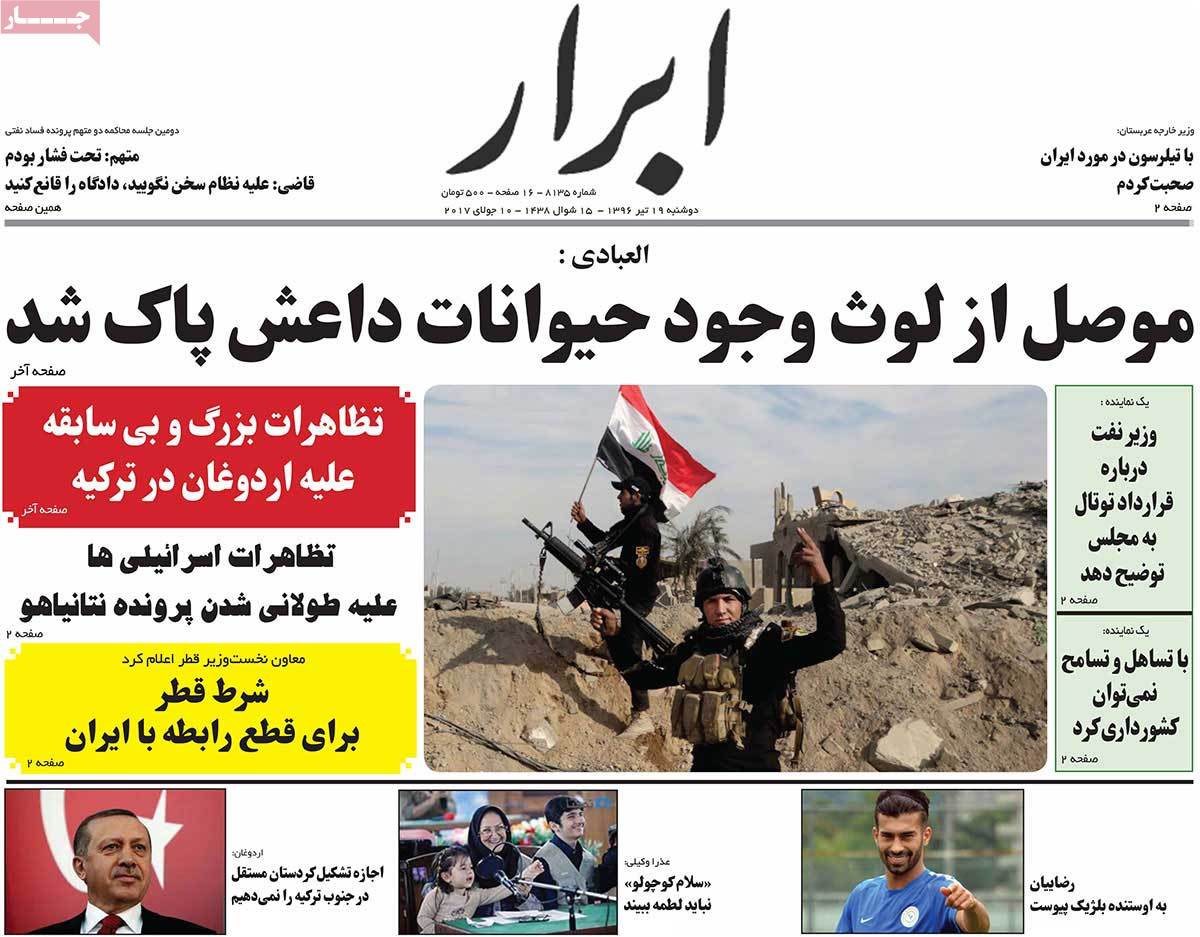 ---
Abrar-e Eqtesadi:
1- Iran Sells 2m Barrels of Oil in June
2- Iranian Refineries Ordered to Produce Euro-V Petroleum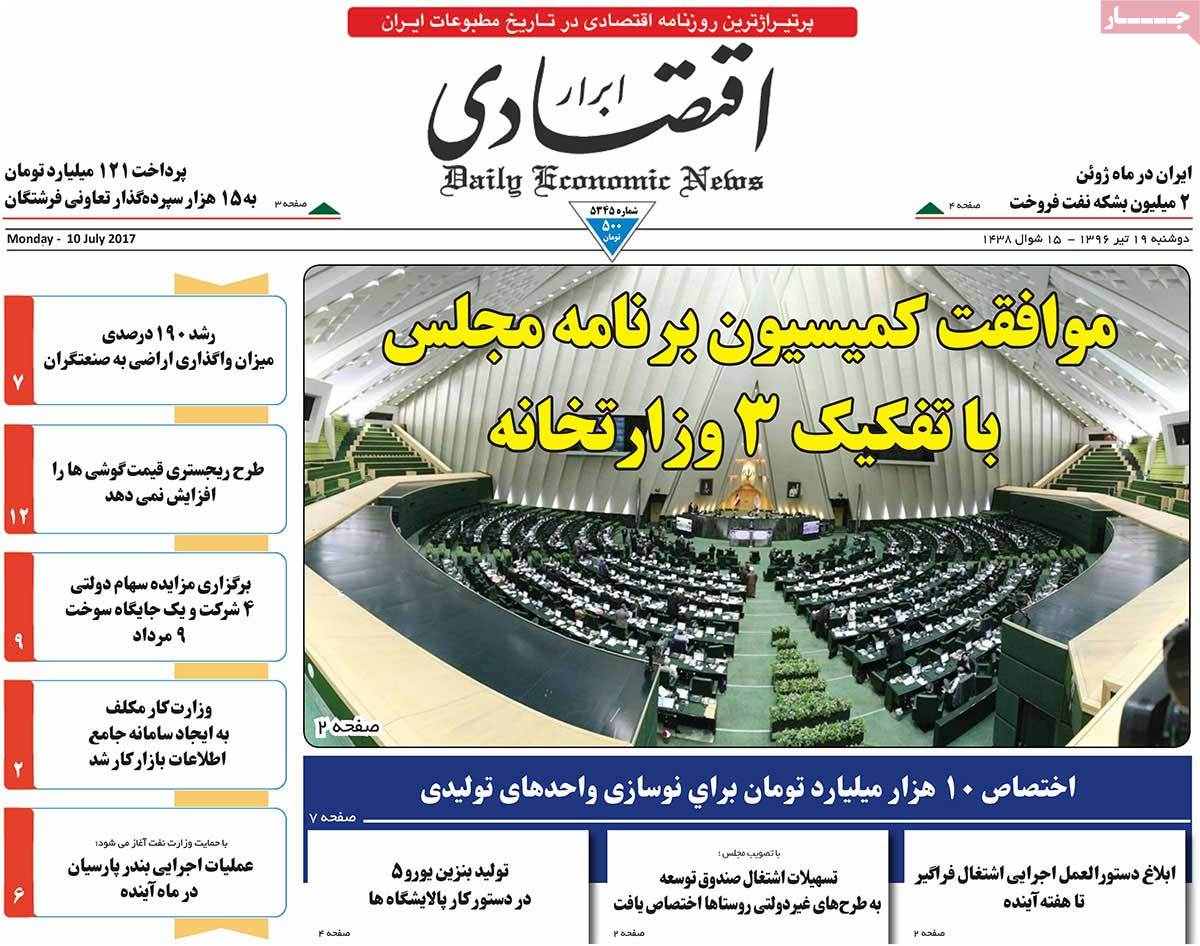 ---
Aftab-e Yazd:
1- City of Yazd Inscribed as UNESCO World Heritage Site Thanks to Gov't Efforts
2- Should Tehran Be Worried about Warming of Trump-Putin Ties?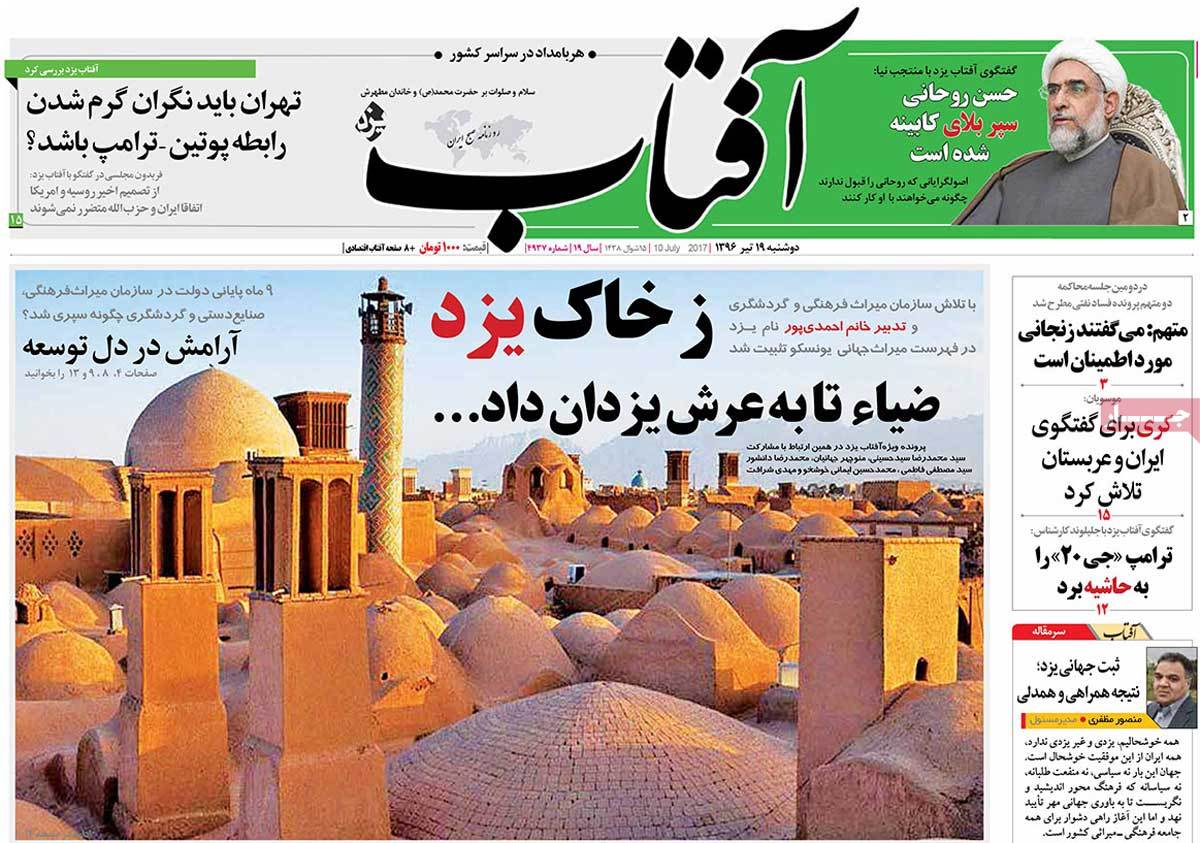 ---
Arman-e Emrooz:
1- Analyst: Total Serves as Reputable Reference for Iran
2- Iran's Oil Money in Pockets of Erdogan's Son-in-Law: Lawyer
3- Three Ministers Sign Documents to Give Iran's Oil to Babak Zanjani
4- Tajikistan's Condescension in Ties with Iran
5- Suspicious Disease of Kimia Alizadeh [female Iranian taekwondo player who received Bronze medal in 2016 Olympics]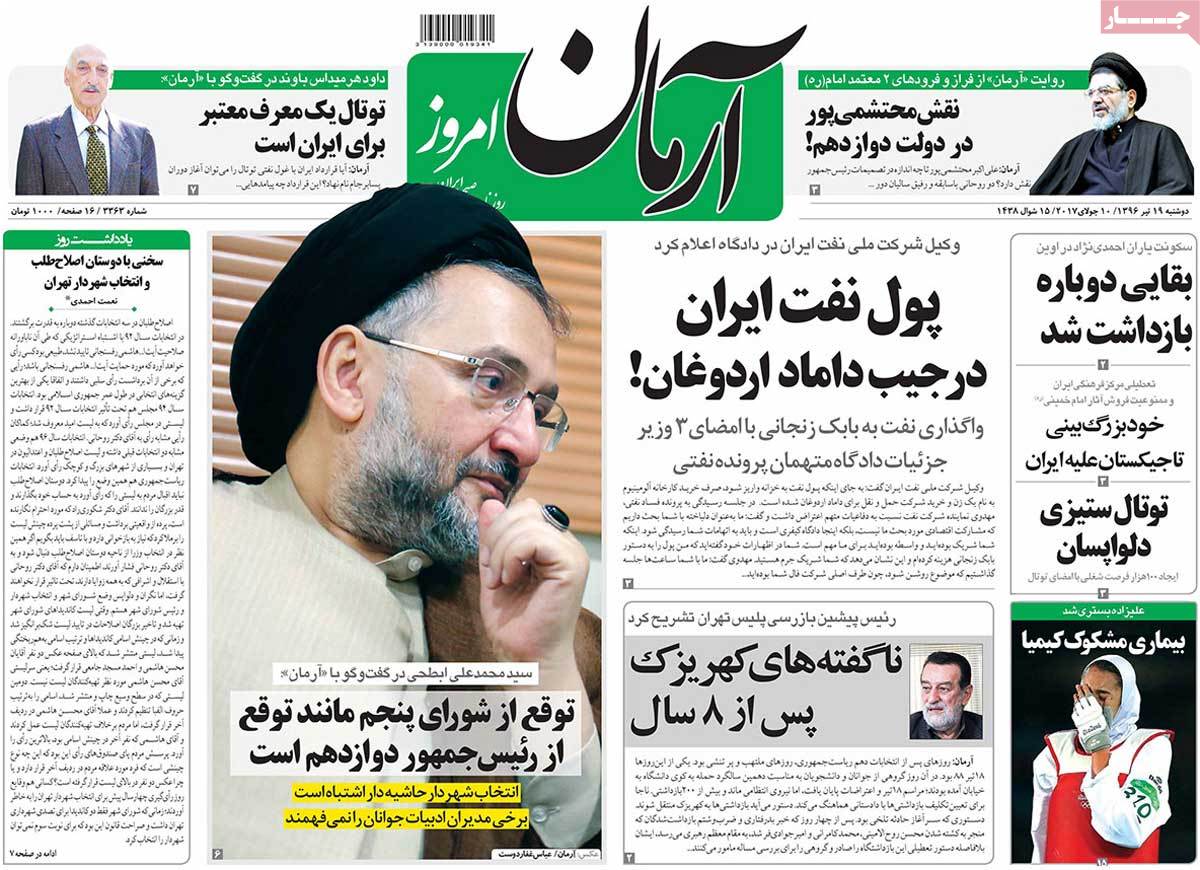 ---
Ebtekar:
1- Ahmadinejad's Close Ally Once Again Arrested
2- Babak Zanjani Confirmed by Then Intelligence Minister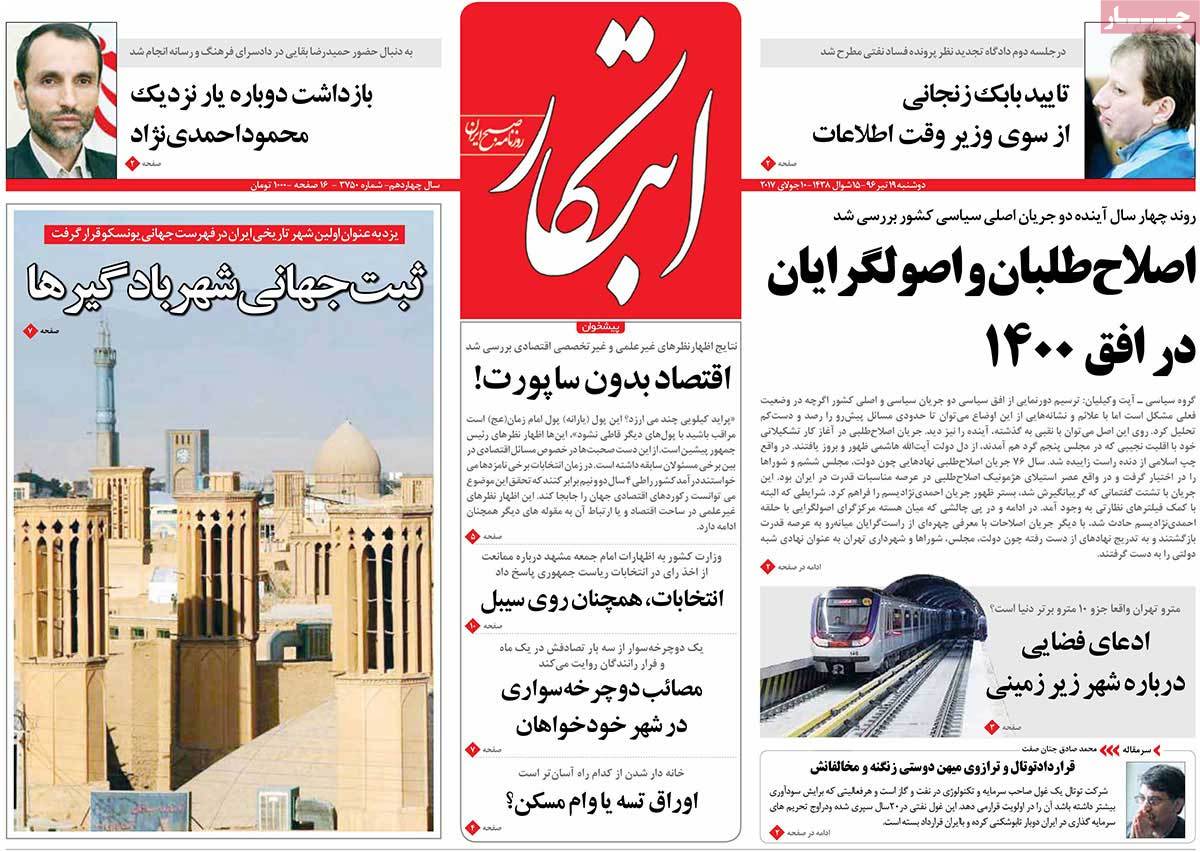 ---
Etemad:
1- Rouhani Committed to National Dialogue: VP
2- Conservatives Don't Care Enough about Freedom, People's Role: Ex-MP
3- Yazd's Historical Structure, World Heritage for Human Kind [Editorial]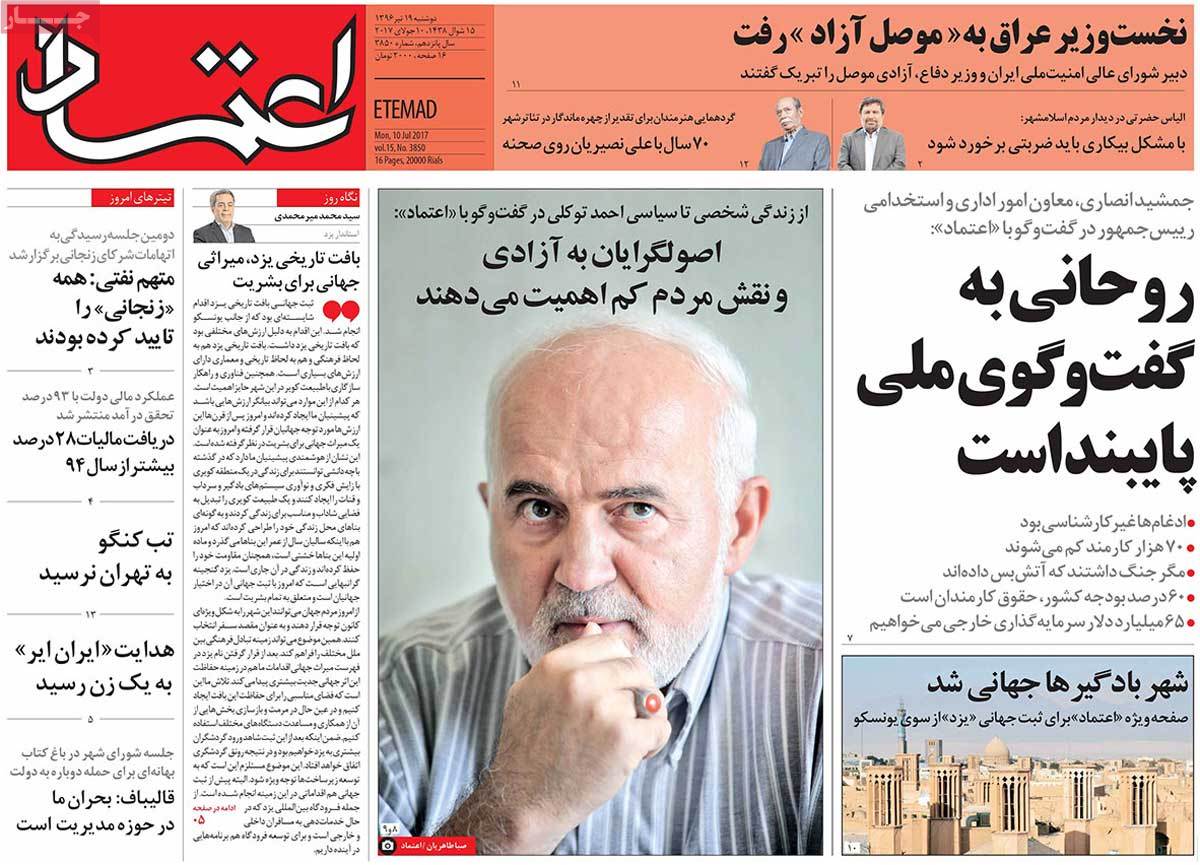 ---
Ettela'at:
1- Putin: Russia, Iran, Turkey Moving forward in Path to Syria Peace
2- Qatar: Persian Gulf Cooperation Council Has Reached Its End
3- Iran Envoy to London: General Soleimani World's Greatest Military Strategist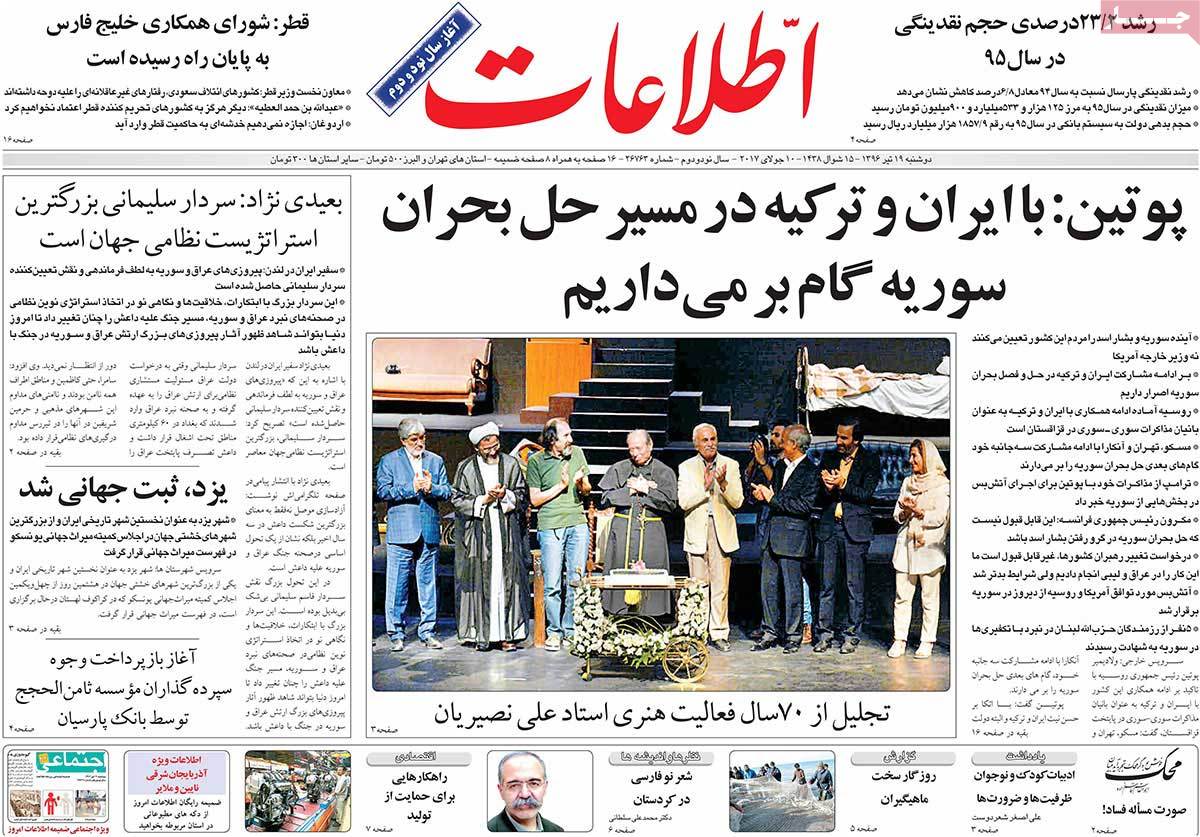 ---
Hemayat:
1- Anti-Iran Sanctions against Human Rights: Official
---
Iran:
1- Medal of 'World Heritage Site' on Yazd's Chest
2- Iraqi Troopers Celebrate Mosul Liberation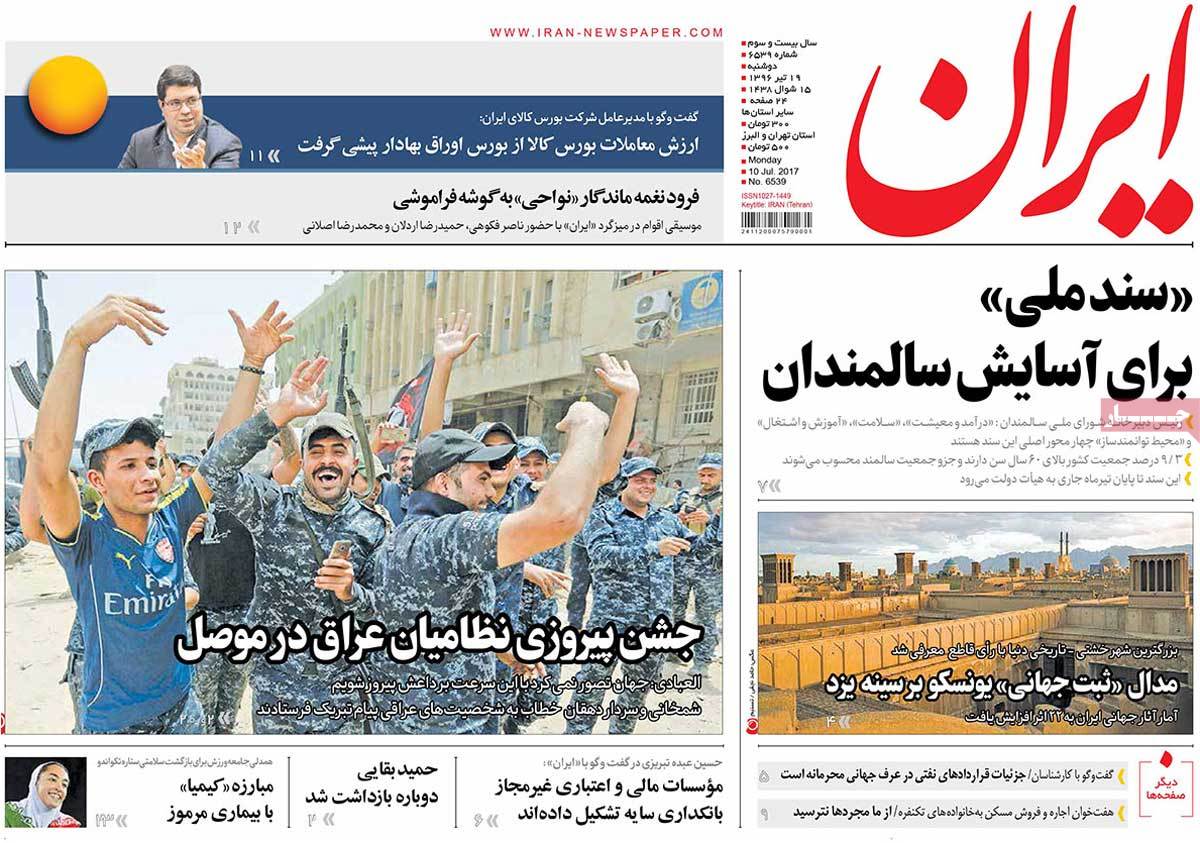 ---
Javan:
1- Mosul Liberated through Resistance
2- Syria Ceasefire Not to Guarantee Israel Security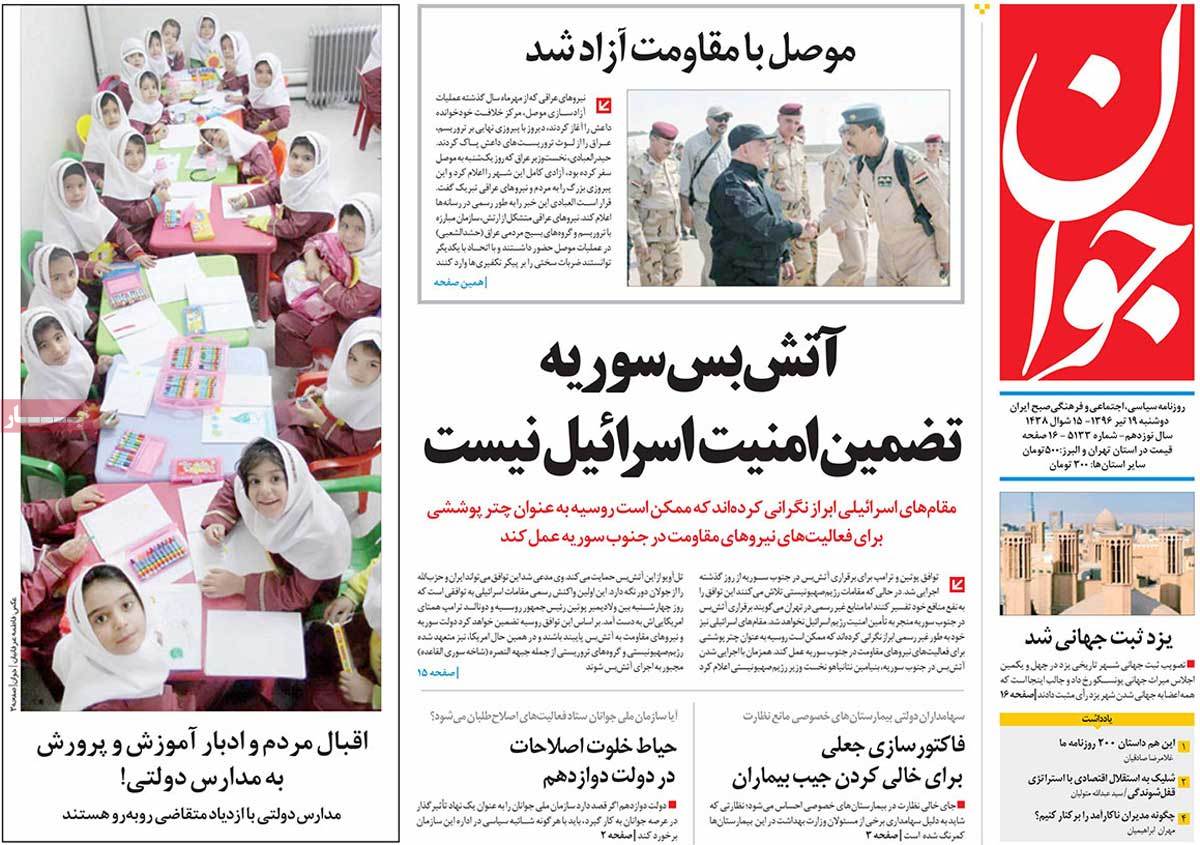 ---
Jomhouri Eslami:
1- Iran's Power Network on Alarming Conditions
2- MP: Iran's Deal with Total Goes through Legal Procedures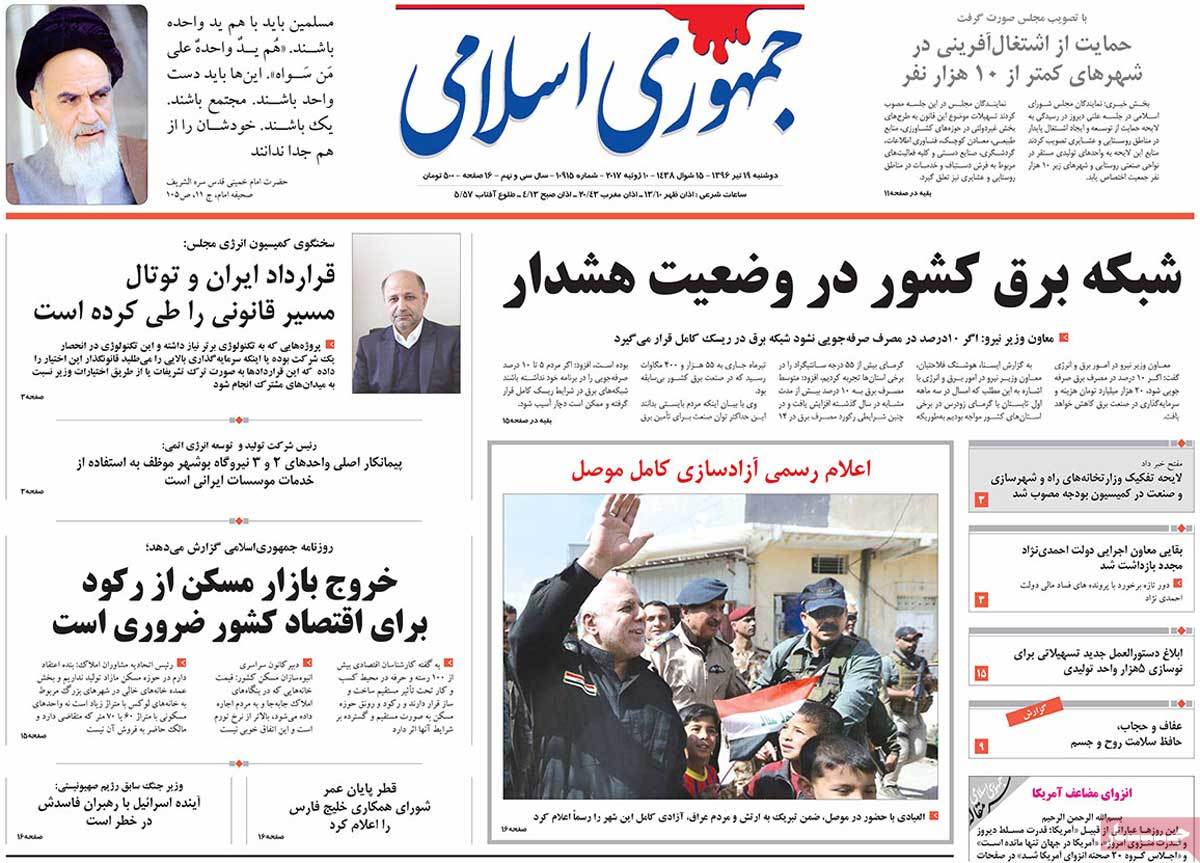 ---
Kayhan:
1- Parliament, Judiciary Should Deal with Total Case
2- Iraqi PM Officially Declares Mosul Liberation
3- Mosul Battle another Version of WWII
American Generals Talk about Great Job Resistance Axis Did in Mosul
---
Khorasan:
1- 78 Judges Suspended, 178 Lawyers Punished Last Year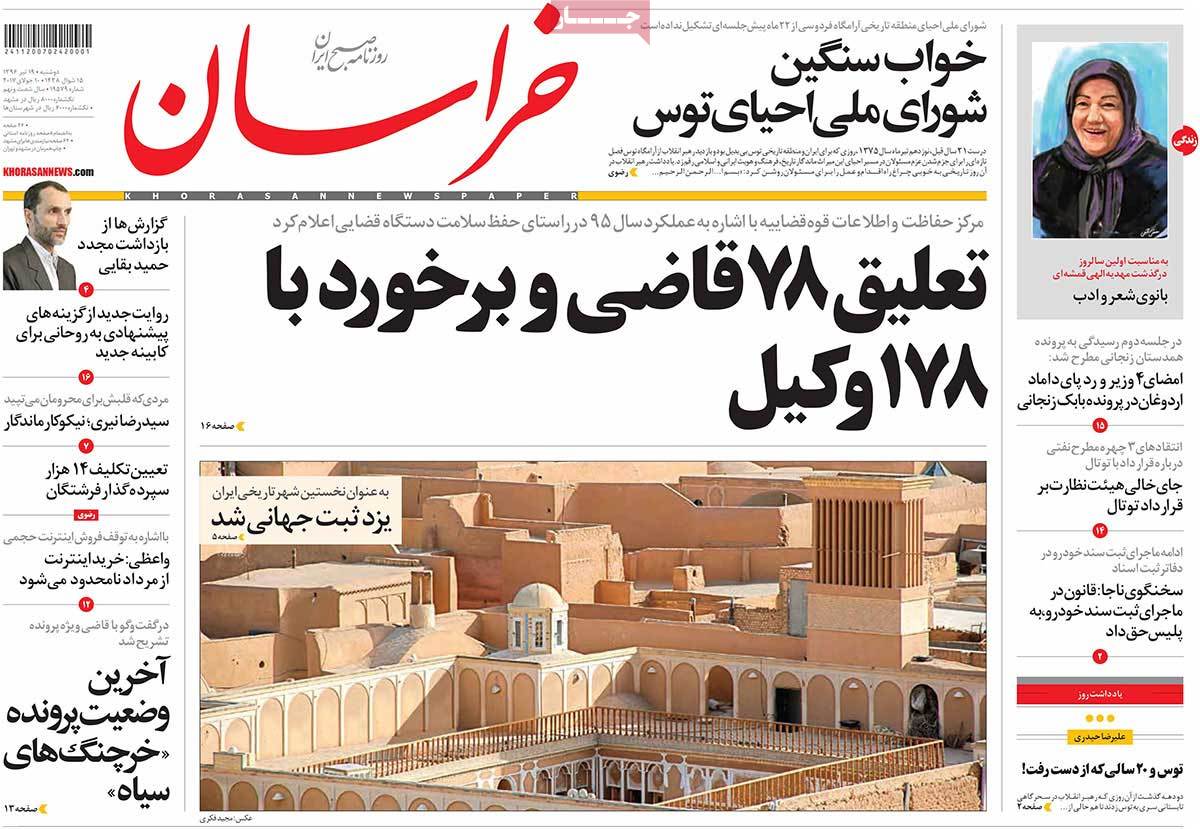 ---
Rooyesh-e Mellat:
1- Shamkhani: Iran to Fully Support Iraqi Nation, Gov't as It Did Before
2- Israel-Hamas Negotiations for Prisoner Swap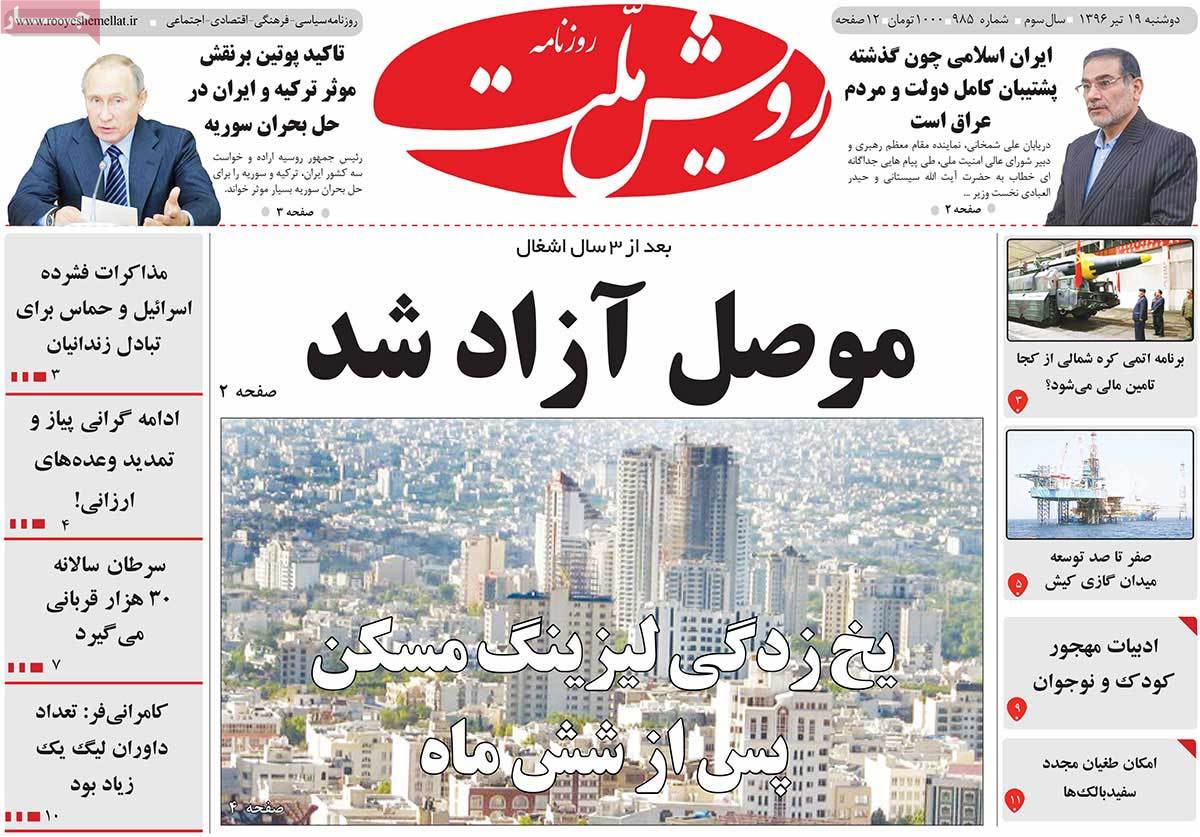 ---
Setareh Sobh:
1- Who Will Be Shocked? Speculations about Rouhani's Next Cabinet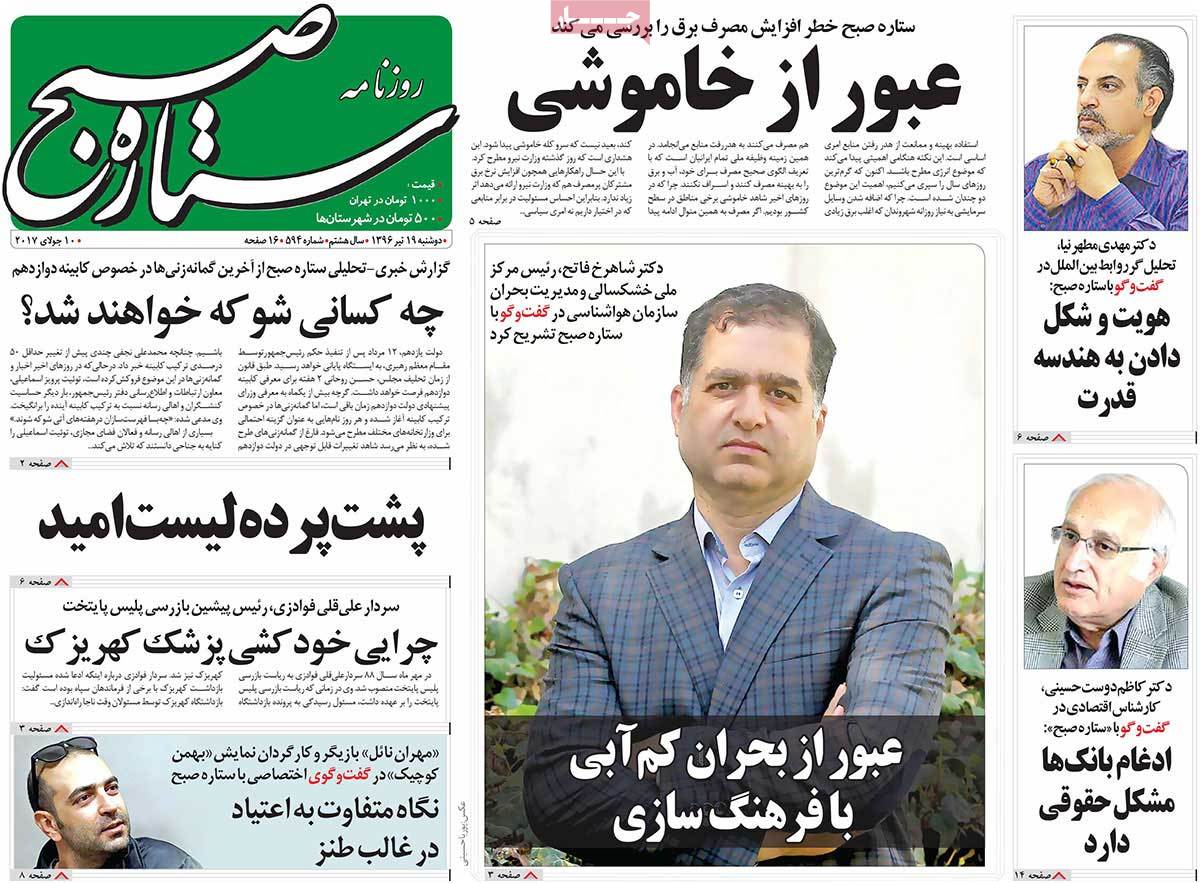 ---
Shahrvand:
1- 95% of Iran Plagued by Drought: Water Crisis in New Stage
2- City of Wind-catchers Registered as World Heritage
3- UNESCO after Yazd's Inscription: I'm Shocked! What a Beautiful Day!
---
Shargh:
1- Ahmadinejad's Vice-President Arrested
2- Jurist: Inside People's Cars Part of Their Privacy [Editorial]
3- Anti-Erdogan Protesters Hold 432km Rally against 'Injustice'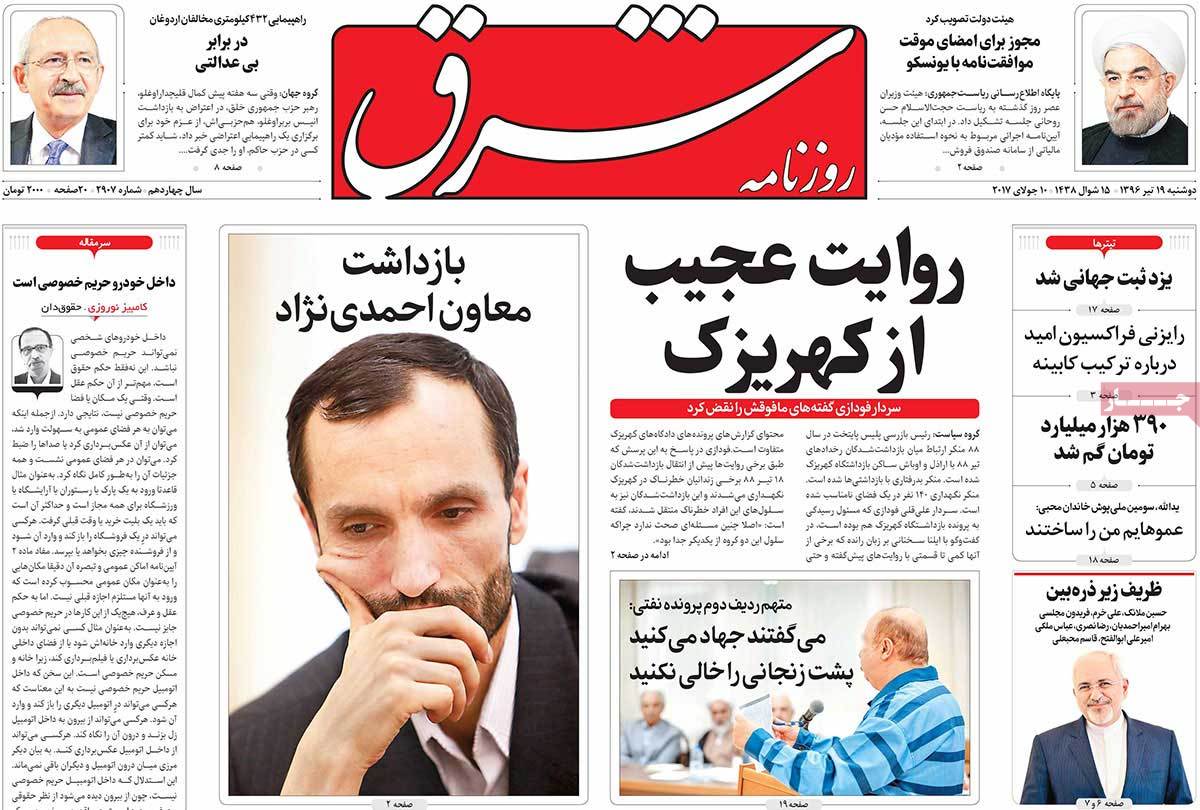 ---
Siasat-e Rooz:
1- You Have as Much Rights in the World as You Have Power: Advisor to FM
2- In Iraq's Arms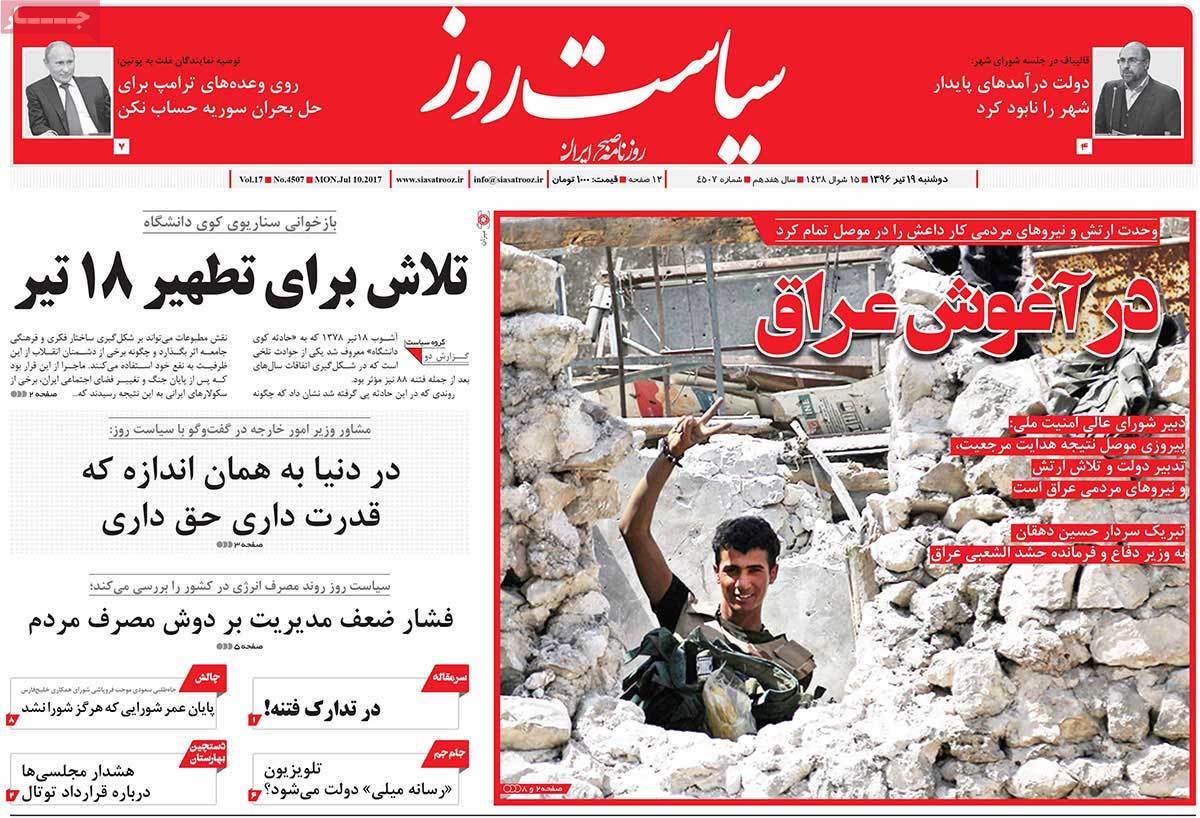 ---
Tejarat:
1- Consultations for Choosing Members of Next Cabinet
---
Vaghaye Ettefaghieh:
1- ISIS Women Shouldering Burden of Suicide Attacks in Mosul
2- Saudi Guarantee: Riyadh Committed to Safeguard Iranian Pilgrims' Security
3- Will Iran-Qatar Ties Become Strategic? Iranian Protection for Qatari Throne