IFP has taken a look at the front pages of Iranian newspapers on Thursday, September 14, and picked headlines from 17 of them. IFP has simply translated the headlines and does not vouch for their accuracy.
All newspapers today covered the remarks made by the Leader of Iran's Islamic Revolution Ayatollah Seyyed Ali Khamenei in a meeting with members of the Expediency Discernment Council.
A meeting between Iranian Foreign Minister Mohammad Javad Zarif and Russian President Vladimir Putin in Sochi also received great coverage.
Another top story today was a war of words between Qatar and other Arab countries over Iran during a recent Arab League summit in Cairo.
The above issues, as well as many more, are highlighted in the following headlines and top stories:
Abrar:
1- China's All-Out Support for Myanmar Government's 'Muslim Killing'
2- Moscow: We Don't Recognise Nuclear North Korea
3- Zarif: No IAEA Inspection Can Be Used as Pretext to Access Iran's Classified Information
4- Mogherini: Iran, North Korea Totally Different from Each Other
5- UNICEF: 380,000 Yemeni Kids Suffering from Severe Malnutrition
---
Afkar:
1- Arabs' War of Words over Iran
Qatari Official: Iran Has Proved to Be Honourable
2- US Volleyball Defeated by Iran's Power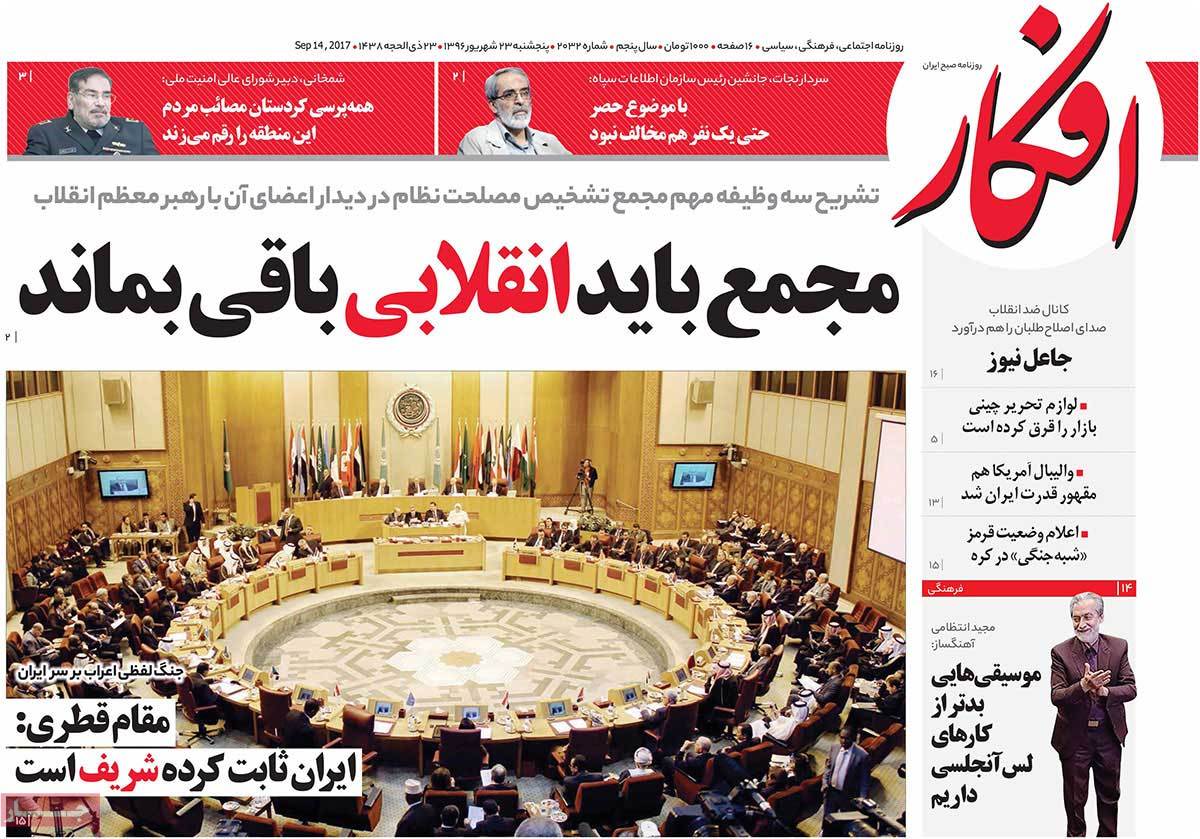 ---
Aftab-e Yazd:
1- Results of a Promise: No Female Minister Appointed
2- Aref Criticises Certain Reformists for Trying to Give up Reformist Identity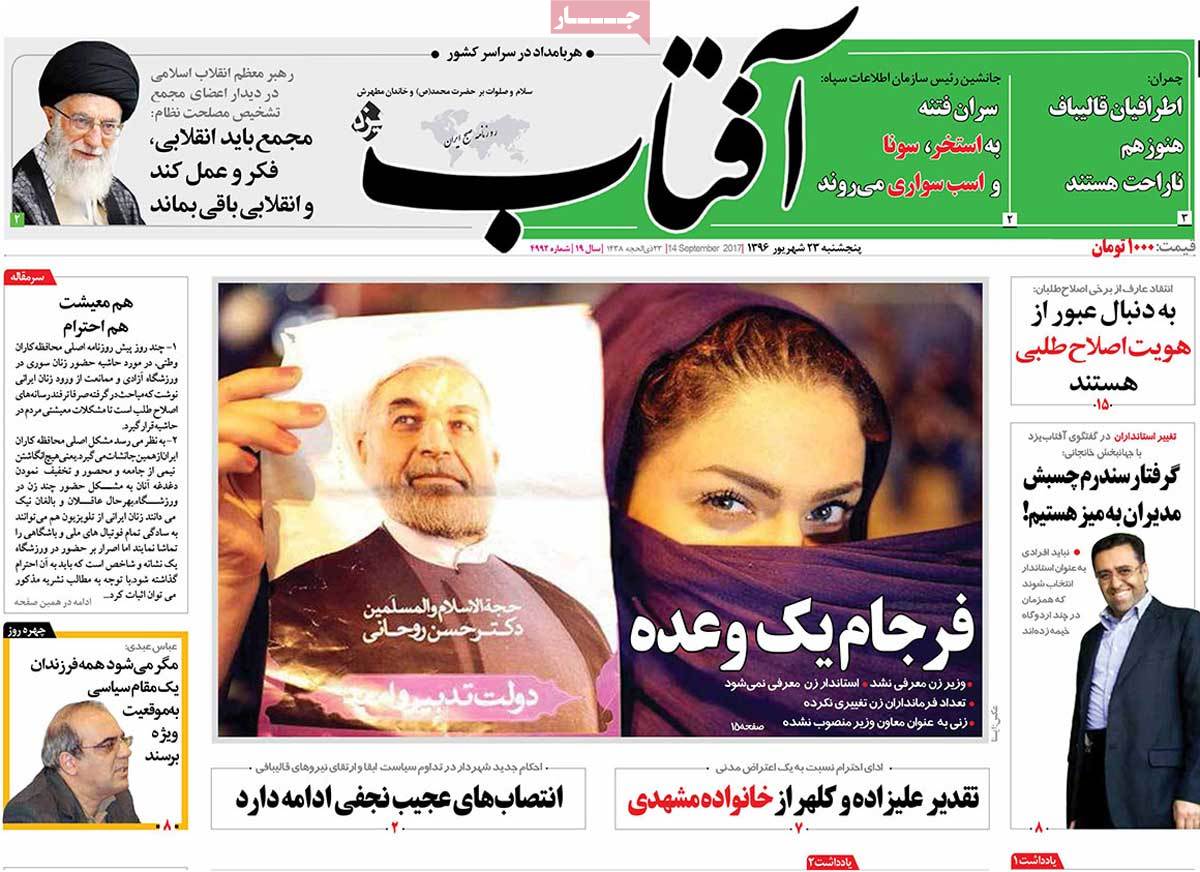 ---
Arman-e Emrooz:
1- Iran Leader: Expediency Council Should Think, Act in Revolutionary Manner
2- IRGC General: ISIS Element Arrested in Western Tehran
3- Rouhani: Society Should Be Secure, Not in Security Conditions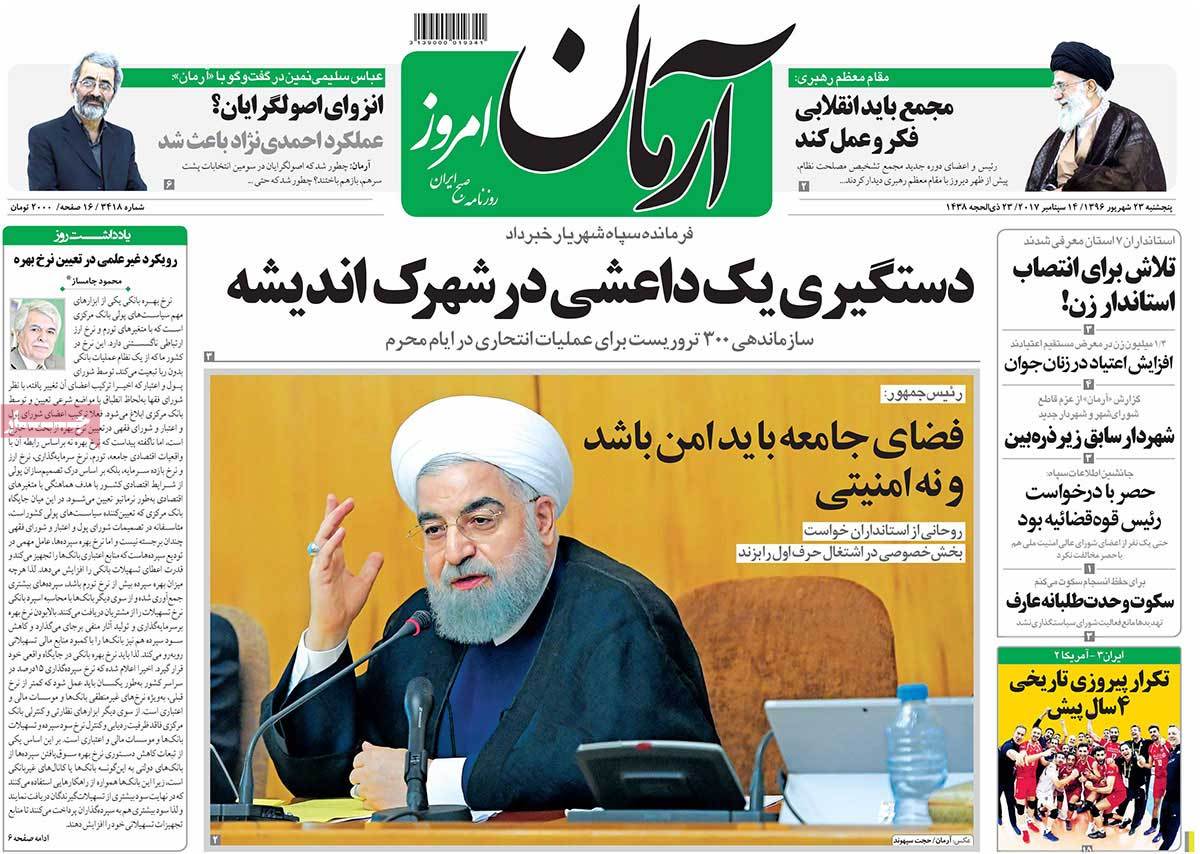 ---
Ebtekar:
1- Women and Difficult Path to Taking Managerial Posts
2- Era of Prosperity of Iranian Diplomacy
---
Etemad:
1- Top Reformist MP Aref Keeping Silent to Maintain Solidarity
2- Meeting in Summer Residence: Zarif-Putin Talks Focused on JCPOA, Syria, Trump
---
Ettela'at:
1- Iran Leader: All Bodies Should Act within General Policies of Establishment
2- European Parliament Condemns Arms Sale to Saudi Arabia
3- Iran Exporting Steel to 3 Continents
---
Haft-e Sobh:
1- Forex Market No Longer Profitable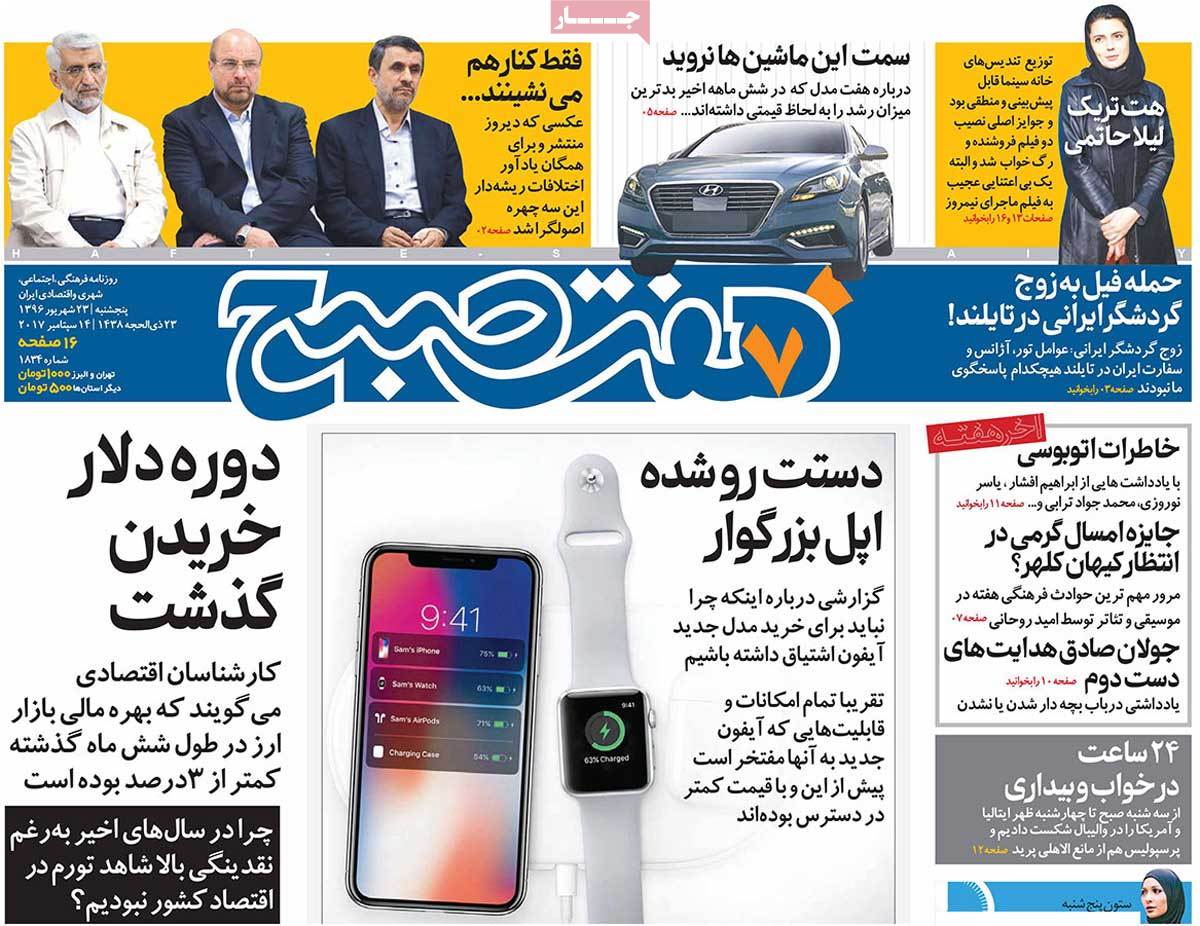 ---
Iran:
1- Putin, Zarif Stress JCPOA Not Renegotiable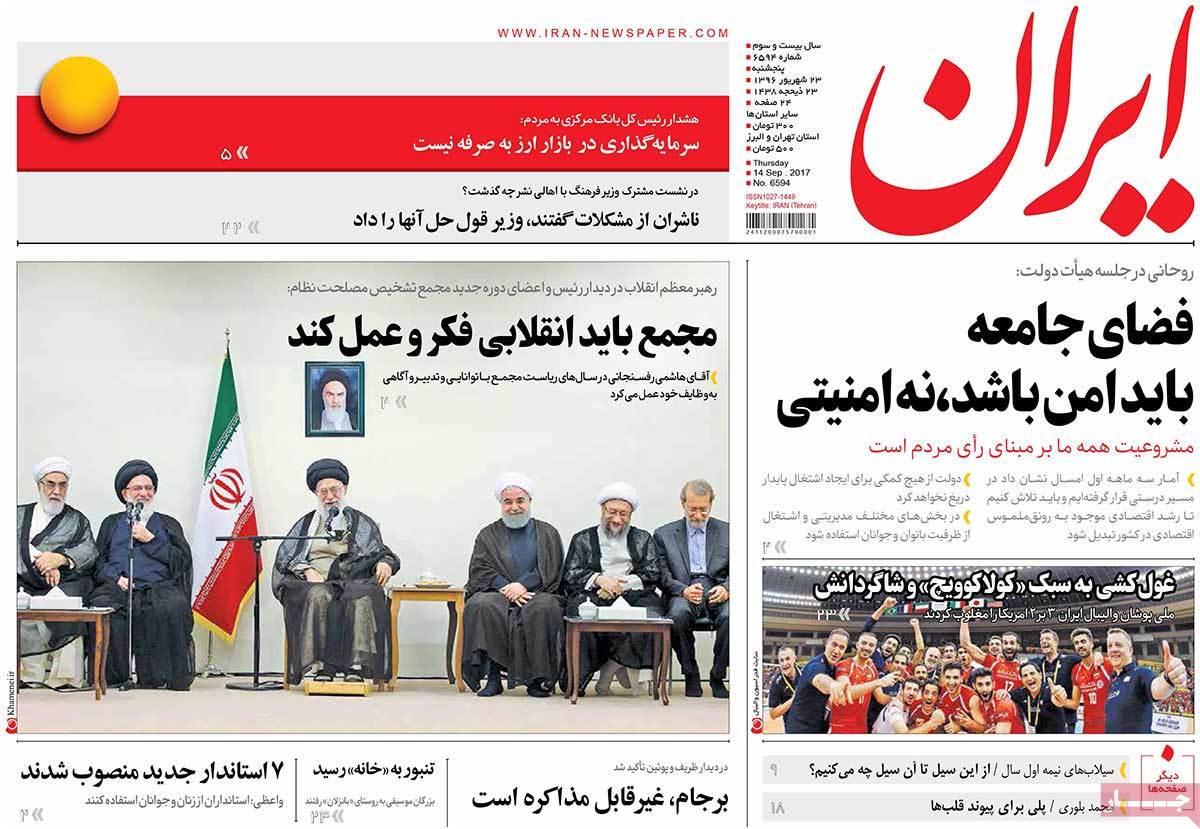 ---
 Jame Jam:
1- Iran Leader Urges Expediency Council to Remain Revolutionary
2- Iran's Masuleh Village to Be Globally Registered
3- Islamic Governments Can Destroy Myanmar's Economy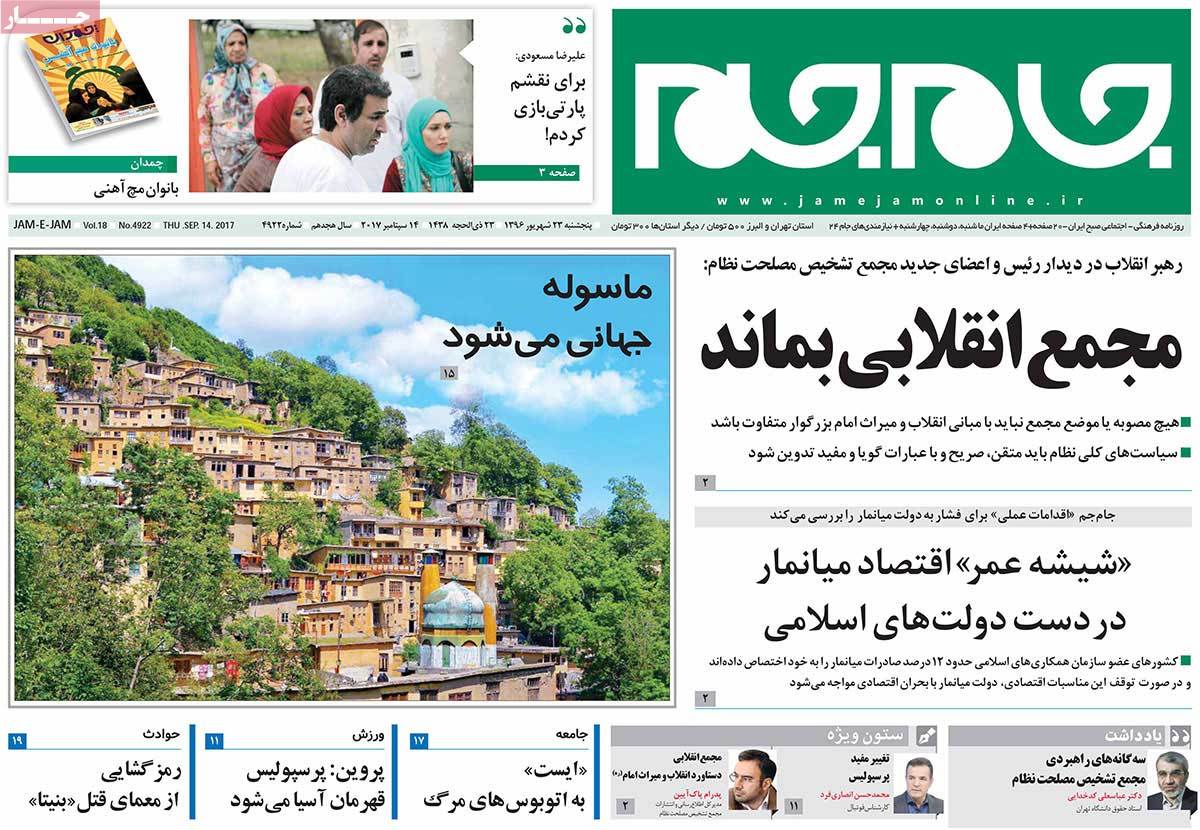 ---
Javan:
1- Storm of Iran's Volleyball Hits US
2- US Increases Pressure on Europe to Add Articles to Nuclear Deal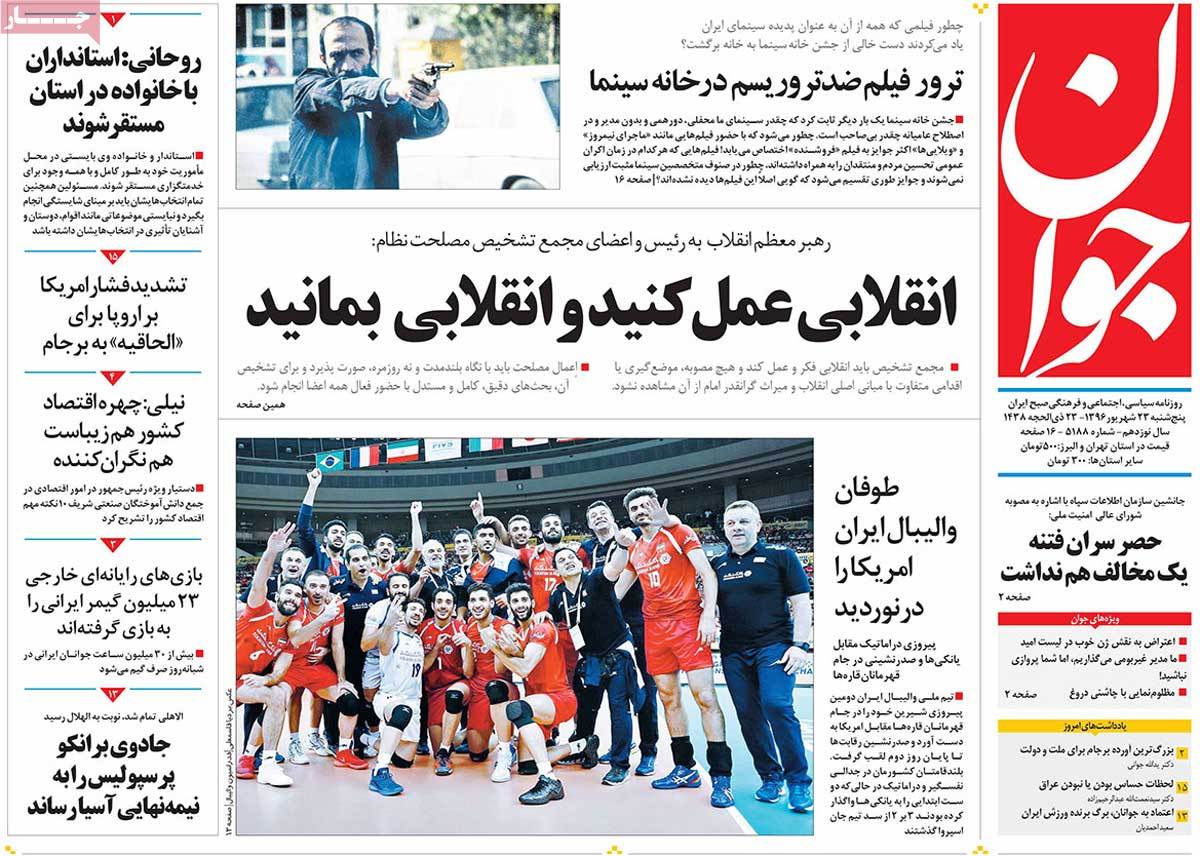 ---
Jomhouri Eslami:
1- Europe Opposed to New US Strategy towards Nuclear Deal
2- Arab League Voices Opposition to Iraqi Kurdistan's Independence
3- Central Bank Governor: Investment in Buying Dollar Not Economical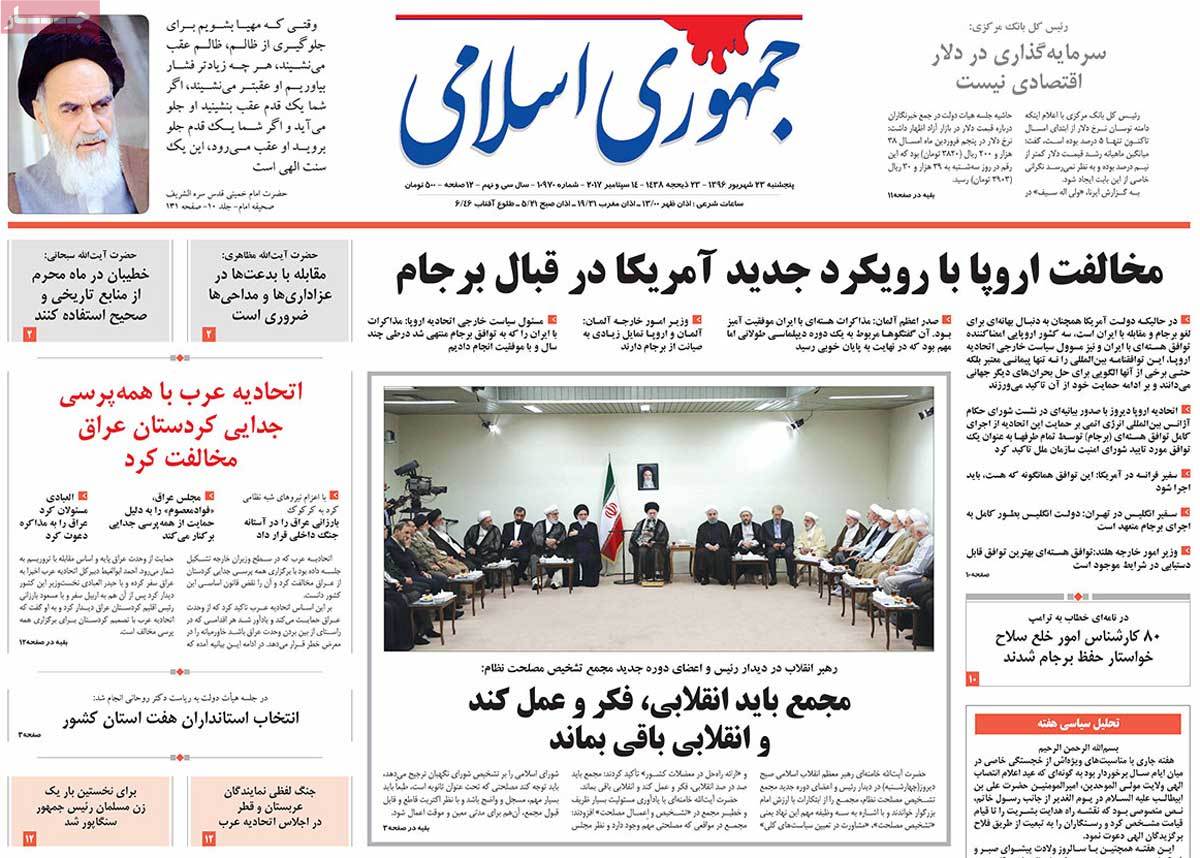 ---
Kayhan:
1- Qatari Diplomat: I Swear Iran Is an Honourable Country
2- Protest Rallies against Macron's Policies in 180 French Cities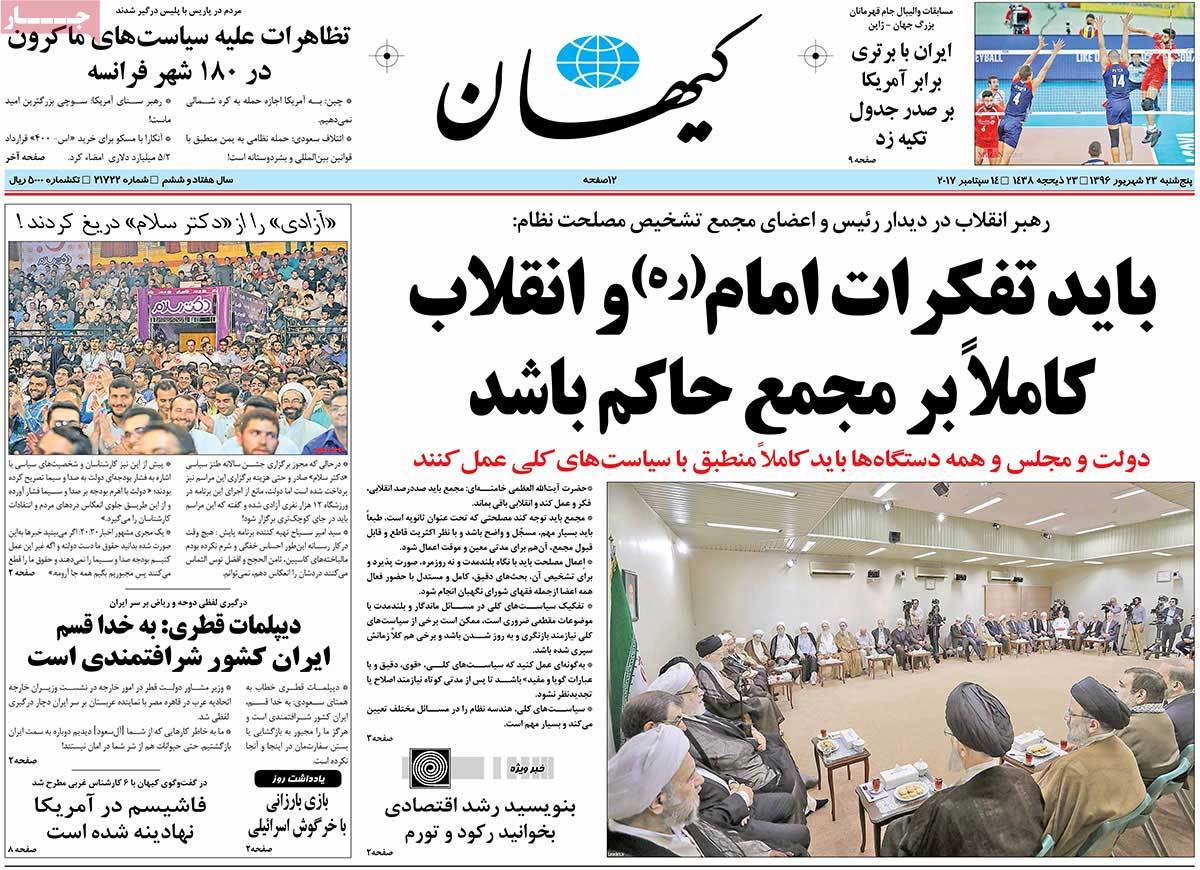 ---
Khorasan:
1- Barzani Gambling with Netanyahu's Cards
2- Leader: Discerning Expediency Should Be Based on Long-Term Prospects
3- Zarif, Putin Hold Talks in Sochi
---
Mardom Salari:
1- EU Says No to US Policies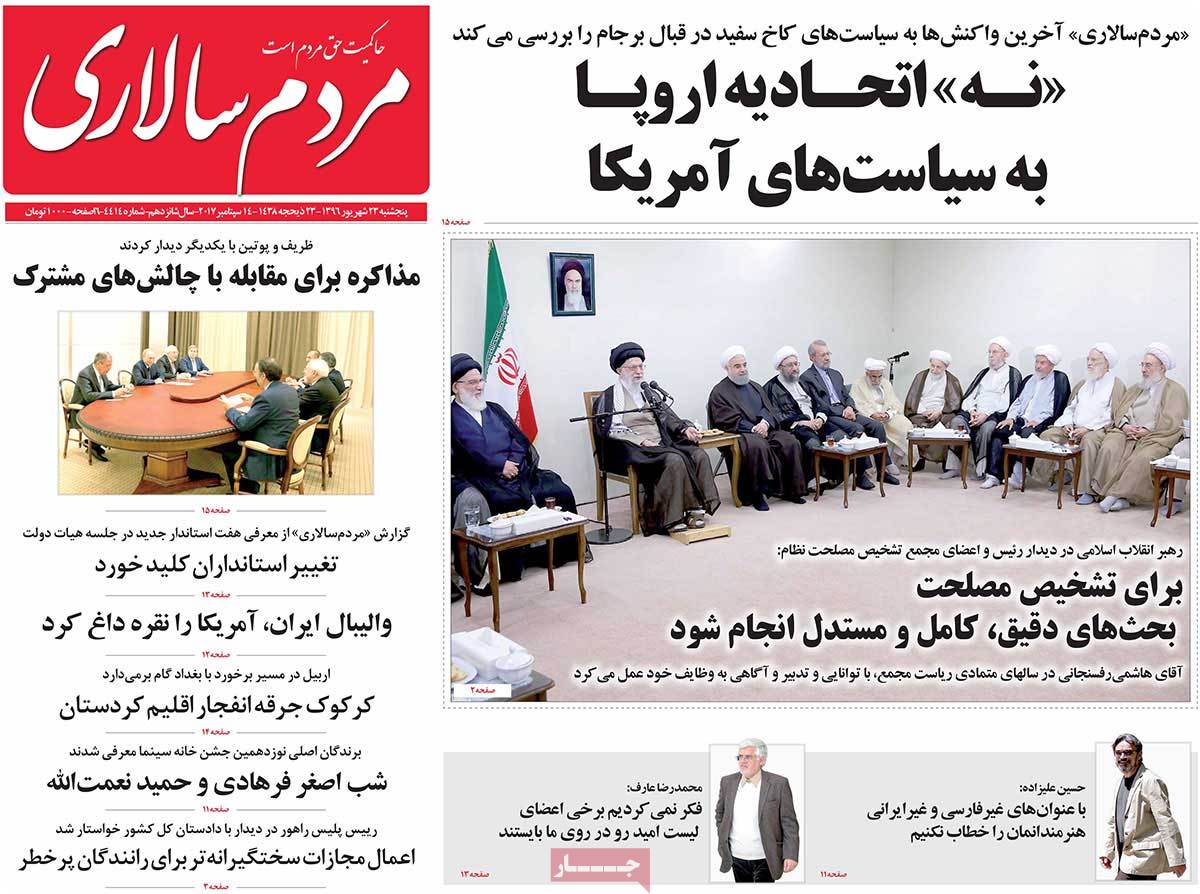 ---
Shargh:
1- Rouhani to Governors: Pay Attention to What We Promised during Campaign
2- Result of Zarif's One-Day Visit to Sochi: Nuclear Deal Not Renegotiable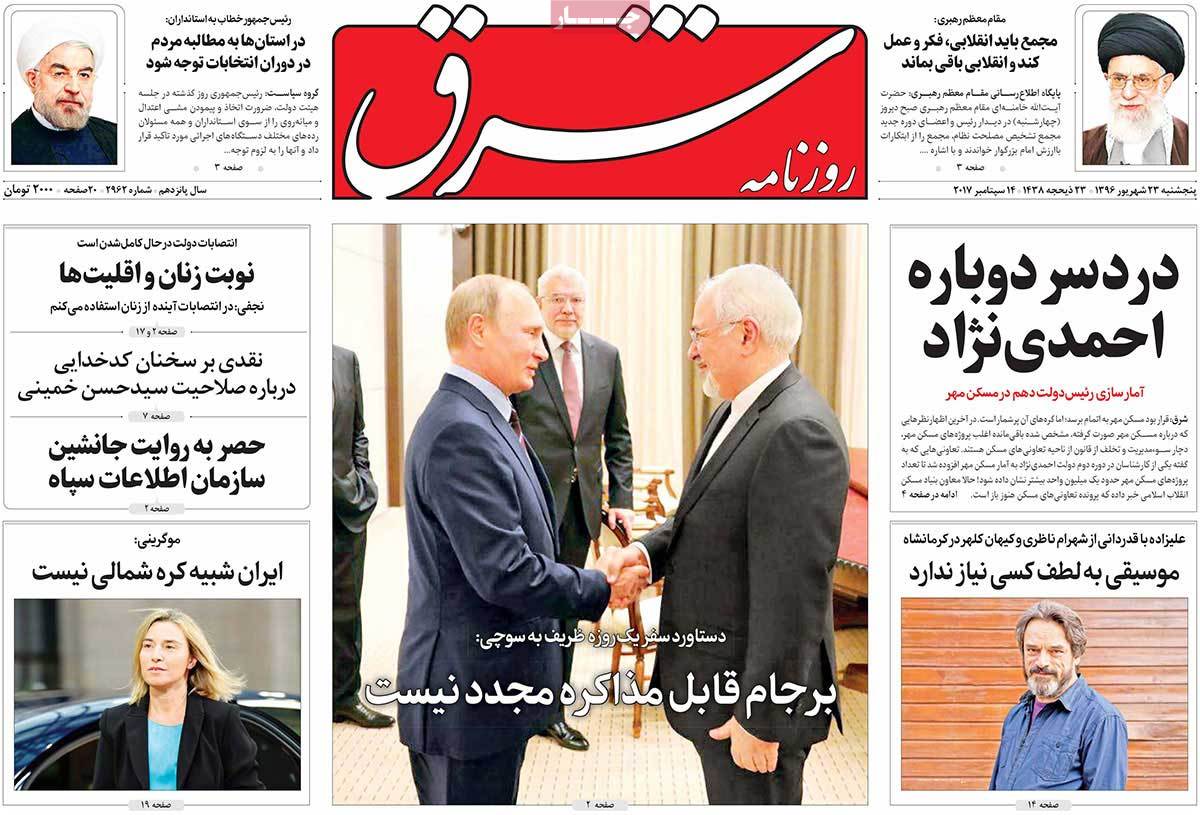 ---
Vatan-e Emrooz:
1- Riyadh Publicly Threaten to Overthrow Doha's Government