All newspapers today covered the remarks made by the Leader of Iran's Islamic Revolution Ayatollah Seyyed Ali Khamenei in a meeting with members of the Expediency Discernment Council.
A meeting between Iranian Foreign Minister Mohammad Javad Zarif and Russian President Vladimir Putin in Sochi also received great coverage.
Another top story today was a war of words between Qatar and other Arab countries over Iran during a recent Arab League summit in Cairo.
The above issues, as well as many more, are highlighted in the following headlines and top stories:
Abrar:
1- China's All-Out Support for Myanmar Government's 'Muslim Killing'
2- Moscow: We Don't Recognise Nuclear North Korea
3- Zarif: No IAEA Inspection Can Be Used as Pretext to Access Iran's Classified Information
4- Mogherini: Iran, North Korea Totally Different from Each Other
5- UNICEF: 380,000 Yemeni Kids Suffering from Severe Malnutrition
---
Afkar:
1- Arabs' War of Words over Iran
Qatari Official: Iran Has Proved to Be Honourable
2- US Volleyball Defeated by Iran's Power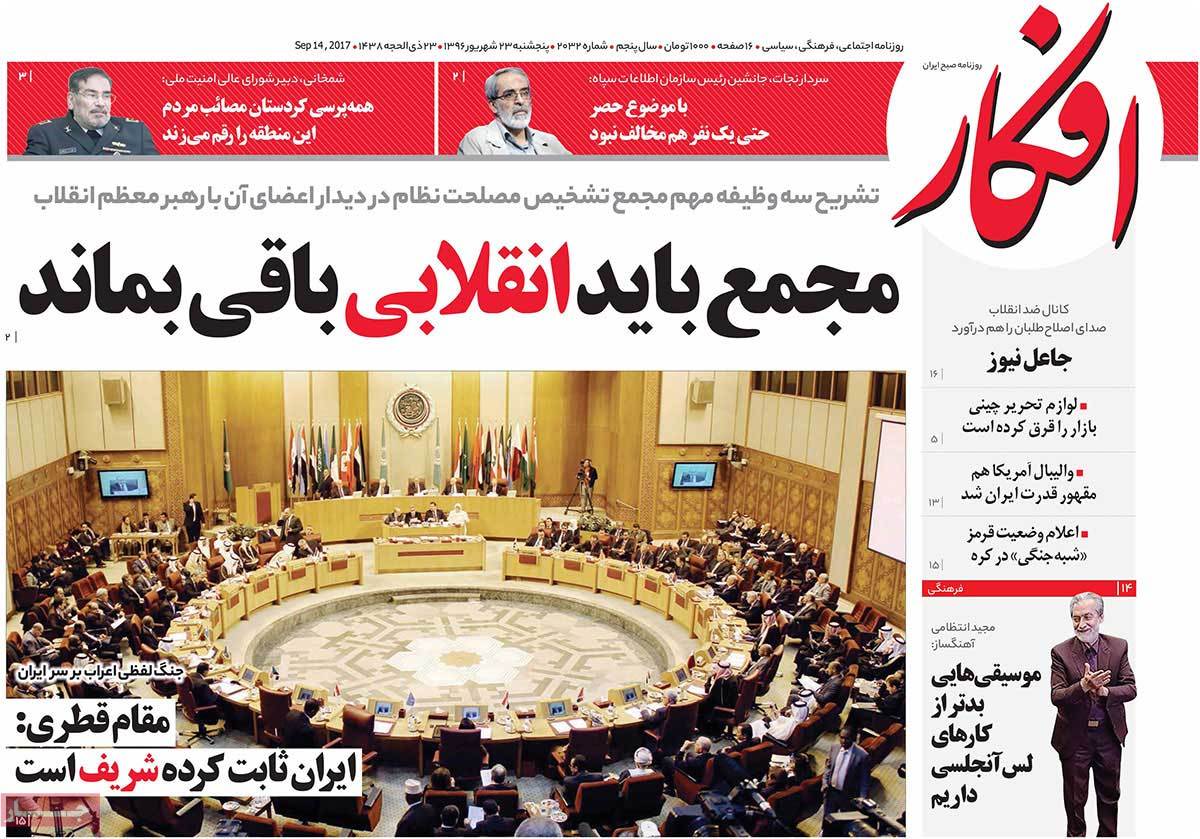 ---
Aftab-e Yazd:
1- Results of a Promise: No Female Minister Appointed
2- Aref Criticises Certain Reformists for Trying to Give up Reformist Identity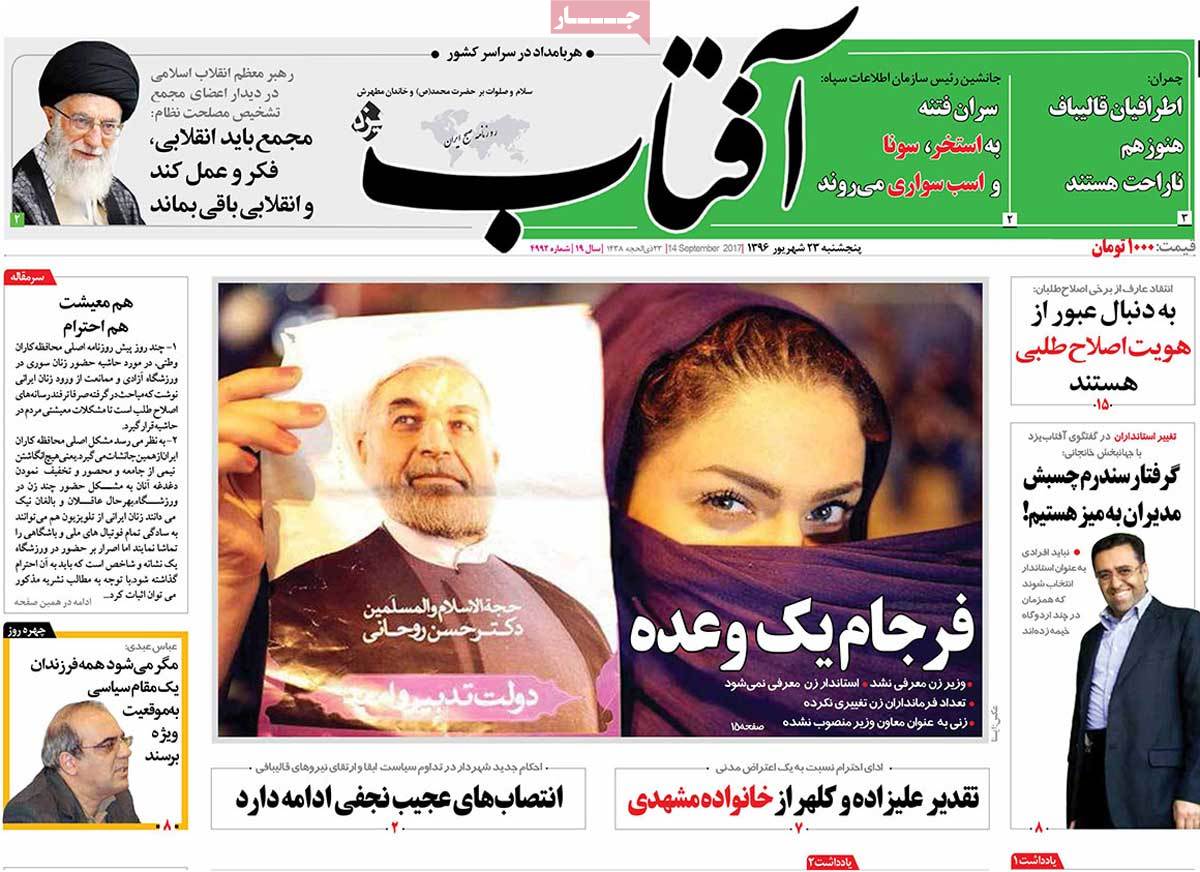 ---
Arman-e Emrooz:
1- Iran Leader: Expediency Council Should Think, Act in Revolutionary Manner
2- IRGC General: ISIS Element Arrested in Western Tehran
3- Rouhani: Society Should Be Secure, Not in Security Conditions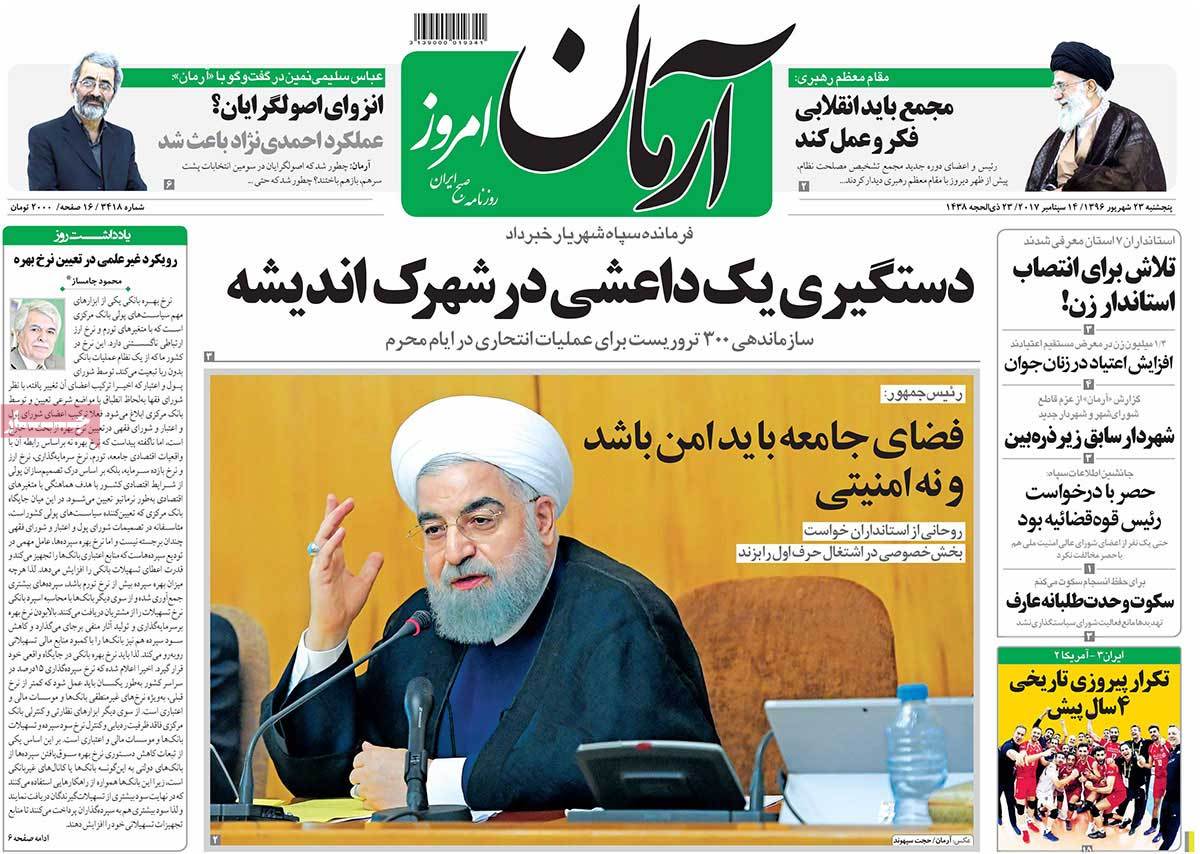 ---
Ebtekar:
1- Women and Difficult Path to Taking Managerial Posts
2- Era of Prosperity of Iranian Diplomacy
---
Etemad:
1- Top Reformist MP Aref Keeping Silent to Maintain Solidarity
2- Meeting in Summer Residence: Zarif-Putin Talks Focused on JCPOA, Syria, Trump
---
Ettela'at:
1- Iran Leader: All Bodies Should Act within General Policies of Establishment
2- European Parliament Condemns Arms Sale to Saudi Arabia
3- Iran Exporting Steel to 3 Continents
---
Haft-e Sobh:
1- Forex Market No Longer Profitable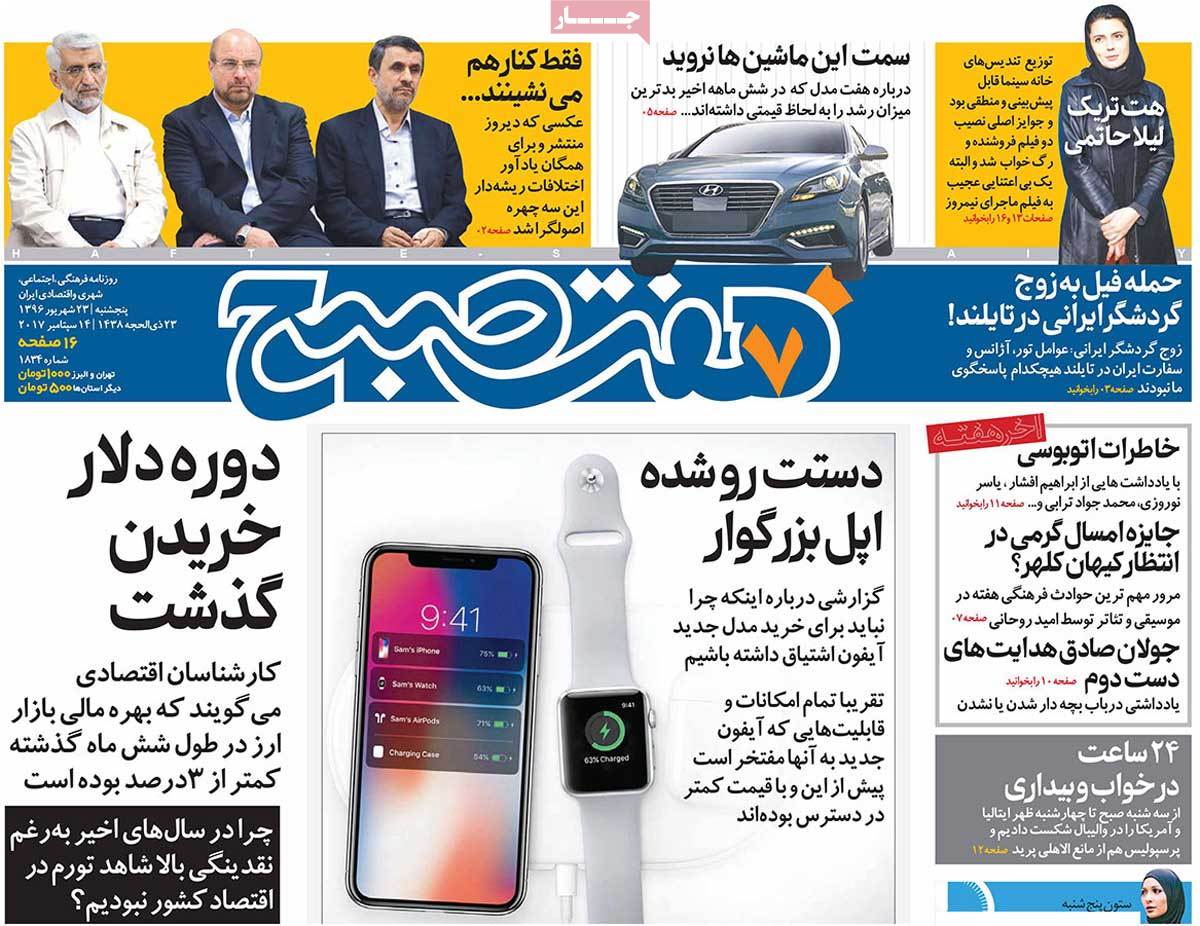 ---
Iran:
1- Putin, Zarif Stress JCPOA Not Renegotiable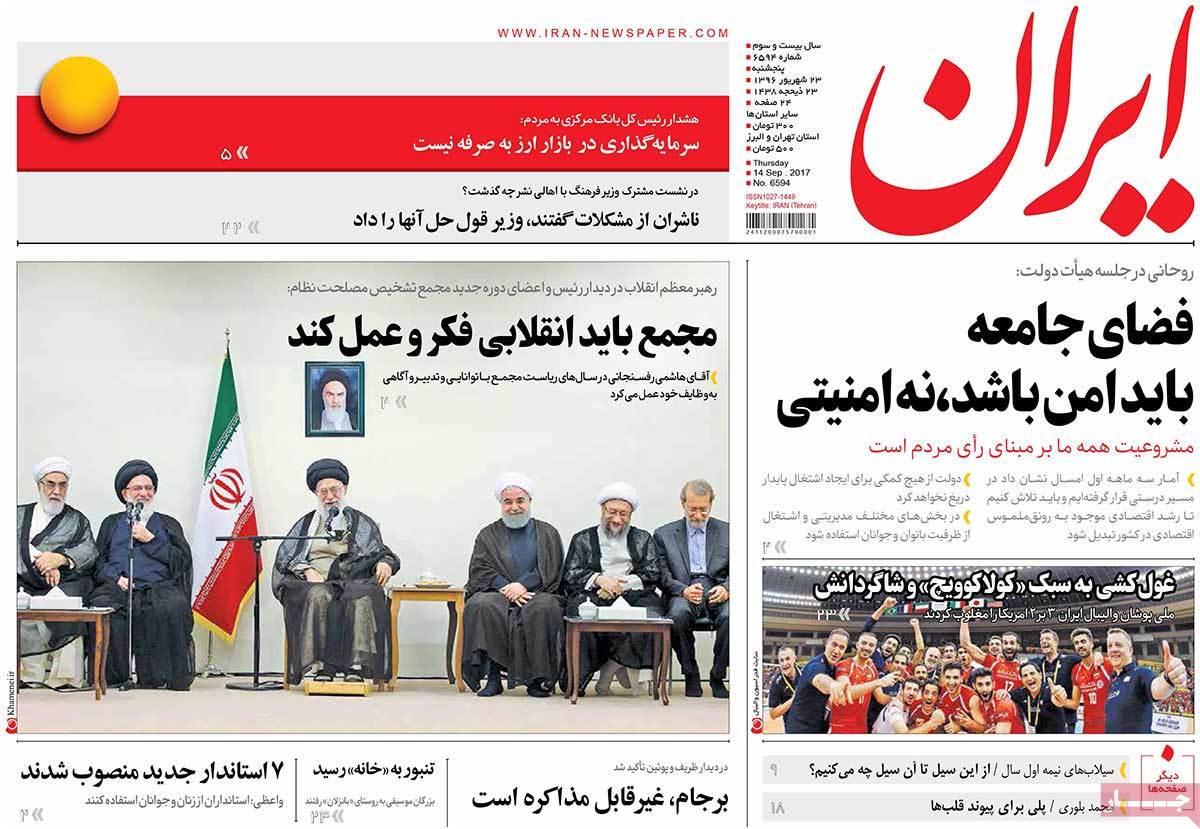 ---
 Jame Jam:
1- Iran Leader Urges Expediency Council to Remain Revolutionary
2- Iran's Masuleh Village to Be Globally Registered
3- Islamic Governments Can Destroy Myanmar's Economy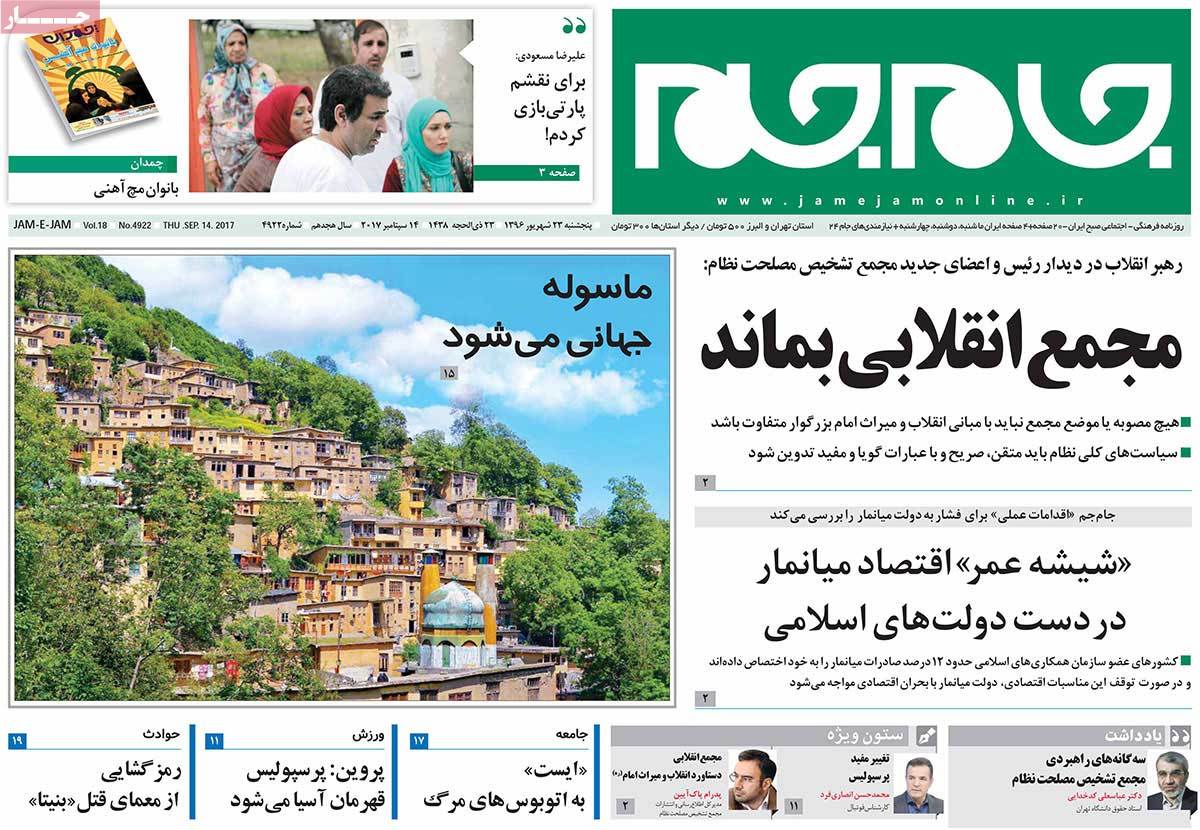 ---
Javan:
1- Storm of Iran's Volleyball Hits US
2- US Increases Pressure on Europe to Add Articles to Nuclear Deal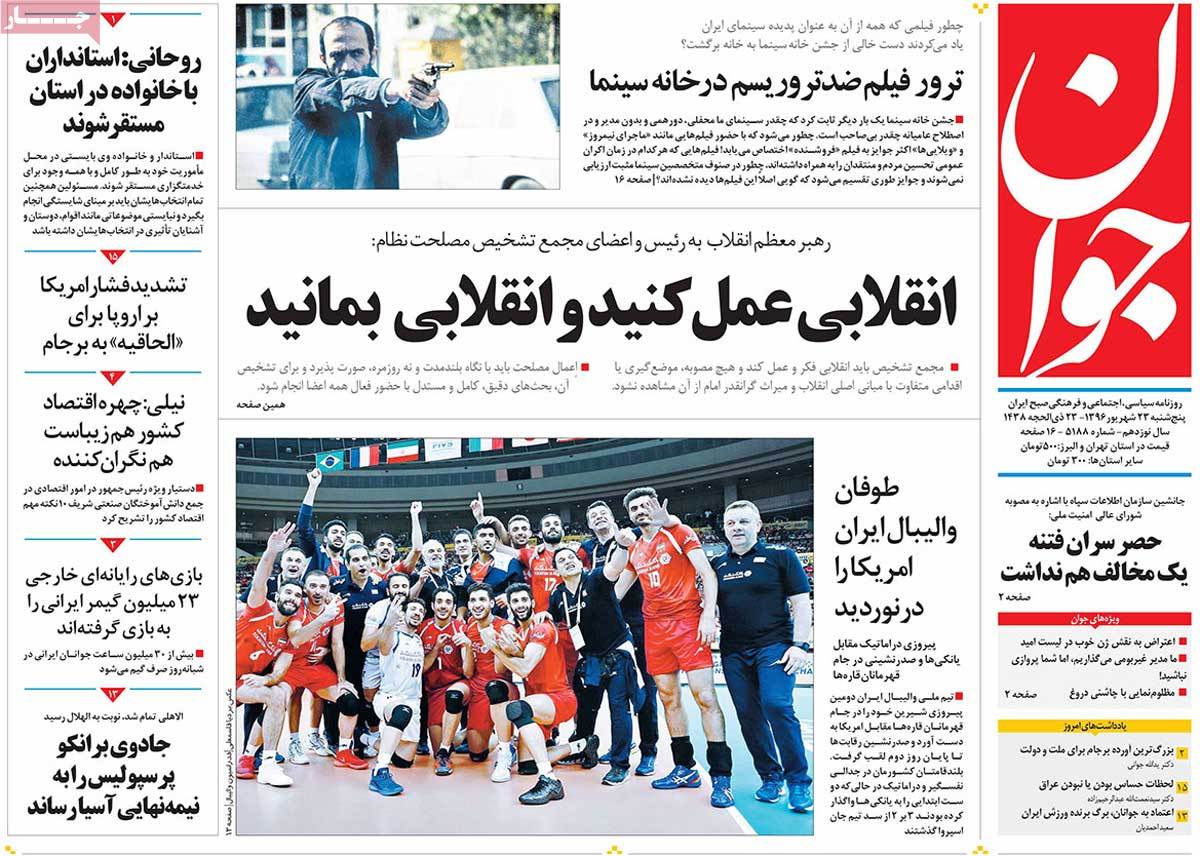 ---
Jomhouri Eslami:
1- Europe Opposed to New US Strategy towards Nuclear Deal
2- Arab League Voices Opposition to Iraqi Kurdistan's Independence
3- Central Bank Governor: Investment in Buying Dollar Not Economical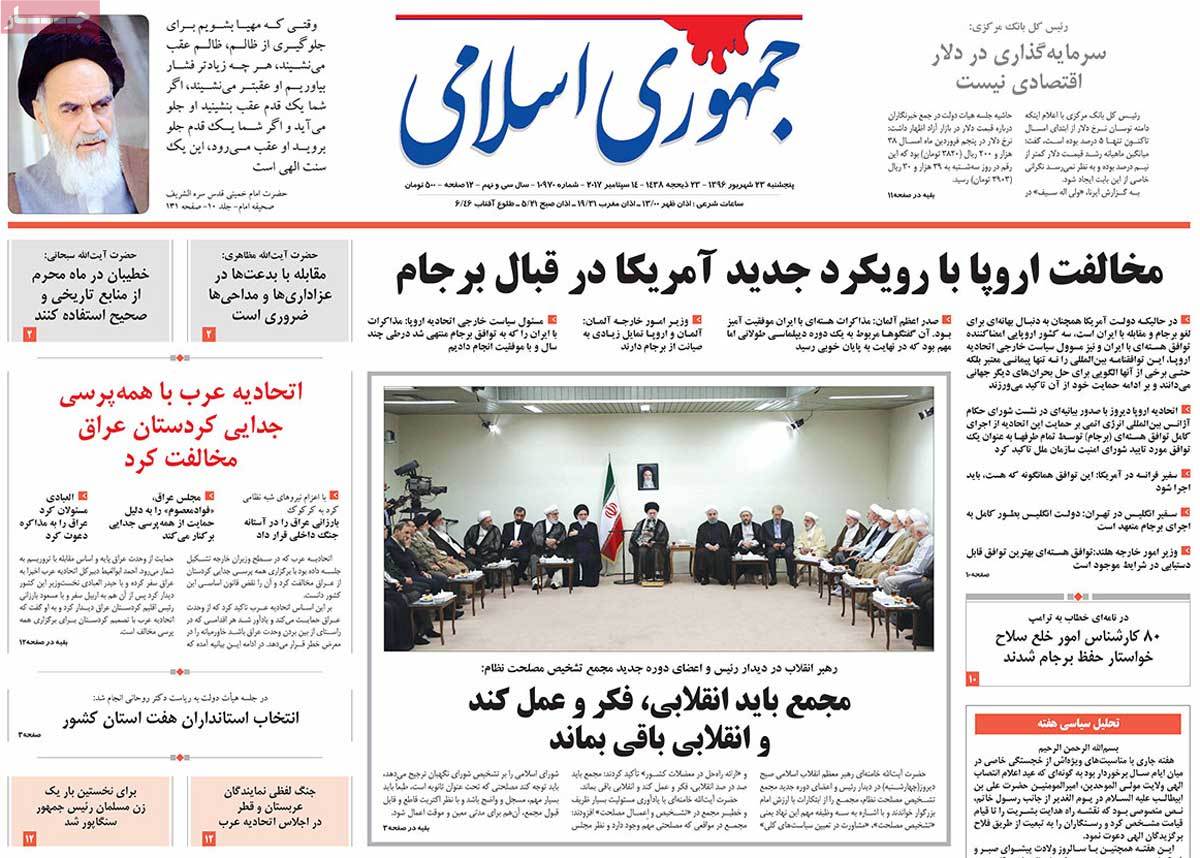 ---
Kayhan:
1- Qatari Diplomat: I Swear Iran Is an Honourable Country
2- Protest Rallies against Macron's Policies in 180 French Cities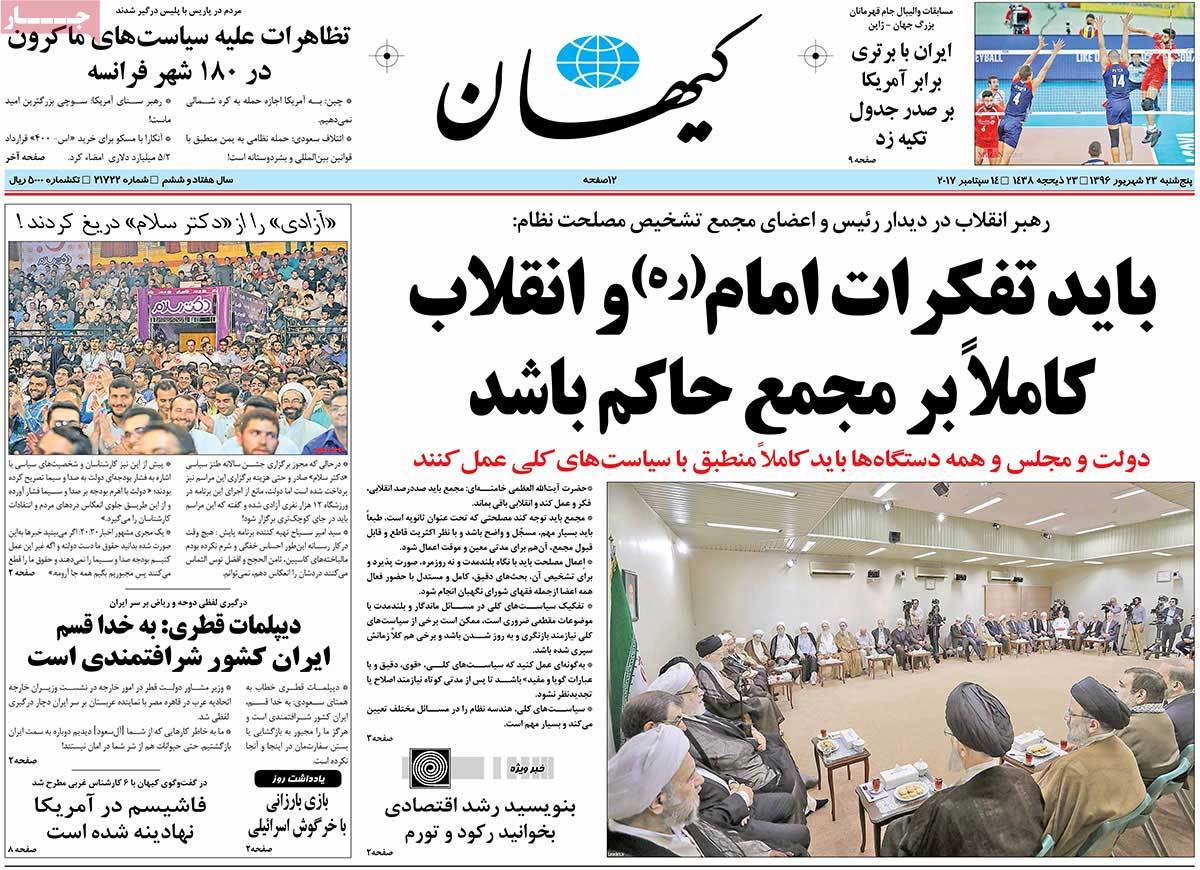 ---
Khorasan:
1- Barzani Gambling with Netanyahu's Cards
2- Leader: Discerning Expediency Should Be Based on Long-Term Prospects
3- Zarif, Putin Hold Talks in Sochi
---
Mardom Salari:
1- EU Says No to US Policies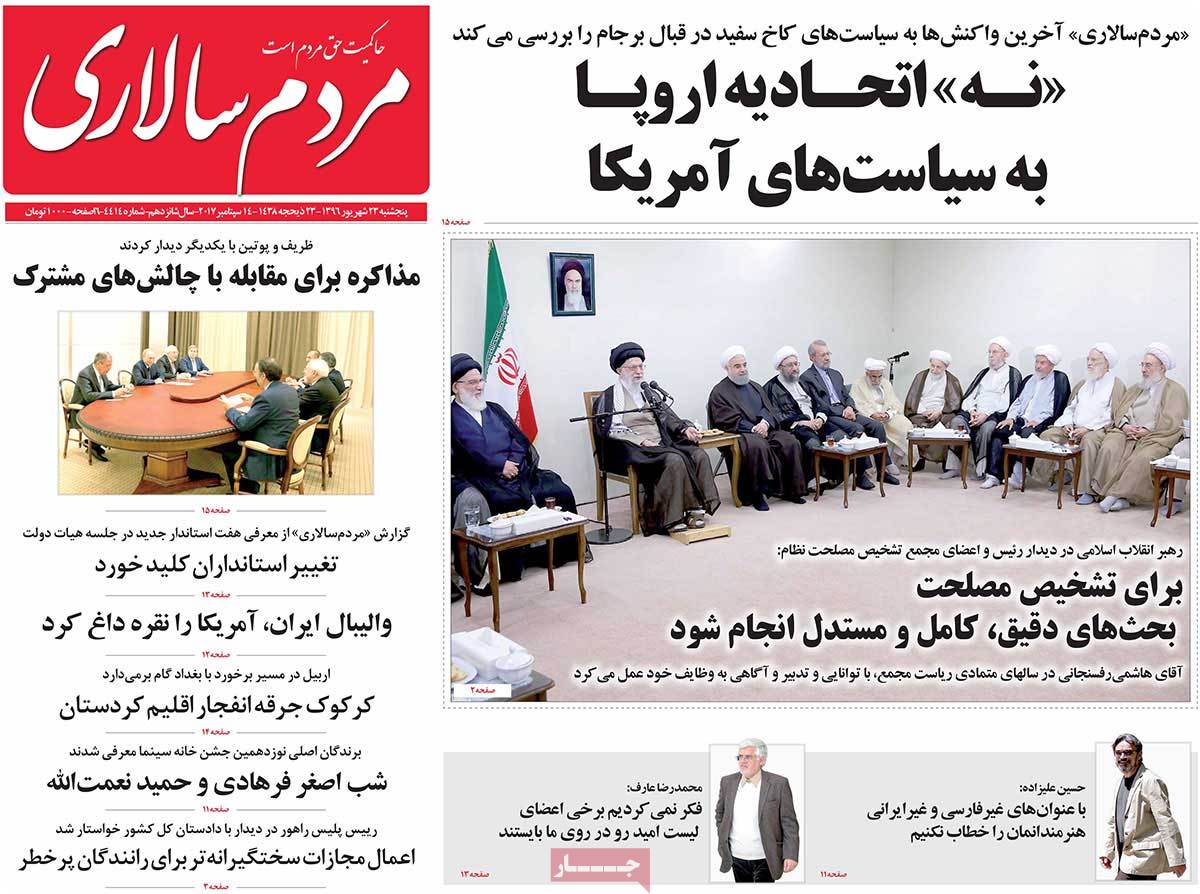 ---
Shargh:
1- Rouhani to Governors: Pay Attention to What We Promised during Campaign
2- Result of Zarif's One-Day Visit to Sochi: Nuclear Deal Not Renegotiable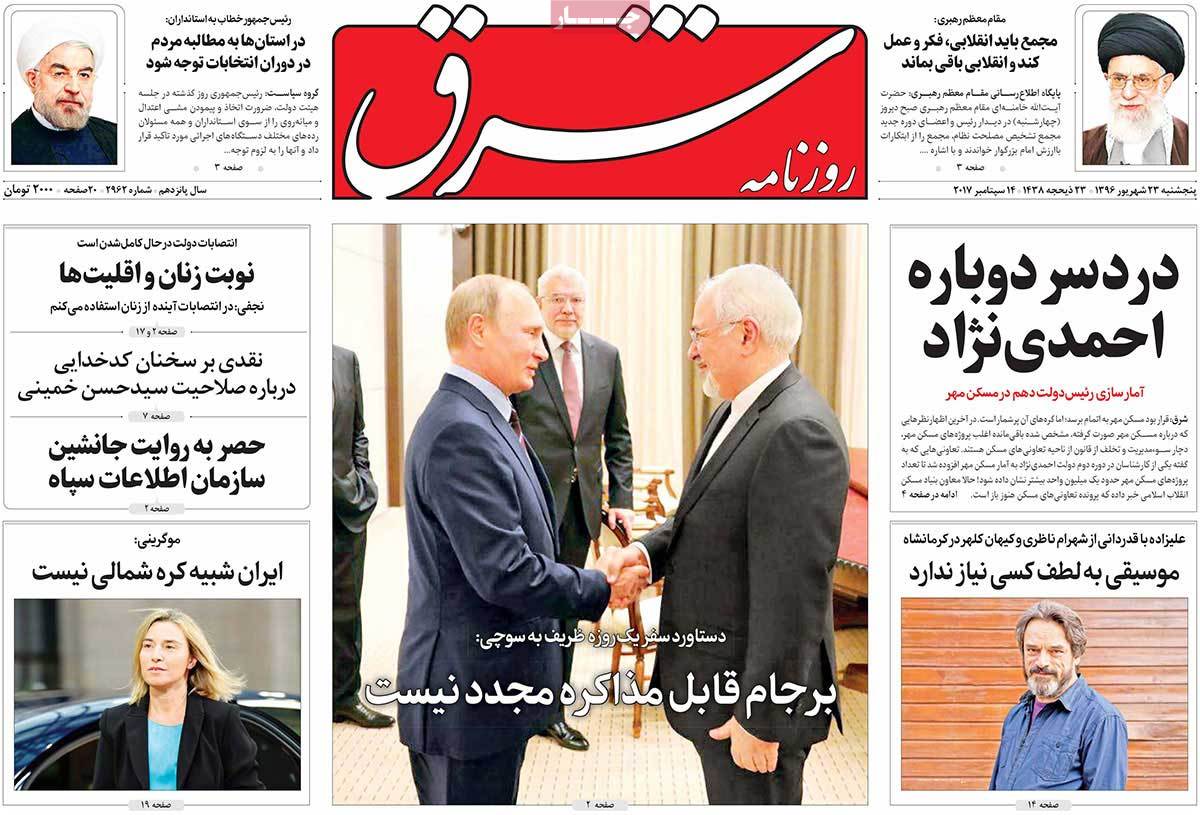 ---
Vatan-e Emrooz:
1- Riyadh Publicly Threaten to Overthrow Doha's Government