The top story today was the fresh anti-Iran sanctions approved by the US Senate. Many conservative papers noted that the US is starting a new round of sanctions after Rouhani's re-election.
An article by Fareed Zakaria in Washington Post about Saudi Arabia's support for terrorism and Iran's role in the fight against terrorists also received great coverage.
The agreement between OPEC members to extend an oil cut deal was also a top story today. Some newspapers also pointed to the decrease in oil price in spite of the OPEC deal.
The above issues, as well as many more, are highlighted in the following headlines and top stories:
19 Dey:
1- Zarif: Iranian People Don't Want Their Progress, Development from Others
---
Abrar:
1- NATO Officially Joins Anti-ISIS Coalition
2- US: China Has Increased Restrictions on North Korea
3- Trump's Travel Ban Once Again Rejected by US Court
4- Cavusoglu: It's Time for EU to Decide about Turkey [accession to EU]
---
Abrar-e Eqtesadi:
1- Analysts Say Oil Price May Increase to $60
2- US Treasury to Review Permission for Selling Plane to Iran
---
Aftab-e Yazd:
1- Iran's Consultations, Saudi Araba's Rationality Leads to Extension to OPEC Deal
---
Arman-e Emrooz:
1- Clerics in Qom Kindly Support Rouhani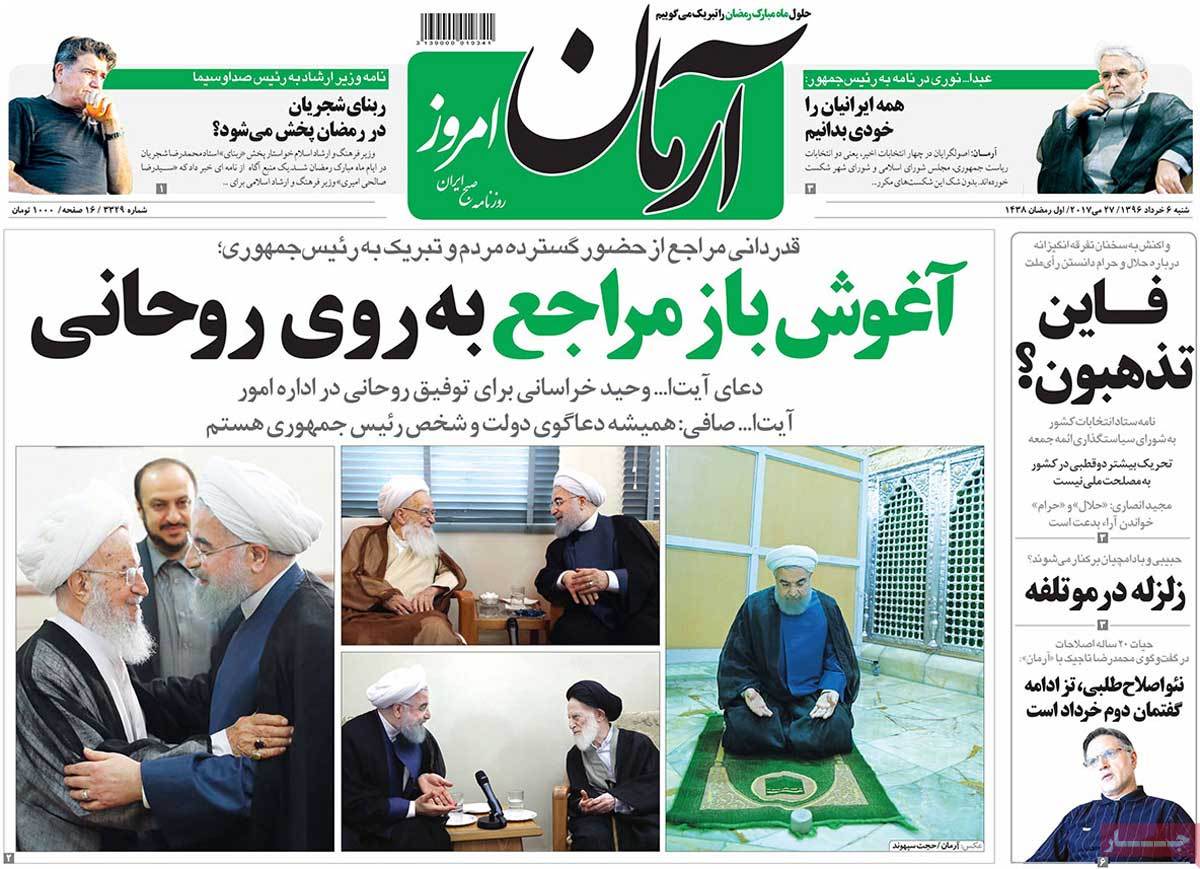 ---
Asrar:
1- Oil Minister: Iran to Collect All the Money for Its Oil Exports
2- Culture Minister: Poverty to Be Eradicated in New Government
3- MP: Wall between Reformists, Conservatives Should Be Removed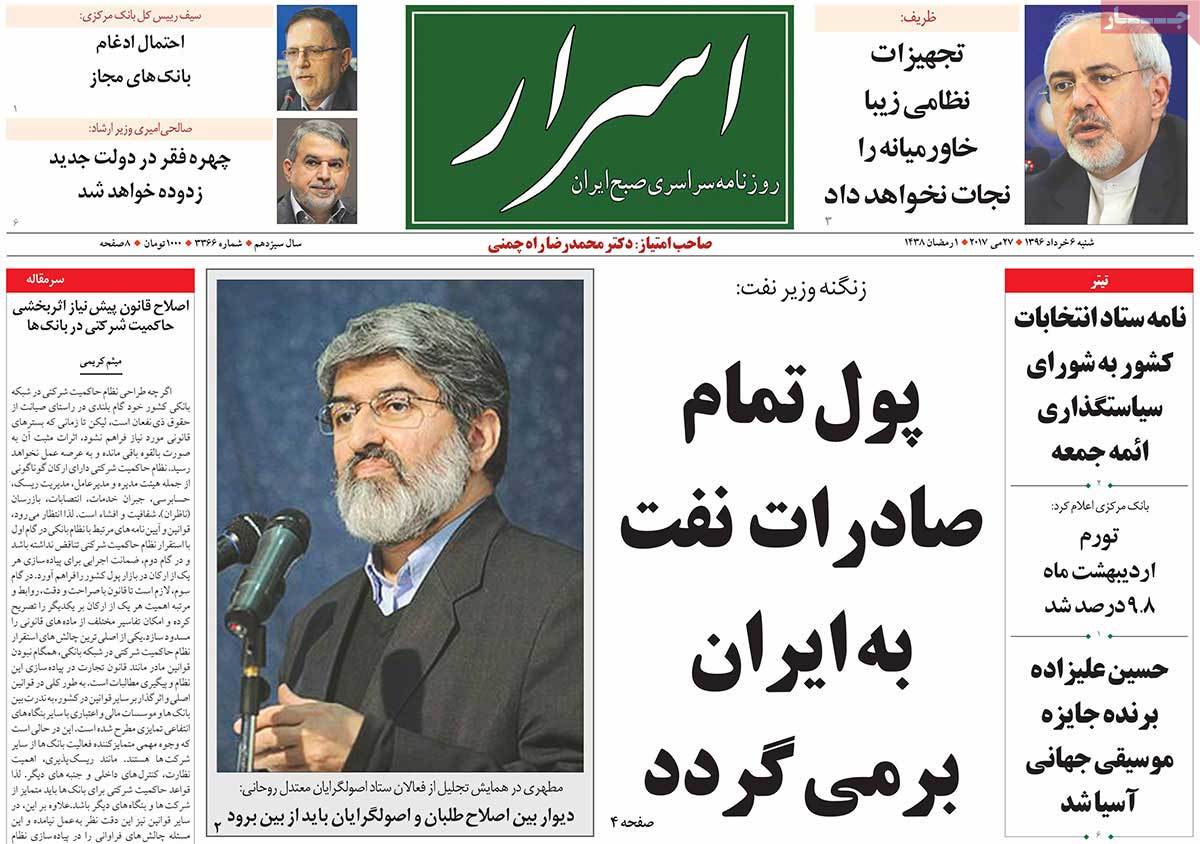 ---
Ebtekar:
1- Zarif: 'Beautiful Military Equipment' Won't Save Middle East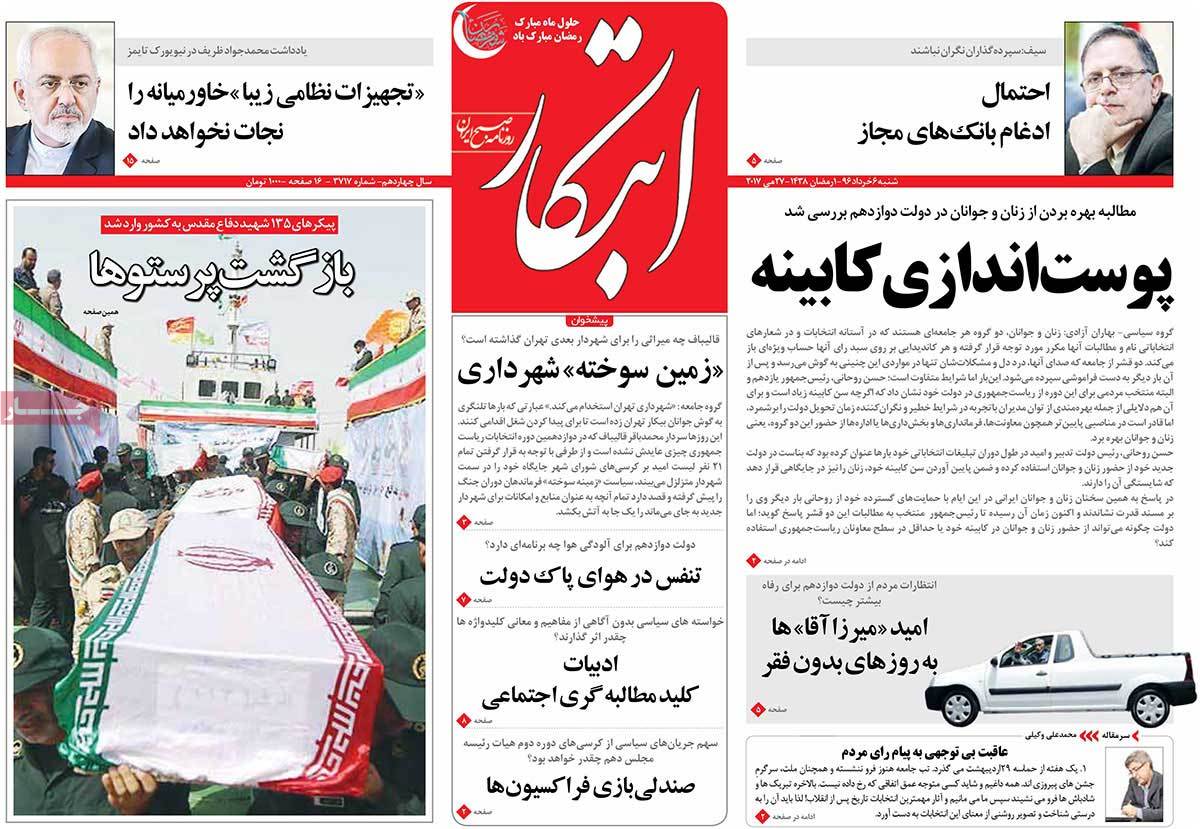 ---
Etemad:
1- Oil Market's Shock to OPEC: $3 Decrease in Oil Price in Spite of OPEC Deal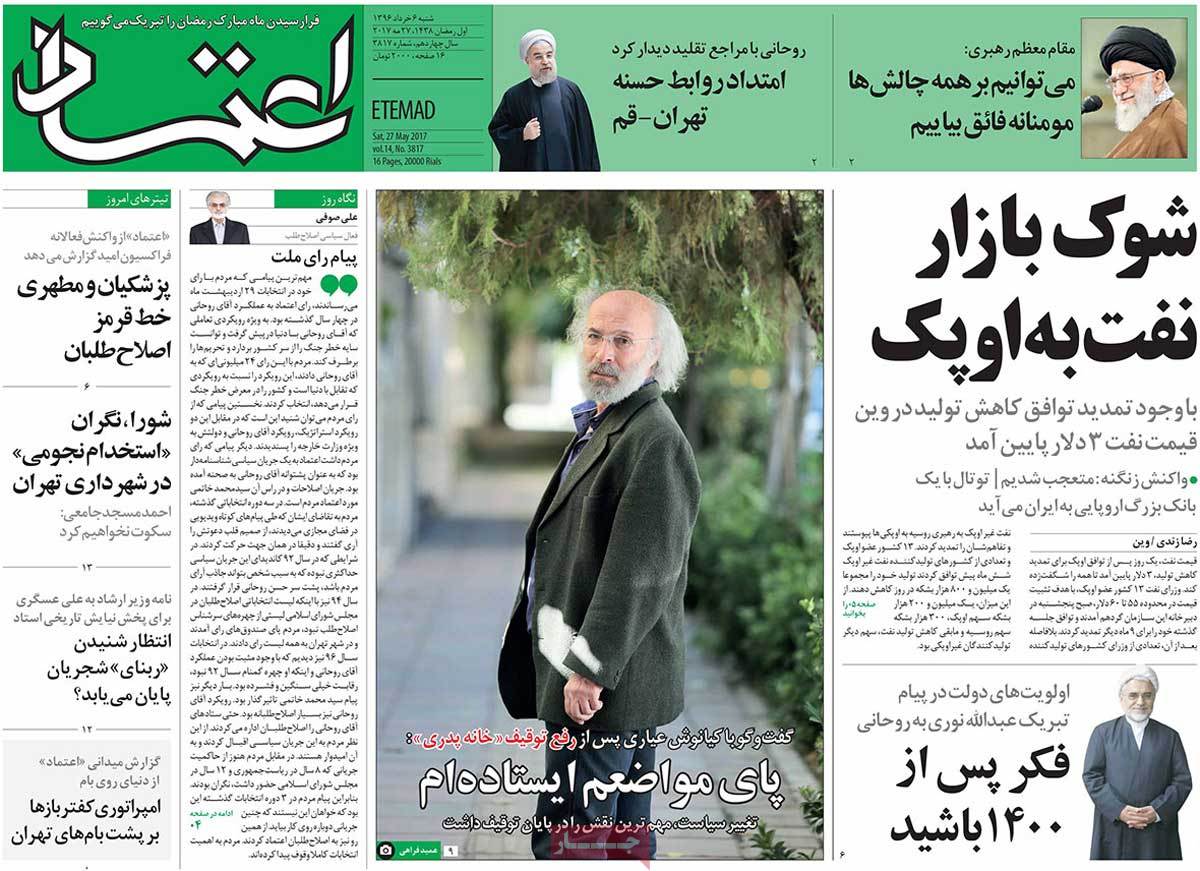 ---
Ettela'at:
1- Minister: Iran's Oil Output to Reach 5 Million bpd
2- Zakaria: Riyadh is Mother of Terrorism, Tehran Mother of Fight against Terrorists
3- Zarif: We Averted War Thanks to People's Presence, Leader's Prudence, Rouhani's Courage
4- Nationwide Protest Rallies in Iran to Protest at Crackdown in Bahrain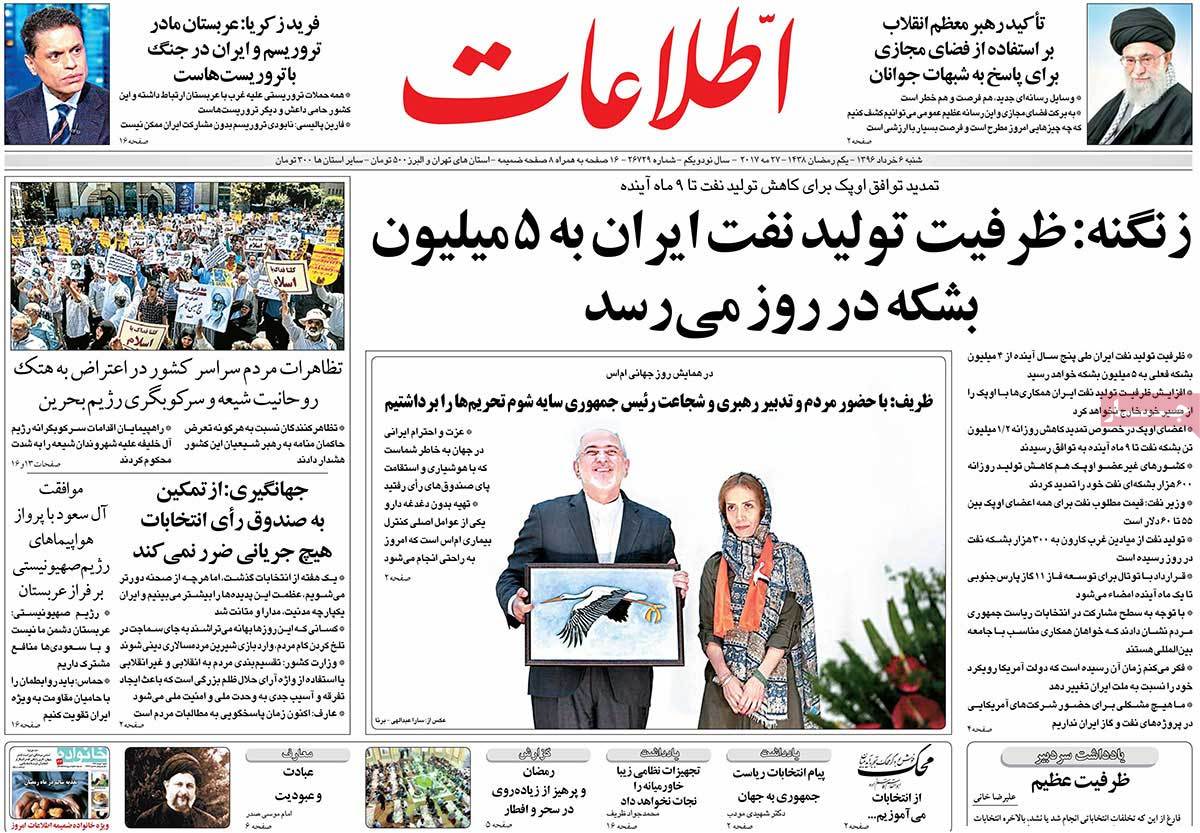 ---
Hemayat:
1- JCPOA Violated under Shadow of Sanctions! US Senate Approves New Iran Sanctions
2- Hezbollah's Reaction to Riyadh Summit: Saudi Arabia Needs American Masters
3- Iran DM: We Produce All Missiles We Need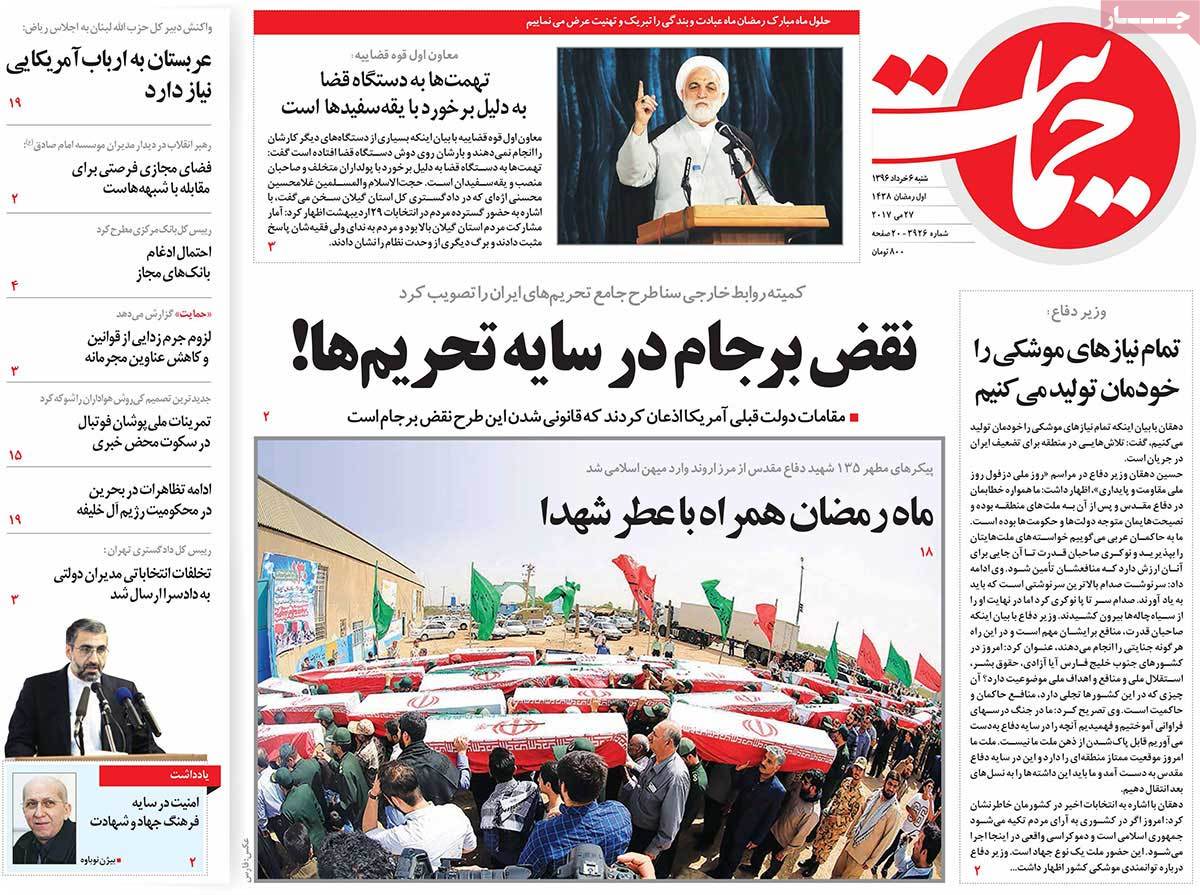 ---
Javan:
1- US Starts Imposing Anti-Iran Sanctions after Elections
2- US Senator: Rouhani's Re-Election is Encouraging, but Sanctions Are Needed
3- ISIS Deadly Attack on Egypt's Christians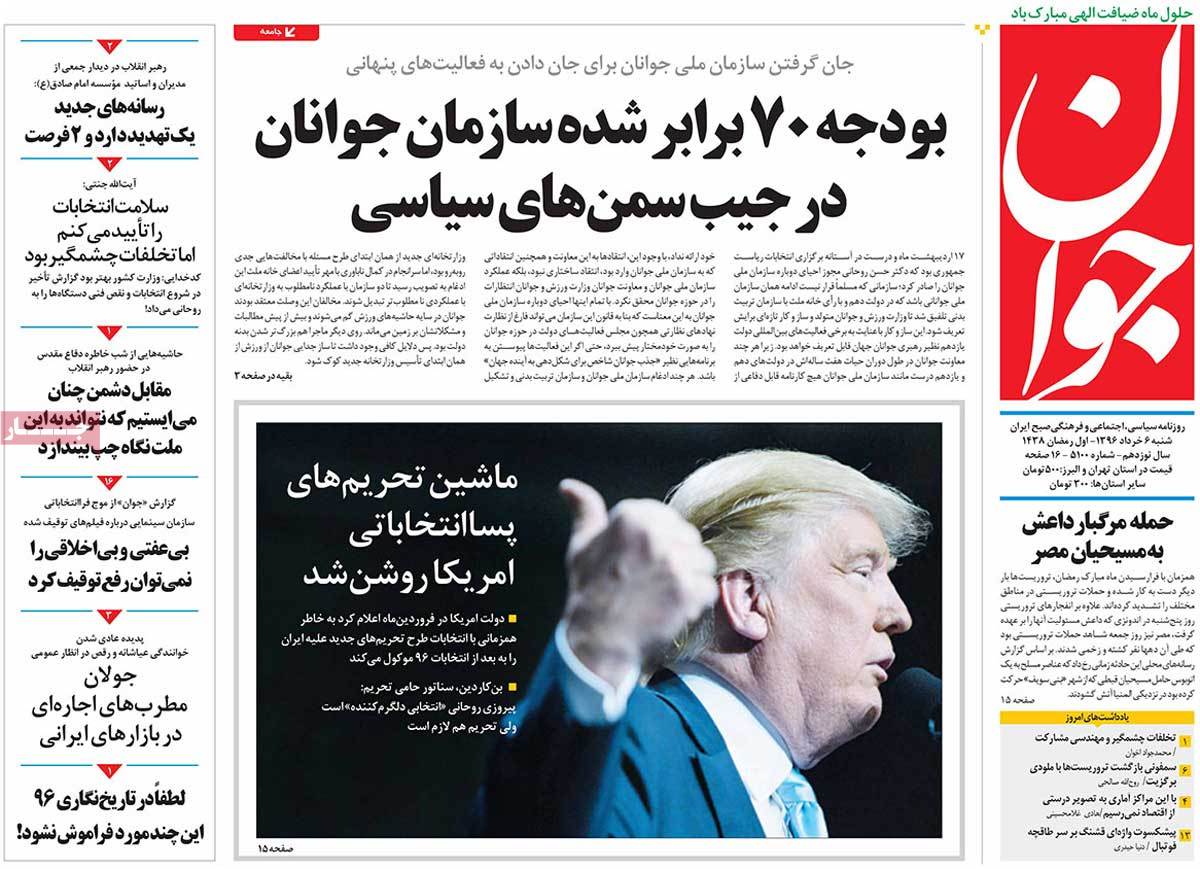 ---
Jomhouri Eslami:
1- Qatari Newspaper: Emirati, Saudi Media Are Rabid Dogs
2- Iranians Condemn Al Khalifa Regime's Crimes in Bahrain in Nationwide Rallies
3- American Figures Widely Criticize Trump's Behaviour, Stances in NATO Summit
4- Nuclear Deal Ends Shortage of Pharmaceuticals for Special Diseases: Iranian Official
---
Ka'enat:
1- Iran: Terrorist Attack on Egypt Was Sponsored Sectarianism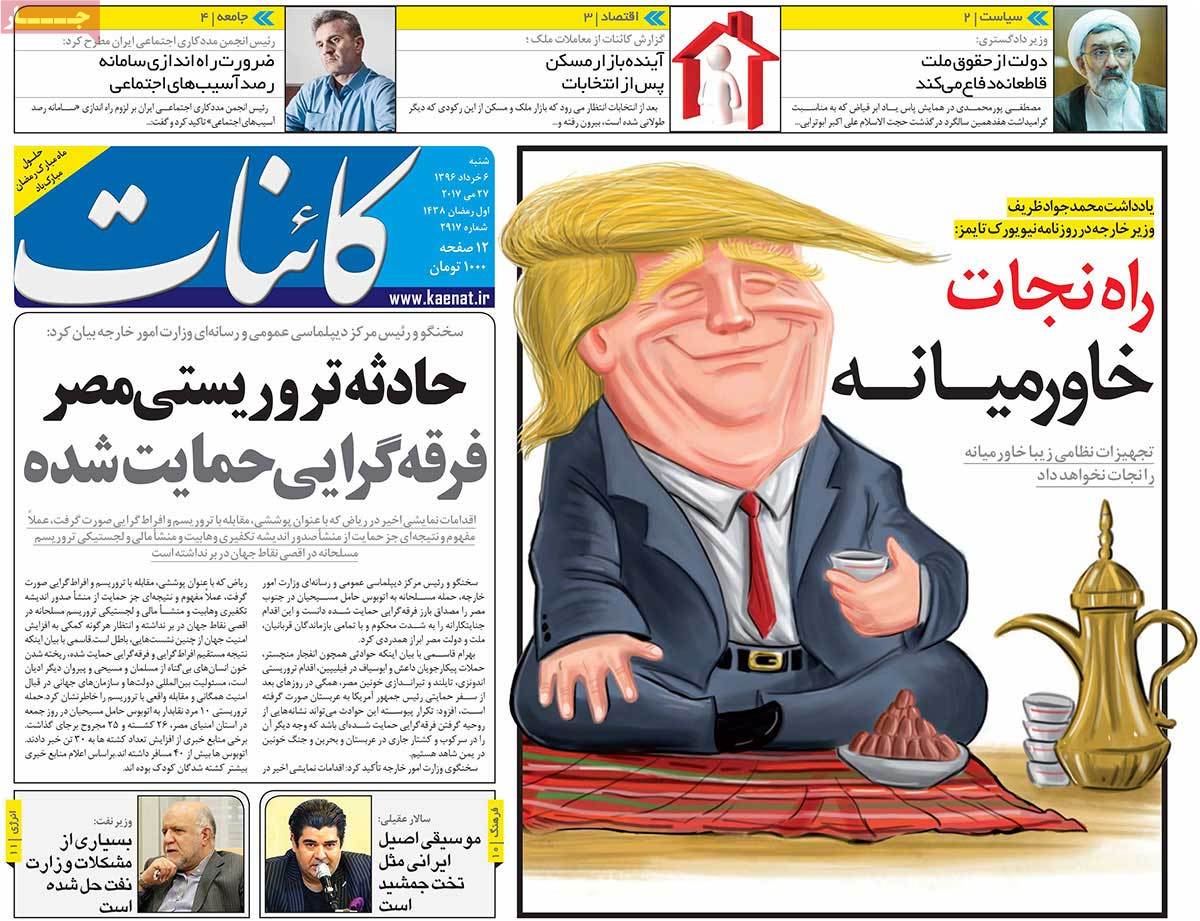 ---
Kayhan:
1- Relieved about Iran Elections, US Imposes Fresh Sanctions
2- Nasrallah: Saudi Citizens Mistake Ballot Boxes for Egg Boxes!
3- IRGC General: Third Underground Missile Production Factory Established in IRGC
---
Khorasan:
1- Iranian Maestro Hossein Alizadeh Wins Asia World Music Award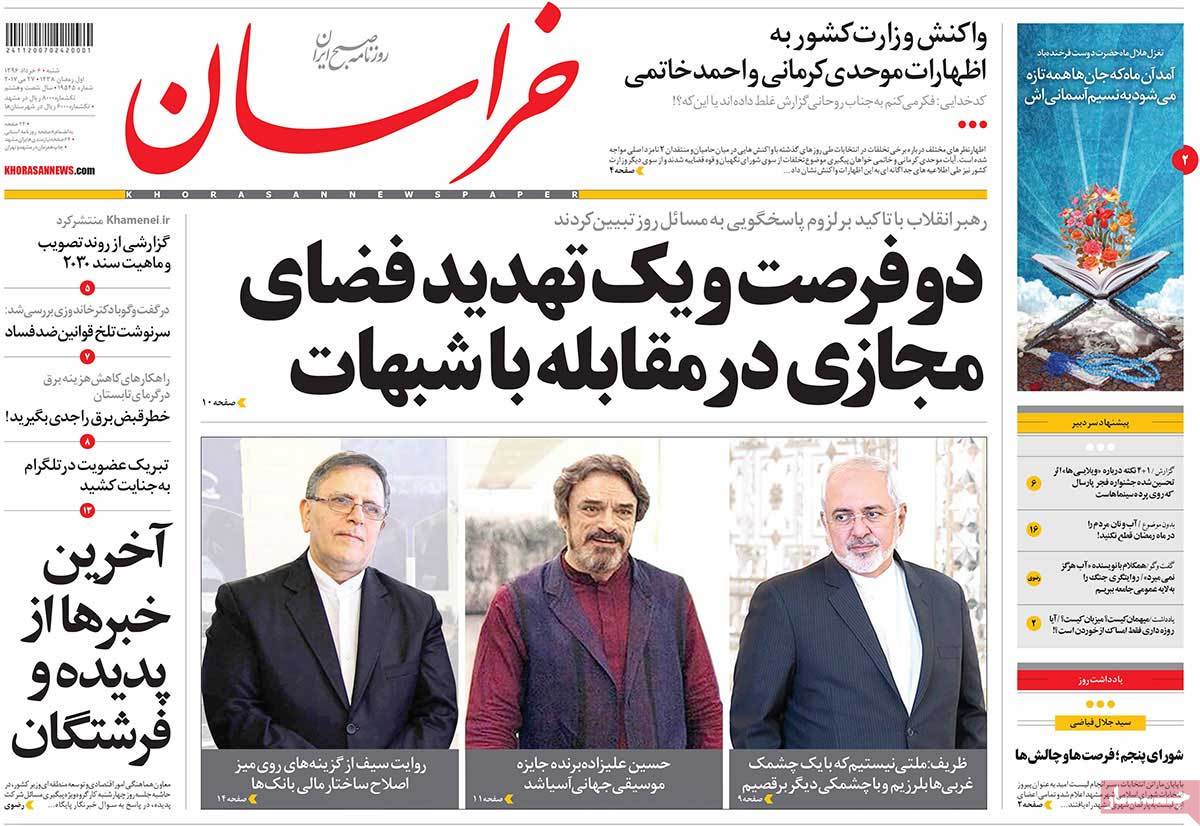 ---
Shahrvand:
1- Zarif Becomes World Ambassador for MS Disease
2- Indebted City: Next Tehran City Council to Face Difficult Financial Conditions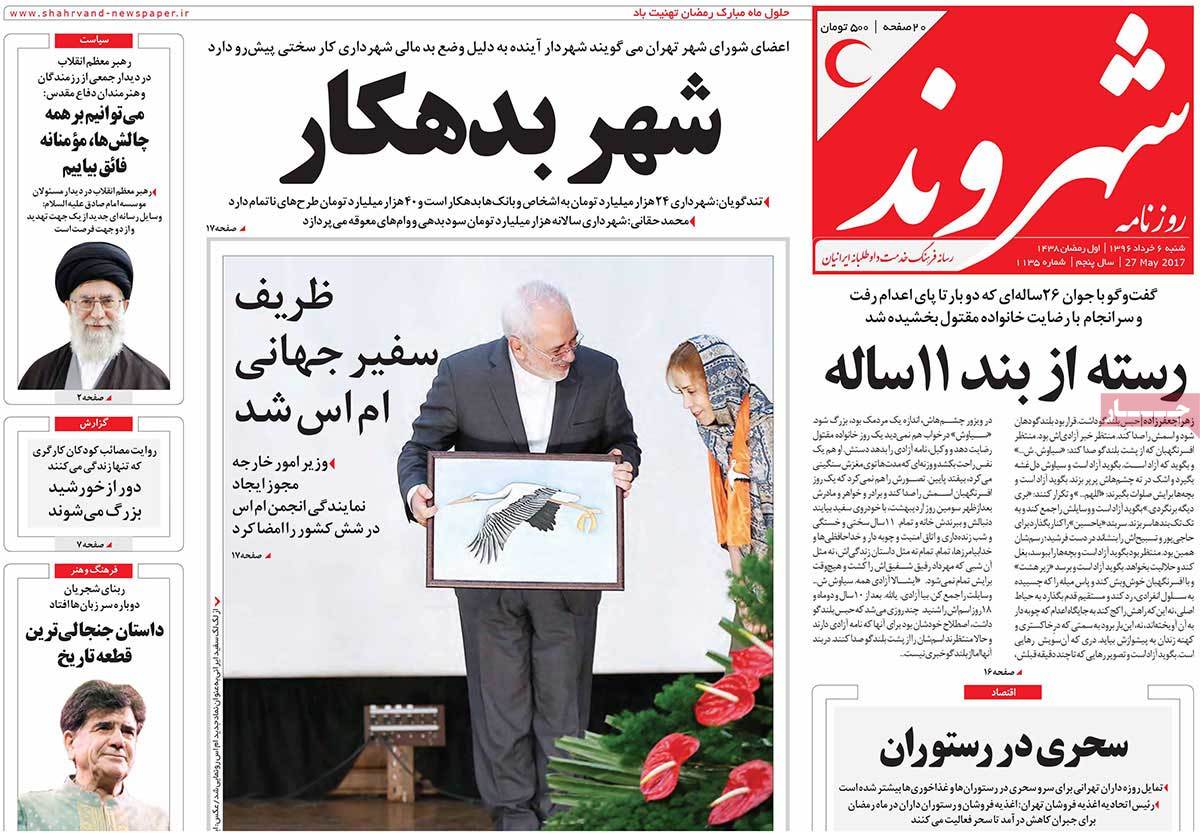 ---
Shargh:
1- Labour Minister: People Didn't Believe Rouhani's Rivals
2- Senior Sunni Cleric to Rouhani: Job Applicants Shouldn't Be Asked about Their Religion
3- How Rouhani Changed [Editorial]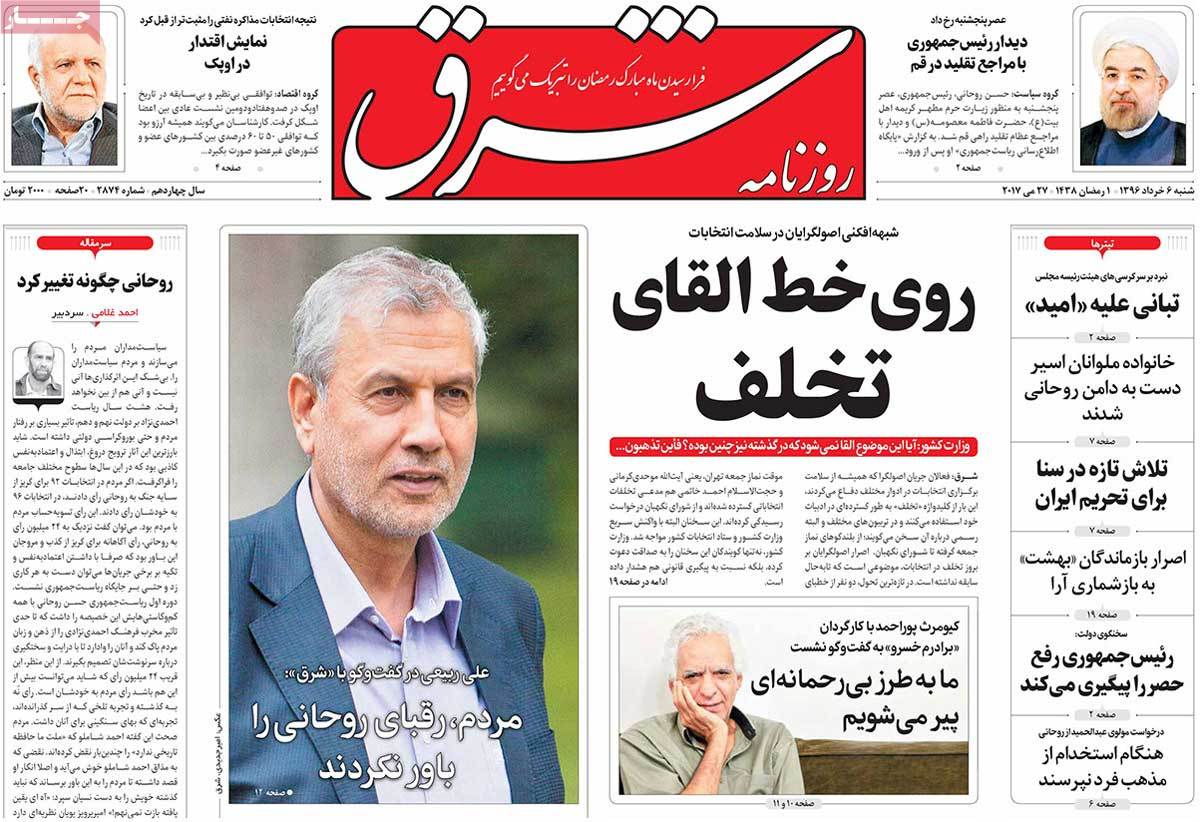 ---
Vatan-e Emrooz:
1- With Sanctions until 2021
US Treasury Secretary: Sanctions Really Work