Most Iranian newspapers covered the remarks made by the Leader of Iran's Islamic Revolution Ayatollah Seyyed Ali Khamenei in a Wednesday ceremony to mark the country's Sacred Defence in the imposed war against Iraq in the 1980s.
The 3rd of Khordad, May 24, which is the day when the Iranian city of Khorramshahr was recaptured from Iraqi forces in the 1980s, was also widely covered today.
The top story, however, was the Bahraini regime's crackdown on its citizens, particularly its move to arrest the top Shiite cleric Sheikh Isa Qassim.
The pro-Iran remarks made by the Emir of Qatar, which was later dismissed by Qatari government, and the reactions by Saudi Arabia and the UAE also received great coverage,
The above issues, as well as many more, are highlighted in the following headlines and top stories:
Abrar:
1- 3rd of Khordad Was Day of Iranian Nation's Victory over Great Global Plot: Rouhani
[Iran recaptured the city of Khorramshahr on 3rd of Khordad during the Iraqi imposed war in 1980s]
2- Trump Has Been Committed to Nuclear Deal So Far: Iranian Negotiator
3- Lieutenant Commander: IRGC Fighting against Poverty, Deprivation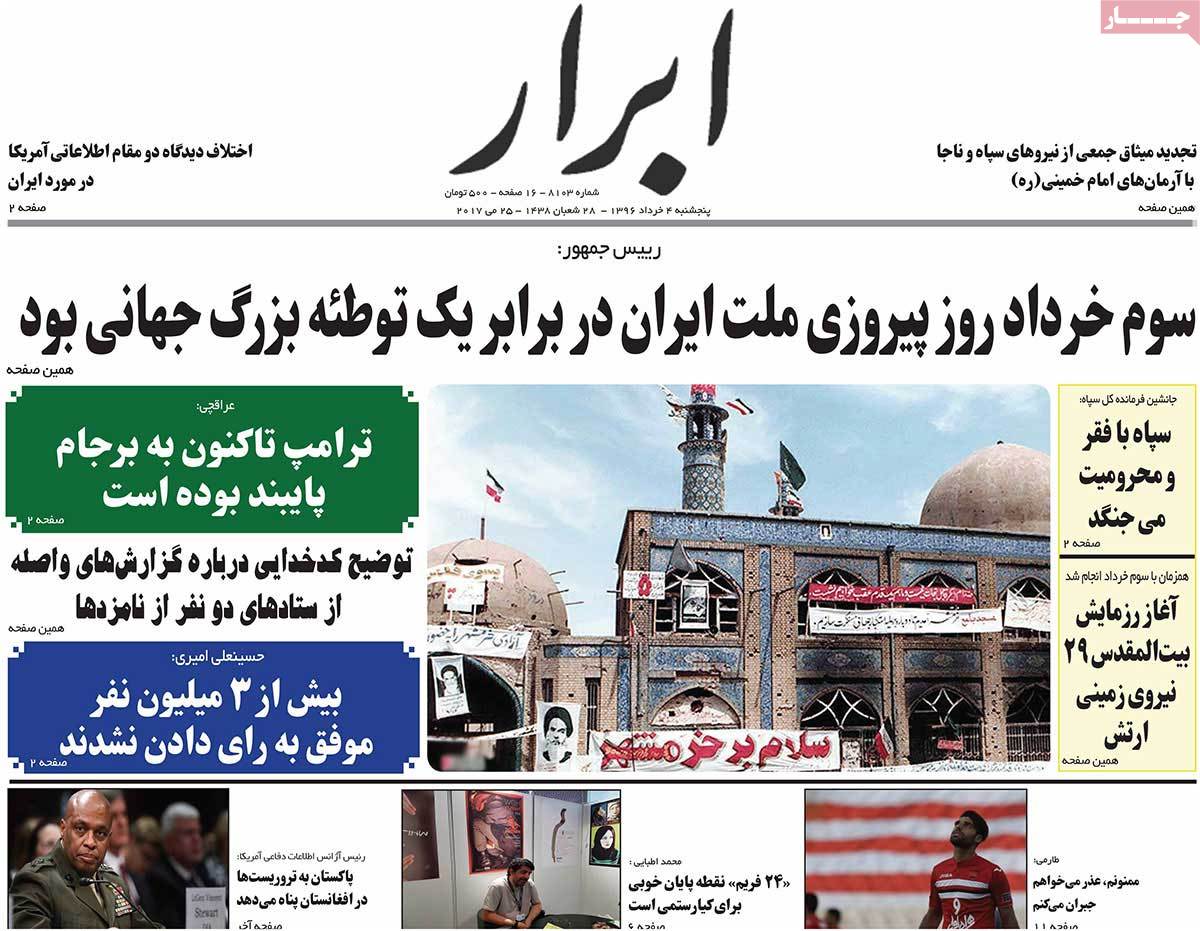 ---
Aftab-e Yazd:
1- Rouhani: I Hope One Day No One Chants Slogan of Death to Others
2- Rouhani's Gov't Needs a Mouthpiece
Experts Underline Need for Changing Government's Communication Team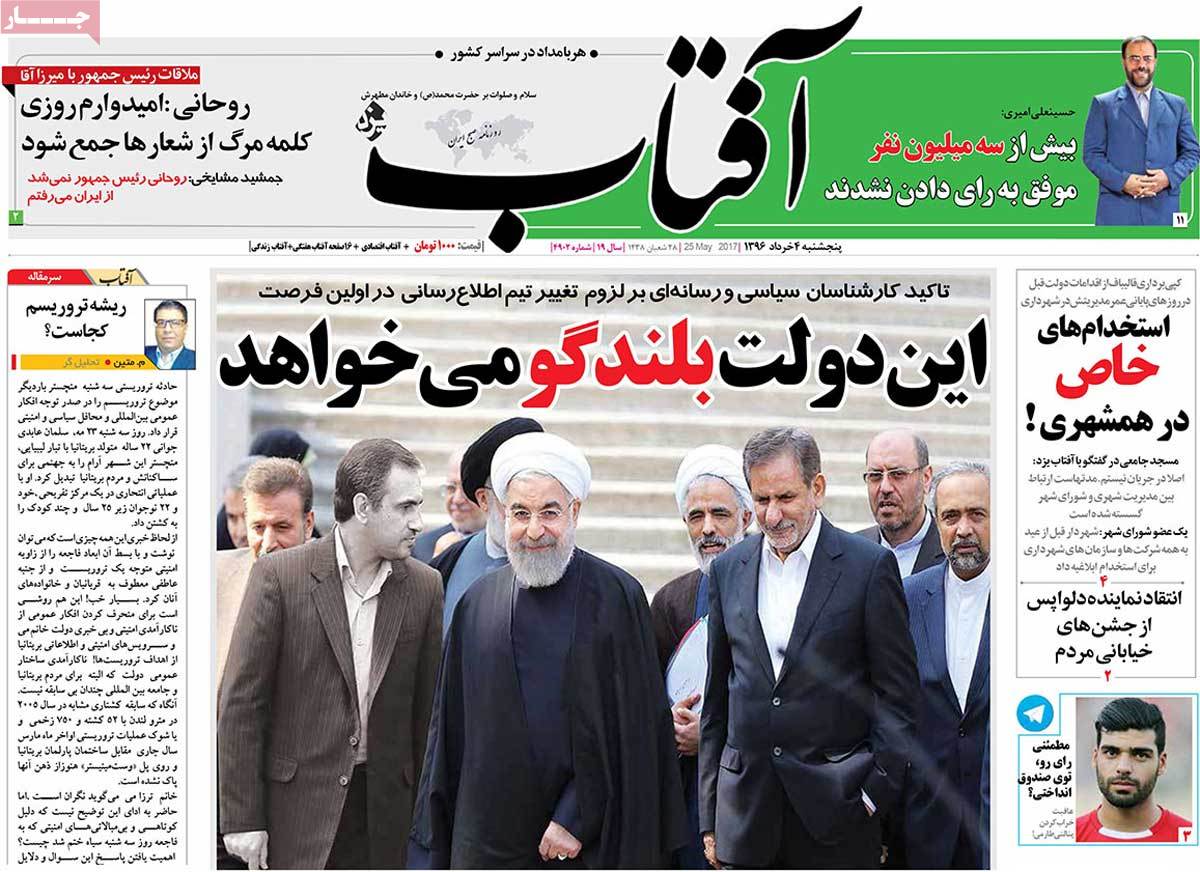 ---
Arman-e Emrooz:
1- Now We Should Attract Everyone: Rouhani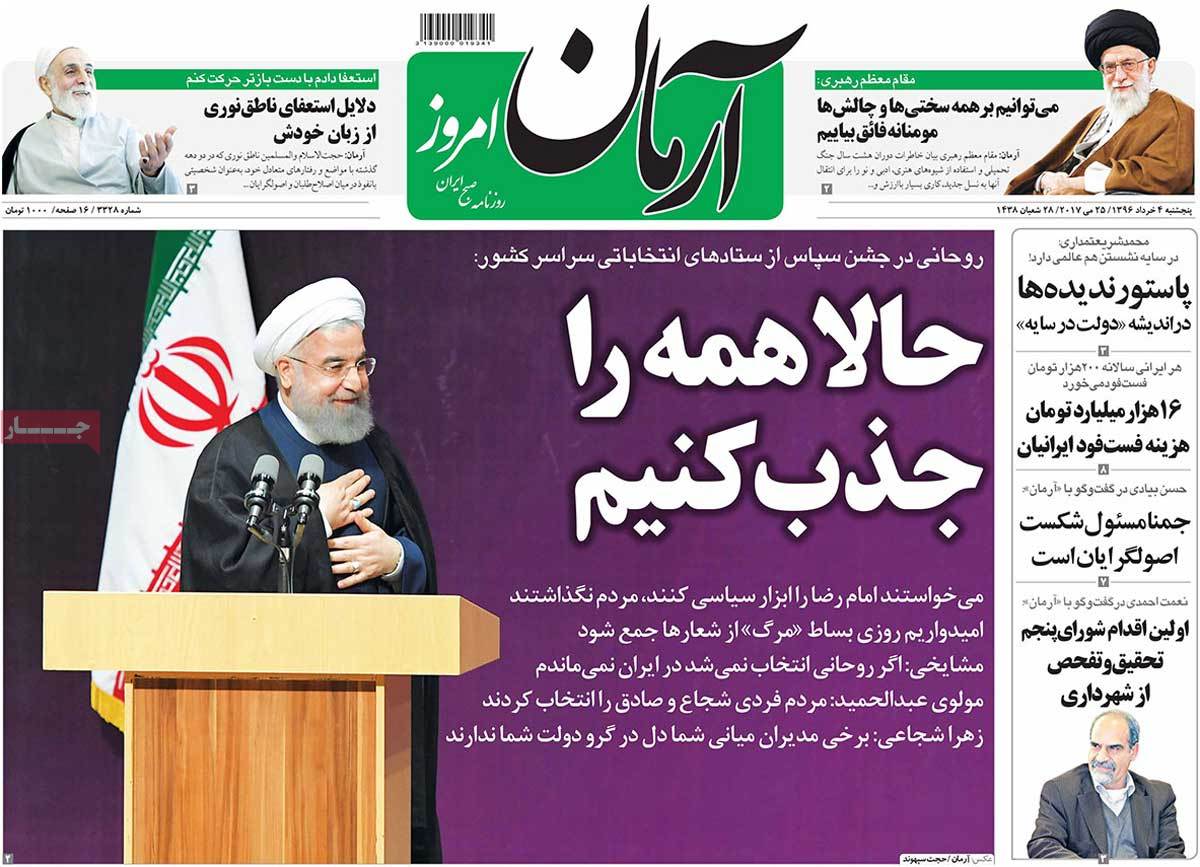 ---
Ebtekar:
1- Ceremony to Mark Iran's Sacred Defence Attended by Iran Leader
2- Nateq Noori: Resignation from Leader's Office Aimed at Maintaining Dignity of Office
[He resigned so that he could openly support Hassan Rouhani in Iran's presidential election]
3- ISIS on Top of World Security Threats: Iran's Shamkhani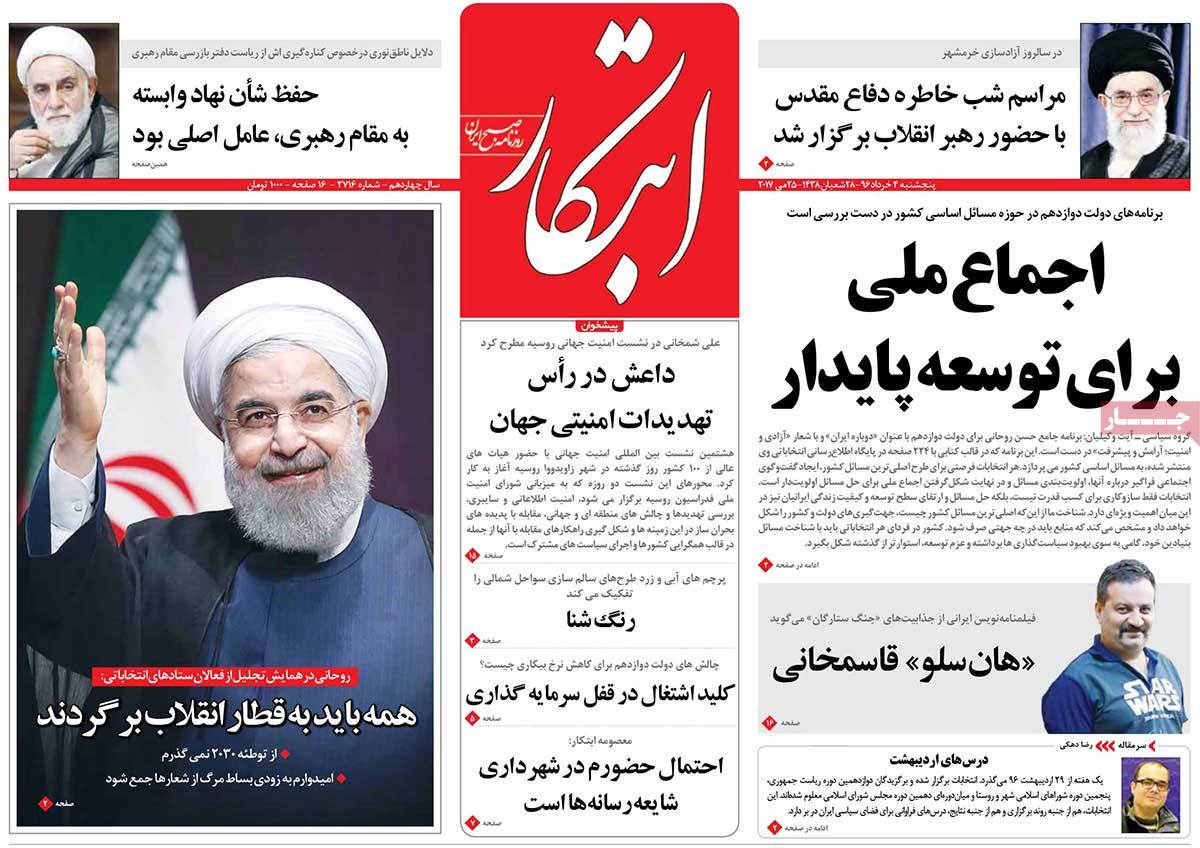 ---
Etemad:
1- Mirsalim's Letter to Rouhani: Congratulations! I'm Ready for Cooperation
2- Shamkhani: A Terrorist Organization Cannot Survive without Foreign Support
3- Guardian Council Secretary: I Approve of Election's Health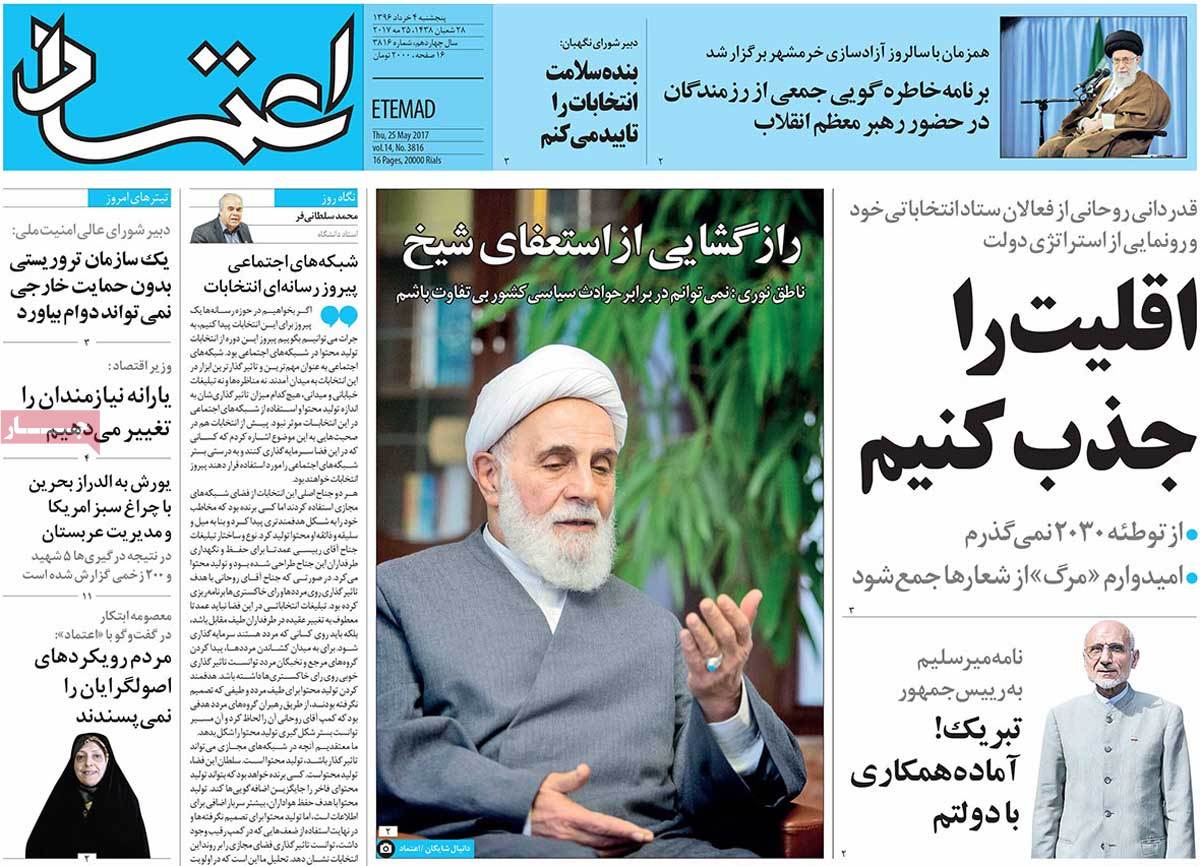 ---
Ettela'at:
1- We Can Overcome All Difficulties, Challenges with Faith: Iran Leader
2- Nateq Noori: Iran Needs All Forces, Tastes Together
3- 6 Killed in Al Khalifa's Brutal Attack against Sheikh Qassim's Fans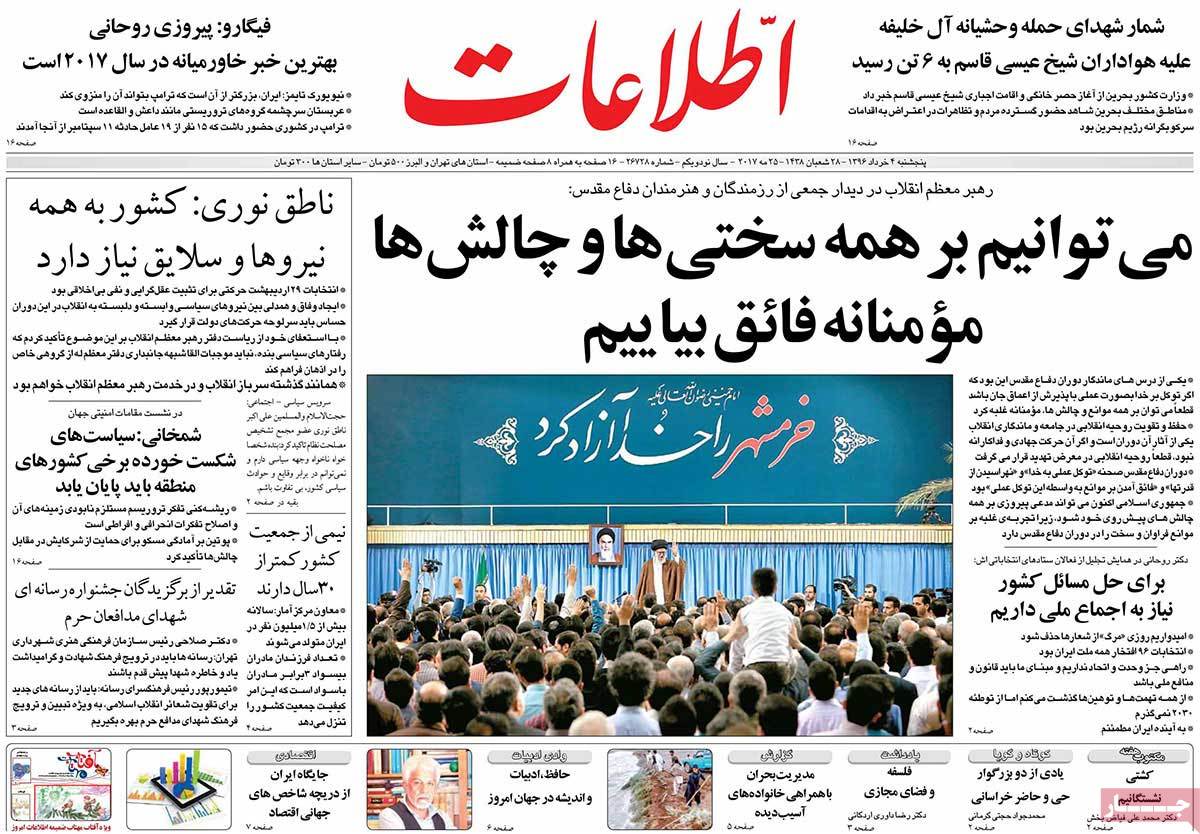 ---
Haft-e Sobh:
1- Storm of Arab Emire
Pro-Iran Remarks Attributed to Qatari Emir Outrage Saudis, Emiratis
While Qatar Denies Reports, Angry Arabs Don't Accept
---
Iran:
1- Rouhani: Iran Will Be Governed Based on [ideas of] Majority of Voters
2- Al Khalifa Puts Leader of Bahraini Revolutionaries under House Arrest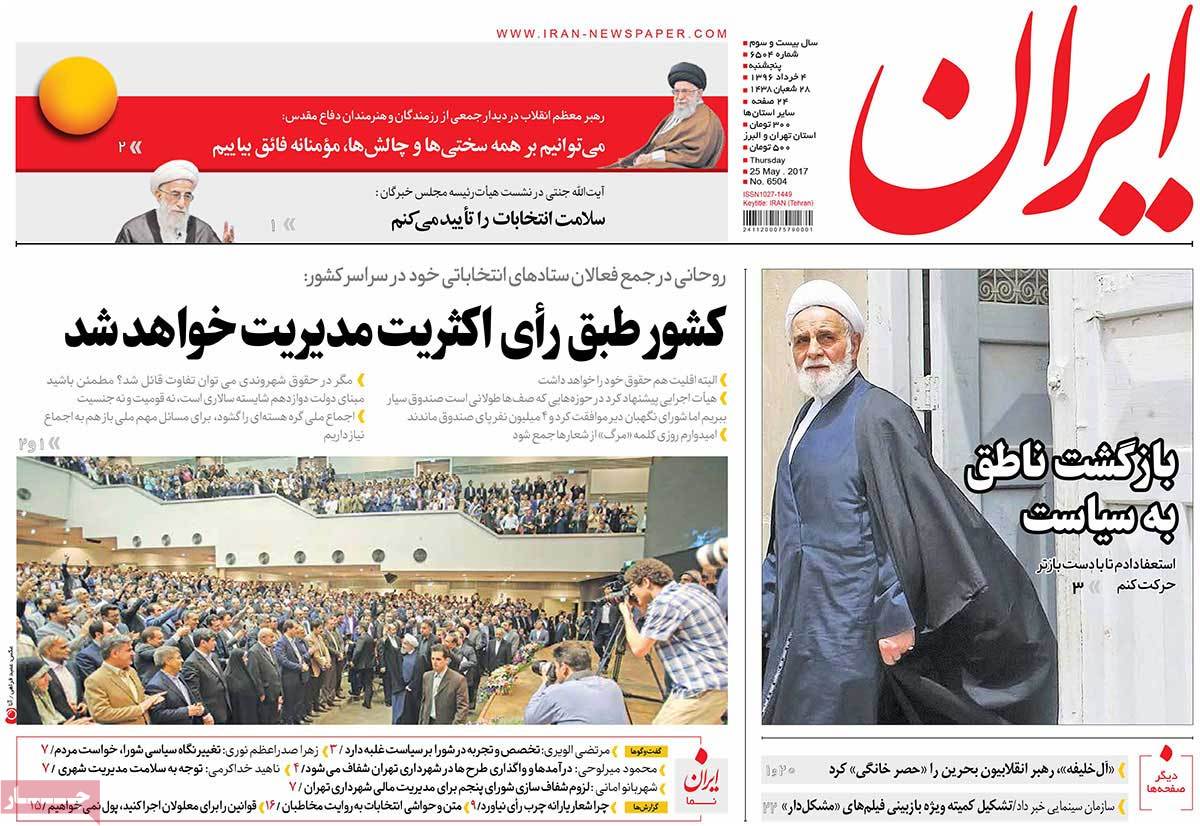 ---
Javan:
1- Riyadh's Bubble Burst by Qatar's Bite
Gap in Arab Front 2 Days after Riyadh Summit
2- Lake Urmia's Water to Be Supplied by 36km Tunnel Built by IRGC
3- Britain Looks like Barracks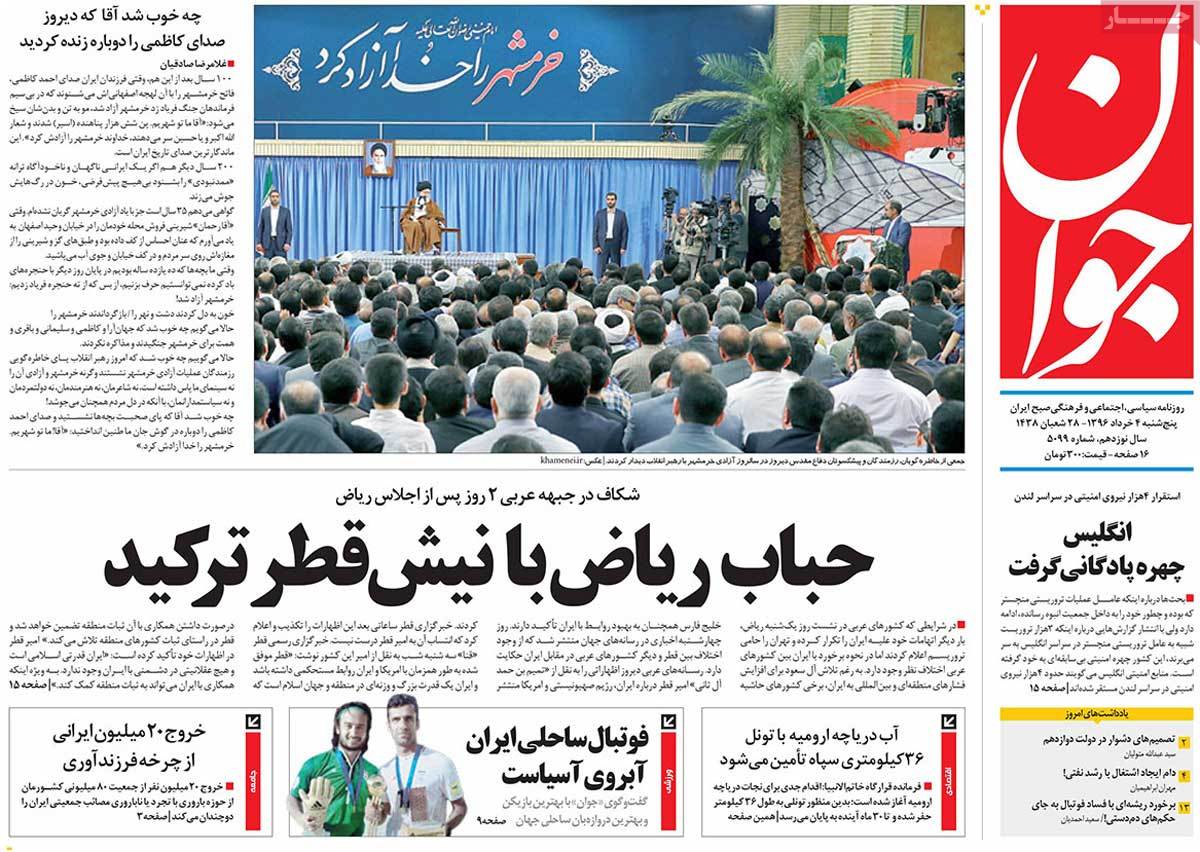 ---
Jomhouri Eslami:
1- Iran Is So Great that Trump Cannot Isolate it: New York Times
2- Biggest Post-JCPOA Deal for Building Oil Industry Goods Signed
3- Public Mourning Declared in Bahrain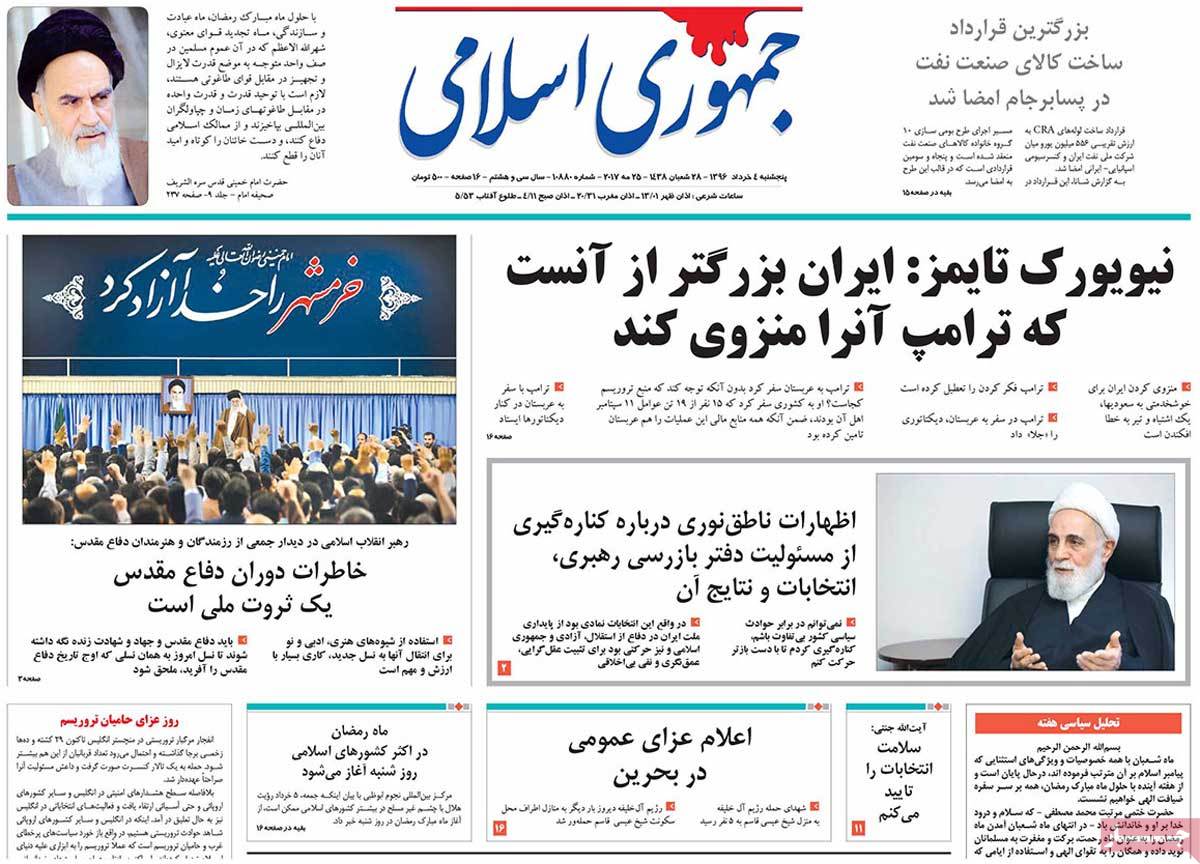 ---
Kayhan:
1- Government's Electoral Offences
Protesters' Decency Shouldn't Stop Investigation
2- World Reactions to Arrest off Sheikh Isa Qassim
Muslim World Condemns, Al Saud Praises!
3- Relieved from Elections, Now Foreign Ministry Once Again Justifies Sanctions!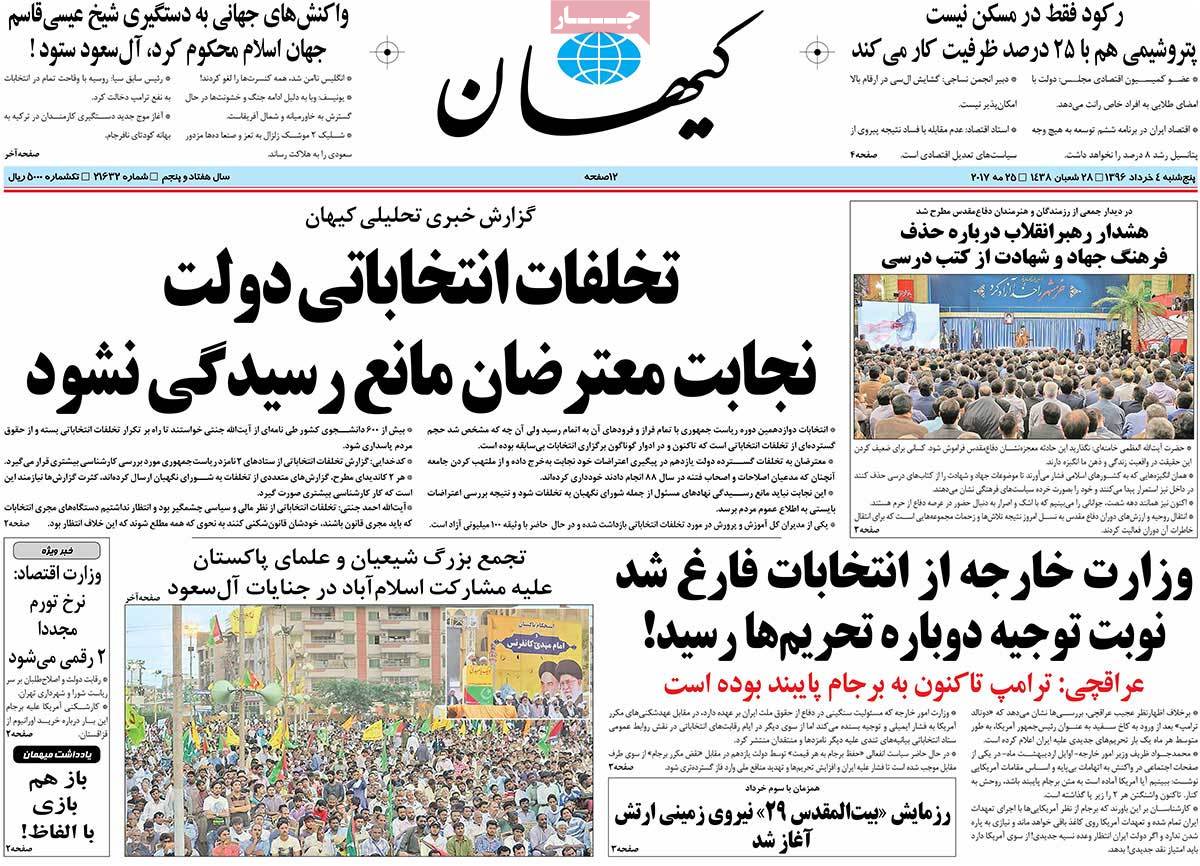 ---
Payam-e Zaman:
1- Iran to Give Crushing Response to Any Military Threat: Navy Commander
2- Iran's Armed Forces Are So Prepared that Can Crush Any Threat by Anyone
3- Enemies Think Our Power Only Stems from Missiles: Rouhani
4- OPEC, Non-OPEC Members Agree on Extension of Deal: Oil Minister
---
Resalat:
1- Features of World's First Water-Fuelled Car Developed in Iran
2- Sheikh Isa Qassim Should Be Released Unconditionally: Senior Iranian Cleric
3- Interior Minister: One Million Voters Didn't Manage to Vote
---
Siasat-e Rooz:
1- Military Attack on Diraz Houses: Al Khalifa Starts New Round of Crackdown
2- Iran's Army Successfully Test New Equipment
3- We Have Managed to Disappoint Enemies Today: Iranian General