The top story in all Iranian newspapers today was Mohammad Baqer Qalibaf's decision to drop out of presidential race in favour of his fellow right-winger Ebrahim Raisi.
The move was widely hailed by conservative media, who praised Qalibaf for the revolutionary decision. Reformist and pro-government papers also called Qalibaf a proxy candidate who just wasted people's time and public funds for useless campaign.
A gathering in Tehran attended by Iranian ministers of foreign affairs, culture, and oil, and a number of Iranian artists was also a top story today. Foreign Minister Mohammad Javad Zarif's remarks were particularly highlighted today.
The above issues, as well as many more, are highlighted in the following headlines and top stories:
19 Dey:
1- Polarized Competition between Rouhani, Raisi Begins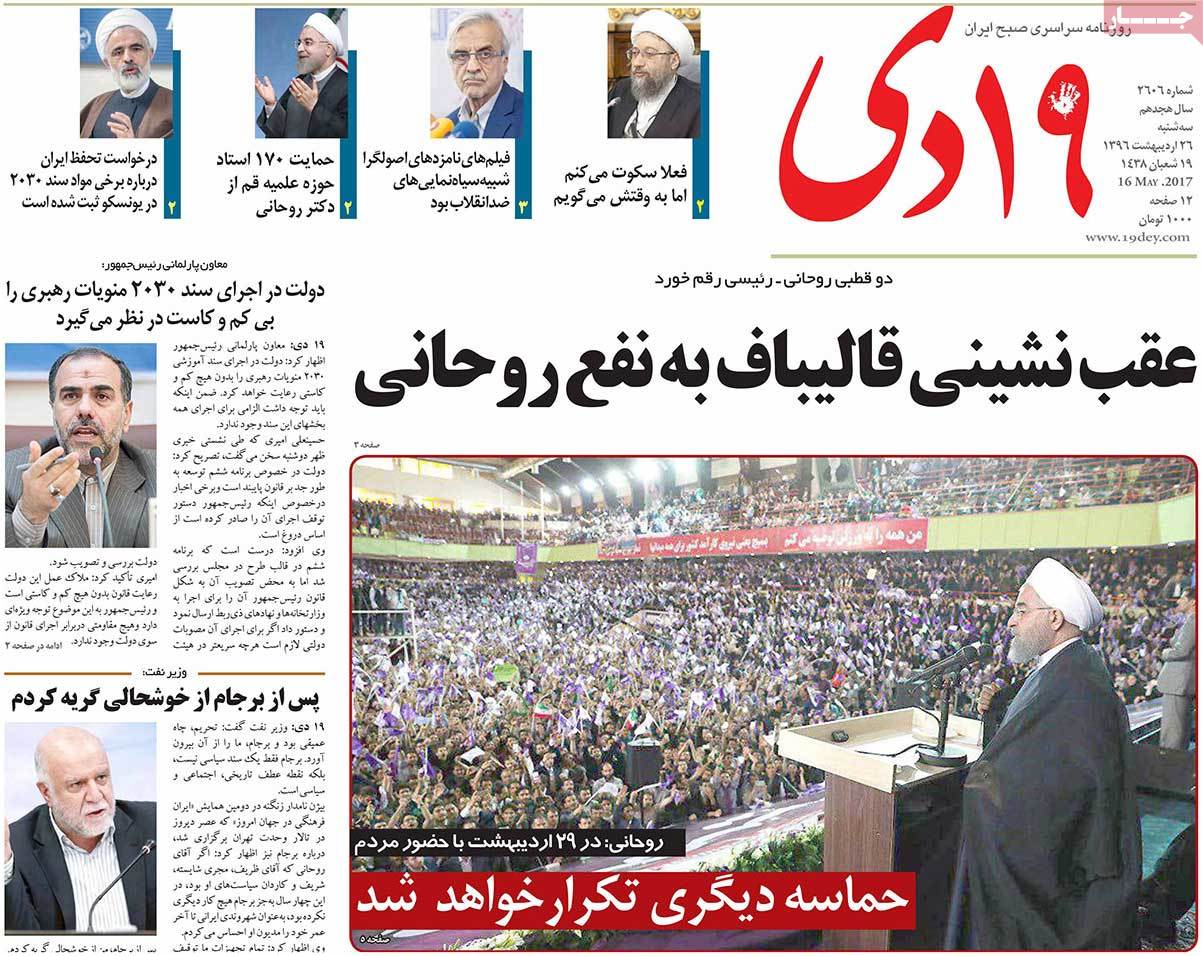 ---
Abrar:
1- Qalibaf Withdraws in Favour of Raisi
2- Foreign Ministry Spokesman: We're Not after Tension with Saudi Arabia
3- Al Monitor: Iran Sanctions May Be Waived ahead of Elections
4- Moqtada Sadr Calls for Serious Iran-Saudi Talks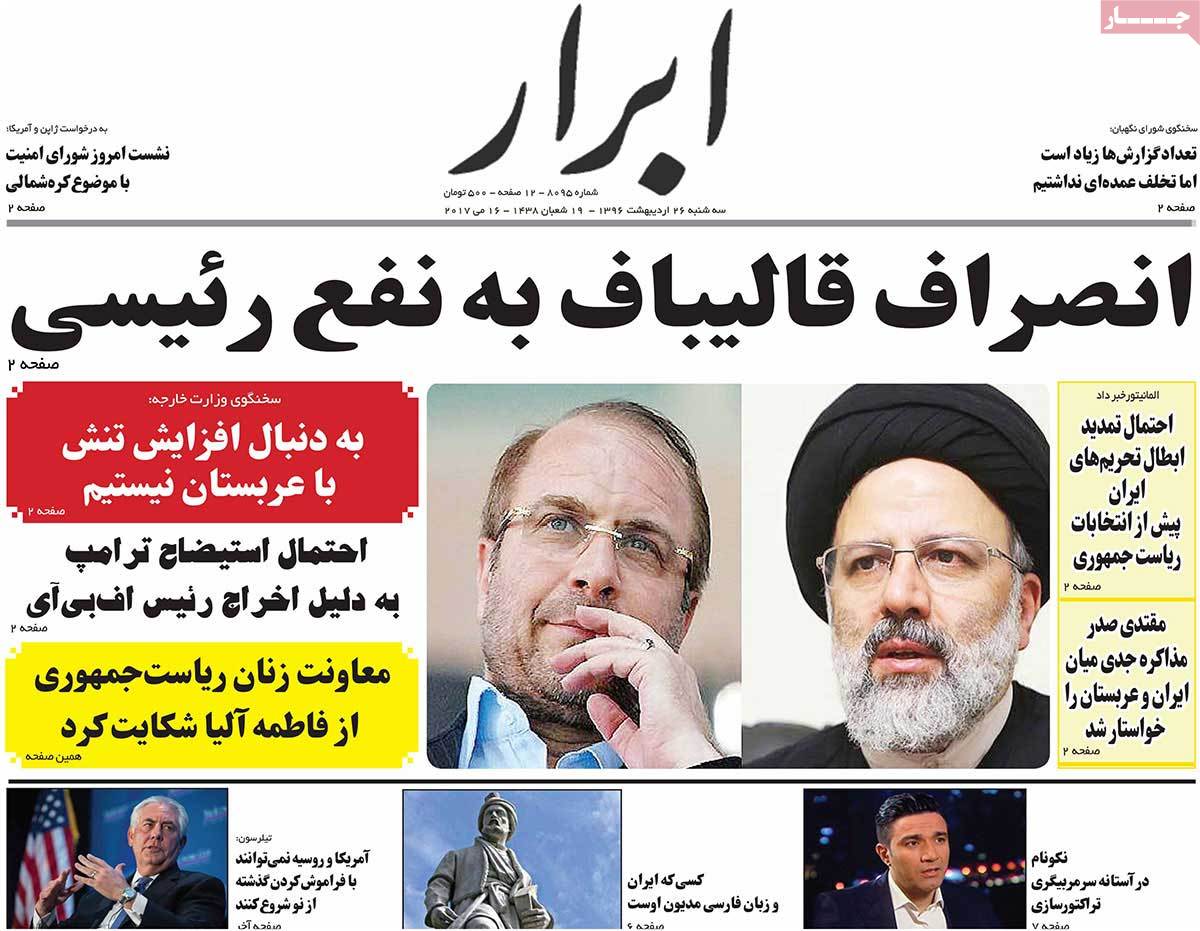 ---
Abrar-e Eqtesadi:
1- Oil Price Decreases in Global Market: Extension of Deal to Cut Oil Output
2- Iran Starts Construction of Ocean Liners after Signing Trilateral Deal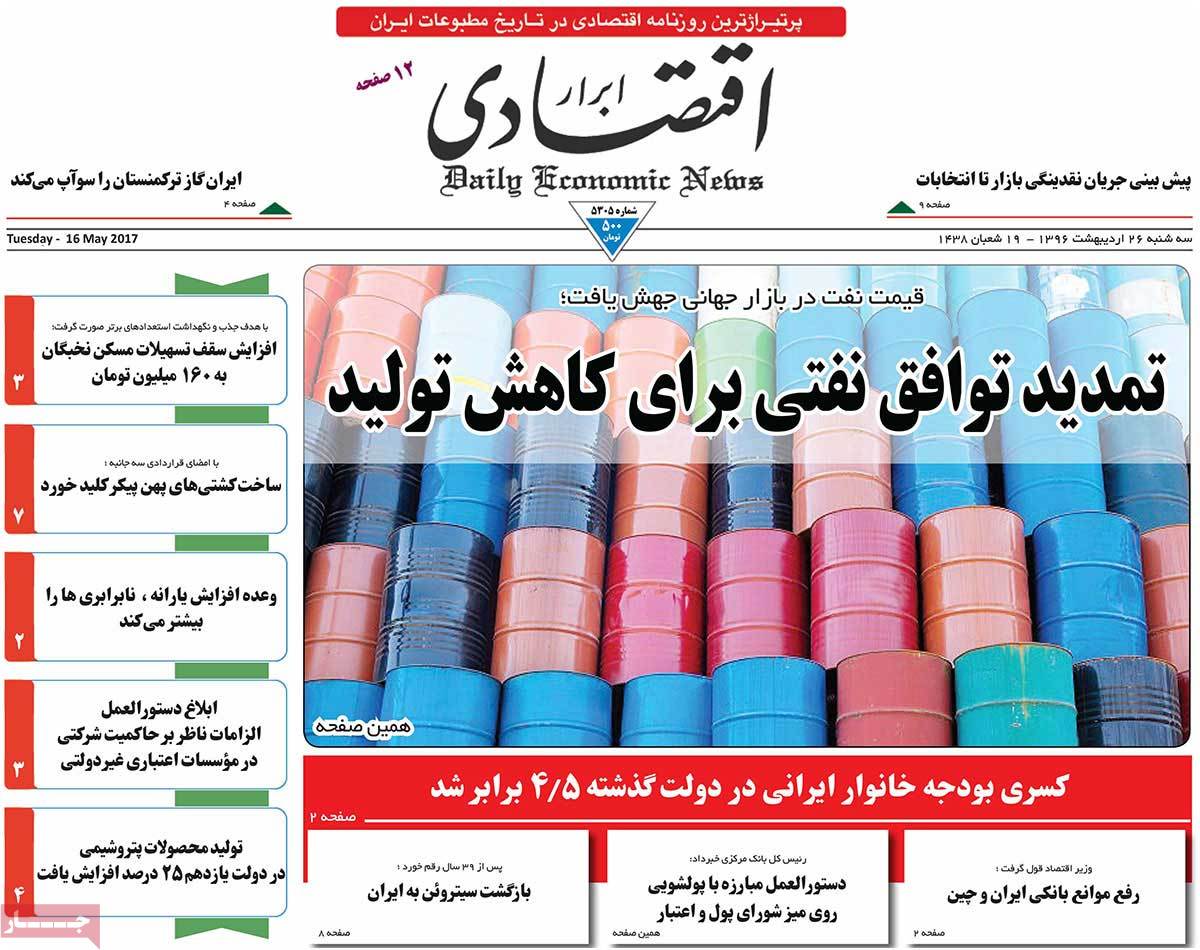 ---
Afkar:
1- Victory is Close: People of Isfahan Rise after Historic Alliance of Qalibaf, Raisi
2- Raisi: I'll Use Qalibaf's Potentials in Management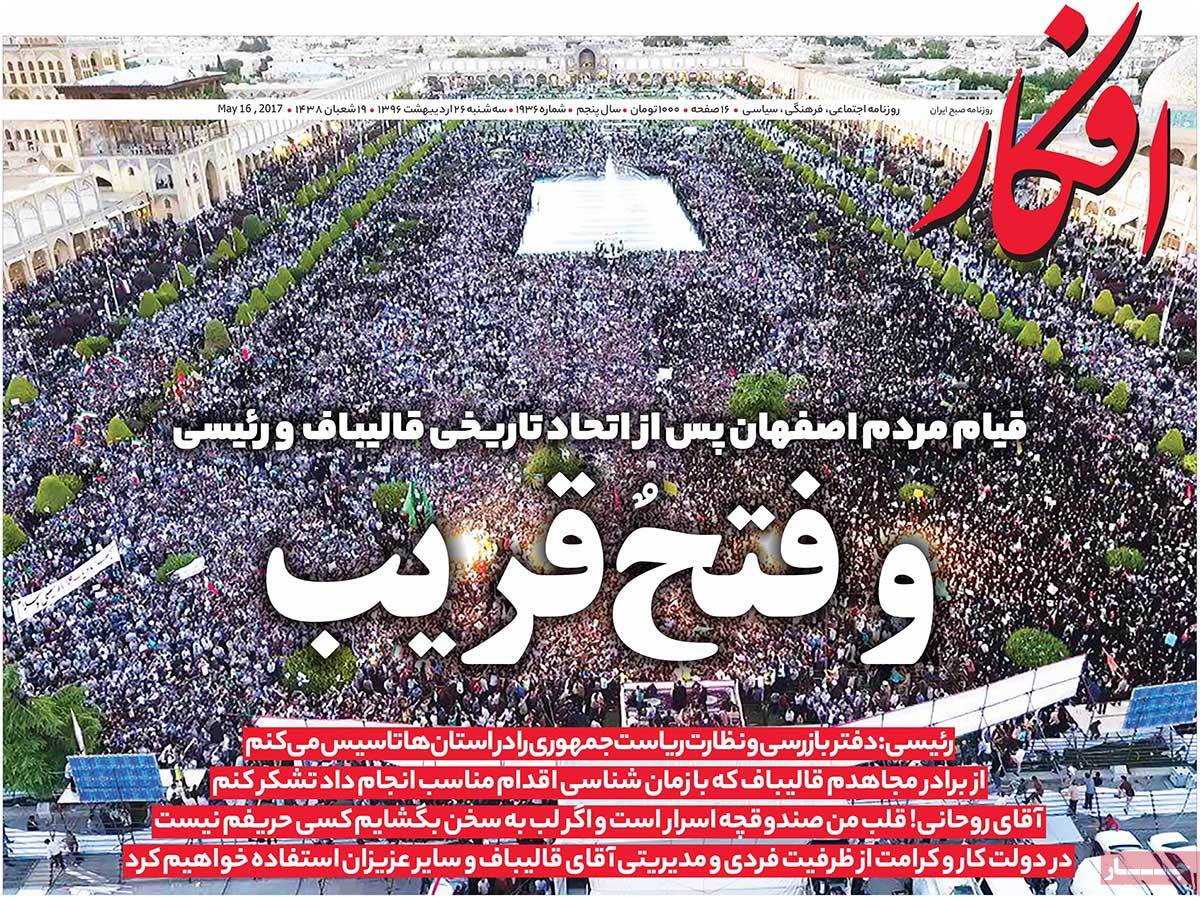 ---
Aftab-e Yazd:
1- Qalibaf Withdraws in Favour of Raisi, to Benefit of Rouhani
2- Citroen Returns to Iran after 29 Years
3- Suspicious Withdrawal [Editorial]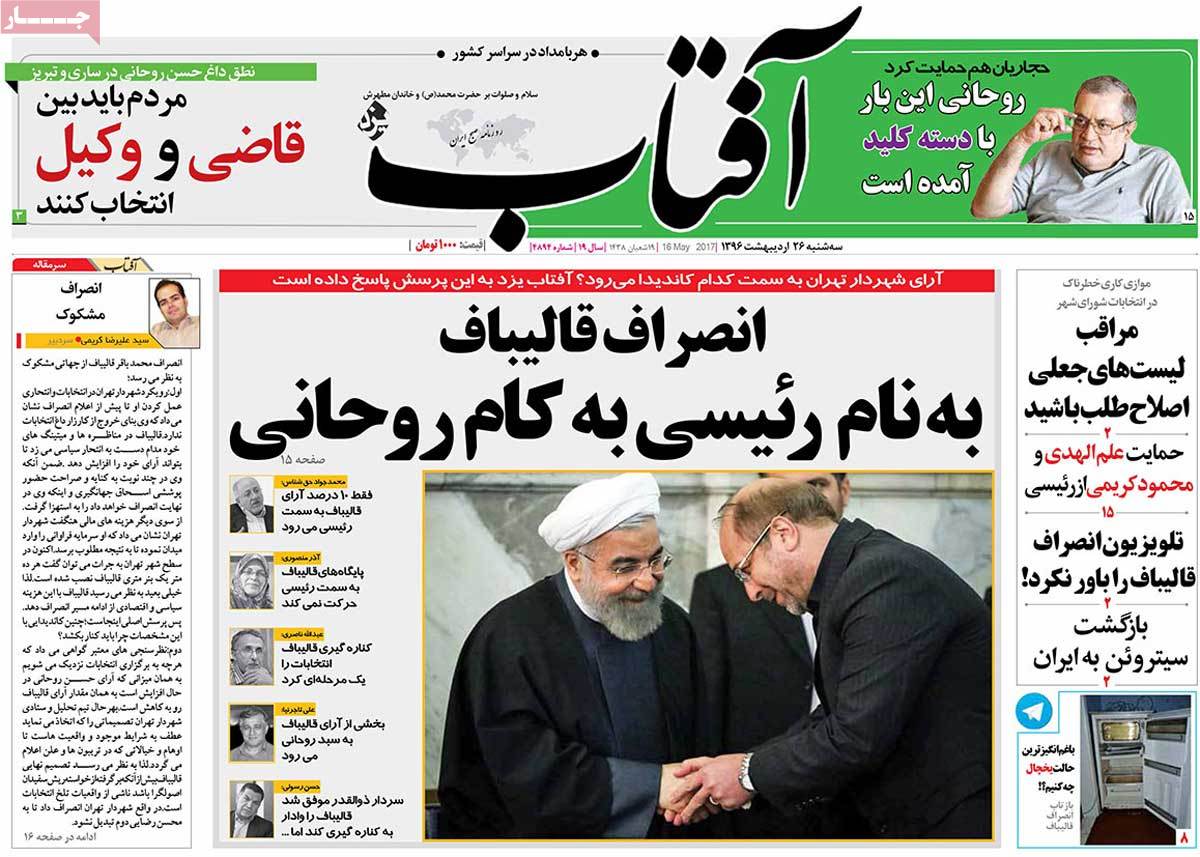 ---
Arman-e Emrooz:
1- Rouhani: People to Repeat What They Did in 1997 Elections [when Khatami won]
2- Raisi's Proxy Candidate Qalibaf Drops out of Presidential Race
2- Grey Votes to Be Cast for Rouhani
---
Donya-ye Eqtesad:
1- China Poised to Lead World Business: Beijing Starts Silk Road Diplomacy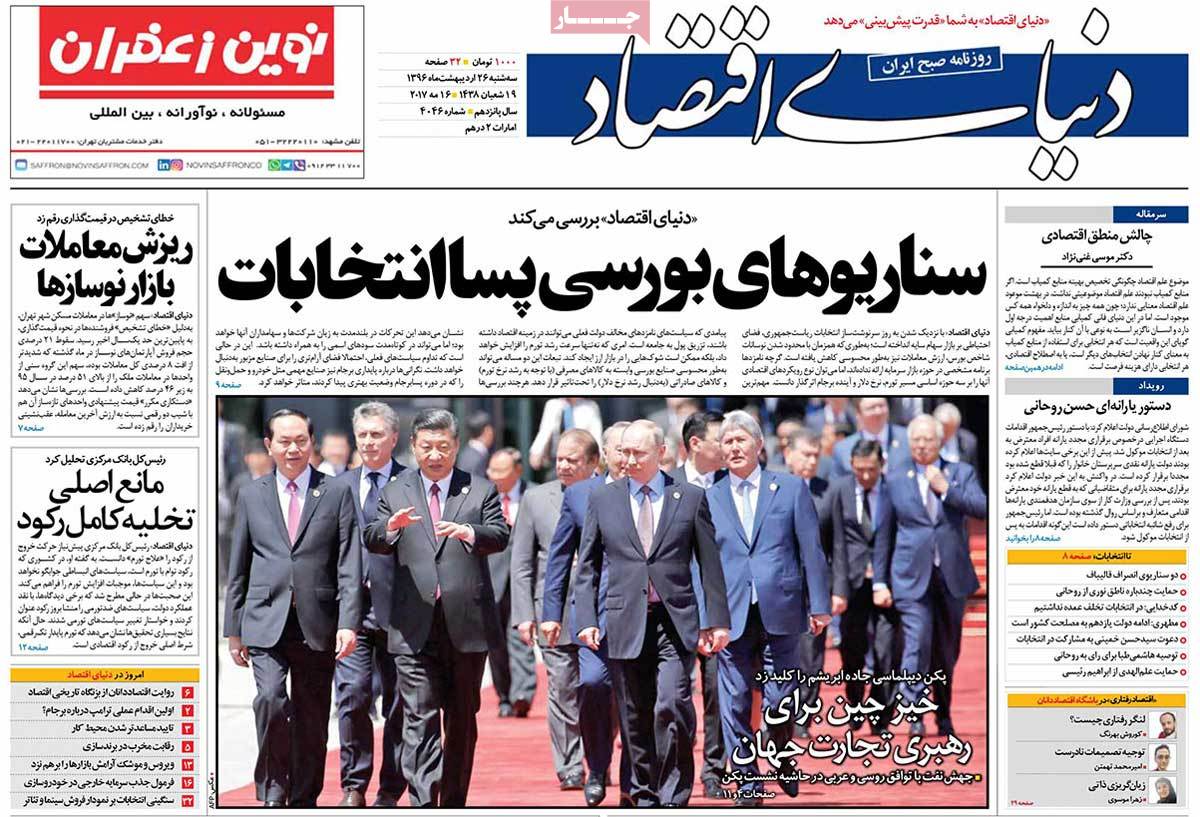 ---
Ebtekar:
1- Vice-Speaker of Parliament: Rouhani is Best Candidate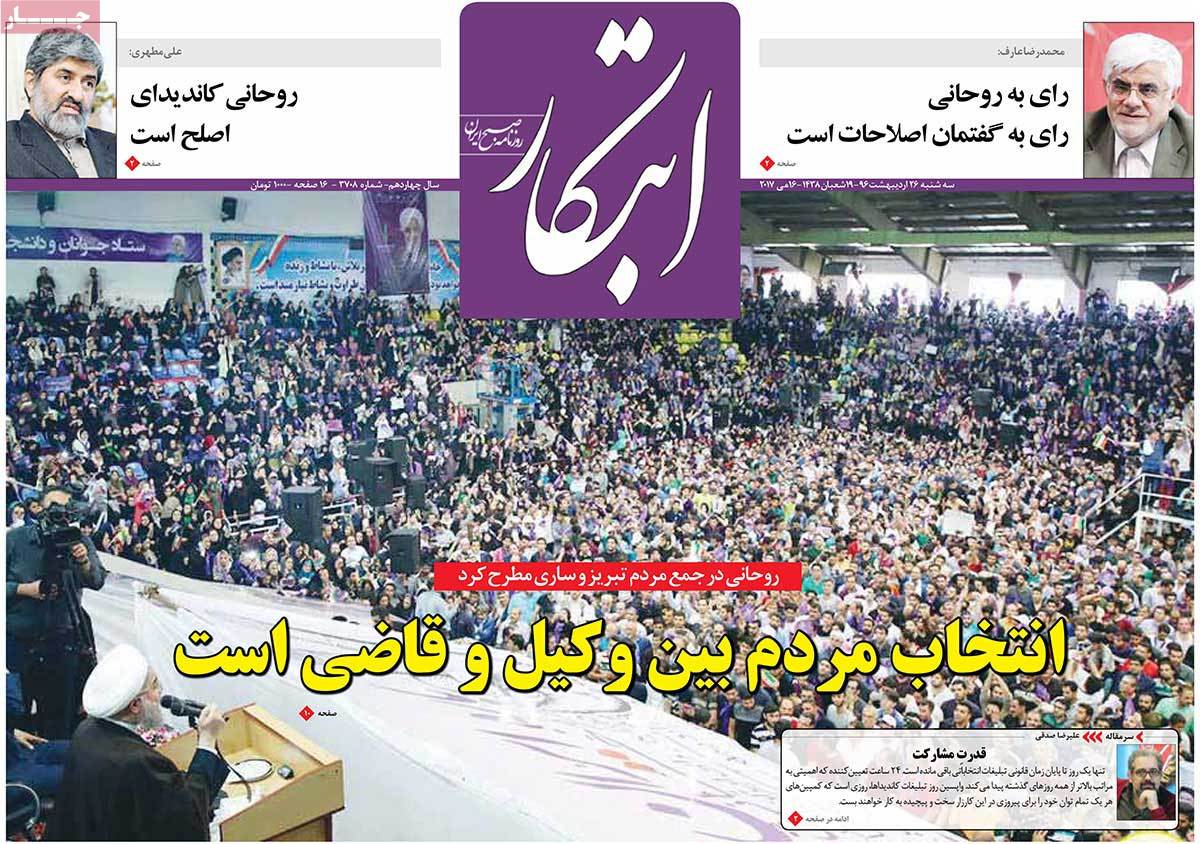 ---
Etemad:
1- He Dropped out of Race after One Month of Campaign!
Qalibaf Had Run for President despite Earlier Claim that He Wouldn't Run
He Finally Withdrew in Spite of His Claim that He Won't Drop out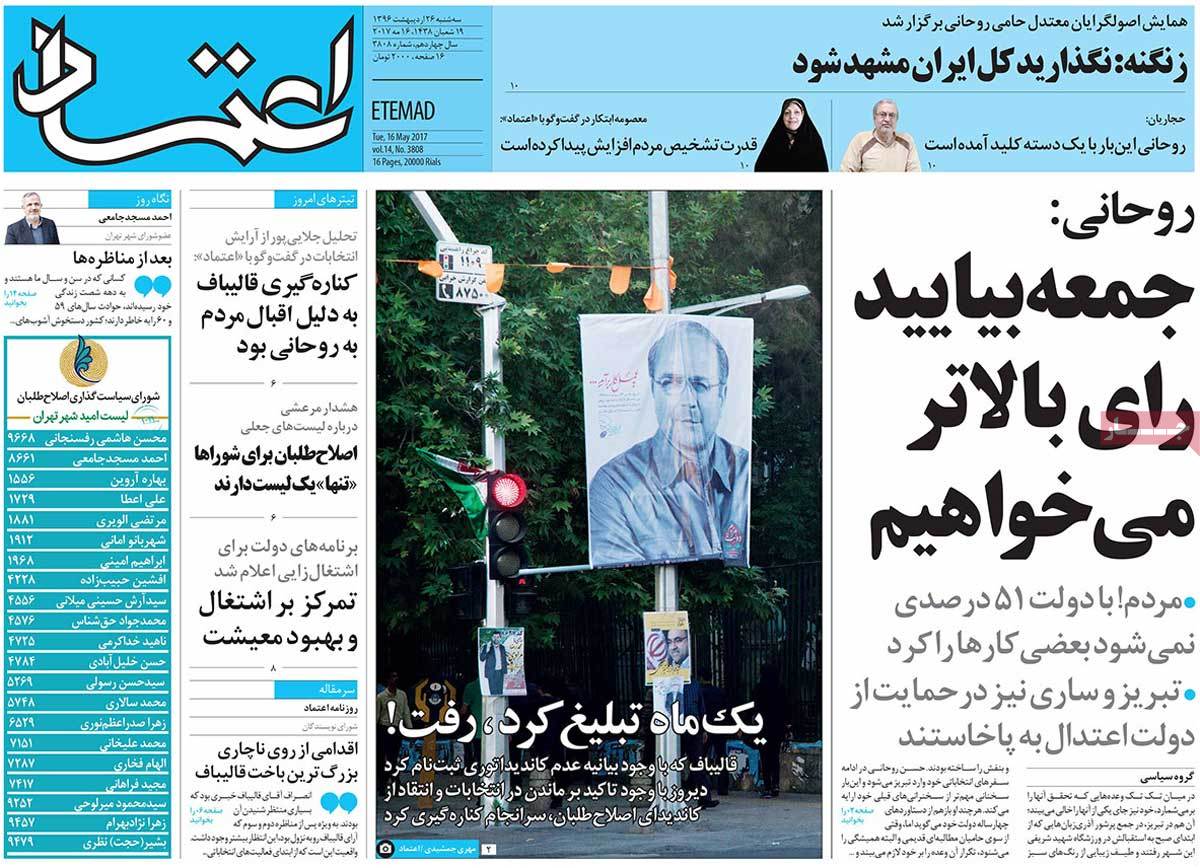 ---
Ettela'at:
1- Asia's Most Equipped Centre of Ion Therapy to Be Constructed in Iran's Karaj
2- US Jet Fighters Attack Bus Carrying Women in Syria's Raqqa; 22 Killed
3- Zarif: Breaking Wall of Iranophobia Needs Culture Professionals' Help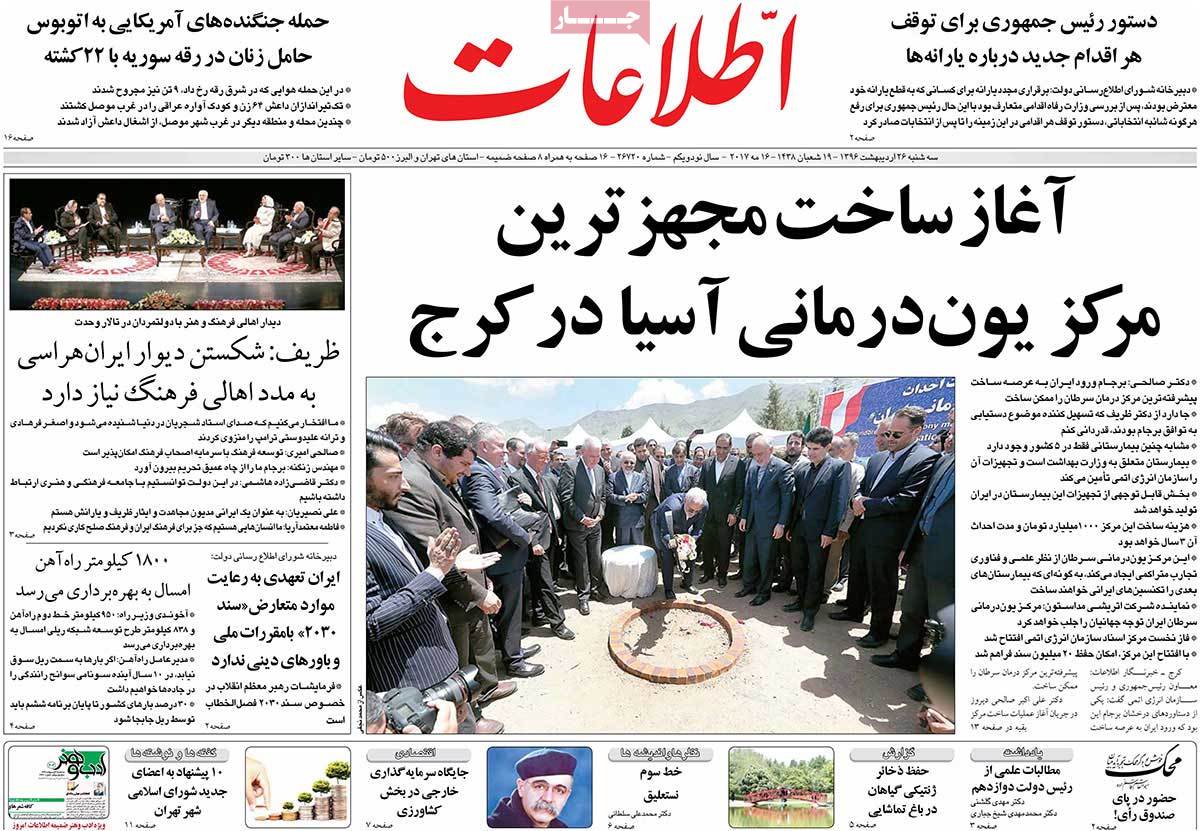 ---
Hemayat:
1- Judiciary Chief: We'll Strongly Stand against any Move to Disrupt National Security
---
Iran:
1- Lifting Non-Nuclear Sanctions is Complicated, but Possible: Iranian Spokesman
---
Javan:
1- Qalibaf Once Again Shows His Jihadi [Selfless] Attitudes
2- Isfahan's Naqsh-e Jahan Square Becomes Ballot Box
People Excited about Raisi's Visit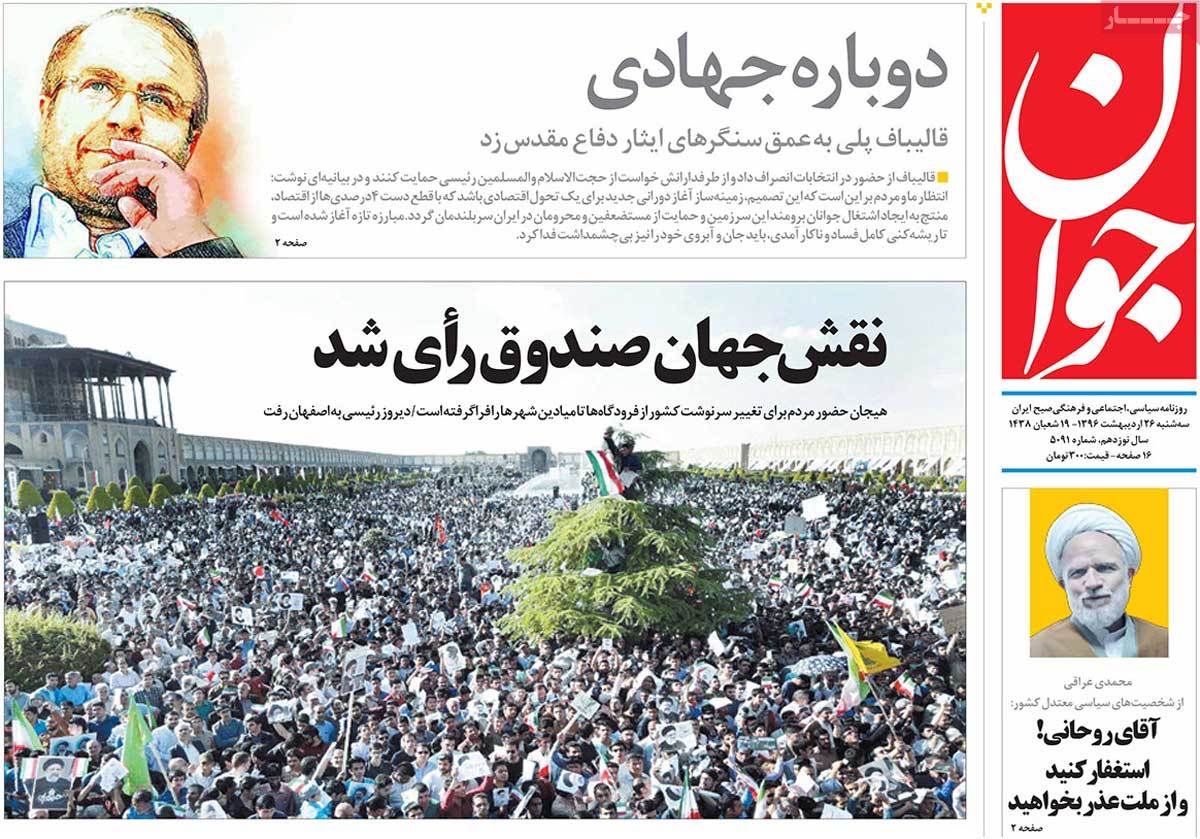 ---
Jomhouri Eslami:
1- Oil Minister: We'll Be Indebted to Zarif for Nuclear Deal until End of Our Lives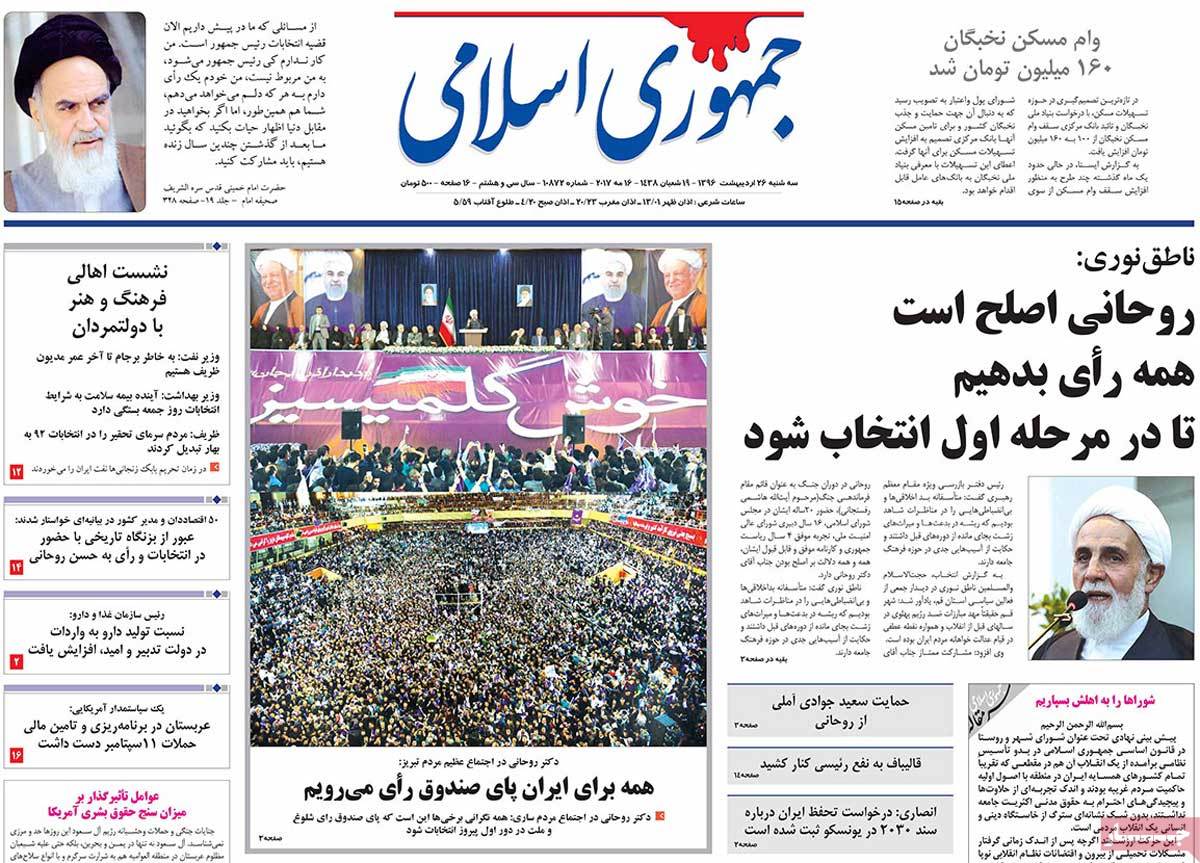 ---
Ka'enat:
1- One Election, Two Clerics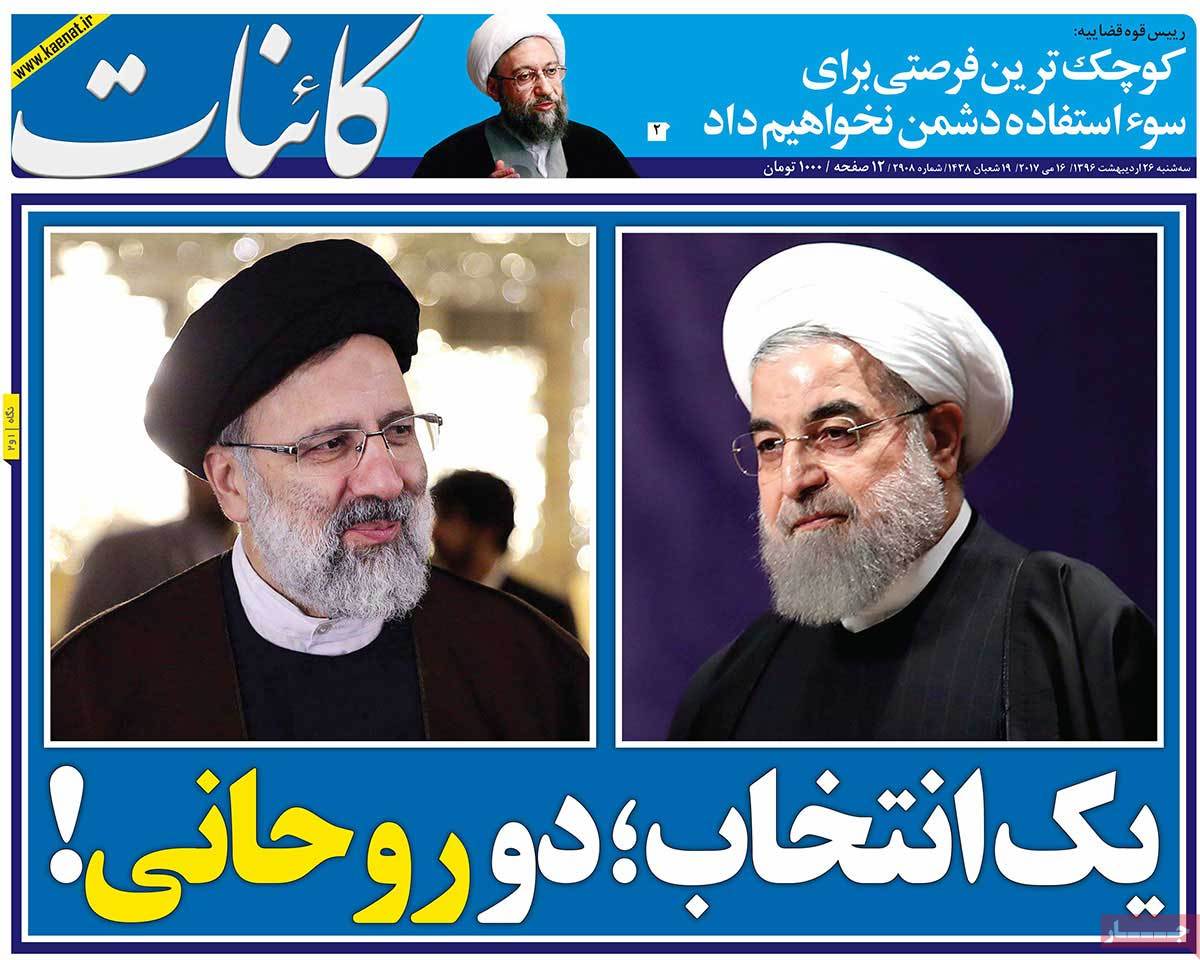 ---
Kayhan:
1- Big Shock to Save Nation: Qalibaf Withdraws in Commendable Move
2- Hundreds of Yemenis Die of Cholera; Hospitals Have No More Room
3- Government Keeps Making People Afraid of Spectre of War
Be Accountable for Economic Disaster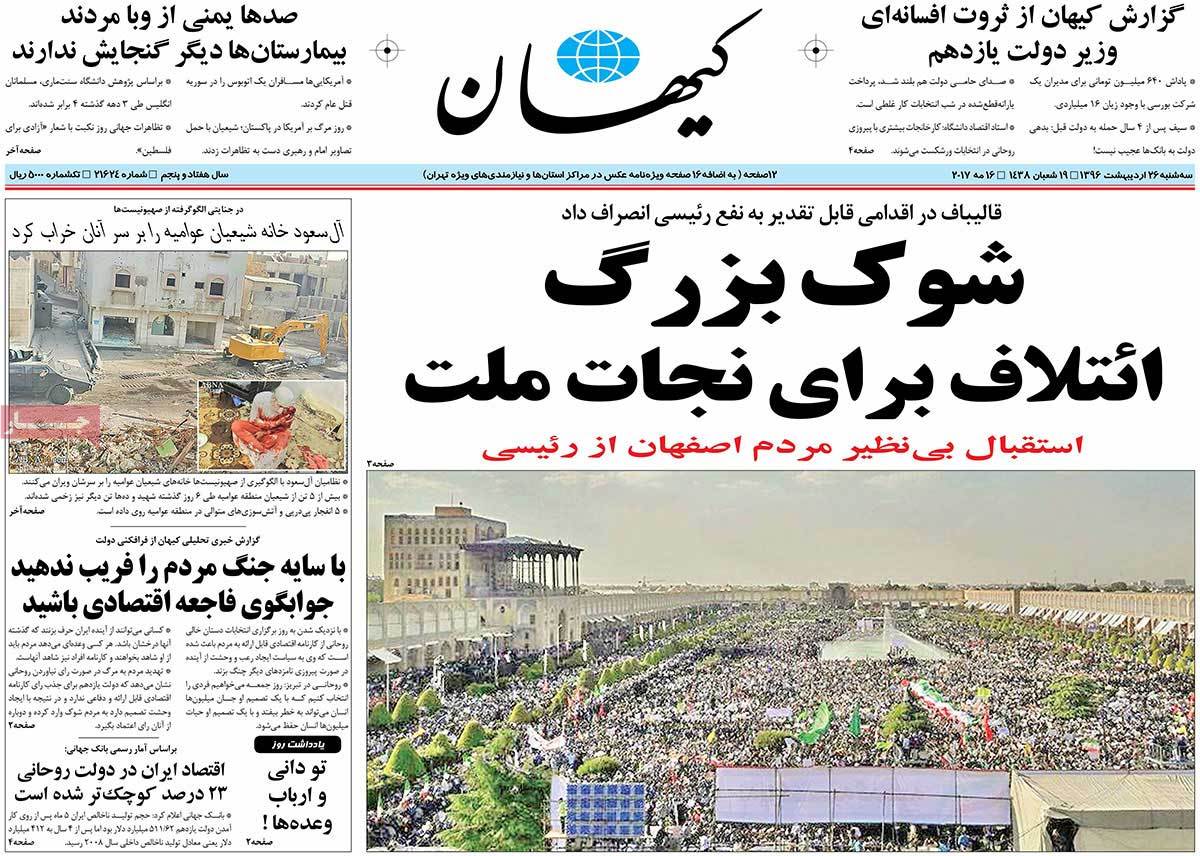 ---
Khorasan:
1- Shock of First Alliance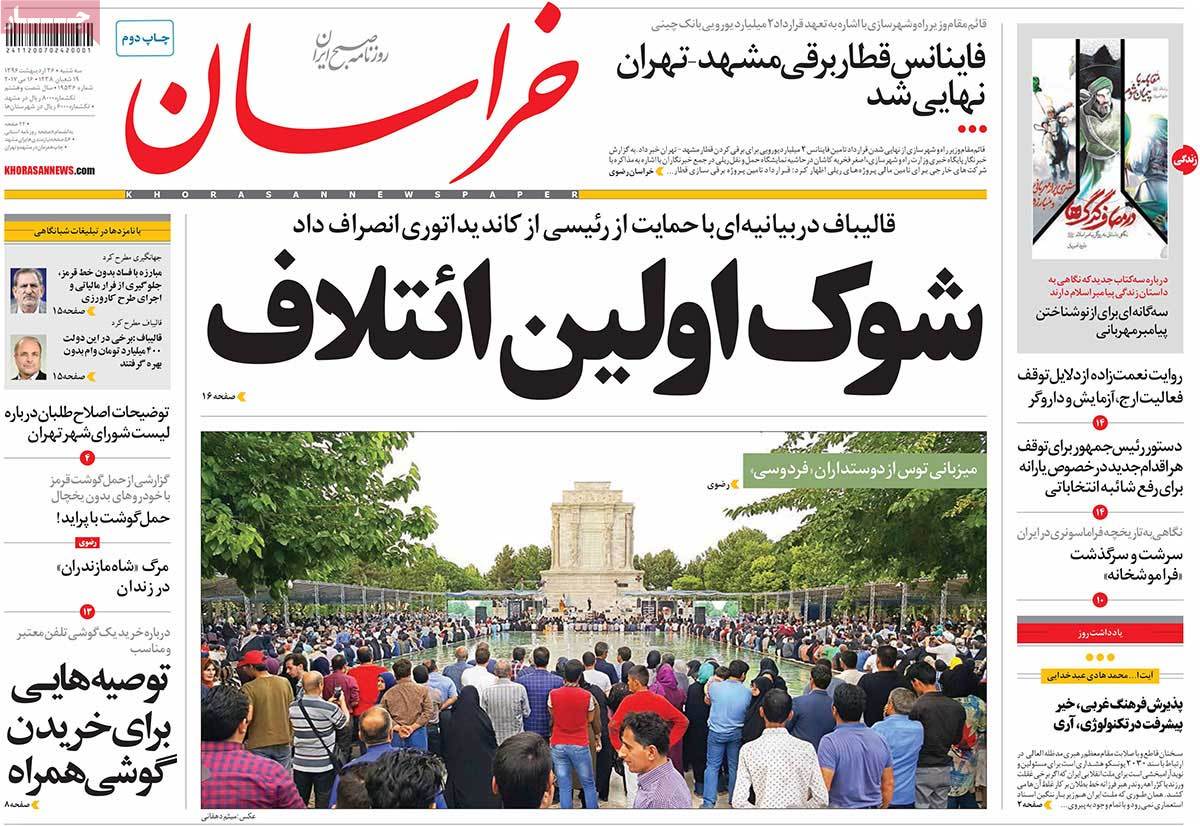 ---
Quds:
1- Qalibaf Withdraws in Favour of Raisi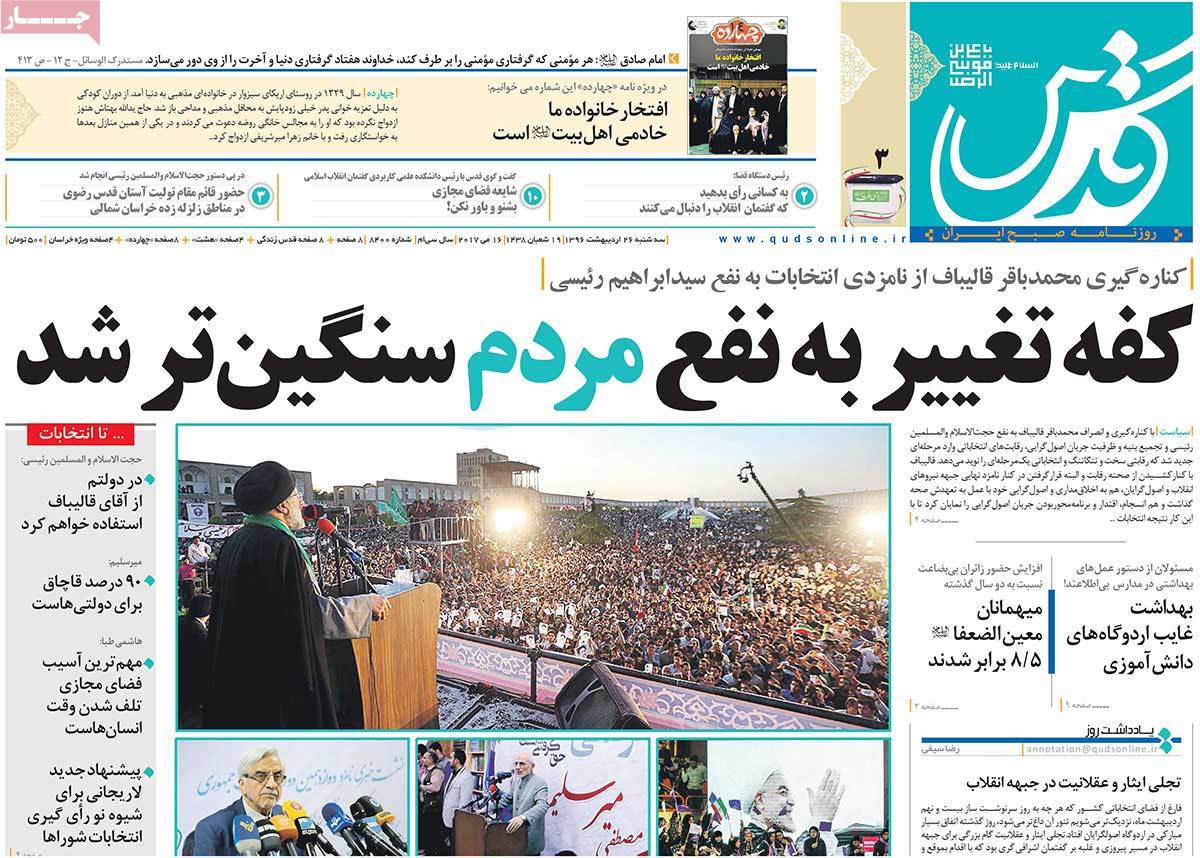 ---
Setareh Sobh:
1- People of Tabriz Warmly Welcome Rouhani
2- Trump Trying to Disrupt Middle East's Balance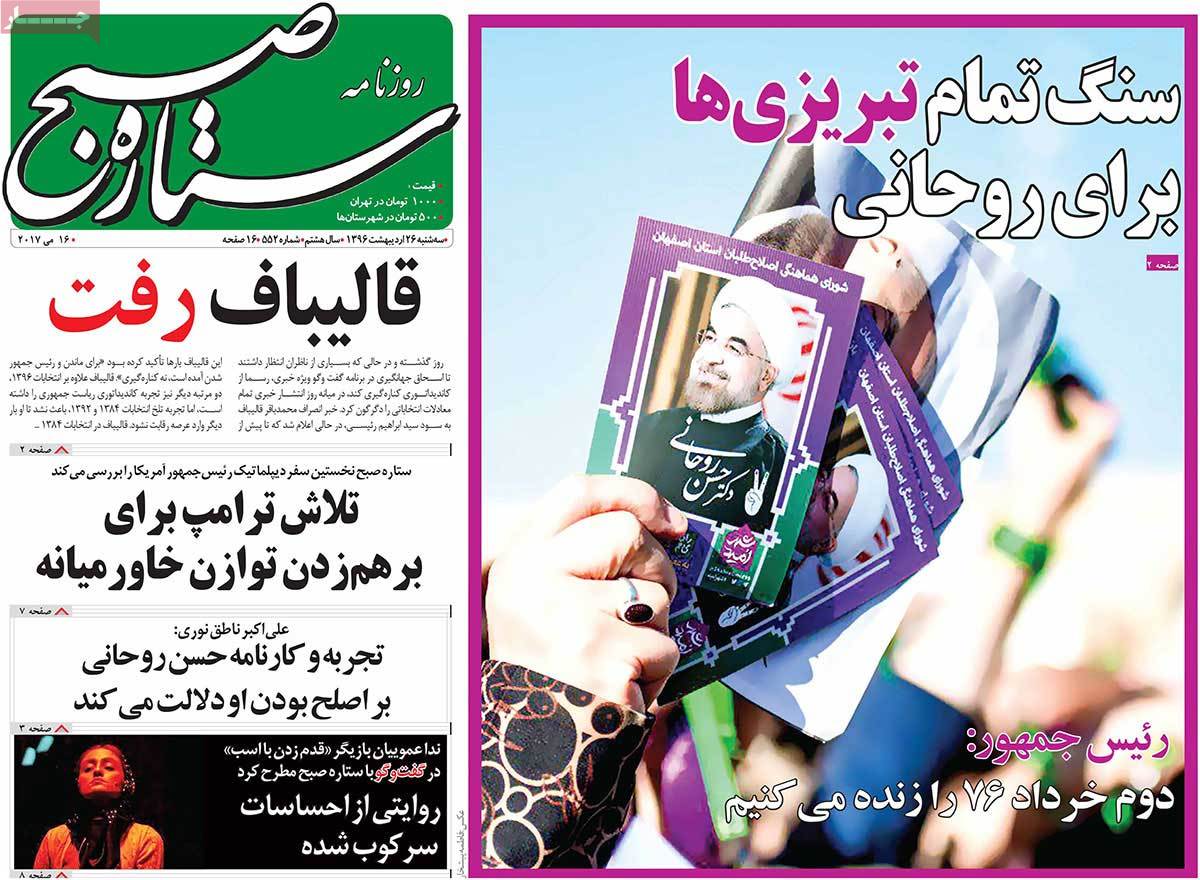 ---
Shargh:
1- FM: Hard-Liners Wanted to Show Iran as Threat to World Peace
2- Oil Minister: We Need Recovery after Getting Out of Sanctions
3- Actress Motamed-Aria: I'm Happy to Sit beside Those Who Ensured Our Security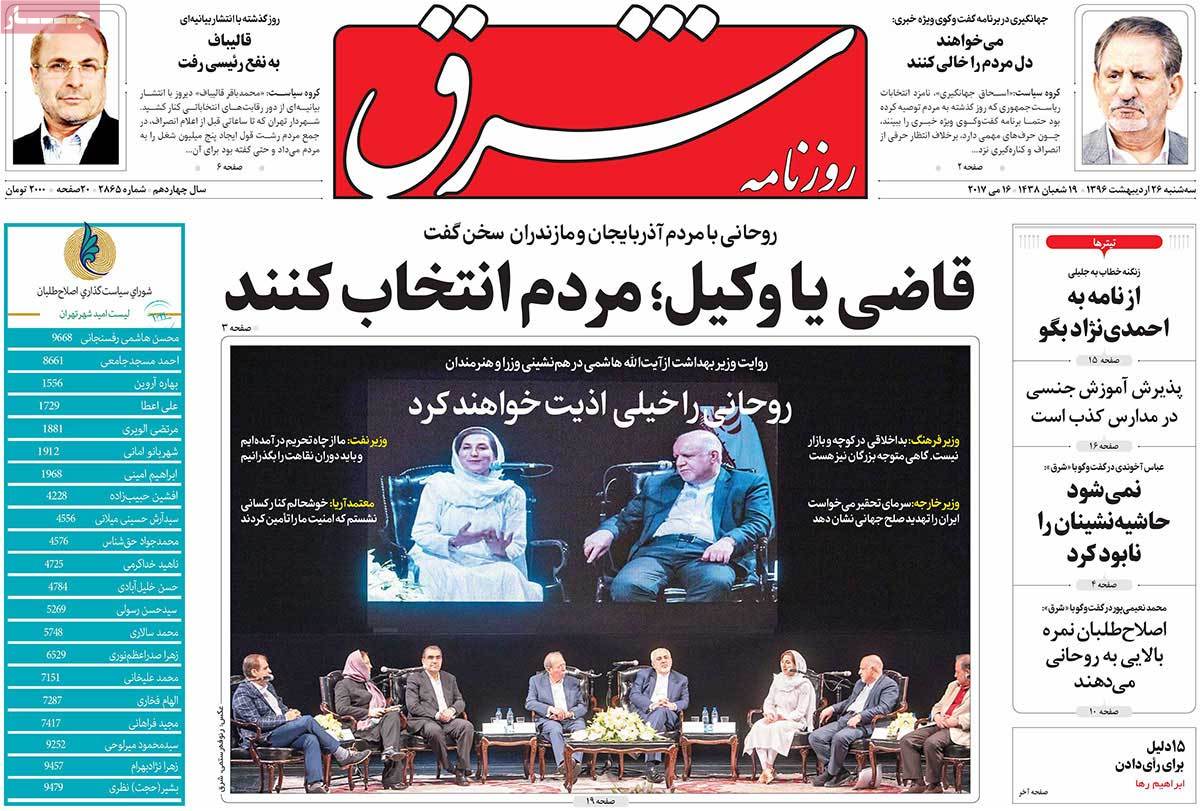 ---
Sobh-e Now:
1- Salute to Qalibaf: Campaign Has Just Begun
---
Vaghaye Ettefaghieh:
1- Strategy of Evading Defeat: Why Qalibaf Allied Himself with Raisi
2- Zarif: I'm Happy to See Farhadi, Kiarostami's Films, Shajarian's Songs Watched, Heard in World