IFP has taken a look at the front pages of Iranian newspapers on Monday and picked headlines from 17 of them. IFP has simply translated the headlines and does not vouch for their accuracy.
The top story in all Iranian online media on Monday was the missile attacks launched by the Islamic Revolution Guards Corps (IRGC) against ISIS positions in Syria's Deir ez-Zor. However, only five newspapers on Monday covered the story as it was announced late on Sunday night.
What widely covered by Iranian papers on Monday was the remarks made by the Leader of Iran's Islamic Revolution Ayatollah Seyyed Ali Khamenei about the US novice government's allegations against Tehran.
Among other top stories were the pro-Iran comments made by Iraqi Prime Minsiter, Haider al-Abadi, and the deadly blaze in Portugal.
The above issues, as well as many more, are highlighted in the following headlines and top stories:
19 Dey:
1- MPs to Strongly Support Rouhani's Gov't: Lawmaker
2- Iran to Use Its Means of Punishment If Americans Don't Change Behaviour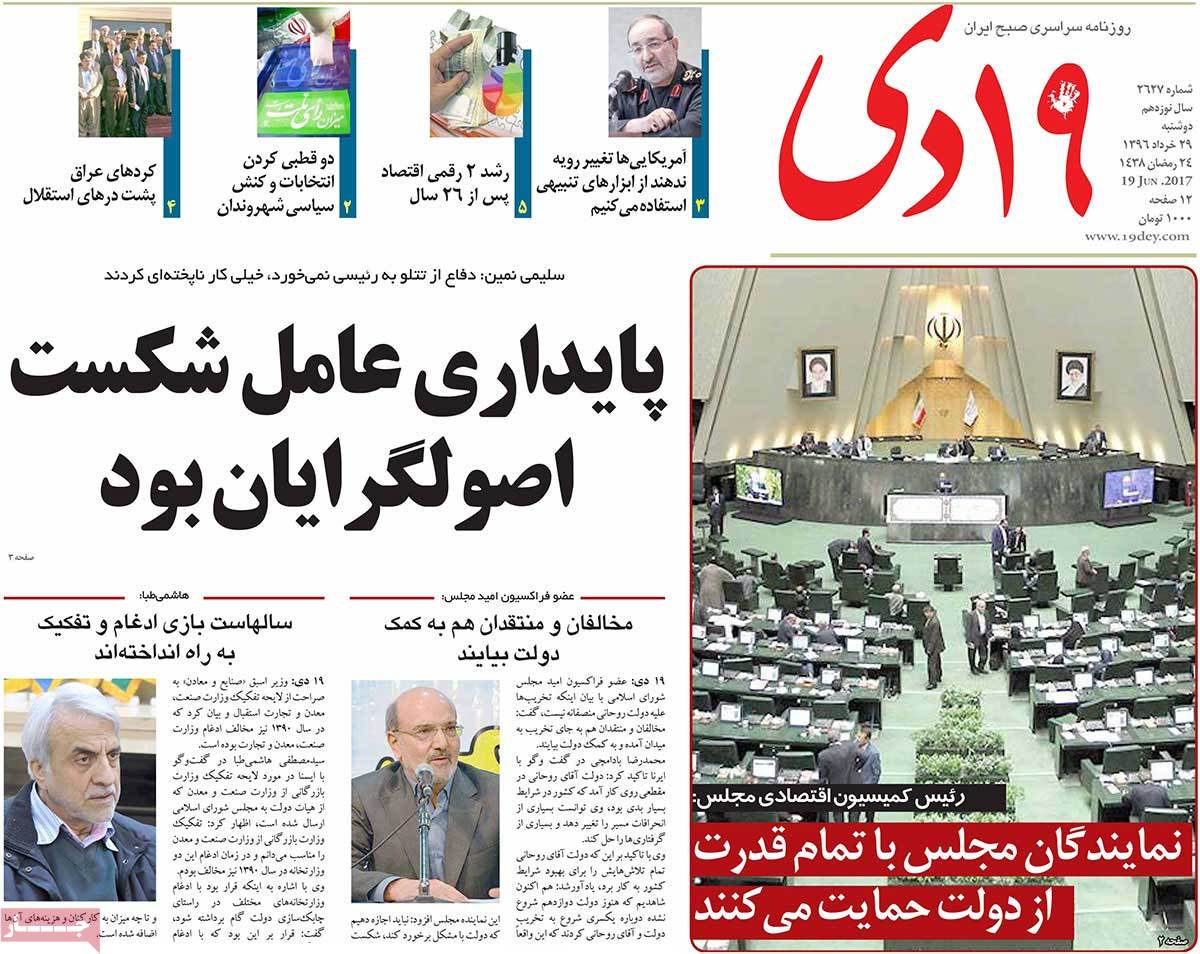 ---
Abrar:
1- US Defence Secretary against Idea of Military Conflict with Iran in Syria
2- Kuwait Accuses 21 Citizens of Spying for Iran
3- Zarif: We're Concerned about Escalation of Tension between Qatar, Neighbours
---
Abrar-e Eqtesadi:
1- Central Bank: Iran's Economy Has Grown by 12.5%
2- Iran Exports $400 Millions of Food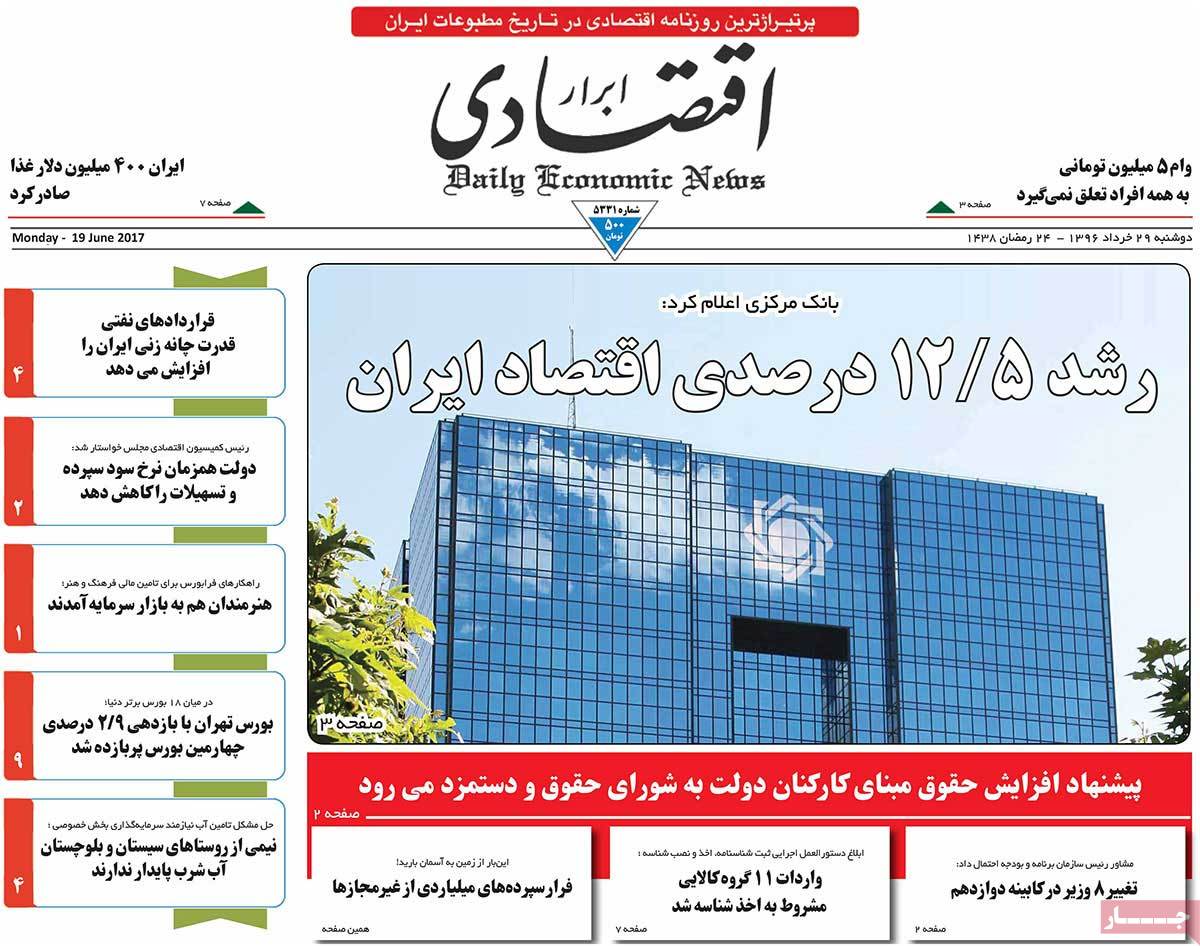 ---
Aftab-e Yazd:
1- Head of Parliament Security Summoned for Tehran Attacks
2- Diplomacy vs. Resolving Crises [Editorial]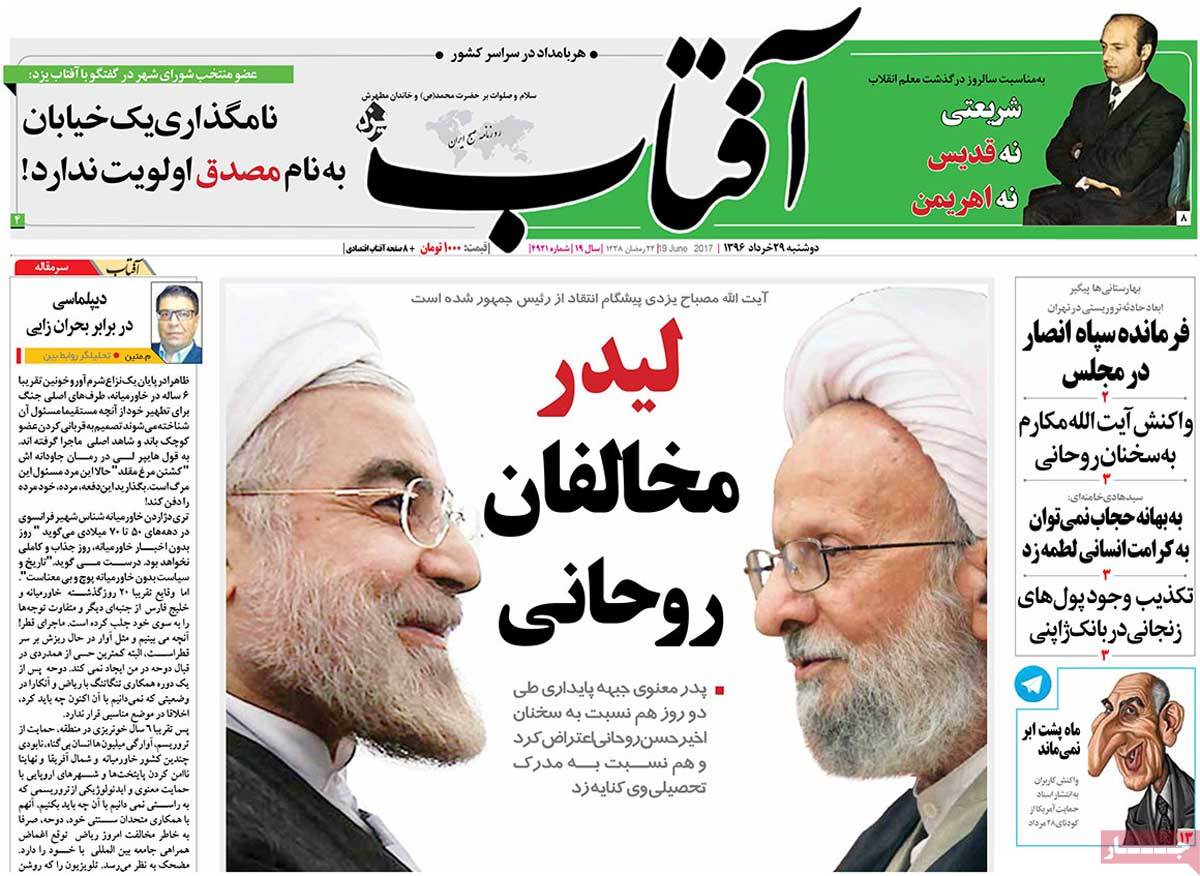 ---
Arman-e Emrooz:
1- Iran Leader: Don't Pay Attention to All the Fuss Made by US Newcomers
2- President: Rivalries Over, We Should Be a Team Now
3- IRGC's Missile Attack on Terrorists in Syria
4- Politician: Rouhani Gov't Not to Be Left Alone
---
Ebtekar:
1- Fiery Month for Iranian Forests
2- Zarif: Establishment of Democracy Is Solution to Terrorism
3- US Trying to Accuse Iran of Violating JCPOA: Academic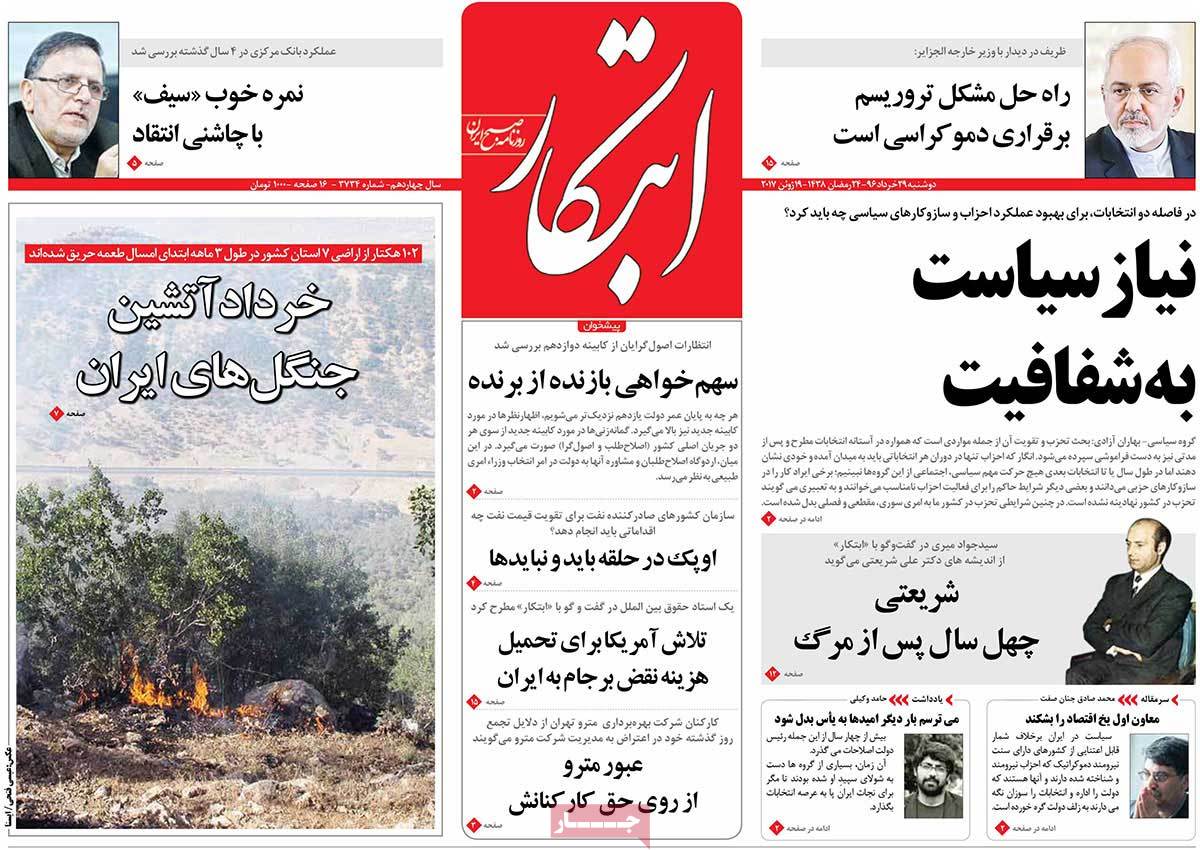 ---
Etemad:
1- Iran Leader: Nation to Slap Enemy in the Face
2- IRGC's Missile Revenge from ISIS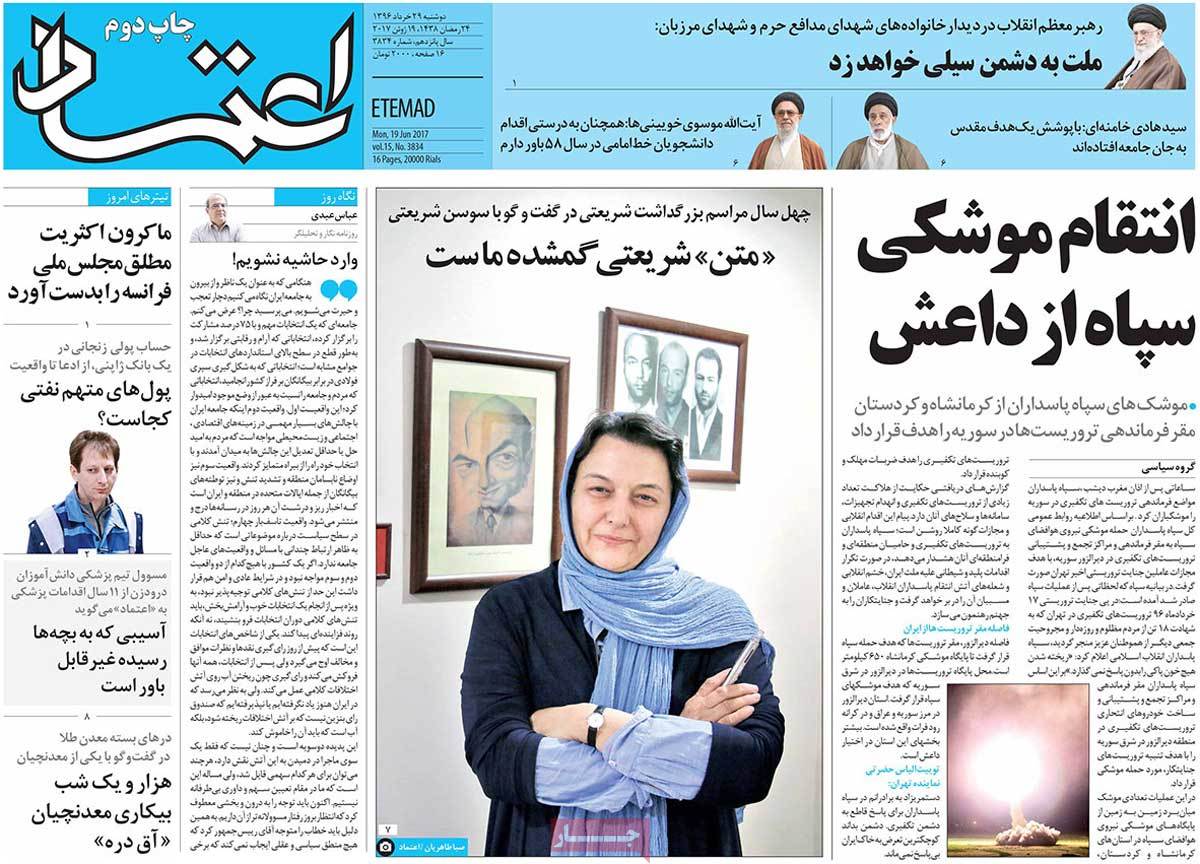 ---
Ettela'at:
1- Leader: Iran Is a Strong Tree; Enemy Cannot Damage It
2- Saudi Jet Fighters' Brutal Attack on Yemen Market Leaves 25 Dead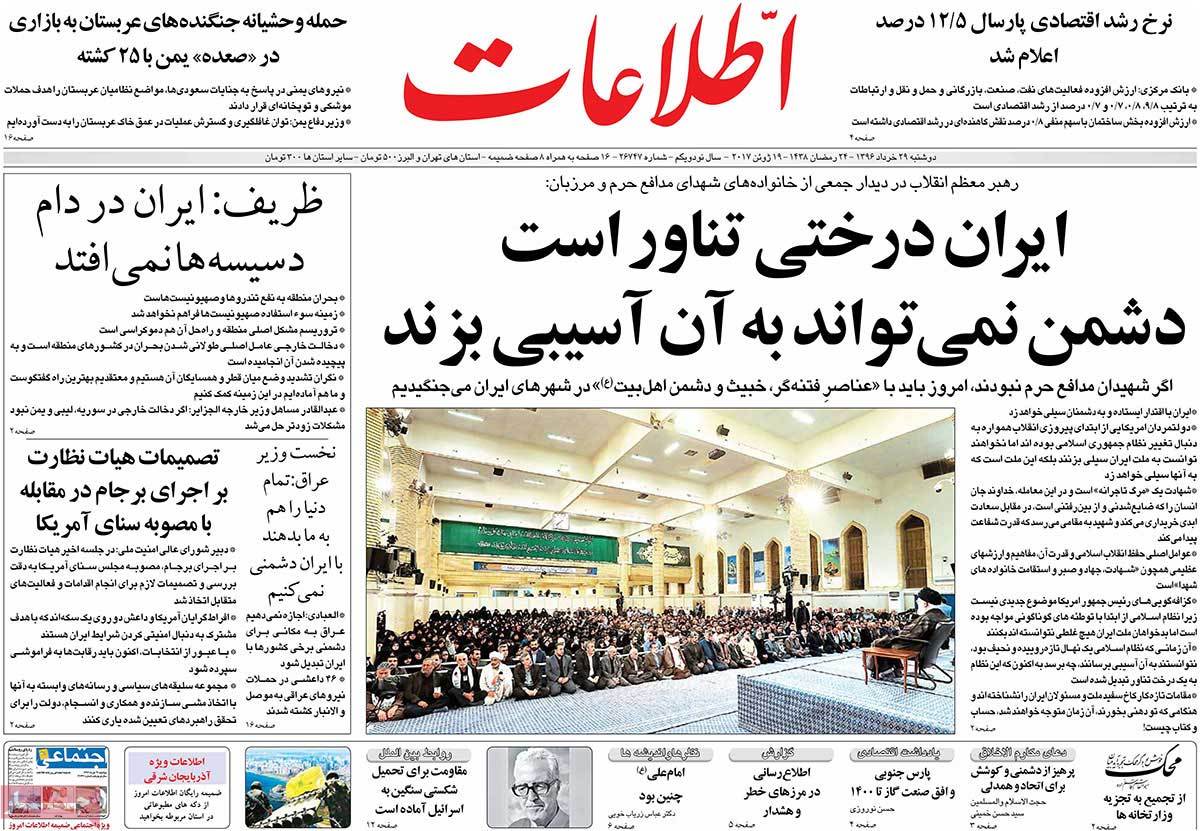 ---
Iran:
1- Iran Leader: Islamic Republic Strongly Standing
2- Iran Takes Measures against US Senate's New Sanctions Bill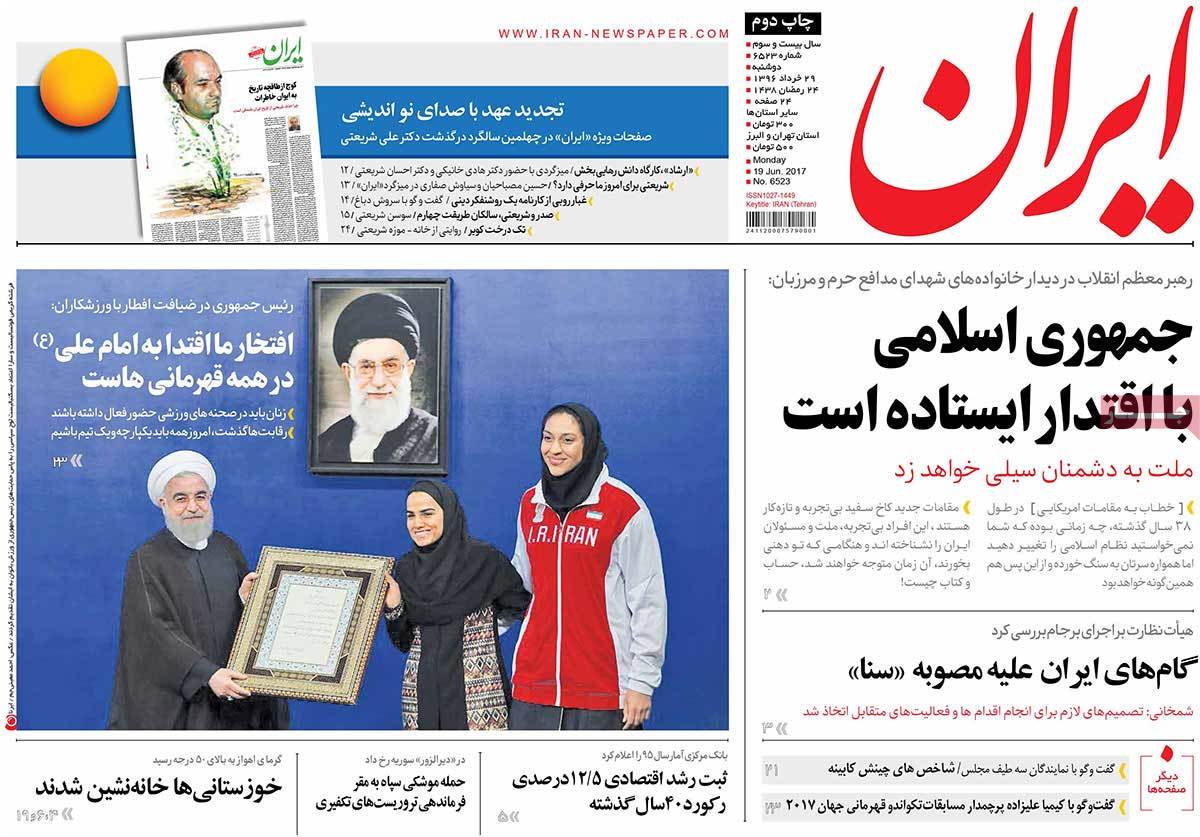 ---
Jame Jam:
1- Analysts: Iran's Economy Should Become Independent of JCPOA
---
Javan:
1- Ayatollah Khamenei: Iranian Nation to Slap US Newcomers in Face
2- IRGC Missiles Sends ISIS Terrorists from Deir ez-Zor to Hell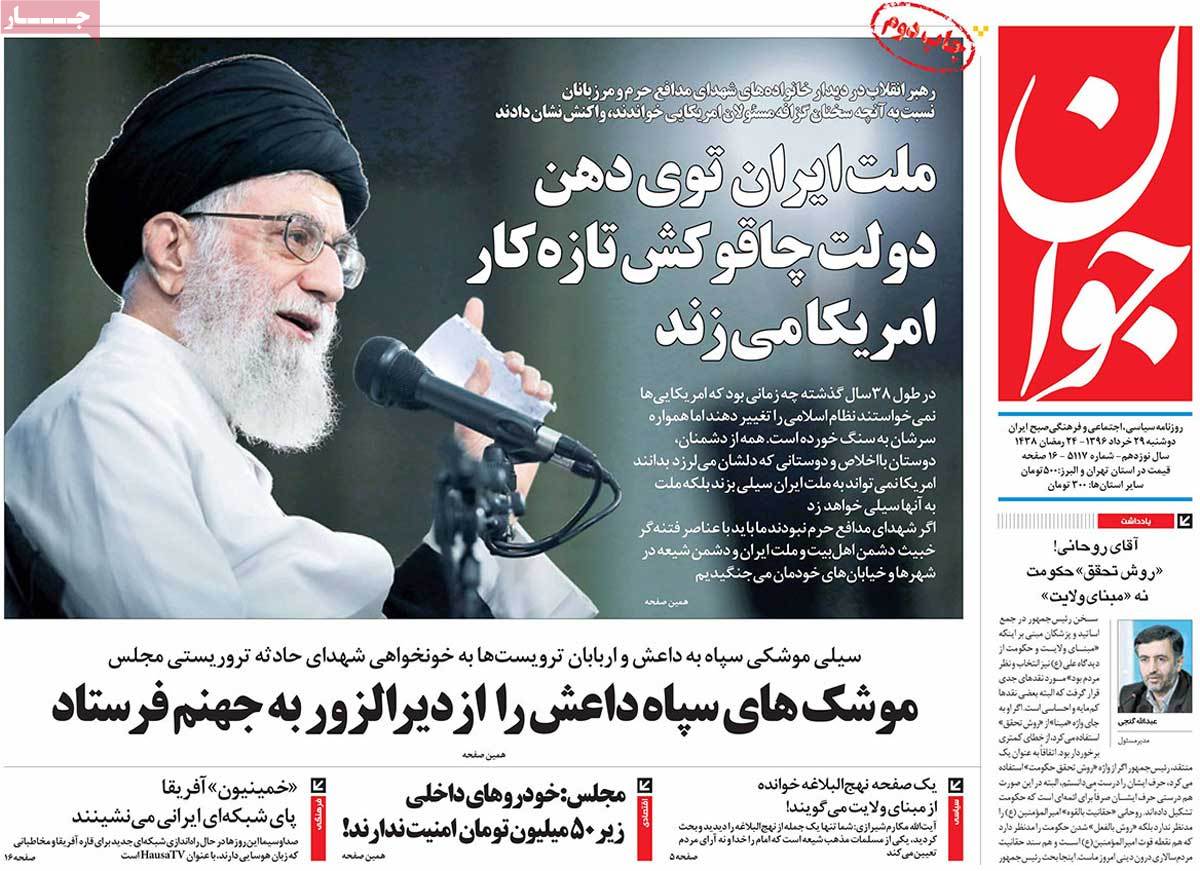 ---
Jomhouri Eslami:
1- Israel Turns Aqsa Mosque into Barracks on Verge of Int'l Quds Day
2- Iraqi PM: World Should Know We Won't Cut Ties with Iran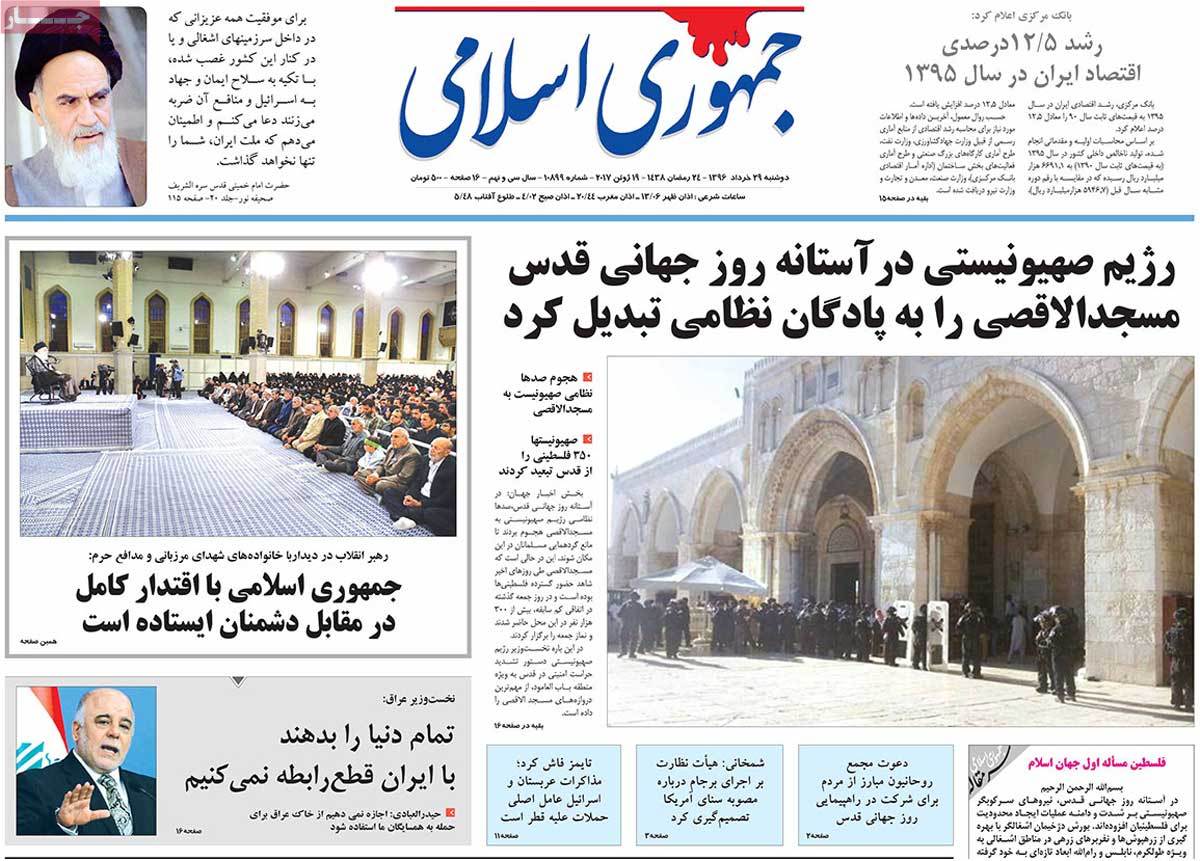 ---
Kayhan:
1- Former Turkish FM: The Hague Can Try Erdogan for Supporting Terrorism
2- MP: Foreign Products Barrier to Improving Ease of Doing Business in Iran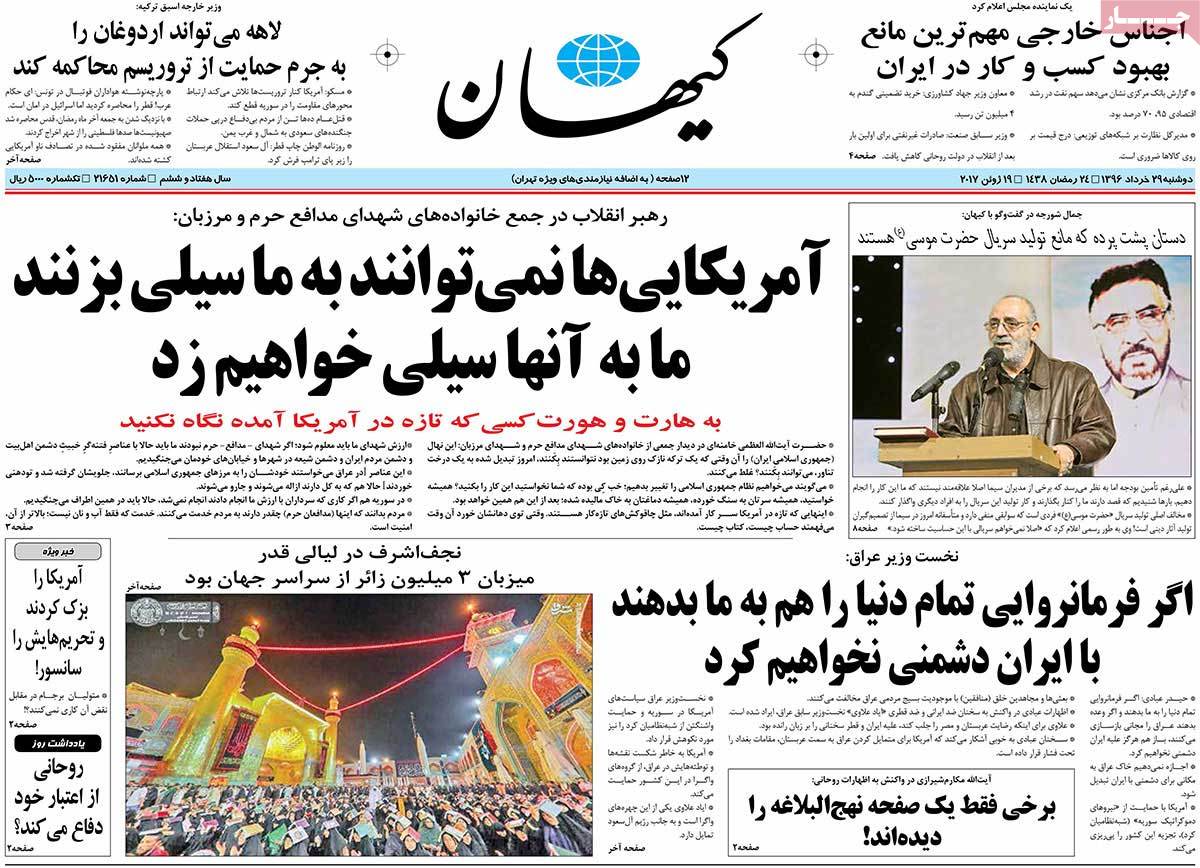 ---
Khorasan:
1- Iran Launches Missile Attacks on Terrorists' Positions in Syria
2- US Defence Secretary's Fear of Iran: Foreign Policy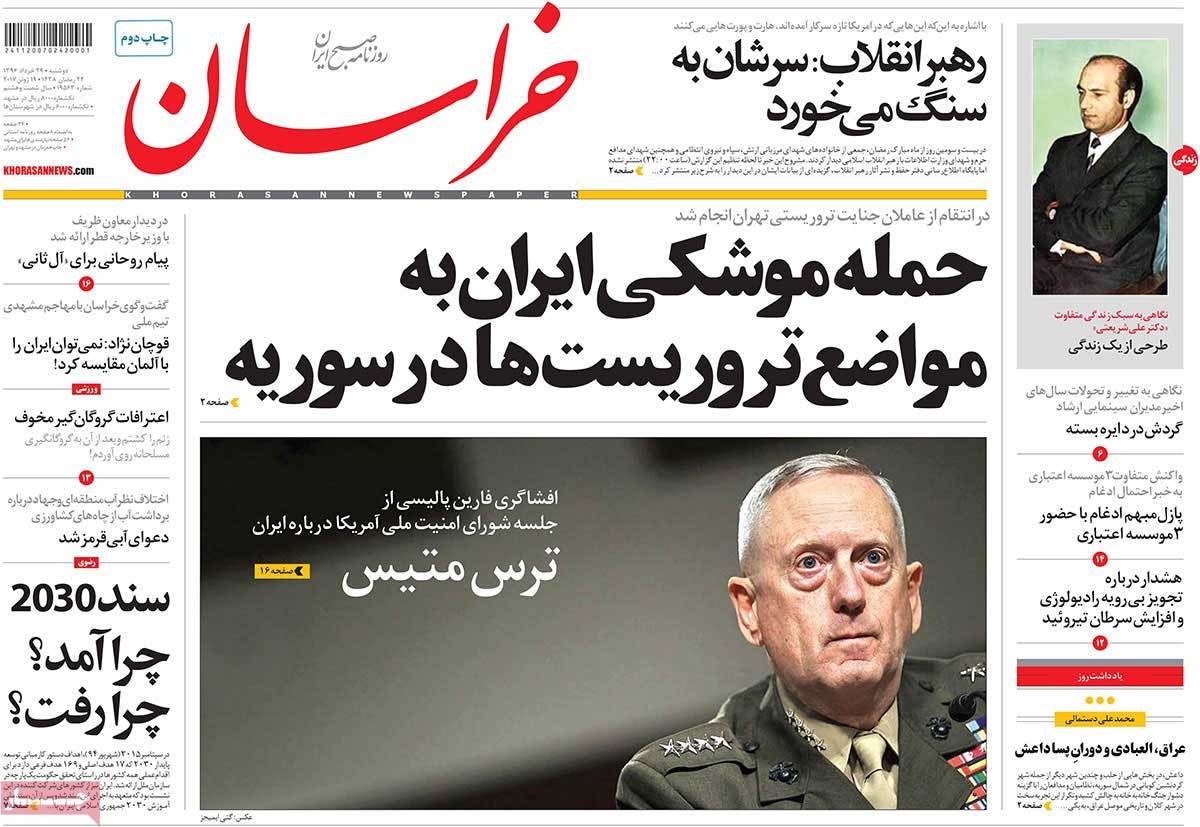 ---
Setareh Sobh:
1- Danger of Particles: Every Citizen of Tehran Receives 80kg of Air Pollution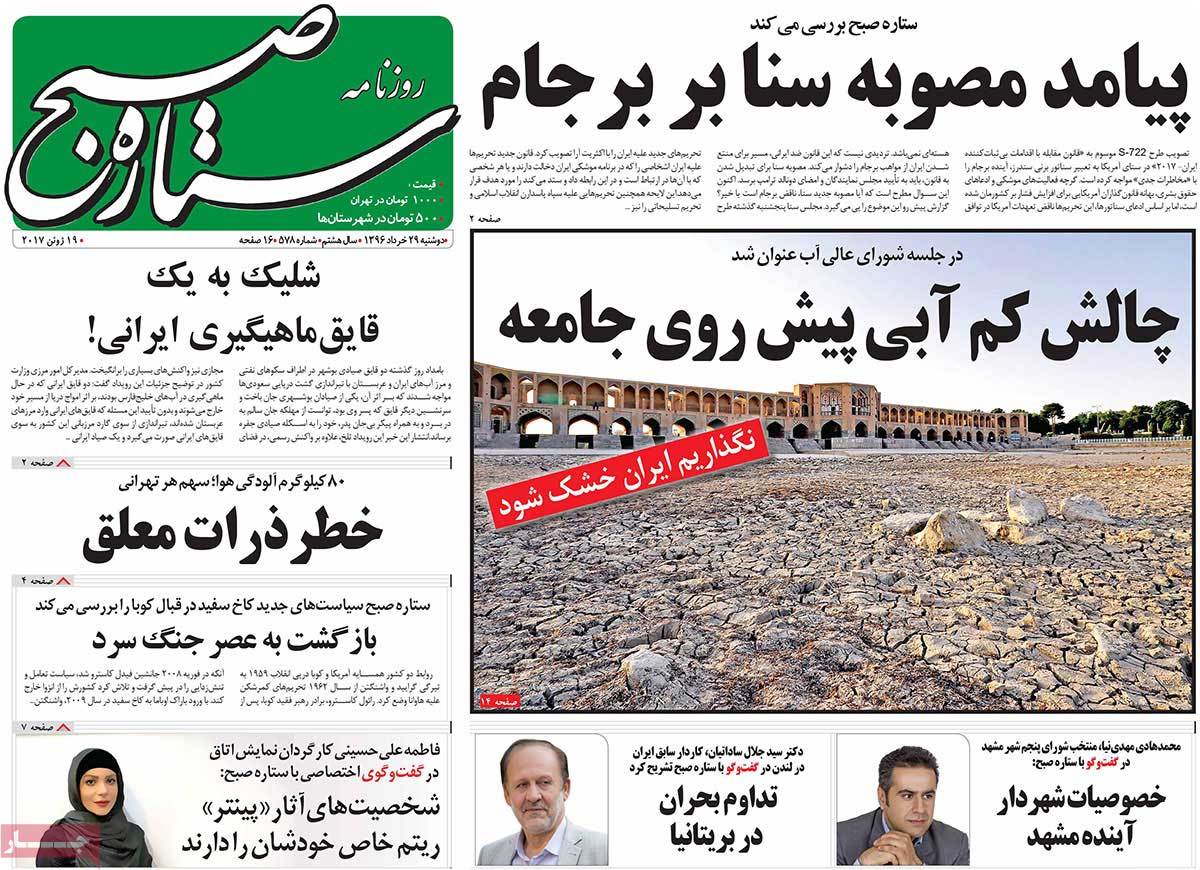 ---
Shahrvand:
1- Tragedy of Portugal: Huge Blaze Kills 62, Wounds over 60
2- Story of a City Where All Citizens Produce Silk Threads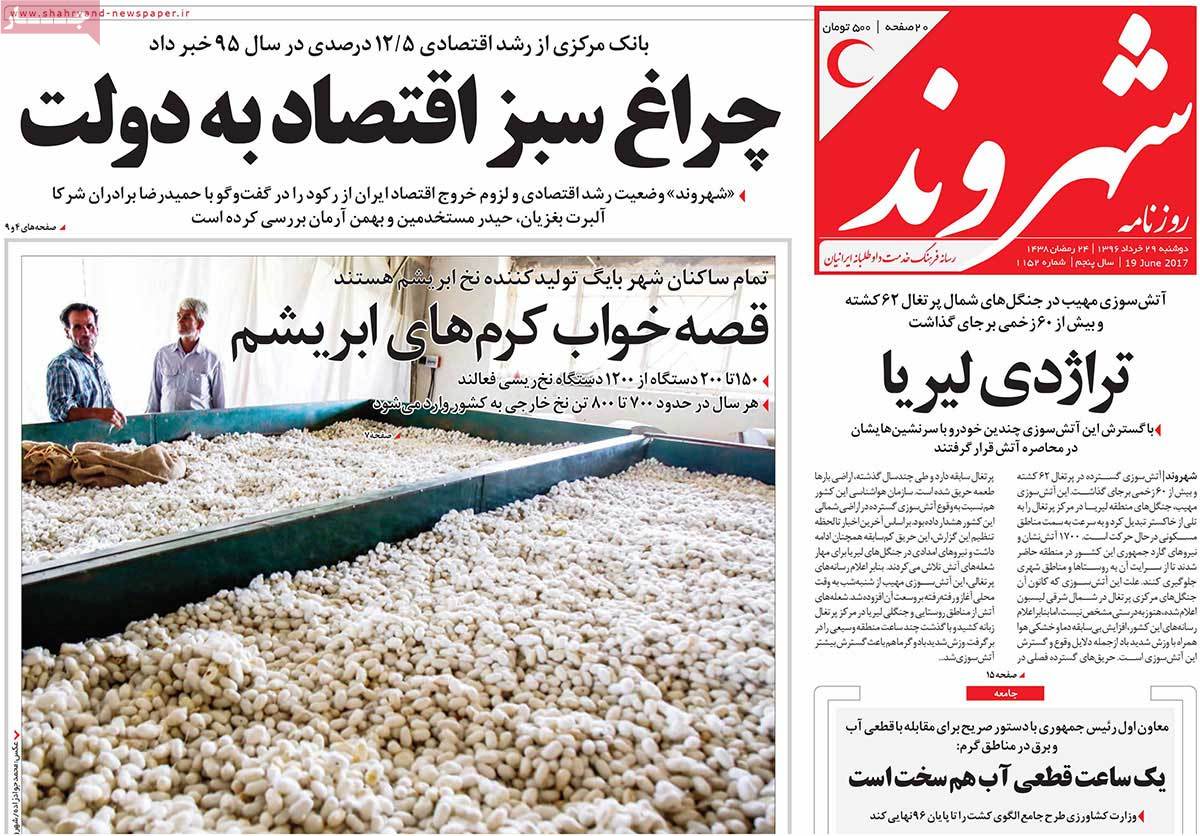 ---
Shargh:
1- IRGC's Missiles Fired from Kermanshah, Kordestan Hit ISIS Terrorists in Syria