Newspapers today covered the US Senate's move to impose new sanctions against Iran and the reactions made by Iranian officials.
They also highlighted the release of documents that prove the CIA's role in 1953 coup in Iran, and the remarks made by US Secretary of State Rex Tillerson about a regime change in Iran.
President Hassan Rouhani's remarks in a meeting with journalists also received great coverage. Rouhani harshly attacked hard-line media for using foul language in criticizing his government.
The above issues, as well as many more, are highlighted in the following headlines and top stories:
Abrar:
1- ISIS; A Black Dot in Green Map
Terrorists Holding Only 1% of Mosul
---
Abrar-e Eqtesadi:
1- WIPO: Iran Ranks 75th in Global Innovation Index
2- Iranian Businessmen Poised to Enter Qatar's Market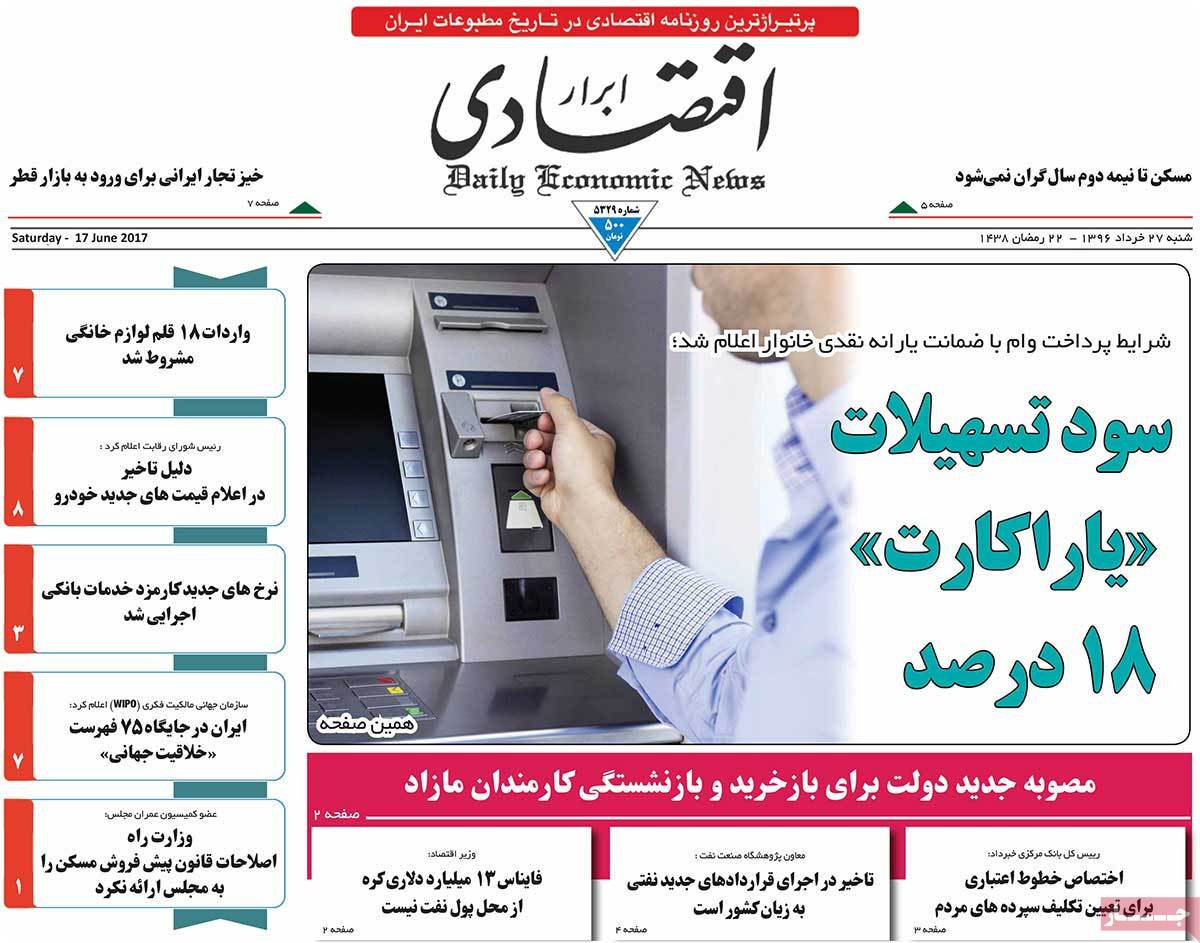 ---
Aftab-e Yazd:
1- Nuclear Deal Still Breathing: A Report on US Senate's New Bill
---
Arman-e Emrooz:
1- Iran's Press Law Criticized in Ceremony Attended by President
2- Growing Corruption in Iran Caused by Legal Poverty: Imam Khomeini's Grandson
---
Ebtekar:
1- The Really-American Coup
Documents Revealed on US Direct Role in 1953 Coup
2- Senior Moderate Cleric: I'm Opposed to Harsh Measures on Hijab
3- Imam Khomeini Adopted Moderate Policies to Bring Revolution to Victory: Rouhani
4- Russia DM: Possibility of ISIS Leader's Death in Syria Increased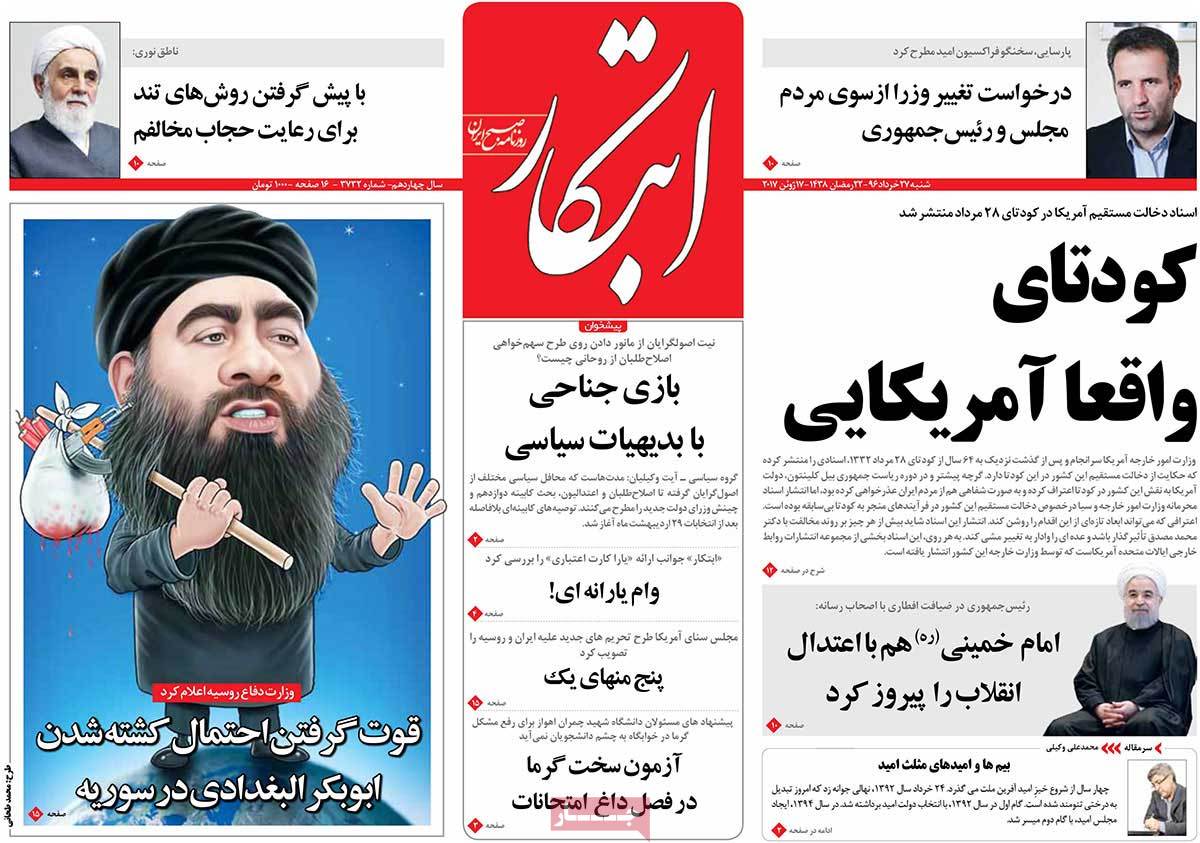 ---
Etemad:
1- Political Activists Issue Statement against US Secretary of State's Remarks
2- Takfiri Terrorist Teams Smashed in Iranian Borders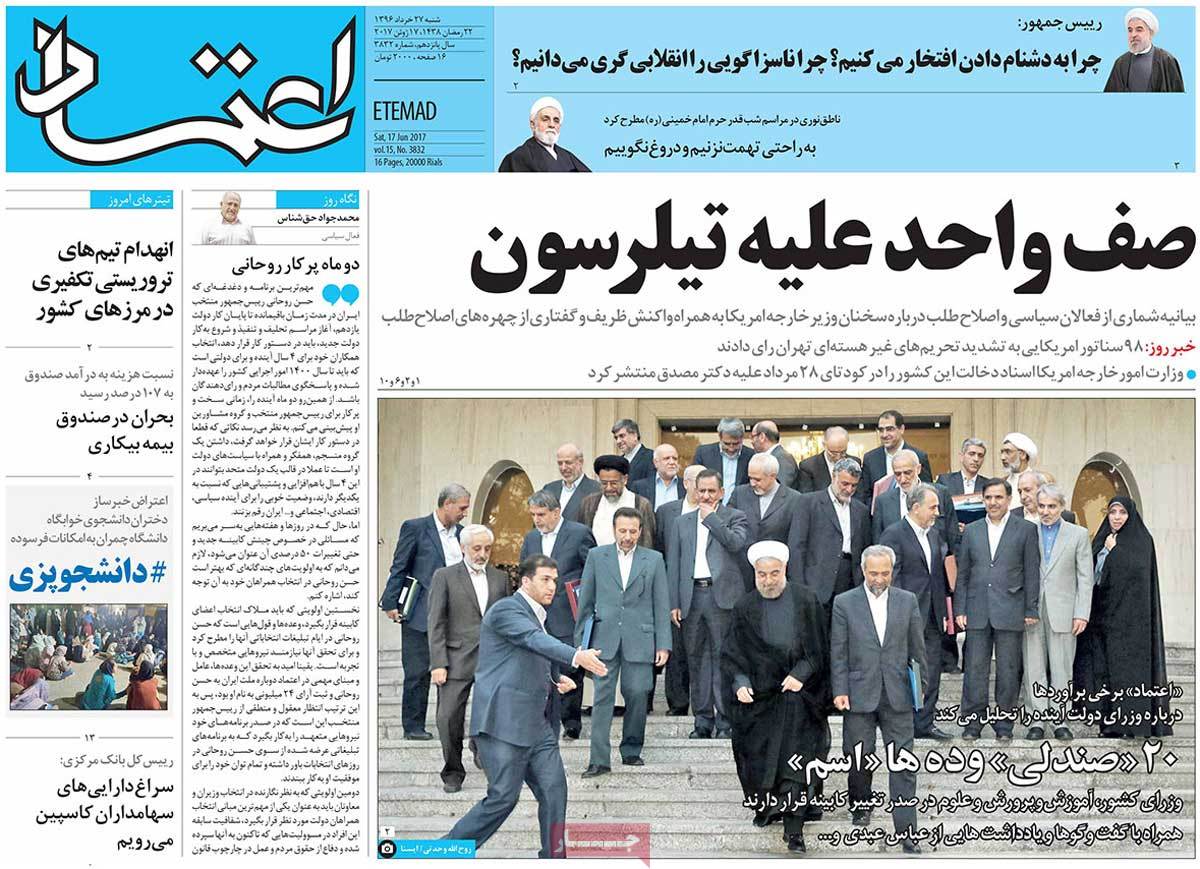 ---
Ettela'at:
1- Rouhani: There's No Way but Moderation
2- Arab Leaders Write Letter to Netanyahu for Forming Anti-Iran Coalition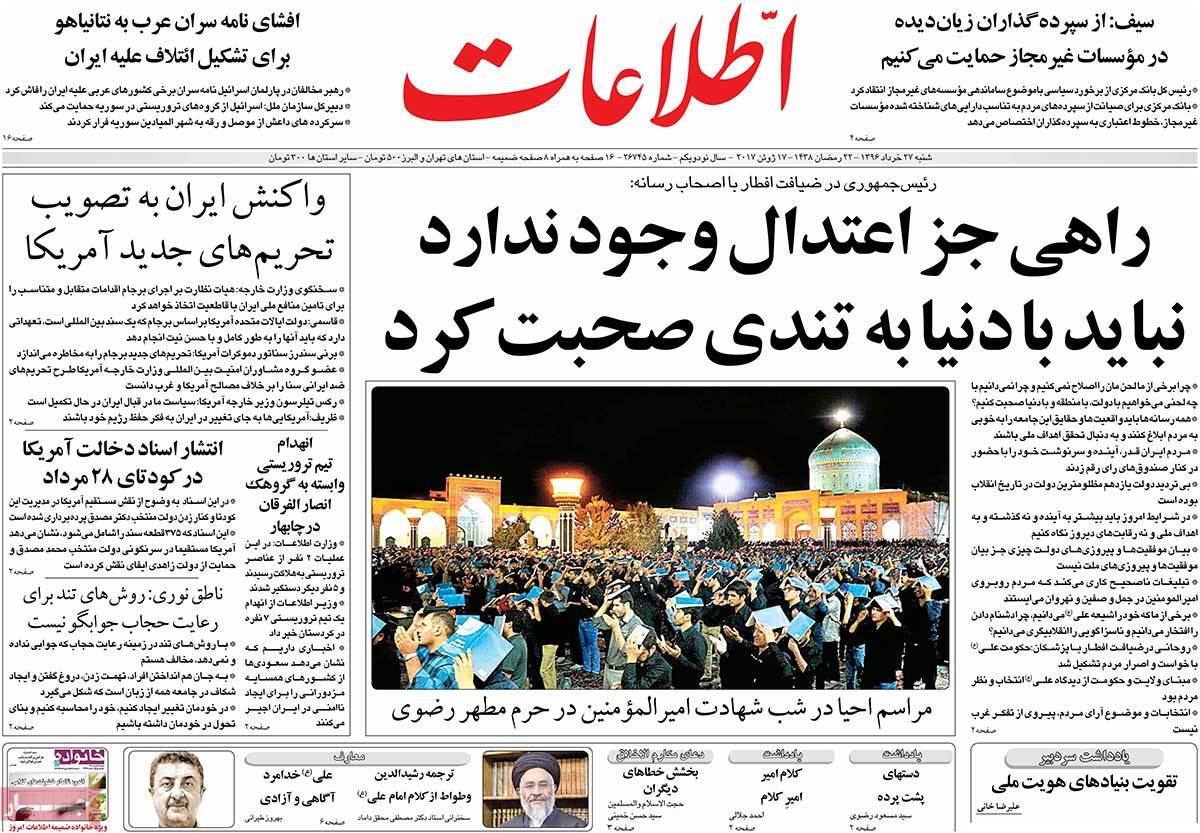 ---
Iran:
1- Documents Revealed on CIA's Interference in 1953 Iran Coup
Documents Released after Tillerson's Regime Change Claims1
2- Iranian Parliament to Retaliate against US Sanctions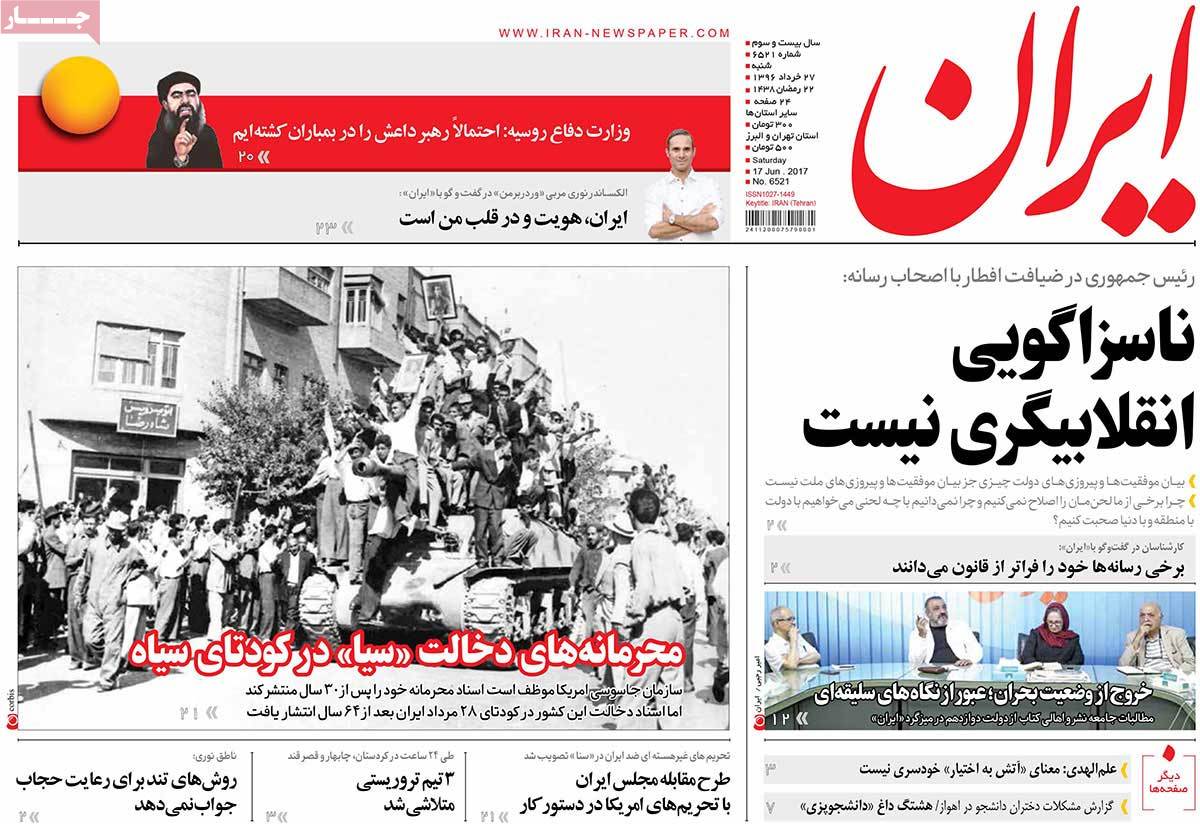 ---
Jahan-e San'at:
1- Pro-Democracy, Anti-Dictatorship Rallies in Turkey: From Ankara to Istanbul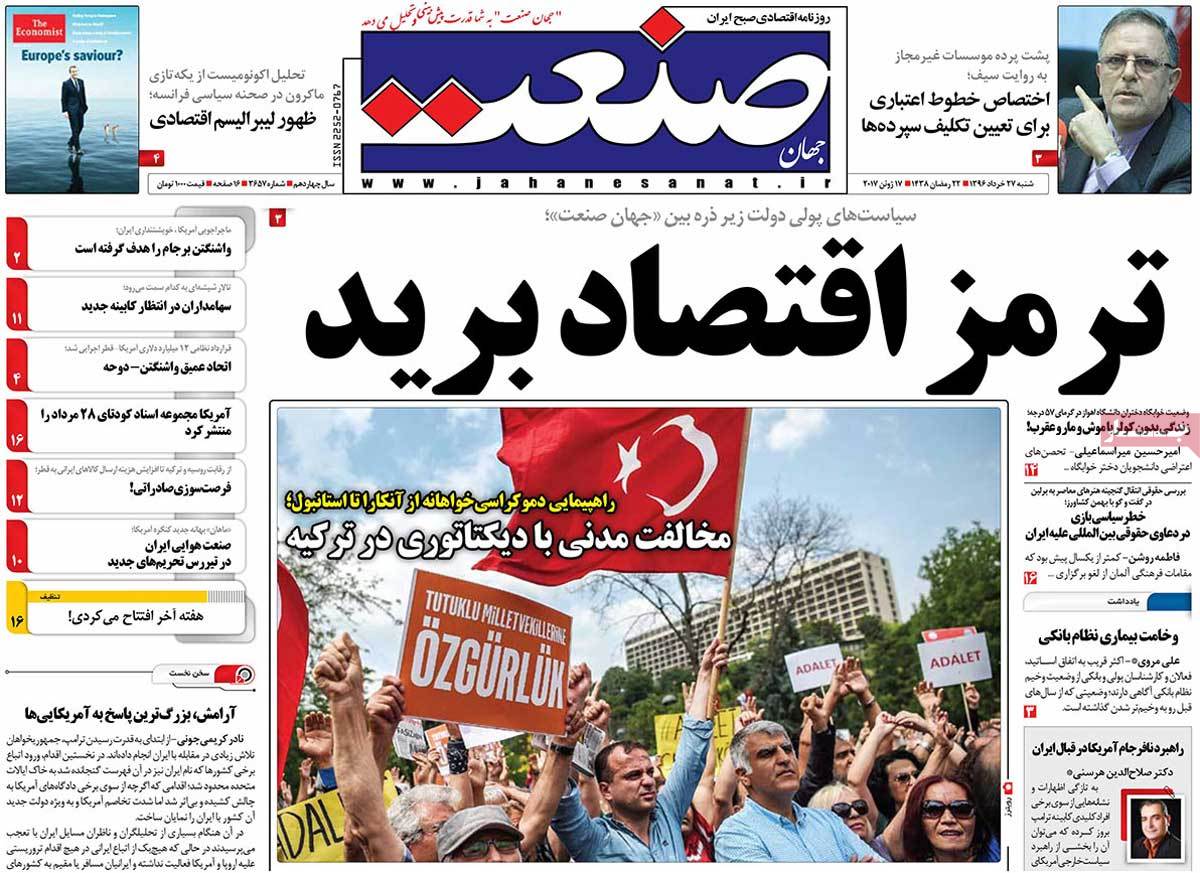 ---
Javan:
1- New Sanctions with Rouhani!
98 Senators Vote for Fresh Anti-Iran Sanctions
2- Qatar Gives $12bn Ransom Money to Trump
3- Tillerson: We Seek to Use Current Elements in Power to Change Iran Regime
Is there any link between release of documents on CIA role in 1953 coup and Tillerson's comments?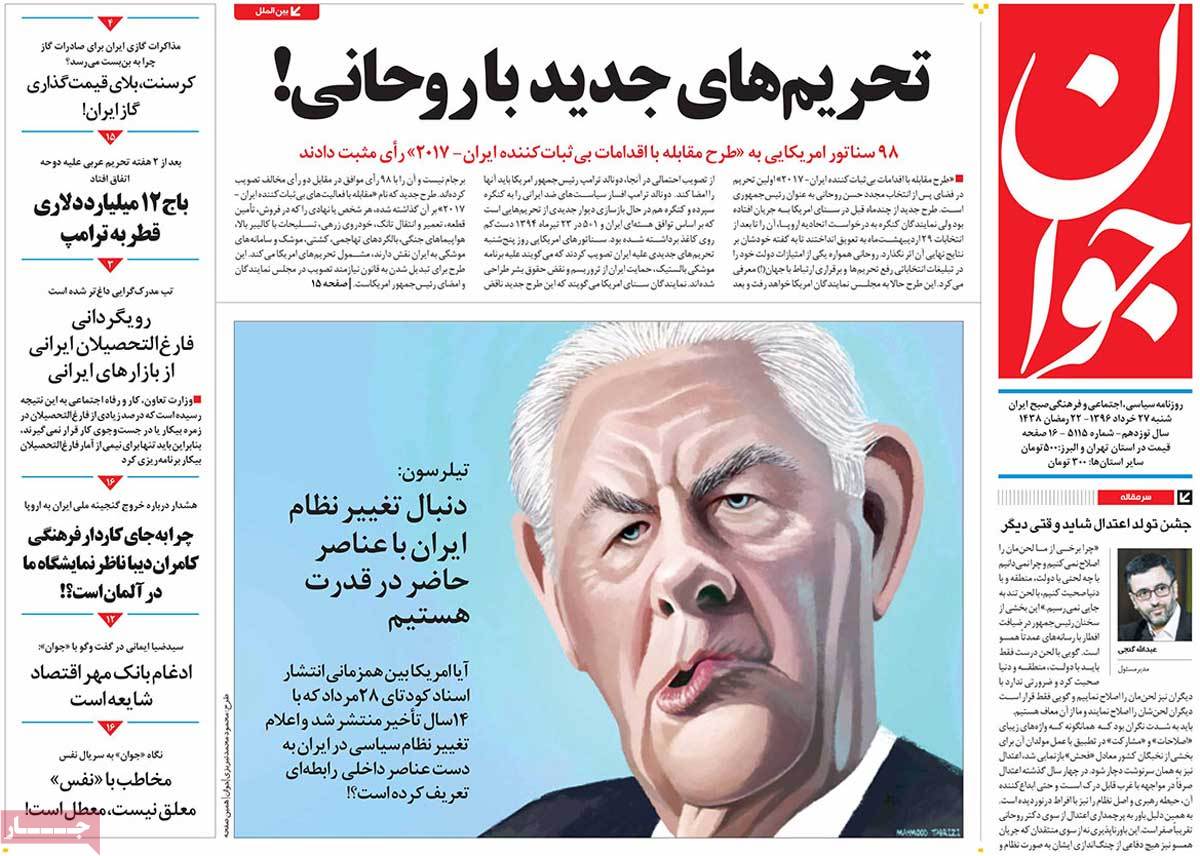 ---
Jomhouri Eslami:
1- Hundreds of Thousands of Palestinians Say Prayers in Aqsa Mosque
2- South Korea Finalises $13bn Loan to Iran
3- MP: Violation of JCPOA by One of Its Parties Won't Make It Invalid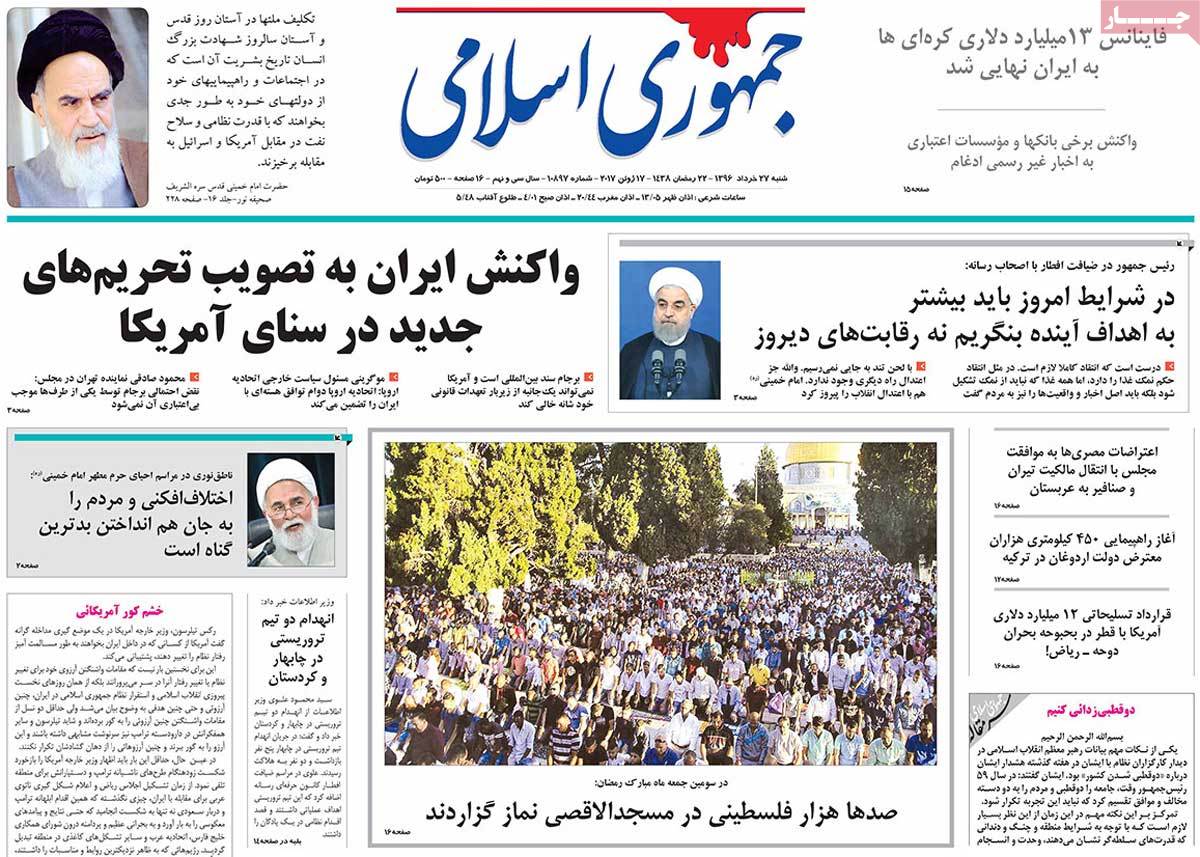 ---
Kayhan:
1- Nuclear Deal's Tree Bears Fruit!
US Imposes Unprecedented Sanctions against Iran
2- Al-Monitor: Iran's Financial Market Disrupted by Financial Institutes' Mushroom Growth
3- Iraqi, Syrian Military Commanders Discuss Formation of Joint Anti-ISIS Front
---
Khorasan:
1- Real US in Four Frames:
Approving Bill on New Iran Sanctions
Declaring Strategy of Regime Change in Iran
Releasing Documents on CIA's Role in 1953 Coup
Re-Imposing Sanctions on Cuba
2- Rouhani: Let's Soften, Make Friendlier Our Tones
---
Rooyesh-e Mellat:
1- Spokesman: New Anti-Iran Sanctions Continuation of US Hostilities against Iran
2- Leader's Advisor: Senate's Move to Re-Impose Iran Sanctions against JCPOA
3- Russia to Export Iran's Gas to India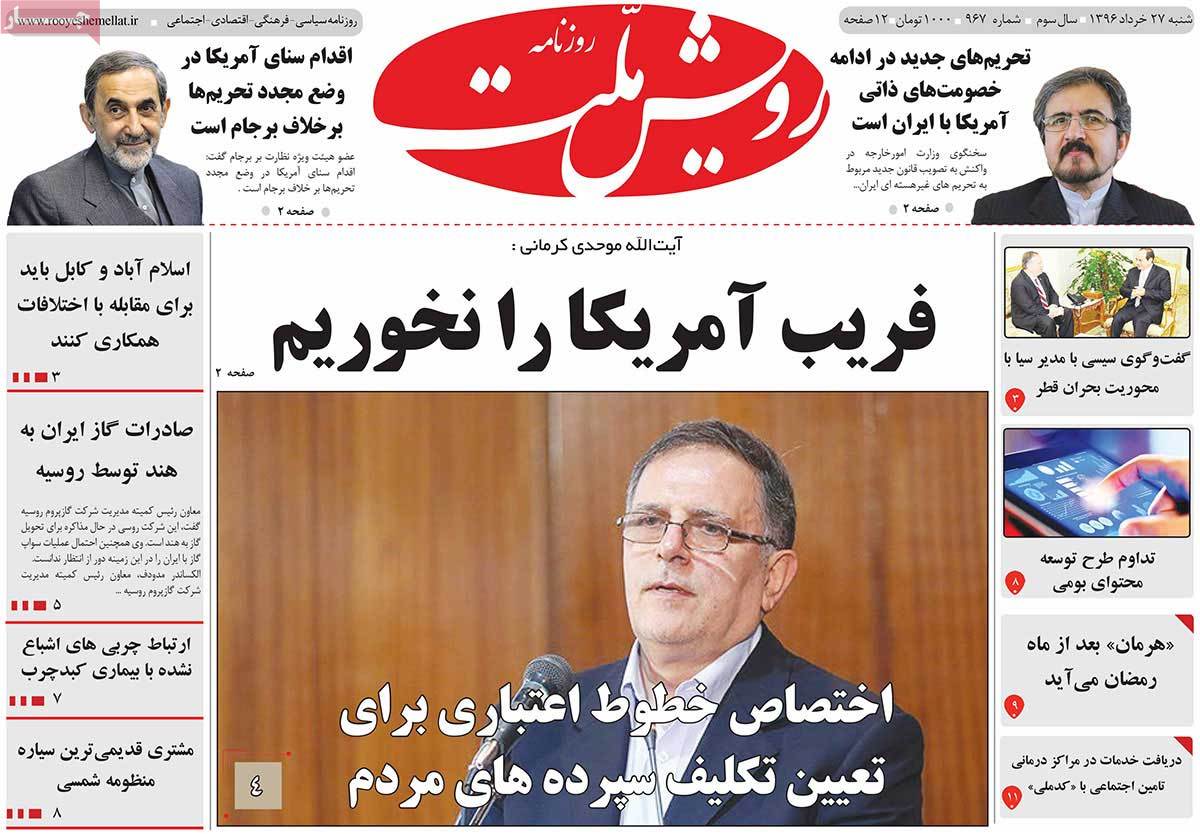 ---
Shahrvand:
1- Don't Meddle in Iran's Affairs: [Reformist] Senior Figures Write to US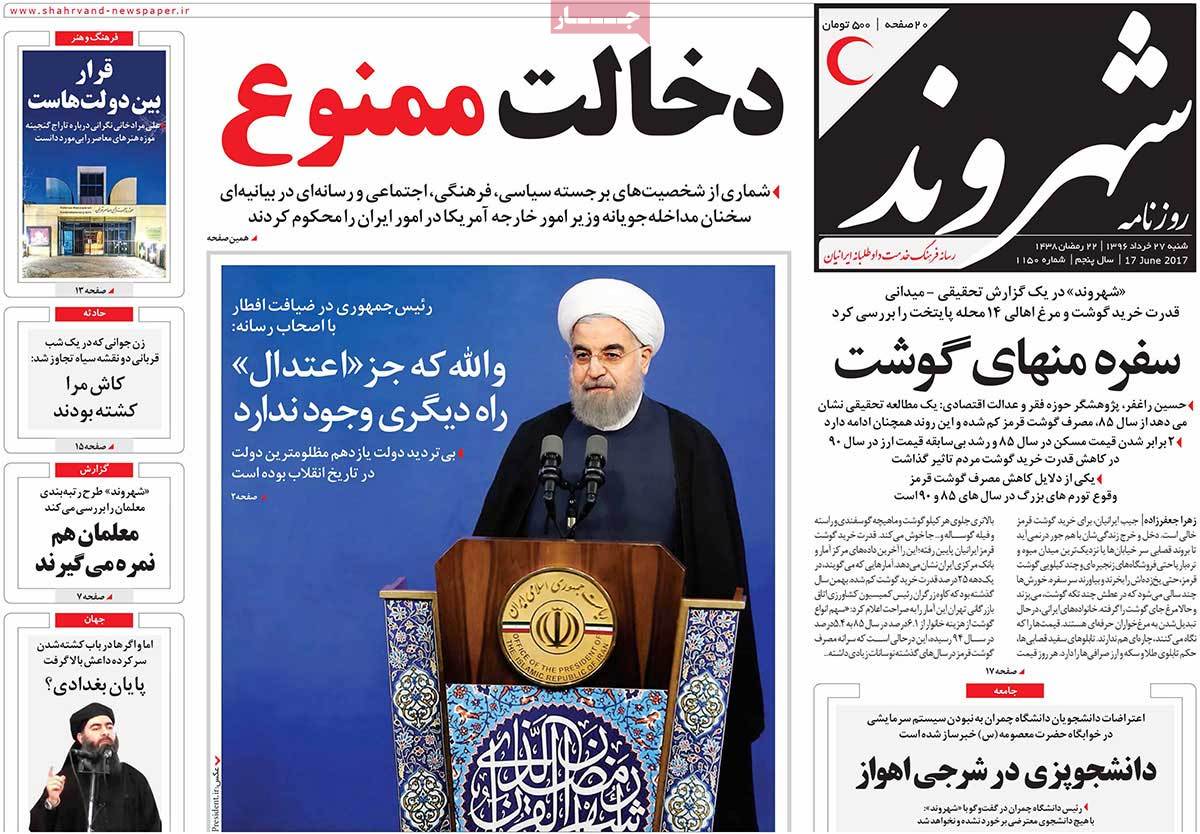 ---
Shargh:
1- Parliament's Letter to IRGC: Warnings Issued Two Months before ISIS Attack
2- US Releases Documents on Role in 1953 Coup
3- Zarif Urges US Officials to Learn from History
4- Rouhani's Frightful Position [Editorial about all the ups and downs Rouhani will face in coming 4 years]
Sobh-e Now:
1- Return of Relations to Bush Era: Report on Latest Anti-Iran Moves
---
Vaghaye Ettefaghieh
1- American Illusion: A Report on US Efforts to Interfere in Iran's Affairs
2- Helmut Kohl Dies at Age of 87
3- Rouhani's Cabinet on Wave of Change