The top story today was the remarks made by IRGC Quds Force Commander Major General Qassem Soleimani about the ISIS terrorists' heinous atrocities in Iraq and Syria as well as the Islamic Republic's role in the liberation of Mosul.
Newspaper also covered a triple-urgency motion prepared by a number of Parliaments to stop the implementation of the country's huge gas deal with Total.
The full liberation of Iraq's Mosul and the celebrations held in the Arab country also received great coverage today.
Former Iraqi President Jalal Talabani's arrival in Tehran and the speculations raised about the next mayor of Tehran were among other top stories.
The above issues, as well as many more, are highlighted in the following headlines and top stories:
Abrar:
1- Parliament Working on Triple-Urgency Motion to Stop Deal with Total
2- Kurdistan's Talabani Arrives in Tehran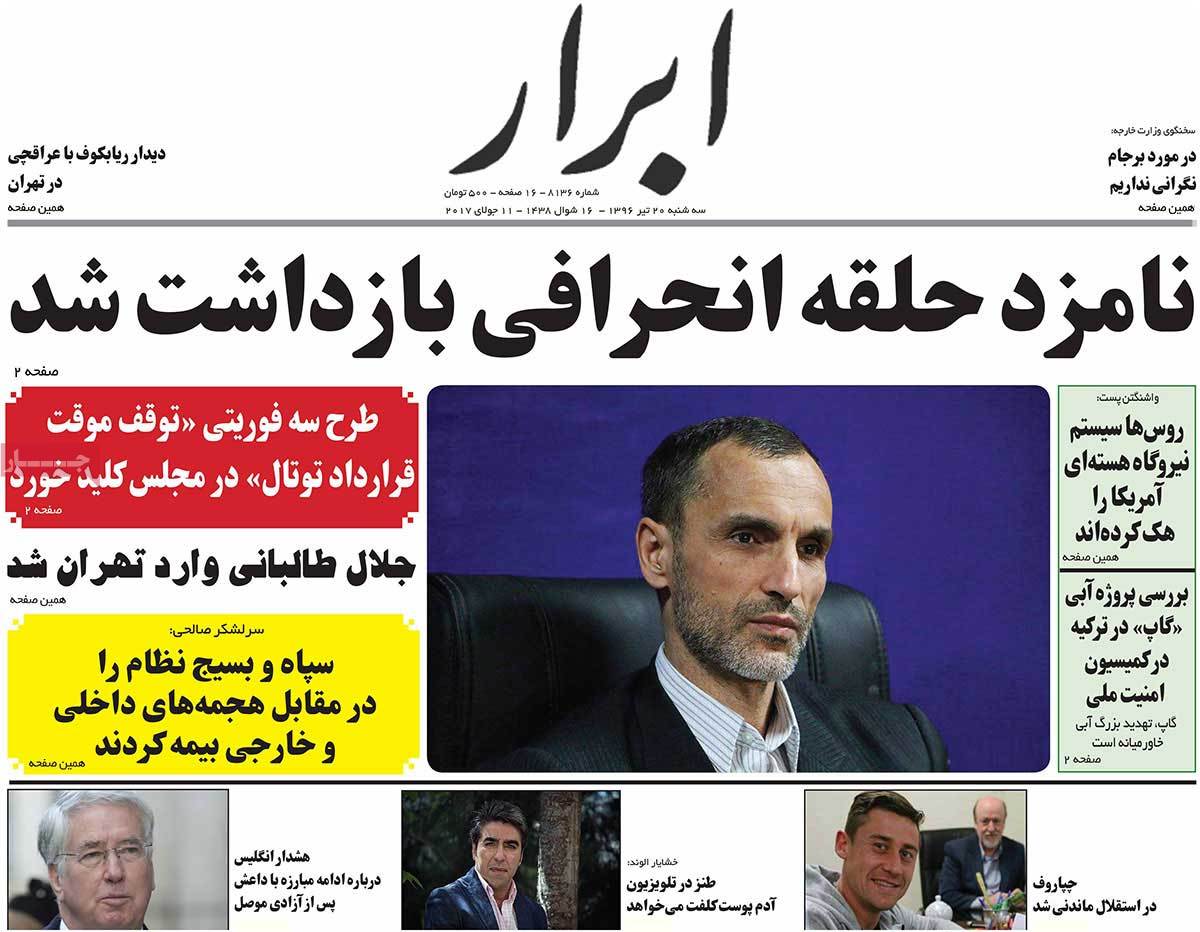 ---
Aftab-e Yazd:
1- Raisi, Latest Candidate for Heading Expediency Council
---
Arman-e Emrooz:
1- Hashemi to Replace Hashemi
Ayatollah Hashemi Shahroudi May Take Ayatollah Hashemi Rafsanjani's Seat
2- Tourism Police to Help Tourists
3- People Voted for Mohsen Hashemi Rafsanjani to See Him Elected as Tehran Mayor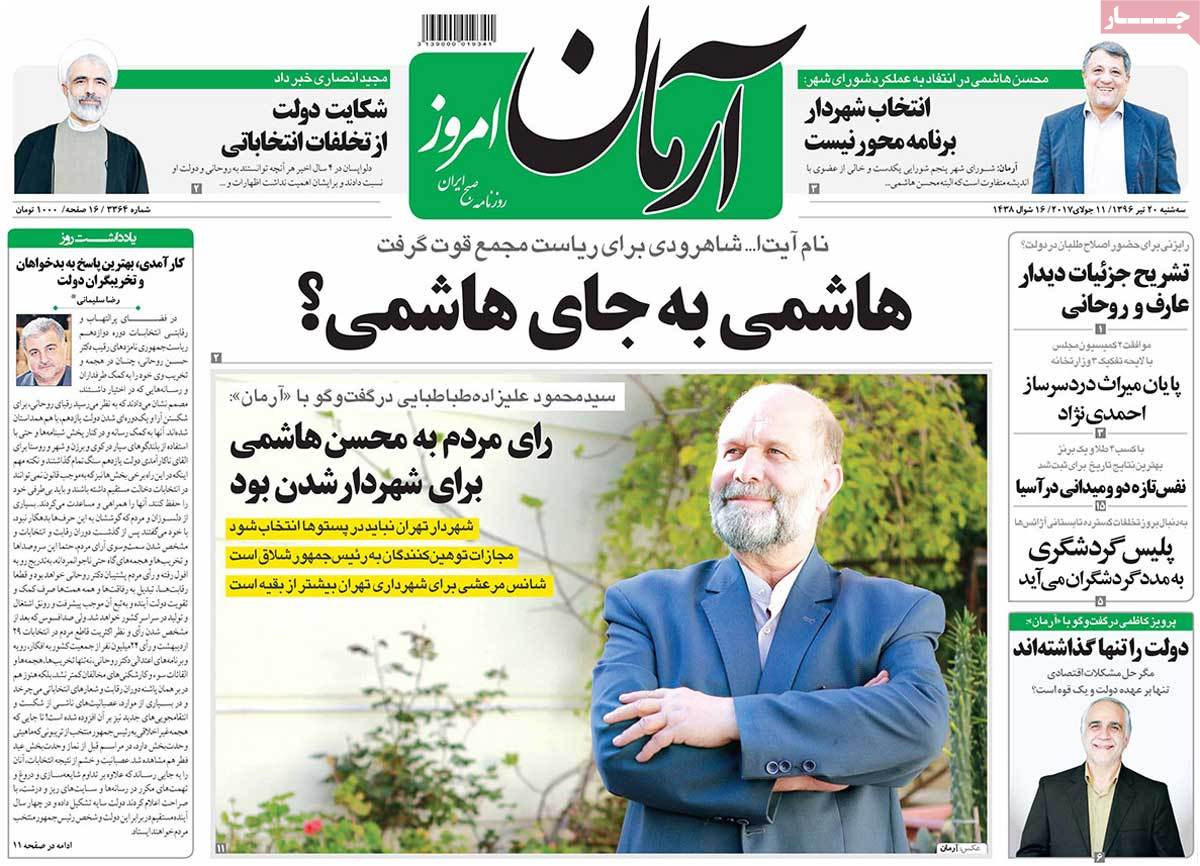 ---
Bahar:
1- Settling Problems of Iranian Students Abroad Achievement of JCPOA
2- Iran Constitution Needs to Be Updated Based on Current Circumstances: VP
---
Donya-ye Eqtesad:
1- 100,000 People Hold Protest Rally against Erdogan
---
Ebtekar:
1- Interior Minister: New Terrorism Unpredictable
2- First VP Calls on People to Reduce Power Consumption
3- Qatar Crisis May Lead to Collapse of Persian Gulf Cooperation Council
Opportunities, Threats of Arabs' Tension for Iran
---
Etemad:
1- Zarif to Visit New York
2- General Soleimani: Mosul Liberated Thanks to Ayatollah Sistani's Fatwa
3- 200 Plains in Iran Suffering from Absolute Water Crisis
---
Ettela'at:
1- 22 Int'l Firms Competing for Investment in Iran's Biggest Oilfield
2- Zarif: Iran Relies on Its Own People for Its Security, Legitimacy
3- Al-Qaeda Takes 100 ISIS Terrorists in Syria as Hostage
4- Non-Oil Economic Growth Rate in Past Iranian Year Stands at 3.3%
---
Hamshahri:
1- Diplomacy Should Be in Service of Economy
---
Iran:
1- Government Files Lawsuit against Electoral Offences
2- First VP: Increase in Unnecessary Power Consumption Worrisome
3- Fingerprint of Trump's Son in Russiagate
---
Javan:
1- General's Account of Mosul Liberation
Shiites, Sunnis, Iraqi Kurds Had Unity in Eradication of ISIS
2- 300,000 Yemenis Suffering from Cholera
3- Iran's Food Security Threatened by 2030 Document
---
Jomhouri Eslami:
1- German TV: Wahhabism Same as ISIS
2- RouhaniCare to Be Continued in Next Gov't
---
Kayhan:
1- Iran Parliament to Stop Implementation of Total Gas Deal
2- Anti-Erdogan Protesters Hold Huge Protest Rally in Istanbul
3- Big Celebration of ISIS Collapse in Iraq; US Once Again Humiliated
---
Kelid:
1- Basij Commander: Ayatollah Khamenei Has Best Plans for Future of Iran Revolution
---
Khorasan:
1- Iran Leader Allocates $1.5bn to Development of Irrigation in Khuzestan
2- Aref, Rouhani Hold Meeting on Next Cabinet
3- General Soleimani's 4 Shocking Accounts of ISIS Atrocities in Iraq, Syria
---
Mardom Salari:
1- Trump's Son Engaged in Russiagate: Collusion with Kremlin Lawyer
2- Parliament Trying to Prevent Dust Storm
3- Iran Ready to React to Any Misguided US Step
---
Shahrvand:
1- Official Says Worried about Iranian Society's Middle Class
2- Iran Ready to Fight Common Diseases in Chad
---
Shargh:
1- Senior Reformist: Rouhani Should Form Gov't of National Reconciliation
2- Old Guerrilla in Tehran: Jalal Talabani Arrives in Iran
3- General Soleimani: Iran's Defence Ministry Worked for 3 Shifts to Prove Iraq with Weapons
4- Velayati: Head of Expediency Council to Be Appointed Soon
---
Tejarat:
1- I'll Respect Majority Vote: Mohsen Hashemi Rafsanjani on Working as Mayor of Tehran