The top story today was the Leader's appointment of Ayatollah Mahmoud Hashemi Shahroudi as the new head of Iran's Expediency Council. The Leader, Ayatollah Seyyed Ali Khamenei, also appointed several others including Mohammad Baqer Qalibaf and Ebrahim Raisi as new members of the Council.
Newspapers also covered the Iranian Parliament's Tuesday session to review the qualifications of President Hassan Rouhani's proposed ministers. Rouhani himself was scheduled to appear in the Parliament to defend his nominated ministers.
Some conservatives papers also highlighted the ongoing unrests in the US, particularly in Virginia, and referred to the slogans calling for the overthrow of the US regime.
The above issues, as well as many more, are highlighted in the following headlines and top stories:
Abrar:
1- Ayatollah Hashemi Shahroudi Appointed Head of Expediency Council
2- CIA Chief Claims Iran, Hezbollah Present in Venezuela
3- Banking Problems Most Important Challenge in Rouhani's Second Term
---
Arman-e Emrooz:
1- Hashemi Revived in Expediency Council
Details of Changes in Council after Ayatollah Hashemi Rafsanjani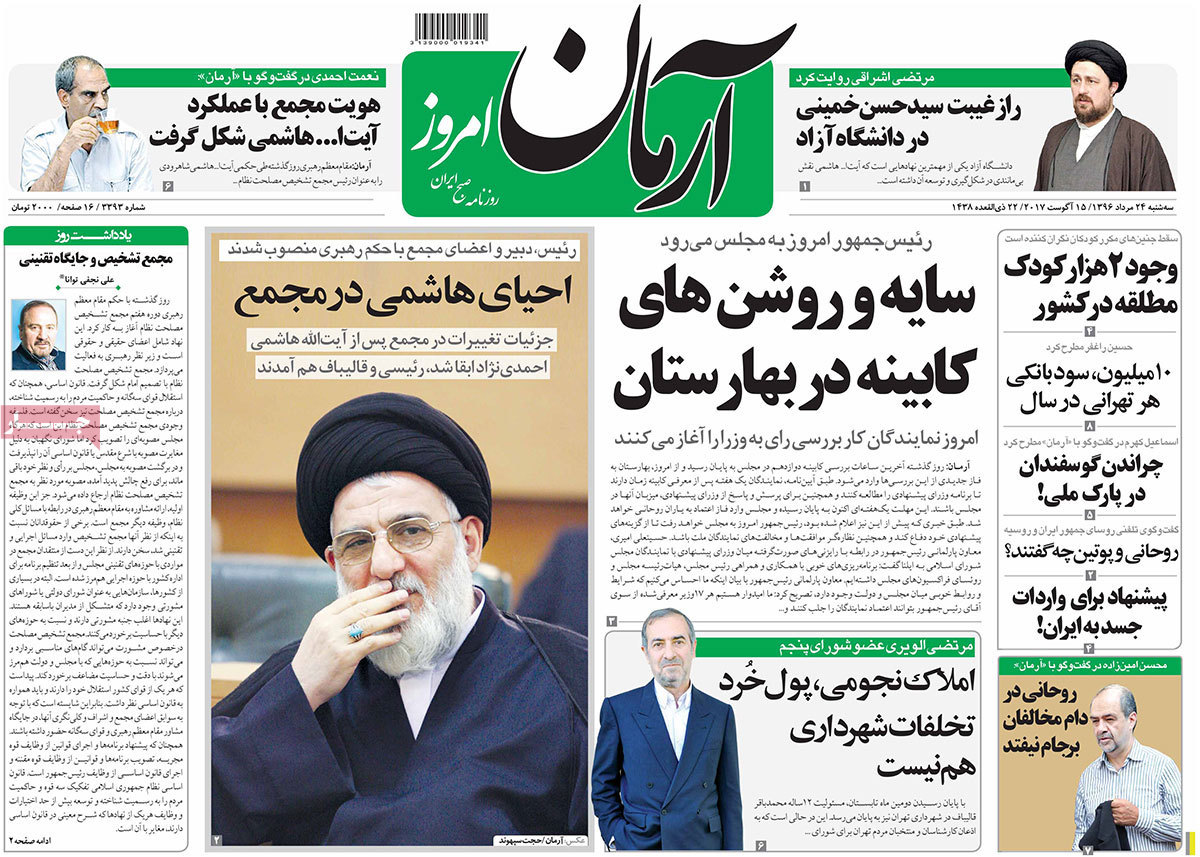 ---
Asrar:
1- Rouhani to Putin: US Measures Violate Nuclear Deal
2- SAIPA Hopeful about Prosperity of Iran Car Industry with New Minister
---
Ettela'at:
1- Iran Leader Names New Members of Expediency Council
2- 10 New Rapid Reaction Brigades to Be Created in Iran Army, IRGC to Fight Terrorism
3- Iranian, Russian Presidents Stress Strengthening JCPOA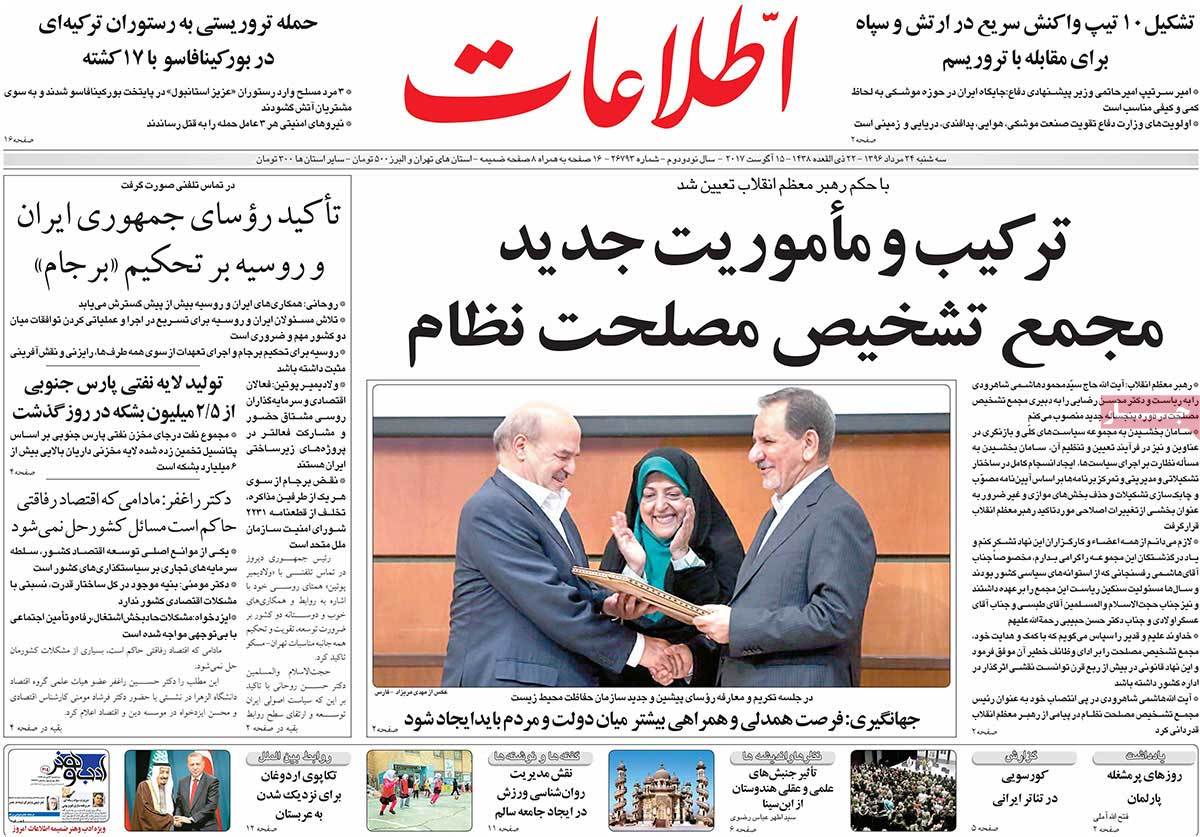 ---
Hambastegi:
1- Sadr in UAE, Sheikh Khalid in Baghdad
Muqtada Sadr's Continued Trips to Persian Gulf
2- Iran Faced with Water Crisis Today Only for Some More Tonnes of Wheat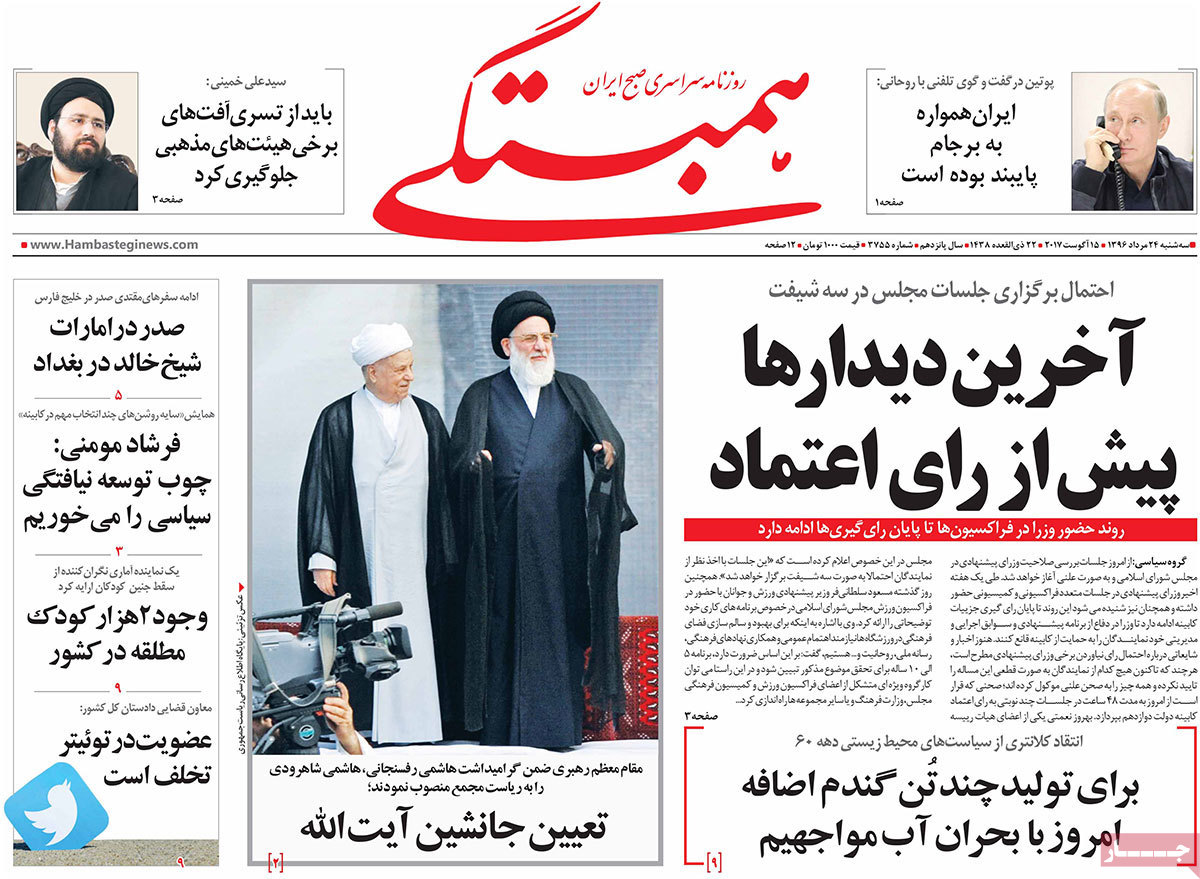 ---
Hemayat:
1- Judiciary Chief Blasts Human Rights Activists' Silence over Crimes in Afghanistan
---
Iran:
1- Iran Leader: Changes in Structure, Content of Expediency Council Necessary
2- First VP: Environment to Be First Priority of Next Gov't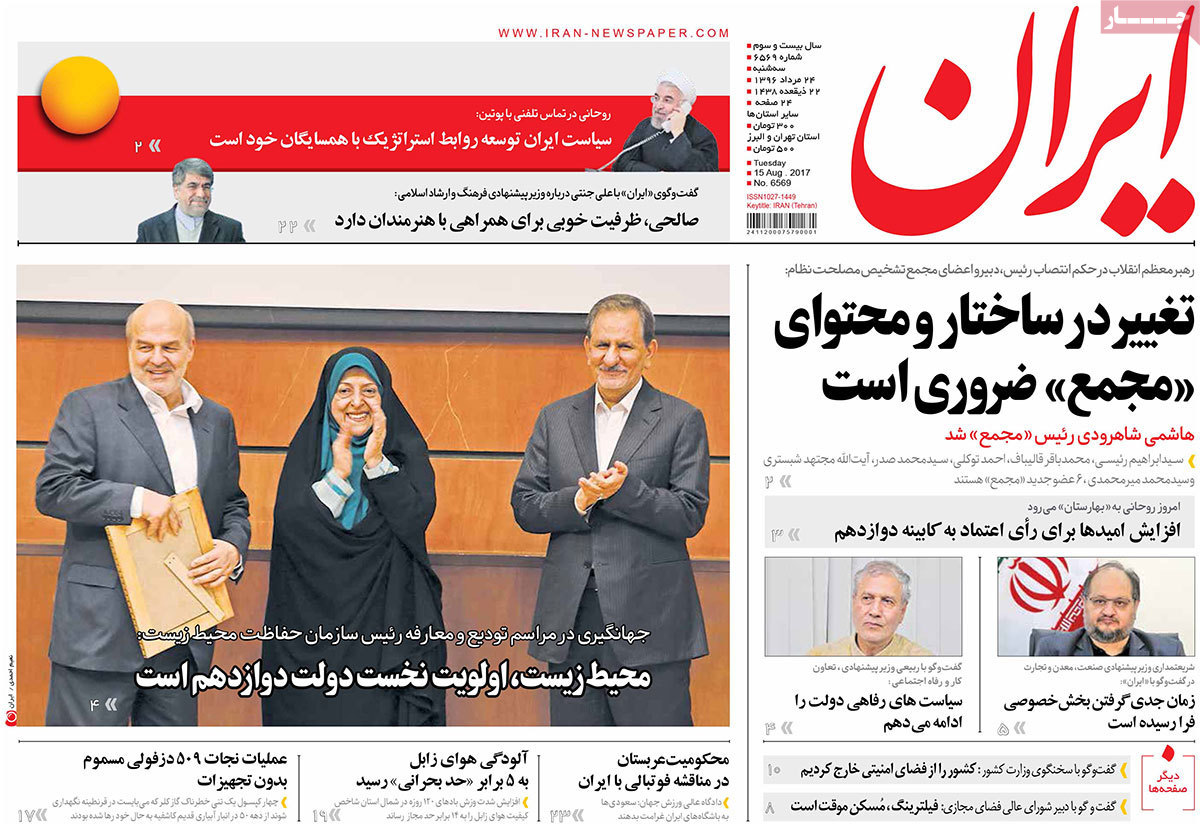 ---
Javan:
1- Iran Leader: Change Structure, Content of Expediency Council
2- Bin Salman Looking for Safe Exit from Yemen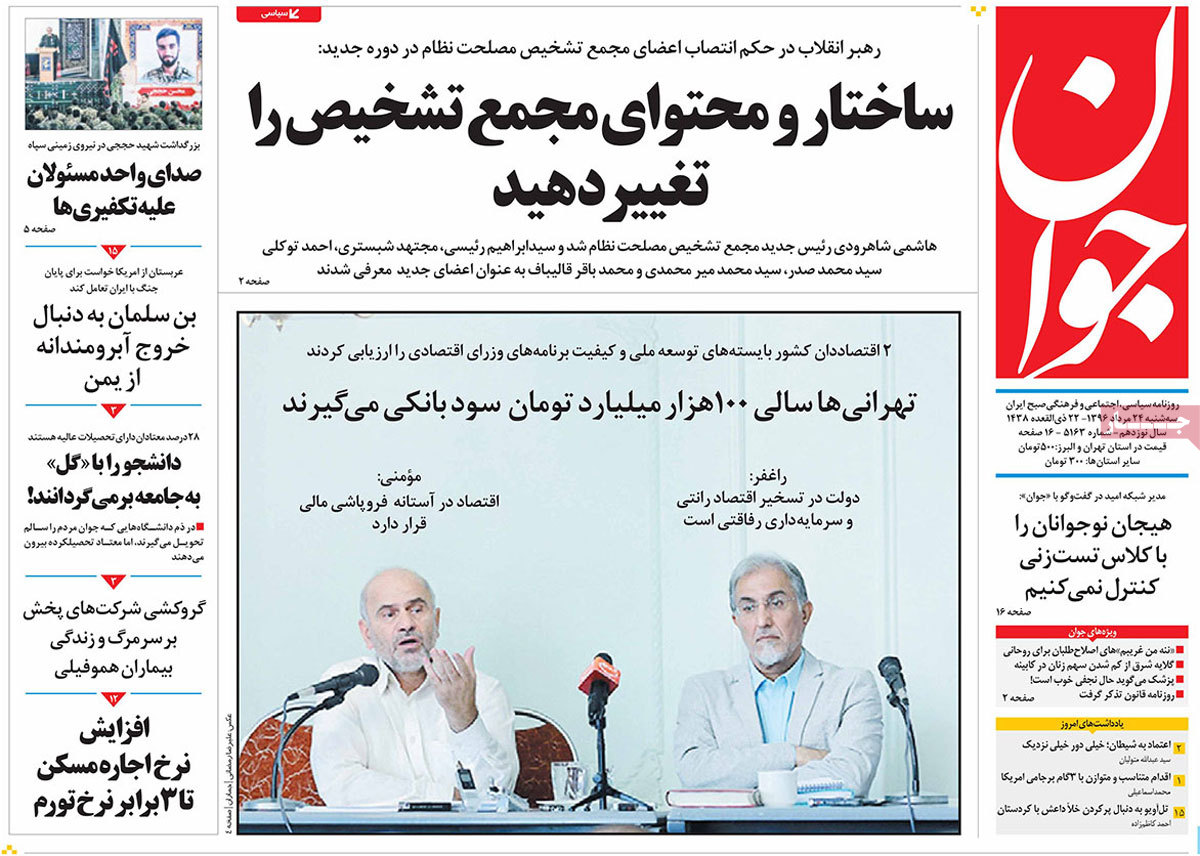 ---
Jomhouri Eslami:
1- Iran-Russia Coordination to Counter Washington's Anti-JCPOA Policies
2- Anti-Racism Activists Hold Protest Rallies across US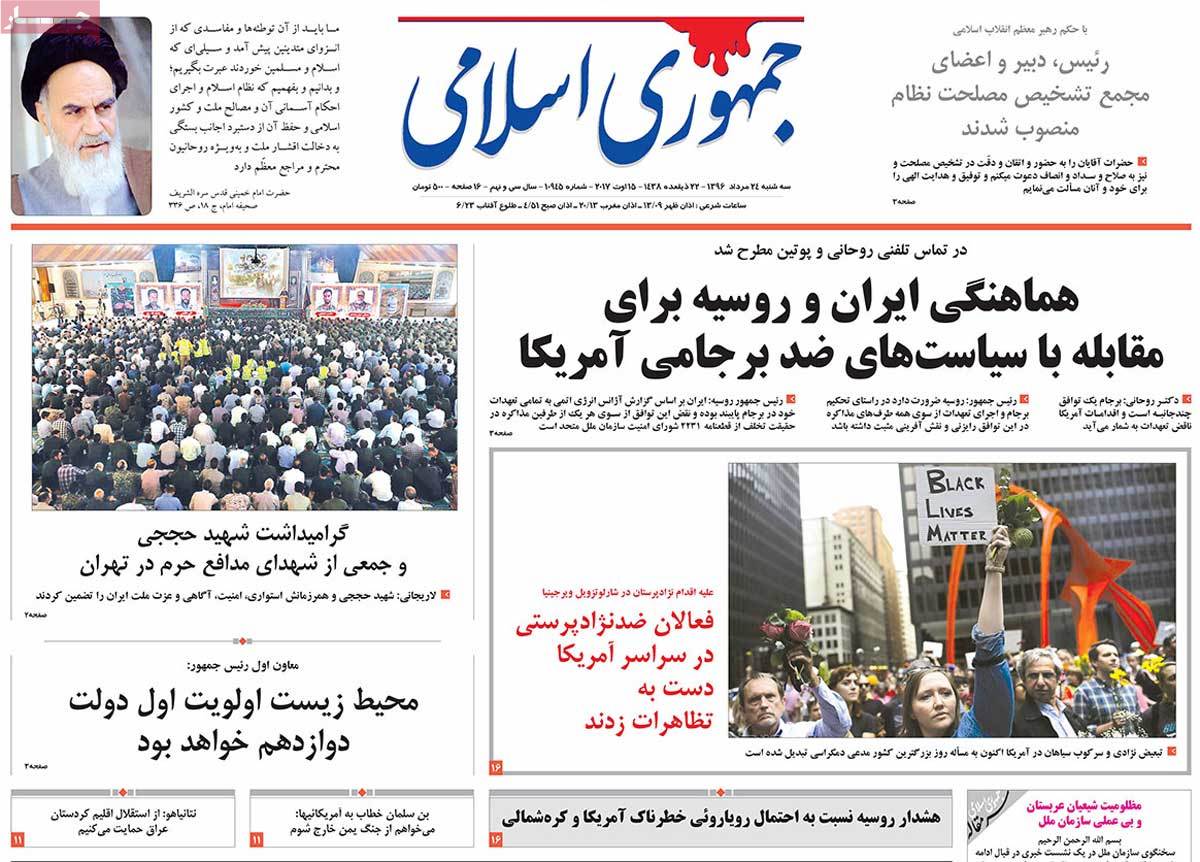 ---
Kayhan:
1- Charlottesville Unrests Spread to Entire US
People Chanting Slogans Calling for Overthrow of US Regime
2- Deputy Minister: Investment in Housing to Resolve Iran Economy Problem
3- Nasrallah to Israel: We'll Target Dimona Nuclear Facilities after Haifa's Ammonia Plants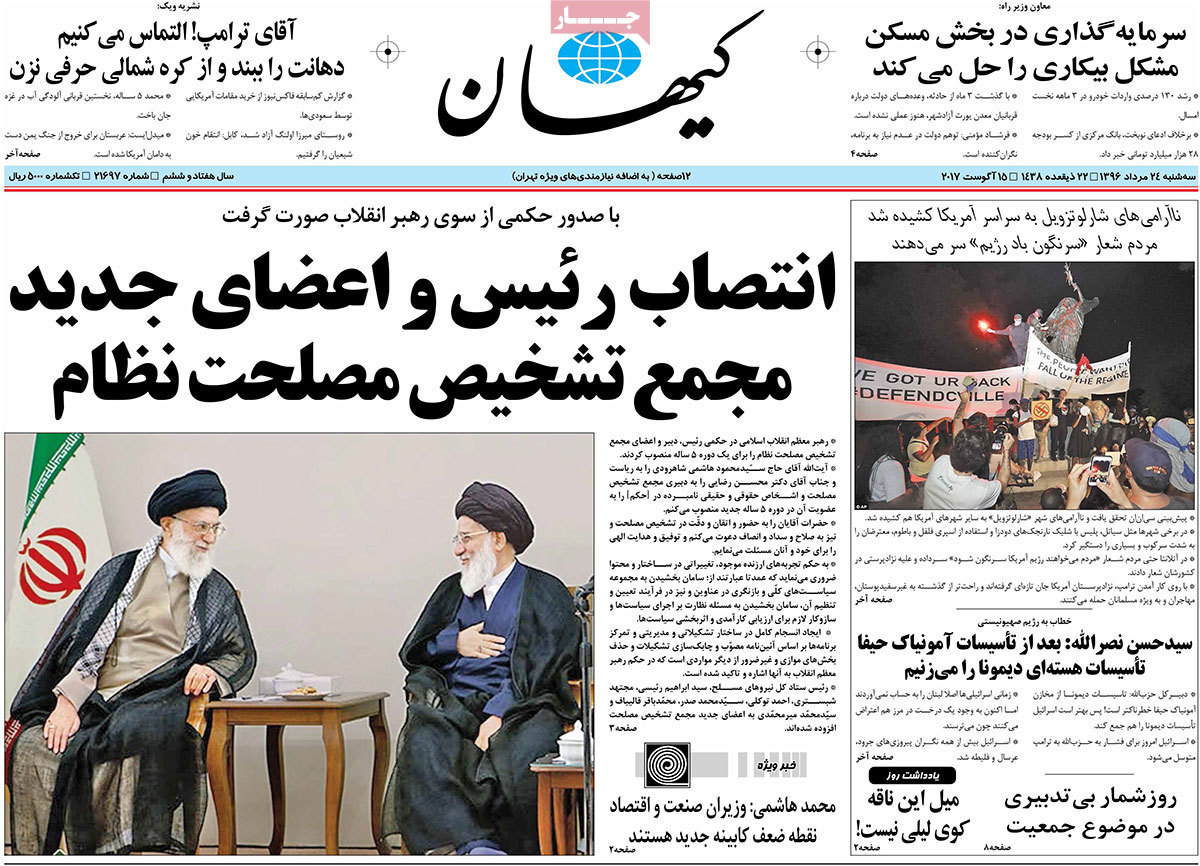 ---
Khorasan:
1- Members of Expediency Council's New Term Appointed
2- Zionist Regime Voices Support for Iraqi Kurdistan's Independence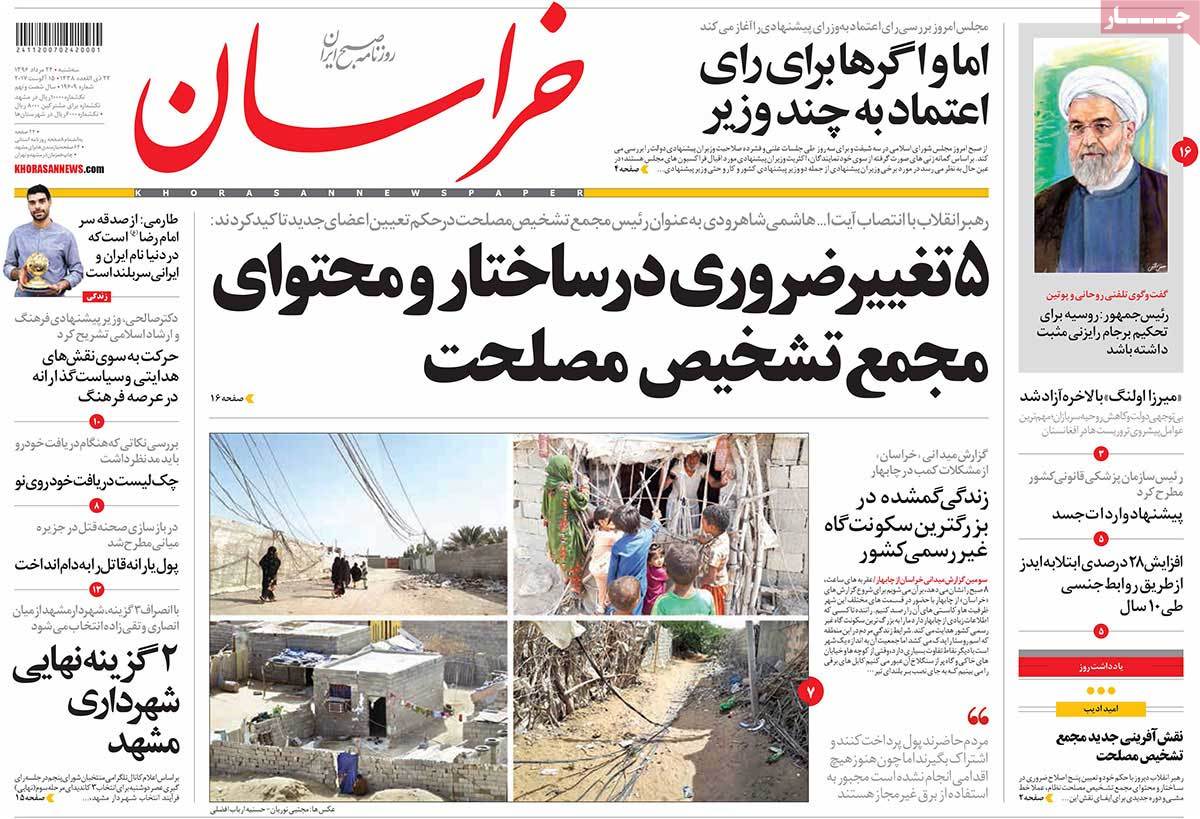 ---
Setareh Sobh:
1- Trump Accused of Racism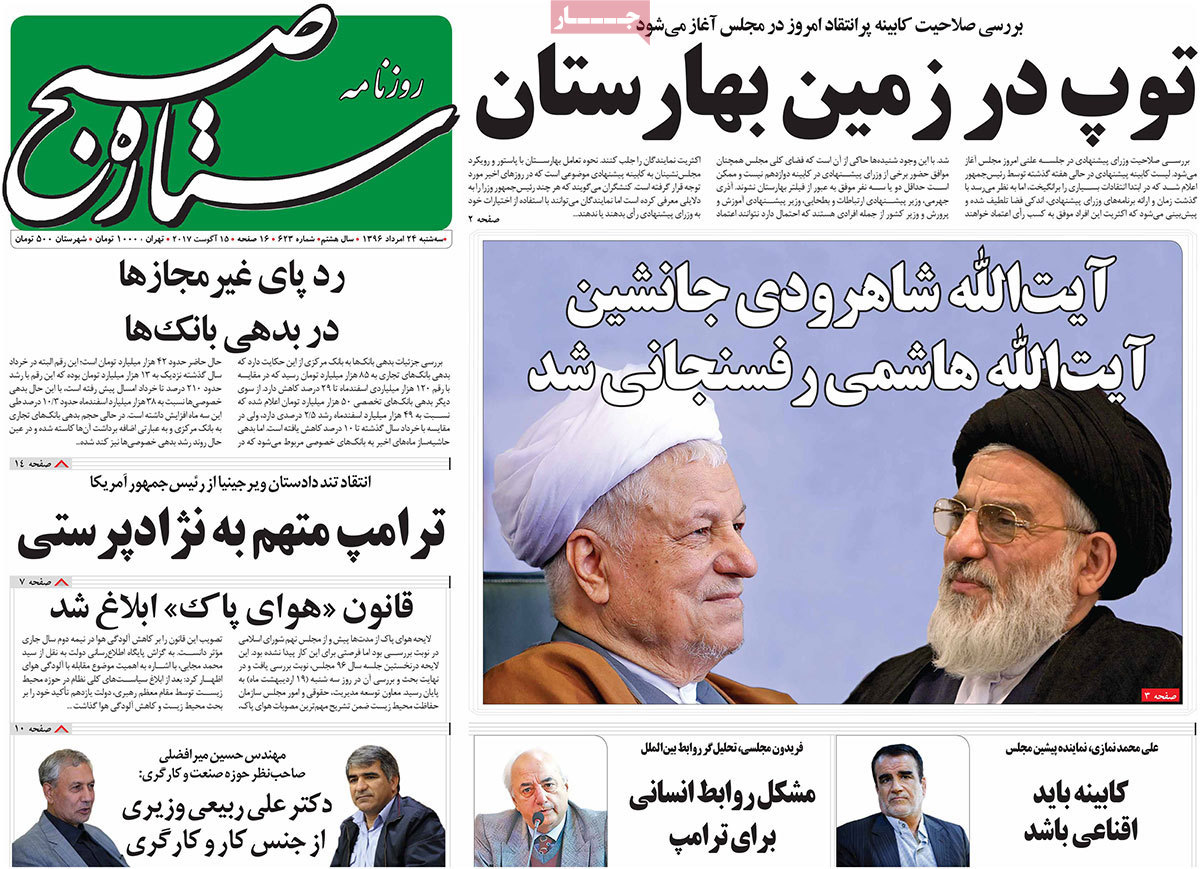 ---
Shargh:
1- Secret Permissions Given to Oil Criminal Babak Zanjani
2- Hashemi Shahroudi Replaces Hashemi Rafsanjani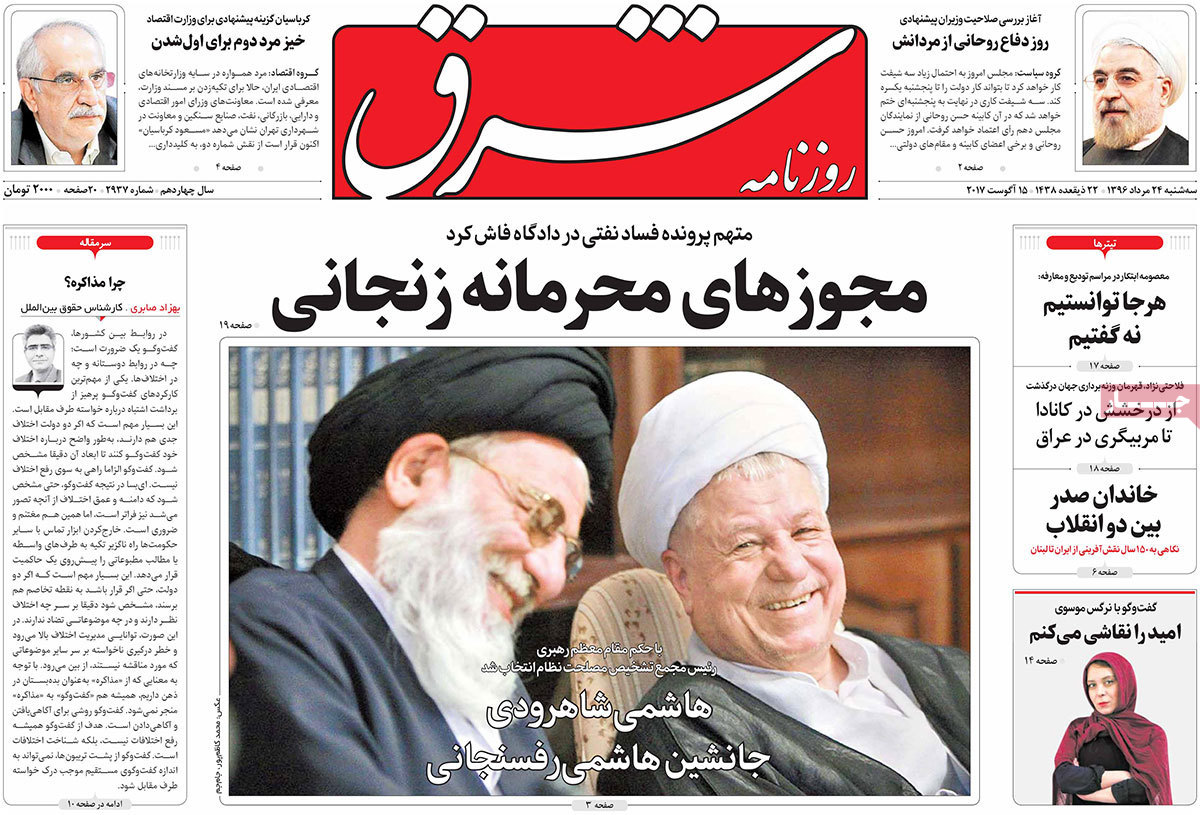 ---
Sobh-e Now:
1- Saudis Trying to Get Out of Yemen Quagmire
2- Leader Appoints Men Who Should Discern Iran's Expediency
---
Vatan-e Emrooz:
1- US in Old War
Are Bloody Clashes in Virginia Sign of 19 Century's Civil Wars Revival in US?
2- Iran Parliament to Review Qualifications of Proposed Ministers