The top story today was the Guardian Council's statement, in which it confirmed the result of Iran's presidential election, and stated that it has reported the electoral offences to the Judiciary.
The return of 6 Iranian sailors to the country after being lost in the Indian Ocean for three months also received great coverage.
Another top story was the latest developments in European countries, including German Chancellor Angela Merkel's remarks about the US-Europe ties, and the upcoming elections in Britain.
The above issues, as well as many more, are highlighted in the following headlines and top stories:
19 Dey:
1- President: No One in Iran Should Feel Homeless
2- With Rouhani's Moves in Next Gov't, We'll Overcome Poverty: IKRF Charity
---
Abrar:
1- Over 90 Killed, Wounded in Baghdad Terrorist Attack
2- Rouhani to Swear in on August 3
3- German Newspaper: Boeing, Airbus Worried about Deals with Iran
4- Mattis Claims Iran Had Role in Attempt on Jubeir's Life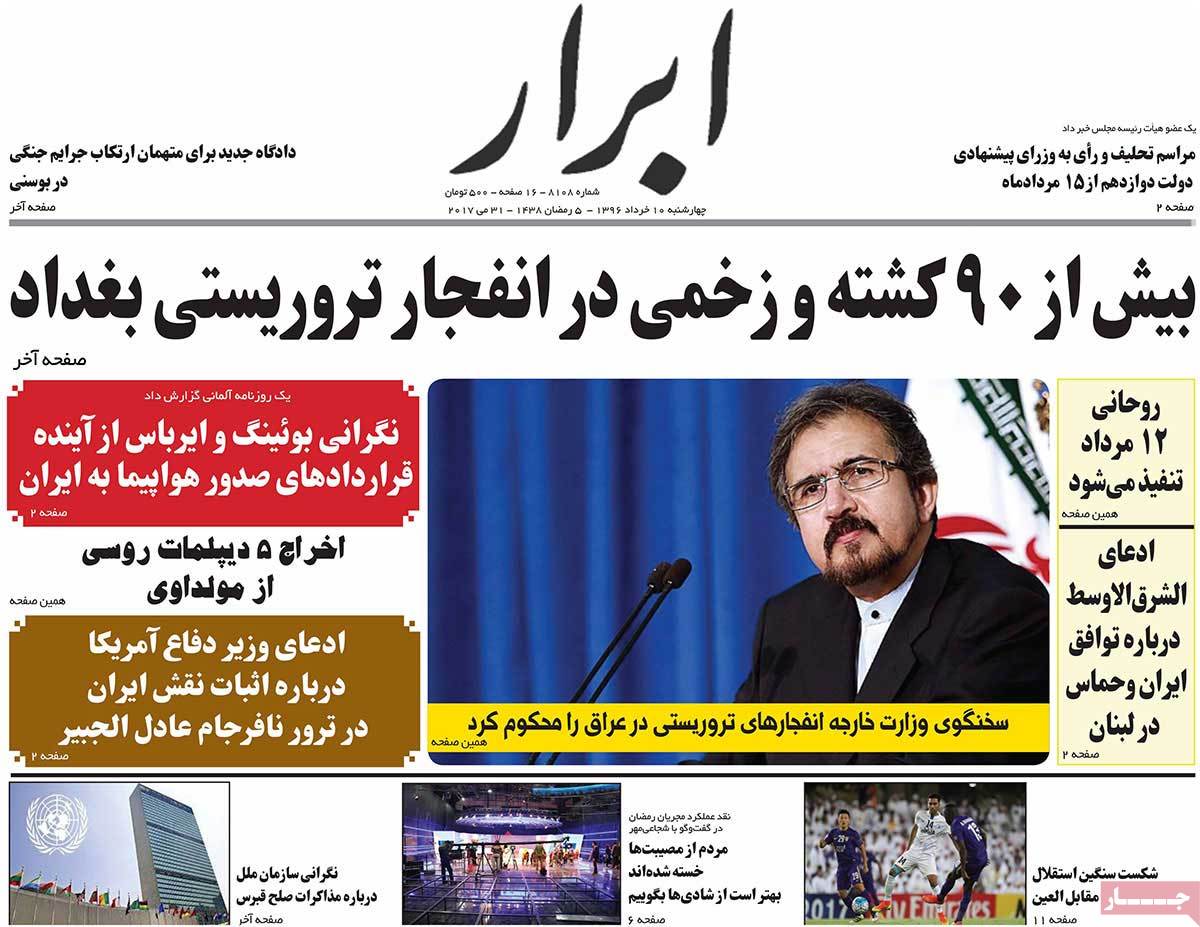 ---
Abrar-e Eqtesadi:
1- Rational Inflation Rate in Iran's Economy: 8%
2- Iran Invites Shell, Total for Oil Tender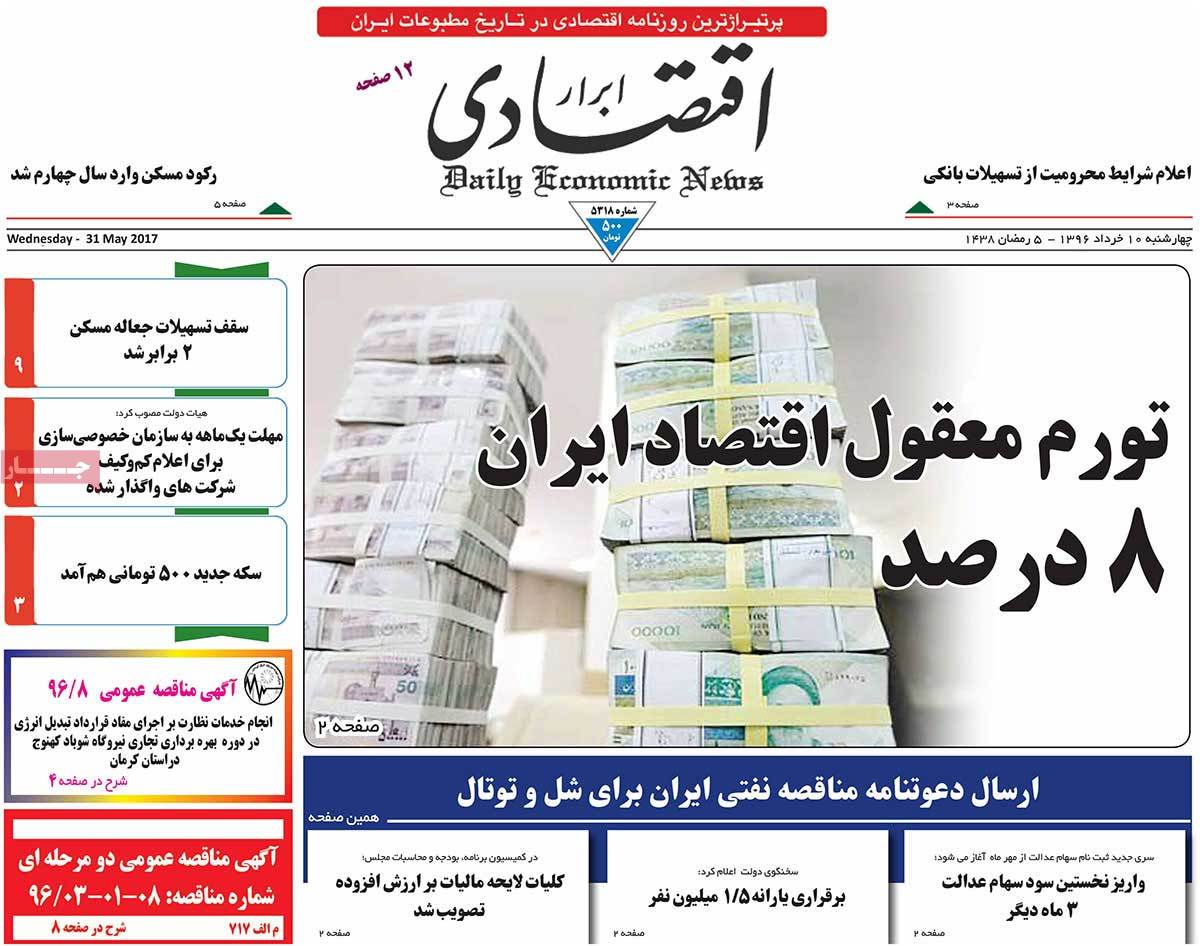 ---
Aftab-e Yazd:
1- Rouhani's Aide: Conservatives to Come Back to Power in 40 Years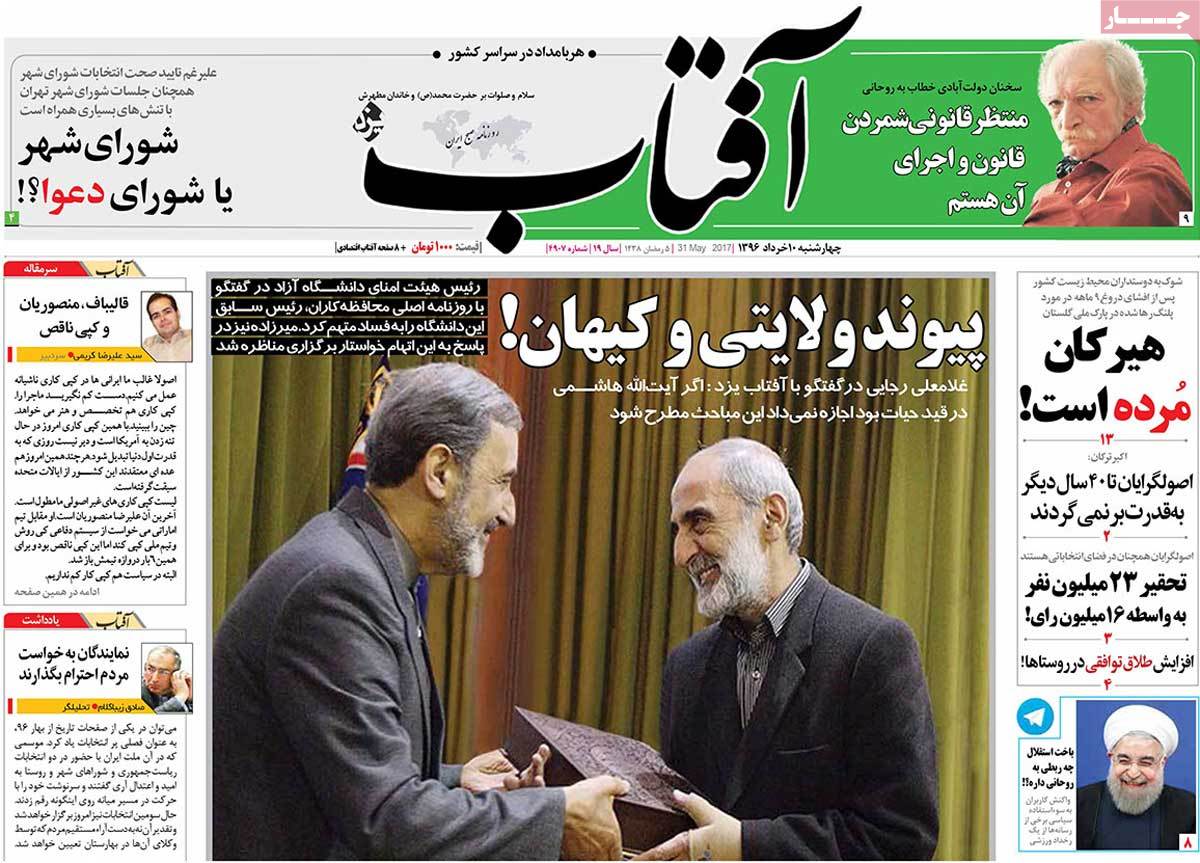 ---
Arman-e Emrooz:
1- Guardian Council Approves Result of Iran Elections
---
Asrar:
1- Government: No One Was Defeated in Elections; Nation Wins
---
Donya-ye Eqtesad:
1- Will Washington Be Isolated? Germans Looking for West minus US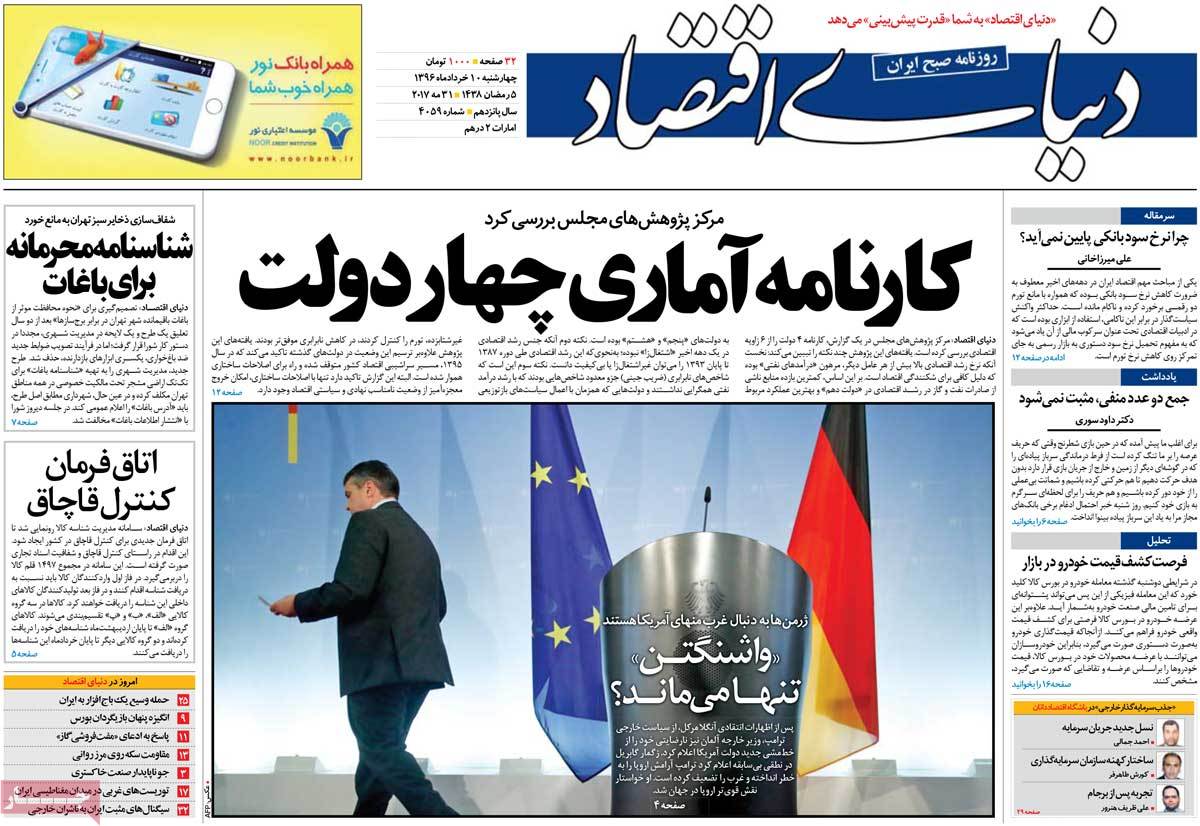 ---
Ebtekar:
1- Ahmadinejad, Baqaei Ask for People's Financial Aid!
2- Russia, France Consulting on Europe, Mideast Issues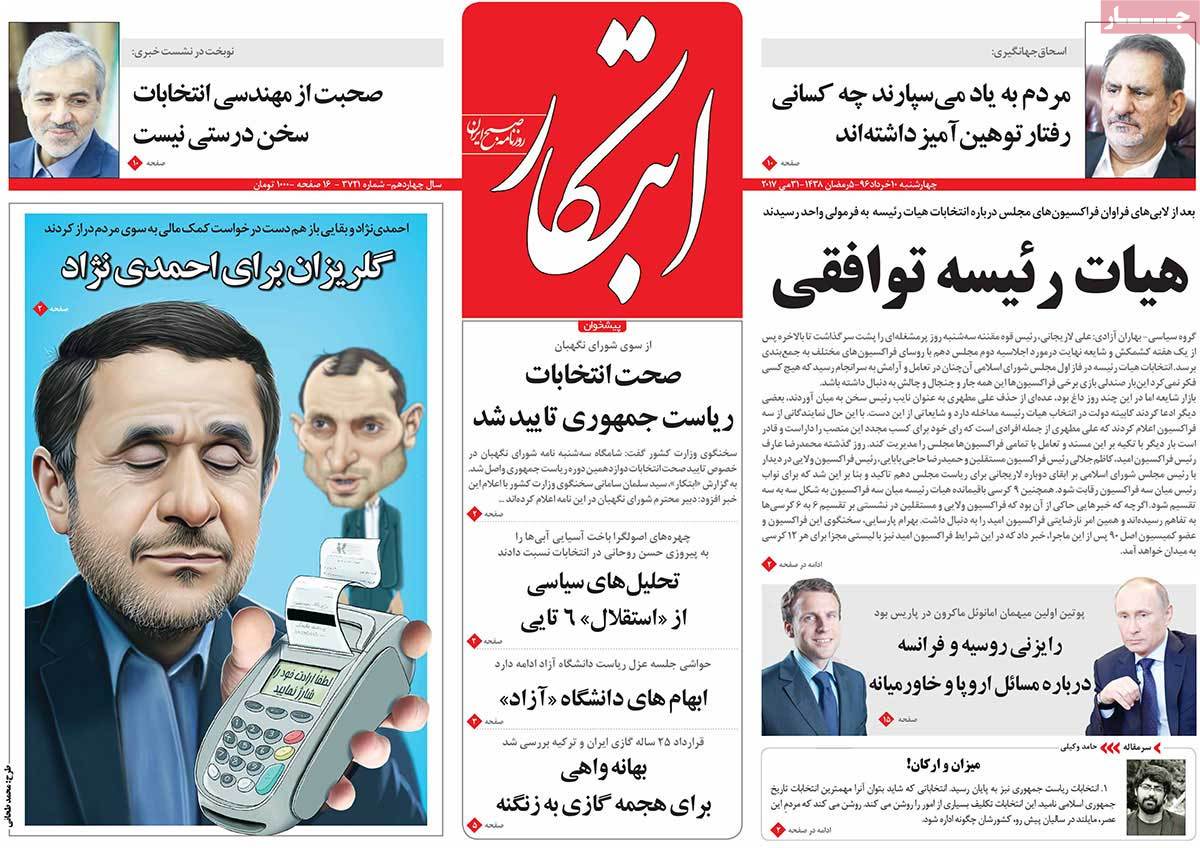 ---
Etemad:
1- Culture, Art Professionals' Demands from Rouhani
2- Britain Waiting for Election: 8 Days to Decisive Votes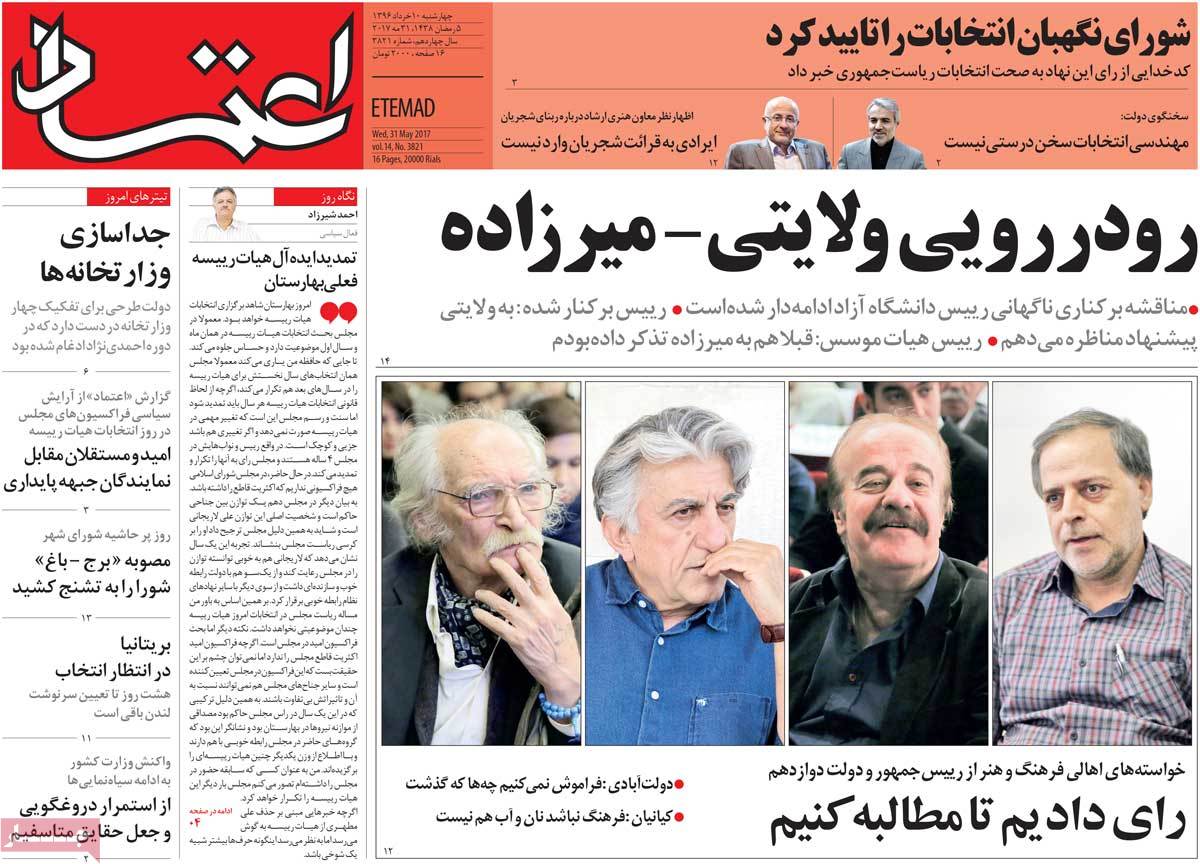 ---
Ettela'at:
1- Islamabad: We Won't Sacrifice Iran's Interests for Saudi Rulers' Greed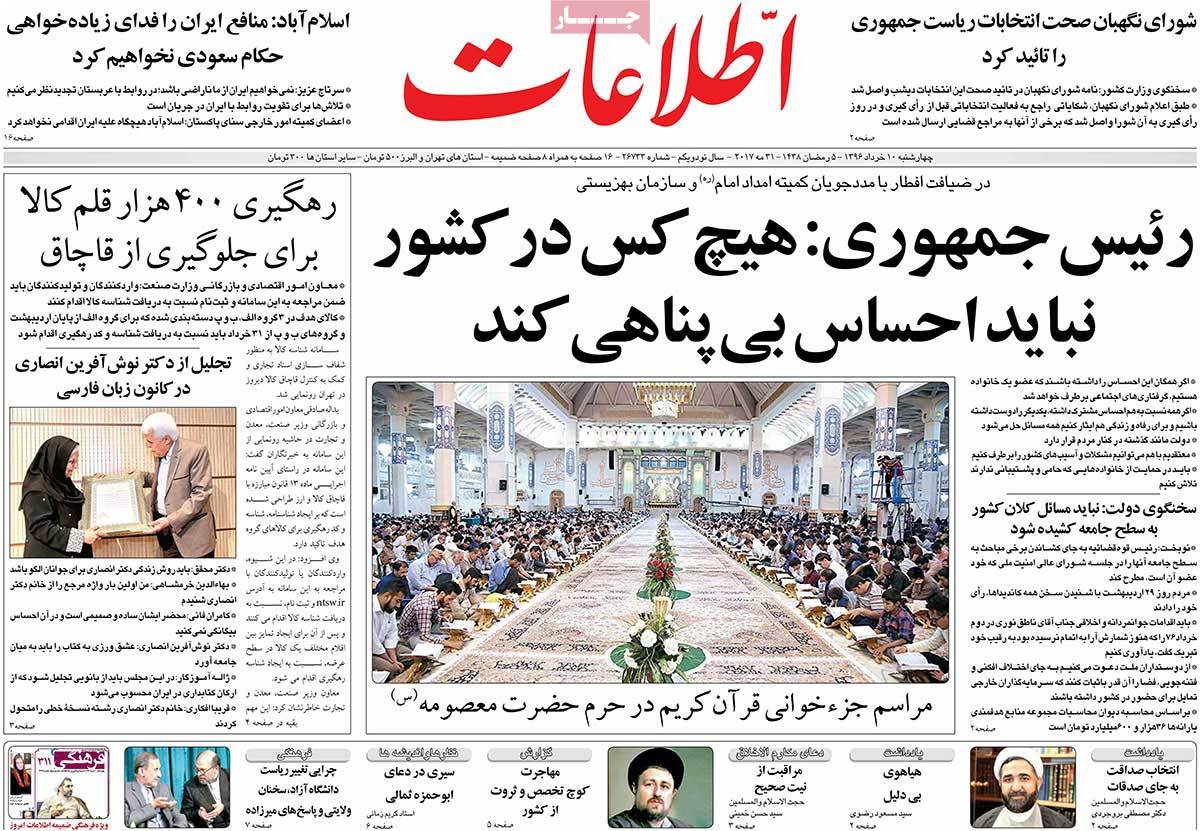 ---
Haft-e Sobh:
1- Eternity in Karl Marx Peak: Iranian Climber Dies in Tajikistan Mountains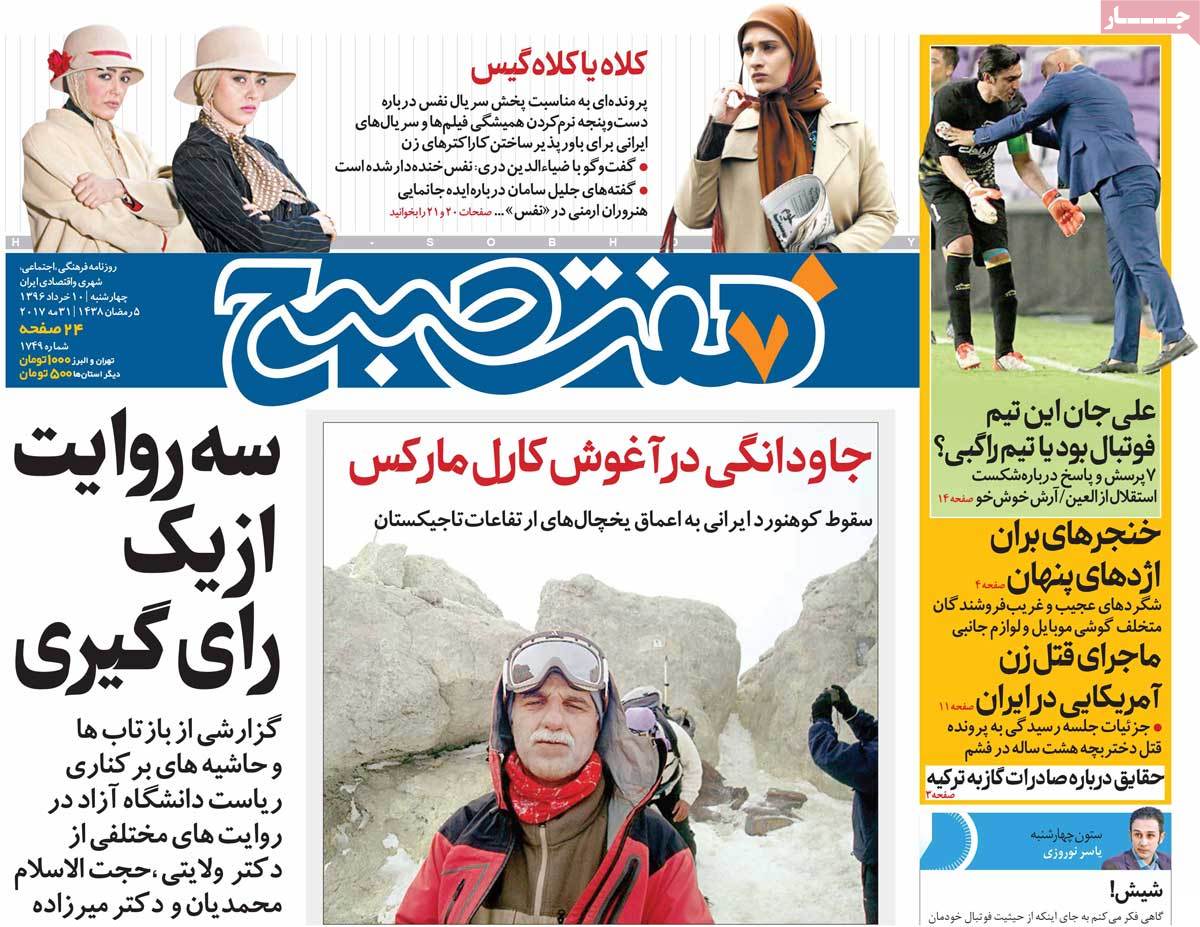 ---
Iran:
1- President: Iran Leader's Reservations about 2030 Document Will Be Carefully Considered
2- 3 Months of Struggling with Death in Indian Ocean: 6 Iranian Sailors Back in Iran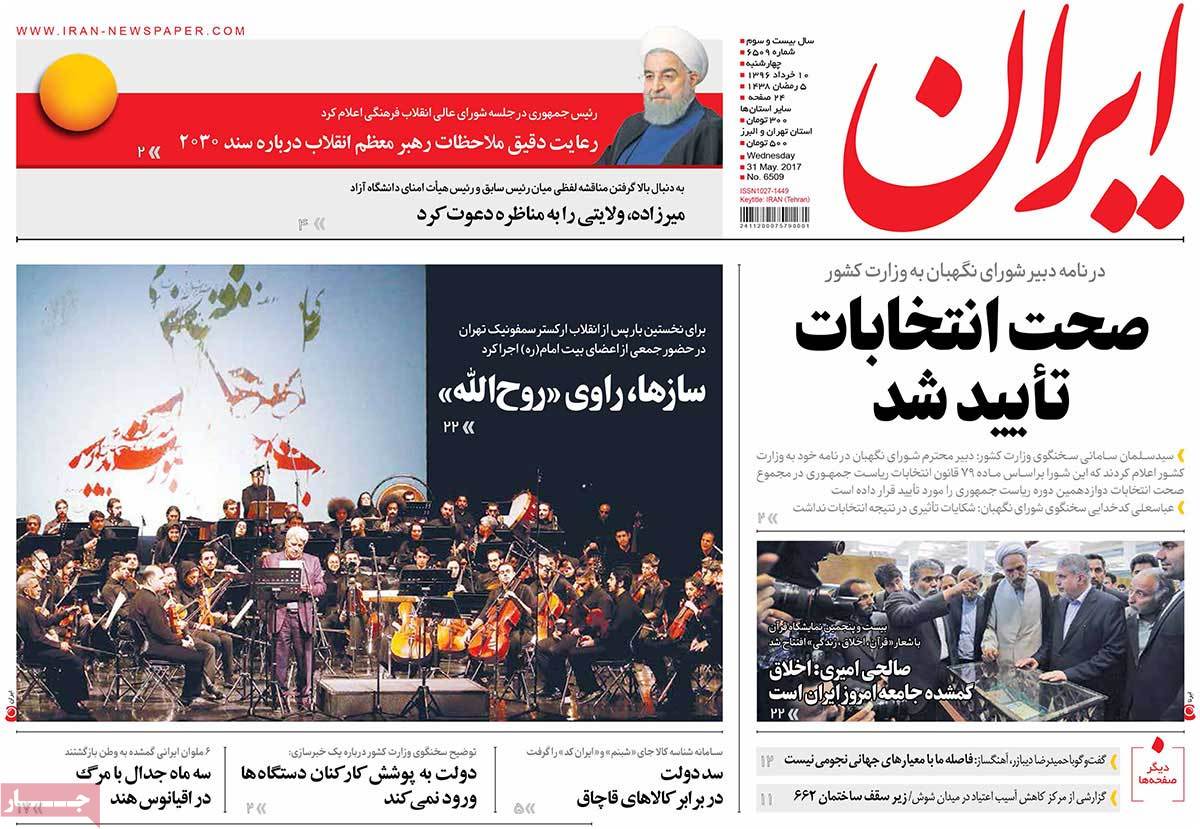 ---
Javan:
1- Guardian Council Confirms Result of Iran Elections, Reports Offences to Judiciary
2- White House: Shadow Gov't Wants to Overthrow Trump
---
Jomhouri Eslami:
1- German FM: US Policies Endanger Int'l Security
2- 22 Int'l Bodies Call for UNSC's Action to Implement Truce in Yemen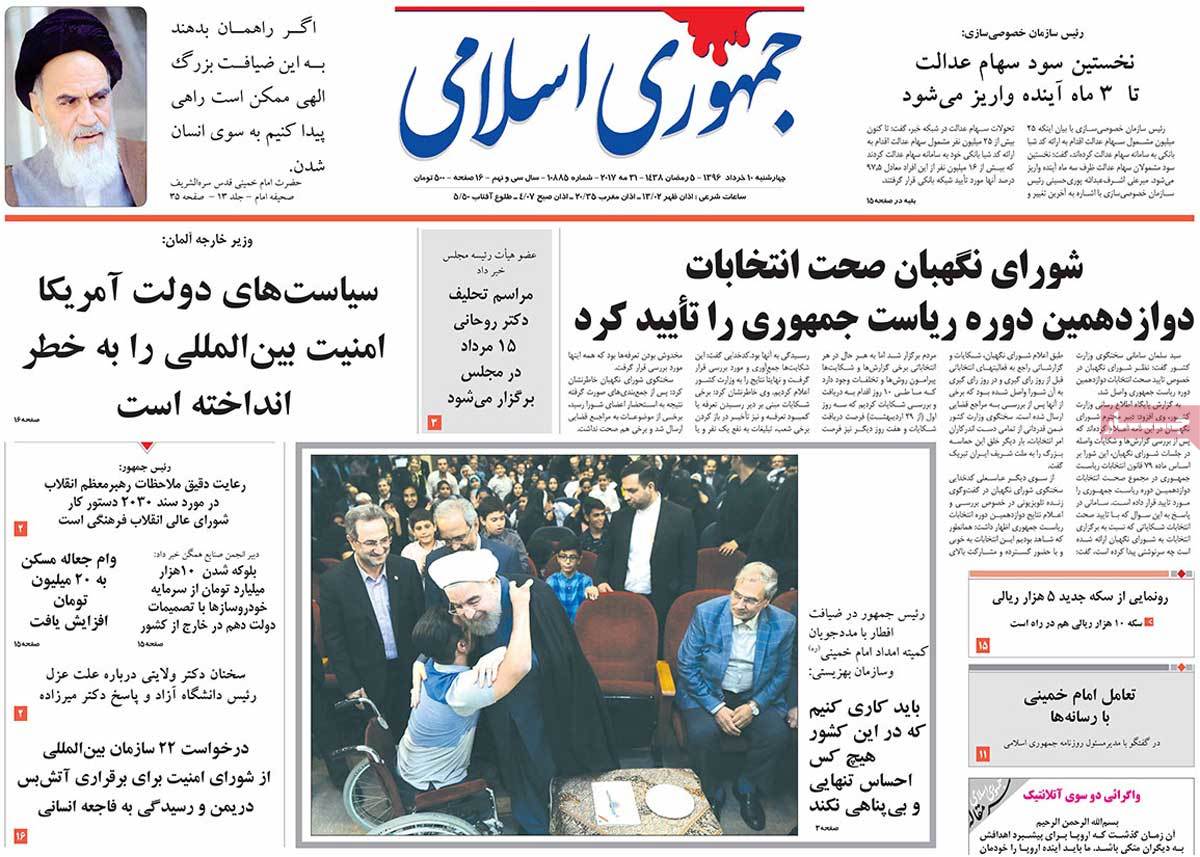 ---
Ka'enat:
1- Panama's Dictator Dies at 83
2- 9 Years and 40 Days: Rouhani Congratulates Iranian Climber Qeychisaz
---
Kayhan:
1- Cholera in Yemen Kills 500; 55,000 More Waiting for Death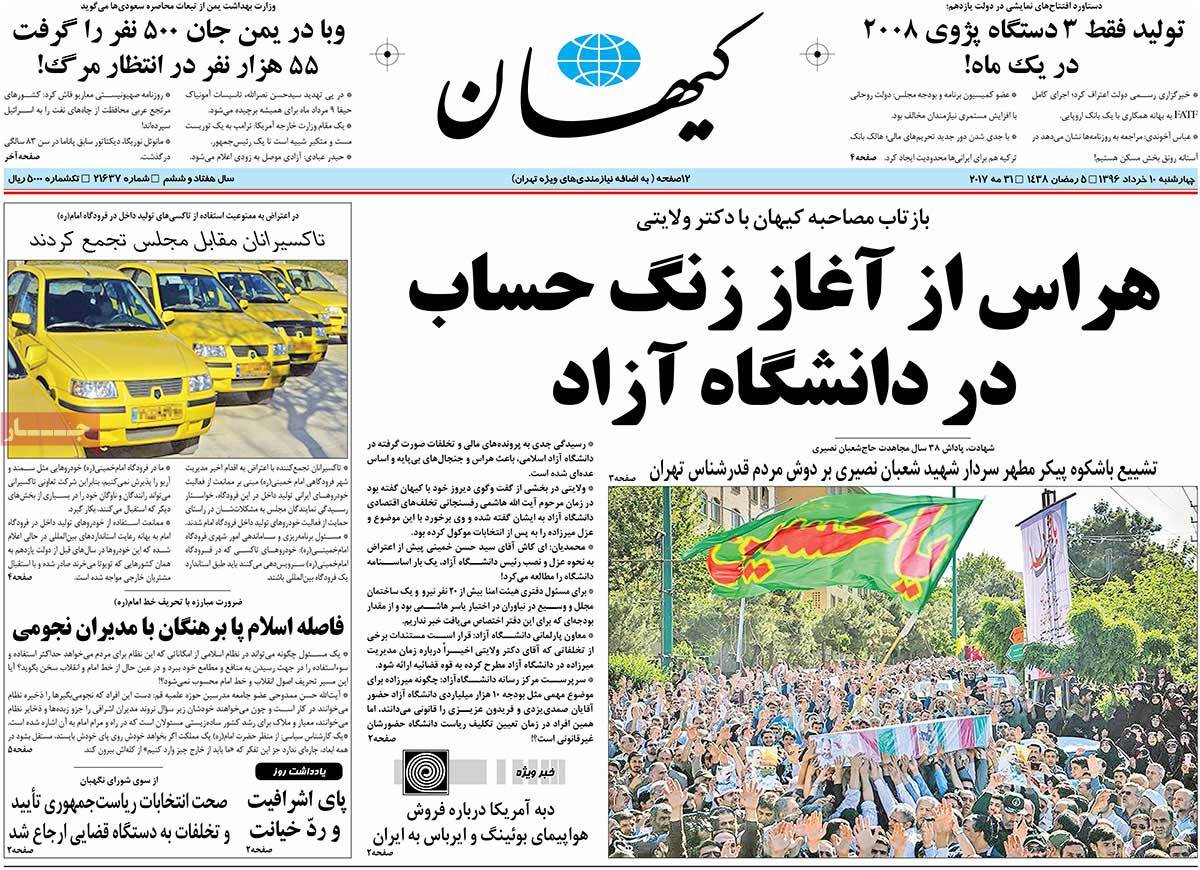 ---
Resalat:
1- Iran's Motto for This Year's Hajj Pilgrimage: National Might, Islamic Solidarity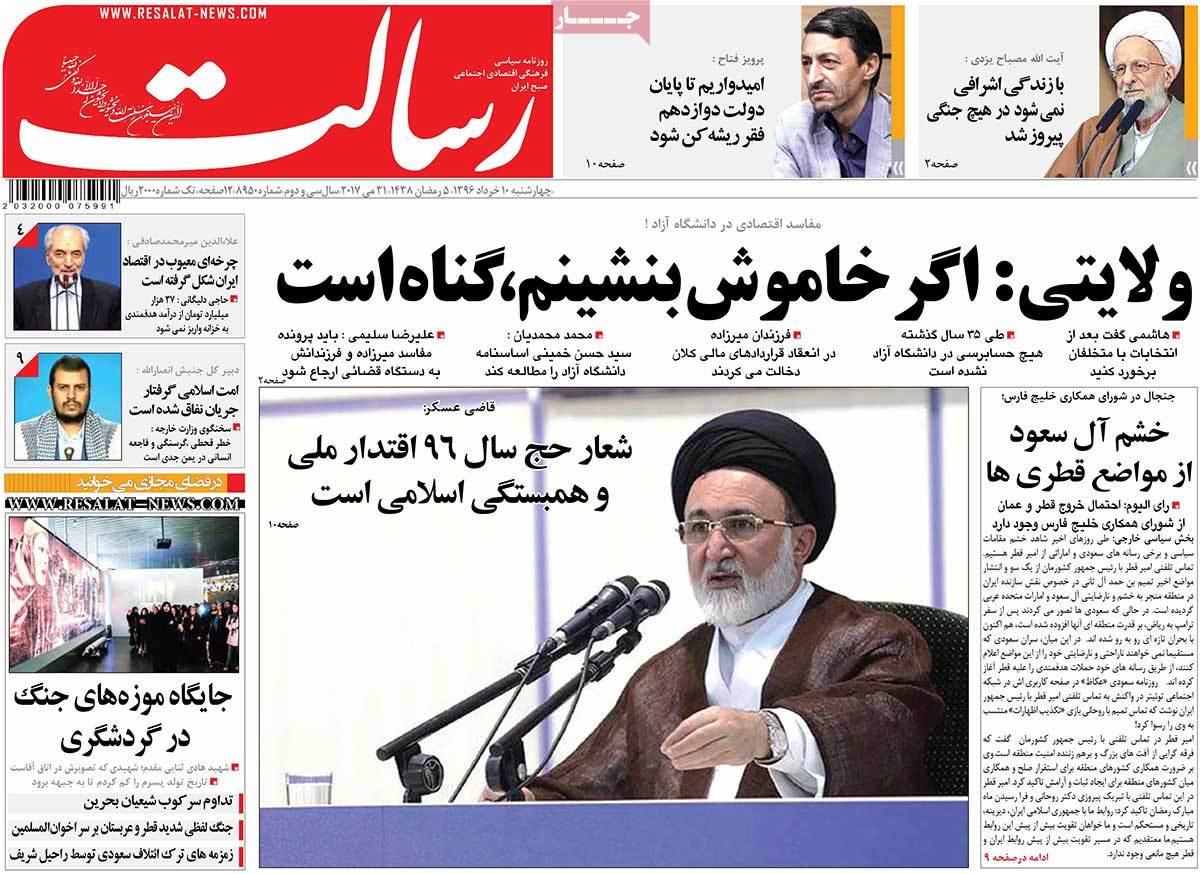 ---
Sepid:
1- Third Wave of AIDS in Iran: Warning against Young Women's Vulnerability to HIV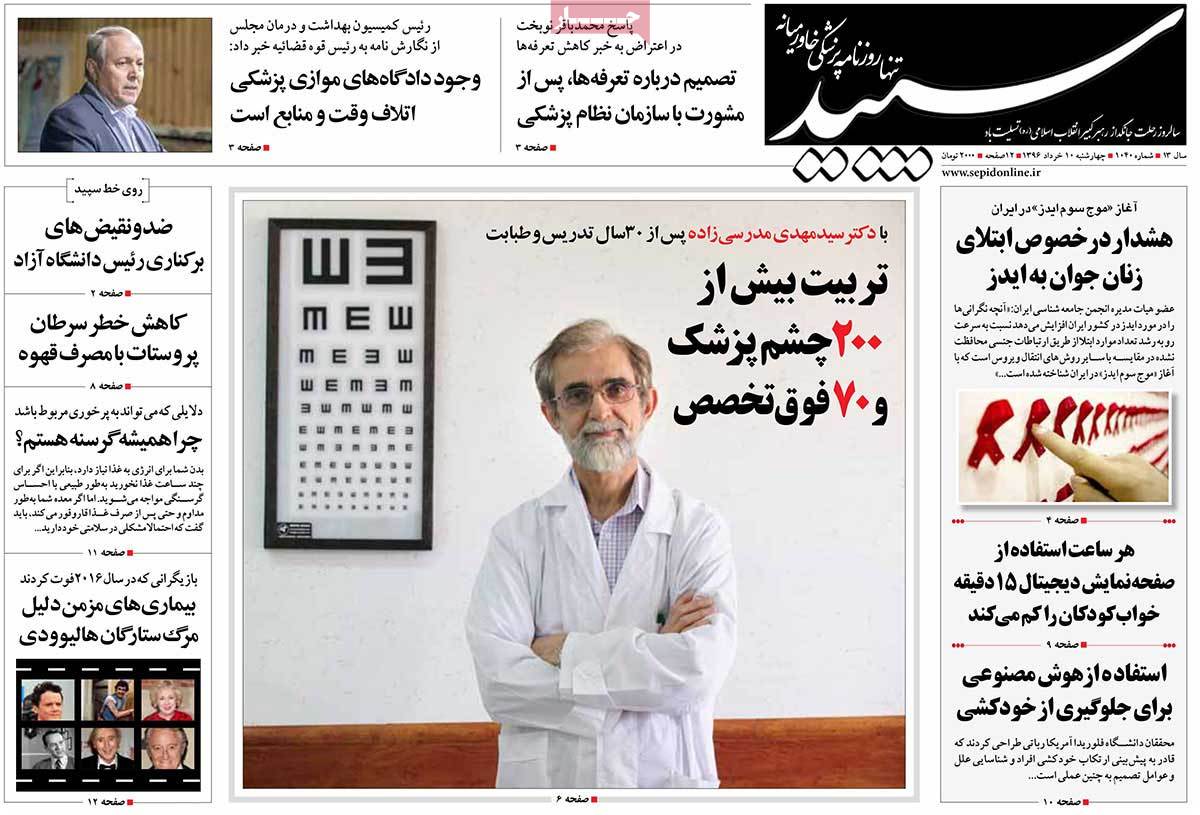 ---
Setareh Sobh:
1- Iran's Ex-Diplomat in UK: Brexit to Disintegrate Britain
---
Shahrvand:
1- The Burning Sistan and Baluchestan
Unprecedented Heat in NE Iran Kills 1, Sends Many to Hospital
2- National System Launched to Identify Contraband Goods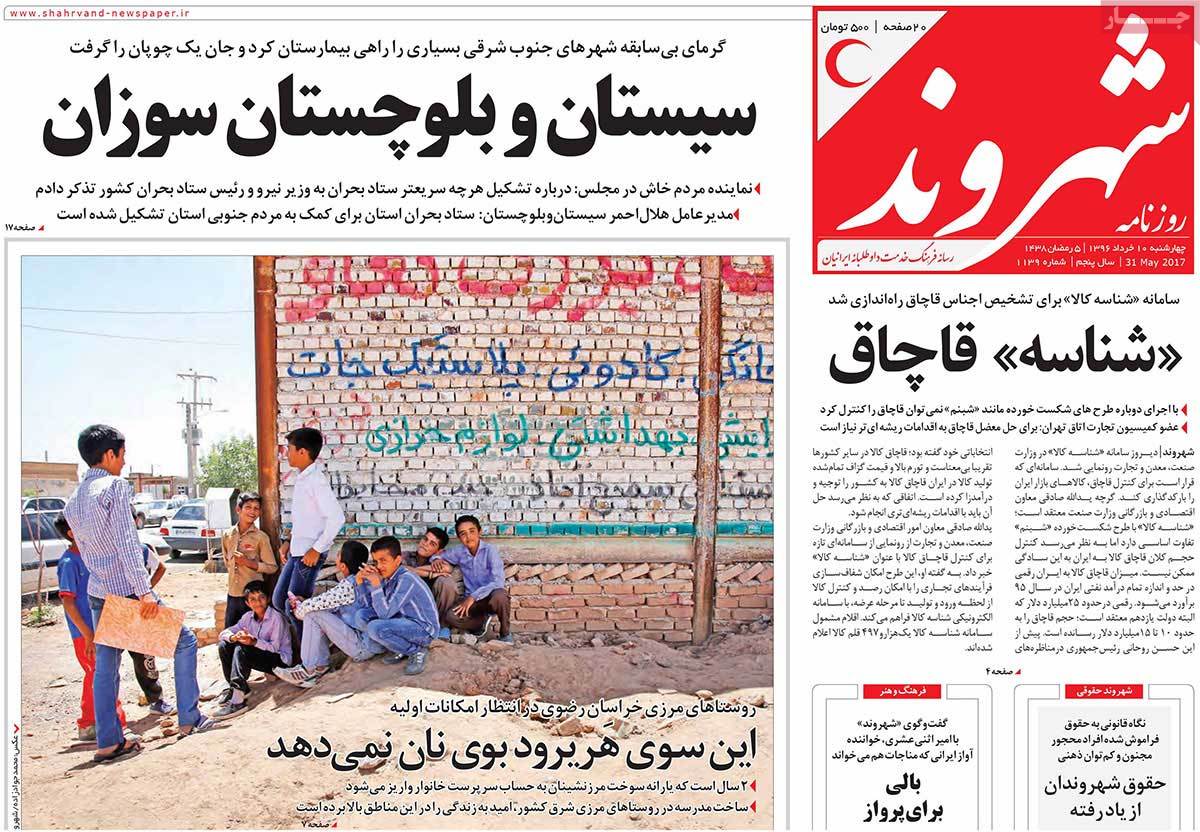 ---
Shargh:
1- Armed Peace: Iran-Saudi Relations Discussed by Analysts
2- Jubeir Raises Funds for Trump [Editorial]