Newspapers today widely covered the gathering of some 20 million Shiite pilgrims in the Iraqi city of Karbala to mark Arba'een, the 40th day after the martyrdom of Imam Hussein, the third Shiite Imam.
Also a top story was speculations about the launch of Europe's payment mechanism, which is aimed at bypassing the US sanctions against Iran.
The above issues, as well as many more, are highlighted in the following headlines and top stories:
Aftab-e Yazd:
1- Saudi FM Jubeir Has Allegedly Called Iran
2- Trumpism Wins in Brazil amid Failure of Incompetent Leftists [Editorial]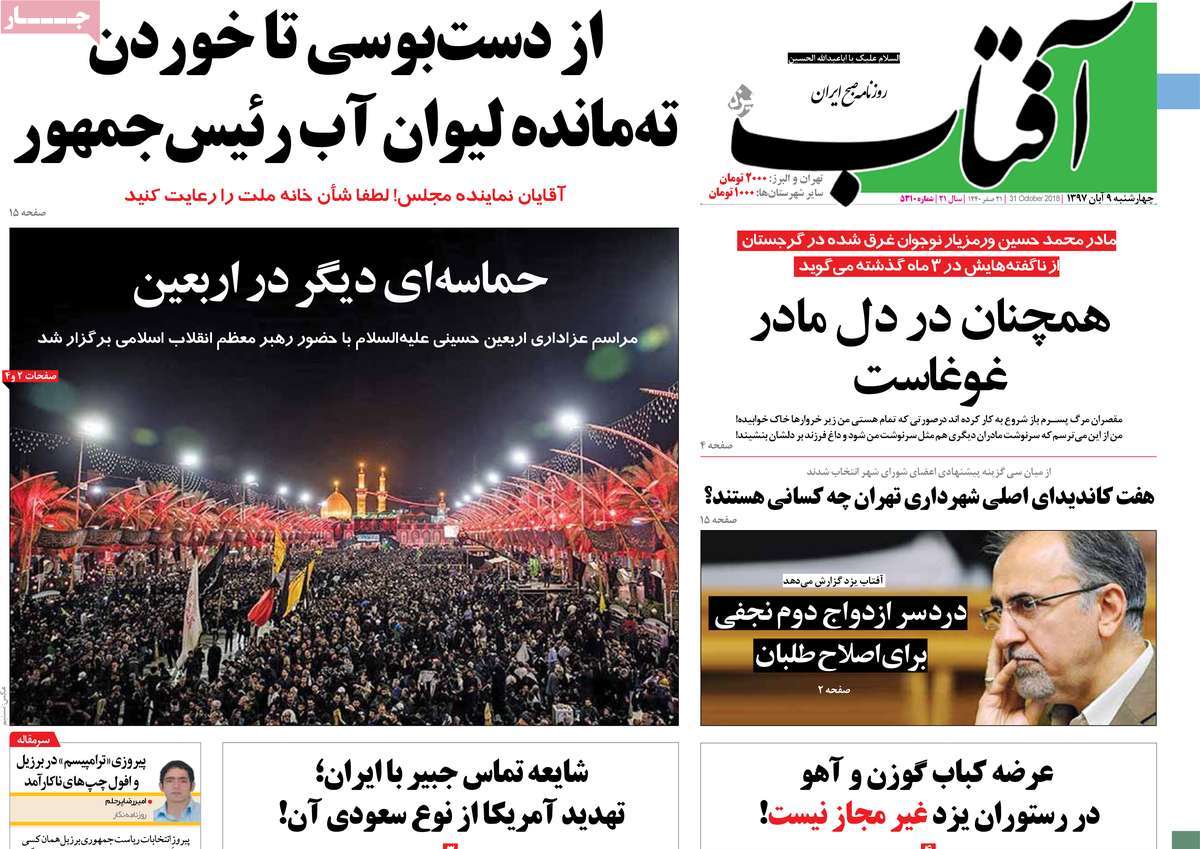 ---
Donya-ye Eqtesad:
1- World Bank Revises Its Projection of Oil Price
2- Iran Changes Its Top Trade Partner in September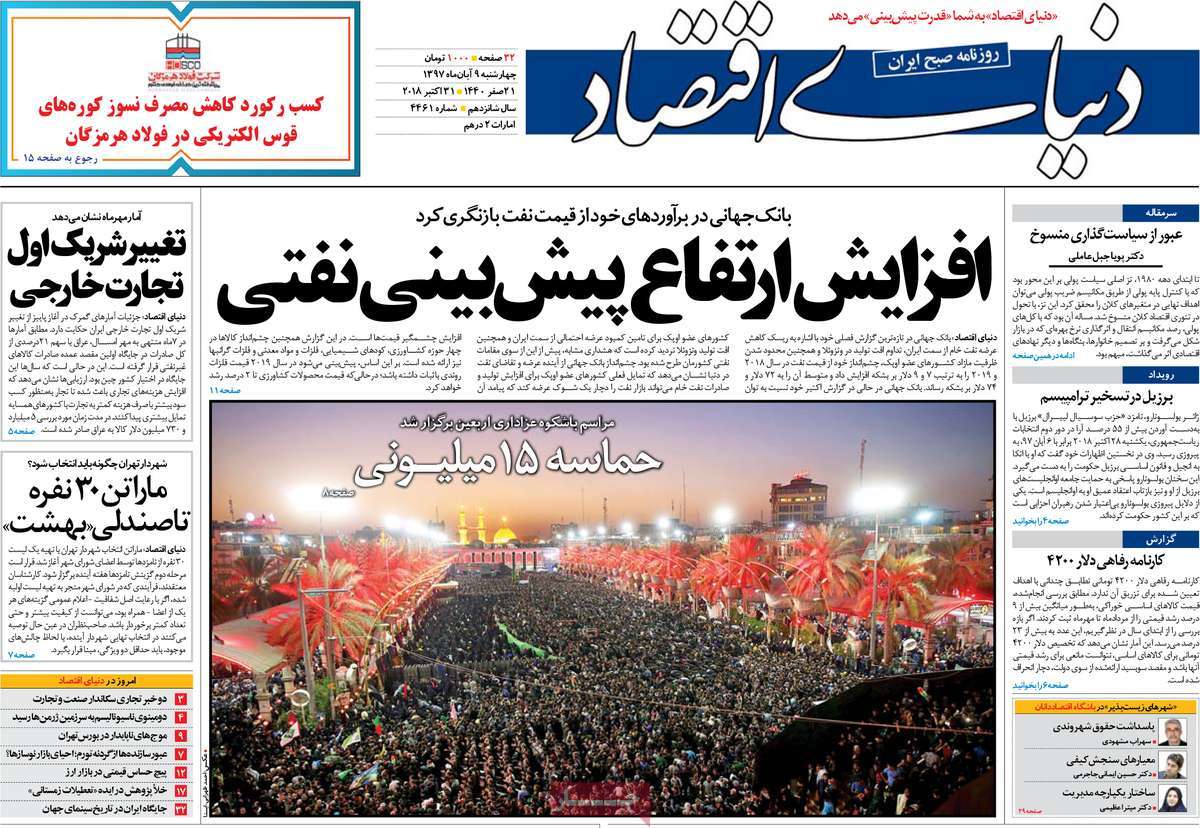 ---
Ebtekar:
1- Iran FM: World Community Standing against US Sanctions
2- Number of Iranian Arba'een Pilgrims Exceeds 2 Million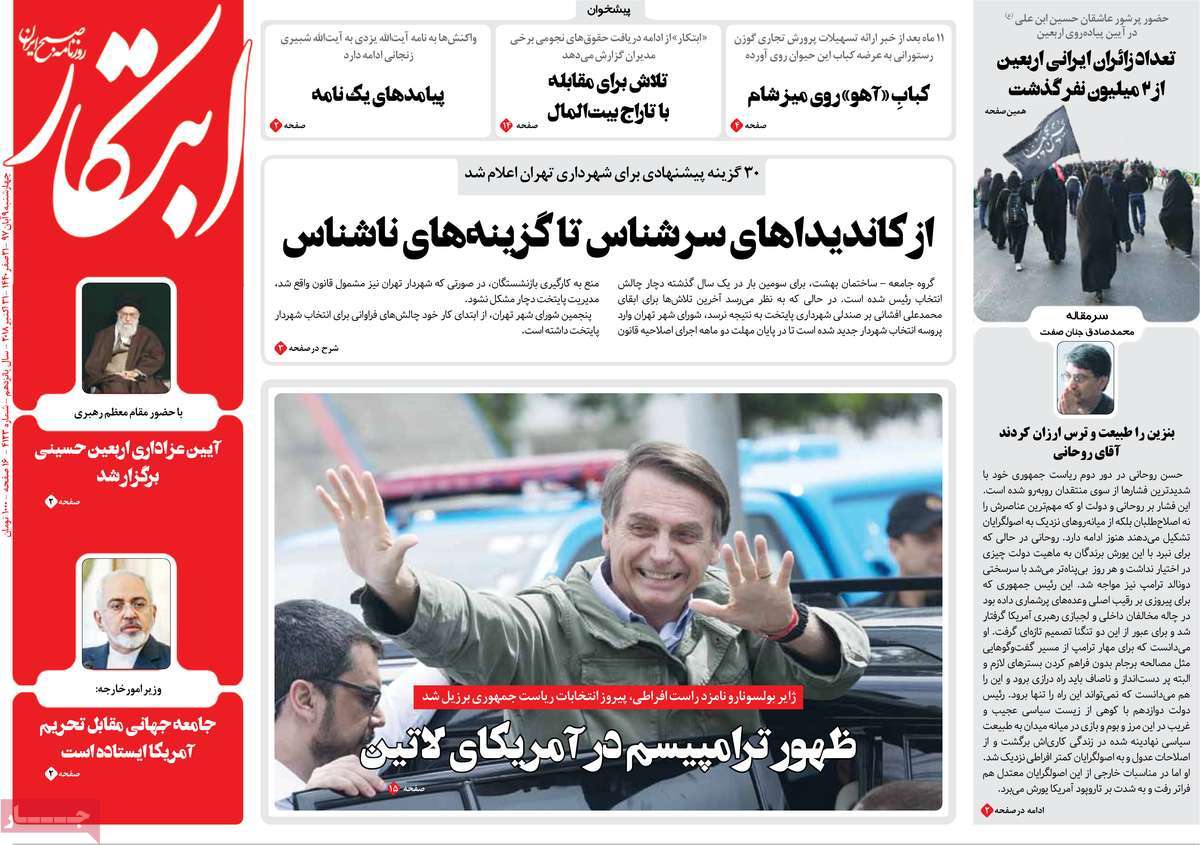 ---
Etemad:
1- Review of Iran-Russia Diplomatic Relations: Strategic or Multipurpose?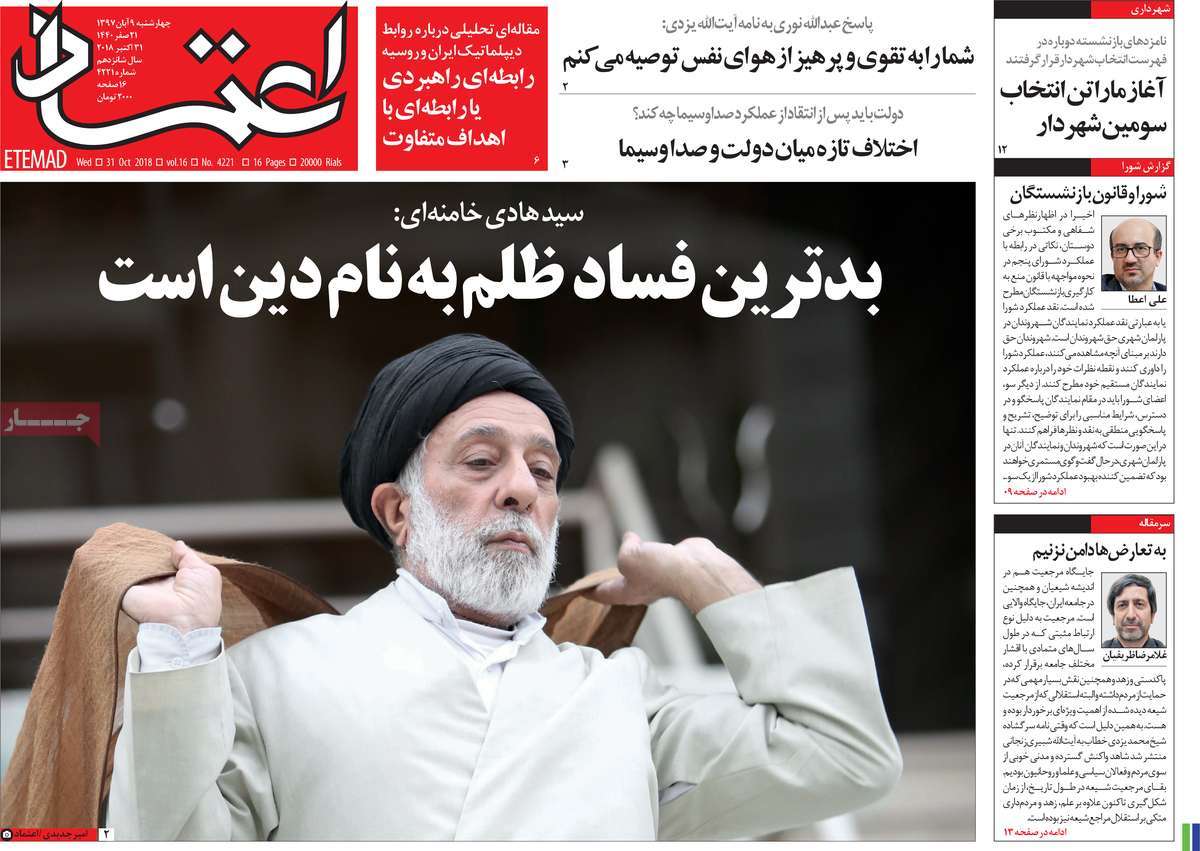 ---
Ettela'at:
1- Arba'een, Manifestation of Muslim World's Unity
2- Ayatollah Sistani: I Asked Iraqi Popular Forces [Shiites] to Sacrifice Their Lives for Sunnis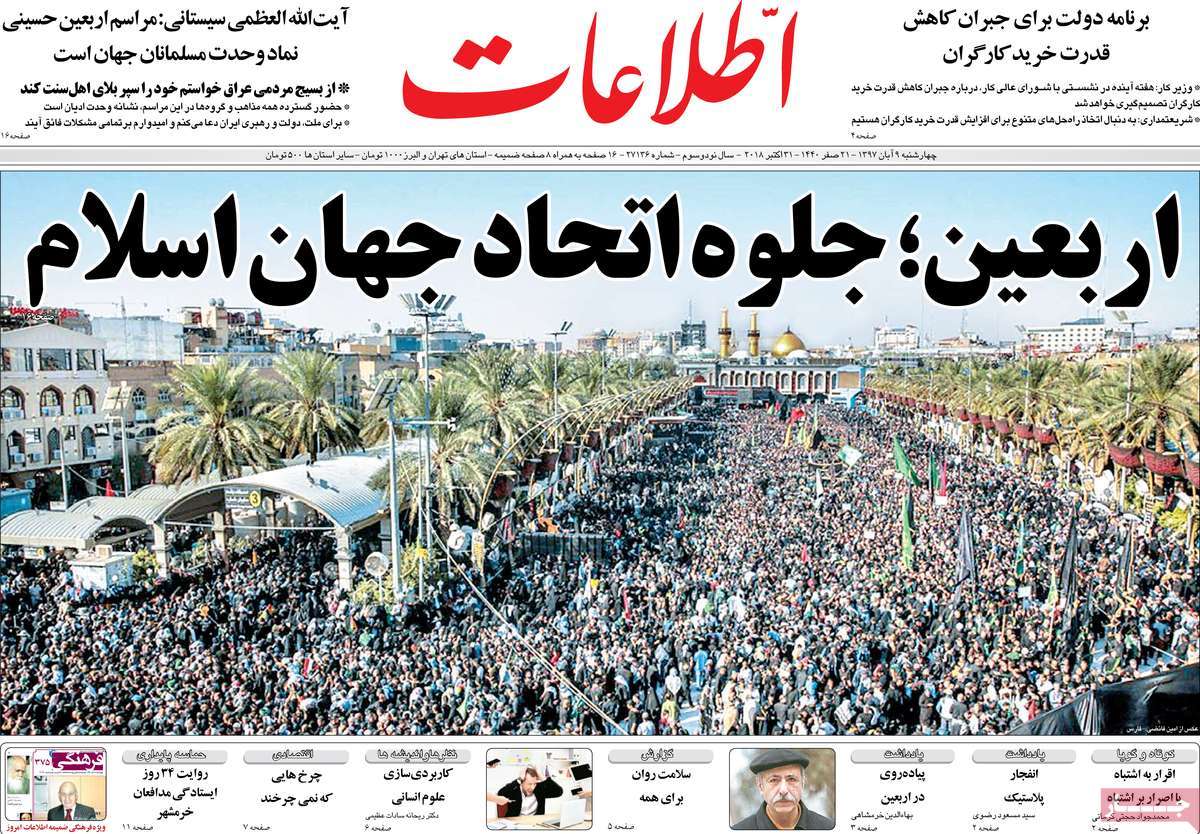 ---
Hemayat:
1- Turkish FM: Saudis Have Confessed to Everything
Turkey Refrains from Giving Saudi Prosecutor All Evidence on Khashoggi Case
2- Iran Human Rights Chief: Sanctions Not to Stop Us
3- Iran's Golden Chance for Regional Trade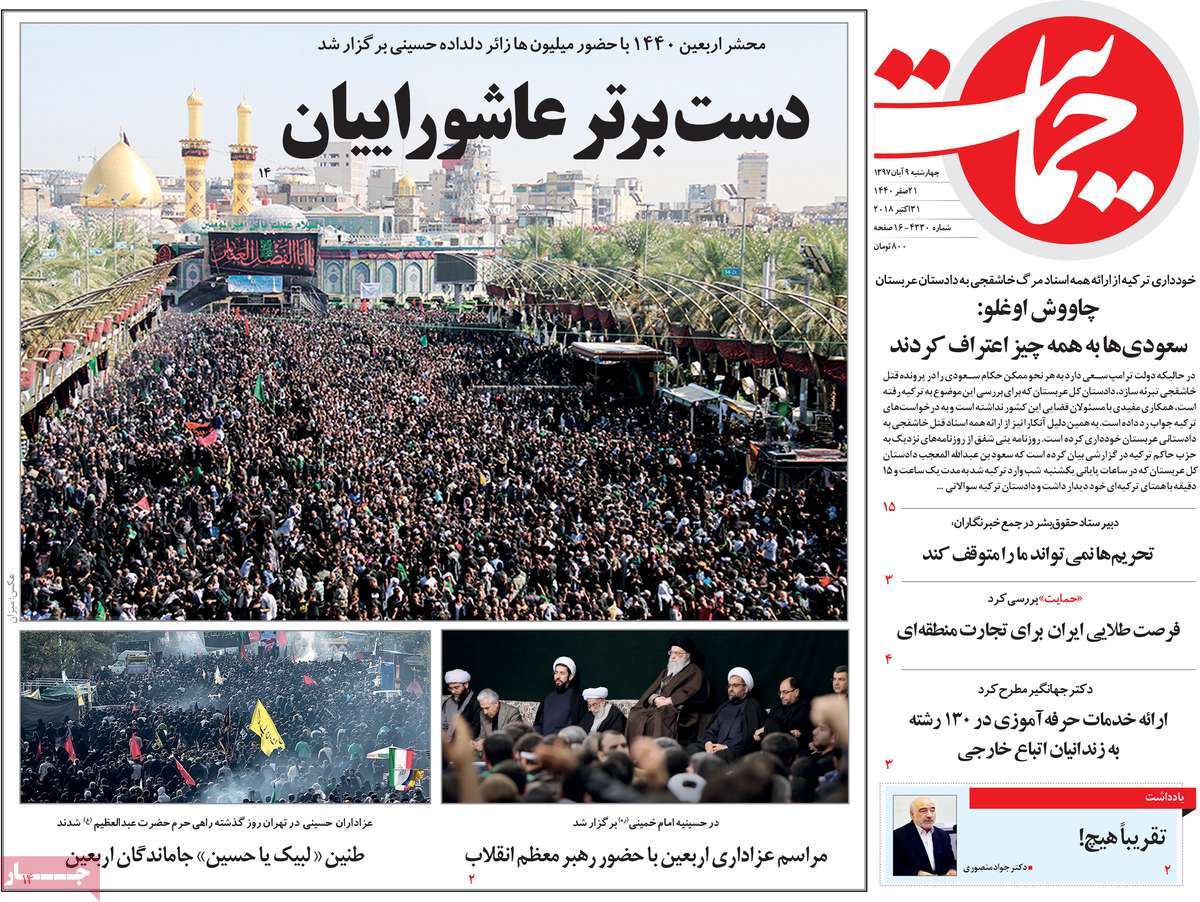 ---
Hamshahri:
1- Women in Azadi Stadium; Mr President, You're Invited Too
2- Radicals Rise in Three Continents: From Brazil to Germany, from Philippines to US
Far-Right Parties, Figures Come to Power with Similar Slogans
3- Forex Agreement in Istanbul
Iran, Turkey, Azerbaijan FMs Agree on 3-Year Financial Cooperation Plan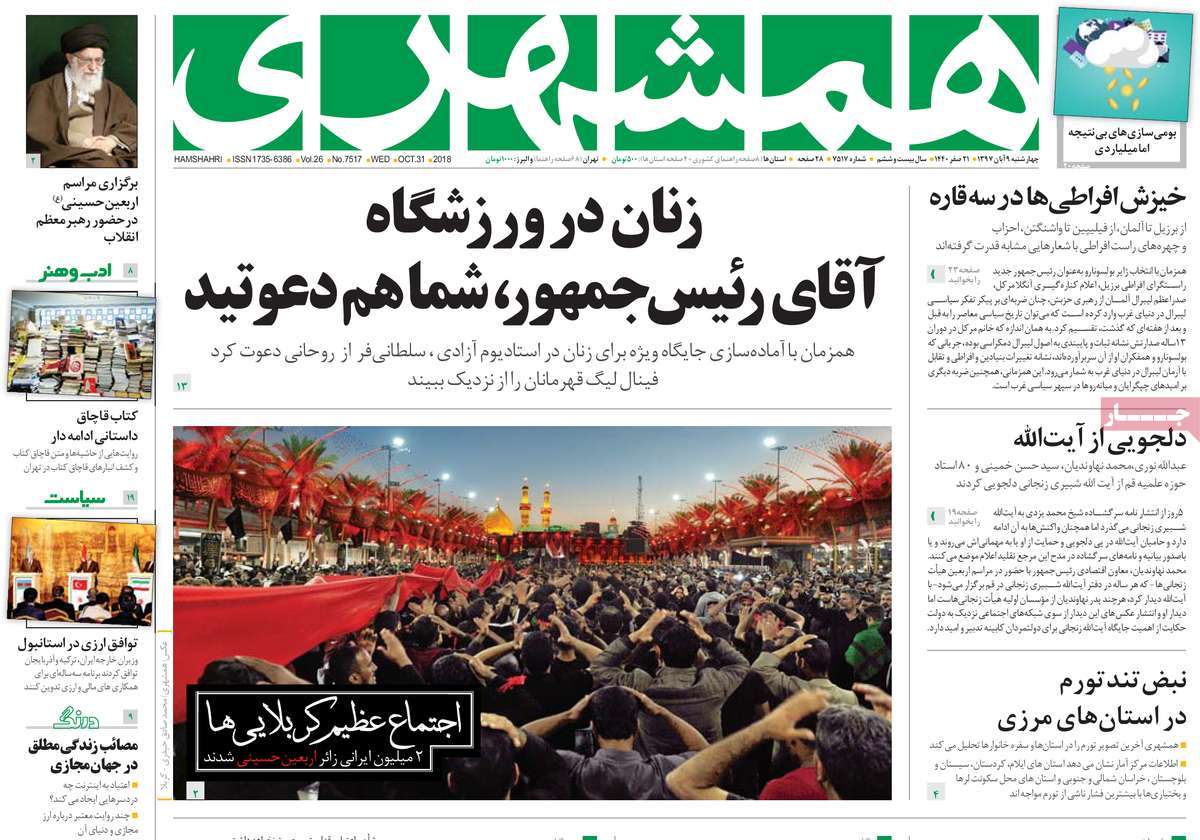 ---
Iran:
1- Zarif: EU's Financial Mechanism to Come into Effect in Coming Days
2- Europe to Bid Farewell to Merkel
---
Jame Jam:
1- Message of Arba'een 1440: 20 Million Shiites Foil Enemy Plots in Karbala
---
Javan:
1- Europe's New Game with SWIFT's Replacement
European Countries Not Interested in Hosting Payment Channel with Iran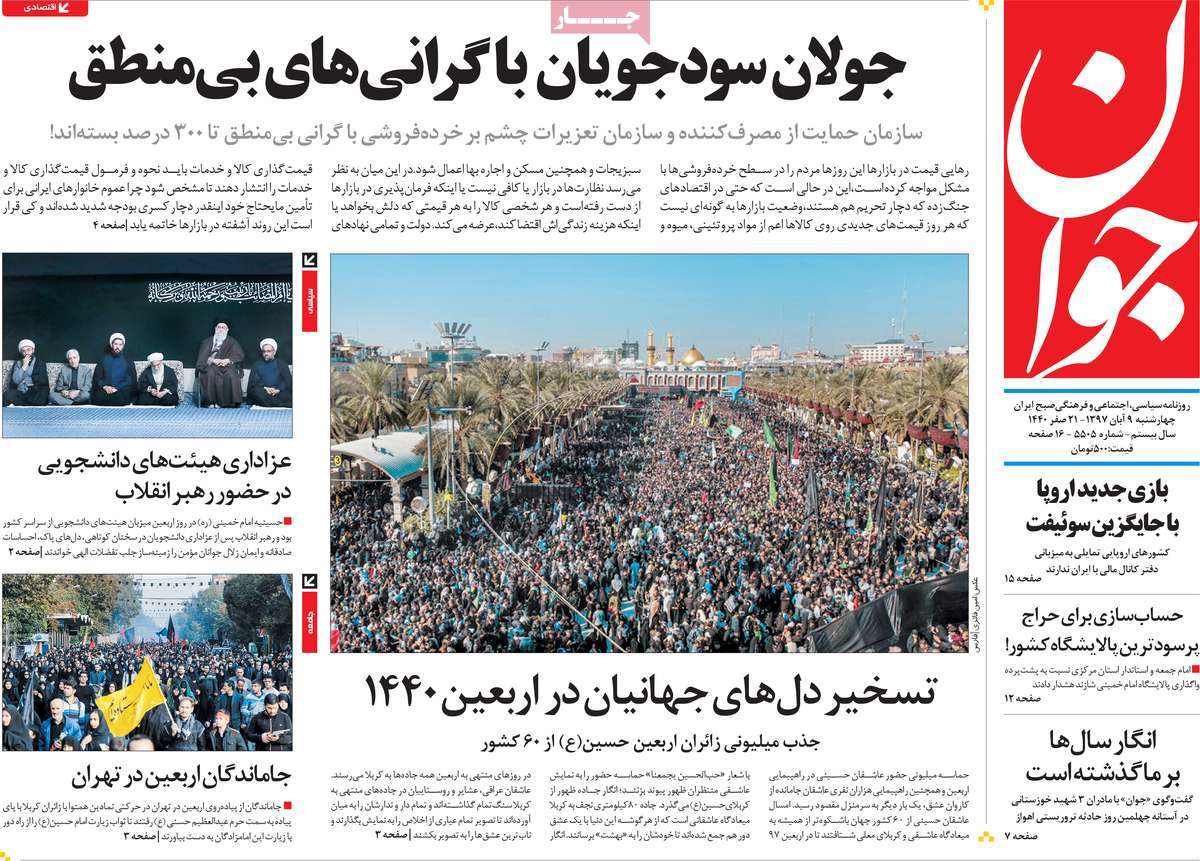 ---
Kayhan:
1- EU Killing Time in Launching Mechanism for Bypassing US Sanctions
2- Nigeria Opens Fire on Most Innocent Arba'een Walkers
3- Imam Hussein's 20-Million-Strong Army Arrive in Karbala from 50 Countries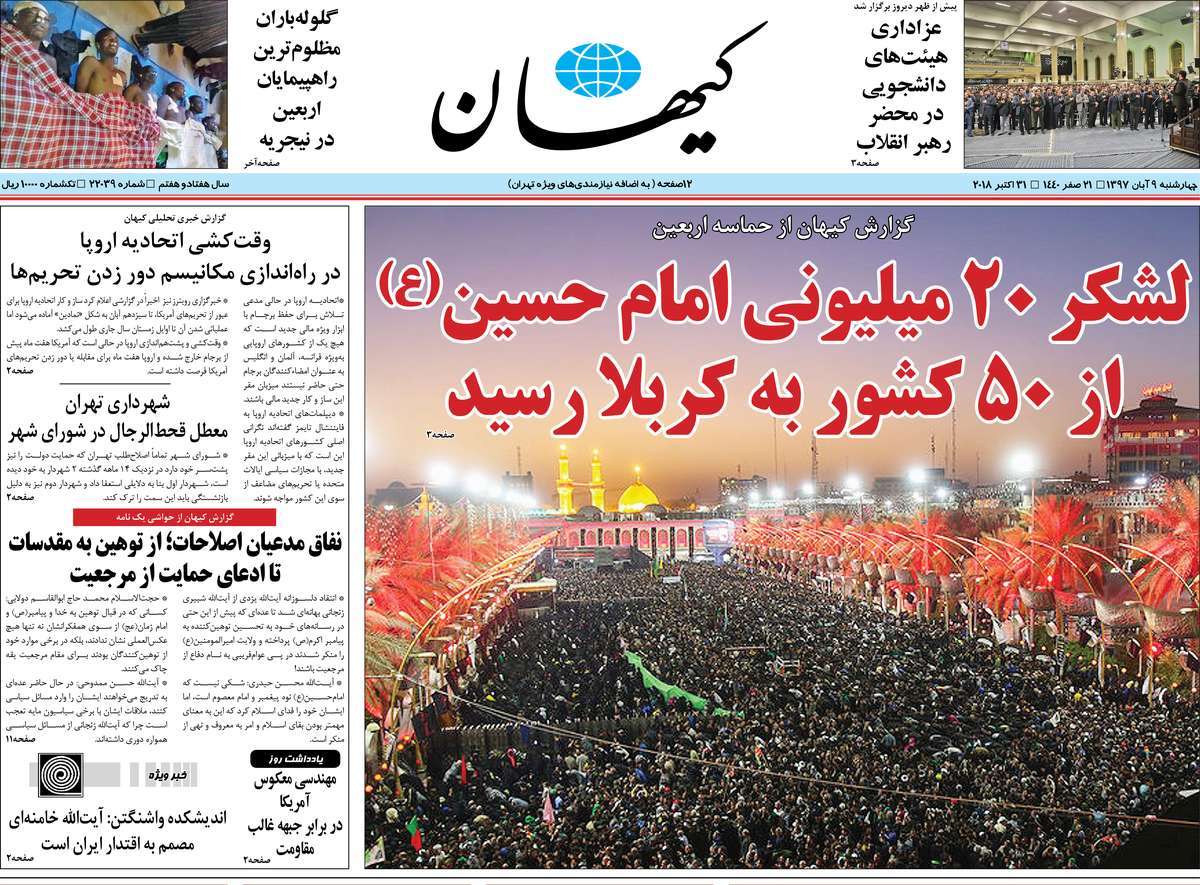 ---
Shargh:
1- Iran Leader Joins Youths in Arba'een Mourning Ceremony
2- 15 Million Pilgrims in Karbala: Iran First VP Attends Arba'een Procession
3- Saudi Arabia Today, Iran Today [Editorial]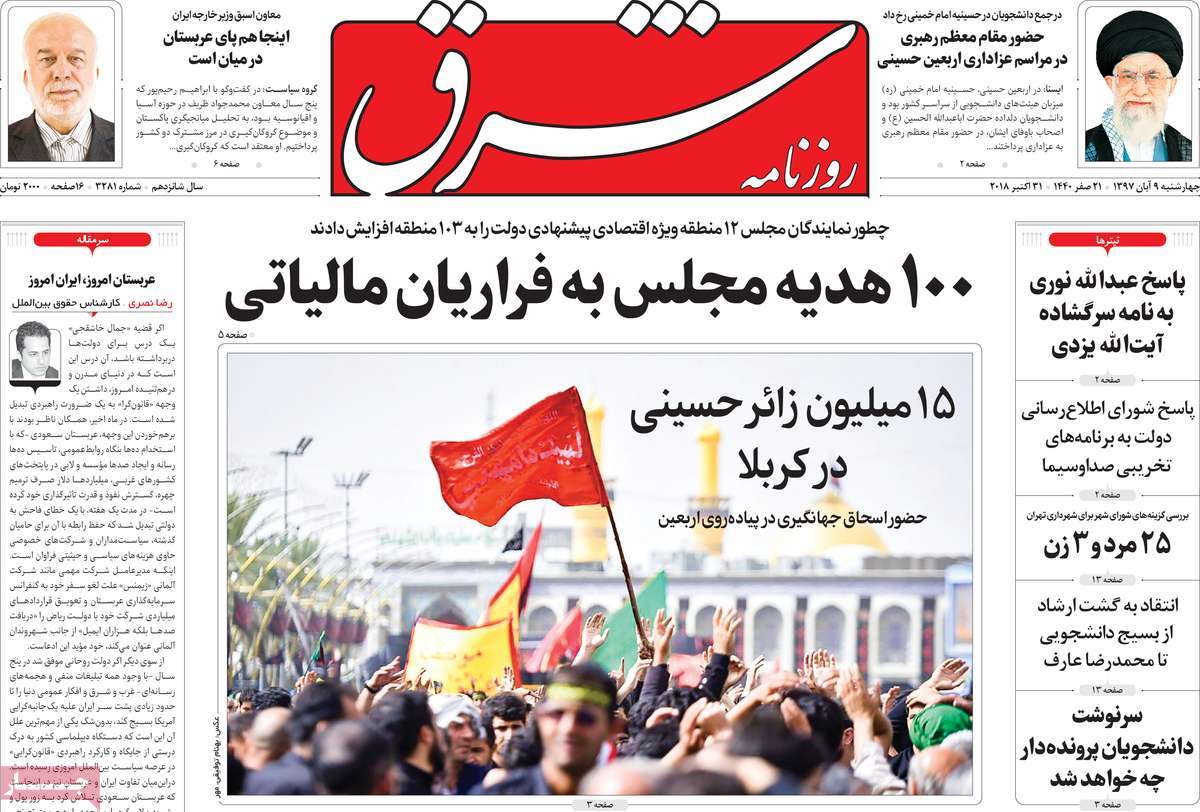 ---
Sobh-e Now:
1- Ban on Doing Transaction with Iranian Rial to Remove Iran from Afghan, Iraqi Markets