The top story in all papers today was the ceremony of Arba'een, the fortieth day after the martyrdom of Imam Hussein, which will be marked on Tuesday in the Iraqi city of Karbala, with millions of pilgrims from across the world gathering in the holy shrine after a long march.
Several papers today covered the remarks made by Leader of Iran's Islamic Revolution Ayatollah Seyyed Ali Khamenei about the significance of passive defence.
Also a top story was the energy bourse of Iran, where at least 280,000 barrels of crude oil were sold on the first day of its work.
The above issues, as well as many more, are highlighted in the following headlines and top stories:
Abrar:
1- Analyst: Bibi's Oman Visit First Stage of Opening Israeli Embassies in GCC States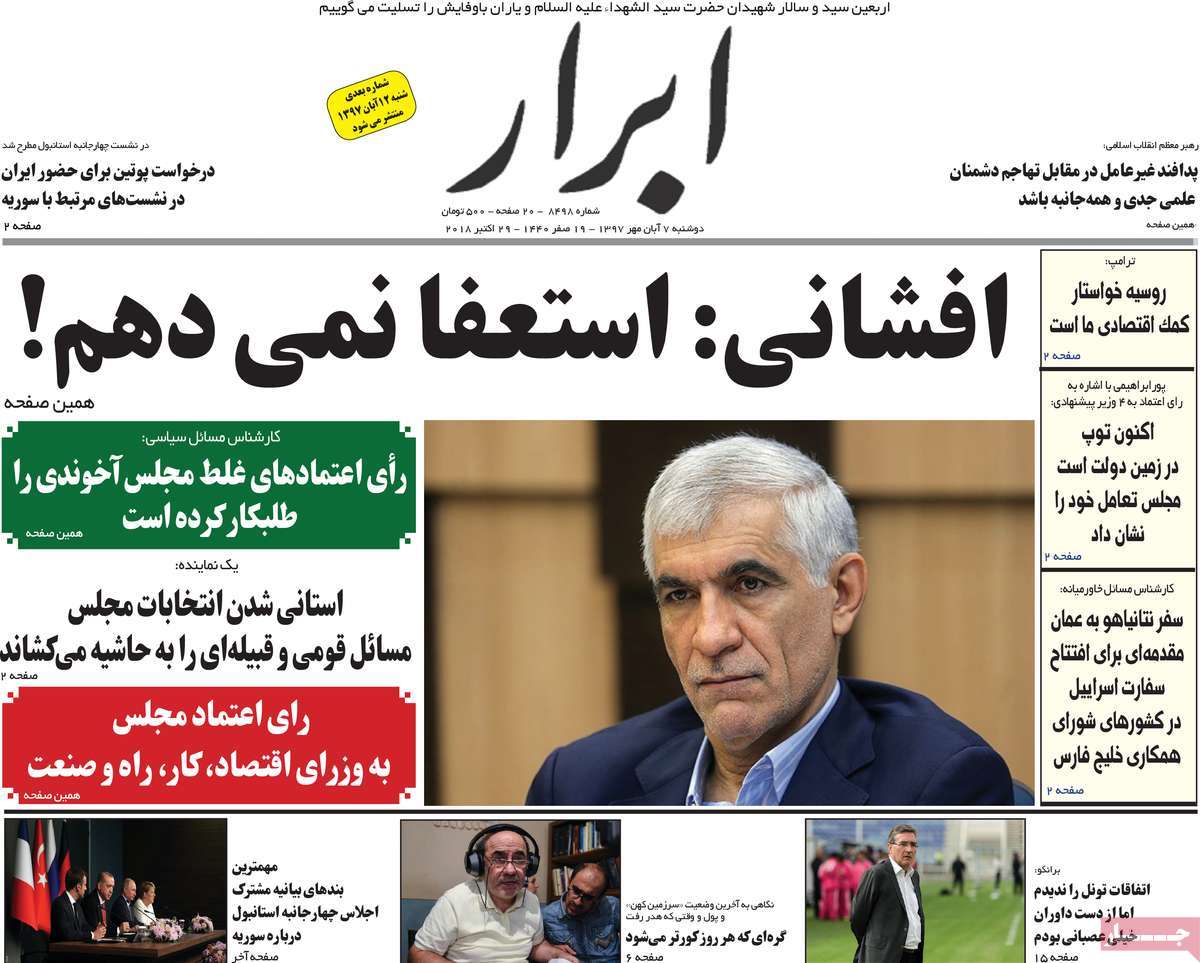 ---
Arman-e Emrooz:
1- Rouhani's First VP: We'll Sell Our Oil despite US Sanctions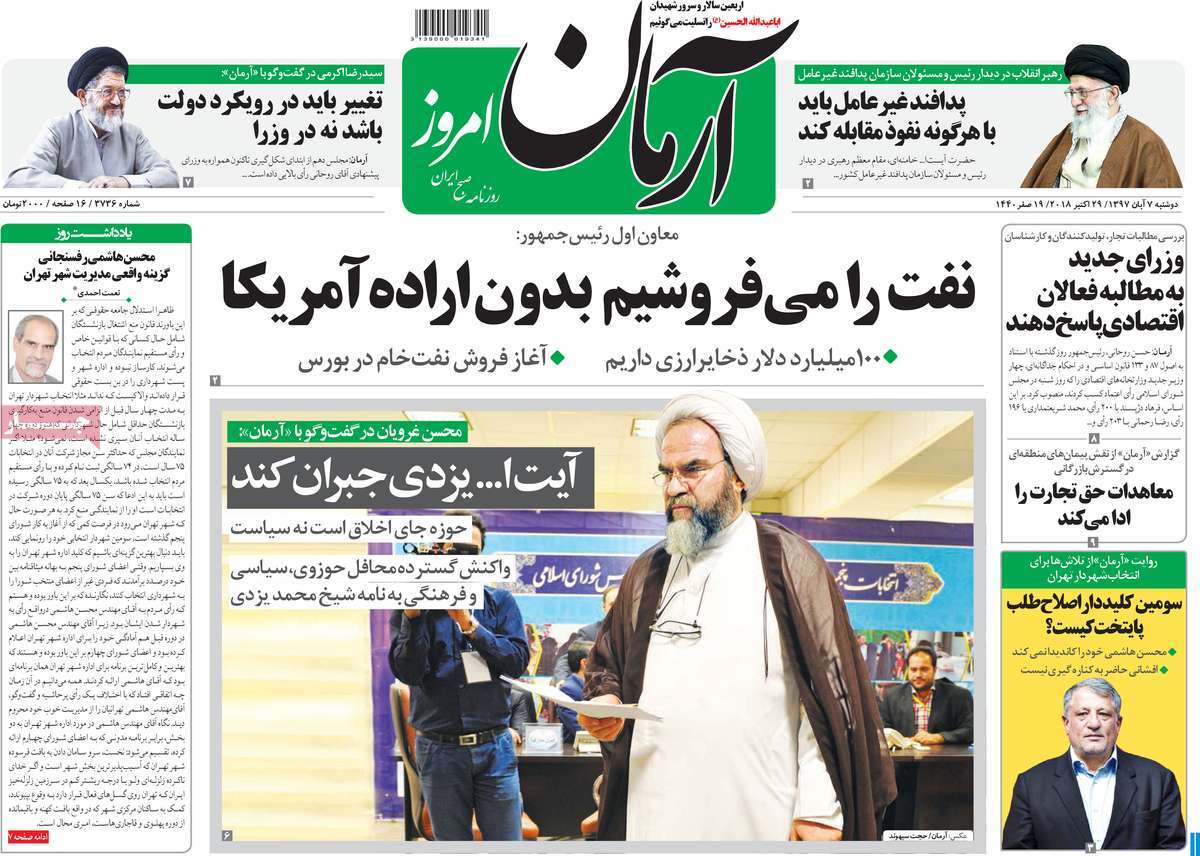 ---
Donya-ye Eqtesad:
1- Trump's Ideology Blamed for Street Violence
US Spends 72 Hours of Hatred
2- Export of Oil through Energy Bourse
280,000 Barrels of Crude Oil Sold at IRENEX for First Time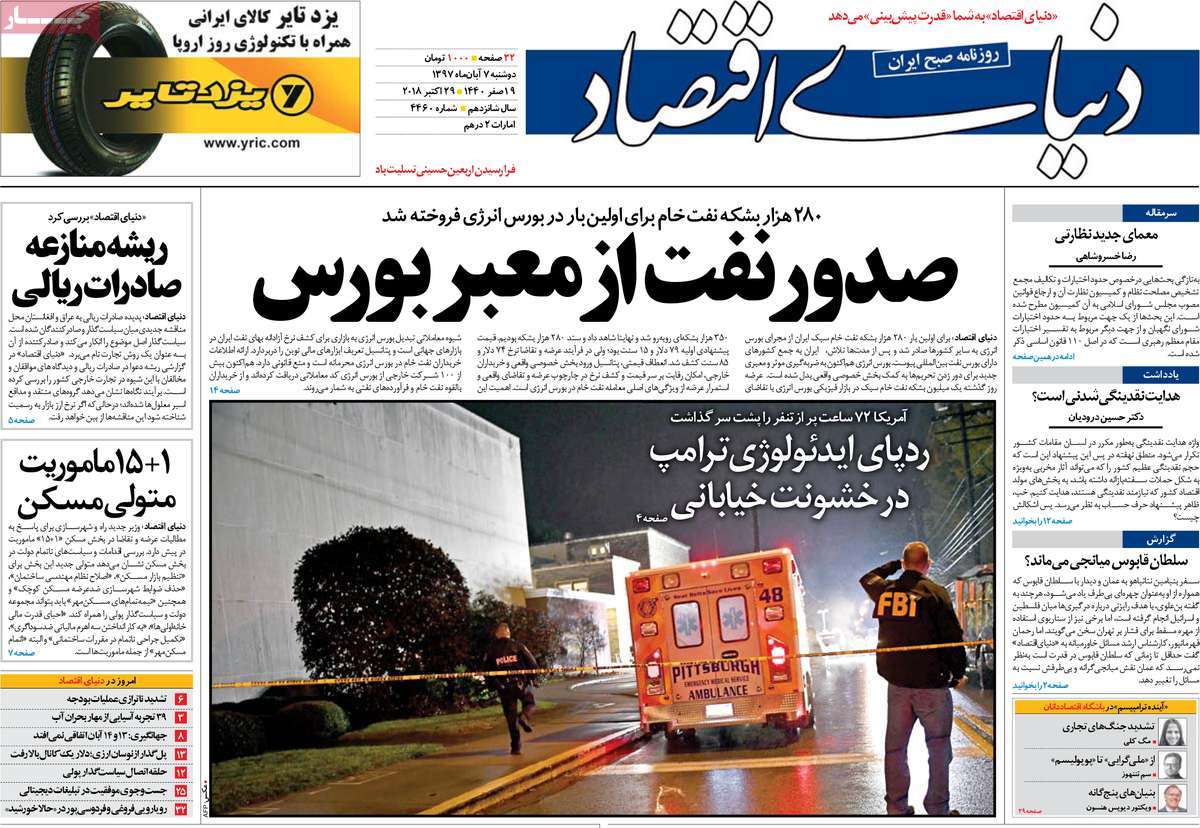 ---
Ebtekar:
1- Love of Arba'een: World's Greatest March to End Up in Karbala Tuesday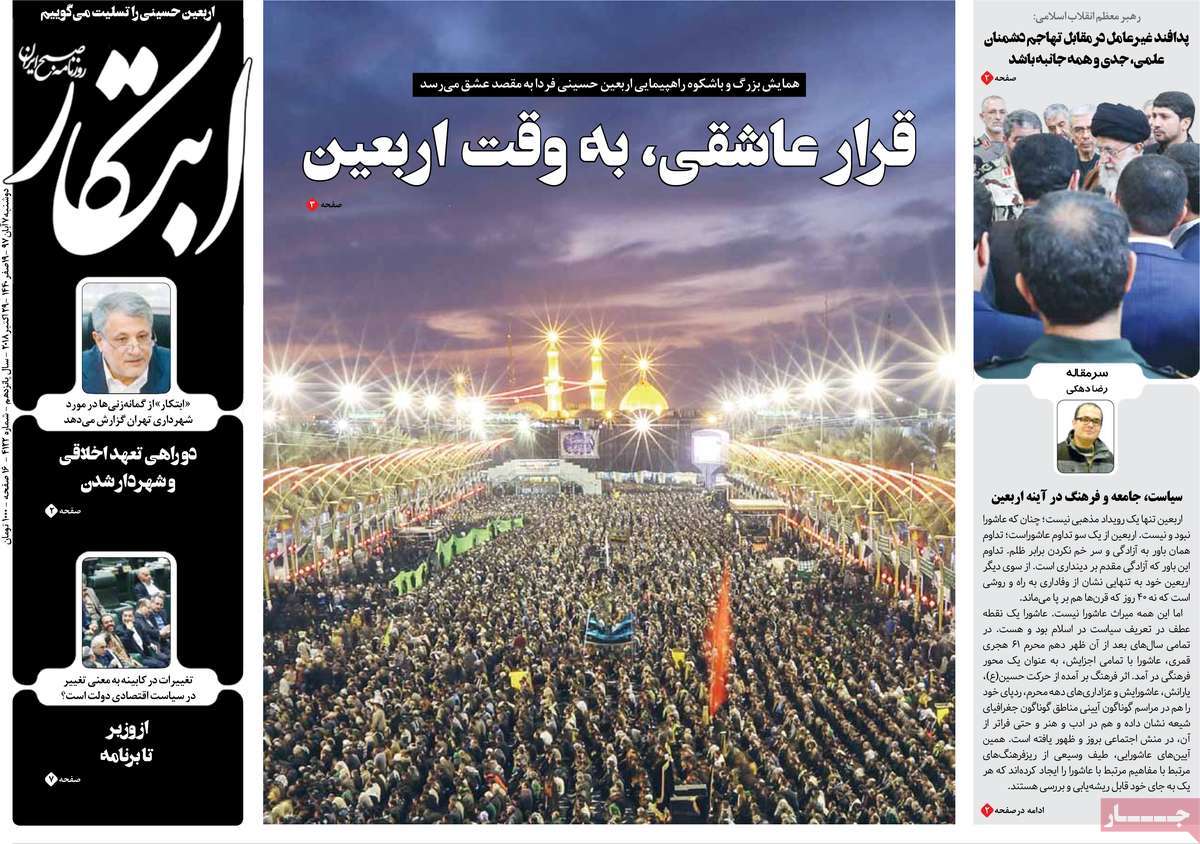 ---
Etemad:
1- Millions of Pilgrims Moving towards Karbala for Love of Imam Hussein
2- Iran First VP: Nothing to Happen after US November Sanctions
3- Iran's Former Envoy to Oman: Bibi's Oman Visit Aimed at Normalization of Ties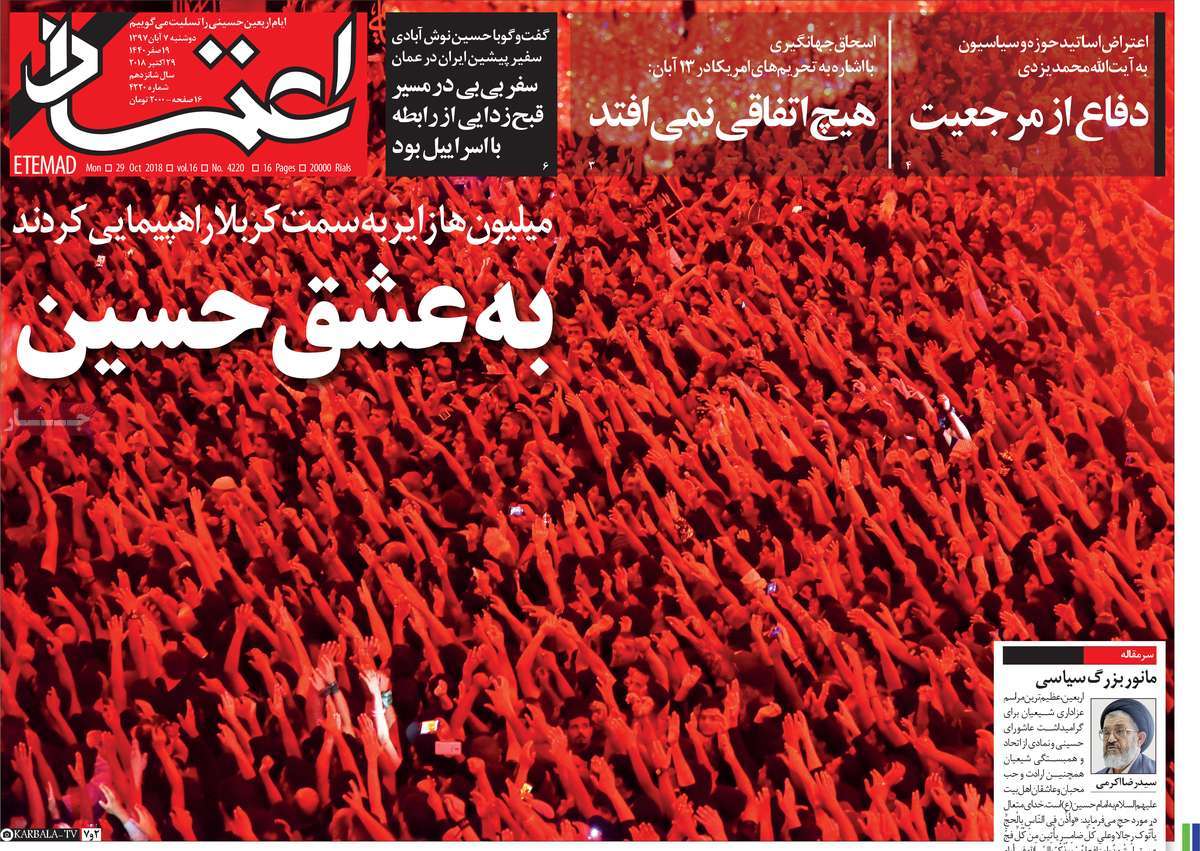 ---
Ettela'at:
1- World's Biggest Gathering in Karbala
2- Yemen's Ansarullah Acquires Technology of Building 'Smart' Ballistic Missile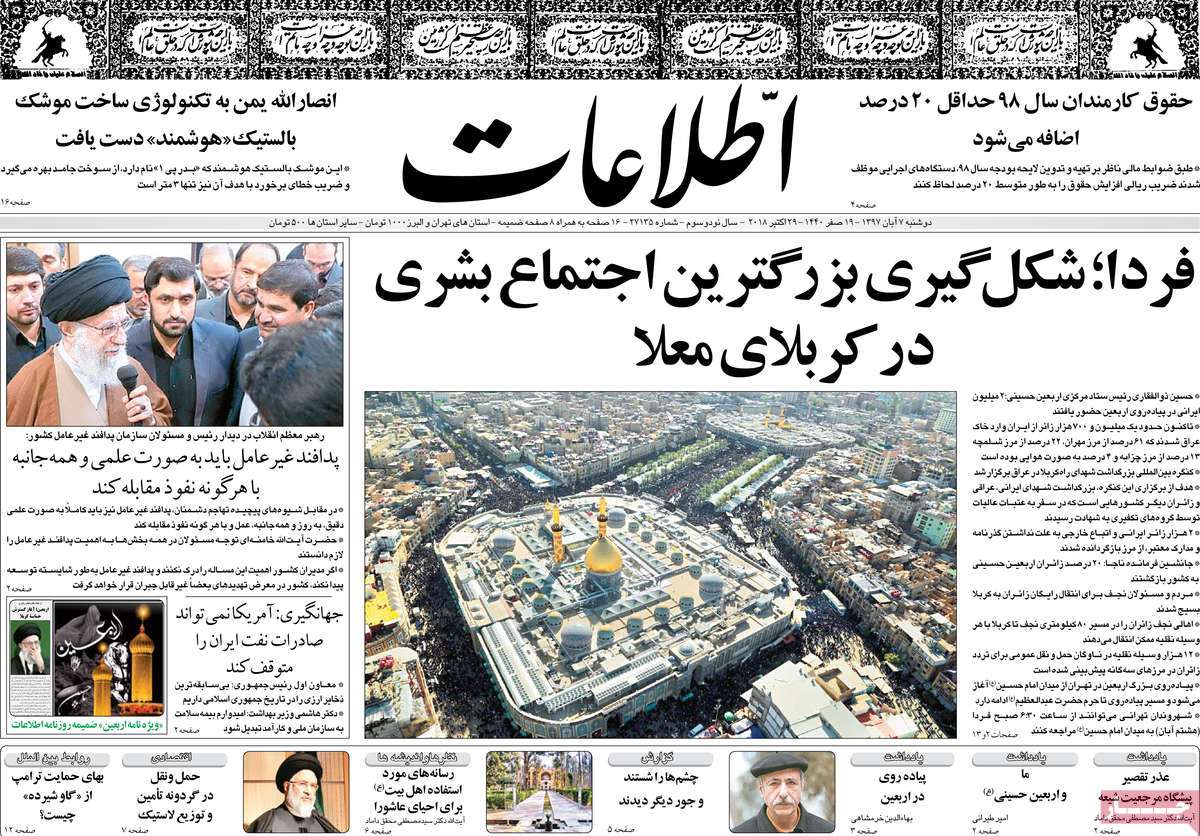 ---
Jame Jam:
1- Free Way of Karbala: Great March of Arba'een
---
Javan:
1- World Looking at Biggest Gathering in History of Mankind
2- Discovery of Oil in Bourse: Crude Oil Traded at Energy Exchange after 7 Years
3- Iran First VP: US Can't Even Think of Huge Amount of Forex Reserves We Have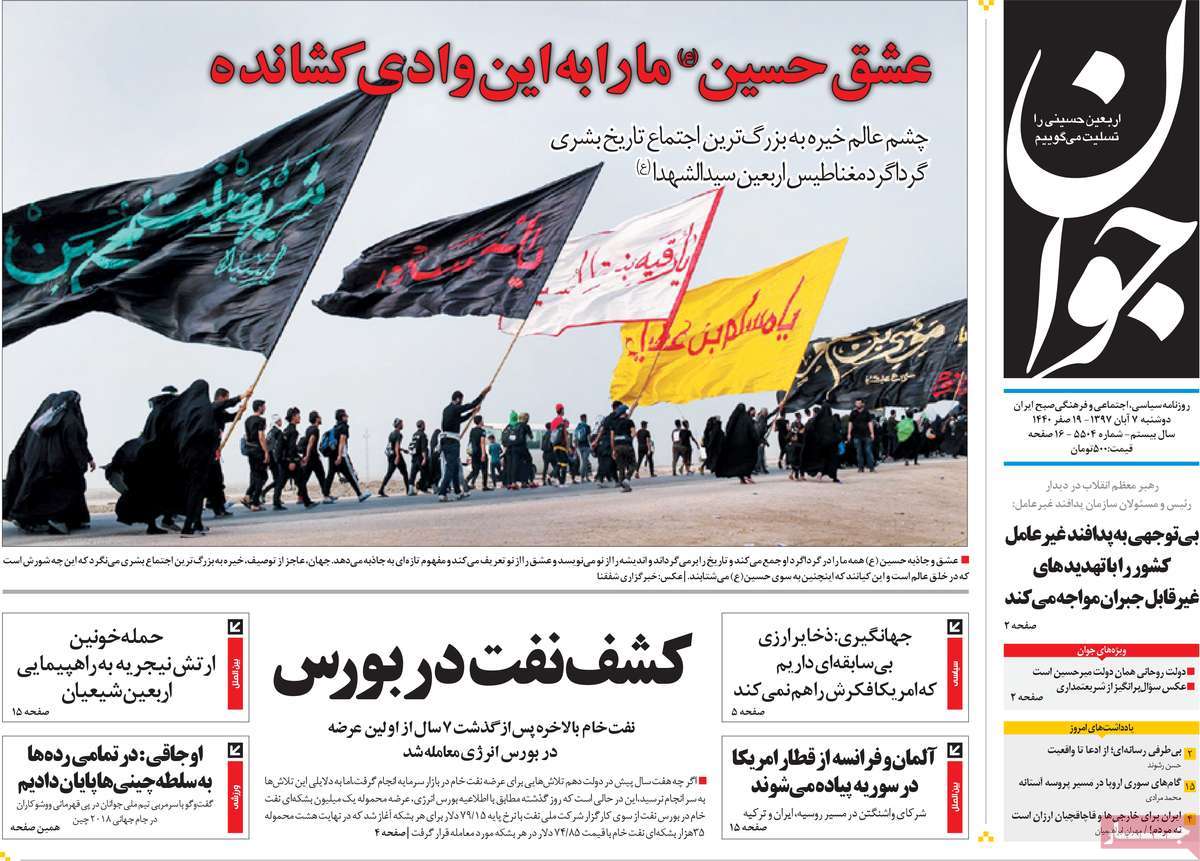 ---
Jomhouri Eslami:
1- Karbala; Rendezvous for Millions of Arba'een Pilgrims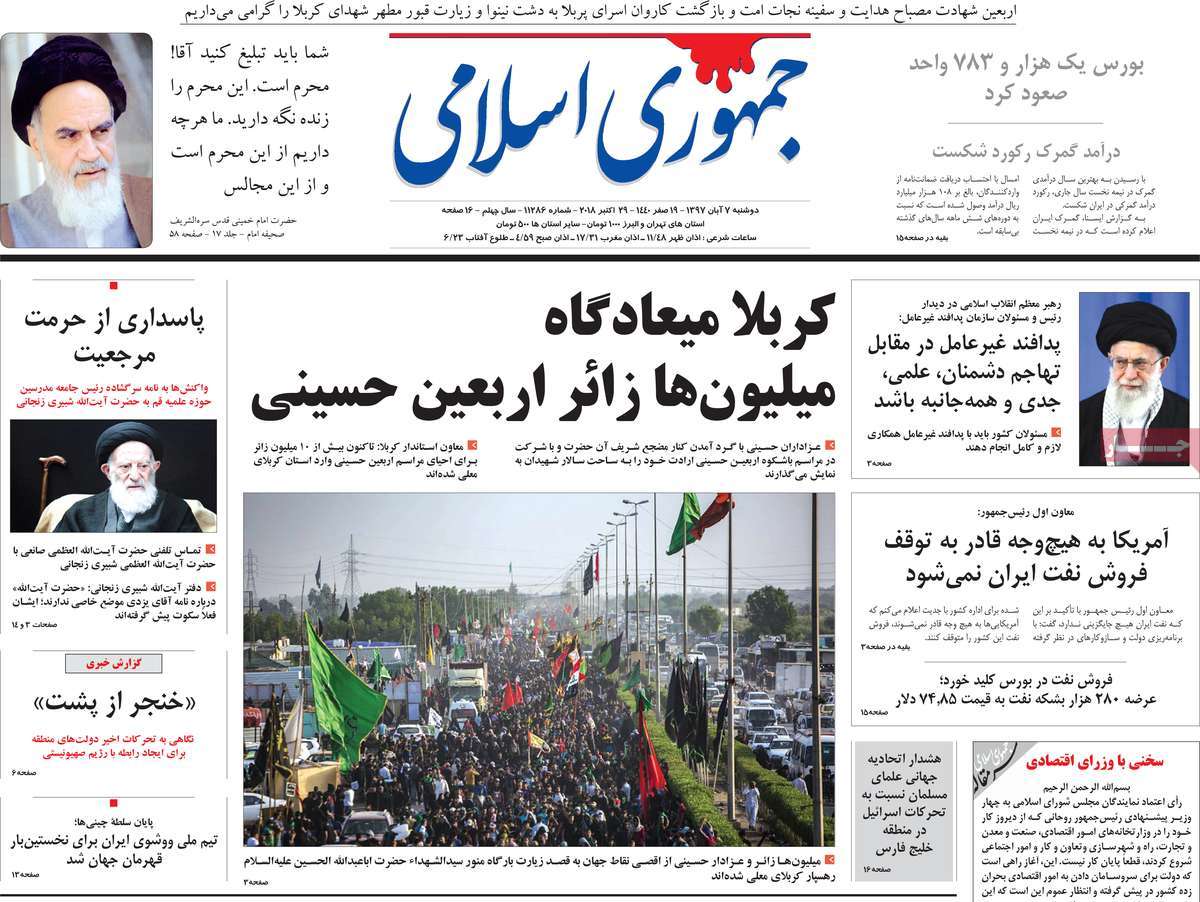 ---
Kayhan:
1- Millions of Pilgrims Arrive in Iraq from Four Corners of the World
These People Are Nightmare of All Enemies
2- Putin in Istanbul Summit: Syria Issue Not to Be Resolved without Iran
---
Sazandegi:
1- Russia, Turkey, France, Germany Agree on Future of Syria in Iran's Absence
---
Shargh:
1- Iran Leader: Passive Defence Must Be All-Out in Countering Enemy's Aggression
2- Iran First VP: It's US' Lie that Saudi Arabia Can Replace Iran in Oil Market
---
Sobh-e Now:
1- Number of Arba'een Pilgrims Exceeds 2m