The top story in many papers today was President Hassan Rouhani's new picks for the four ministries of trade, labour, economy, and roads.
Several papers also covered the US' decision to withdraw from the Intermediate-Range Nuclear Forces Treaty (INF Treaty), which had been signed between the US and Russia in 1987.
Riyadh's account of dissident journalist Jamal Khashoggi's death in the kingdom's consulate in Istanbul and the reactions to the unbelievable explanation also received great coverage.
The above issues, as well as many more, are highlighted in the following headlines and top stories:
Abrar:
1- Iraqi Interior Ministry: ISIS' Plot to Infiltrate into Iran Foiled
2- US to Withdraw from 1987 Missile Treaty with Russia
3- Fox News Report on Transfer of Iranian Missiles to Lebanon Rejected
4- Iran First VP: US Sanctions Clear Instance of Blackmail
---
Aftab-e Yazd:
1- Iran's Supreme Court Upholds Two Death Sentences over Economic Corruption
2- Rouhani's New Picks for Four Ministries Surprising, Provoke Criticim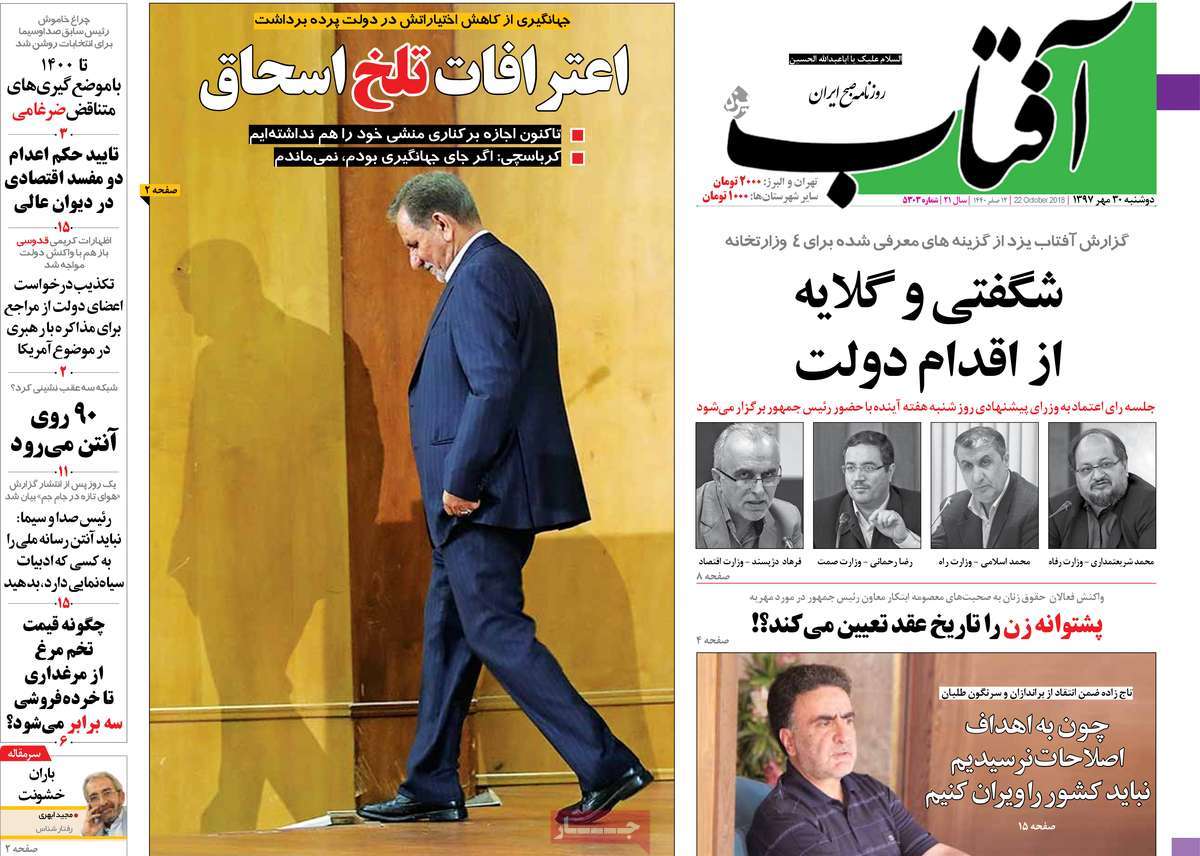 ---
Arman-e Emrooz:
1- People Dissatisfied, but Still Hopeful: A Report on People's Livelihood
2- Senior Shiite Cleric: No Religious Ban on Women's Presence in Stadiums
---
Donya-ye Eqtesad:
1- Silent Riot against Bin Salman
Unhappy Al Saud Princes Pledge Allegiance to King's Step-Brother
2- Global Risk in Favour of Gold: Prices to Go Up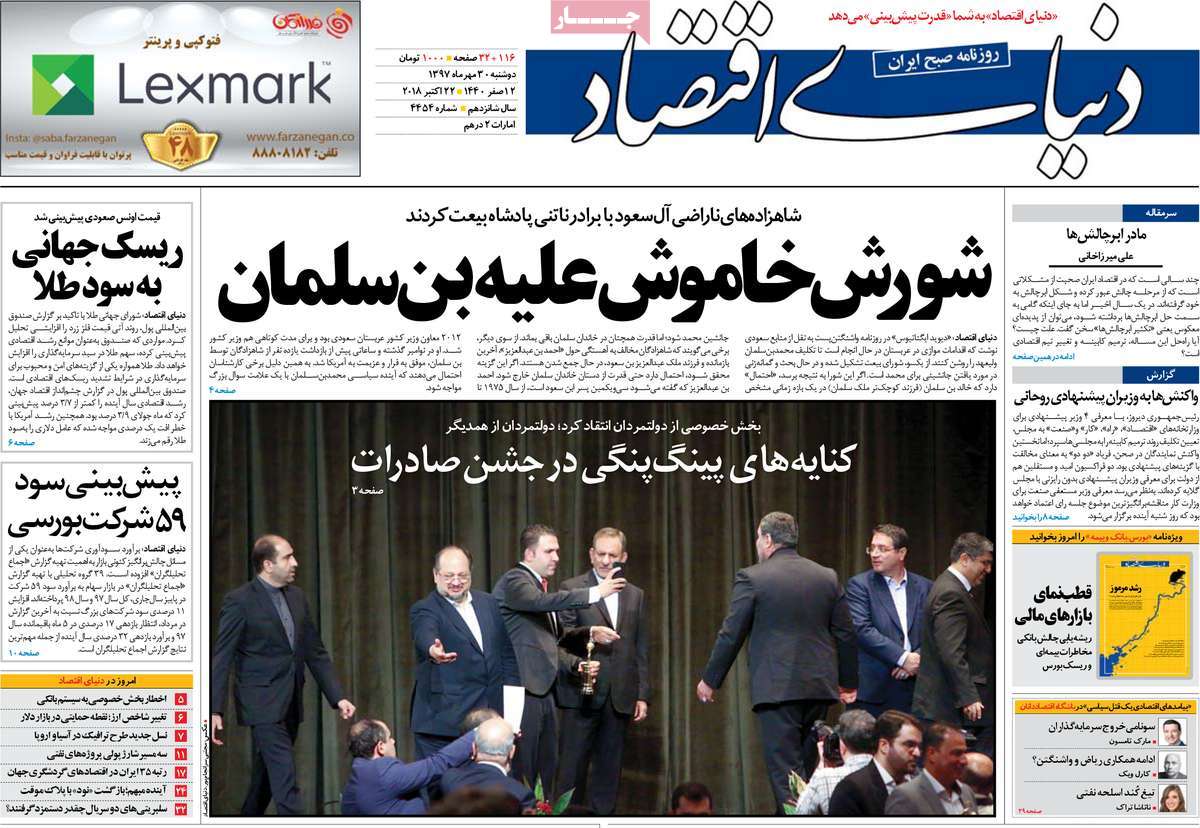 ---
Ebtekar:
1- Will US Dollar Lose Its Value in World Economy?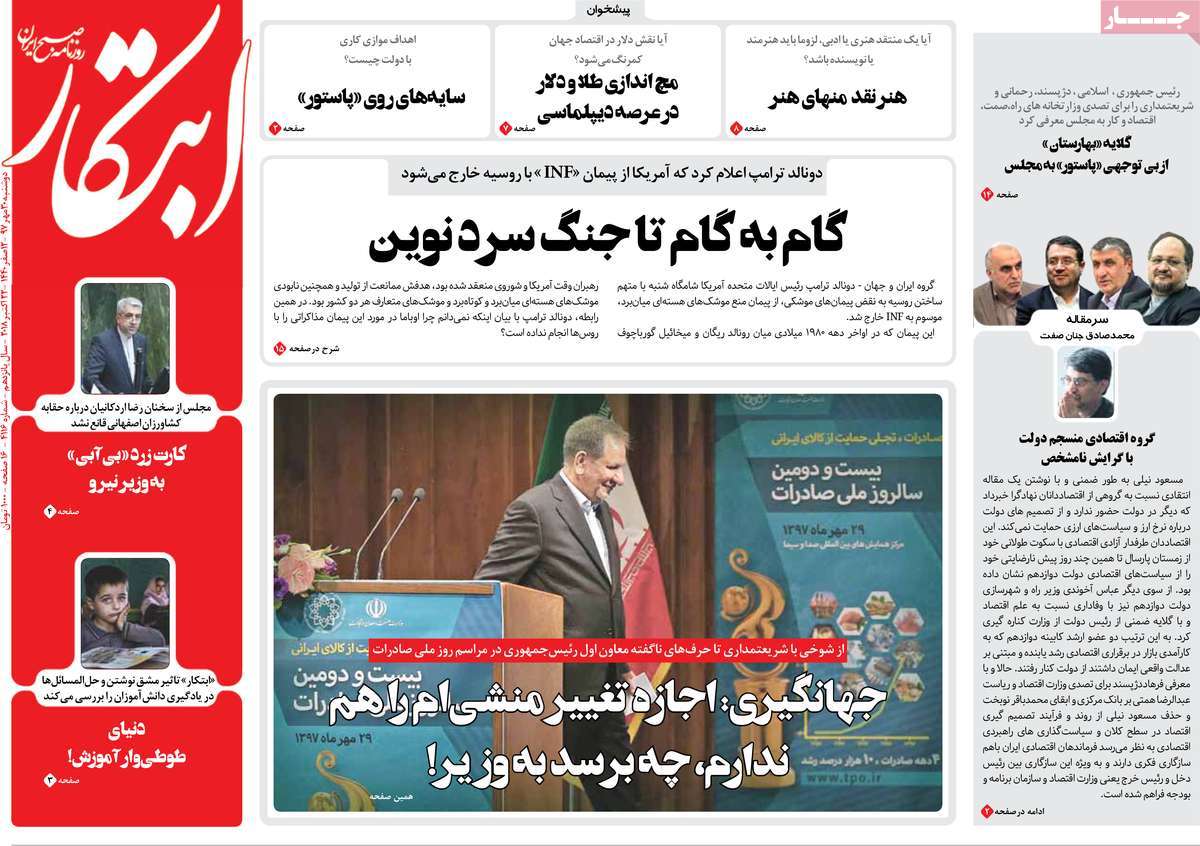 ---
Etemad:
1- Last Heritage of Reagan-Gorbachev on Verge of Collapse
US to Withdraw from Intermediate-Range Nuclear Forces Treaty
2- Rouhani Introduces New Picks for Four Ministries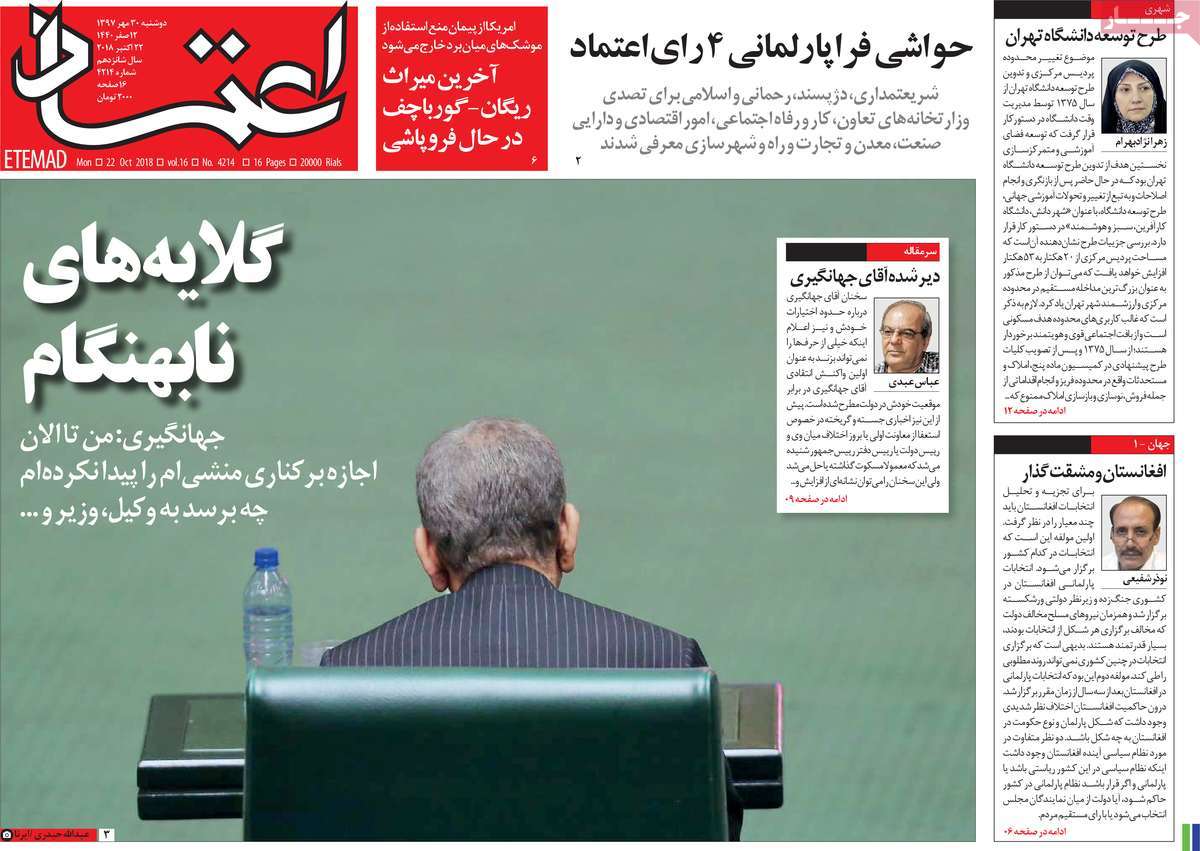 ---
Ettela'at:
1- Iran First VP: We'll Turn Threat into Opportunity
2- World Didn't Buy Saudis' Unbelievable Account of Khashoggi's Death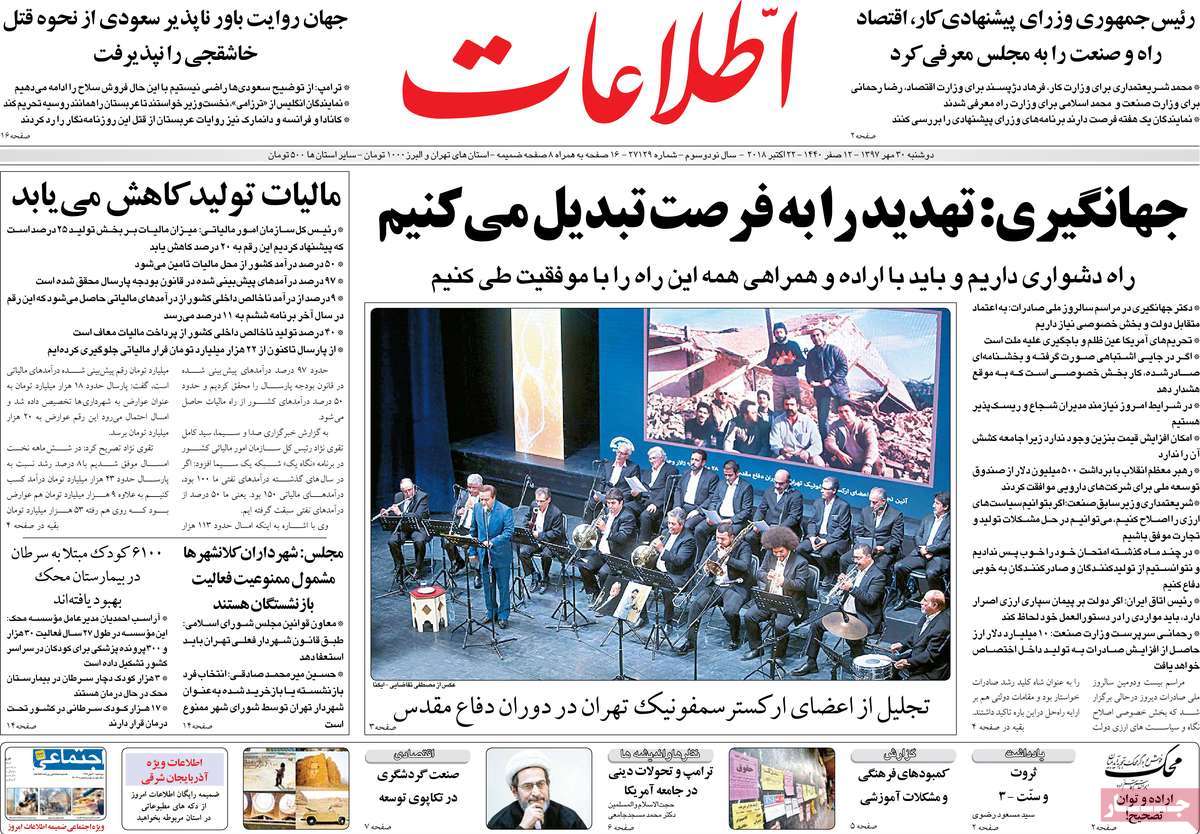 ---
Hamshahri:
1- Tehran' Global Transparency Ranking to Improve by 50 Positions in Next 2 Years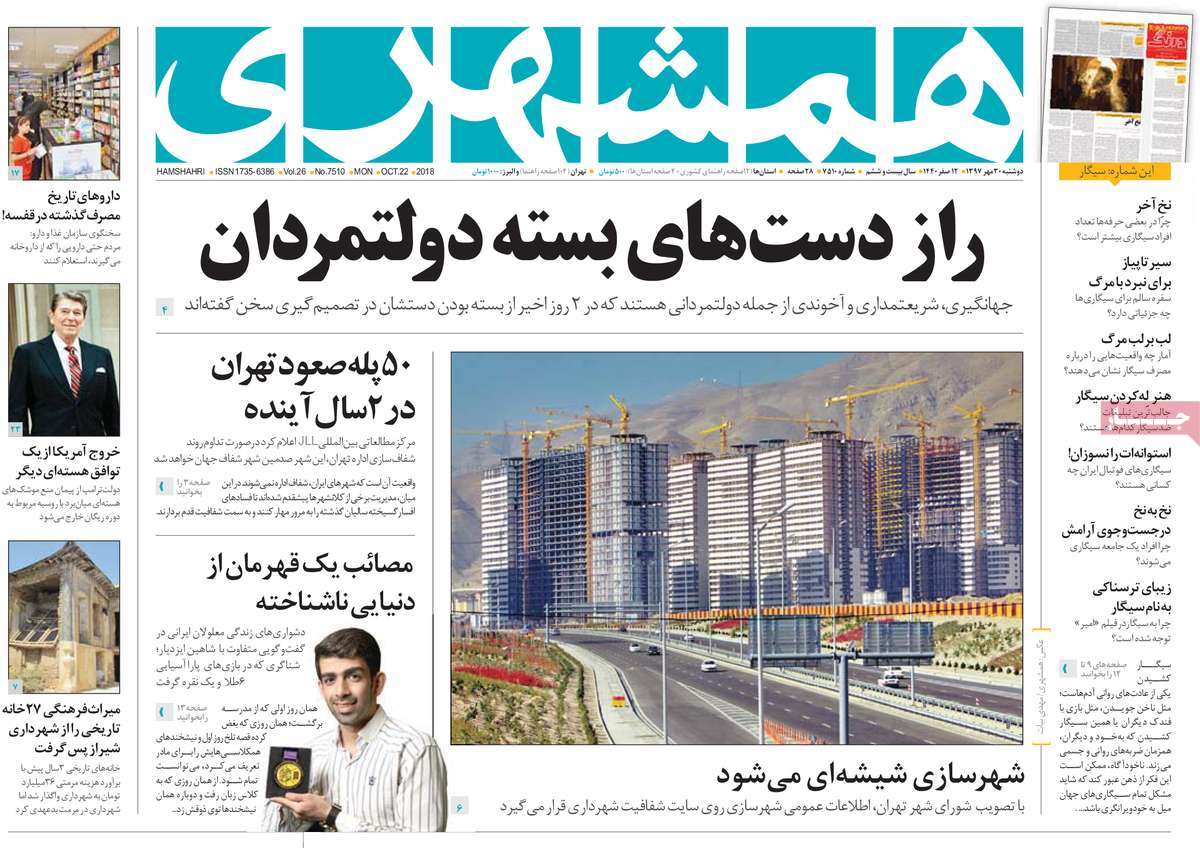 ---
Javan:
1- US Trying to Disrupt World's Nuclear Stability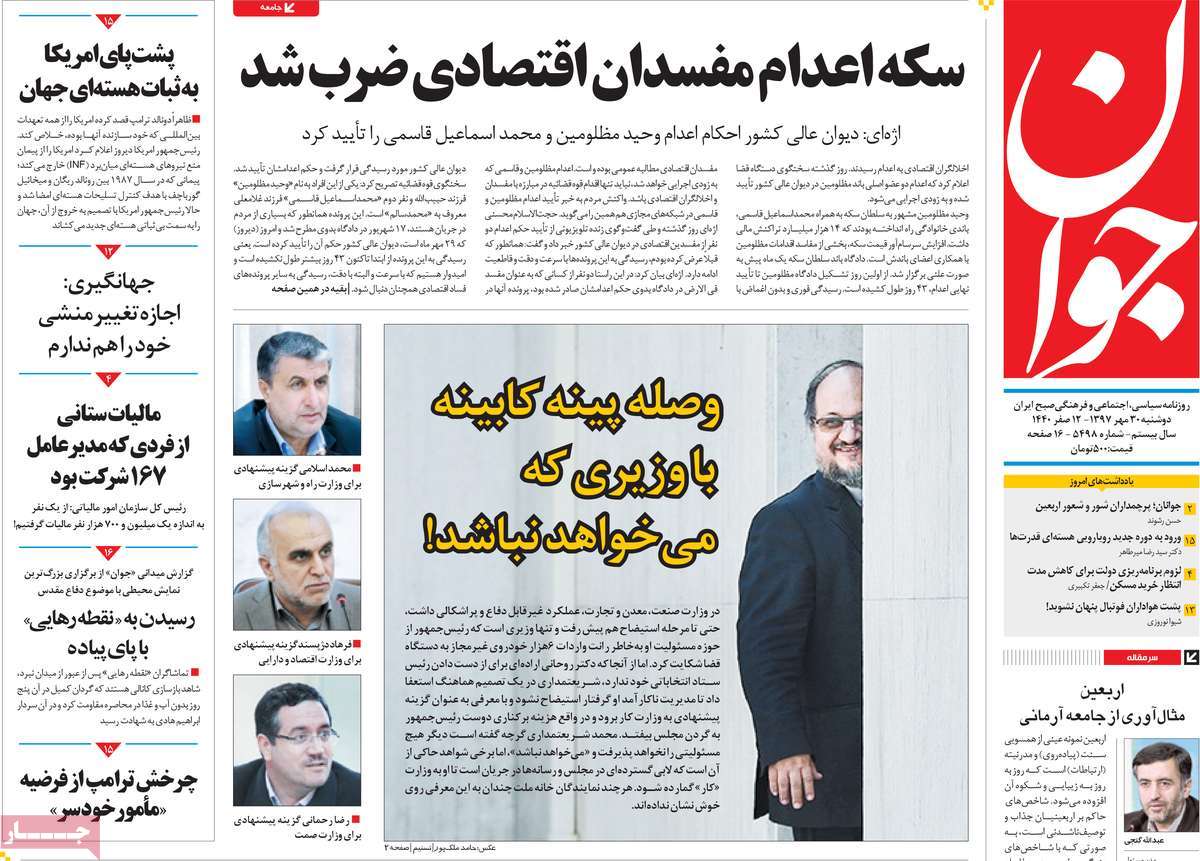 ---
Jomhouri Eslami:
1- Russia: US Withdrawal from Nuclear Treaty to Put World on Brink of Atomic War
2- Trump: We're Not Satisfied with Saudi Explanation about Khashoggi's Murder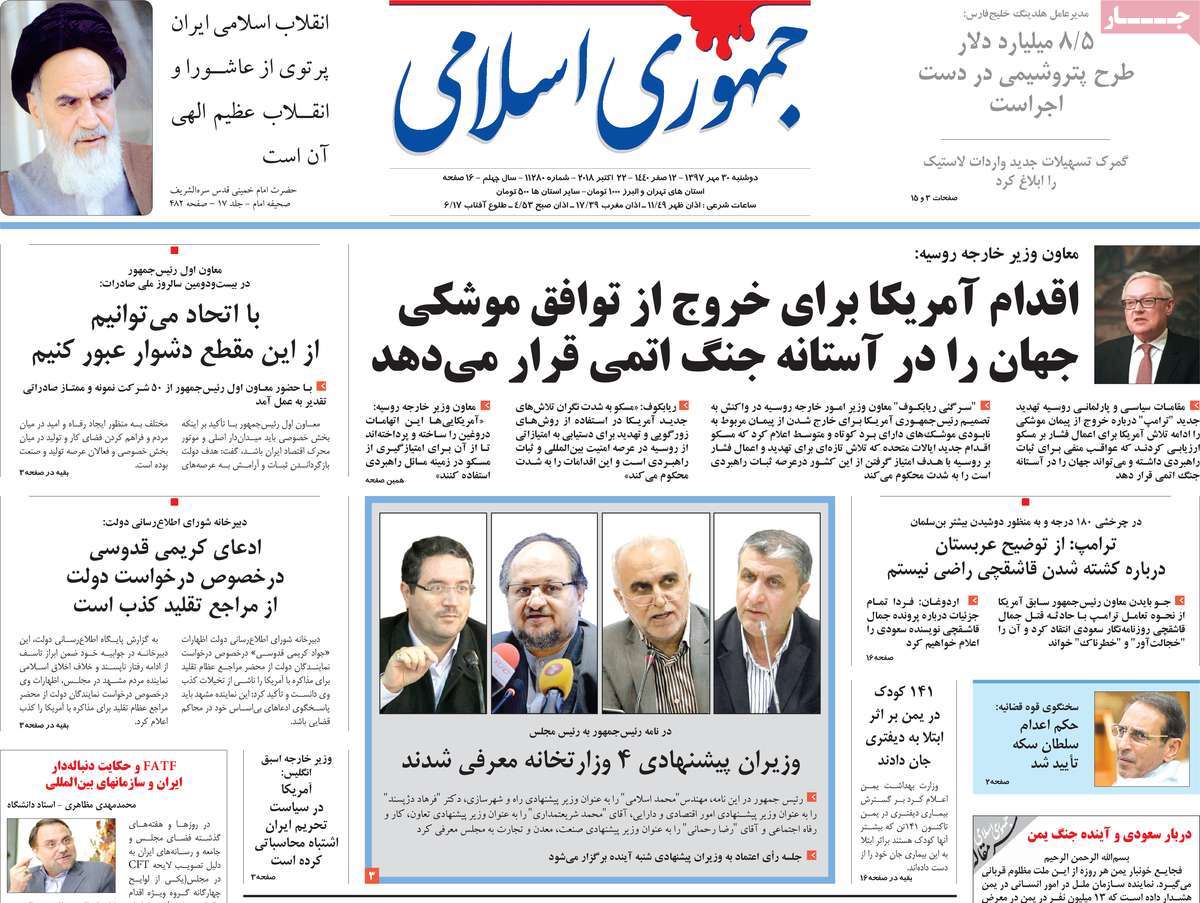 ---
Kayhan:
1-  No One, Except Bin Salman and Trump, Buys Saudi's Account of Khashoggi's Murder
2- American Sociologist: Ethics in US Dead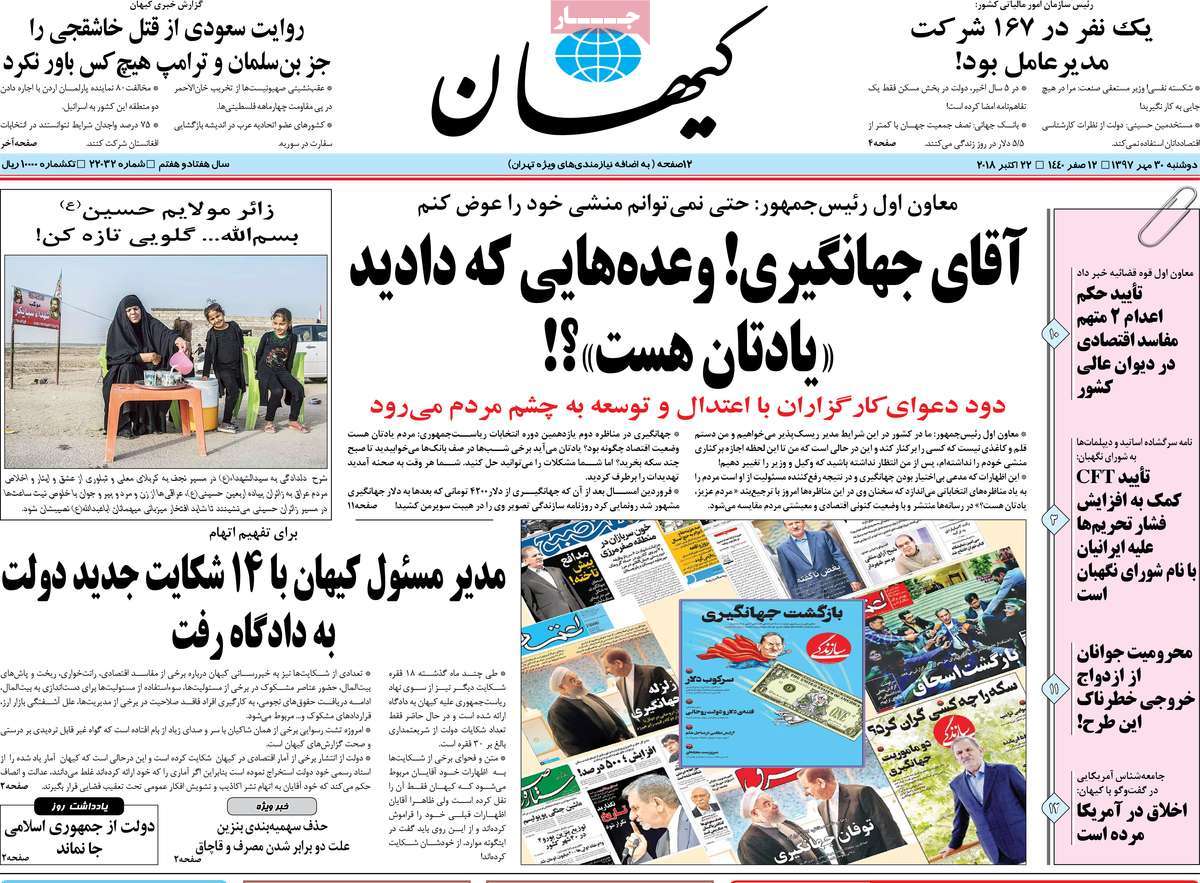 ---
Sazandegi:
1- Iran First VP Opposed to Increase in Gas Prices
Iranian Society Can't Tolerate Such an Increase
2- What Role Khashoggis Play in Saudi Politics, Power Relations?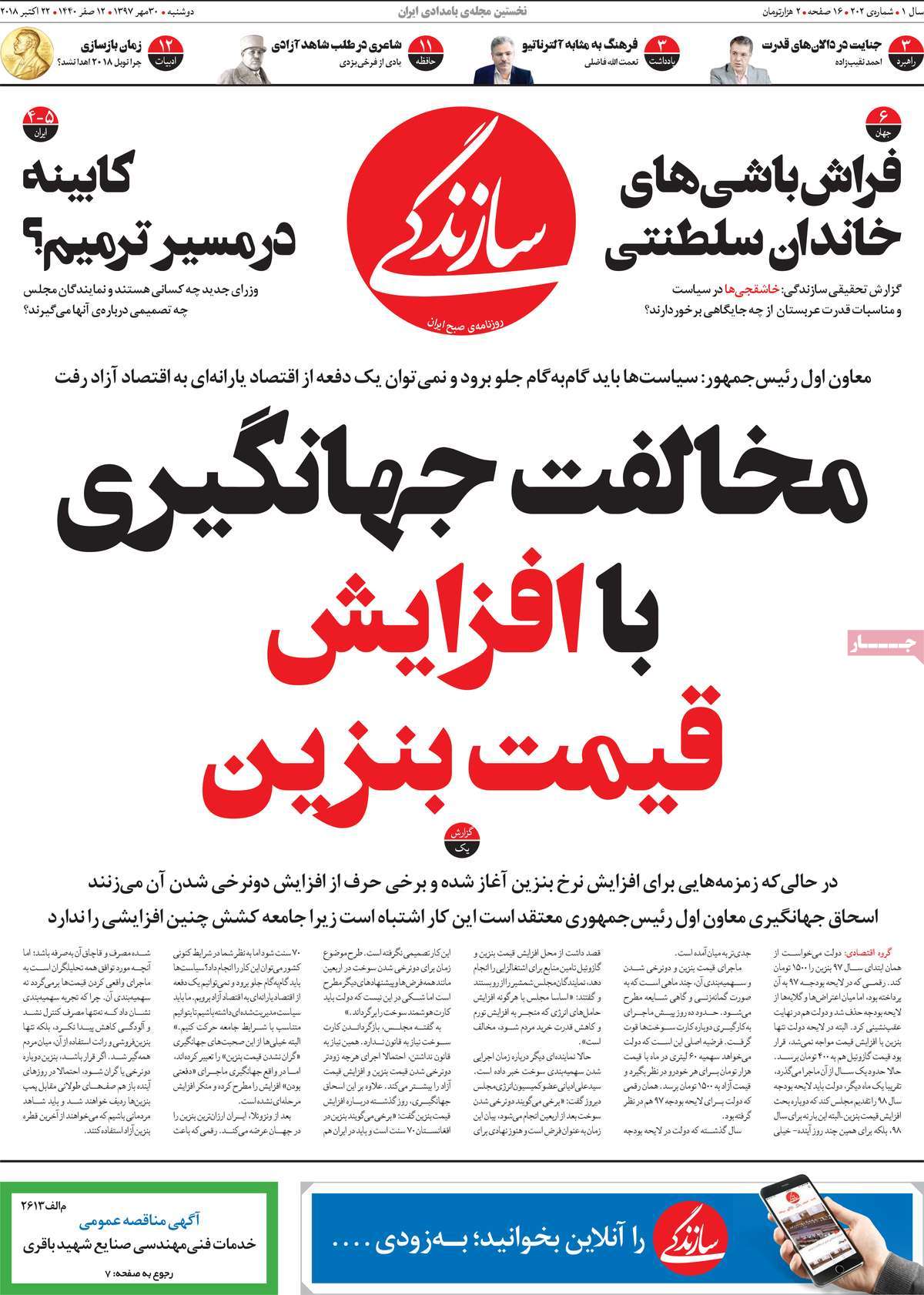 ---
Shargh:
1- Democrat Women against Trump
---
Sobh-e Now:
1- Trump; Complicity in Murder [Editorial]
2- From Showing Empathy with Iranian People to Living on Saudi Money
A Report on Iranian Journalists Affiliated with Saudi-Funded Iran International TV