IFP has taken a look at the front pages of Iranian newspapers on Monday, October 1, 2018, and picked headlines from 13 of them. IFP has simply translated the headlines and does not vouch for their accuracy.
Several papers today covered the remarks made by Iranian Foreign Minister Mohammad Javad Zarif in separate interviews with American media on the Iran nuclear deal and the remaining sides' efforts to save it.
Also a top story was the Iranian Parliament's upcoming session to ratify or reject a bill proposed by the government on Combating the Financing of Terrorism (CFT).
The above issues, as well as many more, are highlighted in the following headlines and top stories:
Abrar:
1- FM: JCPOA Not Revolving Door that US Comes in, Leave as It Wants
2- Malaysia to Decrease Trade Ties with Iran
---
Arman-e Emrooz:
1- US' Economic Terrorism Threatens Iran, World: Former VP
2- Three Sentenced to Death over Economic Corruption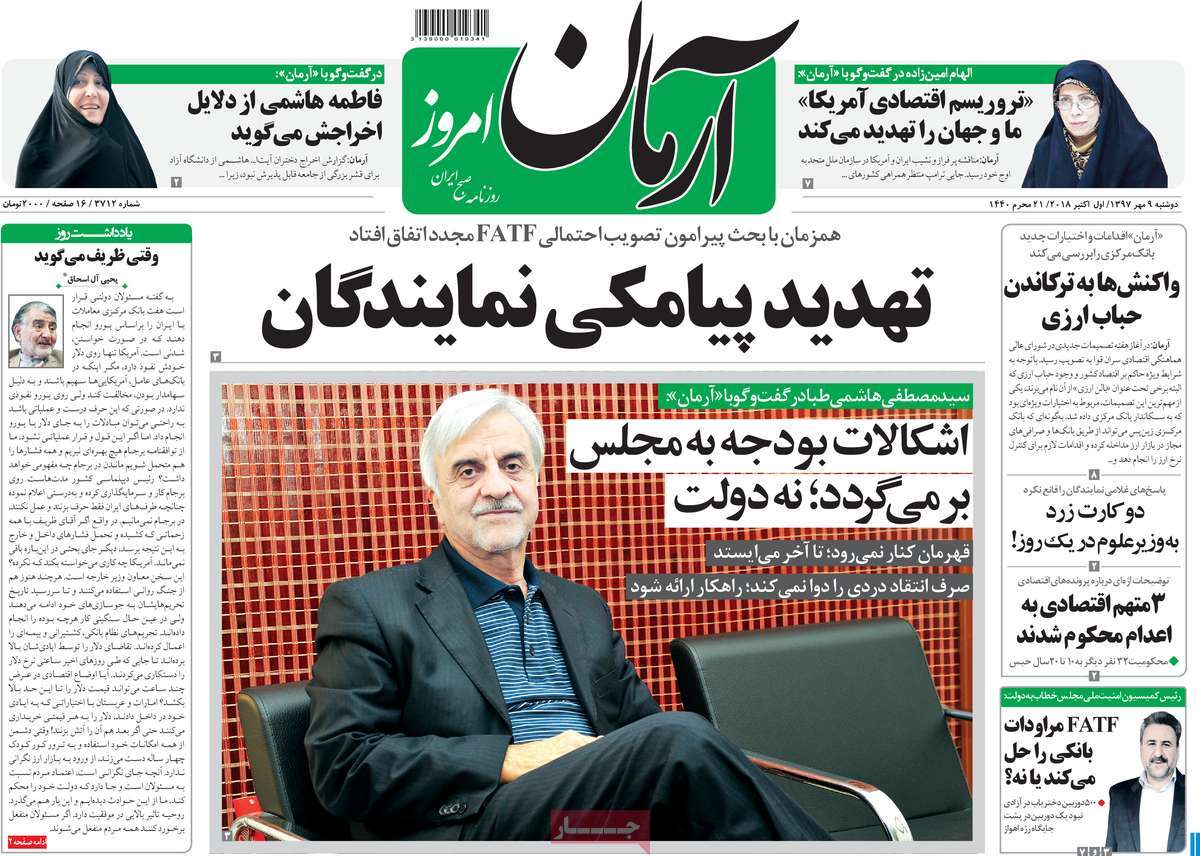 ---
Etemad:
1- Iran Nuclear Chief: No Document Snatched from Iran
2- Nuclear Opportunities of Neighbours [Editorial]
---
Ettela'at:
1- Energy Minister: Development Not Possible without Water
2- Iran's Development Program Not Compatible with Dry Climate
3- Iran to Enrich Its Forests
4- Zarif: Tehran on Verge of Oil Deal with EU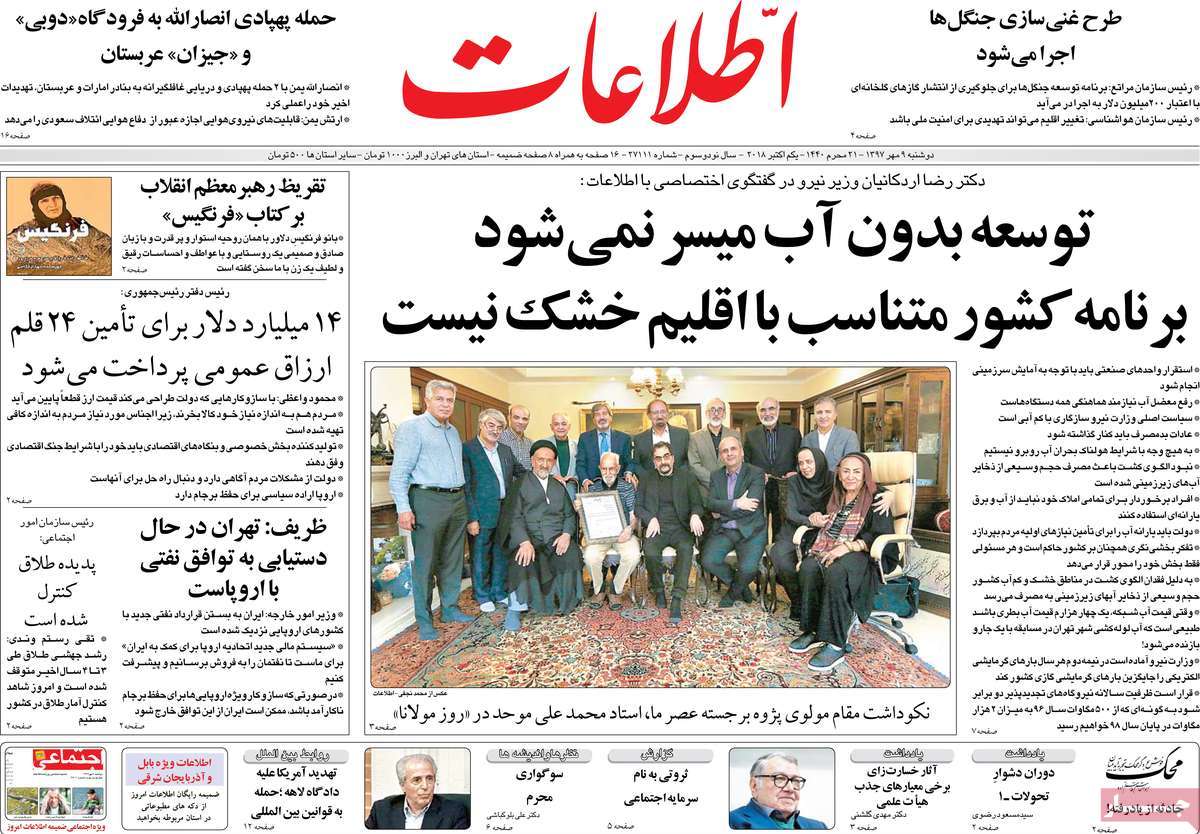 ---
Hamshahri:
1- Immigration or Saving Homeland: Environmental Crisis Puts Iran in Dilemma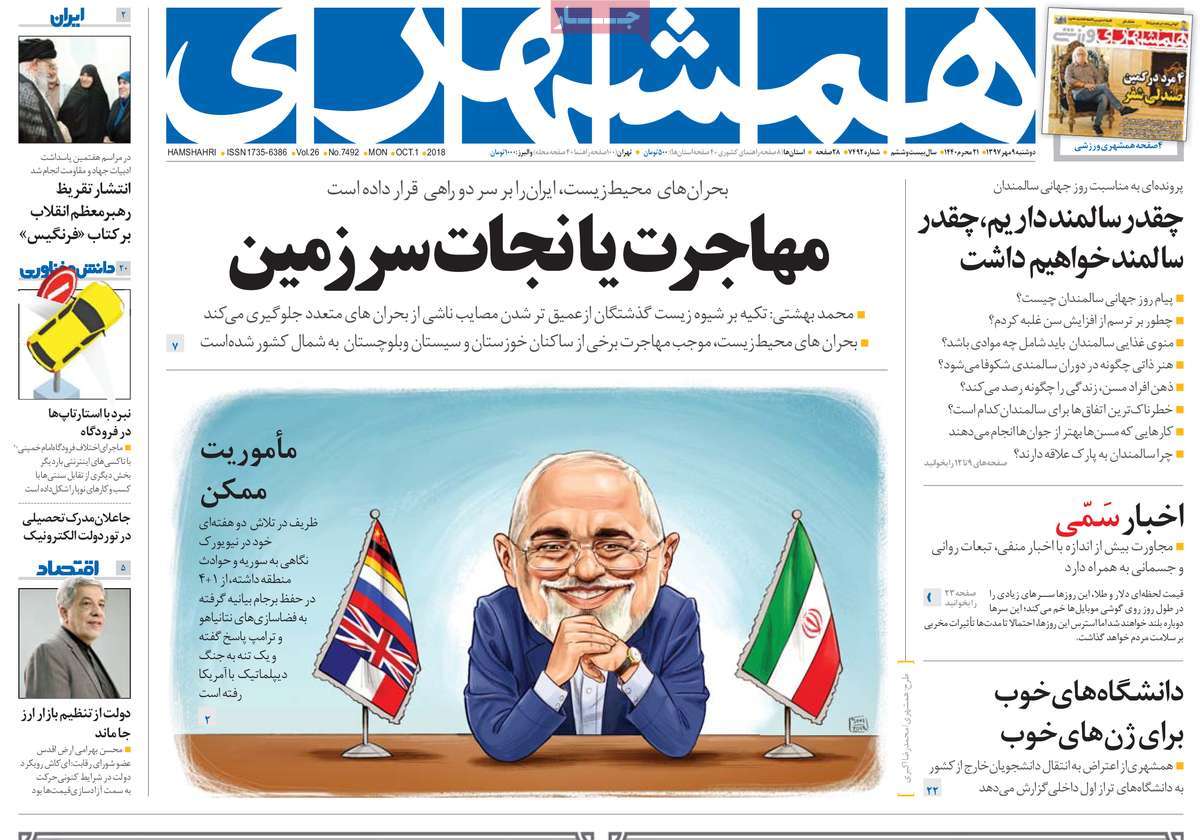 ---
Iran:
1- Zarif to American Reporters: Iran, EU on Verge of Oil Deal
2- FATF Prerequisite for Iran's Ties with World: Economists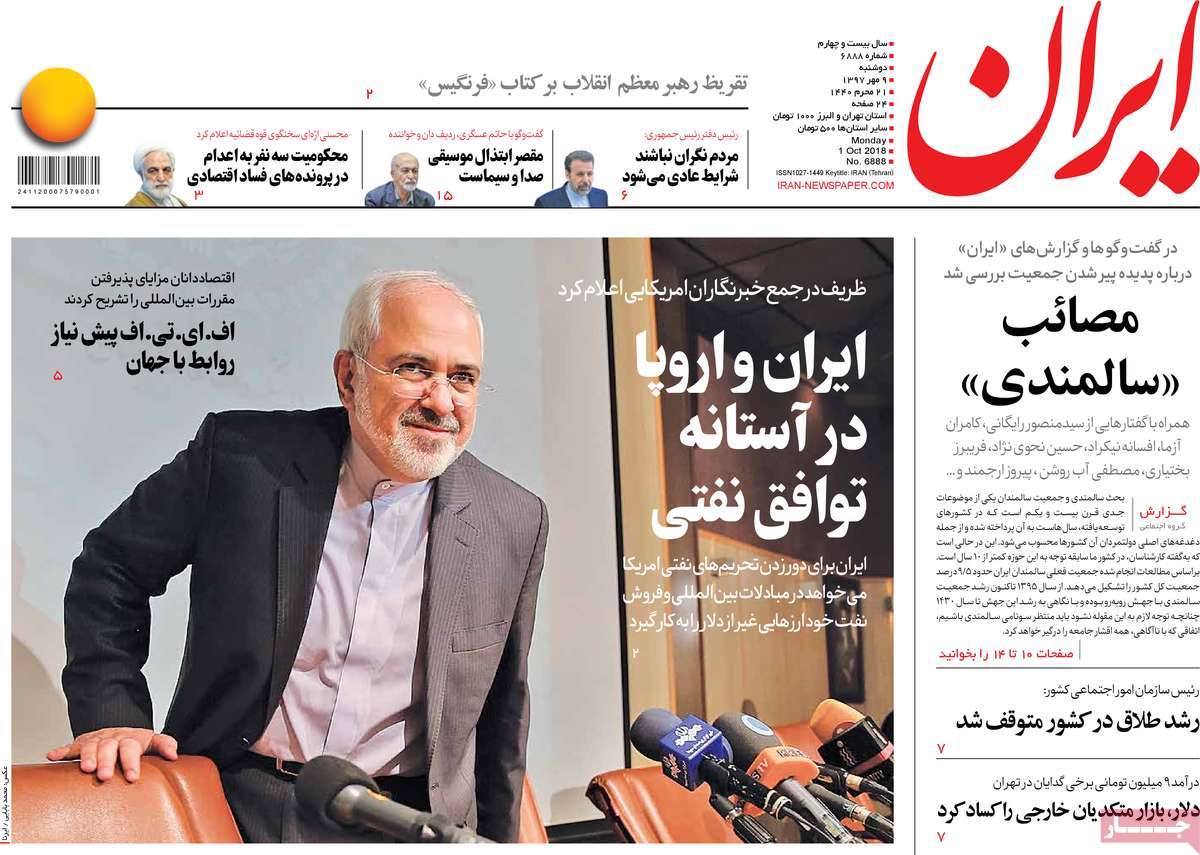 ---
Jame Jam:
1- An Analysis of Portraits, Messages on US Dollar Banknotes
2- Turquzabad from Non-Nuclear Dimension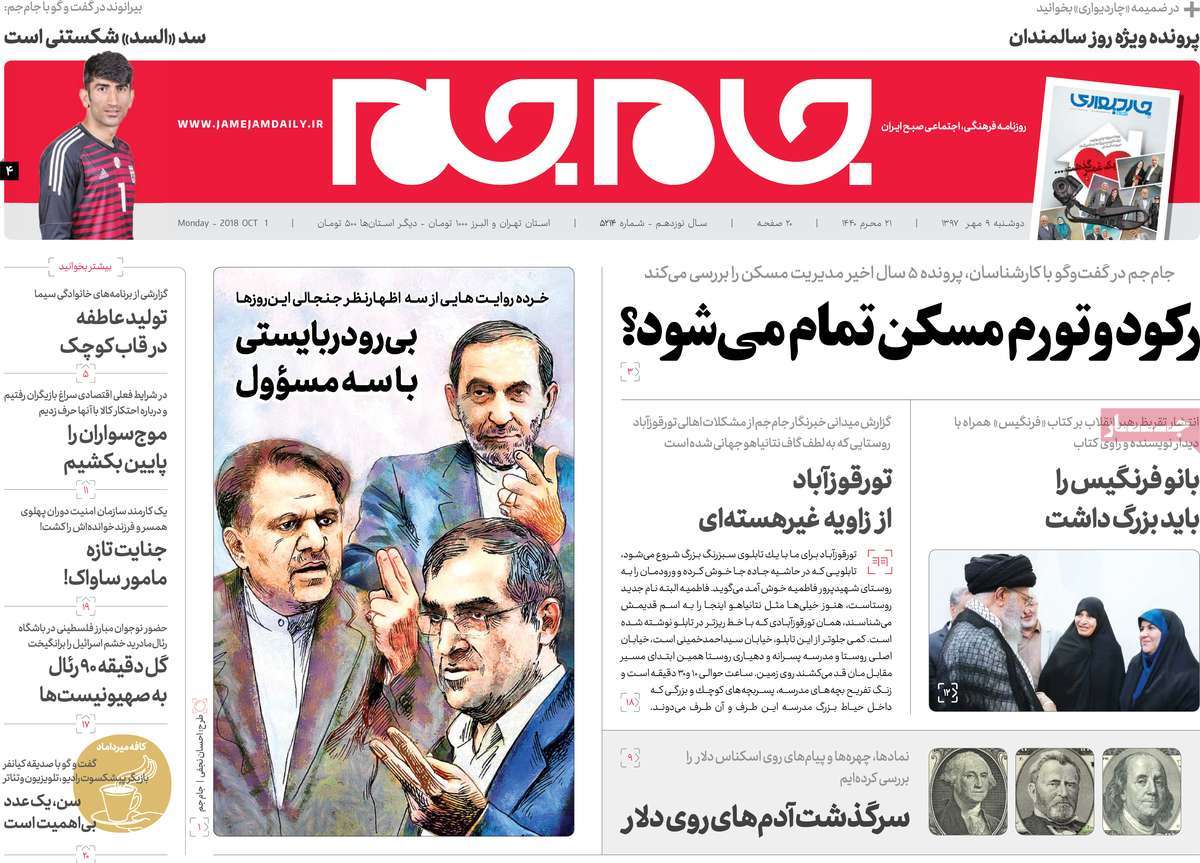 ---
Javan:
1- Trump: I Told Saudi King It's Not Clear What Would Happen to You without Us
2- Second Drone Attack on Economic Heart of UAE
Symbol of Middle East's Economy Attacked by Poor Yemenis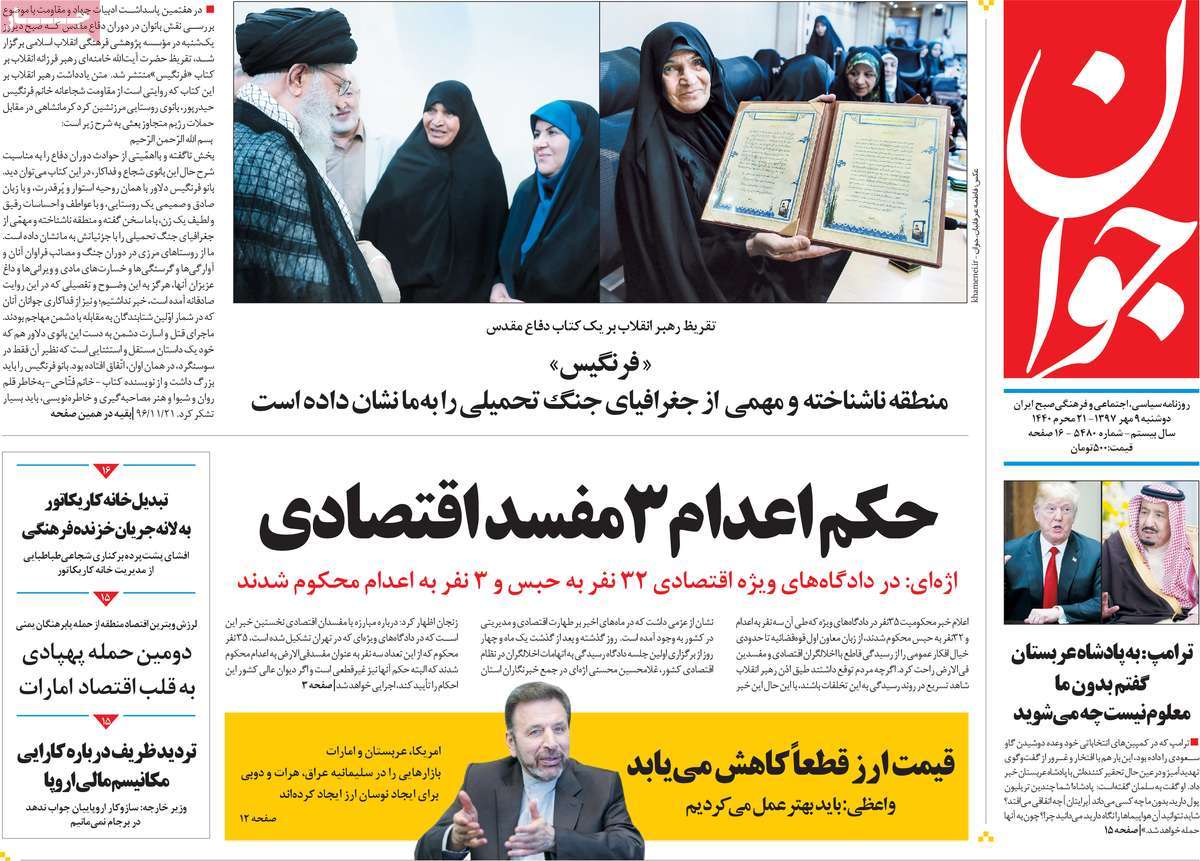 ---
Jomhouri Eslami:
1- Zarif to CNN: Trump Isolated US in World
2- MP: Threatening Messages Sent to Lawmakers' Phones, Urging Them to Reject FATF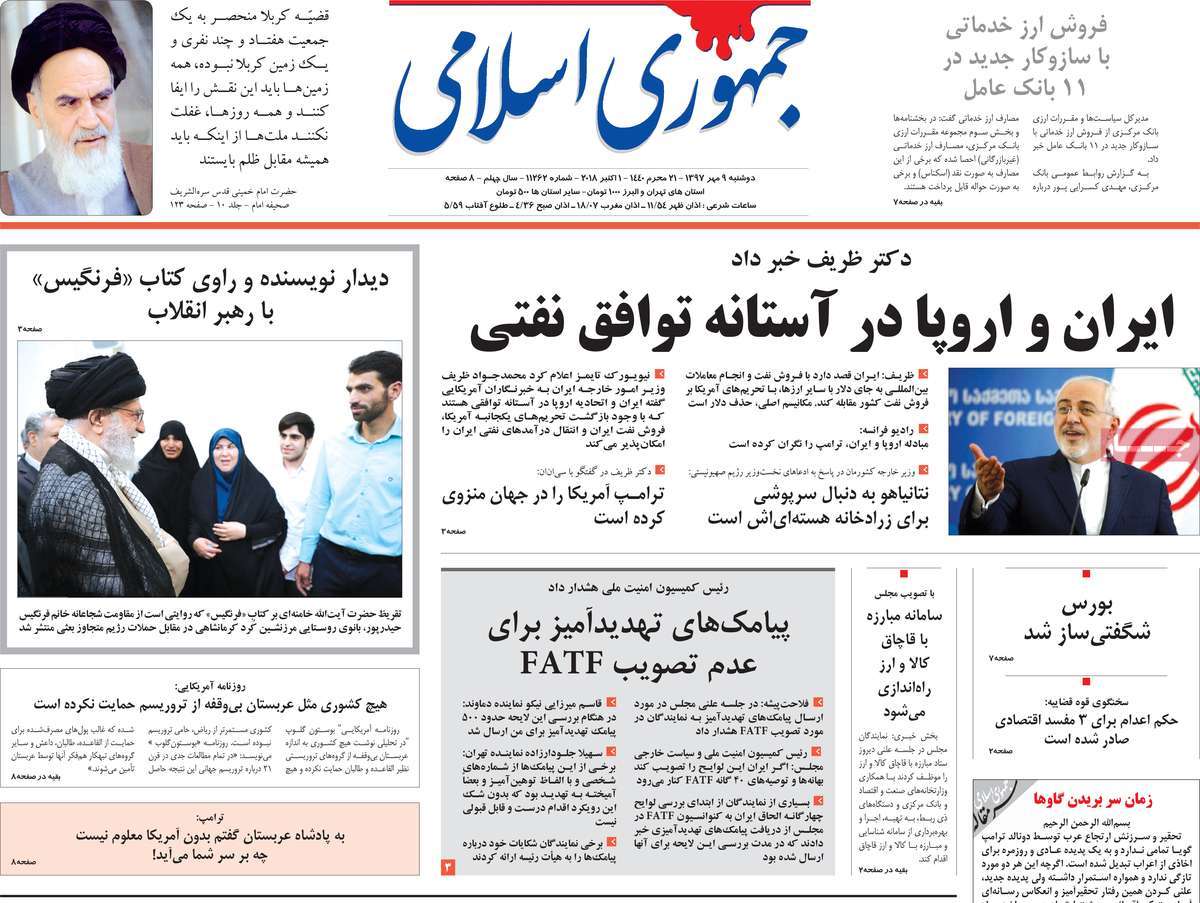 ---
Kayhan:
1- Judiciary Spokesman: 35 Receive Prison Terms, 3 Sentenced to Death over Economic Corruption
2- Iran's Adoption of FATF Standards to Increase Forex Rates
3- Dubai Airport Hit by Yemenis' Missiles
---
Sazandegi:
1- Return to Mao: Trade War with US Leads to Political Gap in China
Liberal, Authoritarian, Maoist Factions Created amid US Trade War
2- Five Ministers on Verge of Impeachment
---
Setareh Sobh:
1- FATF One Step from Being Ratified by Parliament
2- US Congress Elections Not to Impact US' Stance on Iran [Editorial]
3- N Korea: Give Us Concessions for Nuclear Disarmament
4- Trump: Kim and I Have Fallen in Love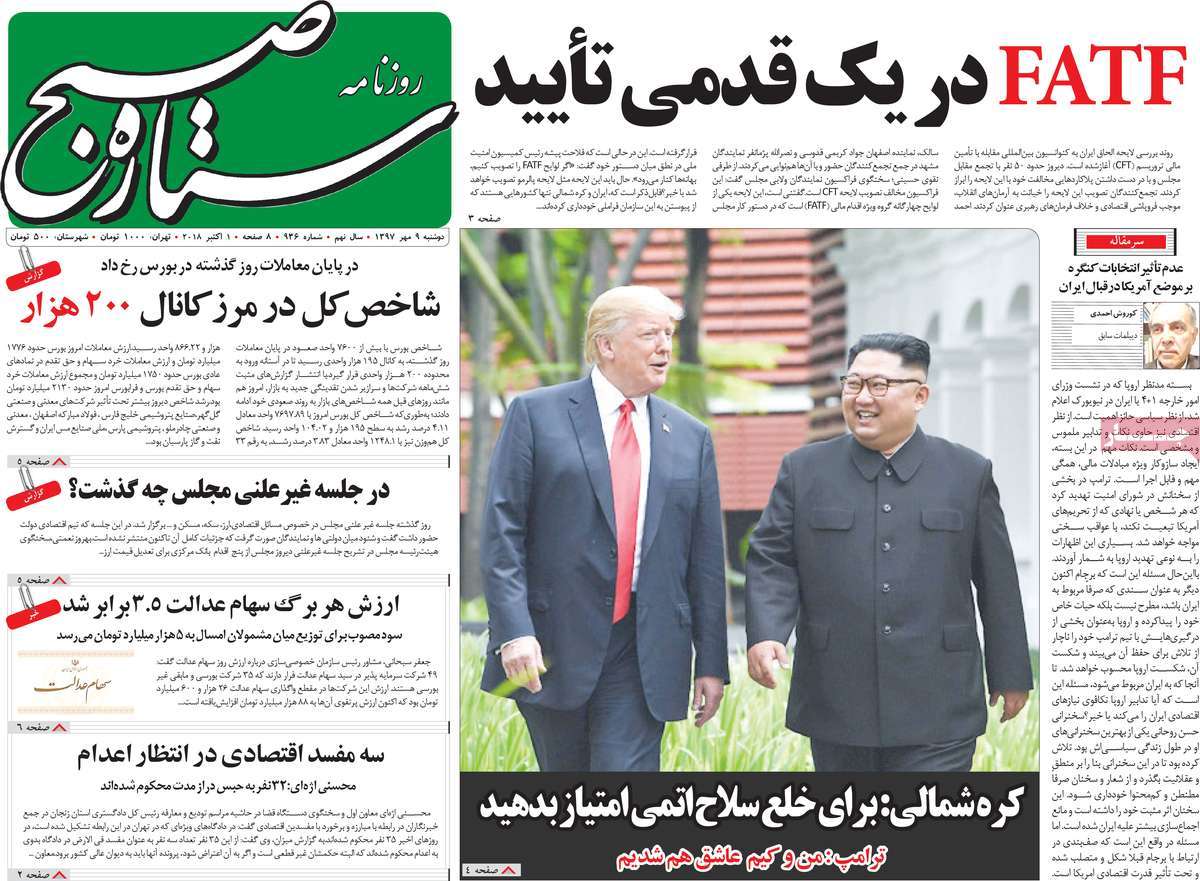 ---
Shargh:
1- Russia, China, EU Vow to Secure Iran's Interests: Zarif to CNN
2- Problems of Iranian Rial, Bubble of US Dollar [Editorial]