The top story in all papers today was the ineffectiveness of US sanctions against Iran and the waivers granted to some countries to maintain their oil imports from Iran. The dailies reflected President Hassan Rouhani's stance on the impact of sanctions, who said Iran's oil exports cannot be cut to zero. Rouhani's remarks after a joint meeting with Parliament Speaker and Judiciary Chief regarding the Oil sales were focused by most dailies.
Also a top story was the issue of Iran adopting the Combating the Financing of Terrorism (CFT) convention, which is part of the four bills proposed to take Iran out of the blacklist of global anti-money laundering body, Financial Action Task Force (FATF), and the opposition of some parties inside the country to the matter. The Guardian Council's questions regarding CFT and the answers of Iranian lawmakers were covered by Iranian newspapers today.
The second leg of the final match of AFC Champions League between Iran's Persepolis and Japan's Kashima Antlers was the other topic highlighted by newspapers. Presence of women at Azadi stadium was hailed as the great victory for Iranians even though Persepolis could not win the trophy after a 0-0 draw against the Japanese team.
The above issues, as well as many more, are highlighted in the following headlines and top stories:
Abrar:
Over 6 Million Internally Displaced inside Syria: UN
Iranian Commander: Enemy Sanctions Have No Effect on Military Capabilities
Trade with Iran Still Legal: Mogherini Spokesperson
There's No Military Option against Iran: Bolton
---
Aftab-e Yazd:
Hard Resistance of CFT Opponents
Iran Begins Rebuilding Syria's Holy Shrines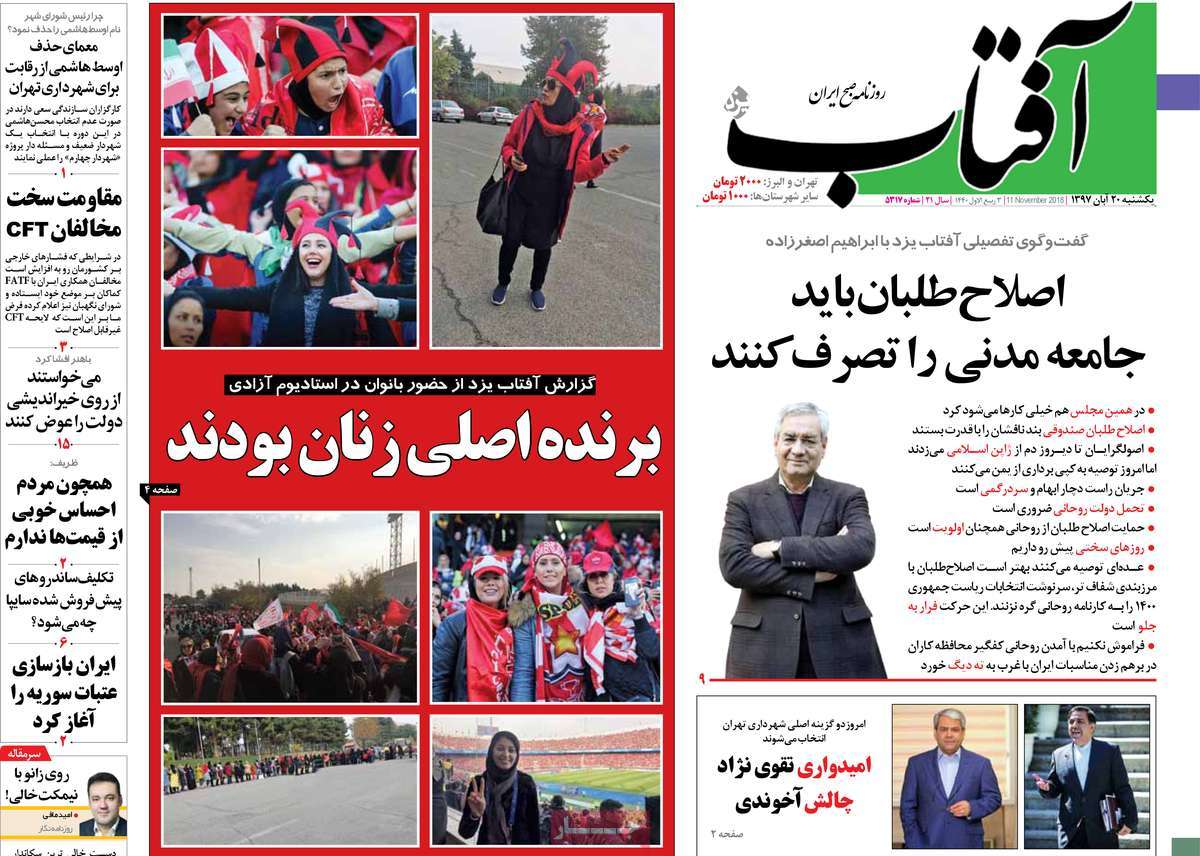 ---
Arman-e Emrouz:
A Report on Sanctions in Light of International Experiences
---
Ebtekar:
Peace Talks on Afghanistan
Ebtekar Looks into Taliban-Kabul Peace Talks in Moscow
On FATF, We Should Not Commit Suicide for Fear of Death: Zarif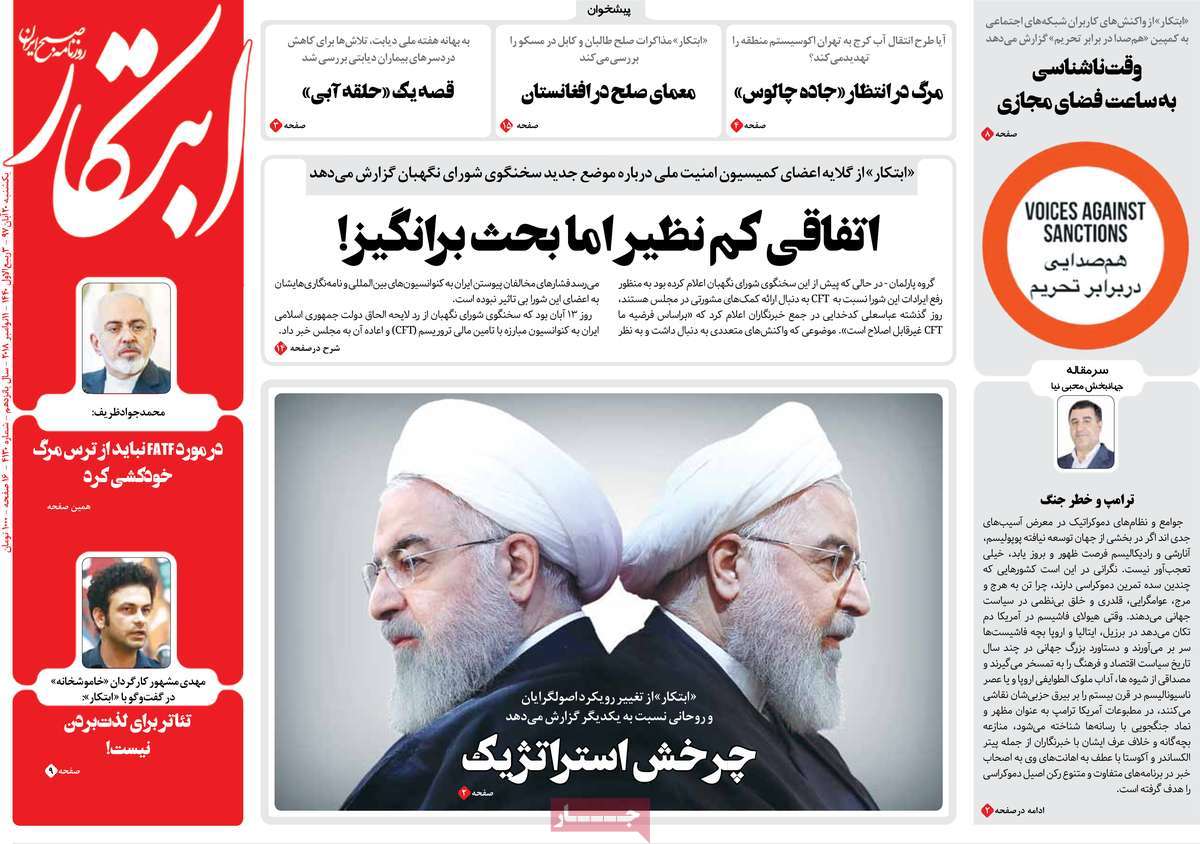 ---
Etemad:
Gov't Ready to Supply Basic Needs of People: Rouhani
Will Nuclear Deal Survive despite Sanctions?
---
Ettela'at:
Other Countries to Get in Trouble If Iran's Oil Sales Cut: Rouhani
Iran Oil Revenues Increase by 125% in First Half of Iranian Year
Congressional Election Results Have No Effect on US Behavior towards Iran: Zarif
Normalisation of Ties with Israel Reveals Real Nature of Arab Hypocrites: Nasrallah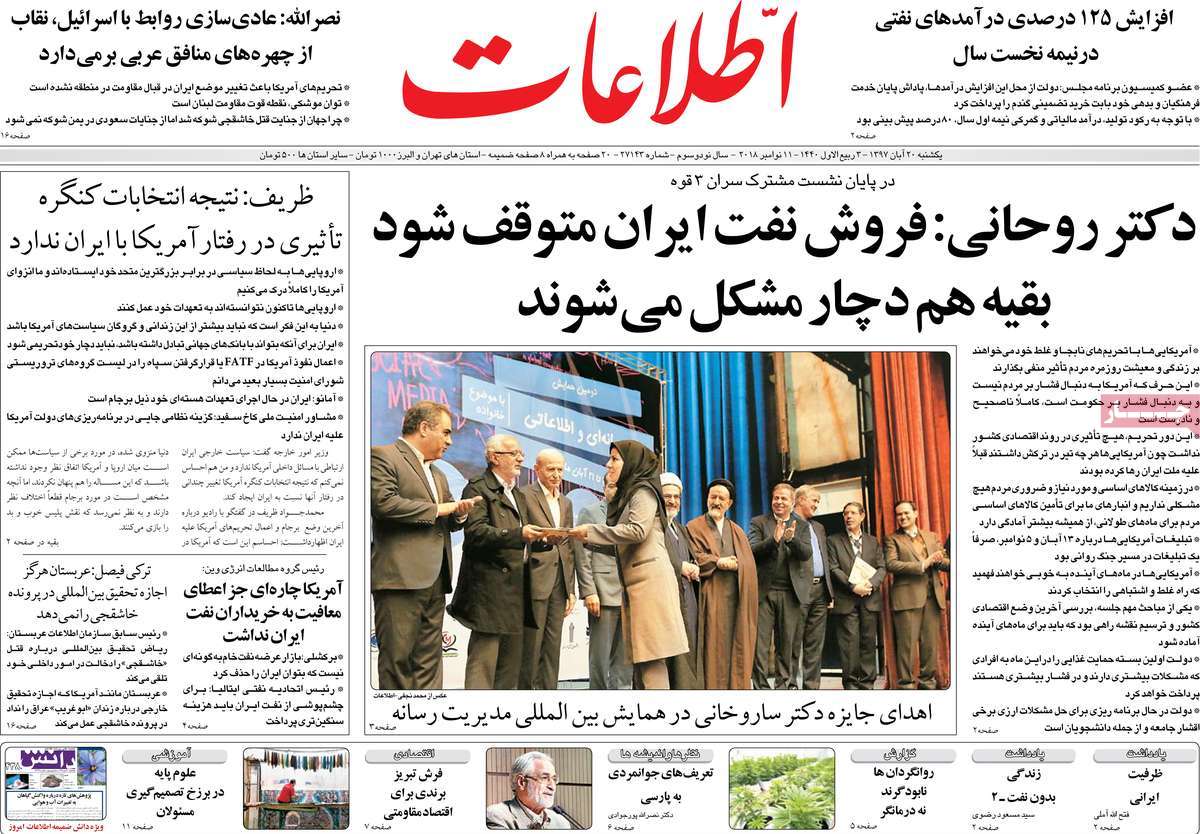 ---
Hamshahri:
Iran Sanctions Block Import of Medicine despite US Officials' Denial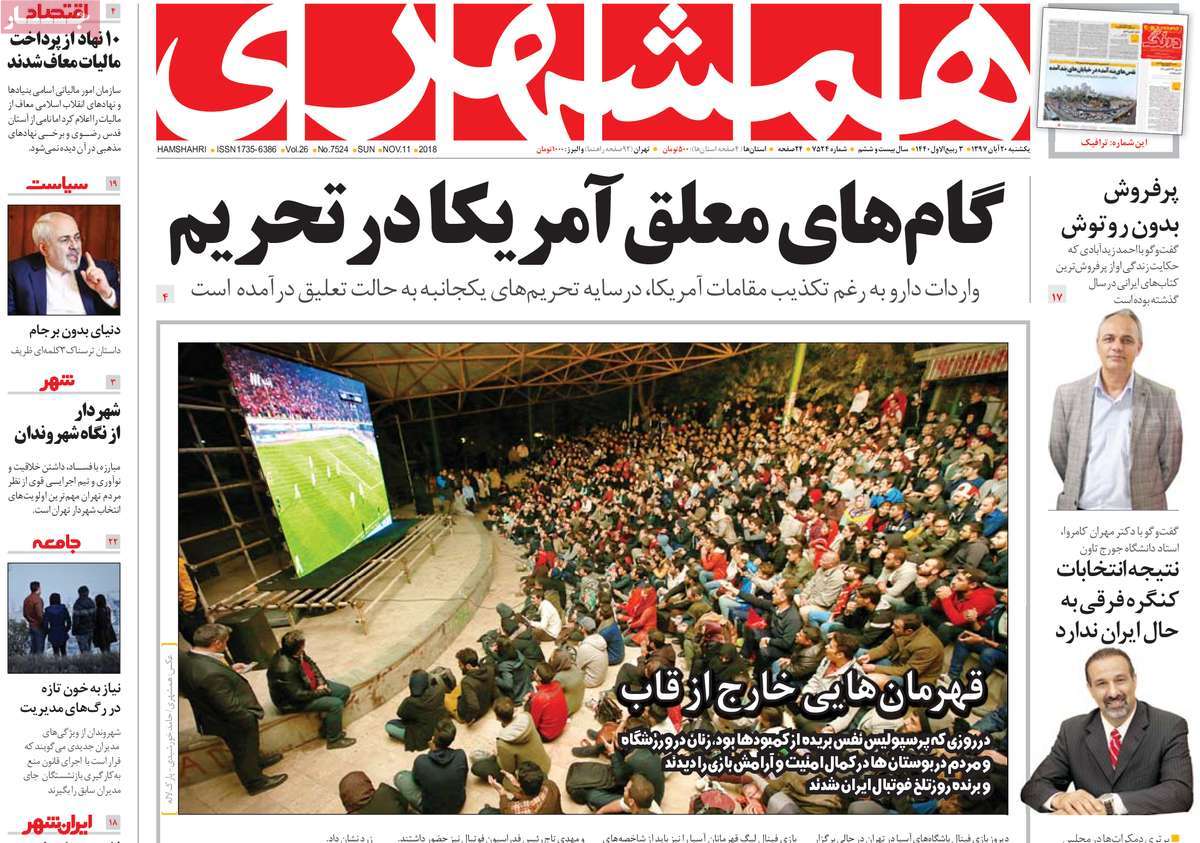 ---
Iran:
Iran's Strategies to Counter Oil Sanctions
Riyadh, Moscow Play Role in Oil Price Tumble
Women Real Victors at Tehran's Azadi Stadium
Female Fans Watch AFC Finale along with 80,000 Men in Tehran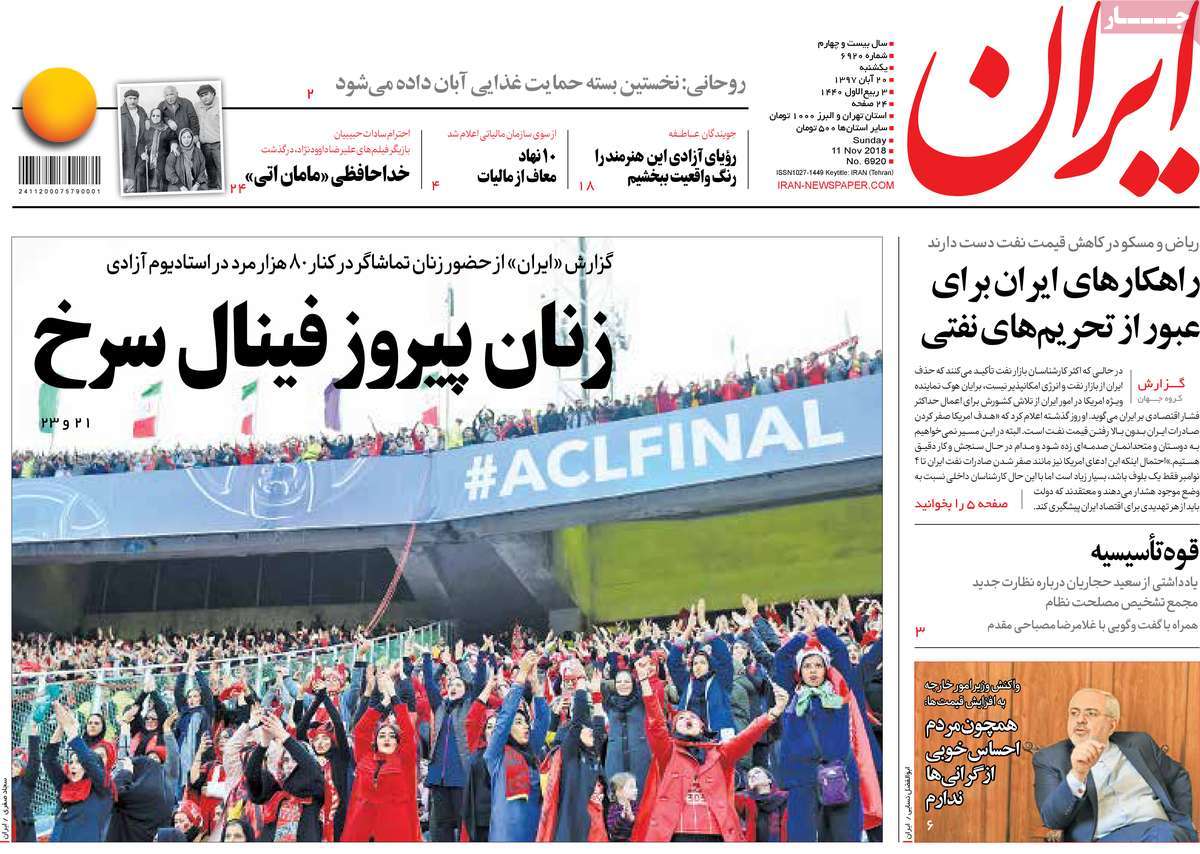 ---
Jame Jam:
Reasons behind Oil Price Slide
---
Javan:
Long List of Sanctions Just to Fill Pages: Rouhani
Int'l Community Determined to Weaken Role of US Dollar
Europeans Not Yet Fulfilled Their Obligations: Zarif
---
Jomhouri Eslami:
FATF Critics' Arguments Not Based on Realities: Zarif
New Arrangements to Provide Exporters with Forex: Chief Banker
Iran Meeting Its Commitments under Nuclear Deal: Amano
US Has No Int'l Support in Boycotting Iran: Ex-US Secretary of Energy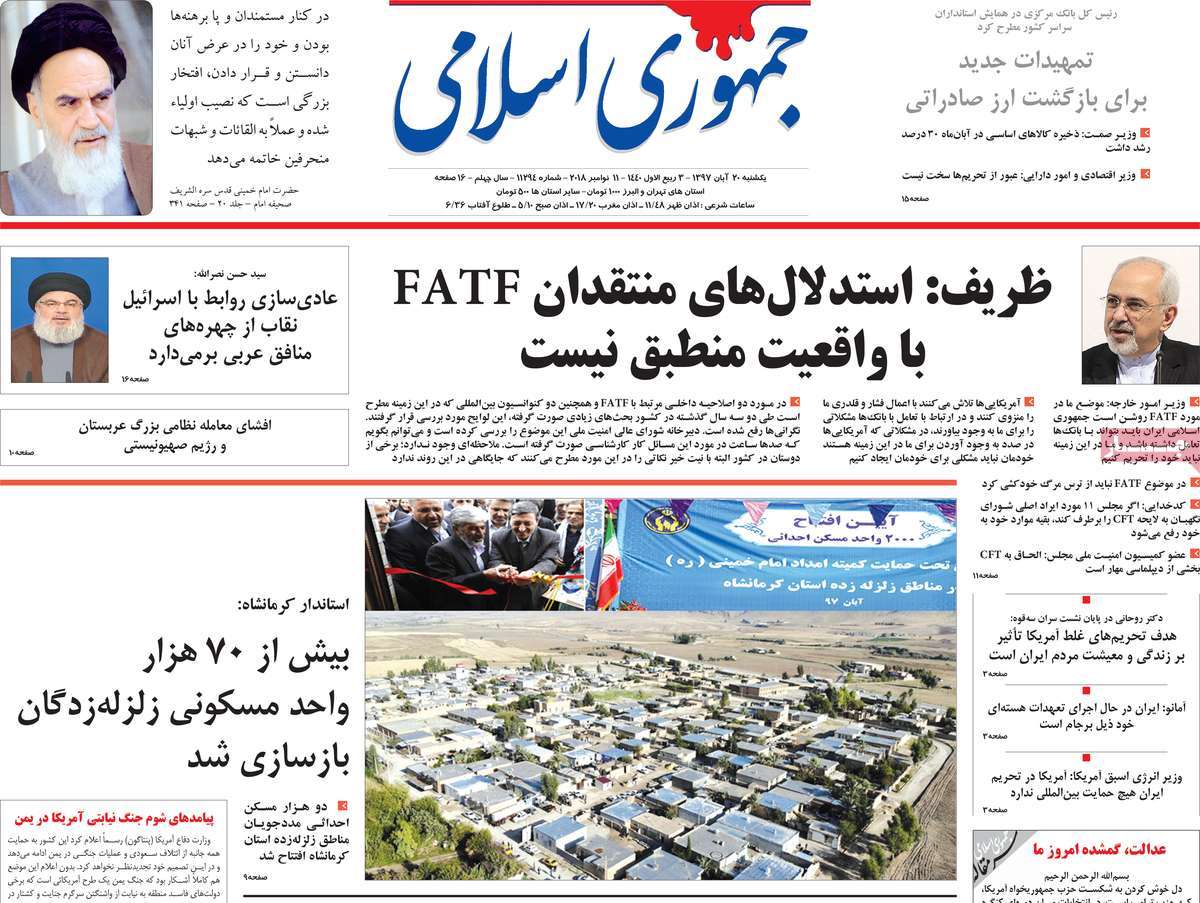 ---
Kayhan:
US Lies about Exemption of Medicine Imports from Iran Sanctions
Largest Arms Deal between Israel, Saudi Arabia; Netanyahu Sells 500 Merkava Tanks to Bin Salman
Iran's Influence Increases despite Sanctions: New York Times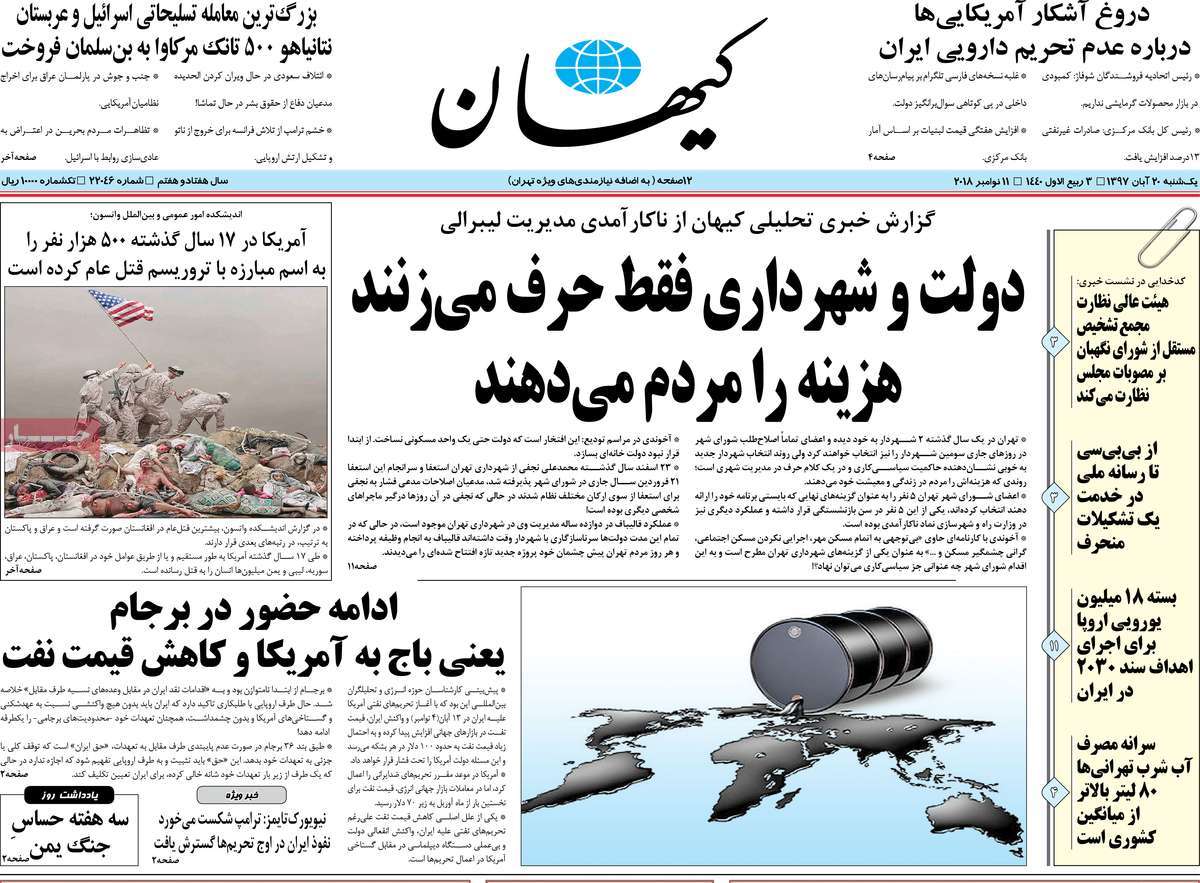 ---
Sazandegi:
Iranian Women's Victory at AFC Finale
Iranian Women Real Winners of AFC Finale as Persepolis Fails to Defeat Kashima Antlers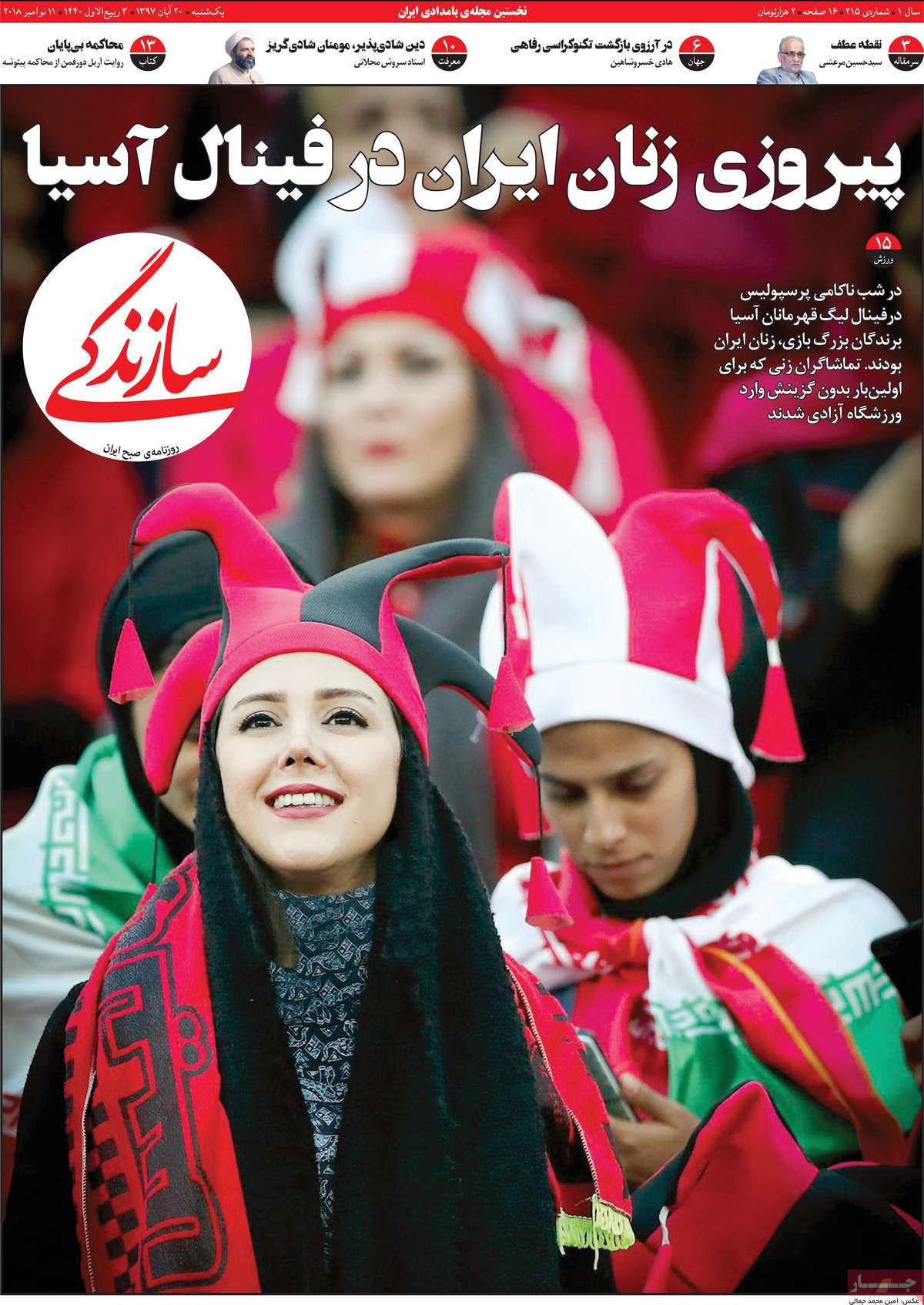 ---
Shahrvand:
Impossible to Cut Iran Oil Exports Down to Zero: Rouhani
Iranian MP Answers Guardian Council's Questions on CFT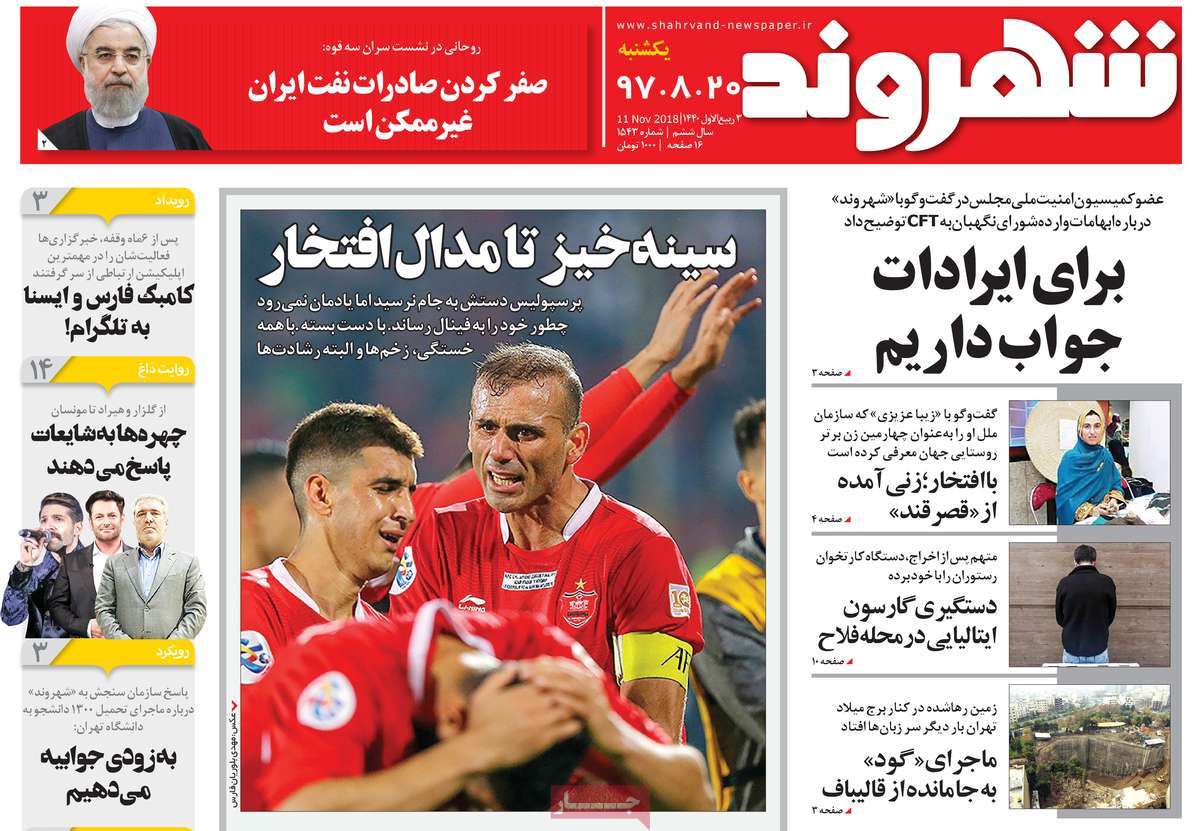 ---
Shargh:
Gov't to Distribute First Food Aid Package in November: Rouhani
CFT against National Interests: Guardian Council
We Should Not Commit Suicide for Fear of Death: Zarif
Sixteen Iranian Banks Not in Sanctions List
Americans Lie about Sanctions