News about the opening of the 20th Exhibition of Press and News Agencies on Saturday was on the front pages of many Iranian newspapers. Also grabbing headlines were the letter Obama is said to have sent to the Supreme Leader and the flurry of diplomatic activity and comments ahead of a November 24th deadline for a nuclear deal between Iran and P5+1.
---
Afkar: Six foreign political figures are expected to visit the 20th Exhibition of Press and News Agencies that opens at Tehran's Grand Musalla later on Saturday.
Afkar: The Wall Street Journal reports that President Obama has sent a letter to Iran's Supreme Leader about the fight against IS.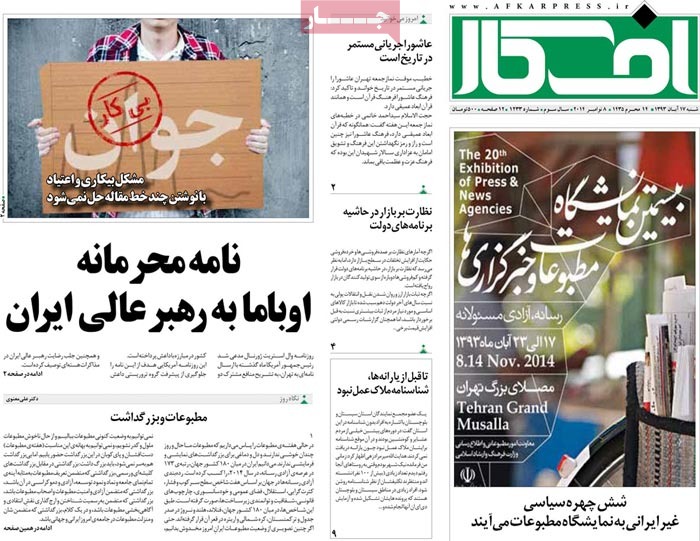 ---
Arman-e Emrooz: Changes of government should not result in change of policy and strategy, said Chairman of the Expediency Council Ayatollah Akbar Hashemi Rafsanjani.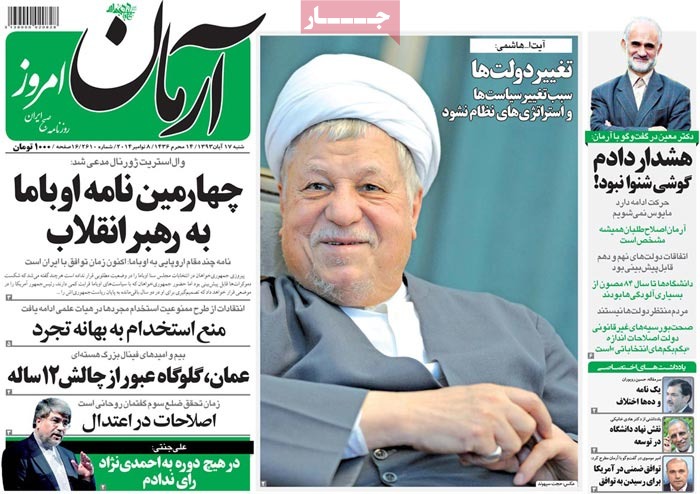 ---
Asia: Various sectors of the economy will soon experience a boom, the Iranian minister of economy and financial affairs vowed.
---
Asrar: "Security conditions are ideal in Sistan and Baluchestan Province," said the Iranian prosecutor general.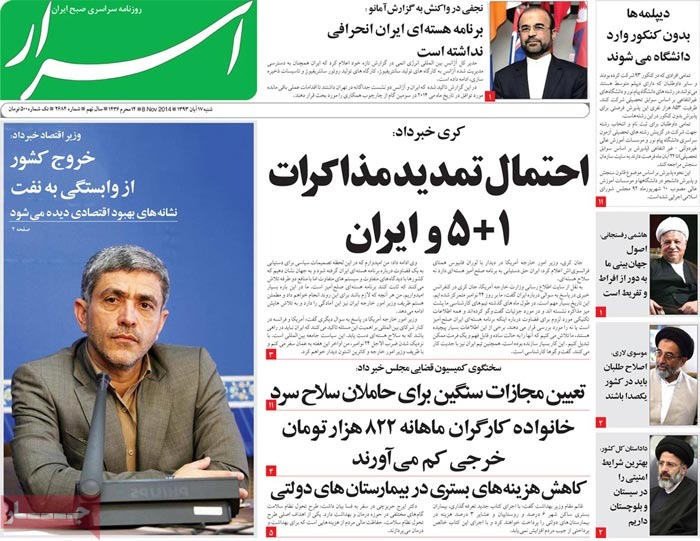 ---
Ebtekar: "I am a bit at odds with my father," said Ali Jannati, the minister of culture and Islamic guidance.
---
Eghtesad-e Pooya: Iran's business position in global rankings has improved 22 notches, said the minister of economy.
---
Etemad: In a bid to end smuggling fuel, the government has revoked as many as six million cards used to purchase gasoline at the pump.
---
Ettela'at: Former British Foreign Secretary Jack Straw has said Iran is part of the solution, not the problem.
Ettela'at: The volume of water behind dams that supply Tehran's water is 40 million cubic meters less than last year.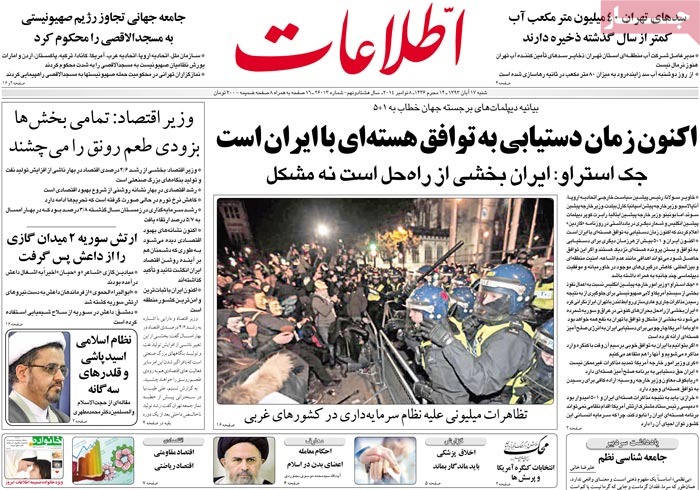 ---
Farhikhtegan: The reason why parliament did not vote for the proposed ministers of science goes beyond the case involving scholarships, said the managing editor of Ettela'at daily, the oldest newspaper in Iran.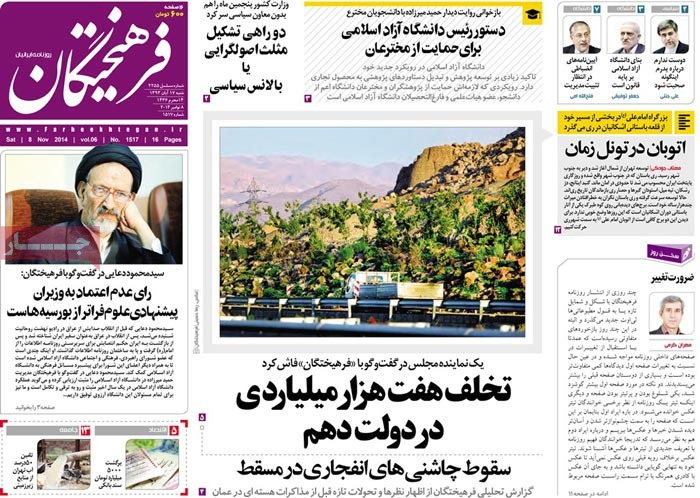 ---
Hemayat: The deputy head of the Judiciary has urged the Iranian nuclear negotiators to speak from "a position of authority".
Hemayat: The wording of a final deal with P5+1 should be approved by parliament, said the chairman of the chamber's National Security and Foreign Policy Committee.
---
Javan: Rainfall has increased 120% over the past 56 days.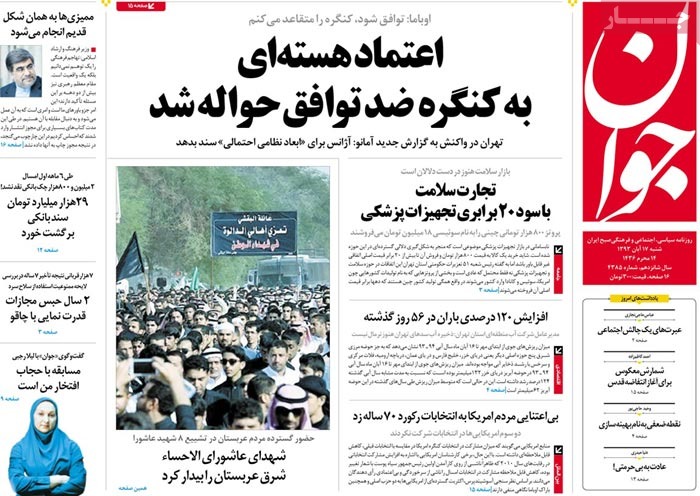 ---
Jomhouri Islami: IS terrorists suffer back-to-back defeats in Iraq and Syria.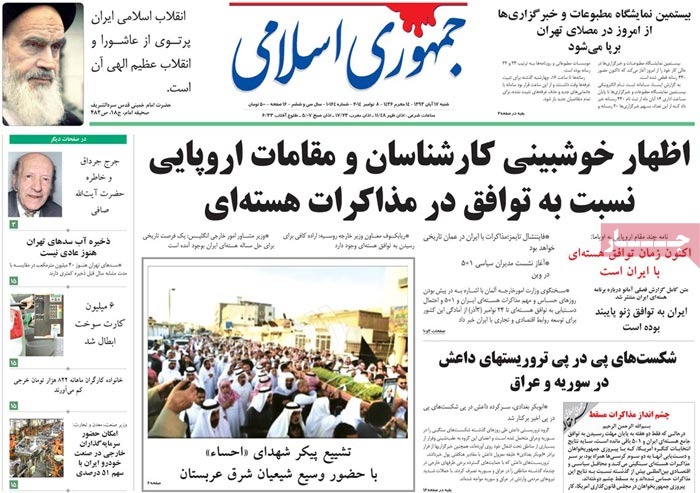 ---
Mardomsalari: The secretary general of Mardomsalari (Democracy), a reformist party, has called on Ayatollah Rafsanjani to run for the chairmanship of the Assembly of Experts.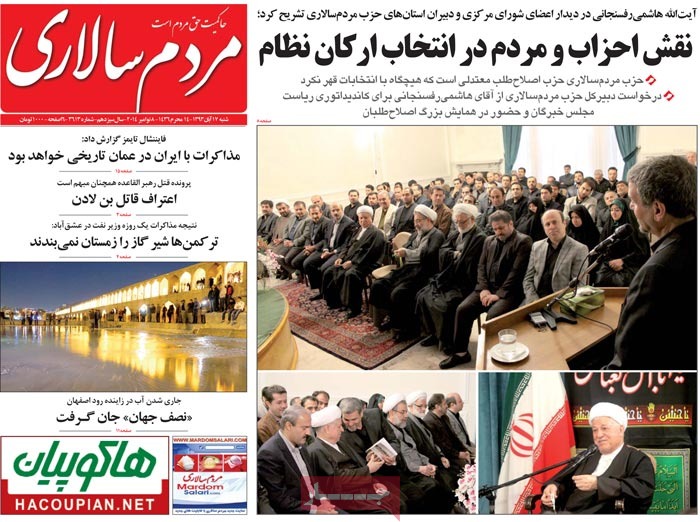 ---
Sharq: For the first time an Iranian female karate player, Hamideh Abbasali, will fight for a world gold medal.
Sharq: The tenure of Ezzatollah Zarghami at the helm of IRIB (national broadcaster) comes to an end today (Saturday, November 8).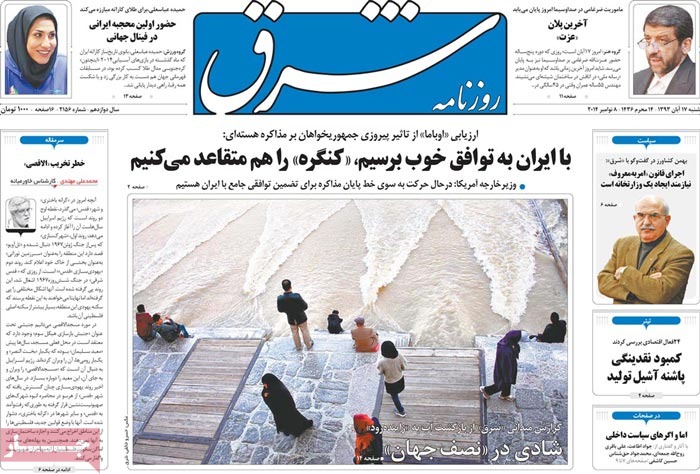 ---
Tejarat: Seven veteran European diplomats tell President Obama time is ripe for a nuclear deal with Iran.