IFP has taken a look at the front pages of Iranian newspapers on Tuesday and picked headlines from 23 of them. IFP has simply translated the headlines and does not vouch for their accuracy.
Many Iranian newspapers on Tuesday focused on a recent report by the working group tasked with investigating the US seizure of Iran's assets.
They also continued covering reactions to a recent meeting between Faezeh, the daughter of Ayatollah Akbar Hashemi Rafsanjani, and a Baha'i figure in Iran.
The visit of Croatian President Kolinda Grabar-Kitarović to Tehran has also been heavily covered by Iranian media.
Abrar:
1- Nuclear Ambitions Are a Poison for North Korea's Economy
2- Conditions Not Ready for Iraqi Kurdistan's Independence: Talebani
3- Maintaining Democracy More Important Than Wins and Losses of Certain Factions: Senior Conservative
4- Assyrian King's Palace Destroyed by ISIS in Nineveh
---
Arman-e Emrooz:
1- Leader Gives 5 Gifts to Married Soldiers
[Based on the Leader's order, from now on, the 21-month period of military service for married men will be decreased by 3 months for every single child they have. They will also necessarily serve at their wife's city of residence, and should be discharged 3 times a week after the end of working hours.]
2- One-Third of Iranian Families Are Childless, 12m Young People of Appropriate Marriage Age
3- Judiciary Chief: No One Is Imprisoned for His/Her Beliefs
---
Asrar:
1- Samsung to Build Mega-Hospital in Iran's Mazandaran Province
2- US Has Failed Its Expected JCPOA Commitments: Deputy FM
3- Clear Ambiguity in Previous Government Performance: Working Group [on US seizure of Iranian assets]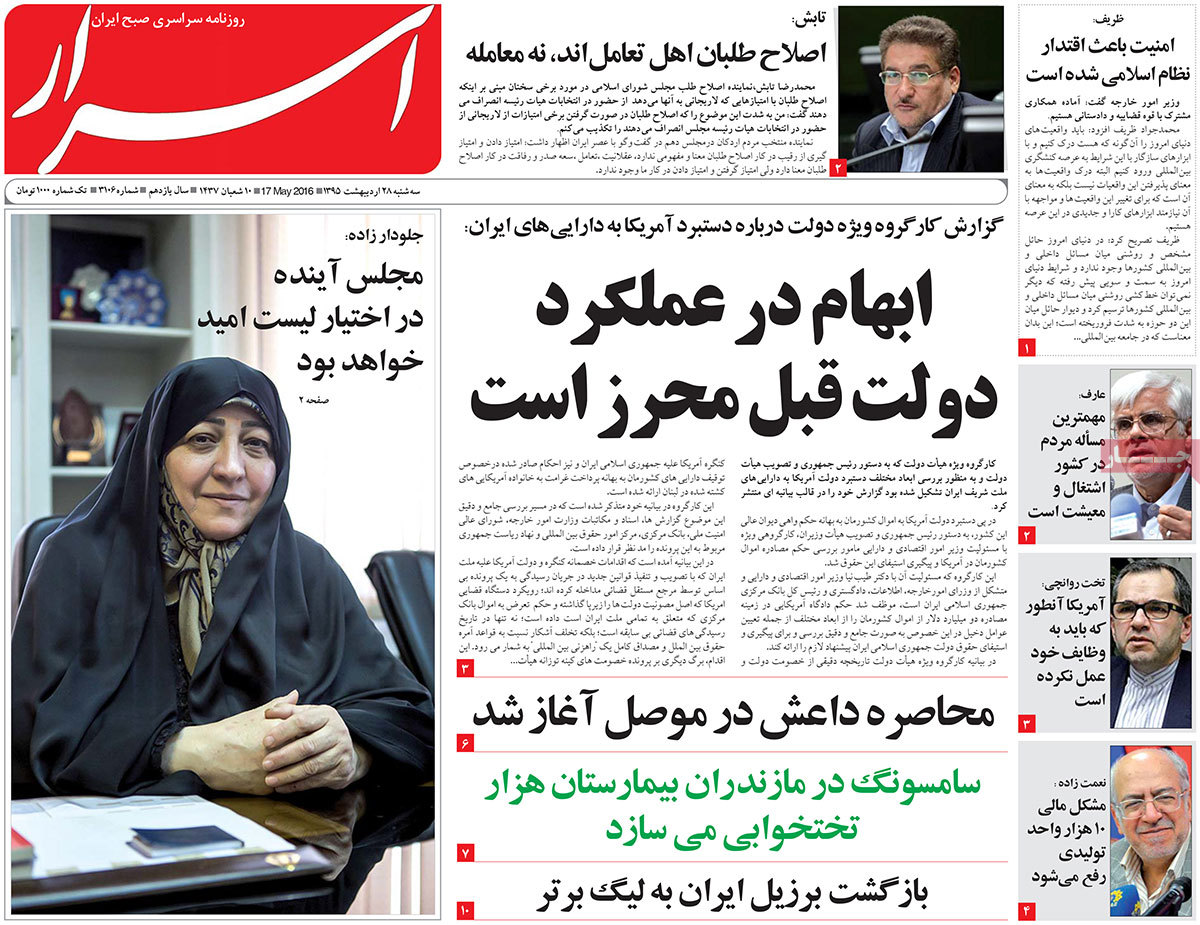 ---
Asr-e Rasaneh:
1- Iran's Oil Swap Capacity to Increase: Deputy Minister
2- Iran Signs MoU with Kazakhstan: 4G Network to Be Upgraded to 5G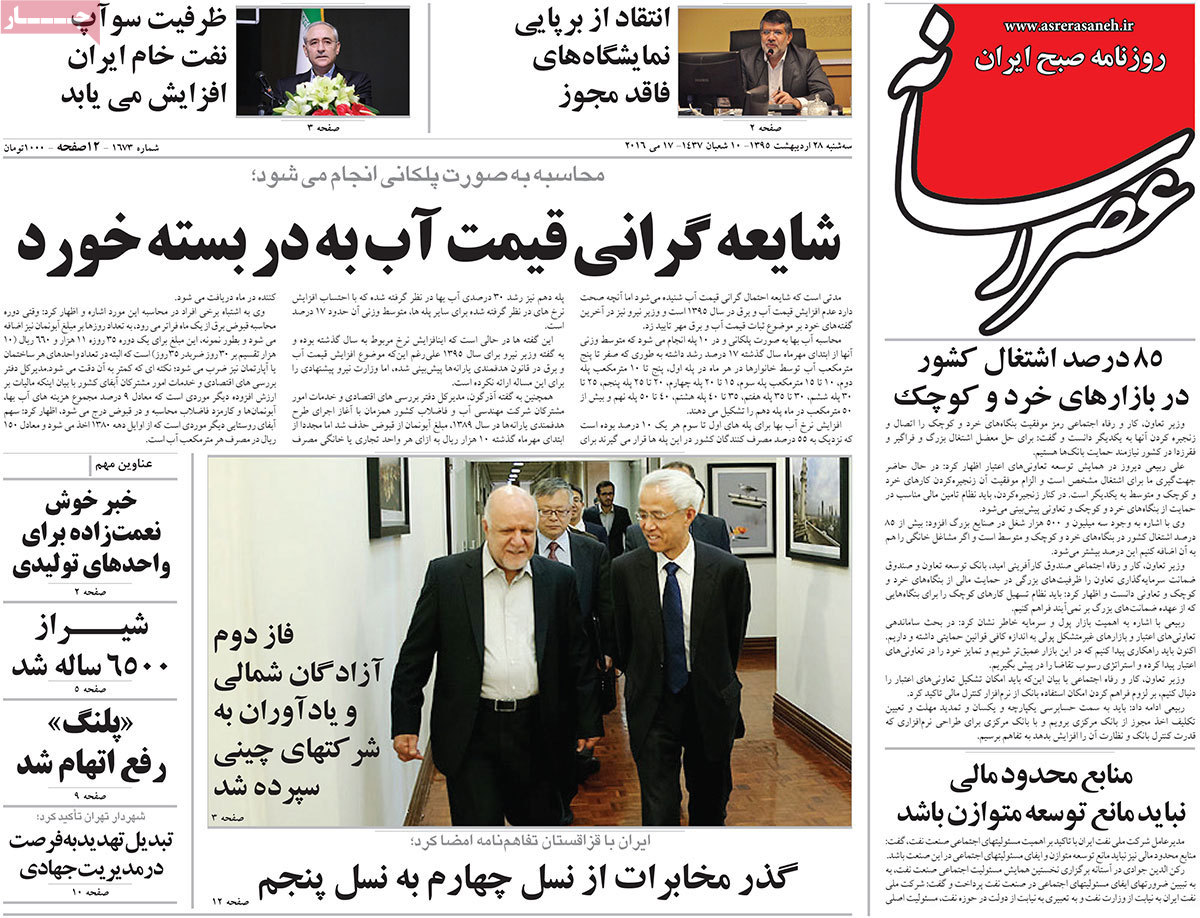 ---
Bani Film:
1- First Cannes Award Goes to Iran's Ayda Panahandeh
2- George Clooney to Make All-Female "Ocean's 11"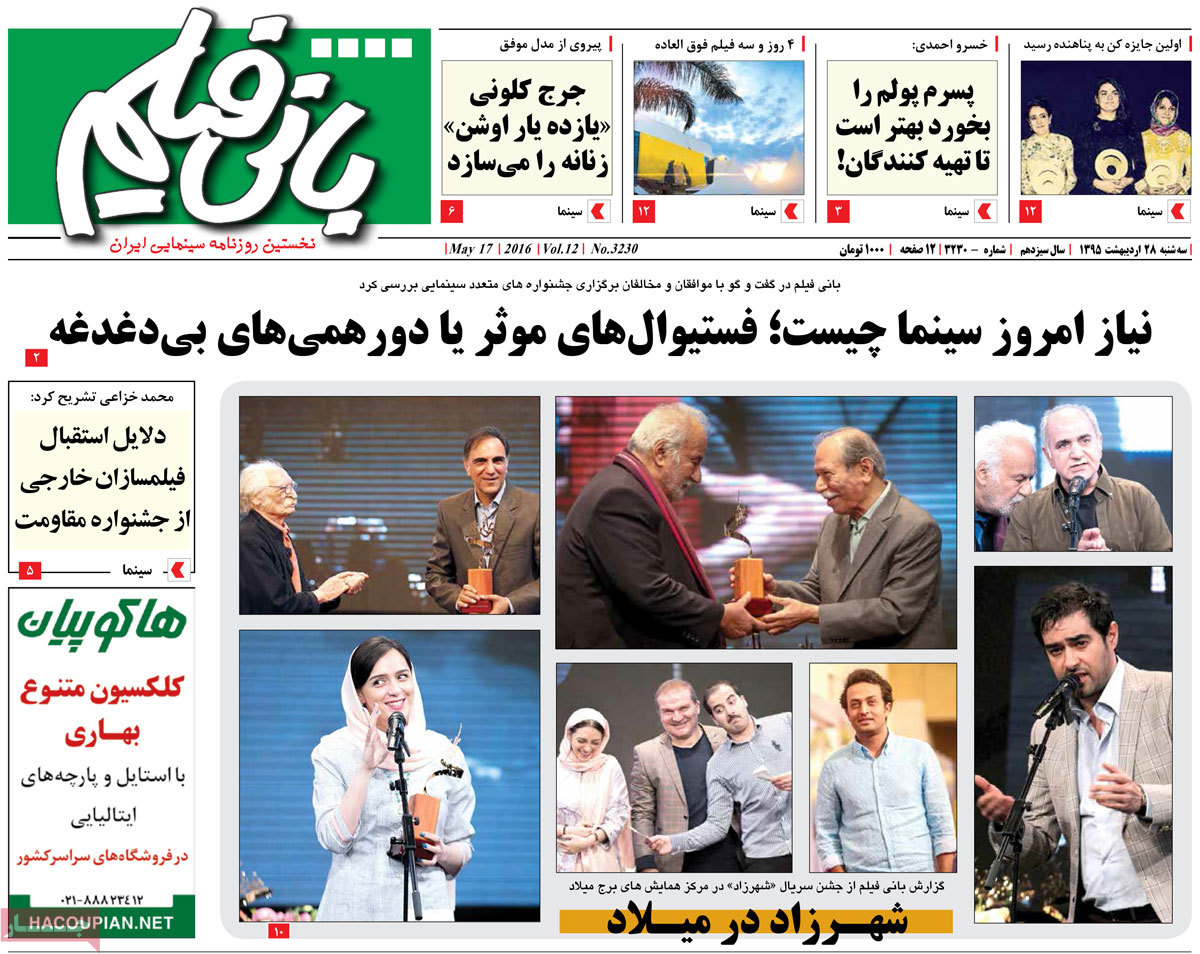 ---
Ebtekar:
1- Ambiguous Performance on "International Banditry" [a recent report by a working group tasked by the government to investigate the US seizure of Iranian assets indicated the previous administration's failure to retrieve Iran's money from US banks in due time.]
2- Major European Banks Should Not Waste Their Opportunities: Deputy FM
3- Growing Mistrust among Couples: Hacking a Spouse's Telegram Account for Fear of Cheating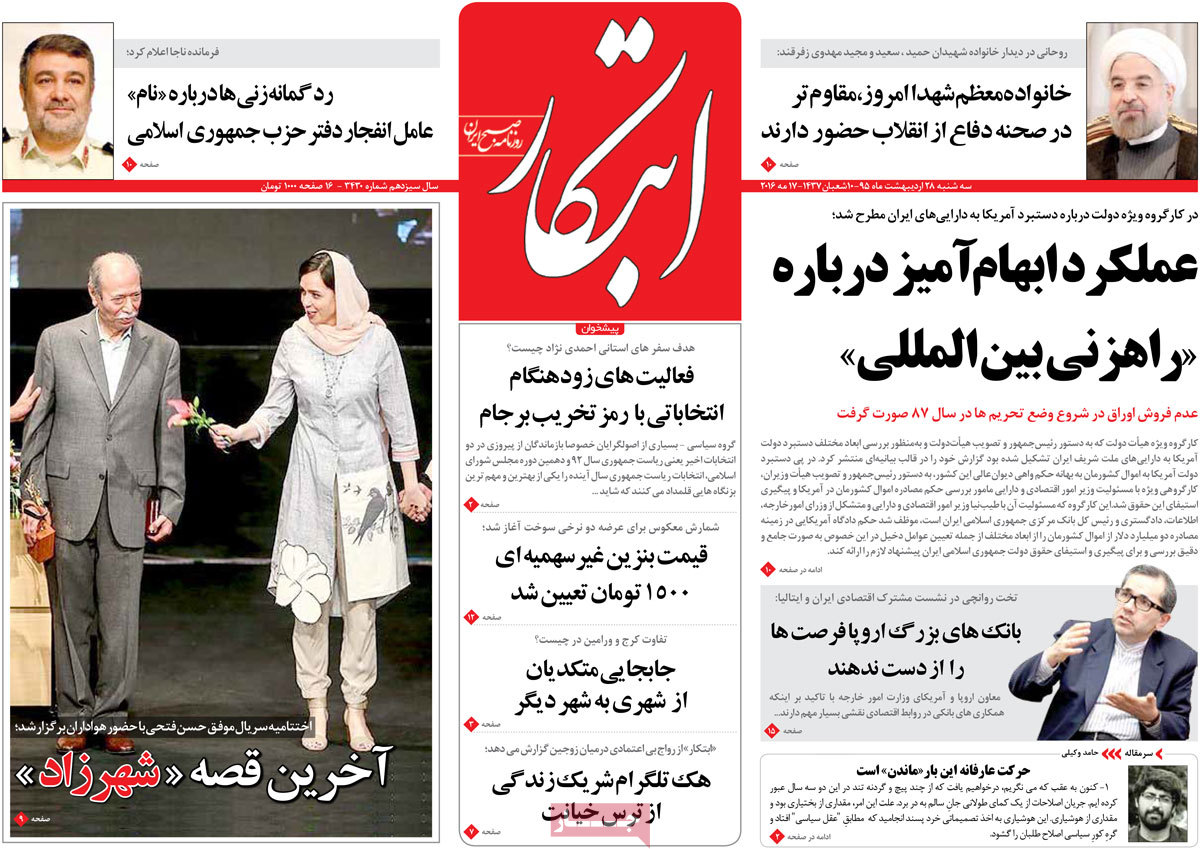 ---
Emtiaz:
1- [Development of] Second Phase of North Azadegan and Yadavaran Oil Fields Assigned to China
---
Etemad:
1- Culprits behind US Seizure of Iranian Assets
2- Certain Criticisms of JCPOA Are Not Fair: Amoli Larijani
3- Saudi Arabia and Iran's Experience
[Editorial: Riyadh is dreaming of huge development without considering the prerequisites. They should look at what the Shah of Iran had in mind, and consider how those plans turned out.]
4- Croatian President Due in Tehran Today after 16 Years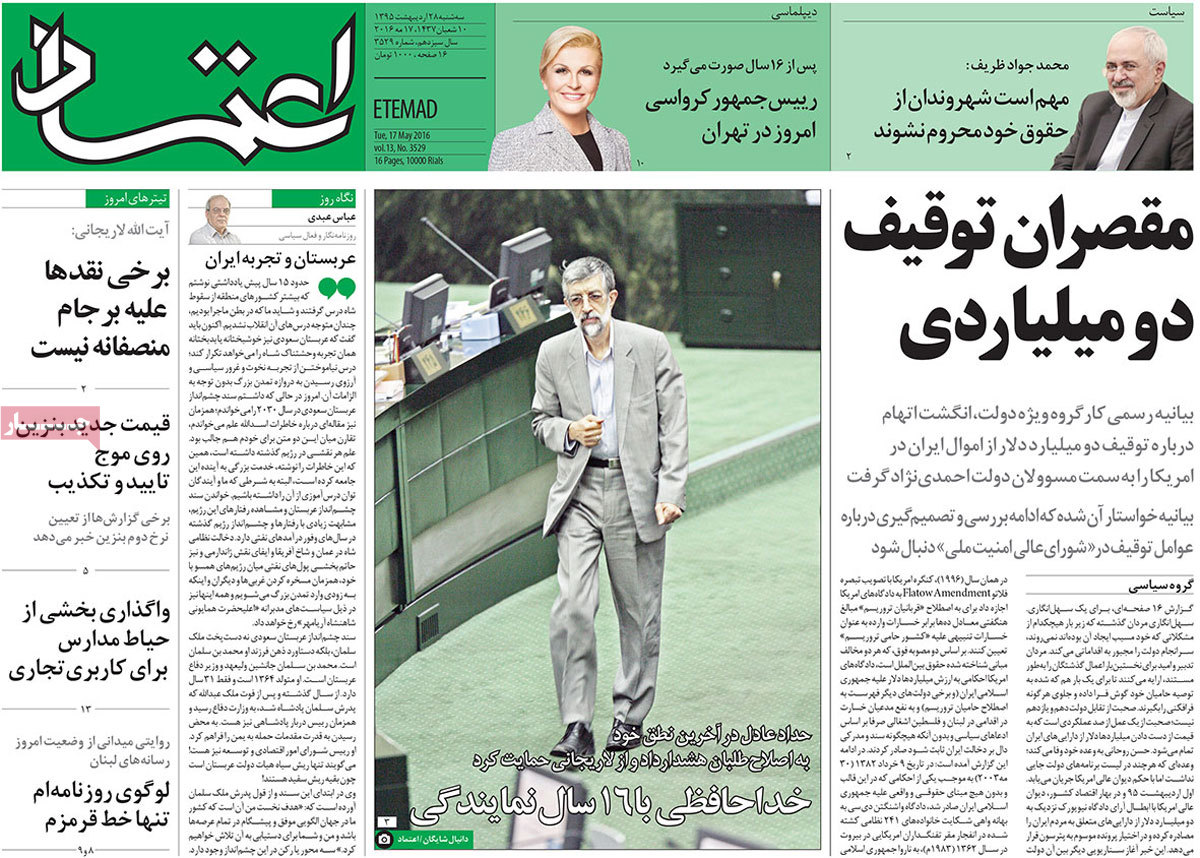 ---
Ettela'at:
1- Martyrdom of Hezbollah's Badreddine a Catastrophe for Islamic Society: General Soleimani
2- European People Stage Massive Protest Rallies against Economic Policies
3- Gov't and SNSC to Decide on US Seizure of Iran's Assets
---
Ghanoon:
1- Girls Offside: A Report on Women Who Secretly Try Enter Football Stadia
2- Welcome to Iran, President Kolinda [in Croatian]
---
Haft-e Sobh:
1- €60m Injected into Iran's IT Market: Iranian Start-Ups in Global Markets
2- Jewellery Shop Owner Hires Thieves to Rob His Shop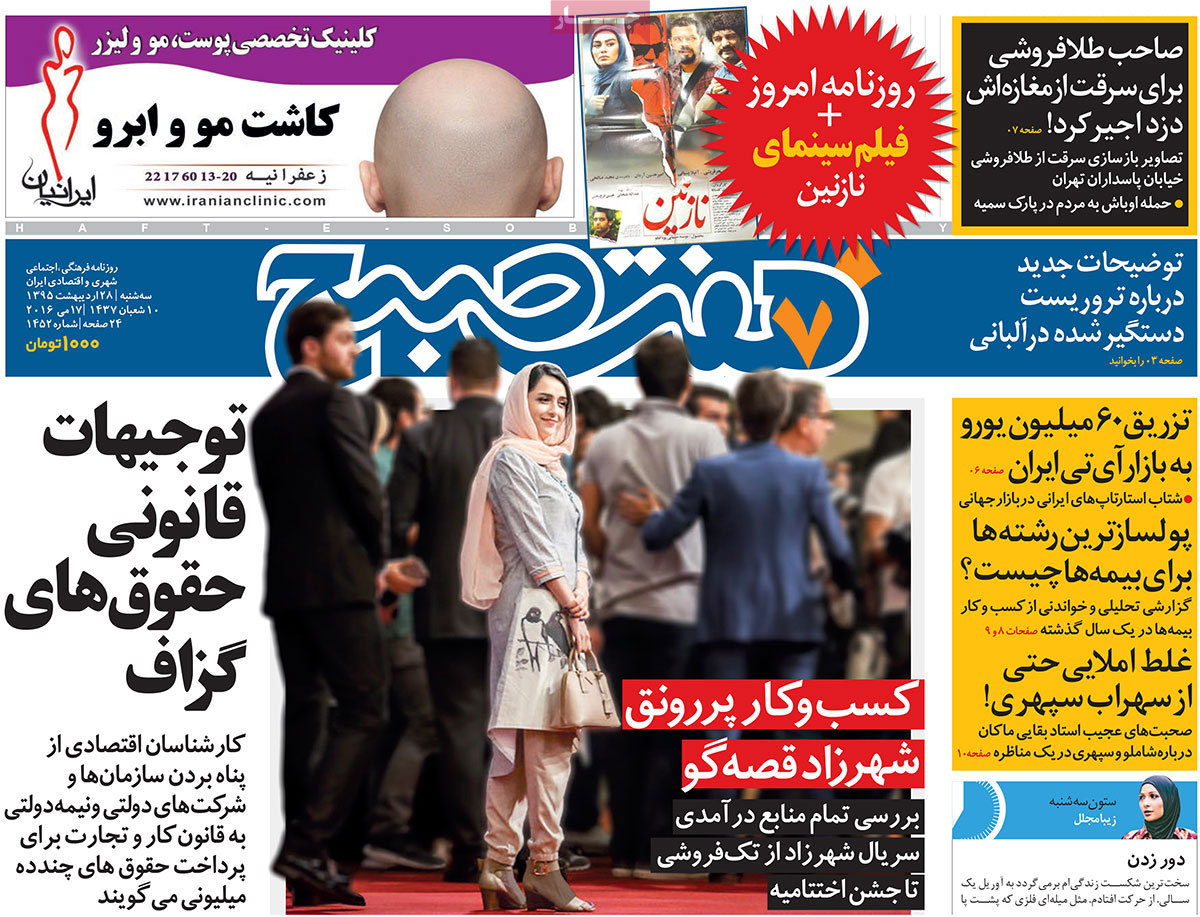 ---
Hemayat:
1- If Defending Baha'i Faith Becomes Criminal, We'll Respond Strongly: Judiciary Chief
2- [Followers of] Baha'i Cult Are Hirelings of Israel: Clerics and Political Activists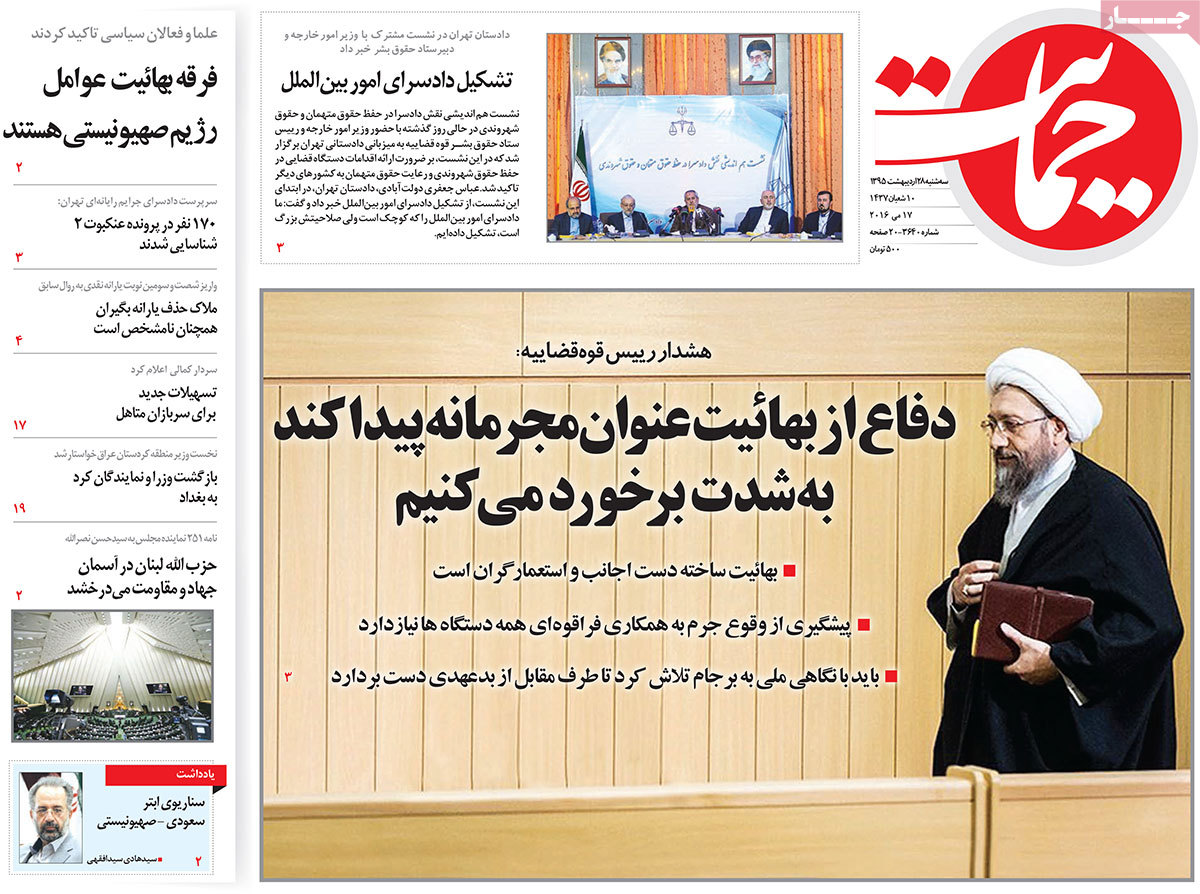 ---
Iran:
1- Communications Minister Talks about Influence of Cyberspace on February 26 Elections: How Social Media Outperformed Expensive Billboards
2- Iran-US Diplomacy in Post-Obama Era
3- 100 Italian Companies in Tehran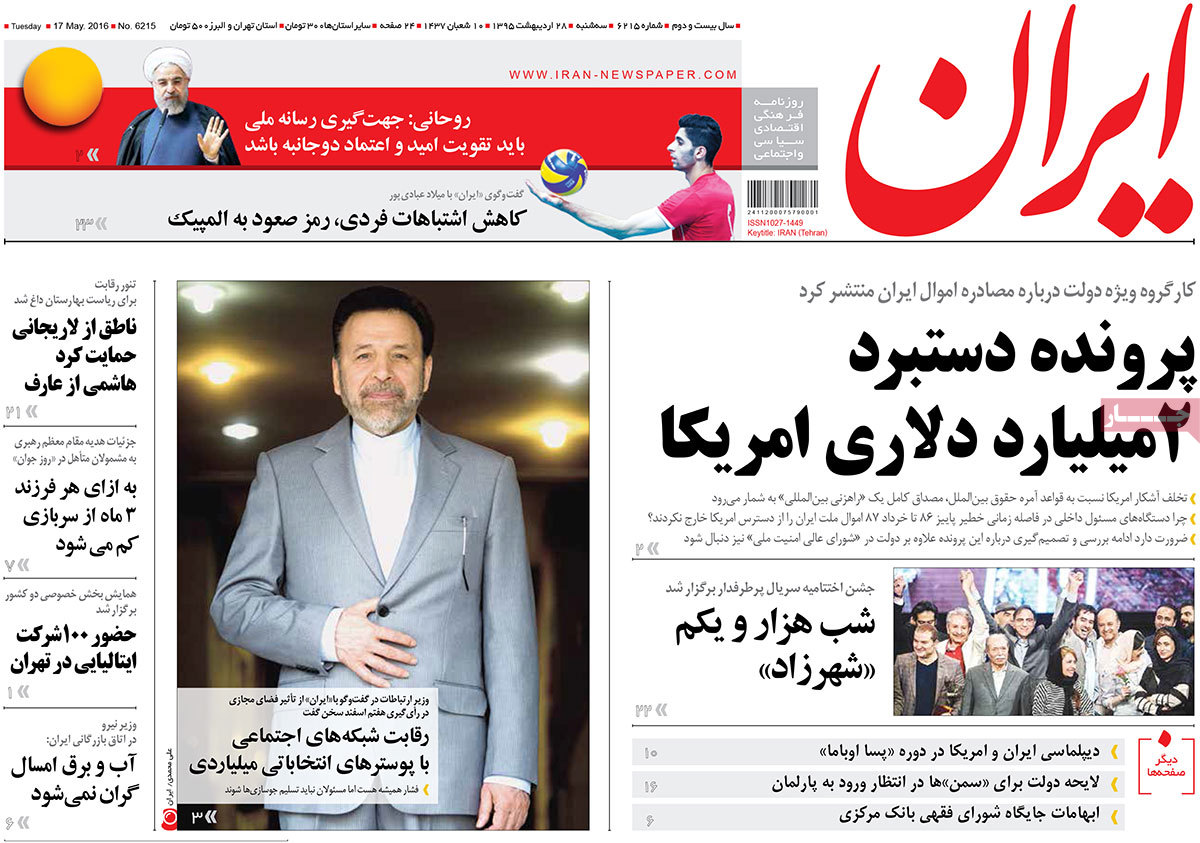 ---
Javan:
1- 20 Countries Convene in Austria: Rumours of Compromise on Syria in Vienna
---
Jomhouri Eslami:
1- IMF Supports Iran's Return to World Banking System
2- Zionist Rabbis Call for Slaughter of Palestinians
3- 251 Iranian MPs Voice Support for Lebanon's Hezbollah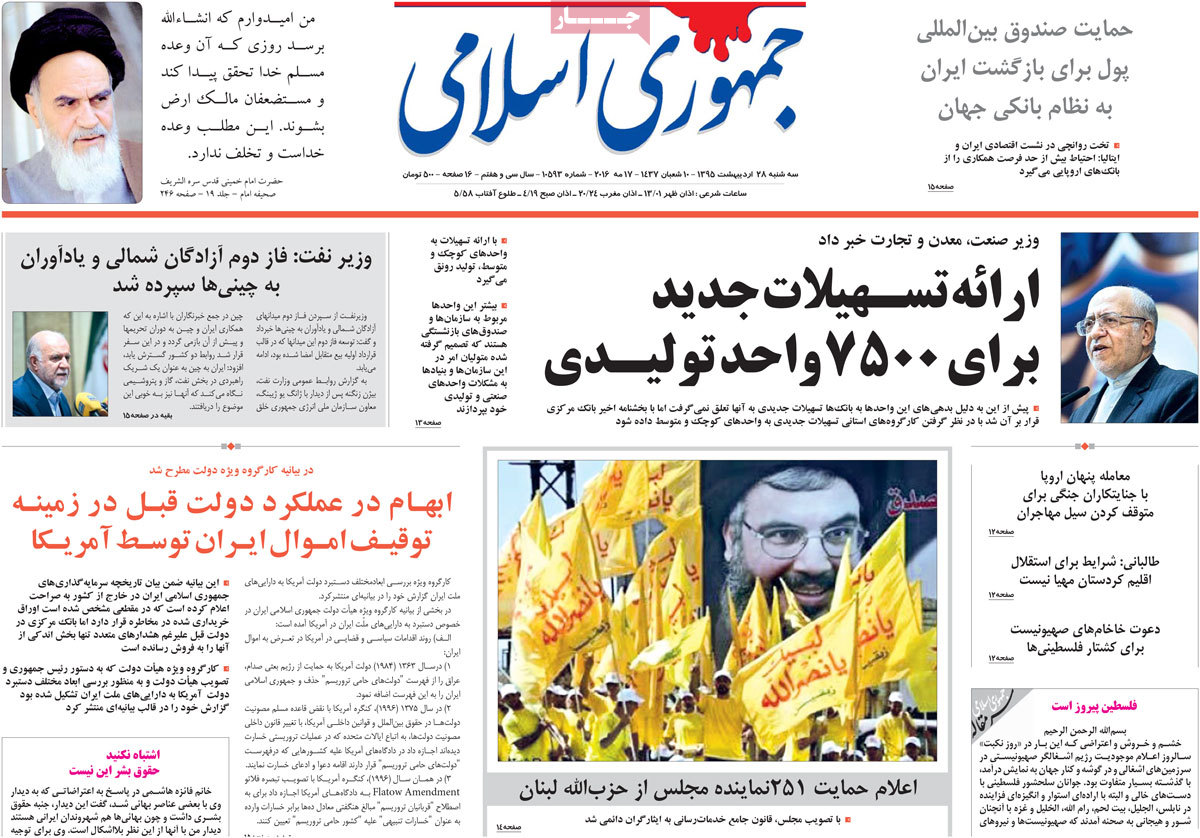 ---
Kayhan:
1- American Thinker Reveals US Strategy: We Shut Down Iran's Nuclear Program, Now It's Time for Its Missile Program
2- Iraqi FM: Popular Force Heroes Fighting Terrorists from 100 Countries
3- Lebanon's Hezbollah Is Our Military Exemplar: Houthi Ansarullah
4- Baha'is Are Not Only Enemies of Islam, but Also Israel's Mercenaries: Ayatollah Makarem Shirazi
---
Payam-e Zaman:
1- "Shahrzad" [popular Iranian TV series aired online and in stores, not on IRIB] Beats the Satellite [the series, mostly Turkish-made, aired through Persian-speaking satellite TV channels]
2- Iran's Return to International Banking
---
Resalat:
1- Any Connection with Baha'i Faith Is a Prosecutable Crime: Senior Cleric
2- For US, JCPOA Victory Means Change of Iran's Behaviour: Haddad Adel
3- Revenant's Grizzly, Not DiCaprio, Deserved Academy Award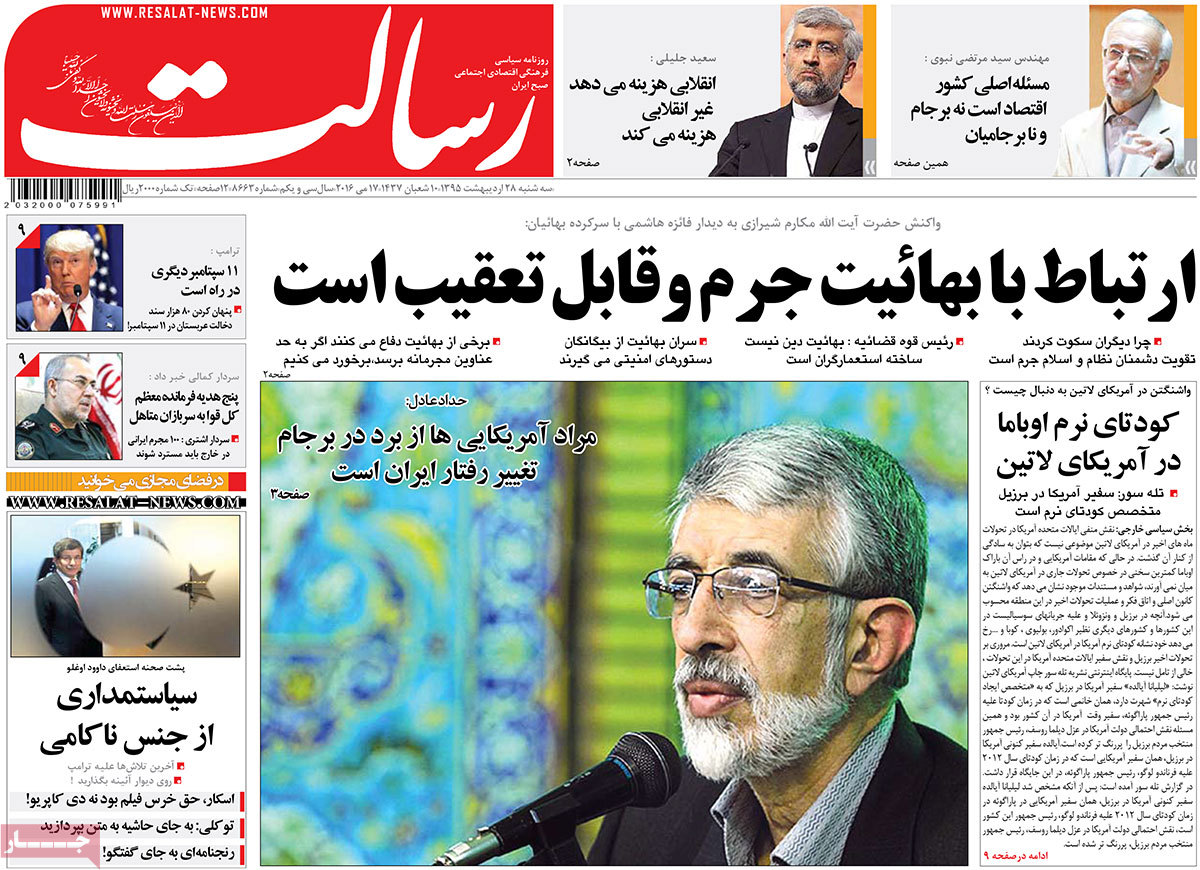 ---
Sepid:
1- Ali Karimi's Strange Ailment [former Persepolis and Bayern Munich player]: Likely Alopecia Areata
2- Thinking Aloud Is a Basic Right for University Students: Official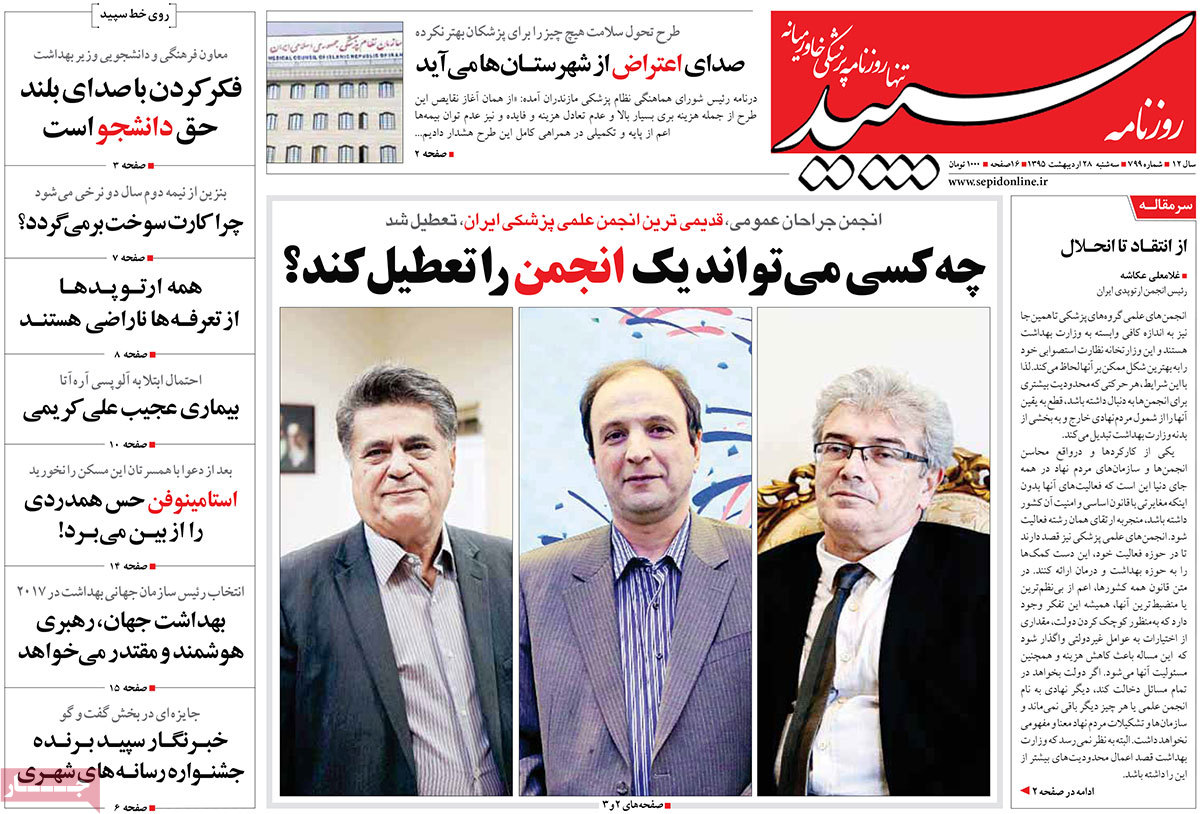 ---
Shahrvand:
1- Newly-Discovered Relics Show Shiraz's History Dates Back 6500 Years
2- 6,000 Foreigners Imprisoned in Iran: Half of Them Are Afghans
---
Sobh-e Eqtesad:
1- Expectations of 180 Foreign Delegations' Visits to Iran Not Met: Chamber of Commerce
2- Iran Ready to Export 2m Tons of Wheat
3- Missile Drills Not to Be Stopped: IRGC Aerospace Commander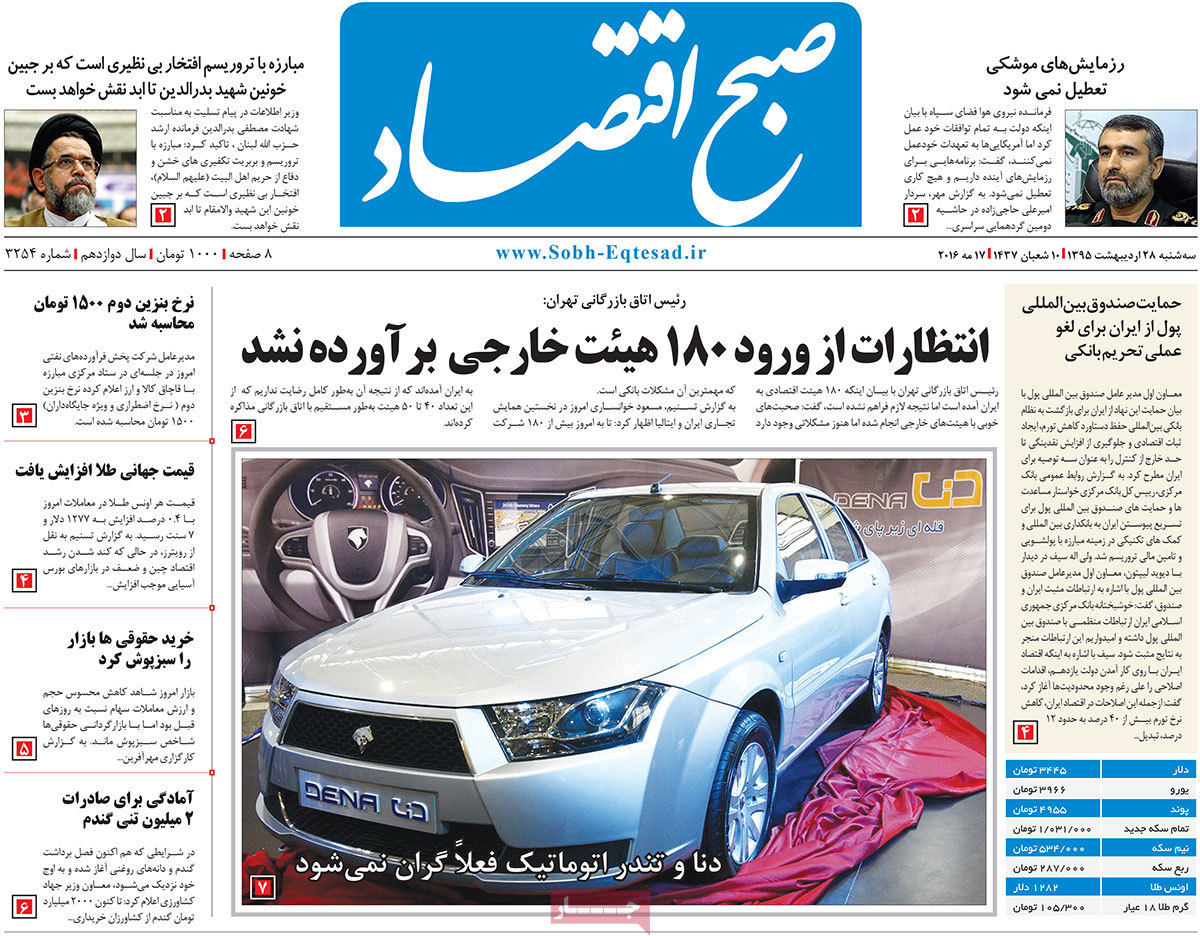 ---
Vaghaye Ettefaghieh:
1- Attacks on Gov't, JCPOA, and Rafsanjani in Last Day of 9th Parliament
---
Vatan-e Emrooz:
1- Cannes Is the Festival of LGBT Community: Iranian Director Afkhami