Many Iranian newspapers on Tuesday focused on a recent report by the working group tasked with investigating the US seizure of Iran's assets.
They also continued covering reactions to a recent meeting between Faezeh, the daughter of Ayatollah Akbar Hashemi Rafsanjani, and a Baha'i figure in Iran.
The visit of Croatian President Kolinda Grabar-Kitarović to Tehran has also been heavily covered by Iranian media.
Abrar:
1- Nuclear Ambitions Are a Poison for North Korea's Economy
2- Conditions Not Ready for Iraqi Kurdistan's Independence: Talebani
3- Maintaining Democracy More Important Than Wins and Losses of Certain Factions: Senior Conservative
4- Assyrian King's Palace Destroyed by ISIS in Nineveh
---
Arman-e Emrooz:
1- Leader Gives 5 Gifts to Married Soldiers
[Based on the Leader's order, from now on, the 21-month period of military service for married men will be decreased by 3 months for every single child they have. They will also necessarily serve at their wife's city of residence, and should be discharged 3 times a week after the end of working hours.]
2- One-Third of Iranian Families Are Childless, 12m Young People of Appropriate Marriage Age
3- Judiciary Chief: No One Is Imprisoned for His/Her Beliefs
---
Asrar:
1- Samsung to Build Mega-Hospital in Iran's Mazandaran Province
2- US Has Failed Its Expected JCPOA Commitments: Deputy FM
3- Clear Ambiguity in Previous Government Performance: Working Group [on US seizure of Iranian assets]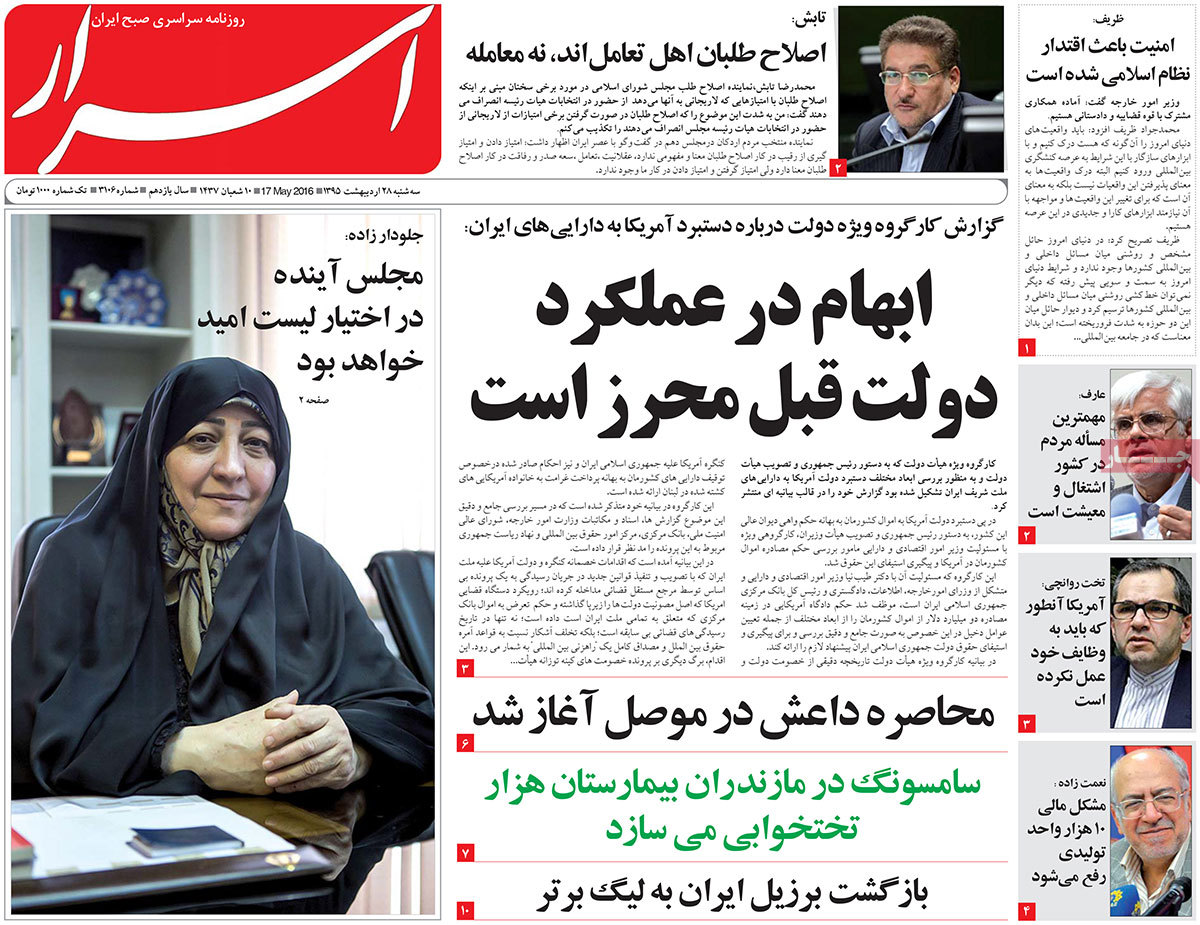 ---
Asr-e Rasaneh:
1- Iran's Oil Swap Capacity to Increase: Deputy Minister
2- Iran Signs MoU with Kazakhstan: 4G Network to Be Upgraded to 5G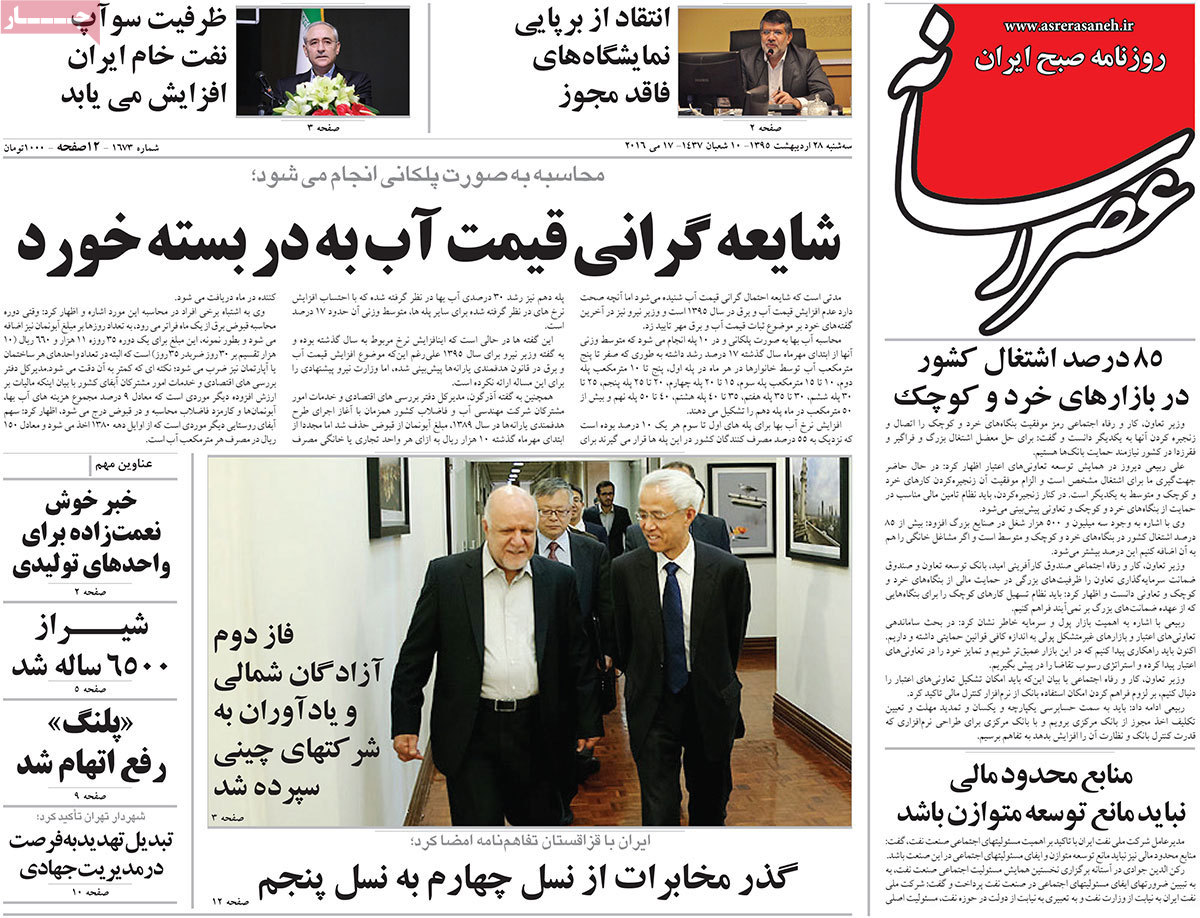 ---
Bani Film:
1- First Cannes Award Goes to Iran's Ayda Panahandeh
2- George Clooney to Make All-Female "Ocean's 11"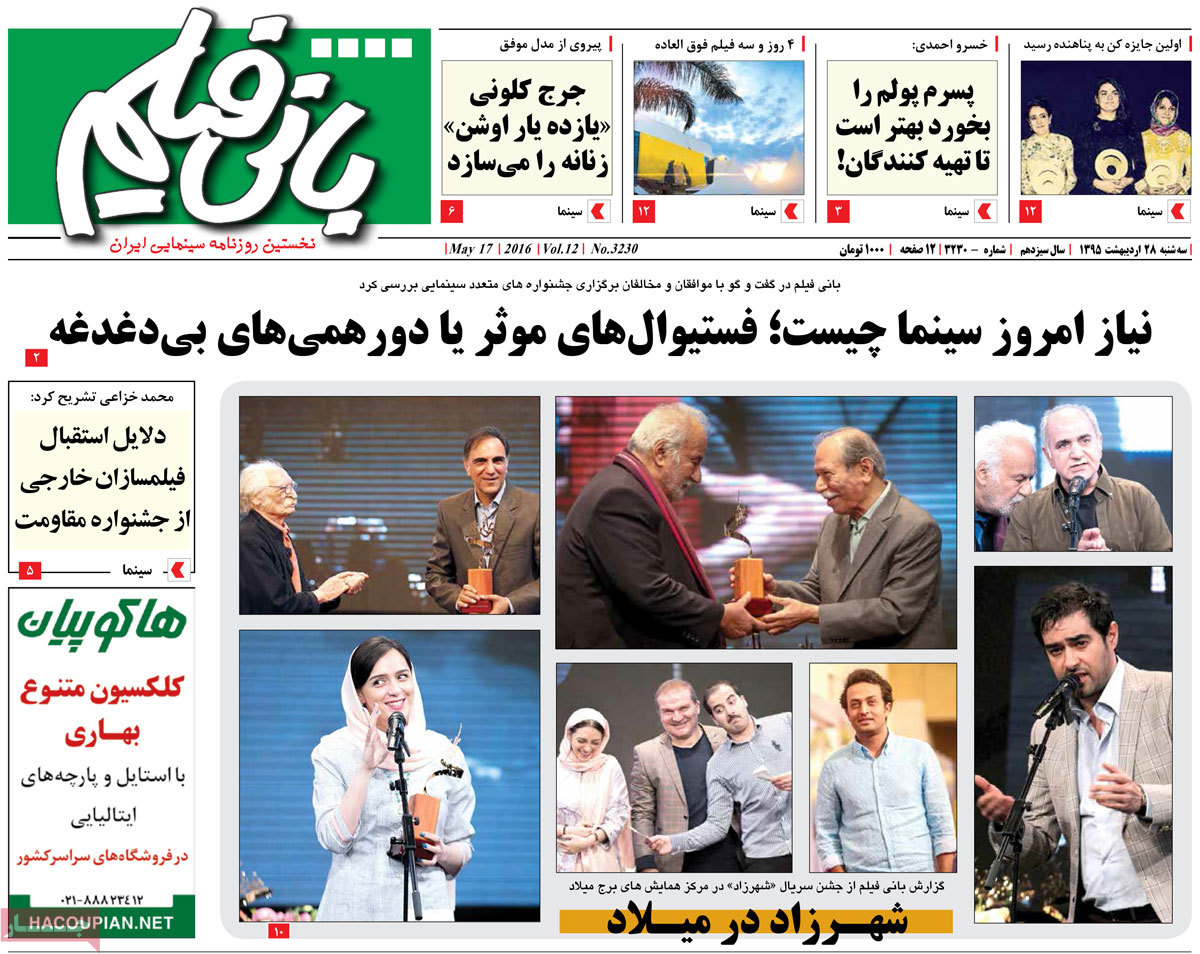 ---
Ebtekar:
1- Ambiguous Performance on "International Banditry" [a recent report by a working group tasked by the government to investigate the US seizure of Iranian assets indicated the previous administration's failure to retrieve Iran's money from US banks in due time.]
2- Major European Banks Should Not Waste Their Opportunities: Deputy FM
3- Growing Mistrust among Couples: Hacking a Spouse's Telegram Account for Fear of Cheating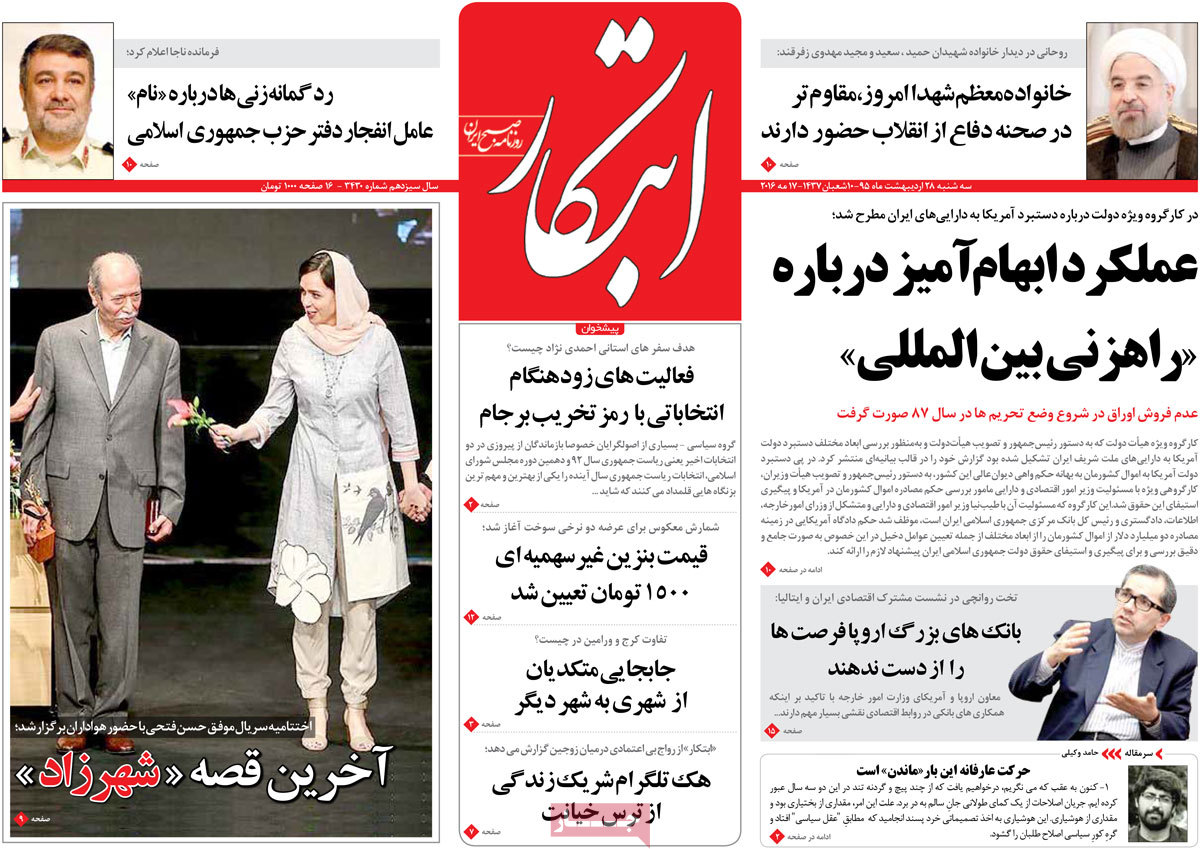 ---
Emtiaz:
1- [Development of] Second Phase of North Azadegan and Yadavaran Oil Fields Assigned to China
---
Etemad:
1- Culprits behind US Seizure of Iranian Assets
2- Certain Criticisms of JCPOA Are Not Fair: Amoli Larijani
3- Saudi Arabia and Iran's Experience
[Editorial: Riyadh is dreaming of huge development without considering the prerequisites. They should look at what the Shah of Iran had in mind, and consider how those plans turned out.]
4- Croatian President Due in Tehran Today after 16 Years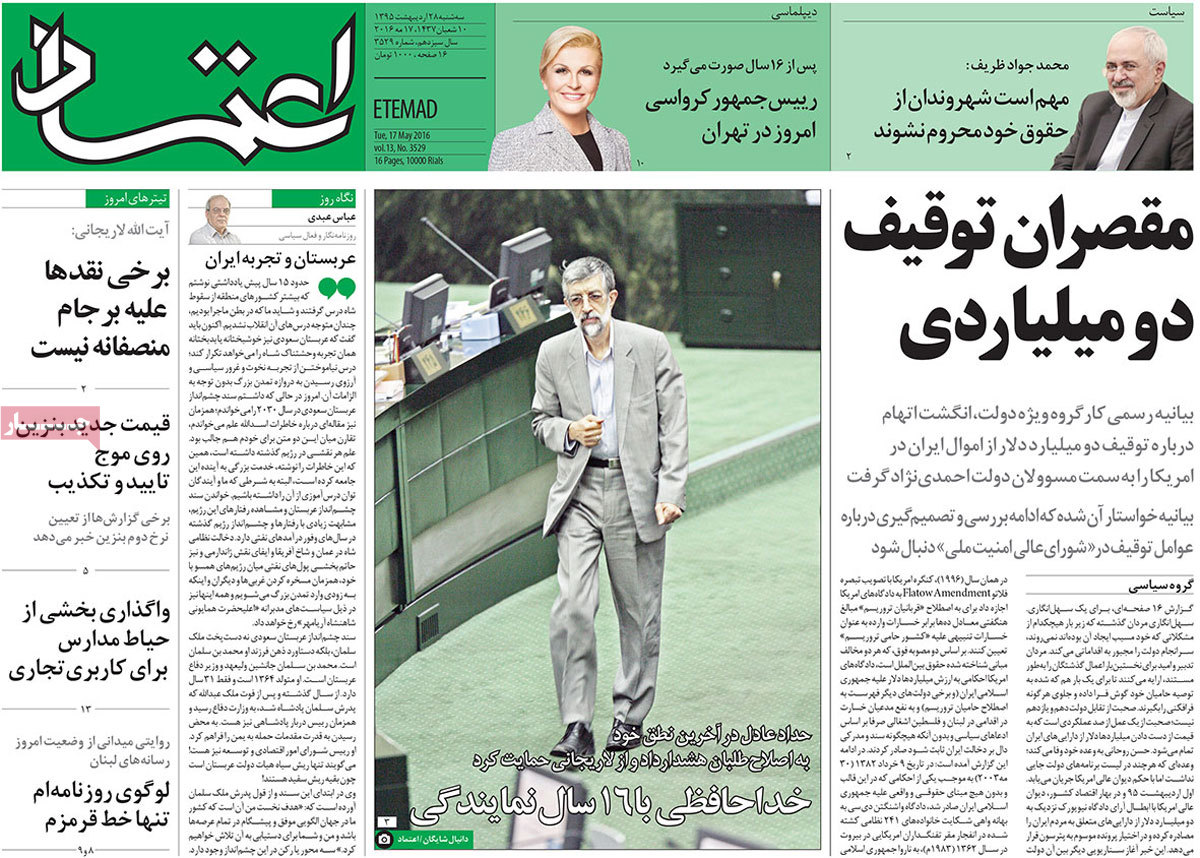 ---
Ettela'at:
1- Martyrdom of Hezbollah's Badreddine a Catastrophe for Islamic Society: General Soleimani
2- European People Stage Massive Protest Rallies against Economic Policies
3- Gov't and SNSC to Decide on US Seizure of Iran's Assets
---
Ghanoon:
1- Girls Offside: A Report on Women Who Secretly Try Enter Football Stadia
2- Welcome to Iran, President Kolinda [in Croatian]
---
Haft-e Sobh:
1- €60m Injected into Iran's IT Market: Iranian Start-Ups in Global Markets
2- Jewellery Shop Owner Hires Thieves to Rob His Shop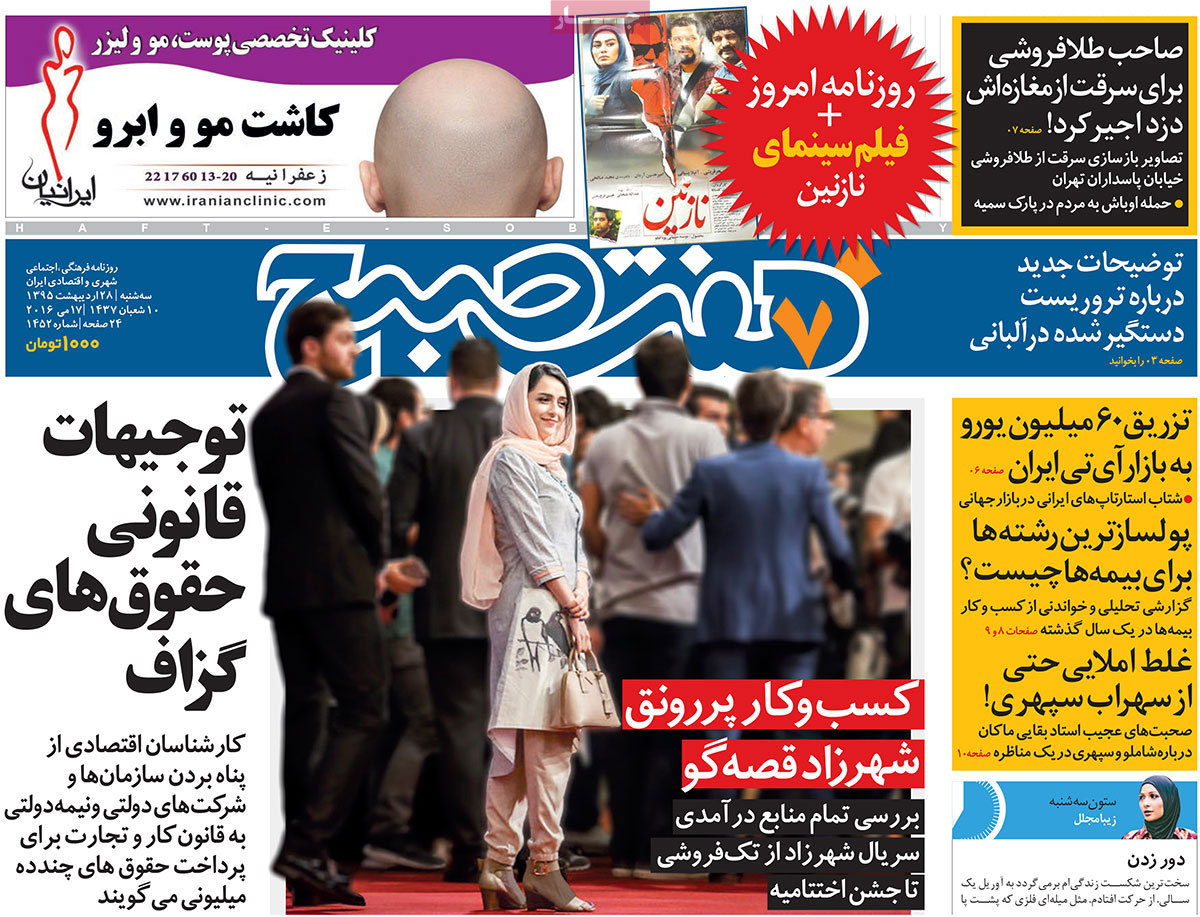 ---
Hemayat:
1- If Defending Baha'i Faith Becomes Criminal, We'll Respond Strongly: Judiciary Chief
2- [Followers of] Baha'i Cult Are Hirelings of Israel: Clerics and Political Activists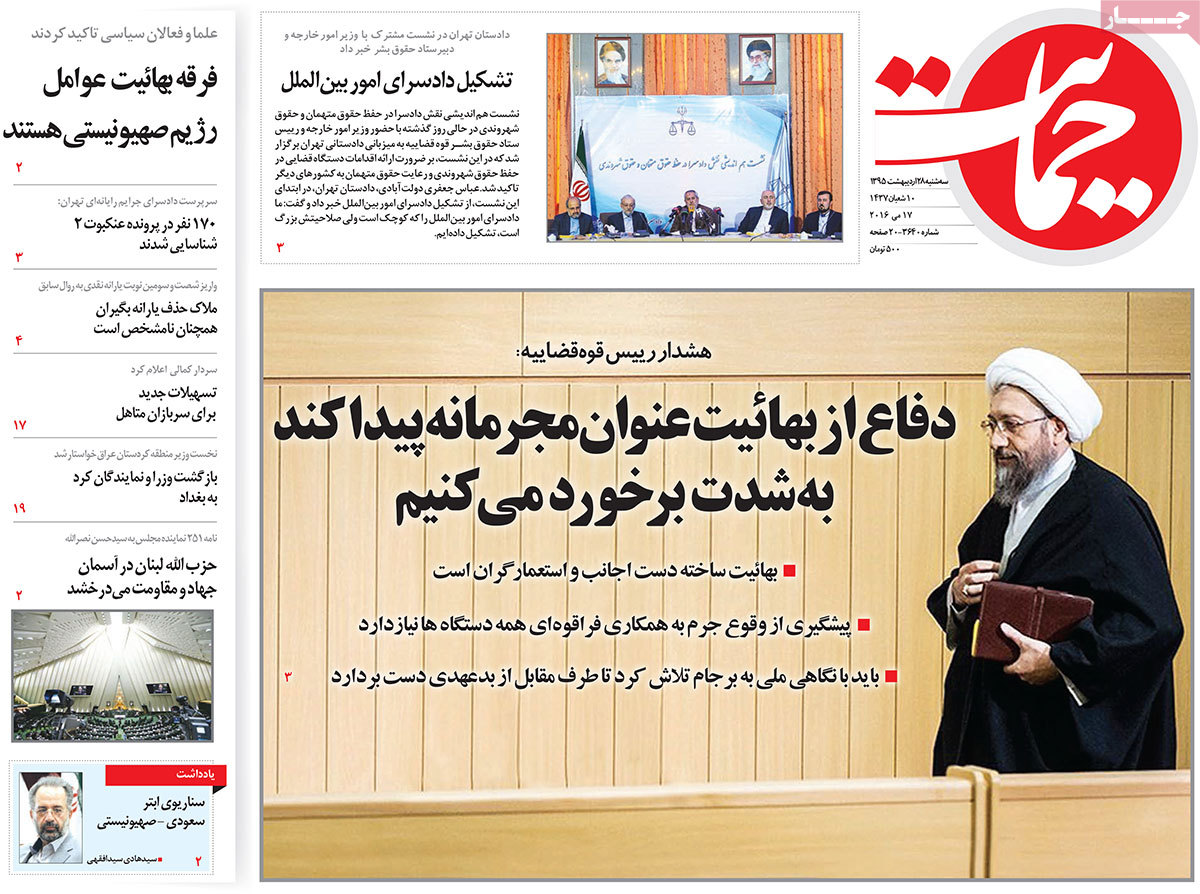 ---
Iran:
1- Communications Minister Talks about Influence of Cyberspace on February 26 Elections: How Social Media Outperformed Expensive Billboards
2- Iran-US Diplomacy in Post-Obama Era
3- 100 Italian Companies in Tehran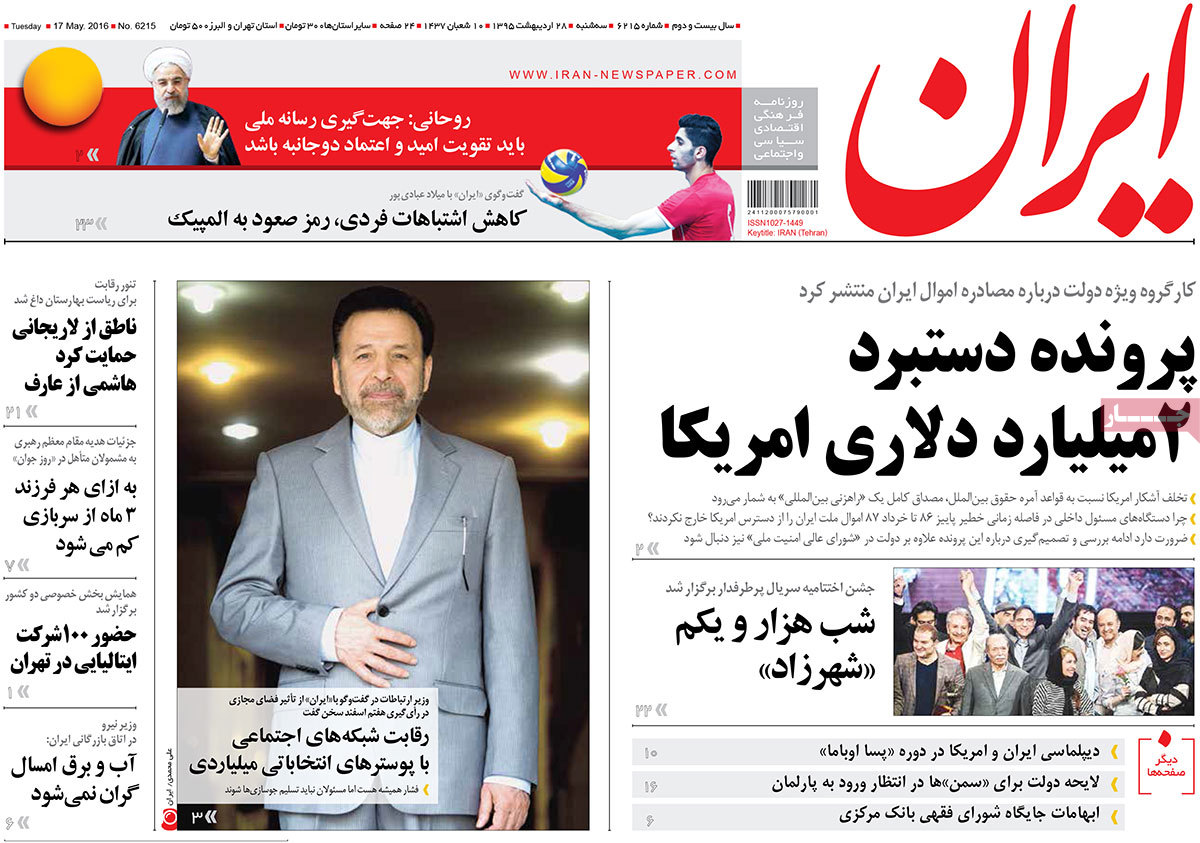 ---
Javan:
1- 20 Countries Convene in Austria: Rumours of Compromise on Syria in Vienna
---
Jomhouri Eslami:
1- IMF Supports Iran's Return to World Banking System
2- Zionist Rabbis Call for Slaughter of Palestinians
3- 251 Iranian MPs Voice Support for Lebanon's Hezbollah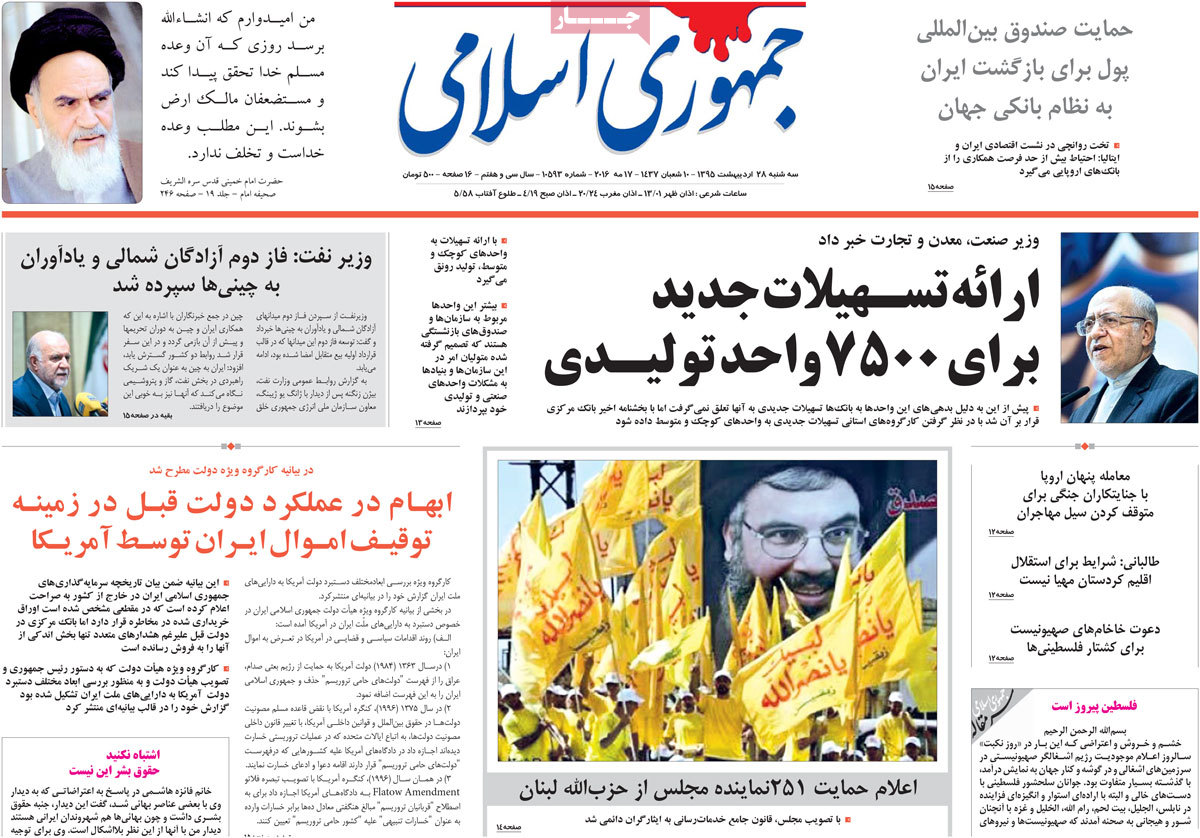 ---
Kayhan:
1- American Thinker Reveals US Strategy: We Shut Down Iran's Nuclear Program, Now It's Time for Its Missile Program
2- Iraqi FM: Popular Force Heroes Fighting Terrorists from 100 Countries
3- Lebanon's Hezbollah Is Our Military Exemplar: Houthi Ansarullah
4- Baha'is Are Not Only Enemies of Islam, but Also Israel's Mercenaries: Ayatollah Makarem Shirazi
---
Payam-e Zaman:
1- "Shahrzad" [popular Iranian TV series aired online and in stores, not on IRIB] Beats the Satellite [the series, mostly Turkish-made, aired through Persian-speaking satellite TV channels]
2- Iran's Return to International Banking
---
Resalat:
1- Any Connection with Baha'i Faith Is a Prosecutable Crime: Senior Cleric
2- For US, JCPOA Victory Means Change of Iran's Behaviour: Haddad Adel
3- Revenant's Grizzly, Not DiCaprio, Deserved Academy Award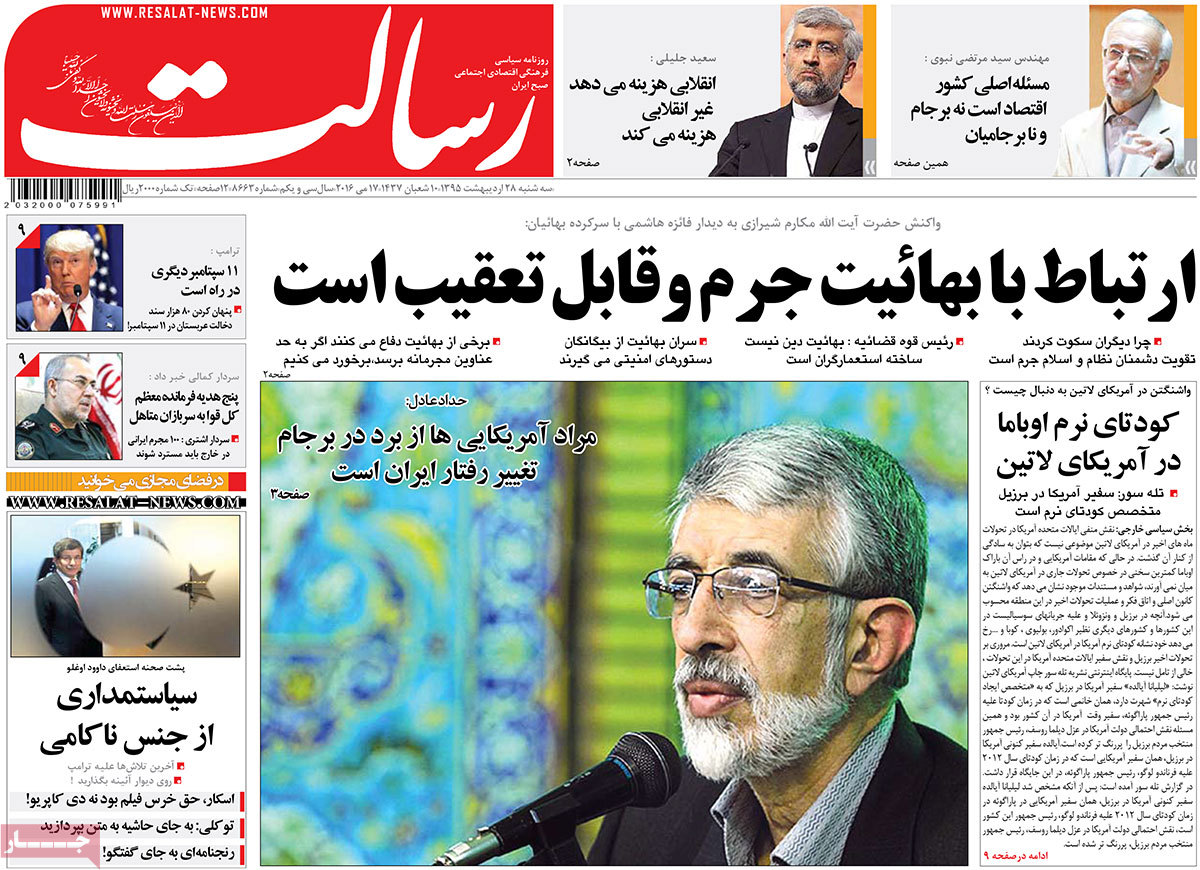 ---
Sepid:
1- Ali Karimi's Strange Ailment [former Persepolis and Bayern Munich player]: Likely Alopecia Areata
2- Thinking Aloud Is a Basic Right for University Students: Official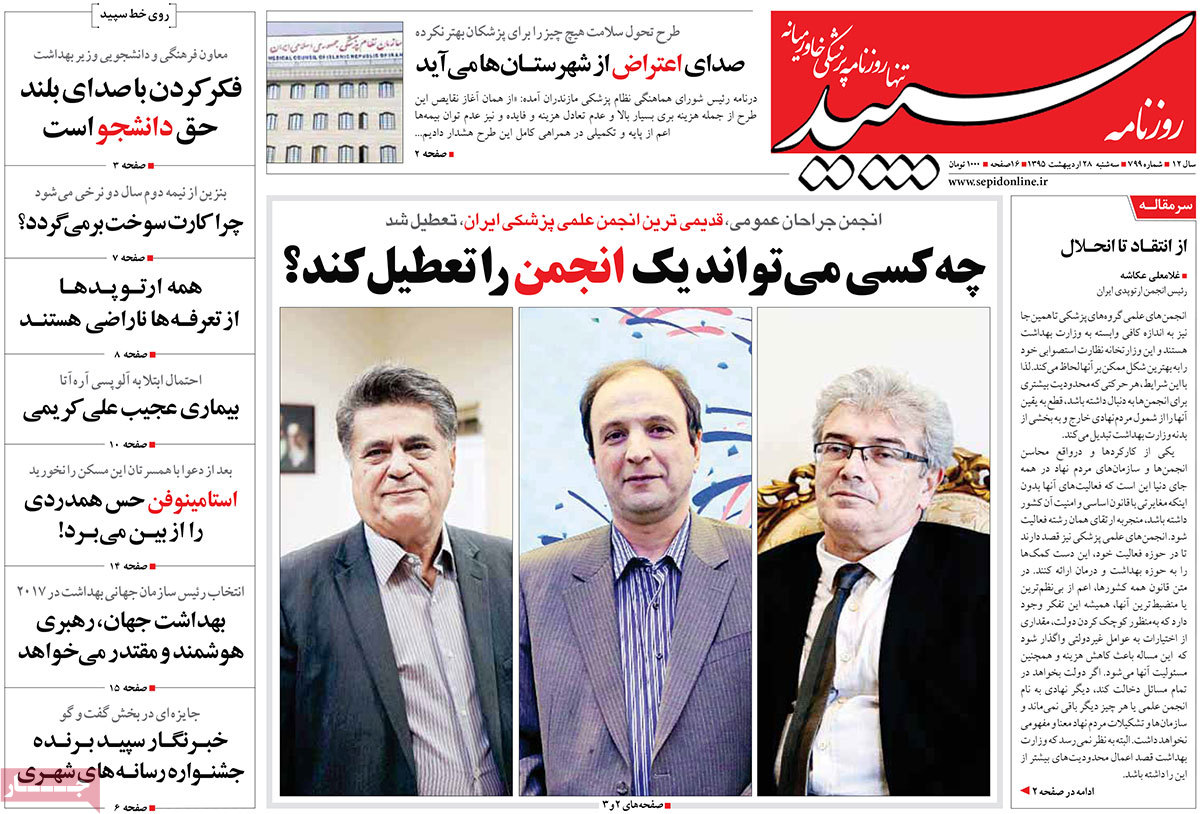 ---
Shahrvand:
1- Newly-Discovered Relics Show Shiraz's History Dates Back 6500 Years
2- 6,000 Foreigners Imprisoned in Iran: Half of Them Are Afghans
---
Sobh-e Eqtesad:
1- Expectations of 180 Foreign Delegations' Visits to Iran Not Met: Chamber of Commerce
2- Iran Ready to Export 2m Tons of Wheat
3- Missile Drills Not to Be Stopped: IRGC Aerospace Commander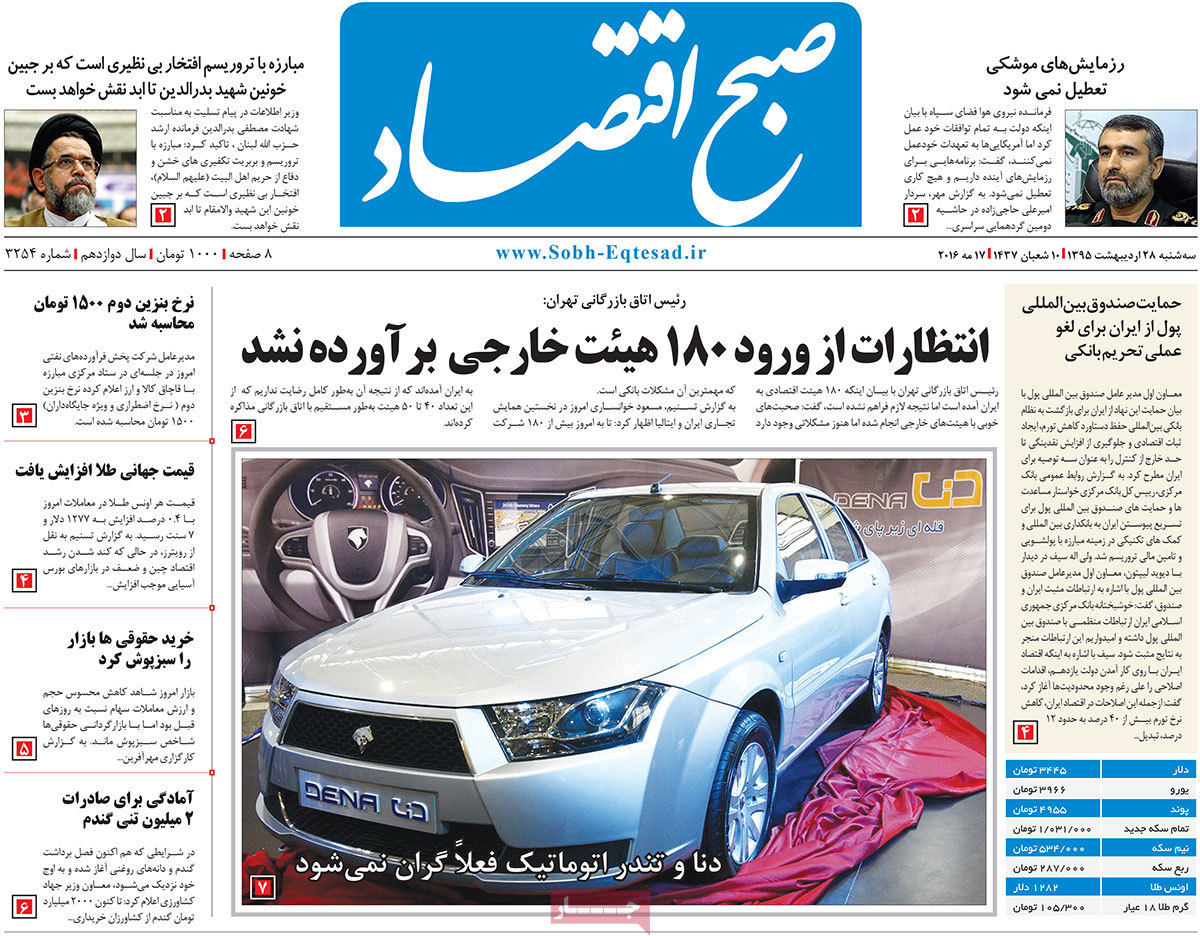 ---
Vaghaye Ettefaghieh:
1- Attacks on Gov't, JCPOA, and Rafsanjani in Last Day of 9th Parliament
---
Vatan-e Emrooz:
1- Cannes Is the Festival of LGBT Community: Iranian Director Afkhami