Comments by President Rouhani on the fight against violence and terrorism and those of Foreign Minister Zarif on the impact of a recent US congressional bill on nuclear talks between Tehran and P5+1 dominated the front pages of Iranian newspapers. Also in the news was a statement by the Tehran mayor that part of Evin Prison is to be converted to a park.
Aftab-e Yazd: Three board members of Mizan Financial and Credit Institute have been arrested.
[It came after the institute said it needed time to be able to pay back the money of depositors.]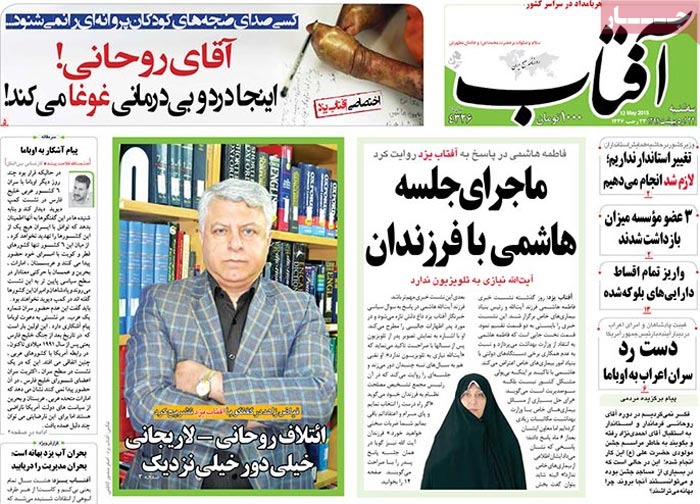 ---
Arman-e Emrooz: "Charges against me of being an accessory to murder have been thrown out five times," said Saeed Mortazavi, a former prosecutor who is now on trial for corruption.
He said the charges which stemmed from alleged failure to supervise Kahrizak Detention Camp have been dismissed by both the provincial criminal court and the Supreme Court.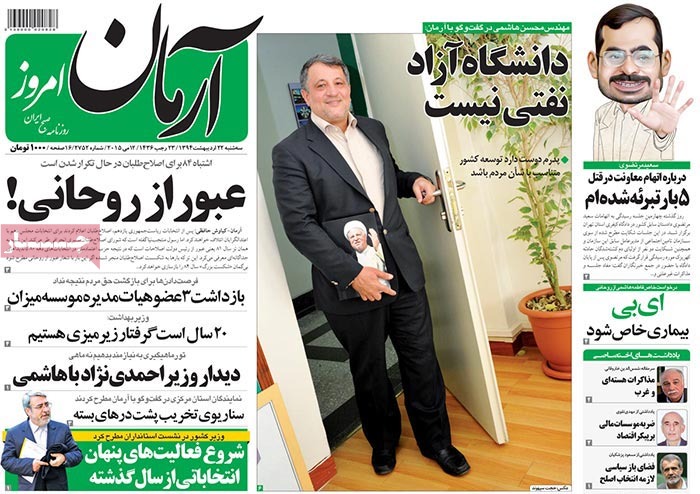 ---
Asr-e Iranian: Fear of a coup at home has prompted the Saudi King to stay away from a Camp David summit.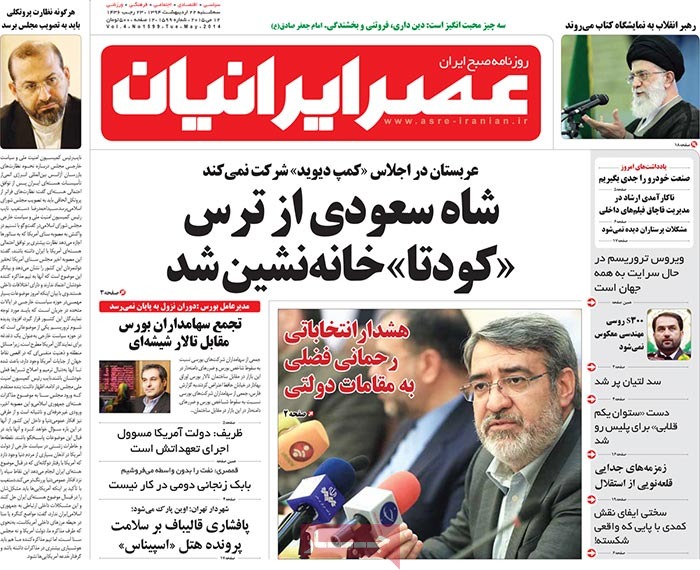 ---
Etemad: Iraqi President Fuad Masum is due in Iran on Tuesday.
The Iraqi official is expected to meet with the Supreme Leader, President Rouhani, Parliament Speaker Ali Larijani, and Chairman of the Expediency Council Ali Akbar Hashemi Rafsanjani during his stay in Iran.
Etemad: An ally of Larijani is expected to square off against Bahonar.
The likelihood of change in the lineup of the Presiding Board of the Islamic Consultative Assembly has increased.
---
Ettela'at: "The virus of terrorism is spreading around the world; we need to join hands in the face of the virulent virus of violence and terrorism," President Rouhani said.
The president made the comment at a meeting with the South African minister of international relations and cooperation. "Military invasion offers no solution to domestic problems of nations."
Ettela'at: "Iran won't bow to excessive demands [of P5+1]," said Foreign Minister Mohammad Javad Zarif.
The top diplomat's comments came as his deputy, Abbas Araghchi, praised parliament's opposition to a motion to halt nuclear talks with world powers.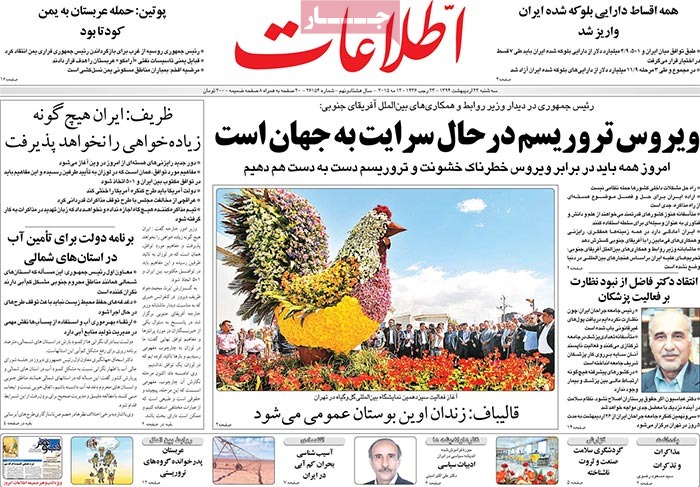 ---
Hemayat: Part of Evin Prison in northern Tehran will turn into a park.
Tehran Mayor Mohammad Bagher Ghalibaf made the comment at the inaugural of an international flower and plant exhibition in the capital.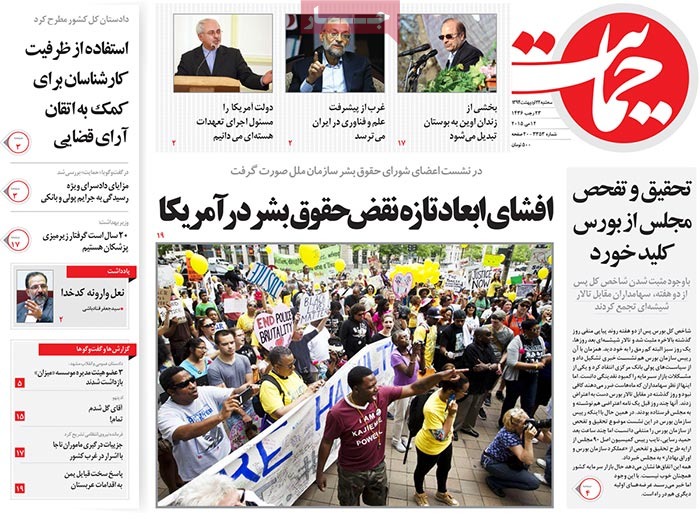 ---
Jomhouri Islami: A new round of nuclear talks between Iran and world powers gets underway in Vienna, Austria Tuesday.
It comes as the spokesman of parliament's Presiding Board threw his weight behind continued nuclear talks despite an earlier motion by some MPs calling for a halt to the talks.
---
Mardomsalari: Worried Arab leader have snubbed the US.
Leaders of the Persian Gulf Cooperation Council have decided to stay away from a Camp David summit.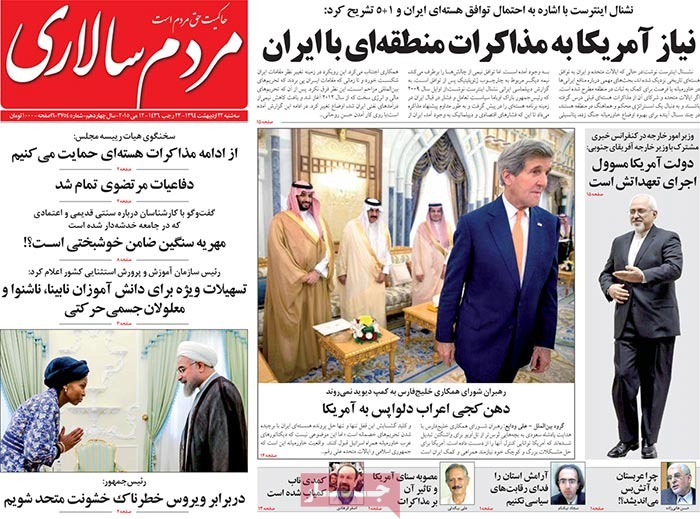 ---
Roozan: I opted for a self-imposed ban on filmmaking over the past eight years," said renowned director Rakhshan Banietemad.
In an exclusive interview with the daily, she said she is 100 percent in favor of reforms.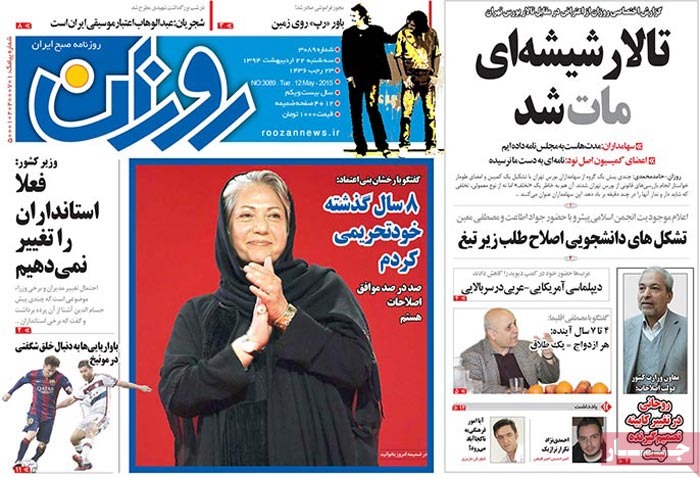 ---
Sharq: Individuals and institutions that played a role in an attack on Tehran MP Ali Motahari [in Shiraz in March] have identified.
The announcement was made by Interior Minister Abdolreza Rahmani Fazli.