The results of Friday's run-off elections, and the final formation of the next Iranian parliament, were naturally the main focus of almost all newspapers on Sunday. The number of MPs from each of the two major factions, however, was contested. Each media source, reformist or conservative, had its own interpretation of the results. Even the numbers reported among the outlets aligned with the same faction differed somewhat.
The majority of newspapers, however, mentioned a general reformist victory. A record was broken in terms of the number of female MPs, and there was a large turnover in terms of new parliament members – 75% of the members will be different from the previous parliament. These issues were also looked at in detail by many newspapers.
Meanwhile, the visit by President of the Senate of Belgium Christine Defraigne to Tehran, and her meetings with Iran's President Hassan Rouhani as well as a number of other officials also received great coverage.
The recent developments in the Iraqi capital of Baghdad, and the seizure of its parliament, were also focused on by Iranian media.
Abrar:
1- JCPOA to Be Strengthened Only through Full Implementation of Commitments: Rouhani
2- 60 Dead and Wounded in Explosion against Shiite Pilgrims in Southeast Baghdad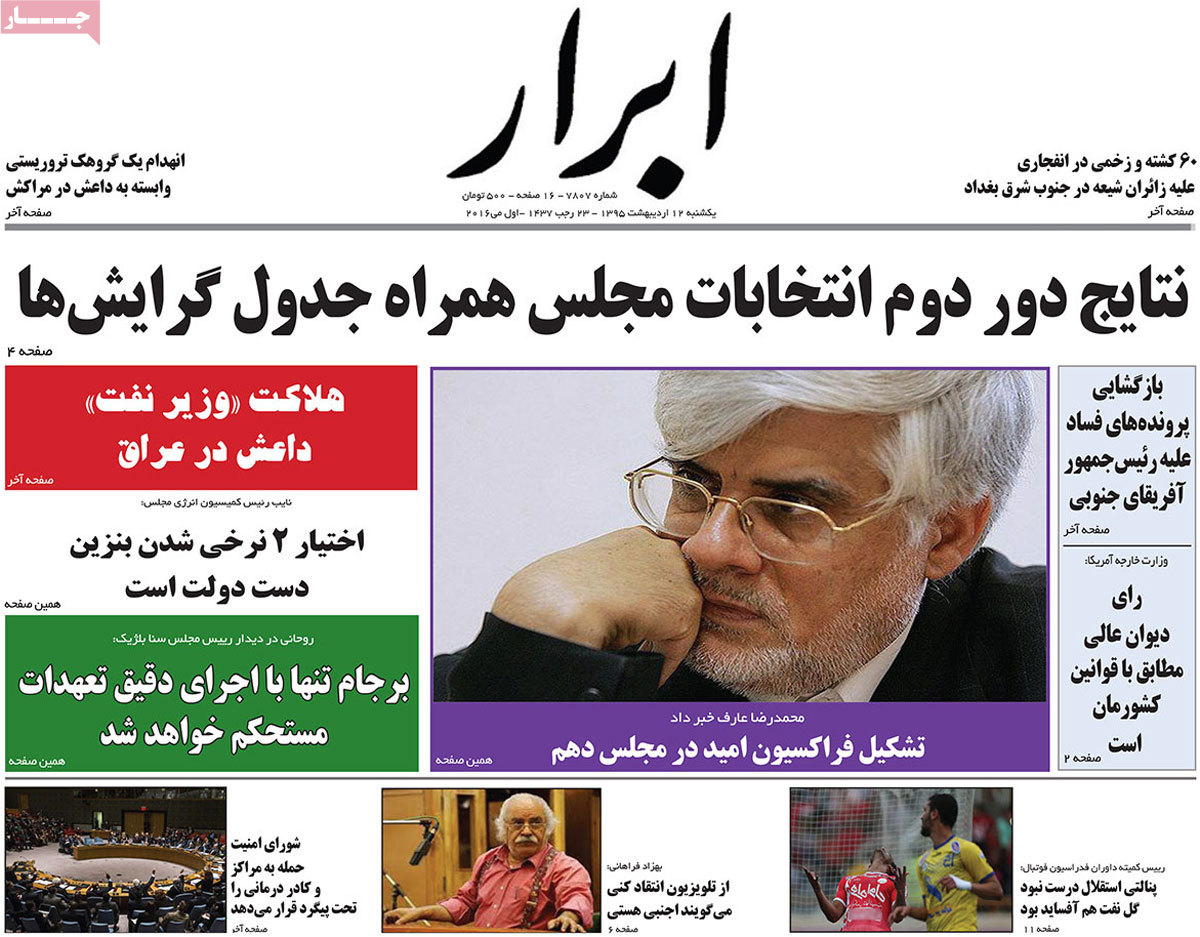 ---
Abrar-e Eqtesadi:
1- Exporting Oil to Europe through Suez Canal: Egypt Allows Iranian Tankers
2- Iran's Central Bank Vows to Make Inflation Rate One-Digit by Autumn
3- Americans to Take Part in Iran's Oil Exhibition
4- Married People Favoured in Gov't Employment
5- South Korea Dedicates €1bn Financing to Iran's Steel Products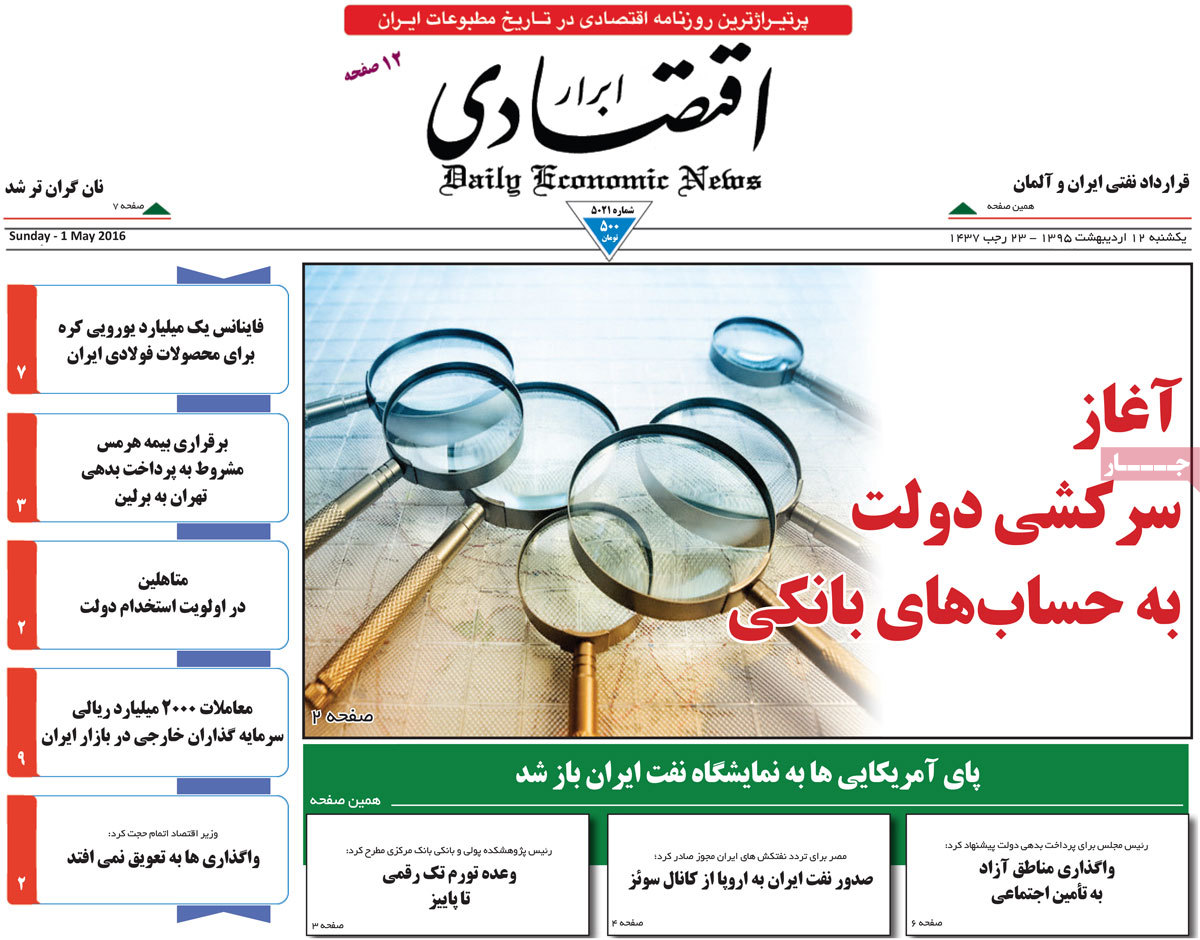 ---
Afkar:
1- 59% Popular Turnout in Run-Off Elections
2- Iran Replaces Canada in Sale of Heavy Water to US: AEOI Spokesman
3- Iran and South Korea to Sign 15 MoUs on Water and Power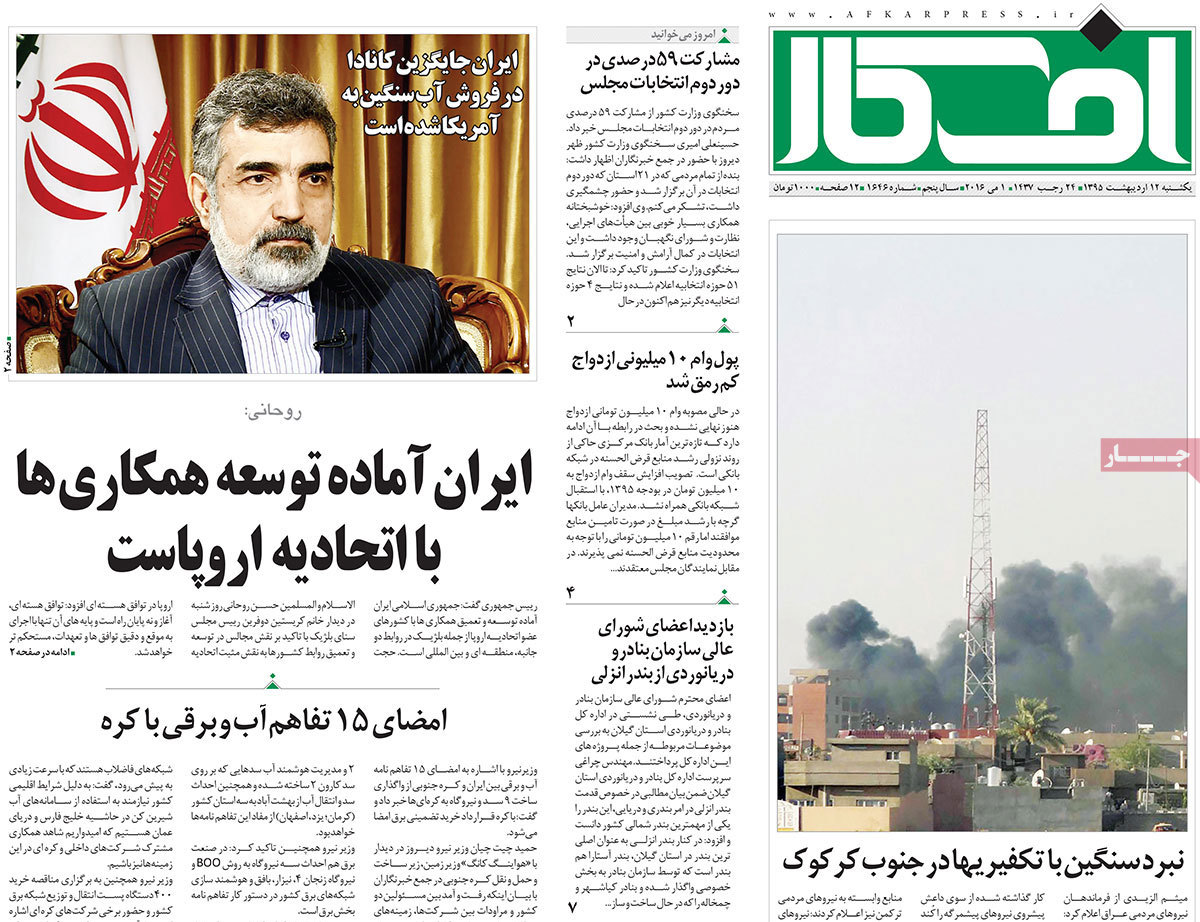 ---
Aftab-e Yazd:
1- "Victory Again": Reformists to Have at Least 122 Seats in Next Parliament
2- Independent MPs Are More Inclined towards Reformists: Zibakalam
---
Arman-e Emrooz:
1- 17 Female Candidates Elected as MPs
2- Rafsanjani: Tell Americans the Time of Bullying is Over
3- Attack on Iraqi Parliament: State of Emergency Declared in Baghdad
---
Asia:
1- For 1st Time after 1979 Revolution: Lincoln Electric, Lukoil, Gazprom to Attend Iran Oil Exhibition
2- Iranian Businessmen Can Import US-Made Chevrolet: Official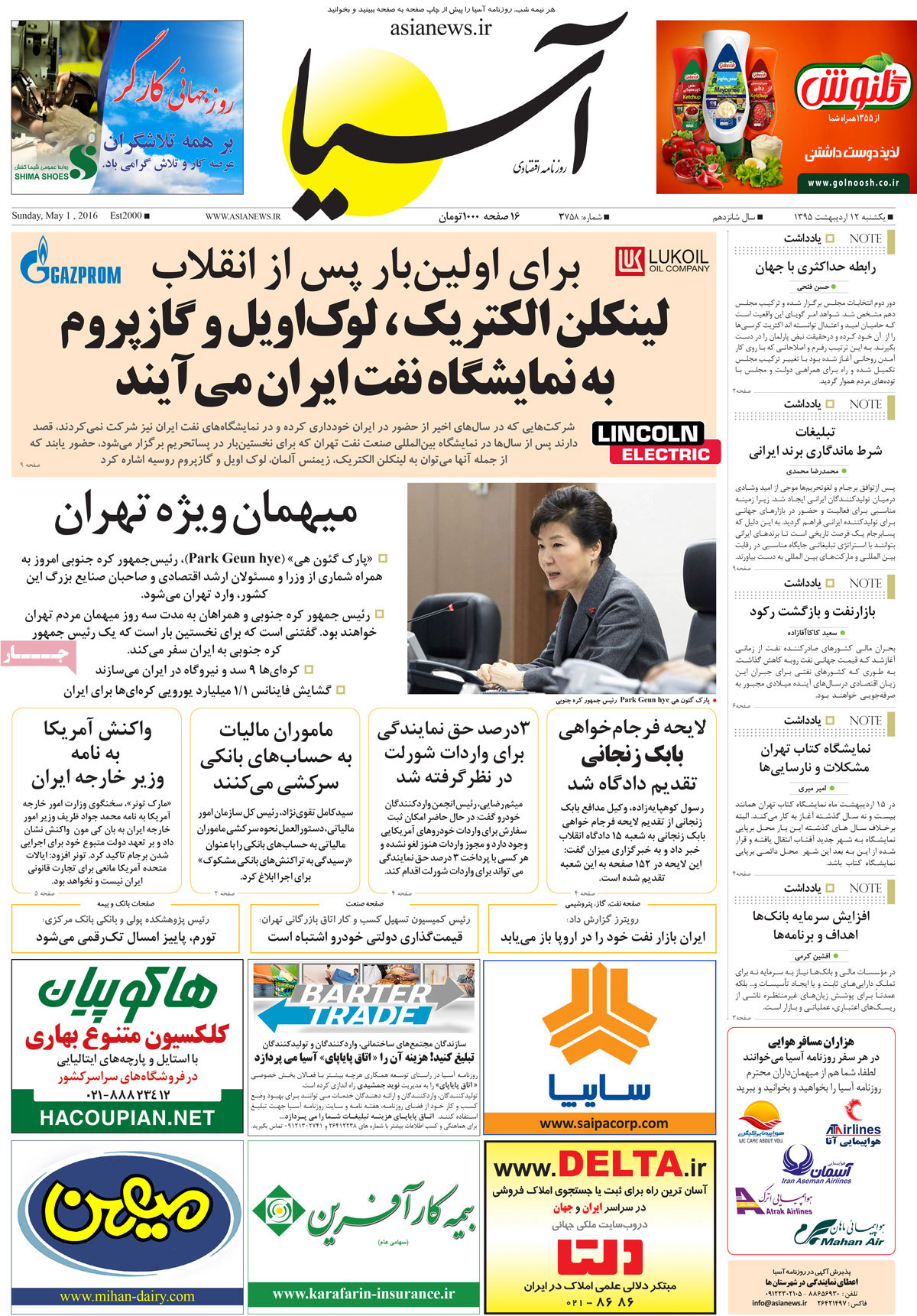 ---
Bani Film:
1- Asghar Farhadi's Salesman to Be Screened in France after Cannes
2- First Hollywood Film in Cuba: Life of Ernest Hemingway
---
Emtiaz:
1- Increase in Spread of Respiratory Diseases in Iran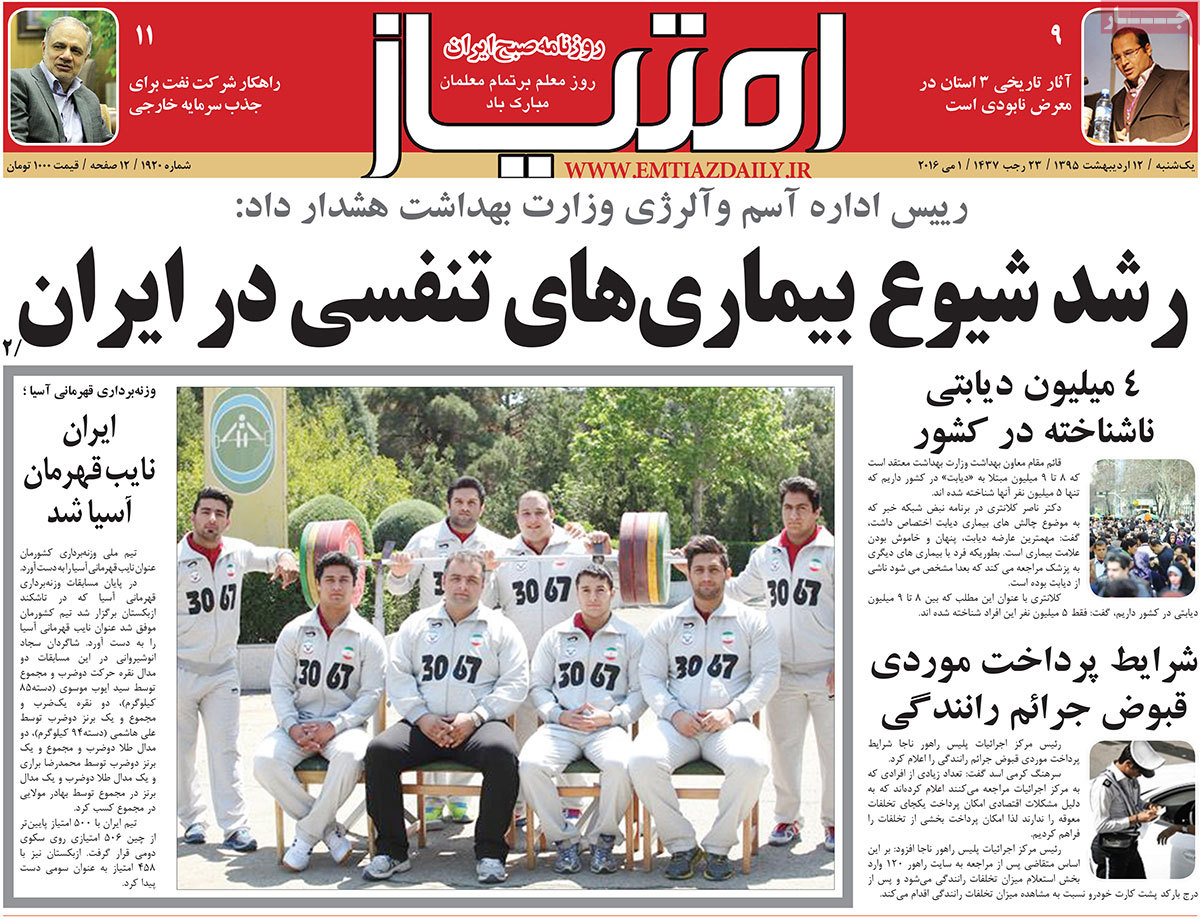 ---
Etemad:
1- Reformist Change in Iranian Parliament's Makeup
2- Interior Ministry Cancels "Plainclothes Morality Police" Plan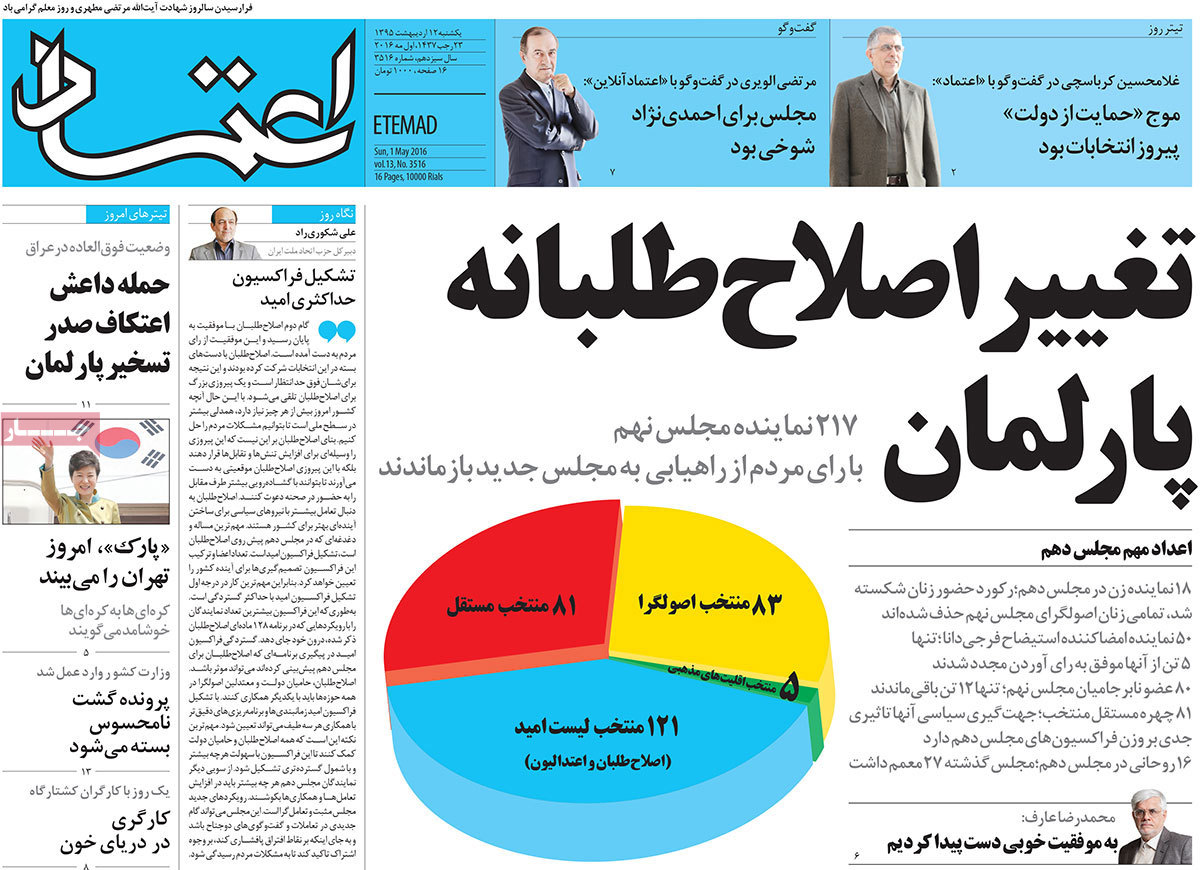 ---
Ettela'at:
1- Iran Ready to Expand Cooperation with EU: Rouhani to Belgian Senate President
2- South Korean President Due in Iran Today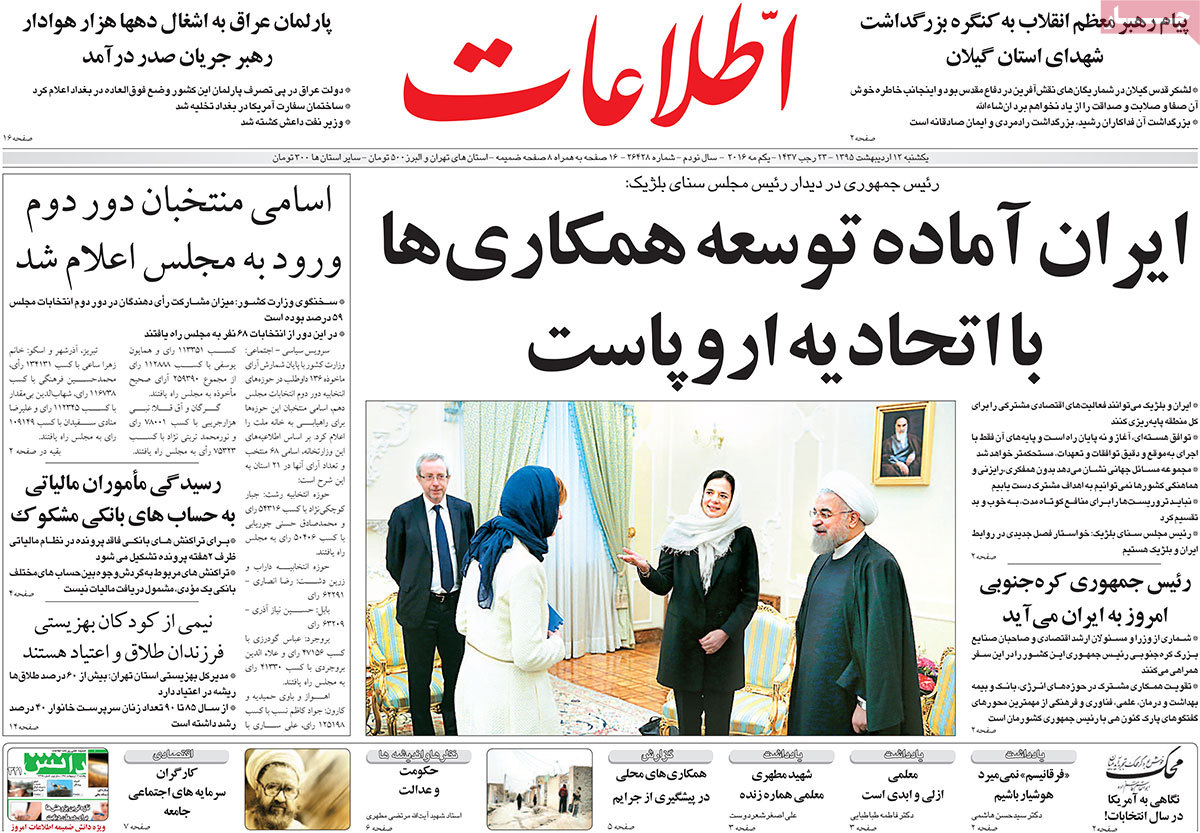 ---
Haft-e Sobh:
1- Young Man Commits Suicide by Hanging Himself from Pedestrian Bridge in Tehran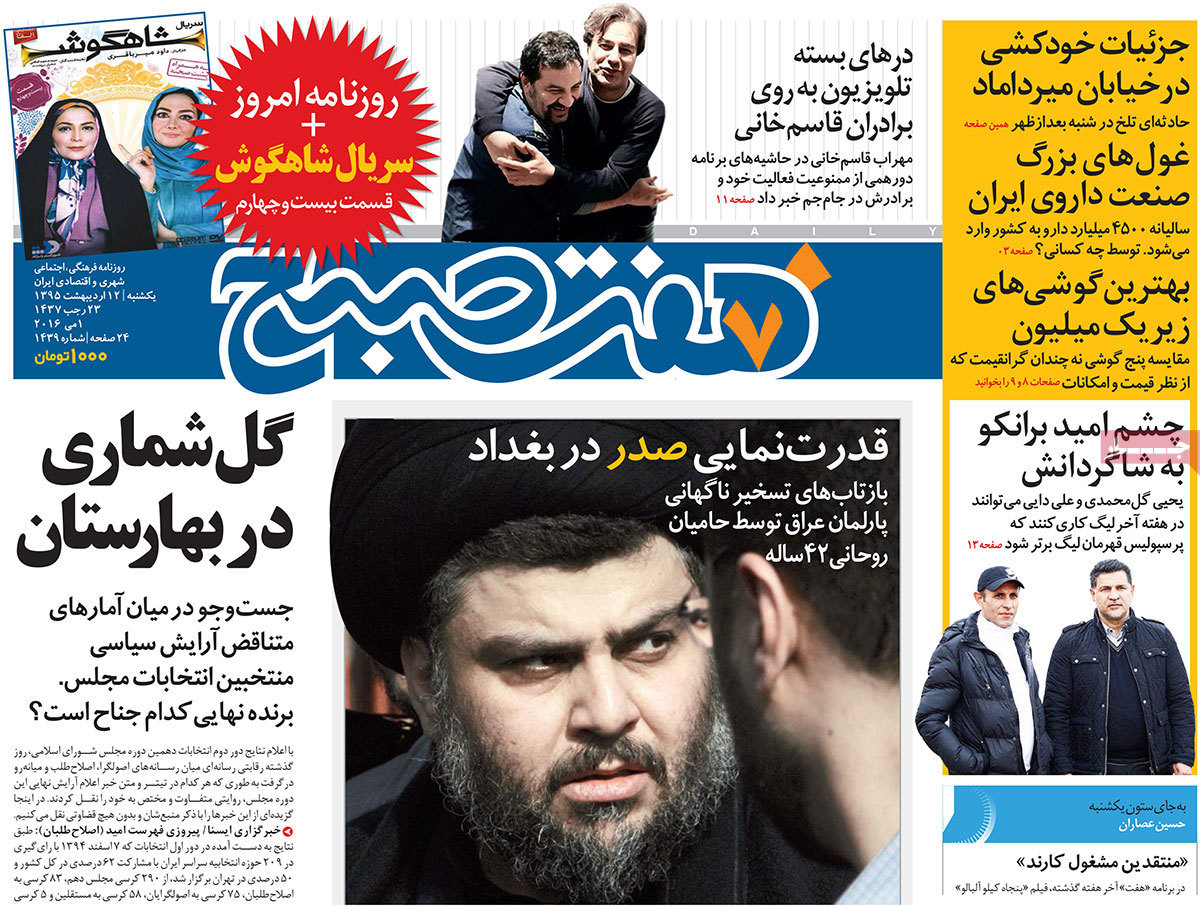 ---
Hamshahri:
1- Marriage and Divorce in Critical Condition in Tehran Province
2- Change in Parliament's Face: 213 New MPs Make It to Majlis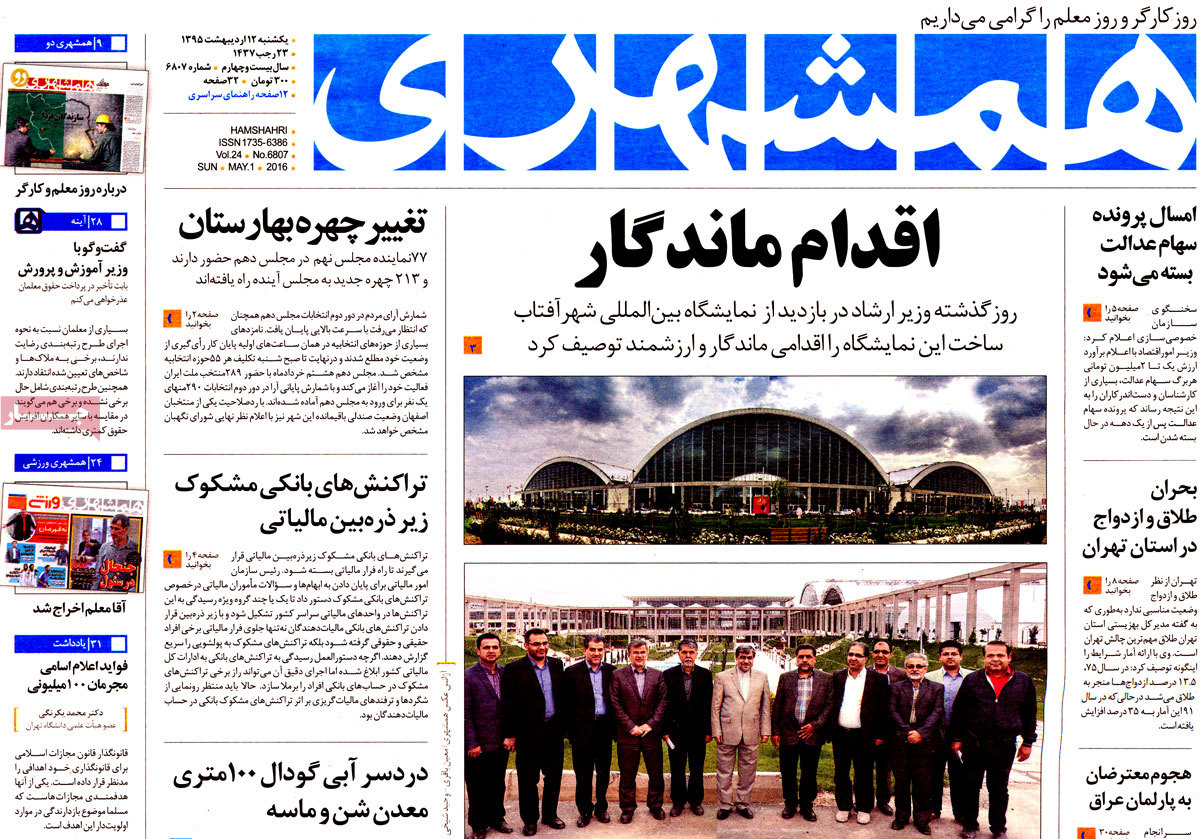 ---
Hemayat:
1- Noam Chomsky Not Sure about USA's Compliance with JCPOA
2- Human Rights Official Urges Europeans to Help Iran in Fight against Drug Traffickers
3- Massive Anti-Saudi Demonstrations in Yemen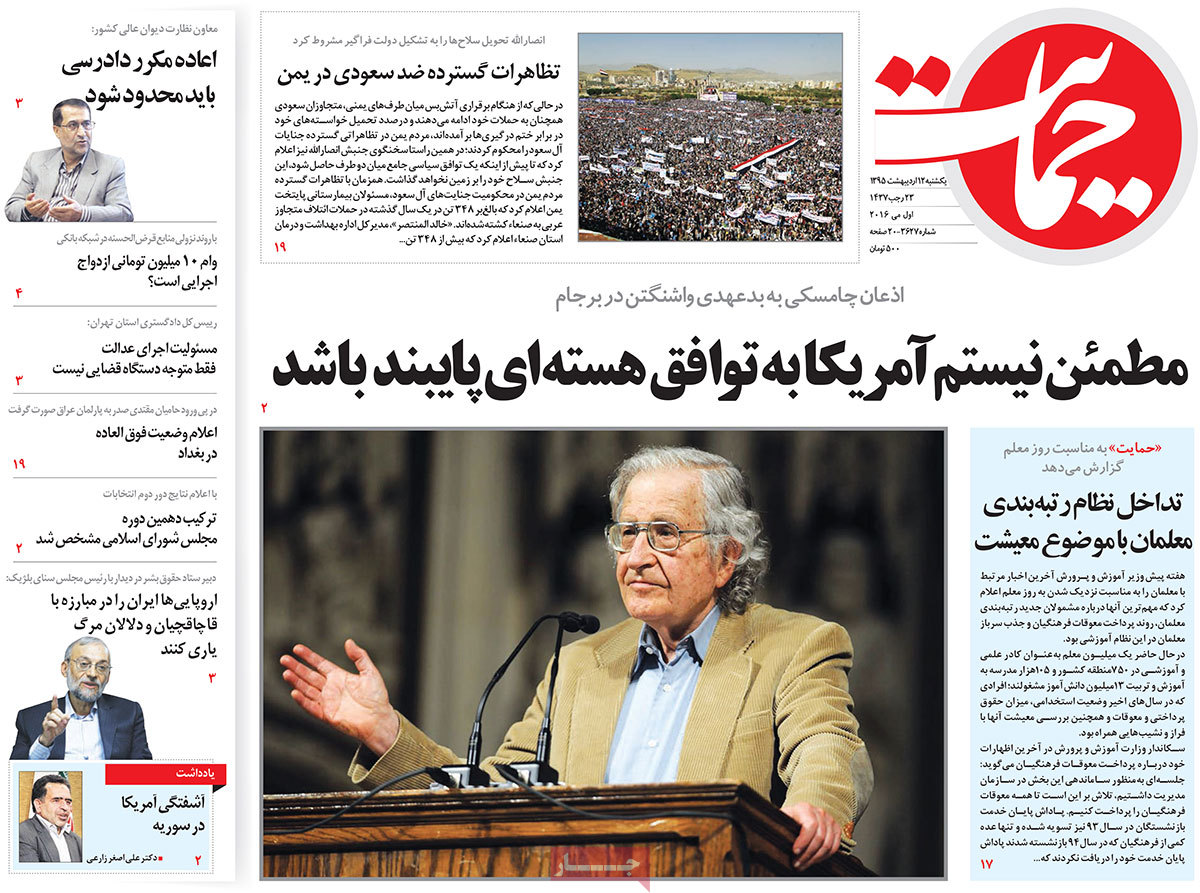 ---
Javan:
1- 30 Actresses to IRIB Deputy Head: No New Roles Given to Us Since Marriage
2- Wage Discrimination: High-Ranking Gov't Managers Receive 35 Times More than Workers
3- Independent MPs Serve as Barometer of 10th Parliament
---
Jomhouri Eslami:
1- 4 Months after JCPOA: Iran's Oil Output on Par with Pre-Sanctions' Amount
2- Iran to Replace Turkey in Supplying Russia's Food Products
---
Keyhan:
1- Seizure of US Merchant Ships in Persian Gulf, a Response to Americans' $2bn Robbery
2- German Vice-Chancellor Overstepping the Mark ahead of Iran Visit
3- 50,000 Workers of Saudi Company Fired amid Riyadh's Austerity Plan
4- 118 Conservatives, 96 Reformists, 55 Independents, 20 Moderates to Represent People in Parliament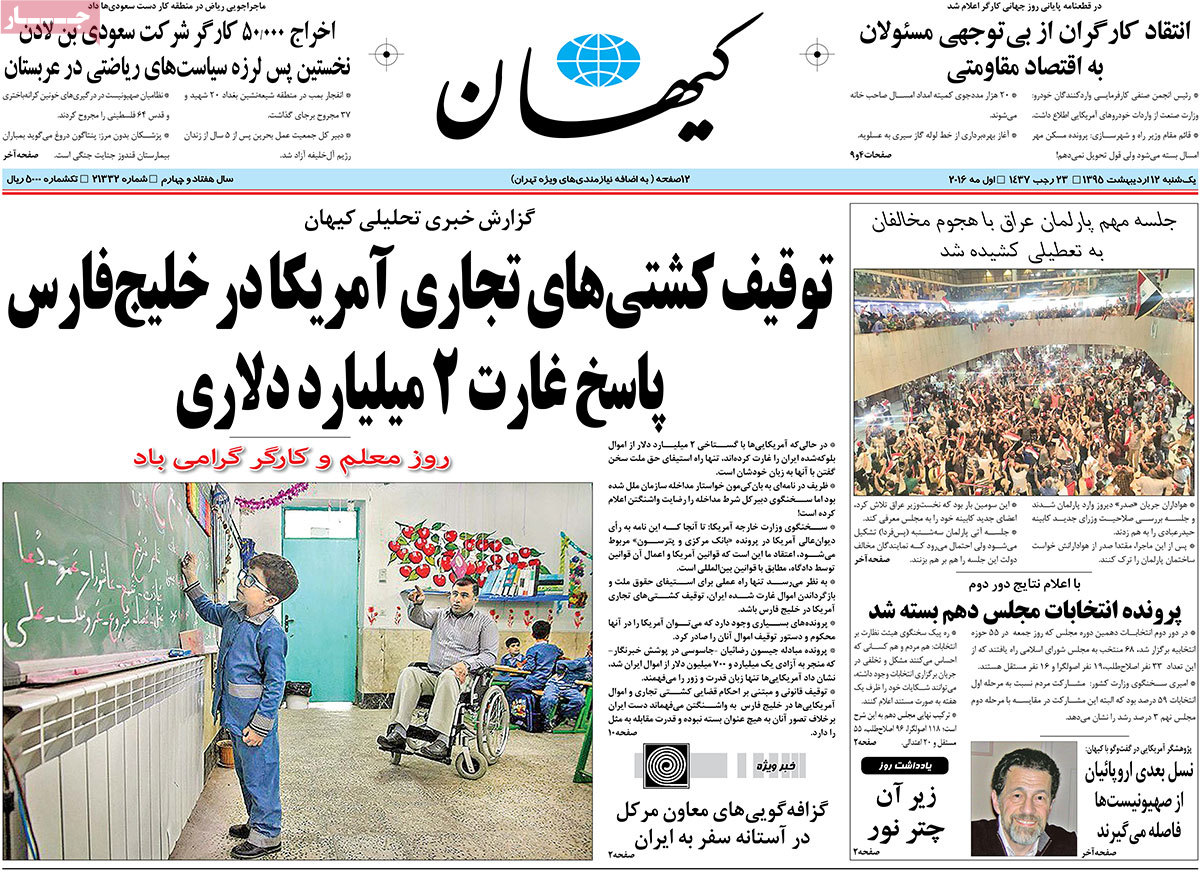 ---
Mardom Salari:
1- Reformists Win Majority of 10th Parliament
2- Political Fall of Baghdad: Protestors Seize Iraqi Parliament and Gov't Building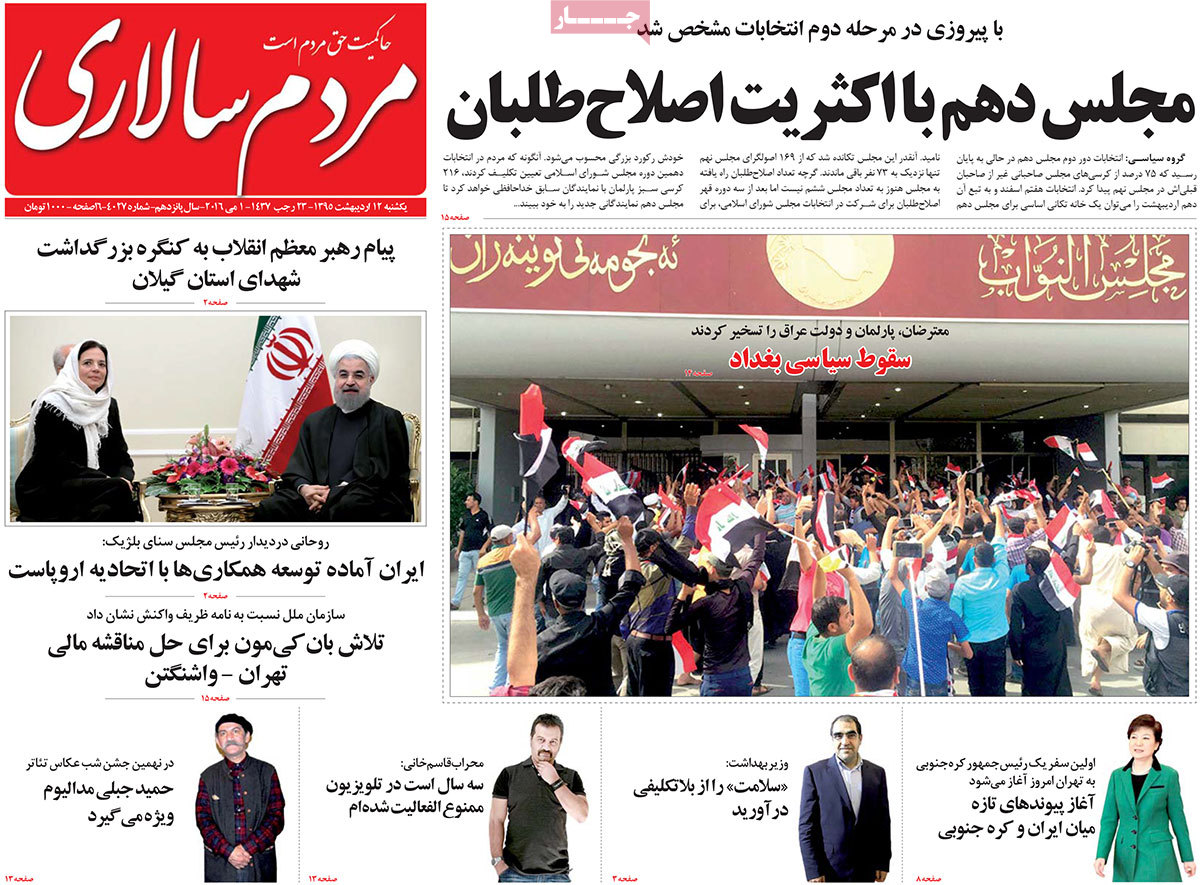 ---
Payam-e Zaman:
1- Severe Punishment for Importers of Fake Drugs: Minister
2- FM Zarif to Visit Bolivia in Coming Days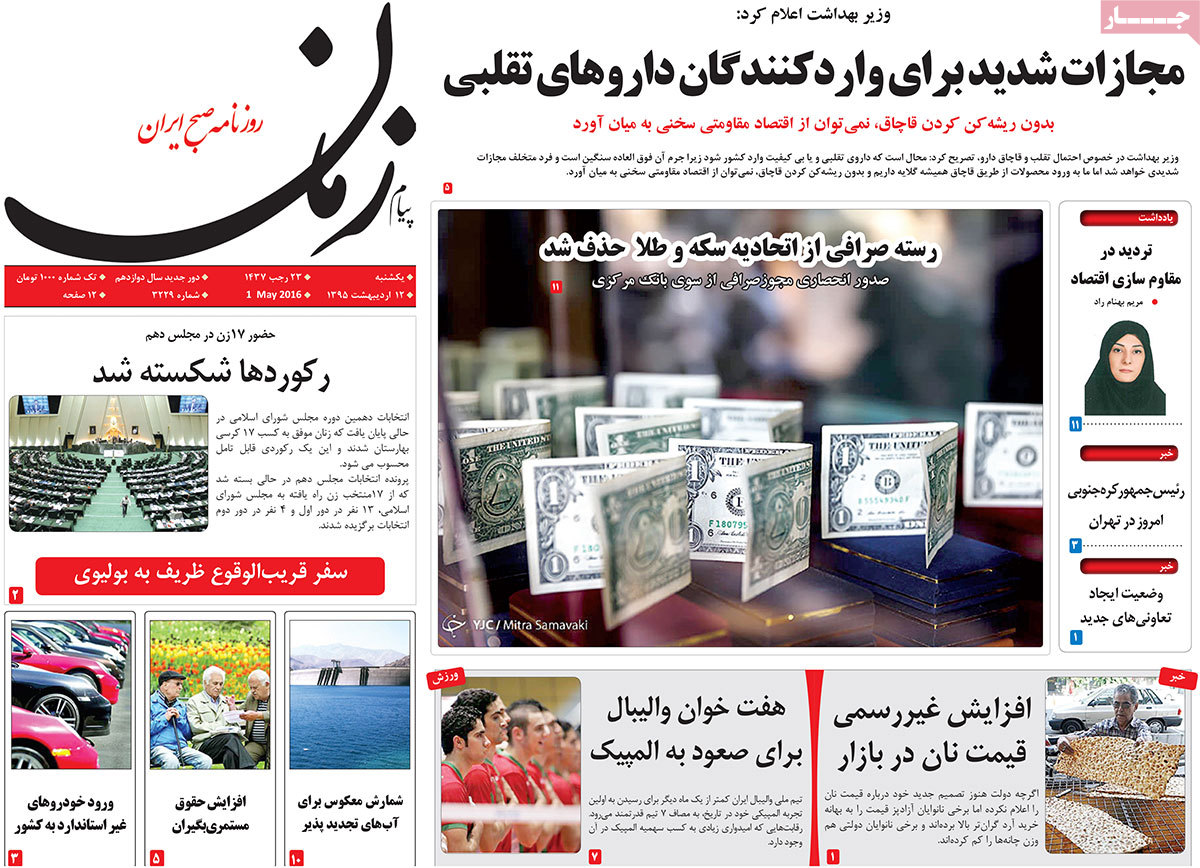 ---
Shahrvand:
1- Women Break Records in Parliamentary Polls: "List of Hope" Wins
2- Uniformed Forces, Rather than Plainclothes, to Be Used for Morality Police
---
Sharq:
1- "Hope" Wins: Reformists Won Majority of Iran's Parliament
2- President Rouhani Officially Invited to Visit Belgium
---
Vaghaye Ettefaghieh:
1- 75% of Parliament Formation Changed: Only 73 (Out of 290) MPs Re-Elected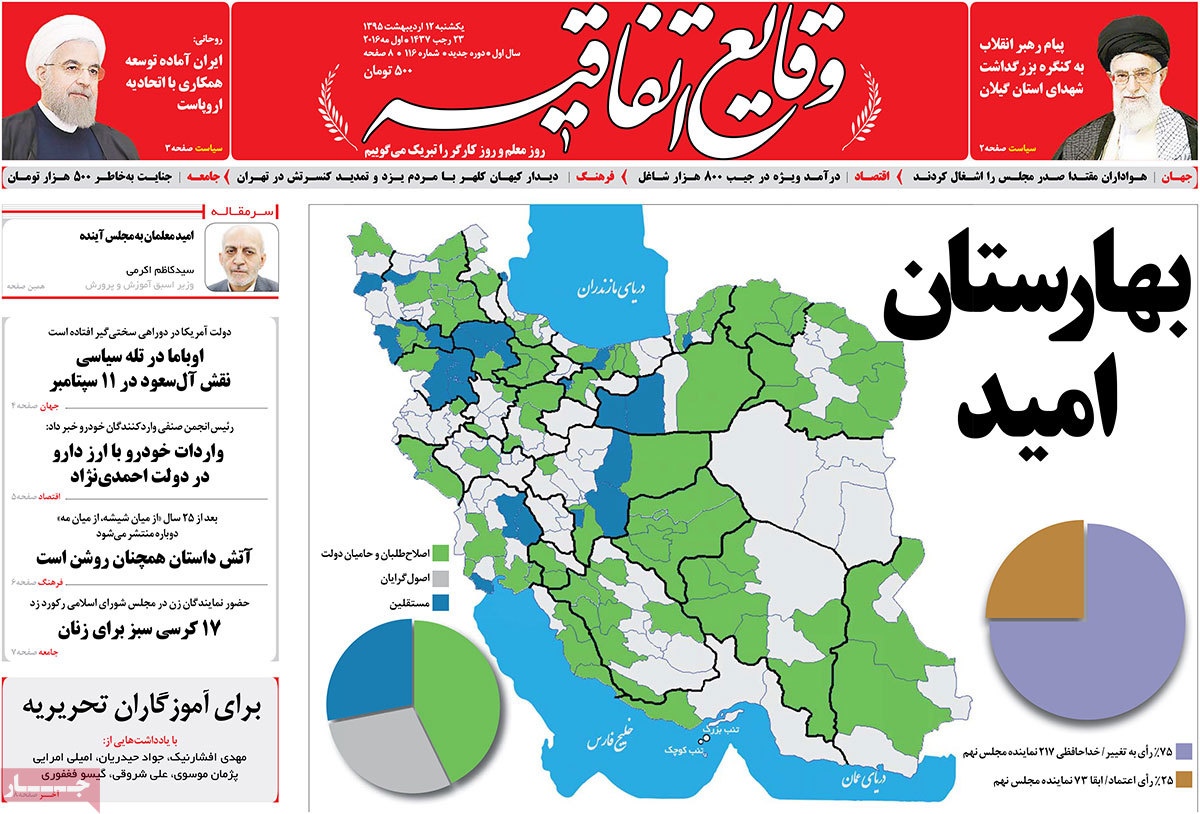 ---
Vatan-e Emrooz:
1- Iran's Payment and Settlement Network (Shaparak) Has No Permission to Use American Software: Civil Defence Organization
2- Relative Majority of Conservatives in Iranian Parliament