IFP has taken a look at the front pages of Iranian newspapers on Monday, March 4, 2019, and picked headlines from 10 of them. IFP has simply translated the headlines and does not vouch for their accuracy.
The top story in all papers today was the Iranian Parliament's decision to ban lawmakers from running in elections after serving three consecutive terms in office. Many papers discussed the pros and cons of the decision, and argued for or against it.
The demolition of an illegally-built mansion belonging to the daughter of former trade minister, Mohammad-Reza Nematzadeh, in northern Tehran also received great coverage.
The above issues, as well as many more, are highlighted in the following headlines and top stories:
Aftab-e Yazd:
1- Iran's Conditions for Cooperating with Russian Carmaker AvtoVAZ
2- Why We Shouldn't Be Overexcited by Parliament's Revision of Its Election Law
3- Illegally-Built Mansion of Ex-Minister's Daughter Demolished
---
Arman-e Emrooz:
1- Iran's Constitution Still Not Amended after 30 Years
2- Working in Parliament Only for Three Terms
3- Parliament's Revision of Election Law against Iran's Constitution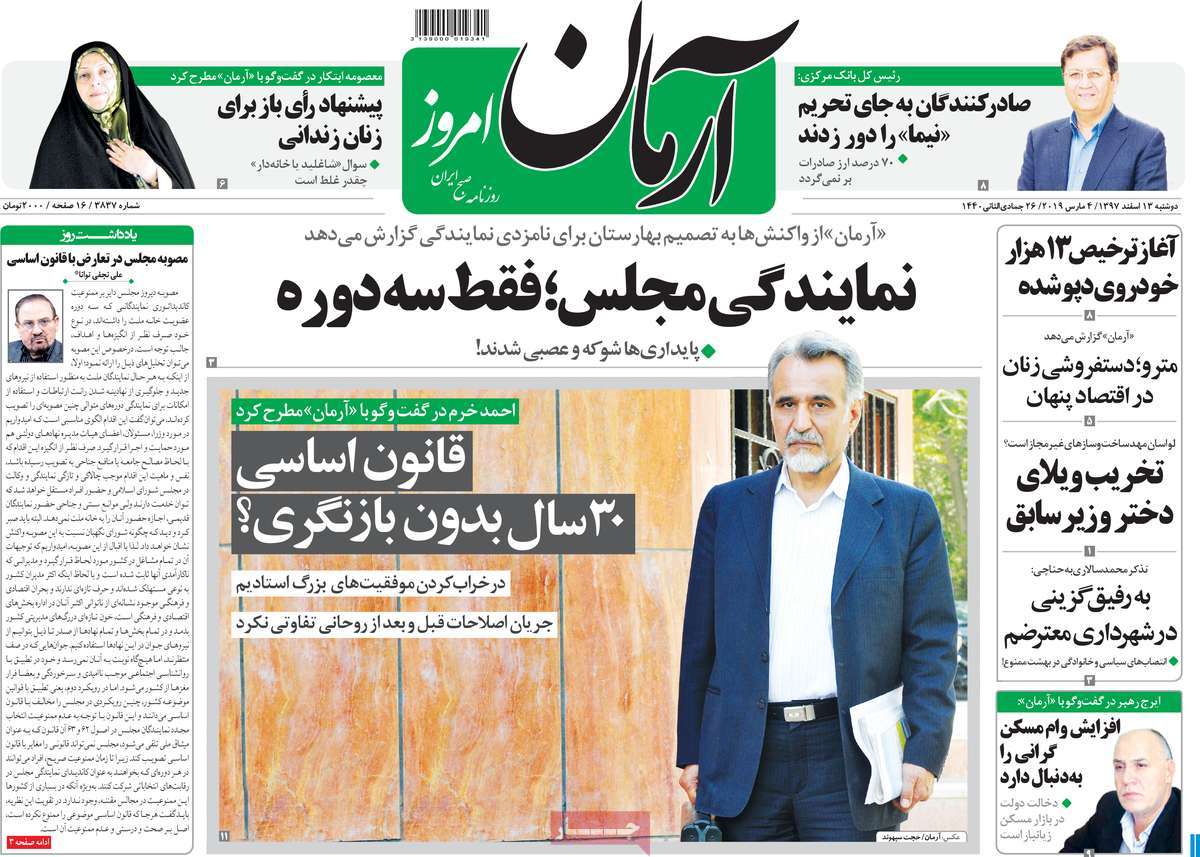 ---
Ebtekar:
1- Fresh Air in Parliament
2- Ebrahim Raisi to Start His Work as Judiciary Chief Friday
3- Difficulties of Overcoming Trump for Sanders
---
Etemad:
1- Sanders Starts Campaign against Trumpism
2- 2,500 Deprived Villages Equipped with Sports Facilities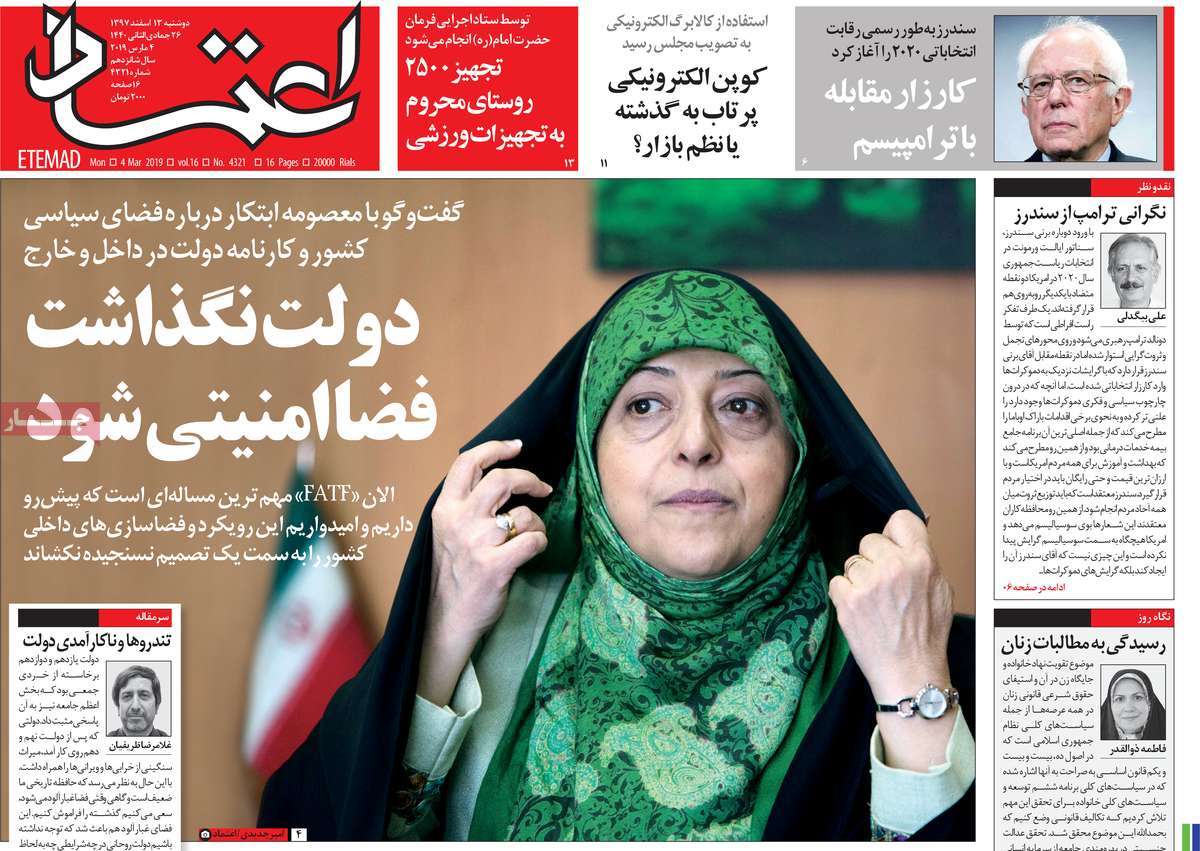 ---
Hemayat:
1- American Advisors Selected for Venezuela Opposition Leader
2- Israeli Army Attacks Central, Southern Gaza
3- 1,000 Metres of Illegal Construction Belonging to Ex-Minister's Daughter Demolished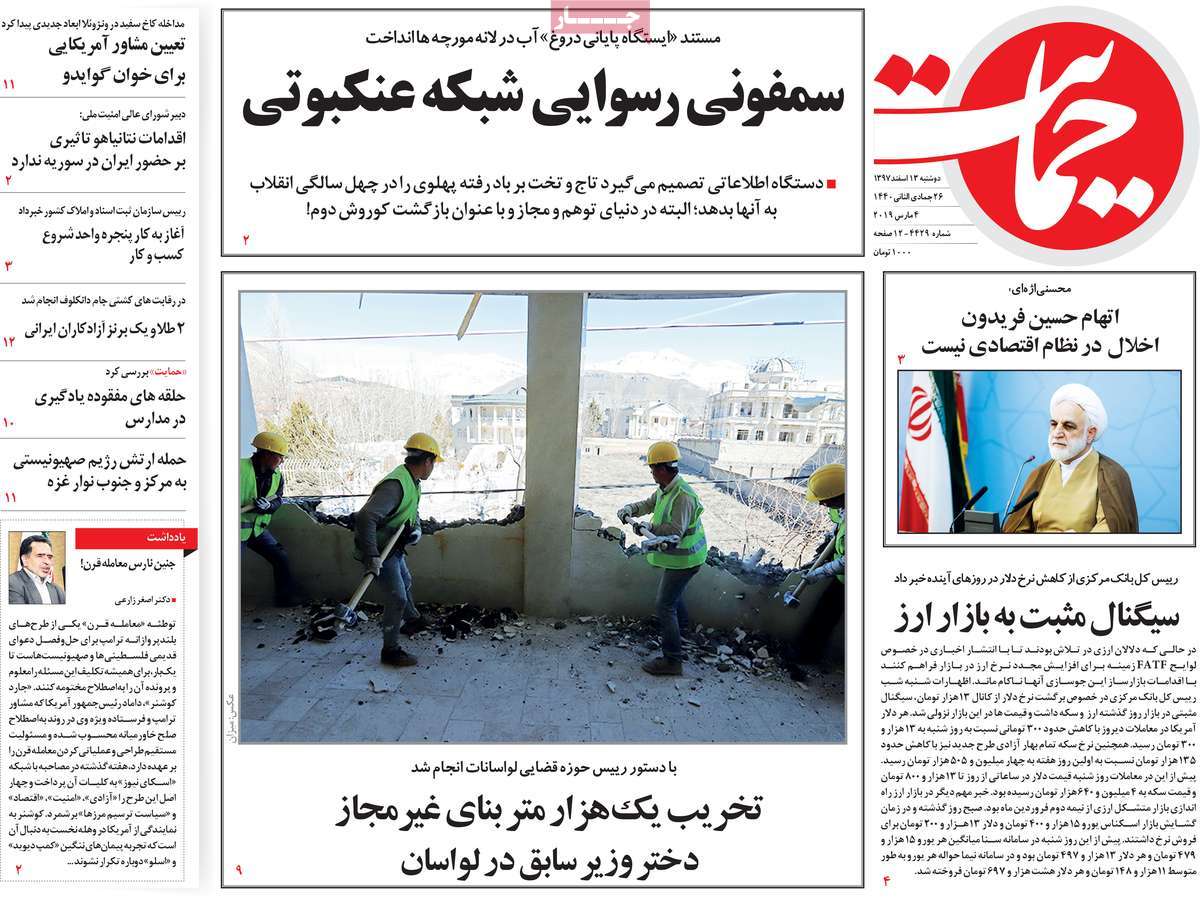 ---
Javan:
1- FATF against National Interests: Shamkhani
2- Iran to Remain in Syria, We'll Stay Too: Putin to Bibi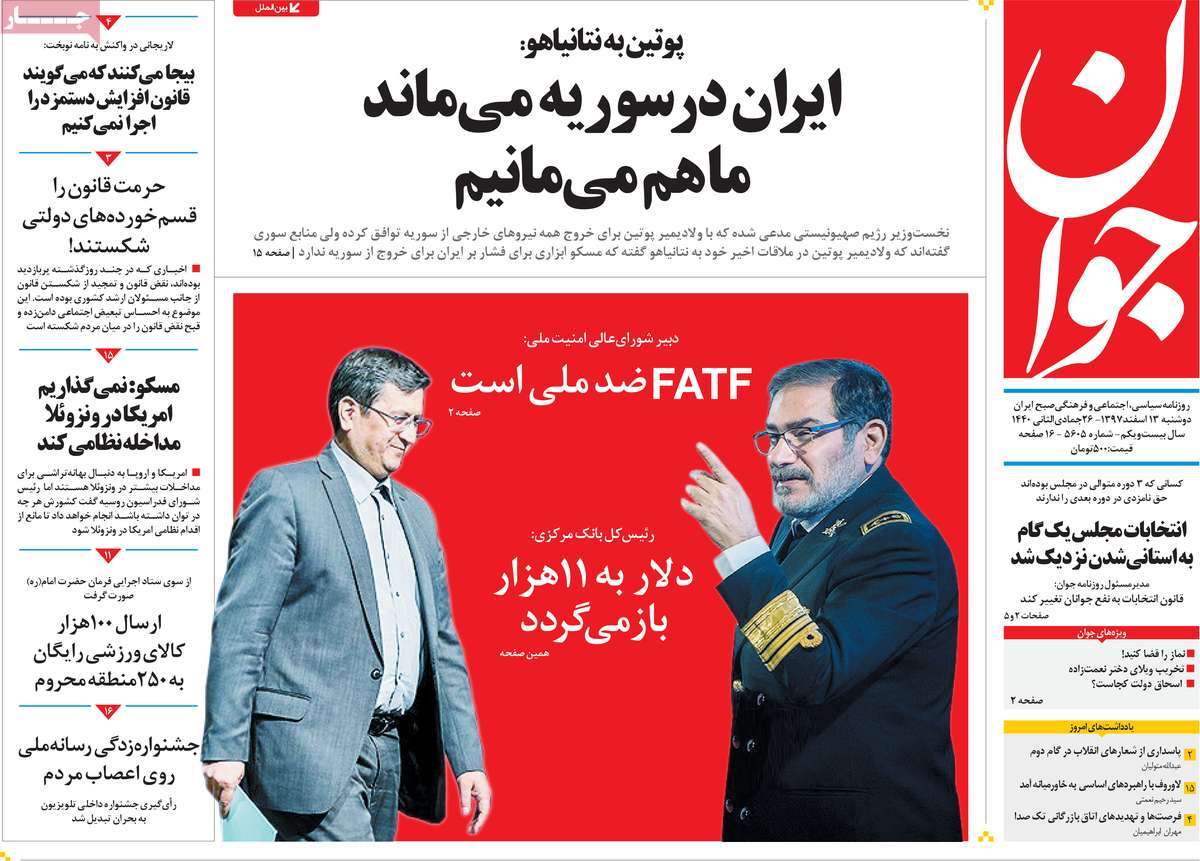 ---
Jomhouri Eslami:
1- Ratifying FATF Bills Necessary for Resolving Economic Woes: Zarif
2- US Has Endangered World: Chinese Media
3- Iran, Switzerland Sign Document on Agriculture Cooperation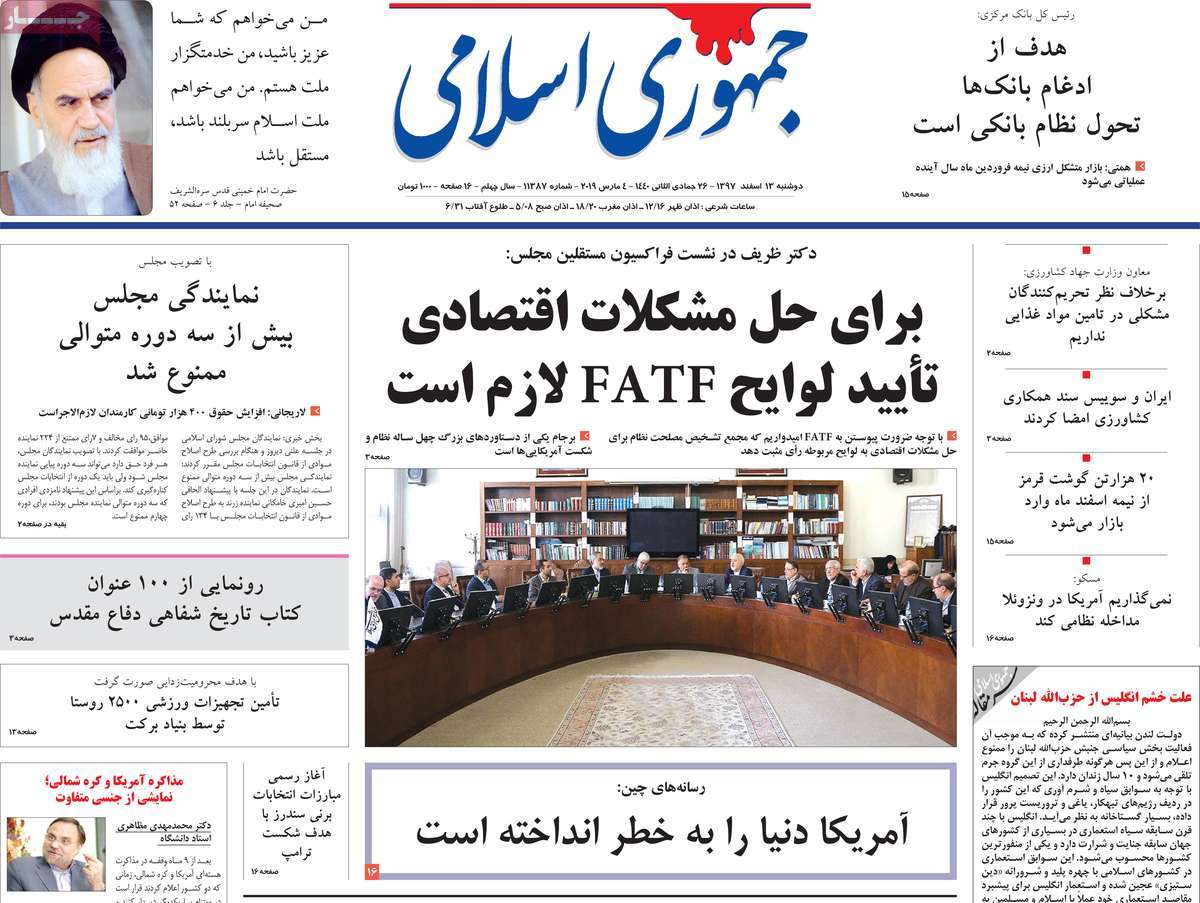 ---
Kayhan:
1- From JCPOA Promises to Return to Rationing
2- 1,000 ISIS Members Being Trained by American Forces in Iraq: Badr
3- Zarif Forgets What He Said about FATF 5 Months Ago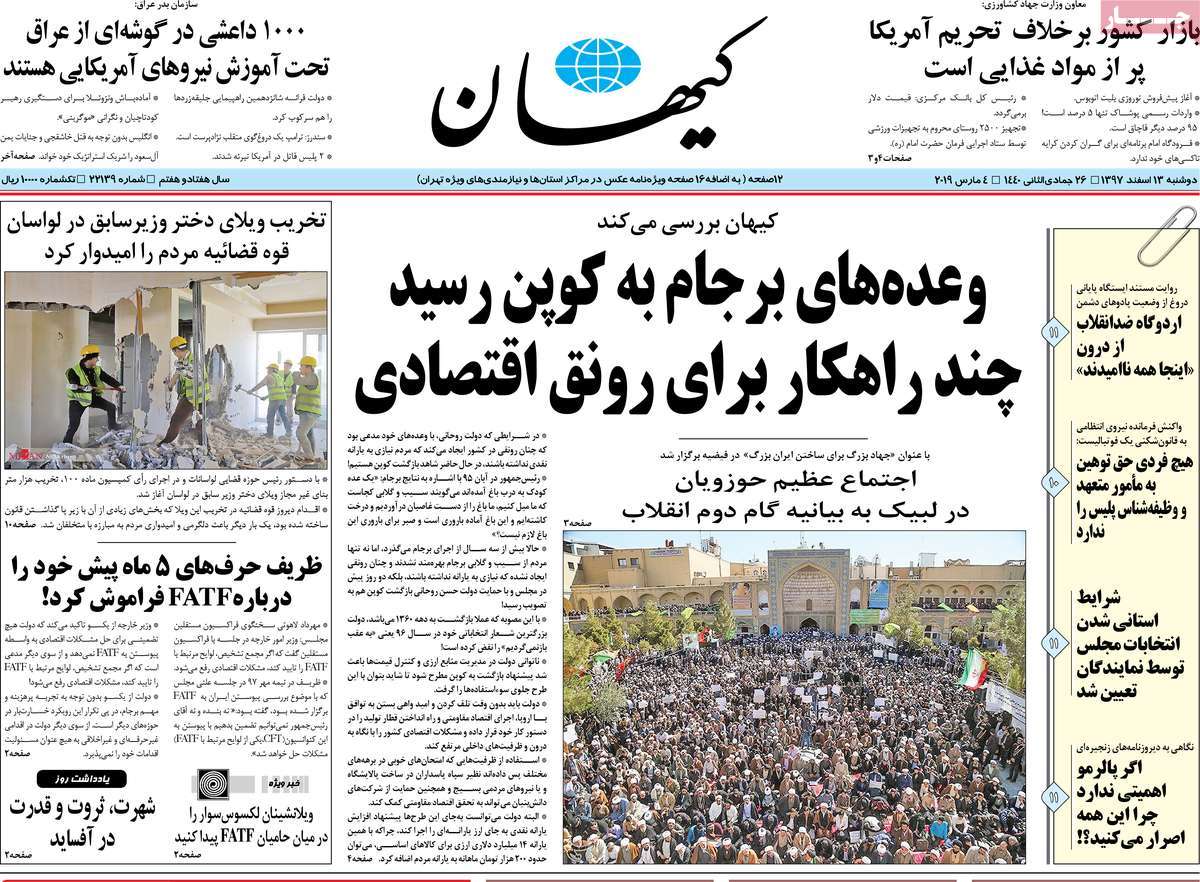 ---
Sazandegi:
1- Majlis without Larijani? Parliament Election Law Revised
* Lawmakers Can't Run for over 3 Consecutive Terms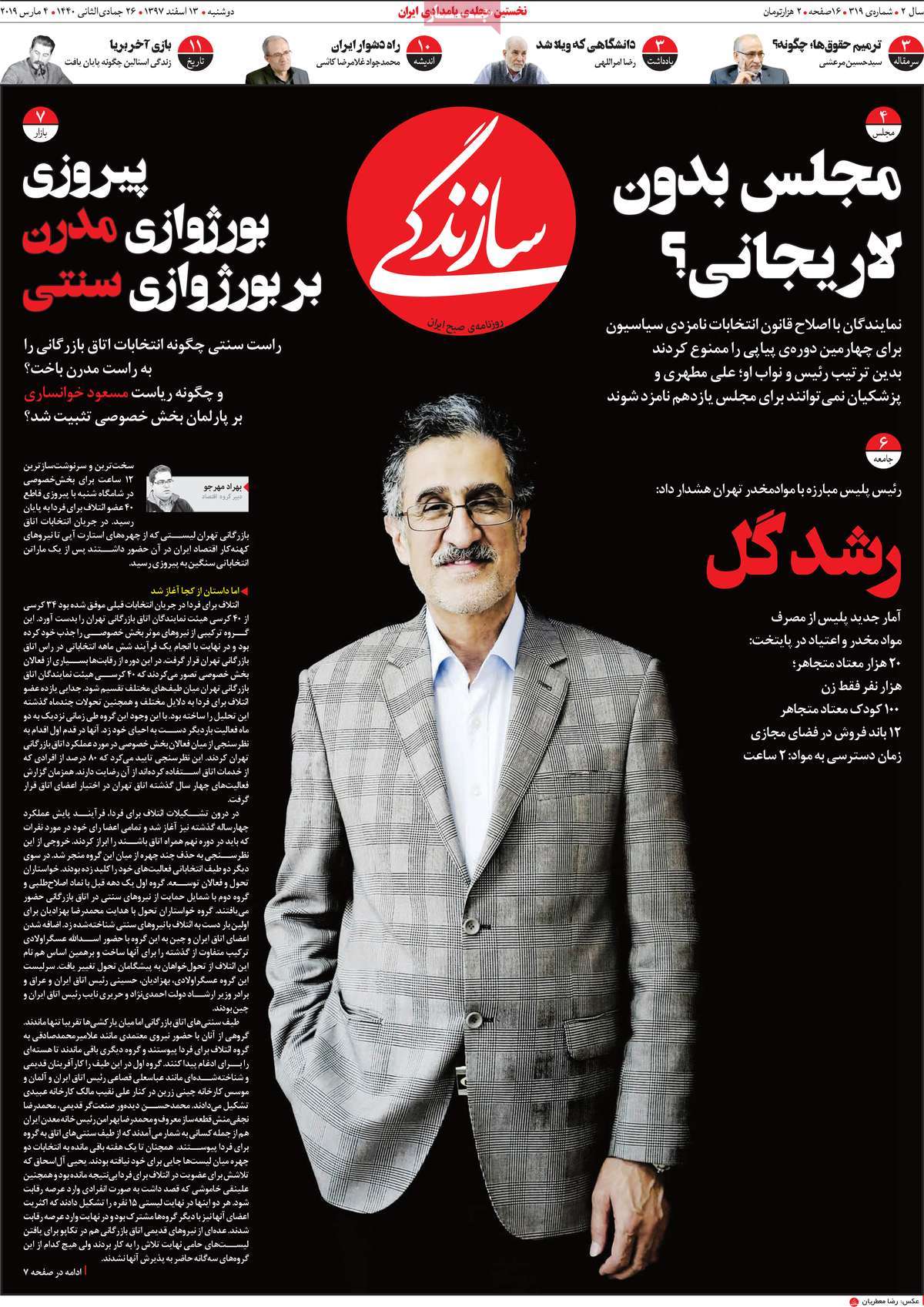 ---
Shargh:
1- Monitoring FM Zarif's Email
2- Iranian Girl in French Boxing Ring
3- Those Who Can't Be a Lawmaker Anymore
4- Weakening People's Election Rights [Editorial]
5- Iran to Remain in Syria If Its Gov't Wants So: Shamkhani