IFP has taken a look at the front pages of Iranian newspapers on Tuesday, March 13, and picked headlines from 20 of them. IFP has simply translated the headlines and does not vouch for their accuracy.
The issue of compulsory hijab and the women who intentionally remove their hijab in public was a top story today. Judiciary Chief Ayatollah Sadeq Amoli Larijani has warned such moves are against Islamic teachings, and thus prohibited.
Also a top story was the preliminary report on the causes of a recent plane crash in Iran's Dena Mountain, which blames the pilot and the Airline for the tragic incident.
The impeachment of President Hassan Rouhani's ministers of roads, labour, and agriculture also remained the story.
The above issues, as well as many more, are highlighted in the following headlines and top stories:
19 Dey:
Larijani: Iran Acted Reasonably on Nuclear Issue
Judiciary Chief: Showing Off One's Hijab Removal Instance of Spreading Obscenity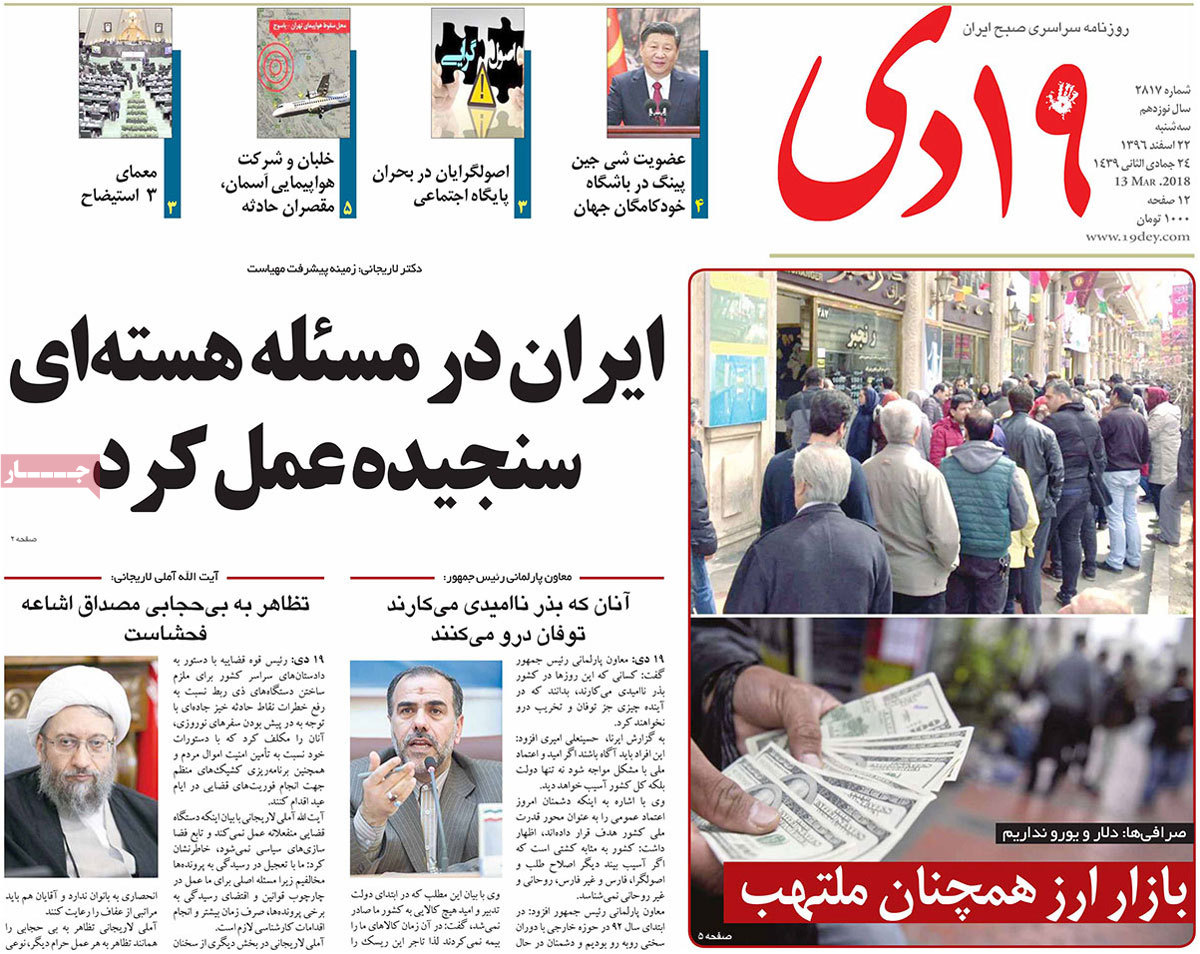 ---
Abrar:
Latest Details about Sanchi Oil Tanker's Situation
Putin: I'll Never Return Crimea to Ukraine
Netanyahu: Iran, Iran, Iran Biggest Threat to Israel
Iran Foreign Ministry: We've Never Interfered in Iraq's Internal Affairs, We'll Never Do So
---
Afkar:
Senior Lawmaker: Security Officials Had Predicted Attack on Iran Embassy in London
Iran's Top Security Official Says Attack on London Embassy UK's Gift to Saudis
---
Aftab-e Yazd:
Ayatollah Rafsanjani's Daughter: Some Elements Trying to Make People Hopeless
---
Arman-e Emrooz:
China's Huge Profit Out of Chaharshanbeh Soori Festival in Iran
Lucrative Market of Low-Quality Fireworks Imported from China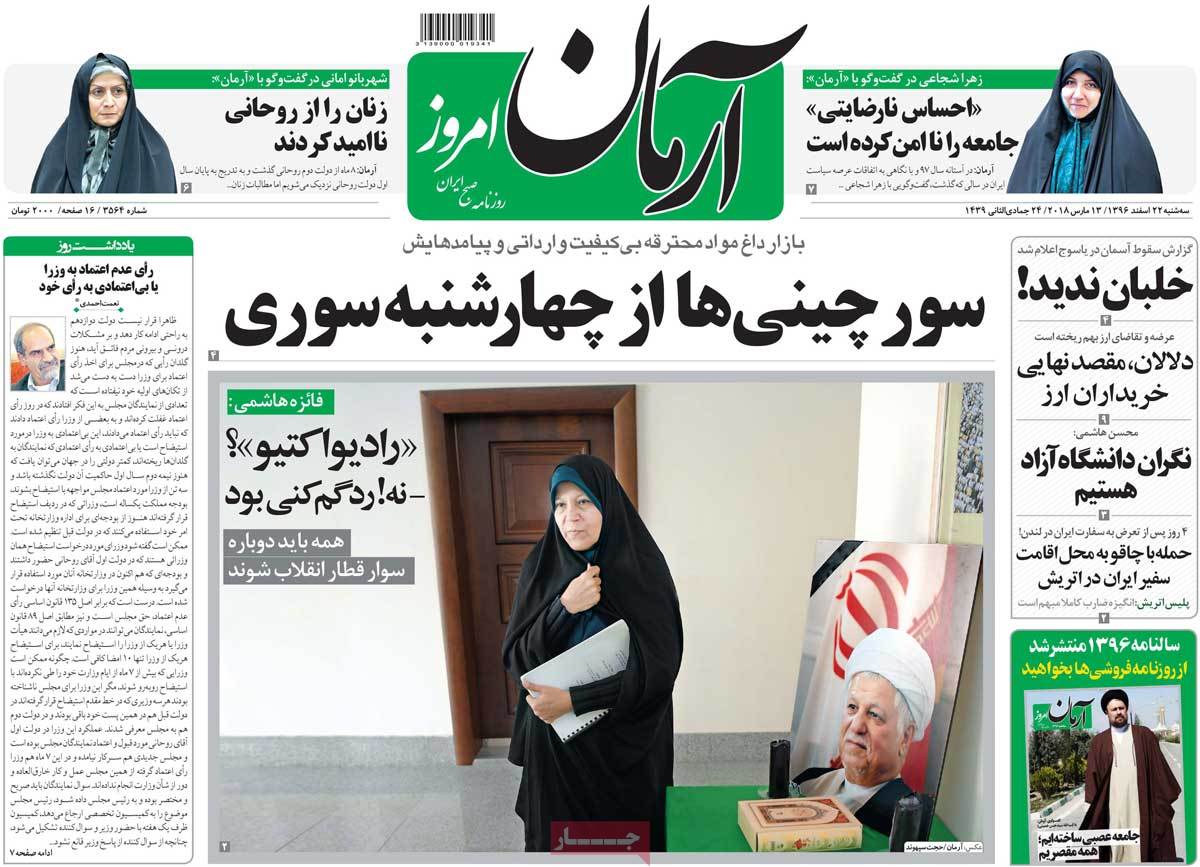 ---
Asrar:
Nationalization of Iran's Oil Was Aimed at Taking Control of Reservoirs
Larijani: Whoever Causes Chaos Has Betrayed the Country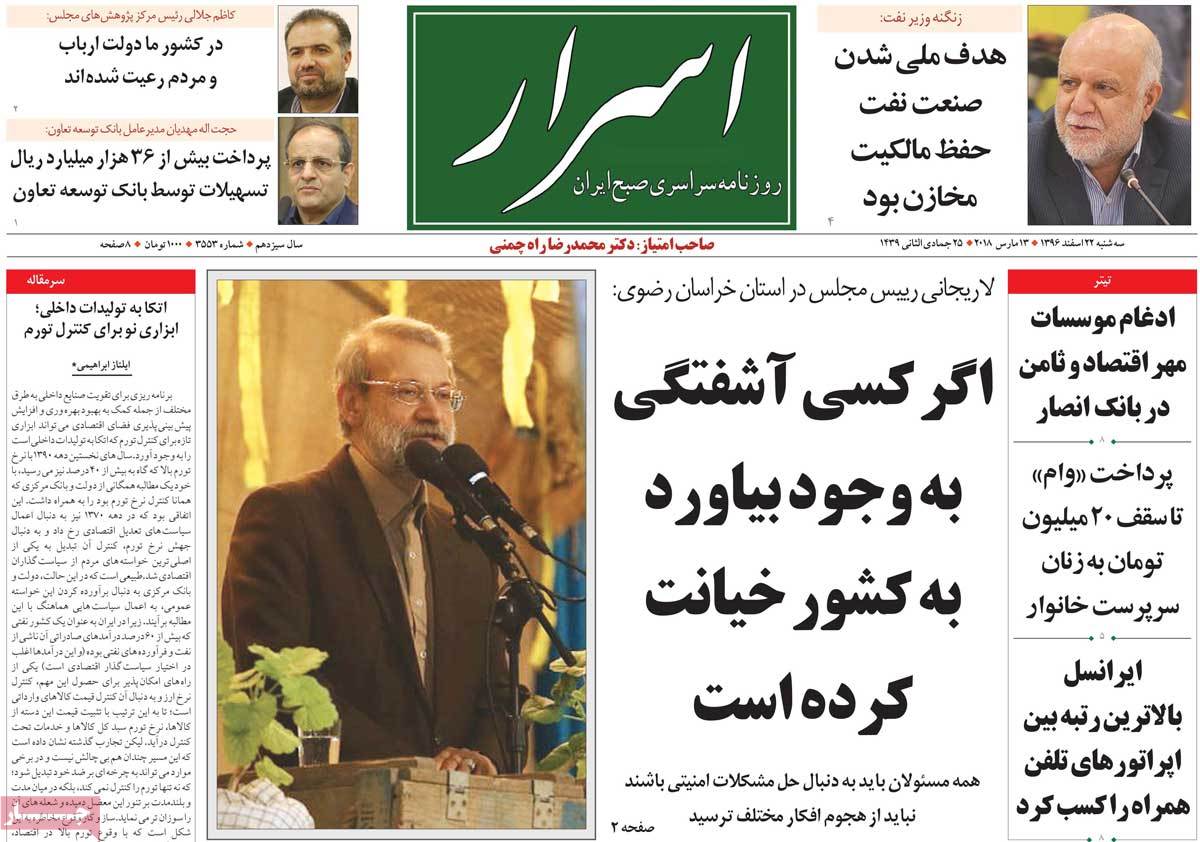 ---
Ebtekar
Escalation of Tension between Russia, West over Ukraine
Pilot, Aseman Airlines to Blame for Crash of Yasuj Plane: Initial Report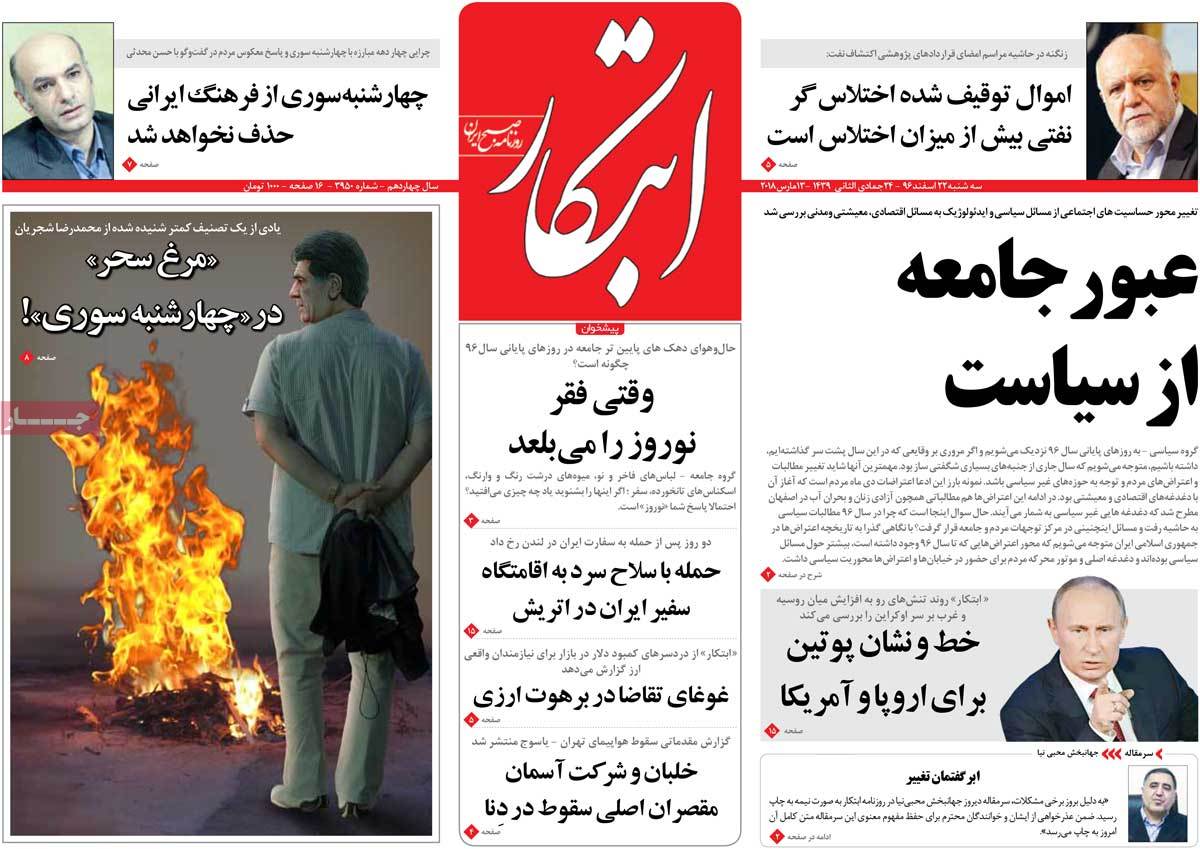 ---
Etemad:
I Don't Joke with Europe over Iran Nuclear Deal: Trump to Netanyahu
Telegram Can Be Blocked If Necessary: Official
---
Ettela'at:
Shamkhani: Iran's Defence Power Deterrent, Not Negotiable
US Defence Secretary: We Have No Document on Syria's Use of Chemical Arms
Zarif: Iran Welcomes Joining China-Pakistan Economic Corridor
Flourishing Market of Flowers ahead of Persian New Year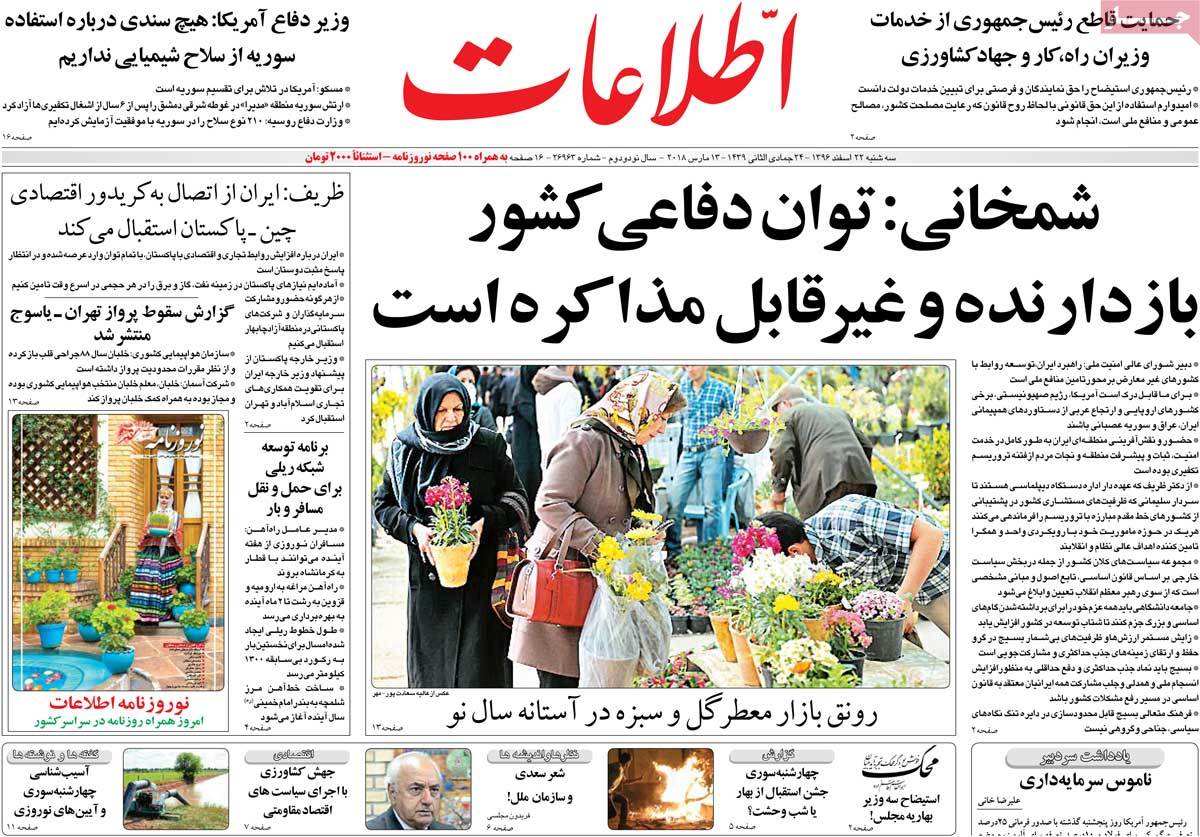 ---
Iran:
Parliament Speaker: We Shouldn't Be Afraid of Being Invaded by Different Opinions
Bushehr Governor-General: Heart of Iran's Energy Capital Beating Well
---
Javan:
Attack on Iran's Diplomatic Buildings: This Time in Austria
Spectators More Spectacular than Football Match
Esteghlal's Draw against Al Ain Overshadowed by Iran's Developed Football, Grown-up Fans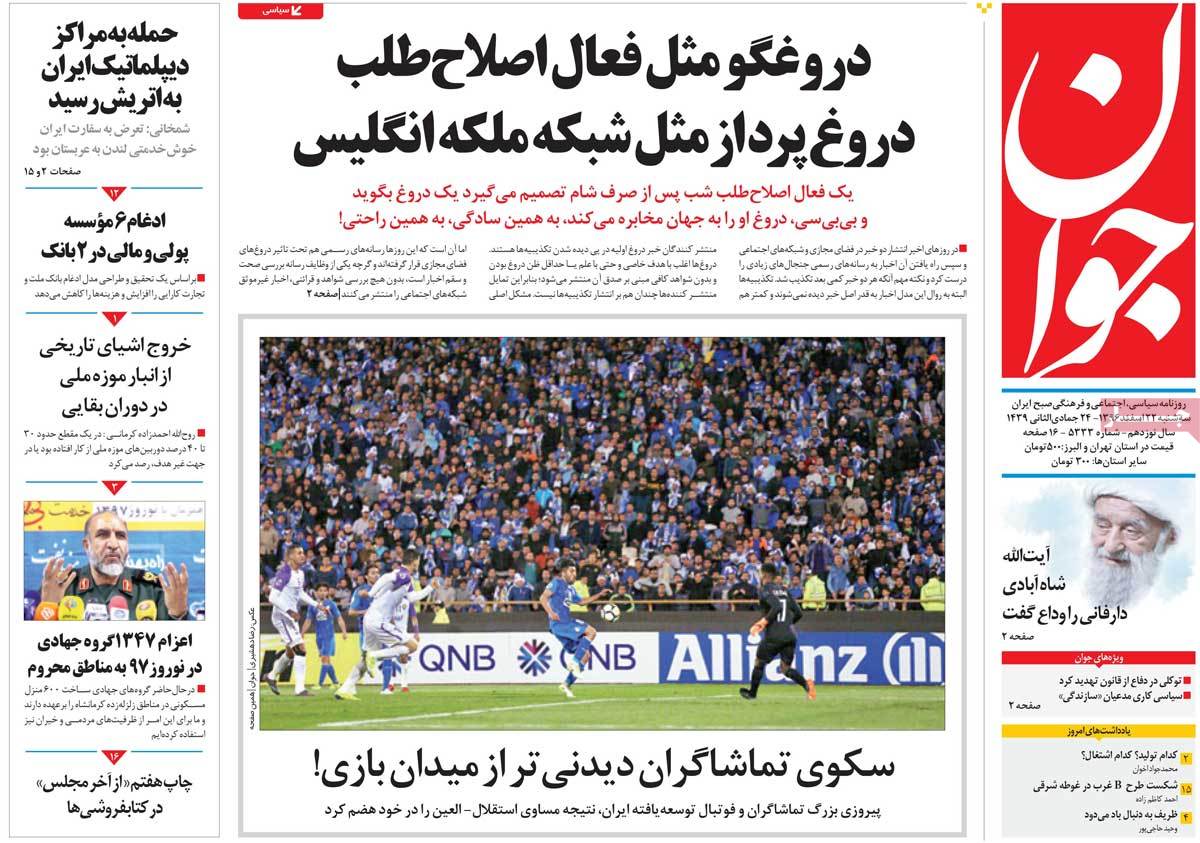 ---
Jomhouri Eslami:
114 Investment Plans in Chabahar Free Trade Zone at Contract Phase
Russia: US Seeks to Disintegrate Syria
Funds Provided for Purchase of New Planes by Issuing Bonds
---
Kayhan:
Gov't Must Beware: FATF to Give Way to Takfiris, Restrict Economy
111,000 Deaths Result of 6,000 Days of US Interference in Afghanistan
Official Statistics Show 48 Shot Dead in Past 48 Hours: Free Operation of Gunmen
MP: France Caused $2.6 Billion in Damages to Iran's Car Industry
This Time Plane Crashed Blamed on Pilot's Heart Surgery!
Aseman Airlines Rejects Roads Ministry's
---
Khorasan:
All Controversies Surrounding Impeachment of 3 Ministers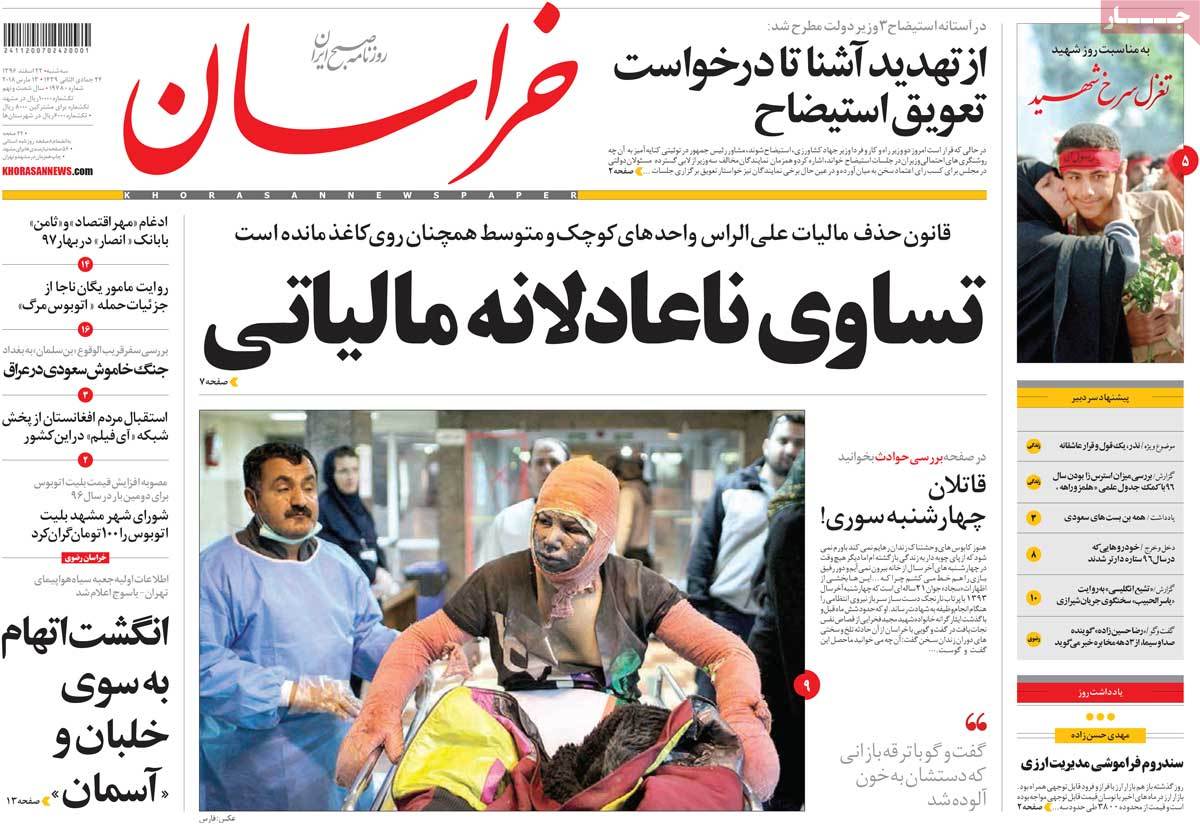 ---
Payam-e Zaman:
ICT Minister: E-Government Key to Fighting Administrative Corruption
Larijani: Westerns Admit Iran Has Shown Sensible Behaviours in Mideast
---
Resalat:
Judiciary Chief: UN Chief Shouldn't Turn into Mouthpiece for MKO Terrorists
Ayatollah Javadi Amoli: Those Who Intentionally Remove Their Hijabs Fighting against Quran
Former Outspoken MP: Officials Embarrassed of Declaring Their Salaries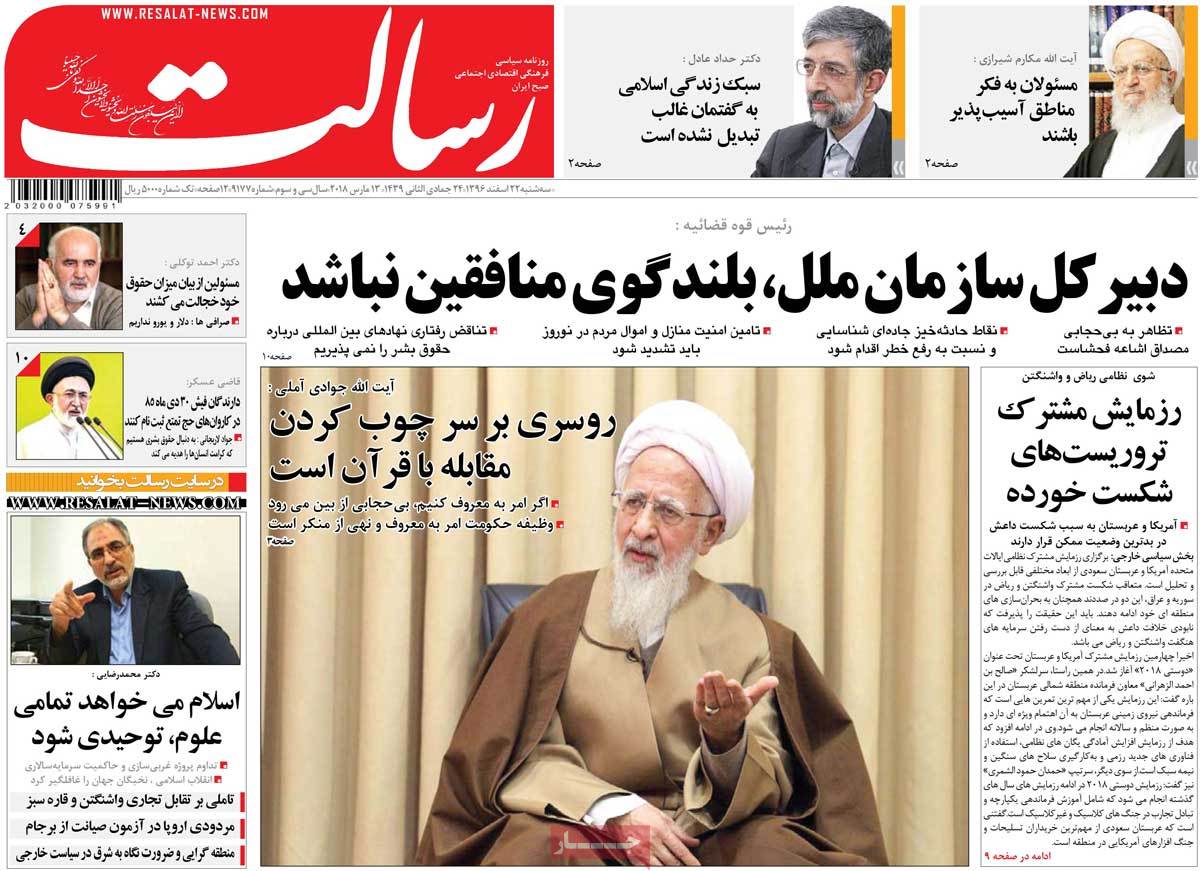 ---
Rooyesh-e Mellat
Iran's Cyber Priorities Announced for Next Year
Macron: No Way to Resolve Syria Crisis without Holding Talks with Syria
---
Sayeh:
No Price Hike until End of April: Official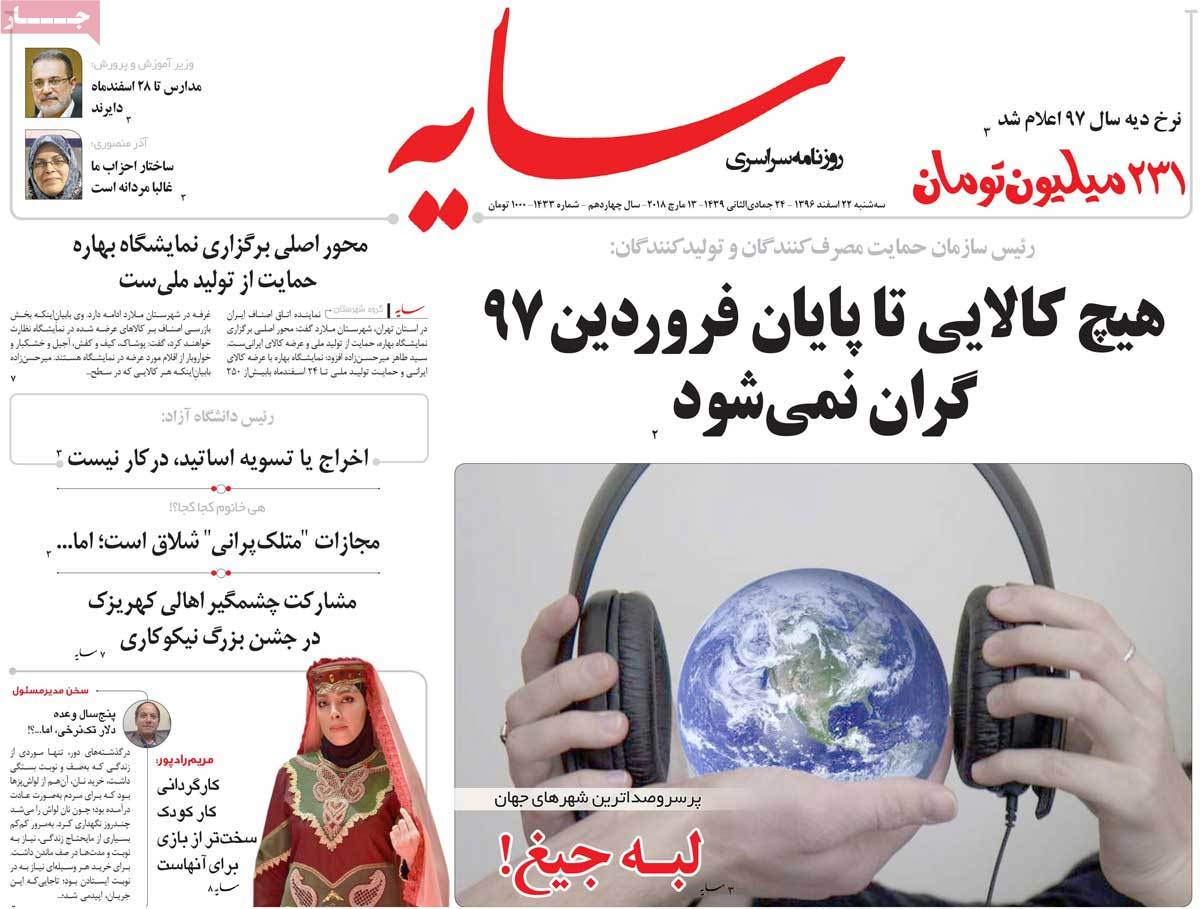 ---
Shahrvand:
Bitter Fate of Mina and Her Friends in Helen Heights
A Report on Relief, Rescue Operation in Shahr-e Kord after Turkish Plane Crash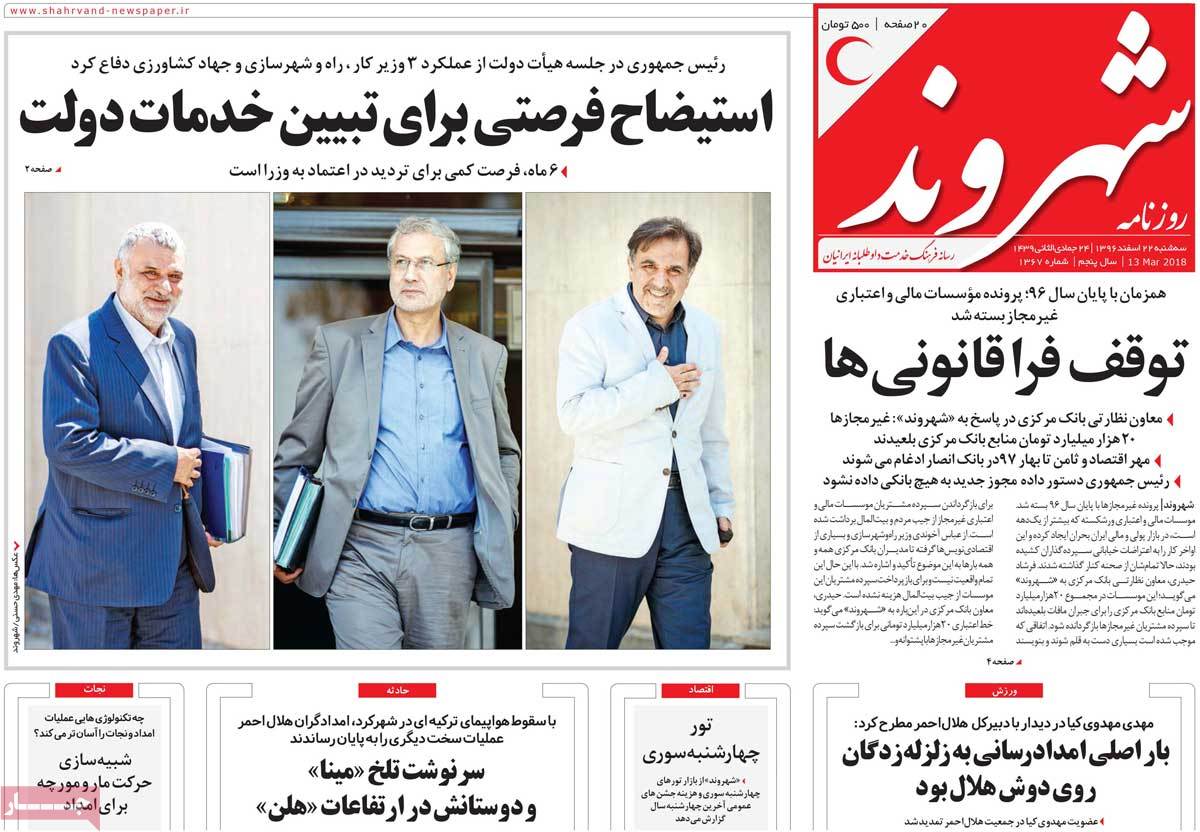 ---
Vatan-e Emrooz:
Chemical Workshop of Terrorists Discovered in Ghouta
Stockholm Peace Research Centre: US Biggest Arms Exporter to Region, Saudi Arabia
North Korean Leader Has Put Trump under Pressure through His Silence