All newspapers today covered the remarks made by the Leader of Iran's Islamic Revolution Ayatollah Seyyed Ali Khamenei about the issue of compulsory hijab in Iran as well as the possibility of Tehran's negotiations with the West over its regional presence.
Another top story in several newspapers today was the surprising offer of North Korean Leader Kim Jong-un to US President Donald Trump for a bilateral meeting.
Iranian First Vice-President Es'haq Jahangiri's visit to Iraq and his comments about Tehran-Baghdad relations also received great coverage.
The above issues, as well as many more, are highlighted in the following headlines and top stories:
19 Dey:
Dollar Exchanged in Iran in 7 Different Rates
---
Abrar:
Bahrain King: Qatar Violated Arabs' "Honour Agreement" to Confront Iran
Macron: France Countering Iran's Missile Program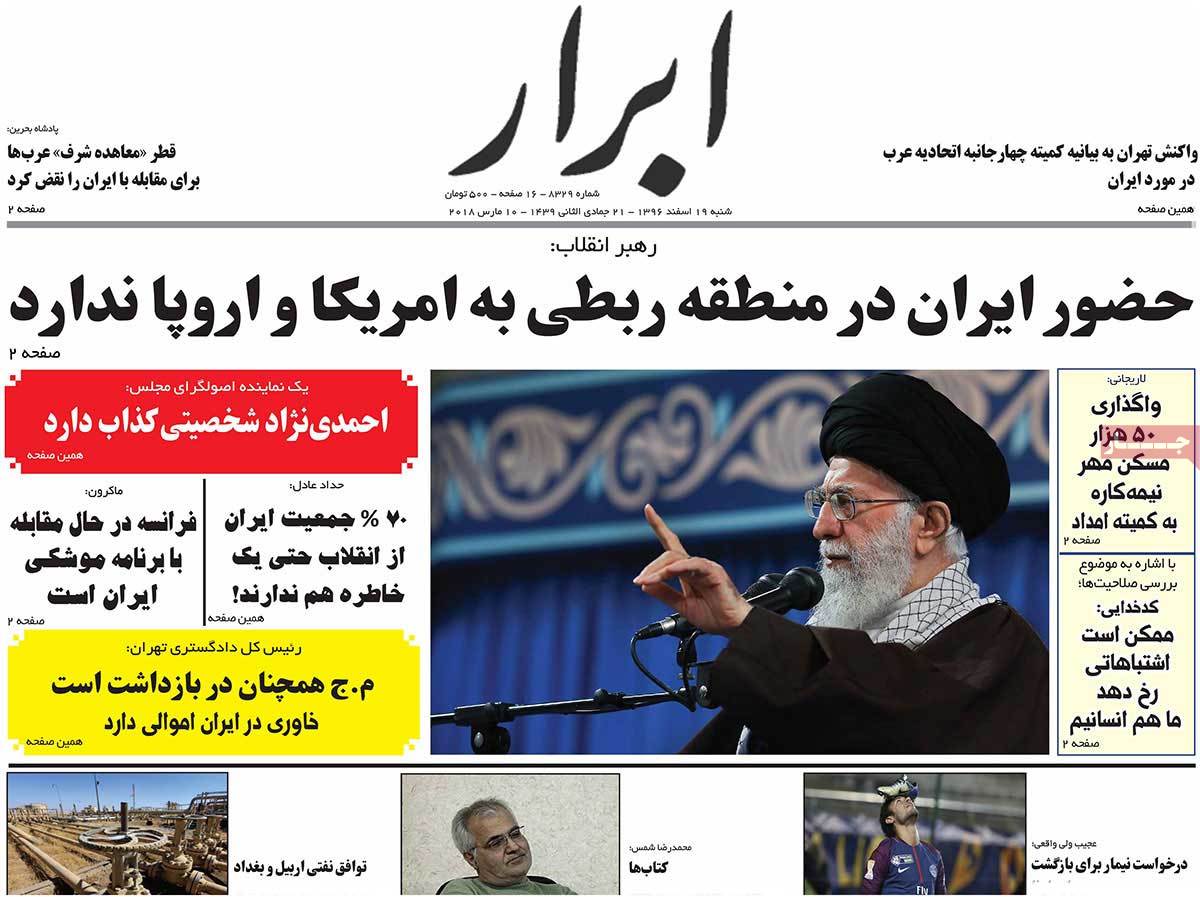 ---
Abrar-e Eqtesadi:
Russians Queue Up to Sign New Oil Deals with Iran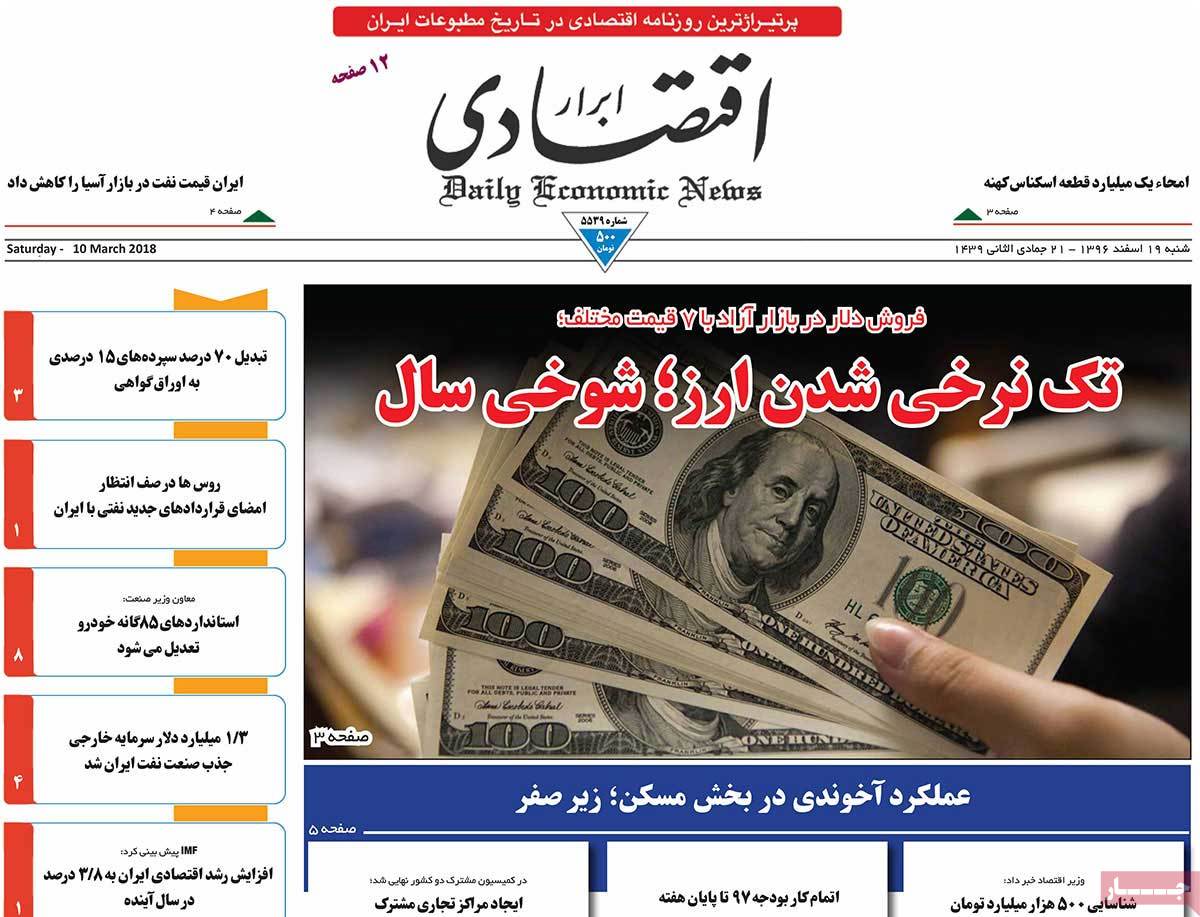 ---
Afarinesh:
Iran First VP to Iraqi President: Iraq's Security Same as Iran's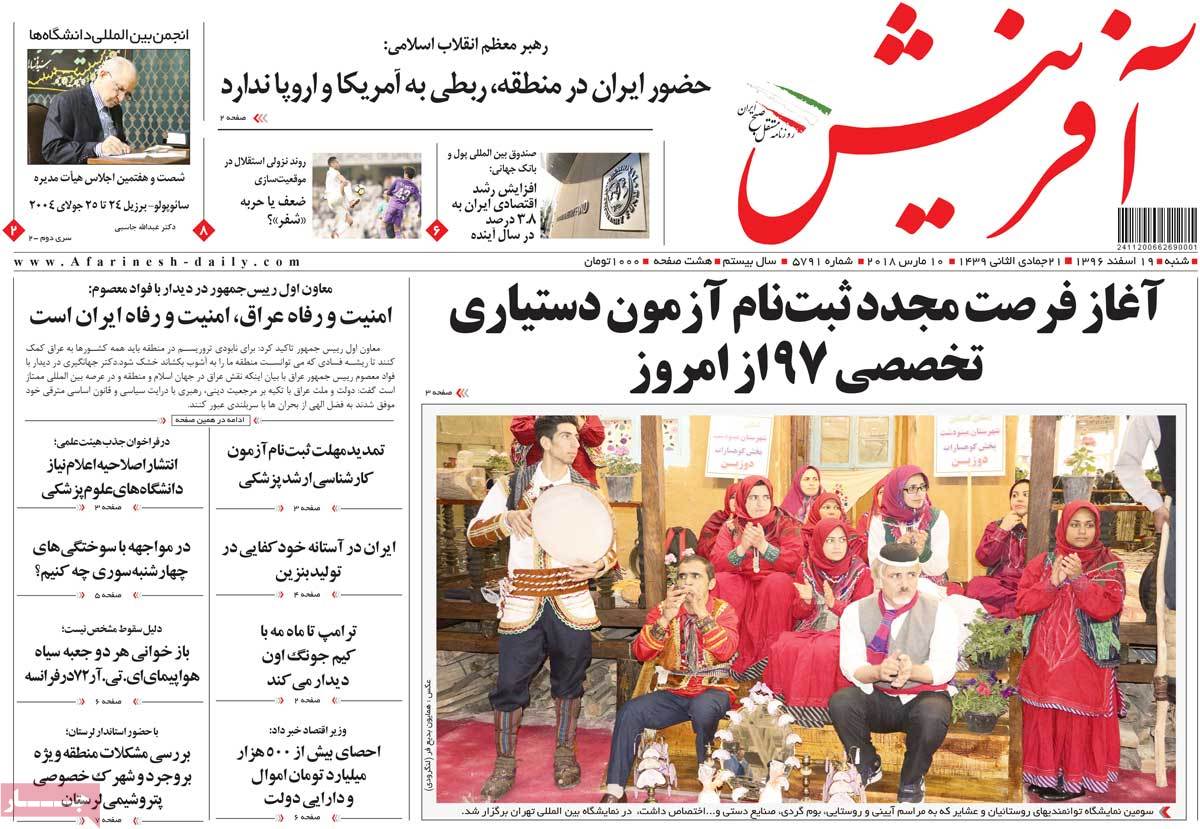 ---
Arman-e Emrooz:
Iran Leader: Islamic Hijab Brings Immunity for Women, Not Limitation
Imam Khomeini's Grandson: We've Created A Nervous Society; We're All Guilty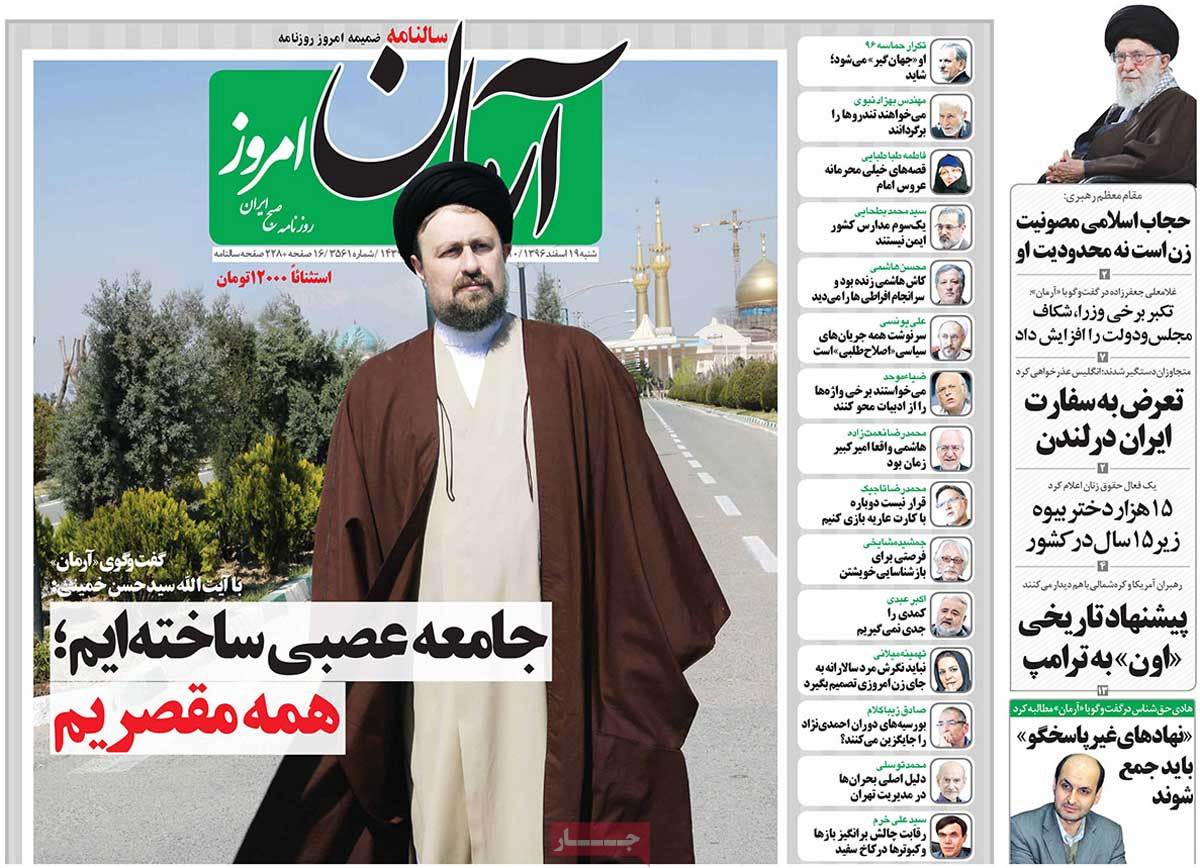 ---
Ebtekar:
White House: US President, N. Korean Leader May Meet in Coming Months
---
Etemad:
Iran Leader: Nudity Main Characteristic of Western Woman
---
Ettela'at:
Iran Leader: No One Opposed to Women's Presence in Social Fields, Positions
First VP: Iran-Iraq Ties Successful Model for Region
Iran FM: Era of Monopolies Over
---
Iran:
World Shocked by N. Korean Leader's Offer to Trump
Iran's Tourism Chief: Tourism Industry to Be Developed with "Cheap Trip" Policy
Security, Welfare of Iran, Iraq Intertwined: First VP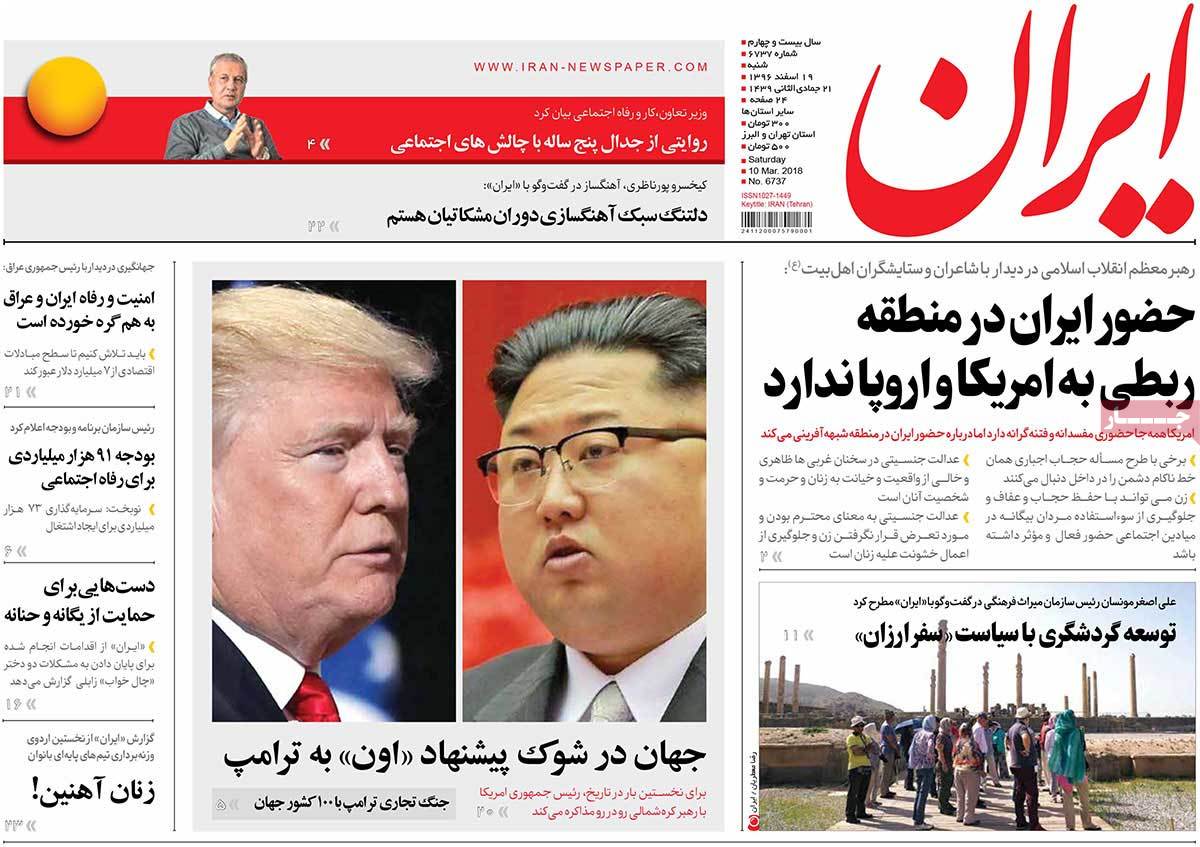 ---
Javan:
Iran Leader: Certain Elites Just Following Enemy Plots on Hijab
Trump Signs Order to Begin Global Trade War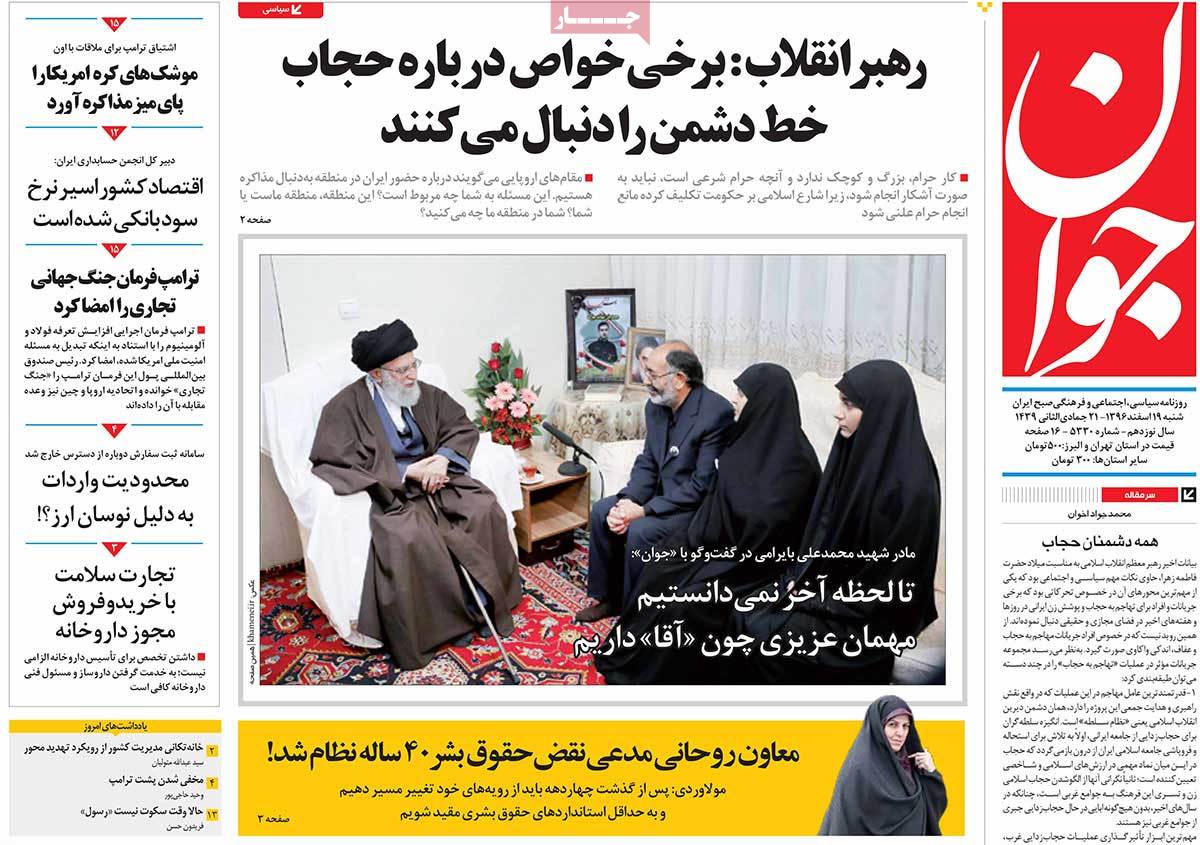 ---
Ka'enat:
Pyongyang's New Game with Trump!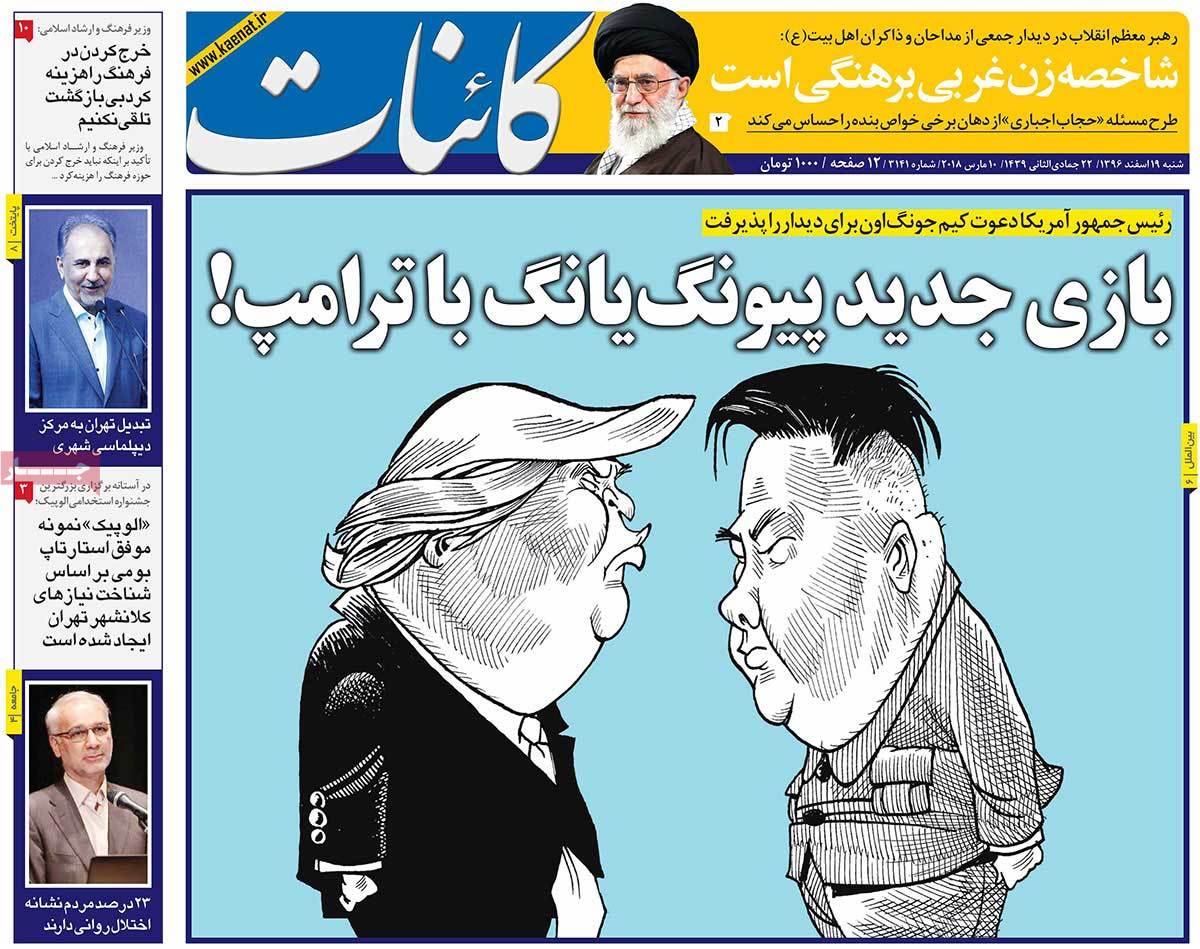 ---
Kayhan:
Iran Leader Responds to US Impudence
We'll Hold Talks with You If We Want to Have Presence in America!
Sherman: We Had Written Text of Nuclear Deal before Start of Negotiations!
Qatar FM: Al Saud Vast Land with Feeble Minds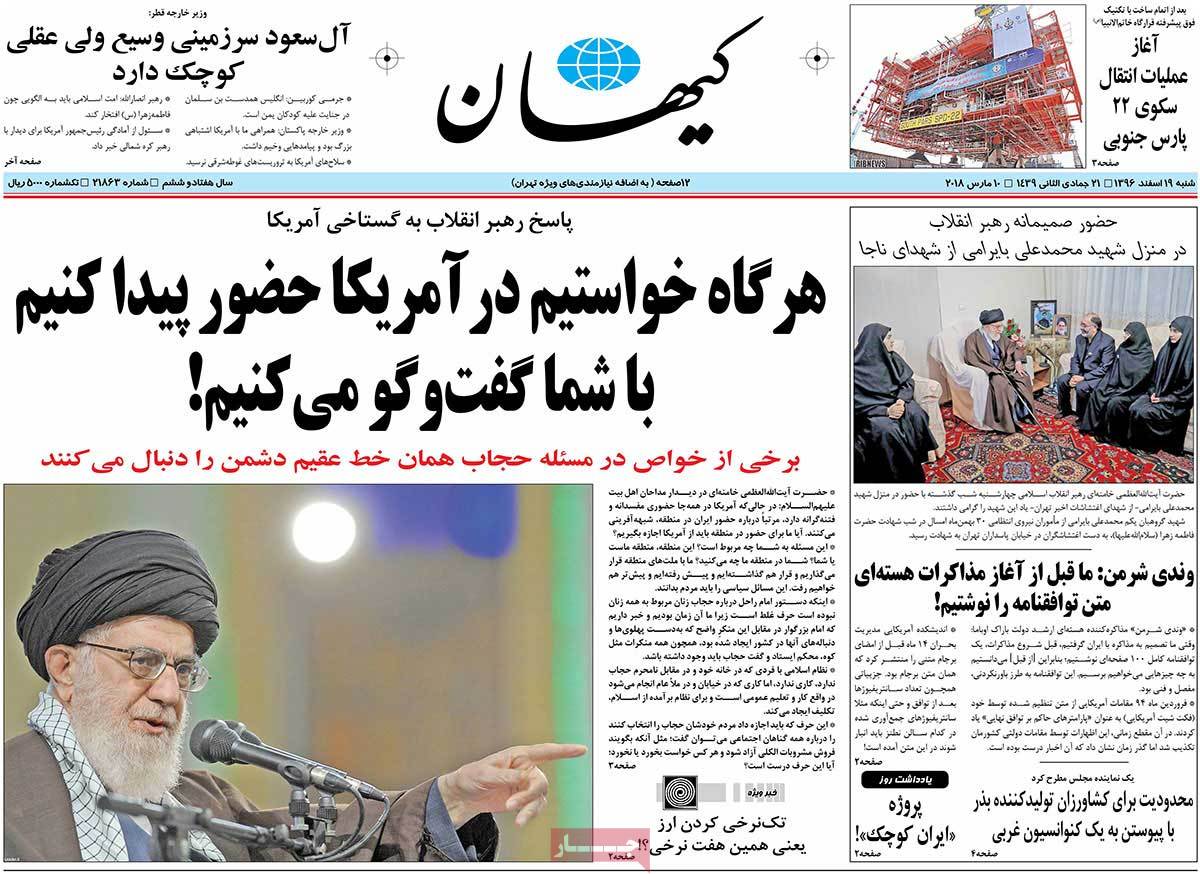 ---
Khorasan:
Iran Leader on Compulsory Hijab: Islamic Gov't Obliged to Stand against Social Haram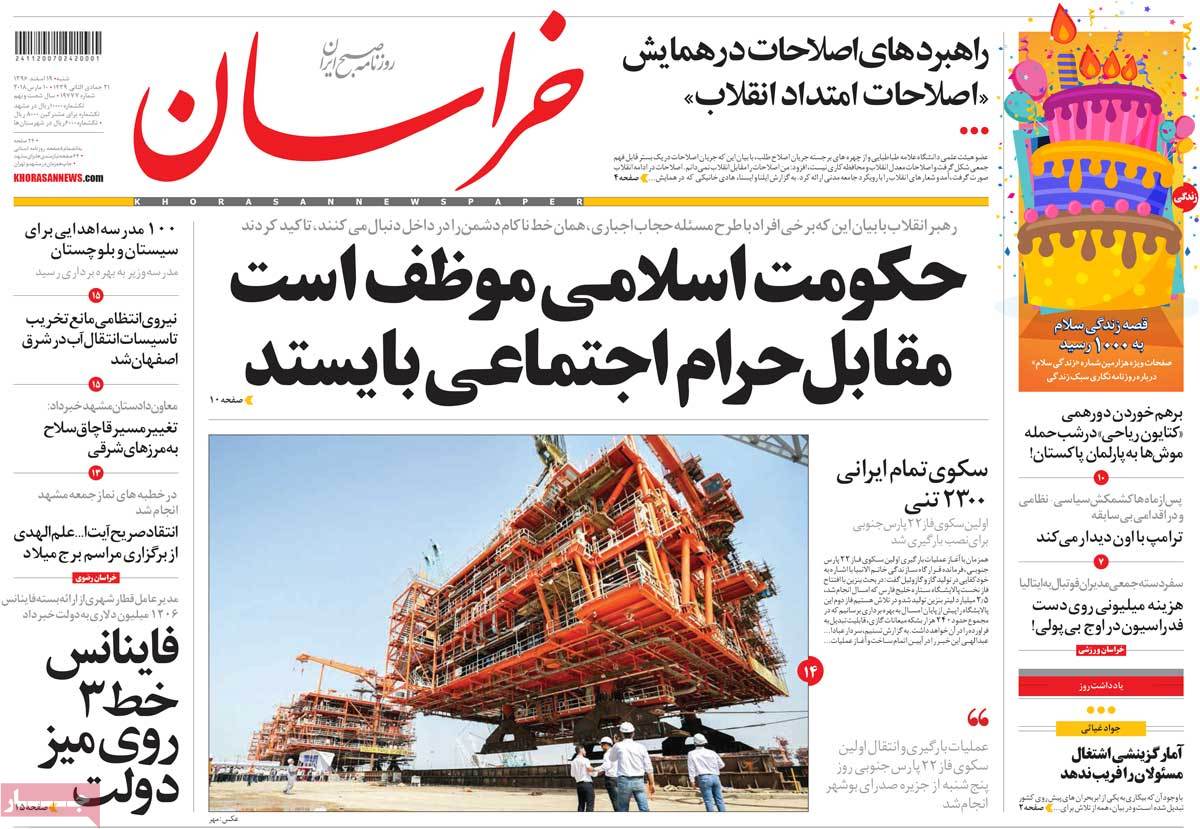 ---
Resalat:
Terrorists Violate Ceasefire for 16 Times
Terrorists Prevents Evacuation of Syrian Civilians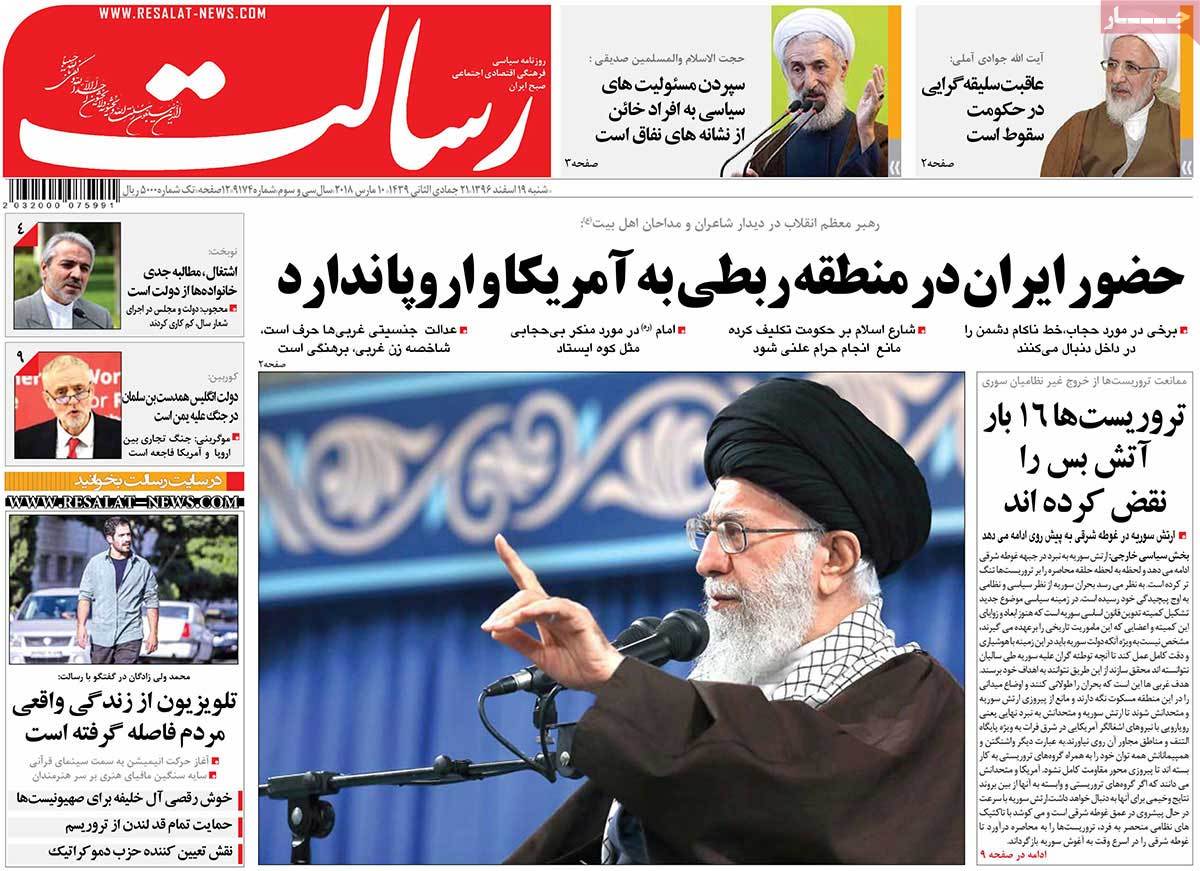 ---
Sazandegi:
Nuclear Shock: US, N. Korean Leaders to Meet
Global War of Steel: Should the World Expect New War?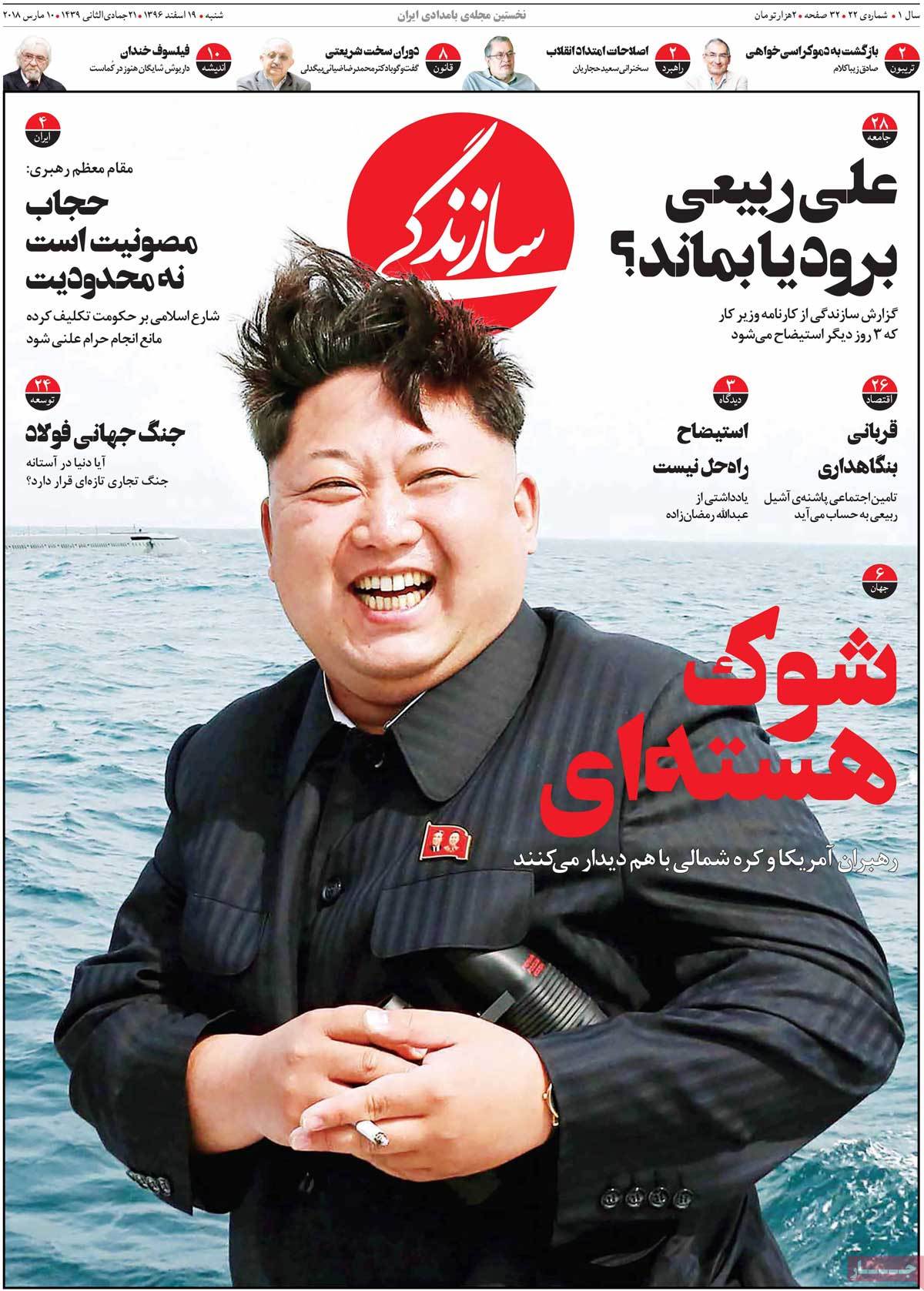 ---
Seda-ye Eslahat:
Member of Tehran City Council: There Are 15,000 U-15 Widows in Iran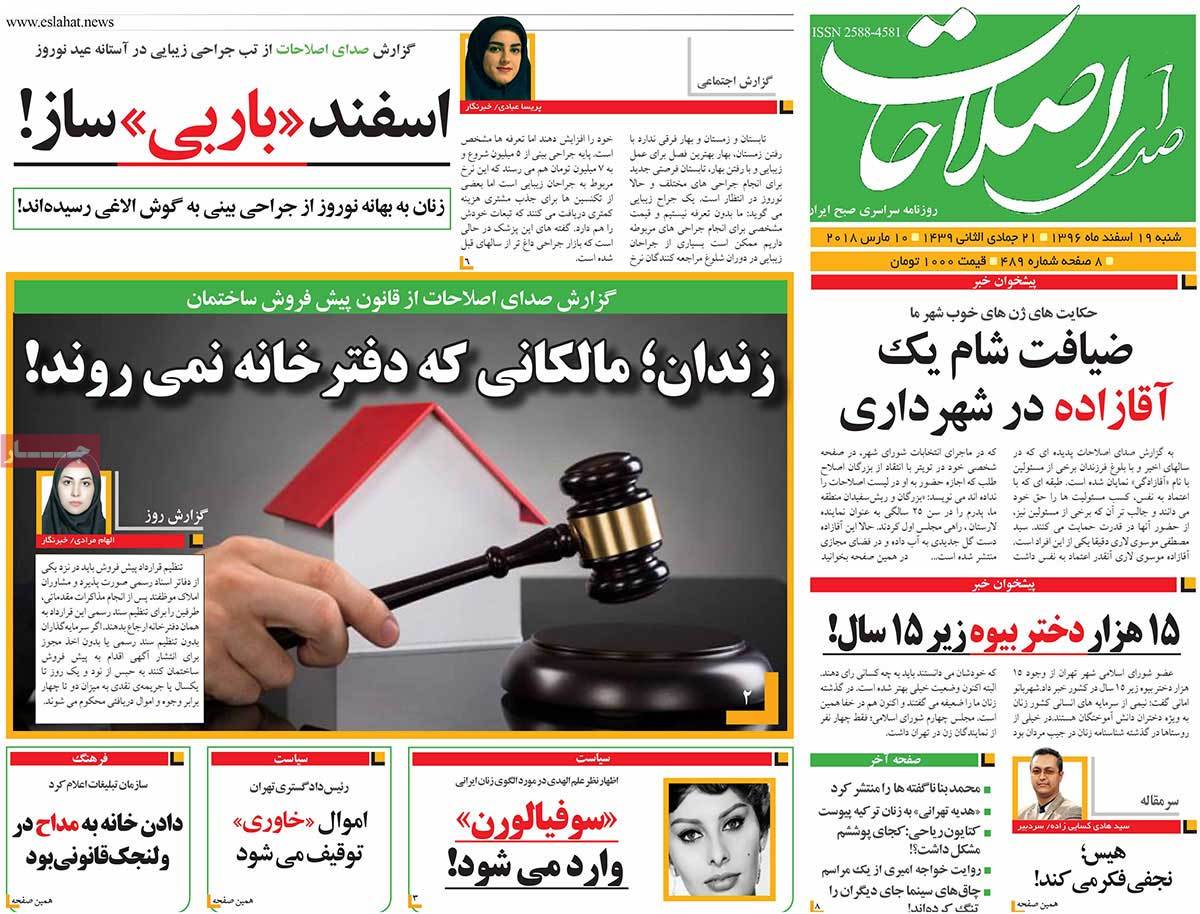 ---
Shahrvand:
Planting Saplings Instead of Serving Prison Term
Court in Northern Iran Issuing Such Verdicts for Minor Offences
180,000 Iranian People Earn Money Using Telegram Messaging App
There Are 765,516 Farsi Channels in Telegram with 2.5 Billion Visits per Day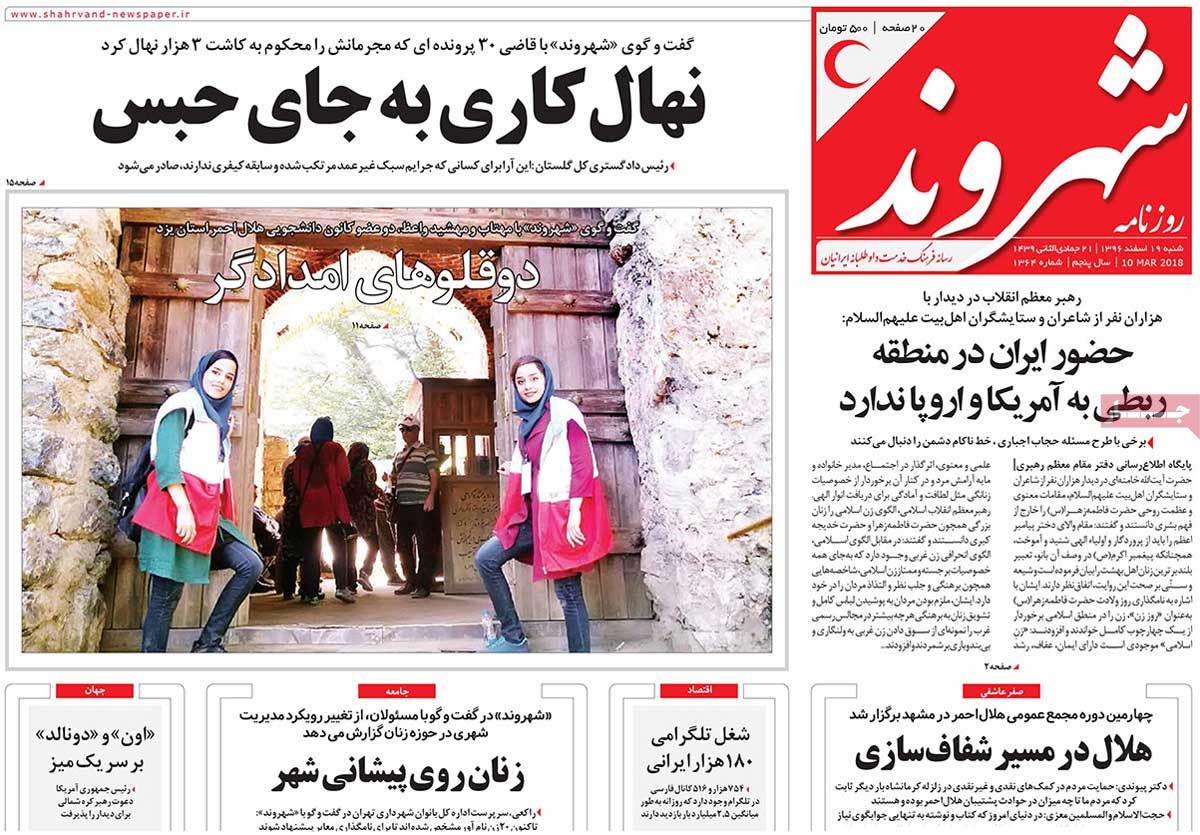 ---
Shakhe-ye Sabz:
Zarif: Accepting Violence against Women Means Accepting Genocide in Future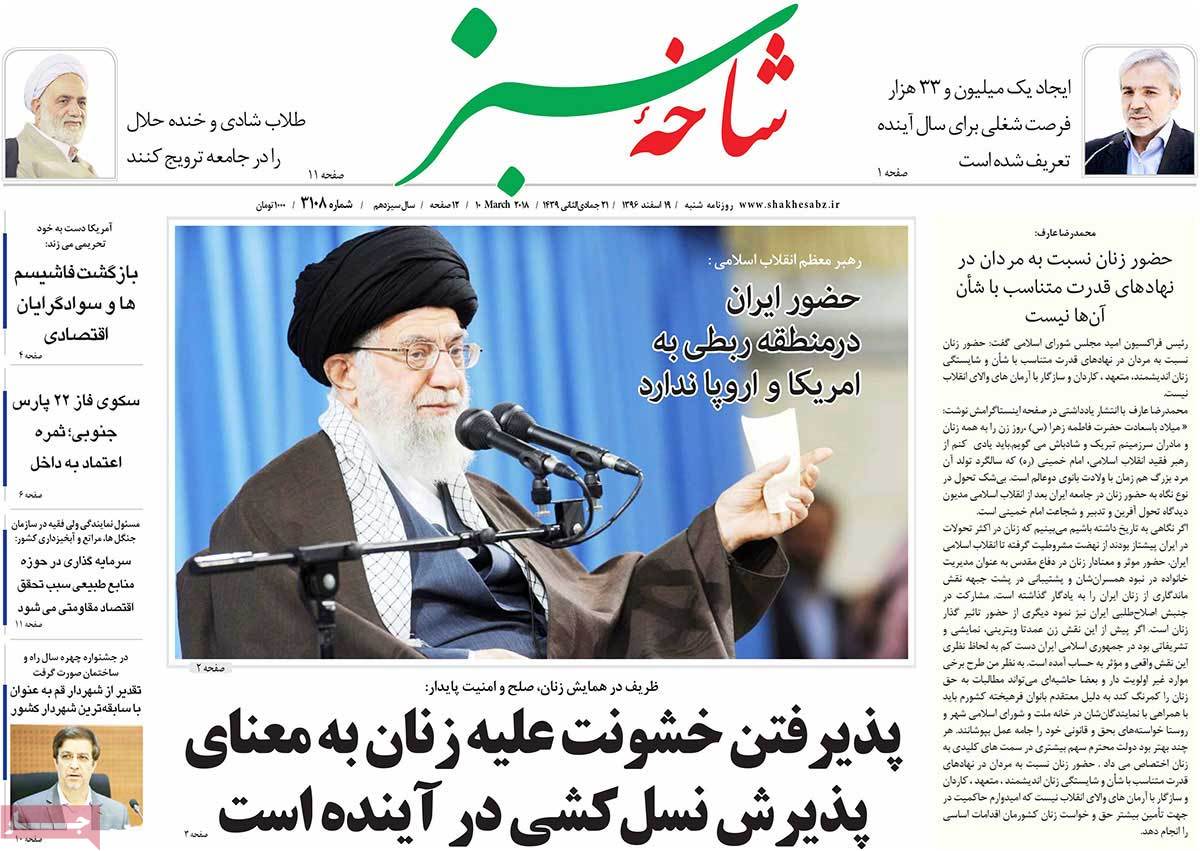 ---
Shargh:
Zarif: They Are Playing with People's Hope
Iran to Work with US to Develop Women's Weightlifting
Rouhani in a Letter Has Allowed Women to Go to Stadiums: MP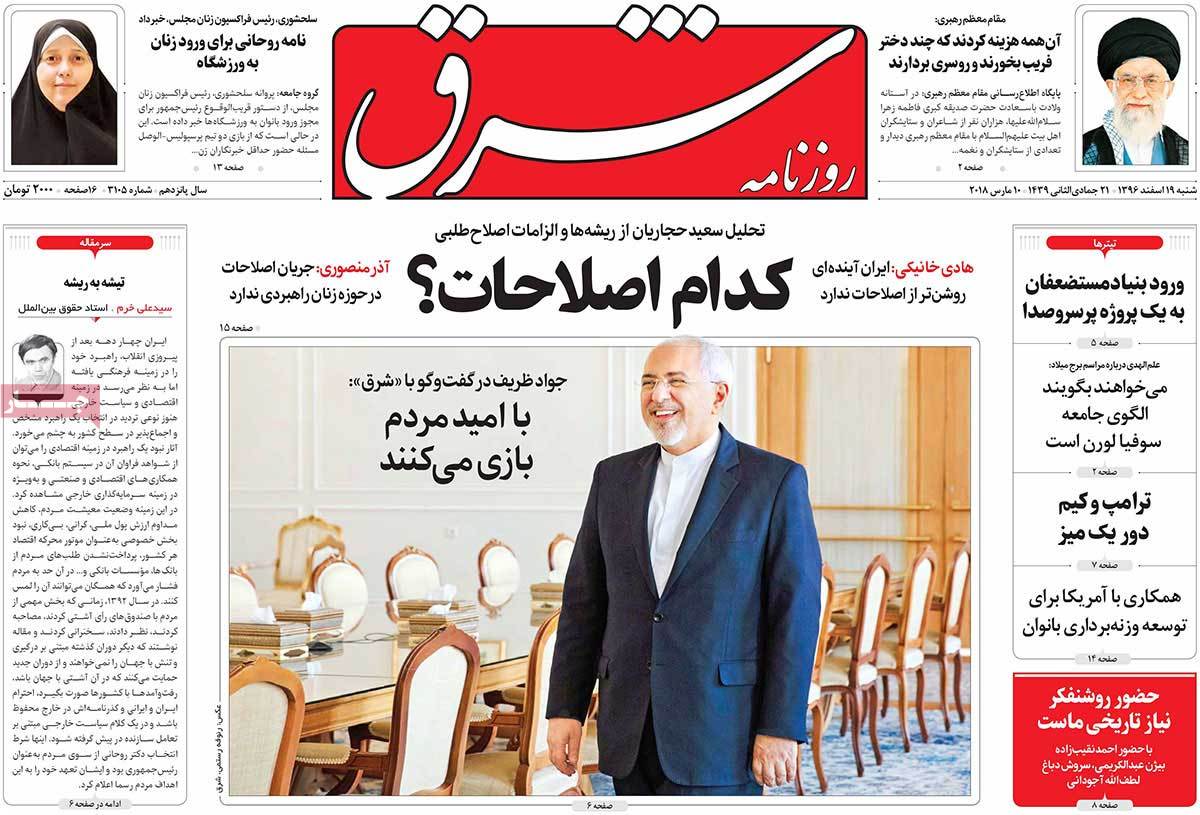 ---
Tejarat:
Employees Who Became Unemployed, Nightmare of Iran's Economy: Statistics
---
Vatan-e Emrooz:
Trump Understood Language of Force
US President's Unexpected Reception of N. Korean Leader's Invitation